architecture - engineering - construction
Perforated Metal Sheets & Grilles
Perforated grilles and metal sheets could be the beautiful touch your project has been missing. For any modern architect or contractor, matching every aspect of the construction to spec is essential. A renovation project can't be counted as a success when the small details are still off. Classic establishments and historical projects need the allure of taking someone back in time to when every detail was painstakingly perfected. For those types of projects, a full set of made-to-spec perforated metal grilles can elevate the entire look of the building.

If you're in the market for beautiful perforated grilles for your renovation or new construction, we know how to provide exactly what you need. We've crafted perforated metal sheets for over a century, always made in the U.S.A. and fit perfectly to our customers' orders.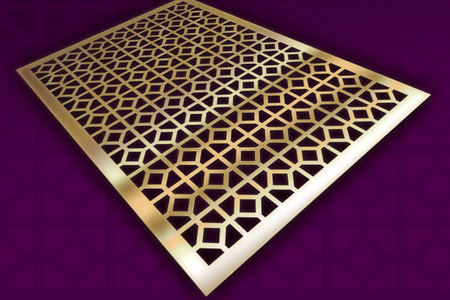 CA826 Windsor Decorative Metal Grilles
What are perforated metal sheets?
As opposed to a shutter-style
linear bar grille
, a perforated metal sheet is usually non-adjustable and cut in a specific pattern. It allows air to flow freely while giving any room a classic, beautiful touch of class. Every Coco decorative metal grille strives to exceed in these three areas:
Aesthetics
Performance
Customization
You can find all of our perforated grille options in our
extensive FREE catalog
. But don't limit yourself to those designs alone. We love to work with our customers on any custom project they have in mind. Feel free to
contact us directly
to discuss your budget and needs.
What is free air percentage?
In the world of architectural grilles, it's important to factor the free air percentage, or "open area" of each product. Not sure what that means? Simply stated, free air what's left after you cover a vent hole. An open vent with no bar grille would have 100% free air.
Once you add in your grille, you would subtract the surface area of the hole now covered by the vent cover, and there you would have your remaining free air percentage. The image on the right should help dispel any confusion you might have about free and obstructed air in your ventilation system.
There are a variety of factors to consider when choosing an appropriate free air percentage. The smaller the vent hole is, the more free air you will want to have in order to push as much air as possible. With larger vent hole, you will want a smaller free air percentage to ensure your vent keeps pushing air further into the room.
Perforated Metal – Material Options
There are many options to think about when deciding on the perfect perforated grille for your project. One of the most important ones is which material will best suit your needs. Coco offers many different choices for any of our catalog grilles. Whether you need a sleek stainless steel application for a modern home, or a traditional brass grille for a historic renovation, we have what you need.
Check out a few of our options and learn a bit more about what they're perfect for. Any of these materials can be utilized for a perforated metal sheet, linear bar grille or even a custom project.
Brass & Bronze
Low maintenance and corrosion.
High-end look and upscale feel, similar to gold without the high price tag.
Brass is an expensive option.
Aluminum
Cheaper than stainless steel while retaining a similar clean look.
Lighter and weaker than most metals.
Does not rust, although it does oxidize.
Steel
Cheaper in comparison to other options.
Incredibly strong and durable.
Susceptible to rust and tarnish over time.
Stainless Steel
Highly corrosion resistant.
Clean, modern and sleek finish.
Very expensive, but will last a long time.
Highlight Metal Patterns from Coco Metalcraft
Along with the many options you can find on our site, we wanted to highlight a few that are perfect for a variety of projects you might have. Whether you're recreating a mid-century modern look or renovating something more specific, we probably have a pattern that will suit your needs.
Windsor
Clean pattern made up of octagons and intersecting circles.
Great for modern or mid-century projects.
Free air: 51% - 57%
Cathedral
Seamless pattern designed to emulate classic cathedral arches.
Ideal for churches or museums.
Free air: 53%
Majestic
Highly decorative pattern of crosses and circles.
Great to add classic sophistication to any restoration.
Free air: 54% - 66%
Circle Link
Elegant pattern of interlocking circles.
Perfect look for a mid-century style.
Free air: 43%
Bullet
Utilitarian and functional, with a touch of sophistication.
Ideal for modern offices.
Free air: 41% - 49%

For other relevant searches, you might want to try: