architecture - engineering - construction
Isabel Bader Center Project
AMBICO has designed and supplied nearly 100 acoustic (both wood and steel) doors and frames for the new Isabel Bader Centre for the Performing Arts at Queen's University in Kingston, ON, Canada. AMBICO has been involved from the very beginning (the early design stages of the project) right through to the installation.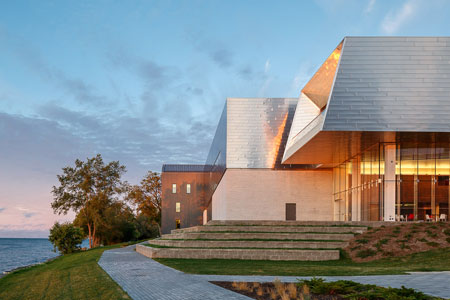 Due to the nature of the building (a performance hall), the architects had to rely on AMBICO's acoustic material to block the sound from room to room. AMBICO produced STC 40 (steel and wood) doors and STC 51 (steel) doors for the project, plus some unequal pairs of STC 59 (steel). There won't be any sound travel in this building!

Although still undergoing construction, the Centre promises to be impressive. A $63 million project; $22 million was generously donated by Drs. Alfred and Isabel Bader. The Centre is named in honor of Isabel Bader, for her love of music and theater.

Concealed behind this incredible building and its benefactors is a truly romantic love story: Isabel met Alfred aboard a ship, the two courted and more than 400 love letters were exchanged. After their relationship ended prematurely, Alfred went on to marry someone else and have a family. Years later, when Alfred was divorced, he and Isabel rekindled their romance and the two got married and remain happily married today.

For other relevant searches, you might want to try: