architecture - engineering - construction
Planning Ballistic Barriers for School Entryways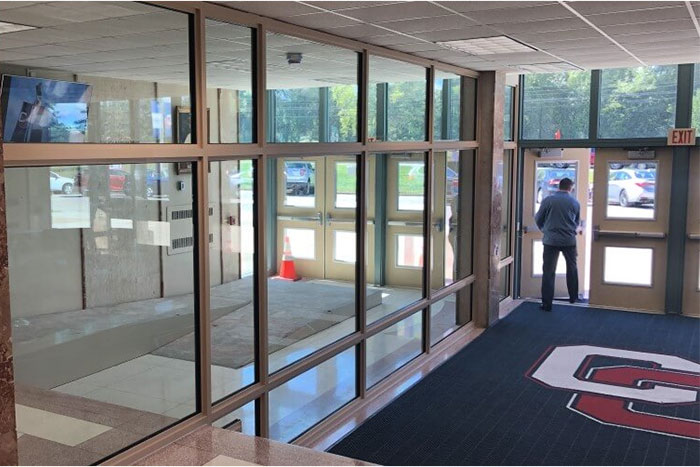 As of summer 2023, new legislation in eight states mandates increased school security, including ballistic security. In many cases, these new laws especially focus on entryways.

The 2023 modifications to Tennessee's Schools Against Violence in Education Act require "one secure vestibule that serves as the primary entrance to the school building and that contains two separate sets of doors" and security film on all exterior windows.


A bill working its way through the Missouri House of Representatives will require "a school district to have bullet-resistant doors and windows on all first-floor entryways and bullet-resistant glass for each exterior window large enough for an intruder to enter through" for the 2023-2024 school year.


Since 2018, Delaware has required that school entryway vestibules, lobbies, and offices have bullet-resistant glass and walls.
Gregg Knappe is an account manager at Total Security Solutions. There, he specializes in ballistic security solutions for educational institutions ranging from pre-K and daycares to K–12 schools, colleges, and universities.
"Unfortunately," he notes, "cost and budget are always a factor in education. It's not feasible, money-wise, to just replace everything with bullet-resistant. But starting at that main entrance is key. That's where I would start with any school."
@TSSBulletProof #TSSBulletProof #bulletproof #healthcaresecurity #security #bulletproofglass

For other relevant searches, you might want to try: