architecture - engineering - construction
Prelude Plus Home Theater Seating
New Auditorium and Theatre Seats
Preferred Seating is a full-service commercial seating company that serves clients across America. We offer high-quality, "Made in the U.S.A." seating and much more. Our design team can create a customized seating layout for your venue that addresses your unique requirements. We have expert craftsmen that can refurbish all kinds of used auditorium chairs. They can refinish wood or reupholster a seat. Our professional installers will travel throughout the United States.
Over the past two decades, we've learned which theater seating truly stands the test of time. We offer the latest in modern, ADA-compliant theatre seats and the best in used auditorium chairs.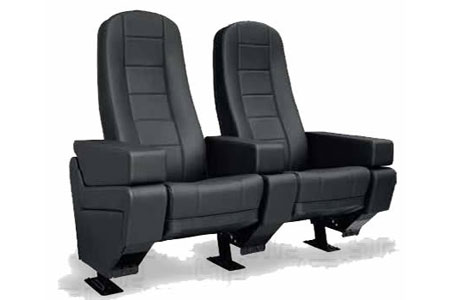 Sizes
Back heights: 30", 31"
Chair widths: 24" - 26"
Chair widths are measured from the centerlines of the armrests.
Seat employs an automatic self-rising gravity lift mechanism for quiet, maintenance-free operation.
Fixed armrests.
Tablet Arms
Raw Material
Cushions: Cold molded Polyurethane foam padding with ergonomic design.
Inner back: Ribbed injection-molded polypropylene plastic formed with compound curves for natural body support.
Outer back: Injection-molded high impact resistant, textured, linear polypropylene plastic.
Frame structure: Rectangular steel tube frame in various gauges to meet structural requirements and needs. Every part and every assembled piece has been stress-tested.
Plastic parts: Multi-ribbed high impact injection-molded polypropylene plastic.
Aisle standard covers: Rigid molded polyurethane with a decorative finish.
Metal for pedestals: 1" x 3" 14 Gauge
Shoe Plate: Gauge 11
Paint: Thermoplastic Powder coating, with an electrostatic process. Oven-baked at 200ºC.
Fabric: 100% Marquesa Lana (polyolefin) with fire retardant. Meets requirements for California Technical Bulletin 117, Section ECS-191-53. We can also use synthetic leather by request (high quality materials)
Mechanisms
Swing or Rocker mechanism: Rubber operated mechanism with no springs. The tension of the back can be adjusted. For quiet and secure use and a long lasting life.
Automatic self-rising seat: Using a gravity lift mechanism for quiet.
Tests
California TB-117
California TB-133 (optional)
ASTM F-851 (impact and static)
Advantages
The mechanisms are totally safe and silent and are built for frequent and intense use.
The high quality plastic can be cleaned and maintained easily and economically.
The steel structure is solid, built with gauges capable of handling intense use.
The back pad is complete with an integrated lumbar and head support.
The outer back is concave and anatomic formed with multiple ribs.
The chair is an attractive love-seat style theatre chair with a comfortable ergonomic design.

For other relevant searches, you might want to try: