architecture - engineering - construction
News
Sherwin-Williams - 6 Exquisite Exteriors and the Design Pros Behind Them
Explore color schemes ranging from classic to cutting-edge, complete with ideas and inspiration from their designers.
Exteriors provide a unique opportunity to tell a home's story in just one glance. For the home in Portland, Oregon, shown above, that story celebrates mid-century modern style with a low profile, modern lines and dark paint color. As part of a full renovation, Solomon Berg Design worked with the owners to accentuate the home's existing 1968 architecture and help it blend in with the trees on a secluded forest lot. Sherwin-Williams Resilience® Exterior Acrylic Latex Paint in Tricorn Black SW 6258 (251-C1) achieves those goals by preserving and refreshing existing vertical rough-sawn cedar siding. Paint plays a key role in the five exteriors below, too.




Photo by Benji Mellish
Crisp Cottage Style
Fresh yet timeless, the pairing of Shoji White SW 7042 (254-C4) and Black Fox SW 7020 (244-C7) helps a new craftsman home harmonize with its setting in the foothills of Boise, Idaho. "I love how Shoji White has taupe undertones that don't feel too precious on an exterior but is still crisp enough to look clean and current," designer Lauren Smyth says. "This [shade] paired with Black Fox is such a win." The front door painted Homburg Gray SW 7622 (238-C7) adds a welcoming finishing touch.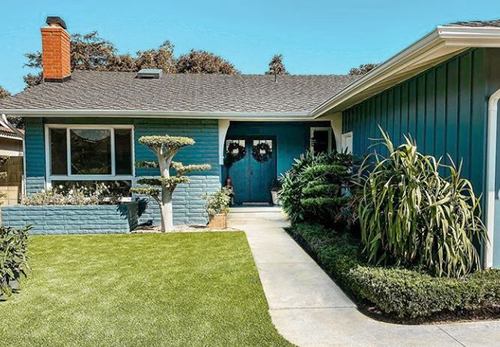 Photo by Anita Yokota
California Cool
For years, an exterior of brick, stucco and board-and-batten siding — all painted beige — kept this Torrance, California, home stuck in the past. So, for a modern update, designer Anita Yokota chose Slate Tile SW 7624 (233-C6) in Emerald® Rain Refresh™ Exterior Acrylic Latex Paint as the new hue for all key surfaces. Trim painted Pure White SW 7005 (255-C1) brings just the right touch of contrast. "We wanted to choose a color that was fresh, warm and welcoming," Yokota says. "This deep blue is especially beautiful against fresh green landscaping, and the white trim really makes the exterior pop. The color's bright, joyful energy is infectious."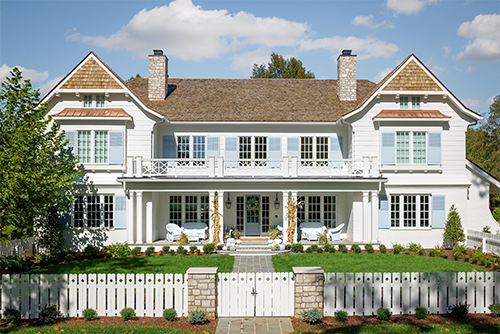 Photo by Artisan Signature Homes
Quintessentially Southern
Even though it's brand new, this home in Glenview, Kentucky, was designed to blend seamlessly into a historic neighborhood — no easy feat. Designers and homeowners Jason and Gretchen Black of Artisan Signature Homes were up for the challenge, choosing elements such as a cedar shingle roof, copper roof accents and latticework railing — all presented in perfect symmetry on the front facade. The layers, they say, are what you see and expect from elegant older homes on their street. Brick and siding painted Alabaster SW 7008 (255-C2), paired with shutters and a front door in Sleepy Blue SW 6225 (220-C1), complete the look of Southern charm.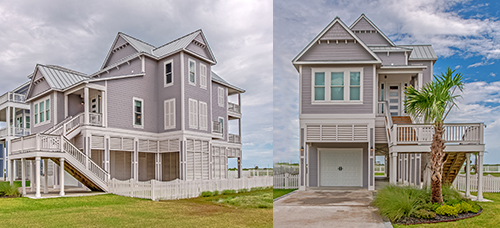 Photo by Vanessa Chávez
Beachfront Charm
From the start, architect Cate Black of RISE Architecture + Design found herself drawn to nearby Victorian-era exteriors as inspiration for this new beachfront home in Galveston, Texas. With that in mind, she collaborated with Seaside Construction and Avenue Design Firm to incorporate architectural features such as a "witches' hat" roof and corbel, and dentil wood accents. Mystical Shade SW 6276 (226-C3) on the siding and Original White SW 7077 (274-C6) for the details — both in SuperPaint® Exterior Acrylic Latex Paint — unify the look. "I love the depth found in the gables on this house," she says. "The shingles, lap siding and corbels create a more interesting elevation, while the house itself is essentially a sweet traditional cottage."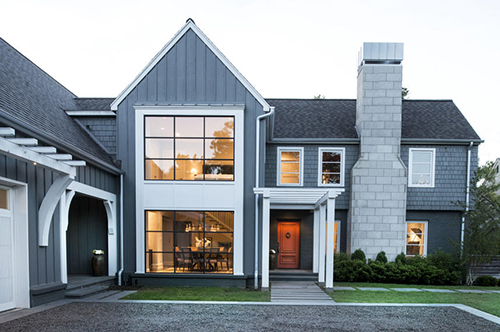 Photo by Melissa Lukenbaugh
Modern Classic
Inspired in part by the homeowners' love of Napa Valley, California, designers Bailey Austin Bird and Mel Bean brought layers of modern-rustic flair to the exterior of this home in Tulsa, Oklahoma. Notable elements include two large, modern windows stacked vertically, along with charming pergola structures at the garage and front entry. The look comes to life with Grizzle Gray SW 7068 (236-C6) on the main-level brick, Cityscape SW 7067 (236-C5) on the board-and-batten and shingle siding, and Pure White SW 7005 (255-C1) on the pergolas and trim. "Restraint in scale and design ensures the facelift still fits in with the neighborhood," Bird says.
@SWDesignPros #SWDesignPros @SWPaintPros #SWPaintPros
URL:
https://www.sherwin-williams.com/architects-specifiers-designers/inspiration/stir/6-exquisite-exterior-designs-and-pros
For other relevant searches, you might want to try: