architecture - engineering - construction
About Revolving Doors
Brochures
Revolving Doors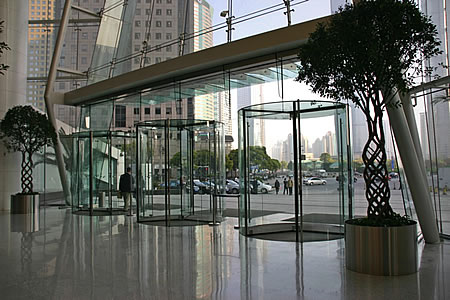 The entrance is the first contact a visitor has with a building; it is the building's calling card and should signal to the visitor that he is in the right place; that he has almost reached his destination. The entrance needs to fit the building's criteria on three key areas: sustainability, security and service. However the entrance requires a fourth element: great design.
BoonAssist TQ
The first manual revolving door in the world to deliver power assist, speed control and positioning in one premium package.
TQ
This extremely versatile revolving door with a capacity of up to 2x 20-35 ppm is the perfect basis for any design wishes.
Crystal TQ
Constructed virtually completely from glass, this is the most transparent revolving door in the world.
Tournex
This classic three or four wing revolving door offers a capacity of up to 2x80 people per minute (ppm).
Duotour
This two-wing revolving door combines the advantages of a revolving door with an integrated set of sliding or swinging doors.
Twintour
The straight line access revolving door concept for maximum capacity and ease of passage.

News archive:
Revolving Door and Turnstiles Upgrade Entrance of Riverside London Workspace (Apr 08, 2020)
National Law Enforcement Museum Celebrates Law Enforcement History with Boon Edam Revolving Doors (Feb 01, 2020)
Historic Paris Hotel Revitalizes Entry with Boon Edam Revolving Doors (Oct 31, 2019)
AC Hotel in Times Square Installs Custom Boon Edam Revolving Door (May 13, 2019)
Amid Record Sales, Boon Edam Inc. Expands Revolving Door Features and Sales Staff (Nov 17, 2015)
The Ins and Outs of Revolving Doors (Oct 07, 2015)
Boon Edam Launches Website For Latin America (Aug 05, 2012)
Boon Edam Joins FTE Asia 'Unconference' Session Highlighting The Benefits And Challenges Facing Self-boarding (Mar 12, 2012)
08400 - Entrances and Storefront
08410 - Metal-Framed Storefront
08450 - All-Glass Entrances and Storefront
08460 - Automatic Entrance Door
08470 - Revolving Entrance Door
10450 - Pedestrian Control Device
13700 - Security Access and Surveillance
08 41 00 - Entrances and Storefronts
08 41 13 - Aluminum-Framed Entrances and Storefronts
08 41 26 - All-Glass Entrances and Storefronts
08 42 29 - Automatic Entrances
08 42 33 - Revolving Door Entrances
08 42 33.13 - Security Revolving Door Entrances
11 14 00 - Pedestrian Control Equipment
11 14 13 - Pedestrian Gates
28 10 00 - Electronic Access Control and Intrusion Detection
28 13 00 - Access Control