architecture - engineering - construction
Patina Onyx NuMetal Copper Laminate at Koury Corporation
The Koury Corporation, one of the largest, privately owned, builder/developer companies located in Greensboro, NC, recently relocated their headquarters and decided to give their lobby a fresh new look. They turned to ATI Decorative Laminates' NuMetal product line for their product of choice.

The reason? Several actually. As Koury Corporation's interior designer Susan Boswell stated, "When Koury Corporation relocated their offices, they wanted to modernize their look." So, Boswell went with ATI's NuMetal line of hand-painted copper laminates. She selected NuMetal C412 Patina Onyx to beautifully wrap the lobby's reception desk.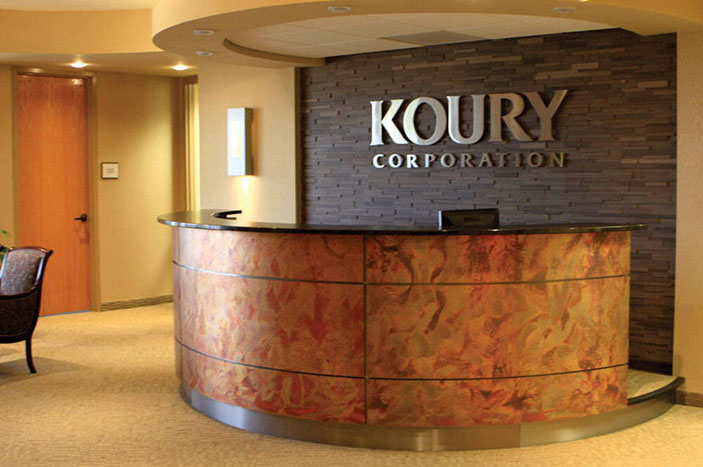 The Design Challenge
"Because Koury is a construction company, we wanted to use materials that showcased craftsmanship, but needed the product to be easy to install as well," said Boswell of her choice in material and design.
Boswell faced the challenge of limited space for this reception desk, so the curved desk is not only smartly designed, but it also looks great and adds character to the space. NuMetal can easily wrap around curved surfaces and columns, making it a perfect candidate for this installation. Boswell used NuMetal C412 Patina from the Unique Art collection to create a simple desk, but one that feels and looks like a work of art.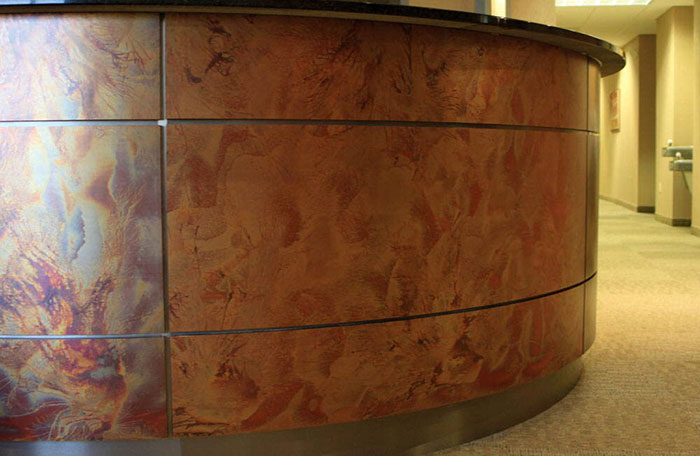 Our Solution
"It took about 2 to 3 weeks from the time we decided on the material, the POs, receiving it and later installing it," said Boswell.
The product has been installed for over 2 months now and Boswell boasted that they have had no issues with durability.
When asked if there was anything that ATI could have done better, Boswell couldn't think of a thing. She loves working with ATI's Southern Regional Sales Manger, Lee Averett. Boswell beamed at the question saying, "Lee was great to work with. He brought many samples for us to look at and choose from. We always get the best service!"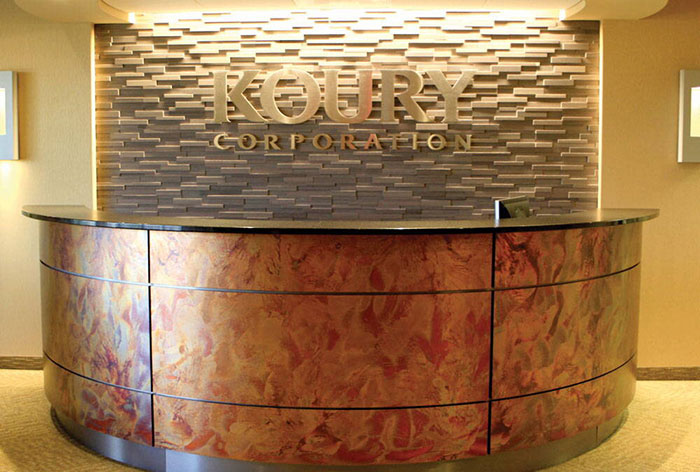 #DecorativeCeilingTiles #DecorativeCeilings #CeilingTiles

For other relevant searches, you might want to try: