architecture - engineering - construction
Project Spotlight: Grange Middle School - Fairfield, CA
For the students and staff at Grange Middle School in Fairfield, CA, the opening of the school's new Student Center meant more than freshly painted walls and shiny new floors. In addition to a new library, locker room, innovation lab, and career center, the $19.2 million upgrade also included a bright new cafeteria – which meant, for the first time, students at Grange Middle School had a comfortable indoor space to eat lunch and socialize with friends.
Prior to the upgrade, middle schoolers and teachers would have to eat their lunch outdoors. But thanks to HMC Architects and others involved in the project, students can now enjoy their meals in a comfortable, naturally lit cafeteria instead of under a cold winter rain or a hot spring sun. The cafeteria's clever design and careful daylighting allows students to continue benefiting from the parts of nature people do enjoy while eating – like gentle sunlight and fresh air – without all the parts they don't – like rain or unpleasant heat. One way this is done is with Guardian 275® translucent wall panel systems.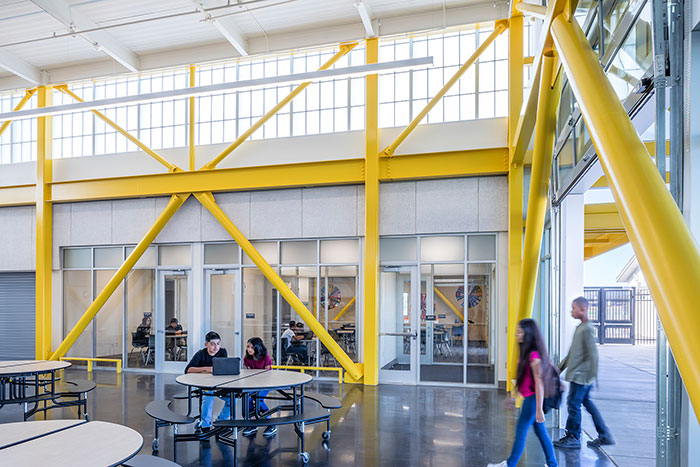 Image © HMC Architects

The translucent panels composing the upper half of the cafeteria walls illuminate the space in soft, diffused daylight and prevent direct streams of sunlight from shining in students' eyes or causing an irritating glare on glossy floors and tabletops. Because translucent panels also minimize solar heat gain, Guardian 275® systems are ideal for climates like California where a scorching sun can create unwanted hot spots and increase indoor temperatures, forcing the school to compensate for the heat gain with high cooling costs. This helps the cafeteria stay cool and comfortable while students eat.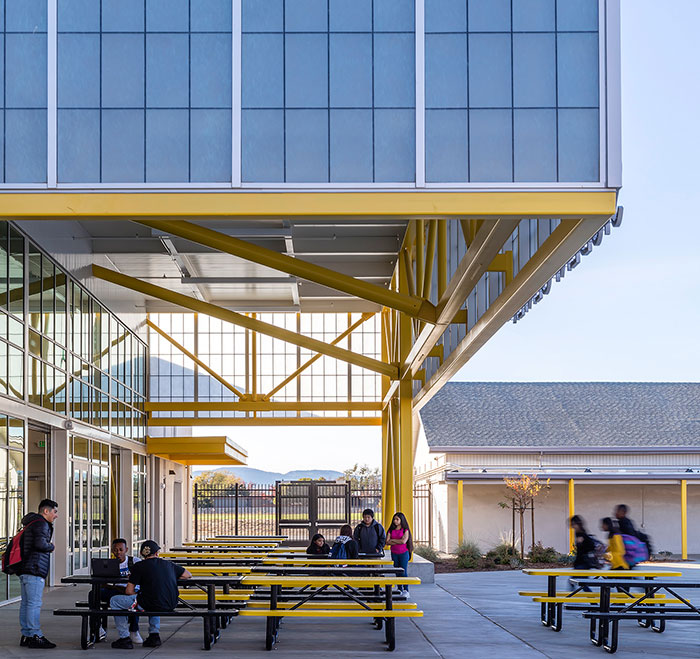 Image © HMC Architects

The Guardian 275® translucent wall panels also extend beyond the interior space, and ring the walls of a partially enclosed "patio" space as well, providing a continuation of soft natural light for both interior and exterior spaces, and creating a welcoming, bright and protected space.

Click HERE to learn more about the benefit of daylighting school common areas like cafeterias with translucent panel skylights and wall systems.

Project Partners:
Architect: HMC Architects
Contractor: Clark/Sullivan Construction
Installer: BT Mancini Co Inc
Representative: Apollo Architectural
@majorindustries #majorindustries

For other relevant searches, you might want to try: