architecture - engineering - construction
Project Spotlight: Bronco Barn and Ranger Arena – Tulsa, OK
"Tulsa County Expo Square has long been an event hub for the area, and recent grant money, sales tax initiatives and other funds have allowed the space to grow into a premiere destination for equine events, concerts and various livestock and animal-related shows, as well as hosting the Tulsa State Fair. But while some expo facilities are content with dark spaces and limited functionality, GH2 Equine Architects, A Specialty Practice of GH2 Architects, LLC, when tasked with creating a barn and warm-up arena on the grounds, were determined to create a bright, welcoming facility that would attract visitors from around the country.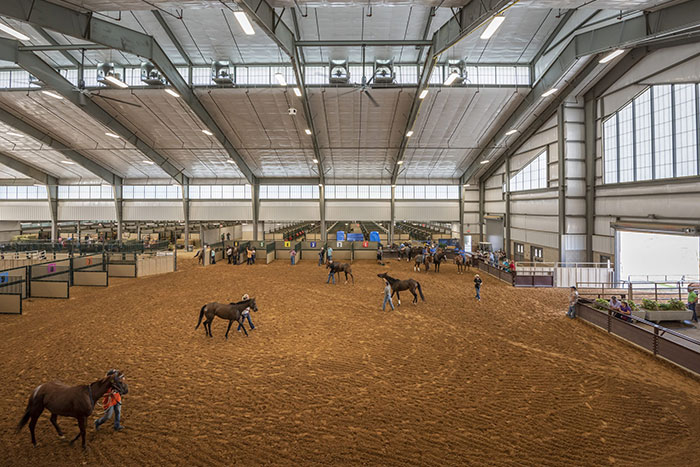 Image © Yellow Dog Design Works
Bronco Barn and Ranger Arena, the two new intertwined spaces at Expo Square, create a nearly 130,000 square foot complex that includes 384 Slide-N'-Glide style stalls for horses and livestock, 10 wash stations, a 2,000 square foot warmup arena, offices for veterinary and exhibitor services, a viewing balcony overlooking the adjacent Fair Meadows outdoor racetrack, and easy access to teller and wagering booths from both the inside and the outside of the facility. The new facility also features a large sloped walkway that's designed to provide easy access to Fair Meadows race events for horses and riders during the summer season. During off-season times of the year, when various other events are taking place indoors, the facility provides easy access to existing barns and expo areas on the grounds.

Despite the tendency of Oklahoma summers to be rough on large, open spaces in terms of excess sunlight and heat, the building's designers were determined to find a way to bring beneficial natural light into the space – not only for the benefit of energy savings, as daylight can replace artificial lighting and lower energy use costs, but also for the sake of the building's users. And while we often consider the benefits of natural light to human occupants, the Ranger Arena and Bronco Barn presented some different challenges.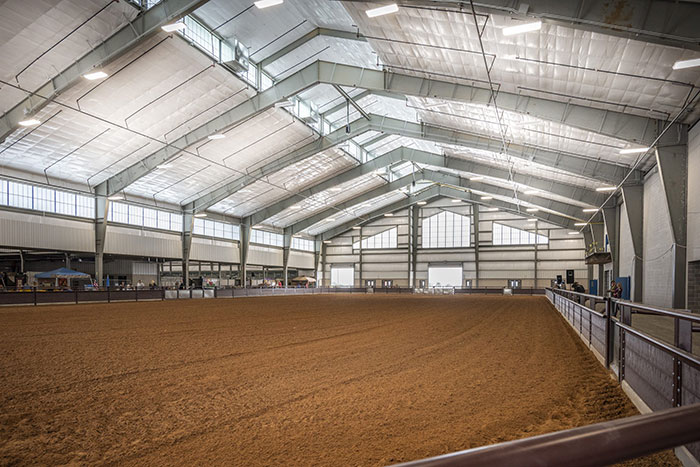 Image © Yellow Dog Design Works

"The building envelope design was carefully evaluated to explore opportunities for maximizing daylighting opportunities and to create a healthy stable environment and a comfort level for people and horses that will occupy the spaces for extended periods", according to GH2 Equine Architects, A Specialty Practice of GH2 Architects, LLC. "The use of translucent glazing materials is key in spaces such as this, which are occupied by horses and livestock, to prevent harsh shadows from being projected on the ground plane that the animal may have an adverse reaction to when circulating through the space."

The Bronco Barn gets a fair amount of its light during daytime hours from translucent panel wall systems that run along each side of two raised monitor roof sections running north to south. The goal was to provide a bright, open and welcoming space for users, but energy savings are also a part of the equation. According to GH2 Equine Architects, "the siting of the building afforded the opportunity to incorporate clerestories utilizing translucent glazing materials to fill the arena and stall areas with daylighting to allow energy efficiency by not having to operate light fixtures full time during occupancy, and to enhance the quality of the space."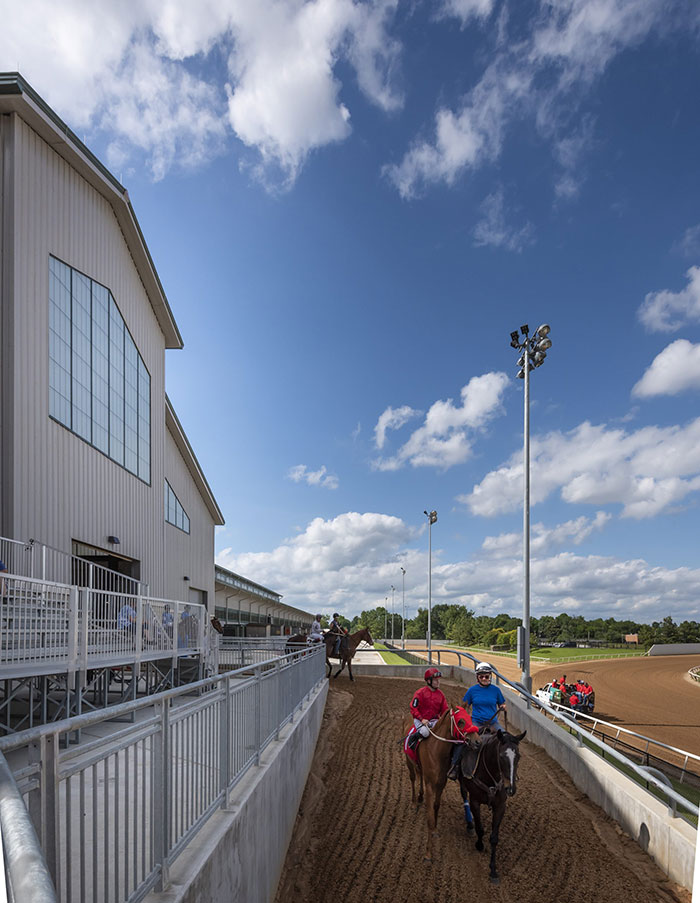 Image © Yellow Dog Design Works

The large 100 ft x 200 ft Ranger Arena, home to various events and used as a warm-up space for summer outdoor race events, also features a large section of translucent wall panels at its east-facing end, allowing diffuse daylight to fill the space while keeping out the glare of direct sunlight, and is aided by additional translucent panel clerestories in the monitor roof section and on the north facing side of the building. This soft light provides easy viewing for spectators, creates a more relaxed environment for the horses, and distinguishes the space from other venues in the area.

County officials also see the project as much more than just another horse barn or show arena. "This isn't going to be just another barn at Expo Square," stated County Commissioner John Smaligo in a Tulsa World news article during the 2018 groundbreaking. "It will truly be a showplace that our community can take pride in." Officials hope that the community's pride also pays off in additional tourism dollars, as the new space, with its focus on natural light and occupant comfort, is designed to compete for the best equine and agriculture shows in the nation.

Featured in Metal Architecture's October 2020 Issue – page 31 – "Adding Daylight to a Multipurpose Expo Space"

Project Partners
Architect: GH2 Architects LLC
Contractor: Crossland Construction
Installer: Natural Light Source, LLC
@majorindustries #majorindustries

For other relevant searches, you might want to try: