architecture - engineering - construction
Skylights illuminate PAST Innovation Lab
Major Industries recently provided a few Auburn® glass skylights for the PAST Foundation Innovation Lab in Columbus, Ohio. The PAST Foundation is made up of scientists and educators who work together to create programs for STEM (Science, Technology, Engineering and Math) schools that focus on a learn-by-doing approach.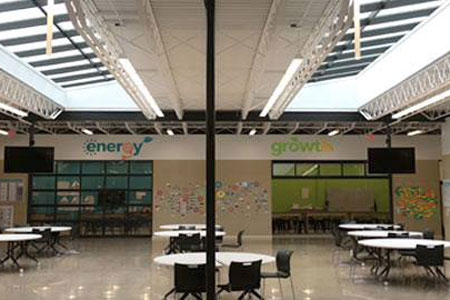 The newly renovated warehouse that's home for the Innovation Lab is divided into hands-on learning labs with flexible seating areas and access to the latest technology. WSA Studio designed the space, which has a central design feature – a large "agora" space that can accommodate overflow from adjacent classrooms and provides additional separate learning space. The highlight of the space are two large Auburn® glass single slope skylights that provide access to daylight for both the space itself and the adjoining rooms. Access to natural light, especially in a location such as this in the central part of a building, can make the space feel more inviting, and cut down on artificial lighting needs during peak use hours.

AUBURN®
Auburn® skylights are custom designed and engineered for long-terms performance, and feature more traditional glass glazing options, as well as polycarbonate multi-wall and acrylic. They're a great choice if you're looking for the durability and longevity of glass, or simply enjoy dramatic views of the sky.
Auburn® systems aren't designed to span the largest openings; they're optimized for small and medium projects and are value-engineered to save time, money, and weight in your next daylighting project. All Auburn® skylights feature high-performance sealants, built-in water management, and time-proven EPDM gasketing to provide the ultimate protection: three-level redundancy to keep water out of your building. In addition, they are available in a wide variety of configurations, including mixed glazed systems that incorporate glass with our Guardian 275® translucent panels to create a unique, eye-catching and functional design.
Save money in initial cost and long-term energy expenses.
Possible LEED® credit opportunities for both new construction and existing buildings.
High-performance EPDM gaskets.
Universal "slope adapters" fit all standard rafters, creating precise slope control.
Come standard with tubular rafters that frequently eliminate the need for support tubes.
Guaranteed against defective materials and construction for one year from date of purchase (exclusions apply – see final warranty for details).
Instant pricing from our SkyPrice™ computer system.

For other relevant searches, you might want to try: