architecture - engineering - construction
The Benefits of a Prefab Ticket Booth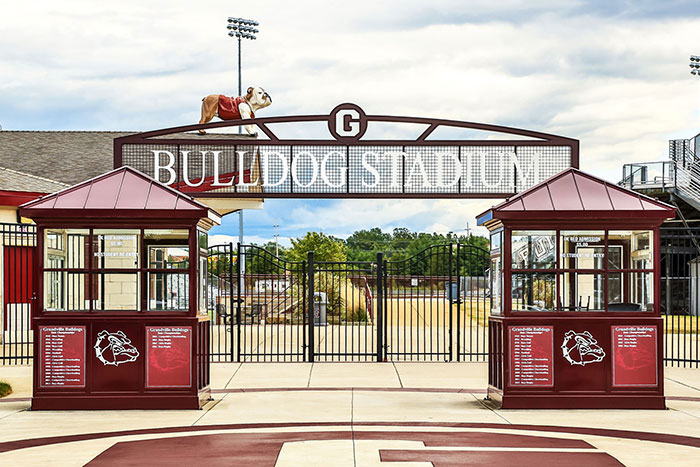 A prefabricated ticket booth, also known as prefab ticket booth or portable ticket booth is ideal for the use in many different situations, such as within entertainment venues, school football or soccer stadiums, theme parks, boat marinas, and more. The first impression in an event of place of business is the most important factor in a ticket booth. Par-Kut International designs and builds high-quality ticket booths. Par-Kut ticket booths are prefabricated, portable and factory-assembled with 100% steel construction. In this blog, we describe the benefits of a Par-Kut prefab ticket booth.

One of the advantages of a Par-Kut galvanized steel prefabricated ticket booth is that Par-Kut can customize your ticket booth to accommodate your needs. Par-Kut prefab ticket booths are delivered to the site complete and ready for use. The Par-Kut ticket booth include all the features such as electricity, that your staff will need when they use the ticket booth. The benefits of "instant" installation allows you to react quickly to changes in your market, and you have the option to add additional ticket booths in the future that match the design of your original ticket booths. Another example includes arranging the windows to accommodate multiple ticket counter windows and multiple points-of-entry.
The standard Par-Kut ticket booth features include:
Built-in forklift slots
Clear, tempered safety glass
Interior counter-top
One or two cashier windows
Electric outlets,
Interior lights,
Swinging / sliding steel door with lock and hydraulic closer
Treadplate floor
Paint in color of choice.
The Par-Kut ticket booth optional features include:
Wall- mounted air conditioners and heating
Tinted glass
Exterior lighting
Data outlets
Cash drawers
Amplified intercom system
Internet connection
Ventilation system
Exterior shelves for transactions
Signage on the ticket booth
Architectural ticket booth wall such as factory installed brick veneer or site installed masonry
Architectural roof treatment such as roof treatments such as hip, gable, and barrel vault
Broader fascia
roof overhang
Window mullions
architectural tube steel enhancements]
multicolor paint schemes
Automatic sliding windows.
Another benefit of a Par-Kut steel ticket booth is the security and the durability provided for your personnel and your revenue.
The Par-Kut steel ticket booth security options are as follows:
Locking ticket windows
Locking cash drawers
Unbreakable glazing and floor
There are many prefab ticket booth designs and options available from Par-KutFor more information about Par-Kut prefab ticket booth features and options, or architectural ticket booth designs, email us at https://www.parkutblog.com/contact/
@ParkutInternational #ParkutInternational

For other relevant searches, you might want to try: