architecture - engineering - construction
About Window Shades
Window Shades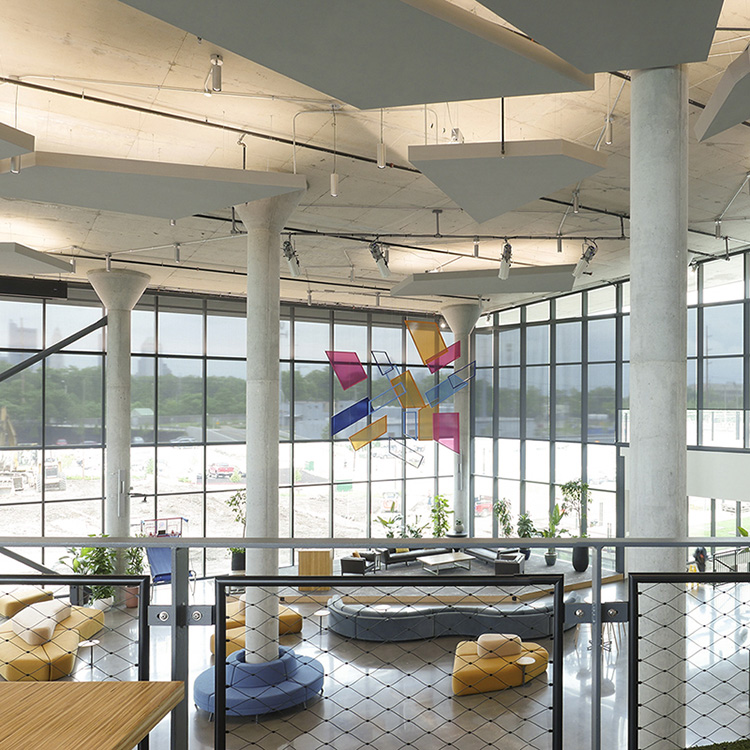 Window Shades
We offer support and design assistance to architects toll-free, call: 1-800- 238-7999 and press 2. Or visit our website, open 24 hours a day, www.draperinc.com.
Draper® has manufactured window shading solutions since 1902. Our advanced solutions reflect sunlight and heat and reduce or eliminate glare. We work with architects and designers on flexible and scalable solutions for interior, exterior, and dual facade applications that allow you to control natural light, manage solar heat gain, reduce energy costs, and improve employee productivity and comfort.
The Perfect fabric
We work with American weavers Phifer and Mermet U.S.A. to provide domestically sourced solutions. We also tailor one-of-a-kind solutions to your specific building need. Draper® offers an unmatched spectrum of beautiful and functional fabric colors and styles to solve any performance or aesthetic challenge. Woven mesh fabrics protect against heat, glare, and UV rays, while maintaining a view. Soft, translucent textiles offer designer appeal. Opaque fabrics eliminate visible light and provide privacy.
Productivity
The Center for Building Performance and Diagnostics at Carnegie Mellon University looked at the impact of daylighting on productivity and recorded 40 percent gains. We'll help you design an integral shading strategy to maximize these gains and minimize negative impacts of glare and heat gain.
Saving energy
Daylighting reduces the need for artificial lighting, and in the winter brings in solar radiation to help heat the building. The right solar control solution helps reduce reliance on HVAC in the summer by cutting solar heat gain, and in the winter by helping retain building heat on cloudy days.
Operation and control
Draper® shading systems are designed to work in any control scenario. From simple wall switches to manual bead chain clutch operation to remote operation, to automated glare control and building operating systems, we will design a control package to allow you to get the most of the shading systems' capabilities.
Knowledge
We've been manufacturing window shades since 1902. A lot has changed since then. We've spent millions of dollars on the latest computerized cutting and seaming equipment and training to produce high quality, high performing solutions. Our approximately 700 employees bring almost 8,000 years of collective experience to every project.
Quality workmanship
Our solutions are designed and built to endure the toughest conditions. We assemble, visually inspect, and operate every product before it leaves the factory to make sure it meets our high-quality standards.

Brochures | 3-Part CSI specifications | CAD details
News archive:
Draper Introduces New Shade Hardware Options (Jun 20, 2022)
A Custom Solution for a Big, Moveable Headache (Jan 22, 2022)
Draper Achieves UL Listing for Motorized FlexShade (Feb 19, 2021)
Draper Introduces Child-Safe Clutch-Operated Shade (Jan 11, 2020)
Draper Introduces New Engineered Screen Technology - TecVision (Mar 20, 2014)
Draper Europe Acquires Awning Manufacturer (Feb 19, 2012)
New Offering From Draper: Clutch FlexShade XD For Larger Clutch-Operated Shades (Dec 08, 2011)
Tips For Shading Outdoor Spaces From Draper, Inc. (Oct 23, 2011)
Draper shades powered by the Draper Digital Network (DDN) (Dec 26, 2010)
Draper, Inc., Offers Green Solutions for Large Window Openings (Dec 13, 2010)
Draper Saves Paper, Supports Heifer (May 13, 2008)
12490 - Window Treatment
12493 - Shades
12 21 00 - Window Blinds
12 21 23 - Roll-Down Blinds
12 21 26 - Black-Out Blinds
12 24 00 - Window Shades
12 25 00 - Window Treatment Operating Hardware