architecture - engineering - construction
6 Alternative Uses for Tin Ceiling Tiles
Tin ceiling tiles are becoming more and more popular by the year. With sustainable living becoming more of a trend, tin tiles are a great way to live sustainably as they're ethically sourced and easily recycled. Their growing popularity doesn't just rest with sustainability, however. They allow you to become creative, meaning you can add visual interest in areas of your home other than your ceiling. This reading will focus on these alternatives and why they work so well within the decorative world.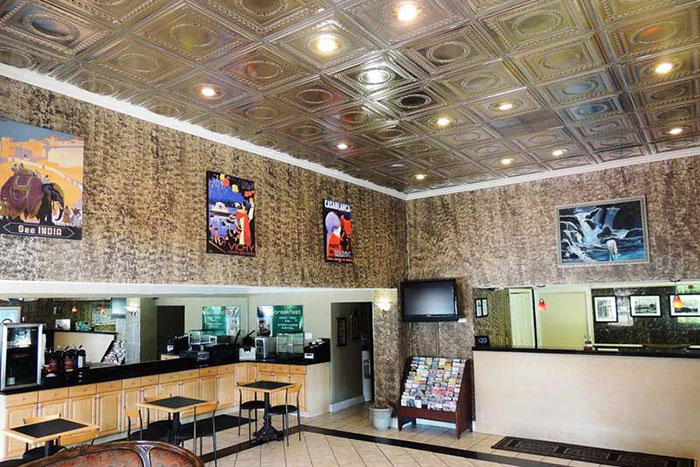 1. Tin Ceiling Tile Feature Wall
If you're a fan of tin tiles but not keen on creating a tin ceiling, perhaps a feature wall may interest you. When it comes to tin feature walls, we have seen some spectacular finishes, whether fitted using one particular tile or a mix of several designs.

The patterns and textures of tin tiles create eye-catching designs, whether you choose bright colors, white, or a mix of panels. Do note that some designs are more intricate than others. If you are not sure which suits your room, you can always seek another opinion, especially from an expert. If you do decide to create an accent or feature wall, do not place tin tiles on your existing ceiling, too. Installing tin tiles on both a wall and ceiling can be very overwhelming, and it can make the room seem a lot more closed and smaller.
2. Tin Headboards
If you're planning on making changes to your master bedroom, then having a tin tile headboard is a great way to implement class to this type of space. Tiles can create an unconventional feel to a space, especially in unexpected areas. By fitting tin tiles behind your bed, you'll be turning this area into a stunning and entirely unique headboard.

As there are many different patterns and colors available, there is a wide range of creative options, allowing you to design something original that fits your bedroom nicely.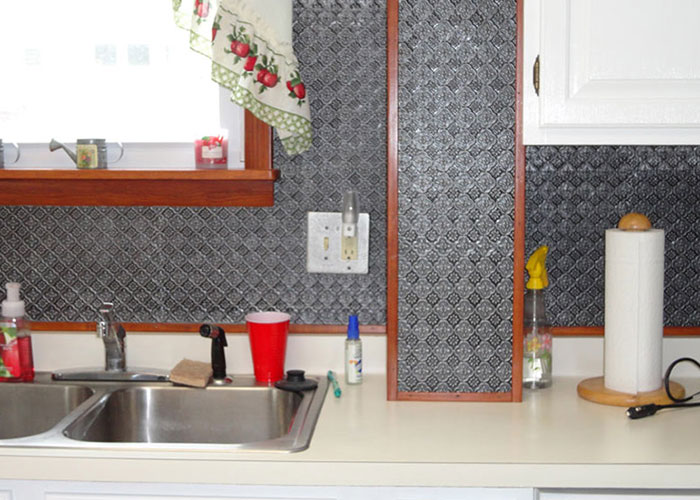 3. Tin Backsplash
Besides the practical benefits of having a tin backsplash in your kitchen (or bathroom), this idea brings style and sparkle, something usually overlooked when it comes beneath the kitchen cabinets. The tin tiles also act as a neutral backdrop that can blend well with warmer qualities when matched with wooden cabinetry.

Aside from the beauty that a tin backsplash can generate, there are practical advantages to having it in an area where splashes often occur. These advantages include:
Durability:
Made from tin-plated steel, tin is fire resistant – a feature that other backsplash materials fail to offer. If you're looking for a safe, durable material for this kind of space, then we highly recommend placing tin tiles for your backsplash.
Easy to clean:
Not only moisture-resistant, but tin is ideal for daily messes in your kitchen or bathroom. They will also last a very long time due to being able to resist rust and mold. As their purpose is to protect your walls from splashes and splatters, you'll be glad to know that you can clean these finished tiles just by using water and a little mild soap.
Install easily by yourself:
If you have a few hours, you should be able to finish this installation project.
4. Hang Tiles with String
These tiles can be introduced as tin art, where you hang up a tin tile using a string like it's a painting. This look is a great way to fill a lot of white space, and it looks great in a bedroom above a bed. If you opt for this idea, make sure that the string you use is sturdy enough to hold the tin tile(s). Tin is fairly heavy, so a weak string is not enough to do the job. Or, you can use faux tin ceiling tiles or something lightweight.

If you leave the tin tile looking old and vintage, this will spark a unique and elegant style, and it will bring a creative edge to the space.
5. Dramatic Frame
One idea we all tend to have in our homes is photographs of us and our loved ones. Most people have memorable photos displayed inside a frame, but tin tiles offer something different. Using tin tiles as a frame makes a dramatic impact. It immediately catches the eye as it turns into a focal point of the room it sits in.

When it comes to a tin tile frame, it doesn't just work with photos of you and your loved ones – it can also be framing a mirror or perhaps a piece of art you like. It's up to you how you use a tin tile frame, but know that this is a great alternative to having them placed on your ceiling.
6. Fireplace Screen
Another project that makes a big statement is using your tin ceiling tiles for a fireplace screen. If you have a living room that already has a classic and vintage decor theme, then this idea is a perfect fit for you. As most tiles are 24" x 24" (but 12" x 12" are also available), they are an ideal size for a fireplace screen.

By adding a tin tile fireplace screen, you'll be instantly adding visual interest when the fireplace isn't in use, especially since this isn't much of a common feature to have. If you make sure that it's built into a self-standing frame, you can easily move it when you want to light the fire.

Ultimately, tin ceiling tiles are meant to be used for your ceiling. If this doesn't suit your needs, though, then there are ways that you can use them in other ways. To do so, you need to know what your decor theme is and how you can enhance it by being creative and imaginative. If you deploy these factors, then you can create some spectacular features using tin or any other type of tiles.
#DecorativeCeilingTiles #DecorativeCeilings #CeilingTiles

For other relevant searches, you might want to try: