architecture - engineering - construction

Acoustics
---
March 17, 2021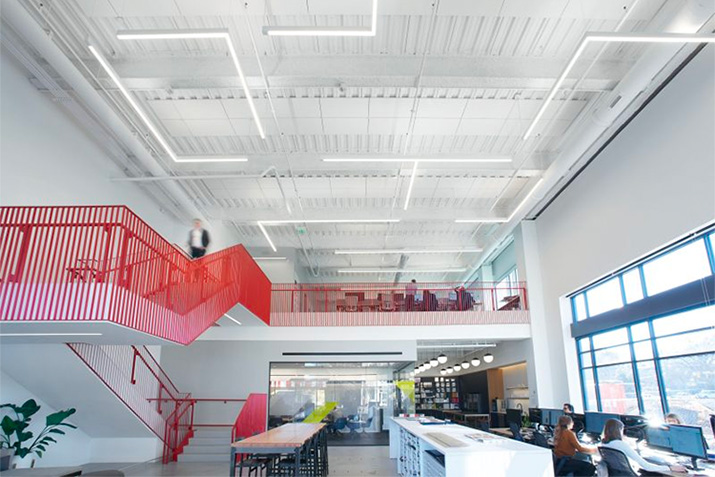 LYRA PB Direct-Apply Acoustical Ceiling and Wall Panels provide sustainable and acoustical options for a wide variety of applications and install direct-to-structure using adhesive.
---
February 8, 2021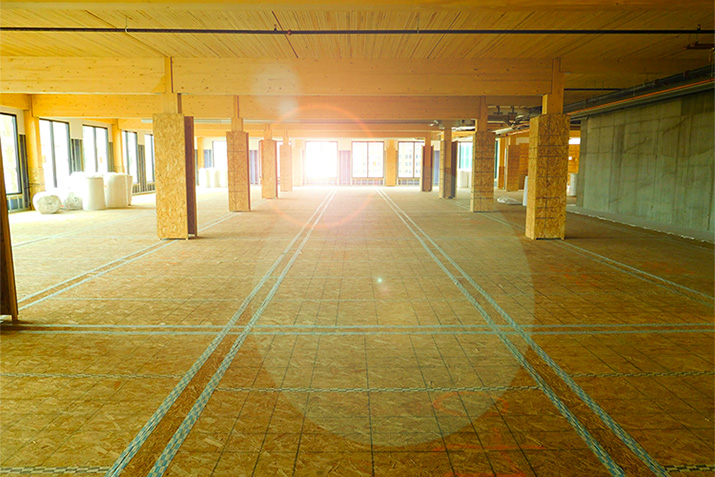 Mass Timber continues to revolutionize the construction industry. Maxxon has performing sound tests and providing sound control, Acousti-Mat® Systems since the trend emerged in the United States.
---
August 3, 2020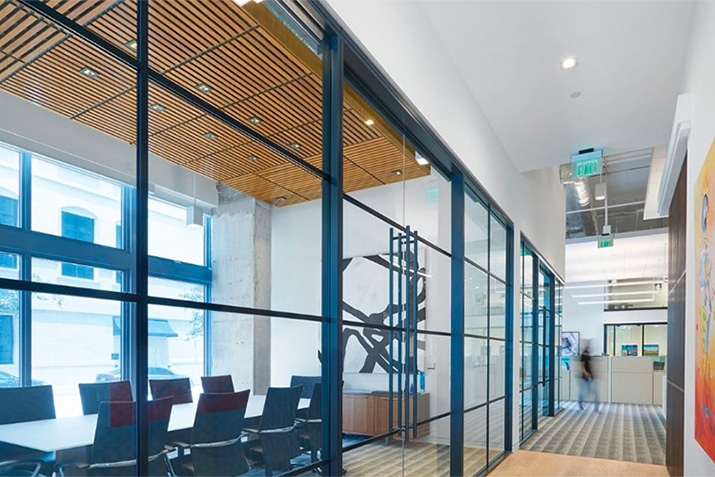 Create flexible spaces that accommodate change. Ensure speech privacy that meets industry standards. Reduce noise and keep it from traveling to adjacent spaces. How to quiet every space >
---
June 22, 2020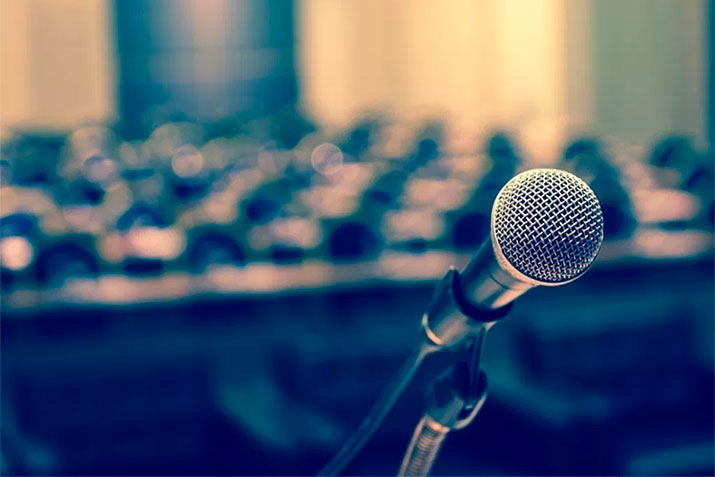 Did you know Ambico's Acoustic Door and Frame Assemblies are tested by independent laboratories to comply with the most up-to-date standards on the continent? Learn more about our range of Acoustic products.
---
May 8, 2020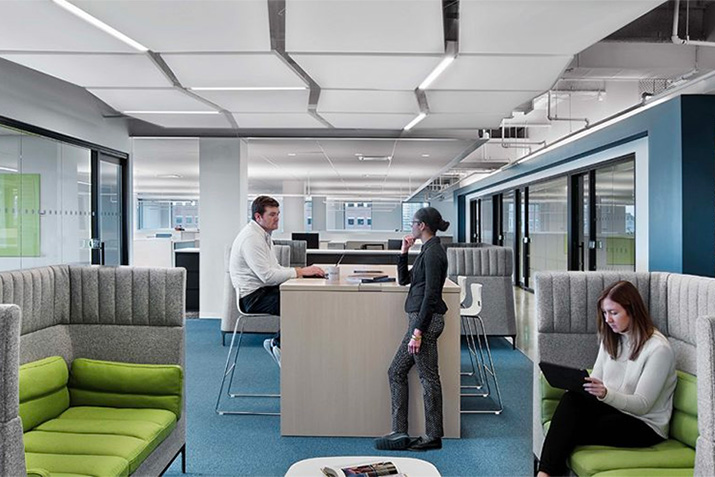 Whether you are retrofitting an existing building or designing a new, modern space, acoustic clouds are the ultimate tool for design freedom. Different colors, shapes and sizes give designers hundreds of options – and that's just the product itself. Consider positioning, angles, stacking and layering, and the possibilities are as open as the spaces.
---
December 13, 2019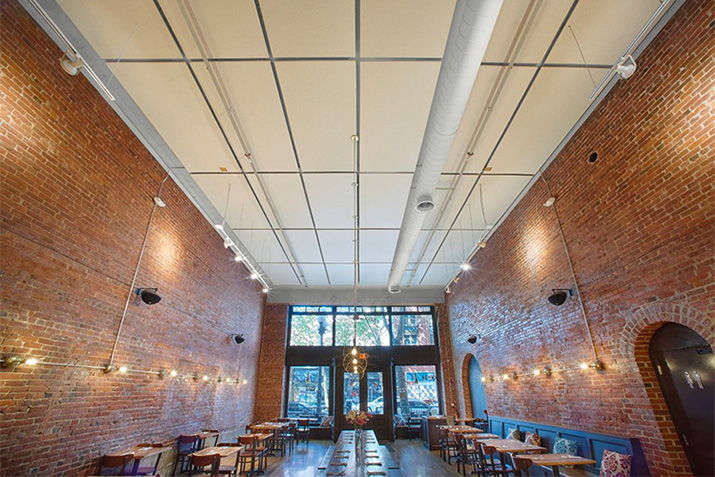 Nirmal's, rated one of the hottest restaurants in the country, brought in the accolades, but needed to bring down the noise, too. Hear how the owner quieted the space while preserving the ambiance.
---
November 18, 2019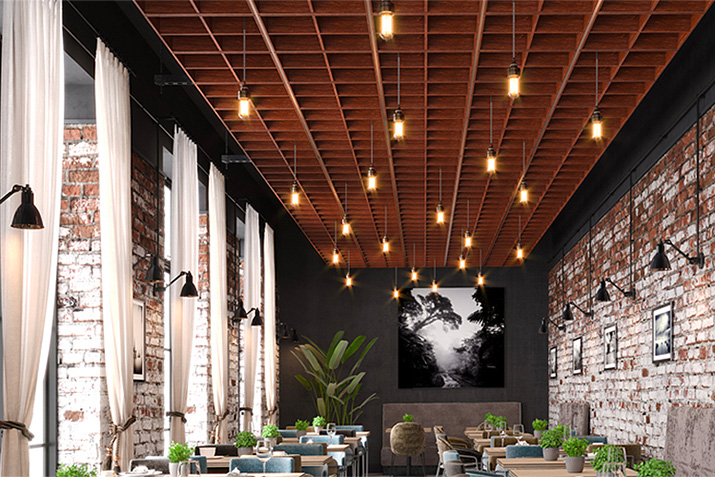 We've made it easy to select and specify wood ceilings and walls by offering the most popular products, species, finishes and sizes. From lay-in panels and grilles, to linear planks and canopies, CertainTeed's complete line of wood ceilings and walls gives you all the styles you're looking for, all at a superior value.
---
November 13, 2019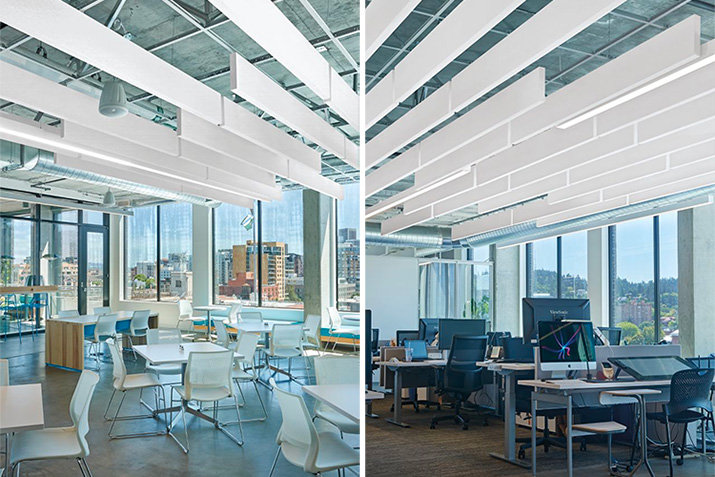 While the blades layout in this open structure space appear to be randomly patterned, they're anything but.
The panels are actually clustered over workstation areas for better speech intelligibility.
Step inside this smart #workspace design:
---
October 14, 2019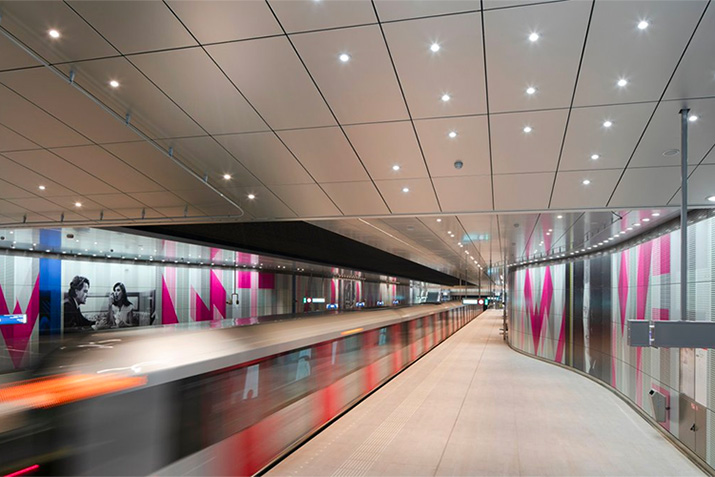 Monolithic look, acoustic performance, easy installation, and best of all - long-term stability. Plaza large-format acoustic panels by Hunter Douglas Ceilings & Walls are engineered with a lightweight perforated aluminum construction and an innovative honeycomb core, so panels remain ultra-flat.
---
September 27, 2019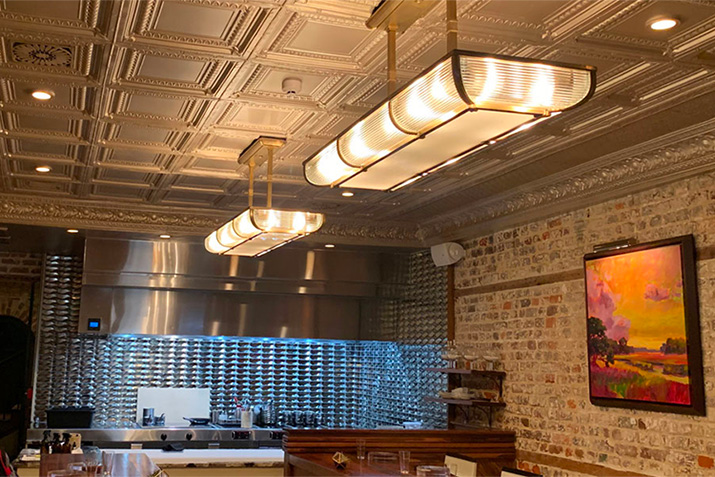 If there's one topic that's resonating across the interior design industry right now, it's acoustics. With the open office plan firmly established as the go-to approach to workplace design, people are waking up to the fact that acoustics and privacy were often overlooked or not addressed comprehensively enough. This CEU will explore various characteristics and benefits of decorative ceilings that specifiers should (re)consider for their next commercial interiors projects, including acoustical properties, durability, sustainability, aesthetics and historic renovations.
---
September 18, 2019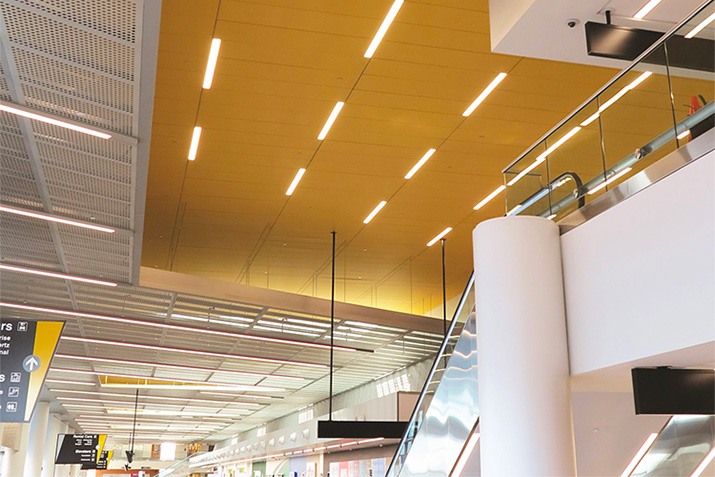 One panel structure with thousands of design possibilities. There's more to Techstyle than typical wall-to-wall grid installations. A full range of trim products enables the same basic panel structure to take on countless creative forms.
---
September 2, 2019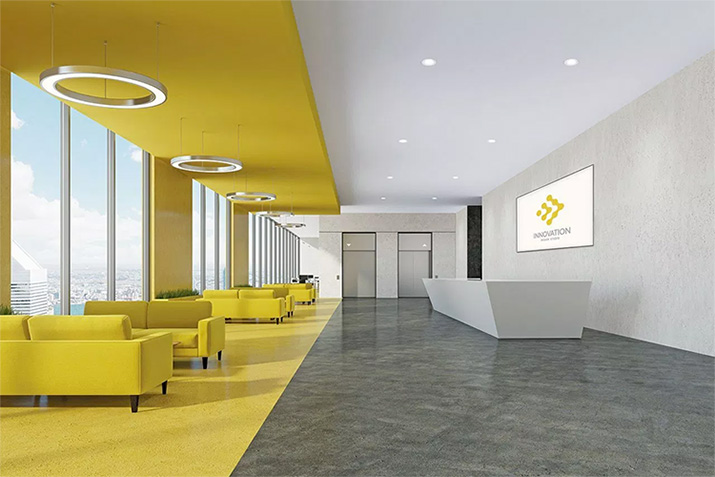 New seamless ceiling provides performance benefits of both Armstrong® Total Acoustics® and Sustain® portfolios.
---
July 22, 2019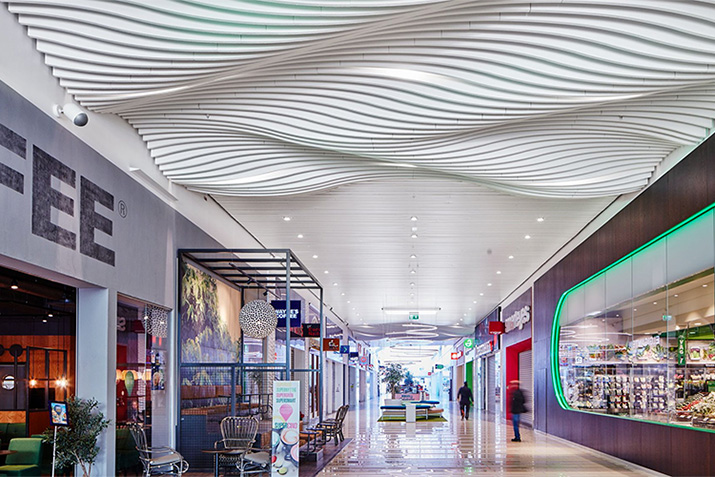 The design opportunities presented by modern open spaces create a unique set of challenges when it comes to acoustics. Influences as diverse as the creative reuse of factories to the benefits of daylighting have contributed to the popularity of open plenums, exposed structures and the use of glass, wood, metal, polished concrete and other acoustically reflective materials.
---
June 21, 2019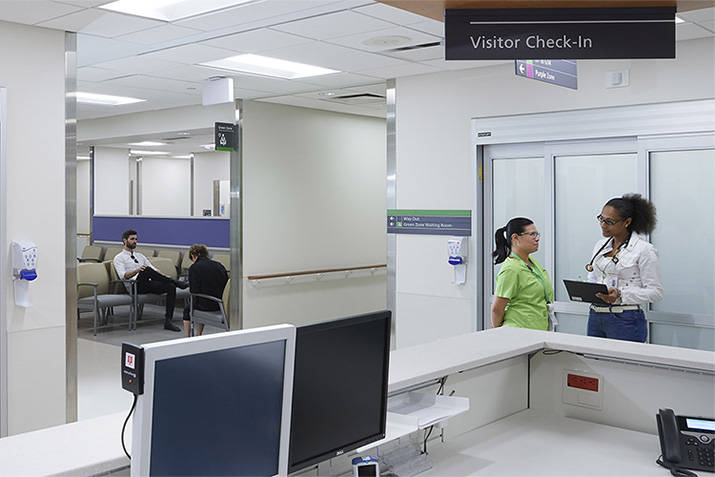 Imagine a bustling emergency room. Nervous patients. Hustling emergency personnel, efficient nurses calmly gathering background information. The environment is tense and active, yet there is still a profound need for privacy and peace. Now, you're in a classroom. The room is quiet, all eyes are on the teacher whose, clear, engaging voice captivates her audience. Finally, you've joined a group brainstorm. You and your colleagues are debating the best course of action. The environment is energetic yet respectful as others continue their work around you. These environments are very different yet, each space is made better by its ability to control and manage the noise within. So, how do we get there? How do we manage the acoustics in environments as diverse as these? The answer is through Targeted Acoustics.
---
May 22, 2019
Certainteed building scientists offer up an acoustical solution that is easy to replicate. Located approximately 30-miles outside of Philadelphia, East Whiteland Township is in the center of Chester County. The township building is typical of local government, a combination of office spaces and meeting facilities in a relatively no-frills municipal building.
---
May 17, 2019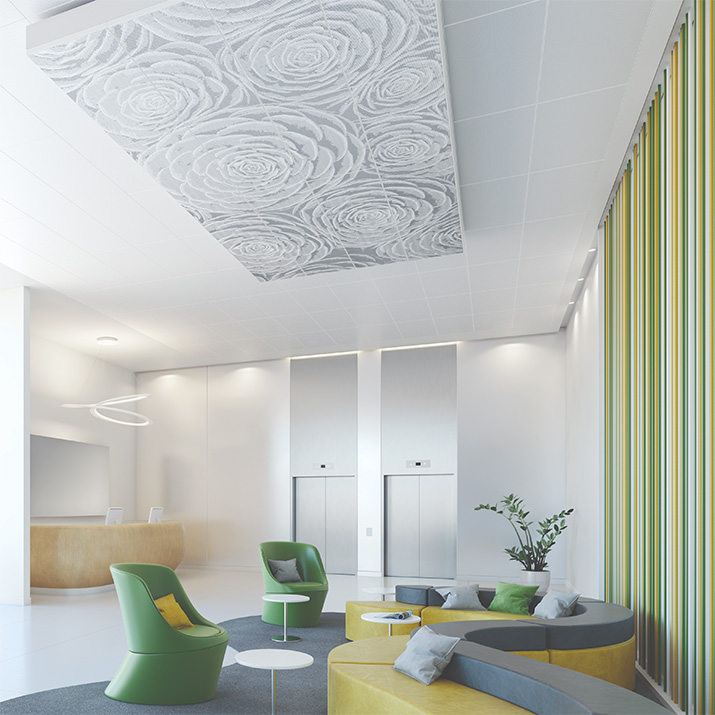 Custom image perforation capability from Armstrong Ceiling & Wall Solutions offers unique visual and acoustical performance.
---
March 5, 2018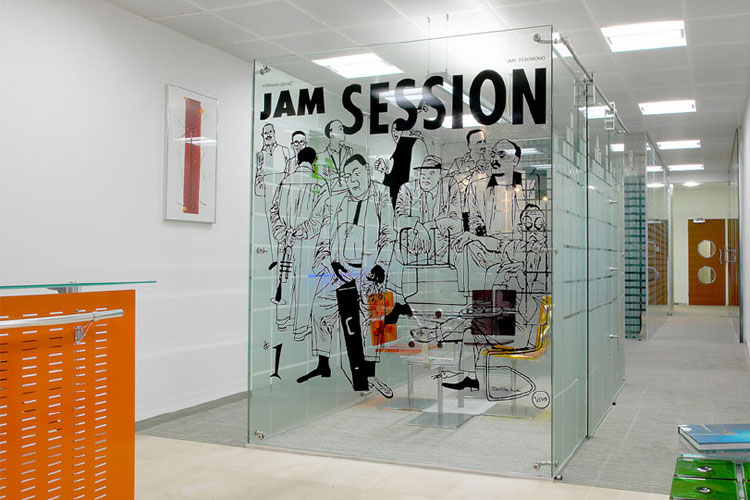 Incorporating glass into office interiors is a trend that has skyrocketed over the past 10 years. But this is more than just a trend; glass walls provide a number of practical benefits to offices and the people who work in them. They maximize space, minimize the need for interior light, and can even increase productivity and collaboration. These are some of the biggest benefits of outfitting your office with glass walls and doors.
---
February 6, 2018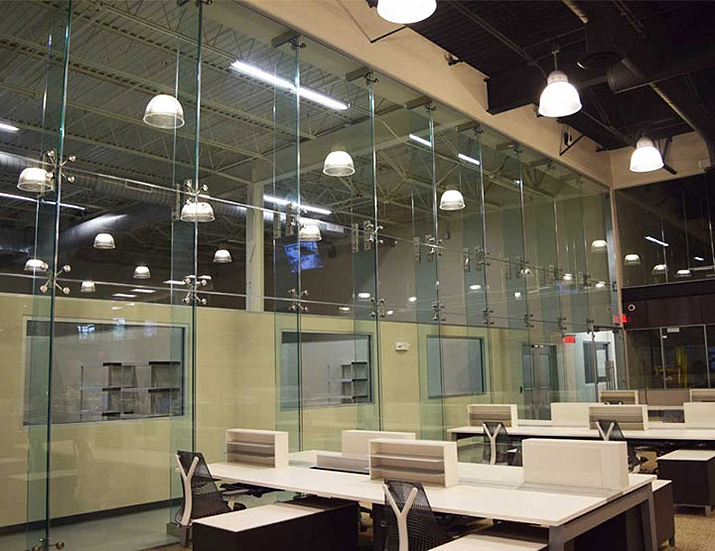 Advances in sustainable building have made it easier than ever to create green buildings and office spaces that take a minimal toll on the environment. From the highest point of your building to the lowest subterranean basement, there are steps you can take to make your building greener and more sustainable. Here are some of the ways buildings can become more environmentally friendly.
---
January 9, 2018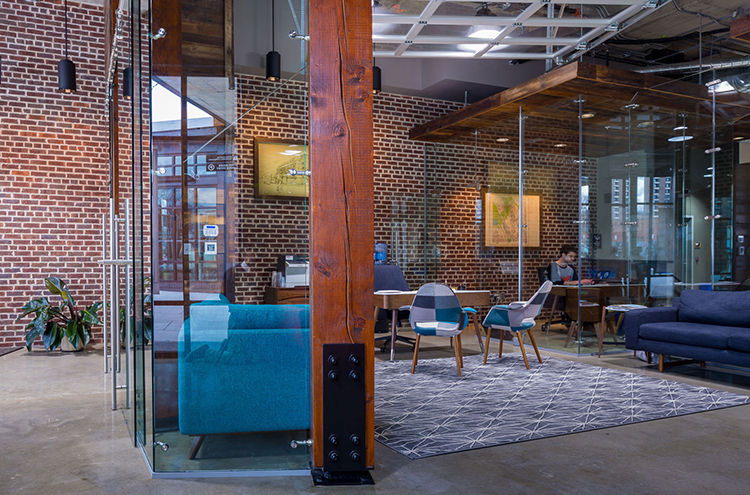 The debate still rages over whether closed or open office floor plans are better for productivity. Glass walls offer a compromise that makes the best of both worlds and provides a balance of collaboration and privacy that is ideal for many office set-ups. However, installing glass walls represents a significant investment, so before you commit to incorporating them into your workspace, check out these seven things to consider.
---
December 15, 2017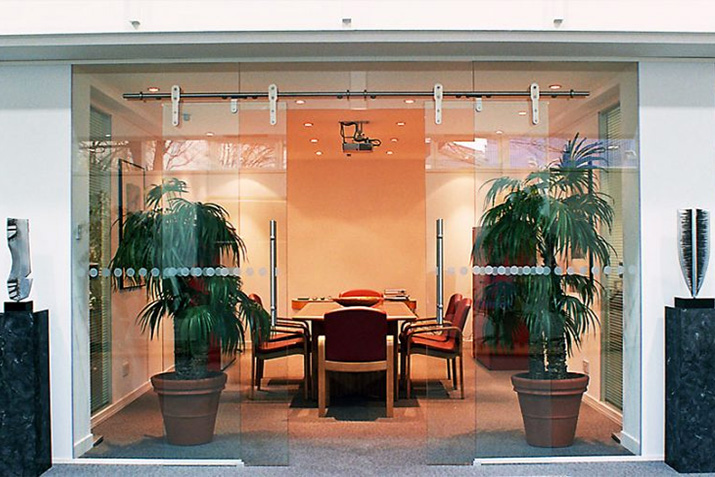 The typical point of entry into an interior environment tends to be simple, boring, and often mediocre. The primary purpose is to allow access, paying no attention to any crucial design attributes Avanti Eclipse sliding glass doors are a collection of quality Sliding Glass Door Systems that provide a contemporary solution to applying design and seamless flexibility.