architecture - engineering - construction

Acoustics
---

Draper's 3% openness solution provides both echo and solar control
In a recent CEPro article entitled "6 Steps to Isolate Rooms for Sound," Home Theatre Designer Scott Bourquin discusses how to make a room quieter. Bourquin points out that "the quieter you make a room, the greater impression it gives of quality workmanship." So making rooms quieter can have benefits beyond the technical aspects. You can read the full article here.
While in his piece Bourquin offers ways to make a room "super quiet," it did get us thinking about how our EchoControl Acoustical Shading can contribute to an overall plan to reduce noise.
The first and most obvious way to use EchoControl is on the windows—including skylights. Acoustical shading addresses the reverberation of sound off of the glass, and also helps with sound from the outside. EchoControl has a Noise Reduction Coefficient of 0.60. The Noise Reduction Coefficient (ASTM C423-90a) rates the ability of a material to absorb sound. Zero is completely reflective, and one is completely absorptive. The NRC is calculated by averaging the frequencies of 250, 500, 1000, 2000, and 4000 Hz (rounded to the nearest multiple of 0.05).
By the way, don't forget—in addition to its sound absorption properties, Draper EchoControl brings with it the advantages inherent in light filtering window shades. It diffuses light, reduces glare, controls solar heat gain, and reduces fading of interior furnishings.
Another way EchoControl can help is in reducing echo off of the headbox or fascia behind which the motor and roller mechanism is hidden. That's because one of our hardware finish options is to wrap the headbox/fascia with the EchoControl fabric.
Of course, there's nothing that says a shade fabric is useful only on a window. Draper EchoControl with custom printed graphics can also be used in other areas in the space—especially in a commercial space where they can be used as signage or to add to the décor. When used in this way, the fabric panels can help provide added reverb dampening.
In Bourquin's article, he discusses placing a felt curtain over a door. Instead of the felt curtains, why not an EchoControl roller shade. It can easily be retracted to allow easy ingress and egress through the door, then lowered to provide echo reduction assistance.
For more information on Draper's EchoControl Acoustical Shading, click here. Or, if you have a project where you think EchoControl might be able to help, contact your Draper sales rep to discuss the details of making rooms quieter.
Company: Draper, Inc.
Of: Terry Coffey
Source: http://blog.draperinc.com/2016/11/making-rooms-quieter/
Tags: Acoustics | Interior Design | Window Shades
---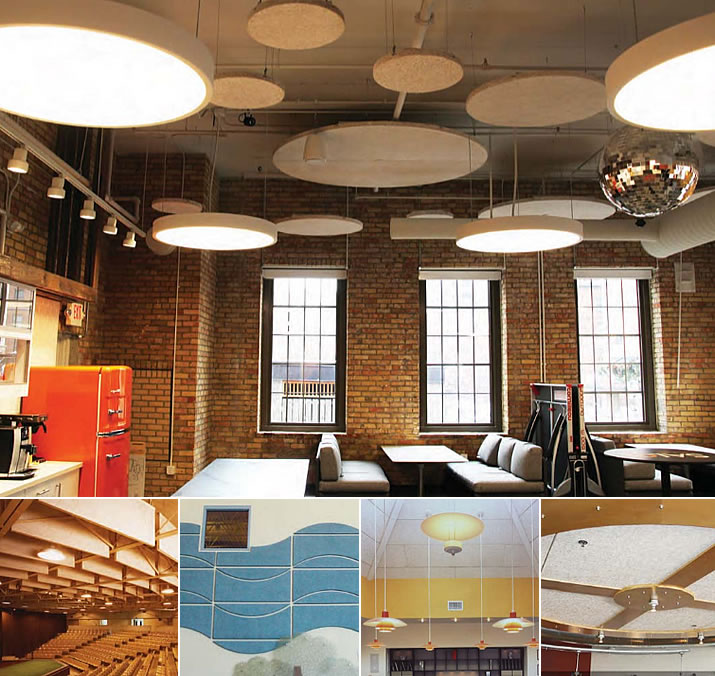 Tectum ™ Acoustical Wall and Ceiling Panels Easy to work with and install, Tectum Interior Panels are commonly used in new construction, retrofits and anywhere acoustic absorption, style and toughness are needed. They absorb sound and are tough enough to stand up to daily abuse in high-traffic, heavy-use areas. Natural, painted, printed with your gr aphics or covered in fabric, they provide an attractive, durable finish in any interior application. Manufactured at the Tectum Inc. plant in Newark, Ohio, for over 65 years, Tectum Products stand the test of time.
Tectum Acoustical Panels are composed of aspen wood fibers, bonded with an exclusive inorganic hydraulic cement binder and formed in a continuous process under heat and pressure. As a result, physical characteristics usually obtained only with a combination of several separate building materials are found in Tectum Products: excellent sound absorption, abuse resistance, a decorative textured interior finish — all in a single, structurally strong yet lightweight product. All Tectum Products are Class A/Class I, with a flame spread of 0 , in accordance with ASTM E- 84 .
Hard, reflective surfaces, multiple noise sources and the need to hear and be understood are the primary reasons that good acoustics are a critical part of any good design. All Tectum Products can be factory or field painted without impacting acoustical performance.
New Products in the Tectum Interior Line
Panel Art
A variety of pre-fabricated shapes encourage custom artistic expression. Create a unique statement wall that absorbs noise and is tough enough for schools.
Line Design
Combine all of the acoustic performance and toughness you expect from Tectum Products with the added interest of textural design options created by straight line v-cut grooves.
Tectum Acoustical Roof Deck
For an economical, environmentally responsible structural acoustical roof deck, Tectum Inc. offers a full line of Roof Deck options. To explore the design options for the building envelope, see our Roof Deck Catalog online.
Company: Tectum Inc.
Source: http://www.tectum.com
Tags: Acoustics | Ceiling | Wall Panels
---
Tectum Finalé Interior Panels add extra noise absorption and contribute positively to the LEED certification program. With abuse resistance and the highest possible sound absorption, Tectum Finalé is the ideal design solution.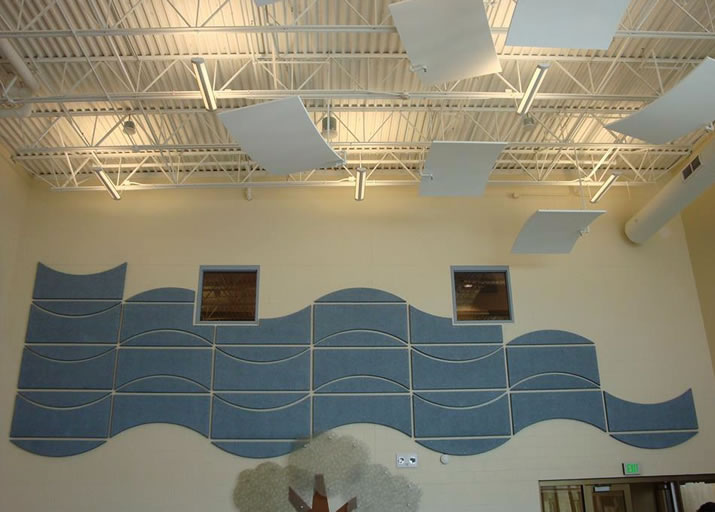 Tectum Finalé panels are a high NRC (Noise Reduction Coefficient) solution for spaces that require acoustic dampening. A composite of Tectum Panels, Tectum spacer strips and MinWool-1200®, Finalé panels have an NRC of .85 to 1.00 and a Class A interior finish.
Whenever a space calls for the highest possible sound absorption, and anywhere activities demand abuse-resistant panels, Tectum Finalé panels are an unmatchable design solution.

MinWool-1200®
MinWool is high-density, noncombustible insulation made of organic Basalt (Volcanic Rock) fibers. MinWool absorbs noise while resisting moisture, mold, mildew and fungi growth.
MinWool-1200® is a registered trademark of Johns Manville.
Company: Tectum Inc.
Source: http://www.tectum.com/iw-acoustical-panels-finale-photos.html
Tags: Acoustics | Interior Design | Wall Panels
---
AvantiSystemsUSA supplies and installs a family of architectural glass wall and glass door systems. Inspired by European interior design, Avanti glass systems profile a slim line appearance with frame-less panels and sleek metallic hardware.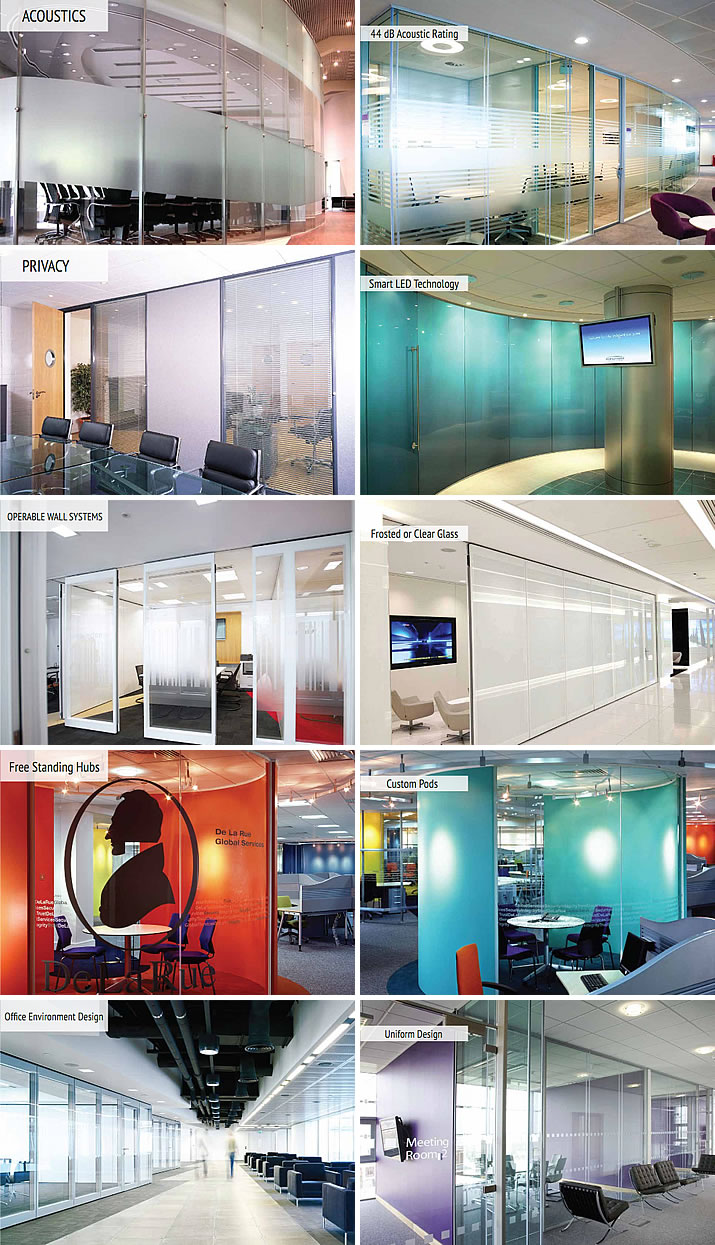 Company: Avanti Systems USA
Source: http://files.avantisystemsusa.com/architects_inspiration_handbook_avanti.pdf
Tags: Acoustics | Interior Design | Railing System | Wall Panels | Window Shades
---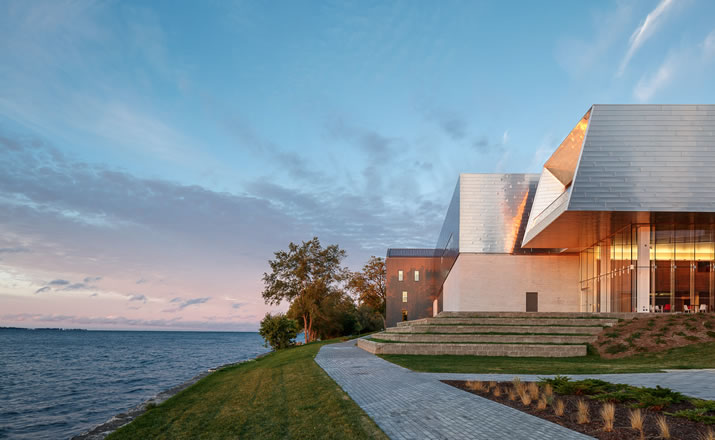 Recently, AMBICO has designed and supplied nearly 100 acoustic (both wood and steel) doors and frames for the new Isabel Bader Centre for the Performing Arts at Queen's University in Kingston, ON, Canada. AMBICO has been involved from the very beginning (the early design stages of the project) right through to the installation.
Due to the nature of the building (a performance hall), the architects had to rely on AMBICO's acoustic material to block the sound from room to room. AMBICO produced STC 40 (steel and wood) doors and STC 51 (steel) doors for the project, plus some unequal pairs of STC 59 (steel). There won't be any sound travel in this building!
Although still undergoing construction, the Centre promises to be impressive. A $63 million project; $22 million was generously donated by Drs. Alfred and Isabel Bader. The Centre is named in honor of Isabel Bader, for her love of music and theater.
Concealed behind this incredible building and its benefactors is a truly romantic love story: Isabel met Alfred aboard a ship, the two courted and more than 400 love letters were exchanged. After their relationship ended prematurely, Alfred went on to marry someone else and have a family. Years later, when Alfred was divorced, he and Isabel rekindled their romance and the two got married and remain happily married today.
Company: Ambico
Of: Alison Capuano
Source: https://www.ambico.com/isabel-bader-center/
Tags: Acoustics | Doors | Windows
---
Acoustics are a key element of good building design and have been proven to affect an occupant's perception of the quality of a space. No matter what kind of space, good acoustics make the sounds cleaner, clearer and more easily understood.
Style is a critical element for most spaces, and today Tectum Products provide a tremendous range of options. From the full spectrum of color in the Sherwin Williams pallet to custom-printed images of your design to fabric-wrapped panels, Tectum Products are surprising architects and designers with new possibilities for realizing a design vision.
Toughness is at the heart of all Tectum Products. Starting in 1949 Tectum Products have proven their durability and abuse-resistance in high-traffic, high-impact areas.
After more than half a century in widespread use, Tectum Acoustical Products have won the trust of commercial, industrial and institutional designers.
Company: Tectum Inc.
Source: http://www.tectum.com/
Tags: Acoustics | Interior Design | Wall Panels