architecture - engineering - construction

Acoustics
---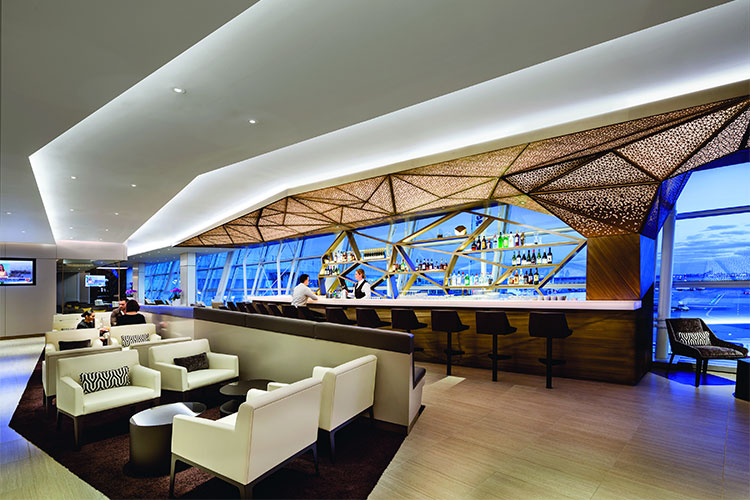 With the broadest portfolio in the industry and over a century of design and installation experience, Armstrong® Ceiling Solutions now offers more ways for architects and designers to make out-of-the-ordinary ceilings a reality.
Whether its modifying standard product shapes and sizes or creating custom sizes, shapes, colors, finishes, images, or perforations, no other ceiling manufacturer offers the broad range of options available from Armstrong Ceilings.
The You Inspire™ Solutions Center, a free service which provides collaborative design and pre-construction assistance, rounds out the full range of capabilities Armstrong taps to bring one-of-a-kind ceilings to life.
"Whatever your idea for a ceiling is — no matter how unique — bring it to us", says Nick Taraborelli, vice-president, commercial marketing, for Armstrong Ceilings. "We will do whatever we can to make it happen and help you to create your next great space."
New Capabilities
Some of the new capabilities Armstrong recently added to its portfolio include:
New cloud, striated, and other custom profiles for SoundScapes® Blades™ panels
Larger 4' x 4' sizes for MetalWorks™ Torsion Spring panels
More options in panels with Total Acoustics™ performance, including more standard Ultima sizes, FastSize™ options, and wood and metal offerings.
Colorations® Colors now for Lyra® Concealed PB (plant-based) ceiling panels.
Drywall linear lighting and intersection down lighting
To be inspired by the broad range of capabilities Armstrong offers, visit https://www.armstrongceilings.com/capabilities. There you can view "Unleash Your Imagination," a colorful, 18-page brochure that illustrates the many unique ceiling designs that have been brought to life utilizing the capabilities of Armstrong Ceilings.
Company: Tectum Inc.
Source: https://www.armstrongceilings.com/capabilities
Tags: Acoustics | Architecture | Ceiling | Design
---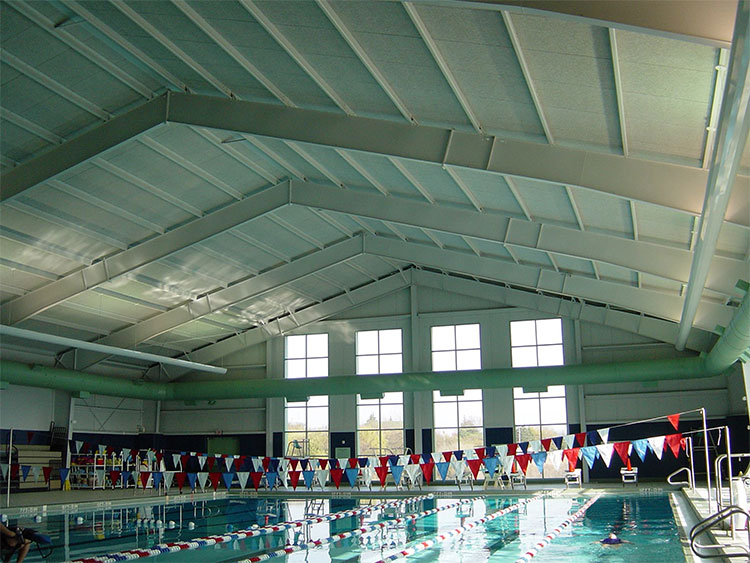 Have a sloped roof and need insulation you can nail?
Tectum III Roof Deck is the acoustical solution for you.
The Tectum III roof deck panel is a composite of a 1½" or thicker Tectum substrate, Dow Styrofoam® brand XPS (extruded polystyrene) insulation 1½" to 8" thick and 7/16" OSB (oriented strand board) sheathing with a slip-resistant surface. Tectum III panels are typically used in sloped applications where insulation and a nailable surface are required.
Tectum IIIP roof deck is made of the same components as Tectum III, but with an edge detail specifically designed for use over high-humidity applications such as swimming pools and ice arenas. The detail, when properly sealed with urethane adhesive, provides for a continuous vapor retarder from panel to panel in all directions.
All Tectum roof deck composite panels are bonded with code-listed structural adhesives.
Company: Tectum Inc.
Product: Tectum III Acoustical Roof Deck
Source: http://tectum.com/roof-deck-acoustical-panels-tectum-iii-photos.html
Tags: Acoustics | Interior Design | Roof
---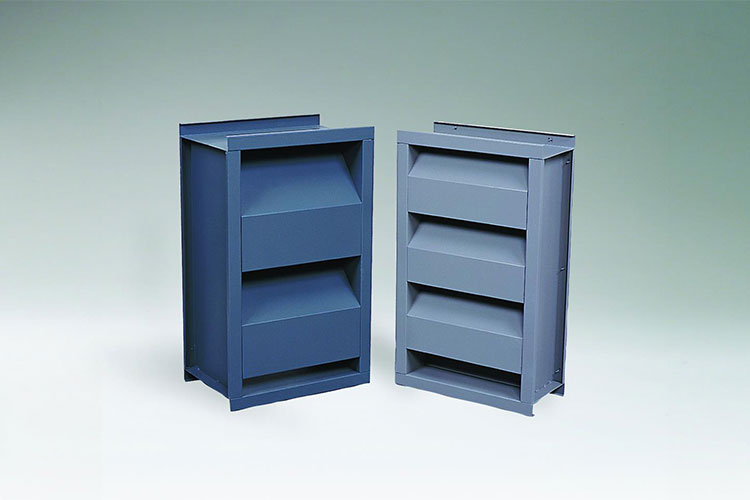 Acoustical louvers
Ruskin Sound Control offers the most complete line of acoustical louvers on the market. All products are AMCA licensed for water penetration and air performance. The product is offered in standard galvanized steel or alternative aluminum construction, and can be offered in a wide variety of finishes. The LAS louver family includes standard or airfoil blade design and depths between 4" and 12".
Primary Applications
Cooling towers, mechanical rooms, tunnel ventilation, parking garage ventilation, general ventilation
Characteristics
Acoustical attenuation across all eight octave bands
Good water penetration performance
May be provided with a number of variations such as filter racks, security bars, and insect and bird screens
Key Design Features
Architecturally appealing appearance
AMCA licensed water penetration performance
AMCA licensed air performance
Acoustically transparent perforated liner
Acoustical grade fibrous media
Company: Ruskin
Product: Louvers
Source: http://www.ruskin.com/category/336~Acoustical-Louvers
Tags: Acoustics | Design | Louvers
---
Tectum Panel Art has become wildly popular in the past year. Interested in seeing a sample? We'd be happy to send you one.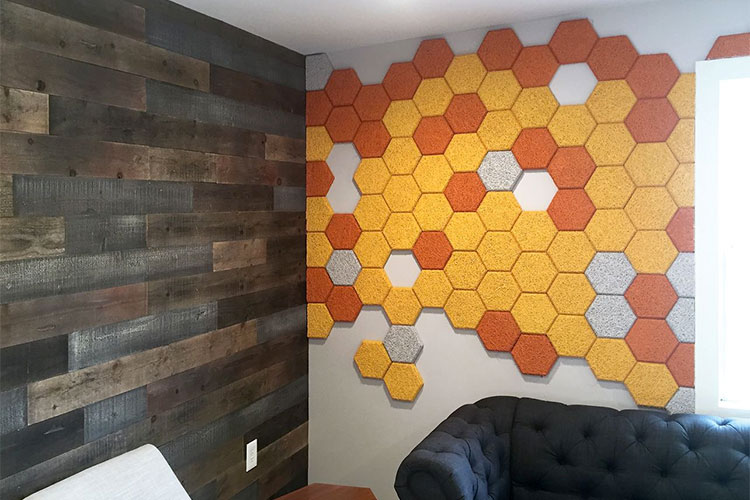 Tectum wall & ceiling panels: a perfect fit of durability, acoustics, and unique visuals
From a natural factory finish or white, to integration with Colorations colors (that's 13 standard colors) or made-to-order Sherwin-Williams® colors, TECTUM panels can coordinate or complement your color palette with the sizes, shapes, and forms that make your designs happen.
Toughness and acoustics are at the heart of TECTUM interior products, ideally suited to open spaces and high traffic, high impact areas. Panels can be attached directly to walls and ceilings in forms of panels, clouds, and square or curved. TECTUM linear hanging baffles give you even more design options.
Create a signature element in a space to complement your interior design. The possibilities are endless, the look is one-of-a-kind, and the acoustic properties of TECTUM panels can help quiet the space.
Key features
Durable for heavy-use interiors
Sound absorption (NRC) values up to 1.0
Great acoustical retrofit solution
Color options include standard, Colorations colors, and custom Sherwin-Williams colors
Contributes to LEED credit areas including FSC certified wood
Attach to a variety of ceiling substrates
Easy to install
Special applications
Gymnasiums
Auditoriums
Multi-purpose Spaces
Acoustical Retrofits
Exposed Structures
Education Spaces
Company: Tectum Inc.
Product: Interior Wall Panels
Source: https://www.armstrongceilings.com/commercial/en-us/articles/tectum-part-of-armstrong-portfolio.html
Tags: Acoustics | Color | Interior Design | Wall Panels
---
Draper has announced EchoControl, an innovative acoustical treatment that improves the acoustics within rooms by utilizing sound-absorptive materials. Draper's EchoControl will "officially" debut at InfoComm 2017, June 14 – 16 in Orlando.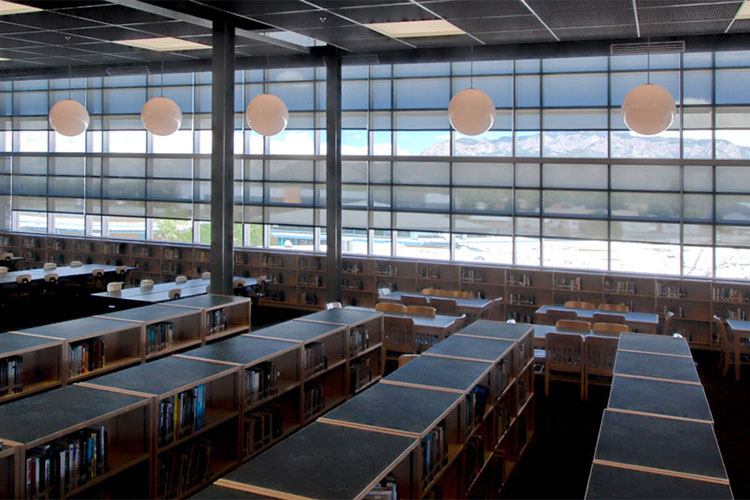 Draper is proud to introduce a new line of acoustical shading products
Draper's new line of acoustical shading, EchoControl, is designed to address one of the most pervasive pollutants we battle today – noise.
According to the Noise Pollution Clearinghouse, a national non-profit organization with extensive online noise-related resources, (www.nonoise.org), "Noise is among the most pervasive pollutants today…Noise negatively affects human health and well-being. Problems related to noise include hearing loss, stress, high blood pressure, sleep loss, distraction and lost productivity, and a general reduction in the quality of life and opportunities for tranquility."
As commercial design trends continue to lean toward the contemporary – open spaces and sleek surfaces with the use of more glass and exposed ceilings – and with LEED objectives in mind, architects have been met with new acoustical challenges. Draper's EchoControl addresses acoustical needs within the commercial and office environment. It has been shown to display increased absorption among human speech frequencies, making it even more effective at controlling sound in environments, such as office settings, in which privacy and noise reduction are key.
Why should we use sound absorbents?
To reduce reverberation inside a room (echo)
To reduce the overall level of sound
Acoustic treatments are used to improve the acoustics within a room by using sound-absorptive materials, like our EchoControl, to reduce echoing caused by sound reflecting off hard surfaces (like windows).
Walls, especially those with windows, offer good surfaces to install acoustic absorbers. This fabric offers a unique combination of acoustic and lighting control and comfort! Available on both motorized and manual shades.
Echocontrol fabric features:
Light-filtering – diffuses light, reduces glare
Controls solar heat gain
Reduces fading of interior furnishings
Certified to GREENGUARD GOLD standards
Infused with Micorban® antimicrobial product protection
NRC*: 0.60
*The noise reduction coefficient astm c423-90a (NRC) rates the effectiveness of a material to absorb sound. The NRC scale ranges between 0 and 1 (0 being completely reflective and 1 being completely absorptive). This is calculated by averaging the frequencies of 250, 500, 1000, 2000, and 4000 hz (rounded to the nearest multiple of 0.05).
Company: Draper, Inc.
Source: http://residentialtechnology.draperinc.com/acoustical-shading/
Tags: Acoustics | Interior Design | Window Shades
---
The University of Iowa (UI) School of Music in Iowa City celebrated its 110th anniversary with a new home – Voxman Music Building. Designed for durability, sustainability and the highest acoustic performance, the 190,000-square-foot project features energy-efficient window and curtainwall systems, finished and thermally improved by Linetec.
The $152 million project is targeting LEED® for New Construction Gold certification. Wausau Window and Wall Systems worked closely with glazing contractor Architectural Wall Systems (AWS) to achieve the design intent set by LMN Architects and Neumann Monson Architects. Mortenson Construction served as the construction manager agent for UI.
"We conceived the project as a means of extending the public space inside the building, and we do that with glass," says LMN partner and project designer, Stephen Van Dyck, AIA, LEED AP. "The window systems play a huge part in creating the visual transparency between the public and the performers, and the connection from within and without of this educational and cultural building."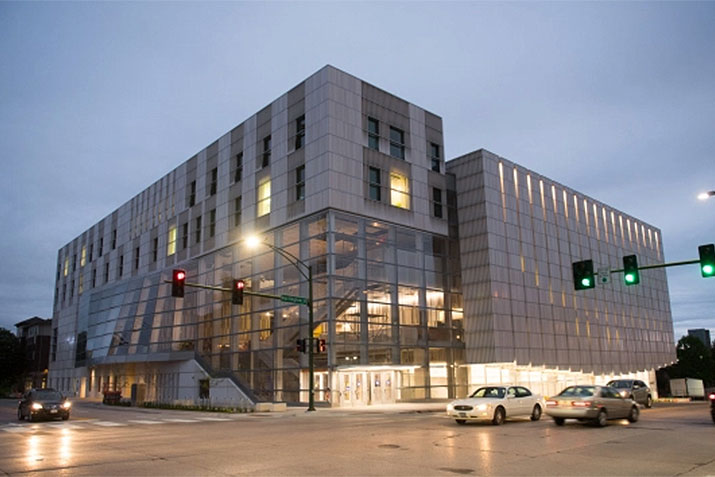 A Highly Anticipated New Home for the UI Music Department
Linetec Products Support Project Sustainability Goals
Linetec's thermal improvement services and anodize finishing are key contributors to the window systems' energy-efficiency, visual appeal and durability. The anodizing process produces a uniform, hard and protective finish. Linetec's anodize finishes meet the requirements of the American Architectural Manufacturers Association's stringent Class I specification standard, AAMA 611-14. The anodized aluminum resists the ravages of time, temperature, corrosion, humidity and warping, for a long product life cycle. Anodized aluminum may be specified with recycled content and is 100 percent recyclable.
In addition to durable finishes and recyclable materials, Linetec helped support the project's sustainable and LEED goals for thermal comfort and energy performance by providing thermal barriers for Wausau's window and curtainwall systems. Both Linetec and Wausau also are considered local suppliers, as they are located within a 500-mile radius of the UI campus.
Unique Window Systems Supply Natural Light and Visual Appeal
Wausau's systems also contribute to recognized benefits of daylight and views, and are a main visual feature of the building. The glass exterior begins beneath the concert hall, wraps around and up to the main entrance and continues over the recital hall, reaching heights of 50 feet.
One of the building's most unique features is the shingled curtainwall – called the "warped wall" – overlaying the recital hall, in which construction of glass and metal units are layered to create an undulating slope that appears to gently pour from the building's roof to its base. On the interior, a central atrium funnels natural light into the building.
Large-scale window systems are rare in musical spaces due to the acoustic challenges they can present. By choosing a low-iron glass with a low roller wave and horizontal orientation, acoustic and visual distortion was minimized. Large panes of glass diffuse sound at different rates on the shingled wall, and tall and narrow windows minimize vibration throughout.
Prioritizing Acoustic Isolation and Performance
"The acoustic requirements for this project are of utmost relevance," emphasizes Chucho Loria, AIA, with Neumann Monson Architects. "Wausau's team looked at the various conditions in the project. They developed details, during the shop drawing review process, to ensure that their system would meet the design intent of the project. It was apparent in those details that Wausau was taking efforts to make their system interact with the rest of the building."
"We prefer an integrated, whole building approach – especially with complicated engineered projects," says Doug Laffin, Wausau's architectural sales representative serving Iowa. "Our systems may be just one part of that whole, but everything must work together to successfully deliver the architectural vision and critical functionality."
"Almost all of the job was acoustically sensitive," says Lee Ebel, AWS project manager. "Wausau produced and had tested units that verified the system would meet the necessary STC ratings at the corresponding frequency."
Sound Transmission Class (STC) is a single-number rating system for acoustical performance, where a higher number indicates better performance. The Voxman Music Building's design specified an STC 55, which is suitable for blocking loud noises including musical instruments.
"Almost every room is acoustically isolated," explains Van Dyck. "This means that instead of the usual one wall, one floor between each room, there are two or three walls and two floors to separate most of the rooms and keep sound from transferring between them. We're also trying to keep the sound from passing from the outside into the building's interior. The windows are a big part of that equation."
Adding glazing mass, increasing air space and improving damping by the addition of a laminated interlayer achieve improvement in acoustical performance. Of course, maintaining an airtight assembly to reduce "flanking" noise is critical, especially at high frequency. All three approaches were used to meet the acoustic requirements of the Voxman Music Building.
"The goal was to have virtually no outside noise in the recital hall," says Randy Arneson, Wausau's senior estimator on the project. "There's 5-inch airspace between the inside and outside glass lites of our curtainwall to decrease sound transmittance. For the majority, we used Viracon's 1-5/16-inch OptiWhite laminated, insulating, specialty glass."
In the concert hall, the glass was glazed into the window system's interior-facing plane with a 3-inch airspace. On the exterior-facing plane, electrochromic SageGlass was installed. Electrochromic (EC) glass darkens or clears when a low-voltage DC current is applied. Wausau incorporated the necessary wiring paths to connect the windows' EC glass with a user-controlled switch. This enhanced functionality allows the faculty and students to reversibly control the sunlight entering their space and to maintain their outside view without shades or blinds.
"Wausau provided these elegant, tall, thin windows with EC glass. They're really cool. When the windows are turned 'on' and tinted, they produce this really nice, diffused light," says Van Dyck.
"They're very narrow – some are only 1 foot wide, but 40 feet tall. The smaller span actually helps with the acoustics. The stiffer it is, the less it wants to vibrate."
Ensuring Quality, Durability and Sustainability
Beyond acoustic performance, Ebel says, "The curtainwall system went through a rigorous performance mock-up test at a certified laboratory in Miami, Florida. The testing included air, water, dynamic, structural, seismic racking and thermal cycling."
Ebel adds, "The typical LEED requirements applied to this project." The window systems' high performance features contribute to quiet, comfortable spaces that promote concentration and creativity, as well as a whole building approach to energy-efficiency, daylighting and outside views.
AWS installed Wausau's SuperWall™ curtainwall, custom-engineered fixed and operable windows, and nearly 23,000 square feet of INvision™ 1050i-UW Series unitized curtainwall. Glazing and sealing in a factory-controlled environmental ensures that conditions are maintained to achieve the intended performance required for the project. Shipped one lite wide by one floor tall, the interlocking, pre-assembled units make the system easy to install on the job site. This saves labor, time and associated costs.
The curtainwall and window systems' installation was finished on time and on budget. "It took a lot of coordination between all parties, and modeling of the curtainwall and structure to ensure that everything would fit correctly in the field once installation started," Ebel says.
"Aesthetically, the project looks great," concluded Van Dyck. "But, let's face it, for this project, it wouldn't matter how great it looks if doesn't sound great, too. The window systems are a critical part of that success."
UI's new music facility replaces its former location, which was damaged by the 2008 flood. Programming and schematic design began in 2011. In 2014, the new building's essential structure was completed and the building envelope could begin taking shape.
The Voxman Music Building was substantially completed in July 2016 and welcomed its 450 music students and 60 full-time faculty on Aug. 22, 2016. The grand opening and ribbon-cutting event was held on Oct. 21, 2016. The 324-room space includes classrooms, teaching studios, a library, offices, recital spaces, a rooftop terrace, a 700-seat concert hall and a 200-seat recital hall.
David Gier is the first to serve as the UI School of Music's director in the Voxman Music Building. The facility's name honors one of his predecessors, the late clarinetist Himie Voxman who served as the school's director from 1954-1980. Gier and the School of Music have eagerly awaited their new home.
Company: Linetec
Source: https://linetec-blog.com/2017/05/16/designed-for-resiliency-and-acoustic-performance-university-of-iowa-voxman-music-building-features-linetecs-anodize-finishing-and-thermal-improvement-services/
Tags: Acoustics | Aluminum | Energy | Glass | Wall Panels | Windows
---

Draper's 3% openness solution provides both echo and solar control
In a recent CEPro article entitled "6 Steps to Isolate Rooms for Sound," Home Theatre Designer Scott Bourquin discusses how to make a room quieter. Bourquin points out that "the quieter you make a room, the greater impression it gives of quality workmanship." So making rooms quieter can have benefits beyond the technical aspects. You can read the full article here.
While in his piece Bourquin offers ways to make a room "super quiet," it did get us thinking about how our EchoControl Acoustical Shading can contribute to an overall plan to reduce noise.
The first and most obvious way to use EchoControl is on the windows—including skylights. Acoustical shading addresses the reverberation of sound off of the glass, and also helps with sound from the outside. EchoControl has a Noise Reduction Coefficient of 0.60. The Noise Reduction Coefficient (ASTM C423-90a) rates the ability of a material to absorb sound. Zero is completely reflective, and one is completely absorptive. The NRC is calculated by averaging the frequencies of 250, 500, 1000, 2000, and 4000 Hz (rounded to the nearest multiple of 0.05).
By the way, don't forget—in addition to its sound absorption properties, Draper EchoControl brings with it the advantages inherent in light filtering window shades. It diffuses light, reduces glare, controls solar heat gain, and reduces fading of interior furnishings.
Another way EchoControl can help is in reducing echo off of the headbox or fascia behind which the motor and roller mechanism is hidden. That's because one of our hardware finish options is to wrap the headbox/fascia with the EchoControl fabric.
Of course, there's nothing that says a shade fabric is useful only on a window. Draper EchoControl with custom printed graphics can also be used in other areas in the space—especially in a commercial space where they can be used as signage or to add to the décor. When used in this way, the fabric panels can help provide added reverb dampening.
In Bourquin's article, he discusses placing a felt curtain over a door. Instead of the felt curtains, why not an EchoControl roller shade. It can easily be retracted to allow easy ingress and egress through the door, then lowered to provide echo reduction assistance.
For more information on Draper's EchoControl Acoustical Shading, click here. Or, if you have a project where you think EchoControl might be able to help, contact your Draper sales rep to discuss the details of making rooms quieter.
Company: Draper, Inc.
Of: Terry Coffey
Source: http://blog.draperinc.com/2016/11/making-rooms-quieter/
Tags: Acoustics | Interior Design | Window Shades
---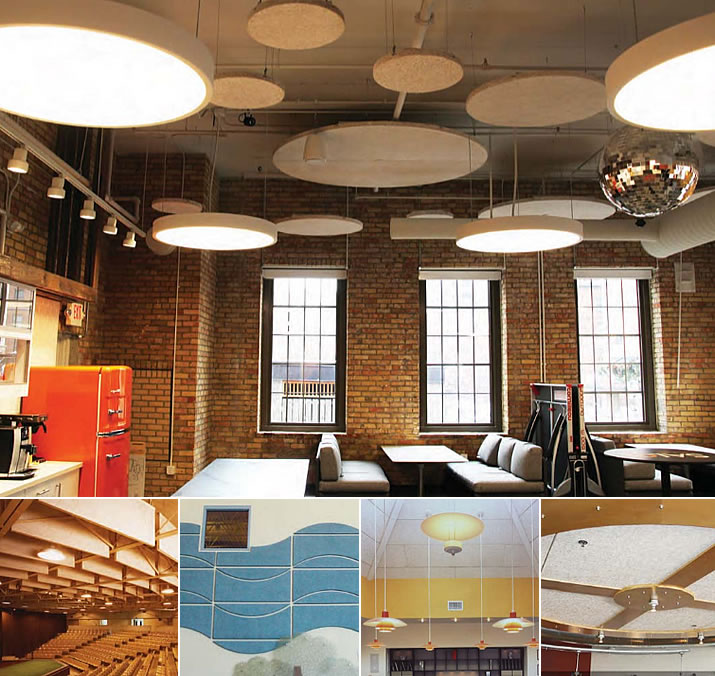 Tectum ™ Acoustical Wall and Ceiling Panels Easy to work with and install, Tectum Interior Panels are commonly used in new construction, retrofits and anywhere acoustic absorption, style and toughness are needed. They absorb sound and are tough enough to stand up to daily abuse in high-traffic, heavy-use areas. Natural, painted, printed with your gr aphics or covered in fabric, they provide an attractive, durable finish in any interior application. Manufactured at the Tectum Inc. plant in Newark, Ohio, for over 65 years, Tectum Products stand the test of time.
Tectum Acoustical Panels are composed of aspen wood fibers, bonded with an exclusive inorganic hydraulic cement binder and formed in a continuous process under heat and pressure. As a result, physical characteristics usually obtained only with a combination of several separate building materials are found in Tectum Products: excellent sound absorption, abuse resistance, a decorative textured interior finish — all in a single, structurally strong yet lightweight product. All Tectum Products are Class A/Class I, with a flame spread of 0 , in accordance with ASTM E- 84 .
Hard, reflective surfaces, multiple noise sources and the need to hear and be understood are the primary reasons that good acoustics are a critical part of any good design. All Tectum Products can be factory or field painted without impacting acoustical performance.
New Products in the Tectum Interior Line
Panel Art
A variety of pre-fabricated shapes encourage custom artistic expression. Create a unique statement wall that absorbs noise and is tough enough for schools.
Line Design
Combine all of the acoustic performance and toughness you expect from Tectum Products with the added interest of textural design options created by straight line v-cut grooves.
Tectum Acoustical Roof Deck
For an economical, environmentally responsible structural acoustical roof deck, Tectum Inc. offers a full line of Roof Deck options. To explore the design options for the building envelope, see our Roof Deck Catalog online.
Company: Tectum Inc.
Source: http://www.tectum.com
Tags: Acoustics | Ceiling | Wall Panels
---
Tectum Finalé Interior Panels add extra noise absorption and contribute positively to the LEED certification program. With abuse resistance and the highest possible sound absorption, Tectum Finalé is the ideal design solution.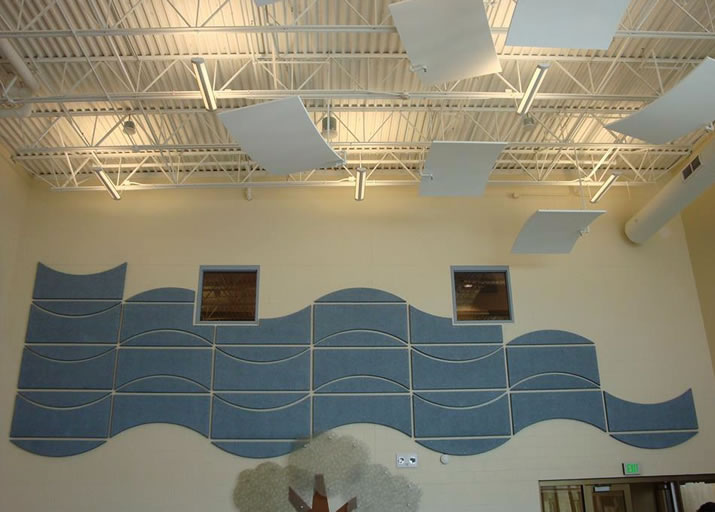 Tectum Finalé panels are a high NRC (Noise Reduction Coefficient) solution for spaces that require acoustic dampening. A composite of Tectum Panels, Tectum spacer strips and MinWool-1200®, Finalé panels have an NRC of .85 to 1.00 and a Class A interior finish.
Whenever a space calls for the highest possible sound absorption, and anywhere activities demand abuse-resistant panels, Tectum Finalé panels are an unmatchable design solution.

MinWool-1200®
MinWool is high-density, noncombustible insulation made of organic Basalt (Volcanic Rock) fibers. MinWool absorbs noise while resisting moisture, mold, mildew and fungi growth.
MinWool-1200® is a registered trademark of Johns Manville.
Company: Tectum Inc.
Source: http://www.tectum.com/iw-acoustical-panels-finale-photos.html
Tags: Acoustics | Interior Design | Wall Panels
---
AvantiSystemsUSA supplies and installs a family of architectural glass wall and glass door systems. Inspired by European interior design, Avanti glass systems profile a slim line appearance with frame-less panels and sleek metallic hardware.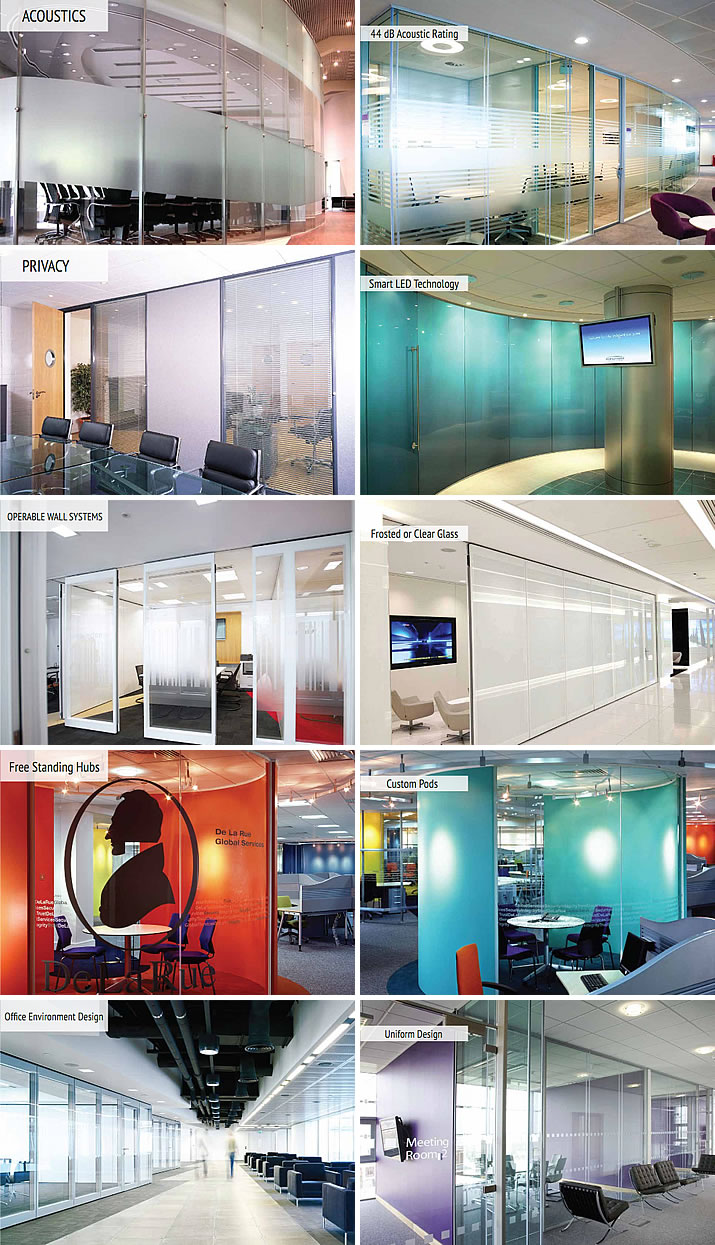 Company: Avanti Systems USA
Source: http://files.avantisystemsusa.com/architects_inspiration_handbook_avanti.pdf
Tags: Acoustics | Interior Design | Railing System | Wall Panels | Window Shades
---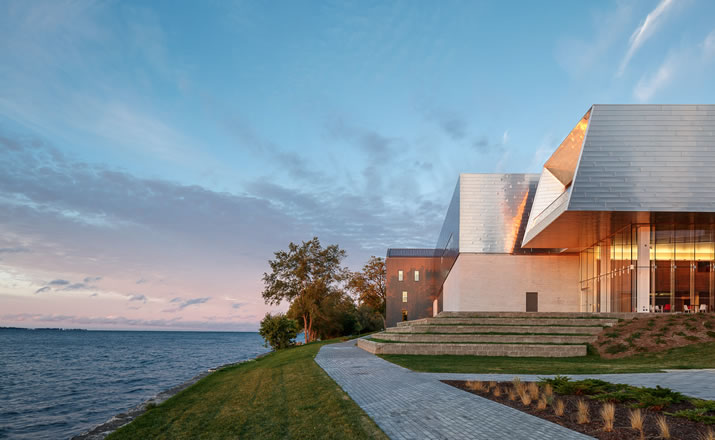 Recently, AMBICO has designed and supplied nearly 100 acoustic (both wood and steel) doors and frames for the new Isabel Bader Centre for the Performing Arts at Queen's University in Kingston, ON, Canada. AMBICO has been involved from the very beginning (the early design stages of the project) right through to the installation.
Due to the nature of the building (a performance hall), the architects had to rely on AMBICO's acoustic material to block the sound from room to room. AMBICO produced STC 40 (steel and wood) doors and STC 51 (steel) doors for the project, plus some unequal pairs of STC 59 (steel). There won't be any sound travel in this building!
Although still undergoing construction, the Centre promises to be impressive. A $63 million project; $22 million was generously donated by Drs. Alfred and Isabel Bader. The Centre is named in honor of Isabel Bader, for her love of music and theater.
Concealed behind this incredible building and its benefactors is a truly romantic love story: Isabel met Alfred aboard a ship, the two courted and more than 400 love letters were exchanged. After their relationship ended prematurely, Alfred went on to marry someone else and have a family. Years later, when Alfred was divorced, he and Isabel rekindled their romance and the two got married and remain happily married today.
Company: Ambico
Of: Alison Capuano
Source: https://www.ambico.com/isabel-bader-center/
Tags: Acoustics | Doors | Windows
---
Acoustics are a key element of good building design and have been proven to affect an occupant's perception of the quality of a space. No matter what kind of space, good acoustics make the sounds cleaner, clearer and more easily understood.
Style is a critical element for most spaces, and today Tectum Products provide a tremendous range of options. From the full spectrum of color in the Sherwin Williams pallet to custom-printed images of your design to fabric-wrapped panels, Tectum Products are surprising architects and designers with new possibilities for realizing a design vision.
Toughness is at the heart of all Tectum Products. Starting in 1949 Tectum Products have proven their durability and abuse-resistance in high-traffic, high-impact areas.
After more than half a century in widespread use, Tectum Acoustical Products have won the trust of commercial, industrial and institutional designers.
Company: Tectum Inc.
Source: http://www.tectum.com/
Tags: Acoustics | Interior Design | Wall Panels