architecture - engineering - construction

Louvers
---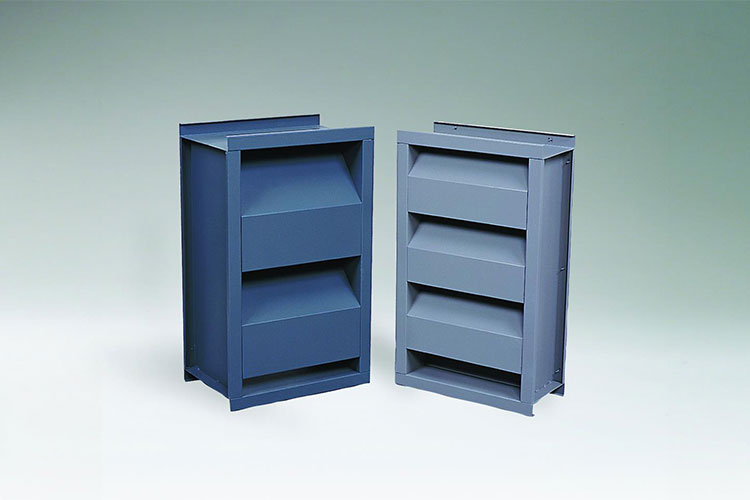 Acoustical louvers
Ruskin Sound Control offers the most complete line of acoustical louvers on the market. All products are AMCA licensed for water penetration and air performance. The product is offered in standard galvanized steel or alternative aluminum construction, and can be offered in a wide variety of finishes. The LAS louver family includes standard or airfoil blade design and depths between 4" and 12".
Primary Applications
Cooling towers, mechanical rooms, tunnel ventilation, parking garage ventilation, general ventilation
Characteristics
Acoustical attenuation across all eight octave bands
Good water penetration performance
May be provided with a number of variations such as filter racks, security bars, and insect and bird screens
Key Design Features
Architecturally appealing appearance
AMCA licensed water penetration performance
AMCA licensed air performance
Acoustically transparent perforated liner
Acoustical grade fibrous media
Company: Ruskin
Product: Louvers
Source: http://www.ruskin.com/category/336~Acoustical-Louvers
Tags: Acoustics | Design | Louvers
---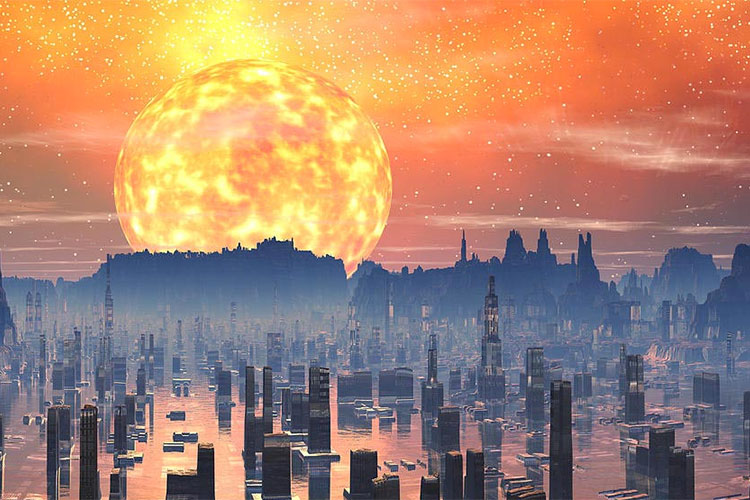 With the effects of global warming upon us, architects and building owners need to mitigate its impact in the built environment. This is not a new idea, but the necessity for design that protects against volatile weather, rising temperatures, and insect-borne diseases is now more pressing than ever. Last year, the U.S. Army Corps of Engineers created the Building Resilience website, a tool that connects community planners, home builders, architects, and engineers with building science, climate data, and community resilience resources. This is crucial information designers and building owners need if they want to confront the effects of climate change.
As daylighting manufacturers, we have some thoughts on how daylighting can be used to reduce the impact of global warming on the built environment.
Daylighting that can withstand Severe Weather
Because of global warming, weather events like hurricanes, flooding, and tornadoes have become more powerful (Superstorm Sandy in 2012 and Supertyphoon Haiyan in 2013 have both been partly attributed to global warming).
But just because nature has become more dangerous doesn't mean we should barricade behind steel walls. Instead, robust daylighting systems should be utilized. By incorporating daylighting into architecture, occupants remain connected to the outdoors, and the structure reduces its carbon footprint.
It's important to use daylighting systems and materials that possess excellent water weepage and can withstand high wind loads. These attributes will be determined by the system's glazing and framing.
Polycarbonate is one of the best forms of glazing when it comes to strength and durability, and it by far outperforms glass (polycarbonate is 250 times more resistant to impact than safety glass), as well as fiberglass reinforced panels, or FRP (polycarbonate is 4 times more resistant to impact than FRP).
Additionally, the system framing must have elements that facilitate excellent water control and leak resistance, like properly placed weep holes and water stops. An example of a highly resilient daylighting system is EXTECH's LIGHTWALL 3100LSpolycarbonate wall system, which meets ASTM E-1886 and E-1996 tests for hurricane impact / windborne debris at clear spans of 8 feet. It is an excellent daylighting product in the face of torrential weather.
Protection Against Intense Heat
With global warming comes rising temperatures. Data has uncovered a long-term warming trend, and at this rate, temperatures could rise as much as 8 degrees by the end of this century (though that does not sound like much, a global increase in this scale would have dire outcomes). Even if carbon emissions worldwide are drastically cut, escalating temperatures are a factor humans must face.
With warmer temperatures comes the threat of increased solar heat gain (the temperature inside a structure that results from solar radiation). If precautions are not taken when choosing the daylighting glazing, people will either bake in a convection oven, or the cooling system will have to run at non-stop full capacity – neither choice is ideal. To protect against these scenarios, glazing that blocks infrared rays is recommended for daylighting structures. Polycarbonate is one of the few materials that can effectively and economically block infrared radiation.
Though humans can take many actions to reduce global warming, its effects will never be completely vanquished; mitigation is the only way forward. By accepting this, architects and building owners can be a leading force in climate change preparation – if they have the foresight now to build structures that deal with global warming's impact, humankind will be safer, happier, and quite possibly, live to one day stop climate change for good.
Company: EXTECH/Exterior Technologies, Inc.
Product: Translucent Walls
Source: https://extechinc.com/global-warming-how-architects-building-owners-can-prepare-the-world/
Tags: Energy | Exterior Design | Lighting | Louvers | Wall Panels
---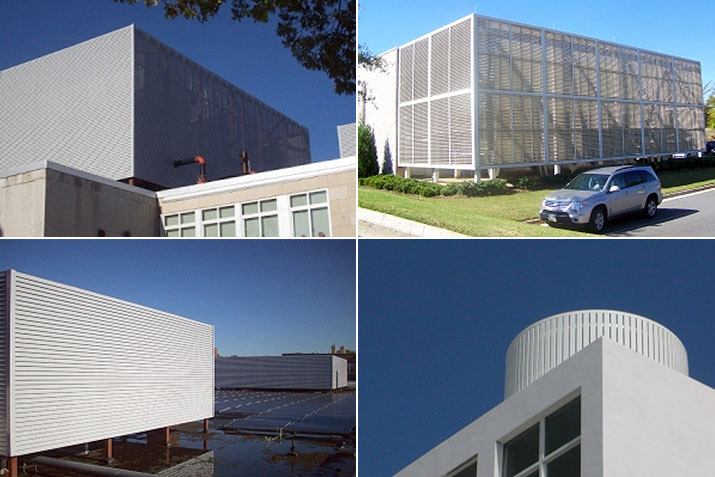 The EconoSpan® louver and screen system is a continuous, "free-standing" louver product comprised mainly of roll formed louvers that snap firmly onto "double-gripped" stringers or posts installed on pre-determined intervals. This system is ideal for roof top equipment screening or other applications with large areas requiring concealment and ventilation. It is available in two major styles: Pitched Louver (both 45° and 22-1/2° pitches) and Flat Picket (both horizontal and vertical orientations).
Along with being very attractive, it is also one of the industry's most affordable systems. Using standard production components, the EconoSpan® system is designed and manufactured as required to be installed on a supporting structure. This allows the supporting structure to be provided locally, based on local code requirements*, yielding further cost savings. This simple "knock-down" product design allows it to be shipped as a kit in relatively small crates with step by step installation drawings making it convenient, simple and relatively quick for general contractors to install.
EconoSpan® 45° Pitched Louver
Reinforced, 45° pitched stringer
60% free air flow
Slat pitch direction may be inverted
EconoSpan® 22.5° Pitched Louver
Reinforced, 22-1/2° pitched stringer
30% free air flow
Slat pitch direction can be inverted
EconoSpan® Flat Picket
Vertical or horizontal picket (slat) configurations
15% free air flow
Low profile and easily contoured
Company: Willard Shutter Co., Inc.
Product: Grilles & Screens
Source: http://www.willardshutterco.com/products/grilles-screens.aspx
Tags: Exterior Design | Louvers
---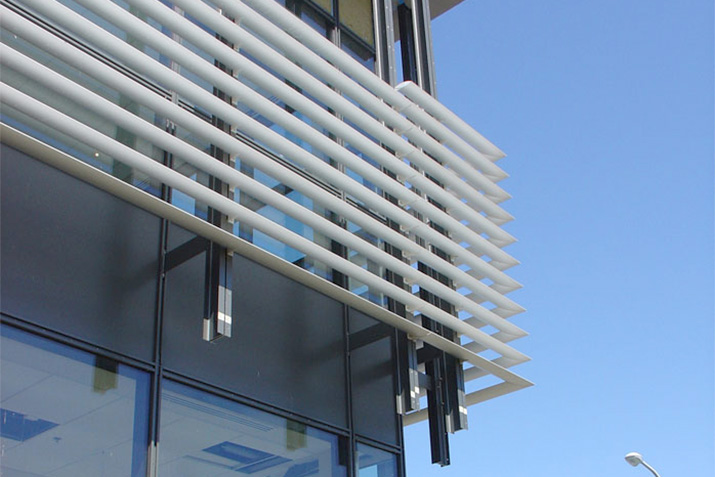 North American weather ranges from extreme cold to extreme heat, with many variations in-between. Today's design approaches need to consider weather patterns and how to best maximize energy efficiencies to address these. Unicel's solar shading systems provide optimal weather protection for the harshest climates and temperature extremes, while ensuring interior comfort and desired levels of vision.
Key Solar Shading Benefits:
Daylight control - Glare reduction and greater comfort
Heat control - Optimal solar heat gain and energy efficiency
Sound control - Acoustic insulation and enhanced tranquility
Visual appeal - State of the art aesthetic features that enhance overall design
Low maintenance - Durable and easy to maintain
Flexibility - Adaptable to many building and architectural designs
Solar Shading Features:
6063-T5 aluminum alloy extrusions
Hardware fits aluminum blade solutions
Custom colors in painted or anodized finishes
Fixed or mobile blades
Available in vertical , horizontal and cantilevered configurations
Remote controlled system
The fixed or motorized louvers can be installed as an independent structure or connected to the main facade system. Additionally, they can be painted in any color to enhance their visual impact.
When designing an architectural envelope, interior and exterior design requirements need to work together as a dynamic system to respond to variations in temperature, daylight and vision requirements. Unicel's solar shading solutions complement almost any design and are highly adaptable to the most rigorous heat and vision control requirements.
Company: UNICEL Architectural Corp.
Product: Louvers
Source: http://www.unicelarchitectural.com/en/louvers.html
Tags: Design | Energy | Louvers | Window Shades
---
EXTECH is incredibly honored to announce that the KINETICWALL dynamic facade system was chosen as the winner of the Architizer A+ Awards Jury prize! With entries from over 100 countries, the KINETICWALL was chosen as the best product in the Building Envelopes & Cladding category by a jury of designers, artists, architects, and business professionals. The KINETICWALL and all other winners will be honored as part of NYCxDESIGN week at the A+Awards Gala on May 11, 2017 in New York City.
We are thrilled that so many luminaries from the design and architecture communities considered the KINETICWALL a worthy competitor among so many great products. For it to be chosen as the winner in its category is truly an honor. If you would like to learn more about the KINETICWALL, you can visit the KINETICWALL product page, read the case study on the Logan Airport Parking Expansion, or contact us.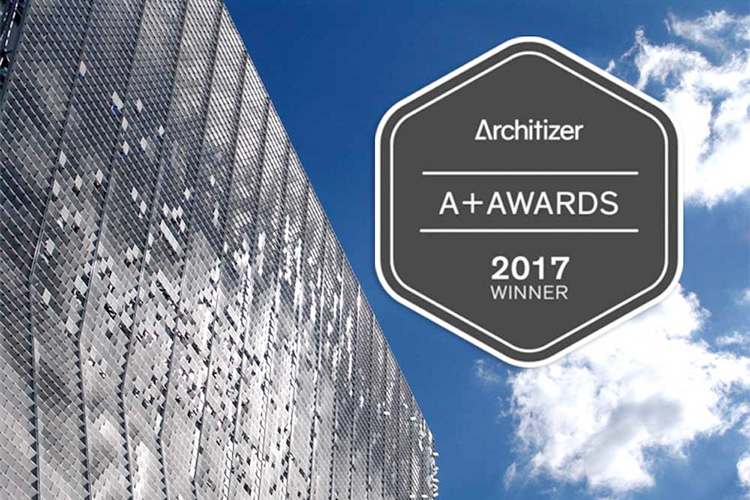 EXTECH's KINETICWALL is a dynamic moving building façade that creates an eye-catching aesthetic. Made of 6-inch flappers attached to stainless steel rods, the KINETICWALL responds to wind currents and undulates to create the look of rolling waves. The wall is customizable and can be designed to accommodate square or curved polycarbonate, glass, aluminum, or steel flappers. It is structurally designed to withstand hurricane-force winds and torrential rainfall, yet it is light enough to enable easy installation, air flow, and visibility from the inside. The KINETICWALL alsodeflects sunlight, thus preventing solar heat gain, and the spacers between the flappers remove the chance for collateral noise.
KINETICWALL can be used on small- and large-scale façades. It's a popular design choice for a wide range of uses, including cultural institutions, transit facilities, and artistic installations. Due to its aesthetic qualities, the wall can help municipalities save money on Arts in Transit and percent-for-art compliance. KINETICWALL is a state-of-the-art yet economical way to create breathtaking, beautiful designs.
Further benefits and details
Dynamic flappers move with the wind, creating an eye-catching aesthetic that lends itself to 'smart design'
Due to its aesthetic qualities, the wall can help save money on Arts in Transit and percent-for-art compliance
Customizable; can incorporate a variety of materials including polycarbonate, glass, aluminum, and steel
Can be used on small and large-scale façades
Light-weight flappers allow for easy installation
Designed to withstand hurricane force winds and rainfall
Facilitates easy air flow for ventilation
Permits interior visibility
Deflects the sun, preventing solar heat gain
Spacers between flappers prevent collateral noise
LEED credits available for 100% recyclable aluminum and stainless steel flappers and framing
Manufactured in the U.S.A.
Company: EXTECH/Exterior Technologies, Inc.
Product: KINETICWALL™ Dynamic Facade
Source: https://extechinc.com/kineticwall-wins-2017-architizer-a-award/
Tags: Design | LEED Certification | Louvers
---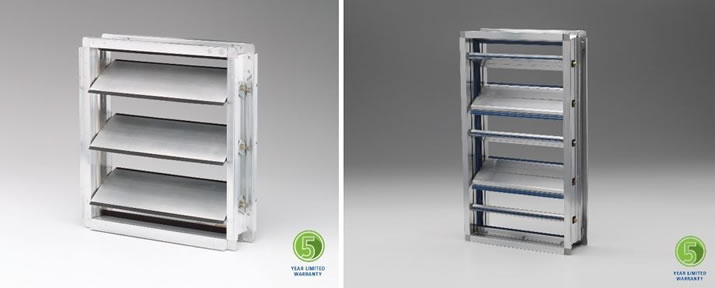 The Ruskin® CD50CE (left) and TED50CE (right) critical environment dampers combine the strength of stainless steel and protection of anodized aluminum to withstand coastal and corrosive applications.
A new critical environment damper series from Ruskin® is designed and manufactured to withstand the elements of coastal and corrosive applications. The CD50CE and TED50CE combine the strength of stainless steel and protection of anodized aluminum to combat salt water elements.
"Our reps can now easily select a damper model with features suitable for coastal or corrosive applications," said Mike Coyazo, commercial and life safety product manager at Ruskin. "Stainless steel linkage and anodized aluminum frames and blades come standard in these new models, making them perfect for harsh applications where salt water is present."
The CD50CE is Air Movement and Control Association (AMCA) licensed as Class 1A and, thanks to low-leak extruded aluminum, meets the International Energy Conservation Code (IECC). The damper features low-maintenance, non-corrosive bearings and shake-proof linkage; airfoil blades for high-velocity heating, ventilation and air-conditioning (HVAC) systems, low pressure drop and quieter performance; and mechanically-fastened blade edge seals.
The thermal-efficient TED50CE eliminates thermal transfer and the potential for condensation. The damper also meets the IECC, features the same non-corrosive bearings and shake-proof linkage as the CD50CE and includes twin seals to ensure no thermal path.
The CD50CE and TED50CE are covered under the Ruskin five-year limited warranty program. The program – recently extended from one year to five years from the date of delivery – demonstrates the company's commitment to quality and makes it easier for engineers to specify Ruskin products.
To learn more about the Ruskin CD50CE and TED50CE dampers, visit http://www.ruskin.com/catalog/category/995~critical-environment-dampers.
Company: Ruskin
Product: Control Dampers
Source: http://www.ruskin.com/NewsArticles/entryid/756/press-release-new-critical-environment-damper-series-from-lt-span-style-quot-font-style-italic-quot-gt-ruskin-174-lt-span-gt-withstands-coastal-and-corro
---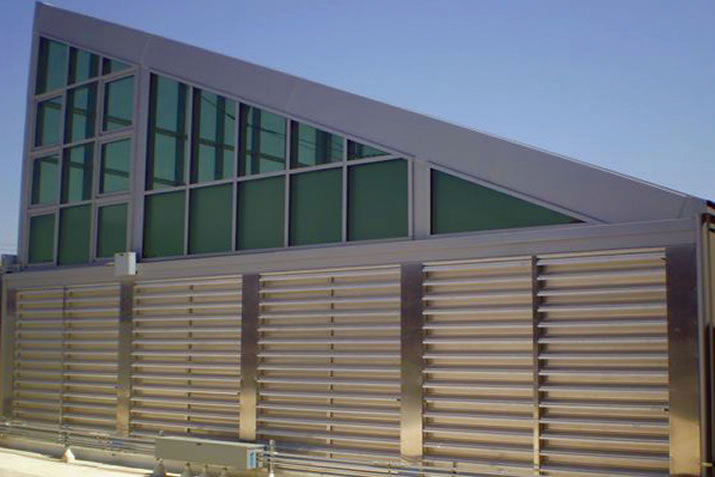 At Stanford, they inspire sustainable building solutions and the people who work in them. The Environment and Energy Building (Y2E2) continues to perform and provide a sustainable learning environment. The four-story building contains classrooms, offices, and labs that are filled with experts and students who are motivated by the efficient building in which they work, research and advance a variety of sustainable solutions for future generations to come.
The Solution
The building's ambitious energy goal called for more than a 50% reduction — above and beyond the ASHRAE 90.1.2004 requirement. According to the University's website, the building capitalizes on the laws of nature for heating and cooling rather than using mechanical systems. In order to meet Stanford's interest in creating a modern building, yet retain the classic look of the other structures on campus, Ruskin provided ELC6375DAX combination louvers/ dampers faced with ELF architectural grilles and a passive air management system. This provides constant airflow and outside air circulation.
How it Works
Known as the "lungs of the building" each of the four atria were treated to custom built stacked louvers to exact specifications.
Each atria rises up 89 feet (24 feet and 6 inches above the roof). At night, when the outside air drops to approximately 60ºF degrees, the ELC6375DAX louvers located at the top of the atrium act like a giant siphon and pull up the warm air and allow it to discharge out of the building. The louvers are integrated into a direct digital control system that analyzes the indoor air temperature and determines which windows within the building to open to let the hot air out.
The Outcome
In an interview with KGO-TV, Dick Luthy, Stanford Civil & Environmental Engineer Chairman said that process "will let the building naturally breathe and cool down." This passive cooling system reduces the building's energy contributing to the overall goal of 56% reduced energy usage.
The creation of this building was truly a collaborative effort where experts from a variety of disciplines came together to design a passive air management system that takes advantage of one of nature's basic laws — hot air rises, cold air drops. The Environment and Energy Building is something uniquely special.
While the impact of this sustainable design will be felt daily by those who use the building, the far-reaching implications exceed anything that could be measured on a day-to-day basis.
"We felt this was one of the best investments that we could make for the next generation, and our children," said Akiko Yamazaki, Yahoo! Co-founder, while standing in one of the trademark atriums during the building's dedication. "For our children to be able to enjoy and experience what we've been blessed with, we cannot afford not to do something today."
The building was constructed to LEED Platinum Standards and continues to perform as designed earning the LEEDEBOM rating (Existing Building Operations and Maintenance).
About the project
Architect: BOORA Architects, Portland, Oregon
General Contractor: Hathaway Dinwiddie Construction Company, San Francisco, CA
Consulting Engineers: Ove Arup & Partners, San Francisco, CA
Mechanical Contractor: ACCO Engineered Systems, Glendale, CA
Ruskin products
ELC6375DAX Combination Louver, CD60 and FSD60 Dampers
Fixed Exterior Blades with Low Leak Airfoil Movable Damper Blades
Special Concealed Actuator Side Compartment
Modulating Fail Open 24v Electric Actuators
Aluminum Bird Screen ELF Architectural Grilles
Baked Enamel Kynar Finish with 20 - year Warranty
Flange Frame and Factory Clip Angles
Company: Ruskin
Product: Louvers
Source: http://www.ruskin.com/CaseStudies/entryid/721/louvers-play-key-role-in-passive-air-management
Tags: Exterior Design | Louvers