architecture - engineering - construction

Revolving Doors
---
November 27, 2020
Boon Edam Inc., a global leader in security entrances and architectural revolving doors, today announced a new BoonTV event, "The Key to Closing the Biggest Gap in Physical Security: Unauthorized Entry." In this event, JC Powell, Vice President of Sales, reveals the assumptions and misconceptions around entrance security in physical security planning and how to effectively bring reliable entrance control to a facility to avoid costly risks and liabilities.
---
October 7, 2020
Most security professionals are aware of the term, "tailgating," as it refers to an unauthorized user following an authorized user into a facility, usually by means of a swinging door. But do all these security professionals agree on the impact of tailgating, as well as the methods to effectively mitigate it? We were curious so we reached out via our social media channels to find out more.
---
April 29, 2020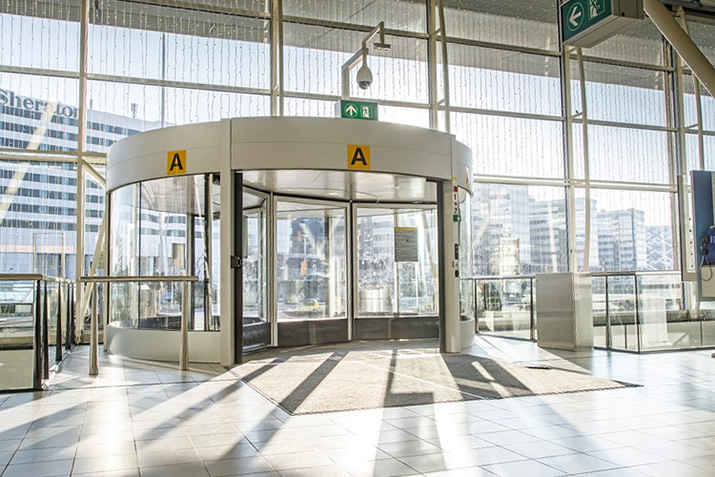 Revolving doors have been around for well over 100 years since their invention by Theophilus Van Kannel in 1888. As the story goes, Van Kannel, working in a lobby during a cold winter in Philadelphia, complained about the unpleasant effects of the swing door at the main entrance: "Every person passing through [the exterior door] first brings a chilling gust of wind with its snow or rain, and the noise of the street; then comes the unwelcome bang!" Van Kannel decided to do something about it. He started a business, and the rest is history. The revolving doors stopped air infiltration and were quiet during use. But, how much can you really improve on what is a relatively simple concept? In fact, modern technology and engineering have completely transformed Van Kannel's invention in terms of safety, ease of use, and even security. Let's take a closer look.