architecture - engineering - construction

2015 April
---
Ogden offers flexible curved or circular bench options to configure a style that you visualize. Available in a variety of radii, various seat material and leg options for you to design your individual creation.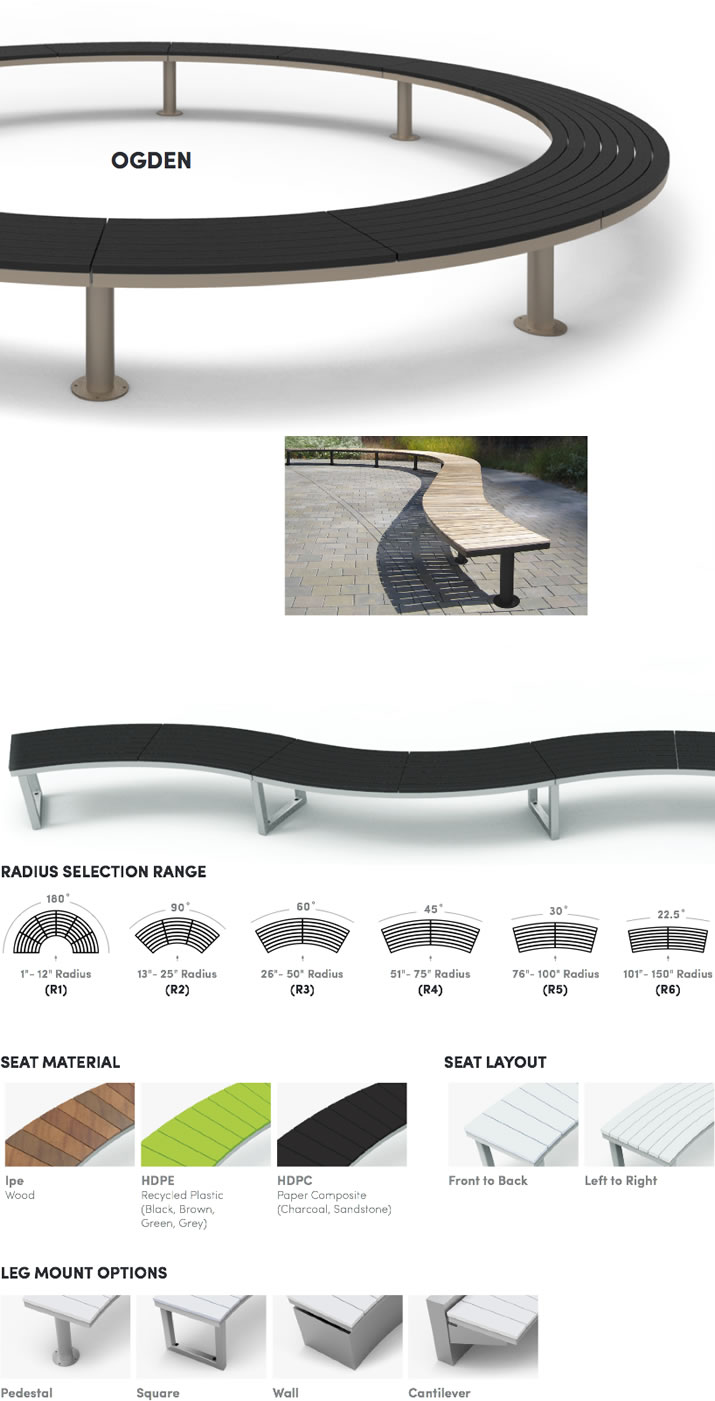 Company: Maglin Site Furniture
Source: http://www.maglin.com/OGDEN2.pdf
Tags: Exterior Design | Interior Design
---
Located in Brentwood, California, the Kearsarge Residence is a stunning triumph in mid-century design. Architect: Kurt Krueger. Features: Feeney CableRail.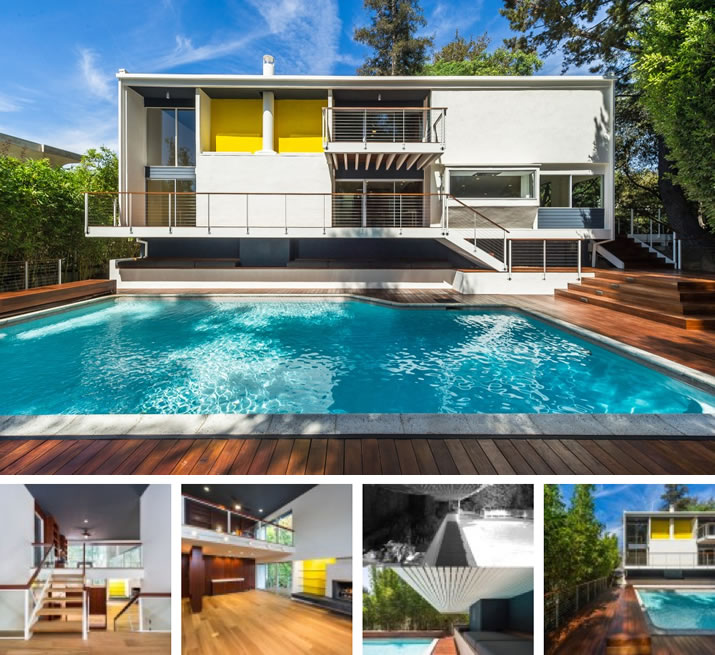 Photographs: Unlimited Style Photography
Company: Feeney, Inc
Product: CableRail Stainless Steel Standard Assemblies
Source: http://www.archdaily.com/431384/kearsarge-residence-kurt-krueger-architect/
Tags: Design | Railing System
---
Digital Windows Combat Feelings of Confinement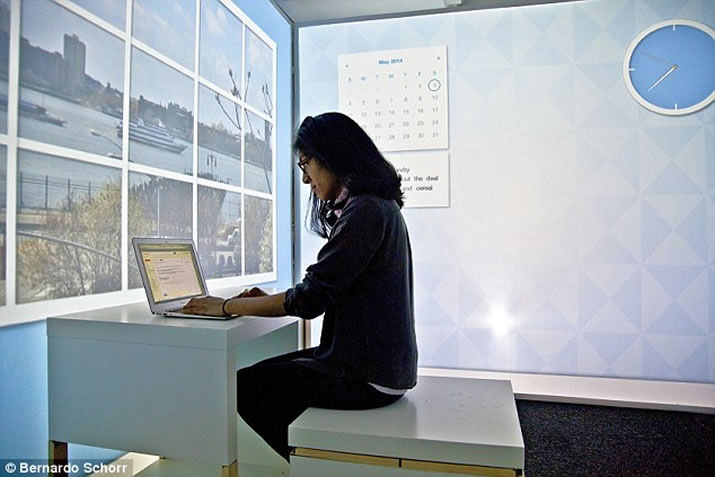 Image courtesy of https://sourceable.net/digital-windows-improve-health
The snow has finally melted and people are emerging from their homes to soak up the sun's rays. It is estimated that from December through February, many U.S. cities experience gray, cloudy days more than 50% of the time leaving some people to suffer from Seasonal Affective Disorder (SAD). Insufficient exposure to sunlight can contribute to low levels of melatonin and serotonin, carbohydrate craving, weight gain, and sleep disturbance. For most people though, these effects are truly seasonal and a few clear, sunny days of light beaming through a home's windows can boost a person's overall mood.
Windowless Living a Reality in Densely Populated Cities
In some cities, space is an expensive commodity and windows aren't always included in a living space. In a society that values natural light so highly, it can be difficult to imagine windowless living, but it has become a reality for the citizens of cities such as Hong Kong, Beijing, Paris or even New York City. Staring at a dim, blank wall all day may very well trigger the same symptoms as SAD. Despite the potential health ramifications, this type of living is expected to become even more popular due to booming populations and limited space. It is for this reason that companies like Mixed Reality Living Spaces are starting to design products targeted specifically at this style of living.
Digital Windows Combat Feelings of Confinement
Designed with the purpose of relieving the sensation of confinement, digital windows may enable people to literally project a window or other home environment onto their wall. These digital windows are built with the flexibility to change the image throughout the day, from a bedroom to office to dining room and so on.
Actual implementation of this technology still needs to be developed since a bulky front-projector system would occupy valuable space. Organic LED technology and thin form factor displays are being explored as a possible solution. Additional hurdles with bringing this technology to fruition include the heat output and energy cost. While digital windows can't replace the positive effects and Vitamin D offered by natural sunlight, it may provide the same benefits of light therapy, a common treatment recommended for SAD sufferers.
As populations continue to grow in already densely populated areas, natural light will become a luxury and windowless living could become reality. Australia has challenged what some feel as an inevitable future for space allocation by defining a 'habitable room' in their building codes, requiring a permanent access to fresh and natural daylight. Only time will tell how other countries choose to reject or embrace windowless living.
Company: Total Security Solutions Inc
Source: http://www.tssbulletproof.com/world-windows/
Tags: Interior Design | Windows
---
Large PlantersFilling a large planter with a variety of plants is a great landscaping design element used by novice gardeners and professionals. While the end results can look incredible, there are some unique challenges when it comes to arranging the perfect large planter. The following tips will help you fill a large planter that blooms beautifully, flourishing for years to come.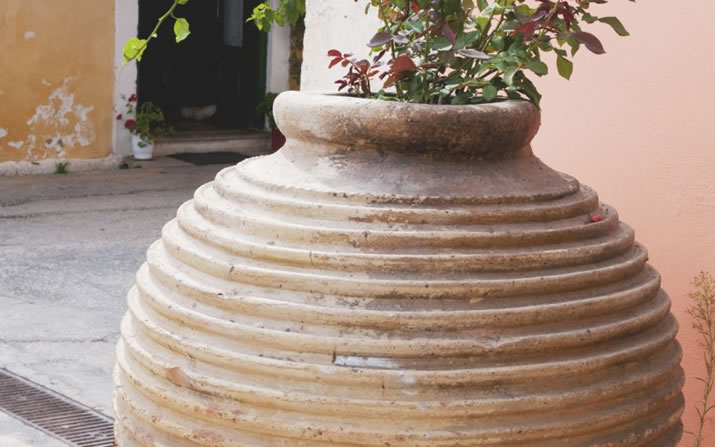 Tip #1: Choose Plants Carefully
Before you fill up a planter with your favorite impulse flowers, you will want to do a little research. There are a number of things to consider before mixing a group of plants together if you want the end results to look good and actually survive. First and foremost, you want to pick plants that require a similar dose of water and sunshine to avoid certain plants blooming and others simultaneously withering away.
Picking some plants that bloom in the winter and others that bloom in the spring will provide yearlong color. If instead you pick flowers that bloom at the same exact time you will have a predominantly dead planter throughout certain seasons of the year.
You must also consider plants that will compliment one another. The overall size, texture and appearance of plants will influence how well they look when planted all together. Once plants start to grow, will one dominate the bushel, or will certain dwarf plants become lost in the mix?
You don't have to use diverse plants; in fact you can use the same exact plant or different variations of the same plant in one pot as well. For instance, a group of succulents provide unique beauty and charm, plus they are easy to care for and require little maintenance.
Tip #2: How Many Plants To Include In A Large Pot
It's easy to over or underestimate how many flowers will fit in a large pot. There is no exact number, but there is a real art to fitting just the right amount of plants in one pot. In general, there are two different ways to combine plants in one pot, living flower arrangements and traditional flower arrangements. Living flower arrangements include as many flowers or plants as you can possibly fit into the space, offering a full and bountiful look right away.
Living flower arrangements are rather crowded, which looks great at first but produces a higher risk for disease as well as a decreased lifespan. Living flower arrangements are perfect for immediate perfection, say for instance you have a grand opening or party the following weekend.
For long term landscaping it's recommended to stick with traditional planters. Traditional planters include a variety of plants spread apart with more room in between each one. While at first the planter might look a little sparse or incomplete, within a few weeks additional plant growth will fill in the missing spaces.
For a 10-12 inch planter it is recommended to use around 3 or 4 plants, depending on the size of each plant and how large they will continue to grow. Some plants grow so fast and furiously, such as Petunias, that you will need to pick other plants carefully to avoid overcrowding the space.
It takes longer for less crowded containers to fill up and look complete but your plants will thank you for the extra space to grow healthy roots. More space between plants also increases airflow and helps prevent stagnant soil water from contributing to disease.
Tip #3: How To Place Plants In A Planter
Arranging flowers is an art form itself, and requires some thought as well as trial and error to get it just right. The number of plants you use as well as the shape of the planter will change how you want to arrange the plants. In general all plants should be equally spread apart and configured in some sort of pattern that makes sense regarding the height and shape of each plant. Texture and color are other important things to consider when creating the perfect planter. There are some great visual diagrams for how to place different plants in a variety of planter boxes here: https://www.provenwinners.com/learn/container-garden-design-planting.
Tip #4: How Much Soil You Really Need
Filling up a very large pot with soil is quite cumbersome. Plus, if you ever need to move the planter it will be incredibly heavy if it's filled all the way up with moist soil. It also takes a lot of water to get all of the soil in a huge planter moist. There are a few tricks that will help reduce the amount of soil you need while still providing your plants with a lovely pot to call home.
If your pot is big enough you can use other materials at the very bottom to use less soil, save money and reduce overall planter weight. Popular materials people use to fill the bottom of planters include milk jugs, soda bottles, packing peanuts and rocks. It all comes down to preference though, and there are endless options you can use. Some gardeners simply dump soil on top of the other materials but this can make a big mess for you later. By applying a thin plastic screening between the materials used at the bottom of the pot and your soil you will enjoy reduced clean up.
Some people believe that placing materials, such as rocks, at the bottom of the planter helps reduce drainage, while others strongly disagree. The best way to improve drainage, which is hugely important for a large planter filled with different plants, is with a self-watering planter.
Tip #5: Pick The Right Container For The Job
The large decorative planter you select will influence how well your plants thrive. A solid planter that can withstand exposure to the elements will keep your plants safe and sound, as well as looking great. Self-watering planters offer awesome advantages that can help you keep your garden thriving even if you're not the best at remembering to water all the time (Read our blog on this topic). You should give the same amount of consideration to your planter as the plants you plan to grow within its confines.
TerraCast Products are proud to present the most innovative decorative planters on the market, proven to resist everything from graffiti to cracks.
Company: TerraCast Products LLC
Product: Planters
Source: http://www.terracastproducts.com/5-tips-for-how-to-fill-perfect-looking-large-planters/
Tags: Design | Interior Design
---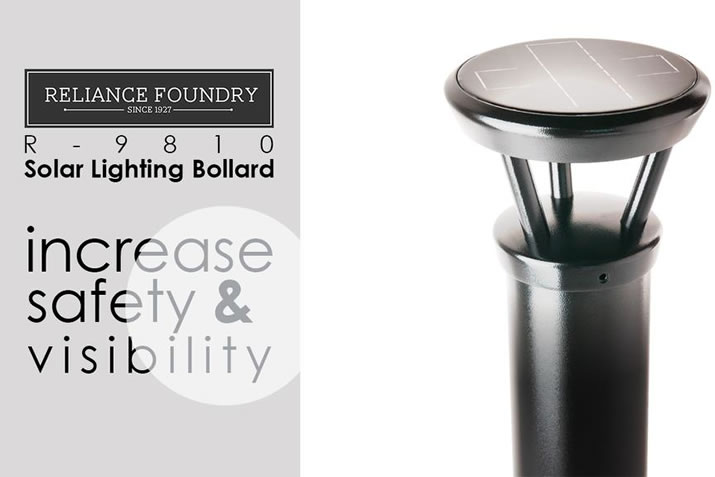 R-9810 Solar Lighting Bollard
Solar lighting bollards increase safety and visibility for vehicles and pedestrians—ideal for parking lots, walkways and plazas. Intelligent energy management systems ensure maximum outputs based on weather and time of year. High-capacity batteries allow lights to operate for 14 days without direct sunlight. Lighting systems are fully contained, requiring no additional hard-wiring or underground conduits. Choose from a range of custom lighting colors, distribution areas and scheduling options. Bollards are available in 1 of 6 colors.
Company: Reliance Foundry Co. Ltd.
Product: Light Bollards
Source: http://www.reliance-foundry.com/bollard/solar-lighting/R-9810-Bollard_2
---
Being in safety management is a difficult job in which not every safety manager appointed has been properly educated and trained to perform. How can an individual become a respected and effective safety manager if they do not necessarily have the background to do so? What are some good ways for individuals who have the proper education to relate and communicate with their workforce? A blog written by John Braun on slimplifiedsafety.com discusses three basic yet essential ways a safety manager can effectively manage a workforce as well as gain the respect needed in order to keep people listening.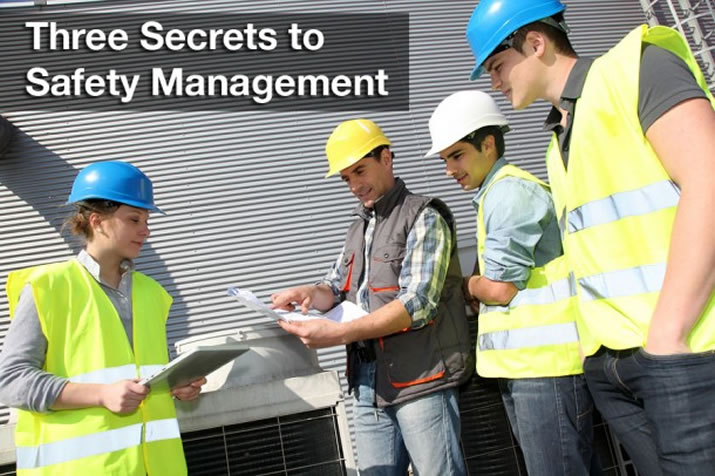 Know Your Limitations:
Don't act like you know everything, don't make up answers and don't ignore problems. You may have to go back and correct yourself, which may be embarrassing however more importantly you may put employee's safety at risk which is very dangerous.
Admit when a problem is beyond your experience and knowledge.
Get the help of an expert. Whether you need someone to train you on specific health and safety risks that you are not familiar with or you need someone to help properly train your employees on specific safety techniques, professional training may be needed. In the long run it is much less costly to pay someone to properly train employees than to have a tragic accident or injury.
Reinforce Good Behavior:
When you see people working safely and using proper safety techniques verbally praise them in front of their peers as well as in front of management. Giving someone a public pat on the back may give them more confidence and more encouragement to keep up the good work than a material gift for good behavior.
Ask higher management to also be on the look out for good practices and to publicly praise the specific employee as well. The article specifically says to ask management (if possible) to take the time to find at least one person each time they are on the floor or in the field to praise.
Systemize Risk Assessment:
Risk assessment must have a system and must have a formal way to do it.
Decide specifically how you want risk assessment to run and make sure it is the same across all departments.
Set a time to do it. Do not leave it up to chance. It might get pushed back by "something else coming up" and that could cause a dangerous situation.
Train employees on how to properly assess the risk around them and how to document them.
Of course being a safety manager will require many, many more skills than these three. Much more education and training will be needed and the job specifics are much wider and much more difficult than what is listed here. Problems are complicated and hard decisions will have to be made yet these three basic qualities should be helpful as cornerstones and stepping stones to this difficult yet rewarding position.
Braun, John. "Three Secrets to Safety Management." Simplifiedsafety.com, March 26, 2015, http://simplifiedsafety.com/blog/three-secrets-to-safety-management
Company: SlipNOT® Metal Safety Flooring Div.
Source: http://www.slipnot.com/blog/safety-management-tips/
Tags: Building
---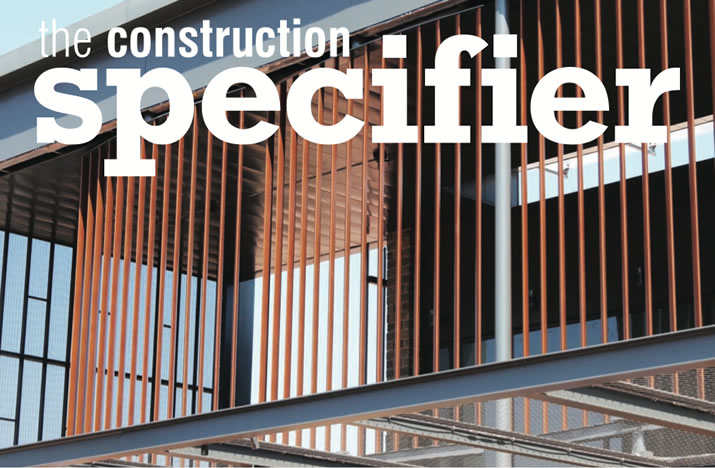 This White Paper is available as a PDF Download or viewed as a Flip Book.
Over the last decade, exterior shading has become more popular in the U.S. construction market. However, a number of architects and building owners still have limited knowledge about these systems and why they should be considered part of the building design.
This article explores 10 frequently asked questions about exterior shading, while providing insight into available systems and how they can be an important part of the building's environmental control.
Source: http://ow.ly/Lp1UL
Tags: Design | Window Shades
---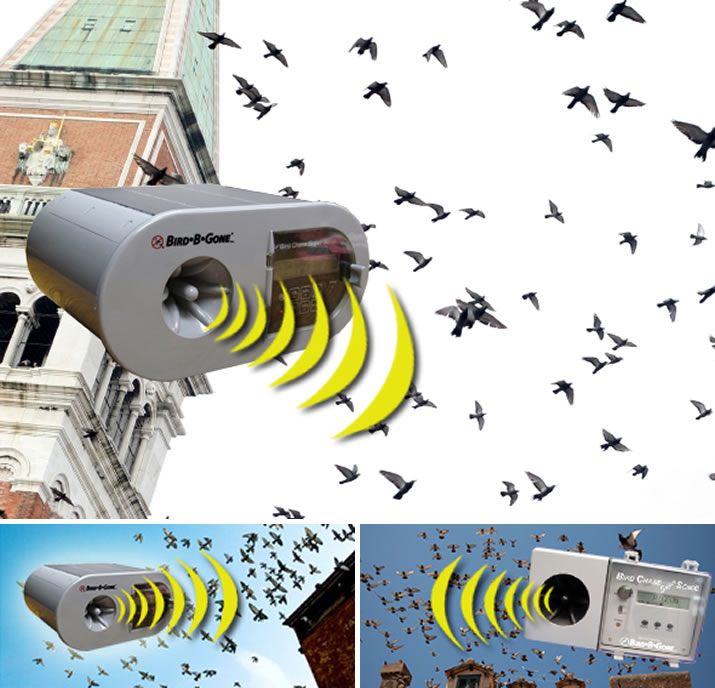 Solar Bird Chase Super Sonic and Bird Chase Super Sonic
Pest birds have been a problem to businesses and homeowners for years, causing thousands of dollars in damage and health risks. When birds are a problem in wide-open spaces such as pool areas, patios, gardens and other open areas, physical bird deterrents just will not do the job. It is time to get a sound bird deterrent unit like the Bird Chase Super Sonics from Bird B Gone.
Sometimes hardware or lawn & garden companies advertise ultrasonic devices that are supposed to drive birds away with high frequency noises undetectable to humans. Sounds like a good idea, right? Blast out sounds birds can hear but we can't—what's not to like? Unfortunately, the truth is that birds do not actually hear these ultrasonic sounds any better than humans do, and there is no scientific evidence that these devices actually work for birds. The bottom line is that birds cannot hear ultrasonic frequencies and ultrasonic devices don't work on birds.
How Sonics Work to scare birds away from your property
Bird control sonic units rely on the pest bird's natural instincts to scare them away. They work by playing target bird distress calls and predator calls in loud succession. Birds hear the calls, their instincts kick in and they flee the area. The calls are loud and cover at least one acre or more. Sounds play for about 2 minutes followed by a 10-minute quiet period. This is done so that the pest birds will not get used to the sounds. Once the pest birds have left the area, the units can be played less frequently to keep the birds from coming back.
Company: Bird-B-Gone, Inc.
Source: https://www.birdbgone.com/products/sound-bird-deterrents.html
Tags: Building
---
Structural Glass Floor Pavers Landings & Stair Treads
Structural glass floors, bridges, landings and stair treads can add light in lower level spaces and provide a unique design element in a commercial, retail space or residential home. Our structural glass systems include large structural glass planks, glass block pavers and the supporting framework.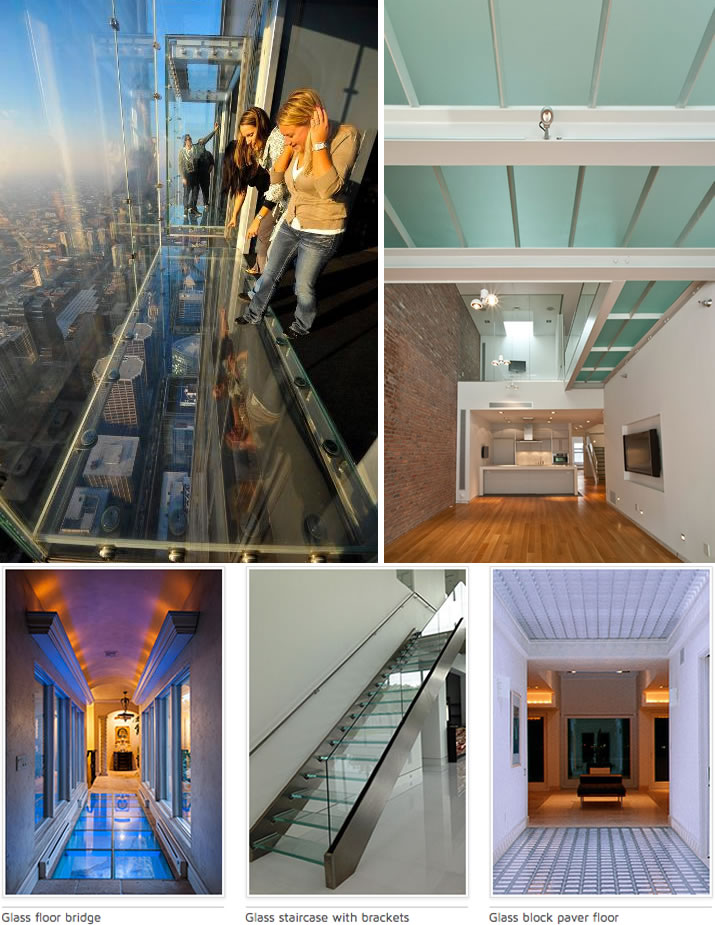 Structural Glass Floor, Staircase & Glass Block Paver Flooring
Structural glass and glass block flooring systems can provide the following benefits in commercial, architectural, retail, and residential buildings:
Light transmission from upper to lower levels. Glass walkways, bridges, and staircases allow light to pass from upper to lower levels, while providing a functional and structurally sound surface for foot traffic. Use of glass floor planks or pavers in these applications enhances daylighting, which cuts energy costs. In addition it provides a more productive environment in a workplace and more of an open, contemporary feel in a home.

High privacy or a see-through design. If you want the light but are worried about the modesty of people walking on the floor above - there is no need to be concerned. These glass units come in obsure (acid etched) units which provide complete privacy to those on upper floors. If you do want direct sight through the glass (examples include water features or a cool lower level view like a wine cellar) our clear glass will be the right choice.
A dramatic design element. Whether you're choosing structural glass floors or a glass block paver system, we offer a wide range of surface designs that are both safe and stylish. We can also customize the laminated flooring system by screening a pattern into the interior layer - how cool is that?
Engineering support for interior and exterior projects in commercial, retail, or residential homes. Our glass floor systems (which not only include the glass but the supporting aluminum framework as well) are engineered to safely support high levels of weight. We can assist you to design a structurally sound system which will stand the test of time and weight loads of even a crowded dance floor!
Can be installed within different surrounding floor materials. Glass floor systems can be put into wood, tile, stone, or concrete floors. We can provide structural details - and assist your construction or architectural team - in the right way to prepare the opening for our system.
Easily installed and replaced modular system. Our glass floors and pavers are set inside a lightweight structural aluminum grid system. This makes them both easy to install and replace if breakage were to occur. This system can span 7'6" without additional supports.
Company: Innovate Building Solutions
Product: Glass floors and walkways
Source: http://innovatebuildingsolutions.com/products/glass-block/glass-block-floors-bridge-walkway?utm_content=buffer1878b&utm_medium=social&utm_source=twitter.com&utm_campaign=buffer
Tags: Floor | Interior Design
---
We Dare You To Take A Bat To Our IR Panels!
Should you specify Abuse Resistant (AR) or Impact Resistant (IR) gypsum panels for those interior wall assemblies in high-traffic areas? Theoretically, if you put "Abuse Resistant" in the boxing ring with "Impact Resistant," which one would be the heavyweight champion? Both gypsum panels are tough, but we would bet on "Impact Resistant."
Both Abuse Resistant (AR) and Impact Resistant (IR) gypsum panels protect high-traffic areas where interior wall damage is more likely to occur, but there are distinct differences between them. There are also specific applications for each, depending on the amount of stress your wall assembly will encounter.
Abuse Resistant gypsum board (Gold Bond® BRAND Hi-Abuse® XP® Gypsum Board )
Will hard objects potentially drag along the wall surface? Abuse Resistant panels are designed for use in wall assemblies where surface abrasion is a concern, so AR = "surface of the board." Areas prone to surface abrasion and indentation include: Corridors, entryways, lobby areas and warehouses.
Impact Resistant gypsum board (Gold Bond® BRAND Hi-Impact® XP® Gypsum Board )
Is it likely that heavy objects could strike or penetrate the wall? Impact Resistant panels, with a little more muscle, are designed for use where abuse and impact resistance is needed, so IR = "intrusion into the wall cavity." Areas prone to cavity penetration include: Gymnasiums, correctional facilities, schools and workshops. For a product to be AR or IR compliant, it must meet the test standards of ASTM C 1629 . ASTM C 1629 has four test methods to quantify a level of abuse/impact resistance. Each test has a classification level (1-3), with 3 being the best. We recommend specifying the following test levels for Abuse and Impact products.


TV host and designer Anitra Mecadon tests Hi-Impact® XP®
To simplify the process, National Gypsum offers an excellent choice for both AR and IR gypsum panels. You can count on Gold Bond ® BRAND XP ® Gypsum Board when you need a moisture and mold resistant paper-faced panel with exceptional surface durability (Hi-Abuse XP) or impact resistance (Hi-Impact XP).
Our Gold Bond® BRAND eXP® Interior Extreme® product line features coated fiberglass facers as well as an enhanced moisture and mold resistant gypsum core. This line also features superior AR (Gold Bond® eXP® Interior Extreme® AR Gypsum Panel) and IR (Gold Bond® eXP® Interior Extreme® IR Gypsum Panel) options. Easy to work with and handle, this flexible substrate works well for both wood and metal construction and is approved for specific UL fire-rated designs.
Both product lines have also achieved GREENGUARD GOLD Certification for indoor air quality, the highest industry standard.
Contact your construction design manager today for help specifying the best gypsum board for your next project. We're here to help you build better.
Company: National Gypsum
Of: Pat Grotlisch and Amy Hockett
Source: http://www.nationalgypsum.com/news/cdn/OnBoard_Mar15_LeadArtcle.pdf
Tags: Security | Wall Panels
---

Incorporate mailbox design into your project planning early to create vibrant community spaces.
Sleek. Modern. Traditional. Elegant. Playful. Vibrant.
These words may come to mind as you design your project, but what about your mailboxes? Absolutely! Florence Manufacturing offers customization options so you can match your mailboxes with the overall look and feel of your project.
All too often we've seen mailrooms get relegated to dark, quiet corners. But by planning early and deliberately working the mail area into your project's design, you can transform any mailroom into a robust community hub. Finding a welcoming, well-lit, and central location is just the beginning. Customize your mailboxes to create an atmosphere that will make residents feel welcome in the space and add a wow factor to your design.
Whether you need cluster box units or versatile™ 4C mailbox suites, let Florence be your choice to take a common mail area and make it exceptional. Florence offers a full suite of customization options—149 options to be exact! From door sizes and colors to engraving fonts and fills, you can find the perfect solution for those projects requiring a little—or a lot—extra.
Company: Florence Manufacturing Company
Source: http://www.florencemailboxes.com/wordpress/make-a-statement-with-your-mailboxes/
Tags: Design
---
Attention architects and designers: Coco Architectural Grilles & Metalcraft's new L-Bead Installation is now available for ALL grilles! The most popular type of installation for metal grilles is a flush plaster installation. The best way to do this is with an L-bead option like ours that allows for a Level 5 Plaster finish. It looks like the grille is built right into the wall! (Patent Pending)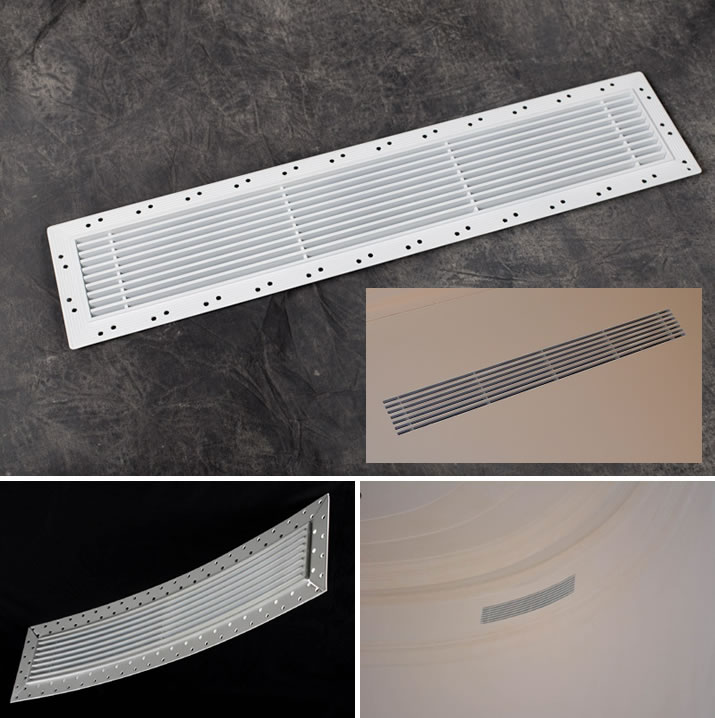 The L-Bead installation option can be applied to almost any linear bar grille and perforated grilles we offer with all finishes, in aluminum, bronze and stainless steel.
What is L-Bead?
This installation option is commonly known as a "mud-in" and we have a patent pending for our unique product. What makes ours different? We have received a lot of feedback from installers and all of our design features are inspired by their input. We have the highest level of plaster recess, our welding process prevents plaster cracking, and the core of the grille is removable, which allows for future duct work behind the grille without damaging the plaster.
Creation and Installation
Coco Metals is extremely proud that our L-Bead grilles are fabricated with material extruded in America. We fabricate these frames from a solid single piece of proprietary aluminum extrusion. The removable core grille is fastened with stainless steel threaded inserts at the bottom of the grille as well. Whether you are fitting for a mitered corner or curved wall, these grilles and frames can be fashioned to fit your architectural vision.
Finished Product
This design creates an elegant flush finish that gives the illusion that the grill was built into the wall. This feature is in high demand among our upscale residential projects. The L-Bead installation option can be applied to linear bar grilles, decorative perforative grilles, and any other custom metal products we offer.
Company: Coco Architectural Grilles & Metalcraft
Source: http://snip.ly/h2N2#http://www.cocometalcraft.com/l-bead-installation-grilles
Tags: Interior Design
---
Maxxon and Thermal-Chem are excited to introduce a new, high performance finished flooring solution ideal for projects from multifamily construction to healthcare facilities and everywhere in between.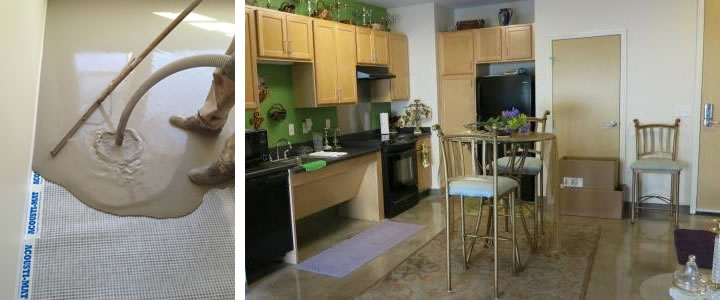 Using Maxxon's high-strength Commercial Topping as the underlayment, Thermal-Chem provides a protective wear surface, creating a beautiful floor for many years to come. With the myriad of finish options available through Thermal-Chem, a unique look can be created to suit any environment. The benefits don't stop there, though. Commercial Topping installs quickly, providing a strong, flat surface that meets over 100 UL fire rated designs. Where noise is a concern, an Acousti-Mat Sound Control Mat can be added to the Maxxon/Thermal-Chem engineered system. Thermal-Chem provides a customizable, seamless, sanitary wear surface that looks great and is durable enough for any floor challenge.
Company: Maxxon Corp.
Product: Commercial Topping®
Source: http://www.maxxon.com/press_room/releases/CT_TC.pdf