architecture - engineering - construction

2016 December
---
From Design to Construction... Federally Mandated Guidelines clearly state that concrete vault systems must be "constructed with chemical-resistant water stops in place at all joints (if any)" (Quote is directly from EPA Title 40 CFR 265.193 [new construction] and Title 40 CFR 264.193 [retrofit]). Earth Shield® products have been helping industry comply with these regulations in the most efficient and cost effective manner. We can assist in all three key phases of major industrial projects.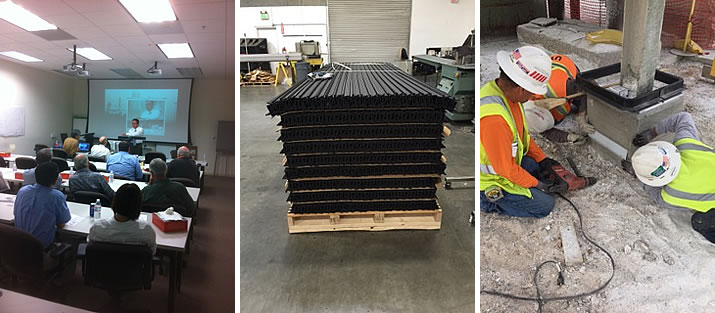 DESIGN — Seminars for Engineers and Owners
PRODUCT AVAILABILITY AND COMPETITIVE PRICING — Most orders shipped 1 to 3 days ARO
TECHNICAL SUPPORT FOR CONTRACTORS — On-site tech service and plastic welding schools
JP Specialties, Inc. is the leading manufacturer of chemical resistant waterstop and related concrete accessories. Our NSF 61 certified Earth Shield® line of chemical resistant waterstop is used throughout the world by major engineering firms and project owners for primary and secondary containment applications, as well as industrial wastewater treatment and ozone contactor structures. We invented and hold the patent on the technology used to mechanically weld thermoplastic waterstops. Services offered include free blueprint take-off and shop drawings, on-site welding certification, and individual corrosion resistance certification for the project owner.
We assist the Design Engineer and Project Owner with individual project and waterstop product specification and certification
Full takeoff service including shop drawings at no cost to customer
Waterstop Shop Drawings including 2-D CAD details and 3-D isometric
FAST job site delivery anywhere in the world
Company: JP Specialties, Inc.
Source: http://www.jpspecialties.com/
---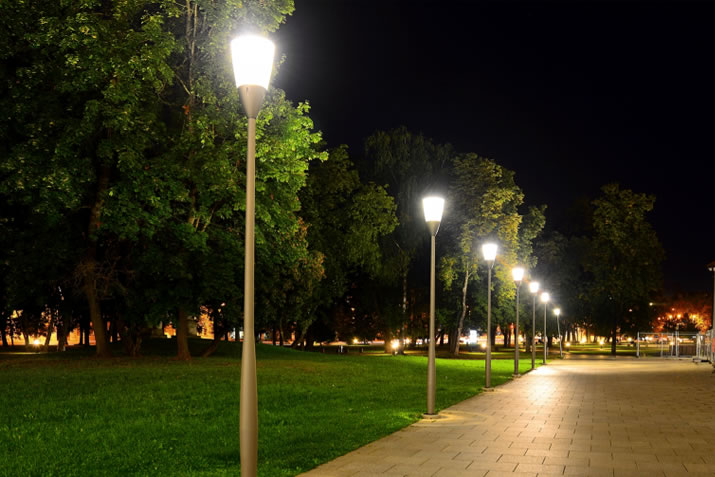 There are three main components to commercial lampposts: The actual post, the lighting fixture, and the light bulb. The post, the fixture and the light bulb can create a multitude of common issues that impact the functionality of your commercial lighting systems.
Common Problems With Light Bulbs
There are a number of problems that arise from using traditional incandescent bulbs as well as CFL bulbs. While LED bulbs can also have issues, they tend to be fewer and far between. LED bulbs are the most energy efficient, cost effective and long lasting option on the market. That's why most businesses have already made the switch. According to Energy.gov, LED bulbs have the greatest potential impact on energy savings in the US. By the year 2027, it's estimated that LEDs could save over $33 billion a year at today's electrical costs.
Common Problems With CFL Bulbs
Problem: Bulb burns out without cause.
Some CFL bulbs are defective, in which case that could be your issue and you just need a replacement bulb. Higher quality bulbs are less likely to fail. You should also check the packaging to make sure the bulb works with your particular fixture. Some bulbs are only meant to be used indoors and/or not with dimmers.
Problem: The bulb burns out prematurely.
When your bulb goes out earlier than it should, it may have something to do with vibrations and impact, both of which CFL bulbs are sensitive to. These vibrations can come from something as seemingly simple as a door routinely slamming shut. If lights are frequently used, an LED bulb may offer a better solution.
Problem: The bulb is flickering or buzzing.
CFL bulbs rely on a ballast to spark voltage and provide light. If the ballast is not supplying sufficient electricity, the bulb may start buzzing and flickering. If the ballast is faulty or loose this issue may also occur. Try changing the bulb and if the problem persists the issue is likely the ballast. You will need to call an electrician for repairs.
Common Problems With Incandescent Bulbs
Problem: The bulb burns out faster than it should.
The bulb you are using might not have the correct wattage for the fixture. Double check the rating on your fixture and use a bulb that supplies the appropriate wattage. Using incorrectly matched bulbs and fixtures will result in the bulb overheating and burning out much sooner than it should.
Problem: The bulb is not turning on at all.
The bulb could be burned out, or if it's new it could be faulty. It may also just be too loose in the socket to form a proper connection. If a new bulb or tighter connection doesn't address the problem, the issue might be with the fixture, outlet, cord or the switch could be defective.
Problem: The bulb is flickering.
If the bulb is loose it may cause the light to flicker. If a ceiling fan is attached to the fixture, vibrations from the fan may cause the bulbs to jiggle loose and subsequently flicker. If the bulb or connection is corroded, this can also create flickering. Other issues might relate to the cord, fixture, outlet or a defective switch.
Common Problems With LED Bulbs
Problem: The bulb burns out too early.
LED bulbs should last much longer than any other bulbs. But there are cheap LED bulbs on the market that do not last as long as high quality LED bulbs. These cheaper bulbs are not able to disperse heat as quickly as they create it, which ultimately leads to an early demise.
Problem: The bulb will not work with a dimmer.
Not all LED bulbs work with a standard dimmer. That's because the wattage is lower than what's necessary for dimming features to work. Look for LED bulbs with a dimmable LED driver and use electronic dimmers as opposed to magnetic dimmers.
Common Problems With Light Posts
Your lampposts are just as important as the bulbs inside of them, without one the other isn't going to do its job. Plus, lampposts create a style that reflects your business, which means you don't want an unattractive fixture.
Problem: Lamppost is breaking down quicker than expected.
Our resin-based lampposts are far superior to traditional lampposts. In general, most light poles have seams and the inside of the base is neither powder coated nor enamel finished. As a result, it's very easy for moisture and salt to get inside and create a world of problems. We manufacture our lampposts differently so that they are resistant to moisture, salt, corrosion, impact damage and so forth.
Problem: The post base is corroded or damaged.
The first place that traditional lampposts show wear and tear is at the bottom of the pole. That's because this is where water has the greatest chance to penetrate through surfaces. It's also where the most bumps occur from cars, pedestrians, golf carts and so forth. It only takes a bump or two to form tiny fractures in the surface that allow moisture to easily sneak inside and create further damage.
Our specially manufactured lampposts do not rust or corrode and are very resistant to impact damage. Yet, just because the bottom of your lamppost is looking less than its best, doesn't mean you need to invest in replacing your entire lamppost. That's why we created a lamppost base that can be attached to almost any standard sized pole. Our lamppost base adds years onto your lightpole by preventing additional corrosion and other issues from further damaging the post. Plus, it dramatically improves outward appearances. Our motto is: If you can't replace, rebase! Learn more: Light Post Bases
Problem: Lampposts are not providing sufficient light.
Your property likely requires more than just lampposts to be considered sufficiently lit. Tree ring lights, in-ground lights and bullet lights are just some of your many lighting fixture options. Adding a variety of different lighting fixtures helps evenly disperse light throughout your property, shinning light on different heights and angles. Shop our full collection of long lasting landscape lighting: Landscape Lighting
Common Problems With Light Fixtures
Light Fixtures offer a multitude of design solutions for a wide array of lighting installations. Whether one is trying to achieve a particular theme feature by selecting a traditional or modern design or one is selecting a fixture that offers the correct light distribution for the application, there are fixtures to solve most challenges. Be sure to ask if the city or community participates in Dark-Sky initiatives or if it's a coastal project, if there are Turtle-Friendly regulations to comply with. A TerraCast Lighting representative can help guide you through these challenges.
Company: TerraCast Products LLC
Product: Classic Lamps Posts
Source: http://www.terracastproducts.com/avoid-common-problems-commercial-lampposts/
Tags: Landscape Design | Lighting
---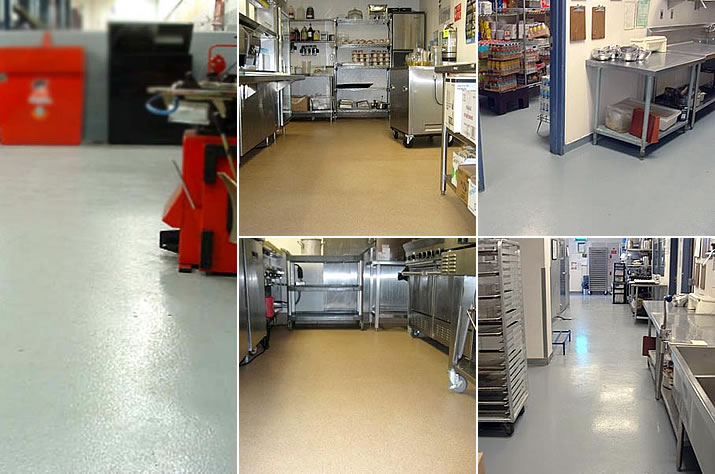 Take a look at the California Retail Food Code Section 114268, where it talks about the requirements of flooring for a food facility: "...the floor surfaces in all areas in which food is prepared, prepackaged, or stored, where any utensil is washed, ... shall be smooth and of durable construction, and nonabsorbent material that is easily cleanable. Floor surfaces shall be coved at the juncture of the floor and wall with a 3/8 inch minimum radius coving and shall extend up the wall at least 4 inches..."
There aren't many flooring options for a food facility that meets those very exacting requirements. Seamless resinous flooring systems best meets these needs. Let's look at why that is.
First of all, flooring for a food facility washdown area must be able to meet the ordinary requirements of workplace safety and floor longevity. The flooring must be able to withstand frequent cleaning and sanitization that might happen multiple times each day. Cleaning standards require some sort of chemical cleaner, so the floor must not be damaged by these chemicals which may be harsh and abrasive to flooring surfaces.
In addition, the washdown area will have high-pressure sprayers that are scouring equipment and the floor at close range, with very hot water. The floors are repeatedly flooded from cleaning. This means the floors must be anti-slip even through a potential near-constant layer of hot water and soap or chemicals on the floor.
Resinous floor coatings like decorative quartz systems or urethane concrete systems meet and exceed these needs. Duraamen has a variety of resinous flooring materials with exceptionally high abrasion resistance and chemical resistance. If these floors can withstand chemical cleaners, they can definitely withstand water from a power washer or sprayer. In fact, there's very little than can affect these floors, which makes them perfect flooring options for a food facility washdown area. Urethane Concrete Screeds also provide thermal shock resistance to the floors. The floors are cleaned with hot water or steam followed by cold water. Most of the flooring systems dis-bond from the substrate. Urethane Concrete Screeds have the ability to withstand this hot-cold water washing.
A seamless resinous system like urethane concrete can be applied over existing flooring concrete substrate. Urethane concrete systems are a fast application and a fast cure that can be ready for traffic in 24 to 36 hours. These flooring systems can have additives which can be non-slip and anti-microbial. Because the additives are mixed in with the entire flooring system, if for some reason your floor is gouged, you would still be protected. Urethane Concrete flooring systems do not easily deteriorate, so they can withstand the abuse of any commercial environment. They are applied in one homogeneous layer, so there's nowhere for bacteria to hide. Get in touch with Duraamen to find out more about Duraamen's floor coatings for a food facility washdown area.
Company: Duraamen Engineered Products Inc.
Product: Resinous Flooring: Self Leveling Polyurethane
Source: https://www.duraamen.com/blog/what-are-the-flooring-options-for-a-food-facility-washdown-area
Tags: Concrete | Finishes | Floor
---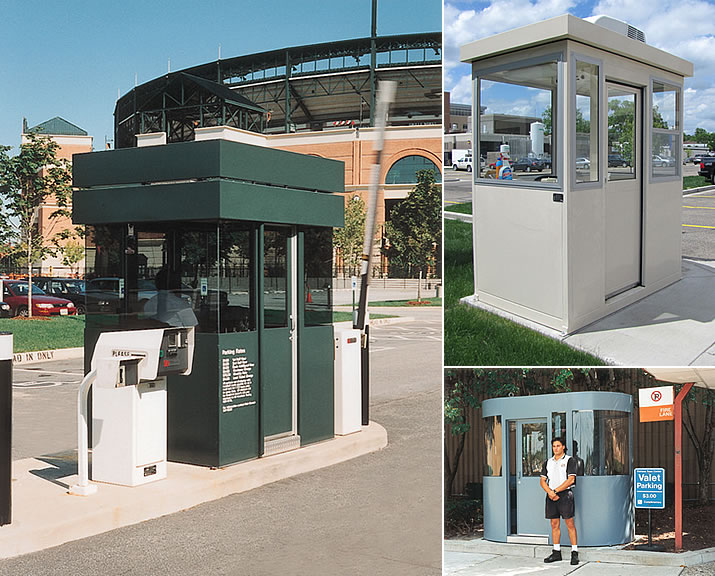 From single unit commercial structures to airport plazas and municipal parking facilities, Par-Kut builds quality parking booths that last regardless the location. Solid welded construction and corrosion resistant materials help Par-Kut parking booths battle physical and environmental abuse while keeping your operation and your attendants safe, secure and comfortable. Par-Kut portable steel buildings withstand adversity and remain looking good for up to 25 years with little or no maintenance.
When contacting your skilled Par-Kut sales person, please have some information ready for us. In order to make sure your parking booth can pass code requirements we'd like to know where the booth will be used. The geographic location, city and state are very important in the design of the parking booth. As we build every booth custom for every client, you can be positive that it'll meet or exceed all applicable code.
Par-Kut offers project specific drafting and design services in
addition to our exceptional manufacturing capabilities. This permits us to style and build you an ideal building that appears in-built, rather than "bolted on." Regardless of what the look is, from the most basic to high finish style, we'll work diligently to accommodate your style and parking booth requirements.
Parking lot booths from Par-Kut are built to your order and can be a simple shelter or valet booth, a parking cashier booth, or a security guard house. Factory assembled and delivered ready for easy hook up and immediate use, a Par-Kut parking booth provide the purchaser a secure parking lot office. Parking booths from Par-Kut can be outfitted with restrooms, bullet resistant construction, and platform mounting. Further, parking booths from Par-Kut can be standard, or architecturally enhanced to better blend with site surroundings.
Go to GALLERIES to view additional parking booths.
Company: Par-Kut International, Inc.
Source: http://www.parkut.com/booths/applications/parking-booths/
Tags: Entrances | Prefab | Safety | Security
---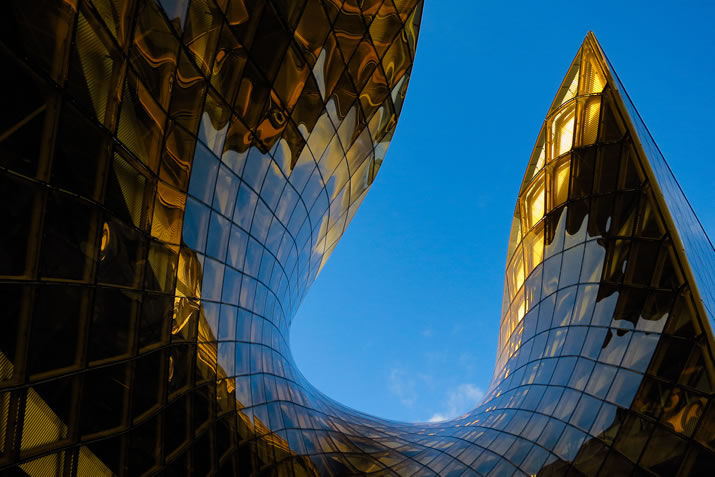 Glass has become such a common material in modern buildings, it's often easy to forget that we are relatively early in understanding the extent of its capabilities. It wasn't even until the early 1950s, with the development of an automated float glass manufacturing process that provided consistent high quality at a moderate cost, that glass was truly made available to the masses. The future of architectural glass, however, is taking on a new shape. The ability to curve and bend glass has helped to evolve this material from a means of allowing natural light within interior spaces to an artistic focal point.
Earlier this year, the design for the new Little Caesars Headquarters in Detroit, Michigan was unveiled, featuring 14-foot tall formed laminated glass shapes that loosely resemble a piece of pizza, the hallmark product of the company's success. What seems so visually simplistic–a pane of glass bent down the middle–is actually an engineering marvel. The double-curved glass walls of the Emporia Shopping Mall, located in Sweden, is an example of the intricacies involved in manufacturing a large scale curved glass structure.
The Art of Bending Glass
There are several methods of curving or bending glass, including bending and tempering, hot bending, cold bending and lamination bending. In the case of lamination bending, the glass is first layered with other interlayer materials and then bent before ultimately being placed inside an autoclave at temperatures near 280°F to complete the lamination process. The extreme temperature causes the interlayer to soften to the consistency of honey and fill the crystalline of the glass, resulting in a laminated safety glass. Due to the autoclave process, however, the glass must actually be bent at a tighter radius than is ultimately desired because the heat will cause it to spring slightly back to its original shape.
The 804 double panes of glass installed at the Emporia Shopping Mall were manufactured by heating the glass, causing it to soften and through its own weight, take the shape of a mold. Almost 600 different molds were used to create the intricate curve pattern. Equally as important as the heating process, the glass had to be properly cooled to ensure there was no residual stress within the panel. The final step was laminating the panes of glass together using an amber or blue plastic film, which provided the desired color and safety characteristics.
Photo Credit: Emporia Shopping Center, by Håkan Dahlström
Company: Total Security Solutions Inc
Source: http://www.tssbulletproof.com/architectural-glass-takes-shape/
Tags: Design | Glass | Safety | Security
---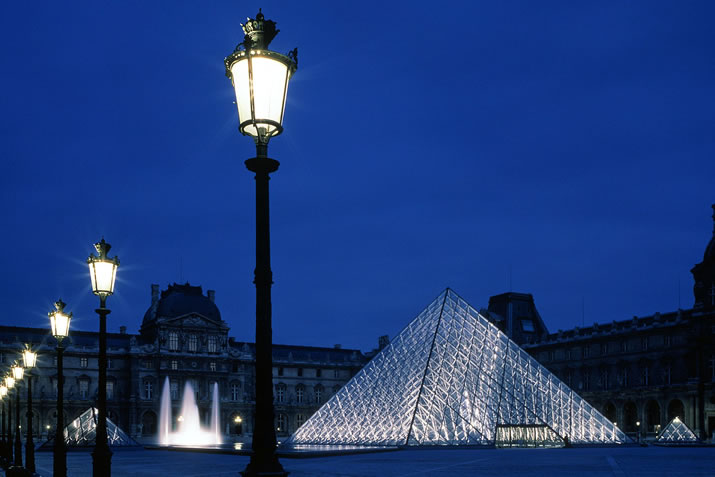 The Grand Louvre – Phase I - in Paris has been selected for the 2017 AIA Twenty-five Year Award. Designed by I.M. Pei, FAIA, and his firm Pei Cobb Freed & Partners, the 71-foot-high glass and stainless steel pyramid now rivals the Eiffel Tower as one of France's most recognizable architectural icons. Recognizing architectural design of enduring significance, the Twenty-five Year Award is conferred on a building project that has stood the test of time by embodying architectural excellence for 25 to 35 years. Projects must demonstrate excellence in function, in the distinguished execution of its original program, and in the creative aspects of its statement by today's standards. The project will be honored in April at the AIA National Convention in Orlando.
Greeted with hostility and derided as a Modernist affront when it was first proposed as the main entrance to Paris' Musée du Louvre, the project was born of President François Mitterrand's quest to modernize the Louvre in the early 1980s. Pei's pyramid thrust the 800-year-old Palais complex into the modern era while simultaneously making the museum more accessible to larger crowds.
When he was selected as the architect, Pei faced a seemingly insurmountable challenge: reorganizing and expanding the museum without compromising the historic integrity of one of France's cherished monuments. To execute the project, Pei wove together an unprecedented amount of cultural sensitivity, political acumen, innovation, and preservation skill. As one juror noted, the project has become "an internationally renowned symbol for Paris and an example of the prowess and legacy of I.M. Pei."
The entirety of the project, known as the Grand Louvre, was executed in two phases over the course of a decade. For the first phase, which gave rise to the pyramid, Pei reorganized the museum around the central courtyard, the Cour Napoléon, transforming it from a parking lot to one of the world's great public spaces. Twenty-seven years since the project was completed, Pei's success has been reaffirmed in the museum's visitorship, which has more than tripled since the expansion. To accommodate the influx, the museum undertook its first renovation of the reception area directly beneath the pyramid recently and took distinct measures to maintain the integrity of Pei's design.
Despite the rancor that surrounded the design's unveiling, Pei gave France an unexpected treasure that its citizens and visitors from around the globe value as much as the priceless works of art contained within the Louvre. Bringing "life, action, and beauty to what was already beautiful," as one juror noted, the project fused modernity with a swell in national pride for a historic building.
The jury for the 2017 Twenty-five Year Award includes: Mark Reddington, FAIA (Chair), LMN Architects; Gregory P. Baker, AIA, HNTB Architecture; David Cordaro, AIAS Representative; Leslie K. Elkins, FAIA, Leslie K. Elkins Architect; Timothy J. Johnson, AIA, NBBJ; William Q. Sabatini, FAIA, Dekker/Perich/Sabatini; Adrian D. Smith, FAIA, Adrian Smith + Gordon Gill Architecture; Beatrice Spolidoro, Assoc. AIA, Rothschild Doyno Collaborative and Marilyn Terranova, PhD, Interim Superintendent, Pocantico Hills CSD.
Company: AIA (American Institute of Architects)
Source: https://www.aia.org/press-releases/25096-the-grand-louvre---phase-i-honored-with-aia-
---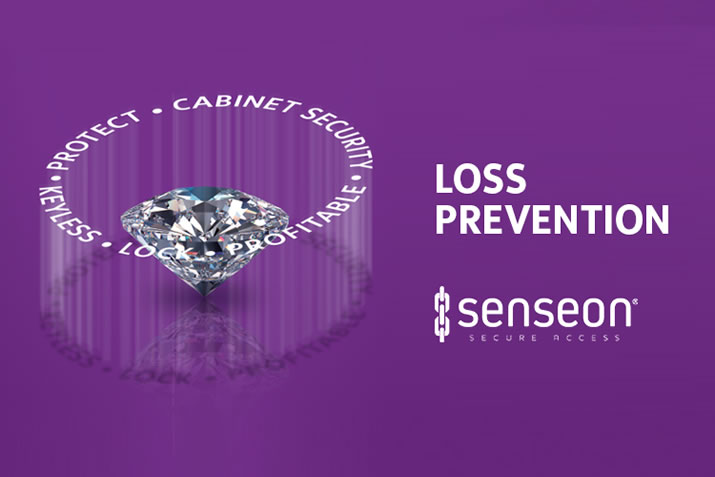 The season of giving is upon us, and with that comes an increase in sales–as well as an increase in shrinkage across the retail industry. Shrinkage is the loss of inventory often attributed to theft. That's especially so in the holiday season, as indicated by loss prevention specialist Ernie Deyle's holiday season forecast. As Deyle explains, the holiday season is a time when "people tend to rationalize immoral behavior like shoplifting. It's much easier to do so when a child's Christmas present is at stake rather than an extra bathing suit for the summer."
According to Deyle's research, shrinkage increases to about 38% during the holiday season from 22% the previous quarter. With that in mind, loss prevention managers and operations managers everywhere are constantly looking for solutions to reduce shrinkage and increase profit. Deyle's report advises retailers employ technology to stabilize inventory loss and ensure shelf availability while enhancing retail display security.
With how fast technology is advancing, it's no surprise that loss prevention technology is evolving at such an exponential rate. Even small convenience stores are capable of running facial recognition technology. According to Tyco Integrated Security's director of business development, Lee Pernice, "RFID is something else that is not new to retail, but it has come a long way in both cost and use cases."
How Senseon Can Help?
Senseon Secure Access is one of the ways RFID technology has evolved over the years. Senseon systems lock and unlock up to 15 doors or cabinet drawers simultaneously with the tap of an RFID card or fob. This inconspicuous, easy-to-install secure access system can be the solution to a wide array of retail shrinkage troubles.
Senseon Secure Access can be programmed to support up to 100 users, including five administrators. Employees thus have ready access to merchandise on the sales floor, rather than having to wait for a manager with a key to retrieve customer's items. In addition, a lost or missing key is no problem: an administrator can program or delete card/fob access instantly.
Loss prevention has the potential to move forward as a cost-saver and a time-saver for retailers across the world. With Senseon Secure Access retailers can be sure that all their inventory will be secure this busy shopping season.
For more information on how Senseon Secure Access System can be tailored to fit your needs, visit http://www.senseonsecure.com/ or call us at 800.688.8242.
Company: Accuride International
Product: Senseon Secure Access Control
Source: https://www.accuride.com/senseon/loss-prevention-retail-security-for-the-holidays/
Tags: Furniture | Interior Design | Security
---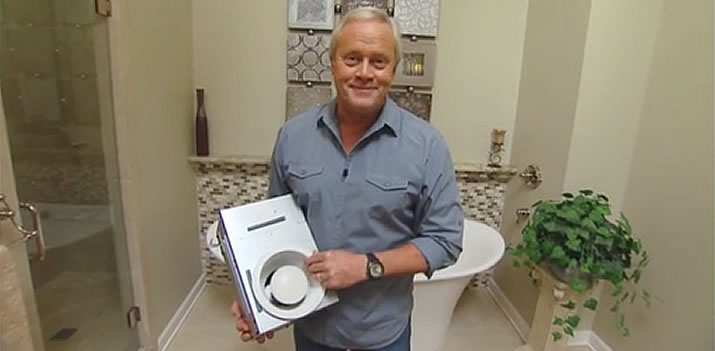 Danny Lipford with Broan recessed light vent fan
Proper home ventilation is especially important when your house is closed up during winter. Here are some tips to improve your indoor air quality this winter.
Keep Your House Clean
Using a quality vacuum to remove dust and dirt is a great way to improve indoor air quality, but unless you're using a central vacuum system, such as the PurePower™ Series from NuTone, you're just recirculating dirty air throughout your home. Unlike a canister or upright vacuum, a central vac system actually exhausts the dirt and dirty air outside your home.
Remove Moisture from Bathrooms
Too much moisture from showering and bathing can cause the growth of mold and mildew in your home. Properly installed bath vent fans, such as the new InVent™ Series from Broan, remove excess moisture and vent it to the outside. Broan fans can also come with a built-in humidistat to cut the fan on and off automatically as needed.
Add Spot Ventilation to Rooms
Bathrooms are the only room that needs good ventilation Broan also makes combination exhaust fans and recessed light fixtures, such as their 744 Series which are perfect for removing musty air in closets and laundry rooms.
Company: Broan-NuTone LLC
Of: Danny Lipford
Source: https://www.todayshomeowner.com/video/tips-to-improve-indoor-air-quality-this-winter/15/
Tags: HVAC | Interior Design
---
We've installed thousands of campus entry solutions, talked to end users all over the world and have developed a comprehensive process for choosing the right security entrance. That said, no process is perfect, and we've come to observe that certain organizations will consider some of the decision criteria quite well but leave out one or two factors. We call these the "Gotchas," and when forgetting or ignoring any one of the criteria, you can end up with a security entrance that doesn't address the needs of your organization.
We divide the entrance solution decision-making process into two parts: before installation and after. Before Installation, purchase decisions are often weighted towards security, aesthetics and return on investment (ROI). After installation, however, and once there is no going back, throughput, training, service and safety play a more prominent role.
While initially aesthetics or security usually jump out as paramount, all seven decision factors contribute to an effective security solution. For most decisions, the criteria before installation are relatively prominent and well understood. Where the "Gotchas" rear their less-than-pleasant heads is in the pesky factors that often don't occur to the decision-makers until the new security entrance has been installed.
After installation, it is crucial to incorporate each of the following criteria into a comprehensive decision-making process so that you'll select the right solution for your campus.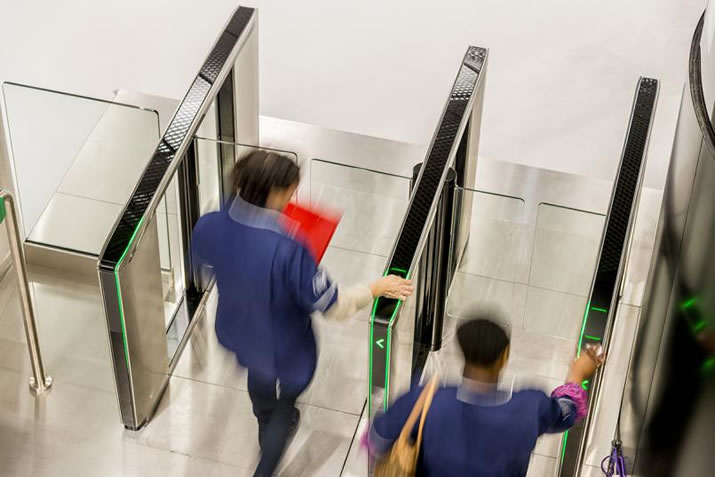 1) User Throughput
Throughput (how quickly authorized individuals can enter your facility) affects users directly on a daily basis and is critical to user acceptance of a new security entrance. Before you commit to a particular kind of entrance solution, carefully and manually calculate the throughput requirements for your entrances, ideally during a 5-minute rush hour period. Note deliveries and wheelchairs. Don't rely solely on access control numbers if you have swinging doors, as multiple tailgaters could enter on a single authorization and reduce the count. Once you have the counts, research security entrances' throughput specs. It's also worthwhile to inquire if a solution allows for card stacking, which is explained in the following example:
Example: A Houston-based company installed an array of optical turnstiles in their regional headquarters lobby. Unfortunately, they did not research throughput numbers, and the turnstiles they installed required each user to badge in, walk through the turnstile, and then for the turnstile barrier to reclose before the next user. During peak times, lines would form. Eventually, the company decided to replace the turnstiles in favor of a model that allowed multiple registrations with access control (card stacking) prior to entering and also kept its barriers open as long as all of the users were authorized. The difference was an increase in throughput from 22 to 60 people per minute per lane—and that made all the difference.
2) Technical & End User Training
Training usually isn't considered a major factor when choosing an entry product, yet it is key to long term success and customer satisfaction. Since most manufacturers do not directly install their products, they should provide a comprehensive technical training program and some form of certification to create successful service providers for end users.
Example: A financial services company purchased an array of high security portals to protect a sensitive area for records and data. A few months after installation, which had been supervised by the manufacturer, one of the portals required service because it was rejecting authorized users. When a technician from the local distributor arrived he took one look at the portal and said, "I've never seen one of these before." He then spent hours on the phone with the manufacturer to receive on-the-fly training. Clearly, there was a training disconnect between the manufacturer and the distributor.
3) Service Considerations
Service considerations typically come last or not at all when making a buying decision. Yet, during and after installation, the level of service directly impacts continued operations and ROI.
Example: A Philadelphia office tower installed two optical turnstiles in their main lobby that matched the building's aesthetics beautifully. After a few years, one of the turnstiles stopped working and a part had to be ordered from Europe — downtime was estimated at four weeks. With only two opticals in their lobby, having one out of service was unacceptable and the owner immediately began looking into replacing the turnstiles. Elsewhere in Pennsylvania, a Pittsburgh hospital had a security door that was out of service. Management was shocked to find out that the nearest authorized service provider was over eight hours away — gotcha!
Consider the negative impact of a delayed installation or service visit, or delayed parts availability on your building entrance procedures — all because service was left out of the decision-making process.
4) Product Safety
Safety, too, is rarely discussed during the bidding process. However, it is the one factor that could quickly and possibly tragically undermine the success of the project. Most security entrances use a barrier of some kind. The more sophisticated barriers use presence sensors to detect objects or users. Before buying, ask how a product prevents entrapment or contact, and how it responds to either event. The answers should then be weighed against your security vs. safety needs, your users and their ability to be trained, the product's response to an incident during peak periods (does it stop and require re-badging?), and whether large objects are typically carried or pulled behind.
Example: A California software company wanted a secure revolving door that only allowed authorized users to enter at night and also provided piggybacking prevention. During the day, however, they wanted the same door to allow the public to enter along with any children for a daycare center inside. The architect was unaware that piggybacking prevention and public use don't mix very well, especially with children involved. A security revolving door requires users to be trained. The door's small quadrants, which are ideal for a single person and piggybacking prevention, lack the trailing door wing sensors that large automatic revolvers must have for public safety. This is because such sensors would stop the door far too often. Due to frequent contact incidents, the company decided the public need was greater than the piggybacking prevention and they had to incur the expense of replacing it with a manual revolving door that had a night-locking feature with an access control system to allow off-hours employee access.
Forget Campus Culture at Your Own Peril
We've discussed seven crucial decision factors here, but there is one more factor to consider: culture. Culture permeates all the other decision factors and is critical to success. Do people care about their personal safety in Boise at the same level as those in Manhattan? Are all management stakeholders involved in the buying decision, from CEO to finance to HR to administration to residence life to the facility manager? Is there high employee turnover or students requiring recurring training? Campus safety decision makers should understand your campus or company culture and be willing to assist in implementing a culture shift through communication and training.
Example: A state university in North Carolina installed optical turnstiles with drop arm barriers at its recreational facility to prevent unauthorized access to gym equipment and reduce liability. A receptionist registers each student with the access control system and then opens the barriers. This ensures that freshman get an orientation to entrance procedures. Eventually, over several years the university will phase in a biometric access control system that will allow bypassing the receptionist. At first, it will be voluntary, rewarding those who register with an expedited entry. Eventually, it will be universal. This staged approach ensures a smooth culture shift.
Example: Another more drastic example of culture affecting the deployment of security solutions happened a few years ago at a West Coast internet company. A new CEO was hired, and he ordered the turnstiles in the front lobby to be removed because "this company isn't about barriers." So, it pays to inform the CEO of new security measures and why such measures were taken! Speaking of the West Coast, some companies allow dogs to come to work, which greatly affects which security entrances can be used safely and effectively.
The success (or failure) of a security entrance project must start and end with a comprehensive, consultative process that considers the full range of factors for the ultimate decision. As we've seen above, a conscientious leader can preside over a process that includes most of the eight essential criteria. However, forget one and even a careful, comprehensive effort can result in a big "gotcha" that brings a new security entrance project to a crashing halt.
Company: Boon Edam Inc.
Source: http://www.boonedam.us/news/4-gotchas-could-derail-your-front-entrance-security-upgrades
Tags: Design | Entrances | Security
---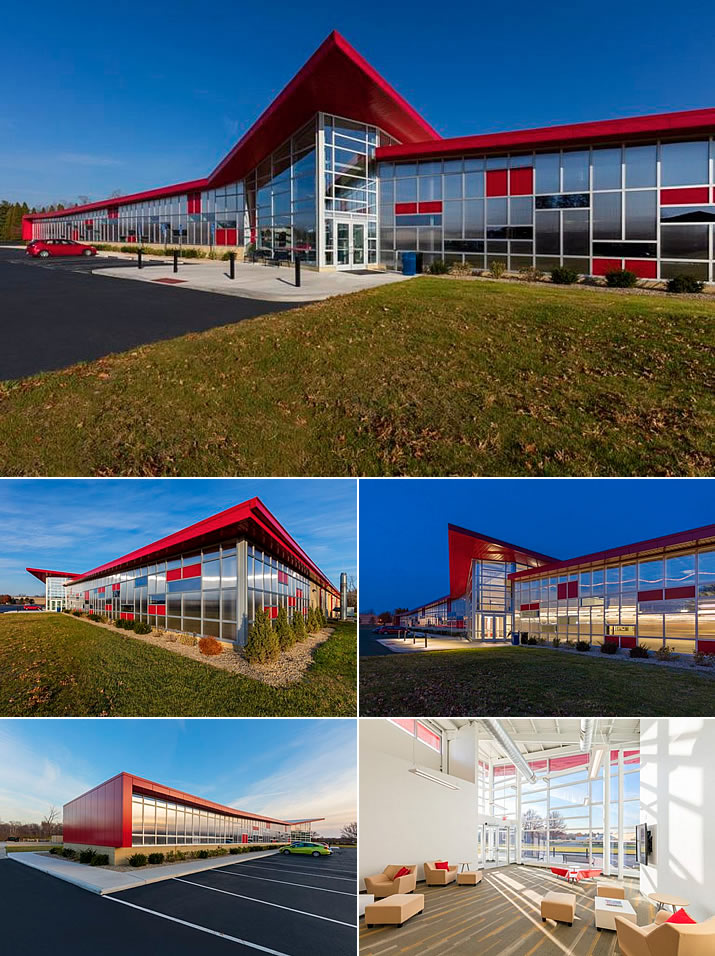 Images by Andy Spessard Photography
A State-of-the-Art Renovation in Central Ohio
Project: Otterbein University's STEAM Innovation Center
Location: Westerville, OH
Architect: Moody Nolan
General Contractor: Corna Kokosing
System: LIGHTWALL 3000
In a world where factory jobs are being replaced with smart technology and globalization has made the manufacturing industry increasingly competitive, Otterbein University saw an opportunity. The plan was to partner with leading organizations from the private and public sectors in central Ohio to build a hands-on curriculum focused on teaching – and innovating – cutting-edge skills in engineering, technology, science, and math. To achieve this, a laboratory that fostered experimentation and possessed state-of-the-art tools was necessary. To further complement the innovative facility, a state-of-the-art architectural design was developed.
The decision was made to renovate an older campus building in time for the 2016 fall semester, and with groundbreaking delayed into early 2016, the project timeline would be tight. Moody Nolan architects had a unique design in mind – a multi-paneled, geometric façade that would deliver daylighting with minimized solar heat gain and glare. Their plan was to use a curtain wall that could incorporate metal, polycarbonate, and glass that delivered diffused daylight with visual clarity in key locations.
EXTECH's LIGHTWALL 3000 series curtain wall system was selected for the project because it is one of the few that properly accommodates both polycarbonate and glass glazing within the same system. This is accomplished by using deep glazing pockets and low friction gaskets that allow for the thermal movement of polycarbonate, while still providing superior water and air infiltration performance.
To create Moody Nolan's distinctive geometric design, EXTECH fabricated a new horizontal mullion that allowed for the inclusion of non-continuous vertical framing members. The new mullion "flushed out" the interior surface of the system and allowed it to span up to 8 feet between vertical mullions – typical span lengths are only 4-5 feet. It also allowed for the application of point loads from vertical framing members without additional structural reinforcing - horizontals typically deliver their loads to verticals.
The STEAM Innovation Center's "wire-cutting" (a technology pun on "ribbon-cutting") was just in time for Otterbein's fall semester. All told, the center is a 61,000 square foot building that provides classes and training in areas such as 3D printing, advanced electronics, metal and machinery, and also provides office space for lease. If you would like to learn more about this project or EXTECH's LIGHTWALL 3000, please contact us.
Company: EXTECH/Exterior Technologies, Inc.
Product: Translucent Walls
Source: https://extechinc.com/case-study-photos-otterbein-universitys-steam-innovation-center/
Tags: Design | Glass | Wall Panels | Windows
---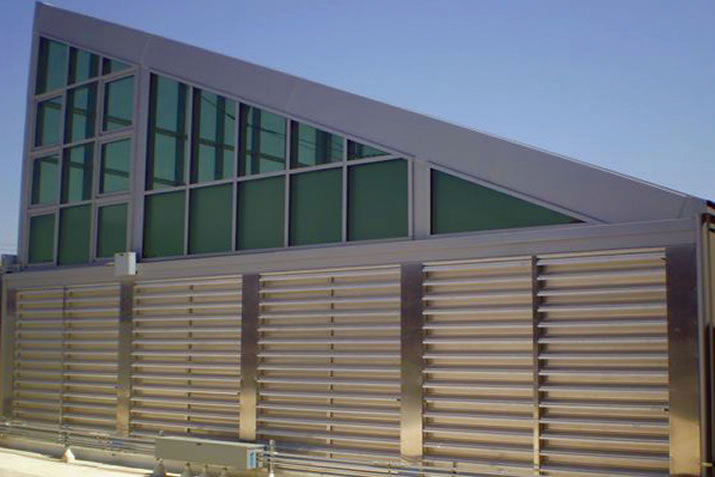 At Stanford, they inspire sustainable building solutions and the people who work in them. The Environment and Energy Building (Y2E2) continues to perform and provide a sustainable learning environment. The four-story building contains classrooms, offices, and labs that are filled with experts and students who are motivated by the efficient building in which they work, research and advance a variety of sustainable solutions for future generations to come.
The Solution
The building's ambitious energy goal called for more than a 50% reduction — above and beyond the ASHRAE 90.1.2004 requirement. According to the University's website, the building capitalizes on the laws of nature for heating and cooling rather than using mechanical systems. In order to meet Stanford's interest in creating a modern building, yet retain the classic look of the other structures on campus, Ruskin provided ELC6375DAX combination louvers/ dampers faced with ELF architectural grilles and a passive air management system. This provides constant airflow and outside air circulation.
How it Works
Known as the "lungs of the building" each of the four atria were treated to custom built stacked louvers to exact specifications.
Each atria rises up 89 feet (24 feet and 6 inches above the roof). At night, when the outside air drops to approximately 60ºF degrees, the ELC6375DAX louvers located at the top of the atrium act like a giant siphon and pull up the warm air and allow it to discharge out of the building. The louvers are integrated into a direct digital control system that analyzes the indoor air temperature and determines which windows within the building to open to let the hot air out.
The Outcome
In an interview with KGO-TV, Dick Luthy, Stanford Civil & Environmental Engineer Chairman said that process "will let the building naturally breathe and cool down." This passive cooling system reduces the building's energy contributing to the overall goal of 56% reduced energy usage.
The creation of this building was truly a collaborative effort where experts from a variety of disciplines came together to design a passive air management system that takes advantage of one of nature's basic laws — hot air rises, cold air drops. The Environment and Energy Building is something uniquely special.
While the impact of this sustainable design will be felt daily by those who use the building, the far-reaching implications exceed anything that could be measured on a day-to-day basis.
"We felt this was one of the best investments that we could make for the next generation, and our children," said Akiko Yamazaki, Yahoo! Co-founder, while standing in one of the trademark atriums during the building's dedication. "For our children to be able to enjoy and experience what we've been blessed with, we cannot afford not to do something today."
The building was constructed to LEED Platinum Standards and continues to perform as designed earning the LEEDEBOM rating (Existing Building Operations and Maintenance).
About the project
Architect: BOORA Architects, Portland, Oregon
General Contractor: Hathaway Dinwiddie Construction Company, San Francisco, CA
Consulting Engineers: Ove Arup & Partners, San Francisco, CA
Mechanical Contractor: ACCO Engineered Systems, Glendale, CA
Ruskin products
ELC6375DAX Combination Louver, CD60 and FSD60 Dampers
Fixed Exterior Blades with Low Leak Airfoil Movable Damper Blades
Special Concealed Actuator Side Compartment
Modulating Fail Open 24v Electric Actuators
Aluminum Bird Screen ELF Architectural Grilles
Baked Enamel Kynar Finish with 20 - year Warranty
Flange Frame and Factory Clip Angles
Company: Ruskin
Product: Louvers
Source: http://www.ruskin.com/CaseStudies/entryid/721/louvers-play-key-role-in-passive-air-management
Tags: Exterior Design | Louvers | Sustainability
---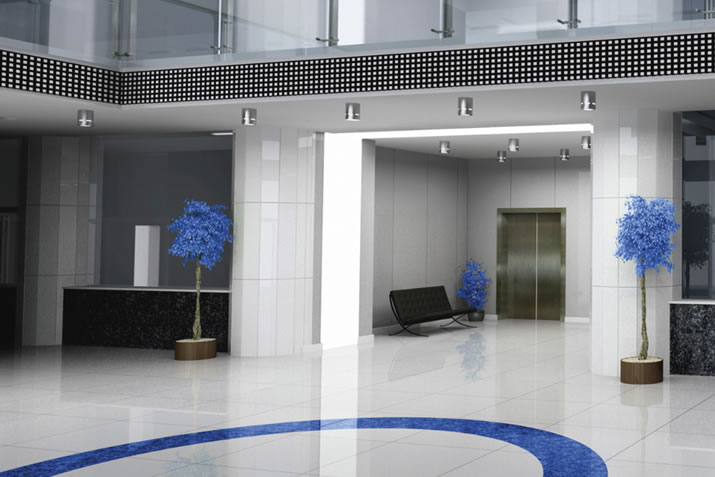 Contemporary architecture strives to be seamless, high performance and flexible. As a result this requires intelligent and creative solutions to servicing these spaces. Integrated strategies for the provision of power, communication, data and HVAC are essential. Howe Green products enable this integration to happen.
Served vs Servant - a concept first coined by AIA and RIBA gold medalist Louis Khan, a great 20th century architect.
Our raison d'être
Here at Howe Green we take inspiration from Khan and have a range of products which enable the architectural greats of today to realize their vision. Contemporary architecture strives to be seamless, high performance and flexible. As a result this requires intelligent and creative solutions to servicing these spaces. Integrated strategies for the provision of power, communication, data and HVAC are essential. Howe Green products enable this integration to happen. The introduction of innovative solutions to building services such as voids, suspended ceilings, raised floors, false walls, service chases and service cores are a direct result of the commercial incentive of maximizing the usable space within a building. However these strategies require access, which is where Howe Green's products are used.
Types of access cover
The access covers generally fall under three types, those mounted on walls, those fitted in a ceiling system and floor based products. These systems can be used internally and externally. Howe Green products are used across the globe in challenging environments, the products have been put to use in commercial offices, transport hubs, public spaces, retail and residential architecture. It is a versatile family of products that address the requirement for high quality, accessible service space.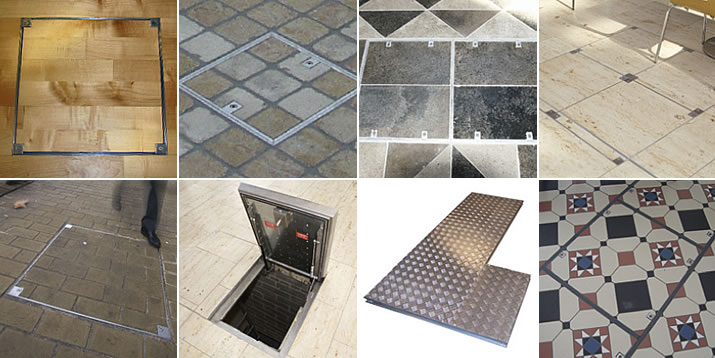 What can we do for you?
"Design for the present with an awareness of the past, for a future which is essentially unknown" Norman Foster. Howe Green's systems aim to add value to the architecture in which it is installed; they allow for flexibility in future demands by allowing ease of access for service updates and ease of maintenance for existing service infrastructure.
Ease of use
Howe Green Access Covers are supplied with clear and legible installation guides ideal for contractors unfamiliar with our products. The "Buildability Factor" is considered at every stage. Crucial in installation, where the access covers have a low level of complexity, are generally built to standardized construction dimensions and reduce the level of risk for the contractors fitting the product - a responsibility that must be upheld by the principle designer, client and suppliers under HSE and CDM 2015 regulations.
Responsiveness
Howe Green is a responsive company that understands the design, construction and operational process and just how fast changes occur. As an established company we have the resources invested in cutting edge C.N.C. equipment to respond to these changes rapidly; Howe Green stock products are dispatched the same day, whilst bespoke items have a 7-10 day lead time.
Precision
The fabrication and manufacture of our products is heavily influenced by sustainability; the process minimizes waste material and guarantees a precise tolerance finish for a high performance product. This ensures a quality product is delivered to the correct level of specification every time.
Integration
Howe Green's products are integrated into the BIM workflow for architects, specifiers, clients, contractors and even facilities management. This allows for the products to be introduced at concept design stage through to retrospective fittings in operation and management, which has happened recently for one of our client's – the Eagle Church Campus situated in Indiana, USA.
This high level of integration allows for costing, schedules, performance analysis all to be undertaken and documented through the whole lifespan of the design, procurement, facilities management and operation and maintenance of Howe Green's products.
Company: Howe Green US
Source: https://www.howegreen.us/howegreen/news/introduction-to-access-covers.php
Tags: Access Covers | Ceiling | Floor | Sustainability | Wall Panels
---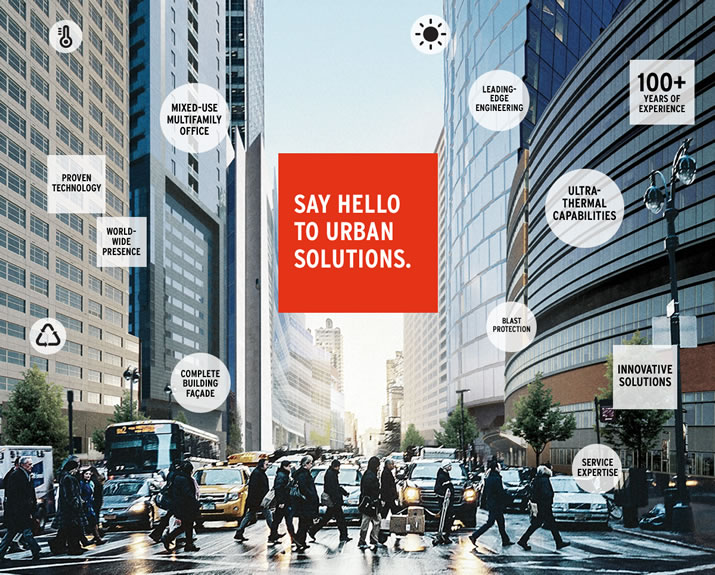 Say hello to urban solutions
Wherever you look, you will find us. Out of an office window. Walking into a shop. Looking up at an apartment building. Our range of solutions – from curtain walls and windows, to entrances and framing systems – are everywhere you need them to be, offering infinite possibilities in design, development and performance. We are here.
Explore our dynamic array of innovative solutions for new construction and renovation, like the all new MetroView™ window wall. Learn more about Kawneer windows featuring the high-performing OptiQ™ windows, GLASSvent™ UT windows and the NX-4000 series.
ARCHITECTURAL ALUMINUM SYSTEMS | ENTRANCES + FRAMING | CURTAIN WALLS | WINDOWS
Company: Kawneer Co., Inc.
Source: http://www.kawneer.com/bcs/aap_kawneer/en/urbanbrands.asp
Tags: Design | Entrances | Wall Panels | Windows
---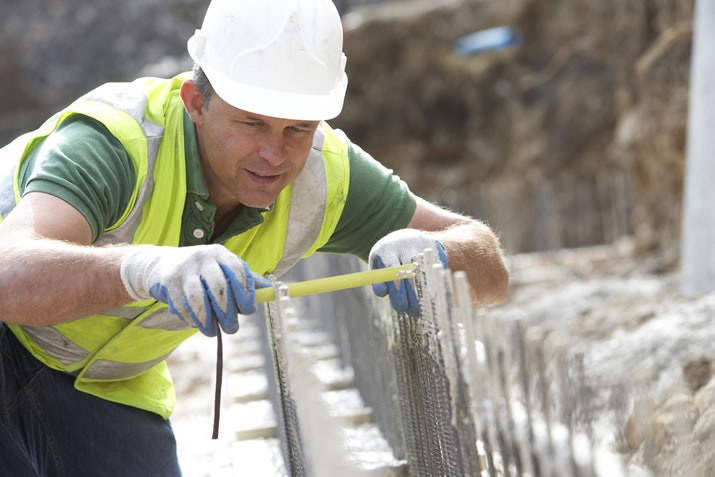 Today's workforce is comprised of workers of all ages. But older workers still do and will continue to make up a significant portion of the workforce. According to the U.S. Bureau of Labor Statistics, one in five American workers will be over age 55 by 2020.
Regarding safety in the workplace, the Centers for Disease Control (CDC) notes that older workers may suffer fewer workplace injuries than their younger counterparts. This is attributed to the experience they have acquired over the years and the fact that older workers are generally more cautious.
However, older workers typically require a longer recovery time and chances of them suffering a fatal injury are greater than younger workers. Overall, it makes sense to create a safety culture that is healthy and safe for workers of all ages.
The CDC offers the following suggestions to make a healthy and safe workplace and age-friendly workforce:
Prioritize workplace flexibility. Provide workers input into their schedule, work conditions, work organization, work location and work tasks.
Match tasks to abilities. Encourage self-pacing, rest breaks and less repetitive tasks.
Avoid prolonged, sedentary work. Offer sit/stand workstations and walking workstations. Provide physical activity opportunities.
Manage hazards. These include noise, slip/trip and physical hazards.
Provide and design ergo-friendly work environments. This includes workstations, tools, floor surfaces, adjustable seating, better illumination, and screens and surfaces with less glare.
Utilize teams and teamwork strategies for aging-associated problem solving. Those closest to a situation are best enabled to find a solution.
Provide health promotion and lifestyle interventions. These include physical activity, healthy meal options, tobacco cessation assistance, risk factor reduction and screenings, coaching and onsite medical care.
Invest in training and building worker skills. This should be done for workers of all ages.
Proactively manage reasonable accommodations and the return-to-work process. This should be the standard after illnesses and injuries cause workers to have work absences.
Require aging workforce management skills training for supervisors. One component should be how to manage a multi-generational workplace.
What benefits do you see from promoting an age-friendly workforce?
Company: Seton
Of: Marji McClure
Source: http://www.seton.com/blog/2014/11/creating-a-healthy-safe-age-friendly-work-environment
---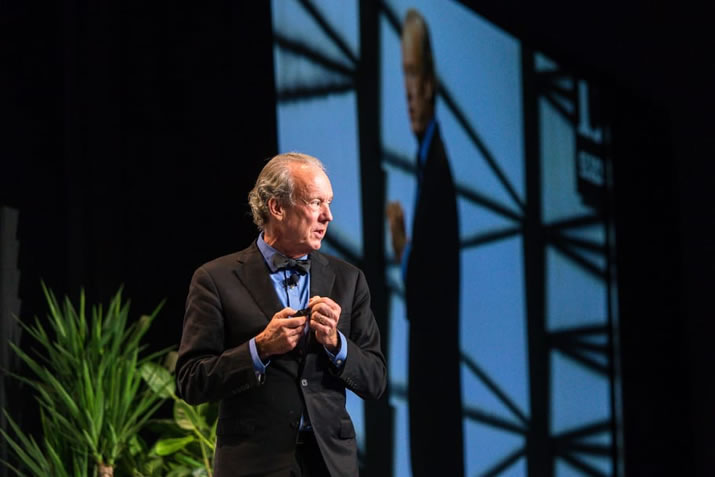 William McDonough, FAIA, gave a keynote at the 2016 SXSW Eco conference that emphasized the need for urban revolution. Image credits: Steve Rogers.
Carbon-positive cities, biophilia, and data-centric decisions define the next American city that architects can help create
In discussing solar orchards, biophilic cities, and illustrative mapping of everything from water surges to public protests, architects at the 2016 SXSW Eco conference brought the audience a dynamic voice for change. In its fourth year, the sister conference to the larger South by Southwest festival has grown into a three-day convergence of all things driving global change under the umbrella of design, technology, and business. Its basic premise is a forum for ideation and connection across industries. Participants arrive from around the globe, united by aspirations to establish new ways of dealing with health, food, water, climate change, clean air, energy, and development.
"Architects provide a fundamental voice in this conference," notes SXSW executive producer Morgan Catalina. "We are talking about environmental and social change. It is a realm that architects can shape, change, and influence through design." In fact, design thinking and problem-solving were a priority in much of the conference discussions. Topics ranged from idea-driven calls to action to explanations of developing software tools. Creative solutions involving cross- and multi-disciplinary teams were billed as the most effective ways to address many of the world's pressing problems.
Time for a (sustainability) revolution
In his keynote, William McDonough, FAIA, of William McDonough + Partners, called for a revolution as he emphasized the need for carbon-positive cities and work toward climate change reversal. A visionary for more than 40 years, McDonough has been a pioneer in sustainability. He co-created the Cradle to Cradle philosophy, and all his work promotes a complete understanding of material health in the design process coupled with built-in renewable energy and social fairness.
He is currently working on concepts for a Chinese city that can feed and power itself. In Mongolia, McDonough's "solar orchards" allow industry and agriculture to live in the same place. Solar collectors are elevated six feet, allowing for grazing animals to occupy the same land. "This is beautiful … grasses come back by themselves," stressed McDonough. His is a call for a new language to deal with carbon that promotes constant improvement and a reevaluation of the current framework from which architects and designers evaluate their impacts on the environment and the future of human health.
Connections to nature
Likewise, Amanda Sturgeon, FAIA, chief executive officer of the International Living Future Institute, noted that architects should change the way they are designing, and recognize that "people are a part of nature, not separate from it." As part of the workshop on biophilic cities, she presented her research related to biophilic design emphasizing the reconnection of humans and the natural world. Biophilic cities prioritize the integration of green and blue ways throughout urban zones, urban farming initiatives to support food deserts, and integration of wildlife preservation in planning efforts, among others.
"We are talking about environmental and social change. It is a realm that architects can shape, change, and influence through design." - SXSW executive producer Morgan Catalina
Sturgeon summarized her argument for new design thinking: "Most of architecture is being created with no connection to place, climate, geography, or regional context. With increasing urbanization, and the fact that we spend 90 percent of our time inside, our fundamental connection with nature is disappearing. At the same time, the Paris climate agreement requires that buildings radically reduce their energy use, past the incremental efficiencies that we have been achieving. If we don't design our buildings to adapt to our climate, we will not get there. I believe this is an urgent issue for the creation of our buildings. Architects must change the way that they design, and we must train our young architects to have the skills and abilities to design in this way."
Tools to further the profession
Going beyond just understanding a building's site was part of the inspiration for Perkins+Will associate principal Leigh Christy to develop Hazel, a software tool for optimizing planning for stormwater infiltration, collection, and reuse. Christy sees part of her role as an architect is to engage in larger questions about the future of the environment. "Hazel is a tool for architects and planners," she said. "The data help analyze cost, identify policy needs, streamline water detention practices, reduce carbon emissions, improve pedestrian thermal comfort, and create new habitats for wildlife."
Ultimately, the platform provides data fundamental for project site selection. After being awarded a grant from the AIA College of Fellows Latrobe Prize, Hazel was developed collaboratively by the Arid Lands Institute of Woodbury University, Perkins+Will, the Nature Conservancy, and the City of Los Angeles. The design team is still refining Hazel. Christy notes that after presenting Hazel to architects and city planners, the response from the multidisciplinary audience was refreshing. "It was the first time I had someone come up to me and ask if I needed help coding," she said.
Another software tool called SPEA (Spatial Practice as Evidence and Advocacy) was developed by a landscape architect–led team. "[We] are of course influenced by the architectural designers that we work with," said McKenna Cole, research associate at SITU Studio. SPEA visualizes complex spatial narratives like the Euromaidan protests in Ukraine, often using three-dimensional renderings.
"Developing accurate 3-D models allows us to understand events spatially, enabling us to establish known protester and police locations that draws from citizen-captured videos," explained Cole. The usual outlets for dissemination of the data collected and compiled with SPEA are in the courtroom, through specific publication, or in advocacy reports. SPEA received an honorary mention in the Equity + Inclusion category of the Place by Design competition at the conference.
If this most recent SXSW Eco was an illustration of the prominent role architects can play both as visionaries and as team players working to effect change, the conference also clearly demonstrated that opportunities abound and that people value design thinking. As William McDonough noted, "I'm an architect, and an architect's job … is to change the way we see, then we rearrange the furniture, and then we build."
Company: AIA (American Institute of Architects)
Of: Catherine Gavin
Source: http://new.aia.org/articles/22151-architects-empowered-to-drive-positive-chang
Tags: Building | Design | Energy | Sustainability
---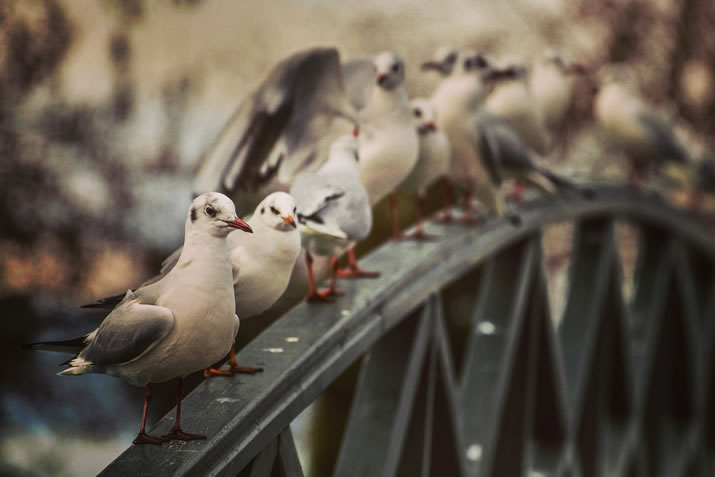 The most recent trend in bird deterrents—using ultraviolet (UV) light technology—has grabbed the attention of both pest control companies and consumers who are on the lookout for safer, faster, and cheaper methods to protect their properties from damage caused by local and migrating bird populations. The question is whether or not these new UV methods are effective or not, and whether they are improvements over the current technology being used.
For nearly 25 years, Bird B Gone has provided effective and environmentally safe methods in bird deterrents and bird repellents. We've created and patented 42 products in this industry, with 35 additional patents pending. We've not only witnessed innovations in our market, we've innovated many of them ourselves. When a new product is advertised as a great new revolution, it gets our attention.
First of all, it's important to understand the connection between birds and UV light, and why this recent trend in bird control products came about.
Birds and other wildlife can detect UV light, and most birds are even more sensitive to UV light than regular, visible light. Scientists found that the plumage of many species of birds actually reflects UV light, and plays a part in choosing a mate. Furthermore, birds are also believed to use UV light to locate food, such as moths and butterflies, which reflect UV light. Some predatory birds use the UV-reflective urine trails of their food sources—voles, mice, and other rodents—to hunt and capture them.
If birds use UV light to help them find food sources, the question of using the UV technology in bird deterrents doesn't make a lot of sense.
Here is what we've learned about UV light technology and its use in bird control products.
UV Lights and Songbirds
Earlier this year, the results of a study of songbirds and using UV lights as a deterrent were published in a leading ornithology journal. Birds crashing into glass doors and windows result in an estimated 988 million bird deaths each year. UV technology has been used in the bird control industry to deter these crashes. In the study, a pulsating UV light, a light-reflecting compact disc, and an unlit UV light were placed at bird feeder structures in eight locations over a winter season. What researchers found is that the UV light had no effect on deterring the birds from the food source, and in fact, slightly increased the songbirds' visitation rates to at least one of the sites.
Optical Gels and Pigeons
Pest pigeons can cause thousands of dollars in property damage, and property owners and maintenance workers seek affordable and convenient methods to prevent them from gathering and nesting on their buildings. A recent option in the industry has been an optical repellent gel.
Optical gels include a UV-product often referred to as "fire gel" in the bird control marketplace, were not totally effective. These products' manufacturers claim that because birds see UV light, they recognize the product as fire, which birds fear and will avoid. According to the findings in the study, the researchers questioned the marketing claims that the "fire gel" product is perceived visually by birds as fire, it therefore, served as a repellent. Although it is a fact that pigeons and other birds are sensitive to UV light, the researchers also questioned how a pigeon would be afraid of fire and recognize it as a danger, with no previous experience of the situation.
Even more significantly, testing of optical gels in a 2016 study showed that the product deteriorates over time, rapidly changing to a rust-brown color that inhibits the emission of UV light, and, in fact, cause UV light absorbance rather than emission.
Birds still landed on the locations that were treated with the UV-light gel. The researchers concluded that there is no evidence of pigeons having an inborn ability to avoid ultraviolet light and fire, and it was, therefore, not a viable method of bird control.
The best long-term methods of deterrents are exclusion and mechanical barriers, according to the study's findings.
Bird control methods should be environmentally sound and not harm wildlife. With only a few studies being conducted into products using UV light technology, there is little-known evidence as to the long-term effects of these products, and both studies call into question whether or not this technology is an effective method of bird control.
Company: Bird-B-Gone, Inc.
Source: https://www.birdbgone.com/blog/bird-deterrents-why-uv-light-may-not-be-the-answer/
Tags: Roof