architecture - engineering - construction

Architecture
---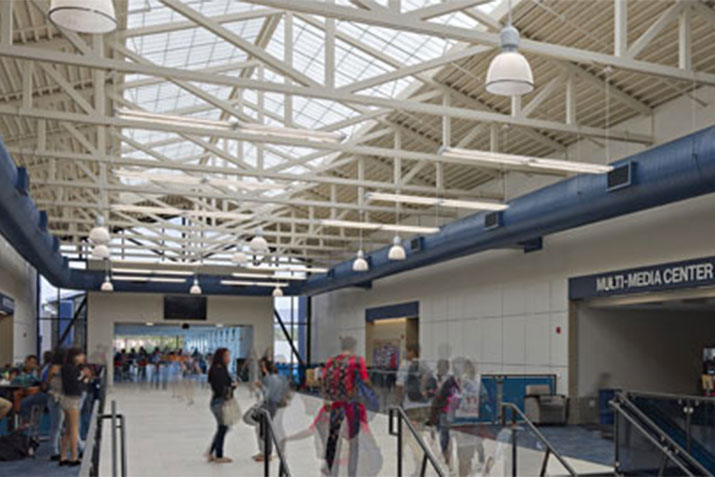 When Las Cruces High School, the oldest high school in Las Cruces, New Mexico, needed an update and expansion, emphasis was placed on carving out new classroom space, more administrative space, a new library, a performing arts center, and a pedestrian bridge connecting the old and new sides of the facility.
Daylight and natural light also play a crucial role in the design, and along with wide expanses of glass is a large Guardian 275® translucent skylight. The image above shows how this main corridor and gathering area gets a substantial amount of soft, diffuse natural light courtesy of the ridge skylight, and how it makes the entire space feel open and welcoming. The natural light also limits the need for artificial lighting during peak sun hours (when students are most often using the facility), which can bring a fair amount of energy savings.
Translucent panel skylights are a great solution for education facilities, especially since schools often feature interior areas that don't have access to exterior walls and traditional windows. A properly designed and implemented skylight can transform a space from dull and dark to eye-catching and bright – and ultimately give students a place where they want to gather and learn. Translucent panel skylights are also cost-effective, and effectively block hot-spots from wreaking havoc on students and staff as well as keeping glare from making it hard to read both printed pages and computer screens.
Designing daylighting solutions for a school but aren't sure where to start? We'd love to help you solve your design challenges! Call us at 888-759-2678, email sales@majorskylights.com, or check out our Architectural Consulting page and let us know how we can work with you to add beneficial daylight to your next education facility project.
Company: Major Industries Inc.
Product: Guardian 275® - Translucent Panel Skylights & Curtainwall
Source: https://majorskylights.com/2018/04/daylight-learning/
Tags: Architecture | Roof | Skylights | Windows
---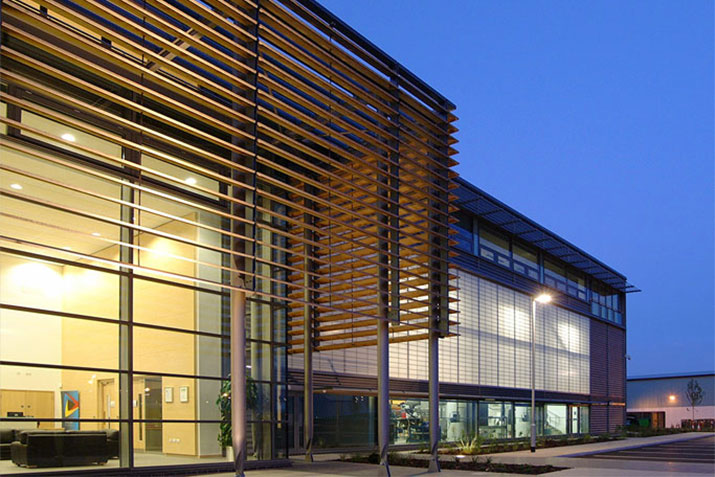 Daylighting is essential to any modern manufacturing facility as a proven way to increase productivity. Incorporating diffused natural daylight challenges architects to find creative ways to design aesthetically pleasing, yet functional and, in many cases, secure and protected spaces. Kalwall allows that creativity while meeting the most demanding manufacturing requirements for areas that need high visual acuity and visual privacy, in addition to reducing maintenance and energy costs.
Middle West Spirits
Columbus, OH, U.S.A
In addition to being a distinctive feature, Kalwall translucent sandwich panels provide the owners with a bright space for superior visual accuracy critical to monitoring and performing quality inspections within the distillery. Kalwall's daylight modelling service allowed the architects to design the building so that different elevations transmit different amounts of light to provide completely balanced, museum-quality daylighting™.

Design Prototyping and Testing Center
University of Sheffield, UK
Kalwall's highly-insulated translucent wall system is the centerpiece of the DPTC, which earned a BREEAM Excellent rating for sustainable building design, construction and operation. The building's mezzanine level is encased by Kalwall panels, engulfing the facility in naturally diffuse daylight. Rapid prototyping facilities and collaborative research parks are growing markets that benefit from our unique panel technology.

Woodward Aircraft Turbine Systems
Loves Park, IL, U.S.A
International manufacturer Woodward unveiled a 450,000-square-foot (137,000m) campus in Loves Park, IL that will employ over 2,000 people. Kalwall panels serve as a key architectural feature, providing a memorable backdrop to the main entrance, while bathing the massive workspace inside with diffuse natural daylight.

Advanced Manufacturing Research Centre with Boeing
Rotherham, UK
Creating an atmosphere of creativity and cooperation is at the heart of this 6,400-square-foot (1,950m) open-plan workshop. A Kalwall wall system dominates the sides of the building, creating a highly-productive atmosphere by bathing the workshop in diffuse natural daylight. More and more, Kalwall is being specified for high-tech manufacturing projects that include mixed-programs like office spaces, research labs, and manufacturing and warehouse areas.

Pfizer Hydrogenation Building | Janssen Pharmaceuticals
Cork, Ireland | Geel, Belgium
With vast amounts of natural daylight sought in many industrial buildings, Kalwall is a preferred choice because of the diffuse natural daylighting it allows in and the protection it provides. As with major pharmaceutical companies Pfizer and Janssen, installing explosion venting panels can save a building from implosion by immediately relieving pressure and limiting damage in the case of an explosion. Our FM rated panels are cable attached and are frequently a required safety feature in many manufacturing projects.

Company: Kalwall Corporation
Product: Wall Systems
Tags: Architecture | Design | Lighting | Skylights | Wall Panels | Windows
---
Cal Poly Dexter Patio Design
Educational design is evolving and a trend to more flexible learning spaces is evident. The learning environment is moving beyond the classroom walls and emphasis has been put on the quality of and access to outdoor spaces, to create balance between the indoors and out.
"Studies show that classrooms with views to natural elements such as trees and shrubs greatly increase the occupants' cognitive ability. One study measured that a person who spends 15 minutes walking through a park-like setting increased memory and attention performance by 20 percent. In addition, access to nature can lower stress levels, improve a student's ability to focus and improve mood".1
Maglin Site Furniture has worked with many post-secondary institutions to develop indoor and outdoor spaces. Jill Roberts, Maglin's Sales Manager states "Students are our future customers. It's always exciting to see how campuses are evolving over time and Maglin's goal is to evolve our products to fit these sites. We want to provide amenities that make campuses inviting and encourage students to enjoy campus life...outside!" In addition, Maglin also sees value in building relationships outside of this realm.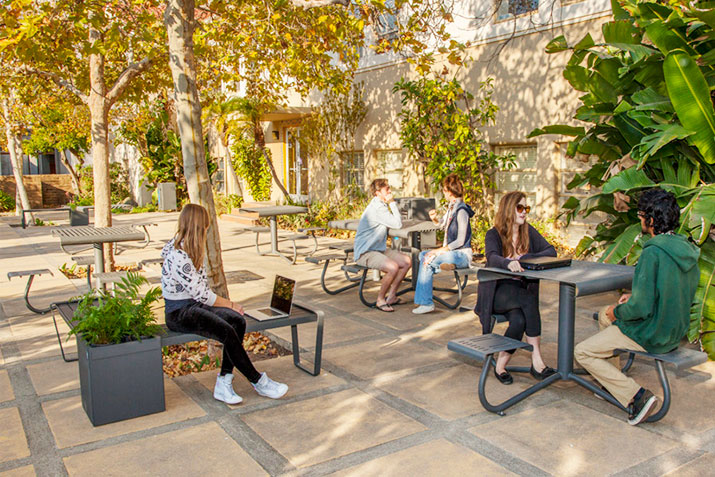 CalPoly students enjoying Maglin's furniture
In 2015, while visiting Chicago for the annual American Society of Landscape Architects (ASLA) trade show, Ian McAskile (President and CEO of Maglin Site Furniture) met Omar Faruque, the Chair of California Polytechnic State University's (Cal Poly) Landscape Architecture Department. With a common interest in the natural and built environments, the two saw opportunity for Maglin and Cal Poly to collaborate in a way that would benefit the school and the learning experience – a design contest challenge.
McAskile says, "Maglin is always looking for unique opportunities."
Cal Poly's Dexter Patio sits between the Walter F. Dexter Building and the Dexter Lawn, a major student hub on campus. In need of an update, McAskile and Faruque saw the patio as an opportunity to create a hands-on project for students. By providing project specs and design constraints, Maglin Site Furniture would challenge Cal Poly students to design a new exterior floorplan for the Dexter Patio. McAskile described the contest as "An opportunity to give students entering the landscape architecture profession a different slant on projects by working with specific requirements as they would in the industry."
Studies show that classrooms with views to natural elements such as trees and shrubs greatly increase the occupants' cognitive ability.
The challenge was accepted! Maglin Site Furniture would donate $25,000 in product to a redesigned Dexter Patio, using Maglin's flexible Lexicon series. Cash prizes would be awarded for the top three submissions and the floorplan designs would be displayed in Maglin's tradeshow booth at ASLA 2017, in Los Angeles.
By utilizing Maglin's online product resources, and reaching out to Maglin Sales and Design representatives, students created floorplans that reflected budget constraints and use of multiple Lexicon components, as well as recognition of pre-existing patio features. After careful consideration, the judging committee selected the top 3 winners: third place, Sofie Assi and Christina Du Mont; second place, Isaiah Rapko; and first place, Piper Tulley.
Tulley's design was selected for its "careful consideration of pedestrian traffic, successful intermingling of new furniture with existing pieces and the use of rectangular and circular forms." As a second year Landscape Architecture student, Piper Tulley is excited about her work right now. After seeing the final installation of the Lexicon components in the Dexter Patio, Tulley said, "Today I got to see my design, actually installed! It was so absolutely incredible, I can't put it to words!"
Maglin Site Furniture is always looking for new and unique opportunities to enrich educational experiences. Create a collaborative approach to active learning by transforming your exterior campus with Maglin's Standard product offerings, or create a design distinctive to your site.
[1] Educational design taking lessons from tech firms
Company: Maglin Site Furniture
Source: http://maglin.com/eNews/January2018.html
Tags: Architecture | Furniture | Landscape Design
---
The architectural design process consists of five phases. As you begin working with an architect, or consider hiring one, it's helpful to know where you are in the process and where it will take you. An architect will orient you during each phase, and work with you to get the most value from each stage of the process. It's a time-tested method for establishing a close working relationship between you and your architect, and producing the very best buildings.

Two architects go over a series of drawings at the Bonstra | Haresign Architects office in Washington, DC. (Carl Bower)
Phase 1: Originate
This first phase includes all of the discussions, thought, and exploration that lead to the moment when you realize you need to build something new. The phase ends with your decision to move forward with a project.
Phase 2: Focus
Here you define the project - its scope, features, purpose, and functionality. This is the time to select an architect and establish an owner-architect agreement. Together with your architect, you develop and refine a "vision" for the project. Your architect leads you through a "programming" exercise to help you explore the needs of those who will live, work or play in the space you create. You will identify the services you need from your architect, and the design team will begin to form a cohesive relationship and a shared concept for the final building.
Phase 3: Design
Once the requirements of the project are determined, the design phase begins. Your architect gives shape to your vision through drawings and written specifications. Your input into this phase is vital, as you get the first glimpses, and then a more defined look at how your building will take shape. It is important to establish a clear decision-making process with your architect during this phase. The design phase ends when you agree to the plans that will guide construction.
Phase 4: Build
The contractor who will construct your building becomes the most active member of the team during this phase. Investments are made in materials, and timetables are extremely important. Good communication within the project team is critical, as the need for changes often arises. This is typically the time of highest stress for the project owner. Your architect will discuss changes and options with you, and ensure that alterations are compatible with your vision for the project.
Phase 5: Occupy
This phase beings the day the project is up and running and never really ends. It's where your satisfaction with the project is determined. If you are turning over the project to others who will ultimately use it, good communication during that process is important. Your architect can help ensure that the terms of your building contract were met, and can use the experience of this project to inform future work, should you team together again. For these reasons, it's a good idea to maintain a relationship with your architect.
For assistance finding an architect, visit Houzz and search through their database of AIA members.
About the author: David Kim, AIA, is an architect and the 2017 chair of AIA's Retail and Entertainment Knowledge Community.
Company: AIA (American Institute of Architects)
Of: David Kim, AIA
Source: http://www.topicarchitecture.com/articles/74666-understanding-the-five-phases-of-design
Tags: Architecture | Building | Design
---
One Henry Adams- Multi-Family Residence in Design District, South San Francisco featuring Folded Zinc Panels
Location: 1 Henry Adams St, San Francisco, CA 94103
Profiles: Custom 1" reveal panels, Morzip
Substrate: Zinc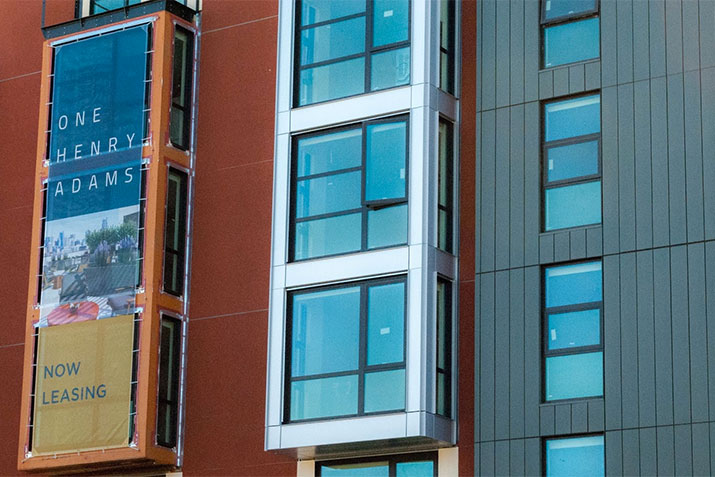 Building a new structure that spans an entire 1.65 acre block in a historical neighborhood like Showplace Square is no easy task. Instead of trying to mimic a 100 year old building, BAR Architects went with a simple design for One Henry Adams, a multi-family residential and retail structure owned by Equity Residential. One Henry Adams features clean lines composed of building materials like zinc, steel, brick, timber, and glass that give the buildings urban character while preserving the historical essence of the surrounding neighborhood. The $164.4M project located in the Design District of South San Francisco opened to residents in November 2016. It consists of two buildings separated by a public walkway with art structures and garden spaces intended to integrate the residents with the neighborhood community.

The architects went with zinc to accent the building and surround the expansive glass windows not only because of its unique texture but also because of its inherent sustainable qualities. Zinc panels are 100% recyclable and has a low environmental impact in production. The panels have a 1.2mm of pre-weathered patina graphite gray coating to make the material durable in the coastal climate of San Francisco while maintaining the natural metal aesthetic. Morin's A-12 panels with a 1" reveal were installed vertically creating sharp lines that seemingly extend into the sky. The zinc panels flow into crisp folded corners on every edge. Manufacturing panels with folded corners is becoming more popular as it has significant design advantages. Folding the panel corners tightens the panel making the structure more rigid minimizing any sort of pillowing or oil canning. The sharp reveals create the illusion that the building is made with long zinc bricks. These "bricks" appear to be floating next to each other as not a single fastener or piece of trim is visible on the zinc facade. In recognizing the advantages to panels with folded edges, Morin has recently acquired a new roll former capable of producing these panels. With this new technique, the possibilities for design has just multiplied.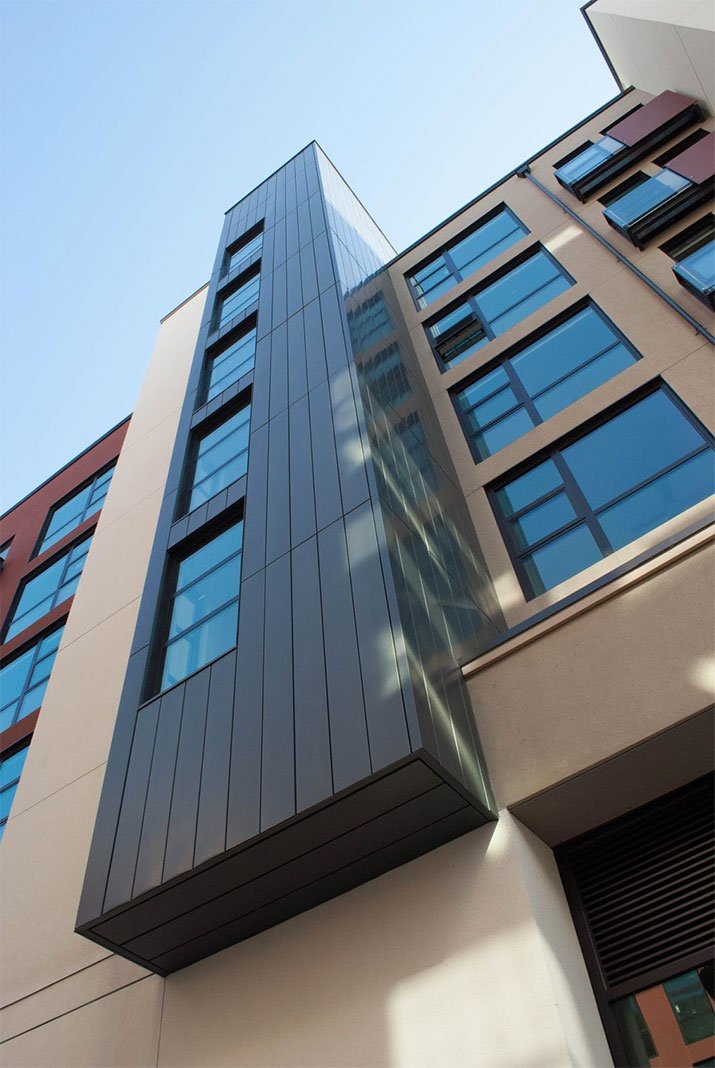 The project was a massive success from the design process to the ahead of schedule construction to the award-winning finished product.
#13 on San Francisco Business Times's "Top San Francisco Residential Construction Projects" list (2016)
#25 on Engineering News-Record California's "Top Starts in California" (2015)
#57 on San Francisco Business Times's "75 Largest Construction Projects" list (2015)
Company: Morin® - A Kingspan Group Company
Product: MorZip® – Wall to Roof and Back Again
Source: http://morintranet.blogspot.nl/2017/11/case-study-one-henry-adams-multi-family.html
Tags: Architecture | Award | Metal | Wall Panels
---
A fire in any building can be cause for alarm. Smoke and flames pose dangers to the people inside, while at the same time causing thousands of dollars to damage to the building itself in just minutes.
High rise buildings in particular have very special needs when it comes to smoke and fire control. Because smoke can travel through a building very quickly, it makes it more difficult for occupants of the upper floors to reach clean air safely.
That's why smoke control in high rise buildings is so important, and why simply having fire extinguishing equipment on site is not enough.
The Path of Smoke
During a fire, it's often the smoke that poses the most harm and does the most damage because of how quickly smoke travels and the path that it takes through a building.
Vents, stairways, and elevator shafts all channel smoke, allowing it to move throughout the building in just minutes.
In a high-rise building, occupants on upper floors can quickly become trapped by smoke and flames, particularly if the elevators and stairwells are filled with smoke. Often, occupants may attempt to find a path to the outdoors, only to be turned back as they descend lower into the building where the smoke is thicker.
Smoke control should be employed as well as fire extinguishing equipment to prevent smoke from moving through common escape routes like stairways. Simply controlling flames and keeping them to one area of the building is not enough to prevent loss of life or injury for occupants on upper floors.
Smoke Curtains for Communicating Stairs and Elevators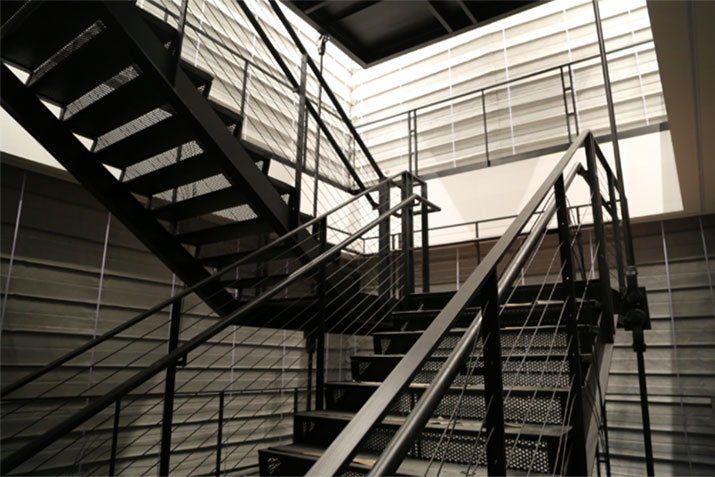 Communicating stairs and elevator shafts in high rise buildings can quickly become chimneys in the event of a fire, channeling and pulling the smoke from lower floors to the upper stories.
One way to combat this issue, and to keep stairways clear of smoke to allow occupants to descend safely is to employ the use of smoke and fire curtains in these areas.
Smoke curtains are discreetly installed at the head of an elevator or stairwell doorway. They deploy automatically in the event of a fire, or can be manually deployed in the event of an outage.
The curtain deploys to cover the opening, preventing smoke and flames from entering the area. This helps to contain the smoke and fire at its source and prevents the smoke from infiltrating the rest of the building.
When paired with fire extinguishing equipment, smoke curtains can help minimize damage to the building while helping to ensure that the exits from the building remain safe and accessible for occupants.
Smoke Control for Other Areas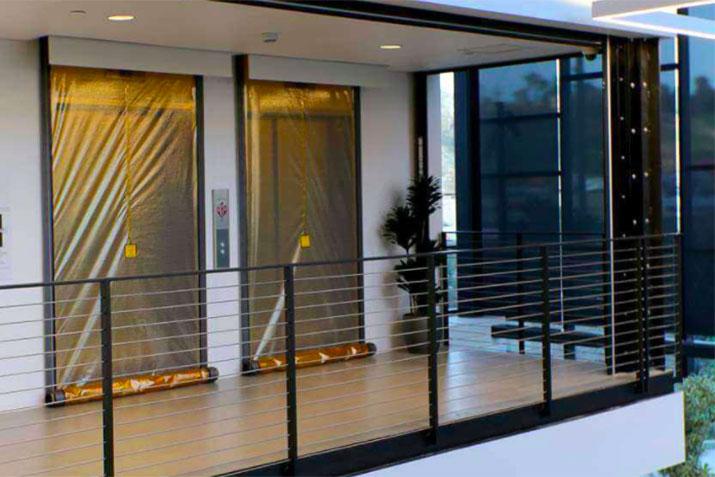 Not every high-rise building is going to have the same layout, format, or needs when it comes to fire and smoke control. While protecting the elevator shafts and stairwells should be one priority, your high-rise building may have additional needs to consider as well.
Many newer buildings often have atriums or open lobbies that extend upwards several stories before reaching a ceiling. A fire breaking out in the atrium or lobby could allow smoke to reach these upper stories and the rooms or offices that surround the open area very quickly.
A horizontal smoke curtain, designed to deploy across the open section of the lobby, could help prevent this from happening. The smoke curtain can also give fire extinguishing equipment time to work which minimizes damage and costs associated with rising smoke.
Smoke curtains can also be used to help divide open floor plans to contain smoke in newer office and apartment layouts that rely on a lack of physical barriers for style. By installing discreet smoke curtains at specific junctions throughout the space, you can help ensure that damage and loss of life is minimized no matter what use your particular building is put to.
Include Smoke Protection
Smoke is often responsible for more damage to a building than the flames themselves. And, smoke can linger and travel throughout a building even after the flames have been extinguished.
By utilizing smoke control methods such as smoke curtains in your high-rise building, you help to minimize costs associated with this damage, as well as the amount of time that the building may be out of use after a fire.
When making plans for flame and fire containment and extinguishment in your high-rise building, make sure that you also take steps to add smoke control as well.
Don't let the elevators and stairwells that are part of every high rise become chimneys that pull smoke to every floor of your building, and don't allow modern office and apartment layouts to make smoke and fire control difficult.
Instead, look to discreet and cost-effective smoke and fire curtains to help ensure the safety of your building and all of its occupants at all times.
Company: Smoke Guard, Inc.
Product: Model 600 Smoke Curtain
Source: http://smokeguard.com/blog/2017/december/01/smoke-control-in-high-rise-buildings
Tags: Architecture | Engineering | Fire Resistant | Safety
---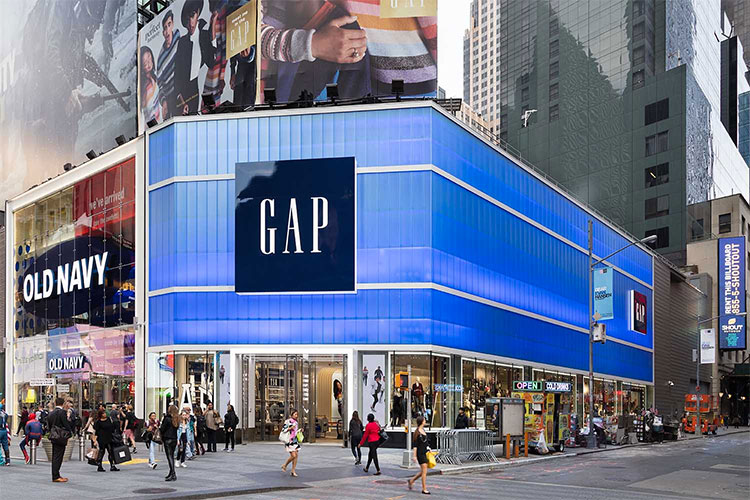 The Gap store in Times Square, NYC. The blue facade is EXTECH's LIGHTWALL 3440 translucent wall system coupled with custom-colored polycarbonate. Image by Vanni Archive Architectural Photography
The new Gap store in Times Square, NYC is clad in EXTECH's LIGHTWALL 3440. Nearly 5,000 square feet, the blue polycarbonate panels are a custom hue that matches Gap's color palette and was chosen based on polycarbonate samples provided by EXTECH. To ensure even light transmission, the facade utilizes specialized mounting clips that EXTECH developed and the panels are treated with an anti-glare coating that promotes balanced light filtration.
The LIGHTWALL 3440 polycarbonate wall panel system offers beauty, durability, and economy with vertical panels that can extend up to 54 feet long and eliminate leak-prone horizontal joints.
Translucent polycarbonate wall panels offer a host of benefits including energy savings via daylighting, outstanding insulating value, and elimination of leak-prone horizontal joints. LEED credits are also available for 100% recyclable polycarbonate and aluminum framing. The LIGHTWALL 3440 has provided façade solutions for a wide range of structures in a wide range of industries, and has been subjected to a complete battery of air, water, and structural testing to ensure it offers superior insulation, durability, and weather-tight performance.
Company: EXTECH/Exterior Technologies, Inc.
Product: Translucent Walls
Source: https://extechinc.com/lightwall-3440-gap-times-square-nyc/
Tags: Architecture | Color | Lighting | Wall Panels
---
When we talk about daylighting, the first thing that comes to mind is often the image of natural light pouring into a space... but what happens when you need to bring light to a area that also demands privacy?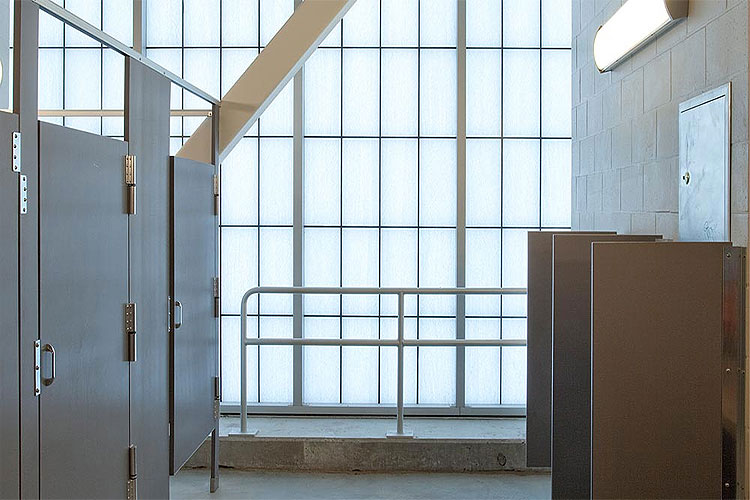 HDR/TD Ameritrade Park, Omaha, NE - Guardian 275® Wall System - Mix Natural Light and Privacy!
Translucent panel systems, like the Guardian 275® wall system above, allow for building occupants to enjoy controlled, glare-free light while eliminating direct lines of sight from the exterior and maintaining a feeling of safety and security. This can be a great asset to traditionally dark and window-less areas like public restrooms, hallways, in waiting areas in medical centers and hospitals (for patient confidentiality), or in secure facilities where it's of up-most importance to maintain a certain level of secrecy.
Translucent systems can also benefit schools as they allow students the advantages of natural light while affording them privacy from outside eyes. And while there are other options in the market such as fritted or channel glass, these systems are often on the higher end of the cost scale. Electrochromic glass options are also available, but can cost even more and may require additional maintenance and upkeep.
Their versatility, light weight and design flexibility make translucent panel systems a great choice for letting light in and keeping prying eyes out. From simple wall panels to curved systems to our Verti-Lite™ option that has an appearance similar to channel glass, we have a system that will fit your needs.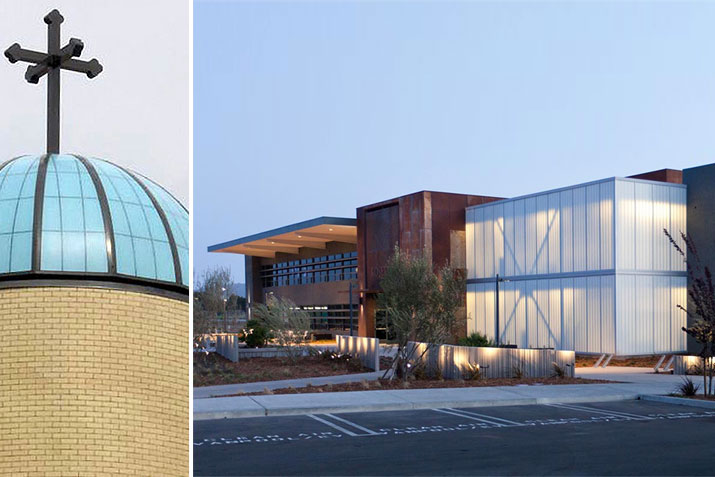 Bruns General Contracting/St. Mina and St. Abanoub Church/Miamisburg, OH - Guardian 275® TransCURVE® Dome; Garcia Architecture and Design/Rosetta/San Luis Obispo, CA - Guardian 275® with Verti-Lite™ Grid Pattern
For additional information on our full line of daylighting systems, as well as thermal performance and testing information, visit our website.
Company: Major Industries Inc.
Product: Guardian 275® - Translucent Panel Skylights & Curtainwall
Source: https://majorskylights.com/products/wall-systems/guardian-275/
Tags: Architecture | Design | Lighting | Wall Panels | Window Shades | Windows
---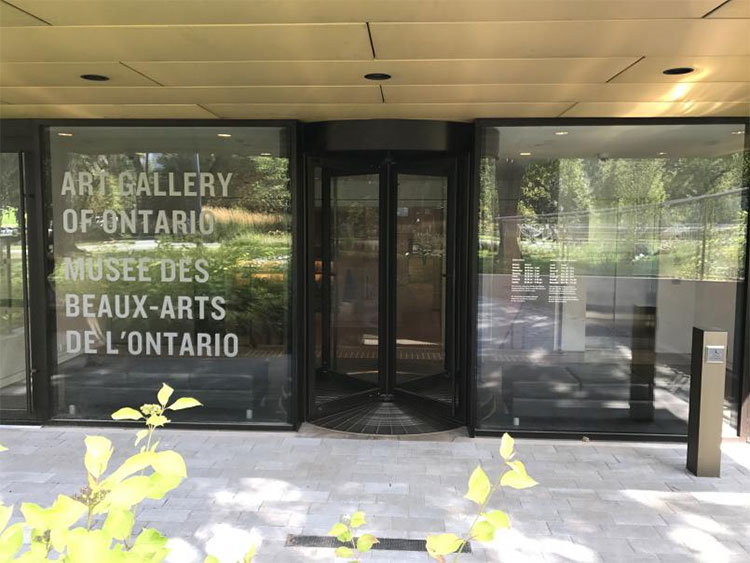 Located in Toronto, Canada's largest city of 6.5 million, the AGO is one of the largest art museums in North America. The AGO's collection of close to 95,000 works ranges from cutting-edge contemporary art to European masterpieces; from the vast collection by the Group of Seven to works by established and emerging Indigenous Canadian artists; with a photography collection that tracks the impact of the medium and with focused collections in Gothic boxwood miniatures and Western and Central African art. A major expansion designed by Frank Gehry in 2008 with lead support from the family of Ken Thomson makes the AGO a highly-photographed architectural landmark.
The AGO has been undergoing improvements and renovations for a number of years and the most recent project was an ambitious one. In a joint effort with the City of Toronto and the local community, the AGO worked to revitalize Grange Park, a 4.5 acre green space located behind the Gallery. Where there was only an emergency exit into the park before, the AGO and its architect, Harari Pontarini, devised a plan to tear out the existing interior stairwell and room and the double doors to create a new space with a 6 ½ foot diameter, 4-wing BoonAssist TQ revolving door that opens the Gallery to the park.
"We definitely had some space constraints in creating this new entrance," explained Warren Wilson, Manager of Facilities Services. "There was no room for a vestibule, so we decided on a revolving door configuration, and the Boon Edam entrance was recommended by our architects."
Boon Edam's BoonAssist TQ is a manual revolving door that has three distinct features: a "push and go" power assist drive that reduces user effort by up to 50%, automatic positioning of the door wings at the end posts upon completion of rotation, and speed control that prevents rotation faster than 12 rpm to help ensure safe operation.
Wilson explained that the park is one of the few green spaces surrounding the AGO and space is at a premium. "We're very conscious of our effect on the neighborhood and the fact that we could locate the entire door inside the building with its opening attached to the exterior wall minimized the impact on the surrounding area. I also really like the 'smart' feature of the door—after use it positions itself to close the opening to the outside automatically."
From Grange Park, one enters the South entrance through the BoonAssist door and travels 11 feet to a downward staircase that connects the entrance directly to the AGO's Weston Family Learning Centre. The space adjacent to the door also features prominently displayed artwork. "The South entrance is now our fourth entrance to the gallery, but it's unique in that it offers an additional art space while opening us to the park, offering our staff and visitors a new way to interact with this beautiful new green space."
Company: Boon Edam Inc.
Product: Revolving Doors
Source: https://www.boonedam.us/news/art-gallery-ontario-enjoys-more-space-and-comfort-boonassist-tq-revolving-door-entrance
Tags: Architecture | Doors | Entrances
---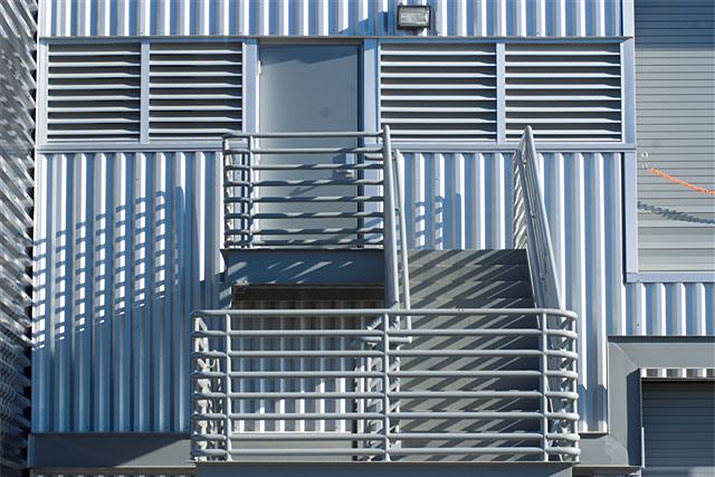 Architectural Wall Louvers are used to allow air into a building, while keeping out undesirable elements from mother nature like rain, water, dirt, and debris. They also add the extra element of aesthetic design to a building exterior. Use your air intake or ventilation requirements to improve the look of any building.
What if I want more rain protection?
Gain the utmost protection against water penetration by using one of our Wind Driven Rain Louvers. These louvers will protect your building from water damage, even under heavy wind and rain conditions.
What if I have high wind loads?
Any of our louvers can be modified to handle higher wind loads (within limits). However, if you are in Florida or other coastal states with hurricane force winds, use one of our Hurricane Louvers to gain the highest levels of protection.
Louvers are commonly specified in project documents under these divisions:
08 90 00 Louvers and Vents (sometimes listed as 08 9000, 089000)
08 91 00 Louvers (sometimes listed as 08 9100, 089100)
08 91 19 Fixed Louvers (sometimes listed as 08 9119, 089119)
Company: Architectural Louvers
Source: http://www.archlouvers.com/Louver_Applications.htm
Tags: Architecture | Design | Louvers | Ventilation
---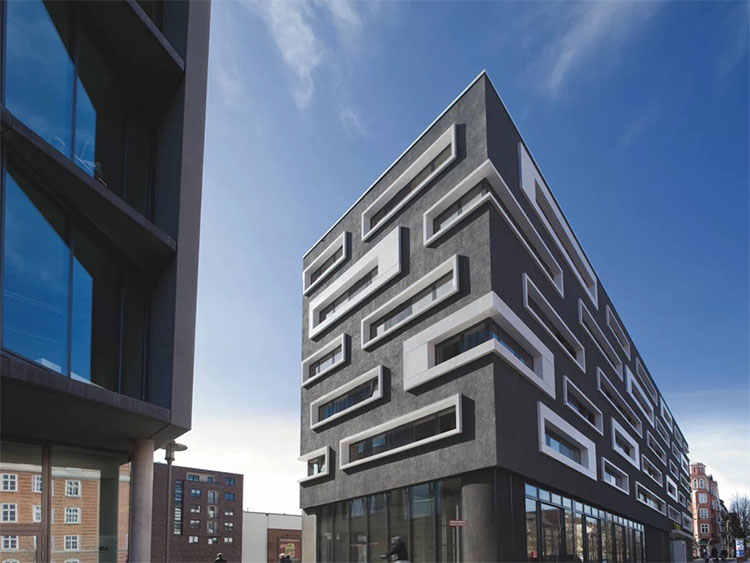 High performance insulated wall systems like the innovative StoTherm® ci XPS provide the air, weather and thermal tightness required for today's most energy-efficient architecture, but are also cost-effective and provide designers with a wide range of aesthetic options.
Sto Corp. has joined forces with insulation specialists Owens Corning and Dow to produce one of the most technically advanced exterior wall systems available. The innovative StoTherm® ci XPS wall system is designed to provide the air, weather and thermal tightness required for today's most energy-efficient architecture, but also makes for exterior walls that look good, and are cost-effective.
One of the first things architects will notice about the product is its design flexibility. The multi-layered system offers a wide range of finishes from the natural look of raw materials to boldly colored finishes, allowing for a variety of looks from traditional textured surfaces to limestone, concrete, metal and many more.
Hidden behind the beautiful outer skin, are important energy efficient properties; StoTherm® ci XPS meets rigorous sustainable design standards, including ASHRAE 90.1-2010, the new International Green Construction Code (IGCC), and the International Energy Conservation Code (IECC) requirements for continuous insulation.
This smart architectural product combines high quality, technologically advanced materials, including Dow and Owens Corning insulation with a closed cell structure which helps prevent liquid movement through the material and provides exceptional thermal performance with an R-value of 5.0 per 1". The final result is a combination of layers that delivers exceptional air and moisture control, that also meets the latest building code requirements for energy efficient continuous insulation and fire testing. The highly durable system also provides significant impact resistance that exceeds IBC and IECC codes.
How can such a high-performance product, also be economical? The high R-value of Sto's system (R5/inch) makes for a thinner wall, reducing the overall weight and cost-per-square foot for the building envelope. Add this to lifetime savings from superior energy-efficiency, and you have a product that offers both short- and long-term cost benefits to the client.
StoTherm® ci XPS is truly a system designed with the architect in mind –its versatile and seamless combination of energy-efficient qualities and aesthetically pleasing finishes provide a true "end-to-end" solution for architects.
Company: Sto Corp.
Product: ci Systems
Source: http://blog.stocorp.com/
Tags: Architecture | Insulation | Walls
---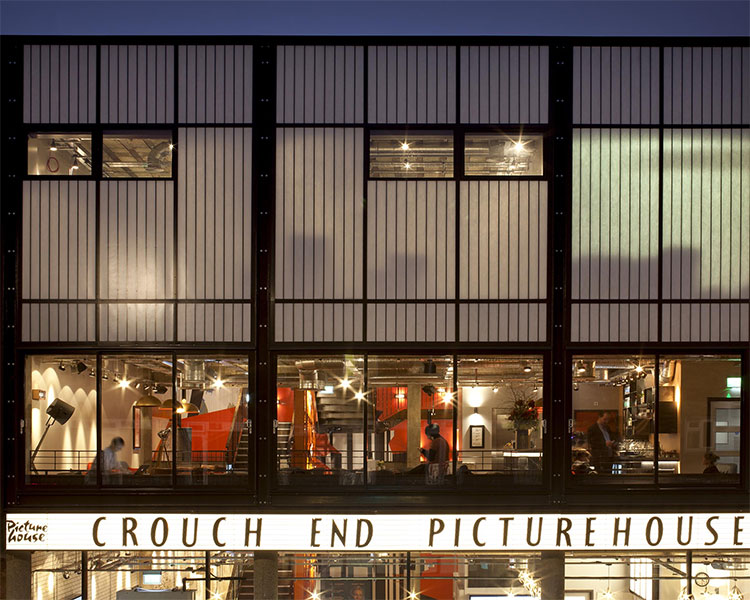 The design challenges facing architects and builders when renovating older buildings are considerable from increasing energy efficiency, to navigating inherited structural and building code changes. Here are five projects highlighting how such issues were solved, and illustrate some incredible transformations.
Charles H. Shaw Technology & Learning Center
Chicago, Illinois, U.S.A
Farr Associates converted a century-old industrial powerhouse into a modern learning center filled with natural diffuse daylight, while preserving key structural elements, including brick walls and floor tile, as well as some of the original machinery.

Buurtsporthal Parkloods
Antwerp, Belgium
This neighborhood sports park utilized Kalwall for its ability to provide balanced daylight and line of sight for athletes inside. The translucent panels help ensure the safety & security of athletes with visual privacy and impact resistance. As an extremely lightweight option in retrofit design, Kalwall offered large clear spans and accommodated the existing brick walls of a historical munitions factory.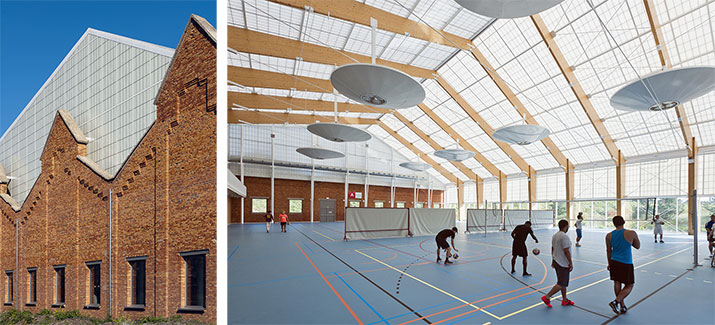 Crouch End Picturehouse
London, UK
VertiKal™ panels were factory unitized with sash, for a sleek, energy efficient recladding of the Crouch End Picturehouse – a renovated 1950s factory building. The Panter Hudspith design, which won three industry awards, uses the curtainwall to create gentle backlighting at night as a visual marquis.

1060 Redwood Office Building
Mill Valley, California, U.S.A.
An ordinary commercial box building was transformed by adding top-lighting from Kalwall skylights. This modern workspace is now filled with natural, diffuse daylight, creating an ambiance that ensures a healthy work environment that boosts productivity. The OSHA fall-through compliant (`man-safe') translucent skylights enable effective and easy maintenance without the need for safety cages.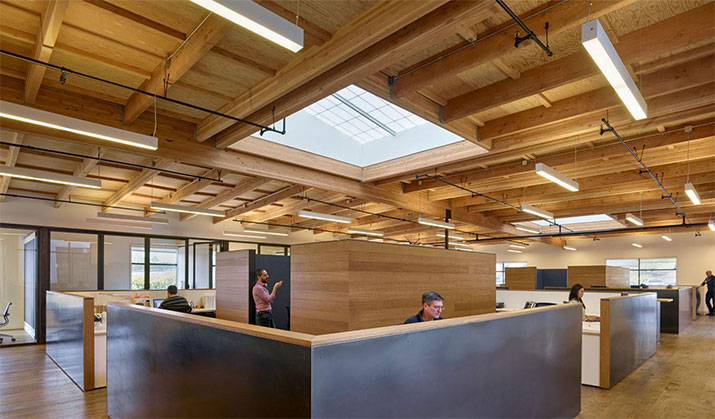 Featherstone High School
London, UK
Kalwall window replacements were an economical energy upgrade for an old school building that was failing due to decay and ingress of water. The highly-insulated translucent sandwich panels bathe the classrooms in diffuse natural daylight while reducing HVAC and artificial lighting costs. Unitized construction allowed for fast installation and minimal disruption to school operation.

Company: Kalwall Corporation
Product: Wall Systems
Source: https://www.kalwall.com/2017/11/02/visual-blog-kalwall-retrofit/
Tags: Architecture | Design | Skylights | Walls | Windows
---

Photography: Joshua Jay Elliott, courtesy: Works Progress Architecture, LLP
The 10-story, LEED® Gold certified, mixed-use, transit-oriented development known as Slate is helping revitalize the Burnside Bridgehead area in Portland, Oregon. Formerly a vacant lot called Block 75, the new building features window, entrance, unitized curtainwall and panel systems finished by Linetec. Contributing to the building's high energy-efficiency and sustainability goals, Linetec also provided the thermal improvement services for the glazing systems' aluminum framing.
Opened last year, the project spans 147,000 square feet and offers 75 market-rate apartment units on the upper six floors; 35,000 square feet of creative co-working office workspace on floors 2-4; and 7,800 square feet of retail space at street level.
Articulated Aesthetics
Designed by Works Progress Architecture for co-developers Urban Development Partners and Beam Development, the property conveys a "push and pull" theme exemplifying the location's vibrancy. The glass, metal and concrete façade consists of articulated, modulated, rectangular shapes, including some that are setback and some that project over the sidewalks below.
"The building adheres to a carefully considered, cohesive, unified design concept that promotes the building as a bold, permanent fixture of the Burnside Bridgehead, the larger Central Eastside Subdistrict, and the larger Central City Plan District," noted Portland's Design Commission.
"It creates the illusion of a shifting stack," describes Works Progress Architecture's Ian Roll. "On the North and South sides, the curtainwall has a flat, clean, crisp look that transitions to a sculpted, figural texture on the East and West elevations. The curtainwall is crucial in registering the intentional lines and visual elements."
Enhancing the aesthetics and durability of these elements, Linetec used six colors and two finishing methods. The aluminum framing members' for the curtainwall, window and entrance systems were fabricated by Wausau Window and Wall Systems, and finished in Slate Gray Fluropon® and Dark Bronze FluroponAAMA-2605 fluoropolymer paint coatings, plus AAMA-611 Class I blackanodize. In addition, Linetec painted the aluminum panel system from Firestone in AAMA-2605 fluoropolymer coatings of Stone White Duranar®, Gun Barrel Fluropon Classic II and Block 45 Silver Fluropon Classic II.
Leaders in Energy and Environmental Design
Supporting Slate, and other projects seeking the U.S. Green Building Council's LEED certification, Linetec's finishing and thermal improvement services can contribute to the building envelope's energy-efficiency, visual appeal and durability.
Supporting environmentally sound practices, Linetec's high-performance painted coatings are applied in a controlled facility that safely captures and destroys the VOCs present in liquid solvent-based paints before the finished products' arrival on the building site. Anodize finishes do not contain VOCs and process byproducts are recyclable.
The finished architectural aluminum components may be specified with recycled content and are 100 percent recyclable after its useful life on the building. The high-performance fluoropolymer painted coatings and anodize finish help protect against the intense sunlight, heavy rains, high humidity and salt spray, for a long product life cycle.
To match Portland's climate and the project's goals for energy efficiency and comfort, Wausau's anodized aluminum-framed products have beenthermally improved by Linetec using a polyamide barrier. Combining the thermal barrier with solar-control, low-e, insulating glass achieves the specified performance for low solar heat gain coefficient, low U-Factor, highcondensation resistance factor and high visible light transmittance.
There are numerous LEED credits that recognize the advantages and benefits of high-performance windows and curtainwall. Seasonal opportunities for natural ventilation also help reduce the demand on HVAC systems and associated energy use. Weather permitting, the operable windows on Slate allow tenants to enjoy fresh air, natural light and views.
Within sight are downtown Portland, the Willamette River, landmark bridges, the West Hills and Mount Hood. According to the City of Portland's Design Commission, Slate's design features floor-to-ceiling curtainwall "placed at the most important – in other words, the most visually prominent and functionally significant parts" and "aids in the success of the space by fostering a visually seamless relationship between the building's interior and the exterior environment."
Further improving the overall comfort for those living, working and shopping at Slate: Retail spaces with natural light have reported higher sales. Workplaces have documented lower absenteeism, higher productivity and greater job satisfaction . Access to light has shown to be important for biological circadian rhythm and lead to a more restful night 's sleep and daytime alertness. Having a view outside also helps people feel better connected to with their environment and their community.
Balancing Appearance and Performance
Works Progress' Roll credits the project's success, in part, to working closely with Wausau Window and Wall Systems from the project's earliest stages. He highlights Wausau's architectural sales representative Brad Glauser as his primary contact in working through the project's complexities.
"Brad assisted us with selecting the system, and fine-tuning it to achieve the building envelope's glassine openness and meet the energy code," says Roll. "With digital modeling, we were able to get inside the units before anything was built to balance where the glass and metal panels should be placed for the right performance and look."
Bringing the architectural vision to reality, Yorke & Curtis, Inc. served as the general contractor. They broke ground in Jan. 2015 and coordinated the phased construction schedule with Oregon-based glazing contractor Dallas Glass.
Dallas Glass began installing Wausau's products in April 2015 and was substantially completed by Jan. 2016. Wausau provided more than 40,000 square feet of INvision™ 7250i-HRX SSG Series unitized curtainwall and 7250 Series SuperWall™; 240 project-out awning 4250Z zero sightline windows; and 4250i-TD Series terrace doors and D5100 Series sliding patio doors. Smooth, Fast, Accurate Installation
The aluminum panels and frames, and bronze-toned and clear glass, were factory-fabricated as a unitized curtainwall helping ensure the intended appearance and performance, and to simplify and accelerate their installation.
"The curtainwall's interlocking frame design accommodates seismic, live load and thermal building movements. Low U-Factors allow broad expanses of vision glass to meet Model Energy Codes. Transmission of unwanted noise is reduced by heavy architectural glass and low air infiltration," adds Glauser.
Slate was the glazing contractor's first experience with a unitized curtainwallsystem. "We loved it," says Darand Davies, president of Dallas Glass. "I think it went really well for being our first time working with a unitized system. It was rather amazing that, on average, we have just five guys in field who were capable of completing a full floor every two weeks."
Now that Slate is open and leasing, Glauser concludes, "Along with the great location and comfortable interiors, tenants also are drawn to the building's attractive appearance. And building owners and property managers will appreciate the ease in maintaining the window systems' appearance and functionality."
Slate, 321 N.E. Couch St., Portland, OR 97232; http://www.udplp.com/slate
Company: Linetec
Product: Thermal Improvement – Pour & Debridge and Thermal Strut
Source: http://www.linetec.com/Press_Release/LEED-Gold,-Slate,-features-Linetec-anodize-finish.html
Tags: Architecture | Coating | Energy | Finishes | Sustainability
---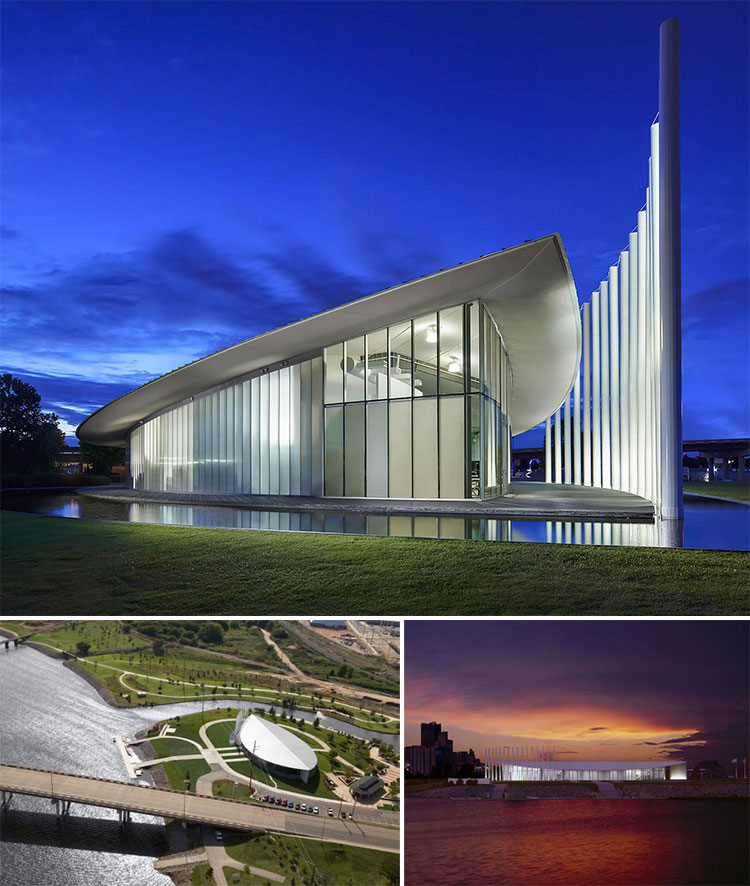 Location: Oklahoma City, OK
Architect: Elliot + Associates Architects
System: LIGHTWALL
The Chesapeake Boathouse shows the design capabilities of combining translucent cellular polycarbonate with glass vision panels. Framing systems that can accommodate both polycarbonate and glass effectively are a rare commodity, but EXTECH's systems possess this capability.
To create this sparkling facade, EXTECH's LIGHTWALL standing seam panels were connected directly to steel studs, nominally 2 feet on center. To create the smooth exterior, the standing seams were turned inward.
Due to the lightness of the polycarbonate panels, the installation time for the application was minimized. The end result not only delivered natural daylighting for the daytime hours, but it also provides a charming aesthetic by glowing like a constellation at night.
Company: EXTECH/Exterior Technologies, Inc.
Product: Translucent Walls
Source: https://extechinc.com/project-gallery/translucent-walls/translucent-panels-chesapeake-boathouse-oklahoma-city-ok/
Tags: Architecture | Building | Design | Lighting | Wall Panels
---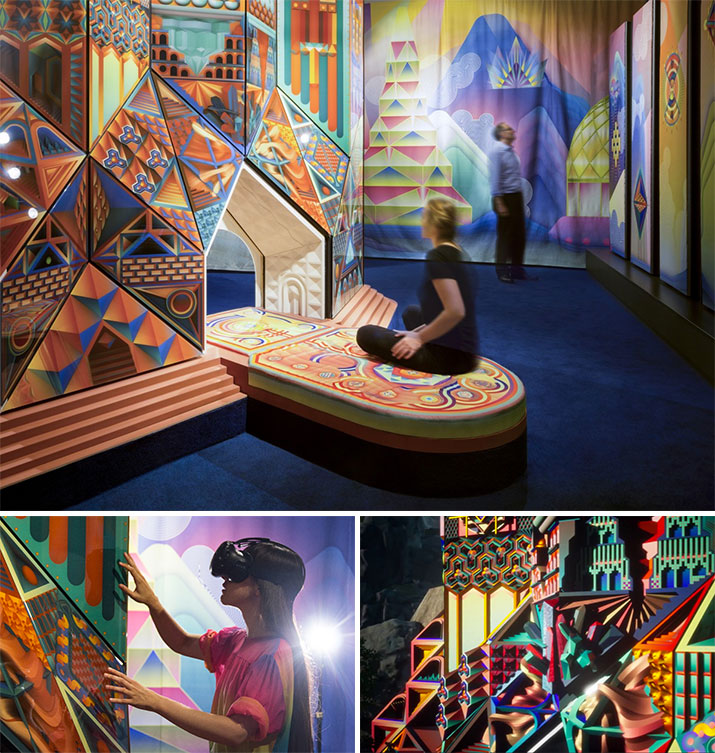 Werkstatt – which means workshop in German – is a showcase and test center in London for Sto's innovative facade and interior materials. In addition to the workshop's extensive resource library, the center offers technical consultations, exhibitions, speakers and seminars.
The current exhibit, "The Glass Chain", is by Space Popular, a Bangkok-based multidisciplinary design and research practice led by Lara Lesmes & Fredrik Hellberg. The exhibit, which will run until December 14, features StoVentec Glass that can be used as an external rain screen cladding system, and as an interior decorative option. In their UK debut at Werkstatt, Space Popular has redefined the potential of the material with its colorful and energizing installation, which encourages the imaginative use of glass in building design.
The title "The Glass Chain" is a reference to the infamous exchange of letters by a group of German architects from 1919-1920 initiated by Bruno Taut, who fantasized about the vast possibilities of an incredible new construction material: glass. He believed that all architecture, and even furniture, could be made of glass. His vision of the material was never realized, and glass simply became a solution for windows and walls.
Now, almost 100 years later, Space Popular – inspired by Taut's vision — is taking glass applications to a new level. Working with Sto technical experts, they have created a kaleidoscopic glass construction that explores different ranges of scale, playing with our visual perception of glass doorways as grand arches and small steps as giant pediments.
Curated exhibitions such as this at Sto Werkstatt are an opportunity to explore the changing nature of collaboration, between architects, materials manufacturers and applicators.
Materials on display include glass and rendered rain screen cladding, seamless acoustics, facade elements and intelligent interior and exterior paint coatings.
Company: Sto Corp.
Product: Specialty Systems
Source: http://blog.stocorp.com/2017/10/sto-werskstatt-features-alternative-glass-architecture-by-space-popular/
Tags: Architecture | Design | Glass
---
Vegas is all about the wow factor, especially in well-known casinos like Caesar's Palace. Stromberg was commissioned to produce themed elements on both the exterior and interior of the hotel.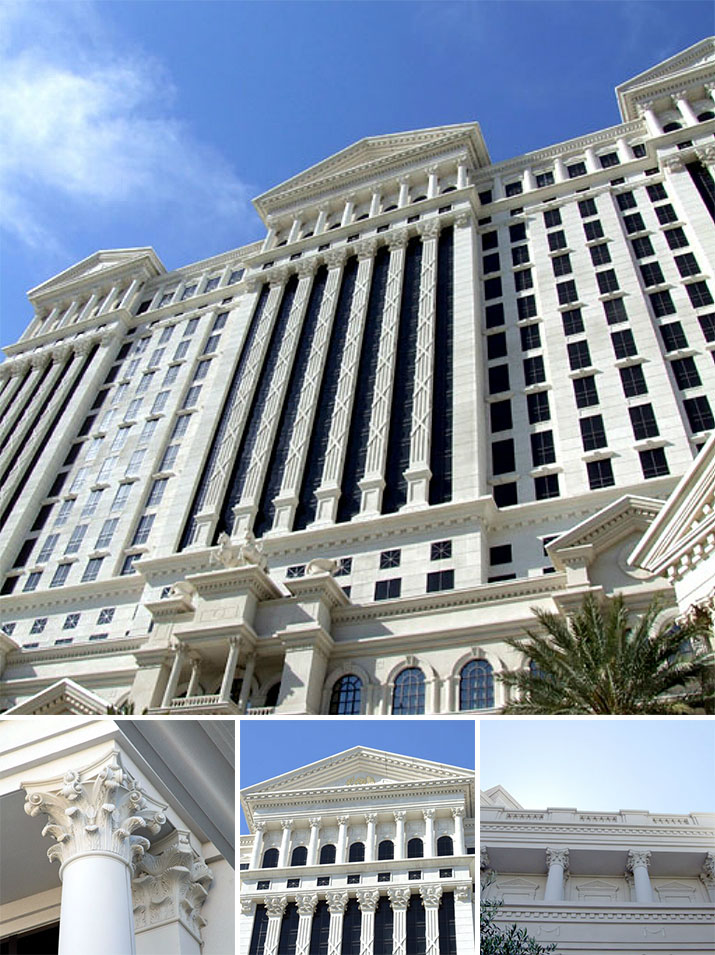 Some elements of note include:
Exterior Themed Elements
The world's largest columns and pilasters
Custom sculpted Roman statuary and bas relief panels
Fountains of GFRC (glass fiber reinforced concrete) and FRP (fiberglass)
Hundreds of assorted roman themed elements including massive brackets, trim, moldings, medallions, panels, etc, each elaborately detailed and skillfully molded
Custom cast finishes, including limestone, travertine, bronze, copper, wood and marble
Interior Themed Elements
In addition to the exterior GFRC and FRP, we produced artistically sculpted and molded interior cast elements including
Ceilings. GRG ceiling panels and intricately detailed ornamentation
Columns. Roman Corinthian, Tuscan and ionic columns in GRG
Domes. Beautifully crafted GRG domes and coffers
Sculptures in GFRG (glass fiber reinforced gypsum) and FRP, in keeping with the intricately detailed Roman style
About Casinos and Gaming
Stromberg has work featured in some of the world's best known casinos. Caesars Palace, MGM, the Mirage, the Venetian, Twin Rivers, Hollywood, Atlantis, Ameristar, etc. Over 80% of our business is with repeat clients who have come to depend on us for fast service, quality products and fair pricing. If you are an owner, architect, contractor or anyone involved in the design or construction of a gaming facility, we are here to help. We can provide preconstruction assistance with costing, design details, value engineering, art direction, mock ups, simplified attachment and custom finishing methods to make your job easier.
About Themed Construction
Doing themed construction the right way requires good design, quality materials and professional execution. While the designer creates the general scope and design, a quality themed contractor and fabricator ensures that all the little details work with the architects design intent. With 30 years of themed construction experience, we know that no matter how massive the project, the small details matter. From original concept to completion, our team will work with you to make the vision a reality. Whether your needs are a single themed element, or a massive themed project, we are here to help. Themed construction and themed elements are provided for casinos, themed resorts, museums, aquariums, zoos, themed exhibits, buildings, water parks, restaurants, etc.
Themed Services
Preconstruction Services
Budget estimates
Design development
Samples and mock ups
Scale models and maquettes
Value engineering
Art direction and design assistance
Themed Production and Construction Services
Shop drawings and engineering
Custom Sculpting
Models
Molds
Casting
Custom finishes. Stone, metal, stucco, wood, etc.
Installation
Project profile
Name: Caesar's Palace
Location: Las Vegas, NV
Dates: 1997
Materials: Glass Fiber Reinforced Polymer (GFRP)
Products: Exterior theming elements, including Fiberglass (GFRP) and glass fiber reinforced concrete (GFRC) Corinthian capitals, columns
Type: New construction
Company: Stromberg Architectural Products, Inc.
Product: Columns
Source: http://www.strombergarchitectural.com/projects/caesar-s-palace
Tags: Architecture | Construction | Exterior Design
---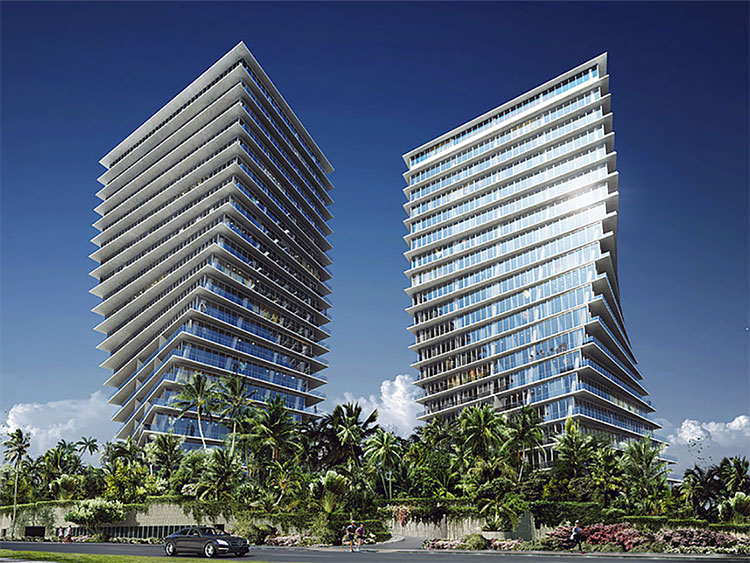 Hyper-modernist: The Grove at Grand Bay towers, designed by the Bjarke Ingels Group (BIG) architects, rest on a foundation treated with PENETRON crystalline technology
The Grove at Grand Bay luxury residential towers in the Coconut Grove neighborhood of Miami, Florida, are built on a PENETRON ADMIX-treated concrete foundation. Inaugurated in May, both of the visually distinctive towers are almost sold out.
The amazing architectural design of the towers is a notable milestone in the quickly evolving skyline of the Miami area. In a city famous for its Art Deco and Mediterranean-style architecture, the hyper-modernist design of the new Grove at Grand Bay towers was designed by the renowned Bjarke Ingels Group (BIG) architects. Both towers are 20 floors high; the 96 luxury condos (59 units in the North Tower, 37 units in the South Tower) all have breathtaking views of Biscayne Bay.

Located only 18 feet (5.2 m) above sea level and featuring a rooftop pool on both the North & South Towers, PENETRON was tapped for a durable waterproofing solution.

The originally specified conventional waterproofing system and dewatering of the job site became problematic early in the project. CEMEX offered a PENETRON ADMIX-treated concrete mix as a solution, which was used for the building foundation elements. The results were seamless.
Company: Penetron International
Product: Penetron Admix
Source: http://www.penetron.com/press/view/Distinctive-Dual-Towers-Built-on-PENETRON/
Tags: Architecture | Building | Concrete | Waterproofing
---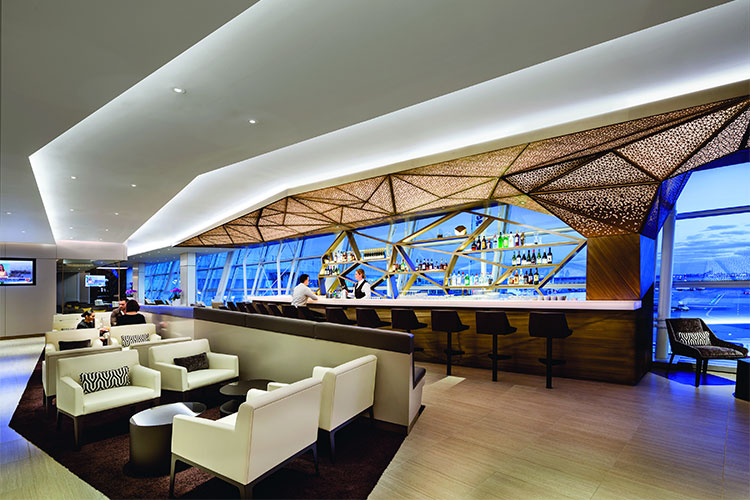 With the broadest portfolio in the industry and over a century of design and installation experience, Armstrong® Ceiling Solutions now offers more ways for architects and designers to make out-of-the-ordinary ceilings a reality.
Whether its modifying standard product shapes and sizes or creating custom sizes, shapes, colors, finishes, images, or perforations, no other ceiling manufacturer offers the broad range of options available from Armstrong Ceilings.
The You Inspire™ Solutions Center, a free service which provides collaborative design and pre-construction assistance, rounds out the full range of capabilities Armstrong taps to bring one-of-a-kind ceilings to life.
"Whatever your idea for a ceiling is — no matter how unique — bring it to us", says Nick Taraborelli, vice-president, commercial marketing, for Armstrong Ceilings. "We will do whatever we can to make it happen and help you to create your next great space."
New Capabilities
Some of the new capabilities Armstrong recently added to its portfolio include:
New cloud, striated, and other custom profiles for SoundScapes® Blades™ panels
Larger 4' x 4' sizes for MetalWorks™ Torsion Spring panels
More options in panels with Total Acoustics™ performance, including more standard Ultima sizes, FastSize™ options, and wood and metal offerings.
Colorations® Colors now for Lyra® Concealed PB (plant-based) ceiling panels.
Drywall linear lighting and intersection down lighting
To be inspired by the broad range of capabilities Armstrong offers, visit https://www.armstrongceilings.com/capabilities. There you can view "Unleash Your Imagination," a colorful, 18-page brochure that illustrates the many unique ceiling designs that have been brought to life utilizing the capabilities of Armstrong Ceilings.
Company: Armstrong Building Solutions
Source: https://www.armstrongceilings.com/capabilities
Tags: Acoustics | Architecture | Ceiling | Design
---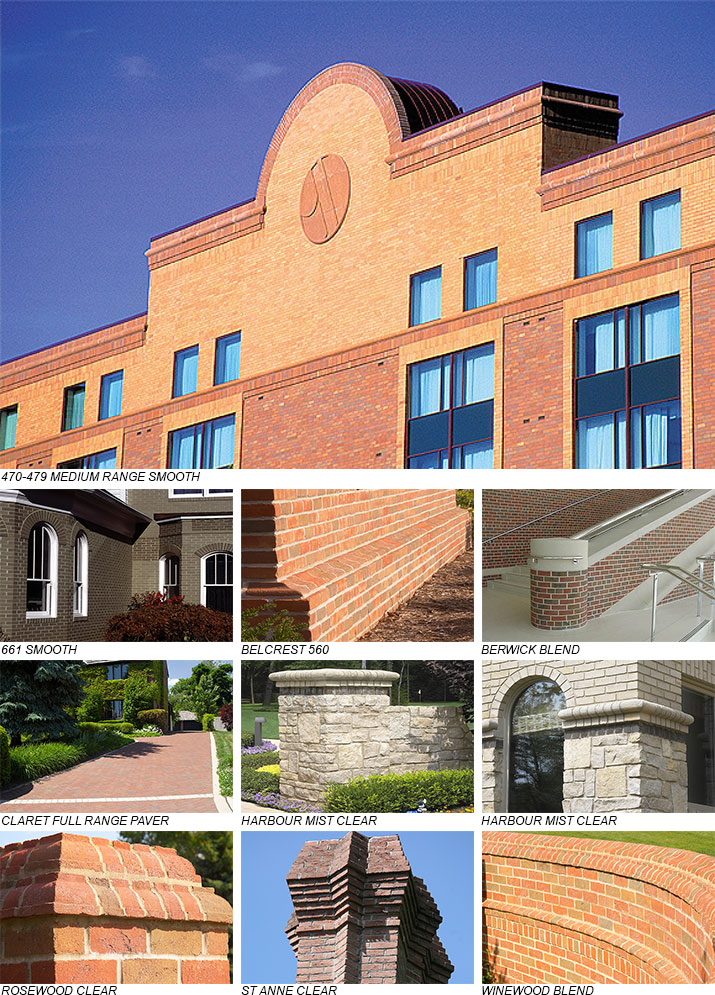 The experts at Belden Brick's Special Shapes Division are prepared to move new brick concepts from your mind to the mason's hand. Architects and designers need not let their creativity be stifled by existing ideas of what a special shape brick should look like. We invite you to explore the artistic impact that special shape brick can have on your design. We have already created an amazing array of shapes, sizes, colors and textures for projects across the country. The brick you have in mind may already be here for your use. If not, we are prepared to offer you design and production services customized to your exact needs. You can rely on our special shape brick to provide unique design elements - corners, angles, curves, slopes and other dramatic effects that go on to become signature pieces of residential and commercial architecture. We can also provide unique colors, making your next building project stand out as a one-of-a-kind structure or blend in with its surroundings or existing companion buildings. For those elements of your project that need to stand out, you require unique products like Belden Brick special shapes.
Company: Belden Brick Co.
Product: Face bricks
Source: http://www.beldenbrick.com/Gallery/special-brick-shapes
Tags: Architecture | Design | Masonry
---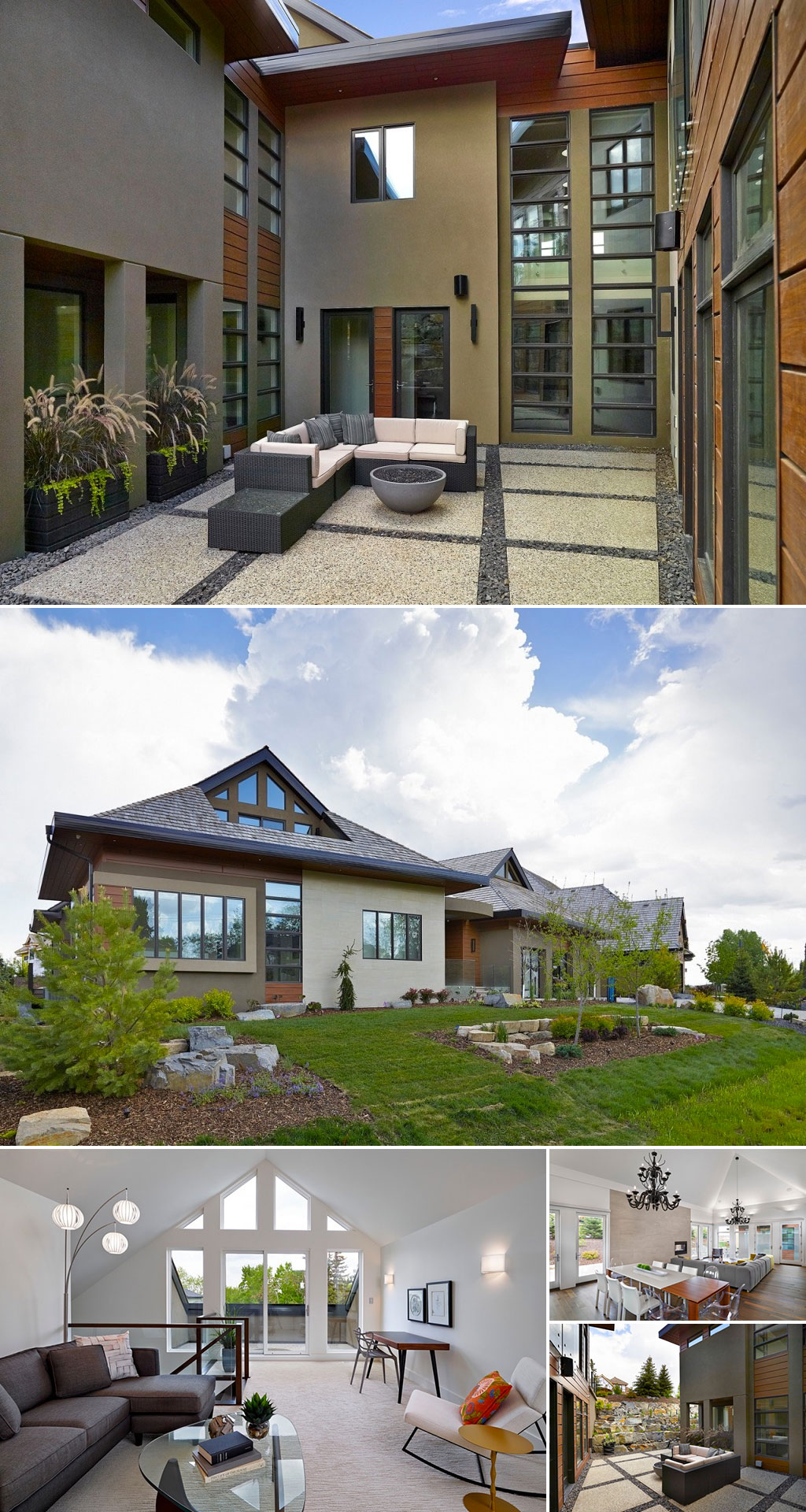 Designed by E3 Architecture and builder Birkholz Homes
Located in a high-end residential suburb of Edmonton, Alberta, the Windermere House serves as a luxury show home with top-notch, European-inspired finishes – inside and out. Designed by E3 Architecture and builder Birkholz Homes, the prestigious residence blends metal, glass, wood, warm hues and natural light. Completed in 2014, this 8,000-square-foot house features Loewen's aluminum-clad windows painted by Linetec to ensure the intended, high-quality presentation with minimal maintenance.
Conforming to the neighborhood's Victorian-Georgian strict architectural standards, E3 changed the perimeter of the house from a square to a U-shape to maximize the Windermere House's daylight and views with glass balconies, patio doors and Loewen's custom-made, triple-glazed windows. To optimize placement, the architectural drawings incorporated 3-D renderings of Loewen's products from the project's earliest phases.
Linetec finished Loewen's windows in a Tuscany Brown color using a 70 percent polyvinylidene fluoride (PVDF) resin-based coating. These coatings meet the stringent requirements of AAMA 2605 and exhibit outstanding resistance to humidity, color change, chalk, gloss loss and chemicals. The resulting finish provides durability and requires minimal maintenance throughout the show home's lifespan.
Learn more about Linetec's paint finishing services by clicking here. For personalized assistance in selecting the right coating for your aluminum building products, please contact Linetec's regional sales managers , email sales@linetec.com or call 888-717-1472.
Company: Linetec
Product: High-Performance Fluoropolymer Paint Coatings
Source: https://linetec-blog.com/2017/09/25/linetec-finishes-loewen-windows-for-canadas-windermere-house/
Tags: Architecture | Coating | Color | Design
Visual Blog: Kalwall in the Transportation Market (September 15, 2017), Manchester Blend tan bricks a hot trend in the color world (August 28, 2017), Sustainable and small: The tiny house movement (August 9, 2017), An Award-Winning Project that Includes StoGuard® (August 1, 2017), SC Railing Company: Offering a View from the Top (July 31, 2017), Top NYC architect selects Feeney for notable barn project (July 26, 2017), What the New Urban Agenda means for architects (July 21, 2017), Gorgeous Atriums that Meet Design Aesthetic and Safety Code (July 19, 2017), 5 Things to Know About On-Site Finishing Repair and Restoration (June 15, 2017), Xypex in London (May 8, 2017), Michelle Obama speaks to A'17 on the impact of design (May 5, 2017)