architecture - engineering - construction

Resin
---
March 22, 2023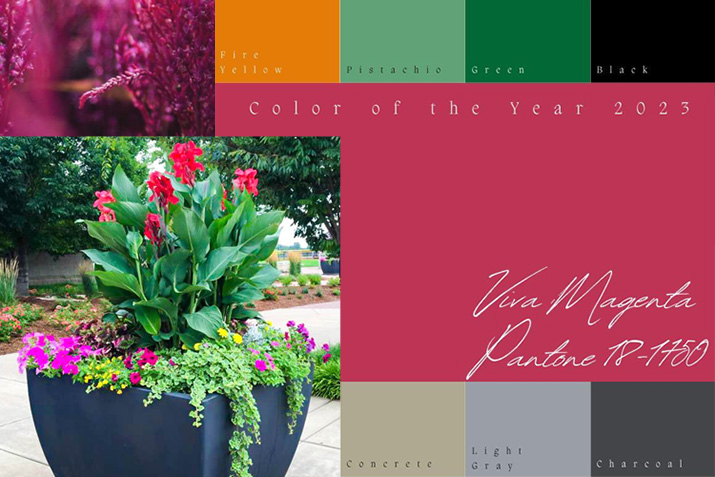 This year's Pantone™ Color of the Year is Viva Magenta 18-1750. Viva Magenta represents strength and empowerment. Viva Magenta is rooted in nature as it descends from the red color family, a color inspired by the cochineal beetle.
There are many plants with Viva Magenta-inspired colors that you may already be planning to incorporate into your 2023 designs. Containers can add extra drama while saving space and are fantastic for adding depth to your designs. Though our selections of resin planters come in various colors, we have highlighted some color options that may go perfectly with your Viva-Magenta-inspired planting designs!
---
February 28, 2023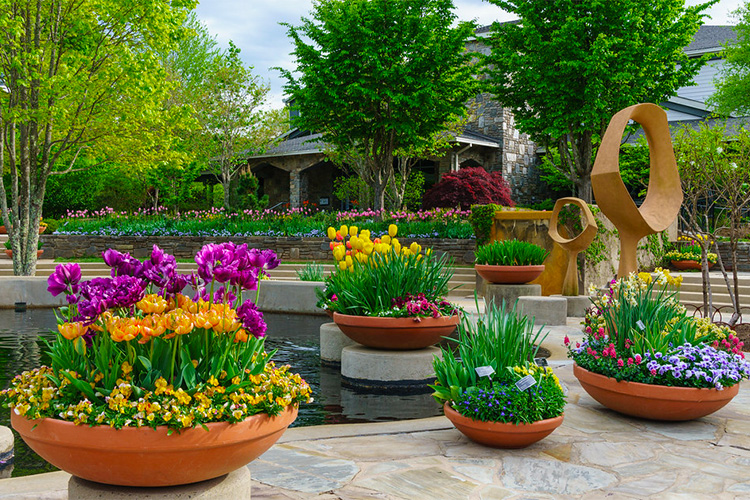 Spring is officially less than a month away! As you plan for the upcoming spring season, consider using TerraCast® resin planters for your container garden projects. TerraCast® resin planters are durable, long-lasting, maintenance-free, and environmentally friendly. They perform exceptionally well in highly trafficked areas where they suffer the most abuse. Unlike other materials, TerraCast® planters can withstand a year-round outdoor application, even in extreme climates.
---
December 12, 2022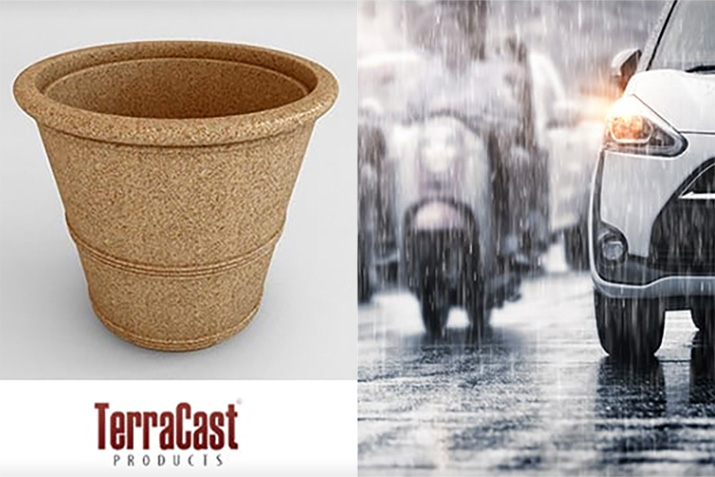 ---
October 21, 2022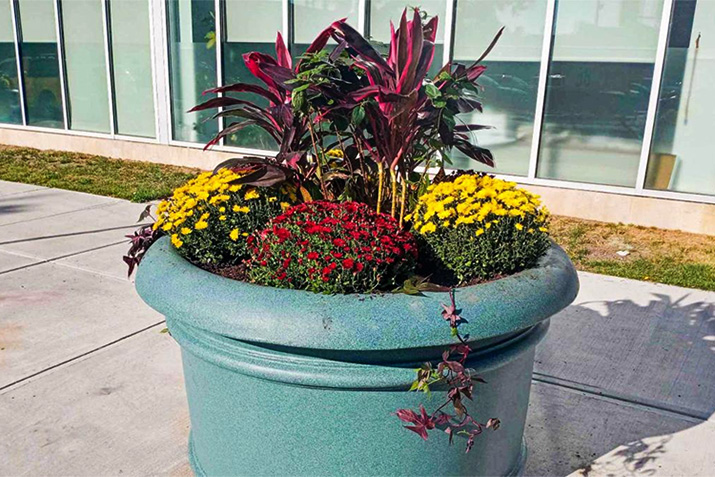 Cooler temperature means less watering and less plant maintenance. Take advantage of the fall season to design a unique container garden. Colors and textures are crucial in creating a striking fall container display. Adding edible plants like ornamental peppers, cabbage, and kale can add colors and textures to elevate the overall aesthetic. Selecting the appropriate material container is crucial in designing a fall and winter container garden. Although ceramic and terracotta can create a unique aesthetic, they will not survive in colder climates. The resin planters by TerraCast® Products are a reliable choice for colder climates because they are made to withstand harsh outdoor conditions.
---
September 14, 2022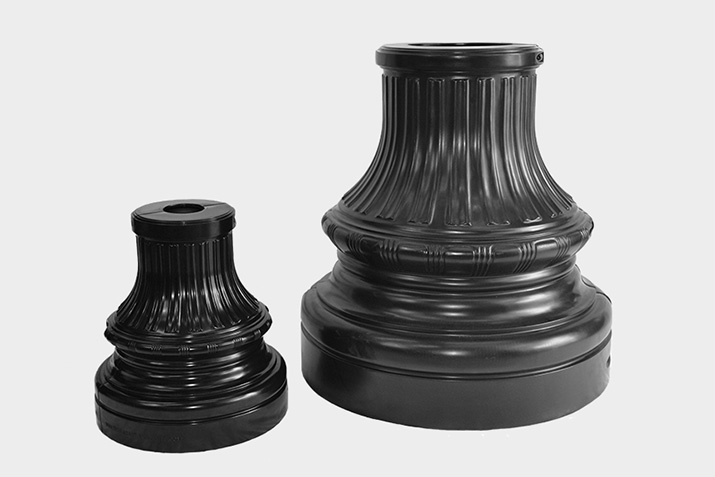 Introducing the newest addition to one of the most popular styles, the Delaware Base now comes in 18" tall with a base diameter of 19", which accepts a pole with up to 6" outer diameter. The new size comes with the same clamshell construction that allows easy installation and access to the wires. The three different sizes create seamless streetscapes throughout the city or residential community for any lamp posts, signage poles, and small cell poles installed in the area.
---
August 19, 2022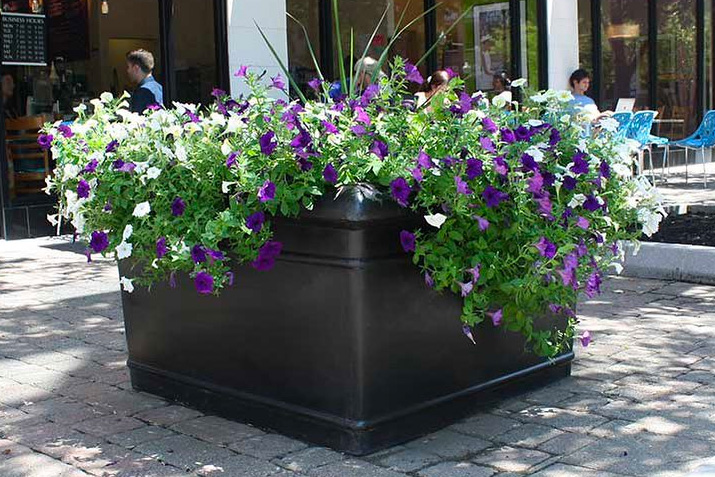 Downspout planters are decorative planters specially designed to absorb and filter stormwater before it enters stormwater management or sewer. They are typically installed along or at the end of the downspout to capture the water. They remove pollutants through filtration by plants while adding aesthetic appeal and providing habitat to wildlife. The best part of the downspout planter is that they do not require a lot of space, which is perfect for urban areas, where space is limited. TerraCast® Planters are ideal for filtering stormwater because they are not affected by water, whereas some material requires a waterproof liner inside the container to avoid rust, corrosion, or rot.
---
July 20, 2022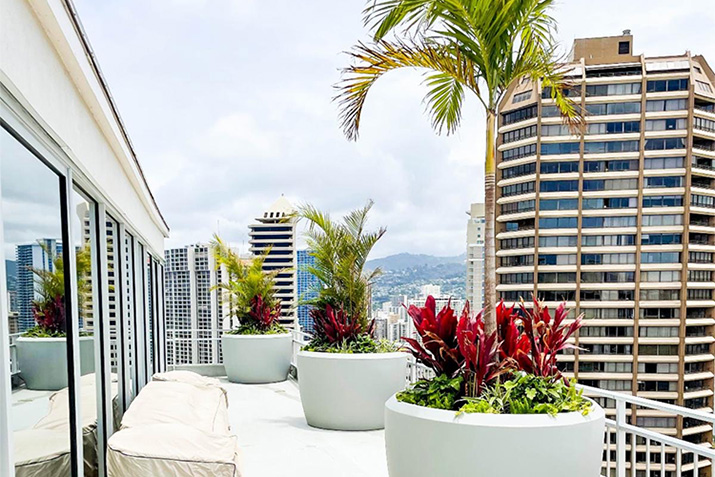 Do you find yourself constantly replacing the planters every season? Investing in high-quality outdoor planters can save you money in the long term because you won't need to replace them as often, if at all. The best part of choosing LLDPE resin planters for outdoor applications is that they are highly durable and maintenance-free. Resin can mimic the look of other materials and achieve different styles from traditional to modern.
---
July 15, 2022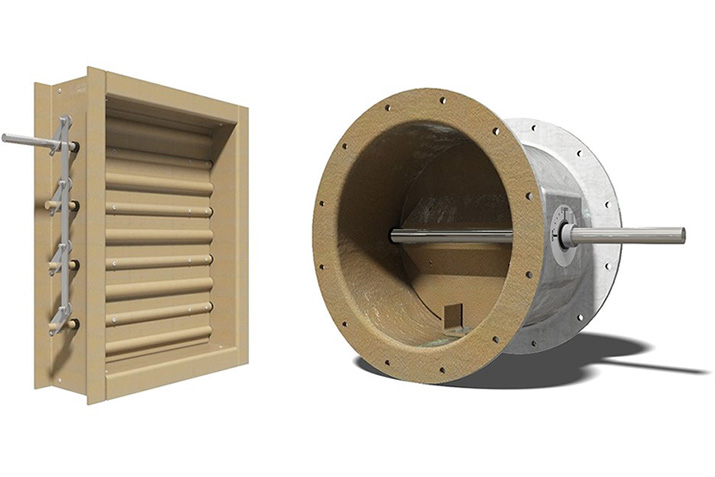 Constructed of premium vinyl ester resins, Ruskin's fiberglass airflow control products are ideal for installations in corrosive environments.
---
March 25, 2022
Pantone® has announced the color of the year for 2022 as Very Peri - Pantone 17-3938. The color Very Peri symbolizes confidence and encourages creativity as we move forward in today's world full of unprecedented changes. As you plan for spring and summer landscape designs, consider choosing colors that complement Very Peri, such as hues of greens and yellows or monochromatic colors. Very Peri also works well with earthy tones such as concrete, charcoal, light gray, black, and terracotta.
---
January 26, 2022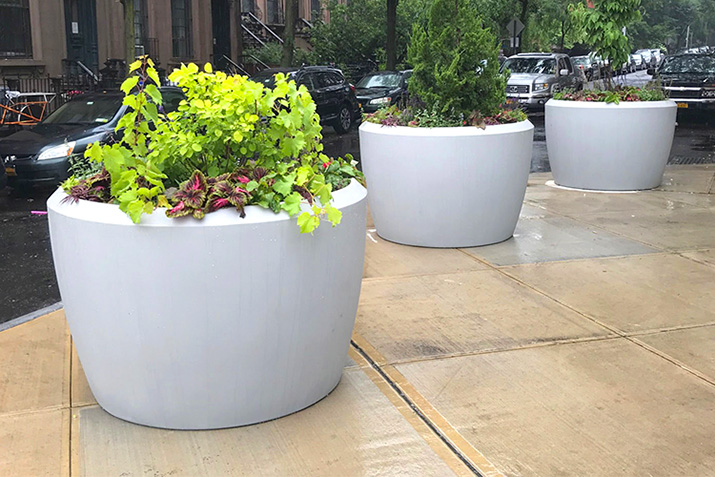 The holiday season arrives and leaves rather quickly. However, winter décor does not always need to be put away immediately. As many travelers continue to enjoy vacations beyond the new year, winter décor can be nice to see around. Winter is the perfect time to freshen up looks around a business or try new arrangements. Whether it is hanging special snowflakes, lights, or putting out new planters, there are a lot of routes to consider.
---
December 31, 2021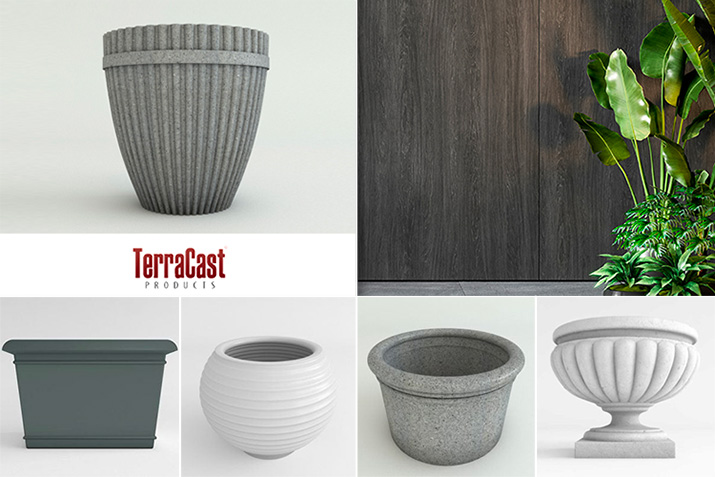 Winter is just around the corner. With it comes wanting to spruce up your space by gardening. Container gardening is a favorite for urban and suburban homeowners as well as business owners. Container gardening is not only a way to grow your vegetables, flowers, and herbs but also because they create an attractive outdoor space. Planters come in a wide variety of materials, some cheap, and others are costly. Here are a few perfect planters for winter to choose from, so your garden or patio will not only be successful but look beautiful as well.
---
November 29, 2021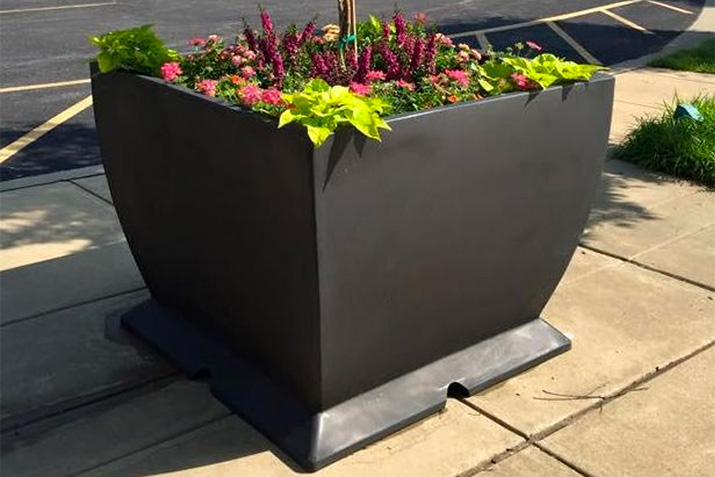 TerraCast® planters, PolySteel™ light poles, and light pole base covers are all manufactured using #4 linear-low density polyethylene (LLDPE) with up to 100% post-consumer recycled content. As we like to say, "our black is green," the standard black color we use contains a minimum of 90% post-consumer recycled content. In addition, the manufacturing process we use for these products, rotational molding (rotomolding), has an environmental advantage because it produces no scrap as all the materials can be 100% recycled.
---
October 15, 2021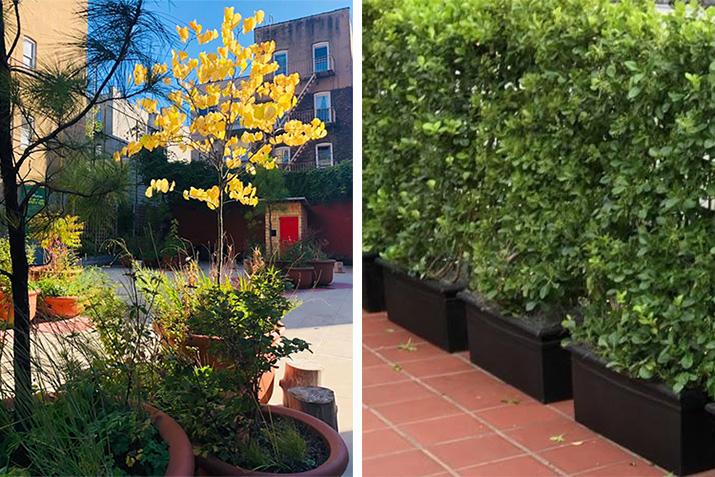 The privacy element is crucial in creating a comfortable outdoor space. Installing a fence or wall can be costly, but you can create privacy screens using plants and planters. Plants make excellent privacy screens because they can block noise and unsightly views while adding color, texture, and seasonal interest that only gets better each growing season. Large containers are ideal for creating privacy in a small space like a deck or patio. TerraCast® planters are made from a lightweight resin material, which makes the installation effortless and movable. The wide range of styles can fit any landscape style you desire!
---
September 15, 2021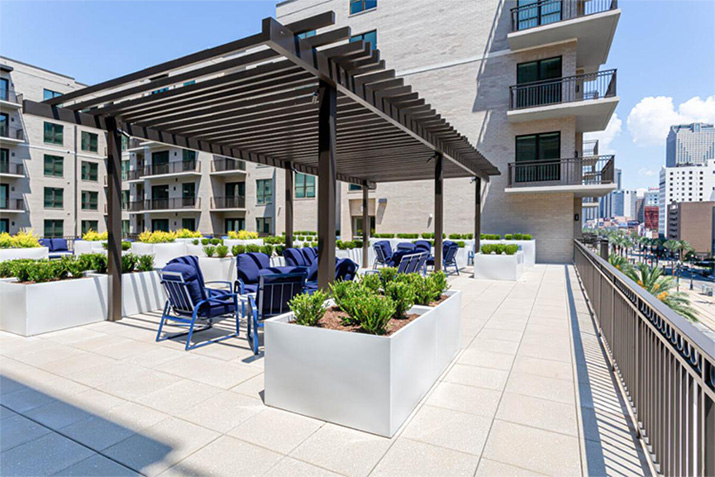 Green roofs and rooftop gardens have been some of the most popular garden trends in the last few years, not only from their aesthetic advantage but also from their environmental benefits. While green roofs directly plant vegetation on the rooftop over a waterproof membrane, rooftop gardens plant in a container instead. Rooftop gardens have various advantages, such as maximizing underused space, extending living space, providing habitat for wildlife, reducing the urban heat island effect, and improving air quality. Although green roofs are more effective in insulation and reducing water runoff, using containers is the most economical and flexible option. TerraCast® planters are lightweight, which means maximum flexibility in your design while consuming less energy in transit and installation.
---
March 19, 2021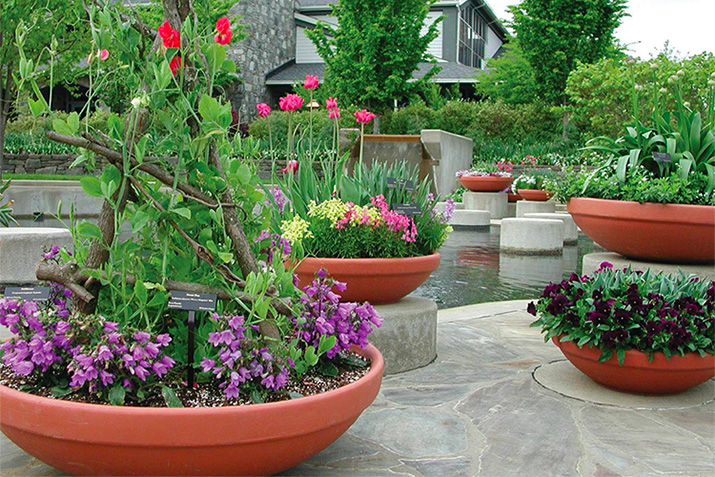 As you get ready to replant spring flowers in your containers, it is a good idea to inspect your planters. Are there any cracks or breakages? Temperature fluctuations and snow melts can have a significant impact on your containers, depending on the material. When you need to replace damaged planters, consider TerraCast® resin-based planters to minimize your future costs on replacements. One of the many benefits LLDPE resin material offers is its flexible property; it resists cracks and breakages caused by temperature fluctuations.
---
February 22, 2021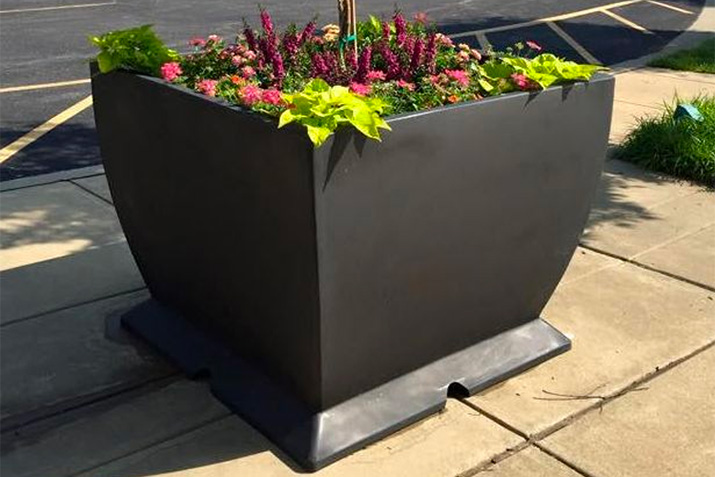 Outdoor planters should be able to withstand the UV rays of the sun and other outdoor elements. Still, most landscaping products are not made to withstand the wear and tear provoked by nature and the general public. It doesn't take long for standard planters to start fading if left in the sun day after day. TerraCast® resin planters are treated with a UV inhibitor, which means they will not need painting or refinishing because they will not fade, chip, or peel.
---
January 22, 2021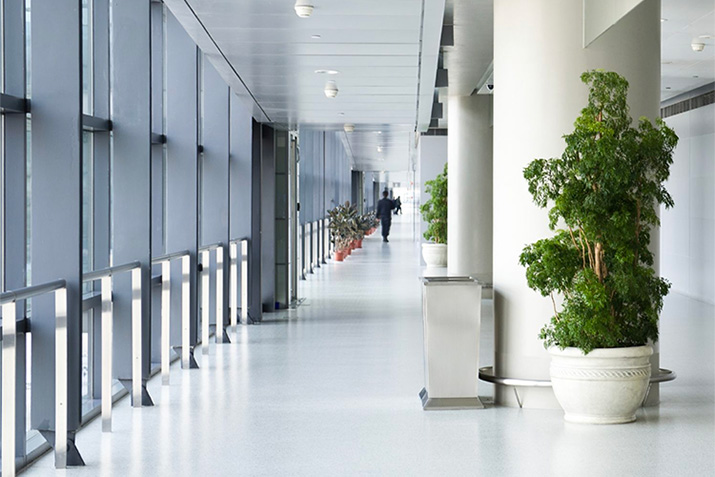 You've probably already heard of the benefits of having plants in your home, well, the same is true for your business. In fact, research shows that offices with thriving plants also thrive with enhanced performance and productivity. The truth is plants offer a number of benefits for you, your employees, and your office. Let's find out more!
---
July 22, 2020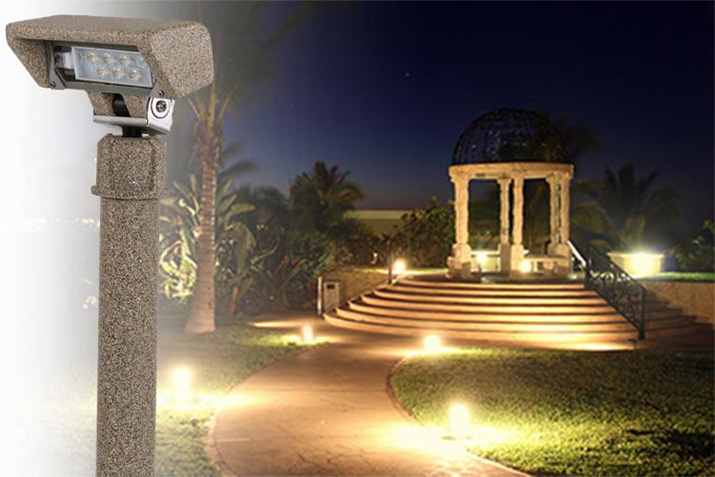 With landscape lighting, not only can you illuminate pathways and add an element of safety and security, you can artistically call attention to things that may be over looked at night, adding a new dimension to your space. TerraCast®'s line of landscape lighting options are ideal for both commercial and residential applications because of the beauty, durability and longevity of resin.
---
June 24, 2020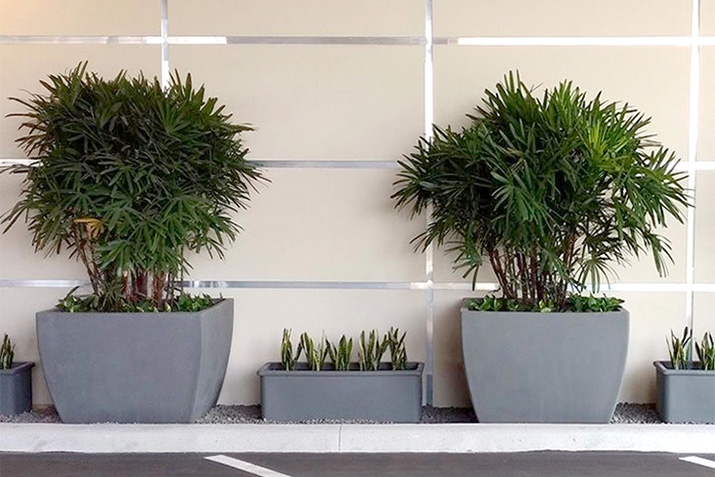 Cleanliness is one of the most critical elements for your home or business today. Public areas or high touch areas require routine cleaning and disinfecting of surfaces to minimize the risk of spreading COVID-19. While the CDC recommends using diluted bleach solutions, many materials may have a negative effect from applying bleach. The TerraCast® resin material is safe for applying bleach. Unlike other materials, our planters will not fade or degrade when disinfecting surfaces. They are a great solution to businesses to separate areas to allow for social distancing, without unsightly barriers or high maintenance work. From installing to cleaning, our planters are easy to handle!
---
May 20, 2020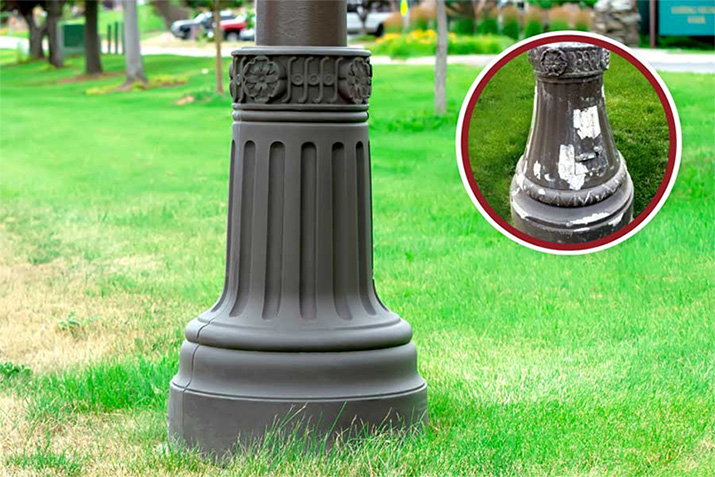 If you were to scratch, cut, or scrape or dent our resin bases, you would find that the color blend permeates throughout the piece, which will not expose any secondary base color. TerraCast® has the ability to replicate many designs to match the existing bases. The flexibility of the resin material enables our bases to have a stone or metal look finish. As you can see in the before and after pictures above, you can barely tell the difference between aluminum and resin bases except for the fact that our base will never peel or corrode. The TerraCast® base will never require painting.