architecture - engineering - construction

Ventilation
---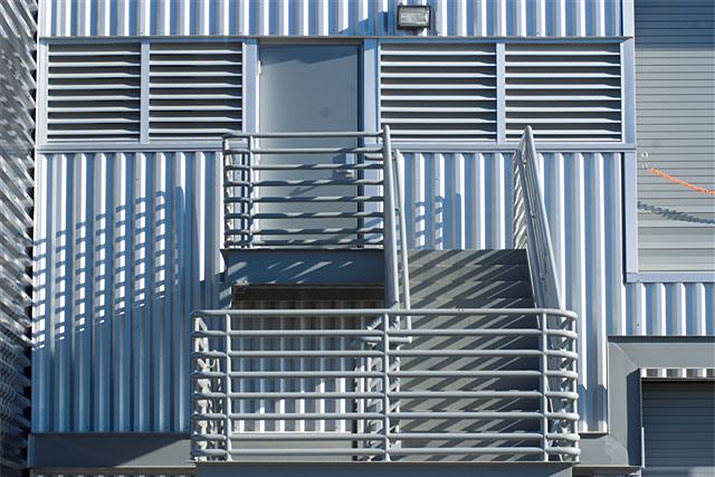 Architectural Wall Louvers are used to allow air into a building, while keeping out undesirable elements from mother nature like rain, water, dirt, and debris. They also add the extra element of aesthetic design to a building exterior. Use your air intake or ventilation requirements to improve the look of any building.
What if I want more rain protection?
Gain the utmost protection against water penetration by using one of our Wind Driven Rain Louvers. These louvers will protect your building from water damage, even under heavy wind and rain conditions.
What if I have high wind loads?
Any of our louvers can be modified to handle higher wind loads (within limits). However, if you are in Florida or other coastal states with hurricane force winds, use one of our Hurricane Louvers to gain the highest levels of protection.
Louvers are commonly specified in project documents under these divisions:
08 90 00 Louvers and Vents (sometimes listed as 08 9000, 089000)
08 91 00 Louvers (sometimes listed as 08 9100, 089100)
08 91 19 Fixed Louvers (sometimes listed as 08 9119, 089119)
Company: Architectural Louvers
Source: http://www.archlouvers.com/Louver_Applications.htm
Tags: Architecture | Design | Louvers | Ventilation
---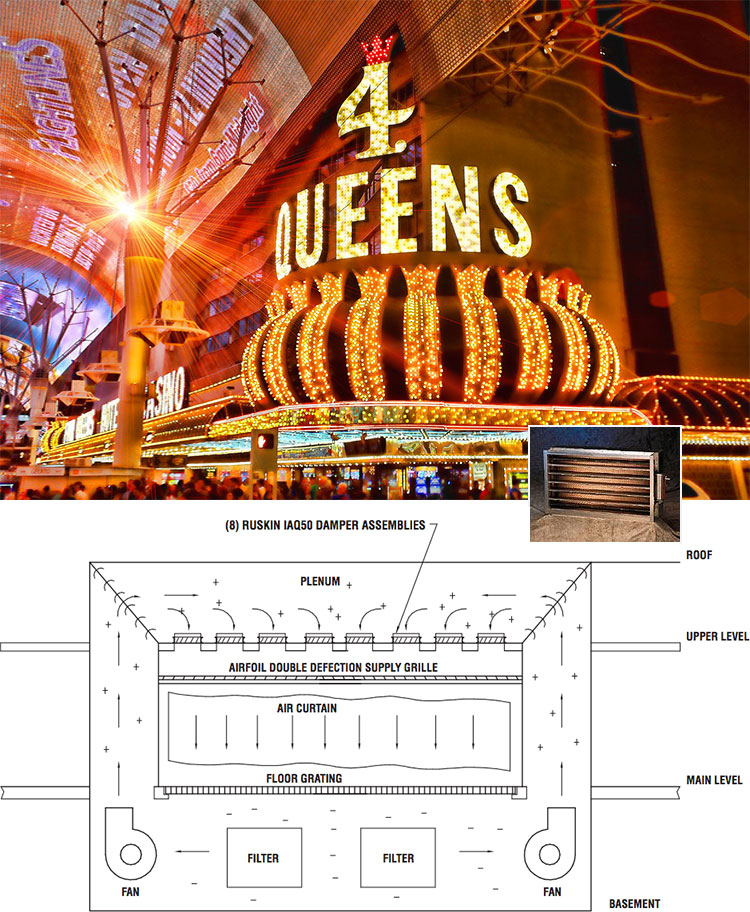 Four Queens Hotel and Casino, Las Vegas, NV
To improve access into the Four Queens Hotel and Casino in Las Vegas, Four Queens recently added a 48 foot air curtain. Built using Ruskin's IAQ50 air flow measuring and control dampers, the new air curtain efficiently and economically maintains the pressure in the building. Designed to satisfy the needs of a variety of applications, the IAQ50 air flow measuring and control damper provides the perfect solution to difficult challenges.
Downtown Las Vegas hasn't been the same since the completion of the Fremont Street Experience revived this popular gambling and tourist destination. This four-block project has successfully turned a city street into a large canopy-covered walkway that has substantially increased the tourist and gambling business in the downtown area.
The Fremont Street Experience which includes a mist evaporation system to protect the tourists from the sun and heat, and a laser light show presented several times nightly, created problems for the Four Queens Hotel and Casino.
Business at the Four Queens Hotel and Casino, located on Fremont Street, was suffering because the two existing air curtains on each end of the casino were limiting access into the hotel and casino from the sidewalk where the crowds stroll and gather to watch the light shows.
In order to share in the success of The Fremont Street Experience, the Four Queens Hotel and Casino contracted with Harris Consulting Engineers in Las Vegas to design an additional access opening. This new, 48 foot opening would be located between the existing entrances.
The hotel wanted the new entrance to open without doors. This required the design and building of an air curtain to separate the casino from the outside elements. Here's where the hotel encountered a problem. Because of the hotel's design, the air curtain would be obstructed by existing structural supports. And, in order to maintain proper building pressure, the air curtain had to provide precise control of the airflow around the obstructions and down to the return air grate which is also the walkway into the casino.
In addition to maintaining the pressure in the building to prevent the loss of conditioned air from the casino, energy consumption and comfort were significant design criteria.
With the assistance of Long & Associates, Inc., Ruskin's Las Vegas representative, the Harris team responded to the challenge by designing a custom air curtain that provides precision air flow around the existing structural supports.
Built using Ruskin's IAQ50 air flow measuring and control dampers, the new air curtain successfully provides consistent airflow. The system includes two 65,000 cfm centrifugal fans installed in the space below the return air walkway grate. The air returns through the grate into the basement plenum and passes through two 144 square foot filter and coil banks. It is then ducted up from the fans into the plenum space above the air curtain supply opening. The air then passes through the IAQ50 air flow measuring/control dampers and is directed through an adjustable deflection type grille.
The individual IAQ50 dampers measure and control the airflow between the existing structural supports. This helps guarantee the air curtain maintains the required velocity and prevents conditioned air from escaping through the opening.
"Opening up the Four Queens to the Fremont Street Experience has been a tremendous success" says Max Proctor, Four Queens Building manager. "We are exceeding our revenue projections with this improved access to our casino."
"Ruskin's IAQ50 air flow measuring and control dampers are the key to the design of this custom air curtain," says Floyd Harris, principal of Harris Consulting Engineers. "Without the precision control of the air velocity around the structural obstructions, it would result in uneven flow through the supply grille and loss of the air barrier. That means conditioned air would have escaped into Fremont Street. The support given by Ruskin and Long & Associates throughout the design, installation and commissioning of this system was outstanding."
The IAQ50 air flow measuring control damper is designed to fit the needs of a variety of applications. It is this type of versatility that helped the project succeed.
Harris Consulting Engineers once again demonstrated their commitment to providing engineered solutions for their customers by incorporating this unique product into their custom air curtain design.
The Ruskin IAQ50 air flow measuring and control damper is one of many products available through Ruskin's network of representatives. To learn more about Ruskin's complete line of dampers and louvers, or to find the nearest Ruskin representative, visit our website at www.ruskin.com or call us at (816) 761-7476.
Company: Ruskin
Product: Air Measuring
Source: http://www.ruskin.com/model/iaq50x
Tags: HVAC | Ventilation
---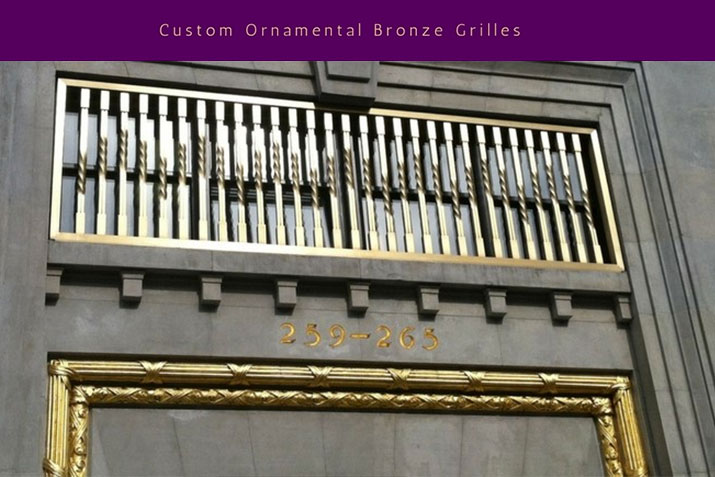 Coco Architectural offers custom fabrications for ornamental grilles and other products. In a recent project located at 80 8th Ave, in New York City, we created several custom pieces for the client, including a custom ornamental bronze grille over the entrance, a bronze header and jamb assembly for the Newsstand, and a custom bronze radiator enclosure with bronze bar grilles in the lobby.
Here at Coco Architectural, we offer upscale custom metal fabrications for a variety of different industries. In the 80 8th Ave project, our craftsmen created a custom ornamental bronze grille to protect the windows over the entrance of the business (shown above). The unique decorative twist on the custom bronze bars added a grand entrance feel to the business.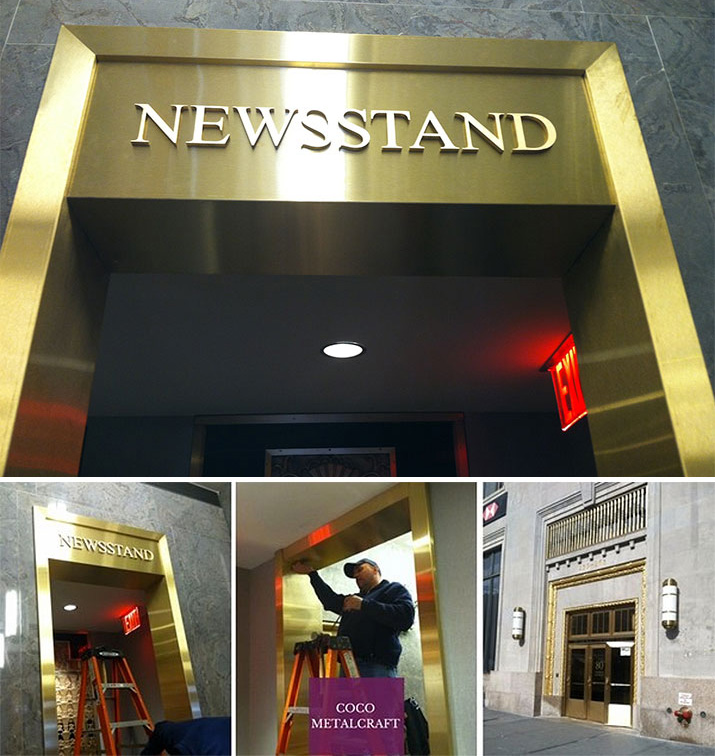 Our specialized CNC Waterjet services allow us to offer unlimited possibilities for any metal work on custom orders. Waterjet cutting is often used during fabrication of machine parts but can also be used for custom-perforated metal sheets and other architectural metalwork. In this project, we created custom waterjet lettering for the newsstand area and cut the brake formed bronze header and jamb assembly to complete the look.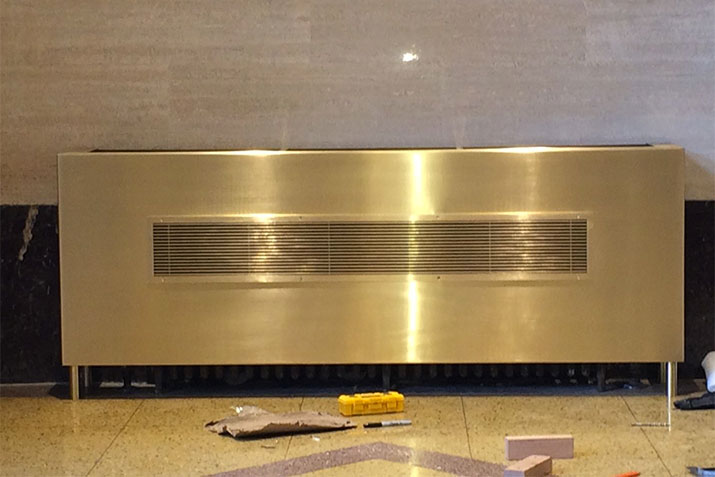 Finally, as all of our work is custom for each project, we provided a satin bronze radiator enclosure with custom linear bar grilles in the main lobby, rather than your basic cookie cutter HVAC products. The aesthetic impact on the space and functional performance of the grille is very important to us, so we leave no detail untouched to provide our clients with a flawless, functional piece.
If you're interested in custom ornamental grilles for your project, we can help your ideas come to life. From choosing metals for your project to matching unique designs with our waterjet and laser technology, we can add unique details to your commercial business or home to make your space feel complete.
Company: Coco Architectural Grilles & Metalcraft
Product: Custom Metal Fabrication Products
Source: http://www.cocometalcraft.com/custom-ornamental-bronze-grilles
Tags: Access Covers | Grilles | HVAC | Ventilation
---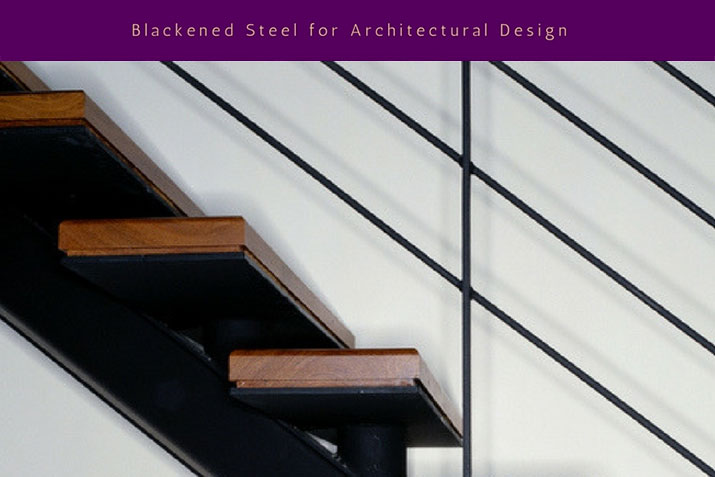 Some say the beauty is in the details. Along with custom metal work for your projects, Coco Architectural Grilles & Metalcraft offers a variety of finish options like antiqued, brushed, mirrored and even blackened finishes to bring the project together for a complete look.
What is a blackened finish
Black oxide or blackening is a conversion coating for various materials like stainless steel, copper and copper based alloys, zinc, powdered metals and silver solder. It is used to add mild corrosion resistance for appearance and to minimize light reflection. The process includes a series of chemical baths or heat until it reaches the desired color.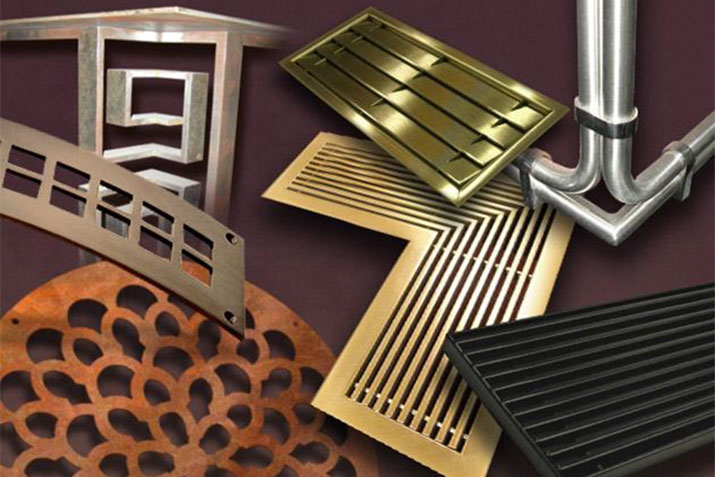 How it works
The process of blackening is done in primarily two different ways. Cold blackening is a process we use here at Coco Architectural. We add a cold finish on mechanically polished metals and then submerged it in a blackening chemical. We also add a clear lacquer to the metal to add an extra layer of protection. Hot blackening is the process of using a machine that spreads a thin layer of black oxide onto a product's surface and is heated to the desired black finish.
Why blackened steel
Blackening not only protects the steel from rusting, but the look is undeniably chic. The blackened finish also gives projects an industrial, edgy look in commercial or high-end residential projects.You may have seen black accents on a fireplace or stairwell or blackened pieces that complement large commercial facilities to create unique architectural elements.
We can create customized fabrication options for unique installations. Our offerings are adaptable to all of your job requirements including new construction, remodeling, and historic renovations.
Like the Linear Bar Grilles and Perforated Grilles, our custom metal products are manufactured with the same standard of excellence and our commitment to total customer satisfaction. If you're thinking about adding blackened steel to your project, download our catalog and request a free quote.
Company: Coco Architectural Grilles & Metalcraft
Source: http://www.cocometalcraft.com/blackened-steel-for-architectural-design
Tags: Access Covers | Grilles | HVAC | Metal | Ventilation
---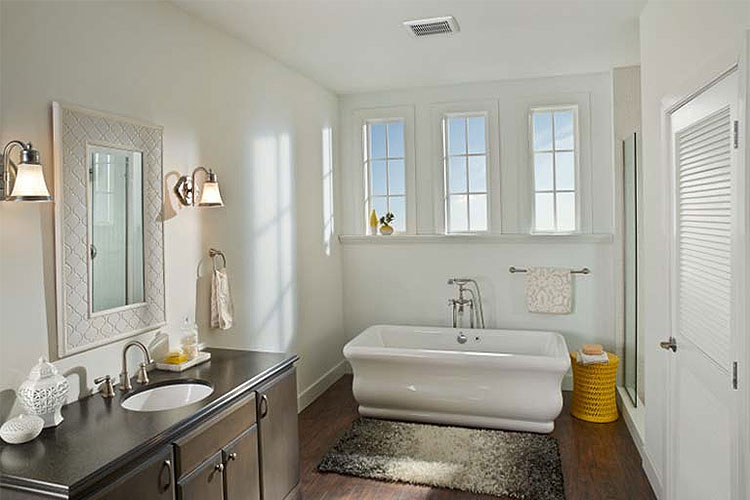 Broan® InVent™ Series now offers Humidity Sensing Fans, featuring Sensaire Sense-on-Rise Technology
Bathroom fans are great at fighting moisture which can lead to mold, but only if used properly. Broan's innovative Sensaire Sense-on-Rise Technology is now available on the InVentTM Series ventilation fans. Homeowners can now have a worry free solution for excess humidity combined with the great InVent features.
Sensaire Sense-on-Rise Technology is designed to detect humidity before condensation occurs. The humidity sensor automatically turns fans on when a rapid rise in humidity is sensed, or when humidity rises above the homeowner's pre-set humidity set point. The humidity sensing technology quickly works to eliminate fogged mirrors and manage moisture, providing exceptional indoor air quality for bathrooms, laundry rooms and mud rooms. Sensaire Sense-on-Rise technology detects an increase in humidity up to 40% faster *to automatically turn the fan on before moisture forms on mirrors.
"At Broan, we're incredibly proud of the enhanced InVent Series. Homeowners are now able to have superb ventilation and humidity sensing technology from a mid-range fan," said Ann Roever, Senior Global Marketing Director, household ventilation, for Broan. "The product line truly represents Broan's continuing tradition of superior indoor air quality products with the technology consumers want and need."
As the industry leader in residential ventilation, Broan-NuTone has a long history of developing products that provide superior indoor air quality. It is this reputation and commitment to innovation and quality that led Broan to enhance the revolutionary and easy to install InVent Series.
Broan InVent Series ventilation fans feature FoldAway mounting ears and the EzDuct Connector, which allow for easy installation. The FoldAway mounting ears allow contractors to use just one fan for both new construction or retrofit applications. The EzDuct Connector makes connecting the fan housing to the duct easier than ever before, with no attic access required.
With the new TrueSeal Damper Technology, InVent fans reduce air leakage by up to 50 percent compared to competitive models**, resulting in better home energy efficiency as measured via blower door tests.
The ENERGY STAR options provide contractors and homeowners with a full range of choices, all at a mid-range price point. In addition, the InVent Series is manufactured in the USA***, offering service levels and responsiveness that customers demand.
For more information, visit: www.Broan.com/InVent.
Company: Broan-NuTone LLC
Source: http://www.broan.com/InVent
Tags: HVAC | Interior Design | Lighting | Ventilation