architecture - engineering - construction

Safety
---

Your building is complete and ready for occupancy. The walls are clean and free of dents. To ensure the interior remains an attractive environment for customers and clients make sure your walls and corners are protected.
Corner Guards are designed to protect corners of walls from the impact of people, carts and equipment. Architectural grade corner guards generally consist of a retainer, aluminum or vinyl, which is attached to the wall. They may be divided into two main categories as follows:
Surface Mounted. These are added to the surface of the corner, usually after the drywall is completely finished and painted.Stainless steel corner guards offer a high level of protection to your corners and provide a sleek appearance. They are commonly available in either Type 304 or Type 430 with a satin brush finish or an embossed texture finish. These are applied directly to the wall using either construction adhesive or mechanically fastened. Stainless steel corner guards are configured to the designer's requirements and are a durable solution for directly adhering to the wall.

Vinyl surface mount corner guards use a vinyl cover snapped over a retainer. Installation caps are applied to lock the profile in place and provide a finished look while keeping dust and debris from getting between the cover and retainer. The most frequently specified vinyl surface mount corner guards are the 2- and 3-inch with a square 90° radius. Coordinating 3-inch, 135° radius options are generally available as well.

A lower cost extruded vinyl corner guard is also an option. This corner guard is attached directly to the wall surface without the use of a retainer. It is an economical yet durable solution suitable for lower abuse areas.

Recess Mounted. The retainers for flush mounted corner guards penetrate the wall and are installed when the drywall is installed. This limits their application to new construction or major renovations.Recess mounted corner guards share the same standard 2- and 3-inch wing dimensions as the vinyl surface mount corner guard. They include an aluminum base for cove base mounting and are typically available in either a square 90° radius or with a 135° radius. Since recess mounted corner guards penetrate the wall, if the wall is required to be fire-rated, a fire-rated corner guard is also required.
Matching or adding color to your interior is achieved with a broad range of available colors. Often times manufacturers can color match for very specific design requirements.
Nystrom understands the importance of maintaining an attractive interior. We have designed a complete line of metal and vinyl wall protection systems including corner guards, handrails, crash rails, and bumper guards to help keep that new, fresh interior. Contact Nystrom for assistance in creating and maintaining your interior investment. For more information, please visit www.nystrom.com.
Company: Nystrom
Product: Wall + Door Protection
Source: https://news.nystrom.com/2017/03/27/interior-corner-protection/
Tags: Interior Design | Safety
---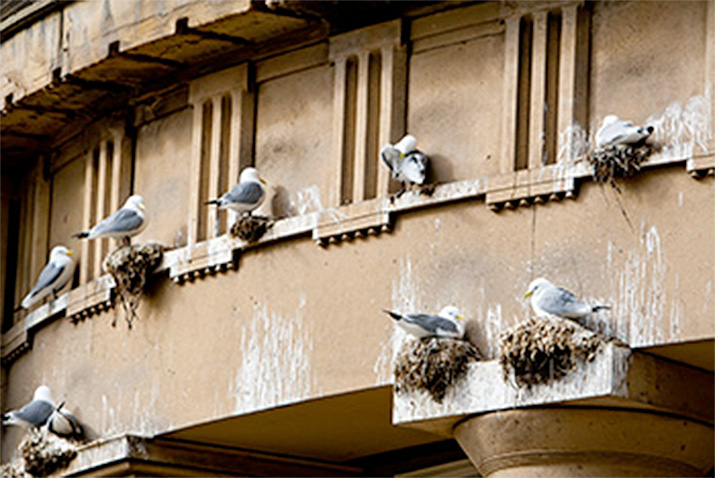 Pest birds are always looking for a place to roost and nest on buildings and commercial property. They need a place that's high enough from ground predators and close enough to food and water sources. Most buildings provide these things. Signage offers warmth, security and shelter for nests. Rooftop AC units do the same, offering the warmth of electrical motors/compressors and shelter from the elements. Rooftop water towers provide all sorts of nooks and crannies for birds to build nests. Many buildings essentially invite pest birds through their open attics.
The most effective way to prevent birds from nesting around your property is to be proactive. And that means making your property less of a bird magnet. Remove any standing water or food scraps, and close all trash containers. Seal up any attics and other lofty holes and cracks where birds can enter. Once you've done that, it's best to install some effective and humane bird deterrents to keep birds away.
Need help choosing the right product for your bird control problems? Contact the experts in bird control.
Company: Bird-B-Gone, Inc.
Product: Bird Spikes
Source: https://www.birdbgone.com
---
Architects turn to Total Security Solutions for project support
Even if you've worked with bullet-resistant components before, it can be difficult to know how to manage that part of your project. Our bullet resistant experts can help with assessment, design and installation of a complete bulletproof barrier system, or individual bullet-resistant features and accessories. We've done thousands of projects across dozens of industries throughout the country, and our turnaround time is the fastest in the industry. Our work will fit in seamlessly with your design because we do our own field measurements and hand-craft our materials at our in-house manufacturing facility.
See our architect projects gallery

Strict proven process
Our bulletproof experts follow a strict proven process so that no detail is overlooked. We'll help you select the right glazing, accessories and materials for your project and deliver and install your barrier and components in half the time of our competition.
See How We Develop Custom Barriers
Industry experts add value.
As a trusted leader in the bulletproof industry with 12,000+ installations to date, we bring more to the table than just our bulletproof products. We bring experience that will help you make better decisions, and avoid commonly-made mistakes. If your project includes bulletproof features, you're going to need a partner you can rely on whose work speaks for itself.
Resources just for architects
Our Architect Resource Center has videos, CAD drawings, specs and data sheets for every possible bulletproof item you could need. From frames to counters, doors to windows, fiberglass and beyond — get the details and information necessary to plan a successful project.
Full line of bullet-resistant products
We design and manufacture every single bulletproof product we install. TSS offers a variety of ballistic windows, doors, drawers, trays, and 8 levels of UL-rated bulletproof glass. We have everything you need right here.
Company: Total Security Solutions Inc
Product: Bullet Resistant Barriers
Source: http://www.tssbulletproof.com/industries/architects/
Tags: Entrances | Interior Design | Safety | Security
---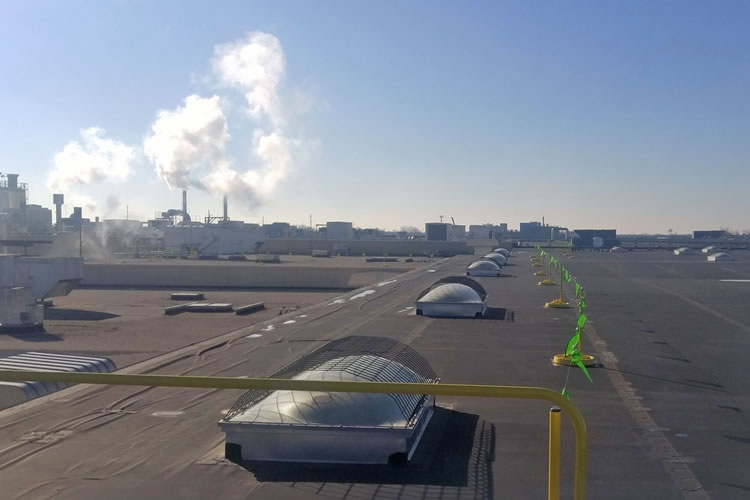 Enduraline warning lines installed at 15 feet from leading edge
EnduraLine Mobile is Safety Rail Company's most robust warning line system yet for permanent demarcation of hazardous areas. Cast iron base plates, steel stanchions, and plastic-coated galvanized cable with aluminum pennants means the EnduraLine warning line system is built for long-term exposure to the elements.
The EnduraLine Mobile system goes a step further. This non-penetrating warning line system is also designed to integrate perfectly with our SRC-360 Mobile railing system. The minimum OSHA requirement for warning line is that they be placed 15' feet or more away from a leading edge. Any closer to the leading edge, and fall protection railings or other fall protection devices must be provided. EnduraLine combined with our SRC 360 Mobile Rail answer both requirements and provide a complete, comprehensive, OSHA-compliant perimeter guarding solution.
When personnel need access to ladders or equipment within 15' of the edge, install the SRC 360 Mobile Railing system from the 15' mark out toward the leading edge and around the area that needs access. Attach the EnduraLine Mobile Warning Line System to the SRC 360 Mobile rail at the 15' mark and continue along perimeter to the next area that needs access. This configuration offers a cost-effective solution to 100% perimeter protection, designed to keep workers away from areas they shouldn't be and protected in areas where they need to be.
Features:
104 lb. base plate
25' stanchion spacing
Powder-coated yellow or galvanized finish
39" flag height per OSHA
100' galvanized cable with aluminum pennants
Safety Railing Solutions - Smarter. Better. Easier.
Safety Rail Company makes OSHA-compliant fall protection safety railings and guard rail systems that are durable and innovative, but still affordable. With years of industry experience, our fall protection products are engineered first and foremost to save lives! Beyond the primary goal of safety, we take our products a step further, making them easier to assemble, configure, use, and store.
Service Beyond Compare
Our team of safety experts takes pride in our 100% American-made fall protection systems and the personal service we give to our customers. We are firmly committed to providing:
Dedicated one-on-one customer service
Free in-depth consultations to ensure you have the exact system you need
Free, fast 3D CAD project plan modeling
100% OSHA-compliant & made in the USA products
Full installation services with factory trained, in-house personnel
Ongoing partnerships that you can depend on for years to come
Let Safety Rail Company be your turn-key provider. Project design, engineering, testing, manufacturing, and installation from one trusted source.
Company: Safety Rail Company
Product: Visual Warning Line Systems
Source: http://www.safetyrailcompany.com/enduraline-mobile-permanent-warning-line-system/
Tags: Railing System | Roof | Safety
---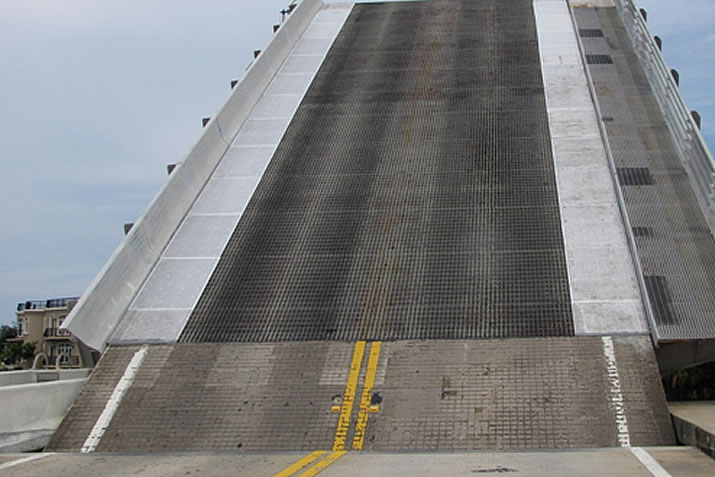 SlipNOT® Metal Safety Flooring, a manufacturer of non-slip metal flooring products, recently released a Florida Department of Transportation (FDOT) case study addressing bicycle lane safety.
T.Y. Lin International, an architectural firm, was hired to study the inventory of metal grate bridges and their link to bicycle safety. The introduction of the report states: "These metal grate bridges…can be difficult and intimidating for a bicyclist to cross. Depending on the type and direction of the grating, grooves can cause a "channeling effect" or "sliding" for bike tires, and narrow tires can be lodged in gaps between the bridge grates. In addition, the metal can become increasingly slippery when wet, making these bridges even more difficult for bicyclists to safely cross in rain or snow."
In order to prevent these hazardous situations, FDOT has proactively sought to improve public safety by specifying SlipNOT® on various applications including expansion joint covers, subway emergency exit doors, pedestrian bridge plates, bicycle safety lanes, and vault covers. Specifically, FDOT specified SlipNOT®'s galvanized steel perforated plates to retrofit over an existing grating deck on a bascule bridge in Fort Lauderdale, FL. The perforated plates were bolted down, providing a durable and secure lane for bicyclists. The perforation allows drainage and since this is an outdoor application, FDOT chose a galvanized finish for corrosion resistance. The high traction SlipNOT® surface provides a safe transit way for cyclists in all weather conditions.
SlipNOT® continues to provide slip resistant solutions for FDOT projects whether it's directly through the agency or various contractors such as Steel Tech, Inc. of Charlotte, NC. Following successful installations, Steel Tech has continued to utilize SlipNOT® for innovative solutions on complex projects. David Schultz, the owner of Steel Tech Inc., said "The problem of bicycles safely traversing open steel grid bridge decks has been an ongoing issue in many areas of the country. Superimposing slip resistant perforated plates over existing open steel grid installations may prove to be a viable solution. Durability and ease of installation is the key."
SlipNOT® perforated plates provide increased safety for bicyclists and other bridge patrons throughout Florida with minimal disruption on bridge operations. The flexibility of SlipNOT® products allow companies such as Steel Tech Inc. the ability to creatively address complex safety and operational issues.
To download a copy of the study with images, please visit http://www.slipnot.com/case-studies/fdot-bicycle-lanes/.
Company: SlipNOT® Metal Safety Flooring Div.
Product: Perforated Plate
Source: http://www.slipnot.com/all-news/fdot-improving-bicyclist-safety-with-slipnot/
---

Par-Kut provides guard houses used to shelter security personnel. Par-Kut guard houses are long-lasting, portable steel buildings.
Par-Kut provides the most rugged and well built guard houses, guard booths, guard shelters, border inspection booths, security access control checkpoints and observation towers. Par-Kut's guard houses are all prefabricated guard houses. Our customers include government, private industry, airports, nuclear power plants and U.S. Military facilities across the country and around the world. Par-Kut's all welded steel construction and use of durable, low maintenance materials ensure the guard booth's greatest longevity. Special security features are offered to customize the security guard booth to your location requirements and to keep your security officers comfortable as well as secure. Go to BULLET RESISTANT to learn more about Par-Kut's enhanced ballistic construction options for hi-risk environments.
In some industries, guard houses or guard booths are known as guard shacks. Whether described as a security guard shack, portable guard house, security guard house, or security guard booth, Par-Kut factory-assembled, portable steel buildings provide a ready-made solution to your security shelter problem.
Par-Kut offers guard house drawings and guard house designs to suit just about every application and if we haven't helped somebody with a similar requirement in the past, we will work with you to provide guard house designs to meet your site specific needs. In fact, the simplest way to start a productive dialogue is to send us a simple thumb nail sketch showing your guard booth drawing or guard house design. Par-Kut stands ready to assist you with your guard house architecture and guard shack floor plans.
For a guard house best for your location, and best for your guard house budget over the long run, call one of our sales professionals here at Par-Kut. Investing only a few minutes of time for discussion will enable you to receive a quotation for a guard booth or guard shack that is catered to your specific situation. Whether you need a standard, a bullet resistant or an elevated or highly portable trailer mounted guard house or security booth; a durable steel PAR-KUT guardhouse will meet your needs and provide you a service life unsurpassed by any competitor.
When you are speaking with a Par-Kut sales professional about your guard house, especially, a prefab guard house, it is important to identify the city and state where your guard booths are going to be installed. Codes regulating all types of factory assembled structures, including prefab guard houses, vary from state to state. Please have this information ready when you contact Par-Kut for a quote on your guard house. Prefabricated guard houses are lumped together with other pre manufactured structures for code purposes, although this practice does not take into consideration the vast differences in typical applications. However, a guard house from Par-Kut will meet or exceed most model building codes. Prefabricated guard booths can be amortized for tax purposes if recordable as the proper type of equipment. Check with your accounting dept, or financial advisor to see what steps should be taken for proper recording of your prefabricated guard booth. Prefab guard shacks and modular guard houses, when specified and purchased properly, will serve for decades. Par-Kut will work with you to outline your needs and a budget price for the guard shack or guard house that you need for a guard shelter.
Go to GALLERIES to view additional guard houses.
Company: Par-Kut International, Inc.
Product: PRESIDENTIAL
Source: http://www.parkut.com/booths/applications/guard-houses/
Tags: Design | Entrances | Safety | Security
---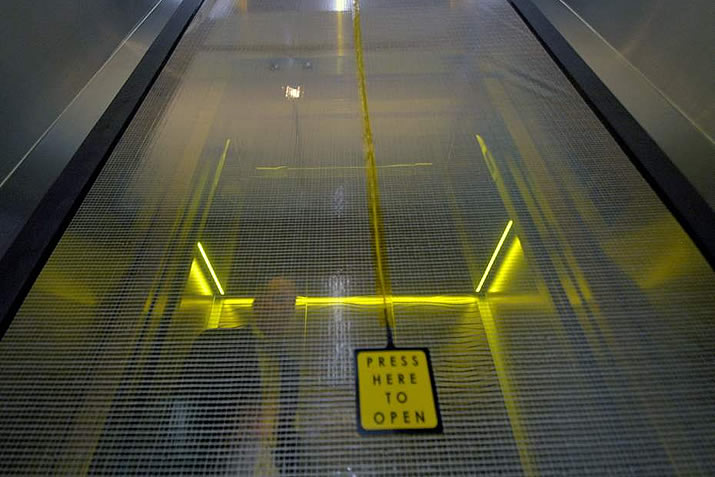 When it comes to elevator protectives, Smoke Guard is the "original orange smoke curtain". With over 20 years of installed product, our transparent orange colored polyimide film is iconic. Our orange transparent fabric is unparalleled when it comes to providing the smoke protection you require with the ease of install that you have come to expect.
Available in a variety of dimensions to fit various applications, Smoke Guard Systems for elevators are made from a translucent orange smoke resistant material that provides a line of sight for anyone caught in an elevator during an emergency or for emergency personnel. In addition to the screen mounted retract button, the magnetic side guides allow these smoke curtains to be easily pushed aside when access to or from the elevator is required.
When it comes to elevator safety, don't substitute for anything other than the original orange elevator curtain. Smoke Guard started with this product for a reason and continues to innovate to provide the best possible solution for your smoke safety needs.
Company: Smoke Guard, Inc.
Product: Model 4000 Smoke Curtain
Source: http://www.smokeguard.com/blog/2017/january/08/the-original-orange-elevator-smoke-curtain
Tags: Doors | LEED Certification | Safety
---
According to the Hazard Communication Standard from OSHA, organizations must post safety signs that comply with standards from the American National Standard Institute from either 1967-1968 (ANSI Z53.1, Z35.1 and Z35.2) or 2011 (ANSI Z535.1, Z535.2 and Z535.5). The most effective way to communicate warnings and other important safety messages to employees and visitors alike is through the use of safety signs.
For details regarding the specific signs you should hang at your facilities, visit OSHA.com. In the meantime, hang these 10 types of signs throughout your facilities to remain compliant: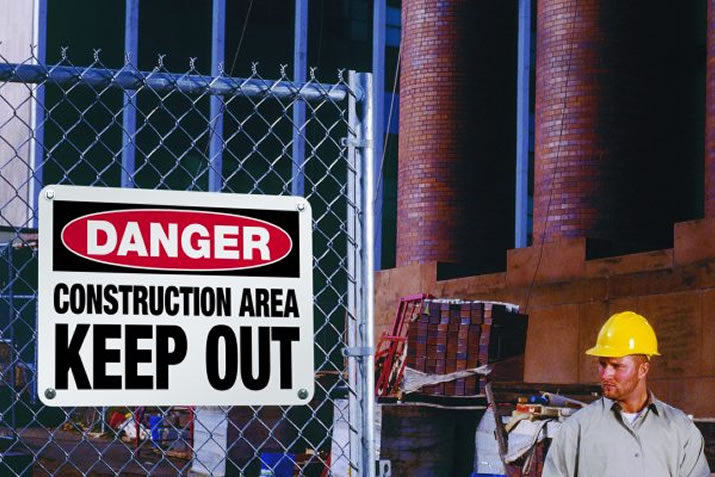 1. EXIT and Evacuation
According to OSHA, emergency exits and evacuation pathways must be clearly marked at all times. If you have doorways or other passages that could be mistaken for exits, make sure they're identified as well. All authorized EXIT signs must be visible and illuminated (by a light source or self-illuminating feature), and use distinct colors. Signs must clearly read "EXIT" in letters no less than 6"(H) x ¾" (W).
2. Fire
Identify areas that house fire extinguishers and fire hose cabinets. Doing so will ensure fast action by emergency personnel and properly trained employees during an emergency scenario. Plus, hanging the right signs is essential for compliance with OSHA.
3. Electrical Arc Flash Hazard
Arc flash accidents can be extremely hazardous or deadly in some cases. Because of that, OSHA requires organizations to designate high-voltage areas in their facilities and mark them accordingly using proper signage. According to NFPA 70E-2012, switchboards, meter socket enclosures, panelboards and motor control centers need to be marked with arc flash labels during maintenance.
4. First Aid
Make sure First Aid supplies are easy to locate and available to workers at all times in case of an emergency.
5. Flammable / Combustible
All the areas – and containers – around your workplace that hold combustible or flammable liquids, vapors and other materials, should be properly labeled with visible warnings.
6. Personal Protection
Remind employees and visitors to wear required Personal Protective Equipment (PPE) when they're around hazards that can cause physical injury or impairment.
7. Hazardous Area
Keep your employees informed about potential hazards, unsafe practices and area protocol instructions
8. Confined Space
Warn employees about areas that require authorized permits or specific instructions to enter safely.
9. Machine and Equipment
Help employees stay alert when working around heavy machinery or other equipment that could result in personal injury.
10. Slips, Trips and Falls
Are there areas around your facilities that are more dangerous than others? Put up signs in places like staircases, balconies, aisles and narrow passageways to remind workers to be careful.
In addition to our high-quality, OSHA-compliant safety signs, Seton is proud to offer businesses Workplace Sign Reviews to help ensure they have the signs they need to safe and in compliance. With this on-site service, organizations receive:
A facility inspection based on your safety concerns
A customized report on improvements needed
Assurance that you're keeping workers safe
For only $1,500, you can check to make sure you have all the signs you need to stay in compliance with OSHA. Keeping in mind the minimum fine from OSHA is currently $12,675 (as of Jan. 13, 2017) per violation, Seton's Workplace Sign Review should be a no-brainer!
Company: Seton
Product: Signs
Source: http://www.seton.com/blog/2017/02/10-must-safety-signs-osha-compliance
---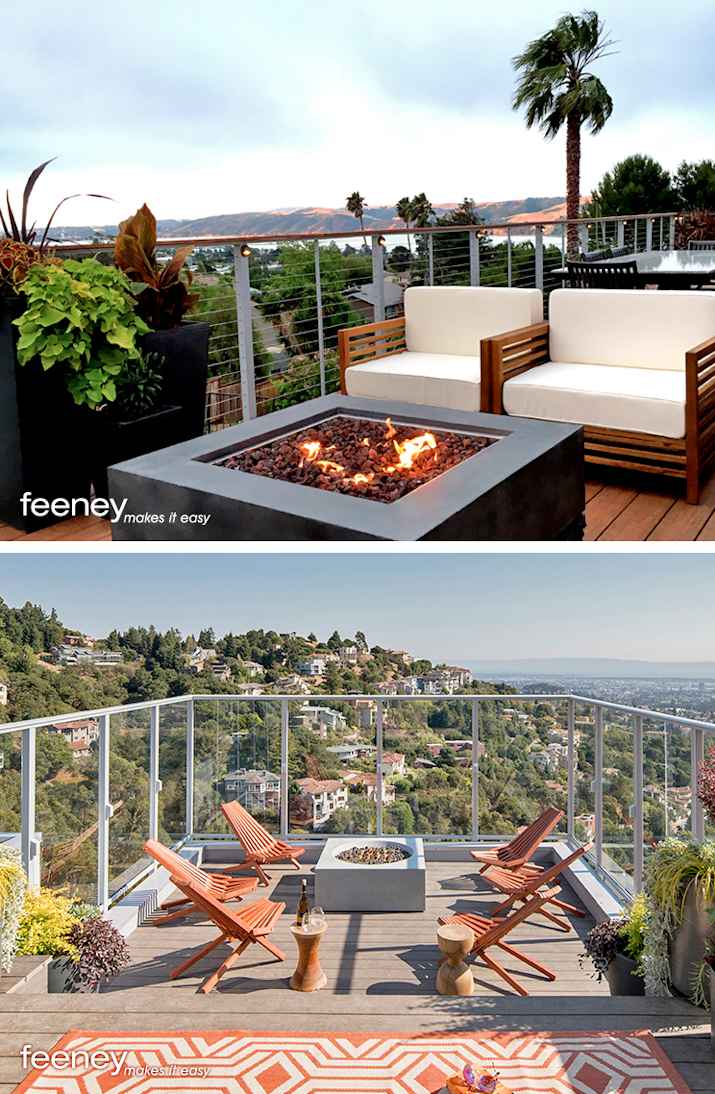 With all the direct work we do with residential and commercial architects, we know meeting your design vision is at the heart of our business. That's why we offer a premium palette of posts, top rails, frame colors, and infill options for your specification needs.
When that interior or exterior aesthetic calls for maximum transparency, as it often does, the usual railing infill defaults are a cable or a tempered glass system. It may come as a mild surprise to some to learn our DesignRail® system offers designers both view-friendly systems. Yes, we're a single-source, infill agnostic when it comes to meeting your project goals and budget.
Both glass and cable railing systems offer style, proven performance, and unfettered sight lines for interior or exterior applications. As you consider the best infill solution for your project, keep this in mind:
Cable Infill
Wind
Allows full air flow across the deck or balcony area.
Installation
CableRail is easy to install with patented automatic locking jaw Quick-Connect® fittings. No crimp tools or wedge-type compression fittings required.
Sustainability
Stainless steel cables contain 70% pre-consumer content and 0% post-consumer content.
Safety
Compliant with the International Building Code and International Residential Code when vertical or horizontal cable spacing is 3 inches or less.
Maintenance
Minimal. Periodic treatment with a stainless steel cleaner and protectant is recommended. Occasional cable tightening is a routine procedure.
Tempered Glass Infill
Wind
Offers a full or partial wind break, which can be a consideration in coastal projects.
Transparency
Can be modulated from clear to custom tinted, helping manage light flow and privacy.
Environmental impact
Clear tempered exterior glass panels can prove to be a hazard to birds.
Durability
Tempered laminated glass can be specified for varying safety and security levels.
Maintenance
Requires periodic cleaning, though higher quality glass can help reduce cleaning time and frequency.
Tempered glass or cable... both infill msystems offer important design advantages. Feeney is at your service with winning solutions for both.
Company: Feeney, Inc
Source: http://media.feeneyinc.com/blog/railing-infill-face-off-cable-vs.-glass
Tags: Exterior Design | Glass | Metal | Railing System | Safety
---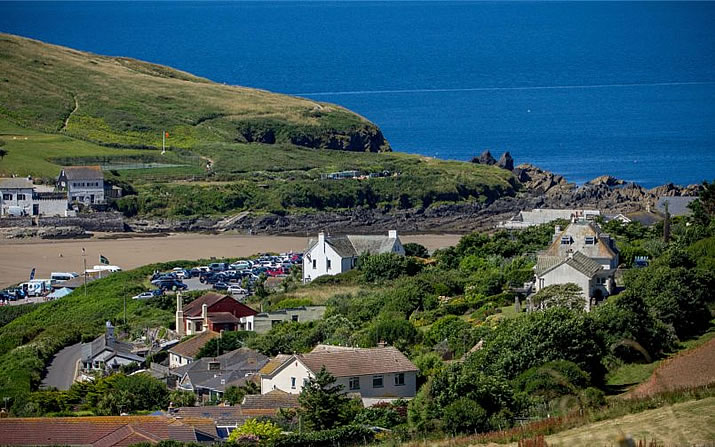 Coastal landscapes face additional pressures from things like high winds, floods, salty air and so forth. In order to overcome coastal landscape challenges, certain precautions must be taken during the installation process.
Super storms are bigger than ever before. Recent super storms have caused a shift of attention towards building structures near hazardous coastal environments that can actually withstand these challenges. Even on a good day, coastal properties face a variety of challenges from the salty air and intense sun. Add assaulting winds, hurricanes, floods, tropical storms and storm surges on top of daily wear and tear.
Failing to use the appropriate landscaping materials will result in quick degradation of landscaping and costly repairs and replacement. It's so important for architects and landscape designers to pick the right types of plants and installation techniques in order to ensure the long-term survival of coastal landscaping.
#1. Use Native Coastal Plants
First and foremost, you want to select native coastal plants that are naturally capable of surviving harsh winds, salty air and all of the other extremes faced by coastal plants. Native vegetation lowers the cost of maintenance and irrigation, plus native plants are more likely to bounce back following a storm or even a hurricane. Utilizing native plants also encourages local wildlife to flourish.
An LAF Case Study Investigation included site analysis of several coastal properties in South Florida, all of which were found to incur big time benefits from native plants. One of the properties included in the study was 1100 Block Streetscape of Lincoln Road Mall. This property faced coastal issues as well as challenges associated with heavy urban environments. The redesign involved adding 30-40 foot native canopy trees that were transplanted directly on site. The trees provided immediate shade to the public plaza because they were full-grown at the time they were transplanted. The fact that they are a native species (live oaks and bald cypresses) continues to help ensure their survival no matter what Florida's wild coastal weather throws their way.
Beach sand is not the most fertile soil and doesn't retain moisture very well, making it rather undesirable for most plant types. The goal is to find plants with multiple tolerances. According to Meg Whitmer, CEO of Meg Whitmer Landscape Architecture located in Tampa, Florida, "I use hardy plants that can withstand high winds, salt spray (if applicable), flooding, drought, sandy alkaline soil and cold tolerant." She adds, "Most of these plants are native, but several ornamentals are also hardy enough for coastal location if planted in the right place."
Depending on where you are located, different plants do better than others. For instance, in the Pacific Northwest, succulents and grasses such as Miscanthus and Mexican Feather Grass do very well in coastal environments. While red mother of thyme makes a hardy ground covering. If you aren't a huge fan of how hardy plants look, use them as a protective barrier surrounding more ornamental plants closer to the home or building.
#2. Be Familiar With Coastal Lighting Regulations
Coastal lighting is regulated in regards to the creatures we share the land with. Bright lights that shine all night can distract coastal marine animals and even jeopardize their survival. For instance, in the Hamptons local regulations against lighting prevent home owners and business owners from putting lights too far from their home or building, and never near the dunes. While in Florida, there are similar regulations in place, largely revolving around sea turtles.
Lighting fixtures should be strategically placed close to the structure to prevent interference with nature as much as possible.
#3. Use Hardy Hardscapes
If waves repeatedly crash down on your property, it will wash away your hardscapes within a relatively short amount of time. 2-inch gravel walkways are a great solution because they are not easily displaced. Plus, since they are not set into place it's much easier to make repairs and replace as needed. Try using large stones with an aggregate to help hold everything together.
#4. Make The Switch To Resin-Based Materials
Avoid metals because they are quick to rust and corrode from the salty moist air. Our resin-based materials are incredibly durable and non-permeable, which means no salt or water is able to seep within materials and cause damage. Everything from planters to site furnishings to lampposts lasts a lot longer when made from our unique resin-based material.
Learn more about the benefits of our resin-based products: http://www.terracastproducts.com/why-resin/
#5. Invest In Structures That Can Survive High Powered Winds
One of the biggest challenges is creating structures capable of standing up to the dramatic winds that pick up during hurricanes and other large-scale storms. When winds can easily reach over 100 miles per hour, sheds, buildings and any other structures must be reinforced with a steel moment frame.
High forced winds come with high-flying debris capable of shattering windows and letting the storm inside. Windows should be equipped with easy to use storm shutters, or other approved measures, in order to protect against windborne debris. An impact-rated glazing may be suitable to windows that are less prone to damage, while motorized roll-down shutters are a great way to protect windows at greater risk for damage.
It's important that all of your structures, site furnishings and landscaping materials are able to withstand getting pummeled by sand, chairs or anything else that gets caught up in the wind. The majority of commercial and residential lighting fixtures, planters and site furnishings are not capable of withstanding these types of forces. TerraCast Products are highly durable, making them ideal in some of the toughest environments.
#6. Work With The Breeze For Unexpected Benefits
While wind can be viewed as a negative factor, you can actually use it to your advantage. Incorporate plants that flow with the wind, such as long grasses and other loosely textured plants. As a result, your landscape will flow with the wind and create a lot of natural movement.
Should You Build On The Coast?
Some argue that homes and other buildings shouldn't be built in risky coastal areas. Others argue the key is to position structures so that they respect the native landscape and ensure structural resilience and longevity.
TerraCast Products are built to withstand just about anything, including extreme coastal weather. Let us help you create winning coastal landscapes that last for many years to come, no matter how many storms blow onto shore.
Company: TerraCast Products LLC
Source: http://www.terracastproducts.com/6-ways-overcome-coastal-landscape-installation-challenges/
Tags: Landscape Design | Safety
---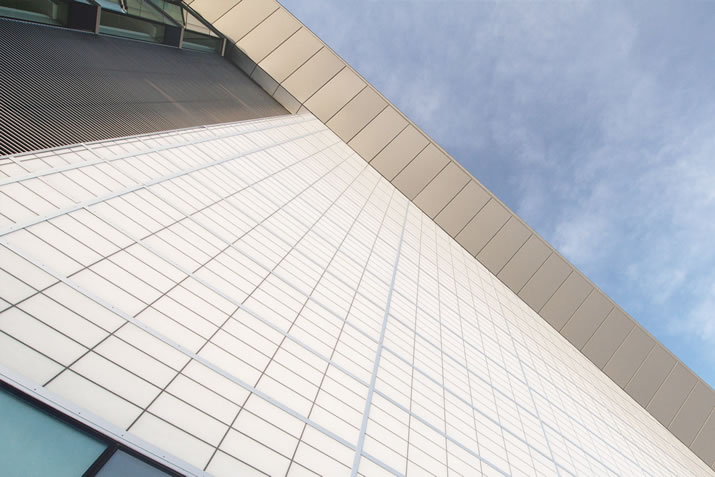 What happens when you bring together 250,000 people from around the world for six days in Munich, Germany?
Ideas are exchanged.
Best practices are shared.
Deeper levels of understanding are reached.
That was, in a nutshell, BAU 2017, the world's leading trade fair for architecture, materials and systems with the 2,210 exhibitors from 45 countries. More than 80,000 people had, like us, travelled overseas.
From our vantage point at the Kalwall® exhibit – our first time exhibiting at BAU (German for `construction') – we could see how much the world beyond the borders of the United States is changing and this was a chance to see how architects, owners, contractors and other business people are responding to those changes.
Here are three key takeaways from BAU 2017 affecting daylighting and fenestration globally.
1. Safety and security is no longer just about airports and government buildings
The safety, security and privacy of guests at hotels, students at schools and employees at banks and high finance institutions are becoming harder to ensure. While airport administrators and government facilities have been working with Kalwall for years to find solutions to similar problems, it was interesting to see the volume of private business owners looking for similar answers.Kalwall's specialty systems meet UFC 4-010-01 blast requirements and can, for example, provide an extra level of safety for guests in a hotel lobby from a car bombing in the street outside. The translucent panels also afford more privacy while providing museum-quality daylighting™ for interior spaces.
2. Canopies need to be rugged and resistant to pollution
Pollution and heat in certain regions of the world take their toll on canopies meant to provide shelter and shade, leaving architects and construction managers searching for alternatives to less durable polycarbonates.The ruggedness and capacity to resist fading in intense heat, along with its ability keep clean where pollution is a concern made Kalwall canopies an appealing option to business people in desert climates as well as industrial cities.
3. Energy is expensive and daylighting solutions are more important than ever
Technology was a dominant part of the conversation at BAU and a major reason why the world is seeking better ways to produce and store energy. I think my grandfather, Kalwall founder Robert R. Keller, would have been smiling. After all, energy efficiency was one of the reasons he developed his translucent sandwich panel in 1955.
Our technology, with its best in industry thermal and solar heat gain performance, was a conversation starter for business people concerned with the high cost of energy and the ways to be efficient. Renovations, in particular, present cladders the challenge of finding energy efficient solutions.
BAU 2017 was an opportunity to expose more people globally to the benefits of Kalwall. They came looking for the latest advancements, but some technology stands the test of time. This was re-affirmation of a technology we developed 62 years ago.
Company: Kalwall Corporation
Of: Amelia Keller
Source: https://www.kalwall.com/2017/02/13/a-kellers-bau-insights/
Tags: Building | Construction | Design | Energy | Lighting | Safety | Security
---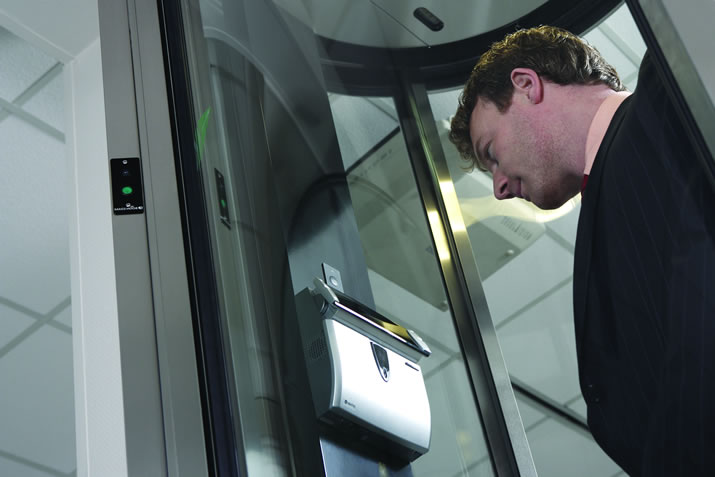 According to a study completed by the FBI, in 2014 and 2015 alone, there were 231 casualties as a result of mass shootings. Let's examine 4 enhancements you can make to security revolving doors or mantrap portals to thwart an active shooter's attempt at gaining access to your building, or worse, doing physical harm to people.
1) Anti-Piggybacking Technology
An active shooter with an agenda will be determined to infiltrate your building. He sees an innocent employee approaching the security revolving door or portal. His first thought? Hold them at gunpoint and force them, and himself, through the entrance.
This scenario describes a "piggybacking" event. When it comes to security revolving doors, the term "piggybacking" refers to an attempt to gain access to a secured area by jumping into the same compartment as an authorized user. For portals, piggybacking involves two users attempting to enter the door at the same time.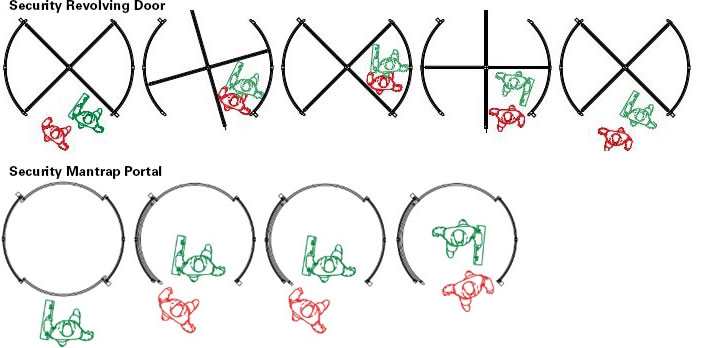 StereoVision 2 is a sophisticated technology from Boon Edam that puts a stop to piggybacking attempts. Using a combination of an optical camera and active, near-infrared sensors, StereoVision 2 technology can recognize shapes, sizes and volume in three dimensions. Simply put, the system is looking into the door's compartment and searching for a set of head and shoulders, as well as body shape. Based on a sampling algorithm, unusual shapes are rejected and the culprit(s) are required to exit the door.
2) Biometric Devices
But what if the active shooter doesn't stop there? If the shooter were to steal an employee's access card and attempt to proceed through the door - alone - he could gain access UNLESS you utilize one or more biometric devices.
Biometric devices identify unique physiological characteristics, such as fingerprints, hand geometry, facial features, and iris patterns. They also comply with two-factor authentication (2FA) regulations. These devices alone will not stop an active shooter from gaining access to a building, though (think about a swinging door opened by a registered user, and then held open for numerous people to pass through). But, when coupled with an anti-piggybacking technology, biometric devices provide a solid defense against unauthorized entry.
Security revolving doors can be equipped with an external biometric post placed immediately outside of the door, or as one of many leading up to the door. Security mantrap portals are available with an interior post, ideal for mounting the latest biometric technology directly inside the door. Both options provide a layered method of access and meet 2FA compliance. Keep in mind, though, that your throughput will be impacted by the type of biometric device you choose to incorporate.
3) Bullet-Resistant Glass
The common denominator between all mass shootings is a weapon. And it comes as no surprise that most active shooters choose the light, inexpensive and easy to conceal 9mm semiautomatic handgun to carry out their schemes, according to data compiled by The Washington Post. Bullet-resistant glass can safeguard the integrity of your door up to a certain point, and possibly save lives.
Bullet-resistant (BR) glass is the layer of armor your security door needs for protection against an active shooter attack. BR glass is made from layers of polycarbonate (tough plastic) sandwiched between pieces of toughened glass. And not all BR glass is created equal; there are different BR-rated protection levels.
Security revolving doors and mantrap portals can be outfitted in BR glass with protection Level 3. As mentioned, the weapon most commonly used by an active shooter is a 9mm handgun. According to Total Security Solutions, BR glass with a Level 3 rating is capable of stopping three .44 magnum bullets, or a bullet that is twice as heavy and moves significantly faster than the bullet of a 9mm handgun.
Level 3 BR glass is 1.04" thick, over 4 times the thickness of standard security door glass. The glass can be used on the outer drum glass and also, the moving door wings or panels. It's important to note that using thicker glass on moving door wings or panels will slow the movement significantly due to the extra weight and impact throughput levels.
4) Bullet-Resistant Curtain Wall or Storefront
Active shooter safety extends beyond your security door to include the adjacent walls or storefront area. To be prepared for a direct attack, and especially if people are constantly present on the inside of the storefront, you should consider replacing your curtain wall or storefront with BR glass.
Because they are flat and stationary, curtain walls and storefronts can accommodate a much higher level of BR glass than a security door (which has curved glass or moving glass in the door wings). BR glass for the curtain wall or storefront is available in up to a Level 8 rating which, according to Total Security Solutions, is capable of stopping 5 shots from a .308 caliber 7.62mm rifle.
Unfortunately, active shooter incidents are occurring at company locations across the nation, and the globe. The impact of such an event can be catastrophic to an organization if lives are lost. If you believe your organization could be at risk, these 4 enhancements for your security revolving door or mantrap portal can thwart an active shooter's attempt at infiltrating your building and wreaking havoc.
Company: Boon Edam Inc.
Product: Security Doors & Portals
Of: Amy Coulter
Source: http://blog.boonedam.us/active-shooter-safety-4-things-your-high-security-entrances-must-have
---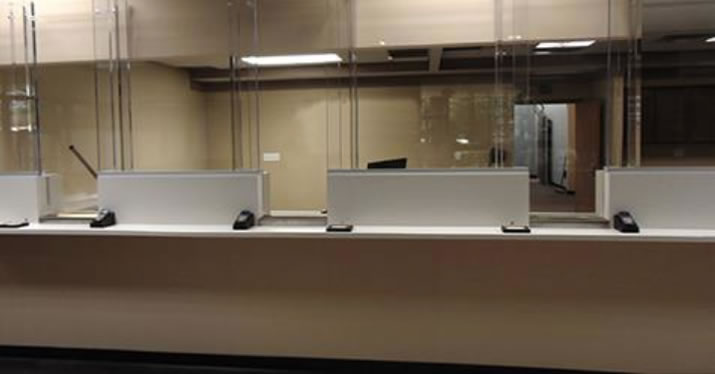 Because most banks have similar needs—a secured teller line with bullet resistant windows, secured ballistic doors, and bulletproof fiberglass to reinforce counters—many security companies try and push a one-size-fits-all solution.
With decades of experience designing, engineering, fabricating, and installing custom bandit barriers in banks and credit unions, Total Security Solutions knows how rarely this turns out well.
Bullet Proof Barriers Attuned to the Banker's Needs
"Banks can be pretty ornate, so were used to having to adjust what we do to match a given location." Total Security Solutions CEO Jim Richards explains, "That's our speciality, that sort of customization. Even when we're doing many locations for the same chain, in different parts of the country each office looks a little bit different. It's like housing, in that it has this regional component. So we don't try to come up with a single one-size solution we can just keep punching out."
Total Security Solutions isn't limited to just shuffling around pre-fabricated pieces. They can customize down to the individual component level: curved ballistic transparency, special communication and ventilation solutions, all-glass and completely custom high-security doors, and so on.
In contrast to many security companies—especially local glazers—Total Security Solutions is sensitive to how important relationships are in banking. Jim puts special emphasis on clear sight lines and communication in such settings. Gina Mims, a facilities manager, recently coordinated with Total Security Solutions to secure several offices for the Health Plan of San Joaquin: "I love the fact that … it doesn't look like the old school [barrier] with that metal plate [and talk hole]. It all looks very nice. Our buildings, both of them, are very modern, so I wanted to make sure that they stayed along those lines."
ATMs: An Evolving Security Challenge
ATMs pose obvious risks to customers, both in terms of their physical safety and fraud exposure. They are also proving to be a significant and unpredictable liability to financial institutions. For example, within the last several years European banks have been increasingly plagued by teams of thieves who attack ATMs in the night, flood the machines with a mixture of oxygen and acetylene (gases usually used to fuel welding torches), and then ignite the volatile mixture, blowing the machines open. These attacks don't just result in significant monetary losses (both in damage to the unit and building, as well as money stolen)—they're also incredibly dangerous, as you can see here (the ATM is at the far right edge of the frame, in a mostly blue enclosure with a red top half):
This could easily result in injuries not just to the thieves, but also to passersby, staff, and even people in adjacent buildings. Although there have been no reported ATM "gas bombings" in the United States as of yet, the US currently leads the world in losses resulting from insecure ATM locations.
According to Jim Richards, "There are a lot of different ways that ATMs are deployed, but we have yet to see one we couldn't secure." In many cases Total Security Solutions favors a design similar to their bulletproof vestibule system used in schools, replacing the outer glass and doors of the ATM vestibule with bullet-resistant transparency and framing, and securing access to the ATM with a ballistic door outfitted with a card swipe-actuated computer-controlled electric strike. "Customers swipe their ATM card to gain access, and then the door latches behind them–just like any other security door. These are really easy retrofits for situations where the ATM is installed in the bank vestibule or outer lobby, but the same idea works with exterior-wall ATMs: You build a bulletproof glass curtain wall around an exterior wall-mounted ATM, with the same sort of card-swipe entry system. What's key is that this solves both the skimmer/fraud/vandalism problem, as well as protecting customers."
Painless Bandit Barrier Installation
Most importantly, owing to their decades of experience, Total Security Solutions has optimized their prep, design, fabrication, and installation processes. "It can be two teller stations or 15; we're able to move on the project as quickly as the operations or facilities manager are ready."
Bullet resistant barrier system installations are designed to absolutely minimize any business interruptions. Most installations can be completed overnight, with even the most challenging retrofits installed in under a weekend.
"I just returned from see[ing] the install and boy what nice work!" Holly Eades, vice-president of finance for Clark Energy wrote after having several payment offices secured by TSS. "They were here when they said they were going to be, … showed up when they were supposed to, and everything was just as neat as a pin. We were really, really tickled with their work."
Company: Total Security Solutions Inc
Product: Bullet Resistant Barriers
Source: http://www.tssbulletproof.com/high-function-custom-bullet-resistant-solutions-banks/
Tags: Glass | Safety | Security | Windows
---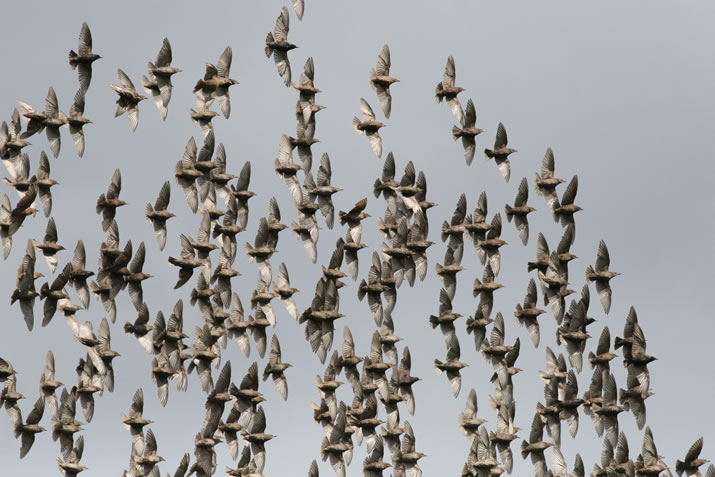 Birds cause millions of dollars in damage to homes across the U.S. each year. Because of the acidity levels in bird droppings, large accumulations of them can actually eat through roofing materials, which could cause leaks if bird populations are not deterred from the property. Bird nests can ruin gutters, cause electrical fires, and block ventilation systems. Gardens aren't safe either. Birds can destroy young seedlings and fresh fruit, and contaminate food plants with their droppings.
There are a variety of effective ways to control the bird populations around a home and garden. At Bird B Gone, we've developed a variety of environmentally friendly bird deterrents that will not harm birds or other wildlife, yet will effectively deter them in most cases.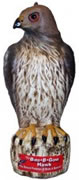 One of the most popular methods of bird deterrents are decoys such as the Bird-B-Gone Hawk Decoy, designed to scare off birds without the use of loud noises, lights, or other such equipment. Decoys such as the Hawk are low-maintenance options for bird control and usually made of a durable plastic that holds up to a variety of environmental factors. Decoys are commonly created in the shape of a hawk or an owl, predators that hunt the birds visiting a property.
By strategically placing these decoys on a roof, over the patio, on a boat, or in a garden, birds are unable to tell that the decoy is not a live bird—at least for a while. In sunlight, the decoy produces a silhouette or shadow that is equally menacing, but the success of decoy birds relies on human interaction. Moving the decoy to different places on the property is suggested to create a more realistic visual deterrent.
Which Decoy is Most Effective, The Hawk or The Owl?
Owls: The Night Hunters
Birds know that owls are night hunters, so seeing an owl while the sun is shining may not be an effective way to discourage birds from visiting your property. An owl guarding a garden or perched on a wall day by day will eventually lose its effectiveness, and, while birds may have been deterred in the beginning, they will soon learn this owl is not a real threat. With that being said the Red Tailed Hawk may be the more effective visual deterrent.
The Red Tailed Hawk: The Day Predators
The Bird B Gone Red Tailed Hawk decoy is chosen by consumers as the more realistic option for a decoy to use as a visual bird deterrent. Not only do the red-tailed hawks hunt in the daylight hours in a natural habitat, they are readily identified by birds as a predator. The mock predator eye and shiny reflective surface work together appealing to birds' visual sense. The red-tailed hawk decoy presents a visual warning to the birds, day or night, that danger is near.
While decoys can be effective for small areas or minimal bird concentrations, they are not recommended for larger infestations. The type of bird population, the amount of space affected, and the location of the infestation should also be considered. A combination of bird control methods may be required, including bird netting, repellents, electric tracks or laser deterrents.
For additional information, contact the professionals at Bird B Gone, who can recommend the right type of product to address your bird control problem.
Company: Bird-B-Gone, Inc.
Source: https://www.birdbgone.com/blog/bird-decoys-hawk-vs-owl/
---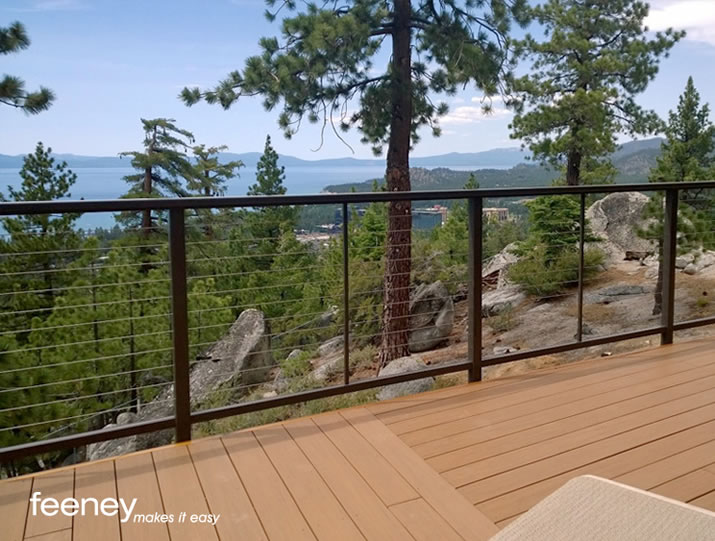 Composite decks are on the rise, with more options for consumers than ever before. Photo: DesignRail® aluminum railing on composite deck
What happened to the great backyard star, the deck? Today more and more decking contractors, remodelers, and dealers have quietly morphed into outdoor lifestyle specialists. While the deck still plays a leading role, it's now supported by a large backyard cast.
So reports Charlie Wardell, a contributing editor at Hanley Wood, the folks behind widely-read trade publications like PROFESSIONAL DECK BUILDER, BUILDER, and REMODELER. Recently Wardell shared his 2017 decking and railing outlook, gained from observations and exclusive interviews at the Deck Expo. The big takeaway: "A lot of companies are switching their marketing focus from decking and railing to outdoor living," Wardell told us in a private chat. "They're selling lifestyle rather than product."
The idea isn't new, of course, but the speed of transition may be. Mike Beaudry, executive director of NADRA (North American Deck and Railing Association), told Wardell their annual deck design award candidates used to be "deck after deck." Beaudry says "… it's now patios with connected decks and pools, screened-in porches, arbors, and outdoor kitchens." It's not your grandfather's backyard anymore. The new normal features LED lighting, pergolas, weather-proof storage cabinets, and other indoor amenities.
What else to look for this year:
Composite Decking
This year watch for composite boards that mimic distressed wood flooring, complete with variegated streaking. The rough-hewn rustic look appears in patterns won't repeat for up to 12 feet. Homeowners have never had so many composite choices for color, texture, installation ease, and price points.
User-Friendly
One composite flooring manufacturer says their boards have conquered a new frontier: They're bare-foot friendly … or at least, friendlier. They say the new composites don't give you the hot foot like standard composites. A special capstock technology reduces heat absorption by up to 35 percent. Even a cool new feature like this isn't always obvious to pros, much less consumers. "At first glance, most the composite decking products look very similar," Wardell tells us. "You have to ask questions to understand the differences."
Railings
"Buyers also want classier railings, which is reflected in the explosion of railing products," his states. Notable among them are cable rails, which Wardell says were especially prominent at the Expo. Lighting also features prominently in outdoor spaces, and is a great add-on to any railing.
Wardell likes the direction of industry innovation and rush to serve a mushrooming outdoor lifestyle segment. But, as he quickly adds, repositioning yourself in an evolving marketplace doesn't guarantee success. That still comes down to old-fashioned service, quality, and performance.
Company: Feeney, Inc
Product: DesignRail® Aluminum Railings
Source: http://media.feeneyinc.com/blog/backyard-2.0-2017-deck-and-railings-forecast
Tags: Design | Railing System | Safety
---
Flexible bollards are more than just traffic pylons. Rigid on their own, flexible bollards are designed to bend under vehicles—flexing up to 90 degrees—repeatedly, without losing their shape or form.
Flexible plastic minimizes damage
Prevent collision damage to vehicles, bollards and road surfaces
Save time and money
No need for upkeep or replacement—even after multiple impacts
Removable hardware available
View compatible bollards and hardware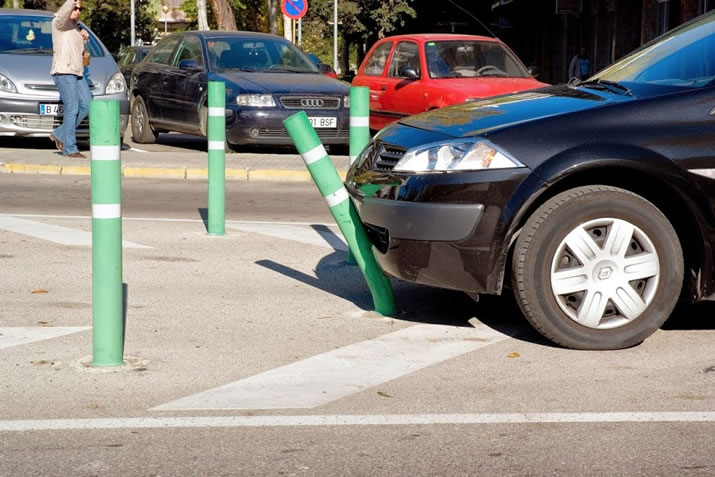 Flexible bollards
Flexible bollards indicate traffic boundaries and off-limit areas, while minimizing vehicle damage in case of collision. Install flexible bollards with inground mountings—fixed or removable—to avoid tampering or theft.
Flexible plastic bollards provide strong visual indicators, standing at an ideal height for drivers. While standard traffic cones are easily damaged or kicked out of place, quality bollards withstand heavy use in high-traffic environments for extended periods of time. Use flexible posts with other traffic-calming infrastructure such as medians, extended sidewalks and crosswalks.
Versatile installation
Flexible bollards can be installed with fixed or removable mounting hardware. For fixed installations, embed bollards in new concrete or bolt down into existing concrete surfaces. Removable hardware can be embedded into concrete to allow quick installation and removal. See individual item pages for installation options, or view all flexible bollards with removable features.
Durable plastic materials
Flexible bollards are made from durable polyurethane plastic to ensure lasting performance—tested to withstand full 90-degree flexion up to 50 impacts and partial 45-degree flexion up to 500 impacts. Coloring permeates throughout internal structures, so any scratches, scrapes or dents from extended use or impacts will show minimal markings. All bollards feature UV protection to minimize maintenance and prevent fading in sunlight.
High visibility
Flexible bollards ship in standard black to complement any contemporary or traditional architectural and landscape design. A selection of alternative colors are available—see individual item pages for details. All flexible bollards feature optional reflector strips in 1 of 4 colors.
Company: Reliance Foundry Co. Ltd.
Product: Flexible Bollards
Source: http://www.reliance-foundry.com/bollard/flexible-bendable
---
Proven Mantrap Portal Solutions Cost-Effectively Replace "Do-It-Yourself" Vestibules
Today, many companies build their own mantrap vestibules. However, they often overlook how expensive and difficult it can be to achieve consistent, error-free piggybacking prevention. They don't know that an alternative solution already exists - Boon Edam security portals!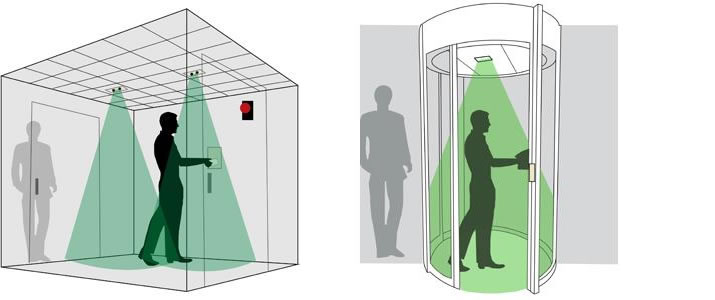 Do-It-Yourself Vestibule

Inability to measure false acceptance risks
Unpredictable false rejection rates
Must be manned and monitored at all times
High operational costs
Large footprint
Constant testing and troubleshooting

Mantrap Portal Solution

Proven solution with measurable false acceptance risks
Predictable and manageable false rejection rates
Completely unmanned solution
One-time investment with minimal operating costs
Space efficient
Quick and simple installation
Company: Boon Edam Inc.
Product: Security Doors & Portals
Source: http://www.boonedam.us/mantrap-portal-solutions-eliminate-piggybacking
Tags: Doors | Entrances | Safety | Security
---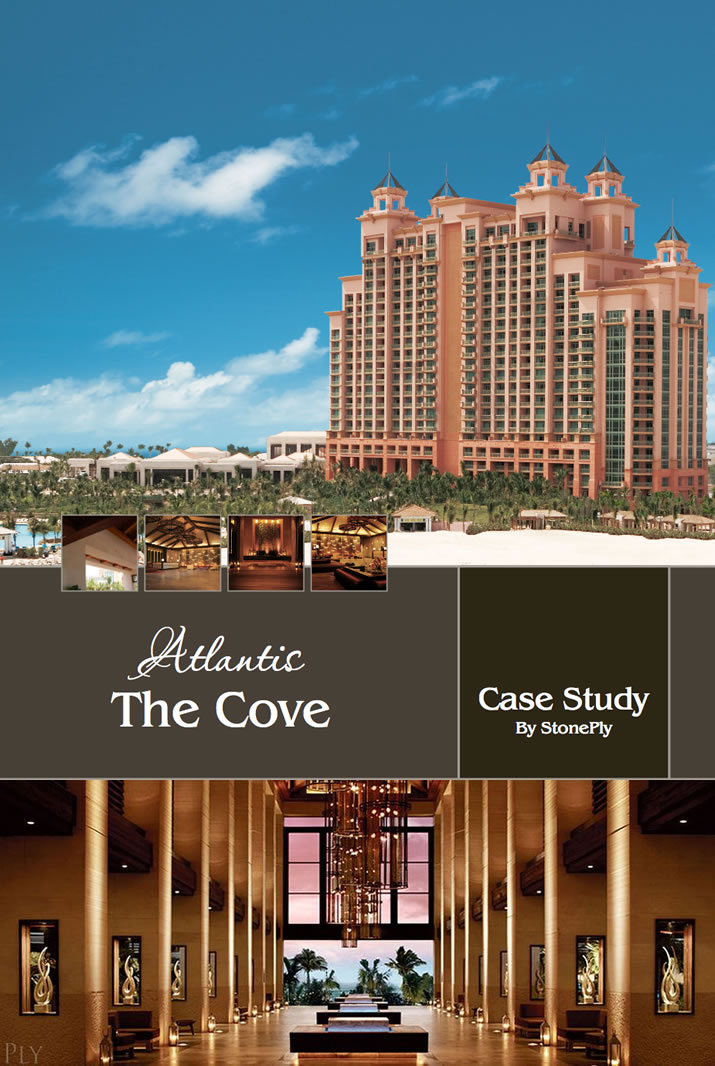 The largest stone clad building in the Caribbean meets the challenges of fast track schedule and hurricane proof construction
Sol Kerzner, resort entrepreneur, created a beautiful themed resort that features the lost city of Atlantis. StonePly was able to fabricate, deliver, and install over 144,000 square feet of custom exterior natural stone panels in The Cove Atlantis and The Reef Atlantis. These panels feature custom sawn and bush hammered textures to give the cladding depth and beauty.
Part of the reason for selecting StonePly for The Cove Atlantis was the success of the earlier cladding we supplied for Atlantis which survived numerous hurricanes, including one of which was a category 5, and has survived with minimal to no damage.
Customer's Needs
The customer needed a cladding that could both be used on the exterior and interior of the building, that matched the beauty of the resort, and added a high class feel to the resort. They were looking for a cladding that was easy to install, blended with the tropical feel of the resort, and minimized the disruption of the existing resort. The biggest challenge was to find a cladding that was impact resistant due to the weather that is inherent to the country.
StonePly Solution
StonePly was able to provide an impact resistant cladding that met the Miami requirements of hurricane resistance. The travertine was bonded to an aluminum honeycomb panel and attached using both Z-Clip extrusions and concealed screw attachments. All the attachments were attached in the field using #10 stainless steel TEK screws. Installation was completed on time and on budget by our qualified installation team.
StonePly was able to supply and install limestone panels that provided:
A luxurious stone cladding
Quick and easy installation
60X the impact strength of slab stone
Low maintenance
Impact resistant
Project Details
Client: Kerzner International
Date: December 2007
Download Case Study
Company: StonePly Co.
Product: StonePly Curtain Walls
Source: https://www.stoneply.com/en/projects/atlantis/
Tags: Design | Entrances | Safety | Wall Panels
---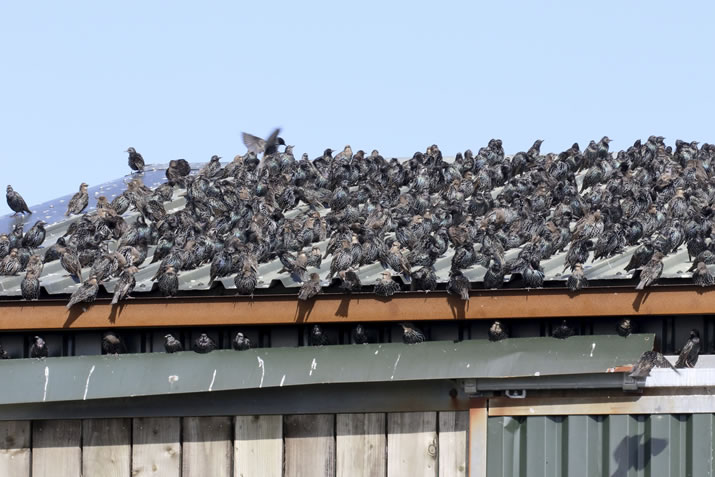 Ask property owners and they'll tell you: Nuisance birds can cause many costly problems. Pest birds like pigeons, starlings and gulls can damage solar panels, rooftop ventilators, security cameras, lighting systems, AC units and water runoff systems. Getting rid of nuisance birds can pose a challenge, for not all bird deterrents work equally well for all birds. So it makes sense to choose the right deterrent or repellent to the nuisance bird that can damage and/or deface your property. That's where the bird control pros at Bird B Gone can help.
Most Complete Line of Bird Control Solutions
Bird B Gone's comprehensive line of bird deterrents is designed to solve a wide range of nuisance bird problems in commercial, industrial and residential settings. To keep nuisance birds from loafing on edges and ledges, we have Bird Gels, Bird Spikes, Bird Spiders/Repellers and Electric Tracks. To exclude birds from under overhangs and semi-enclosed areas, we offer Bird Netting and Bird Slope. To keep nuisance birds from ruining your solar panels, we have an entire Solar Panel Deterrent Kit. If you only have problems with occasional nuisance birds, there are Bird Hazers, Laser Deterrents and harmless Chemical Repellents that will do the job. To cut down on the nuisance birds flocking to an area, we offer a full line of Humane Bird Traps and Mist Netting. The point is, Bird B Gone will make sure you have the right product for the job. Our products address not only the type of bird but where they land and what they do.
Experience, Knowledge, and Expertise
The industry leader for over 22 years, Bird-B-Gone has the experience, knowledge, and expertise to help you select the right bird control product for the nuisance bird that's causing you so many headaches. Our bird control engineers lead the industry with more than 90 years of combined hands-on experience. We can help you with installation, and that includes locating a professional bird control product installer in a specific geographical area. Our team "goes the extra mile" to solve your nuisance bird problem as quickly and cost effectively as possible.
"Made in the USA" Means Quality Guaranteed
To get rid of nuisance birds, you need a bird control product you can count on. Bird B Gone products manufactured in the United States meet the highest standards of quality in the industry. All products go through an extensive quality control process before being shipped. And each product is hand inspected and signed as it's packaged. This allows us to offer the industry's longest guarantees—as long as 10 years on some products. It's no wonder our products are specified bird control products by architects and government agencies. And why Bird B Gone is a GSA Advantage Approved Vendor.
Training & Customer Service That's Second to None
Using the right product against nuisance birds also means learning how to choose and use that product or products. Bird B Gone offers training and support for all aspects of bird control, including on-site training and technical support. We regularly host a free training course through Bird B Gone University. Classes are taught by our bird control specialists at the Bird B Gone training facility in Santa Ana, California. This ensures our customers get the real answers they need in effectively solving pest bird problems. Bird B Gone Customer service is second to none. Our customer support team is just a phone call away to help find the best solution for your budget.
Company: Bird-B-Gone, Inc.
Of: Alex Kecskes
Source: https://www.birdbgone.com/blog/how-to-choose-the-right-product-for-a-nuisance-bird/
---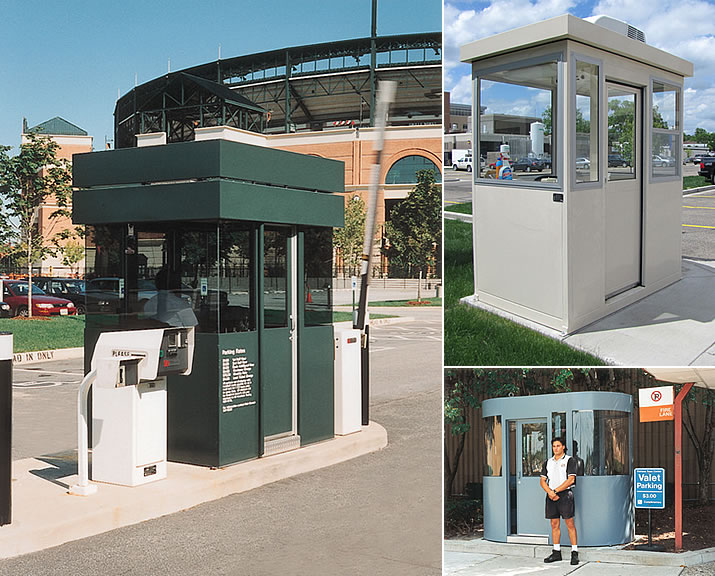 From single unit commercial structures to airport plazas and municipal parking facilities, Par-Kut builds quality parking booths that last regardless the location. Solid welded construction and corrosion resistant materials help Par-Kut parking booths battle physical and environmental abuse while keeping your operation and your attendants safe, secure and comfortable. Par-Kut portable steel buildings withstand adversity and remain looking good for up to 25 years with little or no maintenance.
When contacting your skilled Par-Kut sales person, please have some information ready for us. In order to make sure your parking booth can pass code requirements we'd like to know where the booth will be used. The geographic location, city and state are very important in the design of the parking booth. As we build every booth custom for every client, you can be positive that it'll meet or exceed all applicable code.
Par-Kut offers project specific drafting and design services in
addition to our exceptional manufacturing capabilities. This permits us to style and build you an ideal building that appears in-built, rather than "bolted on." Regardless of what the look is, from the most basic to high finish style, we'll work diligently to accommodate your style and parking booth requirements.
Parking lot booths from Par-Kut are built to your order and can be a simple shelter or valet booth, a parking cashier booth, or a security guard house. Factory assembled and delivered ready for easy hook up and immediate use, a Par-Kut parking booth provide the purchaser a secure parking lot office. Parking booths from Par-Kut can be outfitted with restrooms, bullet resistant construction, and platform mounting. Further, parking booths from Par-Kut can be standard, or architecturally enhanced to better blend with site surroundings.
Go to GALLERIES to view additional parking booths.
Company: Par-Kut International, Inc.
Source: http://www.parkut.com/booths/applications/parking-booths/
Tags: Entrances | Prefab | Safety | Security
Architectural Glass Takes on a New Shape (December 23, 2016), Creating a Healthy, Safe, Age-Friendly Work Environment (December 7, 2016), Safety standards for slips, trips, and falls (November 30, 2016), Tunnel Vision: New York City's East Side Access Project (November 21, 2016), Rigorous Testing Standards Ensure Effective Security (November 16, 2016), Winner in NADRA 2016 Deck Competion (November 4, 2016), Critical Infrastructure Protection: U.S. Data Centers and Ballistic Barriers (October 3, 2016), Keep Pigeons from Destroying Solar Panels (September 30, 2016), The Dock Gate's custom gas struts make the vertical gate easy to open. Easy as 1, 2, 3! (September 21, 2016), What if Someone is Determined to Get into Your Building? (September 12, 2016), GuardDog Self-Closing Gate uses two stainless steel torsion springs so the gate can open in any direction (September 9, 2016), First Appearances Matter: remove the dirt | absorb the moisture | preserve your floors (August 31, 2016), Peace-of-Mind for Rural Utility Offices - Bulletproof barrier security tips & news (August 8, 2016), SlipNOT is keeping the Indians fans at Progressive Field on their feet (August 5, 2016), An orderly revolution in waste control (August 3, 2016), Antimicrobial Protection for Architectural Aluminum (July 16, 2016), Darlington upgrades good for business in Burlington (July 6, 2016), Evolution Of Revolving Door Security: Teaching Old Doors New Tricks (July 4, 2016), The Role of LEDs in Outdoor Lighting Design (June 27, 2016), Create Your Fire Prevention Plan (June 24, 2016), Slip Resistant Aluminum Flooring in Bubble Capsule (June 22, 2016), Balancing Bulletproof Security and Design (June 21, 2016), Turn your backyard into a haven (June 15, 2016), Starlings can be a Costly Nuisance, learn the facts on how to keep them away from your buildings (June 13, 2016), Hurricane Roof Equipment Screens (June 10, 2016), Slip Resistant Aluminum Grating Utilized on ASLA Green Roof (May 23, 2016), May is Electrical Safety Month: Know How to Protect Workers from Electrical Hazards (May 20, 2016), School Security and Access Control for Architects (May 9, 2016), Benefits of Slip Resistant Aluminum Plates (April 27, 2016), Why We Love Ipe and You Will Too (April 18, 2016), Broan NuTone invents new mosquito barriers for decks (April 13, 2016), Premium Ballistic Frames Offer Huge Boosts in Sustainability and Multi-Threat Risk Mitigation (April 12, 2016), Safety Bollards Protect Storefronts (February 9, 2016), Partnering with Architects to Make BulletProof Beautiful (February 3, 2016), Stay Warm: How to Protect Workers from Cold Weather Hazards (January 15, 2016), Active Design Guidelines for Walkable Communities (December 23, 2015), Hands Down: Hand Safety Tips You Need to Know (December 21, 2015), OSHA Safety and Health Guidelines (December 18, 2015), Teaching Those Who Keep Us Safe: The National Center for Spectator Sports Safety and Security (December 4, 2015), Reeder Illuminated Sign (November 23, 2015), Stop unauthorized parking using Reliance Foundry's Fold-Down Bollards (November 16, 2015), Mid-Century Modern Principles Applicable in Today's Bulletproof Barrier Design (October 30, 2015), Seton's Project Packaging Service | Seton Video (October 12, 2015), As Cooler Weather Approaches, National Home Expert Danny Lipford Launches Satellite Media Event Offering Tips for Seasonal Improvements and Healthy Homes (October 7, 2015), The Industry's 1st Monitored Light Curtain - Now Available (September 25, 2015), Flexible Bollards: Traffic & Parking Lot Posts (September 9, 2015), Bank Security: Balancing the Priorities of Security Managers, Architects, and Facilities (August 31, 2015), Introduction to Flashing/Talking Interactive Signs (August 13, 2015), Plastic Bollard Covers: Security Post Sleeves (August 7, 2015), Custom Mill Work, Bullet Resistant Barriers, and Inconspicuous Perfection (July 24, 2015), Ergonomics: When Work Really Can Be Hazardous to Your Health (July 14, 2015)