architecture - engineering - construction

Safety
---
January 27, 2020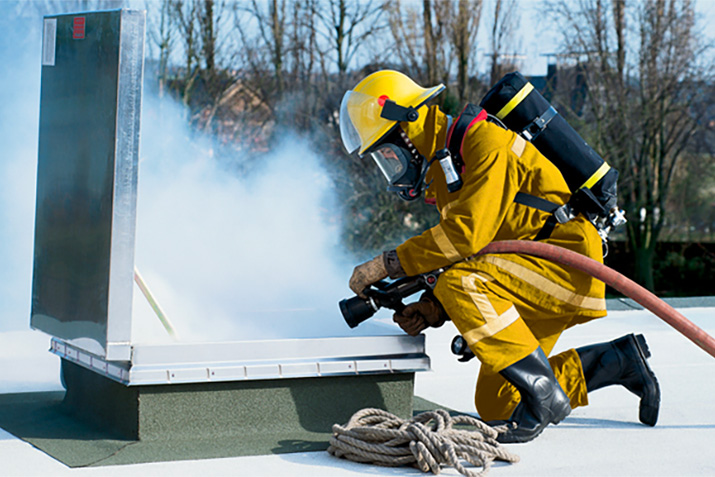 Automatic Smoke Vents protect property and aid firefighters in bringing a fire under control by removing smoke, heat, and gases from a burning building. Smoke vents are ideally suited for large expanses of unobstructed space such as factories, warehouses, auditoriums, and retail facilities. Mechanical smoke vents are activated upon the melting of a fusible link and options are available for smoke detector and fire alarm activation.
---
January 22, 2020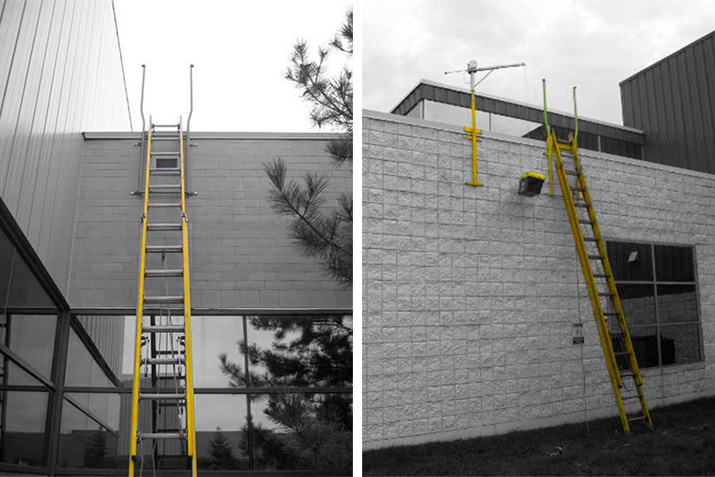 Almost everyone that has ever used an extension ladder, roof hatch or permanently mounted vertical ladder has some type of "scary" story to tell. After years in the commercial heating and air conditioning business, climbing up and down many different types of ladders and hearing all of those stories, the inventor/developer of LadderPort™ decided to find a safer way for all construction trades to access roofs when using an extension ladder.
---
January 17, 2020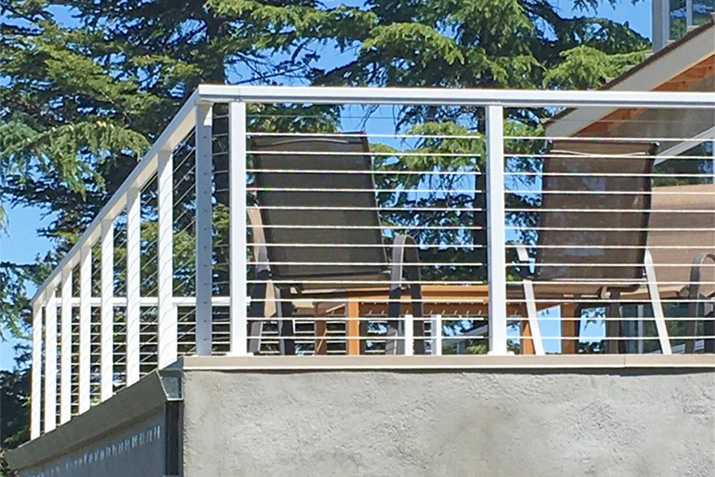 This Bay Area home had recently undergone a yard and deck renovation to update the outdoor space into something more modern and open. The customers wanted a railing solution that fit this contemporary theme while maintaining an open view of their newly landscaped yard.
---
December 25, 2019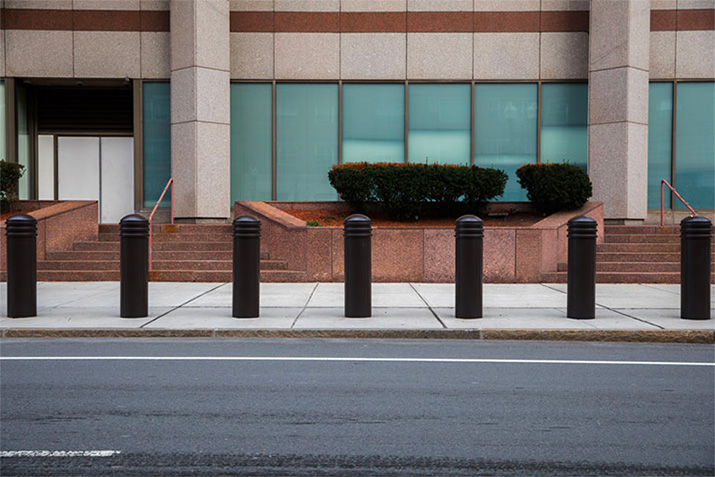 How far apart should you install your #bollards? Proper spacing for a range of bollard applications.
---
December 3, 2019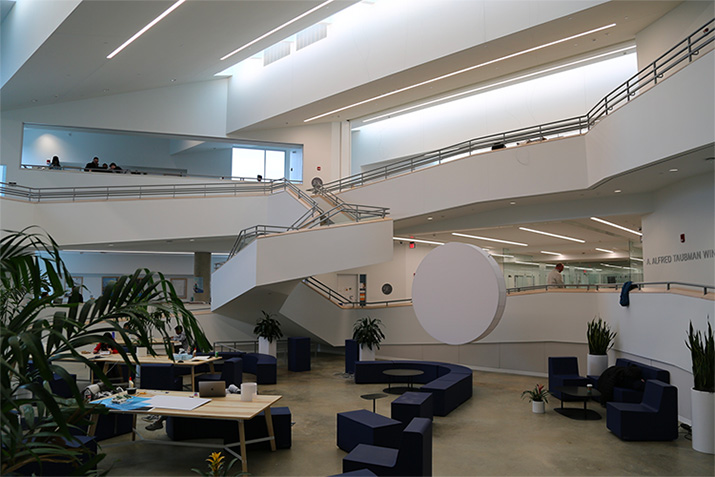 A multi-level atrium can be a beautiful and welcoming architectural feature to any building, creating a sense of openness and bringing in natural light. With an ever-increasing focus on energy efficiency and employee wellness, using natural light can make a building more attractive to potential tenants and visitors.
But several stories of open space pose unique challenges when it comes to fire safety planning. In the event of a fire, an atrium without the proper smoke and fire control technology can facilitate the rapid spread of fire from one floor to the next, leading to extensive property damage and creating dangerous conditions for building occupants as they evacuate.
---
November 27, 2019
Alarms are sounding, lights are flashing, and there is a sense of panic in the air. Security entrances, which provide a seamless access control solution in all types of buildings, are usually not intended to be the only means of emergency egress from a facility. Even so, some security entrance types such as tripod turnstiles, full height turnstiles, revolving doors and security portals, can be a main component of your emergency egress plan that can help ensure a safe evacuation.
---
November 15, 2019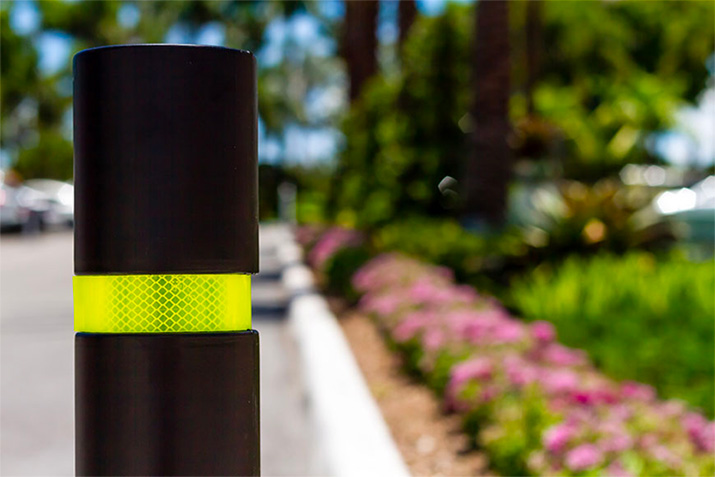 Bollards—the short posts that mark perimeters and guide traffic—are often made of steel or concrete, designed to stop a car in its tracks. Yet in some places, site planners don't want a fixed bollard that could do vehicle damage or stop a car. Emergency vehicles may need to access a curb, even across a bike lane. Drivers often bump parking stops while trying to get fully into a space, and a hard bollard may cause unnecessary damage. In parking lots, having a lane marker may be necessary to separate traffic lanes—but frustrate wide-turning trucks. In these situations, a flexible solution is needed.
There have been two major approaches to designing flexible markers. In Europe, flexible bollards, based on regular traffic bollards, have become the norm. In North America, flexibility often comes from traffic-safety equipment, like channelizers and delineators. What is the difference between these approaches?
---
November 8, 2019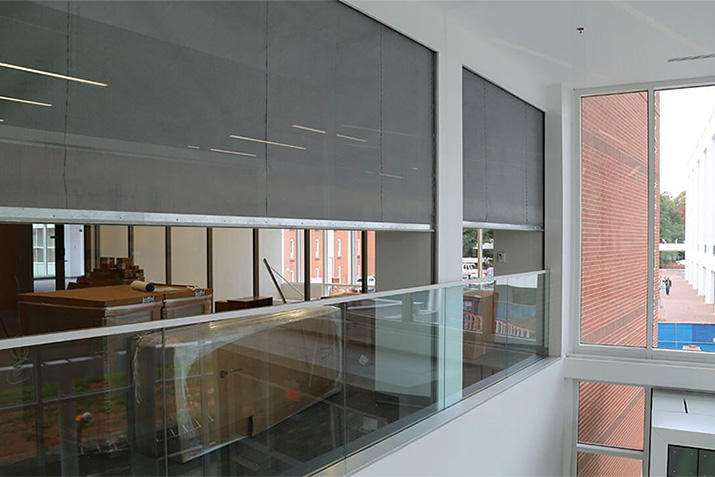 Fire suppression systems are required for all commercial buildings and some new residential buildings, as well. While it is possible to retrofit a building to include a suppression system at any time, it's often the most cost-effective solution to include one during the building design phase of the project. More and different methods of fire suppression can be included during design versus a retrofit where options may be more limited by the building or by expense.
Building a fire suppression system during the design stage is the most effective way of ensuring that you not only meet state or federal building codes, but also help minimize the risk and potential damage to the building in the event of a fire.
---
October 23, 2019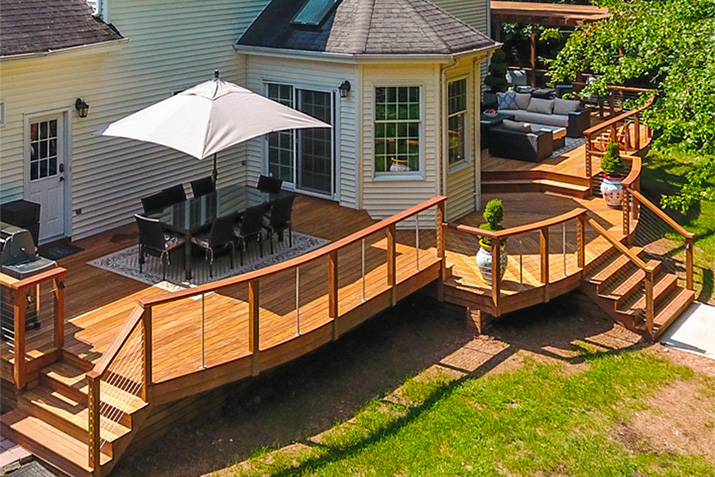 Cable railing can be particularly striking when combined with wood frames. However, it's crucial to take care when constructing the frames to reduce the chance for bowing and possible failure – and accompanying callbacks.
---
October 16, 2019
Despite being so necessary and ubiquitous in our communities, we design parking lots for their utilitarian function—building them for capacity instead of safety and aesthetics. Rarely do they receive the attention given to building interiors and facades. Effective parking lot design takes into account pedestrian safety, as well as efficient vehicle storage—which can be a rarity in many North American cities. In this post, we'll look at a range of bollard-style barriers to help ensure optimal vehicle and pedestrian flow.
---
September 23, 2019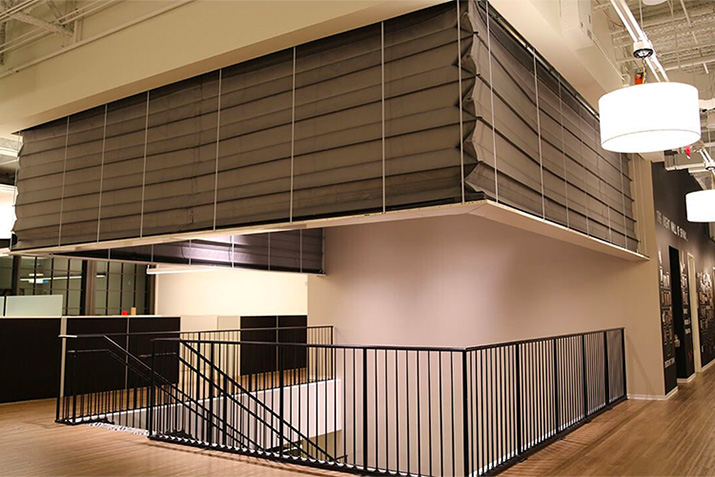 Smoke and fire curtains are a critical component of any fire and life safety system, but since they're generally out of sight during normal day-to-day operations, it can be easy for them to become out of mind. However, in the event of an emergency, you need to know that they are going to work. Not to mention, maintaining and showing documentation of testing may be required by local fire departments and insurance providers.
---
September 11, 2019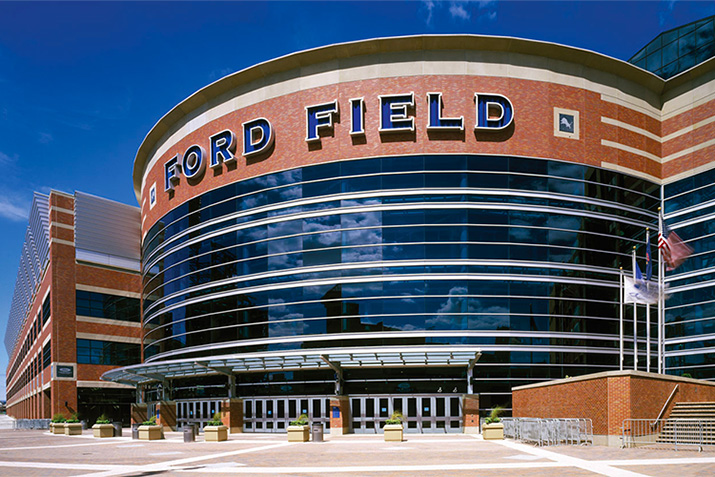 When it comes to sports, athletes and fans are tough. Our 350/500 Tuffline™ Entrances are a complete system of door, frame, and hardware, designed and engineered to create total performance for stadiums, arenas, and more. Heavy traffic? Totally tough!
---
September 6, 2019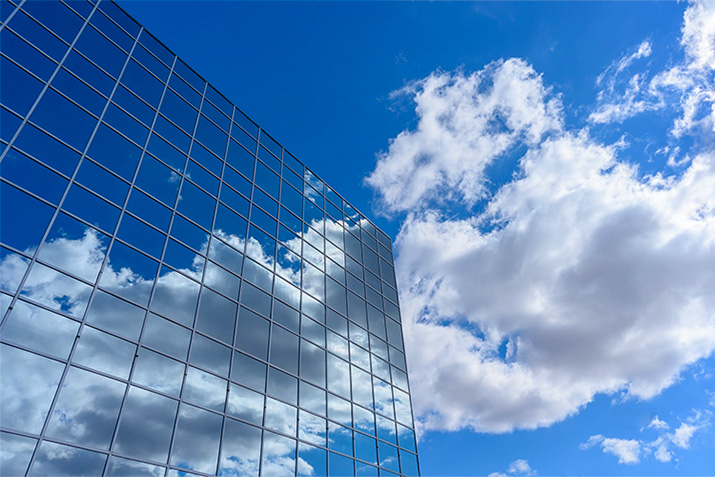 Glass has been used as the portal to the outdoors for centuries. But times are changing.
In a world where we are becoming more aware of the environmental effects of structures and people's changing needs, architects and other industry professionals are concerned that glass no longer adequately addresses these key building factors:
Daylighting
Energy Efficiency
Aesthetics
Safety & Privacy
---
August 28, 2019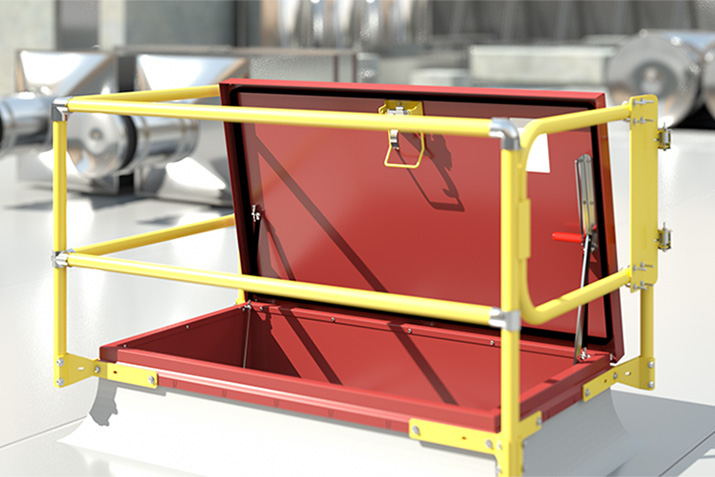 Safe and convenient access to commercial building roof areas using interior ladders and stairs. Smoke vents designed to meet all fire and life safety building codes. OSHA compliant fall protection safety products including safety railings, safety posts, safety nets, safety grating and safety bars.
---
August 16, 2019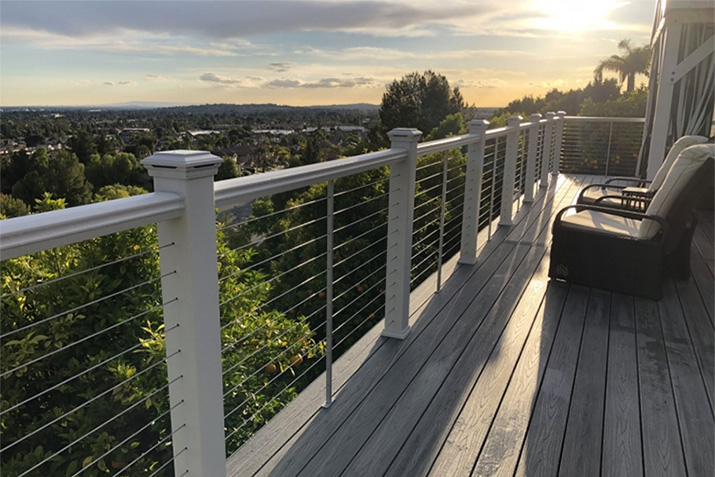 CableRail and Trex, together in one fantastic residential deck! Nestled in the hills of Anaheim, California, this deck more than doubled the homeowner's outdoor living and entertaining space. The contractor, Michael Walter of MLW Construction had this to say:
---
August 12, 2019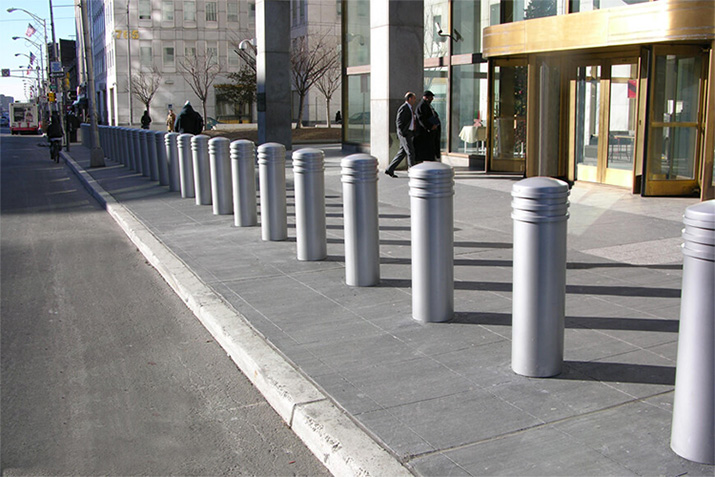 Bollards are not just for counter terrorism. Check out eight reasons why cities are using bollards in high traffic areas.
---
July 29, 2019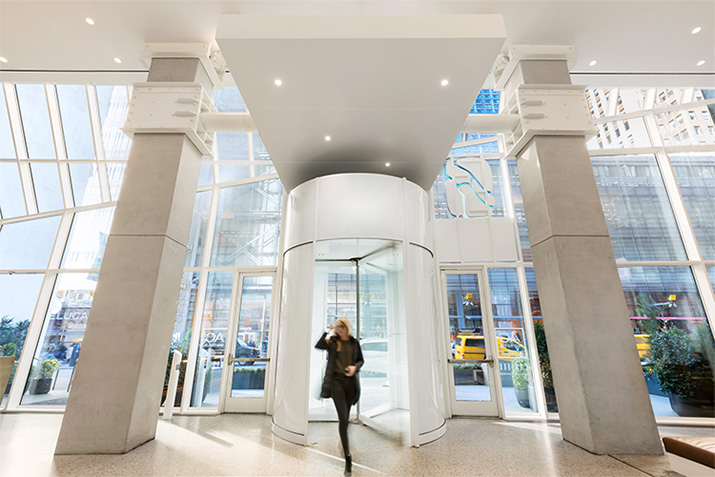 Revolving doors create modern entrances that reduce energy and save businesses space. But, as with any entrance that is used by the public, there are some implications to consider for creating the safest experience possible. Consider 5 safety tips for the safest revolving door entry.
---
July 17, 2019
Bollards—those short posts that guide traffic and protect perimeters—can be highly visible hazard markers. The simplest security bollards are made of yellow-painted steel pipe. Around utilities, or at drive through windows, bollards may be covered in bright plastic and ringed with strips of reflective tape. However, in more formal settings, bollards can be chosen to complement the landscape or architecture.
---
July 10, 2019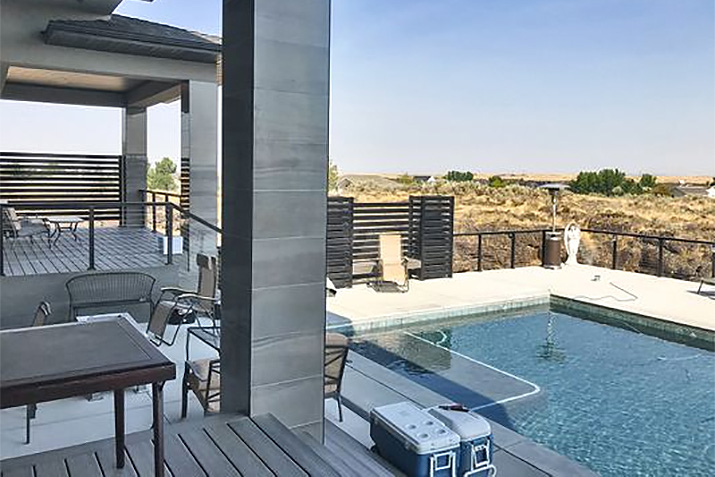 With mirror-finish columns, geometric shapes, and dark rails, this backyard patio and pool area has a strong contemporary presence that stands out dramatically against fields of grass and stone.
---
June 14, 2019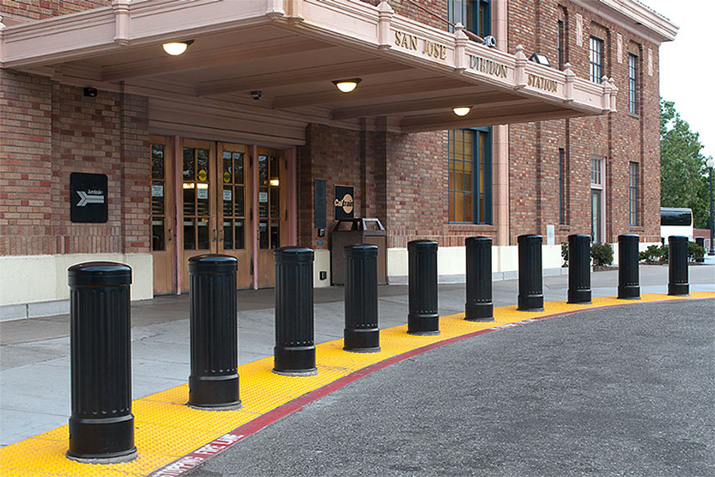 Bollards are needed in all sorts of places where the ground is not level. In some cases, they're used in conjunction with ramps or other access-friendly elements. In others, they're installed to help mediate a steep grade or turn, where the risk of accident increases. To install properly on these sorts of surfaces, care must be taken.
The importance of a fire safety plan in high occupancy buildings (June 6, 2019), T-Flex® – A Non-Lead Shielding Alternative (May 6, 2019), Transform ordinary spaces into stunning spaces with railing infill options (April 29, 2019), Aluminium security windows from Armortex (April 17, 2019), Start your summer renovation plans and customize the railing system of your dreams (April 5, 2019), Spring forward with basement door maintenance: after rough winter, take steps now to evaluate and tend to your entryway (April 3, 2019), Taking it public with CableRail cable railing (March 20, 2019), Implementing Routine Fire-Risk Assessments in the Workplace (December 28, 2018), New safety standard for shades keeps kids safe (December 17, 2018), Why Choose Glass Deck Railing? (November 26, 2018), Four Elements of Security Entrance Safety that Directly Impact Your ROI (November 7, 2018), Round stainless steel railing systems (November 5, 2018), Accuride slides a safe partner for Kaso Oy (October 24, 2018), National Fire Protection Month (October 10, 2018), Traditional + Contemporary = Transitional Design (October 4, 2018), 'Megadeck' transforms outdated home into vacation retreat (August 29, 2018), What industries should utilize bullet-resistant glass? (August 28, 2018), SafetyRail 2000 Roof Fall Protection Guardrail System (August 11, 2018), Finding the Right Label for the Job (August 10, 2018), Black Aluminum Cable Railing (June 15, 2018), Roof top safety (May 3, 2018), Data center protection (April 15, 2018), Regulatory compliance: how a lack of clarity around the entry leads to fines (April 13, 2018), Smoke Control in High Rise Buildings (March 2, 2018), Portable security booths (February 22, 2018), Best places to use cable railing (February 19, 2018), Railing color: a hidden choice (January 24, 2018), Builder Spotlight: Jordan Iverson - Pride of Eugene, Oregon (November 13, 2017), The Benefits of Fire Retardant Curtains in Schools (October 16, 2017), Skylight guarding with SRC - Skylight Screens (October 10, 2017), OSHA's new Respirable Crystalline Silica Rule is now in effect. The deadline has passed. Are you compliant? (October 9, 2017), Cable railing ideas for indoors - stairs, lofts & more (September 14, 2017), Removable storm shutters & panels (August 30, 2017), Design A Better Shaftwall System (August 29, 2017), Blast protection and pressure relief systems (August 24, 2017), Bike lockers: The right bike parking for your site (August 16, 2017), Accuride Integrated Access Solutions: The New Frontier of Access Control (August 15, 2017), Architectural Series Roof Guardrail System (August 8, 2017), Slipnot® provides slip resistance and aesthetic display for Times Square spotlight on Broadway project (August 7, 2017), SC Railing Company: Offering a View from the Top (July 31, 2017), Gorgeous Atriums that Meet Design Aesthetic and Safety Code (July 19, 2017), Video Surveillance In 2017: 4 Things You Need To Know (July 7, 2017), ADA compliant aluminum walkway provides safe public tours at Harpoon Brewery (July 5, 2017), Floor Marking by Color (June 30, 2017), Starlings And The Grain/Agriculture Industry (June 16, 2017), Preparing Glaziers To Work With Bulletproof Glass (June 8, 2017), Slip resistant aluminum plank installed on Hilton's helipad (June 8, 2017), Summer Birds Nesting on Your Property? (June 6, 2017), Interior Corner Protection (May 18, 2017), Springtime Means Nesting Birds (April 28, 2017), Bulletproof Systems and Accessories for Every Building (April 18, 2017), EnduraLine Mobile permanent warning line system (April 5, 2017), FDOT Improving Bicyclist Safety with SlipNOT® (April 4, 2017), Guard Houses (April 3, 2017), The Original Orange Elevator Smoke Curtain (March 28, 2017), 10 Must-Have Safety Signs for OSHA Compliance (March 17, 2017), Railing Infill Face-Off: Cable vs. Glass (March 10, 2017), 6 Ways To Overcome Coastal Landscape Installation Challenges (March 3, 2017), Global changes in construction: Kalwall's insights from BAU (March 1, 2017), Active Shooter Safety: 4 Things Your High Security Entrances Must Have (February 20, 2017), High-Function Custom Bullet Resistant Solutions for Banks (February 17, 2017), Bird decoys: the hawk vs. the owl (February 10, 2017), Backyard 2.0: 2017 Deck and Railings Forecast (February 8, 2017), Flexible bollards guide traffic while avoiding costly collision damage and repairs (January 27, 2017), Mantrap Portal Solutions Eliminate Piggybacking (January 23, 2017), StonePly Success Story: Atlantis - The Cove (January 11, 2017), How to Choose the Right Product for a Nuisance Bird (January 4, 2017), Parking Booth (December 27, 2016), Architectural Glass Takes on a New Shape (December 23, 2016), Creating a Healthy, Safe, Age-Friendly Work Environment (December 7, 2016), Safety standards for slips, trips, and falls (November 30, 2016), Tunnel Vision: New York City's East Side Access Project (November 21, 2016), Rigorous Testing Standards Ensure Effective Security (November 16, 2016), Winner in NADRA 2016 Deck Competion (November 4, 2016), Critical Infrastructure Protection: U.S. Data Centers and Ballistic Barriers (October 3, 2016), Keep Pigeons from Destroying Solar Panels (September 30, 2016), The Dock Gate's custom gas struts make the vertical gate easy to open. Easy as 1, 2, 3! (September 21, 2016), What if Someone is Determined to Get into Your Building? (September 12, 2016), GuardDog Self-Closing Gate uses two stainless steel torsion springs so the gate can open in any direction (September 9, 2016), First Appearances Matter: remove the dirt | absorb the moisture | preserve your floors (August 31, 2016), Peace-of-Mind for Rural Utility Offices - Bulletproof barrier security tips & news (August 8, 2016), SlipNOT is keeping the Indians fans at Progressive Field on their feet (August 5, 2016), An orderly revolution in waste control (August 3, 2016), Antimicrobial Protection for Architectural Aluminum (July 16, 2016), Darlington upgrades good for business in Burlington (July 6, 2016), Evolution Of Revolving Door Security: Teaching Old Doors New Tricks (July 4, 2016), The Role of LEDs in Outdoor Lighting Design (June 27, 2016), Create Your Fire Prevention Plan (June 24, 2016), Slip Resistant Aluminum Flooring in Bubble Capsule (June 22, 2016), Balancing Bulletproof Security and Design (June 21, 2016), Turn your backyard into a haven (June 15, 2016), Starlings can be a Costly Nuisance, learn the facts on how to keep them away from your buildings (June 13, 2016), Hurricane Roof Equipment Screens (June 10, 2016), Slip Resistant Aluminum Grating Utilized on ASLA Green Roof (May 23, 2016), May is Electrical Safety Month: Know How to Protect Workers from Electrical Hazards (May 20, 2016), School Security and Access Control for Architects (May 9, 2016), Benefits of Slip Resistant Aluminum Plates (April 27, 2016), Why We Love Ipe and You Will Too (April 18, 2016), Broan NuTone invents new mosquito barriers for decks (April 13, 2016), Premium Ballistic Frames Offer Huge Boosts in Sustainability and Multi-Threat Risk Mitigation (April 12, 2016), Safety Bollards Protect Storefronts (February 9, 2016), Partnering with Architects to Make BulletProof Beautiful (February 3, 2016), Stay Warm: How to Protect Workers from Cold Weather Hazards (January 15, 2016), Active Design Guidelines for Walkable Communities (December 23, 2015), Hands Down: Hand Safety Tips You Need to Know (December 21, 2015), OSHA Safety and Health Guidelines (December 18, 2015), Teaching Those Who Keep Us Safe: The National Center for Spectator Sports Safety and Security (December 4, 2015), Reeder Illuminated Sign (November 23, 2015), Stop unauthorized parking using Reliance Foundry's Fold-Down Bollards (November 16, 2015), Mid-Century Modern Principles Applicable in Today's Bulletproof Barrier Design (October 30, 2015), Seton's Project Packaging Service | Seton Video (October 12, 2015), As Cooler Weather Approaches, National Home Expert Danny Lipford Launches Satellite Media Event Offering Tips for Seasonal Improvements and Healthy Homes (October 7, 2015), The Industry's 1st Monitored Light Curtain - Now Available (September 25, 2015), Flexible Bollards: Traffic & Parking Lot Posts (September 9, 2015), Bank Security: Balancing the Priorities of Security Managers, Architects, and Facilities (August 31, 2015), Introduction to Flashing/Talking Interactive Signs (August 13, 2015), Plastic Bollard Covers: Security Post Sleeves (August 7, 2015), Custom Mill Work, Bullet Resistant Barriers, and Inconspicuous Perfection (July 24, 2015), Ergonomics: When Work Really Can Be Hazardous to Your Health (July 14, 2015)