architecture - engineering - construction

Safety
---
There are few design elements more visually imposing and spatially awe-inspiring than a properly implemented atrium. They provide large volumes of vertical space that are used by hotels, office buildings, and museums to not only open-up the floor plan, but address concerns of fire protection, systems integration, and indoor air quality. Atriums institute a rigor in design aesthetic and circulation that make them an entirely unique programmatic element.
Here are 7 gorgeous atrium buildings that not only suspend visual disbelief, they go beyond the standards of providing proper fire and life-safety protection.
1. Conservatorium Hotel in Amsterdam. Designed by Piero Lissoni.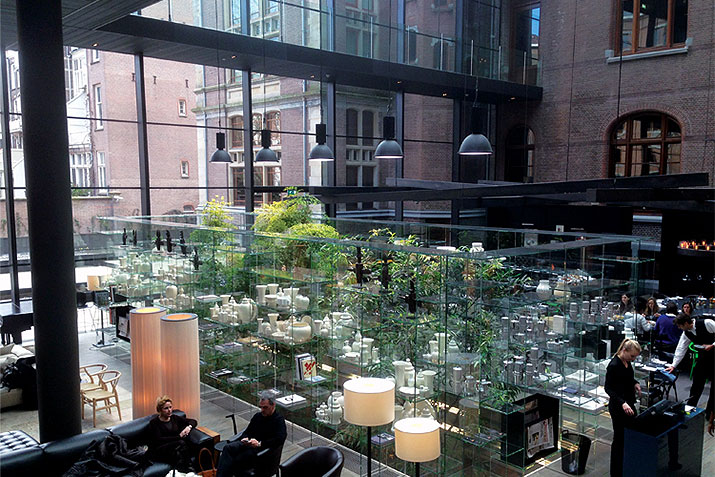 It's rare to see atriums be implemented in adaptive reuse projects, as the existing structures and space don't typically lend themselves to large open areas. However, in this case, an atrium acts as a towering glass shell that encloses a portion of a historic hotel and provides light, visually appealing gathering and circulation spaces. The atrium does well to champion the added space, but not detract from the traditional architecture it adheres to. It's a great example of how an atrium can add visual interest and functional interior space.
2. Facebook Office in Mountain View. Fire Protection by Smoke Guard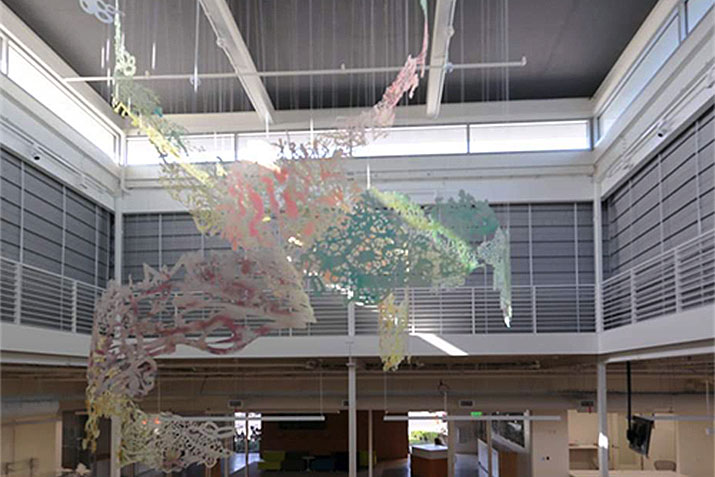 Facebook and the other tech giants in silicon valley are known for having unique, healthy, enjoyable places to work. This atrium design opens up a collaborative work environment in a way that promotes productivity, reduces noise, and gives employees a good reason to be enthusiastic about what they are doing. And, to promote life safety, this atrium uses atrium smoke baffle separation by Smoke Guard, allowing the space to meet required fire code while maintaining its inherent aesthetic quality.
3. Pacific House in Reading, Berkshire. Designed by Lusted Green.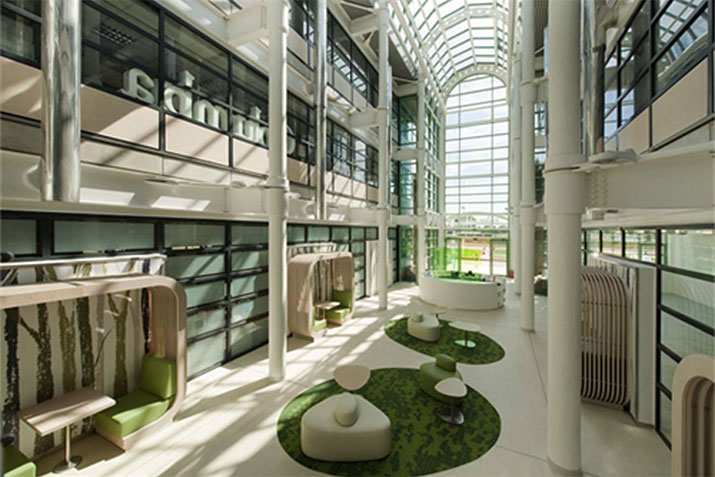 This atrium conversion of an existing office space was meant to breathe new life into an outdated and underutilized common area. The renovated space features a circular reception desk and several isolated 'pods' that are meant to hold open-air meetings. The atrium is open four stories to the sky, where an arched glass ceiling lets in an abundance of light and air. Flanking steel columns are painted white in order to highlight structural elements that hold the atrium together, and culminate in a majestic focal point for the entire office to circulate around.
4. Shepherd's Bush Pavilion Hotel in London. Design by Flanagan Lawrence.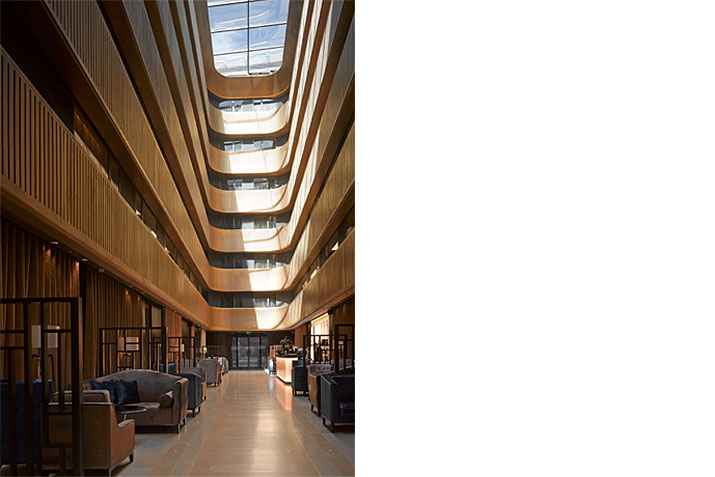 This conversion of a historic 1920's era cinema into a 320 room luxury hotel is nothing short of showstopping. The project features an eight story central atrium open to a class ceiling, with towering rows of curvilinear walkways wrapping the entire space. The atrium is the definitive focal point of the conversion, and its design points attention back towards the importance of the existing cinema, while at the same time celebrating the building being thrust into the next century of its lifespan. It promotes health, movement, and the physical manifestation of historic preservation.
5. Lowe Campbell Ewald's Office in Detroit. Designed by Neumann/Smith Architecture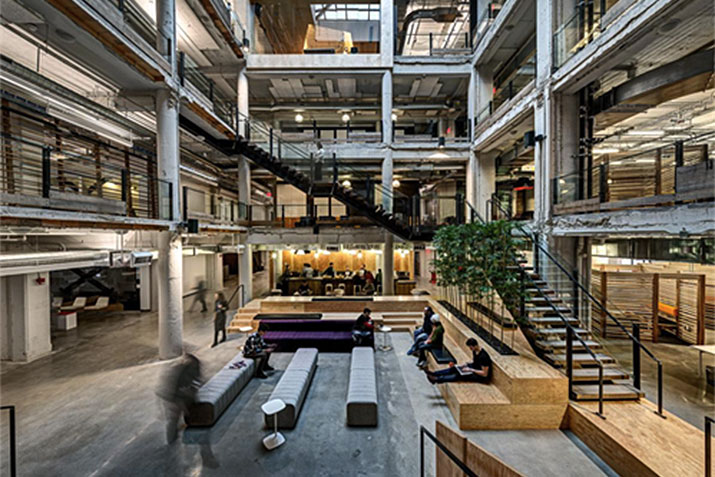 The atrium design for this creative ad agency in Detroit, Michigan is truly remarkable. The new office is built within a 100 year old, crumbing industrial building that would have likely been sent six feet under if this remarkable revitalization project never happened. Specifically, the atrium offers a unique look at the existing concrete post and beam structure, while also creating a bright, visually interesting central gathering space that all other private offices revolve around. The atrium space is punctuated by a visually imposing staircase that wraps an entire corner of the volume.
6. Allen Institute in Seattle. Designed by Perkins + Will Architects.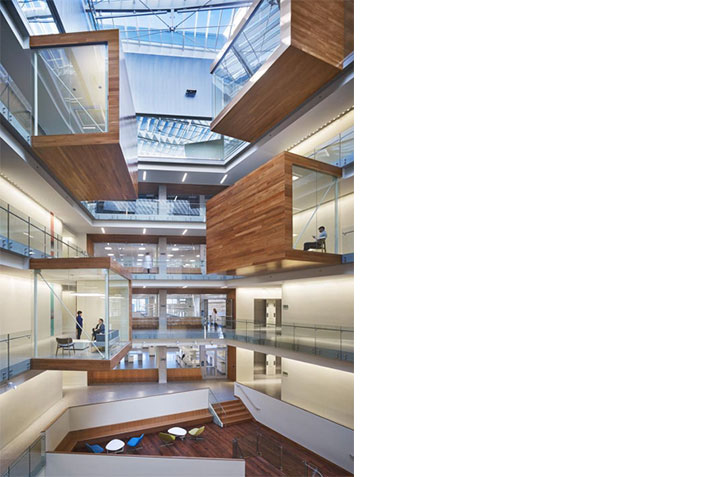 The atrium in this office structure features several floating cubes clad in wood and glass that protrude from the sides of the atrium walls. A spindly glass ceiling looms above the cubes, which hover above a collaborative gathering space below that offers a central hub for students and employees. The floor plan consists of three primary rectangular volumes that wrap around the central atrium. It becomes the hub that connects all activity from the three separate wings, and is treated as such with such a distinct knack for visual flair. The atrium can be vented through the ceiling, which promotes the natural flow of air and light deep into the more isolated areas of the building.
7. The Atrium in Victoria, BC. Designed by D'Ambrosio Architecture.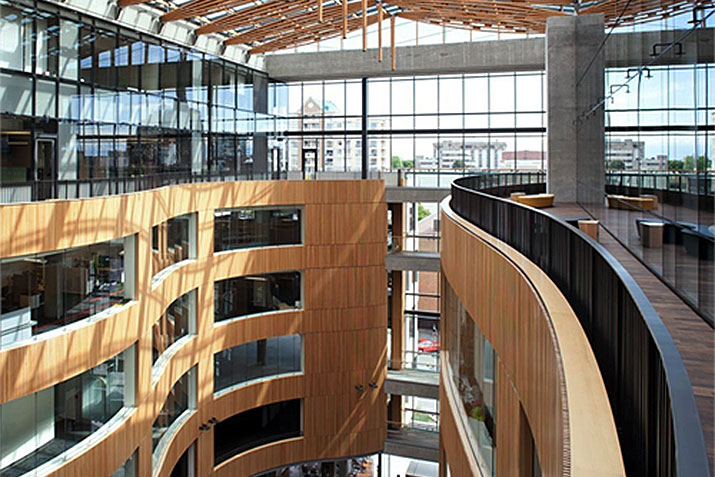 An atrium so great they decided to name the building after it. This high-density office building aimed to bring new and inventive energy to an urban area of Victoria that was in desperate need of a face-lift. This towering atrium features sweeping curved walkways that sit atop closed-off offices and conference rooms. The structure also contains a mixture of restaurants and shops, making this mixed-use project a cultural focal point for an entirely new generation of Canadians. The central atrium stands tall as the building's most impressive feature, and effectively brings life, light, and air to an underappreciated area of town.
Company: Smoke Guard, Inc.
Source: http://www.smokeguard.com/blog/2017/june/20/gorgeous-atriums-that-meet-design-aesthetic-and-safety-code/
Tags: Architecture | Design | Safety
---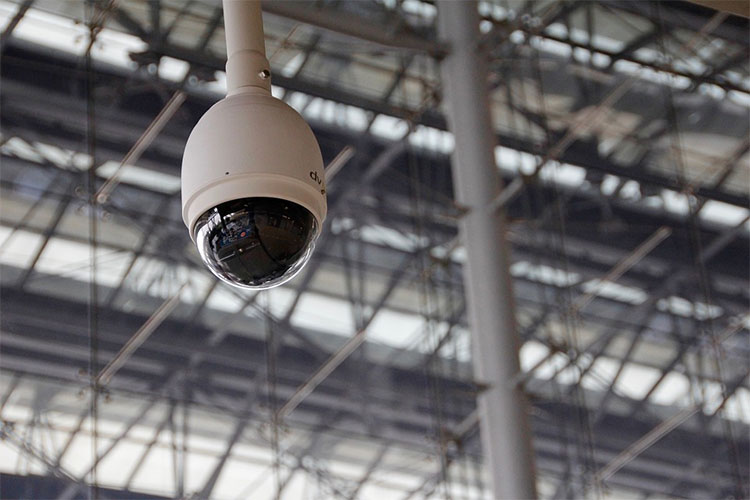 Photo credit: Pixabay
Video surveillance systems have, for years, been excellent tools to protect the safety of your staff and your clients. Updates in technology have served to make them more effective and less expensive at the same time. Newer video systems have capabilities that were only dreamed of in the past. Is it time to update your video surveillance system? Keep these developments in mind:
1. Many sectors need a video surveillance update
The publication Business Systems reports that 80% of hospitals, for instance, need to update their video surveillance systems. These systems can help organizations cut their liability in cases like slip and fall accidents. They can also significantly extend the capabilities of overstretched nursing staff; video cameras can capture events when it is not possible for an individual to be in the room. Other industries with similar liabilities and risks can mitigate them through the use of video surveillance. Newer technology and lower prices mean that you can afford to provide more coverage throughout your buildings to keep a better eye on what is going on.
2. Analog is out; IP is in
Still using analog tapes for your security footage? Experts report that the tipping point has come and that IP cameras are now the more common option, and with good reason. IP cameras that send surveillance video to digital storage offers the ability to store far more footage. These cameras are far easier to place in your facility than older, bulkier models. They offer much higher resolutions, with high definition cameras becoming far more affordable. These can be much more useful if there is a need to identify someone in the face of an act of theft, violence or another security issue.
3. Biometrics and smart cameras will play a bigger part
Instead of an individual buzzing in personnel, what if the camera could recognize an individual and provide access? Face recognition has long been used to identify criminals; now, it can also be used for tasks like access control in your buildings.
New cameras with intelligence embedded will be able to offer analytics that can be used not just for security but for business purposes. For instance, a system can help you analyze foot traffic into a business during specific times of day.
4. There will be a strong focus on cyber security
With the growth of the internet of things and a large number of recent high-profile cyber incursions, security of the data that is collected will be as important as the physical security in the building. To ensure that your clients and staff continue to enjoy privacy and safety, it is vital that the data from your cameras be well-secured. Experts in the field recommend keeping up to date on cyber security issues, such as newly discovered vulnerabilities in operating systems and commonly used software. By attending to these, you can reduce the chances that your video will be improperly accessed.
Video camera technology continues to improve, offering more to concerned facility runners and business owners at a lower cost than ever. Look into the latest upgrades available for your video surveillance system to ensure that you are offering the best possible protection to the people who work for you and the people who come to your location.
Company: Total Security Solutions Inc
Product: Accessories
Source: http://www.tssbulletproof.com/things-know-video-surveillance/
Tags: Audio Visual | Safety | Security
---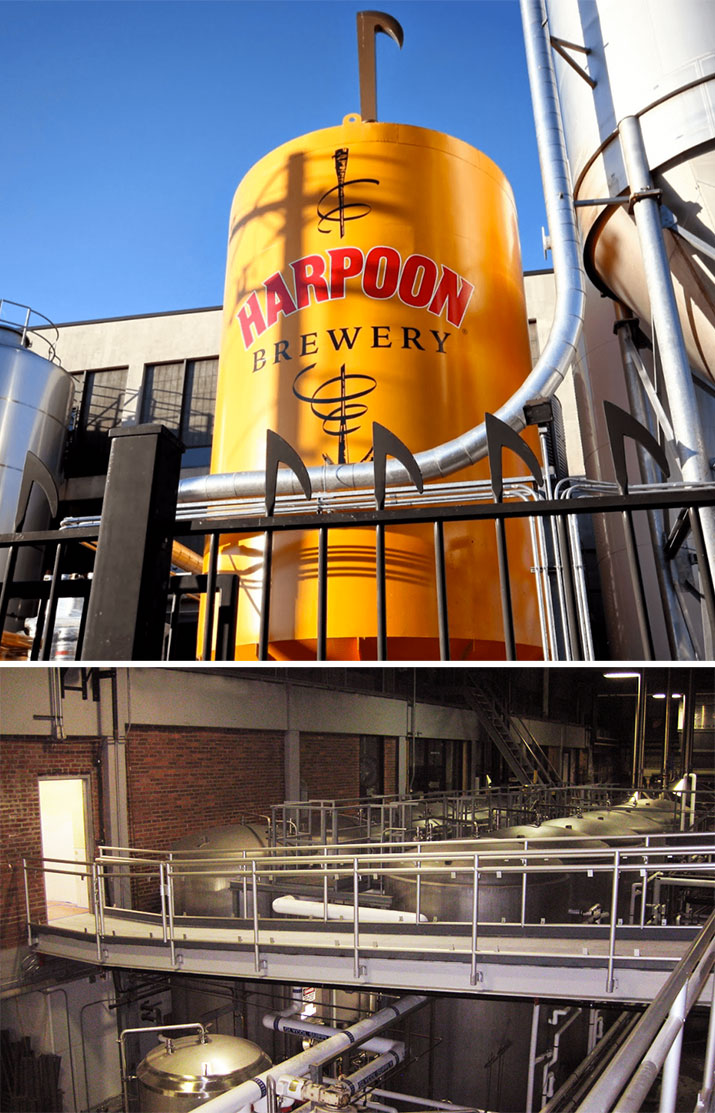 THE SITUATION
Harpoon Brewery began in 1986 when owners Rich and Dan, beer lovers, sought more quality beer choices. They received the fist permit in 25 years issued by the Commonwealth of Massachusetts to brew and package beer commercially. Without knowledge of what craft brewing would become they set out to introduce a local brew to Boston drinkers operating on the docks of South Boston where they still brew to this day. They maintain a spirit of fun and hope the joy of beer drinking resonates through their beer and breweries.
The Visitor Center now features Brewery tours and a Beer Hall and Store selling merchandise, beer, and growlers. For this project, they contacted their fabricator for ADA compliant walkways; SlipNOT® aluminum plate was recommended to provide slip resistant compliance for maximum safety.
THE SOLUTION
Capone Iron Corporation took all of Harpoon Brewery's needs into consideration to design the most appropriate solution for this application by recommending SlipNOT® aluminum plate. Brewing safety is not just for the protection of the brewers but goes hand-in-hand with the quality of your finished liquid beverage. SlipNOT® products are 100% grit-free and will not flake off causing damage to machinery and end products, an ideal solution for food and beverage facility safety.
For this instance, SlipNOT® provided (10) 3/8" x 4' x 8' aluminum plates, (7) 3/8" x 4' x 12' aluminum plates, and (11) 3/8" x 5' x 12' aluminum plates in a Grade 2 mill finish. Capone Iron was committed to not only install aesthetically pleasing walkways for their customer, but also provide a permanent safety solution.
THE IMPACT
A Project Manager from Capone Iron reported that the plates were ordered to be installed in the tour route platforms and metal catwalk areas. Harpoon Brewery now has custom platform designed to meet their needs and provide safe tours to the public through their facility. SlipNOT®'s coefficient of friction which is 0.85 or greater surpasses the of ADA recommendation of 0.6 for flat surfaces and 0.8 for ramps this project had both flat and inclined surfaces and all safety requirements were exceeded.
Company: SlipNOT® Metal Safety Flooring Div.
Product: Floor Plate
Source: http://www.slipnot.com/case-studies/aluminum-catwalk-harpoon-brewery-tours/
Tags: Aluminum | Floor | Safety
---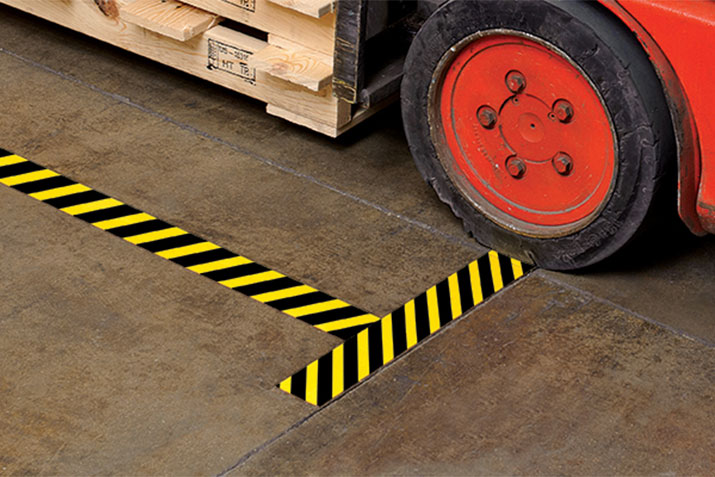 Floor marking, if it's used to its best advantage, can help you create a very organized, efficient and safe workplace. Using the different colors and patterns of floor marking tape that are available, helps keep your employees in the right areas or passageways, marks equipment and storage, and guides them in an emergency. Here is a suggested plan with which to color-code your facility.
Yellow
Mark aisle ways, traffic lanes, and work cells. Distinguish clearly the various sections of a plant.
White
Point out equipment work areas and borders.
Orange
Mark inspection spaces for materials or products.
Red
Create separate sections for finished products with defects, scrap material, rework products or red tag areas.
Blue, Green & Black
Use tapes to define material storage areas, storage fixtures, and storage shelves or racks for various materials such as raw material, works-in-progress and finished goods.
Red & White Striped
Identify safety and compliance areas to keep them clear. Help workers to discern between firefighting and other kinds of safety equipment. Increase visibility and find items from afar.
Black & White Striped
Color-code operation areas in the case of dangerous equipment or forklift traffic. Use the tape to keep open areas free of miscellaneous items.
Black & Yellow Striped
Mark electrical panel areas and keep the areas around them clear. Apply a border to equipment and special hazard areas; this denotes that caution should be used in the space.
Photoluminescent
Identify exit pathways with luminous marking tape to show the way out of your building. Apply to steps and floors in the path. This way the path will show in an emergency situation when the light is dim.
Shop tapes at Seton.com.
Company: Seton
Of: Danielle Hicks
Source: http://www.seton.com/resource-center/warehouse/floor-marking-color-3057/
---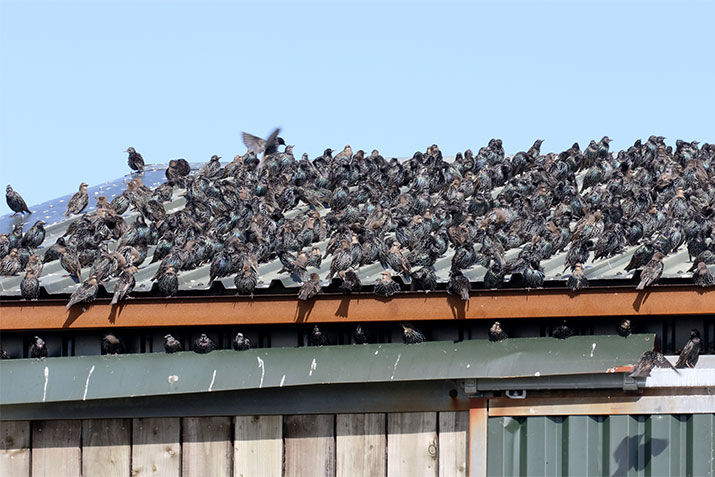 European starlings cost growers as much as $800 million in the US annually. The loud, obnoxious, destructive birds steal grain, ravage crops and crowd out native bird species. The problem is that starlings move in vast numbers, which often descend on a field, orchard or grain area. A migrating flock of starlings can number 100,000 birds. Another problematic factor is that starlings now have fewer natural predators to keep their numbers in check.
Attacking Grain Fields
As highly aggressive omnivores, European starlings compete with native fauna for food. Open bill probing is most commonly used to feed on ground invertebrates, which is their preferred food. In new grain fields, starlings will pull up young plants and eat the seeds.
Extensive Fruit Damage
Starlings will typically assault a wide range of crops, including strawberries, blueberries, grapes, tomatoes, peaches, figs, apples and cherries. Fruit damage is often caused by younger birds, which have underdeveloped probing skills. It is not uncommon for a flock of 4,000 starlings to cause major loss of revenue in a large vineyard in a week's time.
Problems Around Livestock & Poultry
Starlings create formidable problems for livestock and poultry facilities, congregating at feed troughs and diminishing supplies of livestock feed—1,000 birds can consume 100 pounds of grain a day. Starlings can contaminate food and water sources with their droppings, carrying parasites and diseases, including E coli, from farm to farm. These diseases are transmissible to livestock and people, including TGE (transmissible gastroenteritis—a swine disease), blastomycosis and salmonella. Starling droppings can also contain the fungus histoplasma capsulatum, the cause of histoplasmosis in humans.
Nesting Problems
Starling nests built into building cavities can pose a fire hazard. New nests are typically added to old, compounding this combustible materials hazard. When starlings enter buildings to roost and nest, they create sanitation problems; when they nest in farm equipment, they create fire hazards. Their droppings carry ticks and mites, and they are highly acidic, eating into paint and degrading the strength and structural integrity of many materials, including infrastructures and roof linings. The sheer amount of droppings together with their chemical action can damage and kill trees and any vegetation underneath.
Humane, Effective Starling Deterrents
Getting rid of flocking birds can pose a challenge, since many birds are protected by law and cannot be killed or injured. Growers and farmers have found that the only viable solution is to use humane, proven effective bird repellents. This is where the bird control pros at Bird B Gone can help.
Agrilaser® Lite for Farms, Fields, Warehouses
Employing advanced, patented optical laser-beam technology, the Agrilaser® Lite harmlessly repels flocking birds over great distances—up to 2,500 meters. Developed with the help of farmers and ornithologists, the Agrilaser® Lite is animal friendly and ideal for repelling a variety of birds. It is most effective during sunrise and sunset, and in overcast, rainy or foggy weather conditions. The Agrilaser® Lite comes with two rechargeable batteries and a power charger.
Heavy Duty Bird Netting
Ideal for sealing out birds from specific areas around a warehouse or storage facility, Bird B Gone's Bird Net 2000 Heavy Duty Bird Netting is made of a tough UV-stabilized polyethylene mesh. This durable netting is rot proof, water proof and flame resistant. It's also ISO 1806 and 9001 Protocol mesh tested, temperature stable (-250F to 270F), and non-conductive. It comes in stock sizes and custom cuts up to 200 ft. The ¾" mesh is ideal for blocking out small birds like starlings. The netting is backed by a 10-year guarantee and comes in black, stone or white to blend in with its background.
Solar Bird Chase Super Sonic
This weatherproof sound deterrent is recommended for deterring birds from large open spaces. It broadcasts pre-recorded distress and predator calls that intimidate as many as 22 species of birds. Ideal for deterring birds from lofty or hard to reach areas—like rooftops, trees and open fields, the device is programmable and comes with a built-in speaker that will cover up to an acre (additional speakers can be added to boost range). Because it's solar powered, no AC access is needed, so it can be placed wherever pest birds gather most often.
Ask the Experts
If you're unsure about which product would work best for your specific situation, Bird B Gone has over 100 years of combined experience in the field of bird control. We can help you with product selection, installation and cleanup. Just call us at (888) 570-0360 for a catalog, pricing, or product samples or email us at nobirds@birdbgone.com. We also work with a network of authorized installers, call today for a trained bird control professional in your area.
Company: Bird-B-Gone, Inc.
Product: Bird Netting
Of: Alex Kecskes
Source: https://www.birdbgone.com/blog/starlings-grainagriculture-industry/
Tags: Exterior Design | Landscape Design | Roof | Safety
---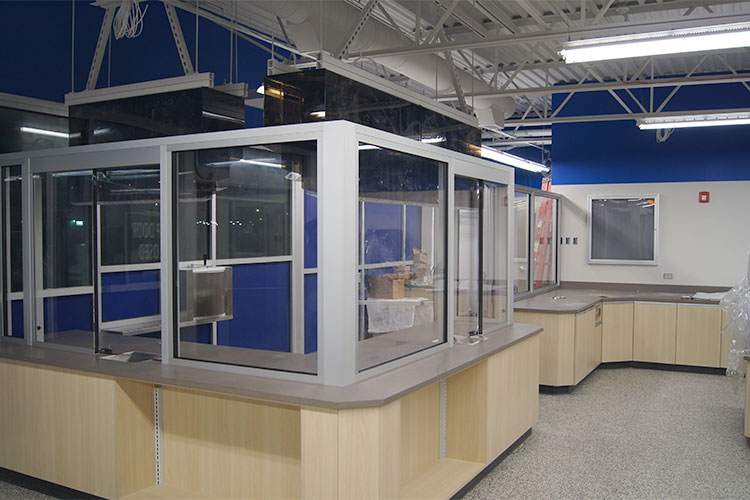 Glaziers are often a little reluctant to pick up that first bullet proof security job. The stakes are high, the materials are expensive, and the challenges are unknown. Total Security Solutions has helped many glaziers work with bulletproof glass. Let's start with three basic concepts that are important to know:
It's Not Glass and It's Not Bullet Proof:
Given enough bullets and enough time, a determined attacker can chew through anything. "Bullet proof glass" is technically "bullet resistant" and either made from monolithic acrylic or laminated layers of polycarbonate and tempered glass.
It's Not a Window—It's a System:
A bullet resistant window that can stop an AR-15 is useless if it's mounted in a wall that can't stop a .22 pistol. Take five minutes to check out our crash course in bullet resistant barrier systems.
Help is Out There:
We are ready to support you through the installation—but these three tips will prevent common problems.
Total Security Solutions Helps Glaziers Work With Bulletproof Glass
Most glaziers are reasonably hesitant to bring in a big, full-service national bullet proofing company. "A client who needs a barrier is good business for a local glazier," Total Security Solutions CEO Jim Richards explains. "Bullet resistant materials are a cut above the norm. Naturally, that glazier is worried that we want to take their customers. I totally understand where they're coming from. But this is where we started: Supplying contractors and glaziers. We're very comfortable pulling way back into the shadows so that glaziers can really shine."
Once you gather all of the information from your client (primarily measurements, but also some insights into how the facility is used, peak business hours, known or suspected threats, etc.) Total Security Solutions will design and engineer a barrier system customized for your client. TSS can help you with approval drawings for permits, managing client expectations, and so on, so you can get this job moving.
Once approved, Total Security Solutions will supply you all the materials, fully fabricated, as assembled as possible. "We design it and fabricate it, you install it, you reinforce that good relationship with your client. We'll supply you exactly what you need, and help you behind the scenes to get that install perfect. If anything comes up, any uncertainty, you give us a call."
How to Score a Big Win with your First Bullet Resistant Barrier
The important thing to remember is that regardless of how much experience you have, it is almost always the first time the client has considered adding a bullet resistant barrier to their business. They're on uncertain ground, and this is a big investment.
"This is a great time to prove to them how valuable your expertise is," Jim adds. He has found that most clients come in asking for much more bullet proof security than they need. They also may make very specific requests for very specific components. Do they really need that style door or window, or is it just what they've seen elsewhere? "Start the conversation with questions," Jim suggests. "Why do they want a BP barrier now? Has there been a local incident? What type of incident are they concerned about?What types of firearms? Why?"
These questions will give you a sense of how extensive the barrier needs to be and what UL level they should consider.
"Then follow up with some questions about their business: What needs to pass through the barrier? Will it be paperwork or cash or packages? How often do staff need to come and go? Finally, ask 'What do you want to accomplish?' Because sometimes I find that folks are limited by what they already know," Jim notes. "For example, they may have a 12-foot long hole in the wall, with the idea they'll install three transaction windows in there and fill between. In that conversation, I'd say 'Well, what about making it a single system?'And they ask 'What's a system?' Because most end users aren't familiar with custom systems, and the fact that a system can be more cost effective than cobbling together a bunch of generic drop-in pieces—not to mention more secure and look a lot nicer."
Company: Total Security Solutions Inc
Product: Ballistic Security Glass
Source: http://www.tssbulletproof.com/glaziers-working-bullet-proof-glass-client/
Tags: Glass | Safety | Security | Windows
---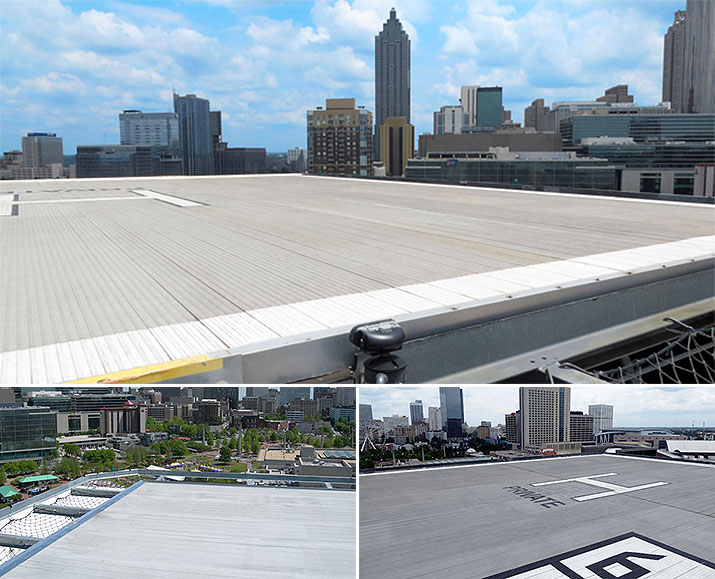 THE SITUATION:
The Luckie Marietta District in downtown Atlanta, Georgia is a premier city center that creates a chain of 25 local restaurants, 18 attractions and retail stores and 7 hotels. One of the many hotels on this strip includes the Hilton Garden Inn Atlanta. The Hilton houses the first functioning helipad that operates from the rooftop of this exclusive hotel. Providing a convenient mode of transportation and a unique experience, the helipad provides shuttle services to area airports and VIP flights. The hotel has 28 floors and over 9,500 square feet, causing safety on this rooftop to be a top concern. A slip resistant flooring was required.
THE SOLUTION:
A grating manufacturer was hired to provide 2-1/2" snap lock aluminum plank for this project with an aluminum SlipNOT® surface. Heavy duty aluminum planking includes snap lock interlocking end banded to form standard panel widths. Aluminum plank is structurally sound and aesthetically pleasing while also providing corrosion resistance.
THE IMPACT:
Safety is critical for this helicopter pad and SlipNOT® provides traction that will not fail. SlipNOT® aluminum plankwas manufactured to specific dimensions and installed flawlessly. The customer was pleased with the results and low maintenance the aluminum planking provides.
Company: SlipNOT® Metal Safety Flooring Div.
Product: Aluminum Plank
Source: http://www.slipnot.com/case-studies/aluminum-plank-hilton-rooftop/
---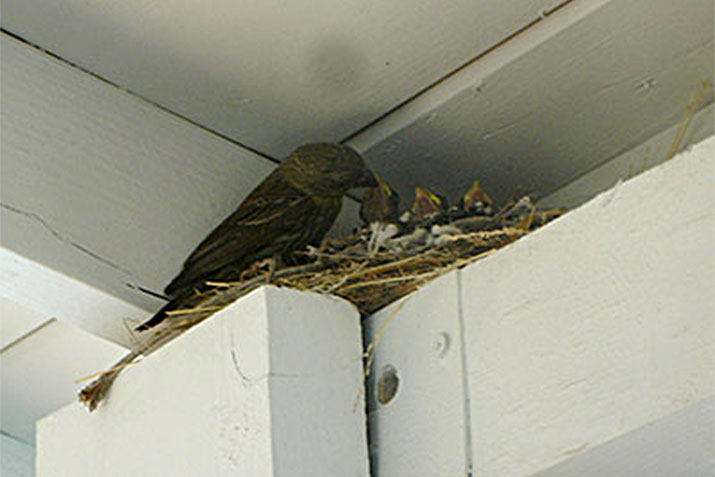 Pest birds are always looking for a place to roost and nest on buildings and commercial property. They need a place that's high enough from ground predators and close enough to food and water sources. Most buildings provide these things. Signage offers warmth, security and shelter for nests. Rooftop AC units do the same, offering the warmth of electrical motors/compressors and shelter from the elements. Rooftop water towers provide all sorts of nooks and crannies for birds to build nests. Many buildings essentially invite pest birds through their open attics.
The most effective way to prevent birds from nesting around your property is to be proactive. And that means making your property less of a bird magnet. Remove any standing water or food scraps, and close all trash containers. Seal up any attics and other lofty holes and cracks where birds can enter. Once you've done that, it's best to install some effective and humane bird deterrents to keep birds away.
Need help choosing the right product for your bird control problems? Contact the experts in bird control.
Company: Bird-B-Gone, Inc.
Source: https://www.birdbgone.com/
Tags: Building | Design | Safety
---

Your building is complete and ready for occupancy. The walls are clean and free of dents. To ensure the interior remains an attractive environment for customers and clients make sure your walls and corners are protected.
Corner Guards are designed to protect corners of walls from the impact of people, carts and equipment. Architectural grade corner guards generally consist of a retainer, aluminum or vinyl, which is attached to the wall. They may be divided into two main categories as follows:
Surface Mounted. These are added to the surface of the corner, usually after the drywall is completely finished and painted.Stainless steel corner guards offer a high level of protection to your corners and provide a sleek appearance. They are commonly available in either Type 304 or Type 430 with a satin brush finish or an embossed texture finish. These are applied directly to the wall using either construction adhesive or mechanically fastened. Stainless steel corner guards are configured to the designer's requirements and are a durable solution for directly adhering to the wall.

Vinyl surface mount corner guards use a vinyl cover snapped over a retainer. Installation caps are applied to lock the profile in place and provide a finished look while keeping dust and debris from getting between the cover and retainer. The most frequently specified vinyl surface mount corner guards are the 2- and 3-inch with a square 90° radius. Coordinating 3-inch, 135° radius options are generally available as well.

A lower cost extruded vinyl corner guard is also an option. This corner guard is attached directly to the wall surface without the use of a retainer. It is an economical yet durable solution suitable for lower abuse areas.

Recess Mounted. The retainers for flush mounted corner guards penetrate the wall and are installed when the drywall is installed. This limits their application to new construction or major renovations.Recess mounted corner guards share the same standard 2- and 3-inch wing dimensions as the vinyl surface mount corner guard. They include an aluminum base for cove base mounting and are typically available in either a square 90° radius or with a 135° radius. Since recess mounted corner guards penetrate the wall, if the wall is required to be fire-rated, a fire-rated corner guard is also required.
Matching or adding color to your interior is achieved with a broad range of available colors. Often times manufacturers can color match for very specific design requirements.
Nystrom understands the importance of maintaining an attractive interior. We have designed a complete line of metal and vinyl wall protection systems including corner guards, handrails, crash rails, and bumper guards to help keep that new, fresh interior. Contact Nystrom for assistance in creating and maintaining your interior investment. For more information, please visit www.nystrom.com.
Company: Nystrom
Product: Wall + Door Protection
Source: https://news.nystrom.com/2017/03/27/interior-corner-protection/
Tags: Interior Design | Safety
---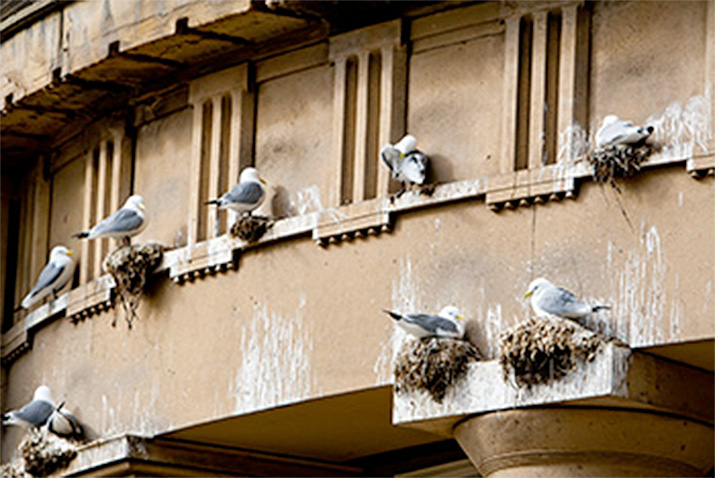 Pest birds are always looking for a place to roost and nest on buildings and commercial property. They need a place that's high enough from ground predators and close enough to food and water sources. Most buildings provide these things. Signage offers warmth, security and shelter for nests. Rooftop AC units do the same, offering the warmth of electrical motors/compressors and shelter from the elements. Rooftop water towers provide all sorts of nooks and crannies for birds to build nests. Many buildings essentially invite pest birds through their open attics.
The most effective way to prevent birds from nesting around your property is to be proactive. And that means making your property less of a bird magnet. Remove any standing water or food scraps, and close all trash containers. Seal up any attics and other lofty holes and cracks where birds can enter. Once you've done that, it's best to install some effective and humane bird deterrents to keep birds away.
Need help choosing the right product for your bird control problems? Contact the experts in bird control.
Company: Bird-B-Gone, Inc.
Product: Bird Spikes
Source: https://www.birdbgone.com
---
Architects turn to Total Security Solutions for project support
Even if you've worked with bullet-resistant components before, it can be difficult to know how to manage that part of your project. Our bullet resistant experts can help with assessment, design and installation of a complete bulletproof barrier system, or individual bullet-resistant features and accessories. We've done thousands of projects across dozens of industries throughout the country, and our turnaround time is the fastest in the industry. Our work will fit in seamlessly with your design because we do our own field measurements and hand-craft our materials at our in-house manufacturing facility.
See our architect projects gallery

Strict proven process
Our bulletproof experts follow a strict proven process so that no detail is overlooked. We'll help you select the right glazing, accessories and materials for your project and deliver and install your barrier and components in half the time of our competition.
See How We Develop Custom Barriers
Industry experts add value.
As a trusted leader in the bulletproof industry with 12,000+ installations to date, we bring more to the table than just our bulletproof products. We bring experience that will help you make better decisions, and avoid commonly-made mistakes. If your project includes bulletproof features, you're going to need a partner you can rely on whose work speaks for itself.
Resources just for architects
Our Architect Resource Center has videos, CAD drawings, specs and data sheets for every possible bulletproof item you could need. From frames to counters, doors to windows, fiberglass and beyond — get the details and information necessary to plan a successful project.
Full line of bullet-resistant products
We design and manufacture every single bulletproof product we install. TSS offers a variety of ballistic windows, doors, drawers, trays, and 8 levels of UL-rated bulletproof glass. We have everything you need right here.
Company: Total Security Solutions Inc
Product: Bullet Resistant Barriers
Source: http://www.tssbulletproof.com/industries/architects/
Tags: Entrances | Interior Design | Safety | Security
---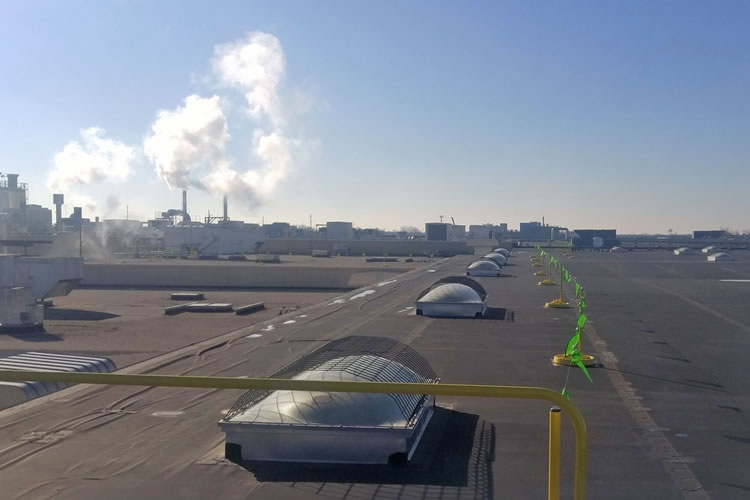 Enduraline warning lines installed at 15 feet from leading edge
EnduraLine Mobile is Safety Rail Company's most robust warning line system yet for permanent demarcation of hazardous areas. Cast iron base plates, steel stanchions, and plastic-coated galvanized cable with aluminum pennants means the EnduraLine warning line system is built for long-term exposure to the elements.
The EnduraLine Mobile system goes a step further. This non-penetrating warning line system is also designed to integrate perfectly with our SRC-360 Mobile railing system. The minimum OSHA requirement for warning line is that they be placed 15' feet or more away from a leading edge. Any closer to the leading edge, and fall protection railings or other fall protection devices must be provided. EnduraLine combined with our SRC 360 Mobile Rail answer both requirements and provide a complete, comprehensive, OSHA-compliant perimeter guarding solution.
When personnel need access to ladders or equipment within 15' of the edge, install the SRC 360 Mobile Railing system from the 15' mark out toward the leading edge and around the area that needs access. Attach the EnduraLine Mobile Warning Line System to the SRC 360 Mobile rail at the 15' mark and continue along perimeter to the next area that needs access. This configuration offers a cost-effective solution to 100% perimeter protection, designed to keep workers away from areas they shouldn't be and protected in areas where they need to be.
Features:
104 lb. base plate
25' stanchion spacing
Powder-coated yellow or galvanized finish
39" flag height per OSHA
100' galvanized cable with aluminum pennants
Safety Railing Solutions - Smarter. Better. Easier.
Safety Rail Company makes OSHA-compliant fall protection safety railings and guard rail systems that are durable and innovative, but still affordable. With years of industry experience, our fall protection products are engineered first and foremost to save lives! Beyond the primary goal of safety, we take our products a step further, making them easier to assemble, configure, use, and store.
Service Beyond Compare
Our team of safety experts takes pride in our 100% American-made fall protection systems and the personal service we give to our customers. We are firmly committed to providing:
Dedicated one-on-one customer service
Free in-depth consultations to ensure you have the exact system you need
Free, fast 3D CAD project plan modeling
100% OSHA-compliant & made in the USA products
Full installation services with factory trained, in-house personnel
Ongoing partnerships that you can depend on for years to come
Let Safety Rail Company be your turn-key provider. Project design, engineering, testing, manufacturing, and installation from one trusted source.
Company: Safety Rail Company
Product: Visual Warning Line Systems
Source: http://www.safetyrailcompany.com/enduraline-mobile-permanent-warning-line-system/
Tags: Railing System | Roof | Safety
---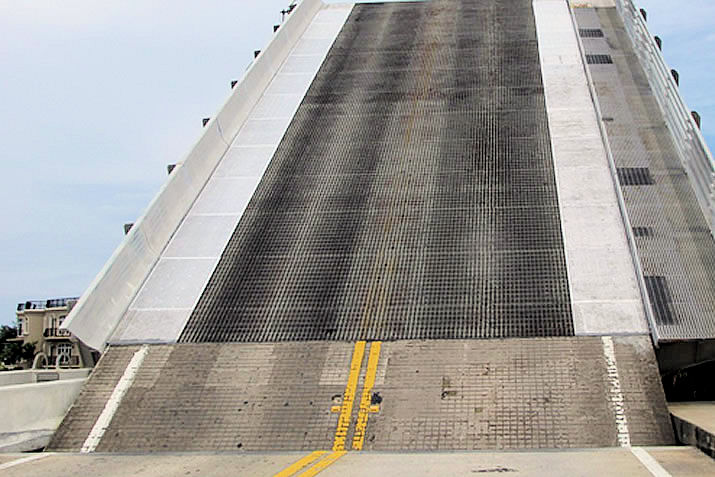 SlipNOT® Metal Safety Flooring, a manufacturer of non-slip metal flooring products, recently released a Florida Department of Transportation (FDOT) case study addressing bicycle lane safety.
T.Y. Lin International, an architectural firm, was hired to study the inventory of metal grate bridges and their link to bicycle safety. The introduction of the report states: "These metal grate bridges…can be difficult and intimidating for a bicyclist to cross. Depending on the type and direction of the grating, grooves can cause a "channeling effect" or "sliding" for bike tires, and narrow tires can be lodged in gaps between the bridge grates. In addition, the metal can become increasingly slippery when wet, making these bridges even more difficult for bicyclists to safely cross in rain or snow."
In order to prevent these hazardous situations, FDOT has proactively sought to improve public safety by specifying SlipNOT® on various applications including expansion joint covers, subway emergency exit doors, pedestrian bridge plates, bicycle safety lanes, and vault covers. Specifically, FDOT specified SlipNOT®'s galvanized steel perforated plates to retrofit over an existing grating deck on a bascule bridge in Fort Lauderdale, FL. The perforated plates were bolted down, providing a durable and secure lane for bicyclists. The perforation allows drainage and since this is an outdoor application, FDOT chose a galvanized finish for corrosion resistance. The high traction SlipNOT® surface provides a safe transit way for cyclists in all weather conditions.
SlipNOT® continues to provide slip resistant solutions for FDOT projects whether it's directly through the agency or various contractors such as Steel Tech, Inc. of Charlotte, NC. Following successful installations, Steel Tech has continued to utilize SlipNOT® for innovative solutions on complex projects. David Schultz, the owner of Steel Tech Inc., said "The problem of bicycles safely traversing open steel grid bridge decks has been an ongoing issue in many areas of the country. Superimposing slip resistant perforated plates over existing open steel grid installations may prove to be a viable solution. Durability and ease of installation is the key."
SlipNOT® perforated plates provide increased safety for bicyclists and other bridge patrons throughout Florida with minimal disruption on bridge operations. The flexibility of SlipNOT® products allow companies such as Steel Tech Inc. the ability to creatively address complex safety and operational issues.
To download a copy of the study with images, please visit http://www.slipnot.com/case-studies/fdot-bicycle-lanes/.
Company: SlipNOT® Metal Safety Flooring Div.
Product: Perforated Plate
Source: http://www.slipnot.com/all-news/fdot-improving-bicyclist-safety-with-slipnot/
---

Par-Kut provides guard houses used to shelter security personnel. Par-Kut guard houses are long-lasting, portable steel buildings.
Par-Kut provides the most rugged and well built guard houses, guard booths, guard shelters, border inspection booths, security access control checkpoints and observation towers. Par-Kut's guard houses are all prefabricated guard houses. Our customers include government, private industry, airports, nuclear power plants and U.S. Military facilities across the country and around the world. Par-Kut's all welded steel construction and use of durable, low maintenance materials ensure the guard booth's greatest longevity. Special security features are offered to customize the security guard booth to your location requirements and to keep your security officers comfortable as well as secure. Go to BULLET RESISTANT to learn more about Par-Kut's enhanced ballistic construction options for hi-risk environments.
In some industries, guard houses or guard booths are known as guard shacks. Whether described as a security guard shack, portable guard house, security guard house, or security guard booth, Par-Kut factory-assembled, portable steel buildings provide a ready-made solution to your security shelter problem.
Par-Kut offers guard house drawings and guard house designs to suit just about every application and if we haven't helped somebody with a similar requirement in the past, we will work with you to provide guard house designs to meet your site specific needs. In fact, the simplest way to start a productive dialogue is to send us a simple thumb nail sketch showing your guard booth drawing or guard house design. Par-Kut stands ready to assist you with your guard house architecture and guard shack floor plans.
For a guard house best for your location, and best for your guard house budget over the long run, call one of our sales professionals here at Par-Kut. Investing only a few minutes of time for discussion will enable you to receive a quotation for a guard booth or guard shack that is catered to your specific situation. Whether you need a standard, a bullet resistant or an elevated or highly portable trailer mounted guard house or security booth; a durable steel PAR-KUT guardhouse will meet your needs and provide you a service life unsurpassed by any competitor.
When you are speaking with a Par-Kut sales professional about your guard house, especially, a prefab guard house, it is important to identify the city and state where your guard booths are going to be installed. Codes regulating all types of factory assembled structures, including prefab guard houses, vary from state to state. Please have this information ready when you contact Par-Kut for a quote on your guard house. Prefabricated guard houses are lumped together with other pre manufactured structures for code purposes, although this practice does not take into consideration the vast differences in typical applications. However, a guard house from Par-Kut will meet or exceed most model building codes. Prefabricated guard booths can be amortized for tax purposes if recordable as the proper type of equipment. Check with your accounting dept, or financial advisor to see what steps should be taken for proper recording of your prefabricated guard booth. Prefab guard shacks and modular guard houses, when specified and purchased properly, will serve for decades. Par-Kut will work with you to outline your needs and a budget price for the guard shack or guard house that you need for a guard shelter.
Go to GALLERIES to view additional guard houses.
Company: Par-Kut International, Inc.
Product: PRESIDENTIAL
Source: http://www.parkut.com/booths/applications/guard-houses/
Tags: Design | Entrances | Safety | Security
---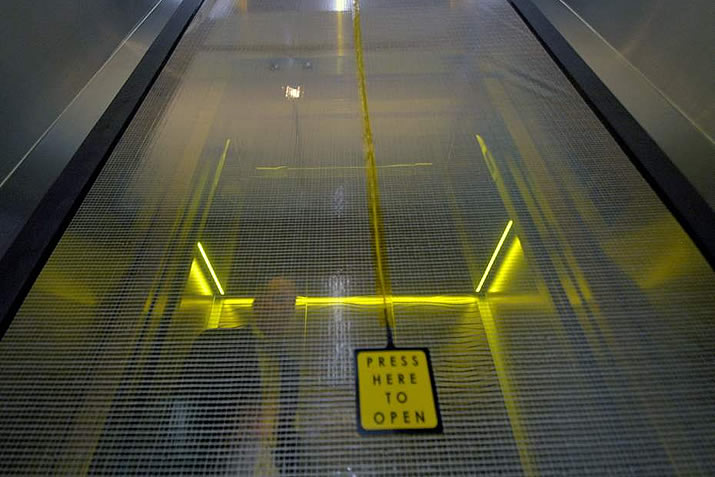 When it comes to elevator protectives, Smoke Guard is the "original orange smoke curtain". With over 20 years of installed product, our transparent orange colored polyimide film is iconic. Our orange transparent fabric is unparalleled when it comes to providing the smoke protection you require with the ease of install that you have come to expect.
Available in a variety of dimensions to fit various applications, Smoke Guard Systems for elevators are made from a translucent orange smoke resistant material that provides a line of sight for anyone caught in an elevator during an emergency or for emergency personnel. In addition to the screen mounted retract button, the magnetic side guides allow these smoke curtains to be easily pushed aside when access to or from the elevator is required.
When it comes to elevator safety, don't substitute for anything other than the original orange elevator curtain. Smoke Guard started with this product for a reason and continues to innovate to provide the best possible solution for your smoke safety needs.
Company: Smoke Guard, Inc.
Product: Model 4000 Smoke Curtain
Source: http://www.smokeguard.com/blog/2017/january/08/the-original-orange-elevator-smoke-curtain
Tags: Doors | LEED Certification | Safety
---
According to the Hazard Communication Standard from OSHA, organizations must post safety signs that comply with standards from the American National Standard Institute from either 1967-1968 (ANSI Z53.1, Z35.1 and Z35.2) or 2011 (ANSI Z535.1, Z535.2 and Z535.5). The most effective way to communicate warnings and other important safety messages to employees and visitors alike is through the use of safety signs.
For details regarding the specific signs you should hang at your facilities, visit OSHA.com. In the meantime, hang these 10 types of signs throughout your facilities to remain compliant: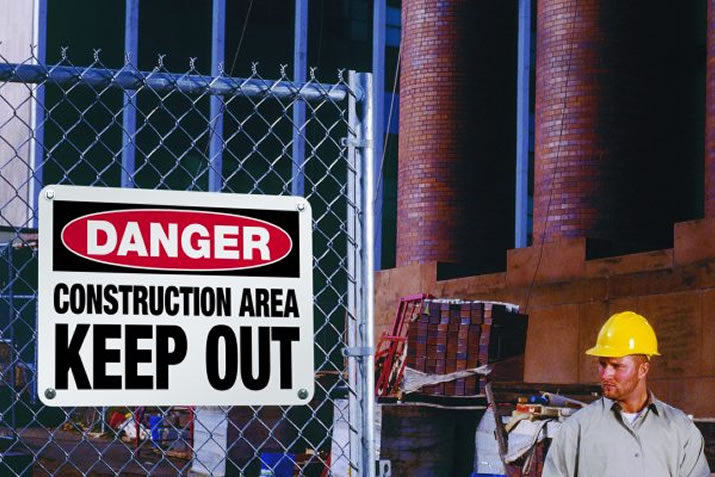 1. EXIT and Evacuation
According to OSHA, emergency exits and evacuation pathways must be clearly marked at all times. If you have doorways or other passages that could be mistaken for exits, make sure they're identified as well. All authorized EXIT signs must be visible and illuminated (by a light source or self-illuminating feature), and use distinct colors. Signs must clearly read "EXIT" in letters no less than 6"(H) x ¾" (W).
2. Fire
Identify areas that house fire extinguishers and fire hose cabinets. Doing so will ensure fast action by emergency personnel and properly trained employees during an emergency scenario. Plus, hanging the right signs is essential for compliance with OSHA.
3. Electrical Arc Flash Hazard
Arc flash accidents can be extremely hazardous or deadly in some cases. Because of that, OSHA requires organizations to designate high-voltage areas in their facilities and mark them accordingly using proper signage. According to NFPA 70E-2012, switchboards, meter socket enclosures, panelboards and motor control centers need to be marked with arc flash labels during maintenance.
4. First Aid
Make sure First Aid supplies are easy to locate and available to workers at all times in case of an emergency.
5. Flammable / Combustible
All the areas – and containers – around your workplace that hold combustible or flammable liquids, vapors and other materials, should be properly labeled with visible warnings.
6. Personal Protection
Remind employees and visitors to wear required Personal Protective Equipment (PPE) when they're around hazards that can cause physical injury or impairment.
7. Hazardous Area
Keep your employees informed about potential hazards, unsafe practices and area protocol instructions
8. Confined Space
Warn employees about areas that require authorized permits or specific instructions to enter safely.
9. Machine and Equipment
Help employees stay alert when working around heavy machinery or other equipment that could result in personal injury.
10. Slips, Trips and Falls
Are there areas around your facilities that are more dangerous than others? Put up signs in places like staircases, balconies, aisles and narrow passageways to remind workers to be careful.
In addition to our high-quality, OSHA-compliant safety signs, Seton is proud to offer businesses Workplace Sign Reviews to help ensure they have the signs they need to safe and in compliance. With this on-site service, organizations receive:
A facility inspection based on your safety concerns
A customized report on improvements needed
Assurance that you're keeping workers safe
For only $1,500, you can check to make sure you have all the signs you need to stay in compliance with OSHA. Keeping in mind the minimum fine from OSHA is currently $12,675 (as of Jan. 13, 2017) per violation, Seton's Workplace Sign Review should be a no-brainer!
Company: Seton
Product: Signs
Source: http://www.seton.com/blog/2017/02/10-must-safety-signs-osha-compliance
---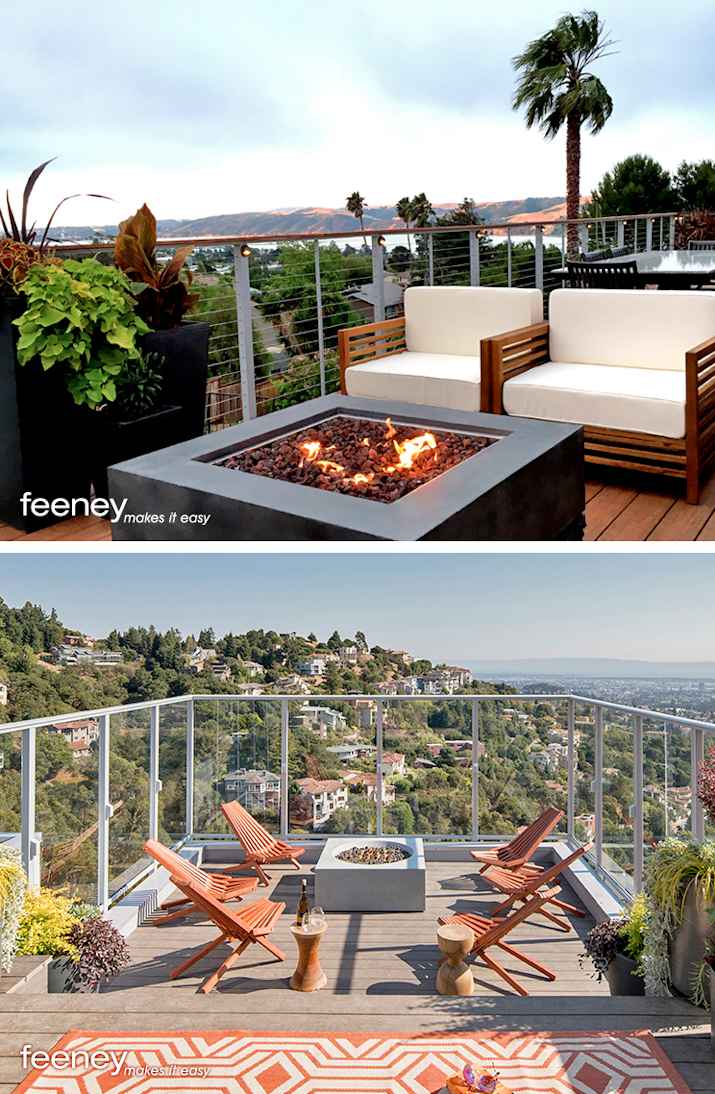 With all the direct work we do with residential and commercial architects, we know meeting your design vision is at the heart of our business. That's why we offer a premium palette of posts, top rails, frame colors, and infill options for your specification needs.
When that interior or exterior aesthetic calls for maximum transparency, as it often does, the usual railing infill defaults are a cable or a tempered glass system. It may come as a mild surprise to some to learn our DesignRail® system offers designers both view-friendly systems. Yes, we're a single-source, infill agnostic when it comes to meeting your project goals and budget.
Both glass and cable railing systems offer style, proven performance, and unfettered sight lines for interior or exterior applications. As you consider the best infill solution for your project, keep this in mind:
Cable Infill
Wind
Allows full air flow across the deck or balcony area.
Installation
CableRail is easy to install with patented automatic locking jaw Quick-Connect® fittings. No crimp tools or wedge-type compression fittings required.
Sustainability
Stainless steel cables contain 70% pre-consumer content and 0% post-consumer content.
Safety
Compliant with the International Building Code and International Residential Code when vertical or horizontal cable spacing is 3 inches or less.
Maintenance
Minimal. Periodic treatment with a stainless steel cleaner and protectant is recommended. Occasional cable tightening is a routine procedure.
Tempered Glass Infill
Wind
Offers a full or partial wind break, which can be a consideration in coastal projects.
Transparency
Can be modulated from clear to custom tinted, helping manage light flow and privacy.
Environmental impact
Clear tempered exterior glass panels can prove to be a hazard to birds.
Durability
Tempered laminated glass can be specified for varying safety and security levels.
Maintenance
Requires periodic cleaning, though higher quality glass can help reduce cleaning time and frequency.
Tempered glass or cable... both infill msystems offer important design advantages. Feeney is at your service with winning solutions for both.
Company: Feeney, Inc
Source: http://media.feeneyinc.com/blog/railing-infill-face-off-cable-vs.-glass
Tags: Exterior Design | Glass | Metal | Railing System | Safety
---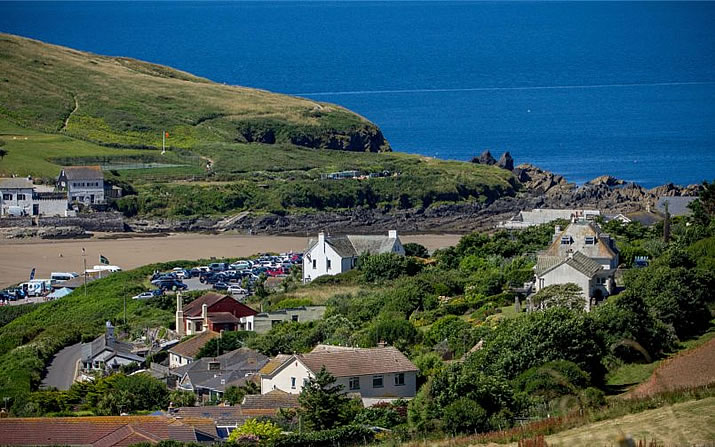 Coastal landscapes face additional pressures from things like high winds, floods, salty air and so forth. In order to overcome coastal landscape challenges, certain precautions must be taken during the installation process.
Super storms are bigger than ever before. Recent super storms have caused a shift of attention towards building structures near hazardous coastal environments that can actually withstand these challenges. Even on a good day, coastal properties face a variety of challenges from the salty air and intense sun. Add assaulting winds, hurricanes, floods, tropical storms and storm surges on top of daily wear and tear.
Failing to use the appropriate landscaping materials will result in quick degradation of landscaping and costly repairs and replacement. It's so important for architects and landscape designers to pick the right types of plants and installation techniques in order to ensure the long-term survival of coastal landscaping.
#1. Use Native Coastal Plants
First and foremost, you want to select native coastal plants that are naturally capable of surviving harsh winds, salty air and all of the other extremes faced by coastal plants. Native vegetation lowers the cost of maintenance and irrigation, plus native plants are more likely to bounce back following a storm or even a hurricane. Utilizing native plants also encourages local wildlife to flourish.
An LAF Case Study Investigation included site analysis of several coastal properties in South Florida, all of which were found to incur big time benefits from native plants. One of the properties included in the study was 1100 Block Streetscape of Lincoln Road Mall. This property faced coastal issues as well as challenges associated with heavy urban environments. The redesign involved adding 30-40 foot native canopy trees that were transplanted directly on site. The trees provided immediate shade to the public plaza because they were full-grown at the time they were transplanted. The fact that they are a native species (live oaks and bald cypresses) continues to help ensure their survival no matter what Florida's wild coastal weather throws their way.
Beach sand is not the most fertile soil and doesn't retain moisture very well, making it rather undesirable for most plant types. The goal is to find plants with multiple tolerances. According to Meg Whitmer, CEO of Meg Whitmer Landscape Architecture located in Tampa, Florida, "I use hardy plants that can withstand high winds, salt spray (if applicable), flooding, drought, sandy alkaline soil and cold tolerant." She adds, "Most of these plants are native, but several ornamentals are also hardy enough for coastal location if planted in the right place."
Depending on where you are located, different plants do better than others. For instance, in the Pacific Northwest, succulents and grasses such as Miscanthus and Mexican Feather Grass do very well in coastal environments. While red mother of thyme makes a hardy ground covering. If you aren't a huge fan of how hardy plants look, use them as a protective barrier surrounding more ornamental plants closer to the home or building.
#2. Be Familiar With Coastal Lighting Regulations
Coastal lighting is regulated in regards to the creatures we share the land with. Bright lights that shine all night can distract coastal marine animals and even jeopardize their survival. For instance, in the Hamptons local regulations against lighting prevent home owners and business owners from putting lights too far from their home or building, and never near the dunes. While in Florida, there are similar regulations in place, largely revolving around sea turtles.
Lighting fixtures should be strategically placed close to the structure to prevent interference with nature as much as possible.
#3. Use Hardy Hardscapes
If waves repeatedly crash down on your property, it will wash away your hardscapes within a relatively short amount of time. 2-inch gravel walkways are a great solution because they are not easily displaced. Plus, since they are not set into place it's much easier to make repairs and replace as needed. Try using large stones with an aggregate to help hold everything together.
#4. Make The Switch To Resin-Based Materials
Avoid metals because they are quick to rust and corrode from the salty moist air. Our resin-based materials are incredibly durable and non-permeable, which means no salt or water is able to seep within materials and cause damage. Everything from planters to site furnishings to lampposts lasts a lot longer when made from our unique resin-based material.
Learn more about the benefits of our resin-based products: http://www.terracastproducts.com/why-resin/
#5. Invest In Structures That Can Survive High Powered Winds
One of the biggest challenges is creating structures capable of standing up to the dramatic winds that pick up during hurricanes and other large-scale storms. When winds can easily reach over 100 miles per hour, sheds, buildings and any other structures must be reinforced with a steel moment frame.
High forced winds come with high-flying debris capable of shattering windows and letting the storm inside. Windows should be equipped with easy to use storm shutters, or other approved measures, in order to protect against windborne debris. An impact-rated glazing may be suitable to windows that are less prone to damage, while motorized roll-down shutters are a great way to protect windows at greater risk for damage.
It's important that all of your structures, site furnishings and landscaping materials are able to withstand getting pummeled by sand, chairs or anything else that gets caught up in the wind. The majority of commercial and residential lighting fixtures, planters and site furnishings are not capable of withstanding these types of forces. TerraCast Products are highly durable, making them ideal in some of the toughest environments.
#6. Work With The Breeze For Unexpected Benefits
While wind can be viewed as a negative factor, you can actually use it to your advantage. Incorporate plants that flow with the wind, such as long grasses and other loosely textured plants. As a result, your landscape will flow with the wind and create a lot of natural movement.
Should You Build On The Coast?
Some argue that homes and other buildings shouldn't be built in risky coastal areas. Others argue the key is to position structures so that they respect the native landscape and ensure structural resilience and longevity.
TerraCast Products are built to withstand just about anything, including extreme coastal weather. Let us help you create winning coastal landscapes that last for many years to come, no matter how many storms blow onto shore.
Company: TerraCast Products LLC
Source: http://www.terracastproducts.com/6-ways-overcome-coastal-landscape-installation-challenges/
Tags: Landscape Design | Safety
---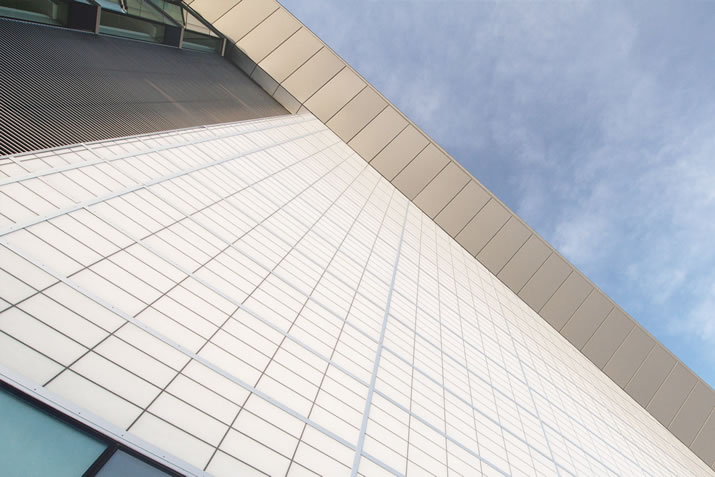 What happens when you bring together 250,000 people from around the world for six days in Munich, Germany?
Ideas are exchanged.
Best practices are shared.
Deeper levels of understanding are reached.
That was, in a nutshell, BAU 2017, the world's leading trade fair for architecture, materials and systems with the 2,210 exhibitors from 45 countries. More than 80,000 people had, like us, travelled overseas.
From our vantage point at the Kalwall® exhibit – our first time exhibiting at BAU (German for `construction') – we could see how much the world beyond the borders of the United States is changing and this was a chance to see how architects, owners, contractors and other business people are responding to those changes.
Here are three key takeaways from BAU 2017 affecting daylighting and fenestration globally.
1. Safety and security is no longer just about airports and government buildings
The safety, security and privacy of guests at hotels, students at schools and employees at banks and high finance institutions are becoming harder to ensure. While airport administrators and government facilities have been working with Kalwall for years to find solutions to similar problems, it was interesting to see the volume of private business owners looking for similar answers.Kalwall's specialty systems meet UFC 4-010-01 blast requirements and can, for example, provide an extra level of safety for guests in a hotel lobby from a car bombing in the street outside. The translucent panels also afford more privacy while providing museum-quality daylighting™ for interior spaces.
2. Canopies need to be rugged and resistant to pollution
Pollution and heat in certain regions of the world take their toll on canopies meant to provide shelter and shade, leaving architects and construction managers searching for alternatives to less durable polycarbonates.The ruggedness and capacity to resist fading in intense heat, along with its ability keep clean where pollution is a concern made Kalwall canopies an appealing option to business people in desert climates as well as industrial cities.
3. Energy is expensive and daylighting solutions are more important than ever
Technology was a dominant part of the conversation at BAU and a major reason why the world is seeking better ways to produce and store energy. I think my grandfather, Kalwall founder Robert R. Keller, would have been smiling. After all, energy efficiency was one of the reasons he developed his translucent sandwich panel in 1955.
Our technology, with its best in industry thermal and solar heat gain performance, was a conversation starter for business people concerned with the high cost of energy and the ways to be efficient. Renovations, in particular, present cladders the challenge of finding energy efficient solutions.
BAU 2017 was an opportunity to expose more people globally to the benefits of Kalwall. They came looking for the latest advancements, but some technology stands the test of time. This was re-affirmation of a technology we developed 62 years ago.
Company: Kalwall Corporation
Of: Amelia Keller
Source: https://www.kalwall.com/2017/02/13/a-kellers-bau-insights/
Tags: Building | Construction | Design | Energy | Lighting | Safety | Security
---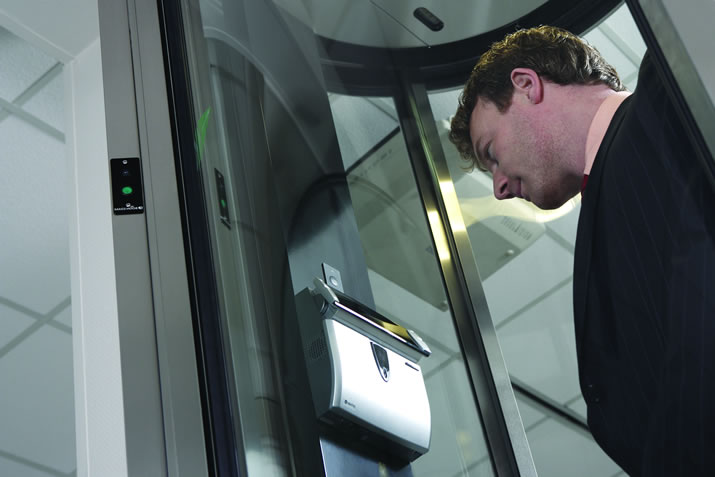 According to a study completed by the FBI, in 2014 and 2015 alone, there were 231 casualties as a result of mass shootings. Let's examine 4 enhancements you can make to security revolving doors or mantrap portals to thwart an active shooter's attempt at gaining access to your building, or worse, doing physical harm to people.
1) Anti-Piggybacking Technology
An active shooter with an agenda will be determined to infiltrate your building. He sees an innocent employee approaching the security revolving door or portal. His first thought? Hold them at gunpoint and force them, and himself, through the entrance.
This scenario describes a "piggybacking" event. When it comes to security revolving doors, the term "piggybacking" refers to an attempt to gain access to a secured area by jumping into the same compartment as an authorized user. For portals, piggybacking involves two users attempting to enter the door at the same time.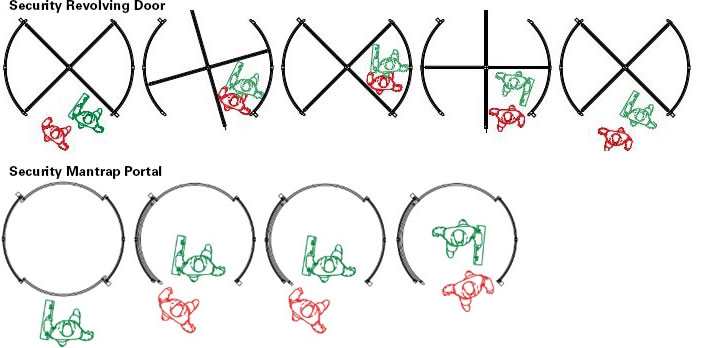 StereoVision 2 is a sophisticated technology from Boon Edam that puts a stop to piggybacking attempts. Using a combination of an optical camera and active, near-infrared sensors, StereoVision 2 technology can recognize shapes, sizes and volume in three dimensions. Simply put, the system is looking into the door's compartment and searching for a set of head and shoulders, as well as body shape. Based on a sampling algorithm, unusual shapes are rejected and the culprit(s) are required to exit the door.
2) Biometric Devices
But what if the active shooter doesn't stop there? If the shooter were to steal an employee's access card and attempt to proceed through the door - alone - he could gain access UNLESS you utilize one or more biometric devices.
Biometric devices identify unique physiological characteristics, such as fingerprints, hand geometry, facial features, and iris patterns. They also comply with two-factor authentication (2FA) regulations. These devices alone will not stop an active shooter from gaining access to a building, though (think about a swinging door opened by a registered user, and then held open for numerous people to pass through). But, when coupled with an anti-piggybacking technology, biometric devices provide a solid defense against unauthorized entry.
Security revolving doors can be equipped with an external biometric post placed immediately outside of the door, or as one of many leading up to the door. Security mantrap portals are available with an interior post, ideal for mounting the latest biometric technology directly inside the door. Both options provide a layered method of access and meet 2FA compliance. Keep in mind, though, that your throughput will be impacted by the type of biometric device you choose to incorporate.
3) Bullet-Resistant Glass
The common denominator between all mass shootings is a weapon. And it comes as no surprise that most active shooters choose the light, inexpensive and easy to conceal 9mm semiautomatic handgun to carry out their schemes, according to data compiled by The Washington Post. Bullet-resistant glass can safeguard the integrity of your door up to a certain point, and possibly save lives.
Bullet-resistant (BR) glass is the layer of armor your security door needs for protection against an active shooter attack. BR glass is made from layers of polycarbonate (tough plastic) sandwiched between pieces of toughened glass. And not all BR glass is created equal; there are different BR-rated protection levels.
Security revolving doors and mantrap portals can be outfitted in BR glass with protection Level 3. As mentioned, the weapon most commonly used by an active shooter is a 9mm handgun. According to Total Security Solutions, BR glass with a Level 3 rating is capable of stopping three .44 magnum bullets, or a bullet that is twice as heavy and moves significantly faster than the bullet of a 9mm handgun.
Level 3 BR glass is 1.04" thick, over 4 times the thickness of standard security door glass. The glass can be used on the outer drum glass and also, the moving door wings or panels. It's important to note that using thicker glass on moving door wings or panels will slow the movement significantly due to the extra weight and impact throughput levels.
4) Bullet-Resistant Curtain Wall or Storefront
Active shooter safety extends beyond your security door to include the adjacent walls or storefront area. To be prepared for a direct attack, and especially if people are constantly present on the inside of the storefront, you should consider replacing your curtain wall or storefront with BR glass.
Because they are flat and stationary, curtain walls and storefronts can accommodate a much higher level of BR glass than a security door (which has curved glass or moving glass in the door wings). BR glass for the curtain wall or storefront is available in up to a Level 8 rating which, according to Total Security Solutions, is capable of stopping 5 shots from a .308 caliber 7.62mm rifle.
Unfortunately, active shooter incidents are occurring at company locations across the nation, and the globe. The impact of such an event can be catastrophic to an organization if lives are lost. If you believe your organization could be at risk, these 4 enhancements for your security revolving door or mantrap portal can thwart an active shooter's attempt at infiltrating your building and wreaking havoc.
Company: Boon Edam Inc.
Product: Security Doors & Portals
Of: Amy Coulter
Source: http://blog.boonedam.us/active-shooter-safety-4-things-your-high-security-entrances-must-have
High-Function Custom Bullet Resistant Solutions for Banks (February 17, 2017), Bird decoys: the hawk vs. the owl (February 10, 2017), Backyard 2.0: 2017 Deck and Railings Forecast (February 8, 2017), Flexible bollards guide traffic while avoiding costly collision damage and repairs (January 27, 2017), Mantrap Portal Solutions Eliminate Piggybacking (January 23, 2017), StonePly Success Story: Atlantis - The Cove (January 11, 2017), How to Choose the Right Product for a Nuisance Bird (January 4, 2017), Parking Booth (December 27, 2016), Architectural Glass Takes on a New Shape (December 23, 2016), Creating a Healthy, Safe, Age-Friendly Work Environment (December 7, 2016), Safety standards for slips, trips, and falls (November 30, 2016), Tunnel Vision: New York City's East Side Access Project (November 21, 2016), Rigorous Testing Standards Ensure Effective Security (November 16, 2016), Winner in NADRA 2016 Deck Competion (November 4, 2016), Critical Infrastructure Protection: U.S. Data Centers and Ballistic Barriers (October 3, 2016), Keep Pigeons from Destroying Solar Panels (September 30, 2016), The Dock Gate's custom gas struts make the vertical gate easy to open. Easy as 1, 2, 3! (September 21, 2016), What if Someone is Determined to Get into Your Building? (September 12, 2016), GuardDog Self-Closing Gate uses two stainless steel torsion springs so the gate can open in any direction (September 9, 2016), First Appearances Matter: remove the dirt | absorb the moisture | preserve your floors (August 31, 2016), Peace-of-Mind for Rural Utility Offices - Bulletproof barrier security tips & news (August 8, 2016), SlipNOT is keeping the Indians fans at Progressive Field on their feet (August 5, 2016), An orderly revolution in waste control (August 3, 2016), Antimicrobial Protection for Architectural Aluminum (July 16, 2016), Darlington upgrades good for business in Burlington (July 6, 2016), Evolution Of Revolving Door Security: Teaching Old Doors New Tricks (July 4, 2016), The Role of LEDs in Outdoor Lighting Design (June 27, 2016), Create Your Fire Prevention Plan (June 24, 2016), Slip Resistant Aluminum Flooring in Bubble Capsule (June 22, 2016), Balancing Bulletproof Security and Design (June 21, 2016), Turn your backyard into a haven (June 15, 2016), Starlings can be a Costly Nuisance, learn the facts on how to keep them away from your buildings (June 13, 2016), Hurricane Roof Equipment Screens (June 10, 2016), Slip Resistant Aluminum Grating Utilized on ASLA Green Roof (May 23, 2016), May is Electrical Safety Month: Know How to Protect Workers from Electrical Hazards (May 20, 2016), School Security and Access Control for Architects (May 9, 2016), Benefits of Slip Resistant Aluminum Plates (April 27, 2016), Why We Love Ipe and You Will Too (April 18, 2016), Broan NuTone invents new mosquito barriers for decks (April 13, 2016), Premium Ballistic Frames Offer Huge Boosts in Sustainability and Multi-Threat Risk Mitigation (April 12, 2016), Safety Bollards Protect Storefronts (February 9, 2016), Partnering with Architects to Make BulletProof Beautiful (February 3, 2016), Stay Warm: How to Protect Workers from Cold Weather Hazards (January 15, 2016), Active Design Guidelines for Walkable Communities (December 23, 2015), Hands Down: Hand Safety Tips You Need to Know (December 21, 2015), OSHA Safety and Health Guidelines (December 18, 2015), Teaching Those Who Keep Us Safe: The National Center for Spectator Sports Safety and Security (December 4, 2015), Reeder Illuminated Sign (November 23, 2015), Stop unauthorized parking using Reliance Foundry's Fold-Down Bollards (November 16, 2015), Mid-Century Modern Principles Applicable in Today's Bulletproof Barrier Design (October 30, 2015), Seton's Project Packaging Service | Seton Video (October 12, 2015), As Cooler Weather Approaches, National Home Expert Danny Lipford Launches Satellite Media Event Offering Tips for Seasonal Improvements and Healthy Homes (October 7, 2015), The Industry's 1st Monitored Light Curtain - Now Available (September 25, 2015), Flexible Bollards: Traffic & Parking Lot Posts (September 9, 2015), Bank Security: Balancing the Priorities of Security Managers, Architects, and Facilities (August 31, 2015), Introduction to Flashing/Talking Interactive Signs (August 13, 2015), Plastic Bollard Covers: Security Post Sleeves (August 7, 2015), Custom Mill Work, Bullet Resistant Barriers, and Inconspicuous Perfection (July 24, 2015), Ergonomics: When Work Really Can Be Hazardous to Your Health (July 14, 2015)