architecture - engineering - construction

Safety
---
For proper roof top safety, there are 3 general areas that require fall protection planning: Leading Edge, Entry/Exit Access points, and skylights.


Garlock Safety System Products - The Solution for your Safety Needs
Roof Top Safety Summary
Safety Guardrails
This type of safety rail fall protection is the preferred method and requires the least amount of employee training and required inspection.

Perimeter Systems
Clamp on perimeter systems are very popular and allow edge to edge protection without fall restraint by using lumber as a safety rail. A medium amount of training and inspection is required for this type of protection.

Skylights & Hatch
All skylights & roof access points are required to be protected.

Visual Warning
Typically a warning line system must be a minimum of 15 ft. from a hazard (consult your local OSHA requirements). For Work outside the safe zone, workers must use an approved PFAS restraint system. A medium amount of training and inspection is required for this type of protection if workers stay inside safe zone.

Fall Restraint
Fall Restraint simply stops the worker from getting near the fall hazard. A fall restraint system consists of an anchor point (either stationary or mobile cart), a personal harness or body belt and a lanyard or restraint line. The length of the restraint must not allow the worker to reach any fall hazard such as unprotected leading edge, stairwell, skylight, or open access hazard, etc. A medium amount of training and daily inspection is necessary for this type of system.

Fall Arrest
If a worker can reach a fall hazard then a PFAS system must be used to stop or arrest the fall in an emergency. A Fall Arrest system consists of an anchor point (stationary or mobile cart), a PFA approved full body harness and lifeline. The length of the lifeline must be sized to each job. Thorough employee training and daily inspection of equipment is required for Fall Arrest systems.

Company: Garlock Safety Systems
Product: Leading Edge: Safety Guardrail Systems
Source: http://garlocksafety.com/products#roof-top-safety
Tags: Railing System | Roof | Safety
---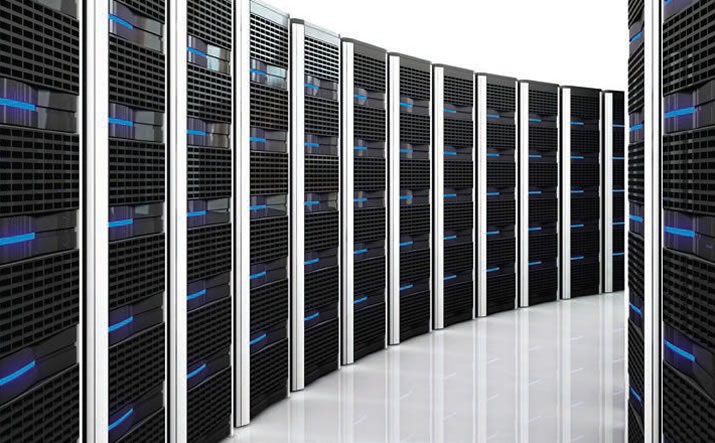 The Natural Resources Defense Council states that Data centers can be regarded as the back bone of a modern economy serving businesses and communications. Defending data means not only protecting it from Mother Nature but also giving back to her with sustainable designs. A question that must be considered during the design of a data center, is 'How likely could the facility be compromised in extreme weather conditions such as tornadoes and hurricanes?'
When evaluating potential HVAC equipment it is advisable to use FEMA rated louvers and grilles. FEMA rated grilles and hurricane-resistant louvers have been tested against high windloads and large missile impacts. Outside air control dampers can seal up the center when necessary to reduce humidity and heat.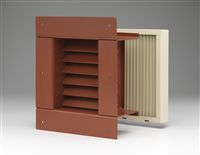 Ruskin's XP500S Extreme Weather Grille protects wall penetrations from flying debris caused by tornadoes, hurricanes, and severe storms. This type of protection is critical in the design of Community Shelters (ICC-500) and Safe Rooms (FEMA 361). It offers designers a ventilation solution for their near-absolute life safety requirements. The heavy duty grille can be mounted internally, externally, or in conjunction with other louvers providing protection and certified performance. Rated for an industry leading 266 psf windload, the XP500S Grille meets or exceeds the building envelope protection requirements while complementing the construction of data centers.
Relevant Certification
FEMA P-361
Safe Rooms for Tornadoes and Hurricanes
http://www.fema.gov/fema-p-361-safe-rooms-tornadoes-and-hurricanes-guidance-community-and-residential-safe-rooms
ICC-500
ICC/NSSA Standard for the Design and Construction of Storm Shelters
http://www.iccsafe.org/cs/standards/IS-STM/Documents/2013Dev/ICC500-2013_PC1.pdf
Company: Ruskin
Product: Louvers
Source: http://www.ruskin.com/News-Articles/entryid/705/Data-Center-Protection
Tags: Grilles | Hurricane | HVAC | Louvers | Safety
---
Many organizations spend a great deal of time and financial resources in making the entrances to their buildings artistic and beautiful, with designs and materials that inspire awe. They may work with an architect, engineer, or building contractor and ensure compliance to NFPA safety and fire guidelines regarding egress, along with the desire for user convenience and an overall aesthetic design. Often, they select standard swinging doors to make it more convenient for employees, visitors and vendors to enter. For security, they employ security officers to stand guard.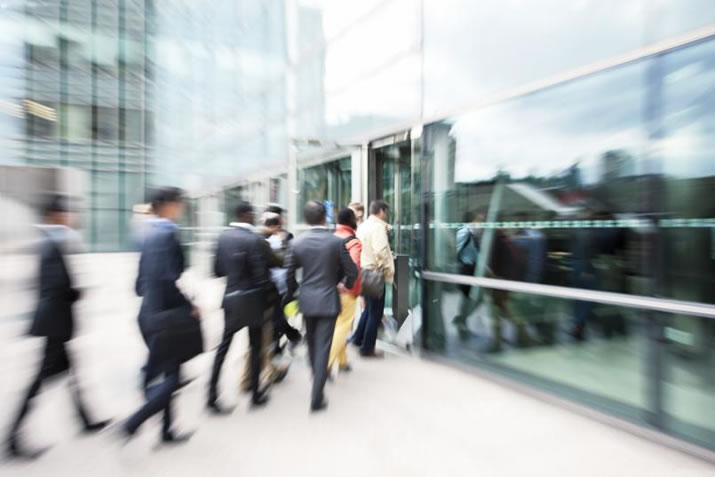 Standard Swinging Doors Introduce Risk
Unfortunately, there are a number of troubling issues surrounding the strategy mentioned above. Security officers are human and subject to distractions, absenteeism, fatigue, being spread too thin or overwhelmed during busy periods. No security officer can reliably "prevent" an intrusion incident at all times and in all locations – in fact, the term "social engineering" was coined to refer to commonly used techniques for getting around security officers. That introduces risk to the enterprise.
And a standard swinging door is often the choice when organizational management is under-informed of the security implications of that selection. The decision makers may also not have any security background. Swinging doors do not, and cannot, prevent unauthorized intrusions, and thus they place an organization squarely in the chain of liability should an intruder cause harm or physical or data loss.
Failure to Meet Physical Security Regulations Results in Fines and Penalties
The lack of clarity around how an entrance is designed and secured not only increases physical and cybersecurity risks, it also places a company at risk of liability that can lead to crippling fines and penalties. Laws and regulations such as HIPAA, HITRUST, PCI Data Security Standard, NERC CIP, FERC, FISMA, ISO, FDA, TAPPA and others have maintained a cyber-heavy emphasis. However, today virtually all regulations mandate some form of physical controls that address unauthorized entry and the control of access into a facility. Non-compliant firms may be subject to significant fines and other actions. Below are a few examples:
NERC Violation
As an example, electric utilities are subject to NERC CIP 14 5-6, which works to ensure the reliability of the North American power system. One utility was recently fined $1.7 million when NERC found a number of violations, including three perimeter doors that had been altered so they didn't lock "so people could enter without the burden of security," among other issues.
HIPAA Violation
Healthcare businesses must comply with HIPAA regulations regarding the protection of patient health information, including limiting physical access to the data. Individuals that knowingly obtain or disclose such information face criminal penalties including jail time. Even if a firm violates HIPAA rules unknowingly, they are still subject to fines up to $50,000 per violation, up to an annual maximum of $1.5 million. Firms that are negligent in protecting their physical points of entry could be found responsible for disclosures perpetrated by intruders.
GLBA Violation
Any firm that involves financial services, from banks to mortgage lenders to car dealers, has to comply with the Gramm-Leach-Bliley Act, or GLBA, which requires firms to take steps to protect the privacy of customers' financial data, including the development of a written security plan and "a thorough risk analysis" to protect the data. Non-compliance carries a fine of $100,000 per violation and includes potential jail time of 5 years. As is the case for HIPAA, firms that are negligent in their physical security could be found non-compliant.
Security Entrances Mitigate Risks and Liabilities
Security entrances are designed to prevent unauthorized intrusion and meet regulatory compliance. They provide for a range of assurance levels, from models designed to support guarded entrances all the way up to unstaffed entrances with very high security levels. High security entrances actually eliminate tailgating while ensuring, through biometric authorization, that the individual entering the facility is the one who is authorized – and not another person carrying their credentials. In every case, security entrances mitigate unauthorized entry while allowing for two-way traffic and emergency exit. When unauthorized entry is addressed, several risks are mitigated at once – including both the physical and cyber security threats. From a liability standpoint, blocking intruders reduces the risks to the personal safety and security of staff, visitors, and anyone else in the facility.
The entrances of your facility must be considered as part of your whole security solution, in the planning phase and then in an ongoing way. This is the best way to address and mitigate risk and avoid any potential liabilities, compliance violations, and expensive fines.
Written by Pierre Bourgeix
Pierre has over 20 years of solutions selling and consulting experience in the security industry, most recently as the owner of his own consulting company, ESICONVERGENT LLC. Pierre has an MBA in Business Administration from UCLA Anderson School of Management and resides in Cleveland, Ohio.
Company: Boon Edam Inc.
Of: Pierre Bourgeix
Source: http://blog.boonedam.us/regulatory-compliance-how-the-lack-of-clarity-around-the-entry-leads-to-fines
Tags: Access Control | Doors | Entrances | Safety | Security
---
A fire in any building can be cause for alarm. Smoke and flames pose dangers to the people inside, while at the same time causing thousands of dollars to damage to the building itself in just minutes.
High rise buildings in particular have very special needs when it comes to smoke and fire control. Because smoke can travel through a building very quickly, it makes it more difficult for occupants of the upper floors to reach clean air safely.
That's why smoke control in high rise buildings is so important, and why simply having fire extinguishing equipment on site is not enough.
The Path of Smoke
During a fire, it's often the smoke that poses the most harm and does the most damage because of how quickly smoke travels and the path that it takes through a building.
Vents, stairways, and elevator shafts all channel smoke, allowing it to move throughout the building in just minutes.
In a high-rise building, occupants on upper floors can quickly become trapped by smoke and flames, particularly if the elevators and stairwells are filled with smoke. Often, occupants may attempt to find a path to the outdoors, only to be turned back as they descend lower into the building where the smoke is thicker.
Smoke control should be employed as well as fire extinguishing equipment to prevent smoke from moving through common escape routes like stairways. Simply controlling flames and keeping them to one area of the building is not enough to prevent loss of life or injury for occupants on upper floors.
Smoke Curtains for Communicating Stairs and Elevators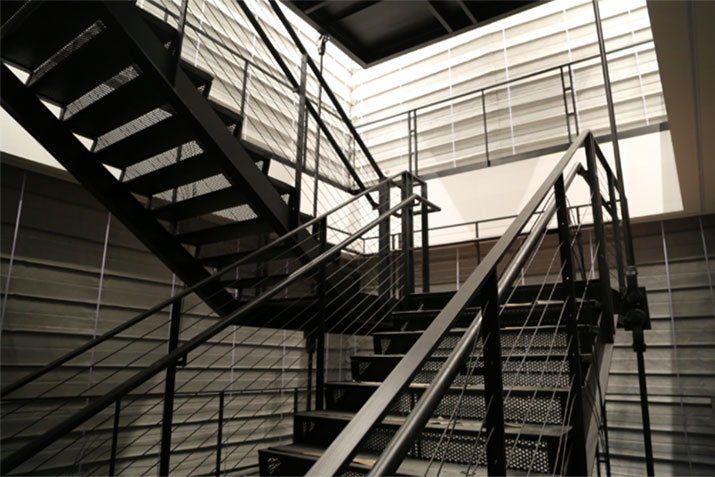 Communicating stairs and elevator shafts in high rise buildings can quickly become chimneys in the event of a fire, channeling and pulling the smoke from lower floors to the upper stories.
One way to combat this issue, and to keep stairways clear of smoke to allow occupants to descend safely is to employ the use of smoke and fire curtains in these areas.
Smoke curtains are discreetly installed at the head of an elevator or stairwell doorway. They deploy automatically in the event of a fire, or can be manually deployed in the event of an outage.
The curtain deploys to cover the opening, preventing smoke and flames from entering the area. This helps to contain the smoke and fire at its source and prevents the smoke from infiltrating the rest of the building.
When paired with fire extinguishing equipment, smoke curtains can help minimize damage to the building while helping to ensure that the exits from the building remain safe and accessible for occupants.
Smoke Control for Other Areas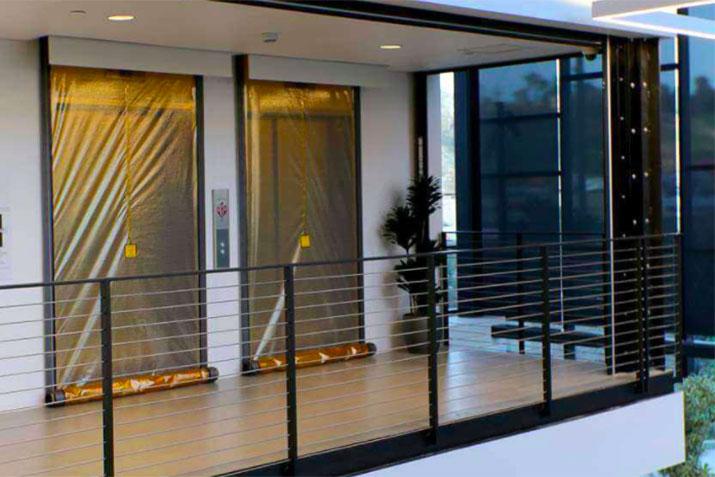 Not every high-rise building is going to have the same layout, format, or needs when it comes to fire and smoke control. While protecting the elevator shafts and stairwells should be one priority, your high-rise building may have additional needs to consider as well.
Many newer buildings often have atriums or open lobbies that extend upwards several stories before reaching a ceiling. A fire breaking out in the atrium or lobby could allow smoke to reach these upper stories and the rooms or offices that surround the open area very quickly.
A horizontal smoke curtain, designed to deploy across the open section of the lobby, could help prevent this from happening. The smoke curtain can also give fire extinguishing equipment time to work which minimizes damage and costs associated with rising smoke.
Smoke curtains can also be used to help divide open floor plans to contain smoke in newer office and apartment layouts that rely on a lack of physical barriers for style. By installing discreet smoke curtains at specific junctions throughout the space, you can help ensure that damage and loss of life is minimized no matter what use your particular building is put to.
Include Smoke Protection
Smoke is often responsible for more damage to a building than the flames themselves. And, smoke can linger and travel throughout a building even after the flames have been extinguished.
By utilizing smoke control methods such as smoke curtains in your high-rise building, you help to minimize costs associated with this damage, as well as the amount of time that the building may be out of use after a fire.
When making plans for flame and fire containment and extinguishment in your high-rise building, make sure that you also take steps to add smoke control as well.
Don't let the elevators and stairwells that are part of every high rise become chimneys that pull smoke to every floor of your building, and don't allow modern office and apartment layouts to make smoke and fire control difficult.
Instead, look to discreet and cost-effective smoke and fire curtains to help ensure the safety of your building and all of its occupants at all times.
Company: Smoke Guard, Inc.
Product: Model 600 Smoke Curtain
Source: http://smokeguard.com/blog/2017/december/01/smoke-control-in-high-rise-buildings
Tags: Architecture | Engineering | Fire Resistant | Safety
---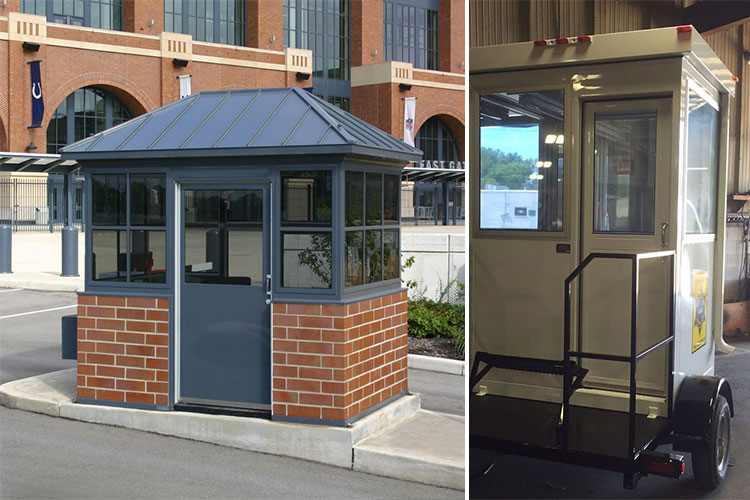 Security booth 0062-PRZ, security booth 15-170
If you need to secure multiple gates or entrances, it is essential to have a security booth, guard house or parking booth you can position and use immediately. Par-Kut portable security booths are perfect for guarding multiple entrances and gates. These security booths are easily moved from one place to another. So you can have these guard booths ready to use as soon as they are deployed or installed.
There are many advantages to having a portable security booth that is easy to transport. Par-Kut portable security booths are easy to order, and do not require assembly, because Par-Kut security booths are all factory-assembled. In addition, since there's no on-site construction, you will save time and money. These security booths can be moved easily with a fork lift or a crane. For even more rapid and frequent relocations, trailer mounted security booths are available. Bullet resistance can also be added.
Par-Kut's climate controlled and well insulated portable security booth can also reduce the officer's stress and fatigue. Further, a Par-Kut portable security booth provides a safe shelter for the security personnel. Moreover, your security booth can be enhanced to reflect architectural elements found on your facility. A variety of paint color schemes, various roof lines and styles, brick or stone wall treatments and even custom building shapes can be incorporated into a unique portable security booth design for your location. Interior options and lighting enhancements contribute to the aesthetics and function of the portable guard booth or guard building.
For more information about Par-Kut portable security booths, one of our skilled sales persons can help. Whatever your requirement for your security booths, contact Par-Kut today to discuss your particular operation.
Company: Par-Kut International, Inc.
Product: PAR-KUT STANDARD
Source: http://www.parkutblog.com/security-booth/portable-security-booths/
Tags: Entrances | Prefab | Safety | Security
---
Cable railings have become a popular choice in recent years for completing decks, stairways and other projects in homes, commercial buildings and public spaces. They are easy to install and designed to withstand weather extremes, providing a low-maintenance railing with many benefits. In fact, many buildings that incorporate cable railings through remodeling or retrofitting see an increase in resale value.
If you're looking for an opportunity to install a cable railing, here are the more popular places where they are used.
DECKS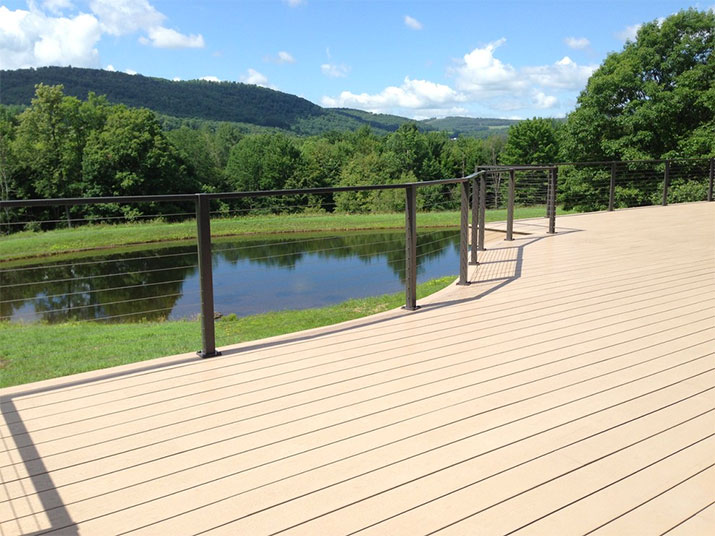 Undoubtedly the most common place to install a cable railing is on a backyard deck. Builders and homeowners know that a deck can be a prized possession, especially in the warm summer months when we all love to barbecue and relax with family and friends outside.
In every municipality, building codes require certain precautions to keep occupants safe. This almost always includes a railing. The one thing about adding a railing to a deck, however, is that they tend to block the scenic views — the reason many decks are built in the first place. Cable railings allow for the clearest view, and the least amount of work to maintain it.
BALCONIES OR TERRACES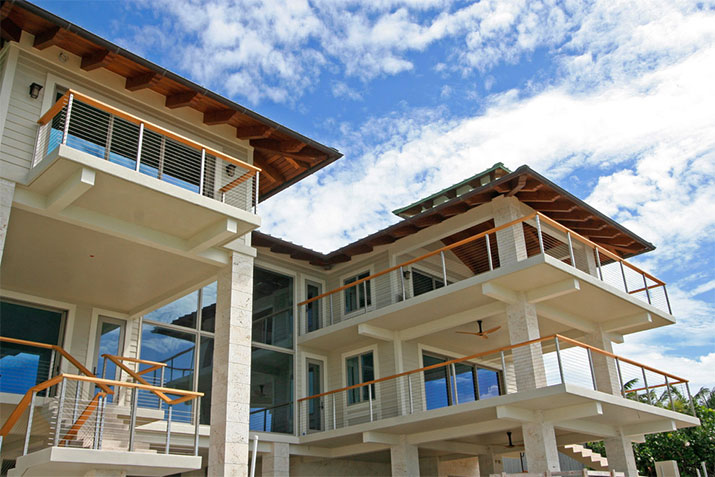 A balcony is a lot like a deck, but in this case the platform is supported by the structure of the building rather than standing alone as an attachment. Balconies and terraces are usually smaller than a deck, but still deserve a strong, stylish railing. Used for smaller outdoor spaces, a cable railing's transparent quality can provide a feeling of spaciousness and an optimal view.
STAIRS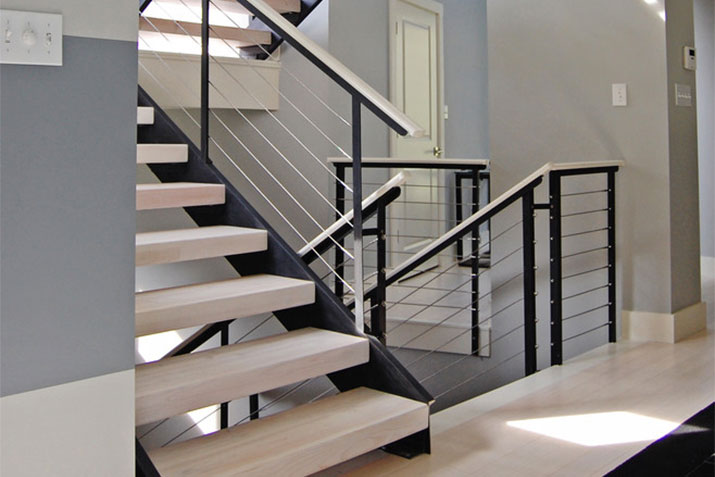 Stairs are another common place for cable railing. There is almost no instance where a railing isn't required where there are stairs. A cable railing is an affordable, easy-to-install railing option for staircases and other interior applications. With an inconspicuous yet complementary look, cable railings provide the open feeling so many homeowners desire.
OUTDOOR PATHWAY/GARDEN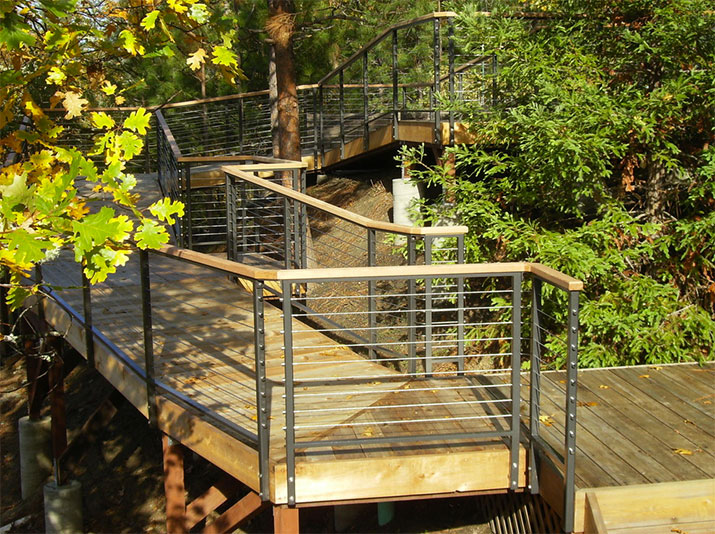 Cable railings can easily be incorporated in outdoor spaces to mark pathways and add interest to landscaping. By using a cable railing rather than a wooden fence, you can appreciate the entire outdoor space without obstruction. Also, installing cables in a garden setting will allow climbing plants and other vines to show off and make the railing a part of the landscape.
POOLSIDE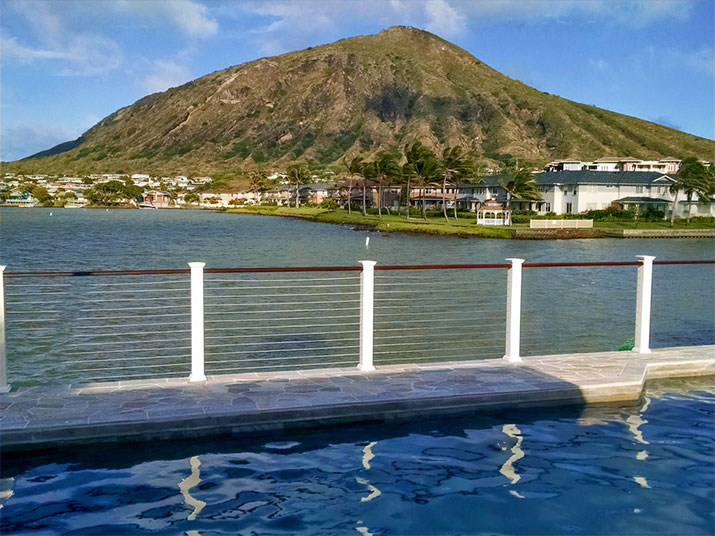 If you have a pool or spa on your property, you're already aware of the municipal codes requiring you to have a protective fence or railing. Chain-link fences can ruin the aesthetic of your property, and wood fences usually require a great deal of upkeep. Installing a cable railing around your pool will keep your property looking nice, cut down on chores, and keep children safe. This type or guard rail is approved by many building codes as a pool perimeter, although you should always check with your city or county before ordering or installing one.
Company: Stainless Cable & Railing Inc.
Product: CableView® Stainless Steel Cable & End Fittings
Source: http://site.stainlesscablerailing.com/blog/best-places-to-use-cable-railing/
Tags: Design | Railing System | Safety
---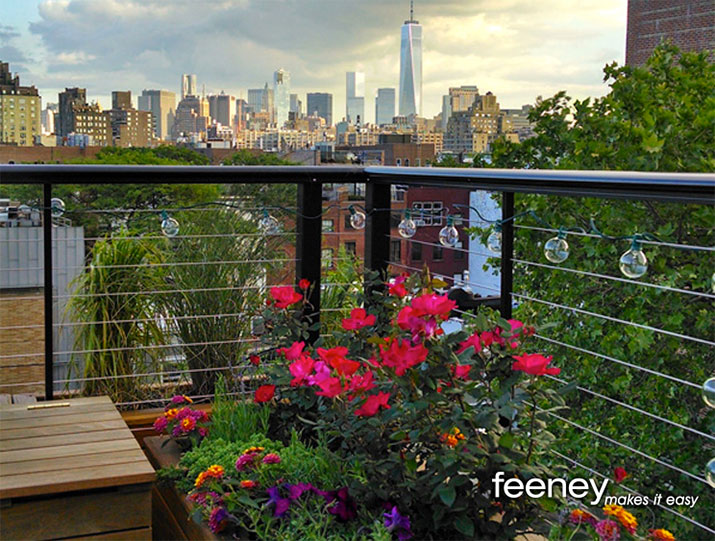 Black railing lets the eye focus on the foliage and the cityscape
In a previous post, we examined the pros and cons of railing infill alternatives. If an unobstructed view is a priority, the railing in-fill is usually glass or cable. Glass has its fans, but frequent cleaning can be a turn-off to some. Cable rail requires much less effort to keep up a fresh appearance.
However, both in-fill systems are identical in one respect: An attractive, durable railing system is required. In most applications, the strength, affordability, and beauty of long-lasting aluminum is the preferred railing choice. Aluminum also works well in interior or exterior applications.
But what about aluminum railing color?
Feeney offers 14 standard colors and over 200 custom colors for its DesignRail® aluminum railing system. To make sure the color holds up, especially in exterior projects, the aluminum railing receives a power-coated finish to the AAMA-2604 standard. That helps ensure color retention, impact resistance, and harsh weather protection.
With so many color choices, is there a one that especially supports an unobstructed view?
Absolutely, say Jason Russell, Tacoma, Wash.-based deck contractor and aka Dr. Decks®. In the doctor's professional opinion, one color stands out for an outstanding viewing prognosis.
"It's black," Russell says. "When you're sitting on your deck, admiring your view of the water, mountains, field, trees, or your neighbor's place, the less obstructed the better.
"You tend to look past darker colors, minimizing visual conflict. Lighter colors, like white, tend to draw the eye and distract. If you're framing glass or cable, all you see is that white aluminum frame." Says the 21-year deck-building veteran, "black helps avoid the distraction."
"I've heard some homeowners say, 'Okay, but won't a black railing look funny with my house?' I know curb appeal is important. But many homeowners become attracted to a railing color without thinking through what they'll really see when they're sitting on their lounge chair or the view from the kitchen. A black railing is better than being penned-in by a white or light-colored railing."
Russell cites another reason for his recommendation: "I live on the West Coast and black and other dark colors are trending hot. Black is my number one, go-to color."
Feeney customers agree. Black and Bronze Matte (another darker shade) top the popular colors list for the DesignRail® aluminum railing line of colors.

Company: Feeney, Inc
Product: DesignRail® Aluminum Railings
Source: http://media.feeneyinc.com/blog/railing-color-a-hidden-choice
Tags: Color | Exterior Design | Landscape Design | Railing System | Safety
---
To get an idea of Jordan Iverson's growing reputation as a world-class home designer and builder, Houzz.com is a good place to start. All 18 of his reviewers share a common verdict: A 5-star rating. Perhaps more telling is the fact his home designs, voted on by the vast Houzz community, have earned the Best of Houzz – Design Award the last five years running.
Iverson's work has appeared in print in Eugene Magazine as well as Portrait of Seattle magazine. And cable TV powerhouse HGTV also recognizes Iverson's design skills. In the popular home design channel's Faces of Design, Iverson is one of six top U.S. designers in their "Kitchen + Dining" category. As Iverson's reputation has spread worldwide, he has had to politely decline numerous commission opportunities from nearly all points across the globe, including some from as far away as Australia, Dubai, Canada, and South America. "With a wife and three kids, leaving home for a month or two at a time just wouldn't work," the owner and designer of Jordan Iverson Signature Homes quietly observes.
This is Jordan Iverson, the do-it-all home-building designer, interior designer, and builder that's rapidly emerging as Eugene, Oregon's go-to custom home builder. International praise just happens to be a well-earned by-product of delighting Eugene-area homebuyers for the last 16 years.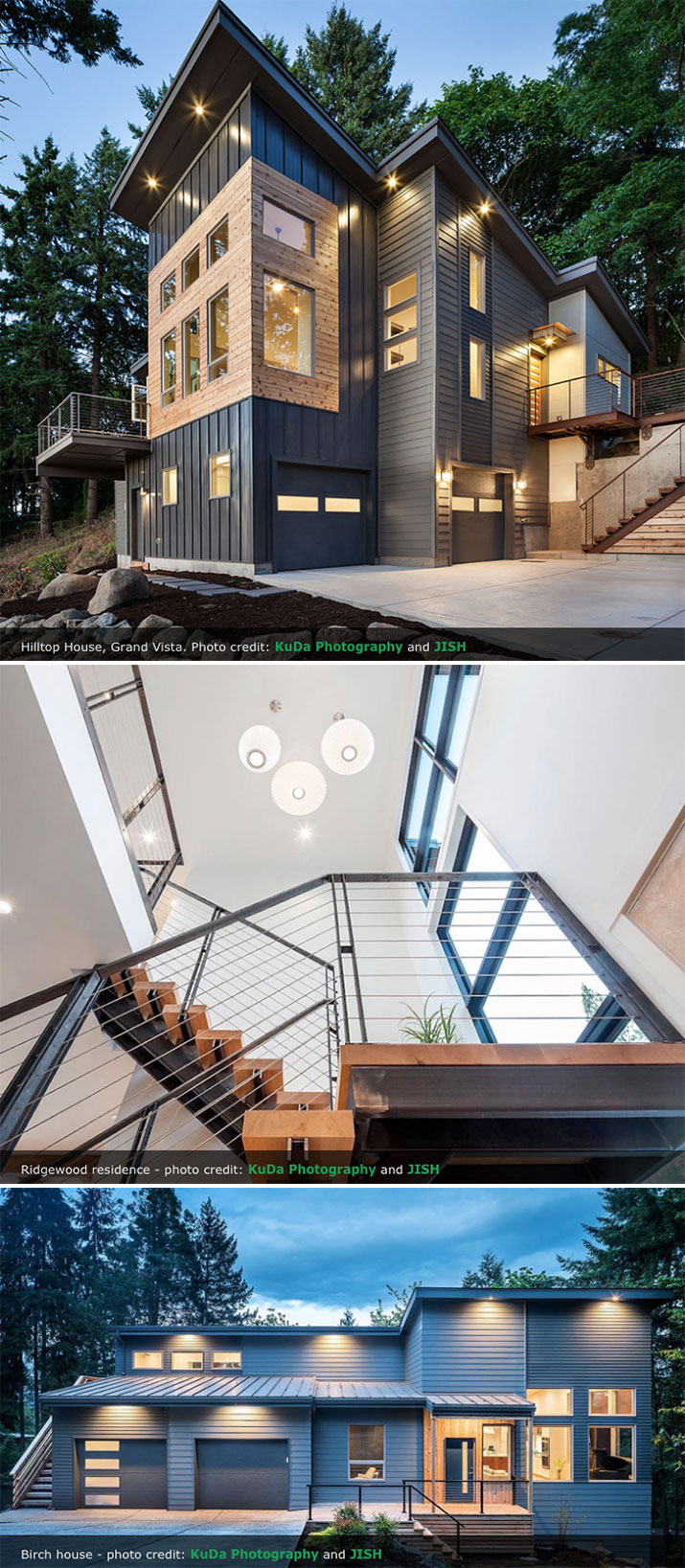 Self-Taught
"My dad was a builder so I grew up around it," Iverson explains. "When I married at 22, I decided to strike out on my own. We do every square inch of the design, inside and out. Each home we build is from the ground up. We've never built the same home twice."
If you detect a hint of pride, you wouldn't be mistaken. Iverson is a self-taught home and interior designer, claiming magna cum laude in the unforgiving school of the marketplace. Today Steve Wright, licensed architect, Driana Zehr, interior designer, and Chris Langenberg, project manager/site supervisor, round-out the Jordan Iverson Signature Homes team.
Deliberate Design
Iverson describes his design aesthetic as "warm modern" and "very Northwest inspired with warm wood materials and warmer gray colors that are never cold or harsh."
As home building auteurs, Iverson and his team work will happily honor the owner's wishes but are more accustomed to making nearly all design decisions. After all, that's what the owner is buying: A superbly-integrated design vision.
That vision routinely includes a signature design statement … the use of cable rail systems inside and out.
Feeney Makes It Easy
"Almost every design has had stainless steel cable rail of some kind. It really opens up views with a really nice, slim profile. The maintenance-free benefit is also great," Iverson says.
"Longevity and style are big benefits," he adds. "We don'''t sell upgrades or issue change orders. If it'''s right, we do it. The value of cable rail is very easy to present."
For Iverson, Feeney is more than his supplier of choice for cable rail systems. The Feeney name itself is morphing from a noun into a verb. "Feeney is the industry standard. A Feeney system has the clean look we're after. Quality and budget are also important considerations where Feeney shines.
"The Feeney name is synonymous with cable rail systems. They're the Kleenex® or Xerox® of cable rail," Iverson declares. Can 'Let's Feeney those steps' be far behind?
What's Next?
Today Iverson is broadening his brand to include four subdivisions that are expected to open later this year. "We're excited by that," Iverson says.
And so are the home buyers of Eugene, Oregon.
Company: Feeney, Inc
Product: CableRail Stainless Steel Standard Assemblies
Source: http://media.feeneyinc.com/blog/builder-spotlight-jordan-iverson-pride-of-eugene-oregon
Tags: Design | Railing System | Safety
---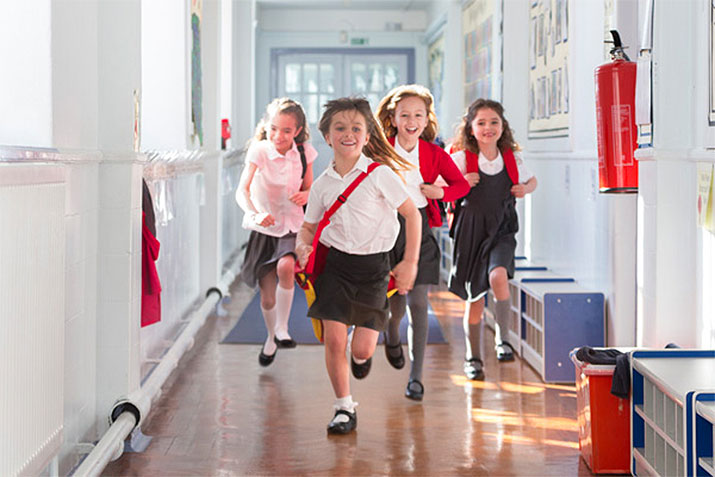 Fire retardant curtains, sometimes referred to as fire or smoke curtains, are curtains specially designed to keep building occupants safe from both heat and smoke during a fire. Fire retardant curtains are becoming increasingly popular as a passive means of fire safety. While many commercial buildings already utilize fire curtains, a growing number of schools now have these curtains installed for student and staff protection.
Choosing Fire Retardant Curtains
These curtains are made from a special type of fiberglass material and can withstand intense heat and block smoke from entering a protected room, elevator, or portion of the building. They are quite flexible, despite being very thick, which makes the curtains ideal for a number of different applications.
You can easily choose from a variety of different grades of curtains, depending on how much protection is needed or whether smoke or fire (or both) protection are required.
Being able to integrate fire retardant curtains into a school's fire or smoke alarm system is a huge advantage. Curtains deploy as soon as smoke sensors are triggered, enabling immediate protection of students and staff, without the chance of human error for releasing the curtains in a time manually.
In the event of an emergency situation where power is lost, curtains will still fall thanks to backup battery power.
Aside from giving schools additional protection in the event of an emergency, these fire or smoke curtains are some of the most effective means of compartmentalizing an open space.
Schools are often designed with large, open areas like cafeterias and gymnasiums, which makes creating a protected space difficult. The use of fire curtains means schools can easily create a safe boundary within a large, open room such as a cafeteria that will guide occupants safely out of the building without exposure to fire, smoke, or heat.
Though fire curtains can be placed in a number of different ways, there are a few areas within a school that are perfect candidates for durable fire retardant curtains.
Atrium Separation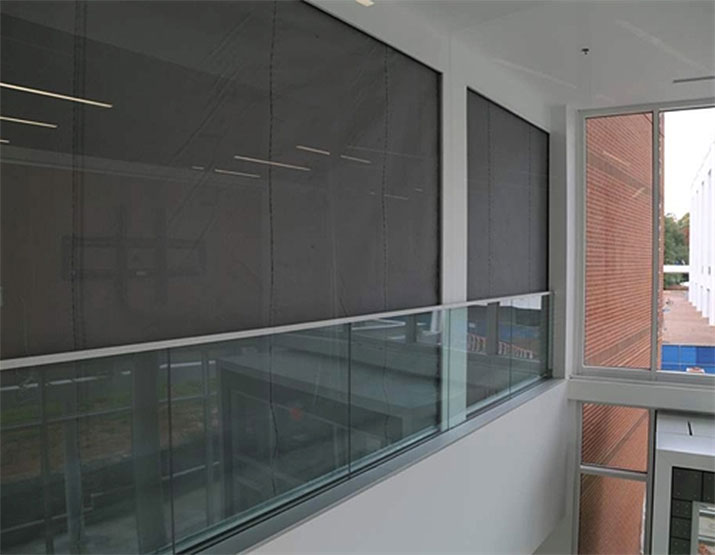 A school's atrium often serves as an open lobby of sorts, a place where visitors, students, and staff enter and exit throughout the day. Some school's atriums also serve as a hangout spot for students during breaks and lunch.
The overall openness of an atrium, especially if it is a multi-story building, makes it an ideal spot for a fire retardant curtain system. The atrium may be completely blocked from the rest of the building or a separate curtained room may be designed, depending on the structure of the atrium.
Elevator Protection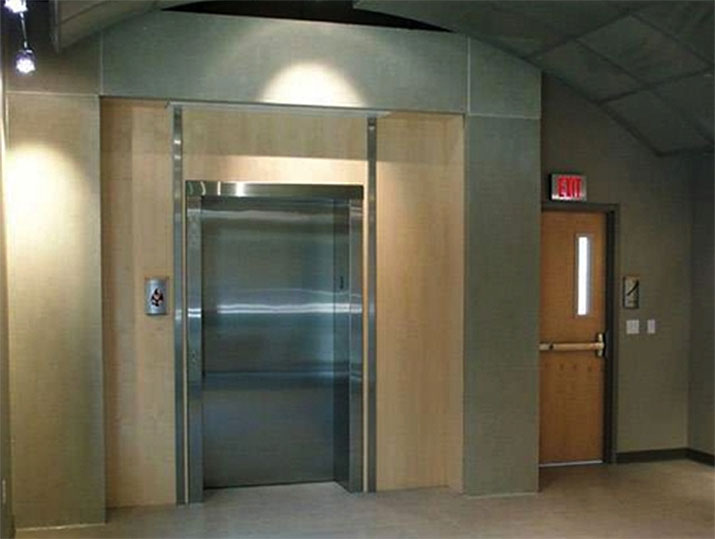 Elevators are an element of danger in an emergency situation, especially where fire and smoke are involved. An elevator shaft essentially acts as a chimney in the event of a fire, quickly moving smoke upwards throughout the building. The traditional means of elevator fire protection is the addition of a self-contained fire-rated box that surrounds the elevator, in its own enclosed elevator lobby.
International Building Code (IBC) requires architects to isolate each floor from the elevator shaft, but the typical method isn't ideal.
Smoke-rated curtains with a magnetic gasket can be used instead, to stop smoke from seeping through elevator doors, while still being compliant with IBC. This kind of curtain eliminates the need to alter the building design and saves building owners an incredible amount of space for their floor plan.
The curtains do a better job of containing smoke too. Rather than containing the smoke within a couple hundred square feet, the rolling magnetic gasketing system contains the smoke right in front of the elevator door opening.
Stair Enclosures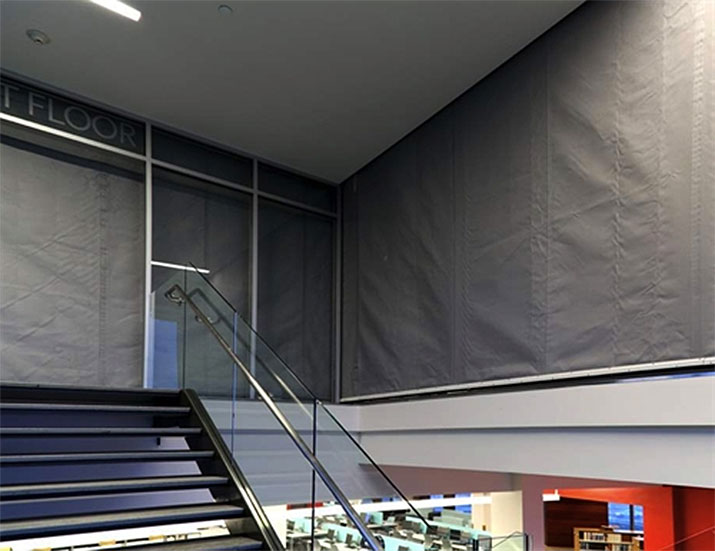 Similar to the chimney effect of elevator shafts, stair enclosures can also funnel smoke up and throughout the school.
Being able to block off stairs helps control smoke and limits exposure to those within the building on every level. These curtains can easily be hidden when not in use, which helps to maintain the aesthetic value of the building design.
Although fire protection throughout a school is mandatory, these three areas are particularly excellent choices for fire retardant curtains as they are high-risk zones, due to either high foot traffic or because of the previously mentioned chimney effect with smoke.
Fire retardant curtains are highly versatile and far easier to work with than constructing fire-rated boxes or other invasive and unattractive means of fire and smoke containment. They are an invaluable option for schools due to their easy installation. The school will have less downtime while curtains are being placed and expensive remodels aren't a concern.
Compared to the costs of a serious remodel for fire-rated boxes, fire curtains are far more affordable. Even if a school already has taken steps to contain fire and smoke, these curtains will work perfectly with whatever other system may be in place, only adding further protection from heat and smoke.
Considering cost, practicality, and overall effectiveness in both school occupant protection as well as fire and smoke control, fire retardant curtains can be an ideal solution for any school's fire safety program.
Company: Smoke Guard, Inc.
Product: Model 4000 Smoke Curtain
Source: http://smokeguard.com/blog/2017/july/31/the-benefits-of-fire-retardant-curtains-in-schools
Tags: Fire Resistant | Safety
---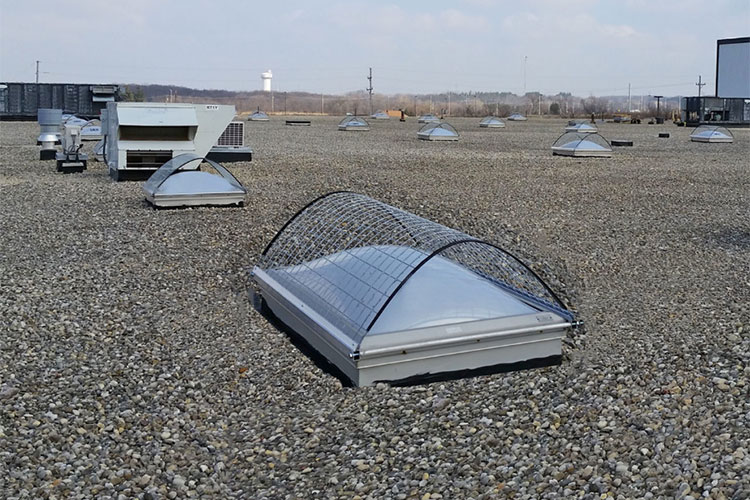 SRC Skylight Screens
Skylight Screens often are the most economical solution for guarding skylights. They fit a variety of dome-shaped skylights and don't take up any space on the roof.
Best of all, they do not require any penetrations to the roof, curb, or skylight. Our unique compression-fit design locks the screen onto the aluminum frame of the skylight. Federal OSHA and CalOSHA compliant.
Features
Economical
Compression-fit — no penetrations
Galvanized finish
Sizes available for skylights up to 61" wide x 120" long (up to 53" wide x 120 " long for CalOSHA)
Perfect for high wind areas
Company: Safety Rail Company
Product: Skylight Guarding
Source: http://www.safetyrailcompany.com/skylight-guarding-with-src-skylight-screens/
Tags: Glass | Metal | Roof | Safety | Windows
---
What you need to know to be compliant with the New OSHA Crystalline Silica Rule
The previous OSHA Crystalline Silica standard had not been updated in over 40 years. The agency determined that silica dust exposure at the previous levels resulted in a significant health risk of developing silicosis and other lung or kidney diseases. The new OSHA silica standard for PEL limits exposures to 50 micrograms of Respirable Crystalline Silica (RCS) per cubic meter of air, averaged over an 8-hour work day.
In order to keep exposure at or below the PEL, using engineering controls and work practices such as local exhaust ventilation systems or wet cutting is recommended. If these practices do not sufficiently lower RCS levels, the use of respirators is required. As industry leaders Seton offers a full range of safety product including warning signs, barricades, and respirators to help you work safely with silica and keep your workplace OSHA compliant.
Have more questions? See FAQs on seton.com/osha-silica.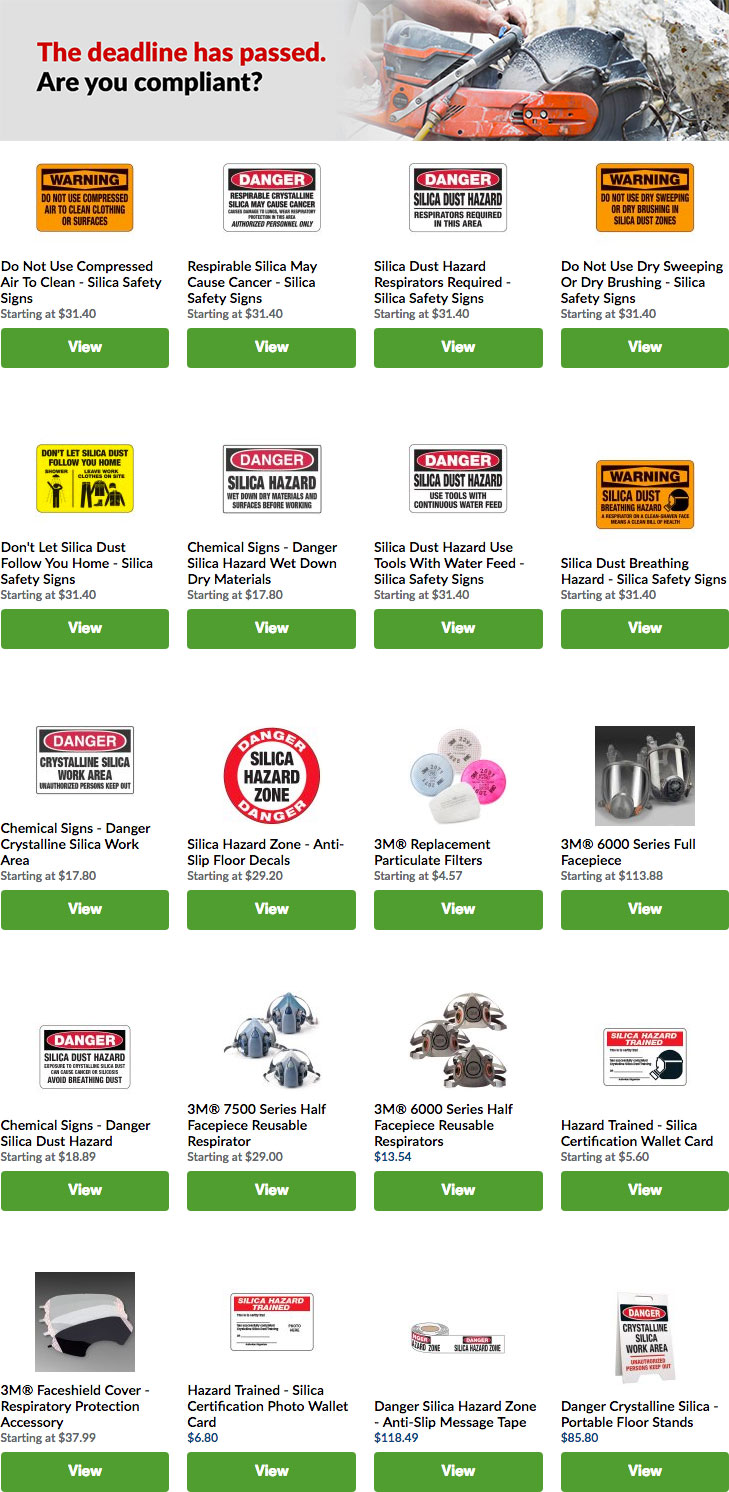 Company: Seton
Product: Signs
Source: https://www.seton.com/osha-silica.html
Tags: Color | Construction | Management | Safety
---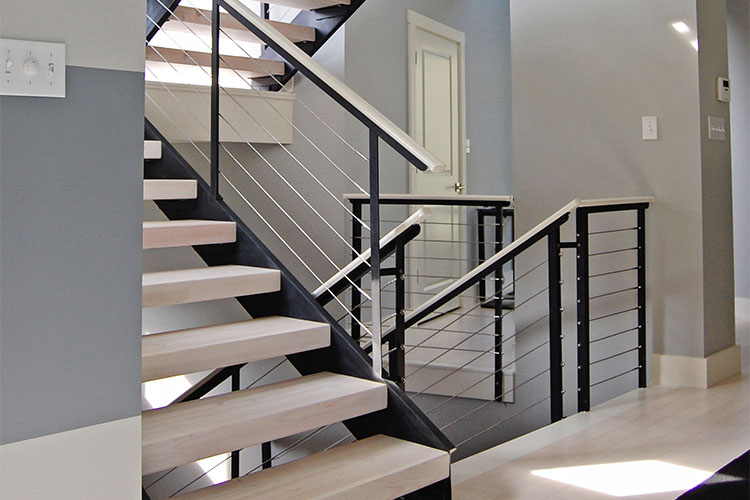 Cable Infill & Fittings for Stylish Contemporary Stairway by Stainless Cable & Railing Inc.
Finding the right railing for a new staircase, loft, or other indoor area can be difficult. Most traditional railings take up and break up space. The minimal design of a cable railing system instead keeps your layout open and expansive. Offered in a variety of color, material, and shape options, you'll be sure to find the perfect system for your home. Even if you already have a frame in mind, fill it with our marine-grade stainless steel cable infill and fittings for a stylish and near-invisible end result.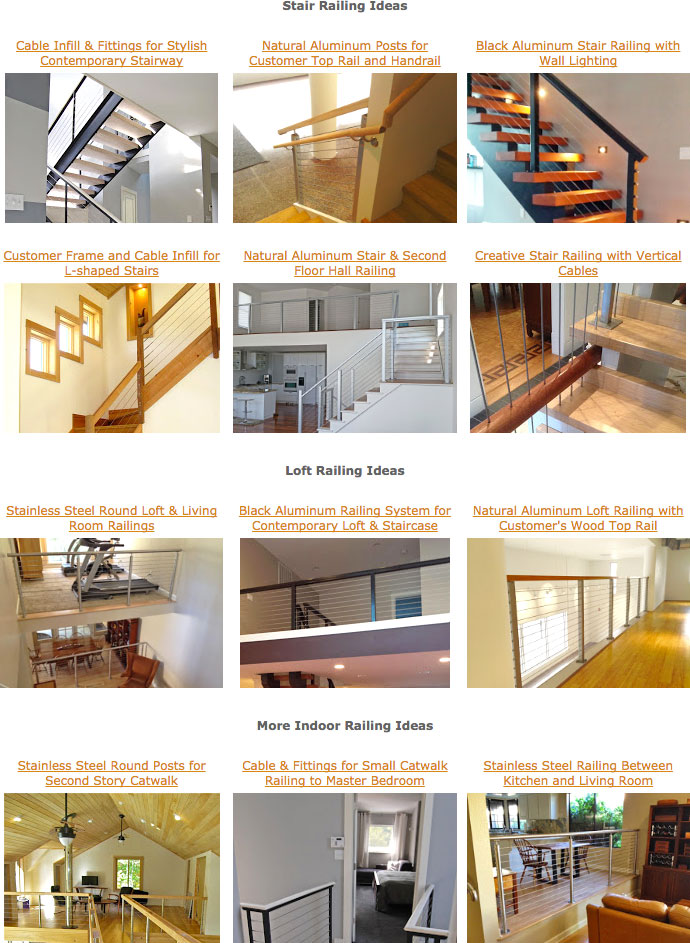 Company: Stainless Cable & Railing Inc.
Product: CableView® Aluminum Cable Railing System
Source: http://stainlesscablerailing.com/indoor-cable-railing-ideas.html
Tags: Interior Design | Railing System | Safety
---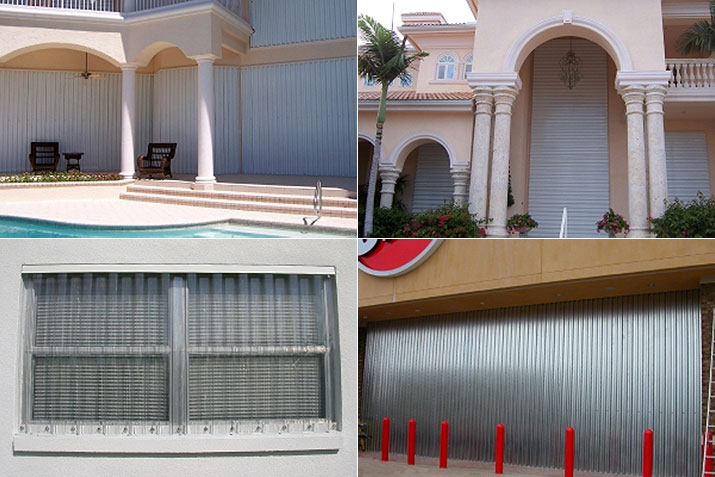 Removable storm shutters and panels are designed to be 'put up' in the event of a hurricane or storm by placing them into a pre-installed panel mounting system over a window, door, or other area to be protected. The mounting system may incorporate a 'direct mount' hardware combination, or a more convenient, header and sill track.
Economical and easy to use, these products protect against flying debris and water penetration associated with hurricane force winds. Additionally, panels are available in various materials to suit application and budget. They are typically taken down and stowed away when not in use. Designed with convenience and storage in mind, removable storm shutters and panels are a huge advantage and recommended alternative to cumbersome "homemade", plywood shutters.
Panels come in aluminum, galvanized steel or see-thru polycarbonate materials. Aluminum panels are typically used in residential applications for the inherent light weight. Steel panels are more commonly used on very large commercial applications such as storefronts. Where needed, Willard provides a clear polycarbonate alternative to allow light to pass though the storm shutter. While effective, clear panels pose some limitations over other materials available, and consultation is recommended before specifying.
Panels may be installed using washer wing-nuts or spring clips. Spring clips are made of ¾ hard, 304 stainless spring-steel. Preferred track mounting hardware is a 410 stainless steel, ¼" diameter Tapcon® typically provided with tracks. In direct mount or removable track applications, hardware shall be nickel-plated brass, or stainless steel machine screw in conjunction with brass insert.
In all cases, header and sill tracks are mill extruded, heavy duty, 6063-T6 aluminum alloy, and cut to specified lengths based on the number of panels to be used per opening. They are typically provided with pre-determined, "factory drilled" mounting holes to facilitate simple and accurate installation. The extruded aluminum tracks are mill coated with a modified, acrylic/polyester enamel and cured at 400°F. All mill coated finishes pass recommended ASTM and AAMA standards testing.
Key Features
Economical and simple
Can be made entirely removable
Easy to carry, put up, and store
Multiple materials and gages available to suit application and budget
Company: Willard Shutter Co., Inc.
Product: Removable Storm Shutters
Source: http://www.willardshutterco.com/products/removeable-storm-shutters.aspx
Tags: Exterior Design | Hurricane | Louvers | Safety | Windows
---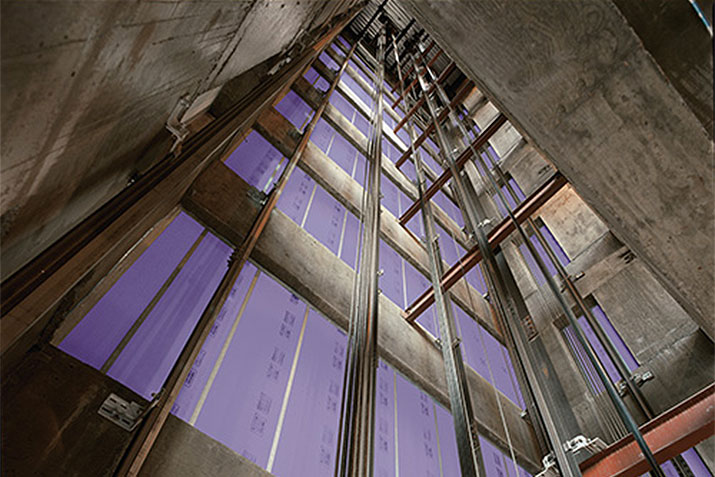 With the continued popularity of high-rise corporate headquarters, institutional buildings and high-density housing, the gypsum shaftwall system, known as the Cavity Shaftwall System, provides economic benefits – and also peace of mind due to its fire-resistant qualities. Originally designed for the 110-story World Trade Center in 1973, the Cavity Shaftwall System replaced heavier, more expensive masonry walls. This shaftwall system utilizes gypsum board framed with metal studs and tracks to enclose elevator shafts, stairwells and service shafts. These shaftwalls withstand the positive and negative air pressure forces exerted by high-speed elevators. Cavity Shaftwall Systems are also ideal for fire-rated, interior partitions where access is restricted to one side and as fire-rated, horizontal membranes.
Advantages Of The Cavity Shaftwall System
Cavity Shaftwall Systems provide many benefits. They are lightweight, easy to install, weather-, sound- and fire-resistant and more economical than masonry shaft construction. Four to five times lighter than traditional masonry enclosures, gypsum shaftwalls weigh approximately 10 pounds per square foot of wall compared to 40 or 50 pounds per square foot for a masonry wall. Buildings utilizing this shaftwall system require less structural steel and extensive underground support pilings. In addition, the core of the gypsum panels in the Cavity Shaftwall System contains about 21 percent water by weight, creating a fire barrier with 1- to 4-hour fire-ratings from either side. When gypsum board is exposed to fire, the water turns to steam and slows the passage of heat through the assembly, keeping the building safe for a longer period of time.
Installations
Typical installations use 1-inch thick gypsum shaftliner panels inside a minimum 2-1/2-inch metal framing system with an integral space to hold the panels in place on the shaft side. Metal J-tracks are placed horizontally at the top and bottom and vertically at partition ends. They also frame openings. Depending on the fire-rating you are trying to achieve, install one to five layers of 5/8-inch fire-rated gypsum board to the outside of the stud, creating a corridor side of the enclosure.
To construct lightweight fire barriers for cavity shaftwalls (1-4 hr.), we recommend Gold Bond® BRAND eXP® Shaftliner. It is an approved component in specific UL fire-rated designs, including G586 (horizontal, 2-hr.) and W419 (vertical, 1-4-hr.).
Questions About The IBC 2009 Code Updates For Buildings?
If you are designing a building of occupancy category III or IV with occupied floors over 75 feet tall and all buildings over 420 feet tall IBC Section 403.2.3 require increased impact resistance for exit stairways and elevator hoistway enclosures. If you have questions, contact your construction design manager for clarification and for assistance with the best and most affordable options for your project.
Company: National Gypsum
Of: Scott Hughes and Thad Goodman
Source: http://designcenter.nationalgypsum.com/on-board-newsletter/display/08-2017
Tags: Fire Resistant | Safety | Wall Panels
---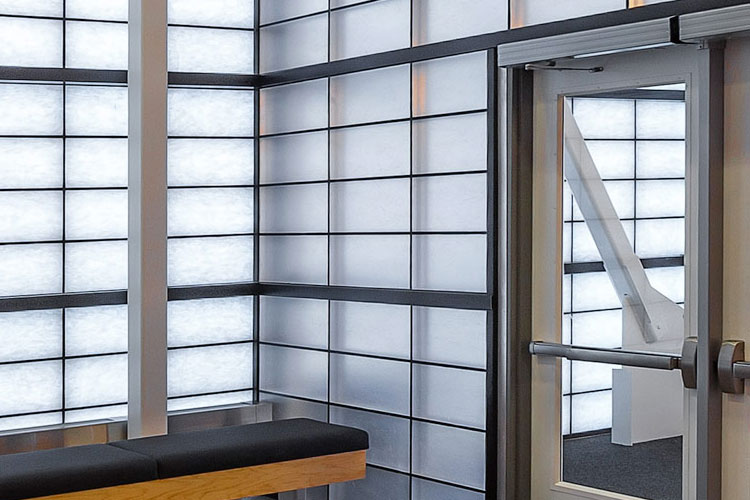 Explosives have become the weapon of choice for terrorists around the world, and the force of these blasts can wreak havoc on standard building materials. As an explosion impacts your building, a flying debris field is created which can cause a variety of injuries to your building's occupants. In fact, studies show that lacerations due to high-speed flying glass fragments are responsible for a significant number of injuries sustained in explosions. Less flying debris equals less chance of injury, and because they're designed to "flex" with the force of an explosive blast while remaining intact and secure in the opening, Guardian 275® Translucent Daylighting Panels can reduce the amount of dangerous fragments created by an explosion.
Guardian 275® translucent daylighting systems also shield occupants from a direct line of sight. Potential terrorists observing from busy streets and other uncontrolled locations are offered few clues to the activity within occupied spaces while interior spaces are enhanced with glare-free, energy-saving daylighting.
Tested, Abused – and Performance Verified
During a series of tests conducted by Baker Engineering and Risk Consultants Inc., a world-renowned engineering and testing firm, a variety of Guardian 275® panels were attached to a large shock tube, a test device that creates specific pressures and applied impulses (an applied impulse, measured in psi-msec, is equal to the net force on the panel times the time period over which this force is applied) to simulate the effects of an actual explosive device.
Guardian 275® panel configurations were put through a range of pressures and impulses in order to thoroughly evaluate their blast resistance and safety. A machine-generated blast pressure range of 5 to 6 psi, with applied impulses between 41 and 69 psi-msec, was chosen to test commonly specified blast loads for anti-terrorism protection of buildings in the United States. To put these numbers into a real-world scenario, a similar blast load of 5 psi could snap a wooden utility pole. A larger applied pressure of 10 psi with an applied impulse of 90 psi-msec was used to generate a medium level blast load that studies show could cause significant structural damage and serious health risks. Testing conducted in the 5 to 6 psi range showed that Guardian 275® panels resisted the applied loads over a range of impulses and retained their structural integrity. The largest applied pressure, used to recreate a devastating medium level blast, was 10 psi with an applied impulse of 90 psi-msec. The Guardian 275® panel once again "flexed" with the pressure and remained intact.
Please view below for high-speed video of a Guardian 275® panel "flexing" with the force of a blast.
Department of Defense (DoD) Minimum Anti-terrorism Standards for Buildings (UFC 4-010-01) for conventional building standoff distances and ISC Security Design Criteria Level C loadingGuardian 275® panels, after going through the most punishing blast tests in the translucent daylighting industry, meet or exceed the following related performance requirements:
US General Services Administration (GSA) Standard Test Method for Glazing and Window Systems Subject to Dynamic Overpressure Loadings – Condition "1", Hazard Level "None"
ASTM F 1642-04 Standard Test Method for Glazing and Glazing Systems Subject to Airblast Loading
AAMA 510-06 Voluntary Specification Guide for Blast Hazard Mitigation for Fenestration Systems
Since specific system configurations are dependent on a variety of factors, including stand-off distances and additional conditions, please contact us at 888-759-2678 or sales@majorskylights.com for more information.
Pressure Release Systems
For test laboratories, research facilities and other high risk areas, Guardian 275® systems can also be fitted with third-party certified fasteners that relieve sudden pressure surges by releasing the panels before structural damage occurs. Stainless steel safety lanyards keep the panels attached to the framing, minimizing the risk to people and property.
Company: Major Industries Inc.
Product: Guardian 275® - Translucent Panel Skylights & Curtainwall
Source: http://majorskylights.com/products/specialty-applications/blast-protection-pressure-relief-systems/
Tags: Glass | Safety | Security | Skylights | Wall Panels | Windows
---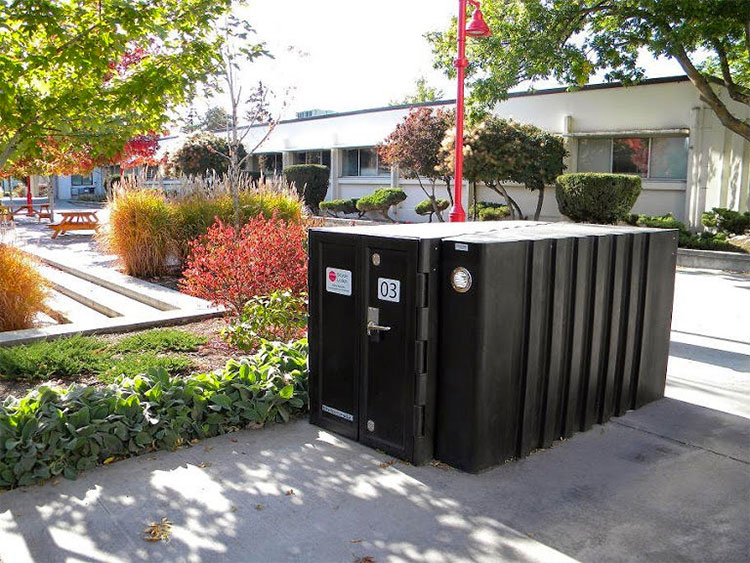 Bicycle lockers offer ideal protection against weathering and thieves
Keep your bicycles safe from thieves—and other threats you may not have considered
Because of the health benefits and cost savings it provides, cycling continues to grow as a form of transportation. But as the number commuters who cycle increases, so too does the demand for secure bike parking. Providing safe options will increase traffic to your location, but there are a lot of considerations to make when choosing what form is right for your building. Whether you are managing a business park, apartment complex, or office tower, you must recognize the vulnerabilities present at your site. There are more threats than just thieves out there, and in many situations, providing the optimal level of security will require more than a traditional bike rack can offer.
When deciding on the appropriate level of bike security required, the first questions that should be asked are how long the bikes need to be stored for and how frequently they will have eyes on them. These two questions address the two potential threats to bicycle security most commonly forgotten when deciding what type of bike storage unit to install: the elements and vandalism.
Damp weather can quickly wear at a bike's mechanisms and finish, and bikes stored in areas not regularly frequented are not only more likely stolen but also defaced. This means in high-traffic areas where bicycles are only secured for a few minutes at a time, like a store front, a traditional bike rack will provide an adequate level of security. But in isolated areas where bicycles are stored for long periods of time out of public view, such as schools, gyms, transit terminals, and theatres, a higher level of protection is recommended.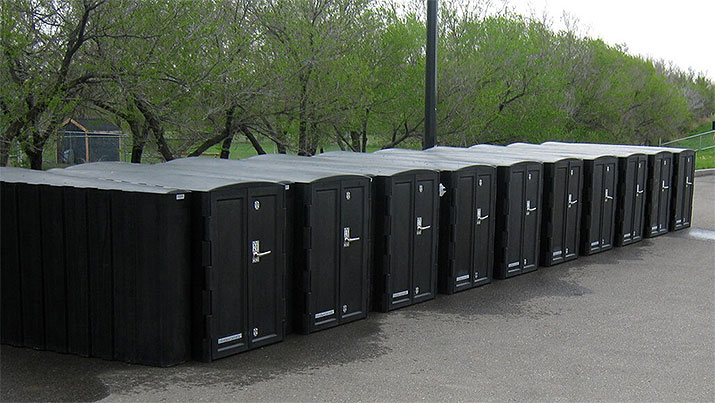 The wedge-shaped design allows individual bike locker units to fit together easily.
A fully enclosed bike parking infrastructure is best for these settings; bike lockers offer the optimal level of security. A bike locker is a compact and durable storage unit with box-like construction that prohibits contact from would-be thieves and vandals. Bike lockers can be considered "mini garages" for bicycles and they providepeace of mind in ways a standard bike rack cannot. Many models are also designed to prevent moisture entering. Most models feature a solid door-locking mechanism and feature enough room to protect additional equipment such as helmets, lights, water bottles, and pannier bags.
While bike lockers have been popular in urban cities across Europe and parts of Asia for some time, the market has just started to grow in North America. Bike lockers are now available in many designs, ranging from the rectangular box-type, to the triangle-shaped type, where the widest part accommodates the bicycle's handlebars. Many designs also feature components that allow multiple lockers to be formed into a modular arrangement.
Installation requires very little in terms of mechanical ability, and if a concrete base or footing is available, it can usually be completed within minutes. Bike lockers are generally held in place with washers and bolts that pass through the locker's floor and into a concrete anchor that sits in a hole drilled into the concrete base or footing. In most cases, all that is required to secure a bike locker is a drill with masonry bit and a wrench to tighten the lug bolts. Bike locker maintenance is also very easy. Polyethylene units can endure any weather nature throws their way with minimal wear-and-tear to the bike locker. Both plastic and powder-coated metal units can usually be cleaned with only warm soap and water.
Bike lockers are not only good for people and the environment, but they are good for business. They do require a more substantial initial investment than traditional bike racks, but the peace-of-mind security they provide also attracts the business cyclists. Some facility managers have even offset the initial purchase cost of bike lockers by renting the units.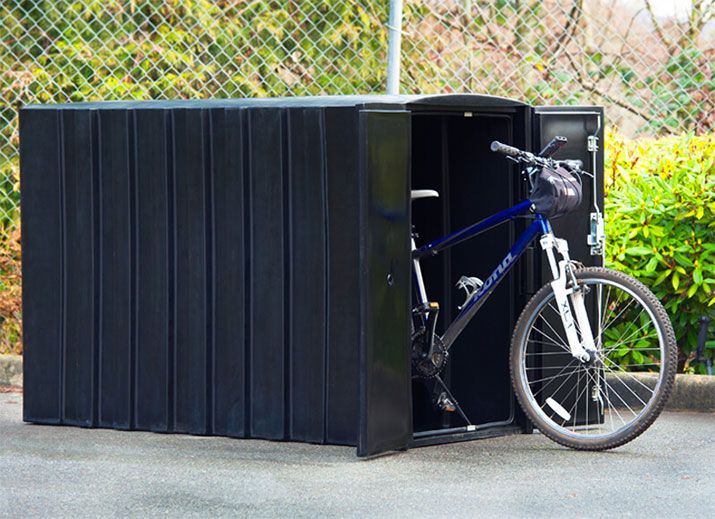 These low-maintenance bicycle lockers are made with low-density durable polyethylene.
As the urban landscape changes and an increasing number of urbanites eschew driving a vehicle in favour of a bicycle, the demand for storage solutions that are both weather and vandal proof will continue to grow. Traditional racks may be the right solution for many applications but many vulnerable areas require the increased level of protection that can only be provided by bike lockers. Keeping building occupants happy, easing vehicle parking demand, and preventing property damage will require the correct decision by facility managers.
Company: Reliance Foundry Co. Ltd.
Product: Bike Lockers
Source: http://www.reliance-foundry.com/
Tags: Exterior Design | Furniture | Landscape Design | Safety
---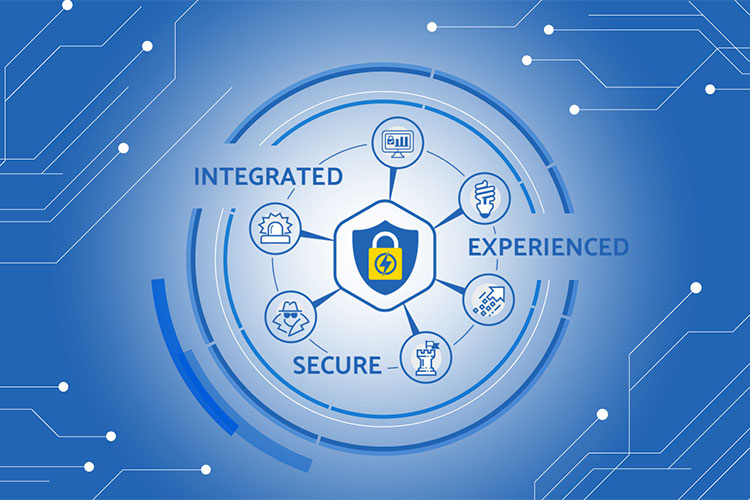 Accuride Integrated Access Solutions: The New Frontier of Access Control
While known for premium drawer slides, Accuride is also a major leader in access control solutions. Our electronic locking systems are found in many cabinet-level applications, from medical carts to inventory systems, and in countless industries, from automotive to healthcare.
Accuride Integrated Access Solutions (AIAS) feature "Intelligent Subversion Protection": multi-sensor systems that utilize onboard logic and two-way communication. These advanced systems verify that an application, such as a parcel locker or a CSA schedule drug cart, is truly secure.
Better still: Accuride access solutions are energy-efficient, silent, and emit little heat.
An Adaptable Solution

Another great aspect of Accuride Integrated Access Solutions is their adaptability. Each solution is tailored to fit a customer's needs, fitting all sorts of ancillary systems: RFID, biometric, keypad, retinal scanning, etc.
We've found our customers often need their solutions to comply with strict standards and certifications, such as those from the FDA, FAA, and HIPPA. Luckily, Accuride's global team of specialists are thoroughly experienced in compliance.
A Compact Wonder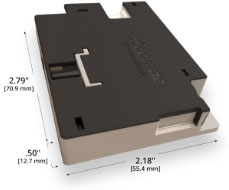 Cutting-edge electronic locks are a key component of Accuride Integrated Access Solutions. Each e-lock is the embodiment of efficiency, utilizing a lean, compact, low-profile design and consuming no more than 50mA per 200mS on 12v of power.
Don't let their size fool you: Accuride e-locks can resist hundreds of pounds of break-force.
Subtlety is Key
Another key aspect of Accuride Integrated Access Solutions is their subtlety. Each solution is meant to become part of the application, not an addition to it. Whether that application is a DNA analysis machine or a tool checking system, each Accuride solution works as part of the core design.
Download FREE Case Study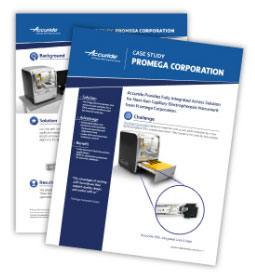 Learn how Accuride brought a new measure of access control and efficiency to a Next-Gen medical system
That's because Accuride engineers work closely with partners to achieve that seamless integration. From the conceptual stage to final production, Accuride technicians are there to make sure everything works flawlessly.
For more on Accuride Integrated Access Solutions, visit our dedicated page and speak to one of our experts today.
Company: Accuride International
Source: https://www.accuride.com/blog/access-control/accuride-integrated-access-solutions-the-new-frontier-of-access-control/
Tags: Access Control | Furniture | Interior Design | Management | Office | Safety
---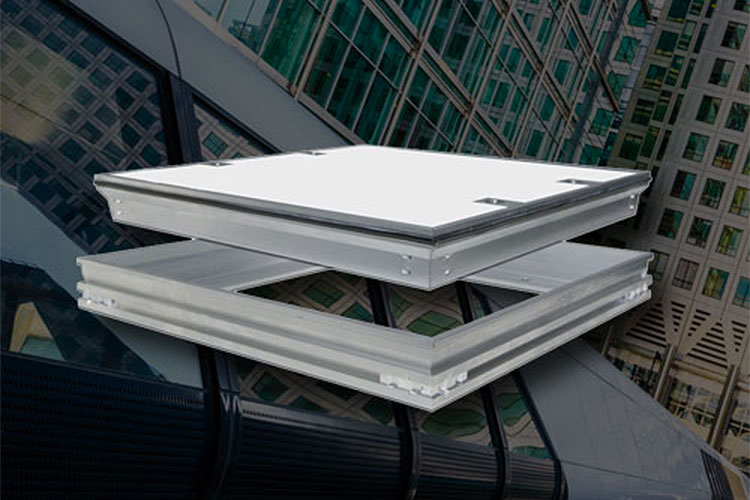 When it comes to solving the problem of accessing concealed services under floors, behind walls or above ceilings there are an abundance of products on the market that could do the job. However, if your requirement is for a quality access cover or panel that will provide quick and easy access to concealed services safely then those 'cheap' foreign imports are unlikely to make the grade!
In the world of construction the old adage, 'You get what you pay for' definitely rings true. Of course the majority of building services professionals involved in the specification process clearly understand that principle. A building component, such as an access cover, is just one of hundreds of constituent parts that make up a building. However insignificant the component to the overall structure it still has to possess certain attributes, satisfy stringent criteria and integrate positively with the other products being used.
As a busy architect or specifier how do you determine the best solution to the access scenario in your particular project?
PERFORMANCE
The level of performance required from an access cover is generally dictated by the type of environment where the concealed services are to be located.
Is it internal or external?
Loading requirement - will it be used by pedestrian traffic only or vehicular traffic?
Is access required frequently or just occasionally?
What size of aperture is needed to access the concealed services?
What type of material will cover the services?
How important is security?
At Howe Green we offer a wide range of floor, wall and ceiling access solutions designed to satisfy all of these performance criteria.
Need a single access panel for emergency access to a stopcock in a ceramic tiled bathroom wall? Or a duct run of floor access covers for regular maintenance of underfloor drainage systems beneath vinyl flooring in a hospital?
Whatever your performance specification Howe Green can provide the solution.
AESTHETICS
Whether you are working on a new build or refurbishment project the impact that an access solution has on the overall look and feel of the building is a consideration for the vast majority of projects.
By using the latest CNC and CAD technology access covers can be precision engineered to your exact specification. A perfectly sized access cover removes any hassle from the installation process and ensures that the cover fits seamlessly into the flooring, reducing the risk of slips and trips.
With options available for all types of hard floor finishes and the Visedge flexible floor access cover, Howe Green can be specified whatever the flooring finish.
STANDARD OR BESPOKE?
Many of the projects that cross your desk may well require a standard size access solution. At Howe Green standard size floor, wall and ceiling covers are available to order from stock, ensuring a speedy delivery to site when required.
Other projects may require a bespoke solution. This is where over 35 years of experience combined with continual investment in equipment, technology and processes ensures that whatever bespoke solution is required it can be supplied. If you need to specify a custom size, loading or finish Howe Green can accommodate your requirements without cost or time penalty.
MAKING THE DECISION
Whether you have most of the knowledge and information you need to prepare your specification or you are looking at our product ranges from scratch, the team at Howe Green are available to help.
The quality and performance of our products, flexibility of our service and the expertise of the team is what sets Howe Green access covers apart from our competition. Architects, specifiers, building engineers, flooring and tiling specialists and contractors have put their trust in Howe Green to deliver a tried and tested access solution since 1983.
If you are looking for an access solution to concealed services look no further than the industry standard and you will soon discover that "Not all Access Covers are created equal".
For more information about any of our products or for assistance with your specification please call 01920 463 230, we are always happy to help.
Company: Howe Green US
Source: https://www.howegreen.com/howe-green/news/not-all-access-covers-created-equal.php
Tags: Access Covers | Design | Safety | Security
---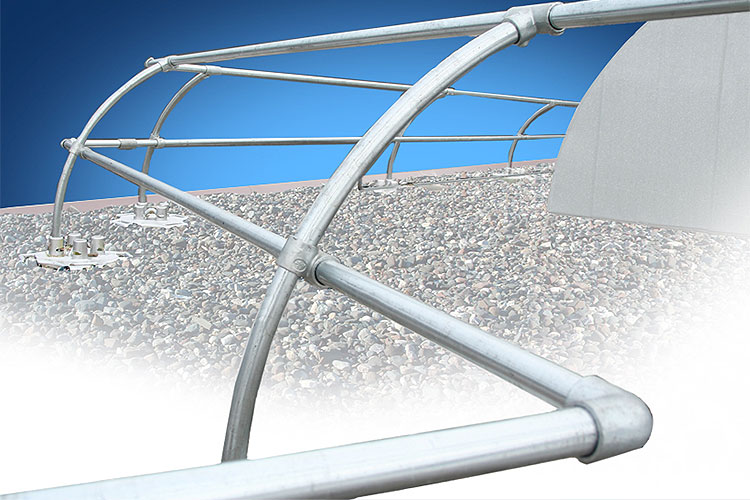 The BlueWater Architectural Series combines our OSHA compliant non-penetrating guardrail system with an aesthetically pleasing architectural appeal. Full protection with visual appeal. Optional Straight and Incline Stanchions available.
The Architectural Series combines our non-penetrating guardrail system with an architectural appeal for those applications where appearance of the railing is important. The Architectural Series has a pleasing sightline and can enhance the overall appearance of your building while maintaining a fall protection barrier around the roof edge that meets OSHA Regulations. Since the Architectural Series utilizes the same patented, non-penetrating base as the SafetyRail 2000, your roof system will maintain its integrity and not be compromised by having to penetrate the roof surface for installation. The Architectural Series is ideal for new building construction, adding passive fall protection to an existing building or as an addition to existing guardrails.
More pleasing sightlines
No holes need to be drilled
Three uprights available: Curved, Incline or Straight
Meets and exceeds OSHA Regulations for Fall Protection
No intermediate counterweights required
Up to 10 foot spacing between uprights
Special orders for powder coated rail sections
Custom engineering / manufacturing available for special applications
Architectural Series has been tested by a nationally-known engineering firm and found to be in accordance with OSHA regulations
These regulations are in fall protection for guardrail; sections 1910.23 and sections 1926.500 -1926.503
Company: BlueWater Mfg
Product: SafetyRail 2000 Architectural Series
Source: http://bluewater-mfg.com/product/safetyrail-2000-architectural-series/
Tags: Design | Railing System | Roof | Safety
---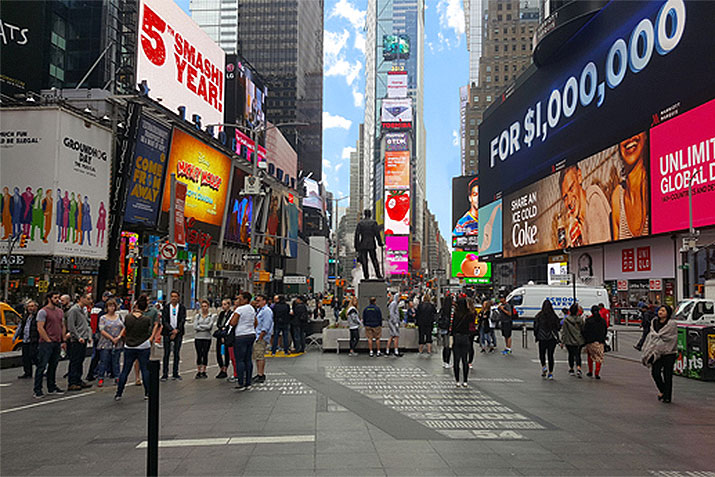 The situation
The presence of Broadway began in 1750, and has since shaped the essential character of New York City. Spotlight on Broadway is a multimedia project of NYC's Mayor's Office of Media & Entertainment located in the heart of Times Square. The project celebrates the unique charm and incredible legacy of Broadway and its forty theaters. It displays an in-ground map, made out of steel and granite, allowing visitors to engage and visualize the density of the world's largest and most recognized theater district.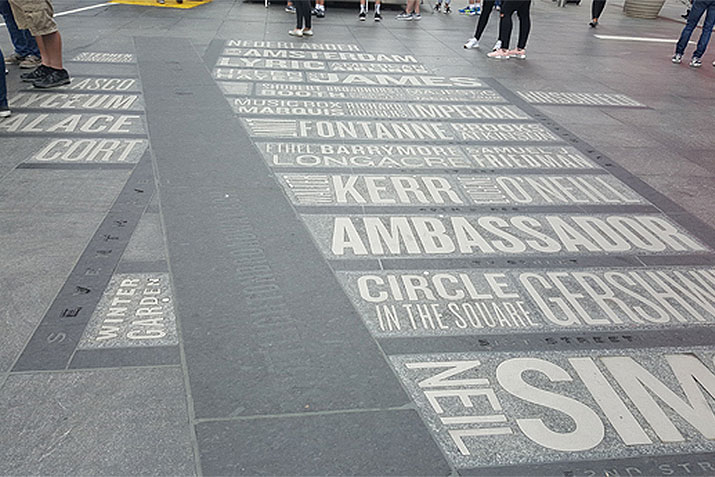 The solution
The designers at Creative Edge Master Shop contacted SlipNOT® for a solution to the bare steel lettering that presented a safety hazard when made slippery due to wet weather or other outdoor elements. The fabricating company sent in custom cut 3/8" thick letters which were blasted for imperfections, then coated with SlipNOT®'s Grade 2 stainless steel. Stainless steel is easy to clean and offers corrosion resistant properties that are exceptionally functional in wet environments both indoors and outdoors. The gripped surface of the coating not only provided higher traction for pedestrians, but also added another dimension to the piece, exhibiting a sleek and modern aesthetic.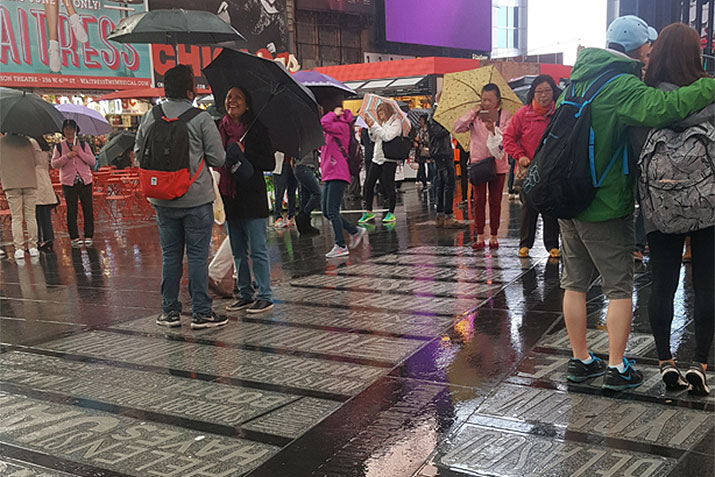 The impact
Creative Edge is a world leader in creative architectural water jet fabrication and has been in business for over 27 years. The Spotlight on Broadway project won a Pinnacle Award, which honors companies for a job that "stands above the rest." The Award Institute declared the project a "Clever design that pays homage to timeless Times Square," which was ultimately awarded merit for "Commercial Exterior".
Due to the slip resistant surface provided by SlipNOT®, tourists from all over the world can enjoy the innovative and engaging map of Broadway and its 40 theaters without having to worry about possible injuries due to slip, trips, and falls.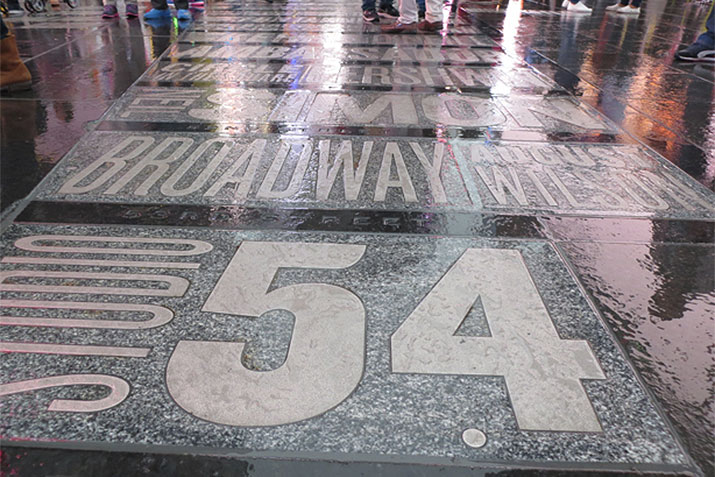 Award Recognition:
http://www.marble-institute.com/default/assets/File/awards/2014_MIA_pinnacle_brochure_FINAL_lo.pdf
Company: SlipNOT® Metal Safety Flooring Div.
Source: http://www.slipnot.com/case-studies/slip-resistant-stainless-steel-letters-for-times-square-spotlight-on-broadway/
Tags: Award | Design | Floor | Metal | Safety
SC Railing Company: Offering a View from the Top (July 31, 2017), Gorgeous Atriums that Meet Design Aesthetic and Safety Code (July 19, 2017), Video Surveillance In 2017: 4 Things You Need To Know (July 7, 2017), ADA compliant aluminum walkway provides safe public tours at Harpoon Brewery (July 5, 2017), Floor Marking by Color (June 30, 2017), Starlings And The Grain/Agriculture Industry (June 16, 2017), Preparing Glaziers To Work With Bulletproof Glass (June 8, 2017), Slip resistant aluminum plank installed on Hilton's helipad (June 8, 2017), Summer Birds Nesting on Your Property? (June 6, 2017), Interior Corner Protection (May 18, 2017), Springtime Means Nesting Birds (April 28, 2017), Bulletproof Systems and Accessories for Every Building (April 18, 2017), EnduraLine Mobile permanent warning line system (April 5, 2017), FDOT Improving Bicyclist Safety with SlipNOT® (April 4, 2017), Guard Houses (April 3, 2017), The Original Orange Elevator Smoke Curtain (March 28, 2017), 10 Must-Have Safety Signs for OSHA Compliance (March 17, 2017), Railing Infill Face-Off: Cable vs. Glass (March 10, 2017), 6 Ways To Overcome Coastal Landscape Installation Challenges (March 3, 2017), Global changes in construction: Kalwall's insights from BAU (March 1, 2017), Active Shooter Safety: 4 Things Your High Security Entrances Must Have (February 20, 2017), High-Function Custom Bullet Resistant Solutions for Banks (February 17, 2017), Bird decoys: the hawk vs. the owl (February 10, 2017), Backyard 2.0: 2017 Deck and Railings Forecast (February 8, 2017), Flexible bollards guide traffic while avoiding costly collision damage and repairs (January 27, 2017), Mantrap Portal Solutions Eliminate Piggybacking (January 23, 2017), StonePly Success Story: Atlantis - The Cove (January 11, 2017), How to Choose the Right Product for a Nuisance Bird (January 4, 2017), Parking Booth (December 27, 2016), Architectural Glass Takes on a New Shape (December 23, 2016), Creating a Healthy, Safe, Age-Friendly Work Environment (December 7, 2016), Safety standards for slips, trips, and falls (November 30, 2016), Tunnel Vision: New York City's East Side Access Project (November 21, 2016), Rigorous Testing Standards Ensure Effective Security (November 16, 2016), Winner in NADRA 2016 Deck Competion (November 4, 2016), Critical Infrastructure Protection: U.S. Data Centers and Ballistic Barriers (October 3, 2016), Keep Pigeons from Destroying Solar Panels (September 30, 2016), The Dock Gate's custom gas struts make the vertical gate easy to open. Easy as 1, 2, 3! (September 21, 2016), What if Someone is Determined to Get into Your Building? (September 12, 2016), GuardDog Self-Closing Gate uses two stainless steel torsion springs so the gate can open in any direction (September 9, 2016), First Appearances Matter: remove the dirt | absorb the moisture | preserve your floors (August 31, 2016), Peace-of-Mind for Rural Utility Offices - Bulletproof barrier security tips & news (August 8, 2016), SlipNOT is keeping the Indians fans at Progressive Field on their feet (August 5, 2016), An orderly revolution in waste control (August 3, 2016), Antimicrobial Protection for Architectural Aluminum (July 16, 2016), Darlington upgrades good for business in Burlington (July 6, 2016), Evolution Of Revolving Door Security: Teaching Old Doors New Tricks (July 4, 2016), The Role of LEDs in Outdoor Lighting Design (June 27, 2016), Create Your Fire Prevention Plan (June 24, 2016), Slip Resistant Aluminum Flooring in Bubble Capsule (June 22, 2016), Balancing Bulletproof Security and Design (June 21, 2016), Turn your backyard into a haven (June 15, 2016), Starlings can be a Costly Nuisance, learn the facts on how to keep them away from your buildings (June 13, 2016), Hurricane Roof Equipment Screens (June 10, 2016), Slip Resistant Aluminum Grating Utilized on ASLA Green Roof (May 23, 2016), May is Electrical Safety Month: Know How to Protect Workers from Electrical Hazards (May 20, 2016), School Security and Access Control for Architects (May 9, 2016), Benefits of Slip Resistant Aluminum Plates (April 27, 2016), Why We Love Ipe and You Will Too (April 18, 2016), Broan NuTone invents new mosquito barriers for decks (April 13, 2016), Premium Ballistic Frames Offer Huge Boosts in Sustainability and Multi-Threat Risk Mitigation (April 12, 2016), Safety Bollards Protect Storefronts (February 9, 2016), Partnering with Architects to Make BulletProof Beautiful (February 3, 2016), Stay Warm: How to Protect Workers from Cold Weather Hazards (January 15, 2016), Active Design Guidelines for Walkable Communities (December 23, 2015), Hands Down: Hand Safety Tips You Need to Know (December 21, 2015), OSHA Safety and Health Guidelines (December 18, 2015), Teaching Those Who Keep Us Safe: The National Center for Spectator Sports Safety and Security (December 4, 2015), Reeder Illuminated Sign (November 23, 2015), Stop unauthorized parking using Reliance Foundry's Fold-Down Bollards (November 16, 2015), Mid-Century Modern Principles Applicable in Today's Bulletproof Barrier Design (October 30, 2015), Seton's Project Packaging Service | Seton Video (October 12, 2015), As Cooler Weather Approaches, National Home Expert Danny Lipford Launches Satellite Media Event Offering Tips for Seasonal Improvements and Healthy Homes (October 7, 2015), The Industry's 1st Monitored Light Curtain - Now Available (September 25, 2015), Flexible Bollards: Traffic & Parking Lot Posts (September 9, 2015), Bank Security: Balancing the Priorities of Security Managers, Architects, and Facilities (August 31, 2015), Introduction to Flashing/Talking Interactive Signs (August 13, 2015), Plastic Bollard Covers: Security Post Sleeves (August 7, 2015), Custom Mill Work, Bullet Resistant Barriers, and Inconspicuous Perfection (July 24, 2015), Ergonomics: When Work Really Can Be Hazardous to Your Health (July 14, 2015)