architecture - engineering - construction

2016 May
---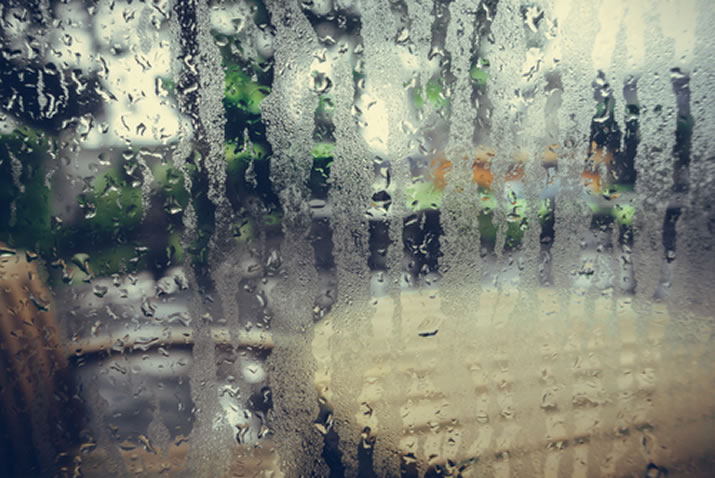 When you live in a part of the country with a high humidity level, whether it be warm or cool, airborne moisture can potentially affect the comfort of you and your family. Believe it or not, the type of insulation you choose to install in your home can make a difference in your home's moisture level. Spray foam insulation like Icynene can help play a role in addressing moisture entry into your home.
But how can spray foam insulation help reduce humidity? Icynene spray foam expands just seconds after application to fill all gaps and holes, creating an effective air barrier wherever it's applied. This air barrier helps to reduce the passage of moisture-laden air into the home, which helps to reduce overall humidity levels inside your home.
Secondly, when you live in a humid region, the presence of mold everywhere is a constant challenge. The great thing about Icynene spray foam is that it's not considered a source of food for mold, making it a better insulation choice than traditional materials.
Find a licensed Icynene spray foam insulation contractor in your area to discover more reasons to choose Icynene.
Company: Icynene
Source: http://www.icynene.com/en-us/news/spray-foam-insulation-humid-region
Tags: Insulation
---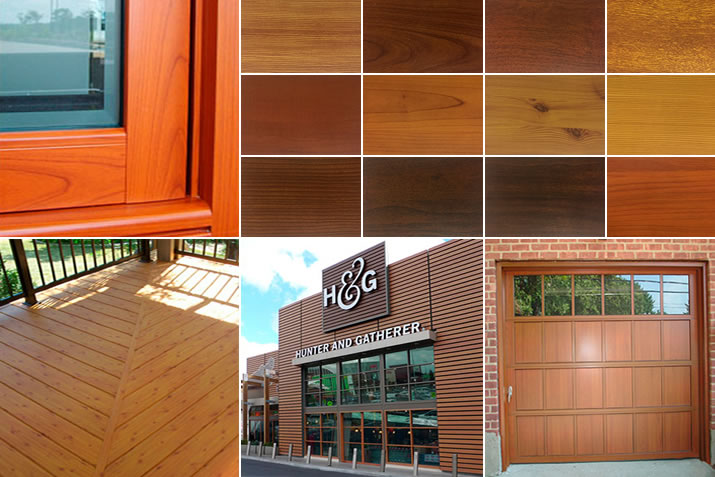 Achieving the look of wood without the maintenance, Linetec has teamed with Decoral Systems USA to offer decorative, wood grain finishes for architectural products. These finishes are available in a vast variety of different options, colors and species. Decoral coatings are an ideal specificaiton choice for architects and designers wanting the warm, rich look and feel of real wood, with all the benefits of aluminum.
The beauty of wood without the maintenance
The Decoral wood grain system has developed the highest quality powders, inks, films and equipment that, when combined, create high-resolution image and beauty in architectural design. Ordinary materials come to life in splendid color and impeccable wood grain lines, stimulating the imagination and uplifting the spirit with impeccable quality and definition.
Decoral wood grain finishes have been subjected to the most demanding testing for durability, ruggedness, chemical and weather resistance. The results of this testing allow for al long term warranty in most indoor and outdoor environments.
Advantages of Decoral Wood Grain
Weather and humidity proof
Corrosion resistant
Fire retardant
No maintenance required
High UV resistance
Easy to fabricate
High scratch resistance
Does not swell, rot or warp
Less costly than wood
Termite and insect proof
Wood Grain Selection
With over fifty options and ranges in wood patterns, Linetec has selected the following AAMA-2604 texure wood grain finishes as our standard palette, however we can provide any wood grain, marble, granite, or custom design that you'd like.
The Decoral System
The Decoral dye sublimation process is a heat transfer system, that is based on the physical reaction that makes the inks, from a solid stage, become gas and again a solid. At the precise temperature and pressure, the pigment inks transfer from the paper support and move into the synthetic layer of Decoral powder, fixing the original color and position into it. Decoral products are constantly submitted to the most severe durability tests both in the laboratories and in outdoor exposure including the Florida test fence. The Linetec wood grain process uses the AAMA 2604 Gold Series Decoral powder coatings.
Company: Linetec
Source: http://www.linetec.com/wood-grain-finishes.html
Tags: Coating | Exterior Design | Metal
---
The 2015 Houzz Landscaping & Garden Trends Study [1] revealed that renovating outdoor living spaces continues to be a high priority for homeowners: "Over half of homeowners who are upgrading their outdoor spaces spend six or more hours there per week (51%). Relaxing, gardening and entertaining are the top three uses of the space." Given these facts, the rise of outdoor lighting is no surprise!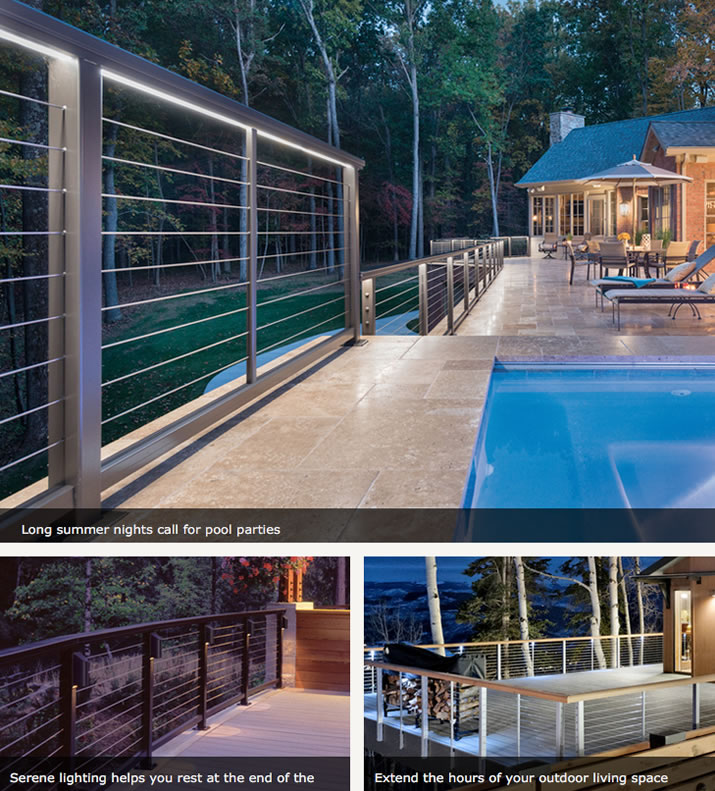 The 2015 Houzz Landscaping & Garden Trends Study[1] revealed that renovating outdoor living spaces continues to be a high priority for homeowners: "Over half of homeowners who are upgrading their outdoor spaces spend six or more hours there per week (51%). Relaxing, gardening and entertaining are the top three uses of the space."
This finding is no surprise, really. As our lives get busier, we tend to want places in our homes where we can unwind, with nature often the conduit.
The Houzz report further noted that as outdoor living continues to be a high priority, a trend taking center stage is outdoor lighting. The report says, "Outdoor lighting is the most common [system] upgrade, whether it is LED (28%), solar (23%) or other (17%)."
The rise of outdoor lighting is motivated by a rising interest in aesthetics and in home entertainment.
Outdoor Lighting: Enhancing Aesthetics & Landscape Design
Gone are the days of one light fixture at the front door and another at the back. Today's luminary options are practically endless. Artisan gas fire pit tables and beautiful rope-lit water features serve as backyard focal points in neighborhoods across the country, while string lighting under the pergola and lighting integrated within the flower beds can serve as a soft and subtle backdrop.
Outdoor Lighting: Extending Entertainment
Integrating outdoor lighting into a landscape design allows homeowners to enjoy their beautiful outdoor space for an extended period of time. These innovative designs provide folks the ability to enjoy their space even when the sun goes down.
Even where no landscape lighting exists, post accent lights, as seen in the photo, can create the perfect ambiance for evening entertainment. Often, these lights are compatible with third-party dimmers and switches, so you can create the perfect level of lighting for any situation.
What's next on the horizon for outdoor living? Only time will tell. However, we predict the rise of outdoor lighting is not fading anytime soon. This is due, in part, to advancements in LED technology and people's desire to create beautiful outdoor spaces, increase home safety and security and find more ways to utilize their outdoor space – no matter the season.
[1] Source: 2015 Houzz Landscaping Study
Company: Feeney, Inc
Source: http://media.feeneyinc.com/blog/the-rise-of-outdoor-lighting-enhancing-aesthetics-and-extending-entertainme
Tags: Landscape Design | Lighting
---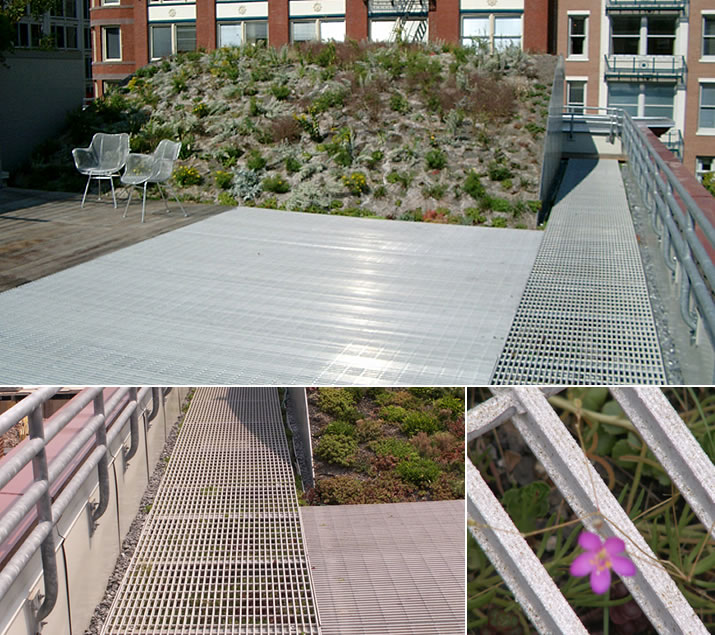 The Situation:
A general contractor was chosen by the American Society of Landscape Architects (ASLA) to provide grating for ASLA's green roof at their headquarters in Washington D.C. The green roof is a part of the ASLA's commitment to promote environmentally friendly designs to make green roofs a more widely accepted option for architects and contractors. The 3,000 sq. ft. green roof will grow a variety of plants and also have a viewing area for the public. The ASLA was looking for a walking surface that would allow plants to grow up and through the floor surface to maximize the roof space, allow people to walk on the space without damaging the plants and for a product that would remain slip resistant against transpiration from the growing plants. The general contractor contacted Ohio Gratings for a flooring solution.
The Solution:
SlipNOT®slip resistant aluminum grating was chosen as the optimal grating for the project. Slip resistant aluminum was the ideal substrate because it is a light weight material that reduced the overall weight of the grating on the roof while still being extremely durable. The aluminum coating also remains slip resistant against transpiration from plants and other outdoor elements providing a safe walking area for pedestrians. SlipNOT® slip resistant aluminum grating is corrosion resistant and will be able to withstand installation in an outside environment with minimal maintenance. Ohio Gratings worked extensively with the general contractor to provide the appropriate dimensions for the project.
The Impact:
SlipNOT® aluminum grating has provided the American Society of Landscape Architects with an aesthetically pleasing slip resistant walking surface for the green roof. The aluminum grating has proven to be the ideal solution to help the ASLA's showcase their green roof.
Download this case study as a PDF
Company: SlipNOT® Metal Safety Flooring Div.
Source: http://www.slipnot.com/industries/commercial/case-studies/
Tags: Landscape Design | Metal | Safety | Sustainability
---

Many electrical hazards exist in a workplace where workers are performing electrical-related tasks. One of those hazards is an arc flash.
An arc flash, as defined by the Workplace Safety Awareness Council is "a phenomenon where a flashover of electric current leaves its intended path and travels through the air from one conductor to another, or to ground." A person located near an arc flash can be seriously injured or killed.
An arc flash can be caused by a variety of things, such as dust, dropping tools, accidental touching, condensation, material failure, corrosion, and faulty installation.
To protect workers, the National Fire Protection Association (NFPA) developed approach boundaries to be used by workers on or near energized equipment. They include:
Limited Approach Boundary: The minimum distance from an energized source where an unqualified person can stand. A qualified person who can enter that space is wearing proper PPE and been properly trained.
Restricted Approach Boundary: A shock protection boundary that can only be crossed by a qualified person who has been properly trained and is wearing proper PPE.
Prohibited Approach Boundary: A shock protection boundary that can only be crossed by a qualified person wearing PPE and been trained to work on energized conductors or components. Workers also must have a documented plan to perform the work before crossing this boundary.
Arc Flash Boundary: A safe approach distance from energized equipment or parts.
Some general ways in which you can protect workers from electrical hazards on the job are:
De-energize the circuit
Work practices
Insulation
Guarding
Barricades
Ground Fault Interrupters (GFCI)
Grounding (secondary protection)
For more tips on how to prevent electrical accidents on the job, click here.
Company: Seton
Of: Marji McClure
Source: http://www.seton.com/blog/2016/04/may-is-electrical-safety-month-know-how-to-protect-workers-from-electrical-hazards
---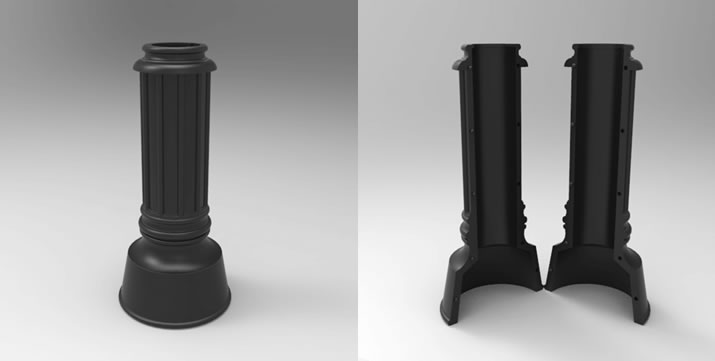 Are your light poles looking old, ugly and worn down? Instead of replacing light poles, you can restore them to like new by adding a decorative base. As we like to say, if you can't replace it, re-base it!
Light posts are susceptible to all kinds of damage, and many common materials used to manufacture light posts are not good at standing up to these elements without incurring obvious signs of wear and tear.
Generally the worst of the damage forms at the base of the pole, which is right where everyone looks. The top of the pole may look just fine, but since all people really see is the middle to bottom portion of the pole it looks overdue for replacement. This can impact the first impression people gather about a location. If the lighting fixtures appear rusted and old, people may assume all kinds of things.
Our special resin-blend is made from Linear Low Density Polyethylene. This material is specially formulated to resist rust, corrosion, impact damage and many more things typical light post materials are damaged by. Our decorative bases offer the perfect solution to removing an eyesore and preventing it from happening again, all without actually having to replace your light poles.
How To Fix Unsightly Light Poles Without Replacing
Time and time again we meet with clients that don't want to replace their entire collection of light poles, but are faced with some serious eyesores. Our decorative resin bases for light poles offer the perfect cost-effective solution.
Decorative bases can be fit to any standard sized pole, with a diameter no larger than 7.25". As a result the light post looks like new despite the fact it originally looked like it needed to retire.
Why TerraCast Decorative Bases?
Our decorative bases are made from a unique material that outlasts the competition and provides a high-end look made to fit with your exact style and vision.
Our light pole bases are:
Strong
Eco-friendly
Cost Effective
Maintenance-free
Resistant to graffiti
Guaranteed for up to 10-years
Lightweight
Durable
UV stabilized to resist fading
Resistant to chips and cracks
The Importance Of Resin
It all starts with the materials we use to craft all our products, including our decorative light pole bases. There are no other light poles on the market as durable as our resin fixtures. Our manufacturing process creates a lightweight material that is very difficult to damage, and is resistant to rust, corrosion and stains. As a result, our products outlast many popular materials including aluminum, fiberglass and polyurethane foam.
If the base of light poles are showing signs of rust, discoloration, chips or other damages it is likely because they are: a) really old, or, b) not made from materials meant to withstand the elements for more than a couple of seasons. You might be surprised to discover just how many residential and commercial light poles are made to look good but only for a limited time.
Strength Matters
Light posts are susceptible to all kinds of wear and tear, regardless if they are located in the middle of a grassy field or on the side of the street. Resin is made to stand up to all of the elements standard materials are not.
Light fixtures positioned in grass are susceptible to being hit by weed whackers. This is a pretty common way for the base of poles to get chipped, allowing damage to set in. Water, animal urine and anything else can get right inside the post through these cracks, even if the chip is too small to see with the naked eye. As a result, corrosion, rust and discoloration may take place.
Our resin is highly resistant to cracks, even from fast moving weed whackers. That means your light posts are no longer in danger from landscapers.
If your light posts are situated on a busy street they are susceptible to being hit by vehicles or golf carts. Brittle materials often used to manufacture light posts are not able to withstand impact damage, cracking or completely splitting on contact.
Our unique material is made to bend with impact so that it can expand and retract without the same risks for cracking and breaking.
Eco-Friendly & Made In The USA
Our products are proudly made in the USA with eco-friendly practices. We can provide product with up to 100% recycled material. Plus, our products are recyclable.
UV Stabilized
Thanks to the UV stabilizers we add to the product makeup our light poles are far less susceptible to fading than the competition. This keeps your light poles looking great longer.
Graffiti Resistant
Adding a resin base to your light pole adds new life and value, but what happens if someone comes and puts graffiti on it? Thankfully, our non-porous material does not absorb the stain past the first layer. As a result, it's incredibly easy to wipe away graffiti without enlisting the help of professional or costly supplies.
Urine Resistant
How often do dogs pee on your light poles? Maybe you think never, but chances are some animal, domesticated or wild, is peeing around your property. The unique content of urine creates extensive damage to poles made from most materials, except for our specially formulated resin.
Score the look of new light poles for a fraction of the cost by adding our durable decorative bases to old, rusting, or rundown fixtures. There is nothing else on the market like our resin products, and our light poles and decorative bases stand in bright proof of that.
Company: TerraCast Products LLC
Source: http://www.terracastproducts.com/how-to-upgrade-light-poles-with-decorative-bases/
Tags: Landscape Design | Lighting
---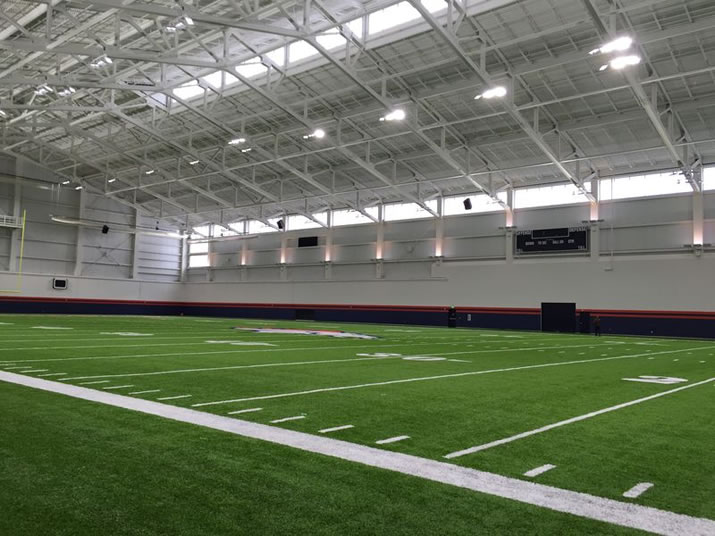 Top-flight training facilities are a must for any professional sports team and that is certainly true for cold-weather teams in the National Football League. And when it comes to training facilities, the Super Bowl 50 champion Denver Broncos have one of the best.
The 115,000 square-foot field house, which features a full-sized football field, was part of a $37 million project that prominently features Kalwall® translucent sandwich panels.
Kalwall is a preferred partner for architects and contractors when it comes to indoor sports facilities because of its natural daylighting qualities, durability and flexibility. Kalwall panels allow diffuse natural daylight to provide optimal training conditions.
The Broncos' field house, for example, has three viewing towers, ranging from 48- to 78-feet high, for cameras to record practice. The glare-free Kalwall panels provide the right kind of light for recording.
Powers Products of Denver, Colo., and Cheyenne, Wyo., is the regional distributor of Kalwall products and was able to perform daylight modeling for the Broncos field house to achieve the ultimate in balanced, glare-free, Museum-quality DaylightingTM.
Company: Kalwall Corporation
Source: https://www.kalwall.com/2016/04/27/where-champions-train-kalwall-lights-up-broncos-indoor-facility/
Tags: Building | Ceiling | Wall Panels
---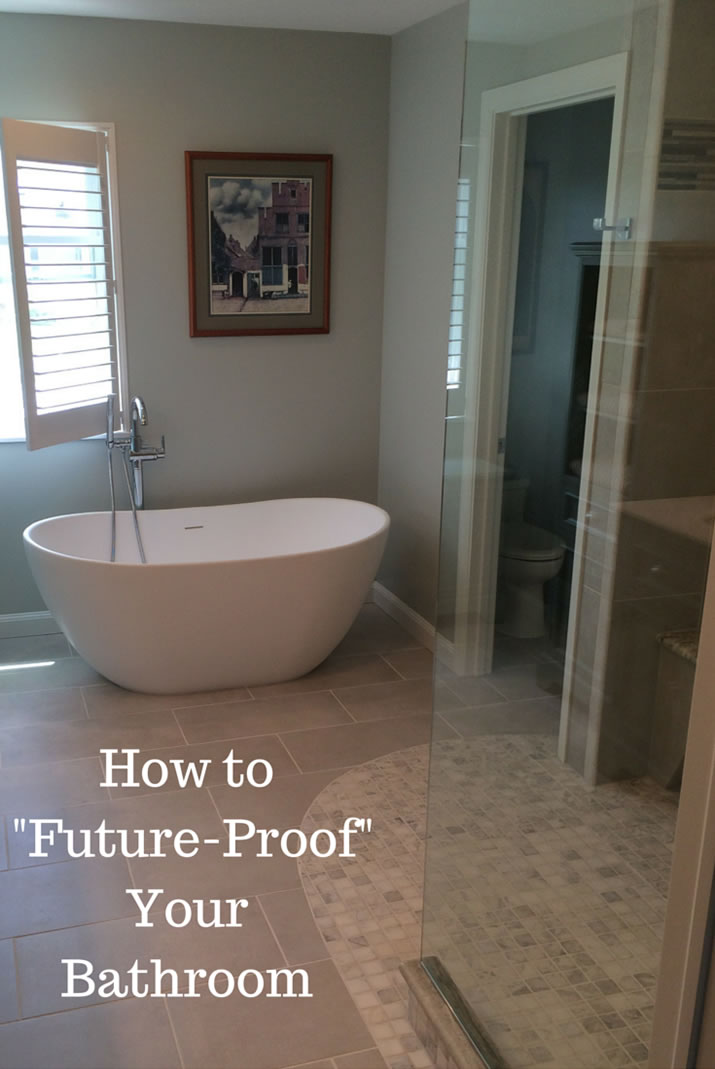 I'm sure you've heard terms like kid-proofing, soundproofing, and waterproofing but you might be asking what the heck is "future-proofing" and why do I need to do it for my bathroom? When I had a recent conversation with the Operations Manager of Cleveland Design and Remodeling he said to me, "Mike – the key to a bathroom remodel which is built not only to last, but to work for its owners in the long run, is to future-proof the space." I wasn't 100% sure what John meant by "future-proofing" so I looked it up. Here's the Wikipedia definition.
Futureproofing is the process of anticipating the future and developing methods of minimizing the effects and shocks and stresses of future events.
OK – you might say – while I'd like to anticipate the future most of us would admit we're no Nostradamus and we don't work for the Psychic Friends Hotline either! So how can you and I anticipate the future (and the "shocks" which come from it) to design a bathroom today we don't have to re-remodel (is that even a word?) tomorrow? The key according to John is to focus on 2 ideas:
1) Learn to use specific construction techniques and products to win the battle vs. the elements (things like water penetration, air infiltration and home movement)
2) Either learn how to reverse the effects of aging (not sure we're up to tackling the steps to do this) or use ideas to design a bathroom which allows you to stay in your home as you get older.
Let's take a look at these two areas in more detail below.
Idea 1 – How to use specific construction techniques and products to win the battle against the elements (water, air and movement)
There are 3 primary elements which can mess up your bathroom – water penetration, air infiltration and your home moving. Check out these construction techniques and products to come out on the right side of the battle vs. the elements.
Bathroom Public Enemy #1 Water
Obviously by its very nature water is pretty much everywhere in a bathroom. What can you do to ensure it doesn't leak through your subfloor or shower pan and damage not only your bathroom – but the rooms below? Here's a couple of tricks John shared with me:
• Trick 1 – Waterproof the subfloor outside the shower pan – Most people don't think of this but a lot of water hits the bathroom floor when you step outside of your tub/shower or your pivoting shower door leaks water on the floor. John's simple – and cost effective fix – is to use a waterproofing system or a waterproof backerboard in the area just outside of the shower/tub.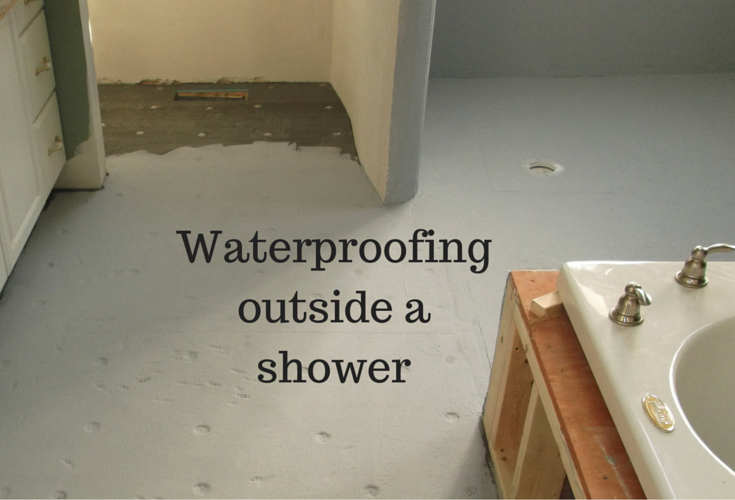 • Trick 2 – Don't settle for an "old-school" tile shower – Let's face it – most contractors (and yes I claim to lead a company with a lot of these types of guys) are not the most progressive dudes you're going to meet. Many contractor are still doing tile showers the "old-school" way – with a "mud base" which is not only hard (it is a manual process which is time consuming and only as good as your particular technician) – but has a high failure rate with leaking. Today they are premade, waterproof, ready for tile shower pan which are made to your specific size so you don't have to worry about leakage issues.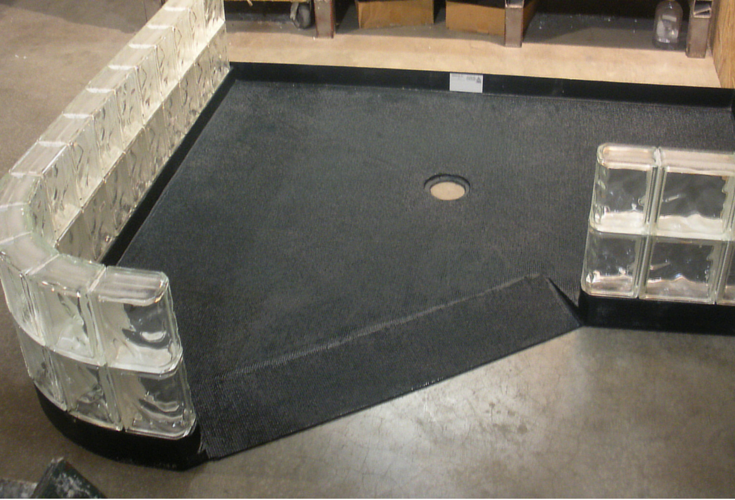 Bathroom Public Enemy #2 Air
Is your bathroom cold? Have tried to squeeze out your shampoo and it feels like it is partially frozen? These problems may be occurring because some builder or contractor saved a few bucks by not including proper insulation which is now causing you money and discomfort. If you're remodeling make sure your contractor adds the best insulation between the studs. It's not too expensive, but can make a huge difference in your comfort and energy bills.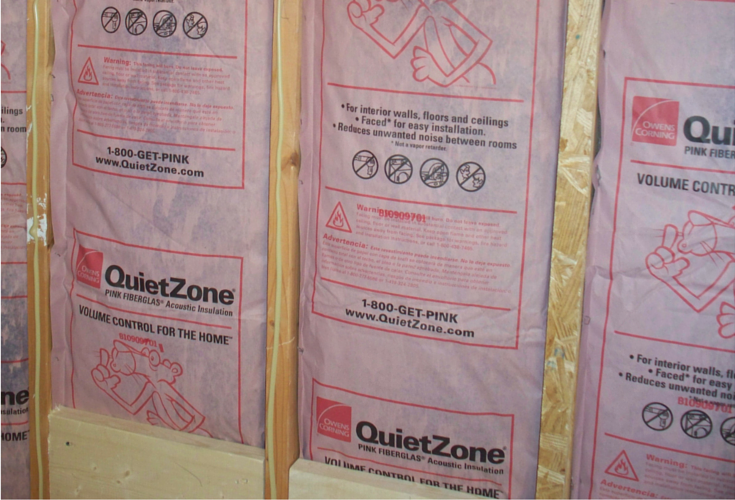 Bathroom Public Enemy #3 Movement
Homes can – and do – settle. John told me, "Mike – as a contractor we need to inspect and provide the proper framing, and make sure to add studs if they aren't spaced close enough. Also we have to install wood where the shower doors and glass shower enclosures will be so they aren't wobbly."
If you aren't a construction guy or gal make sure to get recommendations (whether virtually through review sites like Angie's List, Yelp or Houzz) or from friends to make sure your contractor will address these types of "behind the wall" construction details and not short-change your job.
Idea 2 – Using the right bathroom design and products to "win" the battle vs. aging
OK – I'll confess I have no idea on how to help you win the battle vs. aging and none of my businesses offer any Botox treatments or sell "Miss Clairol for Bathrooms" to help it age gracefully either. With that being said I can offer you 3 practical ideas John and I brainstormed to help you design a bathroom which will age gracefully with you. Here's the tips:
• Tip 1 – Product protection – backer board for future grab bars – This is an inexpensive – yet important – tip. While you may not need (or want) grab bars today they may unfortunately be essential if someone in your family's mobility is reduced. By simply putting sheets of plywood attached to the studs you can safely add grab bars down the road if you need them for a cool universal design. Also – what's nice to know is grab bars are actually decorative today so they can be stylish and functional.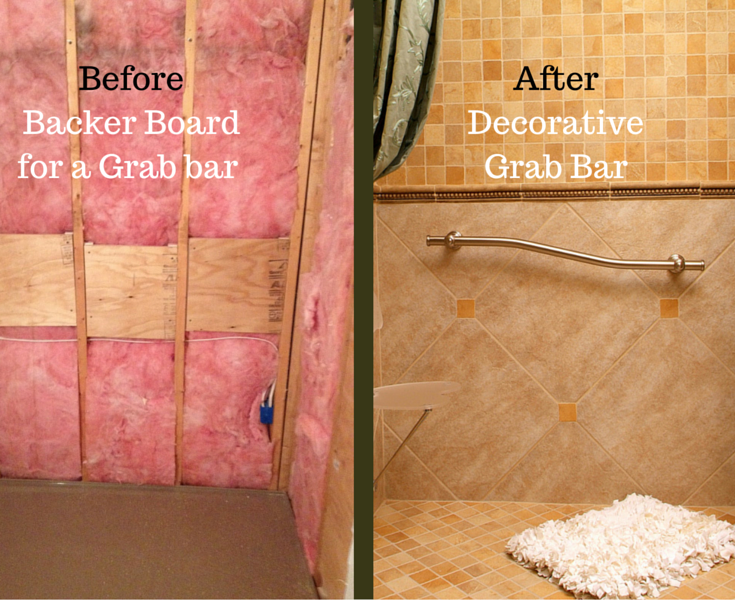 • Tip 2 – Design – think like an automotive engineer…turning radius – If space permits try to design your new bath remodel to have a 60" turning radius. This will make it easy for someone in a wheelchair to navigate. Also increase the doorways to 36" wide to allow someone in a seated position to easily get in.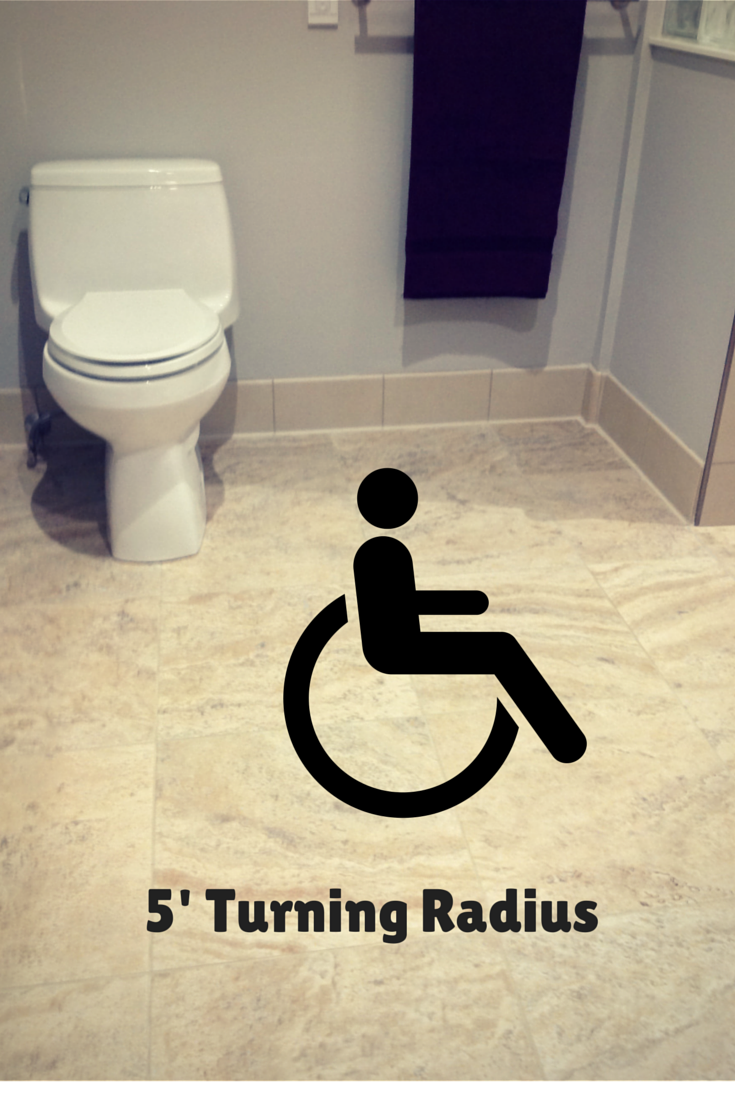 • Tip 3 – Product selection – a one level bathroom – Stepping over a shower curb or tub can be like climbing a mountain if your mobility is not good. A one level wet room shower and bathroom eliminates these worries, the system is completely waterproof and it looks sleek and contemporary when you're done.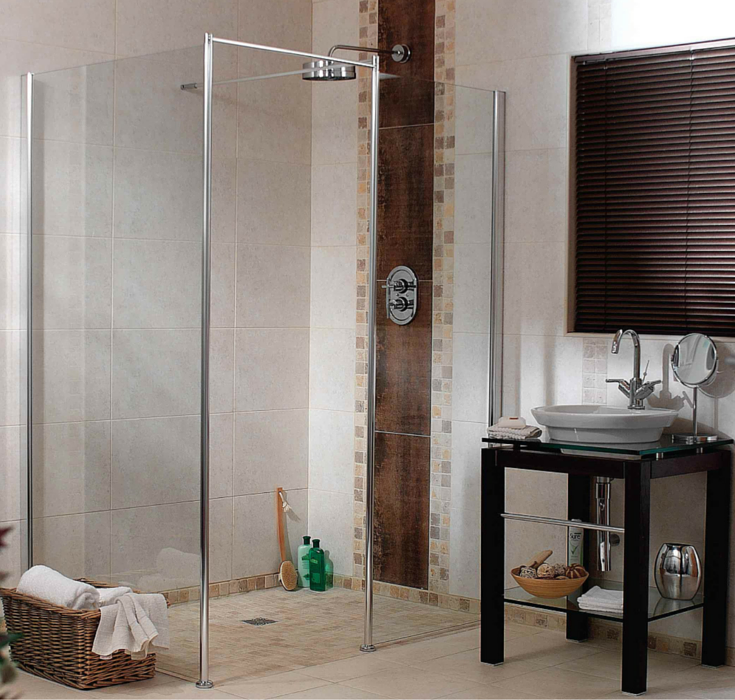 Conclusion
Future-proofing your bathroom is not difficult – but it does require being thoughtful (or finding the right remodeling contractor who will be thoughtful for you). The price to pay for not doing this might be like the old Fram oil filter commercial in the 1980's where the gruff auto mechanic says, "Pay me now or pay me later." In this case it might be more like "remodel the right way now or …or "re-remodel" later."
Company: Innovate Building Solutions
Of: Mike Foti
Source: http://blog.innovatebuildingsolutions.com/2016/03/05/future-proof-bathroom/
Tags: Building | Interior Design
---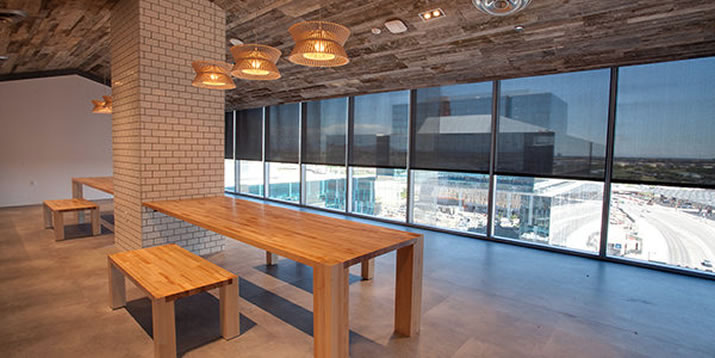 More and more, we are finding customers in need of custom solutions. An ongoing project-a very large project-serves as a perfect illustration of Draper's custom capabilities. It's the subject of a new case study entitled "Custom Shade Brackets Solve Big Headache."
When Steve Hawes, the Principal at Progressive Commercial Interiors, LLC., in Tempe, Arizona got the job providing window shades to the Marina Heights project, he knew it was going to be big.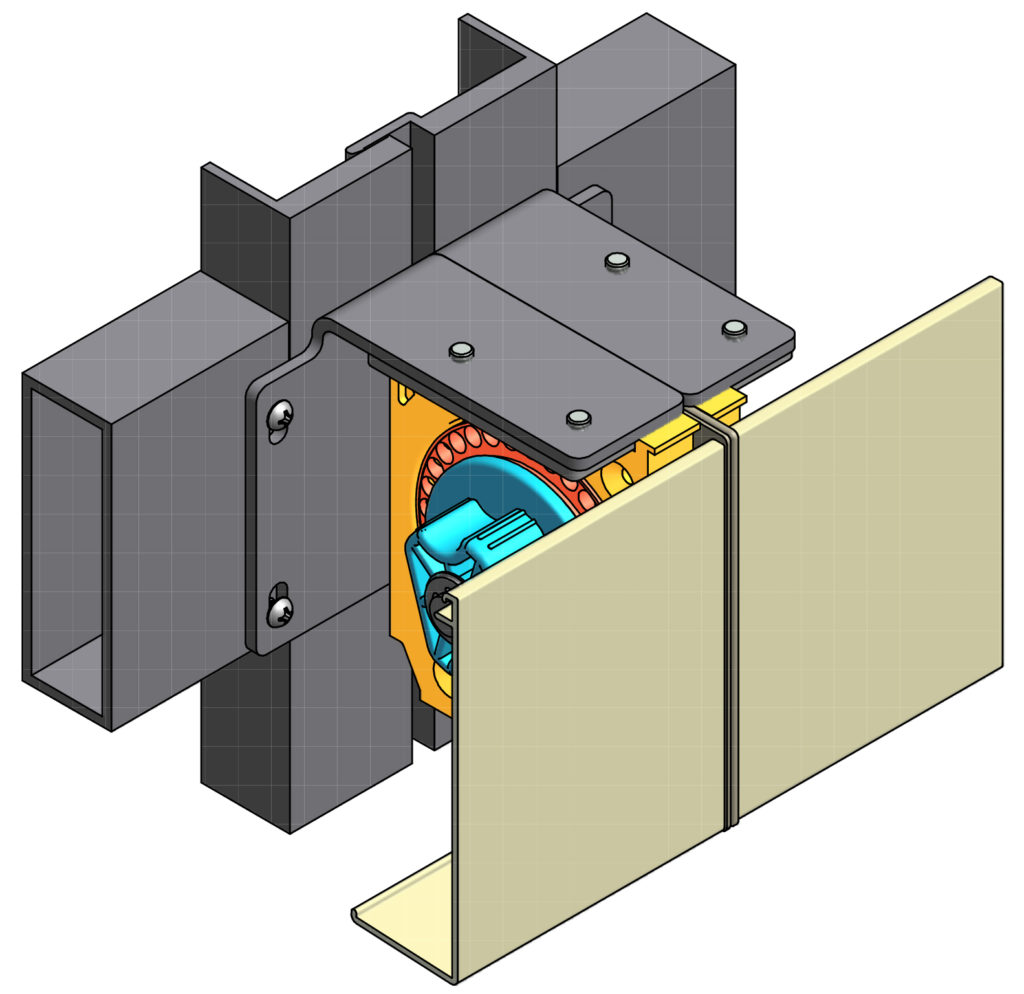 The buildings, home to State Farm Insurance, required more than 8600 Draper XD Clutch FlexShades to be delivered and installed during the 19 month-long construction process.
"The sheer number of shades made this a big project," Hawes says, "but there were other factors as well. There were five buildings, 47 floors, multiple floors often requiring simultaneous installation, plus these shades are 10 feet high so there's the need for scaffolds and ladders."
But those problems weren't the worst of it. At a pre-construction meeting with the general contractor after being awarded the first part of the job, Building D, Hawes got the news.
"Custom brackets were required to avoid impacting the moveable storefront, which was designed to flex with building movement," according to Hawes. "Attachments had to be made to horizontal mullions only, and they could not attach to vertical mullions."
After discussions with Walters and Wolf, the company which designed the moveable storefront, Hawes' next move was to contact Draper. He quickly brought Solar Control Solutions Technical Manager Clint Childress (LEED® AP) up to speed. Clint spearheads Draper's custom solar control solutions efforts.
"It's fairly straightforward in situations like this," Childress says. "A problem is identified to us—in this case the shades, which are designed to mount side by side at a vertical mullion, cannot be attached to the vertical mullion. Our first step, as always, was to get a detail drawing of the mullion."
To read the rest of this case study, or to download a free PDF copy of "Custom Shade Brackets Solve Big Headache," click here.
Of: Jeff Miller
Source: http://blog.draperinc.com/2016/05/custom-shade-brackets/
Tags: Interior Design | Window Shades
---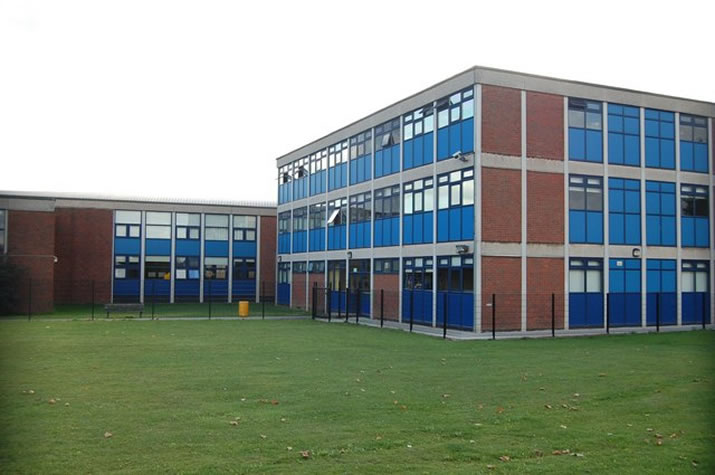 While most school architects are fairly well versed in CPTED (crime prevention through environmental design), many are fairly new to bullet resistant materials and design. With active shooter scenarios increasingly top-of-mind for education clients considering new construction and renovations, now is a good time to spend a few minutes coming up to speed.
A School Architect's Introduction to Bullet Resistant Materials and Barrier Systems
At one time "bullet proof glass" was indeed made from thick panes of layered, laminated glass. Today, almost all "bullet proof glass" is made from solid or layered plastics (usually acrylic for solid windows, and layers of polycarbonate and glass for laminated glazing).
More importantly, the "bullet proof windows" that most clients fixate on are a relatively small part of the barrier, which is an integrated system consisting of:
bullet resistant windows and framing
bullet resistant doors
bullet resistant fiberglass to reinforce surrounding counters and walls
some form of communications system
The communications system can be as simple as the voice portal and backer in a bus-station ticket window, or may include multiple sub-systems: an intercom, a deal tray for passing papers, a bullet resistant drawer or passers for larger items, etc.
For best results–in terms of aesthetics, usability, and security–every bullet resistant barrier should be treated as a custom job. Every piece of the system needs to seamlessly integrate with both the other elements of the barrier system and with the existing structure, mechanicals, building use patterns, and so on.
Bullet proof materials are rated according to a set of standards set by Underwriters Laboratory (i.e., UL-752). Both individual materials and complete components and sub-systems are tested by OSHA-designated nationally recognized testing laboratories (NRTL) in order to confirm they perform according to the appropriate UL standard.
Best Practices in School Bulletproof Barrier Systems
For most schools, the best security solution is a bullet resistant vestibule entryway system with integrated access control. These systems are a fairly straightforward example of CPTED, and can almost always be easily retrofit into existing buildings, or worked into new construction with few alterations.
As Bob George, Total Security Solutions sales manager, explains: "We do our best work when we connect with architects early on in the design process. The best case scenario is when we can get in there early to help with design recommendations, and guide the school officials toward a good solution."
Schools often come in initially asking about very extensive Level 5 to 8 systems (which explicitly address the threat of high-powered ammunition and assault weapons). A level 5 to 8 system would likely include blast-rated and bullet resistant exterior windows capable of stopping very powerful ammunition and blasts, bullet proof doors throughout the facility, and so on.
Such high-level systems are prohibitively expensive, and also entirely unnecessary: Most schools are very well served with a Level 1 hardened entryway with access control. There are two reasons for this. First and foremost, the primary goals of a barrier system in a school are deterrence and delay. Anything that gives an active shooter pause or makes him think twice about his actions is often sufficient to prevent an attack. If that deterrence fails, then simply slowing an attack can buy enough time for first responders to successfully intercede before anyone is injured.
Second, top-tier bullet proof companies like TSS over-engineer their systems and materials as a mater of course. For example, you'll note in the following video that the Level 2 door at 1:35 is rated to stop three shots from a .357 Magnum, yet stops five with no problem. Likewise, the Level 3 window at 2:59 is rated for three shots from .44 Mag, but stops 13, while the Level 3 door shown at 4:17–likewise rated to stop three shots from a .44 Magnum–actually catches 115 shots from a variety of handguns and assault rifles without a single bulge on the protected side.
Access Control and School Security
Access control is an especially important–and often tricky–aspect of a school's bullet resistant barrier. Over the last several years a large portion of schools have adopted security procedures that include locking doors during schools hours. Unfortunately, locked doors slow first responders during an emergency. While active shooter events are top-of-mind, it's much more likely that an in-school emergency will be related to a fire, extreme weather, or something as mundane as a child having a bad allergic reaction or being injured in gym class. All of these require quick access to the building. Modern access control systems–including centrally controlled electric strikes–are a great improvement over older key-and-lock systems. They offer many administrative advantages, in addition to speeding entry for emergency responders.
TSS is sensitive to how a design must balance access control and accessibility, especially in schools, where National Fire Protection Association (NFPA) egress codes, the Americans with Disabilities Act (ADA), and International Fire Code can all come into play.
"We can work with any mix of access control and accessibility requirements," Bob George notes. "We always build to suit, and have lots of experience prepping doors for specialized hardware, as well as installing basic electric strikes, magnetic locks, panic bars–all the standard pieces for access control. More importantly, as Eric [Malzahn] said, TSS works with other security vendors as equals to get the job done right. That includes working with access control specialists to get all the details right for a complex access control system."
Company: Total Security Solutions Inc
Source: http://www.tssbulletproof.com/school-security-access-control-architects/
Tags: Safety | Security | Windows
---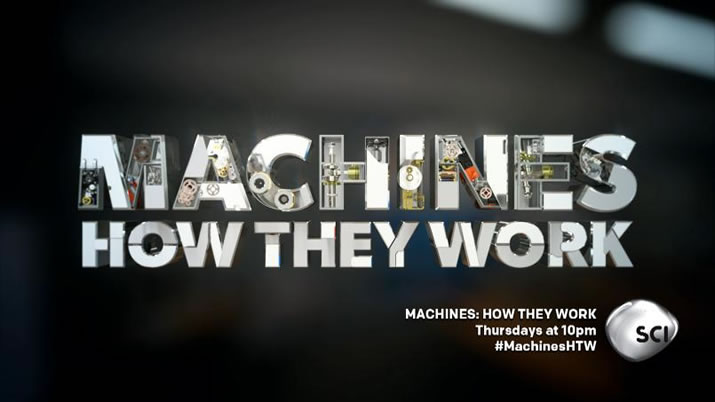 Boon Edam Inc., a global leader in security entrances and architectural revolving doors, today announced that its Turnlock 100 full height turnstile will be a featured technology in an upcoming episode of "Machines: How They Work" on the Discovery Science Channel.
About the Show
Each 30-minute episode of "Machines: How They Work" specializes in revealing the fascinating hidden workings of our everyday world using incredible photo-realistic CGI to explode everyday objects into their component parts. The show also films in live action at real locations to show how objects are manufactured and operate in their installed environment.
About the Episode
The episode featuring the Boon Edam Turnlock full height turnstile will air in the United States at 10:30 pm on Thursday, May 12th. That episode seeks to reveal the answers to the following questions about three featured products:
• How does a frozen yogurt maker convert gallons of liquid into fluffy frozen dessert?
• How does a turnstile allow authorized people to enter, but stop intruders in their tracks?
• How can the office chair keep the world's workforce comfortable?
The turnstile segment was filmed in North Carolina at Boon Edam's Lillington manufacturing plant to show how the components of a turnstile are built and assembled. Turnstiles installed at Cree Research in Research Triangle Park (NC) were filmed to illustrate how turnstiles operate in a real-world environment, and stop intruders from entering a secure area.
"What an honor to be selected by Discovery Channel to be featured on this program," said Mark Borto, Boon Edam CEO. "For many, a turnstile is nothing special, but the way this program explains the manufacture and use of the humble turnstile demonstrates there is a lot more going on than meets the eye."
Company: Boon Edam Inc.
Source: http://www.boonedam.us/news/turnstiles-appear-discovery-channel-show
Tags: Design | Doors | Entrances
---

Watch this 14-day time lapse video which shows how Icynene spray foam insulation does not absorb water compared to other spray foams. Icynene spray foam insulation won't absorb or retain moisture like others. Icynene maintains an air seal even after seasonal building contractions.
Company: Icynene
Source: http://www.icynene.com/en-us/architects/products/product-portfolio-USA
Tags: Design | Energy | Insulation
---

DesignRail® Rail Kits for Level and Stair Railings
DesignRail® Aluminum Rail Kits are designed for fast and easy installation of railings with CableRail stainless steel infill between a customer's posts.
CableRail Ready: Pre-drilled picket to support 1/8 inch CableRail by Feeney stainless steel cables (sold separately)
Easy Field Assembly: Rails and pickets can be trimmed and assembled on-site using pre-engineered components that snap and screw together: no welding, grinding or special finishing
Level rail kits are designed for residential railings up to 42 inches high with up to 6-foot spacing between posts
Stair rail kits can accommodate up to 6-foot maximum length stairways with slopes between 29 and 34 degrees and a height of 36 inches
Each 6ft. kit contains a top rail, bottom rail, pre-drilled intermediate picket, snap caps, and installation screws
Company: Feeney, Inc
Source: http://www.feeneyinc.com/Architectural/DesignRail-Kits
Tags: Landscape Design