architecture - engineering - construction

2015 July
---
Think limitless
Your vision is unique and complex. It pushes boundaries. It takes design to a new level. It personifies aspirational performance and expansive aesthetics. It demands respect and inspires awe. Your vision doesn't come in a box.
Introducing Kawneer's 2500 UT Unitwall™ System. Delivering ultra-thermal performance in a unitized curtain wall system.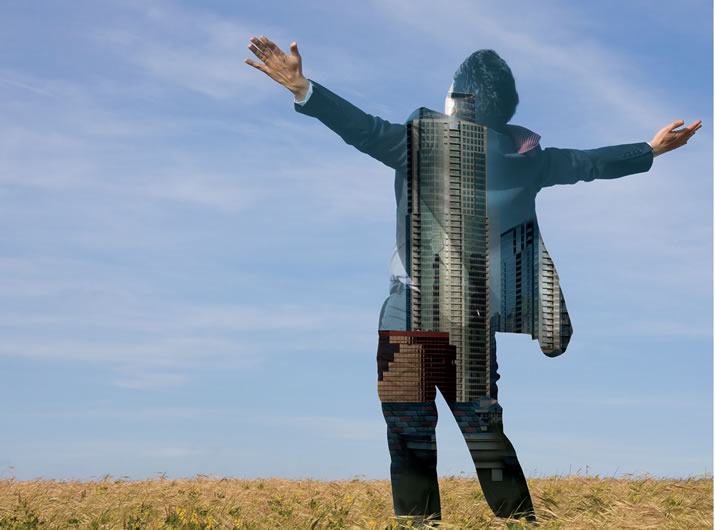 Thermal Performance
The 2500 UT Unitwall™ System employs a continuous polyamide thermal break vertically and horizontally, providing ultra-thermal performance levels in a cost effective unitized curtain wall system. In addition, the one-piece polyamide thermal break eliminates pressure plates and fasteners, reducing the amount of metal used and time required to assemble the system. And ultra-thermal performance allows architects and designers to take their vision to a new level, regardless of climate or location.
Economy & Flexibility
2500 UT Unitwall™ System provides options that allow architects and contractors to meet tough project timelines, while delivering enhanced thermal performance and lower overall operating costs for building owners. Unitized construction accelerates installation while minimizing disruption to the surrounding area or existing tenants, making it an exceptional choice for new or retrofit applications, particularly in urban areas or where space is limited.
Aesthetics
The 2-1/2" profile of the 2500 unitized curtain wall system allows for maximum design opportunities from the base chassis. The four-sided captured system allows for crisp sightlines, while the four-sided SSG option delivers a seamless transition between units, or the combination of captured horizontals with vertical SSG mullions offers a design accent.
The 2500 UT Unitwall™ System marries the elegant aesthetic of a gleaming glass unitized curtain wall with ultra-thermal performance built into the design, allowing you to think limitless.
A cost-effective, unitized framing system that reduces the time to fabricate, assemble, glaze and install, 2500 UT also offers ultra-thermal performance. With a variety of flexible options – from four-sided captured exterior covers to structural silicone glazed (SSG) configurations – this sturdy, high-performance system is ideal for commercial applications, mid- to high-rise projects and more.
Company: Kawneer Co., Inc.
Source: http://www.kawneer.com/kawneer/north_america/en/products/2500_UT_Unitwall.asp
Tags: Interior Design
---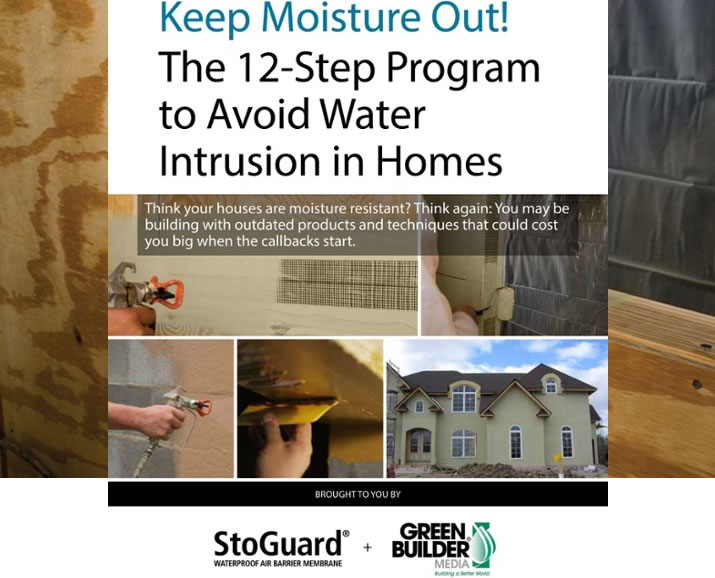 Your Reputation as a High-Quality Builder is Always on the Line
Moisture control in homes is a top-of-mind issue for homeowners, who worry about issues from unhealthy indoor air caused by mold to water infiltration causing expensive maintenance or repair. StoGuard® can keep you at the top of building science expertise and innovation while you build the most moisture resistant homes possible.
What is StoGuard®?
StoGuard® is a fluid-applied Air/Moisture Barrier that can replace housewrap.
ASHRAE, IRC, IBC, and IECC Code Approved
Water-Based, Non-Toxic
Non-Flammable (Class A, NFPA 285)
Spray or Roll-On Easy Installation
Fully Monolithic (flexible, seamless, durable)
Warranted
For the Builder
StoGuard® fully adhered air and moisture barrier is for those builders who are committed to building the highest quality homes with attention to what's inside the wall for maximum moisture protection, energy efficiency and comfort. Learn more
Free eBook for Builders!
www.greenbuildermedia.com/sto-residential
Company: Sto Corp.
Source: http://www.greenbuildermedia.com/sto-residential
Tags: Building
---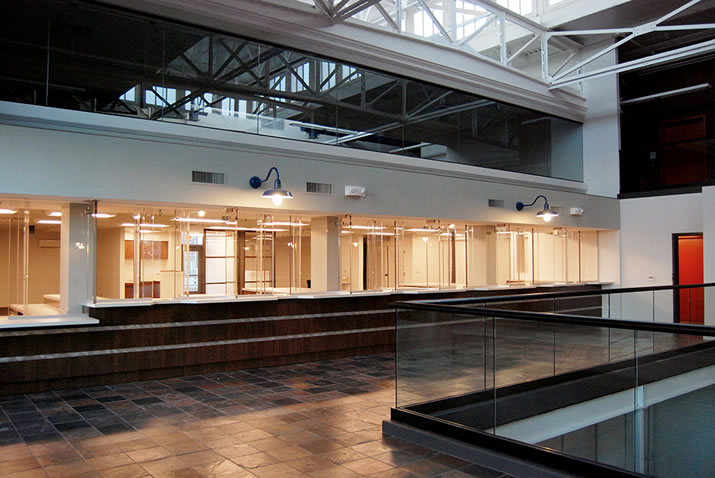 Millworkers don't just slap up a die wall and call it a good day's work. They are detail-oriented and take pride in work that is attractive without being over-the-top: It looks good and stays out of the way. Total Security Solutions is the same way when it comes to bulletproof barriers: Meticulous. Like mill shops, Total Security Solutions wants to be noticed by other tradesmen for high-quality design and installation—and then fade into the background for the customers of our clients.
According to Total Security Solutions CEO Jim Richards, "We know we've done a good job if people say 'Wow, this isn't what I expected!' People have a visual picture of what they're expecting [from a bullet resistant barrier]: something dark and ugly, like a county lockup. We are always looking for that Wow factor when we leave, where people are extremely excited: The barrier is bright, doesn't distract visitors, and doesn't get in the workers' way."
Bullet Resistant Mill Work is in Demand
As the economy continues to recover, we're seeing increased demand for custom millwork, especially in non-residential building. An increasing number of these jobs—from retail build-outs to municipal projects, community centers, and private businesses—include a bullet resistant barrier, entryway, reception desk, or transaction area. Unfortunately, few mill shops also have the equipment and expertise to design, engineer, and fabricate bullet proof barrier systems.
The only way to ensure that these systems are secure, functional, and attractive is to design and fabricate them to tight tolerances. Even if a sloppily designed or fabricated system will still function well enough and look OK, it will almost certainly prove to be a huge pain to install. These materials can be next to impossible to scribe or trim on-site—which definitely eats into the mill shop's margins as seemingly simple jobs drag on.
Custom Is Standard for TSS
This is why Total Security Solutions offers full customization on every job, designing and engineering each system from scratch with new measurements and a fresh consideration of where the barrier is going and what it needs to accomplish. For example, the work TSS did with Clark Energy in Kentucky was a custom retrofit to improve security at their payment centers. We worked around the existing build-out and millwork, extending the bulletproof glass across the entire counter without making it look dingy or forbidding (something that had been a major concern for the client). According to Holly Eades, Vice President for Finance at Clark Energy, "The estimates and drawings were accurate and timely. They showed up when they were supposed to, and everything was just neat as a pin. We were really, really tickled with their work."
For a client in the hospital industry Total Security Solutions recently built a custom bulletproof podium that involved a substantial amount of millwork. The client wanted the end product to be large and secure enough for a speaker to take cover, but still blend inconspicuously with their other podiums and the rest of their public-event fixtures. The podium exterior was made of three-quarter-inch wood panels and lined with half-inch spall-free fiberglass, earning it a UL Level 3 rating—capable of stopping up to three or more shots from a variety of handguns, up to a .44 Magnum. Given specific instructions regarding veneer colors, routing, and decorative aluminum angles, Total Security Solutions was able to seamlessly blend with all of the existing millwork and fittings.
Support From Total Security Solutions Goes Above and Beyond
We don't just offer a page of planning resources for mill shops and expect orders to come in. And we don't just deliver good finished product and expect you to figure out the install on your own. We offer continuous support from the start of the design process through to the finished installation. Give us a call for a free design phone consultation and get things rolling on your next project. Your clients will be impressed with your work—and their customers will never notice a thing.
Company: Total Security Solutions Inc
Source: http://www.tssbulletproof.com/custom-mill-work-bullet-resistant-barriers-inconspicuous-perfection/
Tags: Design | Safety | Security
---
Challenged by restrictions imposed by the local Victorian Historic District and a personal goal of building a sustainable home within a strict budget, sustainability expert Tommy Linstroth and his team achieved sustainability without sacrificing beauty.
Linstroth selected CableRail by Feeney railing infill for his new home located in the historic district of Savannah, Georgia; widely known as one of the most picturesque old-style residential districts in the southeast.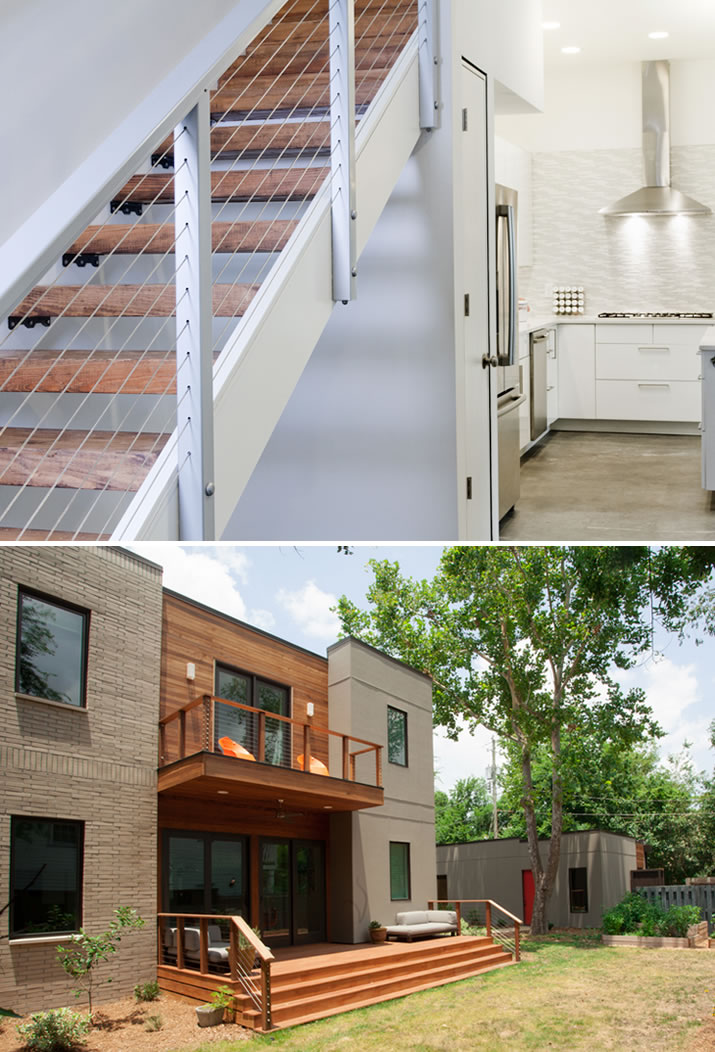 Designing for Sustainability
A principal of Trident Sustainability Group in Savannah, Georgia, Linstroth designed and built his new family home in partnership with architect Paul McKeever and contractor R Peacock Construction. Regularly advising companies on such subjects as organizational sustainability and Leadership in Energy and Environmental Design (LEED) certification, Linstroth carefully designed his own home to economically and effectively achieve a high sustainability rating. The home built for $150/SF is the first LEED Platinum–certified single-family home in Savannah, GA.
Linstroth comments, "In coastal communities like Savannah, building products must be highly resilient to withstand the elements. CableRail is made from high-strength, weather-tough, 316-grade stainless steel which has both the durability to resist the coastal elements in our area and the sleek horizontal design we were looking for to match the contemporary architectural styling of the home."
Of the five key elements in the LEED Green Building Rating System™, Feeney's CableRail product contributed to LEED points primarily in the area of sustainable material specification. As a sustainable building product, the CableRail by Feeney cabling is manufactured from stainless steel that has a very high recycled content. It is also extremely durable and long lasting, and requires no chemical treatments, stains, varnishes or preservatives, unlike many railing infill products. Linstroth notes that this was one of his primary reasons for choosing CableRail, saying, "Sustainability was at the forefront in our selection of CableRail railing infill. As a low maintenance recyclable material made from 70 percent pre-consumer reclaimed content, CableRail offers durability and a long use cycle."
Designing with Stylistic Versatility
Stylistically versatile, the innovative CableRail design aesthetic complements and enhances homes designed in a myriad of architectural styles. Lindstroth said, "The CableRail aesthetic was a decisive factor in our selection process. I believe that a new building should look new, and my personal style preference in home design is contemporary."
Because this block contains century-old houses clad in brick to siding to stucco, in spite of the historic district constraints, we weren't required to rigidly follow an aesthetic. But in terms of height, mass, and window alignment, it had to fit in. The CableRail aesthetic fit in perfectly." CableRail was used on the interior stairs as well, in order to enjoy an unobstructed view and to maintain a cohesive design from interior to exterior.
Company: Feeney, Inc
Product: CableRail Stainless Steel Standard Assemblies
Source: http://media.feeneyinc.com/blog/case-study-sustainability-without-sacrificing-beauty-the-linstroth-residenc
Tags: Exterior Design | Interior Design | Sustainability
---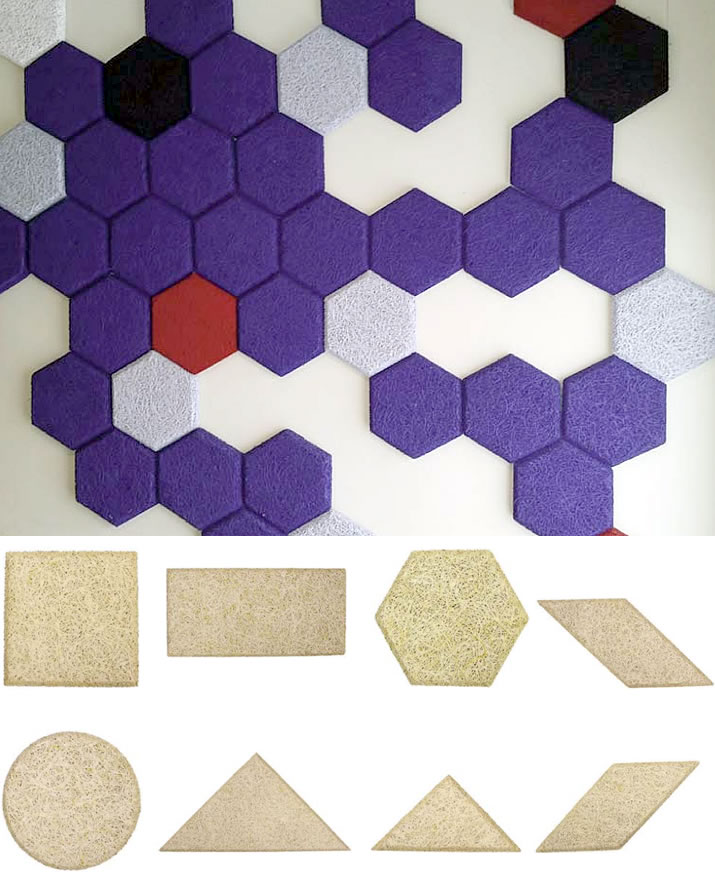 Tectum Panel Art wall panels are the latest innovation from Tectum Inc. Eight different pre-fabricated shapes allow for artistic patterns and designs while providing the abuse resistance and acoustical absorption the design community has come to rely on from Tectum products.
Tectum Panel Art wall panels are easy to install in new construction and existing buildings for attractive and highly effective sound control. Tectum Panel Art can install quickly using construction adhesive and a finishing nail to secure the panel.
All Tectum panels are available from the factory in Natural finish, painted white or custom colors. Tectum panels can also be field painted without losing their acoustical efficacy.
Custom shapes and sizes are available.
Company: Armstrong Building Solutions
Source: http://www.tectum.com/project-photos-painted-shaped.html
Tags: Color | Interior Design | Wall Panels
---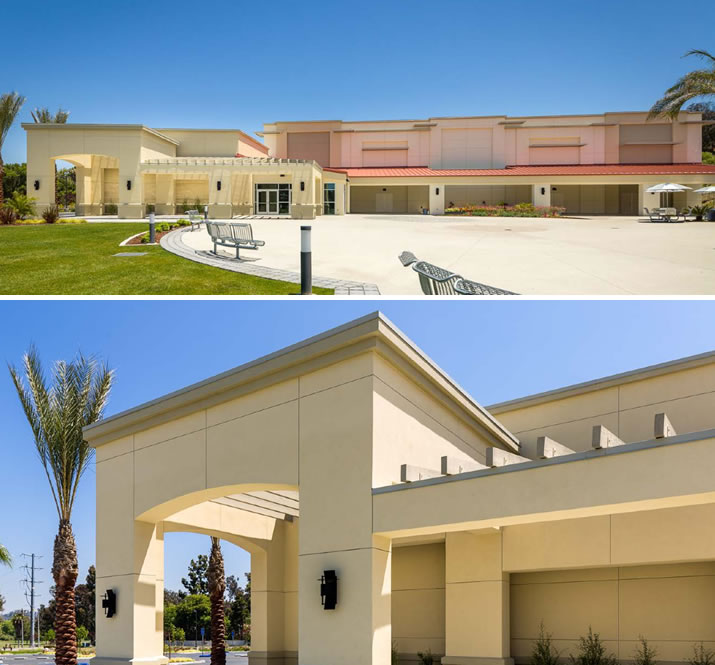 LaHabra FastWall 300 with Krak-Shield stucco assemblies are the solution to prevent stucco cracking
Enhance the beauty of ‪stucco‬ with FastWall Systems from ‪LaHabra‬. Featured on this building is the LaHabra FastWall 300 with Krak-Shield Assembly including:
LaHabra Fiber-47 Scratch & Brown Concentrate
Parex USA Stucco Mesh
Parex USA Primer
Parex USA Adacryl Admix & Bonder
LaHabra Insul-Bond Dry Base Coat & Adhesive
LaHabra Perma-Finish Fine in custom colors
The new 26,000 sq. ft. building of Bonita Valley Community Church complements the surrounding Spanish mission style buildings. Included inside this massive building in Bonita, CA is a 3,000 sq. ft. performance stage, administrative offices, a choir room and 1,400 sq. ft. of lobby space. The state-of-the-art building is also home to cutting edge LED and theatrical lighting, dressing rooms and a high-tech audio/video recording room.
The building's exterior, completed by E.L. Hobbs, Inc. of El Cajon, CA included LaHabra's FastWall 300 Krak-Shield Stucco Assembly. With its extra layer of fiberglass mesh, which reduces cracking, Krak-Shield helps reduce the number of call-backs and helps reduce the building's maintenance costs over time.
Three custom colors were also used on this project and matched to samples specifically requested by the architect. LaHabra's Perma-Finish in the texture Fine was the perfect choice for the finish because of its ease to work with, which allows for a better quality application.
Company: LaHabra
Source: http://www.lahabrastucco.com/projects-profiles.shtml
Tags: Color | Exterior Design
---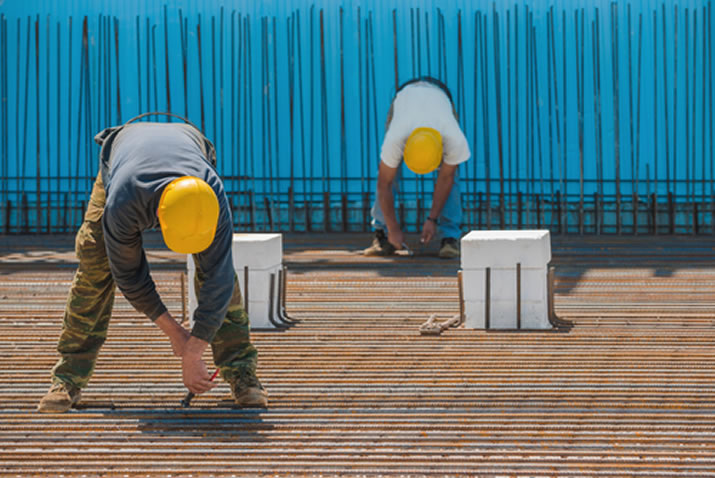 Workers are oftentimes injured by performing the same physical tasks over and over again. It's up to employers to address such safety hazards and work to eliminate them.
NIOSH suggests following these seven steps to create your own program to address ergonomics-related hazards:
Look for signs of potential musculoskeletal-related problems in the workplace. Signs include worker reports of aches and pains or more or more job tasks that require repetitive, forceful exertions.
As a manager, you must show a commitment to addressing these problems and also encourage employees to become involved in the problem-solving aspect.
Provide training to help managers and employees better evaluate potential workplace hazards.
Gather enough data to identify jobs or work conditions that are most problematic. Data can be found in injury and illness logs, medical records and job analyses.
Identify the most effective controls for jobs or tasks that pose a risk for musculoskeletal injuries. Evaluate the controls once they are in place to determine if they have reduced or eliminated the problem.
Establish a healthcare management system that emphasizes the importance of early detection and treatment of musculoskeletal disorders to prevent impairment and disability.
Minimize risk factors for musculoskeletal disorders when planning new work processes and operations.
Start working on your ergonomics program today and reduce this type of worker injury. It's also a good idea to encourage and help your workers find remedies to injuries they may suffer from performing repetitive tasks. Don't let these injuries jeopardize their safety.
Company: Seton
Source: http://www.seton.com/blog/2015/07/ergonomics-when-work-really-can-be-hazardous-to-your-health
Tags: Safety
---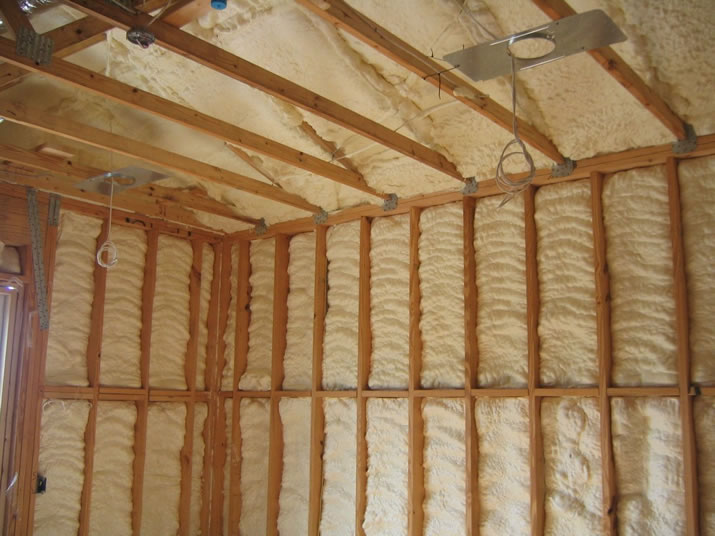 Not all home insulation is created equal. If you've been considering your options for an upcoming home renovation, new addition, or new house that's being built, you may be wondering whether you should try out spray foam insulation. Here are three reasons spray foam insulation like Icynene is a better choice than other types of insulation.
1. Air Sealing. Unlike other insulation types, spray foam insulation like Icynene acts as an air seal, anywhere that it is used throughout the house. The air seal that foam insulation provides can help prevent drafts and air leaks, which can affect the interior temperature of the house.
2. Not considered a food source for pests. Unlike other types of insulation, Icynene spray foam insulation does not attract pests, helping to deter them from nesting in your home.
3. Uncompromised performance. Over time, old insulation may diminish in performance and coverage to create gaps that allow for air leaks and drafts to appear in the home. Icynene spray foam insulation maintains its shape and insulating properties, which means you can relax and enjoy a consistent temperature in your home, without having to worry about air leaks developing due to gaps in the insulation.
Talk to a licensed Icynene spray foam insulation contractor in your area, to find out more about the differences between traditional and spray foam insulation and discover more reasons to insulate your home.
Company: Icynene
Source: http://www.icynene.com/news/3-reasons-choose-spray-foam-insulation
Tags: Building
---
Impact protection and premium design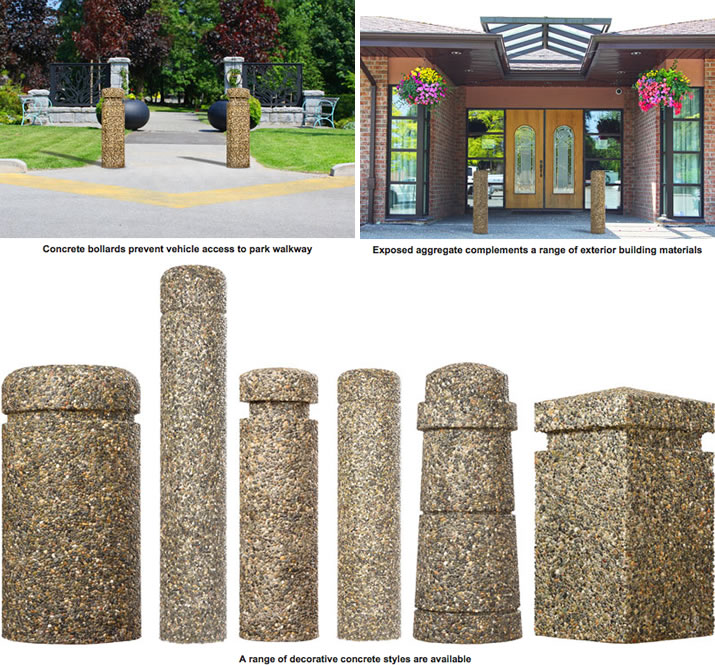 When it comes to outdoor site furnishings, and bollards in particular, concrete helps ensure site and pedestrian safety—while enhancing the aesthetic designs of surrounding areas.
Concrete is an excellent building material used for almost all major buildings and urban infrastructure projects. There are few modern buildings that don't use concrete for at least their foundation. Concrete is naturally resistant to fire and has high thermal mass, vibration absorption, wind and blast resistance and exceptional durability. Concrete can also be easily improved with steel reinforcement and additional surface finishing—both of which can be achieved in manufacturing precast concrete products.
Precast concrete
The manufacturing of precast concrete allows for more control in enhancing and maintaining consistent quality across a range of products. Casting facilities have the benefit of a clean manufacturing environment to minimize impurities. Precast products also use molds, which ensure uniformity across individual items and allow for a high degree of planning and predictability in determining concrete mixes and volumes.
For cast-in-place concrete projects, formwork is often the most costly input, as it requires abundant resources for labor and materials. Relying on offsite manufacturers is an effective way to reduce costs while ensuring quality and performance-specific characteristics. Precast concrete products are shipped ready for use and typically require much less time and labor to install. Precast products are used for a range of applications—including architectural site furnishings, structural building materials, surface pavers and housings for utility conduits and waste management.
Concrete reinforcement
On its own, concrete has exceptional compressive strength but is weak in tension and shear strength—especially when subject to significant forces over time.
Steel is an ideal material for reinforcing concrete, and is economical and readily available across North America. It offers high tension and shear strength and behaves similar to concrete when exposed to environmental variations such as temperature and humidity. It can also be bent, cut or bound into different shapes to accommodate any concrete form—and assembled rapidly into formwork and molds. Together, concrete and steel can be used to build structures with incredible strength and durability, and they require minimal maintenance once installed.
Different types of reinforcement can be used for different concrete applications. The most common reinforcing material is steel rebar, which contains deformations, or ribs, that interlock and bond with concrete as it cures. Rebar is a versatile material that can be easily bent, cut or spliced together, and different types are available, each with specific properties incorporated for strength, weldability and corrosion resistance.
It's worth noting that steel is generally protected from corrosion by the high PH levels of surrounding concrete. However, lowered PH levels or the presence of excessive marine or de-icing salts can permeate concrete, which can cause integral steel to corrode. When embedded steel begins to rust, it expands significantly, causing concrete to crack, spall or break away. At the time of installation, minor surface corrosion won't affect the structural integrity of rebar (and may actually be desired in encouraging better bonding) as the isolation from external environments halts oxidation. To prevent further corrosion, however, manufacturers can 1) ensure enough concrete has been applied to surround and protect integral steel or 2) use corrosion-resistant materials—either coated with epoxy or made from stainless or galvanized steel.
A common means to increasing the structural integrity of load-bearing concrete structures is to apply tension to reinforcing bars prior to pouring concrete. The bars are kept under tension until the concrete is allowed to cure sufficiently before they are released. The pre-stressed reinforcement ensures a more resilient final product in carrying heavy loads.
Strategies for steel reinforcement can vary and formal projects require that qualified design professionals take into consideration a structure's intended use, location, span lengths and expected loads. Designs also require that accurate parameters be specified for material quantities, grades, sizes and placement within a larger project. Precast concrete offers an ideal production format for predetermining load designs and ensuring consistent application across a range of products while avoiding onsite formwork.
Surface finishing
Precast concrete can be designed with a range of colors, textures and finishes that would otherwise be difficult to achieve using cast-in-place methods. These finishes are achieved by using different concrete mixes, aggregate selections and processing methods. Typically, concrete finishes can be grouped into two separate categories: smooth and exposed aggregate.
Smooth surfaces
Smooth surfaces can be created by giving precast concrete what's called an "as-cast" finish or by using a light sandblast. An as-cast finish is created by simply pulling concrete from its form and applying little or no additional processing. As-cast finishes offer a very clean profile and are conducive to painting. However, it can be difficult to achieve a consistent color across as-cast finishes for larger projects. There are a number of variables that can affect the final appearance of concrete, including the type of cement used, mixing, weather and conditions for curing.
It's worth noting that small air voids, or bug eyes, will be more noticeable across smooth concrete surfaces, which, depending on the application, can be a disadvantage. Voids can be removed with additional concrete sacking, but this can be an expensive added process. Light sandblasting is often applied to achieve a more uniform finish and smooth appearance, minimizing variabilities in the color and texture of binding cement, but it will also further reveal voids and other imperfections—making them more noticeable.
Exposed aggregate
Exposed aggregate requires additional processing to reveal the stones placed in a concrete mixture. Aggregate materials typically comprise about 60–70 percent of a concrete mix, and a multitude of different aggregate-types can be used. Once exposed, aggregates can have a significant effect on the color, appearance and texture of concrete. Exposed aggregate finishes tend to be more uniform and consistent than smooth finishes, virtually eliminating the appearance of voids and other imperfections—both up close and from a distance.
Aggregate can be exposed to different degrees to achieve a range of textures and color casts—or to preserve the presence of binding concrete mix.
Light exposure involves sandblasting a concrete surface until aggregates are just visible through the concrete mix, which still maintains a significant presence in the overall appearance of the surface.
Medium exposure removes more of the surface concrete, creating a more balanced aesthetic between aggregate and cement.
Deep exposure aims to expose as much aggregate as possible—about a third of each stone or half of the smallest stone size—to make it the dominant feature.
Aggregates are typically exposed though sandblasting, but chemicals are sometimes used in forms to limit curing of surfaces for easier removal.
Additional finishes
In addition to sandblasting, a range of other processes are available to alter concrete surfaces—including acid etching (similar to sandblasting but allows more preservation of color and detail); form liners, which involves lining forms with additional materials to achieve unique textures; and additional tooling, which is often used to achieve a broken-stone feel.
Because precast concrete uses pre-designed molds to form concrete structures, these molds can be easily modified to create cut-outs to accommodate utility lines, aid installation and reduce overall material and weight of a product. Molds can also be modified to incorporate decorative reveals and other textured effects to enhance the overall appearance and uniformity between products.
Depending on the final application, controlling surface finishes can be difficult and costly when implemented onsite. Concrete casting facilities offer more controlled environments for planning and implementing desired finishes—many of which would be near impossible to achieve otherwise.
Concrete bollards & outdoor site furnishings
Using precast concrete for architectural and landscape furnishings is an ideal means to creating consistent and unique aesthetics across an outdoor space. Site furnishings typically serve dual purposes—providing functional value while also enhancing visual elements of a building or surrounding site.
Reliance Foundry specializes in outdoor bollard designs that provide both security and decorative appeal. Reinforced concrete is an ideal material for bollards, as it offers protective strength and visual appeal.
Reliance Foundry concrete bollards have been designed with steel pipe reinforcement for high-impact protection. Pipe lengths are cast directly into bollards and should be embedded deep into solid substrates to ensure they won't be dislodged in the event of a collision. Pipes are made from structural grade steel to provide exceptional tension and shear strength in withstanding vehicle impacts.
Bollards are manufactured with an exposed aggregate finish suitable for withstanding wear and pollutants of high-traffic urban environments. Aggregates are collected from British Columbia's Fraser Valley—emblematic of the Pacific Northwest and suitable for any landscape or architectural style.
Company: Reliance Foundry Co. Ltd.
Of: Bryce Tarling
Source: http://www.reliance-foundry.com/blog/precast-concrete-bollards
Tags: Landscape Design | Security
---
Draper, Inc. has announced new, larger sizes for its award-winning TecVision Engineered Surface Technology line. Optically Seamless TecVision screens are now available up to 23 feet high and 69 feet wide. "When we introduced TecVision we limited the sizes to 15 feet in viewing height because 15 feet was the largest we could provide without traditional seams," according to Bob Mathes, AV/Video Sales & Marketing Manager for Draper, Inc. "We decided that we should leverage our seaming expertise along with our state of the art TecVision technology to come up with a way to make bigger surfaces."

Instead of using traditional seams, or taking the very expensive approach of having a seamless substrate, Draper took a different path. "We decided to fuse a base substrate which resulted in a flatter base material with a stronger weld," says Mathes. "With the ideal substrate perfected we could then use our TecVision formulation process to create a perfect and optically seamless viewing surface." Mathes says Draper is so confident in its new Optically Seamless TecVision sizes that if there is a defect, including anything resulting from the fusion process, visible to the naked eye or under projection more than five feet away from the audience side of any TecVision screen, the company will take back the surface.
Source: http://www.draperinc.com/ProjectionScreens/TecVision.aspx
Tags: Interior Design
---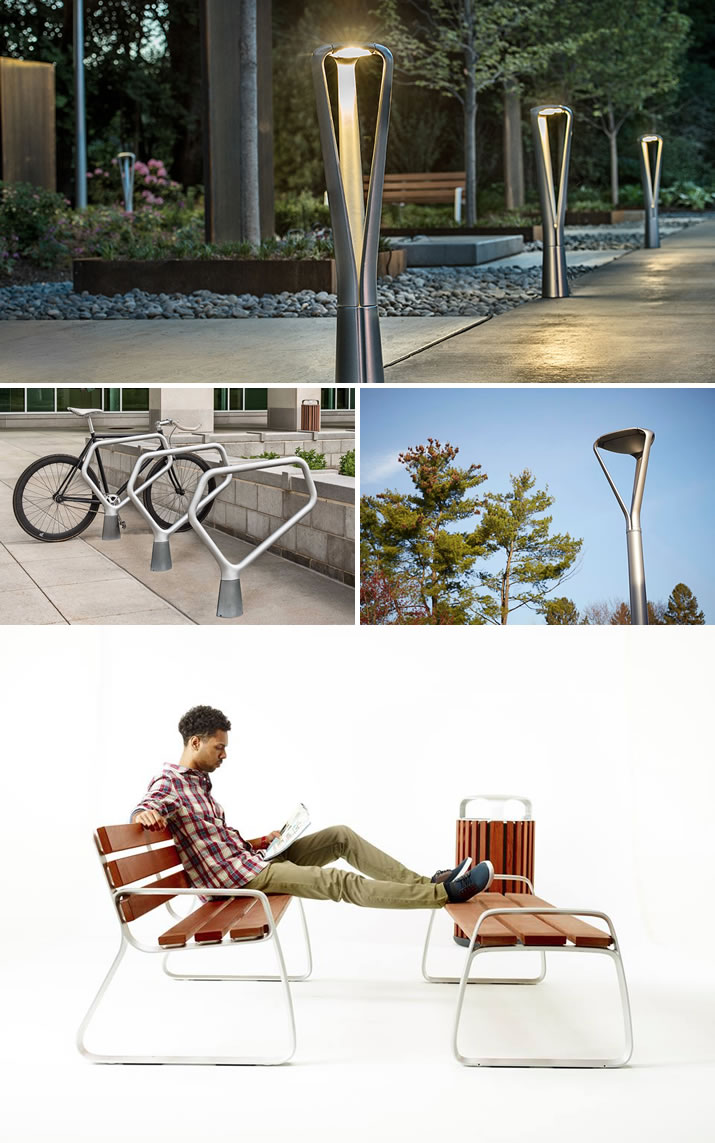 FGP is an integrated collection of site furniture and lighting from Milan-based designer Francisco Gomez Paz. Part of Landscape Forms Global 45 initiative, FGP was designed for international application and appeal. The FGP Collection includes five elements: a bench, litter receptacle, bike rack and pedestrian and pathway LED lights. The design language is elegant and light. Elements have a fluid simplicity with subtly curved structural frames that give them a soft appearance. While contemporary in line and spirit, the collection echoes familiar forms, making it both welcoming and very modern. Cast aluminium structural parts are manufactured by Landscape Forms and have a handsome and durable anodized finish. Slats are available in standard Landscape Forms woods in North America and regionally sourced wood in international markets. Flat packed shipping and local assembly for domestic and international markets to support carbon-reducing sustainability.
Company: Landscape Forms Inc.
Source: http://www.landscapeforms.com/en-us/products/pages/FGP.aspx
Tags: Exterior Design | Landscape Design | Sustainability
---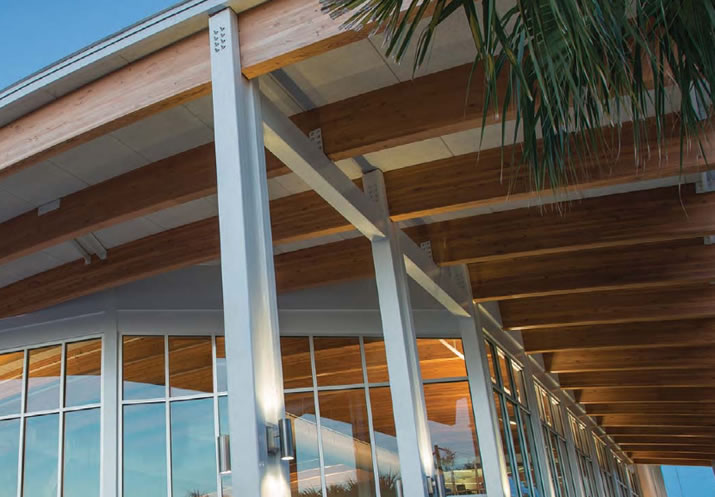 The new Tectum Roof Deck catalog is officially online featuring the new Tectum V and Tectum E-N: http://www.tectum.com/catalog/2015_Tectum_Inc_Roof_Deck_Catalog.pdf
Company: Armstrong Building Solutions
Source: http://www.tectum.com/catalog/2015_Tectum_Inc_Roof_Deck_Catalog.pdf