architecture - engineering - construction

Coating
---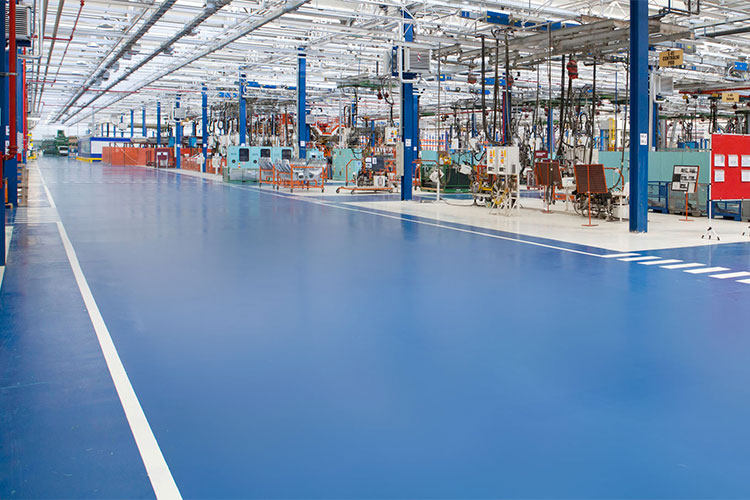 Unless you are a resinous flooring professional or a chemist, it can be hard to differentiate between Polyaspartic, Epoxy or Polyurethane coatings. In many resinous flooring projects they are combined in a flooring system. Each one of these resins serves a purpose.
Nowadays, machine manufacturers, owners of commercial and industrial premises, car refinishing shops and other relevant decision-makers want coatings that can speed up the painting operation while at the same time deliver the high performance known from polyurethane coatings.
Is a Polyaspartic floor better than an Epoxy or Polyurethane floor?
Consider these comparisons:
Typically Epoxy or Polyurethane floors can take 4 or 5 days to install.
Polyaspartics can cure in three to four hours.
Because Polyaspartics cure so fast, they can save you a bundle on labor costs.
Epoxy resins have a tendency to yellow over time and may not be color-fast.
Polyaspartics are UV stable and do not yellow.
For proper curing without any curing defects, epoxy coatings must be installed at temperatures around 55 degrees F.
Polyaspartics can be applied around freezing temperatures, making them perfect for walk-in freezers and the like.
Epoxy resins less flexible and less abrasion resistant.
Polyurethane coatings perform very similar to Polyaspartics but they take longer time to cure (at least 24 hours) and need to be applied very thin (4 to 6 mils per coat)
Polyurethane coatings are used mostly top coats over Epoxy coatings. They cannot be used as a complete system in itself.
Polyaspartic coatings can be used as top coats over Epoxy coatings (to save costs) or they can be used a complete flooring system.
The two main benefits of Polyaspartic based flooring systems are increased productivity and long-term cost efficiency. The gain in productivity over conventional coating technologies can be achieved thanks to two properties of polyaspartic coatings:
Significantly faster drying times at ambient temperature than conventional Epoxy or Polyurethane technologies, which allows a faster return to service.
For high film build applications, a much greater film thickness in a single cooperation is possible, which in practice means one layer can be saved.
Duraamen Industrial and Polished Concrete Flooring Products are designed to provide labor saving and long lasting flooring solutions. Talk to an expert about your flooring challenges...Please Call + 1 973 230 1301 / eMail Us
Company: Duraamen Engineered Products Inc.
Product: Resinous Flooring: Endüra Resin Chip System
Source: https://www.duraamen.com/blog/is-polyaspartic-coating-better-than-epoxy-or-polyurethane-coating
Tags: Coating | Finishes | Floor
---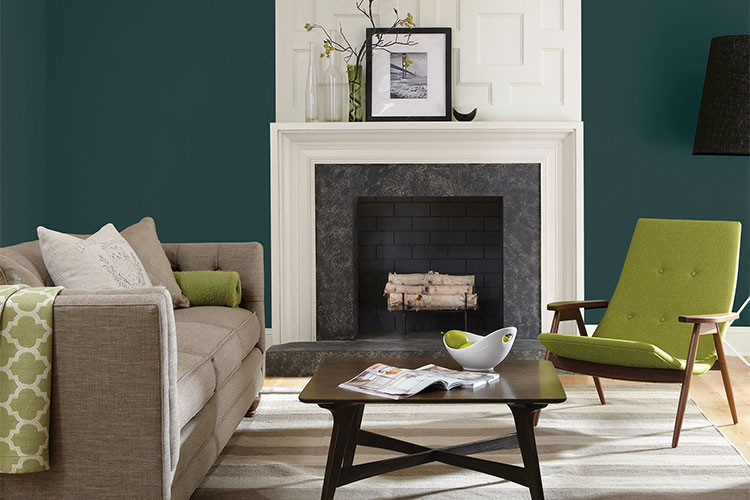 How designing with colors that resist definition will add a new depth of intrigue to any project.
It takes a lot of thought to describe Sherwin-Williams' Color of the Year, Oceanside SW 6496. It's a gorgeous blue, but there are captivating greens at work, too. It evokes the deep sea and the tones of a glacier. If an analogy could be made to a precious gem, it would be a stunning mix of stones — lapis lazuli and tourmaline, with a hint of aquamarine and a jolt of emerald. With all these metaphors it's clear that defining this color is …challenging.
But its almost indescribable nature is what creates the allure of Oceanside — an "in-between" color that is getting shining reviews from designers and color psychologists.
"In-between colors like Oceanside offer a sense of intrigue and sophistication, making me question the nature of the color. I study the spaces a bit more than if I'm in a room that features a more obvious or primary color," says Catherine Davin of Davin Interiors in Pittsburgh.
Using in-between colors in your own designs can create a distinctive space that helps décor sing. "A smoky, foggy, or misty background color that can't be described in one word allows you to 'blur' the edges of your backdrop so that something pure in front of it will stand out," says Roger Higgins of R. Higgins Interiors in Nashville.
That mystery and refinement is exactly what Sherwin-Williams' color experts had in mind when choosing Oceanside as the Color of the Year.
"It's a blend of three strong colors (blue, green and yellow), but also depth and hue," says Sue Wadden, Director of Color Marketing for Sherwin-Williams. "That's why color professionals and designers gravitate toward in-between colors. There is a strong connection to the mystery of these colors. They are not one thing or the other — they're both vibrant and soulful. An in-between color resists definition, because it can be different things to different people."
The overwhelming attraction to in-between colors — whether the blue-green Oceanside, a dusty grape or grayed-down green — is likely due not only to their aesthetic qualities, but also the moods they create.
"In-between colors kill the harsh edges of a room and tend to make them more relaxing places to linger," Higgins says.
Davin concurs: "Depending on the mix, in-between colors create a sense of equilibrium for your eye, which puts it at rest. This signals your brain to relax."
And when a brain is relaxed, powerful things happen.
"When I introduce myself to a seatmate in an airplane and they find out what I do for a living, they always ask me what color they should paint their home office," says color psychologist Dr. Sally Augustin. "I always tell them not to use saturated colors, but an in-between green. Different shades of green enhance creative thinking," Augustin says.
Adding blue to the green, as in the Oceanside shade, is a winning combination. "About 60 percent of people choose blue as a favorite color, which I think has to do with the fact that we enjoy water." Augustin says that color theorists have studied how our brains evolved and processed color information. In our past we liked blue skies because that meant a clear, good day for hunting and gathering.
As complex as in-between colors may be, they work in just about any space.
These shades are so versatile that they can be used in everything from uber modern to more traditional homes. Oceanside, for instance, would work in a rustic mountain house or a contemporary beach house. "In-between colors add dimension and character without dominating or complicating a space," Davin says. "I never like it when a color jumps off the wall at me."
Like the perfect party guest, these colors are not too loud, but definitely not boring. They also can call to mind both conventionalism and casualness.
In Wadden's own home, you'd be pressed to find a pure color. "Every single color in my home is an in-between color," she says. "From bronze to oxidized yellow to muddy browns and terra cottas. Picture a rusty old car — those are the colors in my home."
Her favorite in-between tone? "Anonymous SW 7046 — it's a warm, rich gray/brown," Wadden says. "Sometimes it looks gray, sometimes brown, sometimes green. I have it on the exterior and interior of my home. It's chameleonic — it looks amazing no matter what the landscape delivers."
An array of whites, too, fall into the popular in-between category. When you see Egret White SW 7570 on a paint deck, it looks subdued and nondescript with a hint of greige, neither gray nor beige. On the walls, it has enough depth to pop off of a white trim or it can play beautifully against any other color.
Try these in-between colors in your next project
Company: The Sherwin-Williams Company
Product: Interior Paints
Of: Megan Swoyer
Source: https://www.sherwin-williams.com/architects-specifiers-designers/inspiration/styles-and-techniques/sw-art-in-between-colors
Tags: Coating | Color | Finishes | Interior Design
---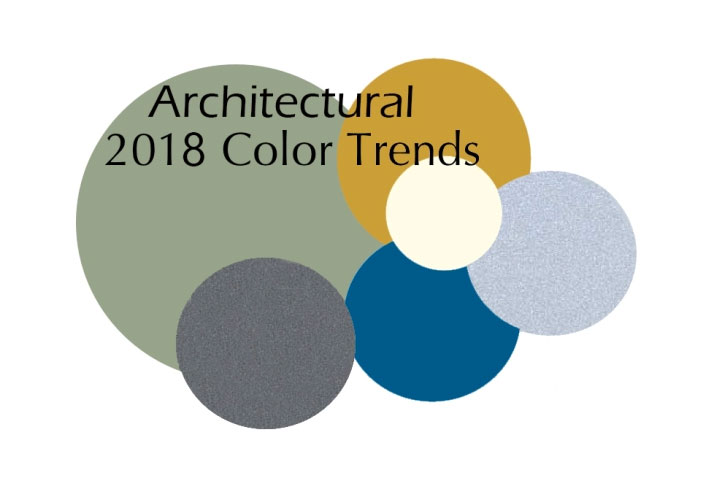 We rely more heavily on our sight than on any other sense – we are almost always taking information in with our eyes.
So how many colors can the human eye see? 100,000 colors? 500,000 colors? 1,000,000 colors? The average human can see 10 million colors!
The Color Marketing Group (CMG), an international association that identifies the direction of color trends, uses the slogan, "Color sells, and the right color sells better."
When it comes to color predictions and trends for each new year, everyone is releasing their new "it" color or shade, from the fashion scene to home décor to automotive to the architectural and construction industry. This includes Valspar; they do intense research to create distinct trends and themes for the architectural coatings industry.
Valspar's color trends closely align with those of the CMG's International Key Colors for 2018.
Trend One: Subtle metallic and mica sparkle have become the new neutrals
From silver to graphite to blue-tones, these standout hues are more matte metallic and offer refined sparkle. Established in Europe, CMG refers to this sparkle trend as Vapor.
Valspar refers to this color trend as the "Future Lux" trend. The color implications of this trend are derived from earth minerals. These subdued colors lend a feeling of permanence and trust, and when combined with the shimmer and shine of metal, create the unmistakable look of luxury.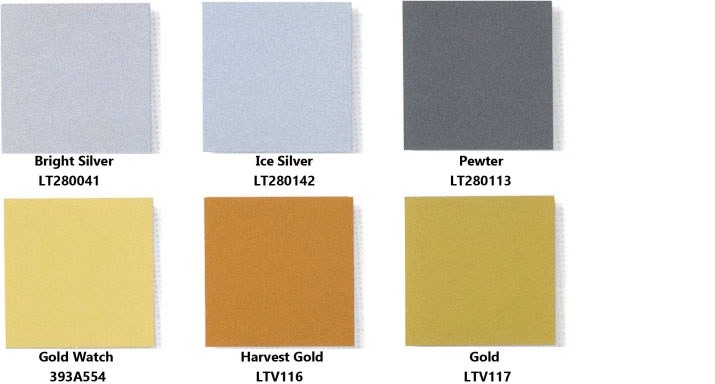 Trend Two: Gray – sophisticated, conservative and intelligent
As said by CMG, gray advances with a new identity, Evolve, from North America. Standing at 50% black, it feels extremely balanced and is a strong color for design schemes.

It creates a subtle effect when paired against deep shades, toning them down. Combining gray with lighter shades adds just the right touch of sophistication.
Valspar includes shades of gray in its "Always On" color trend collection.
Trend Three: Crisp and clean, Re-Value, from Latin America, embraces a healthy green with blue roots
These are welcoming, nurturing color tones that take into account our love of the planet and our love of life.

Valspar's "Hit Pause" color collection closely resembles CMG's Re-Value. The color implications of "Hit Pause" are rich tones and healing colors like Newborn's Eyes and Prussian Blue. These shades help us recharge by ushering in new, positive energy
Trend Four: CMG's final color trend for 2018 is Enjoy Life
Enjoy Life, from Asia Pacific, is pure and fresh. These are energizing and cheerful tones that symbolize the positivity of sunlight.

Valspar's "Life in Flex" colors like Marigold and Golden Bounty are bold, expressive colors that represent newness and light.
Collectively as a society, we all help create color trends, which shape our surroundings. These iconic colors of 2018 can all be provided by Linetec.
Explore Linetec's Color Select and Spec tool, send us a sample, or contact your regional sales manager for guidance and assistance with your project.
Company: Linetec
Product: High-Performance Fluoropolymer Paint Coatings
Source: https://linetec-blog.com/2018/02/23/architectural-color-trends-for-2018/
Tags: Coating | Color | Design | Finishes
---
How colorful stains, dyes, marbling and effects can help you do more with exposed concrete flooring.
Today's commercial interiors are increasingly being defined by organic shapes, playful palettes and inviting contrasts of opposing materials, such as wood accents and exposed concrete flooring. For both commercial and residential design pros, there's an opportunity to expand the way you think about using color underfoot — specifically in the form of concrete stains and finishes.
"Whether you're reclaiming a beautiful old warehouse space for a loft or office, or designing a retail space from scratch, you can do so much more now with concrete flooring than just traditional polished gray," says Sue Wadden, Director of Color Marketing at Sherwin-Williams.
From retail to office environments, interiors today need to be human, engaging, adaptive, durable and high-performing — and that includes flooring. With concrete, new technology is leading the way, as enhanced stains, reactive dyes and protective concrete coatings offer vivid, customizable colors and organic effects.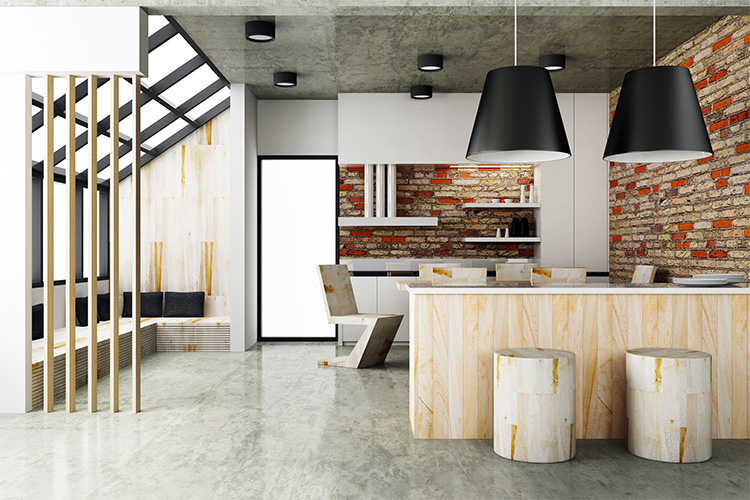 Here's a look at three ways you can expand your design possibilities using exposed concrete flooring:
Solid-color stains
When it comes to adding color to a properly treated and conditioned smooth concrete floor surface, your palette is virtually unlimited. Water-based solutions like H&C®ACRYLA-DECK® Water-Based Solid Color 100% Acrylic Deck Coating or H&C COLORTOP™ Water-Based Solid Color Concrete Stain can be tinted to match any color. ACRYLA-DECK provides resistance to chalking. COLORTOP provides additional durability and color-retention features, including resistance to salts, acids, alkalis, water, UV rays and oil.

Both products offer a natural sheen, but you can also specify a clear coat on top, to add a glossy finish that looks fantastic in spaces where natural light is a key design element.

Marbling and organic effects
For projects where you want to go beyond a solid-color result and provide your client with a more signature design feature, such as swirls, layers of color depth or patterning, you can explore specifying a metallic coating or reactive dyes.

H&C Pro Series Metallic Flooring System allows you and your contractor to build up a bold and beautiful result in layers. The system starts with a durable basecoat, to which you can add a metallic coat, and a vibrant color and finish coat to achieve your final desired look. There are 30 colors to choose from, which you can mix and match, and your final finish can come in either satin or gloss.

For spaces where you want the concrete floor to retain an earthier, organic look that highlights and celebrates its natural imperfections — such as in spaces where the floor needs to complement exposed wood beams — a reactive stain is the best solution.

H&C Infusion® Reactive Concrete Stains creates a translucent, variegated appearance, so small cracks and other imperfections in the concrete take on rich, lustrous character. This solution comes in 12 standard colors that can be intermixed to achieve a custom look.

Texture + color
Finally, in projects where you have a heavy traffic area that requires a texture for slip resistance, you can specify a combination concrete resurfacing solution with a color application.

H&C Dura-Top™ Heavy Traffic Concrete Resurfacer is a low-maintenance, abrasion-resistant polymer that can be stamped or troweled to achieve your desired design or texture. A rich palette of color possibilities comes into play with the addition of a Dura-TopConcrete Resurfacer Color Pack, which can be added to the mixture as a pigment. The Color Packs come in 30 colors, in a spectrum that ranges from Cotton Ball to Pepper Black.
"Concrete has so much design potential," Wadden says, "which is great since it's everywhere now, from commercial spaces to multifamily lofts. A more organic-looking concrete finish can function as a neutral base that allows the rest of the interior's materials and finishes to be the hero. Or you can get really colorful with it and make the floor the star. It's really up to you."
Company: The Sherwin-Williams Company
Product: Interior Stains
Source: https://www.sherwin-williams.com/architects-specifiers-designers/inspiration/styles-and-techniques/sw-art-concrete-floor-designs
Tags: Coating | Color | Concrete | Finishes | Interior Design
---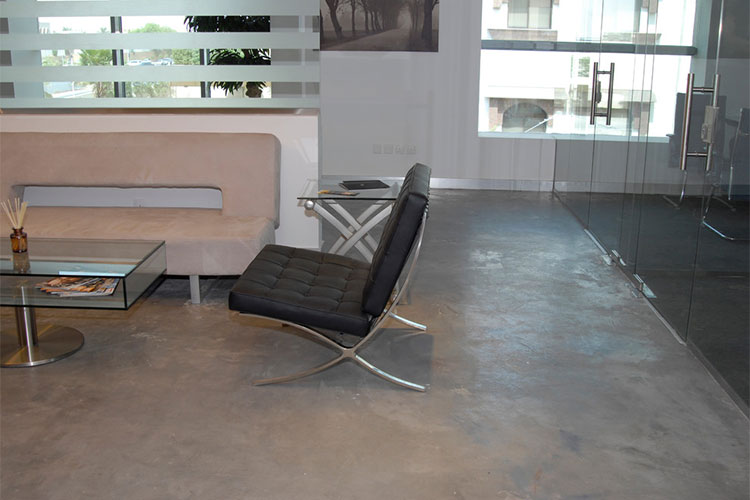 Elite Crete Systems has solutions to concrete floor problems and the design and decor experience to provide a truly unique one of a kind floor system.
REFLECTOR Enhancer Flooring Systems for a residential garage floor.
REFLECTOR Enhancer Flooring Systems in a dining room. Seamless, durable and beautiful.
Although this floor looks like traditional wood floor, it is not actually wood at all. It was created with THIN-FINISH™ Pre-Mixed Overlay and is a polymer modified cementitous topping. Because it is cement based, it is seamless and will not scratch like conventional wood floors.
Custom seamless floor created with REFLECTOR™ Enhancer Flooring System.
This beautiful and custom floor was created with THIN-FINISH™ and MICRO-FINISH™ polymer modified cementitious overlay.
This floor is not tile. It is fluid applied but made to look like stone tile. It was created with TEXTURE-PAVE™ pre-mixed overlay and colored with ULTRA-STONE™ Antiquing Stain.
Elite Crete Systems is a leading manufacturer of exterior decorative concrete finishes and custom seamless interior flooring. With a national network of trained installers and local technical support offices Elite Crete Systems is able to service individual residential clientele along with large corporate installations and construction projects.
Company: Elite Crete Systems, Inc. (Headquarters)
Source: http://www.elitecrete.com/
Tags: Coating | Concrete | Finishes | Floor | Interior Design
---
Whether a client wants a perfect neutral, refreshed trim or a bold accent wall, the new West Elm paint palette has a hue for your next project.
The Sherwin Williams Fall/Winter 2017 paint palette from west elm makes it simple to coordinate colors with their latest collections of furniture, bedding and home accessories. Whether you're picking the perfect neutral, refreshing tired trim or adding a bold accent wall, find favorite hues for every room of the house.
*Wall colors shown are Dustblu SW 9161, French Moire SW 9056, and Rocky River SW 6215.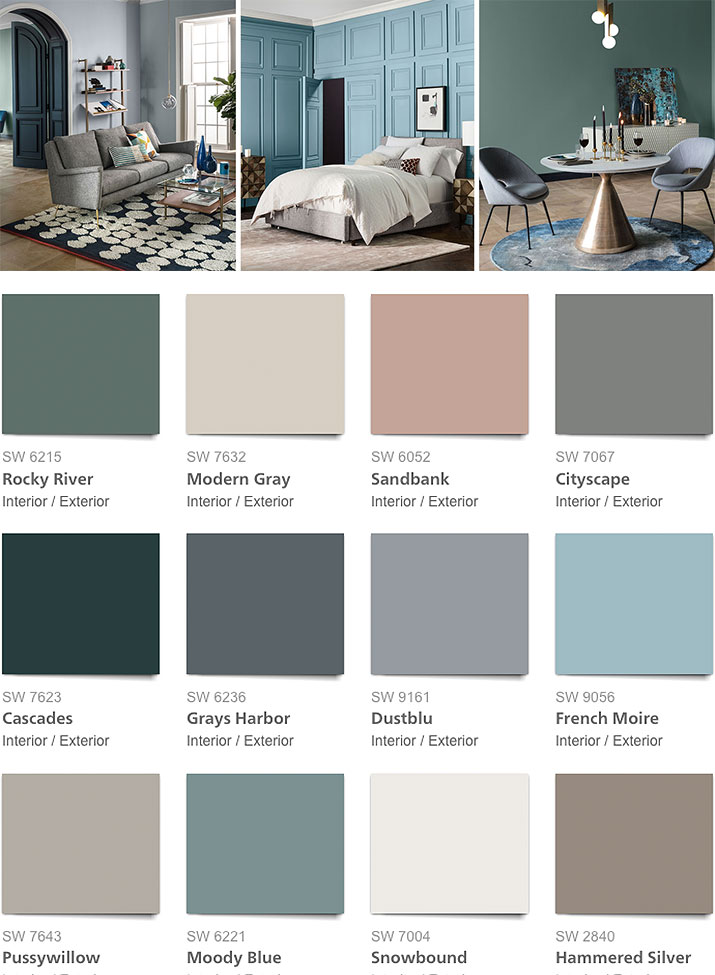 Company: The Sherwin-Williams Company
Product: Interior Paints
Source: https://www.sherwin-williams.com/architects-specifiers-designers/inspiration/stir
Tags: Coating | Color | Finishes | Interior Design
---

Photography: Joshua Jay Elliott, courtesy: Works Progress Architecture, LLP
The 10-story, LEED® Gold certified, mixed-use, transit-oriented development known as Slate is helping revitalize the Burnside Bridgehead area in Portland, Oregon. Formerly a vacant lot called Block 75, the new building features window, entrance, unitized curtainwall and panel systems finished by Linetec. Contributing to the building's high energy-efficiency and sustainability goals, Linetec also provided the thermal improvement services for the glazing systems' aluminum framing.
Opened last year, the project spans 147,000 square feet and offers 75 market-rate apartment units on the upper six floors; 35,000 square feet of creative co-working office workspace on floors 2-4; and 7,800 square feet of retail space at street level.
Articulated Aesthetics
Designed by Works Progress Architecture for co-developers Urban Development Partners and Beam Development, the property conveys a "push and pull" theme exemplifying the location's vibrancy. The glass, metal and concrete façade consists of articulated, modulated, rectangular shapes, including some that are setback and some that project over the sidewalks below.
"The building adheres to a carefully considered, cohesive, unified design concept that promotes the building as a bold, permanent fixture of the Burnside Bridgehead, the larger Central Eastside Subdistrict, and the larger Central City Plan District," noted Portland's Design Commission.
"It creates the illusion of a shifting stack," describes Works Progress Architecture's Ian Roll. "On the North and South sides, the curtainwall has a flat, clean, crisp look that transitions to a sculpted, figural texture on the East and West elevations. The curtainwall is crucial in registering the intentional lines and visual elements."
Enhancing the aesthetics and durability of these elements, Linetec used six colors and two finishing methods. The aluminum framing members' for the curtainwall, window and entrance systems were fabricated by Wausau Window and Wall Systems, and finished in Slate Gray Fluropon® and Dark Bronze FluroponAAMA-2605 fluoropolymer paint coatings, plus AAMA-611 Class I blackanodize. In addition, Linetec painted the aluminum panel system from Firestone in AAMA-2605 fluoropolymer coatings of Stone White Duranar®, Gun Barrel Fluropon Classic II and Block 45 Silver Fluropon Classic II.
Leaders in Energy and Environmental Design
Supporting Slate, and other projects seeking the U.S. Green Building Council's LEED certification, Linetec's finishing and thermal improvement services can contribute to the building envelope's energy-efficiency, visual appeal and durability.
Supporting environmentally sound practices, Linetec's high-performance painted coatings are applied in a controlled facility that safely captures and destroys the VOCs present in liquid solvent-based paints before the finished products' arrival on the building site. Anodize finishes do not contain VOCs and process byproducts are recyclable.
The finished architectural aluminum components may be specified with recycled content and are 100 percent recyclable after its useful life on the building. The high-performance fluoropolymer painted coatings and anodize finish help protect against the intense sunlight, heavy rains, high humidity and salt spray, for a long product life cycle.
To match Portland's climate and the project's goals for energy efficiency and comfort, Wausau's anodized aluminum-framed products have beenthermally improved by Linetec using a polyamide barrier. Combining the thermal barrier with solar-control, low-e, insulating glass achieves the specified performance for low solar heat gain coefficient, low U-Factor, highcondensation resistance factor and high visible light transmittance.
There are numerous LEED credits that recognize the advantages and benefits of high-performance windows and curtainwall. Seasonal opportunities for natural ventilation also help reduce the demand on HVAC systems and associated energy use. Weather permitting, the operable windows on Slate allow tenants to enjoy fresh air, natural light and views.
Within sight are downtown Portland, the Willamette River, landmark bridges, the West Hills and Mount Hood. According to the City of Portland's Design Commission, Slate's design features floor-to-ceiling curtainwall "placed at the most important – in other words, the most visually prominent and functionally significant parts" and "aids in the success of the space by fostering a visually seamless relationship between the building's interior and the exterior environment."
Further improving the overall comfort for those living, working and shopping at Slate: Retail spaces with natural light have reported higher sales. Workplaces have documented lower absenteeism, higher productivity and greater job satisfaction . Access to light has shown to be important for biological circadian rhythm and lead to a more restful night 's sleep and daytime alertness. Having a view outside also helps people feel better connected to with their environment and their community.
Balancing Appearance and Performance
Works Progress' Roll credits the project's success, in part, to working closely with Wausau Window and Wall Systems from the project's earliest stages. He highlights Wausau's architectural sales representative Brad Glauser as his primary contact in working through the project's complexities.
"Brad assisted us with selecting the system, and fine-tuning it to achieve the building envelope's glassine openness and meet the energy code," says Roll. "With digital modeling, we were able to get inside the units before anything was built to balance where the glass and metal panels should be placed for the right performance and look."
Bringing the architectural vision to reality, Yorke & Curtis, Inc. served as the general contractor. They broke ground in Jan. 2015 and coordinated the phased construction schedule with Oregon-based glazing contractor Dallas Glass.
Dallas Glass began installing Wausau's products in April 2015 and was substantially completed by Jan. 2016. Wausau provided more than 40,000 square feet of INvision™ 7250i-HRX SSG Series unitized curtainwall and 7250 Series SuperWall™; 240 project-out awning 4250Z zero sightline windows; and 4250i-TD Series terrace doors and D5100 Series sliding patio doors. Smooth, Fast, Accurate Installation
The aluminum panels and frames, and bronze-toned and clear glass, were factory-fabricated as a unitized curtainwall helping ensure the intended appearance and performance, and to simplify and accelerate their installation.
"The curtainwall's interlocking frame design accommodates seismic, live load and thermal building movements. Low U-Factors allow broad expanses of vision glass to meet Model Energy Codes. Transmission of unwanted noise is reduced by heavy architectural glass and low air infiltration," adds Glauser.
Slate was the glazing contractor's first experience with a unitized curtainwallsystem. "We loved it," says Darand Davies, president of Dallas Glass. "I think it went really well for being our first time working with a unitized system. It was rather amazing that, on average, we have just five guys in field who were capable of completing a full floor every two weeks."
Now that Slate is open and leasing, Glauser concludes, "Along with the great location and comfortable interiors, tenants also are drawn to the building's attractive appearance. And building owners and property managers will appreciate the ease in maintaining the window systems' appearance and functionality."
Slate, 321 N.E. Couch St., Portland, OR 97232; http://www.udplp.com/slate
Company: Linetec
Product: Thermal Improvement – Pour & Debridge and Thermal Strut
Source: http://www.linetec.com/Press_Release/LEED-Gold,-Slate,-features-Linetec-anodize-finish.html
Tags: Architecture | Coating | Energy | Finishes | Sustainability
---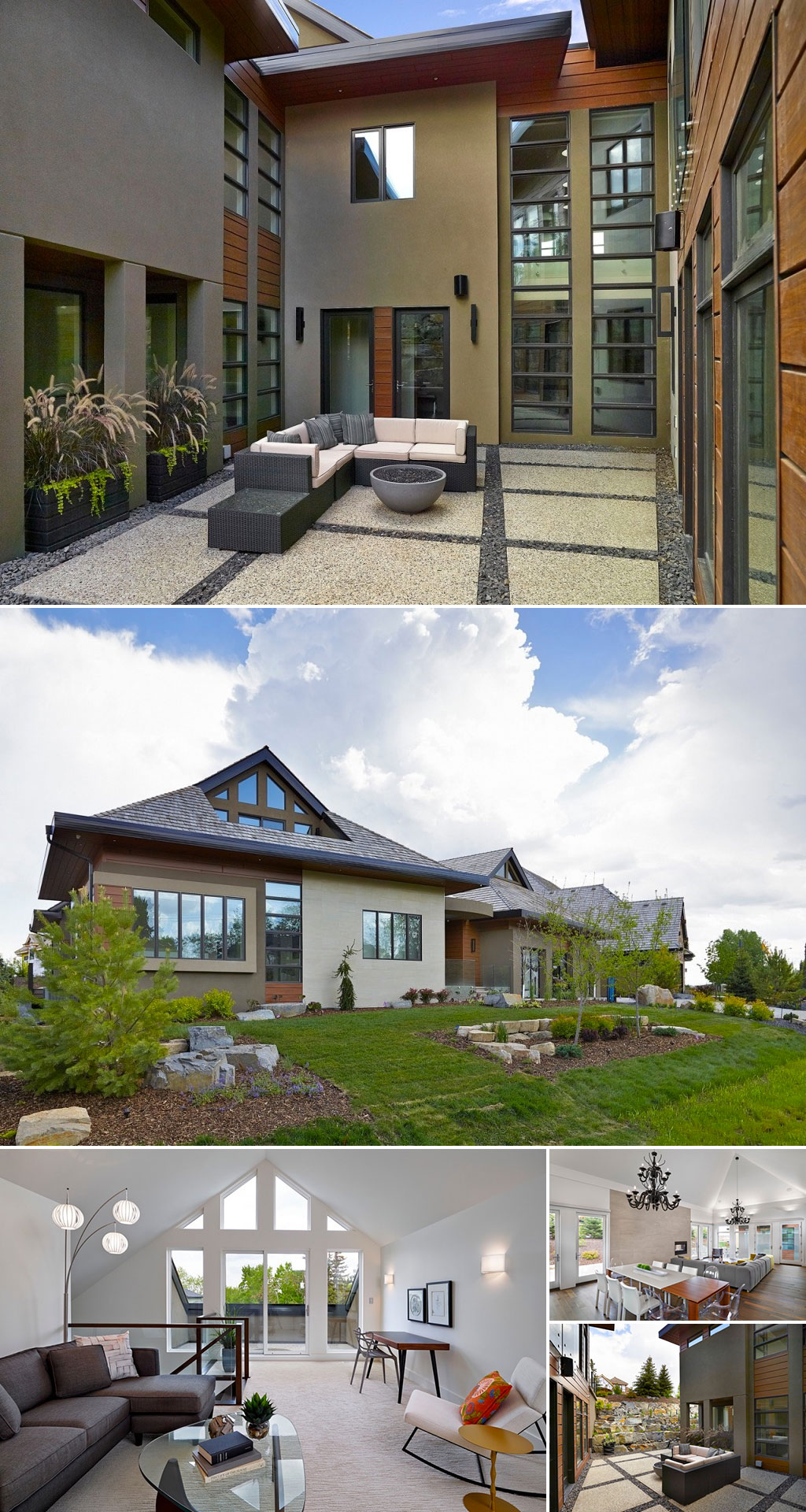 Designed by E3 Architecture and builder Birkholz Homes
Located in a high-end residential suburb of Edmonton, Alberta, the Windermere House serves as a luxury show home with top-notch, European-inspired finishes – inside and out. Designed by E3 Architecture and builder Birkholz Homes, the prestigious residence blends metal, glass, wood, warm hues and natural light. Completed in 2014, this 8,000-square-foot house features Loewen's aluminum-clad windows painted by Linetec to ensure the intended, high-quality presentation with minimal maintenance.
Conforming to the neighborhood's Victorian-Georgian strict architectural standards, E3 changed the perimeter of the house from a square to a U-shape to maximize the Windermere House's daylight and views with glass balconies, patio doors and Loewen's custom-made, triple-glazed windows. To optimize placement, the architectural drawings incorporated 3-D renderings of Loewen's products from the project's earliest phases.
Linetec finished Loewen's windows in a Tuscany Brown color using a 70 percent polyvinylidene fluoride (PVDF) resin-based coating. These coatings meet the stringent requirements of AAMA 2605 and exhibit outstanding resistance to humidity, color change, chalk, gloss loss and chemicals. The resulting finish provides durability and requires minimal maintenance throughout the show home's lifespan.
Learn more about Linetec's paint finishing services by clicking here. For personalized assistance in selecting the right coating for your aluminum building products, please contact Linetec's regional sales managers , email sales@linetec.com or call 888-717-1472.
Company: Linetec
Product: High-Performance Fluoropolymer Paint Coatings
Source: https://linetec-blog.com/2017/09/25/linetec-finishes-loewen-windows-for-canadas-windermere-house/
Tags: Architecture | Coating | Color | Design
---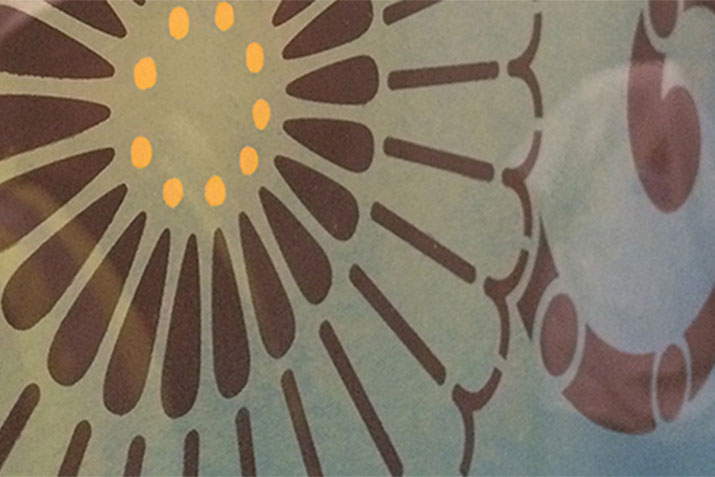 How one designer used Emerald® Interior Acrylic Latex and color to help create a LEED-certified and gorgeous apartment complex.
Sustainable. Sophisticated. Luxurious. Those words aren't often used to describe rental properties in Frederick, Maryland, but they capture the brand-new East of Market Apartments complex to a T. The five-building, 160-unit property is the first Energy Star and LEED-certified property in the area — a charming, historic community that's less than an hour from Washington, D.C. — not to mention the only one with amenities ranging from stone countertops to a pet wash station.
"It's all about quality construction — and quality of life," says Shane Pollin, director of development for The Duffie Companies, East of Market's developer. "We're a family company and we're invested for the long term. So we care about the durability of the project and its impact on the community. Sustainable building is just the right thing to do."
Pollin worked with designer Alice Sydney Minkoff of Alice Sydney, LLC, to construct a LEED-certified, yet design-conscious, complex. Throughout the buildings, Minkoff and her team used Sherwin-Williams Emerald Interior Acrylic Latex paint, which meets the most stringent VOC regulations. "Emerald was the natural choice because of the green aspects of this particular job, as well as the durability requirements," she says.
In addition, Pollin's developers used cutting-edge construction techniques and materials, first creating a tightly sealed envelope and then outfitting it with the resource-conserving systems and materials: ultra-efficient heating and cooling, water-saving fixtures, and LED lighting, to name a few. Next came the lifestyle amenities, a long list of luxuries including garages with vehicle charging stations, and a showplace clubhouse with a fitness center, pool, business center, and even a "simulation center" where you can play simulated games of golf or basketball.
"The look of the property was also very important to us," Pollin says. "We wanted it to be comfortable but elegant." Minkoff realized that vision, relying heavily on color throughout the design process. "Color is essential to creating the right mood," Minkoff says. "And in this case, we turned to paint for much of that impact."
The color palette began with a single piece of upholstery fabric. From that swatch, Minkoff built the entire palette: Moody Blue (SW 6221), Anew Gray (SW 7030) and Dovetail (SW 7018) for the walls; Wool Skein (SW 6148) for the apartment units' trim and clubhouse walls; Gingery (SW 6363) as the accent in the clubhouse; gradations of Amazing Gray (SW 7044) for the apartment building hallways; and energetic splashes of Goldenrod (SW 6677) throughout.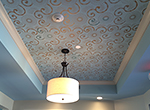 For extra "wow" factor in the clubhouse, Minkoff brought in decorative painter Laura Farrell of LMI Studios to create hand-stenciled wall borders. "Alice liked the border so much, she had us do the clubhouse ceiling, too. Then, we used a similar motif to create custom art pieces to hang in the foyers of each building," Farrell says. "We used Emerald Interior Acrylic Latex for all the decorative painting. It's really easy to work with and has a great depth of color."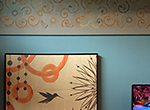 The result is a property that's unique in its market. "You'd never believe these are rental apartments," Minkoff says. "The level of finish is that high." Evidently, the locals agree: East of Market was 30 percent leased by the end of its first day of business. "It feels great to build a different kind of building," Pollin says. "People can see the difference, and we're excited to help raise the bar."
Company: The Sherwin-Williams Company
Product: Interior Paints
Of: Amanda Lecky
Source: https://www.sherwin-williams.com/architects-specifiers-designers/inspiration/inspiration-project-profiles/SW-ART-STIR-ACHIEVE-SUSTAIN
Tags: Coating | Color | Finishes | Interior Design | Sustainability
---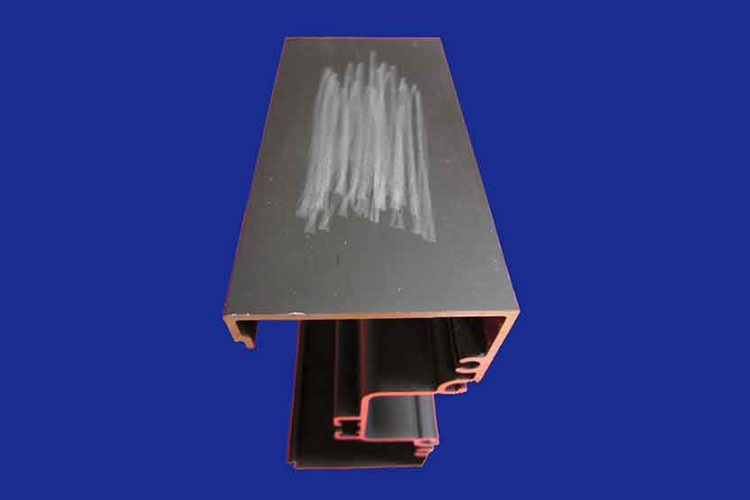 When extreme hardness is required for aluminum building components, such as in high-traffic areas, like entranceways and railings, an AAMA 611-14 anodized aluminum finish should be specified.
The hardness of anodized aluminum rivals that of the diamond.
This "Nickel Test" demonstrates why a Class I high-performance anodize coating is the perfect choice for exterior architectural applications.
LINETEC'S ANODIZE
Architectural Class I Anodize
Class I anodize is used on the exterior of architectural projects. It has a higher mil thickness than Class II anodize; it is more resistant to salt spray and the sea coast; and it is more durable in high traffic areas.
Class I anodize, with a minimum mill thickness of 0.7 (18 microns), can be a suitable choice for coastal climates as it possesses exceptional resistance to corrosion, discoloration and wear; however, its natural beauty can be marred by harsh chemicals, rough conditions or neglect. These conditions may only affect the surface finish and not reduce the service life of the aluminum, but mortar, cement, and other alkaline materials will quickly corrode an anodize finish if allowed to dry on the metal surface.
Class I anodize meets or exceeds all requirement of AAMA 611 "Voluntary Specification for Anodized Architectural Aluminum.
Linetec utilizes a more eco-friendly etching method within the anodizing process. Eco friendly anodize improves the finishes ability to hide small defects in the the aluminum and works exceptionally well with recycled billet. ;
Read more
Copper anodize offers the look of rich, real copper without such shortcomings as salt run-off stains, galvanic corrosion and patina. This unique and consistent process involves using actual copper to color the aluminum while isolating the copper in the coating.
Read more
Company: Linetec
Product: Anodizing
Source: https://linetec-blog.com/2017/08/16/anodize-nickel-test/
Tags: Aluminum | Coating | Exterior Design | Metal
---
Simple tips to help you improve your understanding of color performance in the paint — ultimately allowing you to deliver more accurate, consistent hues to your clients' projects.
When creating a specification, how can you ensure the color sample you're using will ultimately match the final tinted paint?
How can you be confident the color in the first gallon of paint applied on a job site matches the final gallon applied?
How can you get custom color matches to be as true as possible to the swatch or sample you're working from?
The answers to all of these questions come down to two things: color accuracy and color consistency. They're two sides of the same coin, and knowing the right things to look for from your paint and coatings provider is the best way to ensure you can deliver color excellence to your clients.
"First of all, you want to be sure you're working with paint products, colors and color formulas that are all designed to work as an integrated system," says Sue Wadden, director of color marketing at Sherwin-Williams.
For example, color formulas should be programmed to flex subtly and precisely depending on the product and finish combination you specify, ensuring the most accurate color result in the final tinted paint.
Another tip: Avoid working with paint providers that use third-party manufacturing.
"The paint manufacturer should control its own manufacturing and quality," says Steve Revnew, senior vice president of product innovation at Sherwin-Williams. "That includes the colorant it uses to tint its paint."
When paint providers turn to third parties to manufacture base products or colorants, the color results in the final tinted paint can show wider variances.
Ultimately, color accuracy and consistency are a lot like cooking: Success depends on trained experts and repeatable systems. When you work with a paint and coatings provider that has the human and technical expertise to manage color accuracy and consistency at every stage — product design, quality manufacturing, color formula management, final tinting — you radically reduce the possibility of color issues on the job site.
"Ask a contractor," Revnew says. "They're the ones who have experience with gallon-to-gallon color consistency and reliable color touchups."
ColorSnap Precision
When you specify Sherwin-Williams, your designs are powered by ColorSnap® Precision, our exclusive system for ensuring exceptional color accuracy and consistency in the paint.
ColorSnap provides you with:
Color samples engineered to match the final tinted paint
Paints and colorants designed as an interlocked system
Consistent gallon-to-gallon color delivery via our 4,000-plus locations
State-of-the-art technology to precision match custom colors
Real-time color formula updates
To learn more, contact your local Designer or Architectural Account Executive, or call our Information Line at 800-321-8194.
ColorSnap color selection tools are available both online and in-store. Visit swcolorsnap.com to learn more.
Company: The Sherwin-Williams Company
Source: https://www.sherwin-williams.com/architects-specifiers-designers/inspiration/stir/sw-art-stir-cs-precision
Tags: Coating | Color | Design | Finishes
---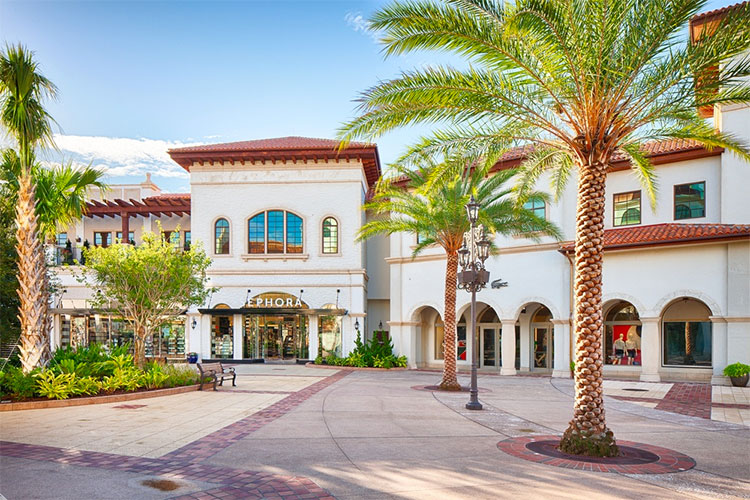 Disney Springs won an award for its contractor and kudos for a key vendor on the project: Sto. Photo: Chad Baumer
KHS&S is an international design-assist specialty contractor with a portfolio that includes more than 5,000 casino resorts, hospitals, hotels, entertainment venues, retail facilities, theme parks, attractions and public works projects around the country and overseas. Founded in 1984, the firm is now the second largest specialty wall and ceiling contractor in the USA.
At the recent Florida Wall and Ceiling Contractors Association (FWCCA) convention and trade show in Orlando, the company picked up the award for Project of the Year for the work they did on Disney Springs, an elegant shopping, dining and entertainment complex at Florida's Walt Disney World. A key partner in the KHS&S supply chain? Sto Corp, who provided wall components for two stucco buildings, that included products from its leading air and moisture barrier system:Sto Gold Fill® and StoGuard Mesh, Sto VaporSeal®, Sto TurboStick™ and Sto DrainScreen.
Sto worked with Disney's architects on the specification details. Now that the work is done, the results speak for themselves.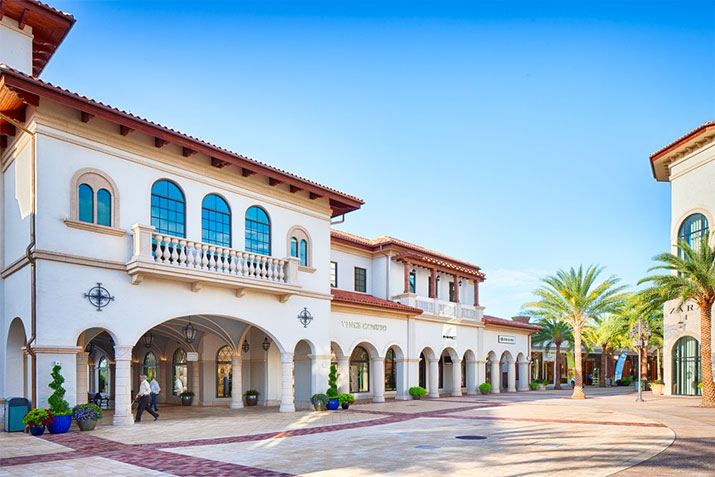 The Disney Springs design team specified StoGuard for the KHS&S project. Photo: Chad Baumer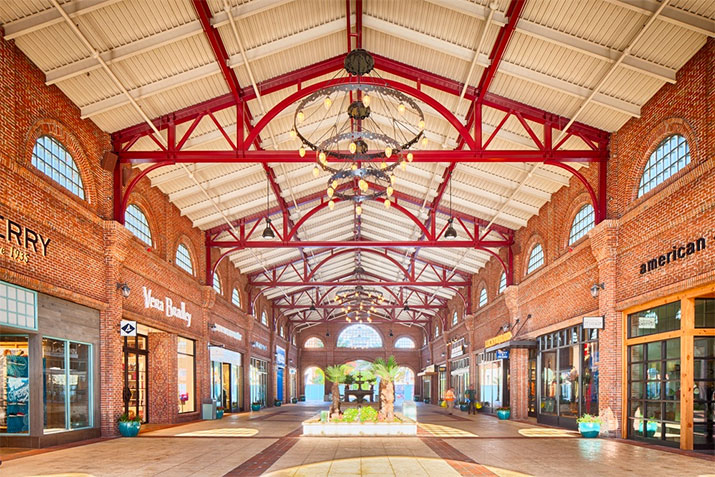 The handsome brick facing was constructed using StoGuard Vaporseal for protection. Photo: Chad Baumer
Company: Sto Corp.
Product: Air and Moisture Barriers
Of: Tony Cook
Source: http://blog.stocorp.com/2017/07/award-winning-project-includes-stoguard/
Tags: Architecture | Building | Coating | Waterproofing
---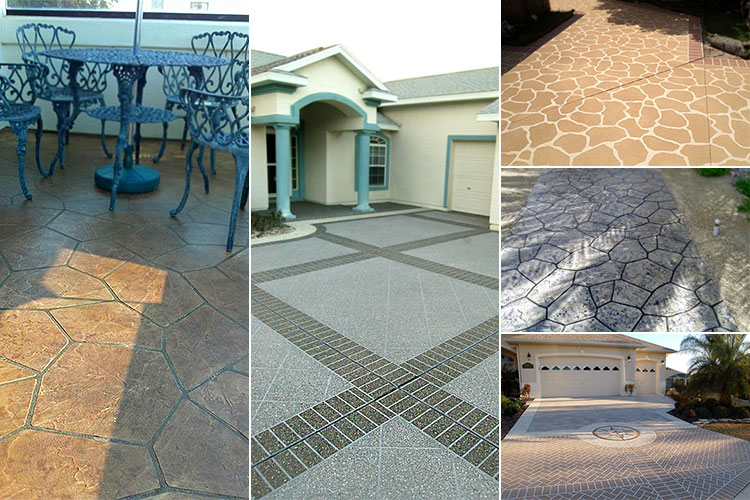 Stenciled concrete is a great option for pool decks, patios and driveways
How can concrete become brick? Or be turned into fan-shaped cobblestone? Or have your company logo "painted" on? The answer to all of those questions is stencils. Stenciled concrete is popular for exterior surfaces like driveways, patios and pool decks because there are a lot of varied patterns available, and they are pretty DIY friendly.
Plain concrete is no longer interesting to homeowners who have seen the creative design options on Pinterest and the home and garden TV shows. Concrete that has a pattern, in different colors and shapes, enhances property value of the property. Concrete that is already in good shape can be stenciled in any design and sealed to make the surface long-lasting. Stencils are easy to install—a dedicated DIY-er can do it themselves and be successful, and contractors can make very good profit.
Many companies sell stenciled concrete patterns. These are available in classic patterns like herringbone brick or the fan-shaped cobblestone patterns of European streets. Design companies also sell stencils that can be cut using high-tech CNC machinery that can be made in any specification—your monograms, a company logo, a horse for the driveway of a stable, or wine grapes for the floor of a winery tasting room. The options are endless!
Next time you see a patio, pool deck or driveway with a beautiful and intricate pattern on top of concrete, take a closer look! It's likely a stencil. Many patterns can be cut into concrete with concrete saws. For large-scale concrete, such as courtyards and plazas, colors can be mixed into concrete as it is poured. But for details such as brick edging, a pattern that looks like Ashlar slate, herringbone brick, or even octagonal tiles, it's often stenciled concrete.
Use a product like Duraamen's Uberdeck polymer-modified, concrete overlay or Skraffino Portland cement skim coat to the top of concrete you already have. First, apply the stencil pattern. Then apply the concrete coating in the colors you want. It can be that simple to have a durable concrete surface that looks brand new!
Please click here to learn the detailed installation process.
Company: Duraamen Engineered Products Inc.
Source: https://www.duraamen.com/blog/stenciled-concrete-for-your-pool-decks-patios-and-driveways
Tags: Coating | Concrete | Exterior Design | Floor
---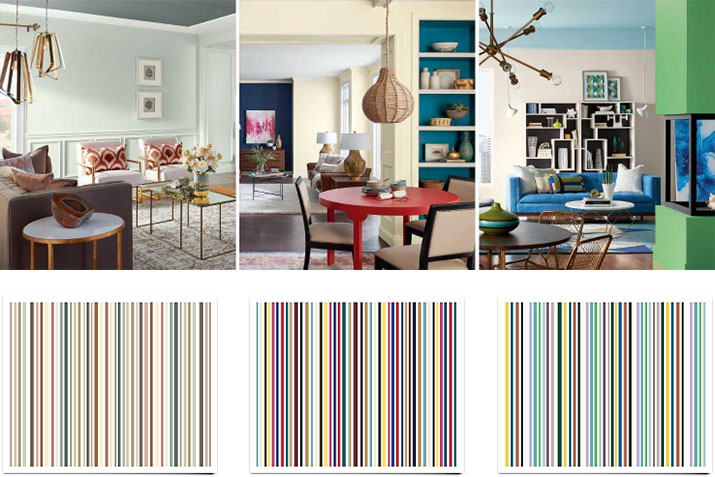 Like blue meeting yellow to make green, every color is a collision of influences - every palette a fresh chance at community.

Less is more as we're de-cluttering, moving more possessions into the cloud. Silence is no longer empty, but instead rare and rich with possibility. Our notions of what's authentic are being complicated. We're celebrating the unfiltered, yet captivated by the artfully processed. Blending in is the new standing out. Flaws are treasured. The hushed tones of this score play out in sand, complex grays and hazy botanicals.

Nationalism and globalism are in flux, challenging terrestrial boundaries. We're remapping our sense of community. Optimism persists in the form of boundary-breaking skyscrapers and commercial space travel. Even landlocked cities are becoming global hubs of crafts and gastronomy. We crave security and adventure in equal measure. Airbnb, car sharing and e-learning have created a culture of everyday nomadism. The bright folklore of this story is told in memorable pops of peacock color.

We're each moving to the beat of our own algorithm. From choosing a dry cleaner to choosing a college, data powers nearly every decision we make. In Silicon Valley, Austin, Berlin and Beijing, techies are the new hippies, full of breakthrough ideas and utopian ideals. A generation is waving the flag of color freedom, and Instagramming every moment. This high-tech palette is pixelated in orange, violets, digital greens and high-def yellow.
Company: The Sherwin-Williams Company
Product: Interior Paints
Source: https://www.sherwin-williams.com/architects-specifiers-designers/inspiration/color-forecast/2018-color-forecast
Tags: Coating | Color | Finishes | Interior Design
---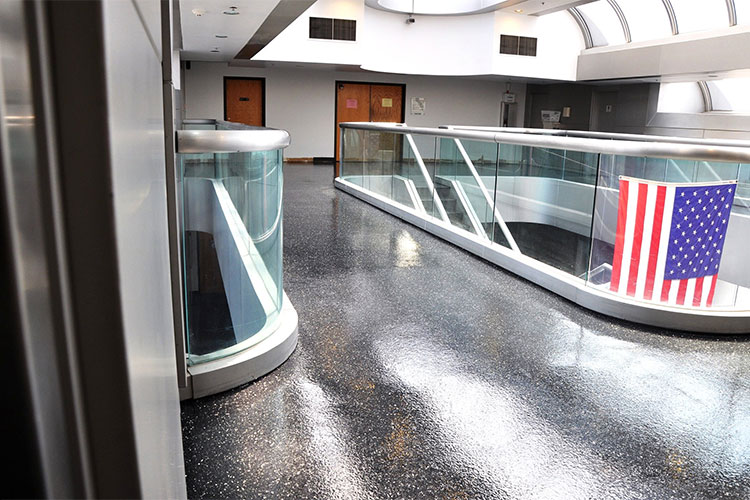 Architect specified a HERMETIC™ Flake Floor instead of terrazzo in this airport terminal. The cost savings was substantial.
HERMETIC™ Industrial Floor Coatings offer a variety of high performance flooring options for facility managers, property owners and specifiers looking for a ultra durable, easy to maintain, seamless flooring system. In fact, the choices are often so many that it becomes difficult to choose. In many cases, the right choice will be dependent upon the unique situation of the facility and what performance characteristics are required in a floor.
Industrial floor coatings are often chosen for aesthetic or financial reasons. They are a great value for medium to high impact areas where heavy traffic is expected. HERMETIC™ (epoxy resin based) Industrial Floor Coatings are available in almost any color and can be applied in thicknesses between 1/16″ to 1/2″ or more. They can easily improve the aesthetics and harden the surface of existing concrete substrate. Epoxies create a seamless, waterproof barrier, which provides a well-protected surface but demands a low-moisture substrate on which to be applied. Because an expertly installed epoxy floor provides this wall-to-wall seamless surface, it is very popular in the pharmaceutical and chemical processing industries. When chemicals cannot contaminate the concrete substrate, you are assured uncontaminated products down the line and easy clean-ups in the meantime.
HERMETIC™ (urethane based) Industrial Floor Coatings are similar to epoxies in terms of installation and function; they are installed over a concrete substrate, filling in the cracks and achieving a smooth, seamless surface. Urethane, however, is a better choice for areas that are likely to receive thermal shock, high-impact, increased abrasion or chemical exposure. Urethane is an extremely durable product that is likely to meet or exceed the physical needs of any facility. Urethanes also have aesthetic appeal similar to epoxies. The material can reflect light to a degree that influences your utility costs and improves worker productivity. For all of these reasons, urethane is a popular choice for commercial kitchens and food processing facilities.
Company: Elite Crete Systems, Inc. (Headquarters)
Product: HERMETIC™ Industrial Flooring
Source: http://elitecrete.com
Tags: Coating | Concrete | Finishes | Floor | Interior Design
---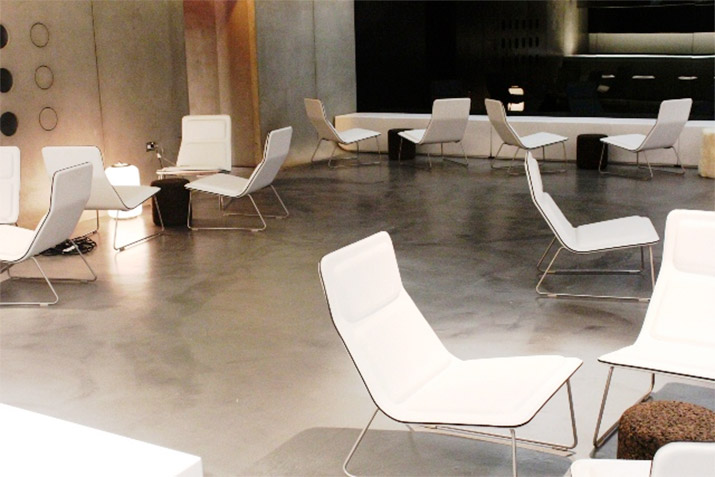 The interior and exterior aspects of the decorative concrete and resinous flooring industry has never been busier or in higher demand. Property owners, builders and architects are looking for something new. Something with more durability and better appeal than conventional tile, hardwood, carpet and terrazzo and Elite Crete Systems is leading the way with our award winning products and systems.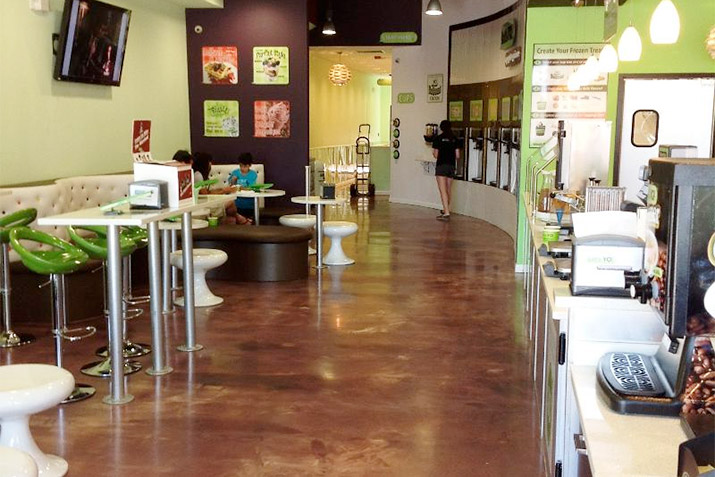 Custom, seamless, unique and durable... Those are the words used by this business owner when describing the type of floor they wanted for their for yogurt shop. By using THIN-FINISH, MICR-FINISH, HYDRA-STONE Dye Stain and E100-PT1 Clear Epoxy, that is exactly what they got.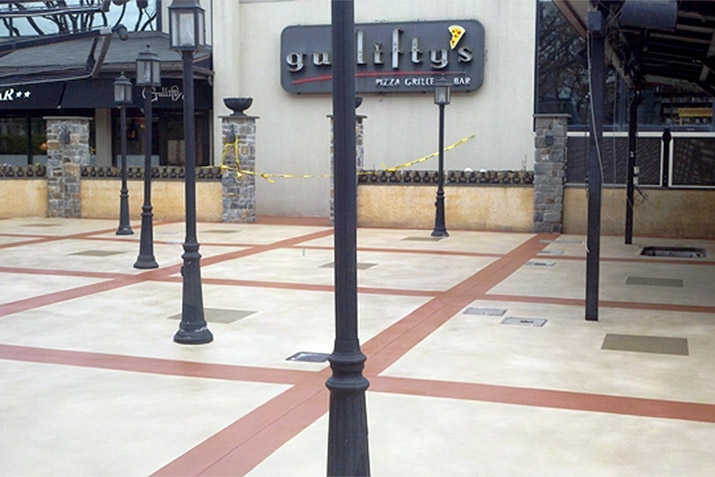 The courtyard at this pizza restaurant was in poor shape. The concrete was pitted, stained and otherwise needed taken out and replaced. With THIN-FINISH however a durable, permanent and decorative finish was made possible in just a few days and at a fraction of the cost of replacement.
REFLECTOR Enhancer Flooring Systems used in conjunction with a custom made stencil to create an ultra durable, easy to clean floor that resembles that of a high end carpet.
If you are a designer, architect or specifier and need assistance with an up coming project, we have over 90 technical support and specification assistance offices world wide
Company: Elite Crete Systems, Inc. (Headquarters)
Source: http://elitecrete.com/
Tags: Coating | Concrete | Floor | Waterproofing
---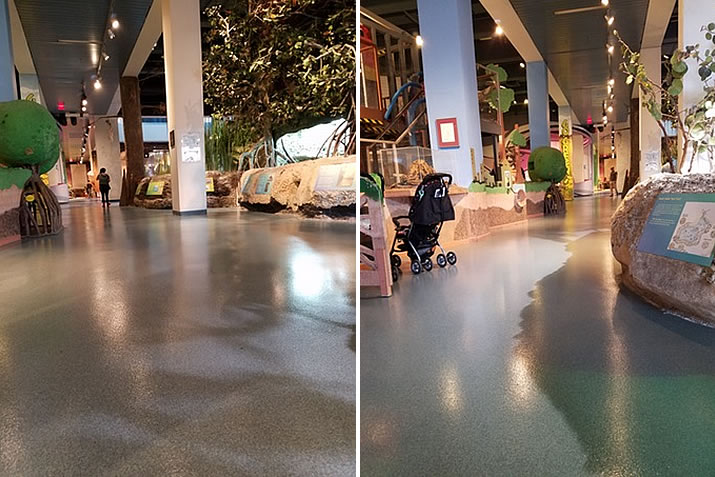 Seamless decorative quartz floors can be used anywhere that durable, attractive flooring is required. Research labs, manufacturing plants, bathrooms, locker rooms, kitchens, restaurants, healthcare facilities, showrooms, garages, warehouses and schools are just a few uses for decorative quartz flooring.
The installation of a decorative quartz floor involves the application of a resin body coat over a surface (usually a primed concrete substrate) and broadcasting (or troweling) colored quartz granules to achieve a seamless high performance floor. The body coat may be applied in one layer (single broadcast) or applied in two layers (double broadcast) to provide a thicker, stronger floor.
In the interest of versatility, manufacturers provide a few different options of resin body coats to choose from. The three most commonly used resin body coats are Epoxy, Urethane Concrete (also called Cementitious Urethane) and Methyl Methacrylate (MMA).
Contractors, do-it-yourselfers or anyone else who wants to install a decorative quartz floor may have questions about which type of resin-based quartz flooring to purchase. If this is you, keep reading. Below we explain the advantages of each of the three most popular resin body coat choices for seamless quart flooring.
1. Epoxy Based Quartz Flooring
The biggest advantage of using an Epoxy resin based quartz flooring system is cost. Epoxy resin is less expensive than its urethane and Methyl Methacrylate (MMA) resin counterparts. Epoxy resin flooring provides a super-strong and durable surface that is impact, moisture and abrasion resistant. It can be made chemically resistant with the use of a polyaspartic topcoat. Watch this video to see the installation of an epoxy based double broadcast quartz system.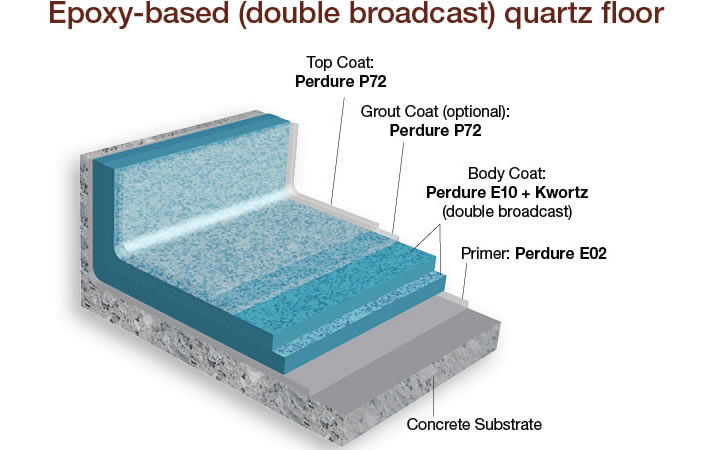 If your deadline is tight or you have moisture issues with the substrate, one of the other options below may better suit your needs.
2. Urethane Concrete Based Quartz Flooring
If you suspect your project's concrete substrate has a moisture vapor emission problem, or may develop one, then choose a Urethane concrete based quartz flooring system. In addition to the strength and durability of epoxy flooring, Urethane concrete will not bubble or crack on high-moisture substrates. Old, new, on grade, or suspended slab—just about any concrete substrate can be beautified with a Urethane based floor. When applied at a thickness of 1/4" or greater, it is generally accepted that Urethane Concrete systems are unaffected by substrate moisture. It is important to follow the installation instructions exactly to ensure a trouble-free floor for years to come.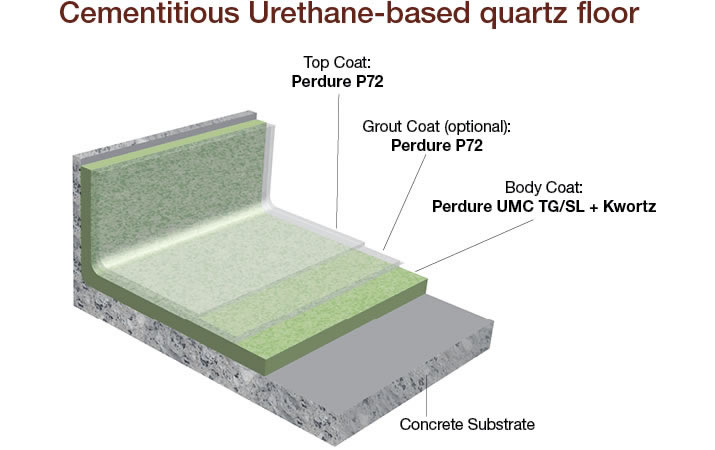 3. MMA Based Quartz Flooring
When a speedy installation and quick return to service are your primary project requirements, look no further than Methyl Methacrylate (MMA) resin based decorative quartz systems. Since MMA resins cure at extremely low temperatures, they are excellent for use in freezers and cold storage areas. MMA resin based decorative quartz floors are also suitable for exterior surfaces like pool decks, driveways and walkways. One limitation of MMA is that it cannot be installed in occupied buildings due to its strong odor.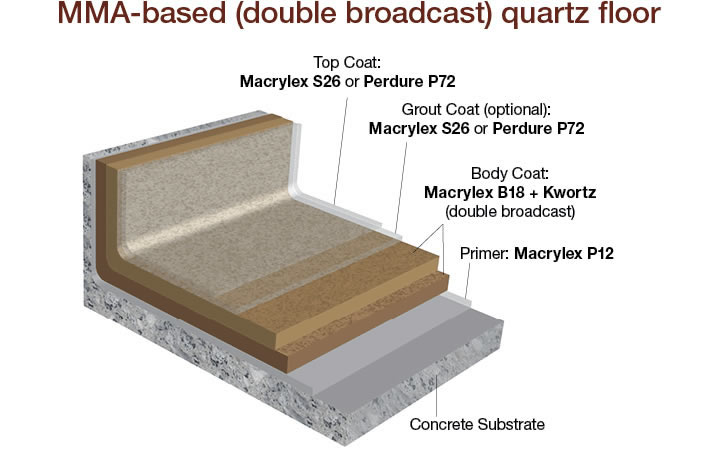 Duraamen Industrial and Polished Concrete Flooring Products are designed to provide labor saving and long lasting flooring solutions. Talk to an expert about your flooring challenges call +1 973-230-1301 or email us.
Company: Duraamen Engineered Products Inc.
Source: https://www.duraamen.com/blog/quartz-flooring-resin-epoxy-urethane-mma#.WO8sbY4lEUE
Tags: Coating | Floor | Interior Design
---
Seaside and coastal areas are beautiful locations for commercial and residential buildings, but also pose the greatest challenges in protecting exterior-facing architectural aluminum products from corrosion. Without proper precautions and finishes, corrosion to these aluminum components can damage the building envelope's structural integrity, leading to systemic failure.
One of the most aggressive outdoor environments for aluminum is the seacoast. Of the seacoasts, Florida's coastal regions represent the most corrosive in the continental United States, with Cape Canaveral cited as the most corrosive atmospheric environment.
Corrosion rates vary from place to place and during different times at the same location. Such wide variability makes definitive conclusions difficult.
The primary variables affecting corrosion rates near the coast are the salt content in the air, the time of wetness of the metal surface, the temperature and the level of other atmospheric pollutants. Several environmental factors control these variables, including distance to the ocean, elevation, wind direction, wave action, rainfall, humidity, the degree of shelter and the level of industrial air pollution.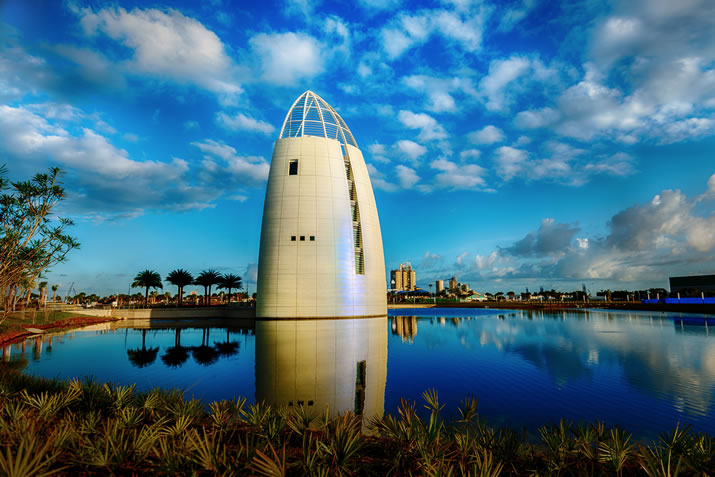 Exploration Tower at Port Canaveral (courtesy of Valspar. Photo by Rip Noel, Noel Studios Inc.)
Durable Finishes
Painted coatings and anodized finishes are among the most durable finishes for exterior-facing architectural aluminum products.
As a prominent part of the building's exterior, the coated aluminum adds color and design to the project. This coating also protects the building from unsympathetic surroundings. When selecting a coating to withstand harsh corrosive environments, one should specify either:
the highest-performing organic paint coating that meets AAMA 2605-13, Voluntary Specification, Performance Requirements and Test Procedures for Superior Performing Organic Coatings on Aluminum Extrusions and Panels; or
a Class I anodize coating that meets AAMA 611-14, Voluntary Specification for Anodized Architectural Aluminum.
These two options continue to set the highest standard for architectural coatings, especially in a coastal or highly corrosive environment.
Paint
High-performance 70 percent PVDF coatings offer the capability to select nearly any conceivable color or combination of colors, while shielding the building against weathering, pollution and aging.
The carbon-fluorine bond used in 70 percent PVDF coating is one of the strongest kn own. These paint coatings can withstand enduring and intense UV radiation, which supports their long-term color- and gloss-retention, and chalk-resistance.
The first, and one of the most important, defenses against a paint failure is proper pretreatment of the aluminum. Without proper pretreatment, premature failure of the finish is almost guaranteed. Paint systems are designed to be applied over clean metal that has been properly pretreated.
Pretreatment of the aluminum building components to be used in severely corrosive or coastal environments is crucial.
The most time-tested, proven pretreatment system for architectural aluminum products is a chrome phosphate conversion coating. This process conforms to Type B, Method 5 of ASTM D1730-09 (Reapproved 2014), Standard Practices for Preparation of Aluminum and Aluminum-Alloy Surfaces for Painting, as required by AAMA 2605-13.
Offering the longest lifecycle and true sustainability, chrome phosphate conversion coatings continue to be recognized by the world-class coating manufacturers, Akzo-Nobel, PPG, and Valspar, as the most effective, robust pretreatments for aluminum. As a result, products installed along the seacoast and in other harsh industrial environments may not be warranted-or the warranty length and coverage could be compromised-when a chrome pretreatment system is not employed.
These highest-performing 70 percent PVDF are required to perform to rigorous testing performance standards, including more than 4,000 hours of salt spray, and heat- and humidity-resistance to meet the AAMA 2605-13 specification.
Special Considerations
The shape and machining of the architectural aluminum products also may facilitate or deter corrosion. As examples:
Machined holes and cut ends of factory-finished aluminum components are protected by thin, naturally forming aluminum oxide. This oxide, while tenacious in its bond to the underlying aluminum substrate, may be susceptible to attack from strong cleaners or heavy salt deposits.
Hems and seams on aluminum components may be formed in a way that will collect sand. With movement, over time, this sand can erode away the painted coating or anodized finish.
Components may be shaped with areas that are left holding pooling or ponding water. This often can become a major issue for corrosion.
Specific to curtainwall and window systems' aluminum framing, ensure the weeps are large enough to avoid becoming plugged by salt deposits.
Anodize
When extreme hardness is required for the aluminum building components, such as in high-traffic areas like entranceways and railings, an anodized aluminum finish should be specified to meet AAMA 611-14. The hardness of anodized aluminum rivals that of the diamond. (On the Moh scale of hardness, a diamond is 10 and anodized aluminum is 9.)
Architectural anodize is specified for its natural beauty, but also for its long life and low maintenance. It provides excellent wear and abrasion resistance with minimal maintenance in most environments. It resists the ravages of time, temperature, corrosion, humidity and warping.
Anodized aluminum should meet the strict guidelines of Class I specifications of AAMA 611-14, including a minimum oxide coating thickness of 0.018 mm (0.7 mil); minimum of 10 years color retention on the South Florida on-fence testing site; and 3,000 hours corrosion resistance.
Cleaning and Maintenance
Studies have shown increasing levels of atmospheric pollution can have a negative effect on finish longevity in the absence of periodic maintenance. Runoff from adjacent site materials must be considered in a corrosion prevention plan. For example, mortar, cement and even gypsum dust can accumulate as alkaline deposits on aluminum surfaces and must be promptly rinsed. This is especially true of mill finish or anodized surfaces. While somewhat more resistant to alkaline attack than anodized surfaces, high-performance paint finishes can be managed by rough attempts to remove such buildup.
AAMA 609 and 610-15, Cleaning and Maintenance Guide for Architecturally Finished Aluminum, and AAMA CW 10-15, Care and Handling of Architectural Aluminum from Shop to Site, are general guides for these precautions and cleaning activities.
Corrosion of architectural aluminum materials is a fact that must be recognized; proper steps must be taken to minimize the potential for its occurrence. With these building considerations and preventive measures in place, finished architectural aluminum retains its intended look and long life, while providing the desired performance in the harshest environments, including the highly-corrosive seacoast. These qualities reduce the need to replace materials and components, conserve resources, optimize labor and save money.
Company: Linetec
Product: Anodizing
Source: http://www.linetec.com/Finishing_Facts/The-right-finish-for-coastal-projects.pdf
Tags: Aluminum | Building | Coating | Color | Design | Sustainability
---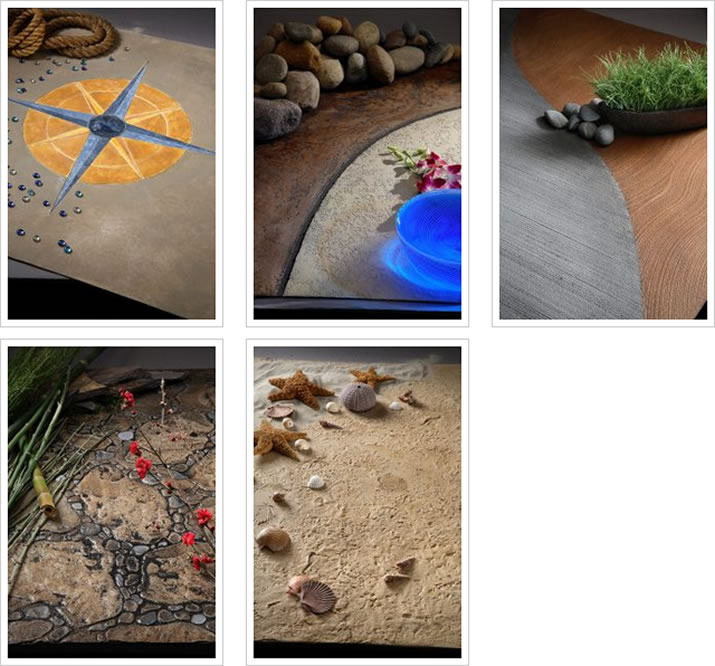 While cement-based overlays have been around for decades, many of the systems widely available today blend polymer resins with cement, sand and other additives to create a highly durable, attractive and easily maintained flooring overlay systems to be used over concrete.
With so many choices available on the market today, many questions arise as to the differences among polymer overlays, specifically in application and material, to achieve the functionality and appearance wanted by a client. Among the most popular choices:
Broom Finishes with Sealer and Optional Coloring
This type of overlay system finish is achieved by applying a base coat of thin-set resurfacing material over the surface by either squeegee or cement trowel. A second application is applied, and the surface is broom finished as new concrete is poured. The surface is then sealed with a sealer appropriate for the type of traffic that is anticipated.
Textured Finishes
This system is achieved by using two different types of application systems. Commonly known as a "knock-down" finish, it's applied using a standard compressor and drywall hopper gun. More specifically, thin-set resurfacing material is sprayed over the surface and flattened using a standard cement swivel trowel, leaving various high/low spots. This allows surface water to pool in the lower un-troweled areas, which is better known as "cool deck," since water sitting in the un-troweled areas allows water to stand and cools the deck. It's also frequently used on pool decks and areas where skid resistance is required.
The second method of texturing is probably the most common type of decorating finish used by contractors nationwide. With this particular coating, a base coat of thin-set material is applied to the surface by hand trowel or spray to creating different designs that simulate the appearance of either stone or limestone. It is then stained and sealed with the appropriate type of sealer specific to traffic area.
Decorative Overlays (?" and ¼")
These type of overlays are applied by trowel or screed rake. The ?" overlay is normally a seamless type of texture, giving the appearance of large simulated stone textures without grout joints, with hundreds of stamping mats area available in different designs and textures. Grout joints are cut into the surface after curing has taken place, and then the surface is stained and sealed with the appropriate sealer. The ¼" stamped overlay is very similar to the ?" overlay, except the pattern creates the simulation or design of individual stones with grout joints. The surface is then colored and sealed with the appropriate type of sealer depending upon the traffic.
Stain & Sealer Finishes
Staining and sealing of concrete surfaces is very popular in a wide range of environments. The system consists of staining the surface using water-based color-stains, dyes or acid stains, and then it's typically saw-cut in patterns, shapes or designs, color applied and sealed to meet the traffic needs of the area.
Of: Leane Owen
Source: http://super-krete.com/blog-navigating-the-wide-selection-of-polymer-overlays-over-concrete-substrates
Tags: Coating | Design | Finishes | Floor
---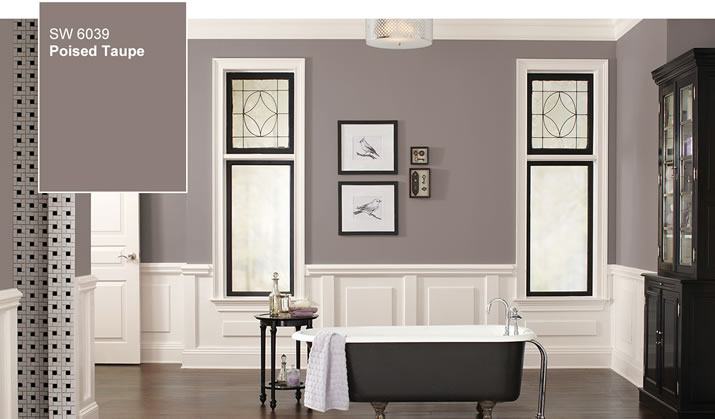 2017 Color of the Year
Sherwin-Williams doesn't usually like to play color favorites, but in this case we can't resist. The color we anticipate defining 2017 is Poised Taupe SW 6039. Here's why: This timeless neutral is modern, classic and a beautiful balance of warm and cool.
The 2016 industry shows revealed a surprising transition from grey to taupe. Both contract and consumer color and products have been focused on grey as the key neutral — although grey is still important, we have seen a significant shift in materials and finish color to warmer expressions of neutral.
Using the Sherwin-Williams ColorSnap® Visualizer, you can explore the Color of the Year, and with the swipe of a finger see it on any wall.
Tag your Poised Taupe Twitter and Instagram posts with #SWCOLORLOVE or upload a photo.
2017 Key color combinations featuring Poised Taupe…
In addition to the "warming up" of neutrals in general, 2017 will see several key colors emerge in combination with taupe.
Cornflower Hues
Faded indigo and lighter cornflower hues pair with modern white and Poised Taupe for a charming palette, reminiscent of the French countryside.

Organic Re-imagined
Vegetal green, citrus green, weathered bronze and mustard yellow pair with Poised Taupe to create a contemporary organic palette — re-imagined for the modern world.

Vintage Pastels
Pastels take on a vintage vibe with dusty ink, amber, Poised Taupe, sage and oxidized yellow.

Wine & Taupe
Deep wine, purple and Poised Taupe bring warmth to the dark tones favored in 2017. Silvery grey and intense teal provide balance and drama to this rich, mysterious palette.

Eroded
Red and coral are vibrant and ore rich when combined with Poised Taupe and dusky rose. There is a natural feel to this palette, reminiscent of silt, clay and red stained bedrock.

Yellow POP
Yellow takes bold direction when paired with black, white, Poised Taupe and deep teal for a super graphic look.

Company: The Sherwin-Williams Company
Source: https://www.sherwin-williams.com/architects-specifiers-designers/color-forecast/2017-color-forecast/2017-color-of-the-year
Tags: Coating | Color | Finishes | Interior Design
Sherwin-Williams VinylSafe® Paint Colors (January 9, 2017), Don't Make Color Decisions at Sunset (November 2, 2016), Reflector Designer Metallic Epoxy Flooring (October 14, 2016), 4 Reasons you should choose a resurfaced concrete floor (August 10, 2016), Designer John Gidding on Finding Color Inspiration (July 18, 2016), Antimicrobial Protection for Architectural Aluminum (July 16, 2016), Wood grain finishes for aluminum (May 27, 2016), Fleur de Sel (SW 7666) invites comfort and luxury into contemporary Atlanta home (March 18, 2016), 2016 Color Forecast (February 22, 2016), Online Color Selection and Specification Tool (January 11, 2016), NOVA Effects coatings provide rich color and vibrant sparkle (December 14, 2015), Protecting Industrial Flooring with Polyaspartic Coatings (November 30, 2015), Specialty systems improve on standing architecture (November 27, 2015)