architecture - engineering - construction

Climate
---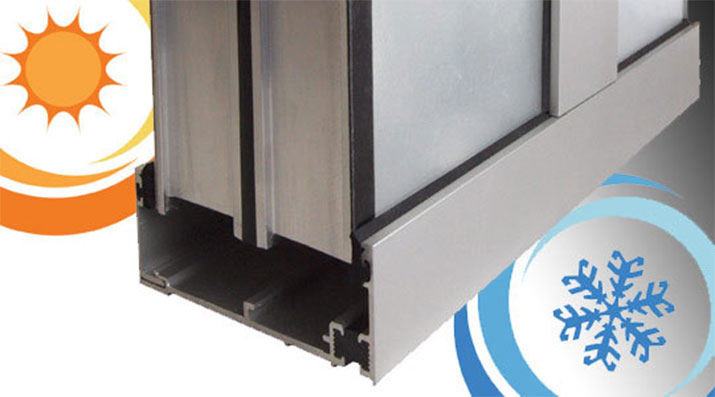 Heat conduction, or the transfer of heat through a solid material at the molecular level, is a problem that occurs in aluminum framing. Providing a thermal break in the aluminum is the most common solution for disconnecting the exterior and interior of the aluminum frame. The frame is literally split into two components and must be connected by a structural material that is of significantly less conductivity as the aluminum. Simultaneously the thermal break material must bond the two components together.
There are many ways to thermally break glazing materials and the frames that house the glazing. Insulated glazing generally uses multiple panes of glazing separated by air, gas or other fill. The glazing is then bonded at the edges with a material of low conductivity. The aluminum frame, most commonly used for storefront framing, skylights, and windows, is a highly dense material with great strength. Yet, aluminum is light in weight and durable. It is also a widely recyclable material and is readily available.
Aluminum, however, is highly conductive of heat and cold. For many decades thermal breaks have been a common and economical means of lowering temperature conductance in aluminum framing. Thermal breaks have taken numerous forms over the years, from plastic and Styrofoam to wood and nearly any material that had a lower thermal conductivity than aluminum.
The 1970s marked the beginning of the high performance, chemically manufactured and engineered thermal breaks that we see today. Standard to the storefront, window, skylight and curtainwall industry is the poured and debridged polyurethane thermal break. This material provides significant structural strength in shear, compression and tension, as well as integrity and resilience. The polyurethane polymer has a very low conductivity, allowing it to bridge the gap between the interior and exterior aluminum components of a frame. Due to polyurethane's structural strength, longer spans are capable and the integrity of the aluminum frame is not compromised.
The method for manufacturing the polyurethane thermal break has become standardized in the aluminum framing industry. A strategically placed open cavity is extruded as part of the aluminum frame. The cavity may be grooved or extruded in a way as to act as a lock when bonded with the polyurethane polymer. The liquid polymer is poured into the cavity, and upon solidifying, the bottom of the cavity is then removed, or debridged, creating the perfect thermal break for all forces of extreme weather conditions.
So where are thermal breaks necessary? The short answer is that they are necessary in all climates where there is a difference in temperature from exterior to interior. Cold climates benefit from aluminum thermal breaks by providing protection from cold temperatures entering the building and causing condensation build-up on the interior face. In these situations, aluminum frames can also become very cold to the touch and uncomfortable to be near. Hot climates benefit from aluminum thermal breaks by providing protection from hot temperatures entering the building. Not only does a thermal break affect air temperature and cooling demands on HVAC systems, but aluminum frames can become very hot to the touch, causing issues for people, plants, animals, and objects nearby.
While thermal breaks add some up-front costs, technological advances have made them an economical solution. This is especially true when you consider that they can prolong the lifespan of materials around them and provide a more comfortable environment for building occupants. Whether you're in a hot or cold climate, thermal breaks are well worth it.
For more information on our thermally broken system options, visit us online. Our Clima-Tite™ system with pultruded fiberglass framing, is also available and provides an even higher level of thermal performance and condensation resistance.
Company: Major Industries Inc.
Product: Clima-Tite™
Of: Courtesy of Amy Stalbosky, National Corporate Architect, Major Industries, Inc.
Source: http://majorskylights.com/
Tags: Aluminum | Climate | HVAC | Skylights | Sustainability | Windows
---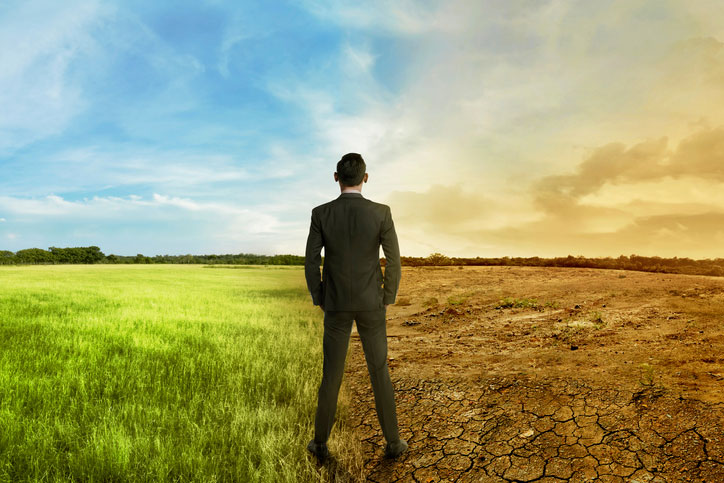 Being a mason is a hard job. You need to make sure every measurement is as accurate as possible, and even in this technologically advanced age we live in there's a great deal of grunt work to the job. As if that wasn't enough, though, masons now have to grapple with climate change. If you're in the field, trying to make sure your buildings last, this isn't some theoretical thing that's going to happen in some vague future… this is something that's impacting your business now. Here are five ways that climate change is going to burden your business.
#1: Harsher Working Conditions
We all know how tough it is to get the job done when there are record-breaking temperatures making the day unbearable. Heat, especially when combined with hard work and long hours, can complicate any job. Especially when you consider that regular breaks, hydration, and keeping workers cool are necessities, not conveniences. Climate change means it will be hotter than ever before, and that the heat may last significantly longer than it did in the past.
#2: Changes in Material Supply and Demand
Climate change isn't a single drop of water falling in a select area. Everyone gets wet in this rainstorm, and sometimes that can have unexpected results. Such as, for example, changes in the cost and supply of basic building materials.
Take lumber, as an example. Lumber is often seen as a lightweight alternative to masonry, but how will logging and forestry concerns change when the climate alters? Will there be more restrictions on when wood can be harvested, and by whom? Will there be additional taxes and tariffs put on lumber as a way to curb deforestation and fight greenhouse gases? Alternatively, will fossil fuels become more expensive, making it costlier to ship heavy materials like stone and brick? If green vehicles become more common on the roads, will shipping costs drop?
These are all potential concerns masonry businesses have to consider when it comes to the potential effects of climate change, and how humans choose to fight it.
#3: Changing Environments
You have different concerns when you build a structure next to the sea-shore than you do in the desert… but climate change can change the types of methods and materials you need to use in the very near future. As weather patterns change they can bring rising sea levels, droughts, and other issues that are going to impact the jobs you receive in the future, and which will alter how effective your work has been in the past.
#4: Public Perception
In today's business climate it's not enough to offer a good product, or provide a good service; customers want to know where you stand. When it comes to climate change, that means customers will want to see your green credentials up-front. They'll ask where your products come from, and how your process helps in the fight against greenhouse gases. So it rests on you to be able to answer those questions, and to explain to your future customers that by supporting you, they are supporting a greener mason than they would get by hiring someone else.
#5: Extreme Weather
Climate change makes extreme weather not just possible, but probable. That means areas which were considered safe from things like floods, tornadoes, hurricanes, or wildfires will have to cope with these events. This could mean your work will be held to higher, or entirely different, standards than it would have been before climate change became a serious problem.
Climate change affects all of us, and we all need to step up to the challenges that come with a changing world. If you're looking for more advice on how your business can provide what your customers need, simply contact us today!
Company: Mortar Net Solutions®
Product: MortarNet®
Source: http://mortarnet.com/5-ways-climate-change-will-affect-business/