architecture - engineering - construction

2015 September
---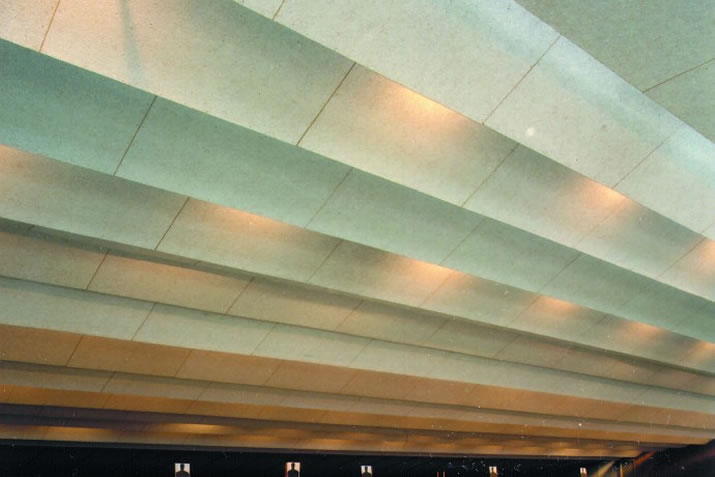 Hanging Baffles
The use of Tectum acoustical panels as hanging sound baffles is growing in popularity as the paintability and ease of application in numerous situations and the need for their sound absorbing qualities is recognized by architects and acoustical engineers. Standard Tectum Hanging Baffles are available 1", 1½" or 2" thick, with square edges or beveled edges (bottom only).
Widths are 2' and they are 4' long. Finish is natural, painted white or custom colors (both sides). Various methods are appropriate for hanging. See Marketing Bulletin M-8 on our website for more details.
For more photos of completed projects, please visit our project photo gallery
Company: Armstrong Building Solutions
Source: http://www.tectum.com/project-photos-hanging-baffles.html
Tags: Interior Design | Roof | Wall Panels
---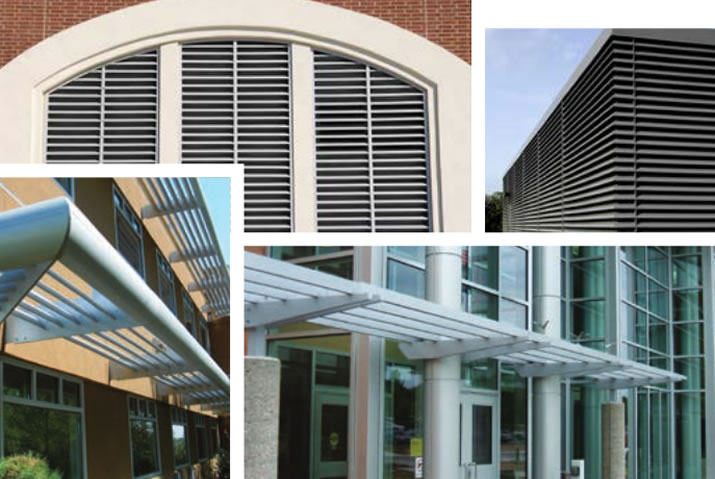 Ruskin Sunshades offer energy savings by reducing solar heat gained through glazing. With a wide variety of available blade styles and configurations, they also provide aesthetic appeal to the building exterior. Ruskin Sunshade models include airfoil, louver, tube and eggcrate blade styles. Custom Sunshade designs are also available. Ruskin Sunshades are constructed of extruded and/or formed aluminum components for reduced weight and excellent corrosion resistance. All models are available with a variety of Kynar or Anodize finishes.
Company: Ruskin
Source: http://www.ruskin.com/catalog/category/481~Sun-Control
Tags: Exterior Design | Window Shades
---
NEW!! — Miller Edge Light Curtain: Monitored or Fail-Safe
Using a series of thru beam photo eyes attached near the door track or guides, this light curtain is designed
to provide a dense barrier of light that, when interrupted, signals the door to reverse. With the ability to span
up to 32 feet wide and 6 feet high, it is suitable for use on the majority of commercial and industrial door applications.

Paired with an edge sensor, this combination offers the premier sensing solution for door systems.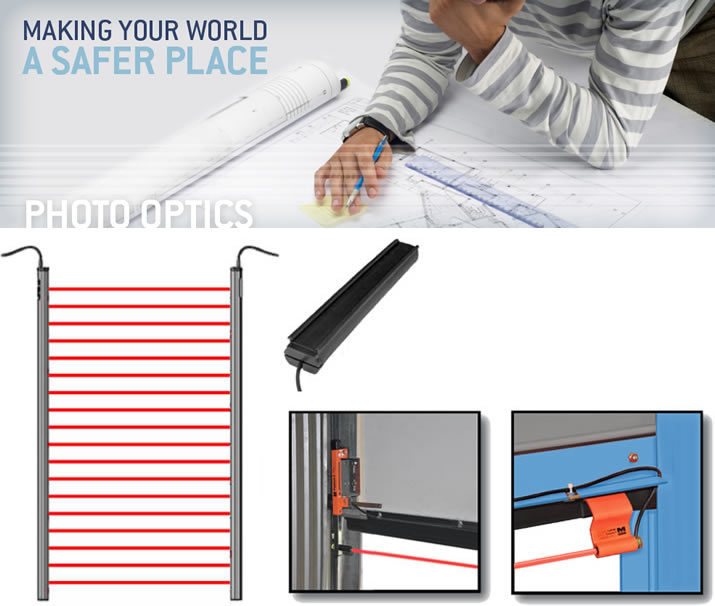 Company: Miller Edge, Inc.
Source: http://www.milleredge.com/light-curtains-photo-optics.html
Tags: Entrances | Safety | Security
---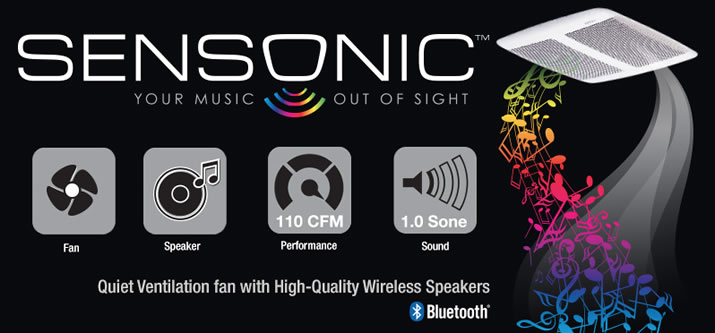 It's your music-out of sight. Unlike wireless speakers that require counter space, Sensonic™ speakers with Bluetooth® wireless technology fill your room with rich sound from above. From hard rock to news talk, play any audio through the dual high-fidelity speakers and enjoy entertainment and privacy at the touch of a button.
Enjoy entertainment and privacy at the touch of a button
Dual High-Fidelity Sensonic™ Speakers
Bluetooth® wireless technology
Brilliant audio performance concealed behind your fan grille
Play any audio through most Bluetooth®-enabled devices
Quiet, powerful QT ventilation fan
Effective, extremely quiet ventilation clears humidity and odors quickly
ENERGY STAR® qualified
Motor engineered for continuous operation
UL Listed for use over bathtub or shower when installed with a GFCI protected branch circuit
Type IC for use in direct contact with thermal insulation
Fits 2"x 8" ceiling construction
Includes unique spacer for easy I-joist mounting
Mounts between joists with optional QTHB1 Hanger Bar Kit (sold separately)
Company: Broan-NuTone LLC
Source: http://www.broan.com/sensonic
Tags: Interior Design
---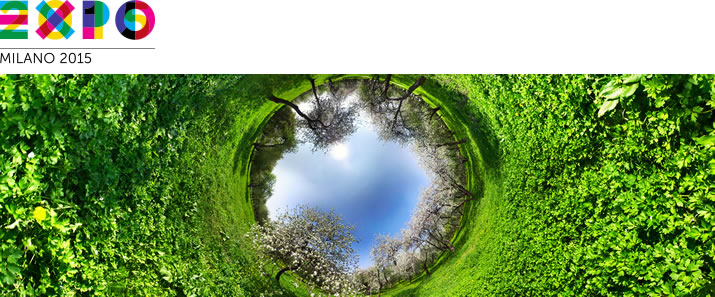 EXPO Milano 2015 will close its doors on October 31, 2015. The Universal Exhibition is showcasing achievements that societies have made and share new technologies as well as promote creativity and engagement at a global level. By following the theme, "Feeding the Planet, Energy for Life", over 140 participating countries are showing their commitment to creating sustainable ways of producing and delivering food across the globe.
The United Nations (UN) is also participating in Expo Milano 2015 under the theme, "The Zero Hunger Challenge. United for a Sustainable World." The Zero Hunger Challenge is a call-to-action, based on the wish of the UN Secretary General Ban-ki Moon to encourage decision makers to focus their attention on hunger, nutrition and sustainable agriculture. An integral part of the Zero Hunger Challenge, the issue of women's empowerment and gender equality, is a key focus area for the UN at Expo Milano 2015.
PENETRON played a vital role in ensuring the timely completion and durability of some of the infrastructure for EXPO Milano 2015, and the city of Milan. Have a look at the case study 'ZARA EXPO Tunnel' under PENETRON Worldwide.
Company: Penetron International
Source: http://www.penetron.com/newsletter/sep15-en.htm
Tags: Building | Exterior Design | Sustainability
---
The world's best buildings are not only measured by their security or design, today sustainability plays a vital role in the longevity and attraction of office space. In fact the sustainability trend is here to stay. From the entry point where energy consumption and carbon footprint are minimized to waste management, water recycling and light fittings, buildings are now built with five and six star sustainability design factors in mind.
Boon Edam recently worked with construction group Skanska on Sweden's Green Tower Office Building. Henrik Ahnström, project leader says, "Green Tower Office Center is a new Green landmark. This new office project is the first LEED platinum building in Gothenburg, Sweden and in Skanska's own property register.
Boon Edam installed the TQ revolving door, which works along the "always open, always closed" principle that ensures that the entry remains open and welcoming to visitors but keeps heat or cold, rain and noise out. As there is less opportunity for the outside air and the conditioned inside air to mix, a more comfortable working environment can be achieved and energy can be saved on heating or cooling the building. On average this ensures that eight times less air is exchanged through a revolving door than through a normal sliding or swinging door.
Behind foundation, energy and waste management is now one of the most important factors in construction. Here are 7 of the most sustainable buildings in the world: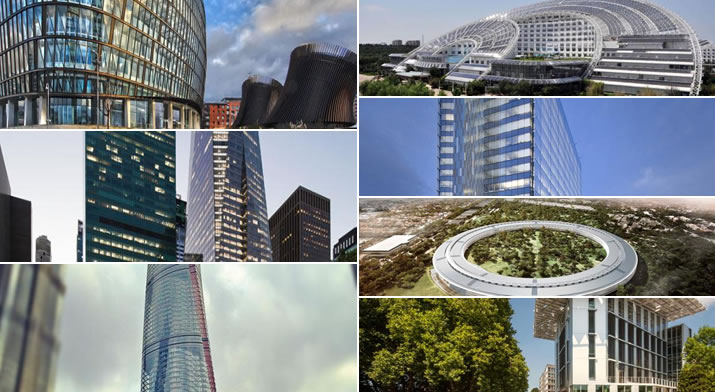 One Angel Square, Manchester, UK
Manchester's One Angel Square is the headquarters of the Co-operative Group. The building houses 3,000 employees and has been awarded an "Outstanding" Building Research Establishment Environmental Assessment Methodology (BREEAM) rating. It is powered by pure plant oil fed Combined Heat and Power (CHP) system and utilizes grapeseed oil that is grown on The Co-operative's own farmland.
Excess energy is sent back to the grid. Other features include LED lighting and a system to recycle waste and rain water.
One Bryant Park, New York City, US
Bryant Park was the first high rise building to be given LEED Platinum certification, with the Bank of America Tower, in Manhattan, being one of the world's greenest skyscrapers. As well as having CO2 monitors, waterless urinals and LED lighting, the building also has its own generation plant that produces 4.6 megawatts of clean, sustainable, energy.
Shanghai Tower, Shanghai, China
Shanghai Tower, stands 632 meters tall and is the second-tallest building on the planet, after Dubai's Burj Khalifa. Wind turbines located near the top of the structure power its outer lighting as well as park areas, while transparent inner and outer "skins" will allow natural light to flood the building, cutting down the need for artificial lighting.
Smart controls will monitor everything from ventilation to heating and lighting, helping to cut energy bills in the process.
Micro Emission Sun-Moon Mansion, Dezhou, China
Resembling a sundial, the Sun-Moon Mansion, in Dezhou, Shandong province, is 75,000 square meters in size and one of the world's largest solar powered structures. The building contains offices, a hotel and a conference center, all powered by solar energy and featuring a solar powered hot water supply, energy saving glass, and 50,000 square feet of solar paneling.
Manitoba Hydro Place, Winnipeg, Canada
Located in Winnipeg, Manitoba Hydro Place makes use of "passive design and natural ventilation" to make it one of North America's most energy efficient office buildings. The building has a geothermal system to heat and cool the building, roof gardens and triple-glazed windows. Thanks to these features, over 60 percent of energy savings have been made.
Apple Campus 2, Silicon Valley, USA
It isn't finished yet, but Apple CEO Tim Cook is already calling it the greenest building on the planet. Apple's strategy is to power the entire campus with 100% renewable energy and it promises to plant at least 7,000 new trees and use recycled materials.
Apple projects its maximum energy use across the entire 5.9m sq. ft. (548,000 sq. meters) campus – including office spaces, research centers, parking structures and other buildings – to be around 142,000,000 kilowatt-hours per year. Based on the total area of all the buildings on site, Apple Campus 2 will have an energy use intensity of about 257 kWh per sq meter per year.
That easily beats typical office buildings in the United States, which use around 500 kWh per sq. meter a year.
Bullitt Centre, Seattle, USA
The Bullitt Centre is the greenest commercial building in the world. Nestled into Seattle's Capitol Hill neighborhood, it used only about 32 kWh per sq. meter in its first full year of operation. Producing more electricity from rooftop solar than it consumes in kilowatt-hours per year, the Bullitt Center is unique even among the greenest buildings in the world.
Energy positive buildings are no longer pie-in-the sky dreams; in fact, construction organizations are now tasked with building the greenest possible structures. From revolving doors to waste management and energy conservation systems, there are myriad ways to save energy.
Company: Boon Edam Inc.
Source: http://www.boonedam.us/news/building-sustainability-world%E2%80%99s-7-best-green-buildings
Tags: Building | Sustainability
---
Who said log homes had to be completely rustic? Check out the bathroom in this custom home!
Master Bathroom Design – Contemporary Meets Rustic in a Log Home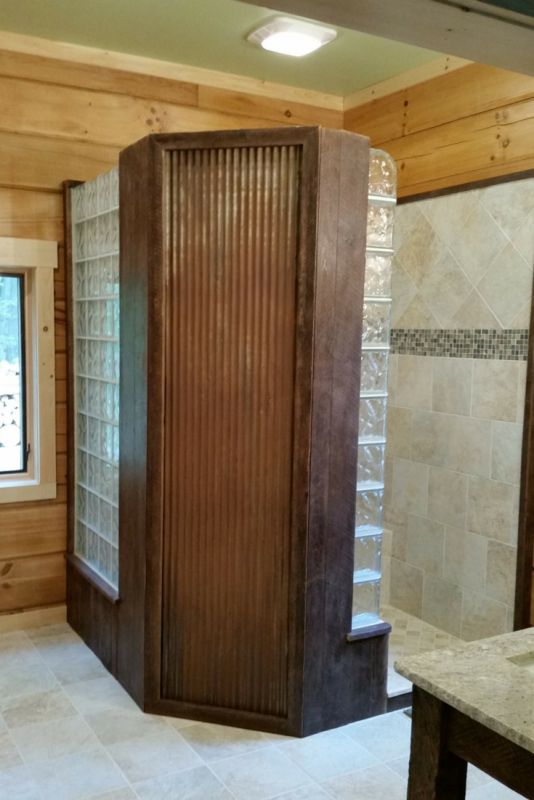 "Nothing is set in stone with interior finishes in our log homes," said Joe Dymond of Jim Barna Log Homes. When Joe makes this statement he means it. Although most people associate log homes with a rustic interior design – many owners today have a broader decorating vision for their new home. Such was the case when Joe called me about combining contemporary glass blocks with traditional rustic elements in the master bathroom of a home he was building in Quakertown, Pennsylvania for Ken and Laurie Rittle. In the article below see how contemporary can meet rustic when you combine a flexible builder with progressive and creative homeowners.
Open Minds and Integrated Designs
One of the biggest challenges I have seen with custom building is integrating new ideas and products with practical and sound building techniques. As Joe said to me, "It's OK to design as we go….but we're going to build this project right the first time." It was this open and flexible design philosophy which allowed this log home to literally evolve during the building process.
For example, in the kitchen Joe's customers (Ken and Laurie) decided to combine 100 year old rustic barnwood with the sleek look of contemporary soapstone countertops.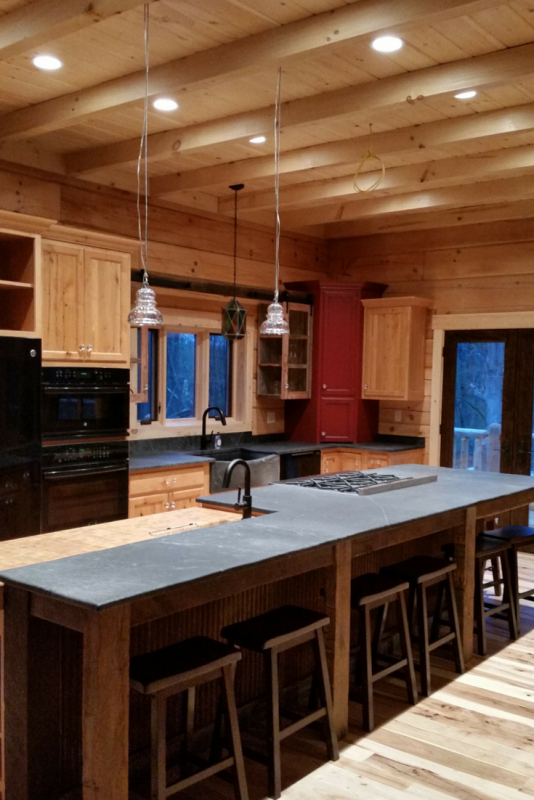 When it was apparent there was going to be extra barnwood left from the kitchen ideas began to bubble up on how to use this distinctive reclaimed wood in the master bathroom to provide a consistent style and continuity through the home. Let's take a closer look below how creativity and a unique grouping of product choices (including the barnwood trim) resulted in a distinctive master bathroom.
Creativity – An Open Contemporary Shower with a Rustic Flair
Combining contemporary and rustic interior design elements can be as fun as it is functional. Check out the varied contemporary and rustic design features and products in this Quakertown Pennsylvania home:
Contemporary Features
Open shower design – I am increasingly seeing new homeowners refusing to deal with difficult to clean shower doors by eliminating them altogether. This NEO angle shower was designed with the shower head spraying away from the doorless entry making it easier to enter and clean the shower.
Glass block shower walls – Glass blocks are durable, easy to clean and can create a clean, fresh design. The rounded and finished glass block ends create a graceful entrance. Joe appreciated that the glass block walls were prefabricated into sections which drastically cut down installation time and improved finished quality. This wall was sourced from Innovate Building Solutions from Columbus Ohio.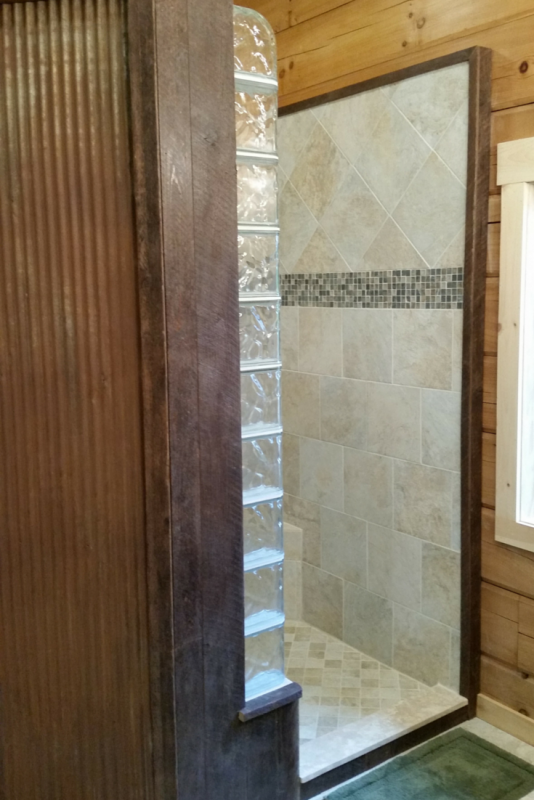 Granite countertops – Ease of maintenance and a luxury custom look have positioned granite as a preferred countertop choice in many high end master bathrooms including this project. Ken and Laurie chose a typhoon green granite with a chiseled edge and 4″ backsplash they purchased from Prestige Marble and Granite in Emmaus Pennsylvania.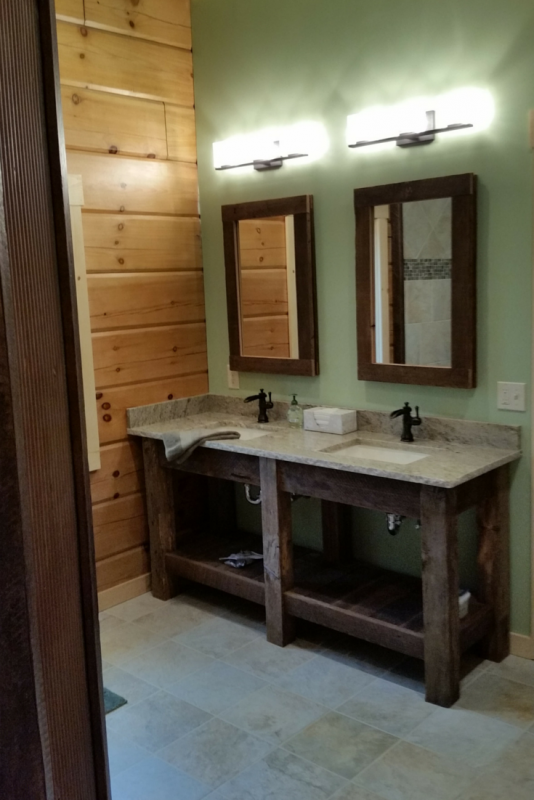 Rustic Features
60 year galvanized corrugated metal feature wall- Who would think reclaimed galvanized corrugated metal could be a focal point for a master bathroom? This wall is not only functional (it houses the plumbing on the other side of the NEO angle design) but it is also fun and distinctive. This featured was purchased from Elmwood Reclaimed Timber in Peculiar Missouri.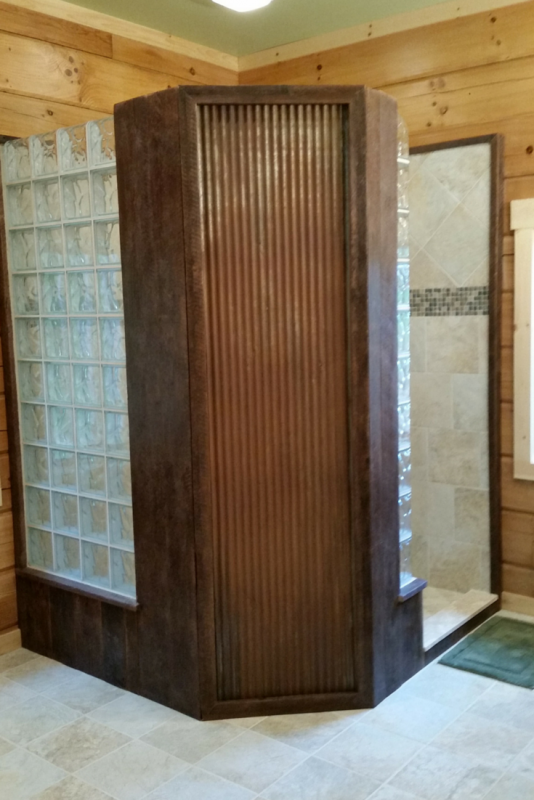 100 year old barnwood trim and custom vanity – The barnwood trim left over from the kitchen was put to good use in the master bathroom. Joe's team used it to trim out corrugated metal feature wall (see the image above) and as a custom base for a double bowl vanity – very cool and unique. Ken and Laurie found this material through Barnwood Connections in Barto Pennsyvania.
Log construction – The 8" x 12" logs truly capture the essence of this rustic luxury home.
Which contemporary or rustic feature do you like the best? If you want more information about log homes or contemporary design features like glass block showers comment or call the numbers below.
Company: Innovate Building Solutions
Of: Mike Foti
Source: http://blog.innovatebuildingsolutions.com/2015/08/01/master-bathroom-design-contemporary-meets-rustic-log-home/
Tags: Glass | Interior Design
---
Helen Stacey Middle School in Huntington Beach, Calif., has added a new building in the back of its campus. The school needed an attractive weather-resistant wall finish and Gary Schenk of Great Western Building Materials was called in to help. Schenk knew immediately that Stolit Milano, a brand new finish from Sto Corp., would have the curb appeal, design versatility and cost savings that Helen Stacey Middle School would want. He created a mockup of the new finish to show the architect, it was approved and the project began.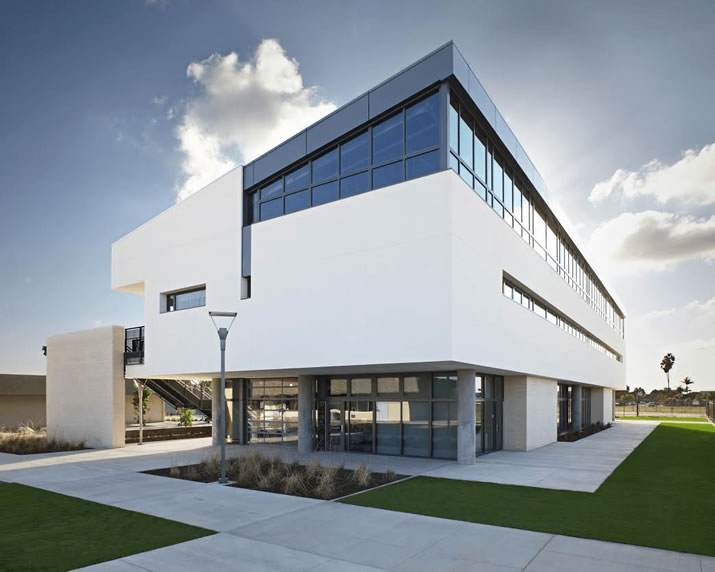 Helen Stacey Middle School needed an attractive weather-resistant wall finish and Gary Schenk of Great Western Building Materials was called in to help. Schenk knew immediately that Stolit Milano, a brand new finish from Sto Corp., would have the curb appeal, design versatility and cost savings that the school would want.
"The building has stucco cladding and they wanted a finish that could be ultra-smooth," says Schenk. "Not only does Stolit Milano provide the look they want, but it's also low maintenance because of its moisture resistance and vapor permeability."
According to Schenk, Stolit Milano is so much easier and more user-friendly than many of the finishes available. "Everyone who sees and uses Stolit Milano says it's the best finish they've ever seen. Stolit Milano is a trowel-applied finish, which can be used for both interior and exterior wall surfaces."
Stolit Milano is Sto Corp.'s latest finish in the market and the 100 percent acrylic formulation can be sanded down to be an ultra-smooth finish. This versatile finish can be applied in a simple two or three-coat process to achieve multiple decorative looks from a fine texture to the industrial feel of ultra-smooth metal panels.
Color was important for this project, and a certain color was designated for the new building. The integral color of Stolit Milano finish guarantees a longer-lasting and more uniform look of the surface, which was important to the middle school.
The general contractor had never worked with Sto products before, according to Natalie Puga, project manager for Summit DCK. "The project went very well and the product looks great," says Puga. "It's a beautiful finish and we are very satisfied with the outcome. The sales rep was extremely helpful and we would use Stolit Milano again."
Mike Delgado, plastering superintendent of Platinum Construction, worked on the project applying Stolit Milano to the new addition, covering approximately 2,200 yards. "Stolit Milano is a great product," says Delgado. "If I could, I would only use Sto products. There is something in Sto products that others don't have. Sto's products are easy to work with and have a great coverage rate."
Seventy-two pails of Stolit Milano were used and the finish gives significantly better coverage, according to Schenk compared to standard textured acrylic finishes. Stolit Milano yields 25 percent more coverage than any other fine finish.
According to Delgado, just down the street from Helen Stacey Middle School is another school with a different finish and it has cracks everywhere.
Delgado was adventurous and tried out Stolit Milano in the interior of a bathroom, using a deep purple color, and says it looks great.
"Stolit Milano is a very versatile product," says Schenk. "I have two projects where it's being used right now, where one is making a Venetian plaster. Your imagination is your only limitation with Stolit Milano."
Company: Sto Corp.
Of: retrofitadmin3
Source: http://retrofitmagazine.com/exterior-wall-finish-offers-curb-appeal-design-versatility-and-cost-savings-for-school/
Tags: Exterior Design
---
From fruit-embedded tile to porcelain "wood", tile design guru DeeDee Gundberg expands the possibilities of an ancient art form.
As the brand visionary for Ann Sacks Tile, DeeDee Gundberg decides what's on our walls and floors as we shower, cook and binge on Breaking Bad. An Angeleno by birth, Gundberg studied historic preservation and figured she'd work in architecture. But while living in Portland, Oregon, she found herself drawn to the showroom at Ann Sacks. A mentorship with Sacks herself led Gundberg to 19 years and counting for the luxury tile company, where she's currently senior new product development manager.

STIR: How did you first become interested in design?
DG: I've always loved seeing the inside of people's homes. I was reading Architectural Digest when I was 8.
STIR: What are some of the insights you learned from Ann Sacks?
DG: My biggest takeaway is don't follow the market, lead it. That's really hard to do. It requires you to take risks. Twenty years ago, the stone business was all about a beveled edge, which was easy for installers. Ann wanted a straight edge. She thought it looked more elegant. It took the market awhile to catch up, but it did.
STIR: Your new Market collection of tiles features tissue-thin slices of real fruits and vegetables preserved between layers of glass. What's the back story?
DG: When artist Tony Davlin approached me with the idea, I was really excited. My job was to make sure we balanced the right blend of color and texture. We also didn't want to overwhelm the customer with too many options. Certain fruits are not in season all year long. Some are too exotic and expensive. Starfruit is cool-looking but not always available. I was excited about the idea of a radish, but it didn't pan out. The pear is incredible. The way the colors blend together, the tiles look dusted in gold.
STIR: What's the most surprising trend in tile design today?
DG: Porcelain flooring. It was always considered cheap, a secondary option for a laundry room or guest bath. For a long time it was hard to find really beautiful porcelain. Now with inkjet technology, you can print a very high resolution directly onto the surface of the tile. The technology took off around 2000 and has improved substantially year after year, with better resolution and more realistic imagery, to the point where it's difficult to tell the difference between a porcelain tile made to look like marble — or wood or concrete or granite — and the real thing. Sometimes I cannot tell the difference until I touch it, as a marble tile will always be cool to the touch. If I'm fooled, then I know we need to launch it!
STIR: How has technology expanded your color and design options?
DG: Older methods of printing images on porcelain often left the image pixelated and the color dull. Inkjet technology can print up to 1,000 dpi, so no pixelation will occur, and color remains rich and layered.
STIR: What other technological advances have influenced how you design tile?
DG: Waterjet technology has revolutionized how we make mosaics. And a CNC [Computer Numerical Control] machine can carve marble into gorgeous dimensional shapes. Dimensional tile like Network, which mimics wood paneling, is a fantastic way to bring visual interest to a feature wall without being over the top. People really respond to it. It's very Mad Men.
Company: The Sherwin-Williams Company
Of: Charlotte Stoudt
Source: http://www.sherwin-williams.com/architects-specifiers-designers/inspiration/color-conversation/q-and-a/sw-art-stir-qa-stylesquared.html
Tags: Color | Interior Design
---
Flexible bollards withstand repeated impacts—bending up to 90 degrees—without losing their original shape or placement.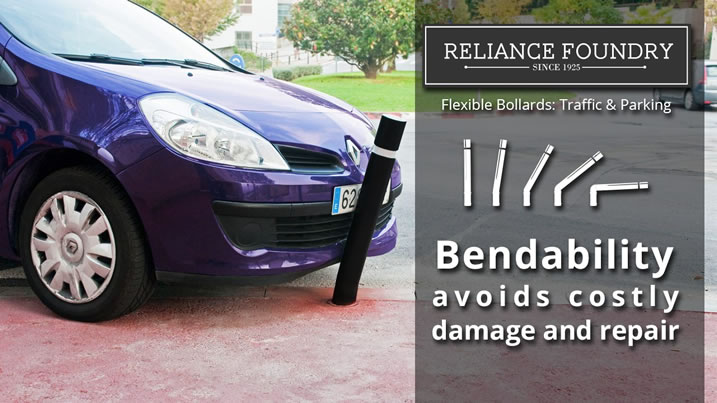 Flexible bollards withstand repeated impacts—bending up to 90 degrees—without losing their original shape or placement. Bendable markers offer robust traffic guidance while avoiding costly damage and repairs
Minimize vehicle damage
Pliability leaves vehicles, bollards and road surfaces intact after collisions.
Reduce maintenance
No need for upkeep or replacement—even after multiple impacts.
Save money
Flexible posts are less expensive than solid decorative installations.
Manage parking and traffic
Ideal when hard barriers are more than you need.
Company: Reliance Foundry Co. Ltd.
Source: http://www.reliance-foundry.com/bollard/flexible-bendable
Tags: Exterior Design | Landscape Design | Safety
---
Bird B Gone Bird Spikes have been recognized worldwide as an effective anti-perching, anti-roosting bird deterrent. Bird B Gone Bird Spikes are ready to use; feature a built-in glue trough and pre-drilled mounting holes to simplify installation. Blunted at the tips so they won't harm birds, curious pets or installers, our bird spikes have been approved by a number of humane groups—including the U.S. Humane Society. Bird B Gone's ever-growing selection of bird spikes now includes: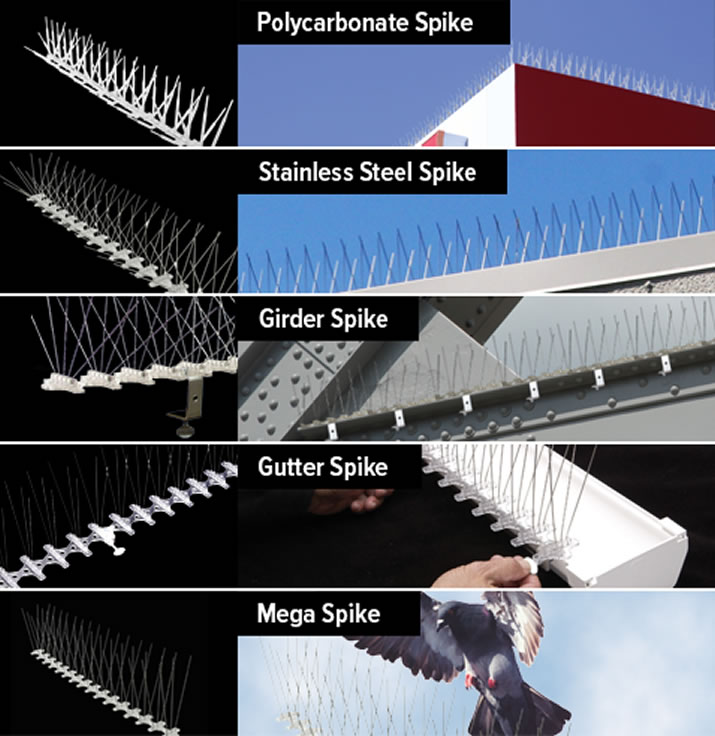 How to choose the right bird spike for your bird problem
Learn which bird spike is the best for your bird problem with the new Bird Spike Comparison Guide. Bird B Gone offers the widest variety of bird spikes of any bird control product manufacturer. All of our spikes are made in the USA ensuring quality and availability. Our spikes come with the industry leading guarantees.
Company: Bird-B-Gone, Inc.
Source: http://www2.birdbgone.com/bird-spike-types
Tags: Exterior Design
---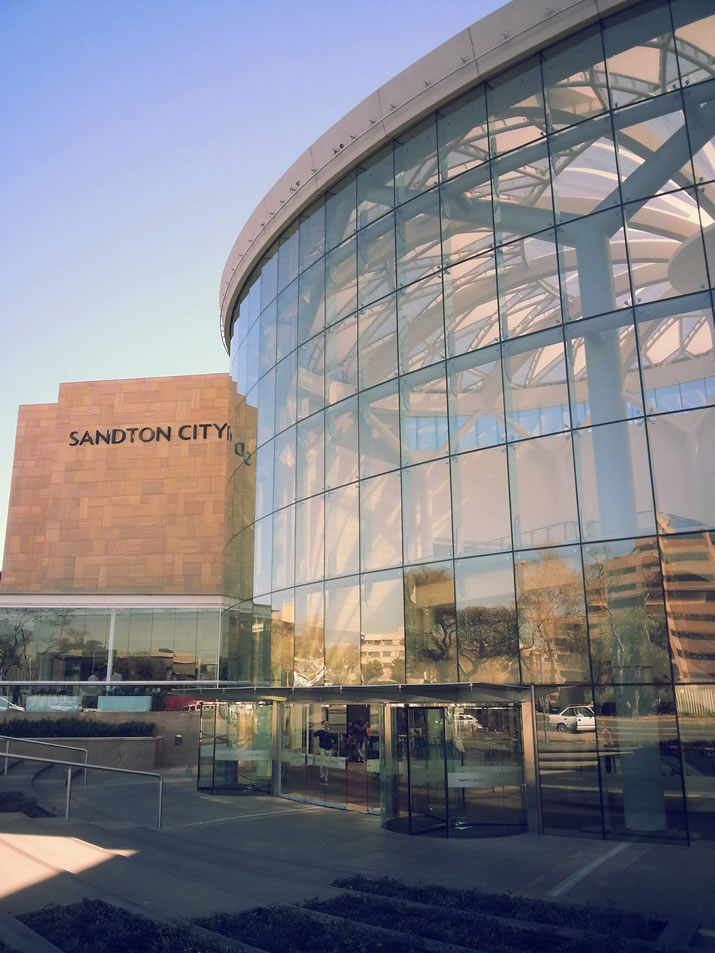 A perfect blend between revolving doors and the transparent architecture of the Sandton-City Mall, Nelson Mandela Square building in Johannesburg, SouthAfrica.
Company: Boon Edam Inc.
Product: Revolving Doors
Source: https://www.facebook.com/RoyalBoonEdam
Tags: Design | Entrances | Security
---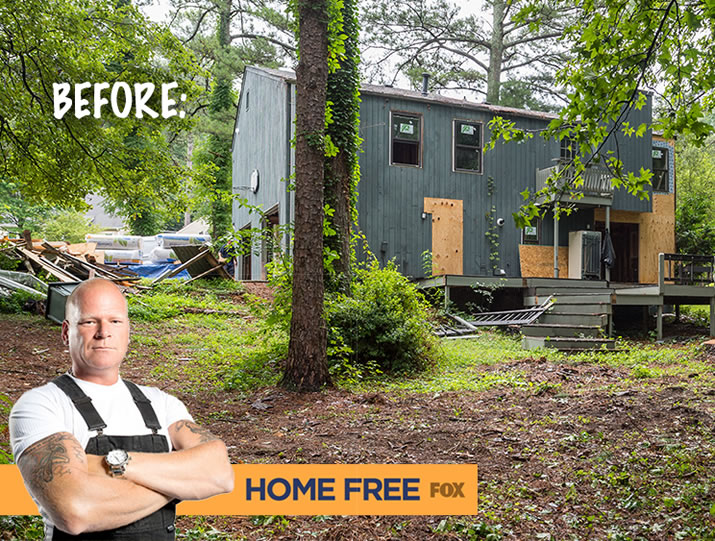 We are a proud partner of the latest reality show on FOX: Home Free! On this show, couples are competing to win their dream home. Each week they face challenges while working to restore a house for a deserving family, and each week a couple is eliminated from the competition.
But there's a twist: the couple that "loses" actually wins the house they helped renovate that week!
This week, the contestants will be installing Feeney CableRail on exterior and interior railings as part of their projects. We hope you tune in to see the results:
WEDNESDAY - September 3rd - 9/8c on FOX
You can watch all six previous episodes online: http://www.fox.com/home-free/full-episodes
Company: Feeney, Inc
Product: CableRail Stainless Steel Standard Assemblies
Source: http://media.feeneyinc.com/blog/home-free-the-reality-show-with-a-heart-features-feeney-cablerail
Tags: Exterior Design | Railing System
---
Contrary to its name, stainless steel is valued for its anti-corrosion properties rather than its resistance to staining. It is an alloy composed primarily of iron—but when combined with other elements, it can achieve properties desirable for a range of applications. Chromium is the defining ingredient that makes stainless steel what it is, making up a minimum of 10.5 percent of total composition. Other common alloy ingredients include nickel, titanium, aluminum, copper, nitrogen, phosphorous and selenium.
The difference between 304 and 316 stainless steel is the presence of molybdenum, which provides a much higher degree of corrosion resistance—especially for more saline environments where exposure to chlorides is expected. For outdoor site furnishings, stainless steel is an ideal corrosion-resistant material that will withstand long-term exposure to the environment.

304 and 316 stainless steel are manufactured in a range of common forms. Chromium oxide offers a reflective finish that protects materials beneath. Stainless steel is often used in the food and beverage industry.
Natural corrosion resistance
Different quantities of chromium, as well as other materials, can be used to achieve certain degrees of corrosion resistance. The two most common stainless steel grades are 304 and 316.
Corrosion is a natural phenomenon. Pure elements, such as iron, inherently react with surrounding environments. In fact, very few elements can be found naturally in their pure form. Gold, silver, copper and platinum are some of the few elements that can be found in large quantities in nature.
Rust is the process where iron molecules combine with oxygen in the presence of water. The result is a red flaky oxide that deteriorates easily—exposing more material to further corrosion. Iron and standard carbon steels are highly susceptible to this type of corrosion.
Stainless steel, however, offers the innate ability to form a natural barrier to corrosion. The chromium found in all stainless steels reacts quickly with oxygen environments, much the same as iron. The difference, however, is that only a very fine layer of chromium will oxidize (often only a few molecules in thickness). This incredibly thin barrier is highly durable and non-reactive. It adheres to stainless steel surfaces and won't transfer or react further with other materials. It is also self-renewing in that it will replenish if damaged or removed. Once oxidized, or passivized, stainless steel typically rusts at a very low rate of less than 0.002 inches per year.
304 Stainless Steel
304 stainless steel has a high resistance to rust. It will withstand corrosion from most oxidizing acids and is often used for kitchen and food applications. However, it is susceptible to corrosion from chloride solutions (notably saline environments with high amounts of sodium chloride). Chloride ions can create localized areas of corrosion, called "pitting," which can spread beneath protective chromium barriers to compromise internal structures. Solutions with as little as 25 ppm of sodium chloride can begin to have a corrosive effect.
304 grade is the most common form of stainless steel used around the world. It contains between 16 and 24 percent chromium and up to 35 percent nickel—as well as small amounts of carbon and manganese. The most common form of 304 stainless steel is 18-8, or 18/8, stainless steel, which contains 18 percent chromium and 8 percent nickel.
316 Stainless Steel
316 grade is the second-most common form of stainless steel. It has almost the same physical and mechanical properties as 304 stainless steel and contains a similar material make-up. The difference is that 316 stainless steel incorporates about 2 to 3 percent molybdenum, which increases corrosion resistance—particularly against chlorides and other industrial solvents. Alternative 300-series grades can contain up to 7 percent molybdenum.
316 stainless steel is commonly used in many industrial applications involving processing chemicals, as well as high-saline environments such as coastal regions and outdoor areas where de-icing salts are common. Due to its non-reactive qualities, 316 stainless steel is also used in the manufacture of medical surgical instruments.
Versatile applications
Both 304 and 316 stainless steels (as well as other 300-series grades) use nickel to maintain an austenitic composition at lower temperatures. Austenitic steels ensure a versatile balance of strength, workability and corrosion resistance, making them ideal for outdoor architectural and landscape applications. The benefits of stainless steel include a long service life that will retain an attractive, clean finish with low maintenance cost. It also maintains a high value if and when equipment and parts need to be decommissioned.
Reliance Foundry offers a selection of stainless steel bollards that can be mounted for various fixed, removable, fold-down and retractable applications. Our stainless steel products use only 316 grade material for the best performance in almost any North American environment.
Company: Reliance Foundry Co. Ltd.
Of: Brad Done
Source: http://www.reliance-foundry.com/blog/304-vs-316-stainless-steel