architecture - engineering - construction

Exterior Design
---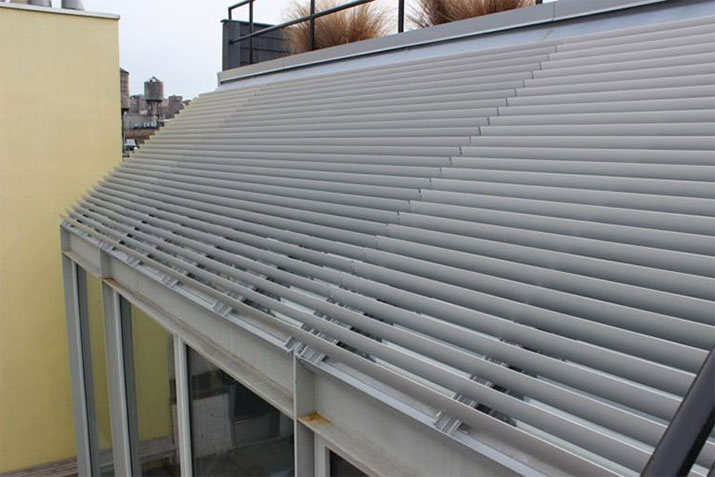 Solar control solutions for inside the window seem to make sense. But one question we often hear is, "Why would you use exterior or outside solutions?" It's actually a good question, and the answer is in the way energy from the sun is turned into heat.
---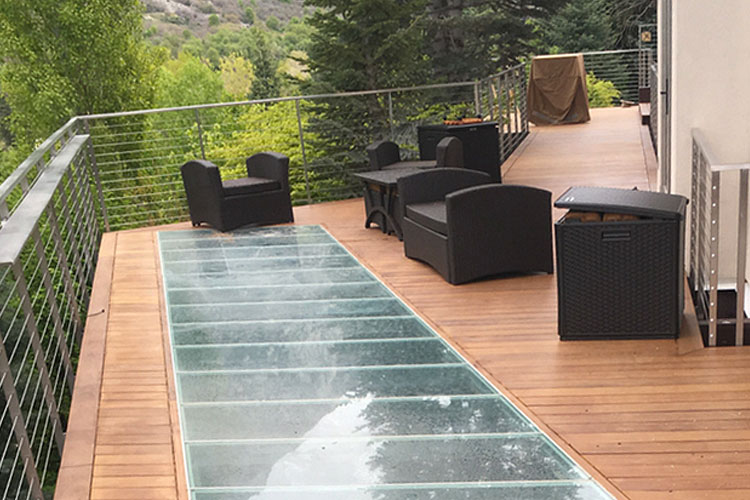 Learn 7 fun ideas using glass to jazz up your outdoor deck, patio or garden this summer.
---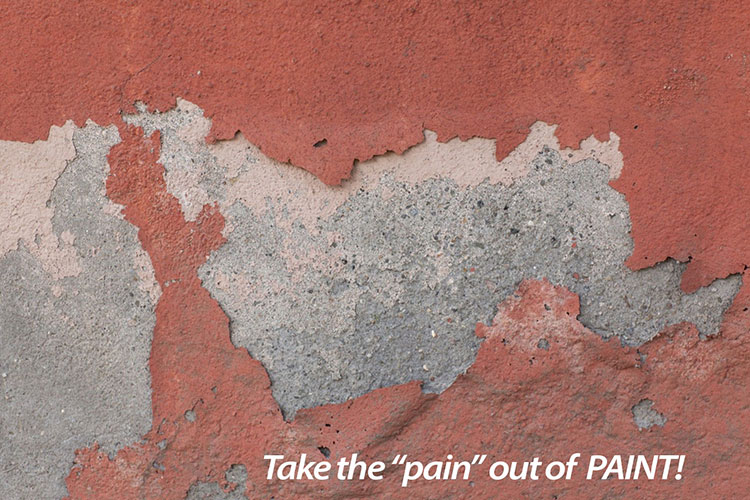 Stains penetrate and bond to surfaces, while remaining aspiratory - allowing moisture vapors to escape. Paints, however, rest on top of the surface, trapping moisture between the paint and the surface. In cooler climates, freeze/thaw cycles cause moisture to expand and contract, making paint blister and delaminate - ultimately leading to paint failure or what we call 'paintenance.'
---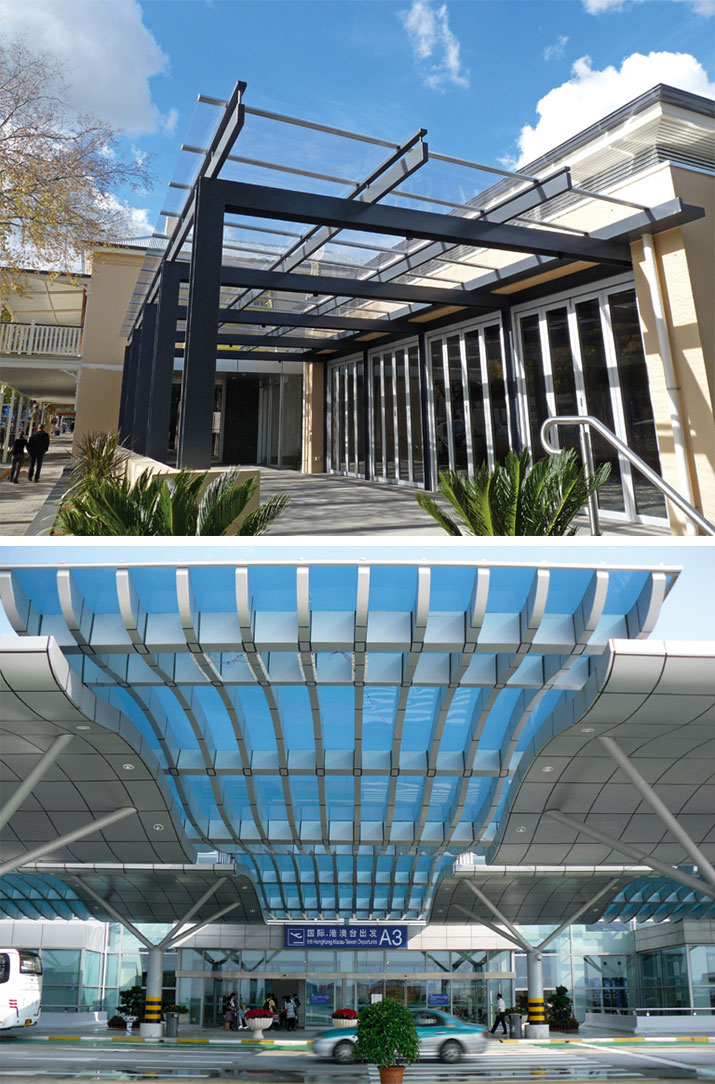 ---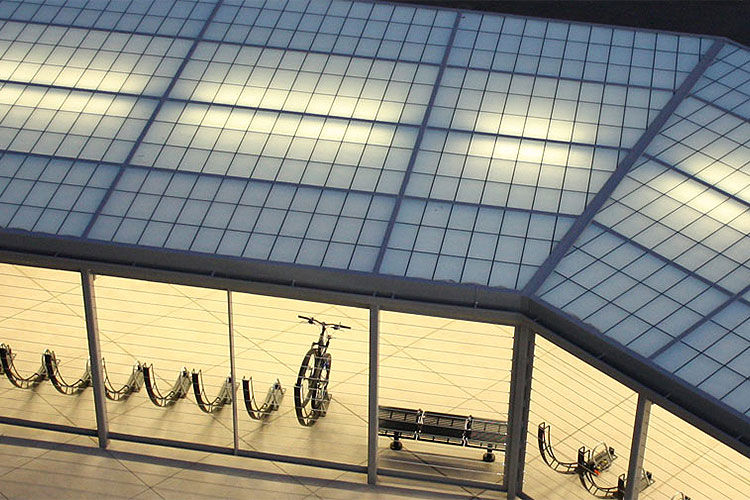 Translucent panel canopies from Major offer protection from sun, rain, snow - plus their light weight allows for great design versatility.
---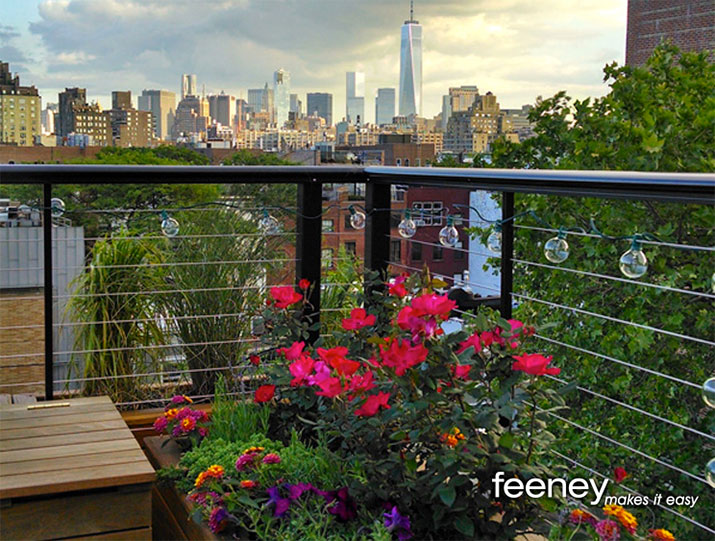 ---

Stromberg Architectural has worked on some of the most impressive architectural buildings and projects in the world. From the Atlantis Resort to Caesar's Palace, the White House to the Texas State Capitol - we have the experience and capacity to handle any size job, large or small. Whether you're working on a hospitality, retail, residential, commercial or religious project, let us show you what we mean when we say "we make buildings beautiful".
---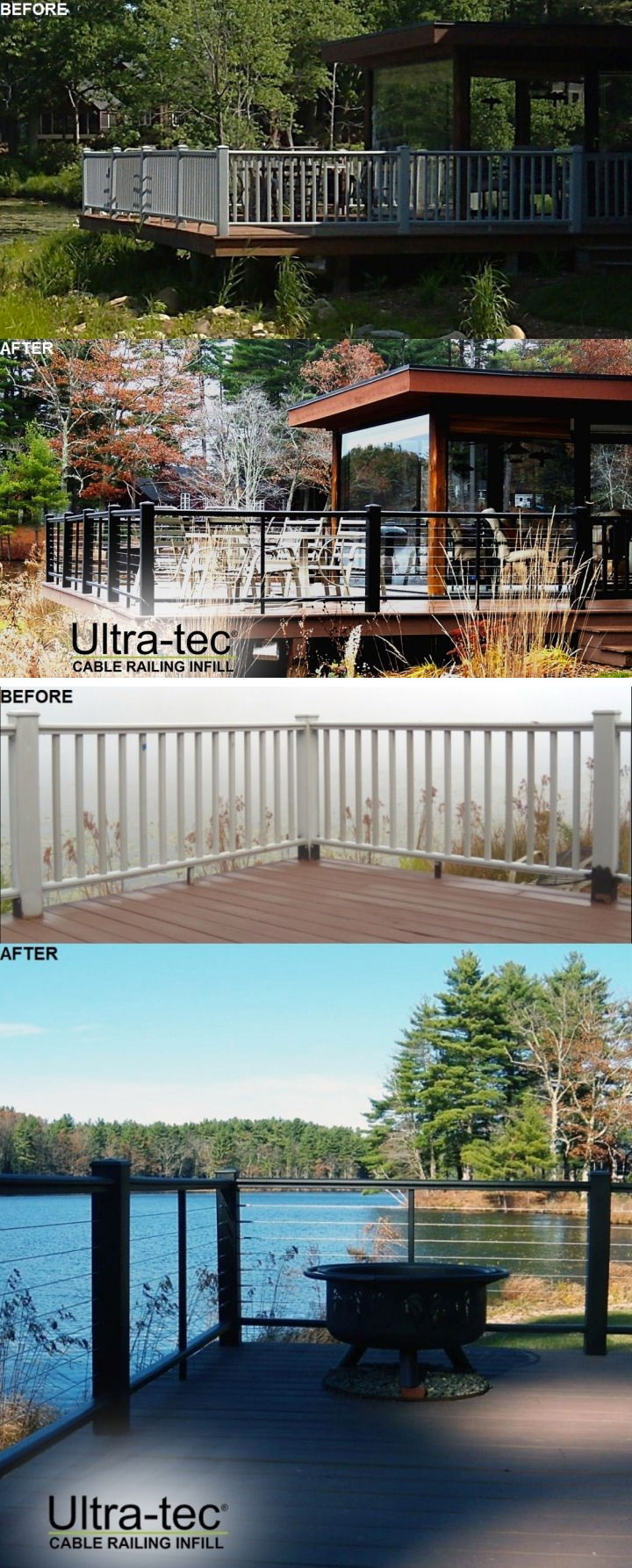 This deck got a face-lift with cable railing infill from Ultra-tec®. See the improvements in the before and after photos.
---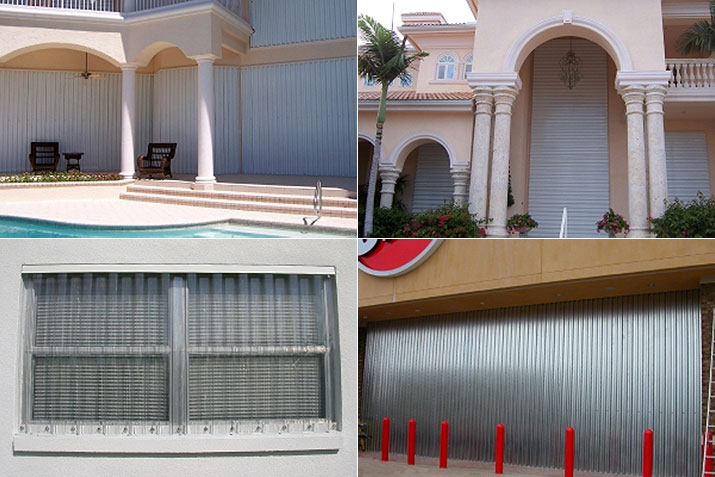 Removable storm shutters and panels are designed to be 'put up' in the event of a hurricane or storm by placing them into a pre-installed panel mounting system over a window, door, or other area to be protected. The mounting system may incorporate a 'direct mount' hardware combination, or a more convenient, header and sill track.
---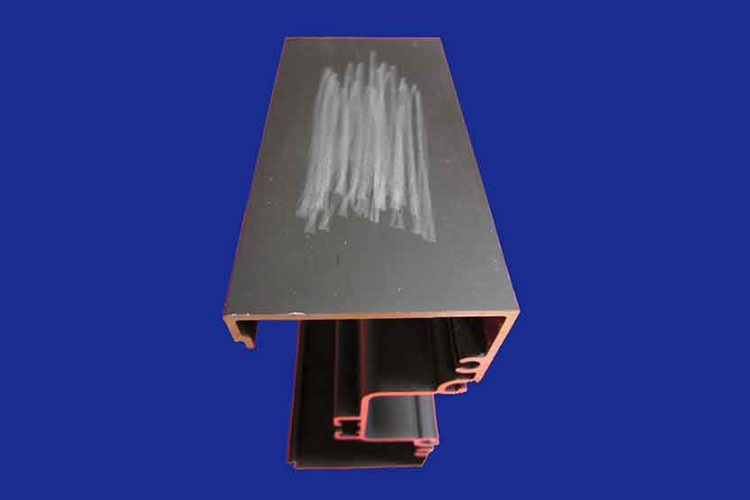 When extreme hardness is required for aluminum building components, such as in high-traffic areas, like entranceways and railings, an AAMA 611-14 anodized aluminum finish should be specified. The hardness of anodized aluminum rivals that of the diamond. This "Nickel Test" demonstrates why a Class I high-performance anodize coating is the perfect choice for exterior architectural applications.
---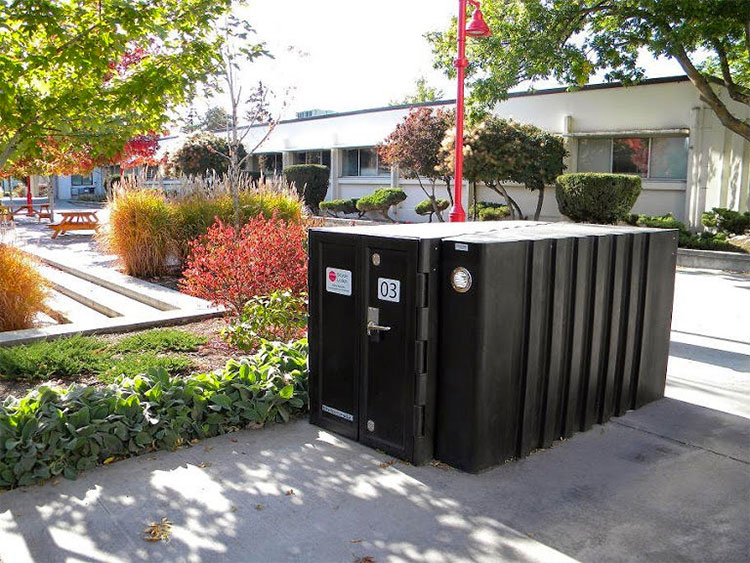 Keep your bicycles safe from thieves - and other threats you may not have considered.
---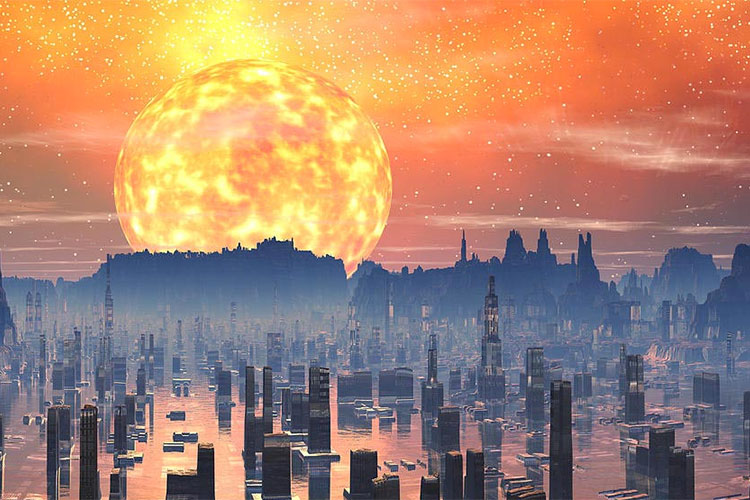 With the effects of global warming upon us, architects and building owners need to mitigate its impact in the built environment. This is not a new idea, but the necessity for design that protects against volatile weather, rising temperatures, and insect-borne diseases is now more pressing than ever. Last year, the U.S. Army Corps of Engineers created the Building Resilience website, a tool that connects community planners, home builders, architects, and engineers with building science, climate data, and community resilience resources. This is crucial information designers and building owners need if they want to confront the effects of climate change. As daylighting manufacturers, we have some thoughts on how daylighting can be used to reduce the impact of global warming on the built environment.
---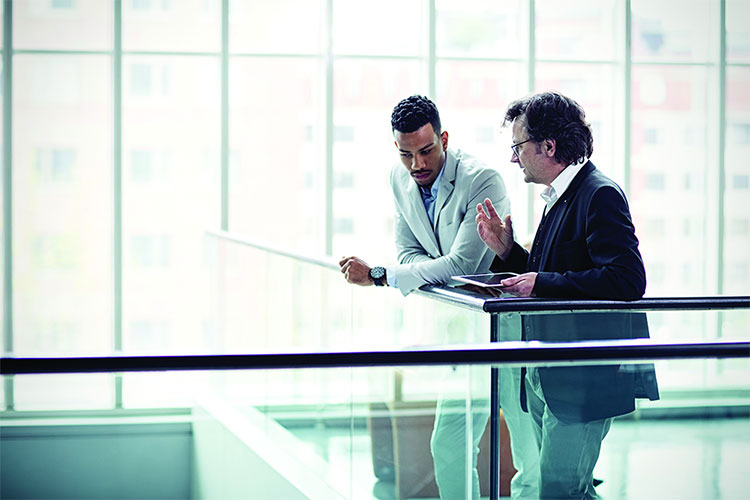 Today's security entrances can last 10 years or more, so your organization can go years without installing a single new entrance. This fact alone intensifies your need for a great experience during the buying process and beyond, so that you are assured the right entrance to meet your needs for years to come. How do you better your chances for such a great experience? Here are 10 factors a manufacturer should offer to create a stellar 360-degree customer experience.
---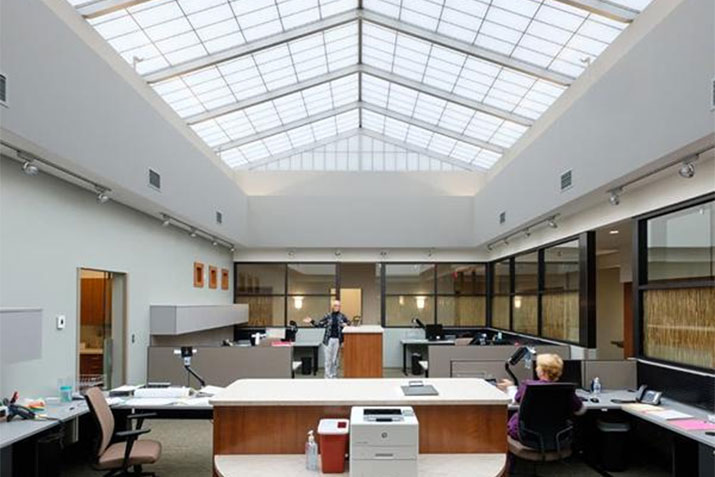 Daylighting can be dramatic… and it can also be a hassle. Too much direct light can cause glare and hot-spots, leading to eye strain and an uncomfortable environment for building occupants. But there is a way to control solar heat gain and diffuse direct sunlight, making for a bright, evenly lit space that welcomes visitors and creates a more comfortable work and learning environment. What's the solution? Translucent panel daylighting systems!
---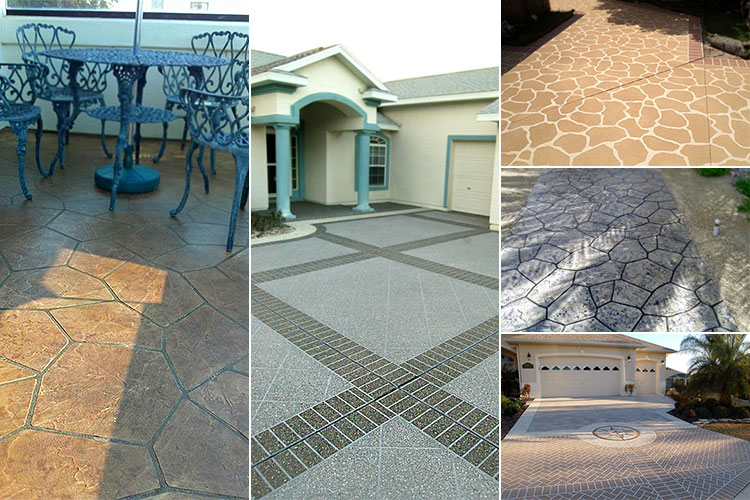 Stenciled concrete is a great option for pool decks, patios and driveways. How can concrete become brick? Or be turned into fan-shaped cobblestone? Or have your company logo "painted" on? The answer to all of those questions is stencils. Stenciled concrete is popular for exterior surfaces like driveways, patios and pool decks.
---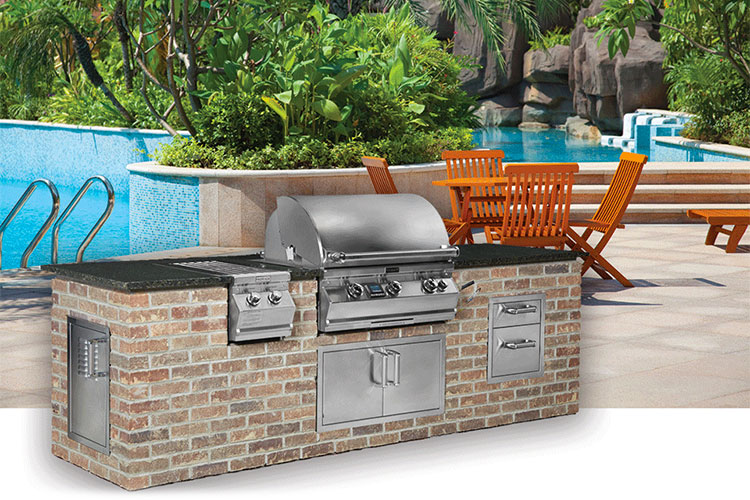 Transform your yard, patio, or outdoor cafe into majestic gathering places with these beautiful brick outdoor entertainment pieces. Crafted from quality and made to stand up to the elements, these distinctive furnishings are meant to be enjoyed season after season.
---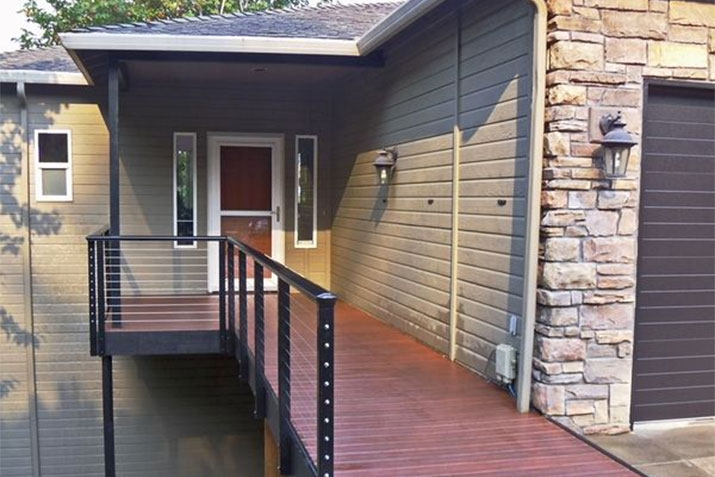 The shaped Aluminum Top Rail used in this photo captures the perfect look for this home in Happy Valley, OR.
---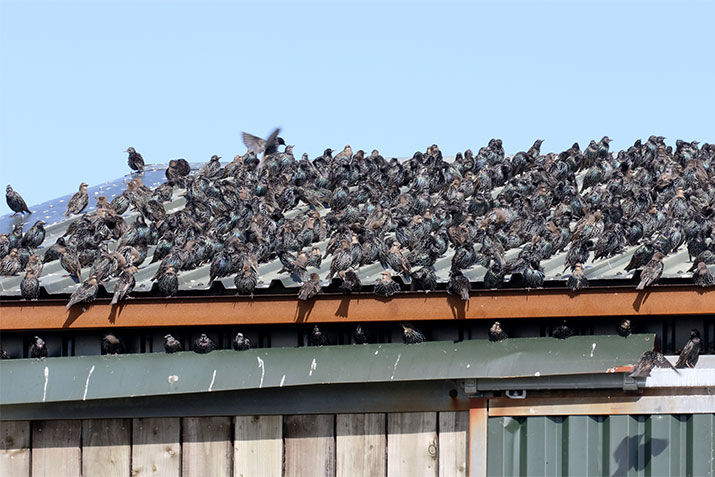 Starlings cost US growers as much as $800 million a year! Learn more about these loud, obnoxious, destructive birds.
---

Regardless of its durability, no architectural finish is completely maintenance-free. Periodic cleaning is needed and, in such cases, on-site repair and restoration may be necessary. Here are five things to keep in mind when looking into on-site finishing services.
---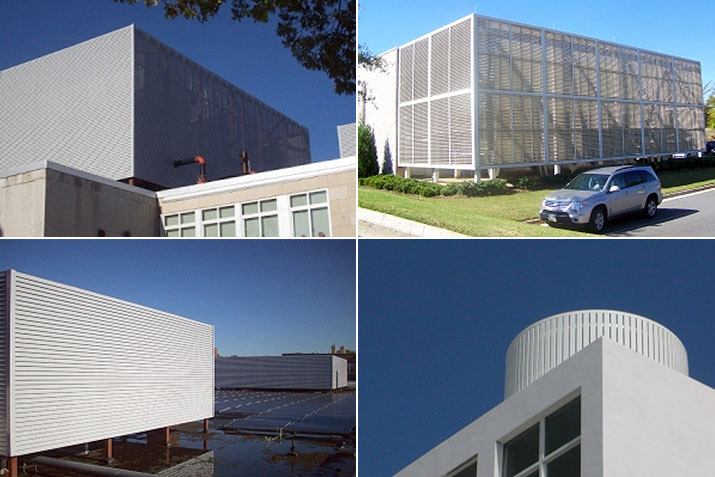 The EconoSpan® louver and screen system is a continuous, "free-standing" louver product comprised mainly of roll formed louvers that snap firmly onto "double-gripped" stringers or posts installed on pre-determined intervals. This system is ideal for roof top equipment screening or other applications with large areas requiring concealment and ventilation.
Rustic Meets Modern: Transitional Design Style (May 26, 2017), Deck Railing Ideas (April 7, 2017), Railing Infill Face-Off: Cable vs. Glass (March 10, 2017), The evolution of the educational landscape (February 17, 2017), New from Thomas Steele: Monona benches, chairs, side tables and litter receptables (February 13, 2017), Waldorf™ Benches (January 12, 2017), Sherwin-Williams VinylSafe® Paint Colors (January 9, 2017), Sun Control Sunshades (January 5, 2017), Louvers Play Key Role in Passive Air Management (December 14, 2016), Winner in NADRA 2016 Deck Competion (November 4, 2016), Benefits of Smoking Shelters (October 28, 2016), 8 Questions You Need Answered Before Buying Commercial Grade Outdoor Furniture (October 24, 2016), Ace Hotel New Orleans restores historic Art Deco exterior and updates performance with Winco Windows finished by Linetec (October 14, 2016), E2JS thin line louver used on Reptile House at the Cincinnati Zoo (August 22, 2016), The Role of LEDs in Outdoor Lighting Design (June 27, 2016), Wood grain finishes for aluminum (May 27, 2016), Why We Love Ipe and You Will Too (April 18, 2016), USPS Specifies Centralized Mail Delivery in New Developments (March 28, 2016), Non Slip Aluminum Plank (March 16, 2016), Lakeside Planter (March 4, 2016), Video of Extech's newest kinetic wall (March 1, 2016), Safety Bollards Protect Storefronts (February 9, 2016), Got Pigeons on Your Building? Why you need to get rid of them... (February 1, 2016), Decorative Spray-Texture Concrete Overlays (January 29, 2016), The Test of Time: 10,000 N. Central Expressway, 30 Years Later (January 20, 2016), Amager Resource Center (January 13, 2016), NOVA Effects coatings provide rich color and vibrant sparkle (December 14, 2015), 10 Major Benefits To Installing LED Tree Ring Lighting (December 9, 2015), Colored/Stained Conventional & Polished Concrete (November 20, 2015), Fraser House, Colorado Zero Net Energy Home, features Loewen windows and doors finished Linetec (November 13, 2015), Stadium Design Sustainability (November 4, 2015), Linetec mimics terra cotta's look and feel in new painted finish (October 21, 2015), DesignRail® Lighting Kits - See the night in a whole new light! (October 16, 2015), Custom Support Structure Delivers 4D Mapping Images (October 9, 2015), Color of the Month: Get inspired with Black Magic SW 6991 (October 2, 2015), Sun Control Sunshades offer energy savings (September 28, 2015), Feeding the Planet, Energy for Life (September 21, 2015), Exterior Wall Finish Offers Curb Appeal, Design Versatility and Cost Savings for School (September 14, 2015), Flexible Bollards: Traffic & Parking Lot Posts (September 9, 2015), Bird B Gone Offers Widest Variety of Bird Spikes - Made in the USA! (September 7, 2015), Home Free - the Reality Show with a Heart - features Feeney CableRail (September 3, 2015), Glass 'sky pool' coming to London (August 27, 2015), Staying dry – and wet – with PENETRON Technology (August 24, 2015), Concrete Resurfacing (August 19, 2015), Introduction to Flashing/Talking Interactive Signs (August 13, 2015), Par-Kut parking booth (August 3, 2015), Case Study: Sustainability without Sacrificing Beauty - the Linstroth Residence (July 22, 2015), Enhance the beauty of ‪stucco (July 17, 2015), The FGP Collection by Francisco Gomez Paz (July 6, 2015), Birds and Buildings: A How-to-Guide for Bird Control (June 26, 2015), Sealed Blinds from Unicel Offer Flexibility, Low Maintenance (June 24, 2015), Watch the Kinetic Facade in Action (June 17, 2015), Introducing a whole new personalized approach to site furnishing... (June 15, 2015), Composite, Synthetic Decking and Deck Railing Materials (June 1, 2015), Reasons You'll Love Your Residential Pool Deck Coating (May 25, 2015), Ruskin Architectural Products provide function and beauty to State Farm Insurance Company (May 13, 2015), Why You Should Have A Green Roof (May 11, 2015), There's a new trend in the mailbox industry... (May 6, 2015), OGDEN flexible curved or circular benches (April 29, 2015)