architecture - engineering - construction

Exterior Design
---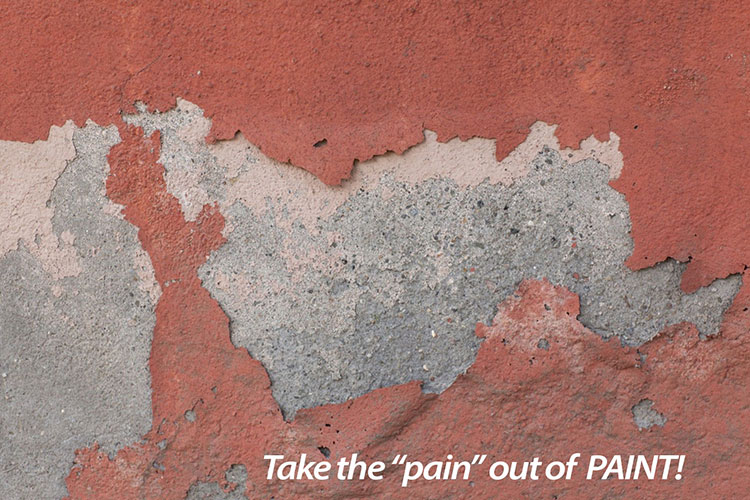 Stains penetrate and bond to surfaces, while remaining aspiratory - allowing moisture vapors to escape. Paints, however, rest on top of the surface, trapping moisture between the paint and the surface. In cooler climates, freeze/thaw cycles cause moisture to expand and contract, making paint blister and delaminate - ultimately leading to paint failure or what we call 'paintenance.'
Choosing the right provider for your project is as important as choosing the right materials. Nawkaw's expert color technicians are the most experienced and knowledgeable in the industry. We look forward to helping you achieve the perfect color for your projects.
Benefits of Stain
Penetrates and infuses color
Mold and mildew resistant
Vapor permeable
Will not chip, fade or peel
Precise color control for natural look
Color Solutions for Repairs and Remodeling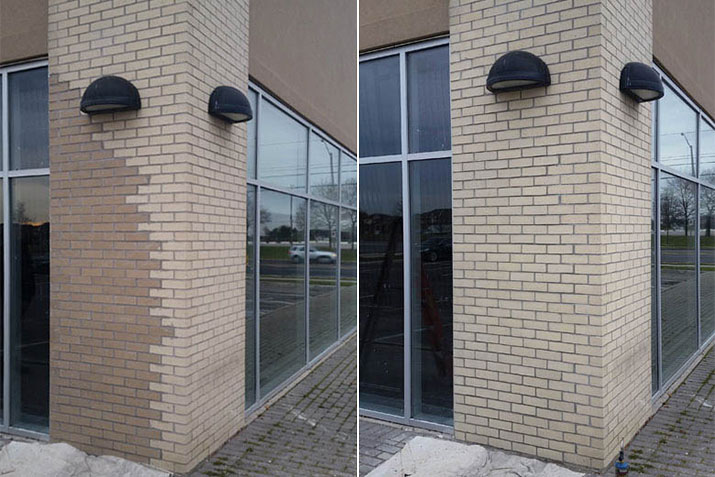 Remodeling and repairs are great ways to breathe new life into existing structures—but few things standout more than mismatched color! NawTone® stains allow our color technicians to expertly match the color of existing bricks, while allowing subtle textures to remain, yielding a natural look.
Unlimited range of colors
Ideal for blending new additions
Zero-maintenance color solution
Natural looking color
25-Year Warranty on product and labor
Color Solutions for Precast Concrete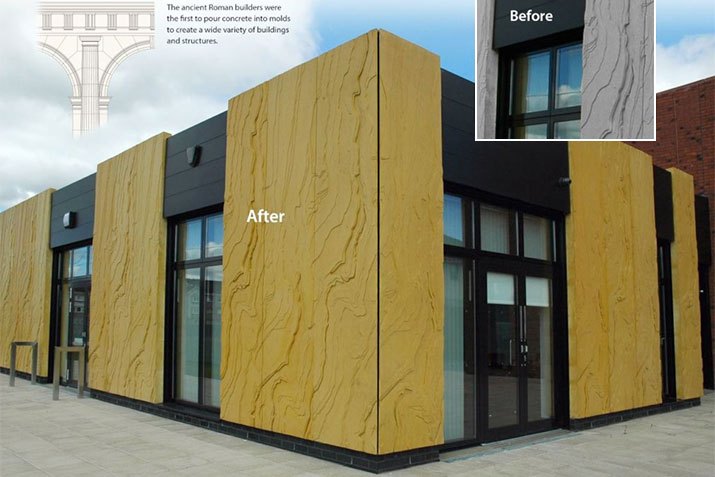 Precast concrete has been around since the Roman Empire. It continues to be a preferred construction method due to its strength, versatility, and efficiency. Nawkaw provides color solutions that are efficient and long-lasting too! NawTone® concrete stains penetrate and infuse concrete with permanent, zero-maintenance color, that won't fade, chip, or peel.
Color can be added on-site or at the precast facility
Low-VOC and Zero-VOC stains can help your project qualify for LEED credits
From opaque to semi-transparent, stains offer a tremendous range of colors and effects
25-Year Warranty on product and labor
Color Solutions for Adaptive Reuse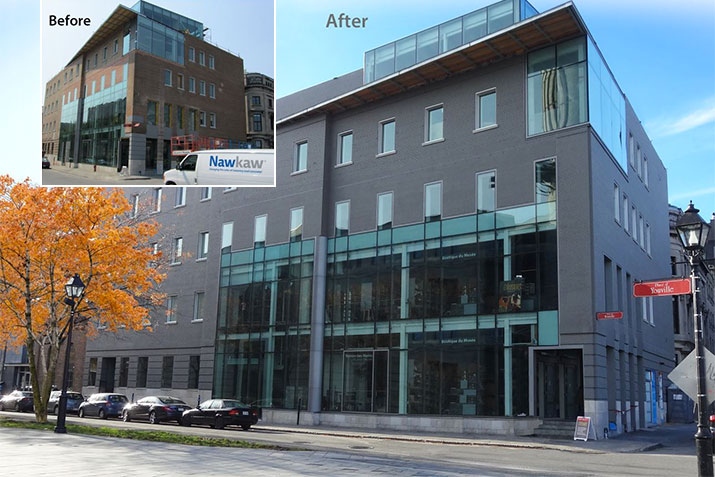 Communities are more enthusiastic than ever about repurposing existing spaces and adapting them for a variety of enterprises. It helps connect them to their history while providing functional spaces for work, play and life. NawTone stains are designed for use on brick, block, mortar, stucco, and natural stone. Whether a complete color change is specified, or a precise match is needed in a range of colors, our expert color technicians bring knowledge and artistry to the jobsite.
Revitalizing buildings, bridges, and other structures with color is a great way to ensure that urban areas—and communities—will thrive!
Company:

Nawkaw Corporation
Source: https://www.nawkaw.com/paint-vs-stain/
Tags: Brick | Color | Concrete | Exterior Design | Finishes | Masonry
---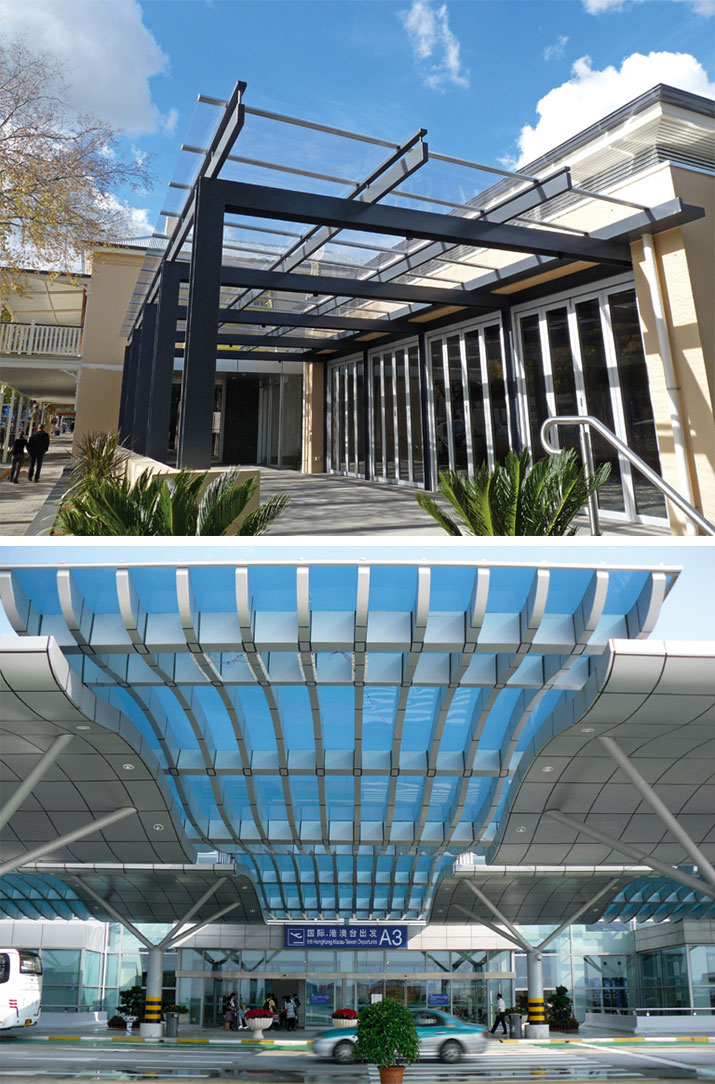 EXTECH is proud to offer SUNGLAZE™, a canopy system that offers smart design, elegant appearance, versatility and low maintenance. SUNGLAZE™ utilizes monolithic standing seam polycarbonate sheets to provide a sleek, modern canopy aesthetic.
SUNGLAZE™ incorporates proprietary standing-seam profiling and glazing that enable wide spans and high loading capacity. It can be specified in various lengths to match different structures, including flat and curved designs.
SUNGLAZE™ panels are available in clear or opal translucency, and can be provided up to 40 in length.
Further benefits and details Typical Applications
Glass-like clear appearance
Standing seam leak-proof performance
Free thermal expansion
Caulking and silicone free
Withstands high loads
Easy, fast and safe installation
Minimal maintenance
Typical Applications
Architectural projects
Commercial and retail
Sports venues roofing
Covered walkways
Open markets
Service stations
Entrances
Pool covers
Company: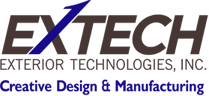 EXTECH/Exterior Technologies, Inc.
Product: Canopies
Source: https://extechinc.com/sunglaze-sleek-canopy/
Tags: Canopy | Exterior Design
---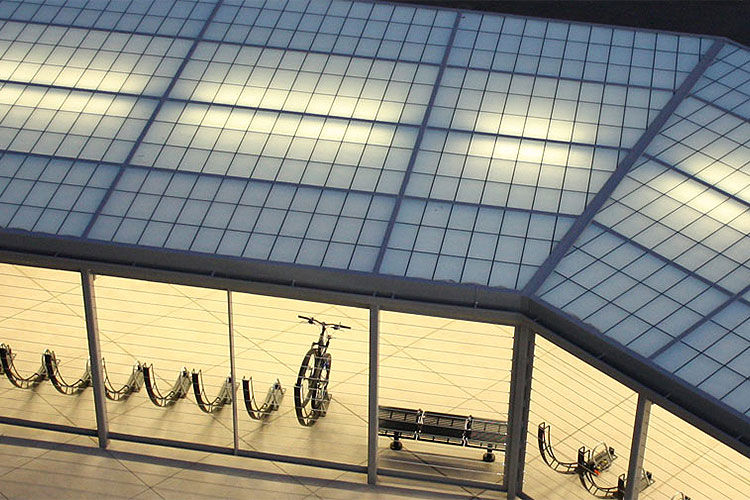 Common areas and entryways are an important element to consider when designing any space. In retail settings, attracting the attention of passers-by is key to maintaining business traffic, while commercial settings demand a space where occupants can gather while remaining sheltered from the elements. Offer them a bright, open and inviting space with a custom canopy from Major Industries.
Major provides a variety of glazing options that can help you make the most out of outdoor spaces.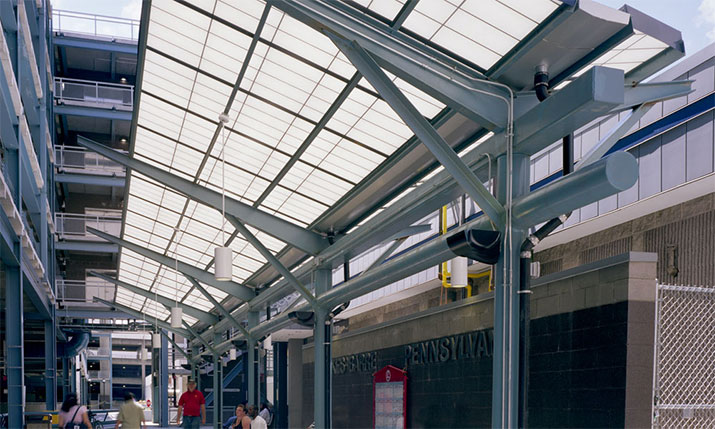 From lightweight and durable Guardian 275® translucent panel systems to more traditional glass systems to eye-catching TransCURVE™ curved panel systems and IlluminPC™ polycarbonate multi-wall options, we have the right canopy solution for your design considerations and budget. Whether you're looking for a simple single-slope solution or a complex and eye-catching polygon, all of our daylighting products feature advanced material technology for enhanced durability, and are backed by industry-long warranties.
Below are just a few examples of how Major's systems can be incorporated into a building's design, as well as their benefits compared to traditional opaque canopies and awnings.
Click here to view our gallery.
Entrances & Walkways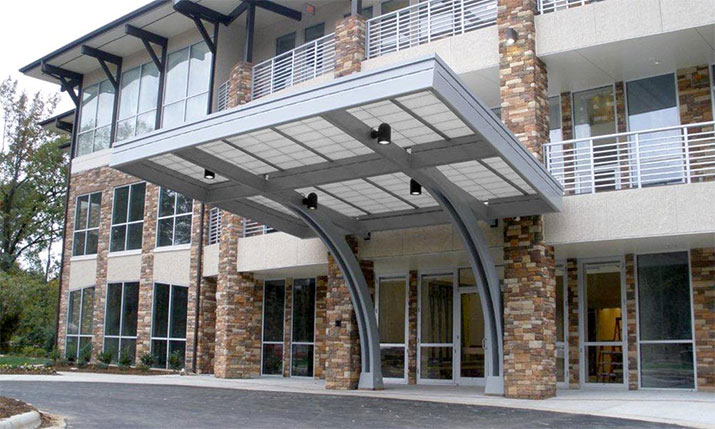 Welcome customers and protect them from the elements with an outdoor canopy or "pass-through" skylight that leads visitors into indoor spaces. Our translucent panel systems can also be utilized as a variety of attention-grabbing design elements, including covered archways and cantilevered awnings, and can be incorporated into your building's signage. Translucent panel canopies, when backlit during nighttime hours, also allow soft, diffuse light to pass through, attracting passers-by with a unique look.
Exterior Courtyards & Gathering Areas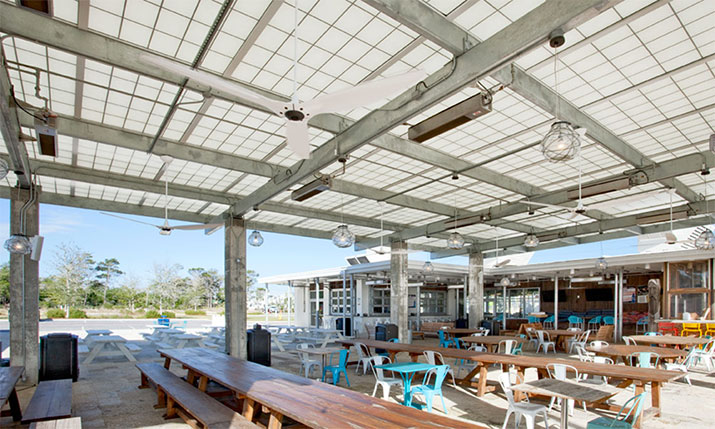 Outdoor common use areas are more welcoming when they're protected from the elements—but don't settle for a standard light-blocking system that forces you to use artificial lighting even during the middle of the day. Translucent panel canopies offer strong protection against the elements while allowing controlled natural light to penetrate the space.
Company: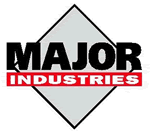 Major Industries Inc.
Product: Guardian 275® - Translucent Panel Skylights & Curtainwall
Source: http://majorskylights.com/products/canopies/
Tags: Canopy | Exterior Design | Skylights
---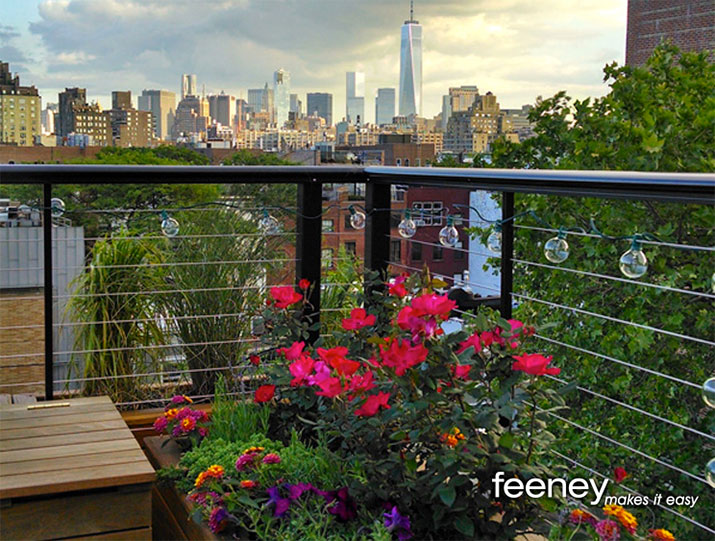 Black railing lets the eye focus on the foliage and the cityscape
In a previous post, we examined the pros and cons of railing infill alternatives. If an unobstructed view is a priority, the railing in-fill is usually glass or cable. Glass has its fans, but frequent cleaning can be a turn-off to some. Cable rail requires much less effort to keep up a fresh appearance.
However, both in-fill systems are identical in one respect: An attractive, durable railing system is required. In most applications, the strength, affordability, and beauty of long-lasting aluminum is the preferred railing choice. Aluminum also works well in interior or exterior applications.
But what about aluminum railing color?
Feeney offers 14 standard colors and over 200 custom colors for its DesignRail® aluminum railing system. To make sure the color holds up, especially in exterior projects, the aluminum railing receives a power-coated finish to the AAMA-2604 standard. That helps ensure color retention, impact resistance, and harsh weather protection.
With so many color choices, is there a one that especially supports an unobstructed view?
Absolutely, say Jason Russell, Tacoma, Wash.-based deck contractor and aka Dr. Decks®. In the doctor's professional opinion, one color stands out for an outstanding viewing prognosis.
"It's black," Russell says. "When you're sitting on your deck, admiring your view of the water, mountains, field, trees, or your neighbor's place, the less obstructed the better.
"You tend to look past darker colors, minimizing visual conflict. Lighter colors, like white, tend to draw the eye and distract. If you're framing glass or cable, all you see is that white aluminum frame." Says the 21-year deck-building veteran, "black helps avoid the distraction."
"I've heard some homeowners say, 'Okay, but won't a black railing look funny with my house?' I know curb appeal is important. But many homeowners become attracted to a railing color without thinking through what they'll really see when they're sitting on their lounge chair or the view from the kitchen. A black railing is better than being penned-in by a white or light-colored railing."
Russell cites another reason for his recommendation: "I live on the West Coast and black and other dark colors are trending hot. Black is my number one, go-to color."
Feeney customers agree. Black and Bronze Matte (another darker shade) top the popular colors list for the DesignRail® aluminum railing line of colors.

Company:
Feeney, Inc
Product: DesignRail® Aluminum Railings
Source: http://media.feeneyinc.com/blog/railing-color-a-hidden-choice
Tags: Color | Exterior Design | Landscape Design | Railing System | Safety
---
Vegas is all about the wow factor, especially in well-known casinos like Caesar's Palace. Stromberg was commissioned to produce themed elements on both the exterior and interior of the hotel.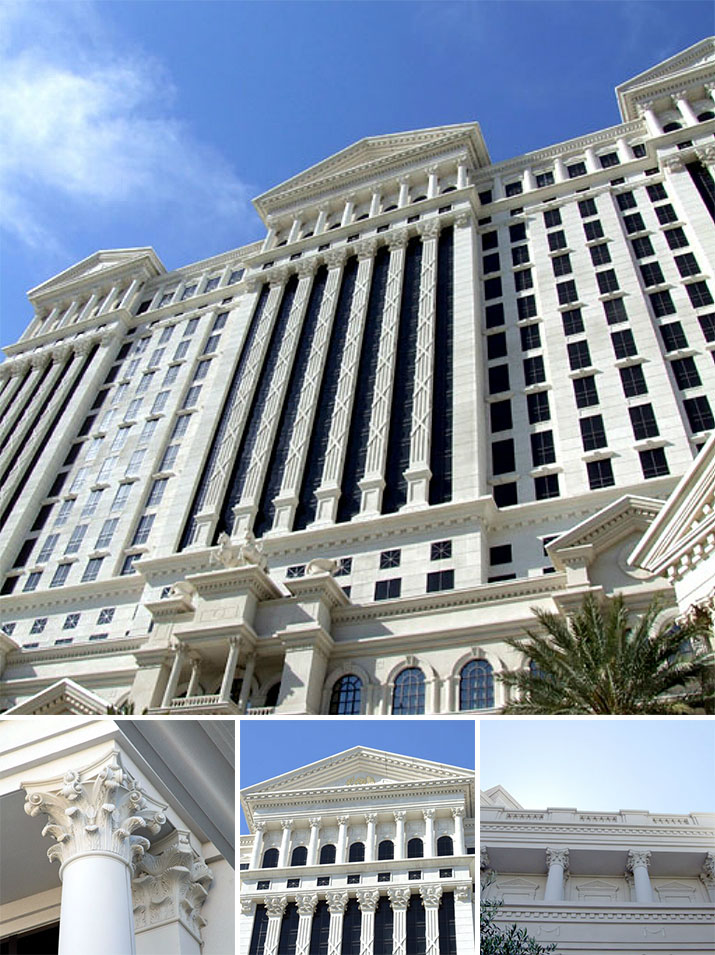 Some elements of note include:
Exterior Themed Elements
The world's largest columns and pilasters
Custom sculpted Roman statuary and bas relief panels
Fountains of GFRC (glass fiber reinforced concrete) and FRP (fiberglass)
Hundreds of assorted roman themed elements including massive brackets, trim, moldings, medallions, panels, etc, each elaborately detailed and skillfully molded
Custom cast finishes, including limestone, travertine, bronze, copper, wood and marble
Interior Themed Elements
In addition to the exterior GFRC and FRP, we produced artistically sculpted and molded interior cast elements including
Ceilings. GRG ceiling panels and intricately detailed ornamentation
Columns. Roman Corinthian, Tuscan and ionic columns in GRG
Domes. Beautifully crafted GRG domes and coffers
Sculptures in GFRG (glass fiber reinforced gypsum) and FRP, in keeping with the intricately detailed Roman style
About Casinos and Gaming
Stromberg has work featured in some of the world's best known casinos. Caesars Palace, MGM, the Mirage, the Venetian, Twin Rivers, Hollywood, Atlantis, Ameristar, etc. Over 80% of our business is with repeat clients who have come to depend on us for fast service, quality products and fair pricing. If you are an owner, architect, contractor or anyone involved in the design or construction of a gaming facility, we are here to help. We can provide preconstruction assistance with costing, design details, value engineering, art direction, mock ups, simplified attachment and custom finishing methods to make your job easier.
About Themed Construction
Doing themed construction the right way requires good design, quality materials and professional execution. While the designer creates the general scope and design, a quality themed contractor and fabricator ensures that all the little details work with the architects design intent. With 30 years of themed construction experience, we know that no matter how massive the project, the small details matter. From original concept to completion, our team will work with you to make the vision a reality. Whether your needs are a single themed element, or a massive themed project, we are here to help. Themed construction and themed elements are provided for casinos, themed resorts, museums, aquariums, zoos, themed exhibits, buildings, water parks, restaurants, etc.
Themed Services
Preconstruction Services
Budget estimates
Design development
Samples and mock ups
Scale models and maquettes
Value engineering
Art direction and design assistance
Themed Production and Construction Services
Shop drawings and engineering
Custom Sculpting
Models
Molds
Casting
Custom finishes. Stone, metal, stucco, wood, etc.
Installation
Project profile
Name: Caesar's Palace
Location: Las Vegas, NV
Dates: 1997
Materials: Glass Fiber Reinforced Polymer (GFRP)
Products: Exterior theming elements, including Fiberglass (GFRP) and glass fiber reinforced concrete (GFRC) Corinthian capitals, columns
Type: New construction
Company:

Stromberg Architectural Products, Inc.
Product: Columns
Source: http://www.strombergarchitectural.com/projects/caesar-s-palace
Tags: Architecture | Construction | Exterior Design
---
This deck got a face-lift with cable railing infill from Ultra-tec®. See the improvements in the before and after photos. Are you ready to upgrade your deck with Ultra-tec® Cable Railing? Request a quote now!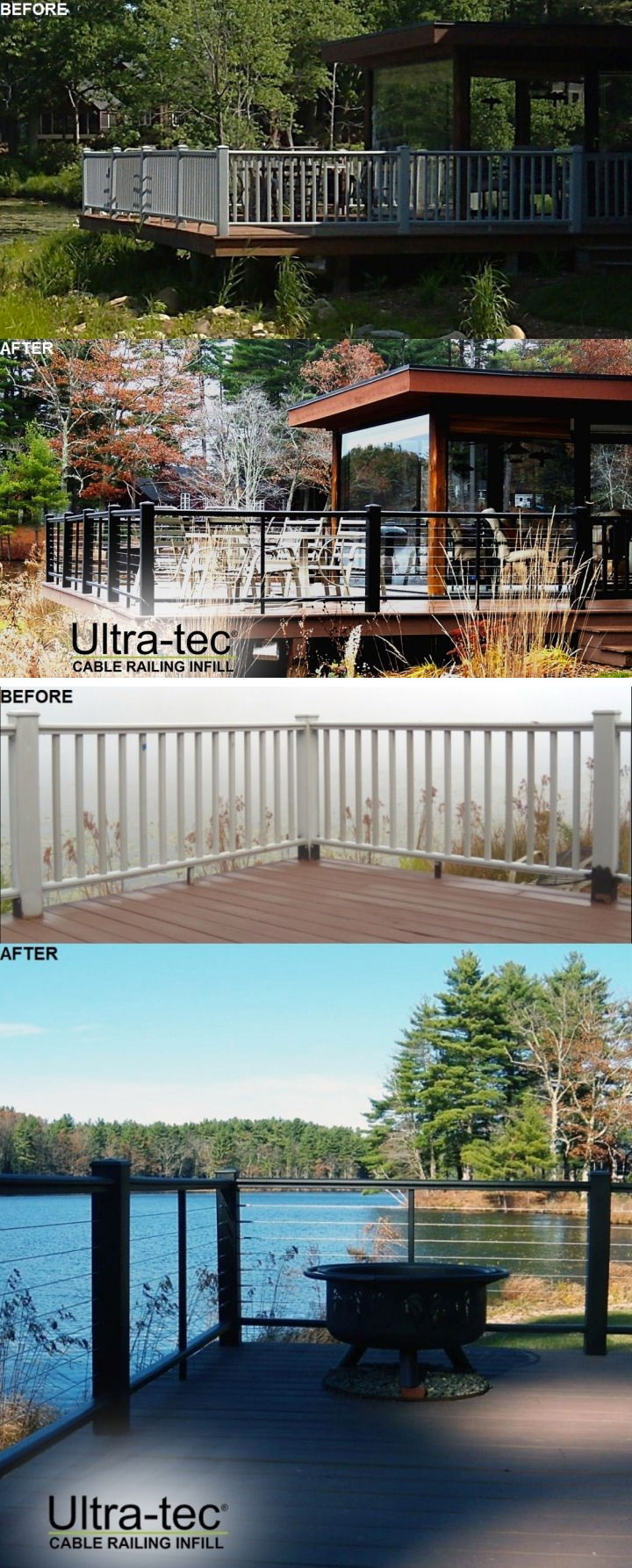 Company: The Cable Connection
Source: http://thecableconnection.com/ultra-tec/about/blog
Tags: Exterior Design | Railing System
---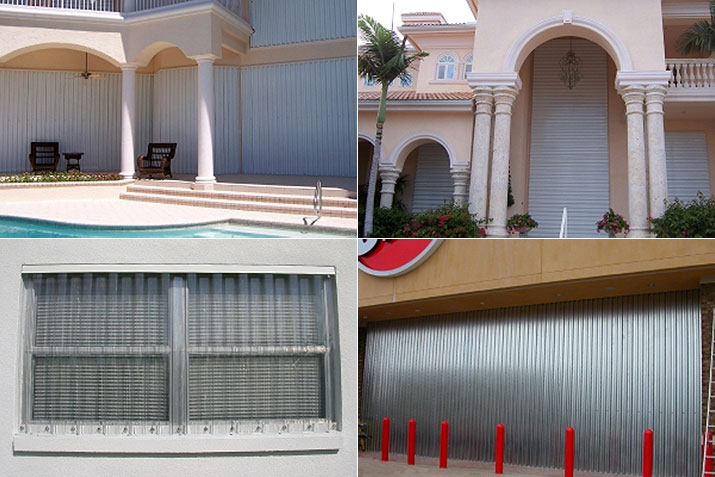 Removable storm shutters and panels are designed to be 'put up' in the event of a hurricane or storm by placing them into a pre-installed panel mounting system over a window, door, or other area to be protected. The mounting system may incorporate a 'direct mount' hardware combination, or a more convenient, header and sill track.
Economical and easy to use, these products protect against flying debris and water penetration associated with hurricane force winds. Additionally, panels are available in various materials to suit application and budget. They are typically taken down and stowed away when not in use. Designed with convenience and storage in mind, removable storm shutters and panels are a huge advantage and recommended alternative to cumbersome "homemade", plywood shutters.
Panels come in aluminum, galvanized steel or see-thru polycarbonate materials. Aluminum panels are typically used in residential applications for the inherent light weight. Steel panels are more commonly used on very large commercial applications such as storefronts. Where needed, Willard provides a clear polycarbonate alternative to allow light to pass though the storm shutter. While effective, clear panels pose some limitations over other materials available, and consultation is recommended before specifying.
Panels may be installed using washer wing-nuts or spring clips. Spring clips are made of ¾ hard, 304 stainless spring-steel. Preferred track mounting hardware is a 410 stainless steel, ¼" diameter Tapcon® typically provided with tracks. In direct mount or removable track applications, hardware shall be nickel-plated brass, or stainless steel machine screw in conjunction with brass insert.
In all cases, header and sill tracks are mill extruded, heavy duty, 6063-T6 aluminum alloy, and cut to specified lengths based on the number of panels to be used per opening. They are typically provided with pre-determined, "factory drilled" mounting holes to facilitate simple and accurate installation. The extruded aluminum tracks are mill coated with a modified, acrylic/polyester enamel and cured at 400°F. All mill coated finishes pass recommended ASTM and AAMA standards testing.
Key Features
Economical and simple
Can be made entirely removable
Easy to carry, put up, and store
Multiple materials and gages available to suit application and budget
Company: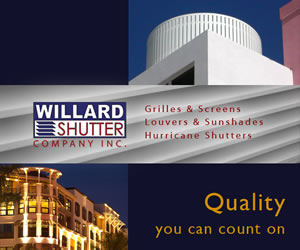 Willard Shutter Co., Inc.
Product: Removable Storm Shutters
Source: http://www.willardshutterco.com/products/removeable-storm-shutters.aspx
Tags: Exterior Design | Hurricane | Louvers | Safety | Windows
---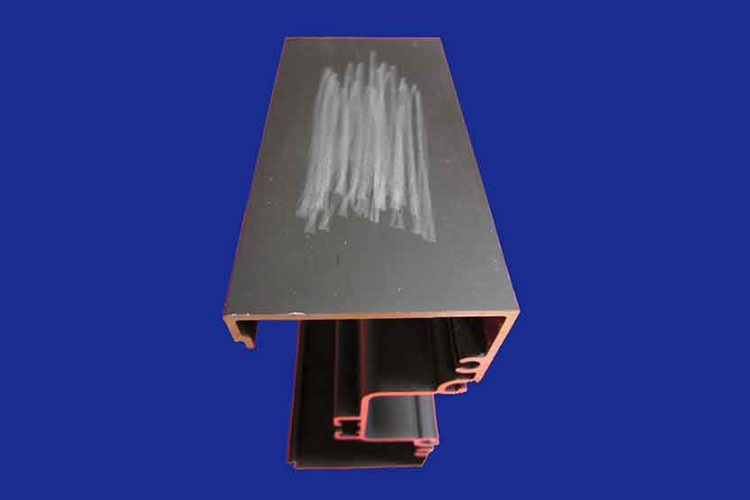 When extreme hardness is required for aluminum building components, such as in high-traffic areas, like entranceways and railings, an AAMA 611-14 anodized aluminum finish should be specified.
The hardness of anodized aluminum rivals that of the diamond.
This "Nickel Test" demonstrates why a Class I high-performance anodize coating is the perfect choice for exterior architectural applications.
LINETEC'S ANODIZE
Architectural Class I Anodize
Class I anodize is used on the exterior of architectural projects. It has a higher mil thickness than Class II anodize; it is more resistant to salt spray and the sea coast; and it is more durable in high traffic areas.
Class I anodize, with a minimum mill thickness of 0.7 (18 microns), can be a suitable choice for coastal climates as it possesses exceptional resistance to corrosion, discoloration and wear; however, its natural beauty can be marred by harsh chemicals, rough conditions or neglect. These conditions may only affect the surface finish and not reduce the service life of the aluminum, but mortar, cement, and other alkaline materials will quickly corrode an anodize finish if allowed to dry on the metal surface.
Class I anodize meets or exceeds all requirement of AAMA 611 "Voluntary Specification for Anodized Architectural Aluminum.
Linetec utilizes a more eco-friendly etching method within the anodizing process. Eco friendly anodize improves the finishes ability to hide small defects in the the aluminum and works exceptionally well with recycled billet. ;
Read more
Copper anodize offers the look of rich, real copper without such shortcomings as salt run-off stains, galvanic corrosion and patina. This unique and consistent process involves using actual copper to color the aluminum while isolating the copper in the coating.
Read more
Company: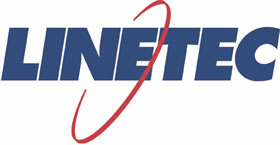 Linetec
Product: Anodizing
Source: https://linetec-blog.com/2017/08/16/anodize-nickel-test/
Tags: Aluminum | Coating | Exterior Design | Metal
---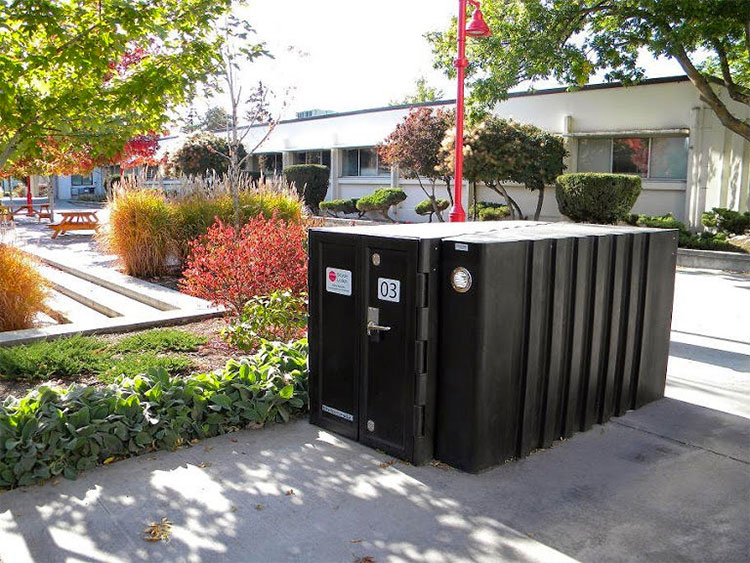 Bicycle lockers offer ideal protection against weathering and thieves
Keep your bicycles safe from thieves—and other threats you may not have considered
Because of the health benefits and cost savings it provides, cycling continues to grow as a form of transportation. But as the number commuters who cycle increases, so too does the demand for secure bike parking. Providing safe options will increase traffic to your location, but there are a lot of considerations to make when choosing what form is right for your building. Whether you are managing a business park, apartment complex, or office tower, you must recognize the vulnerabilities present at your site. There are more threats than just thieves out there, and in many situations, providing the optimal level of security will require more than a traditional bike rack can offer.
When deciding on the appropriate level of bike security required, the first questions that should be asked are how long the bikes need to be stored for and how frequently they will have eyes on them. These two questions address the two potential threats to bicycle security most commonly forgotten when deciding what type of bike storage unit to install: the elements and vandalism.
Damp weather can quickly wear at a bike's mechanisms and finish, and bikes stored in areas not regularly frequented are not only more likely stolen but also defaced. This means in high-traffic areas where bicycles are only secured for a few minutes at a time, like a store front, a traditional bike rack will provide an adequate level of security. But in isolated areas where bicycles are stored for long periods of time out of public view, such as schools, gyms, transit terminals, and theatres, a higher level of protection is recommended.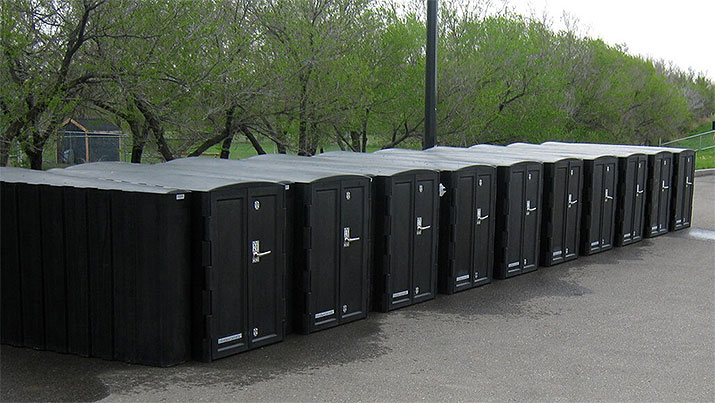 The wedge-shaped design allows individual bike locker units to fit together easily.
A fully enclosed bike parking infrastructure is best for these settings; bike lockers offer the optimal level of security. A bike locker is a compact and durable storage unit with box-like construction that prohibits contact from would-be thieves and vandals. Bike lockers can be considered "mini garages" for bicycles and they providepeace of mind in ways a standard bike rack cannot. Many models are also designed to prevent moisture entering. Most models feature a solid door-locking mechanism and feature enough room to protect additional equipment such as helmets, lights, water bottles, and pannier bags.
While bike lockers have been popular in urban cities across Europe and parts of Asia for some time, the market has just started to grow in North America. Bike lockers are now available in many designs, ranging from the rectangular box-type, to the triangle-shaped type, where the widest part accommodates the bicycle's handlebars. Many designs also feature components that allow multiple lockers to be formed into a modular arrangement.
Installation requires very little in terms of mechanical ability, and if a concrete base or footing is available, it can usually be completed within minutes. Bike lockers are generally held in place with washers and bolts that pass through the locker's floor and into a concrete anchor that sits in a hole drilled into the concrete base or footing. In most cases, all that is required to secure a bike locker is a drill with masonry bit and a wrench to tighten the lug bolts. Bike locker maintenance is also very easy. Polyethylene units can endure any weather nature throws their way with minimal wear-and-tear to the bike locker. Both plastic and powder-coated metal units can usually be cleaned with only warm soap and water.
Bike lockers are not only good for people and the environment, but they are good for business. They do require a more substantial initial investment than traditional bike racks, but the peace-of-mind security they provide also attracts the business cyclists. Some facility managers have even offset the initial purchase cost of bike lockers by renting the units.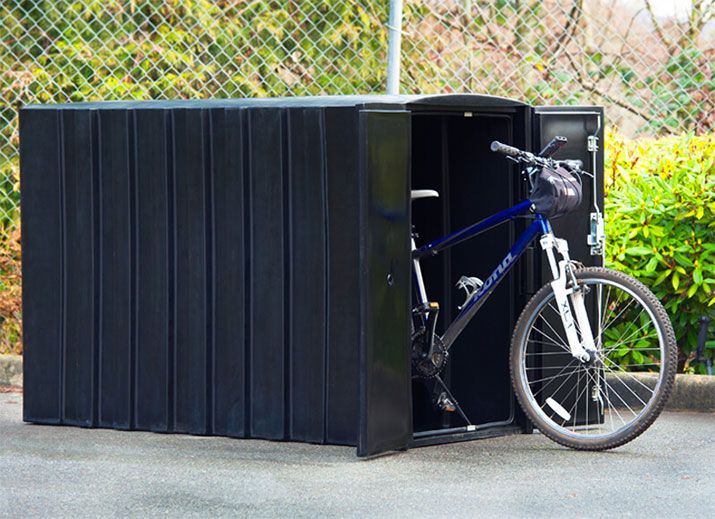 These low-maintenance bicycle lockers are made with low-density durable polyethylene.
As the urban landscape changes and an increasing number of urbanites eschew driving a vehicle in favour of a bicycle, the demand for storage solutions that are both weather and vandal proof will continue to grow. Traditional racks may be the right solution for many applications but many vulnerable areas require the increased level of protection that can only be provided by bike lockers. Keeping building occupants happy, easing vehicle parking demand, and preventing property damage will require the correct decision by facility managers.
Company: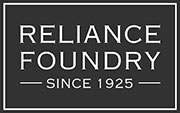 Reliance Foundry Co. Ltd.
Product: Bike Lockers
Source: http://www.reliance-foundry.com/
Tags: Exterior Design | Furniture | Landscape Design | Safety
---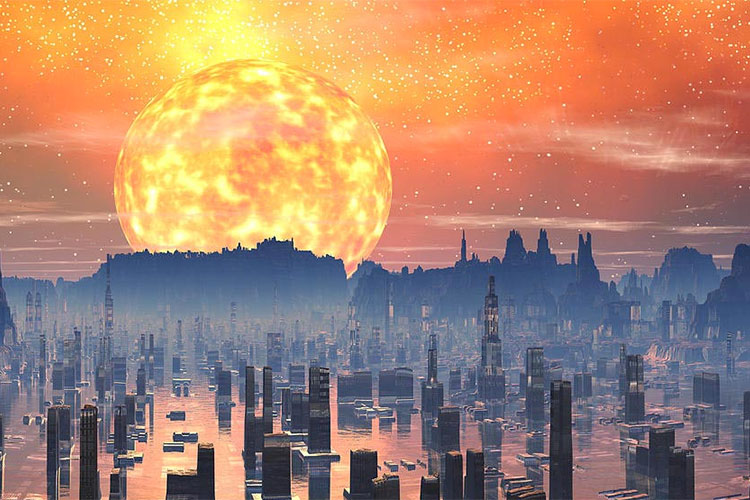 With the effects of global warming upon us, architects and building owners need to mitigate its impact in the built environment. This is not a new idea, but the necessity for design that protects against volatile weather, rising temperatures, and insect-borne diseases is now more pressing than ever. Last year, the U.S. Army Corps of Engineers created the Building Resilience website, a tool that connects community planners, home builders, architects, and engineers with building science, climate data, and community resilience resources. This is crucial information designers and building owners need if they want to confront the effects of climate change.
As daylighting manufacturers, we have some thoughts on how daylighting can be used to reduce the impact of global warming on the built environment.
Daylighting that can withstand Severe Weather
Because of global warming, weather events like hurricanes, flooding, and tornadoes have become more powerful (Superstorm Sandy in 2012 and Supertyphoon Haiyan in 2013 have both been partly attributed to global warming).
But just because nature has become more dangerous doesn't mean we should barricade behind steel walls. Instead, robust daylighting systems should be utilized. By incorporating daylighting into architecture, occupants remain connected to the outdoors, and the structure reduces its carbon footprint.
It's important to use daylighting systems and materials that possess excellent water weepage and can withstand high wind loads. These attributes will be determined by the system's glazing and framing.
Polycarbonate is one of the best forms of glazing when it comes to strength and durability, and it by far outperforms glass (polycarbonate is 250 times more resistant to impact than safety glass), as well as fiberglass reinforced panels, or FRP (polycarbonate is 4 times more resistant to impact than FRP).
Additionally, the system framing must have elements that facilitate excellent water control and leak resistance, like properly placed weep holes and water stops. An example of a highly resilient daylighting system is EXTECH's LIGHTWALL 3100LSpolycarbonate wall system, which meets ASTM E-1886 and E-1996 tests for hurricane impact / windborne debris at clear spans of 8 feet. It is an excellent daylighting product in the face of torrential weather.
Protection Against Intense Heat
With global warming comes rising temperatures. Data has uncovered a long-term warming trend, and at this rate, temperatures could rise as much as 8 degrees by the end of this century (though that does not sound like much, a global increase in this scale would have dire outcomes). Even if carbon emissions worldwide are drastically cut, escalating temperatures are a factor humans must face.
With warmer temperatures comes the threat of increased solar heat gain (the temperature inside a structure that results from solar radiation). If precautions are not taken when choosing the daylighting glazing, people will either bake in a convection oven, or the cooling system will have to run at non-stop full capacity – neither choice is ideal. To protect against these scenarios, glazing that blocks infrared rays is recommended for daylighting structures. Polycarbonate is one of the few materials that can effectively and economically block infrared radiation.
Though humans can take many actions to reduce global warming, its effects will never be completely vanquished; mitigation is the only way forward. By accepting this, architects and building owners can be a leading force in climate change preparation – if they have the foresight now to build structures that deal with global warming's impact, humankind will be safer, happier, and quite possibly, live to one day stop climate change for good.
Company: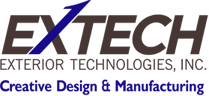 EXTECH/Exterior Technologies, Inc.
Product: Translucent Walls
Source: https://extechinc.com/global-warming-how-architects-building-owners-can-prepare-the-world/
Tags: Energy | Exterior Design | Lighting | Louvers | Sustainability | Wall Panels
---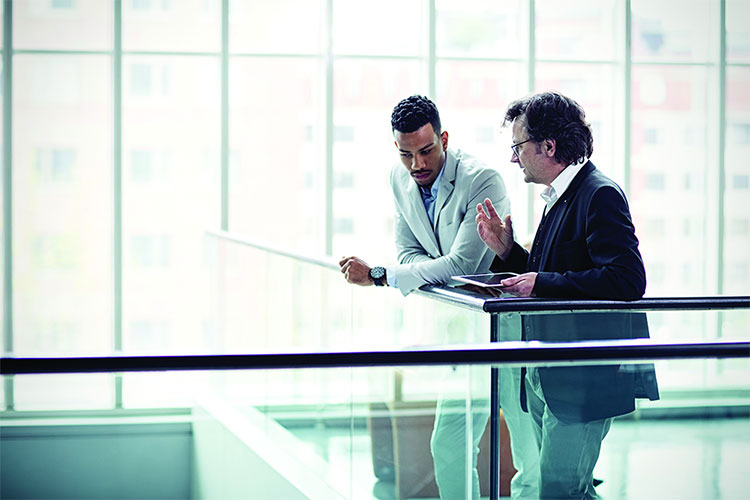 Today's security entrances can last 10 years or more, so your organization can go years without installing a single new entrance. This fact alone intensifies your need for a great experience during the buying process and beyond, so that you are assured the right entrance to meet your needs for years to come. How do you better your chances for such a great experience? Here are 10 factors a manufacturer should offer to create a stellar 360-degree customer experience.
Going global
Can the manufacturer deliver a premium service experience and quality entrance solutions on a global scale? Such a company will have manufacturing facilities around the world in strategic locations as well as subsidiaries and partners. Is there only one factory in China? How long does product delivery take compared to a regional/local manufacturing plant and how much of a premium is there on shipping everything from overseas?
Who you gonna call?
Most manufacturers have regional sales managers and that person is your initial main point of contact. Look for a manufacturer that has a large number of direct employees (not manufacturer's reps) in this role that have small territories so you get the attention you deserve. They can help you determine the right entrance for your specific security needs and even conduct a site walk in person.
Working like machines behind the scenes
The best firms have an inside sales/customer service team to manage your entire order from PO to shipment directly within the manufacturing facility. Ask if you will be assigned a dedicated representative that will communicate with you proactively, check your order for accuracy, liaise on your behalf internally about customizations, and keep you updated on production lead times and shipping timelines.
It's all about location, location, location
A manufacturer with a factory that shares the same continent with you has several advantages. They employ highly trained assembly technicians and source materials locally (lower costs than importing and lower carbon footprint). They also can conduct quality assurance in-house and will have better control over the finished product. Finally, you get faster lead times and lower freight costs.
Expect no surprises
Is there an in-house installation management team that works to ensure no surprises come up during the product installation? The best such teams will walk you through the scope of work so you are aware of exactly what the installation process entails. They also prepare the onsite contractors and installers to receive and properly install the entrance solution.
A second pair of eyes
The best companies will have a team of field service technicians around the country who are available, upon request, to check each entrance after installation for proper operation. The technician can also verify the entrance integrates properly with other components of the building, e.g., fire alarms and access control systems.
Back up and running in no time
How quickly can you get your issue resolved while potentially hundreds of people are being diverted to another entrance? Ask for an organizational chart for the Technical Support department: it should be robust, indicating investment in expertise and customer satisfaction. Ask if they measure their same-day call resolution percentage and parts fulfillment percentage.
Technical training for tuned-in teammates
The last thing you want is the repair call where, upon arrival you hear, "I've never seen this type of turnstile/door before." Where is the nearest service partner located? What kind of technical training resources does the manufacturer provide to educate and certify its service partners? Is there a dedicated full-time role or staff that educates and certifies the installer on the solution you've selected? The goal of the best training programs must be to prepare local partners for flawless installation.
Regular assessment of your investment
Look for some kind of preventive maintenance plan (PPM's). It's an optional service that brings in-house factory expertise to your site to perform annual and bi-annual maintenance checks on your entrance. PPM's ensure the longevity of your asset for maximum ROI.
Same experience, every time
With top, global manufacturers, you can save money, decrease time spent on training, and improve efficiency by planning and executing the same, high quality product line to all your building locations around the world. Being able to standardize on one manufacturer across your entire organization is a huge advantage in cost and time savings.
Company:

Boon Edam Inc.
Product: Security Doors & Portals
Source: http://blog.boonedam.us/you-deserve-to-be-delighted-10-essential-elements-to-look-for-in-a-security-entrance-manufacturer
Tags: Entrances | Exterior Design | Interior Design | Security
---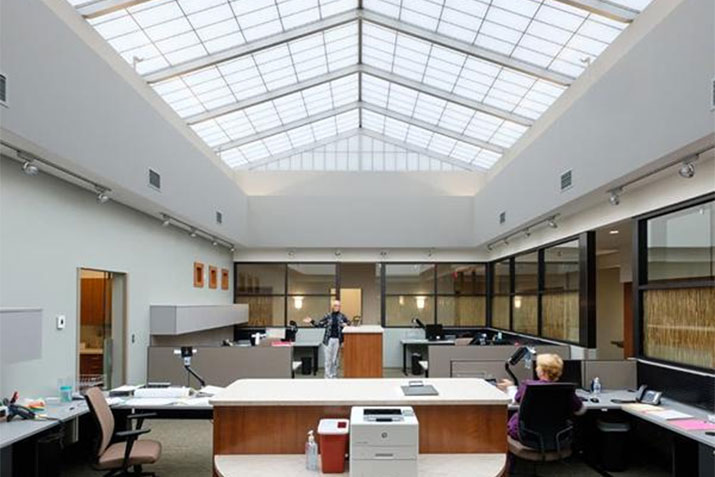 Images courtesy of DSGW Architects and Weston Imaging
Daylighting can be dramatic… and it can also be a hassle. Too much direct light can cause glare and hot-spots, leading to eye strain and an uncomfortable environment for building occupants. But there is a way to control solar heat gain and diffuse direct sunlight, making for a bright, evenly lit space that welcomes visitors and creates a more comfortable work and learning environment. What's the solution? Translucent panel daylighting systems!
When designing the new Lac Vieux Desert Health Center in Watersmeet, Michigan, DSGW Architects met with Indian Health Service staff, tribal community members, clinic staff and providers, clinic task force members and the Tribal Council to help define and create a health center that includes 12 exam rooms, two procedure rooms, a nine-chair dental suite with lab services, retail pharmacy, imaging suite, clinical lab, chiropractic and physical therapy department, optical department, behavior health and family services, a community gathering room and more.
An integral part of the space is natural light – from both windows and skylights. A Guardian 275® skylight, as shown in the image above, helps bring light to a nurse's station where uncontrolled light could cause an uncomfortably hot work environment and wreak havoc on computer screens. It also lessens the need for artificial light sources and makes for an inviting and welcoming space. (Not to mention the numerous studies that show access to natural light is beneficial to both staff and patients in healthcare environments.)
What can a translucent skylight do for your space? Call and talk with one of our staff members for more information @ 888-759-2678.
Company: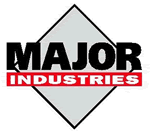 Major Industries Inc.
Product: Guardian 275® - Translucent Panel Skylights & Curtainwall
Source: http://majorskylights.com/2017/06/project-spotlight-work-friendly-daylight/
Tags: Exterior Design | Interior Design | Skylights | Windows
---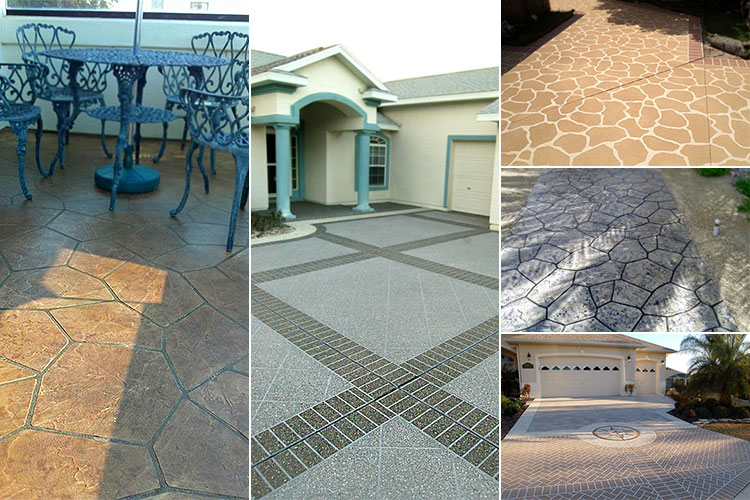 Stenciled concrete is a great option for pool decks, patios and driveways
How can concrete become brick? Or be turned into fan-shaped cobblestone? Or have your company logo "painted" on? The answer to all of those questions is stencils. Stenciled concrete is popular for exterior surfaces like driveways, patios and pool decks because there are a lot of varied patterns available, and they are pretty DIY friendly.
Plain concrete is no longer interesting to homeowners who have seen the creative design options on Pinterest and the home and garden TV shows. Concrete that has a pattern, in different colors and shapes, enhances property value of the property. Concrete that is already in good shape can be stenciled in any design and sealed to make the surface long-lasting. Stencils are easy to install—a dedicated DIY-er can do it themselves and be successful, and contractors can make very good profit.
Many companies sell stenciled concrete patterns. These are available in classic patterns like herringbone brick or the fan-shaped cobblestone patterns of European streets. Design companies also sell stencils that can be cut using high-tech CNC machinery that can be made in any specification—your monograms, a company logo, a horse for the driveway of a stable, or wine grapes for the floor of a winery tasting room. The options are endless!
Next time you see a patio, pool deck or driveway with a beautiful and intricate pattern on top of concrete, take a closer look! It's likely a stencil. Many patterns can be cut into concrete with concrete saws. For large-scale concrete, such as courtyards and plazas, colors can be mixed into concrete as it is poured. But for details such as brick edging, a pattern that looks like Ashlar slate, herringbone brick, or even octagonal tiles, it's often stenciled concrete.
Use a product like Duraamen's Uberdeck polymer-modified, concrete overlay or Skraffino Portland cement skim coat to the top of concrete you already have. First, apply the stencil pattern. Then apply the concrete coating in the colors you want. It can be that simple to have a durable concrete surface that looks brand new!
Please click here to learn the detailed installation process.
Company:
Duraamen Engineered Products Inc.
Source: https://www.duraamen.com/blog/stenciled-concrete-for-your-pool-decks-patios-and-driveways
Tags: Coating | Concrete | Exterior Design | Floor
---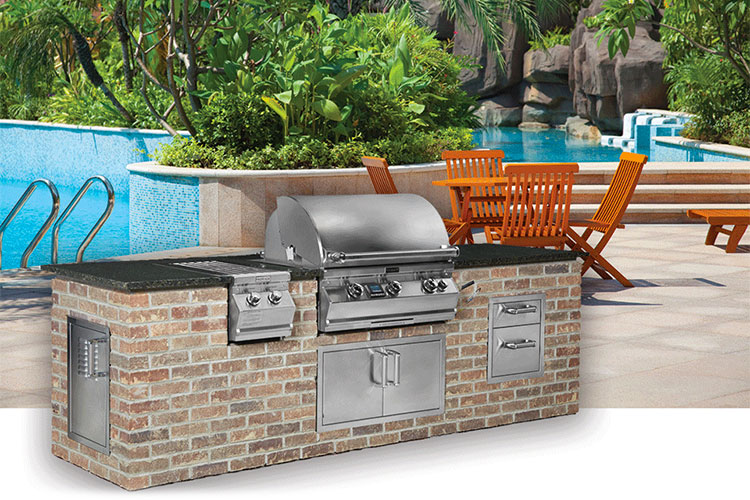 Transform your yard, patio, or outdoor cafe into majestic gathering places with these beautiful brick outdoor entertainment pieces. Crafted from quality and made to stand up to the elements, these distinctive furnishings are meant to be enjoyed season after season. Choose from a variety of rich-color tones and eye-catching textures for your uniquely manufactured outdoord living product.
Fire Pits
Mailboxes
Outdoor Grills
Trash Containers
Fence Posts
Pizza Ovens
Custom Laser Cut Signs
Fireplaces
Company:
Belden Brick Co.
Product: BrickScapes Outdoor Living Products
Source: http://www.brickscapes.co/outdoor-living-products/
Tags: Exterior Design | Landscape Design
---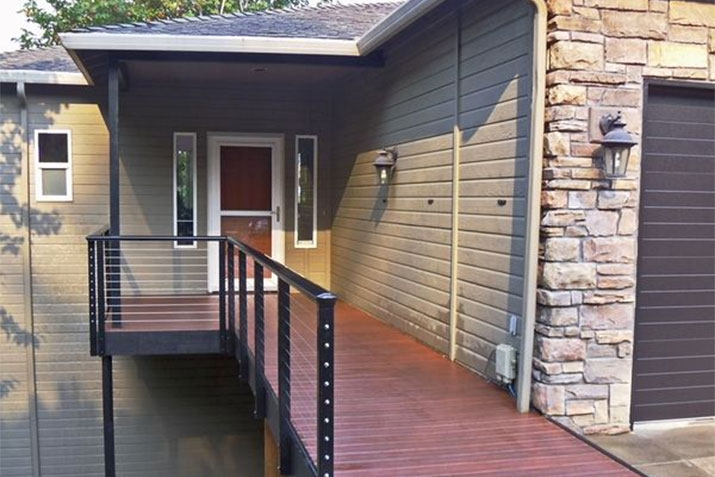 The shaped Aluminum Top Rail used in this photo captures the perfect look for this home in Happy Valley, OR.
Signature line of uniquely reinforced aluminum posts, matching top rails, and inline handrails. All aluminum products are available in five color options: black, bronze, white, natural, and clay.
These uniquely designed aluminum posts and top rails offer an economical alternative to our stainless steel and premium wood frame options, without compromising architectural resilience. Designed specifically for cable railing applications, these products are reinforced to have greater strength and durability than standard aluminum posts. With two top rail options, a handrail that can double as support for a wood top rail, and five color options, this line offers the greatest number of options.
Five powder-coat color options: black, bronze, natural, clay, and white
Two top rail design options: rectangular or shaped
Posts are available for 36", 42", and custom height systems and can be deck, fascia, or core mounted
Posts are compatible with any of our assemblies and can be ordered pre-drilled. Grommets are recommended to keep the stainless steel cables from reacting with the aluminum.
The aluminum handrail runs between posts for use in any system regardless of shape or slope. Can be used as a standalone, inline, or stair handrail.
Handrail can also be used as inline support for a wood top rail.
Company:

Stainless Cable & Railing Inc.
Product: CableView® Aluminum Cable Railing System
Source: http://stainlesscablerailing.com/cable-railing-happy-valley-oregon.html
Tags: Aluminum | Exterior Design | Landscape Design | Railing System
---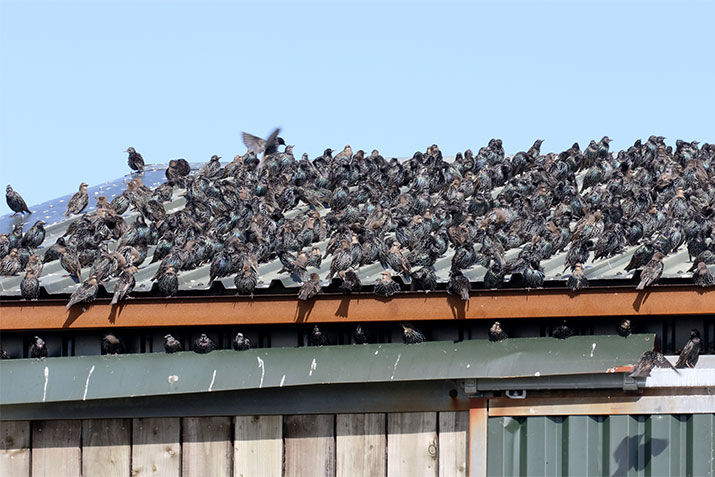 European starlings cost growers as much as $800 million in the US annually. The loud, obnoxious, destructive birds steal grain, ravage crops and crowd out native bird species. The problem is that starlings move in vast numbers, which often descend on a field, orchard or grain area. A migrating flock of starlings can number 100,000 birds. Another problematic factor is that starlings now have fewer natural predators to keep their numbers in check.
Attacking Grain Fields
As highly aggressive omnivores, European starlings compete with native fauna for food. Open bill probing is most commonly used to feed on ground invertebrates, which is their preferred food. In new grain fields, starlings will pull up young plants and eat the seeds.
Extensive Fruit Damage
Starlings will typically assault a wide range of crops, including strawberries, blueberries, grapes, tomatoes, peaches, figs, apples and cherries. Fruit damage is often caused by younger birds, which have underdeveloped probing skills. It is not uncommon for a flock of 4,000 starlings to cause major loss of revenue in a large vineyard in a week's time.
Problems Around Livestock & Poultry
Starlings create formidable problems for livestock and poultry facilities, congregating at feed troughs and diminishing supplies of livestock feed—1,000 birds can consume 100 pounds of grain a day. Starlings can contaminate food and water sources with their droppings, carrying parasites and diseases, including E coli, from farm to farm. These diseases are transmissible to livestock and people, including TGE (transmissible gastroenteritis—a swine disease), blastomycosis and salmonella. Starling droppings can also contain the fungus histoplasma capsulatum, the cause of histoplasmosis in humans.
Nesting Problems
Starling nests built into building cavities can pose a fire hazard. New nests are typically added to old, compounding this combustible materials hazard. When starlings enter buildings to roost and nest, they create sanitation problems; when they nest in farm equipment, they create fire hazards. Their droppings carry ticks and mites, and they are highly acidic, eating into paint and degrading the strength and structural integrity of many materials, including infrastructures and roof linings. The sheer amount of droppings together with their chemical action can damage and kill trees and any vegetation underneath.
Humane, Effective Starling Deterrents
Getting rid of flocking birds can pose a challenge, since many birds are protected by law and cannot be killed or injured. Growers and farmers have found that the only viable solution is to use humane, proven effective bird repellents. This is where the bird control pros at Bird B Gone can help.
Agrilaser® Lite for Farms, Fields, Warehouses
Employing advanced, patented optical laser-beam technology, the Agrilaser® Lite harmlessly repels flocking birds over great distances—up to 2,500 meters. Developed with the help of farmers and ornithologists, the Agrilaser® Lite is animal friendly and ideal for repelling a variety of birds. It is most effective during sunrise and sunset, and in overcast, rainy or foggy weather conditions. The Agrilaser® Lite comes with two rechargeable batteries and a power charger.
Heavy Duty Bird Netting
Ideal for sealing out birds from specific areas around a warehouse or storage facility, Bird B Gone's Bird Net 2000 Heavy Duty Bird Netting is made of a tough UV-stabilized polyethylene mesh. This durable netting is rot proof, water proof and flame resistant. It's also ISO 1806 and 9001 Protocol mesh tested, temperature stable (-250F to 270F), and non-conductive. It comes in stock sizes and custom cuts up to 200 ft. The ¾" mesh is ideal for blocking out small birds like starlings. The netting is backed by a 10-year guarantee and comes in black, stone or white to blend in with its background.
Solar Bird Chase Super Sonic
This weatherproof sound deterrent is recommended for deterring birds from large open spaces. It broadcasts pre-recorded distress and predator calls that intimidate as many as 22 species of birds. Ideal for deterring birds from lofty or hard to reach areas—like rooftops, trees and open fields, the device is programmable and comes with a built-in speaker that will cover up to an acre (additional speakers can be added to boost range). Because it's solar powered, no AC access is needed, so it can be placed wherever pest birds gather most often.
Ask the Experts
If you're unsure about which product would work best for your specific situation, Bird B Gone has over 100 years of combined experience in the field of bird control. We can help you with product selection, installation and cleanup. Just call us at (888) 570-0360 for a catalog, pricing, or product samples or email us at nobirds@birdbgone.com. We also work with a network of authorized installers, call today for a trained bird control professional in your area.
Company:

Bird-B-Gone, Inc.
Product: Bird Netting
Of: Alex Kecskes
Source: https://www.birdbgone.com/blog/starlings-grainagriculture-industry/
Tags: Exterior Design | Landscape Design | Roof | Safety
---

Regardless of its durability, no architectural finish is completely maintenance-free. Periodic cleaning is needed and, in such cases, on-site repair and restoration may be necessary. Here are five things to keep in mind when looking into on-site finishing services:
Start at the source
Whether it is graffiti removal, premature paint chalking and fading, or an anodized surface needing to be refinished, begin by talking to the original finisher to see if they can correct the issue with their on-site team. If this isn't a practical option or they don't offer field repairs, please contact us to discuss a plan for restoring your finish to its intended appearance
Go with the pros
For any large refinishing project, consult a professional service. On-site restoration and repair of sizeable architectural projects require specialized equipment and knowledgeable professionals. As projects like these typically are performed on occupied buildings, an experienced partner also can help minimize disruptions with appropriate scheduling and communication.
Performance counts
Ask if the coatings being applied during restoration and repair meet the American Architectural Manufacturers Association (AAMA) specifications of the original finish application. One solution may be a PVDF resin-based air-dry coating that is field-applied by a qualified, professional finisher. Developed to meet green building criteria, these tough properties of these coatings resist marring and abrasion, and require little maintenance.
Take care with touch-up
For minor scratches and blemishes, some applicators may supply a limited amount of touch-up paint. These are fairly easy to apply, but remember that they are only intended to cover a small area. It does not have the adhesion or durability of factory-applied coating, and will deteriorate at a faster rate. For best results, follow all instructions that come with touch-up paint and use it very sparingly. Also, when applying touch-up, use extreme caution as excessive use may void the original finisher's warranty.
Know your warranty
On-site project warranties vary greatly depending on the project and situation. If the issue being repaired is an applicator or manufacturer issue, the warranty most often will parallel the manufacturer's factory warranty. For field repair and restoration work unrelated to a factory-applied issue, warranty options may be applicable depending on the base metal condition, base finish condition, site location or type of damage. Read carefully to understand the terms and timeline.
Learn more about Linetec's on-site repair and restoration services by clicking here. For personalized assistance or to request a site visit, please contact Linetec's field service manager, Dale Robinson, by emailing fieldservice@linetec.com or calling 888-717-1472.
Company: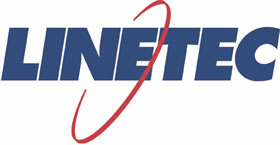 Linetec
Product: On-Site Field Repair and Restoration
Source: https://linetec-blog.com/2017/06/14/5-things-to-know-about-on-site-finishing-repair-and-restoration/
Tags: Architecture | Exterior Design | Finishes
---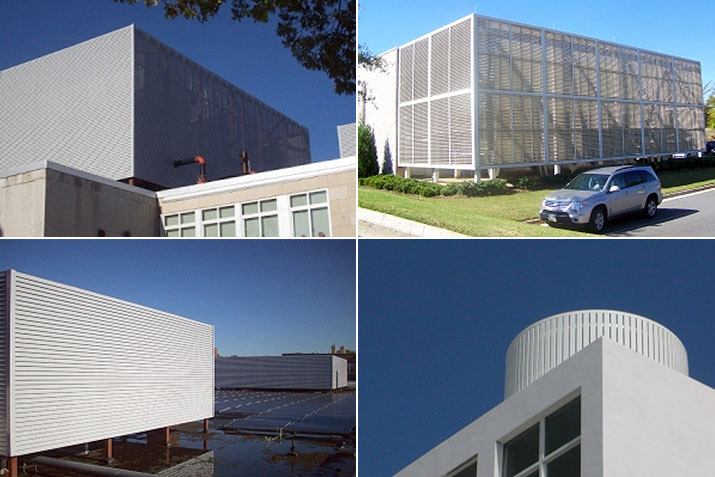 The EconoSpan® louver and screen system is a continuous, "free-standing" louver product comprised mainly of roll formed louvers that snap firmly onto "double-gripped" stringers or posts installed on pre-determined intervals. This system is ideal for roof top equipment screening or other applications with large areas requiring concealment and ventilation. It is available in two major styles: Pitched Louver (both 45° and 22-1/2° pitches) and Flat Picket (both horizontal and vertical orientations).
Along with being very attractive, it is also one of the industry's most affordable systems. Using standard production components, the EconoSpan® system is designed and manufactured as required to be installed on a supporting structure. This allows the supporting structure to be provided locally, based on local code requirements*, yielding further cost savings. This simple "knock-down" product design allows it to be shipped as a kit in relatively small crates with step by step installation drawings making it convenient, simple and relatively quick for general contractors to install.
EconoSpan® 45° Pitched Louver
Reinforced, 45° pitched stringer
60% free air flow
Slat pitch direction may be inverted
EconoSpan® 22.5° Pitched Louver
Reinforced, 22-1/2° pitched stringer
30% free air flow
Slat pitch direction can be inverted
EconoSpan® Flat Picket
Vertical or horizontal picket (slat) configurations
15% free air flow
Low profile and easily contoured
Company: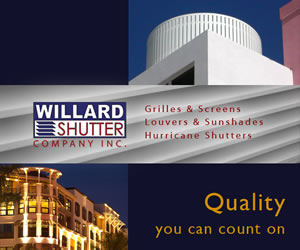 Willard Shutter Co., Inc.
Product: Grilles & Screens
Source: http://www.willardshutterco.com/products/grilles-screens.aspx
Tags: Exterior Design | Louvers
---
Contemporary architectural styles are on the rise, but for those that don't want to lose that traditional feel, consider a rustic design complemented by modern touches. In the design world, this style is called transitional. The experts at Fresh Home define transitional design as the blending of modern and traditional elements; the result is a cohesive design.
Transitional design can be applied in many different ways in most every room in the house as well as outdoors. Case and point below.
This kitchen embodies all the charm of a rustic space with its large, weathered beams grounded by wide wooden plank flooring. However, the sleek stainless steel appliances, industrial lighting, and brightly colored bar stools and give this room a more modern touch. The addition of the CableRail stair and loft railing opens up the space, making the interior more dramatic.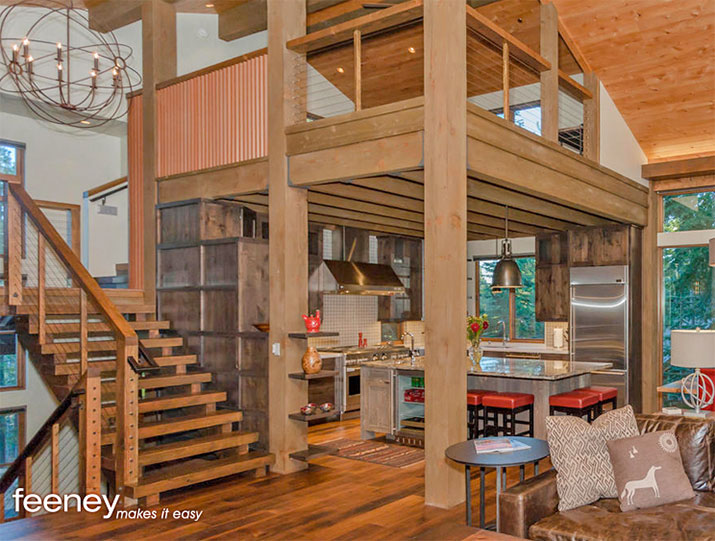 Here's another great example of a transitional design that incorporates a more natural, rustic feel but is balanced with contemporary components. This home was featured on the FOX television show HOME FREE. Feeney's CableRail was utilized as an alternative to traditional wood railing to create a sleek look complemented by the nature-inspired color palette. In addition, the patterned plywood accent wall with cylindrical concrete sconces adds depth to the space, resulting in a bucolic, simple design.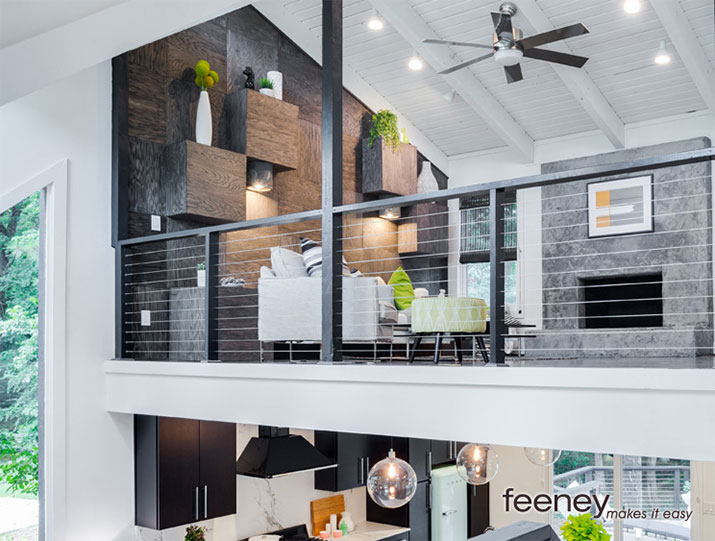 When it comes to exterior spaces, Feeney's CableRail and DesignRail® systems are just one of the many ways to transform a rustic-style design into a more contemporary one. A cable rail infill paired with a wooden railing offers a warm yet sleek look. The railing allows the homeowners enjoy what is certainly a lush wooded view from their Adirondack chairs. The outdoor area also incorporates a beautiful natural stone accent wall giving it a cabin-like appearance, and the additional exterior walls have a dark tone to them providing a more modern feel. While each of the design elements has a distinct style, the "mix and match" approach and blends cohesively and beautifully with the environment.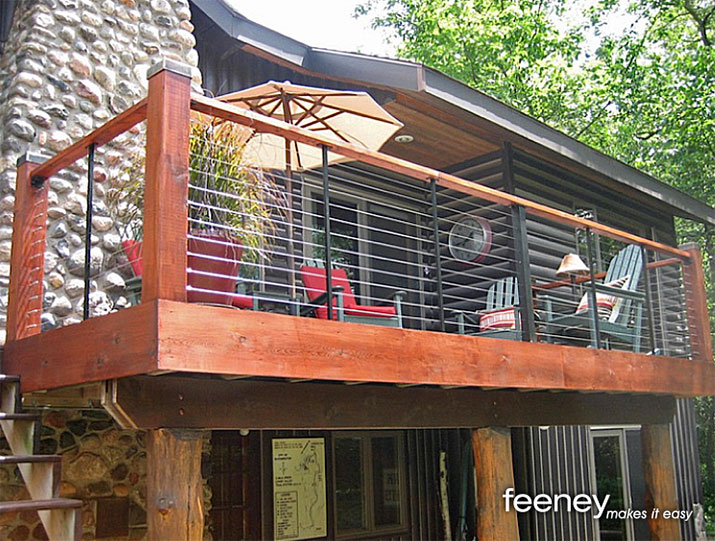 Company:
Feeney, Inc
Source: http://media.feeneyinc.com/blog/rustic-meets-modern-transitional-design-style
Tags: Exterior Design | Interior Design | Railing System
---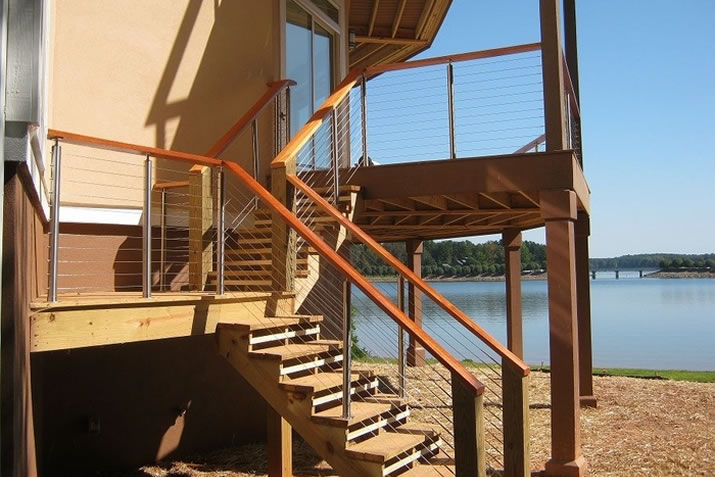 Need inspiration for a deck railing? Look no further than cable railing systems by Stainless Cable & Railing Inc. Available across a spectrum of material, shape, and color options, you're sure to find the right posts and top rail for the job. Even if you plan to supply your own frame, cable infill and fittings work with any architecture style or décor.
The images below provide a small sample of completed cable railing projects submitted by our customers, all of which include our marine grade stainless steel cable and cable end fittings. For more images organized by materials used, see our Photo Gallery. Think one of our railings will be perfect for your deck? Give Stainless Cable & Railing Inc. a call or fill out our Estimate Request Form to get started.
Contemporary Deck Railing Ideas

Black Aluminum Railing for Entrance Stairs and Deck / Natural Aluminum Posts for Elevated Porch
Traditional Deck Railing Ideas

Customer Frame with Cable Infill for Balcony Over Pool / White Aluminum Railing For Deck Covering Patio
Rustic Deck Railing Ideas

Bronze Aluminum Cable Railing for Covered Deck / Stainless Steel Round Posts & Infill for Log Cabin
Tropical Deck Railing Ideas

Beachside Stainless Steel Square Posts with Wood Top Rail / Bronze Aluminum Posts for Curved Railing
CableView® railing systems are defined by the craftsmanship, value, and enjoyment they provide
Craftsmanship
We build quality products, using durable, low-maintenance materials, including marine grade 316L stainless steel. Our state of the art in-house fabrication ensures quality control and allows us to accommodate the specific needs of any project.
Value
As both manufacturer and retailer, we skip the middleman entirely. This allows us to offer our customers economical, factory-direct prices for premium products. Our durable systems will stand the test of time, providing dependable safety.
Enjoyment
Your deck, loft, staircase, or porch railing is an integral part of your home, providing safety, visual appeal, and a great view. Simply give us a call or fill out our estimate request form, and we'll handle the rest. The clean lines and versatility of cable railing emphasize your view.
Company:

Stainless Cable & Railing Inc.
Product: CableView® Aluminum Cable Railing System
Source: http://stainlesscablerailing.com/cable-deck-railing-ideas.html
Tags: Exterior Design | Landscape Design | Railing System
Railing Infill Face-Off: Cable vs. Glass (March 10, 2017), The evolution of the educational landscape (February 17, 2017), New from Thomas Steele: Monona benches, chairs, side tables and litter receptables (February 13, 2017), Waldorf™ Benches (January 12, 2017), Sherwin-Williams VinylSafe® Paint Colors (January 9, 2017), Sun Control Sunshades (January 5, 2017), Louvers Play Key Role in Passive Air Management (December 14, 2016), Winner in NADRA 2016 Deck Competion (November 4, 2016), Benefits of Smoking Shelters (October 28, 2016), 8 Questions You Need Answered Before Buying Commercial Grade Outdoor Furniture (October 24, 2016), Ace Hotel New Orleans restores historic Art Deco exterior and updates performance with Winco Windows finished by Linetec (October 14, 2016), E2JS thin line louver used on Reptile House at the Cincinnati Zoo (August 22, 2016), The Role of LEDs in Outdoor Lighting Design (June 27, 2016), Wood grain finishes for aluminum (May 27, 2016), Why We Love Ipe and You Will Too (April 18, 2016), USPS Specifies Centralized Mail Delivery in New Developments (March 28, 2016), Non Slip Aluminum Plank (March 16, 2016), Lakeside Planter (March 4, 2016), Video of Extech's newest kinetic wall (March 1, 2016), Safety Bollards Protect Storefronts (February 9, 2016), Got Pigeons on Your Building? Why you need to get rid of them... (February 1, 2016), Decorative Spray-Texture Concrete Overlays (January 29, 2016), The Test of Time: 10,000 N. Central Expressway, 30 Years Later (January 20, 2016), Amager Resource Center (January 13, 2016), NOVA Effects coatings provide rich color and vibrant sparkle (December 14, 2015), 10 Major Benefits To Installing LED Tree Ring Lighting (December 9, 2015), Colored/Stained Conventional & Polished Concrete (November 20, 2015), Fraser House, Colorado Zero Net Energy Home, features Loewen windows and doors finished Linetec (November 13, 2015), Stadium Design Sustainability (November 4, 2015), Linetec mimics terra cotta's look and feel in new painted finish (October 21, 2015), DesignRail® Lighting Kits - See the night in a whole new light! (October 16, 2015), Custom Support Structure Delivers 4D Mapping Images (October 9, 2015), Color of the Month: Get inspired with Black Magic SW 6991 (October 2, 2015), Sun Control Sunshades offer energy savings (September 28, 2015), Feeding the Planet, Energy for Life (September 21, 2015), Exterior Wall Finish Offers Curb Appeal, Design Versatility and Cost Savings for School (September 14, 2015), Flexible Bollards: Traffic & Parking Lot Posts (September 9, 2015), Bird B Gone Offers Widest Variety of Bird Spikes - Made in the USA! (September 7, 2015), Home Free - the Reality Show with a Heart - features Feeney CableRail (September 3, 2015), Glass 'sky pool' coming to London (August 27, 2015), Staying dry – and wet – with PENETRON Technology (August 24, 2015), Concrete Resurfacing (August 19, 2015), Introduction to Flashing/Talking Interactive Signs (August 13, 2015), Par-Kut parking booth (August 3, 2015), Case Study: Sustainability without Sacrificing Beauty - the Linstroth Residence (July 22, 2015), Enhance the beauty of ‪stucco (July 17, 2015), The FGP Collection by Francisco Gomez Paz (July 6, 2015), Birds and Buildings: A How-to-Guide for Bird Control (June 26, 2015), Sealed Blinds from Unicel Offer Flexibility, Low Maintenance (June 24, 2015), Watch the Kinetic Facade in Action (June 17, 2015), Introducing a whole new personalized approach to site furnishing... (June 15, 2015), Composite, Synthetic Decking and Deck Railing Materials (June 1, 2015), Reasons You'll Love Your Residential Pool Deck Coating (May 25, 2015), Ruskin Architectural Products provide function and beauty to State Farm Insurance Company (May 13, 2015), Why You Should Have A Green Roof (May 11, 2015), There's a new trend in the mailbox industry... (May 6, 2015), OGDEN flexible curved or circular benches (April 29, 2015)