architecture - engineering - construction

Award
---
The Roger A. and Helen B. Krone Engineered Biosystems Building (EBB Krone) opened in 2015. It was built with the intention of creating a space where Georgia Tech engineers and scientists can work together on new medical technologies and curing diseases. Much like bees - or Yellow Jackets - the mascot of Georgia Tech, work together in a hive.
It is possible that design architect, Lake Flato, and local architect Cooper Carry considered this when creating the building design. The EBB is a brick building with glass windows shaded by a perforated metal sunscreen surrounded by trees, walking paths, and a garden. The sunscreen, with perforated zinc panels, has a honeycomb effect close up. From a distance, the 5- story building appears to be a giant beehive of Georgia Tech Yellow Jackets busily working together to make sweet scientific discoveries.
The building is LEED Certified and has won multiple awards. (Shown below). The customer was Peachtree Protective Covers and the project manager was John DuConge from Mccarthy Building Companies Inc. Morin Corporation provided the metal panels for the sunscreen.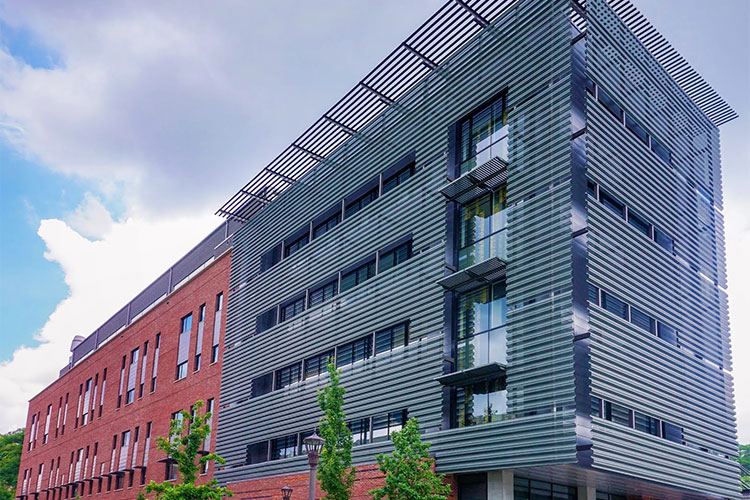 The EBB 'hive'
The sunscreen is a passive sun shading system made of perforated zinc panels. Zinc is a natural metal, it is recyclable, and has a lifespan longer than most metals at 80+ years. The zinc panels are 1.2 mm and coated with a Graphite Gray color coat. They are roll formed in Morin's O-12 panel profile.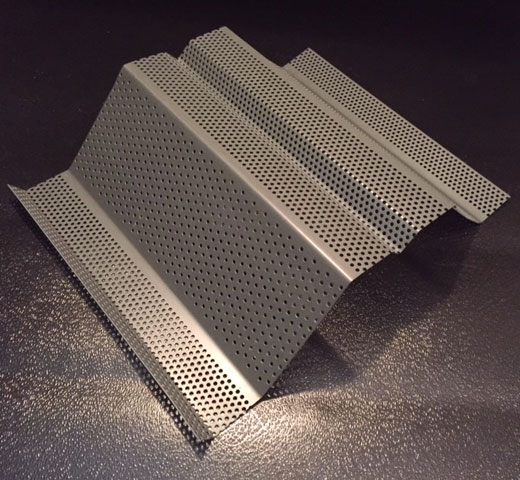 A sample of the O-12 panels with two different perforation patterns visibleUp close, the panels have a unique feature, indiscernible from a distance. Each panel has two different perforation patterns. The O-12 panels were installed horizontally. The nature of this panel shape makes it have an edge that is parallel to the building walls and windows (the face), and a sloped edge that faces either to the sky or the ground. On the panel face, the perforation pattern is ⅛" holes with 7/32" spacing, leaving a 30% open area. The other edge has ⅛" holes with ⅜" spacing, leaving only a 10% open area. This design was achieved by strip perforating each panel. By doing it this way, the bends of the panel remain solid so that there is no distortion. Sample panels were made to make sure that the perforation holes would line up on the lapping panels. Originally, there was going to be three different perforation patterns, but two was enough to satisfy the function of having varying perforation patterns per panel. Said function of this design is to effectively shade the building from Atlanta's harsh summer sun while allowing visibility from inside the building and eliminating glare off the glass windows. The façade has some spaces between the panels, breaking up the screenwall and creating some interesting horizontal lines.
In addition to the screenwall, the project also had four other Morin panel profiles on various parts of the building including solid panels on the top floor covering the penthouse, soffit areas, and wall areas. The other profiles used were VB-34, F-16, F-24, and O-24.
See the Whole GALLERY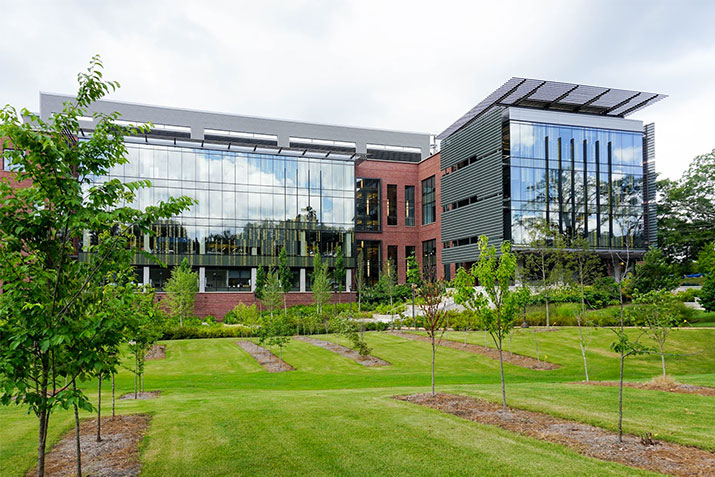 Awards
CMAA South Atlantic Chapter, Project of the Year, 2016
CMAA South Atlantic Chapter, Project Achievement Award >$100M Construction, 2016
AIA Georgia, Design Merit Award, 2016
ENR Southeast Award of Merit for Best Sustainable Building Practices, 2016
Company:
Morin® - A Kingspan Group Company
Product: Screen Wall Panels
Source: https://www.kingspan.com/us/en-us/product-groups/metal-roof-wall-systems
Tags: Architecture | Award | LEED Certification | Wall Panels
---
One Henry Adams- Multi-Family Residence in Design District, South San Francisco featuring Folded Zinc Panels
Location: 1 Henry Adams St, San Francisco, CA 94103
Profiles: Custom 1" reveal panels, Morzip
Substrate: Zinc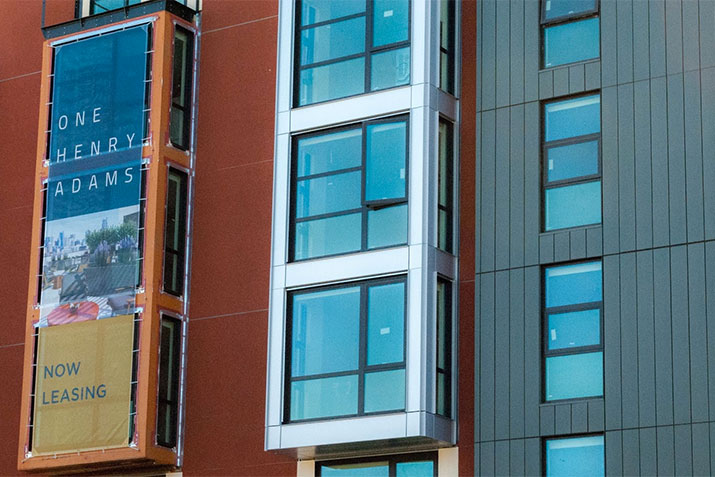 Building a new structure that spans an entire 1.65 acre block in a historical neighborhood like Showplace Square is no easy task. Instead of trying to mimic a 100 year old building, BAR Architects went with a simple design for One Henry Adams, a multi-family residential and retail structure owned by Equity Residential. One Henry Adams features clean lines composed of building materials like zinc, steel, brick, timber, and glass that give the buildings urban character while preserving the historical essence of the surrounding neighborhood. The $164.4M project located in the Design District of South San Francisco opened to residents in November 2016. It consists of two buildings separated by a public walkway with art structures and garden spaces intended to integrate the residents with the neighborhood community.

The architects went with zinc to accent the building and surround the expansive glass windows not only because of its unique texture but also because of its inherent sustainable qualities. Zinc panels are 100% recyclable and has a low environmental impact in production. The panels have a 1.2mm of pre-weathered patina graphite gray coating to make the material durable in the coastal climate of San Francisco while maintaining the natural metal aesthetic. Morin's A-12 panels with a 1" reveal were installed vertically creating sharp lines that seemingly extend into the sky. The zinc panels flow into crisp folded corners on every edge. Manufacturing panels with folded corners is becoming more popular as it has significant design advantages. Folding the panel corners tightens the panel making the structure more rigid minimizing any sort of pillowing or oil canning. The sharp reveals create the illusion that the building is made with long zinc bricks. These "bricks" appear to be floating next to each other as not a single fastener or piece of trim is visible on the zinc facade. In recognizing the advantages to panels with folded edges, Morin has recently acquired a new roll former capable of producing these panels. With this new technique, the possibilities for design has just multiplied.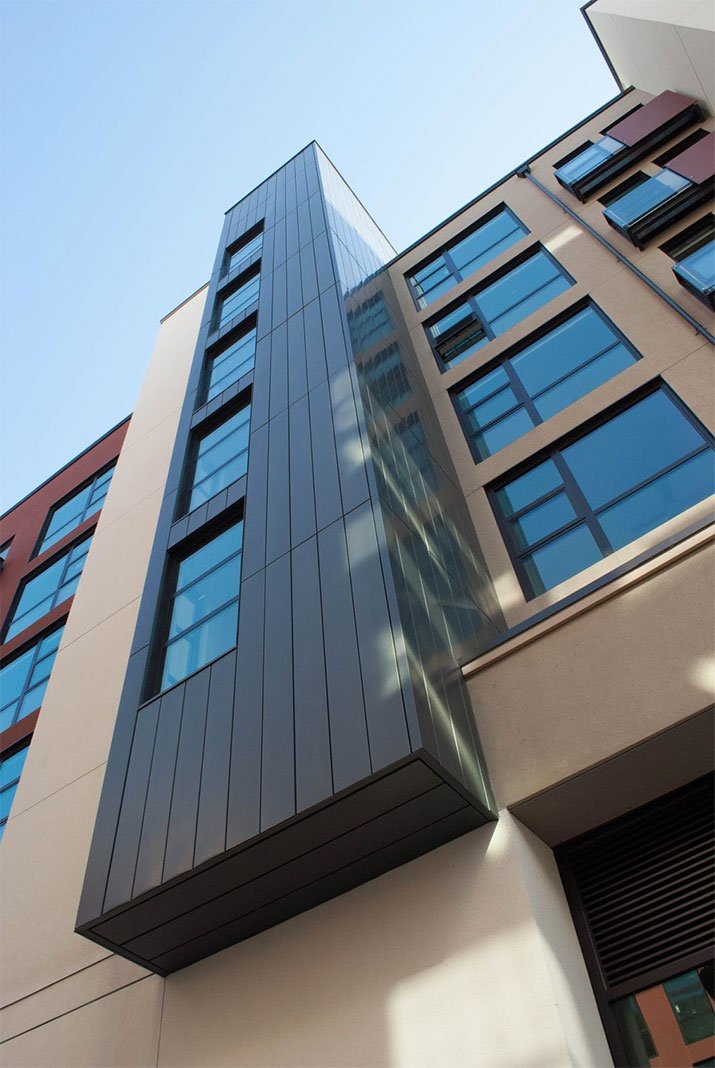 The project was a massive success from the design process to the ahead of schedule construction to the award-winning finished product.
#13 on San Francisco Business Times's "Top San Francisco Residential Construction Projects" list (2016)
#25 on Engineering News-Record California's "Top Starts in California" (2015)
#57 on San Francisco Business Times's "75 Largest Construction Projects" list (2015)
Company:
Morin® - A Kingspan Group Company
Product: MorZip® – Wall to Roof and Back Again
Source: https://www.kingspan.com/us/en-us/product-groups/metal-roof-wall-systems
Tags: Architecture | Award | Metal | Wall Panels
---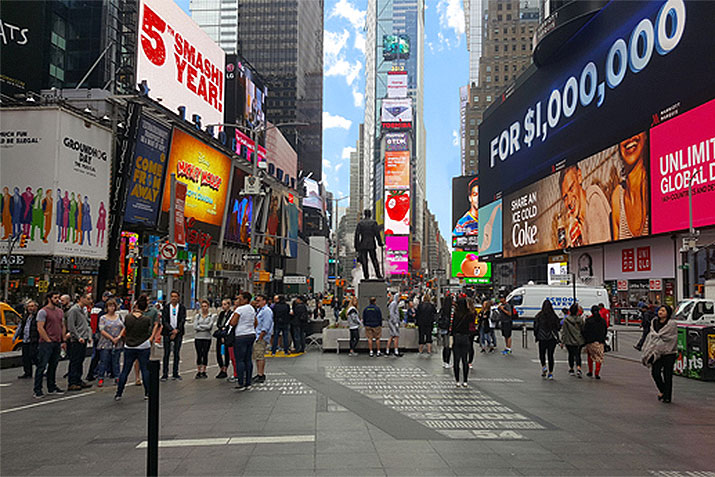 The situation
The presence of Broadway began in 1750, and has since shaped the essential character of New York City. Spotlight on Broadway is a multimedia project of NYC's Mayor's Office of Media & Entertainment located in the heart of Times Square. The project celebrates the unique charm and incredible legacy of Broadway and its forty theaters. It displays an in-ground map, made out of steel and granite, allowing visitors to engage and visualize the density of the world's largest and most recognized theater district.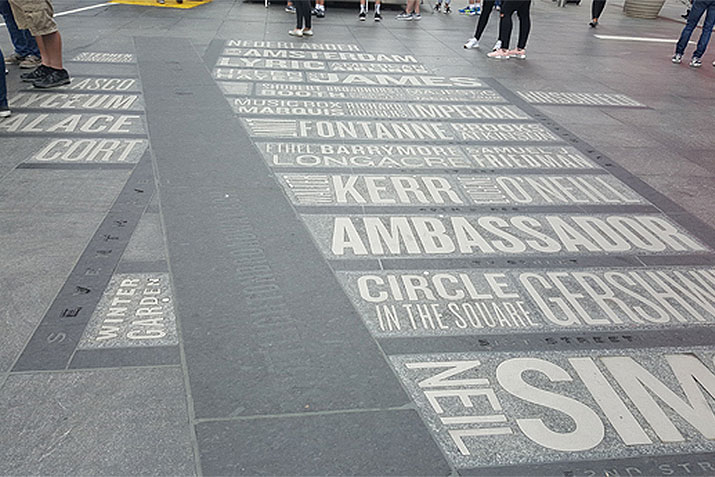 The solution
The designers at Creative Edge Master Shop contacted SlipNOT® for a solution to the bare steel lettering that presented a safety hazard when made slippery due to wet weather or other outdoor elements. The fabricating company sent in custom cut 3/8" thick letters which were blasted for imperfections, then coated with SlipNOT®'s Grade 2 stainless steel. Stainless steel is easy to clean and offers corrosion resistant properties that are exceptionally functional in wet environments both indoors and outdoors. The gripped surface of the coating not only provided higher traction for pedestrians, but also added another dimension to the piece, exhibiting a sleek and modern aesthetic.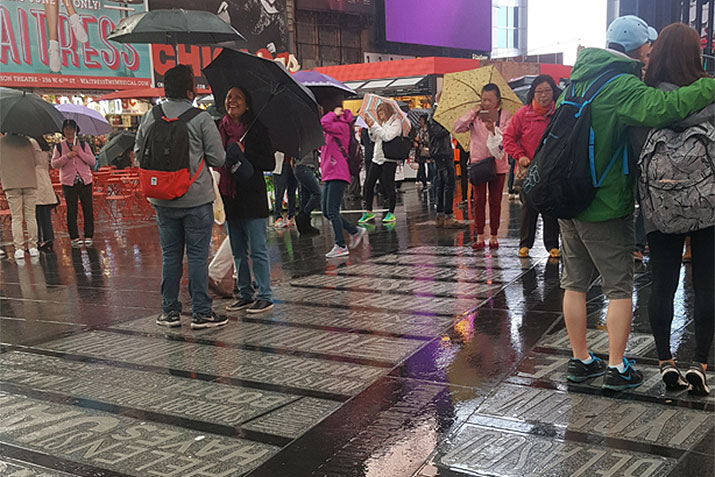 The impact
Creative Edge is a world leader in creative architectural water jet fabrication and has been in business for over 27 years. The Spotlight on Broadway project won a Pinnacle Award, which honors companies for a job that "stands above the rest." The Award Institute declared the project a "Clever design that pays homage to timeless Times Square," which was ultimately awarded merit for "Commercial Exterior".
Due to the slip resistant surface provided by SlipNOT®, tourists from all over the world can enjoy the innovative and engaging map of Broadway and its 40 theaters without having to worry about possible injuries due to slip, trips, and falls.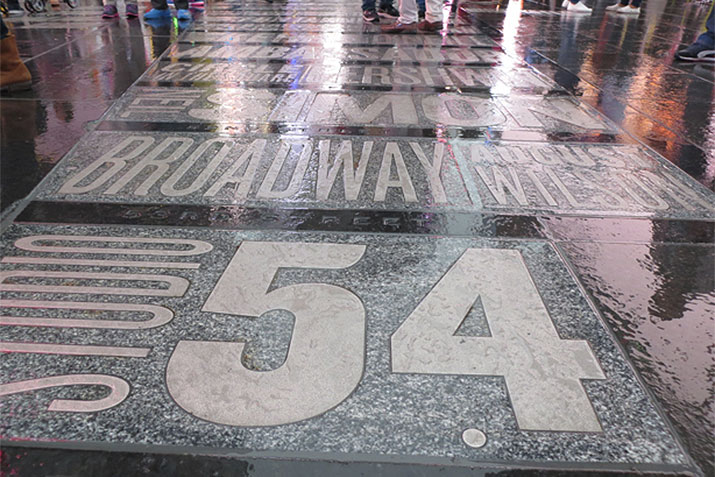 Award Recognition:
http://www.marble-institute.com/default/assets/File/awards/2014_MIA_pinnacle_brochure_FINAL_lo.pdf
Company: SlipNOT® Metal Safety Flooring Div.
Source: http://www.slipnot.com/case-studies/slip-resistant-stainless-steel-letters-for-times-square-spotlight-on-broadway/
Tags: Award | Design | Floor | Metal | Safety
---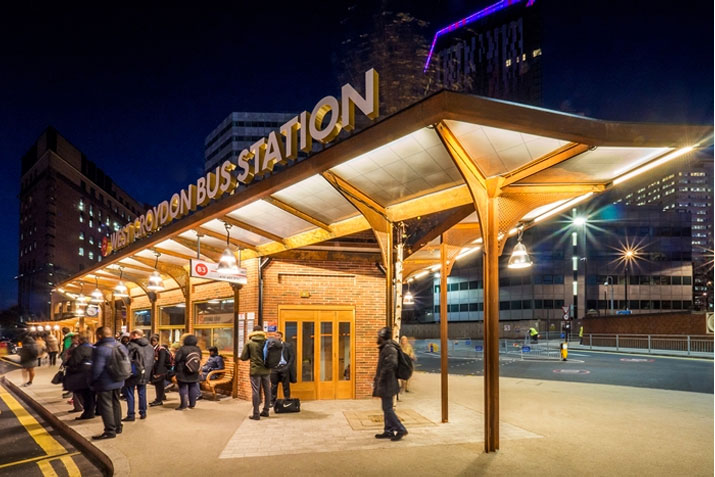 The architects of London's remodeled West Croydon Bus Station were looking for a way to give the busy transport station a brighter and more aesthetically appealing look when it began its remodeling project two years ago. The introduction of Kalwall translucent sandwich panels for the station's canopy helped achieve that goal. And, in the process, earned the project one of England's highest honors in architectural design.
Transport for London (TfL)'s in-house design team was recently presented a 2017 RIBA Regional Award by the Royal Institute of British Architects and TfL architect Martin Eriksson won a 2017 RIBA London Project Architect of the Year Award.
RIBA Awards aim to "celebrate the best architecture in the UK and around the world." London has over 12,000 RIBA members and 1,000 chartered practices. Regional winners are eligible for the RIBA National Award for architectural excellence.
In jury comments, the station is described as a "charming and creative building." Kalwall panels not only provided an aesthetic beauty, but their lightweight properties factored into the design of the building. The ability to eliminate shadows, hotspots and glare made Kalwall preferable to traditional glazing. Additionally, the translucent panels create an ethereal glow at night, making it a beacon for travelers.
The ability to reduce maintenance expenditures also made Kalwall a great choice. Soil and detritus are less obvious on Kalwall panels than on glass, and cleaning is much simpler because access scaffolding is not required and maintenance staff can safely walk across its surface.
Company:

Kalwall Corporation
Product: Wall Systems
Source: https://www.kalwall.com/2017/05/30/winning-2017-riba-london-award-project/
Tags: Award | Landscape Design | Wall Panels