architecture - engineering - construction

2015 June
---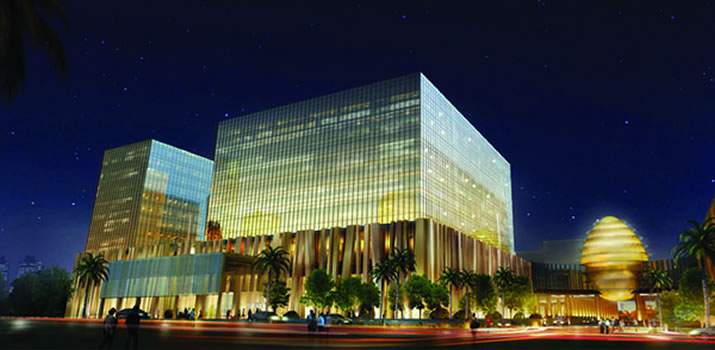 Casino. Entertainment. Shopping. Restaurants. Nightclub. Hotels. Spa. City of Dreams Manila is an endless feast of fun. Having come to the exotic locale of Manila (in the Philippines) last year, the resort boasts three award-winning hotels amidst a sea of alluring attractions. While enjoying this carefree experience, AMBICO products will be safeguarding you behind the scenes.
While you are busy chasing your dreams at the casino, shopping at world class boutiques, enjoying international cuisine or just relaxing by a pool, what will be protecting you? AMBICO door & frame assemblies! This is a wonderful example of a multi-faceted project, where performance rated AMBICO products were specified. We have provided many of the specialized door assemblies for this large scale development: bullet resistant doors; bullet resistant multi-blade vertical lift overhead doors; and in an exceptional application, AMBICO's NEW watertight doors were specified as well. These highly specialized door and frame products were installed in the room where fresh water is stored in large tanks. Should there be problems with these water tanks, AMBICO's watertight doors will prevent water leakage to other areas of the building.
These special use AMBICO bullet resistant door assemblies and watertight door assemblies have been successfully installed and ensure a safe and secure environment. City of Dreams Manila opened late last year. AMBICO is pleased to have played a critical role in the development of such an exciting project.
Company: Ambico
Source: http://canada.ambico.org/index.php/en/news/22-news/114-sweet-dreams-courtesy-of-ambico-products.html
---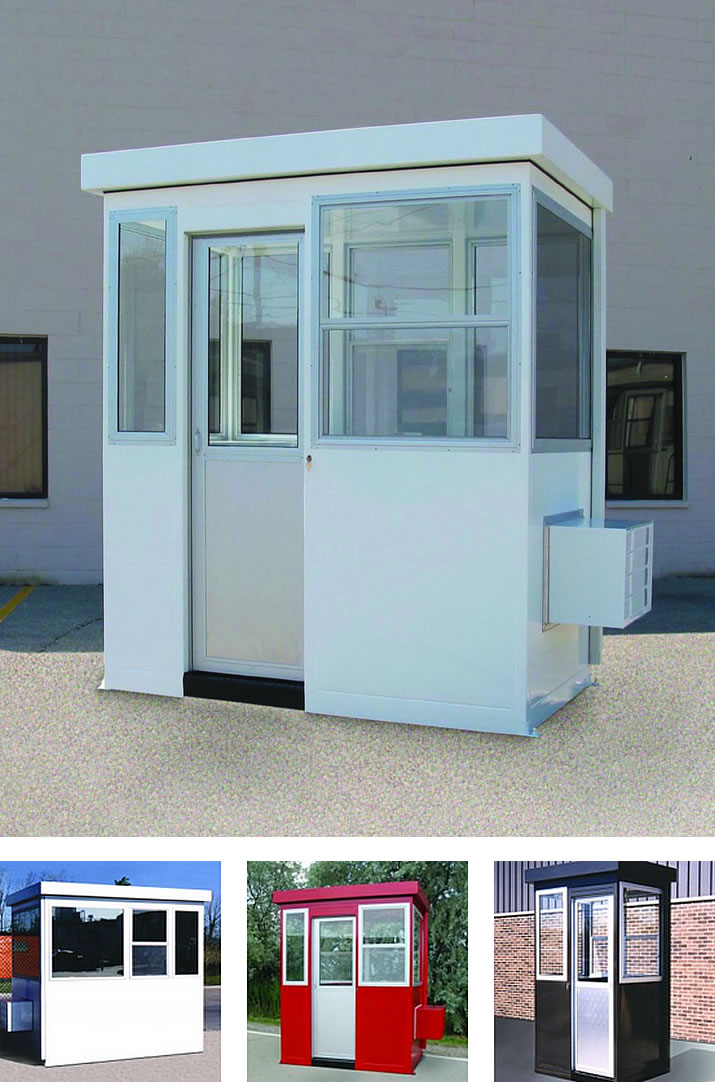 Par-Kut's Quick Ship program is the solution to the immediate requirement for basic steel buildings of top quality construction. Quick Ship buildings are built to Par-Kut's exacting standards using the same high quality materials evident in all Par-Kut booths. Booths are warehoused, then painted and finished at time of customer order. Sizes available are 3' x 4'2", 4' x 6', 4' x 7' and 6' x 8'. Depending on factory backlog, lead times vary from 3 – 5 weeks, sometimes sooner. Limited options and colors available.
Company: Par-Kut International, Inc.
Source: http://www.parkut.com/booths/building-styles/quick-ship/
---
Find Out where the Birds Are
In order to figure out how to get rid of birds that are living in or around your building, it's important to determine where exactly they have taken up residence. Generally, you can expect birds to flock to areas that provide shelter from predators or a reliable source of food and water.
Before you start looking around for bird deterrents, we suggest taking a walk around your building and paying attention to the following areas:
On top and underneath the roof
On ledges and window sills
On statues or ornaments
Near HVAC units and chimneys
Near entryways and walkways
On exterior lighting and signage
In addition to looking for birds, you should also keep an eye out for signs of nesting, bird feathers, and droppings. Unfortunately, cleaning up after them will not prevent them from returning.
Where exactly the birds congregate is important because you have to choose the right bird deterrent for each location.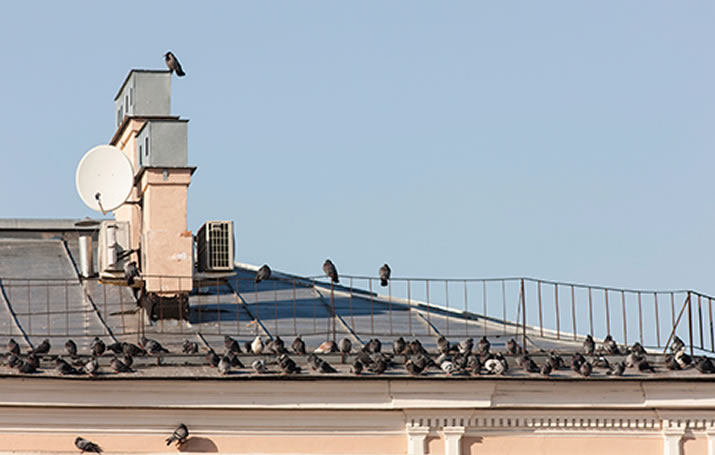 Give Deterrents a Try
Deterring birds can be more difficult than it sounds. Some types of birds can be rather obstinate in giving up a preferred location. Relocating birds works by encouraging the birds to find a new destination to perch and nest.
Fortunately, we know of one advantage you can exploit when it comes to deterring birds. The fact that birds are prey to a lot of animals allows you to utilize deterrents. When it comes to using deterrents effectively, it helps to know which type of birds you're dealing with.
The great thing about deterrents is that they're relatively inexpensive and easy to use.
Don't Feed the Birds
You might think that birds are flocking to your building because they are looking for a nice place to sit. We have found that that is only partly true. After all, birds have to eat, too. Is it possible that you are encouraging birds to come to your building by feeding them?
Birds are pretty good about finding food sources that aren't necessarily meant for them, such as garbage cans. In order to prevent birds from looking for food near your building, you need to be vigilant about keeping the trash covered. We also recommend picking up garbage from the ground around your building daily at least until the bird problem is under control.
Use the Least Intrusive Bird Control First
The best bird control is the one that's least intrusive to the birds, the environment, and your building. A great example of such a device is using sound to repel birds from the area. Most sound deterrent devices will produce distress and predator calls from many different types of birds.
One type of bird control we don't advise using is poison. Poisoning birds is not just harmful to the birds and the environment, but it can also get you in trouble legally. Fortunately, netting and spikes are two very effective methods for deterring birds from your building permanently.
Netting and Spikes
Heavy duty bird netting is designed to block birds from entering unwanted areas. Areas where bird netting is most often used includes: roofs, warehouses, loading docks, airplane hangars, and other enclosures. Bird spikes are advantageous because they are easy to install. Bird spikes are most often installed on ledges, i-beams, parapet walls, conduits, signs and other flat or curved surfaces.
How to Get Started with the Installation
Choosing the right deterrent for the right bird problem and having the deterrent correctly installed are extremely important. If you're not sure how to use the deterrent you have selected, it's a good idea to contact Bird B Gone for more information. We can't stress enough how important it is to install the product properly in order to keep the birds away from your building indefinitely.
Company: Bird-B-Gone, Inc.
Source: https://www.birdbgone.com/blog/birds-and-buildings-a-how-to-guide-for-bird-control/
Tags: Exterior Design
---
BuildingGreen.com showcases the Vision Control system in their article "Sealed Blinds from Unicel Offer Flexibility, Low Maintenance"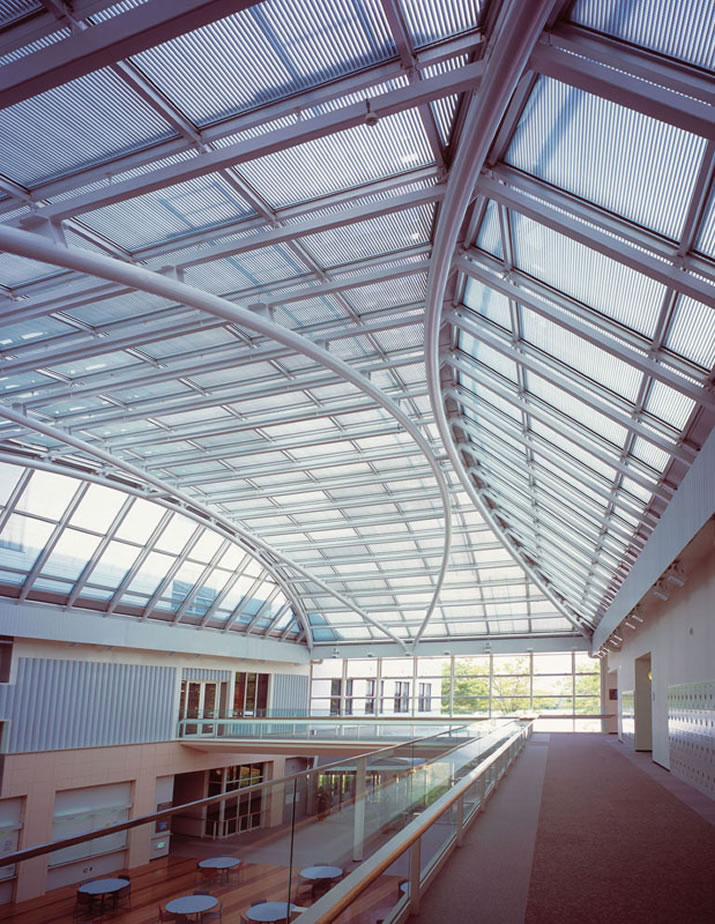 Vision Control louvers, shown here in a skylight at Ohzuma Gakuen University in Tokyo, Japan, are adjustable blinds sealed within the glazing units. Photo: Unicel Architectural Corp.
Placement of blinds can be a dilemma—should they go on the inside or the outside of a window? The best place to put them, some argue, is within the glazing, where they are potentially maintenance-free, protected from dirt and possible damage. A handful of manufacturers offer this option, but the most versatile offerings come from Unicel Architectural Corp., based in Longueuil, Québec. Unicel's product, known as Vision Control, offers adjustable interpane louvers combined with any type of glazing.
Depending on the needs of a project, the extruded aluminum louvers in the Vision Control system can be fixed in place or mounted in a rack-and-pinion system for rotation by crank handle, thumb-wheel, or motor. Motorized systems can be integrated with daylight sensors or other building-automation systems. Vision Control does not offer up-and-down movement of the louvers. Unlike corded venetian blinds, which don't fully close, the Vision Control louvers interlock when closed, blocking out 99.9% of the visible light, according to Unicel specifications. Glossy white is the standard color, for good light reflectance, but other colors are available on request.
The louvers sit in a completely sealed and moisture-free 2" (51-mm) space between two panes of glass. Unicel fabricates each sealed-glass unit based on an architect's specifications, using any type of glass required for a project, including glass with low-emissivity (low-e) coatings, although it avoids soft-coat low-e, which could be scratched by the blinds. Depending on the glass specified, costs can range from $50–$100/ft2 ($500–$1,000/m2) of glazing, according to Viviane Chan, marketing and sales manager at Unicel. The company ships about 5,000 units per year.
Depending on how the Vision Control system is set up and used, it can accommodate a variety of needs: shading, reflection of daylight deeper into the interior, prevention of heat gain or loss, and privacy. The large air gap in the window also gives the units good acoustical performance, with a Sound Transmission Class (STC) of 43, compared with single- or dual-pane glazing, which typically has values in the 20s.
Venetian blinds are often used in cooling seasons to reduce heat gain, but because they are located inside, their only significant benefit is glare control—the heat is already in the building. Exterior shading is ideal for blocking heat, but Unicel's interpane louvers effectively reflect heat before it comes inside, particularly in concert with a low-e coating on the outside layer of the inside light.
To test the energy benefits of Vision Control compared with standard double- and triple-glazed windows, Unicel sponsored computer modeling through the Solar Buildings Research Network, a Canadian research organization. In the simulations, which modeled conditions in Toronto and Los Angeles, Vision Control offered significant energy benefits compared with double-glazing under both heating and cooling conditions. Triple-glazing performed moderately better in heating conditions, but Vision Control performed much better in cooling conditions, particularly for south-facing façades.
Bill Dilatush of H&L Architecture specified Vision Control glazing for hallway windows to patient rooms for the Children's Hospital Denver. "We want to have visual access, and then there are times when we have to close that off," he described. "Blinds are always the easy solution, but you just can't keep them clean enough in an environment like that." Dilatush said that Unicel was responsive to the project's needs and added, "I was really impressed with the engineering."
There have been some reports of sealed blinds leading to excess heat being trapped in a window, leading in turn to failure of the units. According to several experts EBN spoke with, these problems are associated with poorly thought-out combinations of low-e coatings, or tinted glass, which tends to absorb heat. With proper design, and use of Vision Control's high emissivity blinds, thermal failure is unlikely to be a problem. The units come with a 10-year warranty, including louver operation, and all parts are made with UV-stabilized materials.
Company: UNICEL Architectural Corp.
Of: Tristan Roberts
Source: https://www2.buildinggreen.com/article/sealed-blinds-unicel-offer-flexibility-low-maintenance
Tags: Exterior Design | Interior Design | Window Shades
---
Large flowerpots make quite a statement placed inside or outside. A pretty large container overflowing with an assortment of flowers is eye catching and can serve as a great focal point for your home or corporate landscaping.
Despite how great large flower pots look plenty of things can go wrong when planting a collection of different plants in one oversized pot. These problems don't just arise in the actual day-to-day care of the plants but in the planning and planting process. You need flowers that look good together and also thrive under the same conditions, but that's only the beginning. In order to create the best large flowerpots on the block here are the top 6 tips you need to know.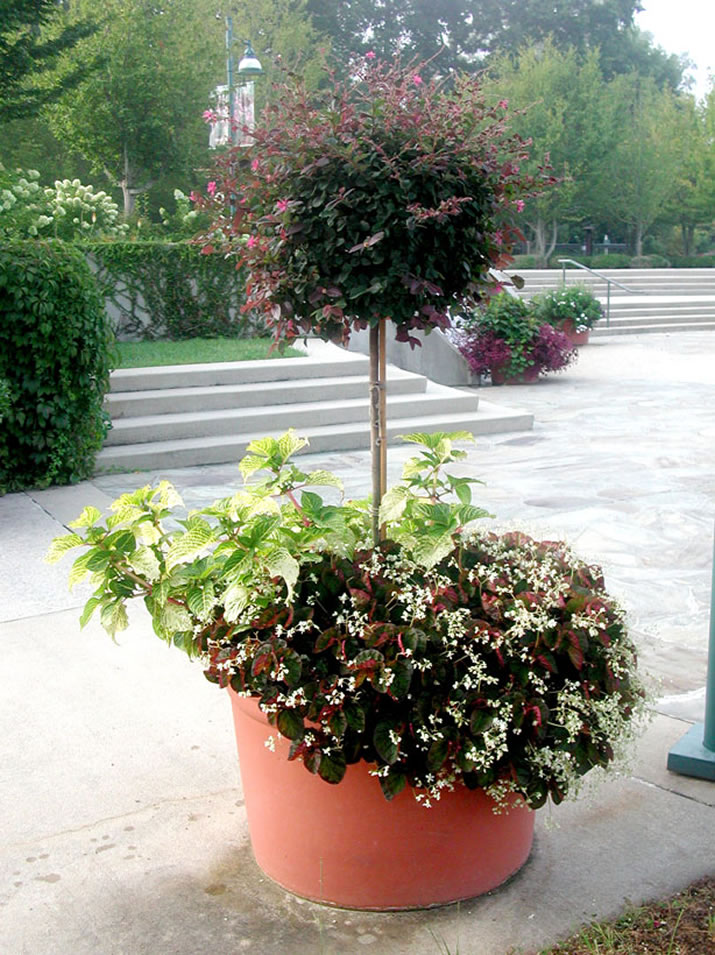 1. Plan For Your Planters
The most important thing you need to do in order create successful large flowerpots is to plan and do some research. The plants you pick to adorn your pot must jive together in order to thrive together. All plants sharing the same pot should require the same amount of water and sunshine as well as the same soil type. After all, these plants will be sharing the same exact home and conditions every single day.
Another thing to plan for is the eventual size and height of your plants. Your container will look one way when you first plant it but it will take on new shape and dimension as the plants grow. Each plant and its individual root system require adequate space to grow. Overcrowding your pots may look good at first but it will create issues in the future.
Make sure and plan where your planter is going to go before picking out any flowers. Some plants do great living in the shade with little to no sun, while other plants thrive in direct sunlight. Know what your plants need and make sure your planter will be in the appropriate place to give them that.
2. Use Contrasting Textures
If you are going to go through the trouble of picking out different plants for one large planter you should make it count by going for different colors and textures that play well off one another.
Different leaves and flowers come in a variety of textures, ranging to include shiny, waxy, fuzzy, prickly, or velvety. By using contrasting textures the individual qualities of each plant truly stands out. On the contrary, if you use the same textures throughout one large planter it can start to mix together and look too much alike to pop out and catch the eye.
An example of a lovely combination could include the hair-like tuft of lemon yellow grass (ogon), the spiky-lime green succulent known as Angelina, the waxy burgundy leaves associated with Sedum 'Garnet Brocade,' and the lacy details of the Coral Flying Colors diascia.
(Create Planters That Stand Out)
3. Be Bold With Color
The more color the better! People are attracted to splashes of color so make sure your large planters are full of brilliant shades. All plants sharing a container don't need to be a similar shade of pink or purple, instead play around and add greens, pinks, purples, reds, and any other color to one pot.
Creating a central color theme can help you stay on track but don't forget to play around with as many fun accent colors as possible. When picking which color plants you want to use take a look at the color of your porch or any other colors already present on location. Getting creative with color creates awesome results; just make sure everything matches… at least somewhat!
4. Follow The Proven Recipe: Filler, Spiller and Thriller
We have discussed the age-old rule behind good large planter design a number of times on this blog. The best recipe for decorating a large flowerpot remains the same: include filler, spiller and thriller plants in your combination.
Filler plants are generally shorter and wider (horizontal), and often weave in and out between the other plants. Examples of filler plants include coleus, impatiens, heliotrope and osteospermum.
Spillers are plants that cascade over the sides, growing out and over. Great examples of spillers include helichrysum, ipomea, nemesia, or callibrachoa.
Thrillers are typically vertical (upright) plants that stand out taller amongst the other plants. Examples of great thriller plants include upright fuchsia, canna, calla pennisetum, or phormium.
5. Go With Self-Watering Planters
When watering large planters you don't want to mess up or deal with any major issues forming unseen beneath the surface. Traditional large planters may allow large amounts of water to build up at the bottom of the pot, leading to the development of mold and fungus that harms plant roots over time.
Self-watering planters dissolve issues related to moldy roots by storing overflow water in a reserve located separate from the plant and soil at the bottom of the planter. The roots are able to reach down into this reserve and soak up water when needed, this prevents the plant from becoming dehydrated if you forget to water it for a few days, or more.
When planning for corporate landscaping self-watering planters are a huge aid in reducing maintenance and making sure plants always look good.
We offer the highest quality self-watering planters formulated from a specially developed resin that doesn't rust and is even resistant to graffiti and stains.
6. Think Outside Of The Pot, Literally
For planters that truly stand out you want to think outside of the box. A large pot full of roses is pretty, but it's something everyone has already seen before. A unique way to make your large planter look entirely unique is to turn it on its side and have flowers growing inside of it, as well as spilling out and growing beside it.
Another unique way to transform large planters is to grow a bunch of 'filler' plants around the outside edges with one tall 'thriller' plant at the center. This creates a large planter with a 2-level display.
(Pinterest)
Your actual planter is just as important as the plants you put inside. TerraCast Products uses a specially formulated, eco-friendly process to create the highest quality planters currently on the market.
Company: TerraCast Products LLC
Source: http://www.terracastproducts.com/how-to-create-the-best-large-flower-pots-on-the-block/
Tags: Landscape Design
---
In high demand for automobile, motorcycle and watercraft showrooms.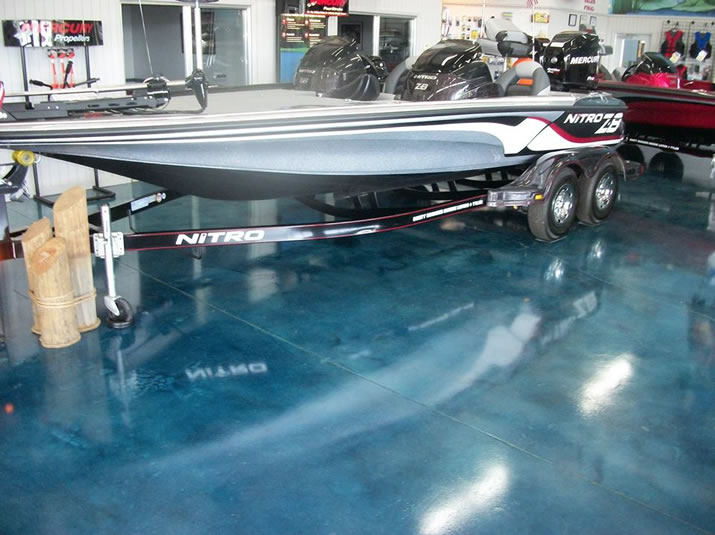 Epoxies have become a generic term for many different types of resin flooring systems. Epoxy is the fully cured end result of usually two components or resins that have been mixed together. Epoxies are known for their adhesive qualities and have been in use for many years. You can find epoxy being used for crack repair, primer systems, and final top coats for floors and surfaces. Epoxy floor coatings are available in an unlimited color palette as well as clear epoxy. Epoxies are often used as the bond coat for subsequent top coats of similar material or of higher abrasion and chemical resistance such as Polyurethane or Polyaspartic coatings. An epoxy primer coat can be a "%" solids or water based. Usually for thicker applications, 100% solids epoxy is used due to its ability to cure fast and its ultimate strength.
A popular floor finish for many commercial and residential floors is the Epoxy Color Flake Floor System. Here is a breakdown of how it is installed:
Floor Preparation including grinding or shot blasting to provide a clean surface.
Crack repair to fill and seal all cracks and joints. Epoxy is an ideal material to fill and repair concrete floor cracks.
A bond coat is applied as a first coat to seal and coat the entire area. Usually with a colored epoxy similar to the color of the final floor.
A second bond coat is then applied followed up by immediately broadcasting vinyl color flakes or chips onto the wet epoxy, until rejection (they no longer stick) and full coverage is achieved.
After the color flake coat has cured and any loose materials have been removed a final and often two coat top coat system is applied. The top coats are often not epoxy but a polyurethane or polyaspartic material. Epoxies are ideal for adhesion but can sometimes leave scratch marks if used as a top coat. It is recommended you contact your local Elite Crete System office for proper specifications for your next floor project.
Epoxy floor coatings allow for the color variety that comes with paint but the durability of a much stronger material. Epoxy floor coverings can take foot traffic, vehicular traffic and sustain wear and tear from many industrial tools and equipment.
Here are just a few of the benefits of epoxy coatings:
Seamless and easy to clean. Mop and light detergent for easy maintenance.
Hard, durable, and wear resistant even with vehicular traffic
Attractive and customizable. Able to create any pattern or design with color and design.
Slip resistant. Epoxies can have anti slip additives to create a grip and non-slip surface.
Low VOC – Epoxy floor coatings can be low or No VOC's for environmentally friendly coatings.
Fast curing and customizable curing times for cold or hot applications.
Cost effective. Large areas can be coated for a reasonable cost and overall long term solution.
The latest technology
Epoxies have evolved over the years and have just gotten better and better. Today with the advent of metallic epoxy floors or REFLECTOR™ Enhancer Flooring Systems we are taking epoxies and resinous flooring to a whole new level. These metallic epoxy floor coatings use metallic powder to create depth and originality never seen in a coating before. REFLECTOR™ Enhancer Flooring Systems combine the durability and strength of Epoxy with the decor options of custom paint and natural chemical reactions that provide a truly unique floor system.
Company: Elite Crete Systems, Inc. (Headquarters)
Source: http://elitecrete.com/epoxy-coatings/
Tags: Floor | Interior Design
---
Extech / Exterior Technologies, Inc. is proud to be collaborating with Arrowstreet on this kinetic facade.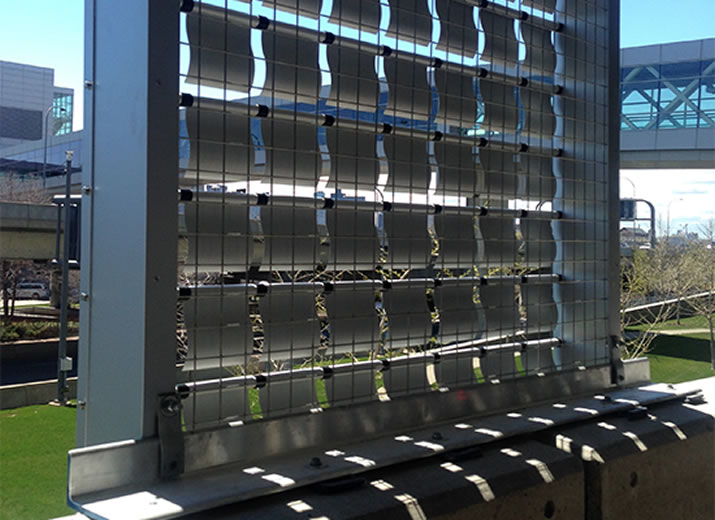 The flappers viewed from inside the garage
In East Boston, Arrowstreet has been working to deliver Massport an innovative and beautiful skin for the West Garage of Logan Airport. The design team has been working closely with Extech, out of Pittsburgh, on the 50,000 aluminum wind flappers which will show patterns of the wind across two façades of the new garage.
We were excited to see a full-sized mock up installed on an existing portion of the garage for review; the video clip illustrates how the flappers move and create interesting patterns and shapes across the façade. The wind wall system consists of over 300 of these 5 x 11-foot frames. This wind wall will be visible from the 9/11 Memorial and will function as elegant backdrop to screen views into the garage. It will also be visible from the Airport Hilton Hotel, the Highway, the East Boston waterfront, and the Seaport neighborhood.
Company: EXTECH/Exterior Technologies, Inc.
Of: Jordan Zimmermann
Source: http://arrowstreetlive.com/2015/05/watch-the-kinetic-facade-in-action/
Tags: Exterior Design | Metal
---
LEXICON's multi-functional modular components bring a full spectrum of inspiring choice to custom site furnishing. Whether you're looking to encourage interaction, invite quiet reflection, or wrap around a tree, this elegant and maintenance-free new line will interpret your vision with style and superior performance.

Every site challenge brings a new opportunity for inspired design.
Triangular or square modules create versatile angles and curves and can function as either side tables or stools. Want to add a bit of greenery? Remove the cover and you've created a planter. Whether you're looking for bold sharp angles or smoothly integrated curves, LEXICON takes your designs where you want them to go. All LEXICON components combine aesthetics with durability for outstanding long-term value.
It's about choice, not commitment.
LEXICON makes it easy. Use an array of easy-to-assemble geometric shapes to create your own curves and angles. Mix and match styles, surface materials, colors, and accessories. Change your mind? Our unique assembly hook system allows you to rough in your design with ease before bolting it together. Want the option to change up your design in the future? The modular configurations you create can be easily updated to keep your site looking fresh or to meet changing needs.
Company: Maglin Site Furniture
Product: LEXICON
Source: http://www.maglin.com/products/LEXICON/index.html
Tags: Exterior Design | Landscape Design
---
I have to admit my fascination with glass has grown exponentially with increased exposure to contemporary and modern home design. The light, shine, flexibility and clean open spaces created with glass are a magnet for my eye. Since I'm a guy who hates even having a North elevation in my home (note – a North elevation is the darkest side of a home) it's natural for me to like the effects created by the combination of light and glass. The flexibility of glass designs, textures and colors to create expansive views (or obscure them) make this material a contemporary designer or owners dream. The article below will highlight 7 unique uses of glass in a modern home.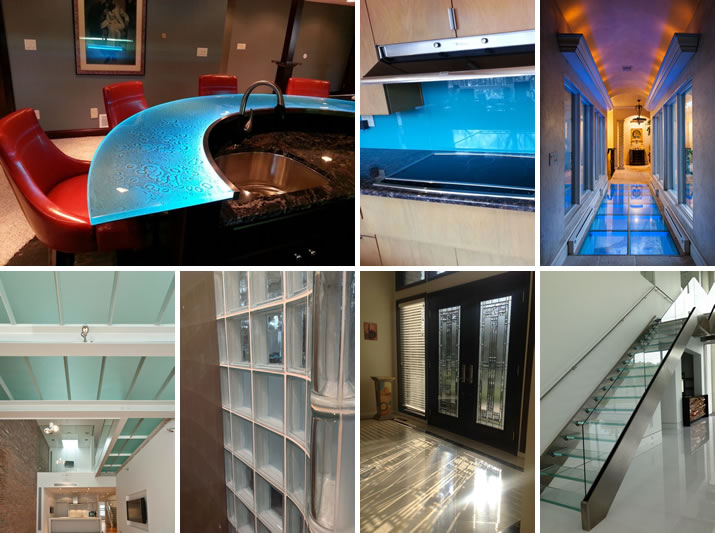 #1 – Cast Glass Countertops – The ability to move natural light, add texture and provide the warm glow of illumination are unique features of cast glass countertops. Imagine what your friends will say when they walk into your kitchen or bathroom and see a glowing countertop – how cool is that! These tops come in 1' – 2" thick, made of custom textured glass and are also easy to clean.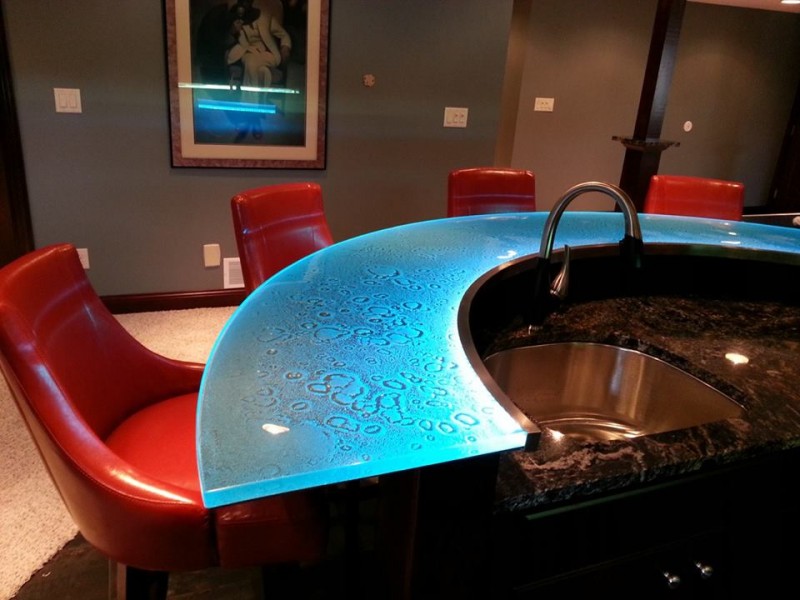 Cast glass countertop with LED lighting
#2 – Laminated Structural Glass Floors – A glass floor or bridge certainly creates a wow factor. Whether the floor offers the ability to see through to a lower level (some applications include water features, wine cellars and collectible displays) or uses an obscure glass to gracefully move light to the floor below (which is popular in urban brownstones and art galleries) it is always a focal point in a luxury home. With it's 1" tempered and laminated glass design it is not only a sexy feature – but a safe one as well.
Looking up at glass floor panels
# 3 – Clear Thinner Series Glass Block Shower Walls – Glass blocks have been much maligned as an "80's style" product but recent advancements in patterns, shapes and metal texturing have pushed it back into the contemporary product forefront. A new line of thinner (3 1/8") see-through blocks creates the ability to create a modern walk in shower in a small space. The ability to add decorative metal facades onto the blocks can tie in the glass shower wall to the surrounding architecture.
# 4 – Glass Entry Doors – For dramatic style and a great return on investment decorative glass entry doors are the ticket. You can have fun combining different colors and textures in glass to provide an architectural element to the front door which provides privacy and moves light. Consider etching the glass or even adding decorative marbles inside a glazed unit for a unique look. The fact that entry doors are the top ROI for home renovations can make you feel good about this investment as well.
Light streaming through decorative glass doors
# 5 – Back Painted Glass Kitchen Backsplashes – For a distinctive pop of color in a kitchen a back painted backsplash is an exciting way to go. It's high shine luster will command attention and they can be custom colored with any Benjamin Moore or Sherwin Williams color. The coating is electronically bonded to the back of the glass to ensure a high quality long lasting project.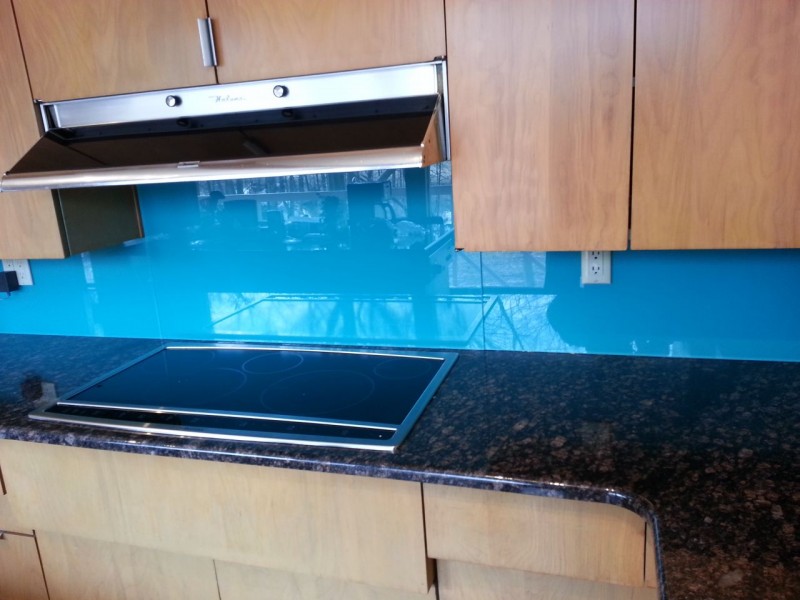 # 6 – Glass Water Feature – There is nothing quite as calming as the sound of water. Even if you don't live by an ocean or lake the sense of peace created by a water feature can be special. Whether you use a standard "rain" pattern glass or a custom textured cast glass – a glass water feature can be a welcome sight after a long stressful day.
#7 Glass Stair Treads – Owners of luxury loft apartments in the city or an expansive estates in the countryside the clean have benefited from the modern style of a glass stairs. Glass steps are safe (they are made of 1 ¼" thick tempered and laminated glass with a textured top surface for traction) light transmitting works of art. If personal modesty is a concern an acid etched frosted finish with eliminate any concerns of someone seeing up through the stairs.
Which project is your favorite use of glass? Comment or call us at the numbers below for more information or an estimate on these contemporary glass products.
Call Innovate Building Solutions on a nationwide basis (877-668-5888) or for a local project their divisions in Columbus (614-252-5888), Cleveland (216-531-6363), or Akron (330-633-2900) Ohio.
Company: Innovate Building Solutions
Source: http://blog.innovatebuildingsolutions.com/2015/06/06/7-cool-glass-contemporary-luxury-home/
Tags: Glass | Interior Design
---
Revolving doors can provide measurable ROI for retail and hospitality – way beyond the widely recognized energy savings from reduced air infiltration. Meet Mark Perkins with Boon Edam, as he discusses revolving door ROI, branding, the use of existing space, loss prevention and more.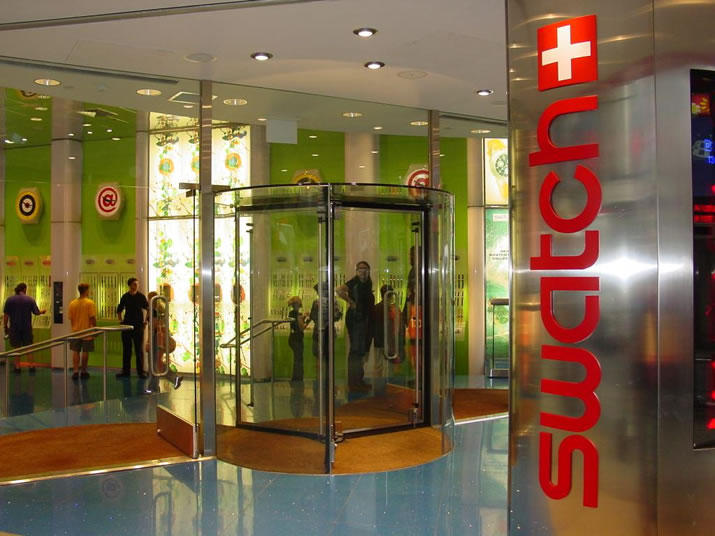 Company: Boon Edam Inc.
Source: http://www.boonedam.us/why-revolving-doors
---
From the sturdy frames that hold up our homes to the smooth cell phones we hold in our hands, most important items in modern society are made, at least partially, from metal. It supports, strengthens, conducts electricity, and does so much more.
Despite being such an important facet of our daily lives, many people know remarkably little about metal. How is it made? What distinguishes one type of metal from another? What type of metal is best suited to which task?
The following guide should answer those questions and more about the metal that serves and supports their daily lives.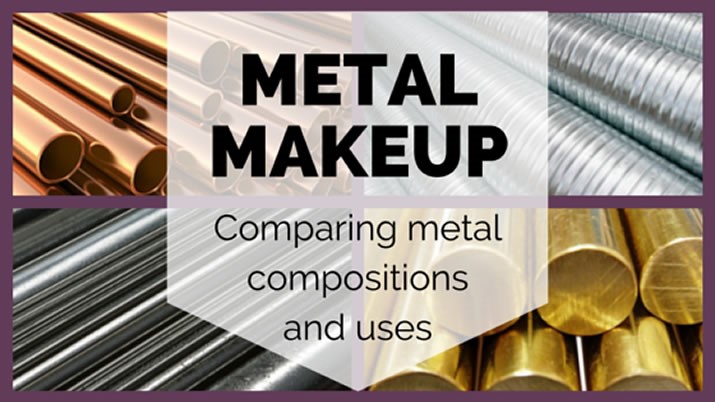 Aluminum
The origins of aluminum date back to the early nineteenth century. German chemist Friedrich Wöhler studied past experiments on what early scientists called aluminum, and later successfully produced the material in an isolated, pure form. Later chemists would expand, edit, and ultimately improve the way aluminum was made.
Aluminum is made chiefly from the ore bauxite, and its creation involves crushing, grinding, digesting in a machine, settling, and calcination.
Thanks to its strength and relatively light weight, aluminum is used in a great number of common fixtures, including foils, soda cans, utensils, airplanes, and more. It's also infinitely recyclable and produces a relatively small carbon footprint when made.
Brass
Brass is an alloy, which means it's a combination of multiple metals. In this case, made from copper and zinc. The oldest reports of its use (as an alloy of copper and zinc) date back to the first millennium BC in the Mediterranean. Its production process has changed and been refined through the years, and is primarily made through melting, mixing, and rolling the two metals together.
From a practical perspective, brass is popular for being both durable and versatile. It can withstand extreme temperatures, does not corrode, and features solid strength. People also find it visually engaging, as it looks like a shinier iteration of gold.
For these reasons, brass is regularly used for locks, door knobs, door hinges, pipes, valves, and even sculptures and decorations. Brass boasts both flash and substance.
Bronze
Though the metal may signify "third place" for some, in most cases, it's a first place choice.
Like its similarly colored counterpart brass, bronze is an alloy; this time, of copper and usually tin. It can also be made by combining the copper with aluminum, arsenic, silicon, phosphorus, and other metals.
Bronze has a deep and storied relationship with history; so much so, that it even has a prominent period of time named after it—the Bronze Age. Whenever a region (from Europe to East Asia) started smelting copper and tin to make bronze as a primary means of production, it entered its respective Bronze Age, periods characterized by discovery and invention.
Like brass, bronze has both pragmatic and stylish appeal. It has low metal-on-metal friction, which makes it a vital component in many metal-based structures. For this reason, it is commonly used for springs, bearings, clips, and connectors in many machines, including vehicles.
Its robust coloration makes it popular for sculpture and accents on modern furniture.
Steel
Steel, the venerable backbone of buildings and structures worldwide, is an alloy of iron and carbon with history dating back to 1800 BC. In early years, it was used primarily for weaponry and armor. Archeologists have found ancient forges and furnaces in most corners of the world, including the Mediterranean region, China, and India.
Thanks to modern innovation, steel making has evolved, though the basic process has generally stayed the same. Iron ore is melted to remove impurities, including excess carbon. Once the right amount of carbon is achieved, the mixture cools, and what's left is steel.
Steel is popular for its incredible strength and relatively low cost. Its sturdiness and reliability make it one of the most common and widely traded construction materials in the entire world. It's found in automobiles, ships, buildings, weapons, appliances, and even in wool format.
Stainless Steel
Though there are a great many types of steel, none is more widely known than stainless steel. A mainstay for modern appliances and stylish homes, this type of steel alloy contains at least 10.5% chromium by mass. Chromium is a scintillating, brilliant element that gives stainless steel its stunning appearance.
Chromium-steel alloys date back to the early nineteenth century, though the first composite similar modern stainless steel was created at the dawn of the twentieth century.
Stainless steel, when compared to other metals (including other types of steel) is very resistant to corrosion and staining. The sparkling shine it's known for does not easily dull.
It's frequently used in the production of surgical instruments, cookware, storage tanks for corrosive materials, industrial equipment, and household furniture.
Here at Coco Metals, we fabricate our grilles and other custom metal products with all 5 of these metal compositions, and all of our metals are extruded in the USA. Take a look at our catalog to browse all of our metal products.
Company: Coco Architectural Grilles & Metalcraft
Source: http://www.cocometalcraft.com/metal-makeup-comparing-metal-compositions-and-uses
Tags: Metal
---
While the U.S. Navy is busy with the development of a new bulletproof material called Spinel, Surmet Corporation is already commercially producing its own version called ALON®.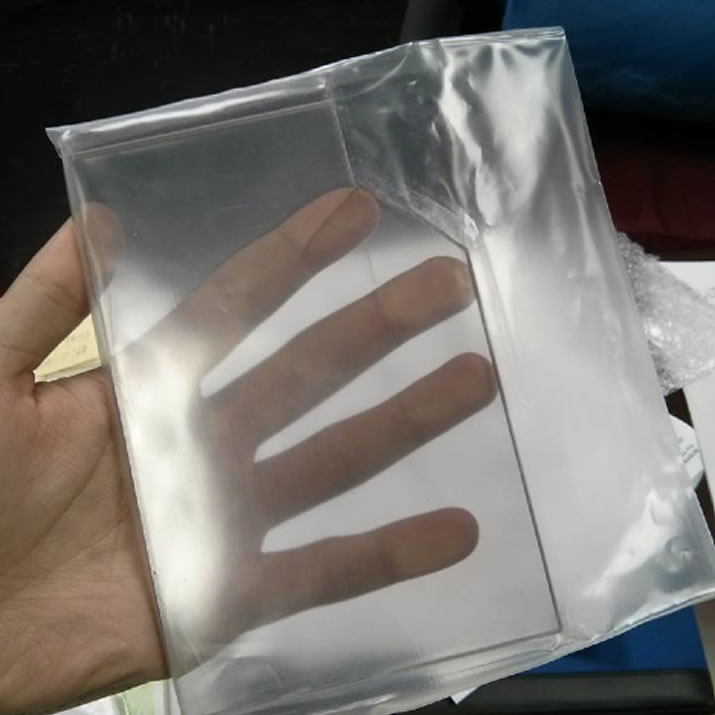 Developed by Raytheon, ALON or aluminum oxynitride, begins as a powder, which is then molded and baked in very high heat. The heating process causes the powder to liquefy and cool quickly, leaving the molecules loosely arranged, as if still in liquid form. It is this crystalline structure that provides ALON its level of strength and scratch resistance comparable to rugged sapphire. Polishing the aluminum oxynitride strengthens the material and also makes it extremely clear.
Comparing Aluminum Armor to Traditional Bulletproof Glass
Traditional bulletproof glass is comprised of multiple layers: polycarbonate sandwiched between two layers of glass. Similarly, transparent aluminum armor is also composed of three layers: an outer layer of aluminum oxynitride, a middle layer of glass and a rear layer of polymer backing. However, the similarities stop there.
Aluminum armor can deflect the same rounds from small-caliber weapons as traditional bulletproof glass, but it will still be more clearly transparent even after being shot. Also, a .50-caliber armor-piercing bullet could sink nearly three inches into bulletproof glass before stopping. Aluminum armor can stop it in half the distance and yet is half the weight and thickness of traditional transparent armor.
In addition, transparent aluminum armor can be produced in virtually any shape and can also hold up to the elements much better than traditional bulletproof glass, which can be worn away by blowing desert sand or shrapnel.
Despite aluminum oxynitride's ability to produce a superior transparent aluminum armor, this material has not been put into widespread use. The largest factor in this is cost. Transparent aluminum armor can be anywhere from three to five times as much to produce as traditional bulletproof glass. In theory, however, it would not need to be replaced as often, saving money in the long run. Further, there is no existing infrastructure to produce the material in large panes like the size of a front windshield of a vehicle. ALON is currently used for smaller applications, such as the lenses in battlefield cameras or the windows over the s
Company: Total Security Solutions Inc
Source: http://www.tssbulletproof.com/optically-clear-aluminum-provides-bulletproof-protection/?utm_content=15945929&utm_medium=social&utm_source=facebook
---
Now that it's safe to break out those whites, here's a refresher on incorporating different shades of pale in your designs. White doesn't have to be sterile or cold.


A deeper look at the many shades of pale.
On the face of it, white walls are as simple and safe as it gets, the last refuge of the color-phobic. Maybe that's because white carries such reassuring associations: freshness, purity, even holiness. White promises a dirt-free, germ-resistant, till-death-do-us-part world (although white weddings are not traditional in Asia, where the color connotes death and mourning). But despite the color's profound symbolism in Western culture, it's the singular visual impact of white that may make it the strongest design statement of all.
"Think of a yellow school bus, then imagine it white," says Andrew Oyen, an associate at the New York City architecture and design firm Ferguson & Shamamian. "Or take a hearse and make it white. By reducing one factor – color – you suddenly draw attention to its other elements."
White's ability to heighten awareness of space, shape and light has made it a perennial favorite of celebrated architects and designers as diverse as Mario Botta, Gwathmey-Siegel, Rose Tarlow and Richard Meier, who has praised the hue's unique ability to intensify our "perception of all of the shades of the rainbow" while still retaining "its absoluteness."
White's self-possession, its almost aristocratic indifference to the threat of common dirt, endows it with effortless glamour. Manhattan's trendsetting design store, Troy, recently reissued a line of classic black-and-silver Danish modernist furniture – this time in white leather. The color keeps reinventing itself as a way to simplify and savor simultaneously, an appealing combination for those seeking respite from a hectic world without sacrificing a sense of luxury.
Palette Refresher
Andrew Flesher, named one of House Beautiful magazine's "Next Wave of Designers," recently chose a serene, white-on-white palette for his own Minneapolis loft. After assembling colors for clients all day, he says, his gallery-like space offers soothing visual relief: a "blank canvas" that clears his mind.
The usual complaints about white – that it's sterile, boring, too hard to maintain – may have more to do with limited imaginations than the possibilities of the color itself.
"The sky's the limit with whites," enthuses Flesher, principal with Gunkelman Flesher Interior Design. "There are an infinite number of whites, and which one you choose can make all the difference in the world."
Zeroing in on the perfect white means following the same rules you'd apply to any color match. If you're dealing with existing features or furnishings, stay within color families. "Make sure the base of your white is congruent with the other things in the room," Flesher says. Even if you're just painting a ceiling white in a room with color on the walls, consider cutting that white with one-fourth of the wall color. "Don't just use 'ceiling white,'" he cautions.
Sherwin-Williams offers a wide range of whites with different bases. Dover White (SW 6385) achieves its creamy warmth with a touch of yellow, while Navajo White's
(SW 6126) brown tones give it an earthy but clean feeling. Becky Ralich Spak, senior designer with Sherwin-Williams' Color Marketing and Design Group, loves Alabaster White (SW 7008). "It's a beautiful white, so fresh but with a little softness. It works wonderfully with neutrals, especially khaki and tan." Antique White (SW 6119) pairs well with stained or weathered wood trims, she adds.
Light Makes White
What really makes a great white soar or sink is its interaction with both natural and artificial light sources. Daylight conditions vary locally (from wall to wall in a single room) and geographically (compare the intense sunlight of Los Angeles with the softer light of the Northeast), so "it's critical to look at the white you're considering under the actual lighting," Flesher says. Even a color expert like Ralich Spak sometimes has to learn the hard way.
"When I was looking at different whites for my bedroom, I wanted something serene but not clinical," she recalls. "I selected a crisp, blue white. When I tried it out, the bedroom looked like the inside of a refrigerator!"
Keep in mind that "the brighter the light, the more the pigment used in the white will show," Oyen says. "In Greece, those chalk-white walls become glaring under intense sunlight. In a brightly lit room, warm rosy white can turn into strawberry ice cream very quickly. But that same rosy white in a darker space might look cozy."
Finishing Touches
Adding a subtle sheen to a flat white is another way to achieve an intimate glow. "You can do a lot of things with white just by changing the finish," says Sheri Thompson, director of the Color Marketing and Design Group. For example, Sherwin-Williams offers a pearlized finish that can be used as a final coat or as highlights or striping (applied with a dry roller). She especially likes the effect when used in a powder room or bedroom, but recommends experimenting. "It's a very versatile product."
And if you're having trouble finding the right white for the effect you're after, Sherwin-Williams' paint experts can custom-blend a color based on a sample (a piece of fabric, for example). Debbie Insana of the company's Color Marketing Lab notes that its updated spectrophotometry system, Sher-Color™, can create a "thumbprint" of a desired hue more accurately than ever before. The service is available in most Sherwin-Williams stores.
There are endless ways to incorporate white's unique qualities into any design configuration. Both Flesher and Oyen love the visual impact of white floors. The gleaming flooring in Flesher's loft was achieved with the help of an industrial epoxy used in airport hangars.
Another choice is to whitewash a wood floor – especially in an older building, such as a converted farmhouse – so that the roughness of the grain shows through the paint. "By covering a rustic surface with white, you're mixing two ideas," Oyen says. "You get a sense of texture and freshness simultaneously."
Don't these designers ever get sick of white? "I really don't!" Flesher laughs. Oyen agrees. "The qualities of freshness, cleanness and timelessness will always make white easy to rely on. All that, and it still has as much subtlety as any other color."
When To Go White
To complement, rather than compete with, nature's palette. Make the most of a room with a striking outdoor view. "A white room picks up all of the color coming in from outside," Flesher notes.
To create a feeling of intimacy. While wood paneling can generate artificial warmth, it absorbs natural light. White walls reflect daylight directly, imbuing an interior with a cozy glow.
To reclaim the visual possibilities of a period space. Oyen remembers clients who were moving into an old apartment painted in lavish, almost overwhelming colors. "They whitewashed the whole apartment, which created a sense of neutrality. Then they gradually brought back color over time. Going white first enabled them to see the space in a new way."
To show off beautiful moldings. White showcases the details. "It becomes about the play of shadows," Flesher says.
Company: The Sherwin-Williams Company
Source: http://www.sherwin-williams.com/home-builders/color/education/sw-article-pro-thewhyofwhite.html
Tags: Color | Interior Design
---
Are you planning to build a new deck or deck railing and looking at your material options? While many homeowners and deck builders prefer to work with wood, the use of synthetic and composite decking materials has grown in popularity. Today, one in five homeowners selects composite decking over wood, since a deck made of synthetic or composite materials requires little regular maintenance and still looks nice year after year.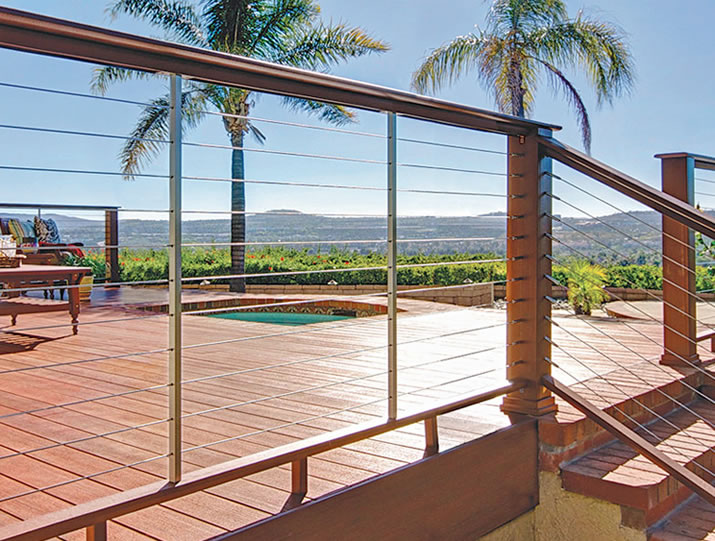 The Popularity of Composite and Synthetic Decking
Combining the best qualities of wood and plastic, synthetic and composite decking and railing are long-lasting, insect resistant and low maintenance products that do not crack, warp or separate due to varying weather cycles. They do not require water repellant or stain to hold up under extreme weather conditions. Composites are made of a blend of materials, including polyethylene (low-density or high-density), polyvinyl chloride and polypropylene—plus wood flour and additives that stabilize the plastic and protect it from damaging UV rays.

Environmentally-Friendly and Sustainable
Composite decking and railing is environmentally-friendly and sustainable, as well. ThisOldHouse.com reports that every 20 feet of traditional wood decking contains about 30 pounds of material destined for the landfill. The manufacture of composite deck and railing products uses millions of pounds of recycled plastic every year.

Careful Selection is Critical
Today's composite deck and railing products are much improved over the original products introduced to the market years ago. Concerns about deterioration, mildew and staining in products manufactured during the 90's and early 2000's motivated many local building code officials to revise the codes to now require synthetic deck and railing materials to have a valid Evaluation Service Report (ESR) to be considered as approved for use in the municipality. Careful selection of high quality composite deck and railing product is critical, and the use of reliable reviews and ratings such as the ESR report, which provides test results for moisture absorption, abrasion resistance, fastener spacing and allowable spans—is advised.

Each of the three main types of composite deck and railing--wood and recycled plastic composites, polyvinylchloride (PVC) vinyl and capped composite, have distinctive qualities.

Wood and Recycled Plastic Composite Decking
Wood and recycled plastic composite deck and railing products are made of a blend of materials, including 30 to 50 percent recycled plastic blended with wood fibers to establish skid and stain resistance. Trex, TimberTech, ChoiceDek and DuraWood are popular wood and recycled plastic composite decking manufacturers offering warranties that range from 10 to 25 years.

Polyvinyl Chloride (PVC) Decking
Polyvinyl chloride (PVC) deck and railing is made of new plastic resin, with deck planks that have good spanning ability. PVC decking is light weight in comparison to composite decking, and low maintenance, stain and mold resistant and scratch resistant. Three of the primary manufacturers, Kroy, DreamDeck and EZ Deck, offer limited lifetime warranties.

Capped Composite or Capstock Decking
Capped composite or capstock decking is a hybrid of composite decking and PVC decking. Typically, a composite wood flour and plastic core is wrapped with a thin veneer of PVC-like material. Capstock has the same advantages as PVC in comparison to composites, and is less expensive than PVC. Three popular manufacturers include Fiberon, Trex and TimberTech.

See more composite deck photos in our photo gallery.
Company: Feeney, Inc
Source: http://media.feeneyinc.com/blog/composite-and-synthetic-decking-and-deck-railing-materials
Tags: Exterior Design | Floor | Railing System | Sustainability