architecture - engineering - construction

Color
---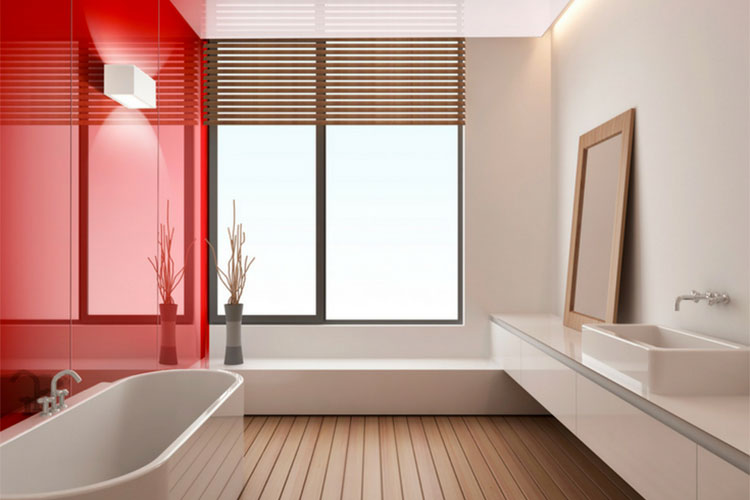 It's fun to look at the glass-like appearance of high gloss acrylic wall panels in a shower, kitchen backsplash or feature wall in an office and say, "Wow – that material is cool." Yes –gloss wall panels are striking in appearance – but just like you and I – there is a lot more to know about them than is evident on the surface. While these panels fly off the shelves in countries like Australia and Japan – they are still new to homeowners and business owners in the United States (and a bit of a mystery).
In this article, I'd like to dig "under the hood" to give you some little-known facts (at least in the United States) about these fun and functional high gloss wall panels. At the end of the article let me know if you have any questions which weren't covered in these 5 facts.
Little known high gloss acrylic wall panel fact #1 – They can be used in a steam room or behind a stove
When people think of acrylic and hot spaces most assume they can't be used in steam showers and behind stoves in the kitchen, however this is not the case with optical grade (hard coat) acrylic wall panels. If the temperature is lower than 130 degrees you can use these decorative colored wall panels in a steam room or behind an electric stove top. Standard acrylic wall panels (not high gloss) are not be recommended in these places.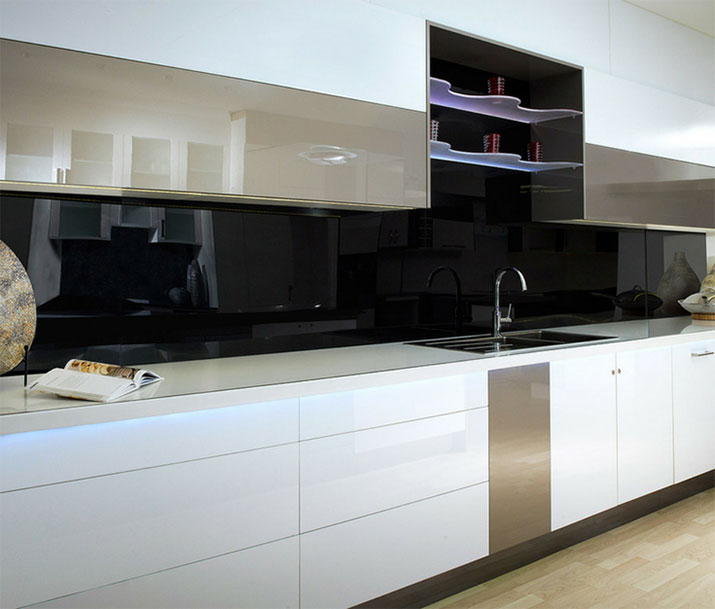 This high gloss kitchen is sleek. It is using a carbon black kitchen backsplash and mocha colored gloss cabinet fronts.
Little known high gloss acrylic wall panel fact #2 – They can be pre-cut if you want (or need) to do it yourself
If you're like a lot of parents and tell your kids to stay away from the skilled trades (carpentry, plumbing, electrical, masonry etc.) and go into fields like computer technology you are contributing to the problem of finding a decent contractor in your town to install a product they have not worked with before. So, when you ask a recommended contractor to install a product (like high gloss wall panels) don't be surprised if they tell you they are too busy – or they only work with tile showers or ceramic kitchen backsplashes. When there is a lot of demand for their services your contractor not be willing to try to install a hot new product like high gloss wall panels. The good news is there is something you can do about this problem (even if you're not the second reincarnation of Tim the Tool Man Taylor).
Simply get the high gloss panels precut and predrilled with holes you need for your shower heads and valves (in the case of a shower) or with the outlets cut out (in the case of a kitchen backsplash).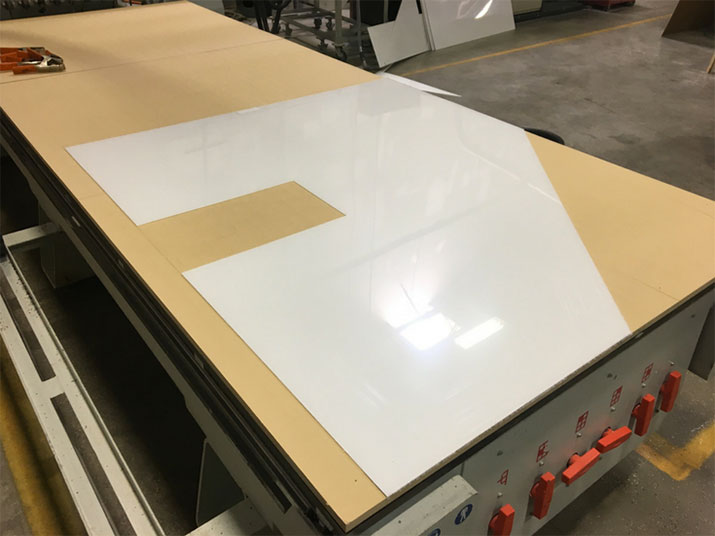 CNC equipment can pre-cut wall panels to make a shower kitchen or commercial installation of high gloss wall panels easier
In this way, all you need to do to self-install them is apply the silicone and double-sided tape on the back and slap them up.
Little known high gloss acrylic wall panel fact #3 – Not all acrylic wall panels are created equal
High gloss acrylic wall panels are not the same as the 1/8" thick acrylic walls used by nationwide "One Day Bathroom" franchises who focus in on lower end showers. High gloss wall panels have a hard coat applied to the front which allows them to create a mirror like look and pop out from the wall. The high gloss surface has 20 times the impact strength of back painted glass – but is only ½ the weight. In addition, the hard surface has superior scratch resistance to standard acrylic wall panels. They are sleek, contemporary, colorful and create a Euro-inspired look.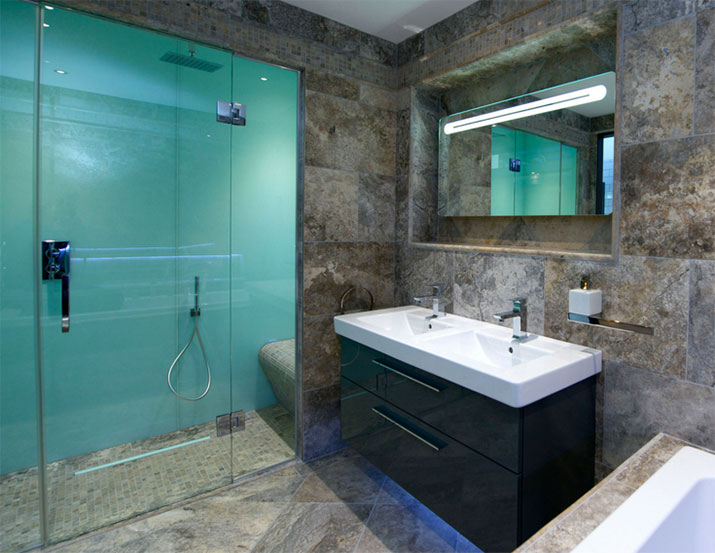 Where standard acrylic panels work well is they are low-priced alternative to a tile shower (which can be a good option in rental homes and investment properties).
Little known high gloss acrylic wall panel fact #4 – The "party's" in the back – and that's functional and stylish for you
Back in the 1970's and the 1980's the "mullet" style hairdo was popularized by the likes of Rod Stewart and David Bowie. It came to be known as the hairdo with the "party in the back." While that style has (fortunately) gone the way of the powder blue leisure suit I have to admit I wore (hey – I'll blame my Mom for buying me that!) in the 1970's, there are still some products where it is good if the "party" is in the back.
High gloss acrylic wall panels are one of those products. Putting the color (or the party) in the back of the panel makes sense because it is not subject to harmful UV rays and discoloration. The color in the back is the same approach as is used in more expensive back coated glass.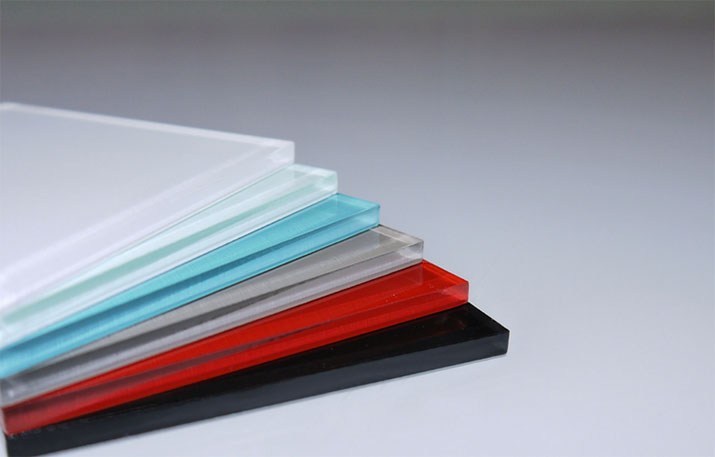 The color is on the back edge of these sample chips
Little known high gloss wall panel fact #5 – These panels go onto a wall, but they aren't the wall itself
High gloss wall panels have their place reflecting light off a wall and creating a mirrored light-filled contemporary look in a room They also help to block the view behind the wall surface (like tile you can't see through these panels or get any water through the surface either) to the wall backer material they are applied onto. That's the good news about high glass wall panels.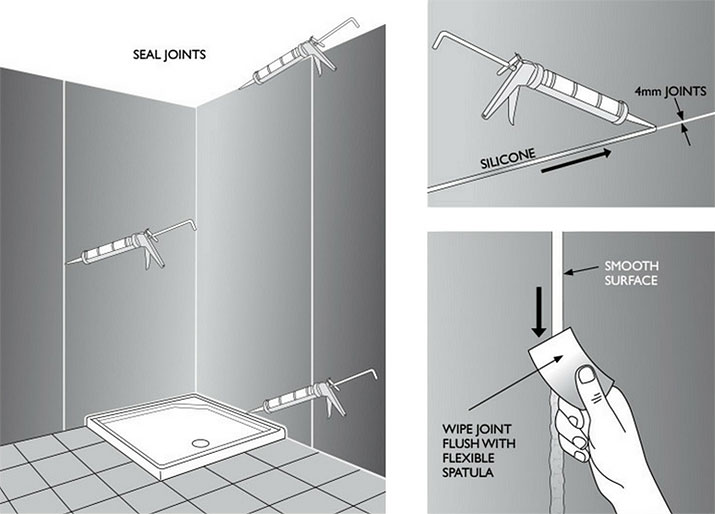 The bad news may be that they aren't a transparent or translucent glass material where light can transmit through the panels. If you're looking to move light through a glass wall you'll want to use real glass or a plexiglass.
Conclusion
Even though not a lot is known about high gloss acrylic wall panels in this country what can be agreed on is they are a fun, striking material which makes a visual impact on any room you choose to use them (a bathroom, kitchen, classroom or a front desk office area in commercial buildings are most common). I believe as you dig a little deeper into this material you'll also find they are easy to work with (especially if you have the panels pre-cut) and certainly not the same as the cheap acrylic you'll see advertised by "One Day Bathroom" companies. It is a stylish, contemporary and a luxury component to make your next bath, kitchen or office project distinctive.
How can I (or a member of my team help you)
If you're still uncertain how to use, cut or purchase this material I (or a member of my team) would love to help. For nationwide supply or material questions call Innovate Building Solutions at 877-668-5888. To use this product on a local bathroom or kitchen remodeling project in Cleveland call Cleveland Design and Remodeling at 216-658-1270 or in Columbus the Bath Doctor at 614-252-7294.
Company: Innovate Building Solutions
Product: High Gloss Acrylic Wall Panels
Of: Mike Foti
Source: http://blog.innovatebuildingsolutions.com/2017/07/15/5-facts-high-gloss-acrylic-bath-kitchen-wall-panels
Tags: Color | Design | Kitchen | Office | Shower | Wall Panels
---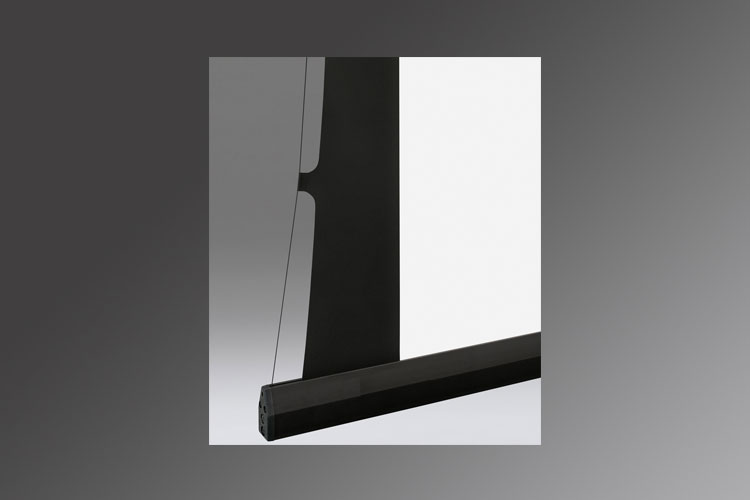 Who knew a series of small tabs could be so important to having a beautiful picture, and a durable product?
One of the most important elements of creating the ultimate projected image is having the flattest viewing surface possible. Great contrast, brightness, and vivid and correct colors are important, but without a perfectly flat surface those attributes of a great picture don't matter.
Fixed frame projection screens are one way to ensure the flattest viewing surface possible. Not everyone wants a huge screen hanging on the wall all the time, though, so they need a motorized screen. With motorized screens, however, the problem is how to keep the surface taut from the sides.
That's where Draper's innovative tab tensioning system is so important. A tab tensioning system uses a very thin cord running down each side of the screen through tabs, attached to the roller at the top and the dowel at the bottom. The cords are tightened, creating a flat viewing surface.
Most other manufacturers use adhesive to attach these tabs. This can lead to problems when the constant tension proves too much for the adhesive to handle, and it give way, creating "popped" tabs.
With Draper, you never have to worry about "popped" tabs. Here's why.
All of our tab tensioned screen surfaces—including the tabs—are cut on Computer Numerical Control (CNC) cutting tables, which means every cut is made with digital precision. CNC represents the highest level of precision available in the manufacturing process.
The tabs are then folded to the backside of the screen and Radio Frequency (RF) welded. In this RF heat sealing (AKA dielectric sealing) process, the tabs are folded back and placed between two dies (electrodes). The RF produces heat by exciting the molecules to the point that they melt and create the bond. We use the same technology to create seamed projection screens. The strength of the seal is determined by three factors-
Sealing current (radio frequency power)
Sealing time
Pressure
The result is a much stronger tab, with no possibility of separation, as the tab and surface are fused into a single layer of material. In-house laboratory testing of our tabs shows that this RF seal is in most cases stronger than the material itself.
Our tab tensioning system is also nicer looking. Making a tab tensioned surface in this manner eliminates the puckering that can characterized the edges of tab tensioned screens made using adhesives.
When we introduced this new system several years ago, it represented a unique and significant improvement in tab tensioned screen design. It still does. We were so confident of our system that we decided to warrant all Draper tab tensioned screens against tab separation for five years from date of manufacture. We still do.
Click here to find the perfect tab tensioned projection solution for your next project. Whatever model you choose, the perfectly flat surface will create the perfect image you want, and for a long time to come.
Company: Draper, Inc.
Product: Projection Screens
Of: Terry Coffey
Source: http://blog.draperinc.com/2017/07/flat-viewing-surface/
Tags: Audio Visual | Color | Furniture | Interior Design | Lighting | Office
---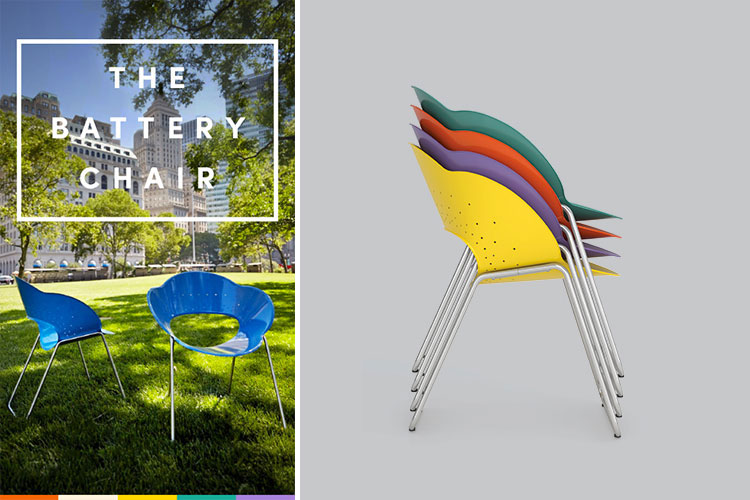 The Battery Oval
In June 2016, the Battery Conservancy of New York City proudly cut the ribbon and opened the Battery Oval; the revitalized grand lawn in The Battery (formerly Battery Park), one of Manhattan's most historic public spaces. The Oval's new signature outdoor furniture was also debuted. Formed into the shape of a blooming flower, hundreds of blue Battery Chairs filled the Oval that day.
Manufactured by Maglin Site Furniture, the Battery Chair was unlike typical New York City outdoor seating. These chairs were moveable, stackable and suitable for people of all abilities. Visitors to the park could easily pick up and reposition a chair anywhere within the Oval. The moveable chairs gave park visitors a chance to create their own outdoor space within the country's most heavily populated city.
The Past
For hundreds of years The Battery played an important role in the growth of New York City, and the United States. In fact, The Battery was the country's first immigrant receiving center, pre-dating Ellis Island and the Statue of Liberty. But over the years the historic space had fallen into disrepair. "(T)his park was not a destination; it was the bleak area you hurried through to get to the ferries going to the Statue of Liberty and Ellis and Staten Islands.1 In 1994 things started to change for The Battery. Warrie Price, a veteran of New York City's government and community planning boards, founded The Battery Conservancy; a not–for–profit educational corporation to rebuild and revitalize The Battery.
Price stated, "I was drawn to The Battery because it is the first or second impression people around the world have of New York City. This is a birthplace park—the park land most continuously in use in all of the five boroughs.2 The Battery was on its way to becoming a newly invigorated and sustainable public space in Lower Manhattan.
The Battery Contest
Four years before the Battery Chair's debut, the Battery Conservancy put a call out to designers across the Americas to "Draw Up A Chair." The contest challenged them to "Design an iconic moveable outdoor seat for The Battery." The chair was going to be a major element in The Battery's journey to becoming an outdoor space where "Downtown will come to rest, eat, and enjoy live performances.3 Nearly 700 submissions to the "Draw Up A Chair" challenge arrived from across North and South America. The entries were narrowed down to 50, and then to 5. The public was invited to a "See, Sit and Select" exhibit within the park, to give feedback on the five chair prototypes. Finally, an internationally renowned jury, with members from the Museum of Modern Art and the New York Times, chose Canadian designer Andrew Jones' submission.
Jones' design for the iconic chair was inspired by "imagining how a field of chairs could poetically respond to the lawn of the Battery Oval, a major meeting ground for Lower Manhattan. Using a single chair in repetition, the view across the Battery Oval is transformed by the whimsical suggestion of sun-loving flowers.4 About the chair, Warrie Price proudly stated, "The Battery Conservancy is known for design excellence. This award-winning design helps us build the brand for The Battery."
Maglin's Role
With the design in place, Maglin Site Furniture was brought on to manufacture the Battery's iconic blue chairs. Price stated, "We have Maglin as the manufacturer, known for extraordinarily well designed and well-constructed furniture."
Working closely with Jones, the Maglin team efficiently streamlined the design for production purposes. "At first glance the chair may appear as more of an ornamental piece," said Aaron Dawson, Maglin's Director of Manufacturing, "but the slightly reclined seat and single piece stainless steel frame form an extremely comfortable and durable product." A total of 300 chairs were built in three shades of blue exclusive to The Battery.
Once the Oval chairs were complete, Maglin Site Furniture moved forward as the sole manufacturer and distributor of the Battery Chair. Keeping the signature shades of blue exclusive to the park, Maglin introduced their Battery line in a variety of colors: orange, green, purple, yellow and ivory. The line was expanded to include Café and Lounge Tables that kept with Jones' design properties. Upon introducing the collection, Ian McAskile, president and founder of Maglin Site Furniture, stated, "The Battery Collection is not only a new line for Maglin, it is a fresh new approach to thinking about the ways that color and ornamental aspects can bring a touch of playfulness to the whole (site furniture) industry."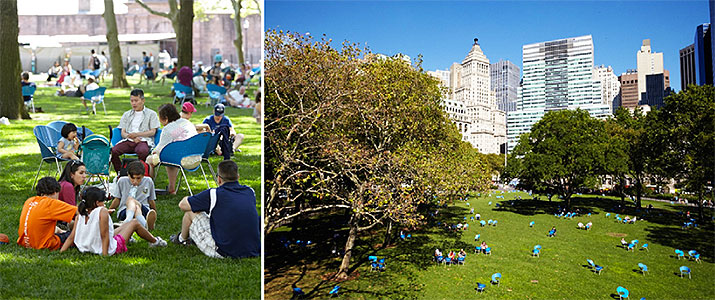 The Future
Since its launch, the story of the Battery Collection has captured the attention of the design community. About the journey from concept to completion, Warrie Price says, "For Maglin and ourselves the focus was on bringing great design to the public, to use freely and openly in a public park – and the fact that now it is offered to others is thrilling. It belongs in terraces, balconies, backyards, front yards, (and) sunrooms.5
By satisfying the needs of New York City's Battery Oval, the Battery Chair proved its worth in any public environment. From campuses to courtyards, the clean design and solid construction of the Battery Collection lends itself to an endless variety of styles and spaces.
For more information on The Battery Conservancy and Battery Oval, visit http://www.thebattery.org/
For more information on Maglin's Battery Collection visit http://www.maglin.com/products/battery/batterycollection.html
1 https://womensvoicesforchange.org/warrie-price-a-woman-whos-made-a-difference.htm
2 https://womensvoicesforchange.org/warrie-price-a-woman-whos-made-a-difference.htm
3 http://www.thebattery.org/wp-content/uploads/2014/11/TBC-RFEI-Battery-Chair.pdf
4 http://www.thebattery.org/about-fleurt/
5 Maglin Site Furniture. (2016). Introducing The Battery Collection: Maglin Site Furniture launches exclusive competition-winning design from famed Manhattan park [Press Release]
Company: Maglin Site Furniture
Product: The Battery Collection
Source: http://www.maglin.com/products/battery/batterycollection.html
Tags: Color | Design | Furniture
---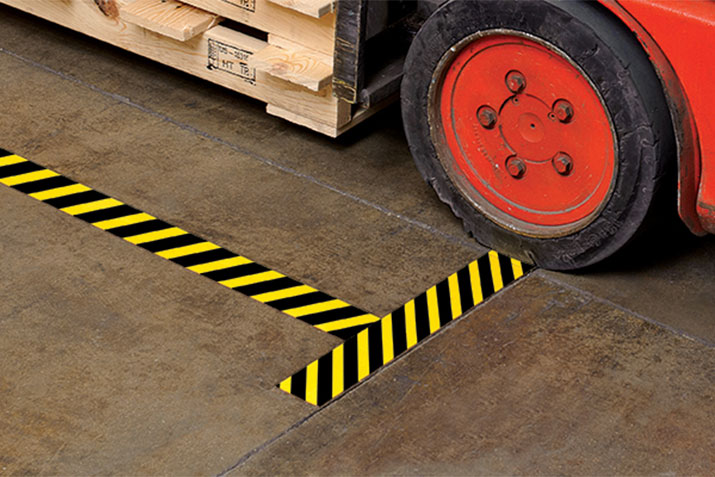 Floor marking, if it's used to its best advantage, can help you create a very organized, efficient and safe workplace. Using the different colors and patterns of floor marking tape that are available, helps keep your employees in the right areas or passageways, marks equipment and storage, and guides them in an emergency. Here is a suggested plan with which to color-code your facility.
Yellow
Mark aisle ways, traffic lanes, and work cells. Distinguish clearly the various sections of a plant.
White
Point out equipment work areas and borders.
Orange
Mark inspection spaces for materials or products.
Red
Create separate sections for finished products with defects, scrap material, rework products or red tag areas.
Blue, Green & Black
Use tapes to define material storage areas, storage fixtures, and storage shelves or racks for various materials such as raw material, works-in-progress and finished goods.
Red & White Striped
Identify safety and compliance areas to keep them clear. Help workers to discern between firefighting and other kinds of safety equipment. Increase visibility and find items from afar.
Black & White Striped
Color-code operation areas in the case of dangerous equipment or forklift traffic. Use the tape to keep open areas free of miscellaneous items.
Black & Yellow Striped
Mark electrical panel areas and keep the areas around them clear. Apply a border to equipment and special hazard areas; this denotes that caution should be used in the space.
Photoluminescent
Identify exit pathways with luminous marking tape to show the way out of your building. Apply to steps and floors in the path. This way the path will show in an emergency situation when the light is dim.
Shop tapes at Seton.com.
Company: Seton
Of: Danielle Hicks
Source: http://www.seton.com/resource-center/warehouse/floor-marking-color-3057/
---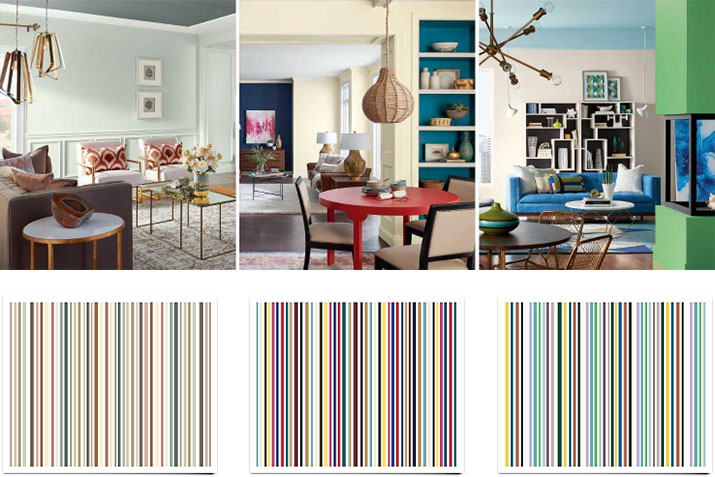 Like blue meeting yellow to make green, every color is a collision of influences - every palette a fresh chance at community.

Less is more as we're de-cluttering, moving more possessions into the cloud. Silence is no longer empty, but instead rare and rich with possibility. Our notions of what's authentic are being complicated. We're celebrating the unfiltered, yet captivated by the artfully processed. Blending in is the new standing out. Flaws are treasured. The hushed tones of this score play out in sand, complex grays and hazy botanicals.

Nationalism and globalism are in flux, challenging terrestrial boundaries. We're remapping our sense of community. Optimism persists in the form of boundary-breaking skyscrapers and commercial space travel. Even landlocked cities are becoming global hubs of crafts and gastronomy. We crave security and adventure in equal measure. Airbnb, car sharing and e-learning have created a culture of everyday nomadism. The bright folklore of this story is told in memorable pops of peacock color.

We're each moving to the beat of our own algorithm. From choosing a dry cleaner to choosing a college, data powers nearly every decision we make. In Silicon Valley, Austin, Berlin and Beijing, techies are the new hippies, full of breakthrough ideas and utopian ideals. A generation is waving the flag of color freedom, and Instagramming every moment. This high-tech palette is pixelated in orange, violets, digital greens and high-def yellow.
Company: The Sherwin-Williams Company
Product: Interior Paints
Source: https://www.sherwin-williams.com/architects-specifiers-designers/inspiration/color-forecast/2018-color-forecast
Tags: Coating | Color | Finishes | Interior Design
---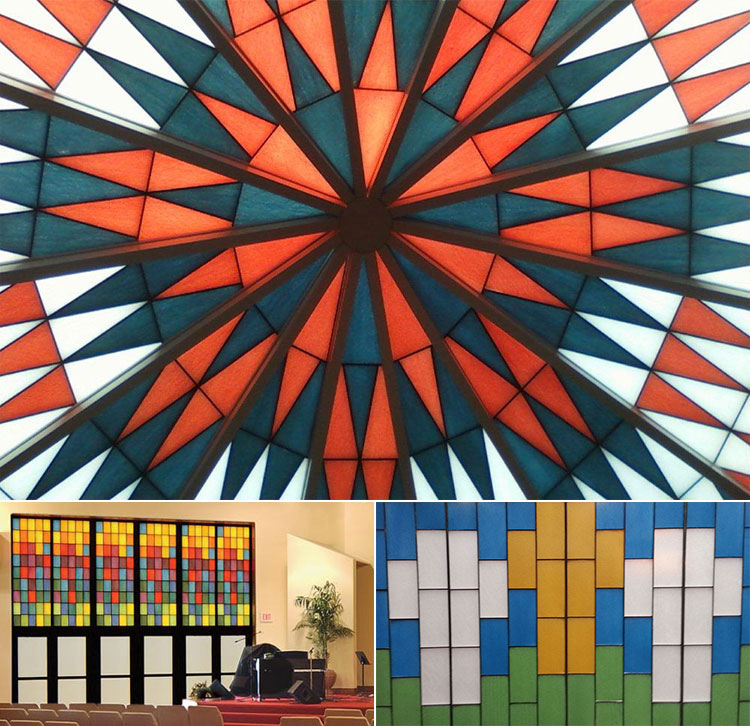 Looking for a unique way to incorporate school colors into an education facility, or perhaps you're in need of high thermal performance but want the look of stained glass? Energize your next daylighting design with Spectra-Grid™.
Spectra-Grid™ is an eye-catching color option for our translucent panel systems. Colored insulation allows for bright, vibrant hues to illuminate when light shines through. You can even light the panel from behind during nighttime hours to announce a building's entryway, or mix in company logo colors in a lobby skylight – the options are nearly endless. If you are looking to create a certain mood or colorful visual effect for your building, Spectra-Grid™, with its limitless color options, offers a cost-effective solution.
No matter what the function – from retail space to athletic facilities – let Spectra-Grid™ bring the power of color to your next design. Call 888-759-2678 or email sales@majorskylights.com for more details.
Company: Major Industries Inc.
---
Calling all color enthusiasts! Starting today, Sherwin-Williams is issuing a challenge to easily and temporarily remove color from social media photos, web browsers and personal websites.
It is all part of an effort to showcase the impact color has in our lives and to get DIYers ready for National Painting Week later this month. But wait, there's more: Sherwin-Williams will turn all digital color "donations" into fresh coats of paint for deserving community organizations during National Painting Week, May 19-29 and throughout the year.
"Sometimes, we don't appreciate something until it's gone, and that applies to color as well," said Ellen Moreau, senior vice president, marketing communications at Sherwin-Williams. "For several years now, Sherwin-Williams has been celebrating the benefit of a fresh coat of paint with National Painting Week. This year, we're inviting our fans to get involved in a new way, and for a good cause, as we illustrate the role color plays in our communities, homes and everyday lives."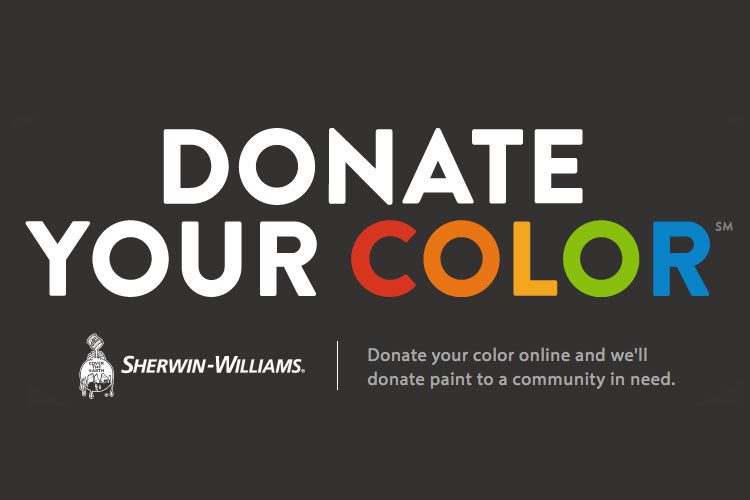 How it works
Visitors to DonateYourColor.com will have three options for donating: giving the color from a photo that can be easily shared on their social media channels; searching the internet in black and white with a Chrome browser extension; or, turning a personal website into black and white with an easy-to-use application. Depending on the option a user chooses, Sherwin-Williams will donate between 500 and 5,000 square feet of paint.
Participants who donate will be in good company, joining DIY influencers Vintage Revivals, Curbly, City Farmhouse and Thistlewood Farms, plus Apartment Therapy, Brit+Co and many others who are donating their color from website home pages, social media sites and more.
In addition, as part of National Painting Week, an annual celebration of protecting and beautifying the things and places we love, Sherwin-Williams employees will volunteer their time and expertise to revitalize spaces throughout the U.S. and Canada. Sherwin-Williams will also be sharing findings from proprietary research on color preferences, expert advice from Sherwin-Williams director of color marketing Sue Wadden, and key insights from color psychologist, Dr. Sally Augustin.
To get involved or for more information on how to donate your color, visit DonateYourColor.com. For more information on Sherwin-Williams products and services, or National Painting Week, visit: NationalPaintingWeek.com.
Company: The Sherwin-Williams Company
Source: https://www.donateyourcolor.com/
---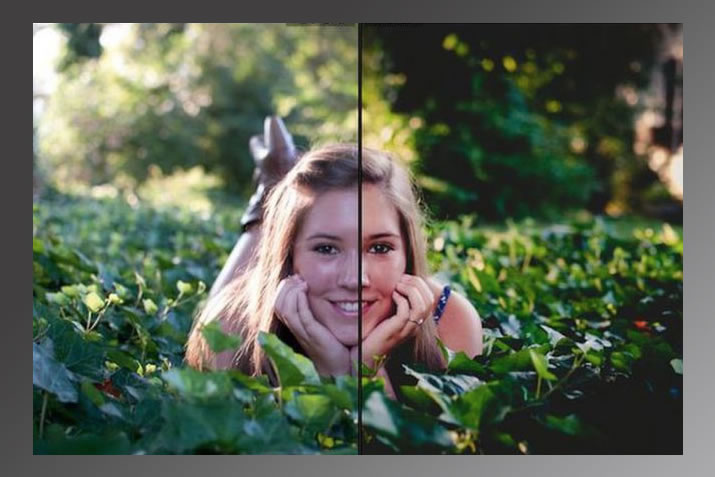 When looking for an ambient light rejecting projection screen, don't forget to consider color accuracy as well as ALR properties
Color balance plays a vital role throughout the world around us. So don't sacrifice color accuracy when it comes to ambient light rejecting (ALR) projection screens.
The majority of ALR projection screens on the market today play with color balance in order to reject as much light as possible away from the eyes of the viewer. In doing so, this creates an image that doesn't look quite right, although it's hard to say why—at least, until you do a side-by-side comparison with an ALR screen that is reflecting colors accurately. Then you notice how blue the typical ALR screen image is.
We depend on the correct colors not only to visualize, but also to understand our world. It's believed that our ability to see in color evolved, so we can sense emotion or health on the skin of others. Getting the wrong color signal could lead to misreading an enemy's intentions or being exposed to illness. Color balance can even mean the difference between right or wrong diagnoses using a microscope in the lab.
In nature, showing off the correct brilliant color warns possible predators that a South American arrow poison frog isn't a good idea for dinner. Being the right color to blend in with tree branches gets the mantis its insect meals. If a male peacock's tail feathers are bright and colorful then females know he's healthy.
So why is this need for proper color accuracy sacrificed when choosing an ALR projection screen?
Draper was the first screen manufacturer to make ALR screens that are certified by the Imaging Science Foundation (ISF) for color accuracy. All of our ALR screens have this certification, which means they are proven to have no impact on the image color.
When used in conjunction with an ISF-certified (or correctly calibrated) projector, the colors you see are as they are meant to be, so you can have confidence that no matter how mission-critical the situation, there won't be any mistakes due to bad color balance.
To find out more about our 8K-ready, ISF-certified TecVision screen viewing surfaces, including our ALR solutions, click here.
Company: Draper, Inc.
Of: Terry Coffey
Source: http://blog.draperinc.com/2017/04/color-balance-alr-screens/
Tags: Audio Visual | Color | Design
---

A recent ASID study identified health and well-being and sustainability as two macro-trends defining the industry. To support your evolving design practice in these areas, Sherwin-Williams is not only developing innovative coatings that meet the most stringent environmental guidelines, we're also creating tools and joint partnerships that make it easier for you to meet program guidelines and provide transparency for your projects.
Here are the latest tools and partnerships that will help you meet green guidelines:
What does it do? Sherwin-Williams announced that it is the first paint manufacturer to be certified in the new Product Lens™ program from UL. The Product Lens report is an ingredient disclosure tool that provides hazard information across the entire lifecycle of a product and also considers risk and exposure, fulfilling industry demands for transparency.
How will it help your practice? The Product Lens program was designed specifically with LEED v4 in mind and targets the Material Ingredients disclosure credit within the Building Product Design and Optimization grouping. Product Lens reports are third-party certified by UL Environment, which means that the materials have been independently evaluated for transparency and disclosure — making it easier for you to understand if the products you spec are meeting green guidelines. Sherwin-Williams ProMar 200 Zero VOC Interior Latex Paint is the first product to be certified by the program.
"By partnering with UL on its innovative Product Lens program, we can provide credible information to architects, specifiers and other purchasers in a format that is easy to understand and act upon," said Steve Revnew, senior vice president of product innovation at Sherwin-Williams. "We felt strongly about partnering with UL on Product Lens because its approach is both rigorous and relevant to the coatings industry."
Need to satisfy LEED v4 requirements?
Check out these products.
What does it do? These specification guides — which include Sherwin-Williams products — are written in CSI format and can be included in their entirety, or selectively, in a master specification for a variety of credit cateogries.
How will it help your practice? Meeting criteria for credit categories can be a complicated process, but these specification guides help make it easier. Simply go to the Green Program Specification page to download the PDF that matches the criteria your project needs to meet. Also visit the Green Program and VOC Regulation Tools page (see below for more information on this page) to learn about exceeding the toughest VOC regulations. As with any standard specifications, they should be reviewed by the specifier and edited to suit the particular needs of a given project and its respective location.
What does it do? We've found innovative ways to make coatings that are compliant in the most stringent regulatory requirements, and a wide selection of our products meet VOC guidelines for industrial and architectural applications. These green program guides and VOC regulation tools, including our popular Green Programs and VOC Coatings Reference Guide, help you navigate through a number of "green specification" possibilities.
How will it help your practice? Whether you're specifying wood finishing, painting, a waterproofing system, interior and exterior finishes, or stains, these tools and guides will help you find the products you need quickly and accurately, while meeting and exceeding standards, as well as the toughest VOC regulations.
Did you know?
We offer an array of other tools and resources, including:
Guide specifications. If you need "off the shelf" guide specifications created for a particular type of commercial facility, simply go to swspecs.com.
Hands-on consulting. We have more architectural account representatives than any other North American paint manufacturer — all trained to help you spec. You can locate your rep at sherwin-williams.com/architects-specifiers-designers or email specifications@sherwin.com. Our reps offer product consultations, specification reviews, compliance and standards questions, and competitive crossovers.
Color specification. Our color specification tools, services and Sherwin-Williams ColorSnap® — our integrated color selection system — are available at swcolor.com.
Company: The Sherwin-Williams Company
Of: Molly Burke
Source: https://www.sherwin-williams.com/architects-specifiers-designers/inspiration/styles-and-techniques/sw-art-stir-green-guidelines
Tags: Color | Finishes | Interior Design
---
Background: Since 1932, GECU has been one of the largest and strongest locally-owned financial institutions in the City of El Paso. With more than 340,000 members, the credit union experiences a significant amount of foot traffic within its branch, and the flooring was starting to show it. The GECU branch knew it needed to polish up its look as it prepared to deliver the same exceptional service for decades to come.
Contractors:
CON-TEX Construction, LLC is a General Contractor specializing in commercial concrete projects in El Paso, TX.
Vincent Villegas, Owner of Creative Colors Dye, YouTube instructional video guru, consultant, and creative concrete design expert.
Challenge: Half of the floor inside the bank was delaminating. It needed a full removal and replacement. Because of the nature of the credit union's business, it had only a 72-hour window of time to upgrade its look as not disturb business banking hours.
The Solution: With the help of Vincent Villegas, CON-TEX Construction completely removed the delaminating underlayment and surface layer of the floor and installed the following Super-Krete Smooth Finish & Art Deco Resurfacing System while exceeding the client's demand for time and aesthetics.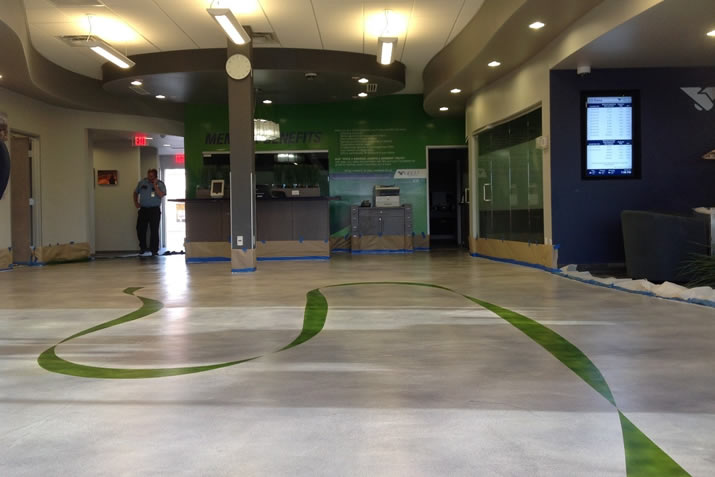 The Solution
With the help of Vincent Villegas, CON-TEX Construction completely removed the delaminating underlayment and surface layer of the floor and installed the following Super-Krete Smooth Finish & Art Deco Resurfacing System while exceeding the client's demand for time and aesthetics.
The existing surface area floor was completely stripped using grinders, sweeping and vacuuming. Because the original material failed, S-100 S.B.A. Superior Bonding Agent™ was applied as a precaution for additional bond strength. Once the primer dried, S-9300 Bond-Kote® was mixed and applied, followed by two coats of S-9304 Micro-Bond™ for an ultra-smooth finish. After the finish had dried, tape was artistically placed to create the designs sought and acetone dye was applied, with custom colors created by Vincent Villegas. As an added bit of functionality, an intricate design was cut into the floor to guide banking patrons through the line. The rest of the floor was dyed to match the bank's color scheme, after which the floor was then sealed with two coats of S-8600 Clear Seal™ Plus and waxed with multiple coats of Industrial Floor Finish Wax.
"Super-Krete to the rescue! Among the many great attributes of the Super-Krete products, the time it takes for the products to completely set is incredibly fast and simply put, worked amazingly! In an incredibly short period of time, we had gone from a delaminating floor, to a torn-up floor, to now a floor that quite literally looks like a work of art. A bright, shiny green ribbon dashed along the floor indicating where patrons of the credit union should stand in line, while the rest of the floor was covered in an elegant marbleized blue-grey, both colors exactly matching the color schemes throughout the bank! We had done it and with not a minute to spare! Thanks to the high-quality materials available through Super-Krete, the knowledge and expertise of colors and overlays of Vince Villegas, and the sheer determination to succeed of CON-TEX Construction, the job was not only fixed, but completed above expectations!"
Juan Martinez
Chief Managing Officer
CON-TEX Construction, LLC.
Source: http://super-krete.com/case-study-1016-gecu-case-study
Tags: Color | Concrete | Floor | Interior Design
---
Seaside and coastal areas are beautiful locations for commercial and residential buildings, but also pose the greatest challenges in protecting exterior-facing architectural aluminum products from corrosion. Without proper precautions and finishes, corrosion to these aluminum components can damage the building envelope's structural integrity, leading to systemic failure.
One of the most aggressive outdoor environments for aluminum is the seacoast. Of the seacoasts, Florida's coastal regions represent the most corrosive in the continental United States, with Cape Canaveral cited as the most corrosive atmospheric environment.
Corrosion rates vary from place to place and during different times at the same location. Such wide variability makes definitive conclusions difficult.
The primary variables affecting corrosion rates near the coast are the salt content in the air, the time of wetness of the metal surface, the temperature and the level of other atmospheric pollutants. Several environmental factors control these variables, including distance to the ocean, elevation, wind direction, wave action, rainfall, humidity, the degree of shelter and the level of industrial air pollution.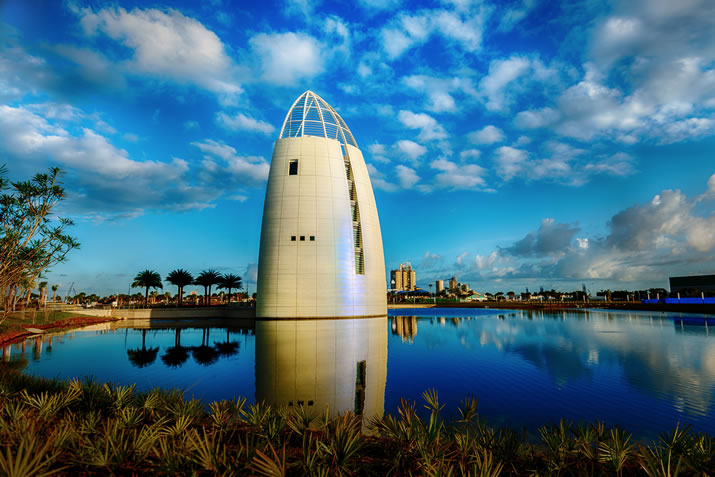 Exploration Tower at Port Canaveral (courtesy of Valspar. Photo by Rip Noel, Noel Studios Inc.)
Durable Finishes
Painted coatings and anodized finishes are among the most durable finishes for exterior-facing architectural aluminum products.
As a prominent part of the building's exterior, the coated aluminum adds color and design to the project. This coating also protects the building from unsympathetic surroundings. When selecting a coating to withstand harsh corrosive environments, one should specify either:
the highest-performing organic paint coating that meets AAMA 2605-13, Voluntary Specification, Performance Requirements and Test Procedures for Superior Performing Organic Coatings on Aluminum Extrusions and Panels; or
a Class I anodize coating that meets AAMA 611-14, Voluntary Specification for Anodized Architectural Aluminum.
These two options continue to set the highest standard for architectural coatings, especially in a coastal or highly corrosive environment.
Paint
High-performance 70 percent PVDF coatings offer the capability to select nearly any conceivable color or combination of colors, while shielding the building against weathering, pollution and aging.
The carbon-fluorine bond used in 70 percent PVDF coating is one of the strongest kn own. These paint coatings can withstand enduring and intense UV radiation, which supports their long-term color- and gloss-retention, and chalk-resistance.
The first, and one of the most important, defenses against a paint failure is proper pretreatment of the aluminum. Without proper pretreatment, premature failure of the finish is almost guaranteed. Paint systems are designed to be applied over clean metal that has been properly pretreated.
Pretreatment of the aluminum building components to be used in severely corrosive or coastal environments is crucial.
The most time-tested, proven pretreatment system for architectural aluminum products is a chrome phosphate conversion coating. This process conforms to Type B, Method 5 of ASTM D1730-09 (Reapproved 2014), Standard Practices for Preparation of Aluminum and Aluminum-Alloy Surfaces for Painting, as required by AAMA 2605-13.
Offering the longest lifecycle and true sustainability, chrome phosphate conversion coatings continue to be recognized by the world-class coating manufacturers, Akzo-Nobel, PPG, and Valspar, as the most effective, robust pretreatments for aluminum. As a result, products installed along the seacoast and in other harsh industrial environments may not be warranted-or the warranty length and coverage could be compromised-when a chrome pretreatment system is not employed.
These highest-performing 70 percent PVDF are required to perform to rigorous testing performance standards, including more than 4,000 hours of salt spray, and heat- and humidity-resistance to meet the AAMA 2605-13 specification.
Special Considerations
The shape and machining of the architectural aluminum products also may facilitate or deter corrosion. As examples:
Machined holes and cut ends of factory-finished aluminum components are protected by thin, naturally forming aluminum oxide. This oxide, while tenacious in its bond to the underlying aluminum substrate, may be susceptible to attack from strong cleaners or heavy salt deposits.
Hems and seams on aluminum components may be formed in a way that will collect sand. With movement, over time, this sand can erode away the painted coating or anodized finish.
Components may be shaped with areas that are left holding pooling or ponding water. This often can become a major issue for corrosion.
Specific to curtainwall and window systems' aluminum framing, ensure the weeps are large enough to avoid becoming plugged by salt deposits.
Anodize
When extreme hardness is required for the aluminum building components, such as in high-traffic areas like entranceways and railings, an anodized aluminum finish should be specified to meet AAMA 611-14. The hardness of anodized aluminum rivals that of the diamond. (On the Moh scale of hardness, a diamond is 10 and anodized aluminum is 9.)
Architectural anodize is specified for its natural beauty, but also for its long life and low maintenance. It provides excellent wear and abrasion resistance with minimal maintenance in most environments. It resists the ravages of time, temperature, corrosion, humidity and warping.
Anodized aluminum should meet the strict guidelines of Class I specifications of AAMA 611-14, including a minimum oxide coating thickness of 0.018 mm (0.7 mil); minimum of 10 years color retention on the South Florida on-fence testing site; and 3,000 hours corrosion resistance.
Cleaning and Maintenance
Studies have shown increasing levels of atmospheric pollution can have a negative effect on finish longevity in the absence of periodic maintenance. Runoff from adjacent site materials must be considered in a corrosion prevention plan. For example, mortar, cement and even gypsum dust can accumulate as alkaline deposits on aluminum surfaces and must be promptly rinsed. This is especially true of mill finish or anodized surfaces. While somewhat more resistant to alkaline attack than anodized surfaces, high-performance paint finishes can be managed by rough attempts to remove such buildup.
AAMA 609 and 610-15, Cleaning and Maintenance Guide for Architecturally Finished Aluminum, and AAMA CW 10-15, Care and Handling of Architectural Aluminum from Shop to Site, are general guides for these precautions and cleaning activities.
Corrosion of architectural aluminum materials is a fact that must be recognized; proper steps must be taken to minimize the potential for its occurrence. With these building considerations and preventive measures in place, finished architectural aluminum retains its intended look and long life, while providing the desired performance in the harshest environments, including the highly-corrosive seacoast. These qualities reduce the need to replace materials and components, conserve resources, optimize labor and save money.
Company: Linetec
Product: Anodizing
Source: http://www.linetec.com/Finishing_Facts/The-right-finish-for-coastal-projects.pdf
Tags: Aluminum | Building | Coating | Color | Design
---
Flexible bollards are more than just traffic pylons. Rigid on their own, flexible bollards are designed to bend under vehicles—flexing up to 90 degrees—repeatedly, without losing their shape or form.
Flexible plastic minimizes damage
Prevent collision damage to vehicles, bollards and road surfaces
Save time and money
No need for upkeep or replacement—even after multiple impacts
Removable hardware available
View compatible bollards and hardware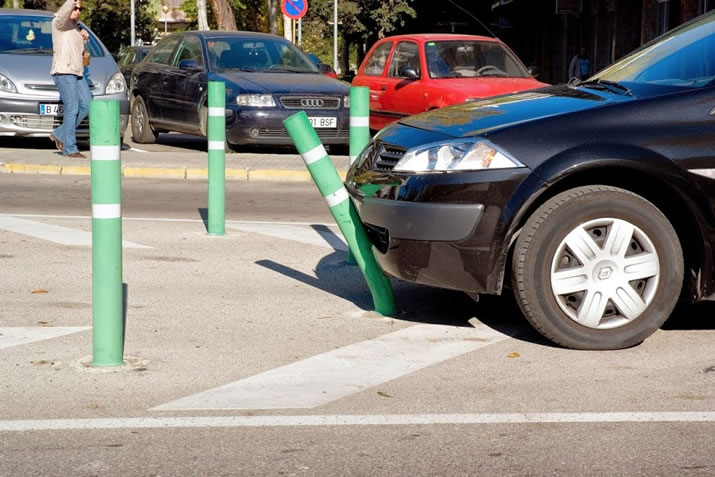 Flexible bollards
Flexible bollards indicate traffic boundaries and off-limit areas, while minimizing vehicle damage in case of collision. Install flexible bollards with inground mountings—fixed or removable—to avoid tampering or theft.
Flexible plastic bollards provide strong visual indicators, standing at an ideal height for drivers. While standard traffic cones are easily damaged or kicked out of place, quality bollards withstand heavy use in high-traffic environments for extended periods of time. Use flexible posts with other traffic-calming infrastructure such as medians, extended sidewalks and crosswalks.
Versatile installation
Flexible bollards can be installed with fixed or removable mounting hardware. For fixed installations, embed bollards in new concrete or bolt down into existing concrete surfaces. Removable hardware can be embedded into concrete to allow quick installation and removal. See individual item pages for installation options, or view all flexible bollards with removable features.
Durable plastic materials
Flexible bollards are made from durable polyurethane plastic to ensure lasting performance—tested to withstand full 90-degree flexion up to 50 impacts and partial 45-degree flexion up to 500 impacts. Coloring permeates throughout internal structures, so any scratches, scrapes or dents from extended use or impacts will show minimal markings. All bollards feature UV protection to minimize maintenance and prevent fading in sunlight.
High visibility
Flexible bollards ship in standard black to complement any contemporary or traditional architectural and landscape design. A selection of alternative colors are available—see individual item pages for details. All flexible bollards feature optional reflector strips in 1 of 4 colors.
Company: Reliance Foundry Co. Ltd.
Product: Flexible Bollards
Source: http://www.reliance-foundry.com/bollard/flexible-bendable
---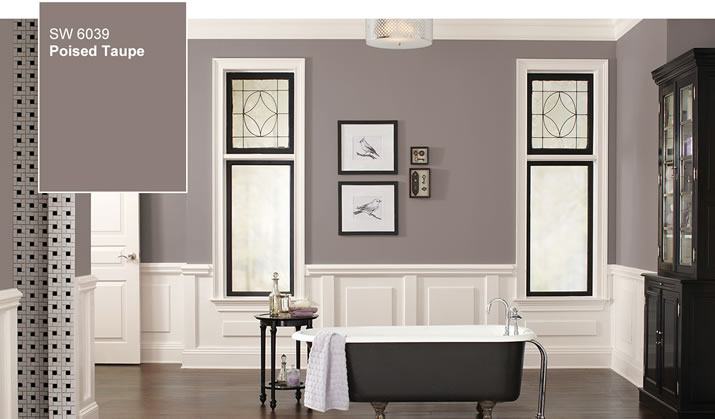 2017 Color of the Year
Sherwin-Williams doesn't usually like to play color favorites, but in this case we can't resist. The color we anticipate defining 2017 is Poised Taupe SW 6039. Here's why: This timeless neutral is modern, classic and a beautiful balance of warm and cool.
The 2016 industry shows revealed a surprising transition from grey to taupe. Both contract and consumer color and products have been focused on grey as the key neutral — although grey is still important, we have seen a significant shift in materials and finish color to warmer expressions of neutral.
Using the Sherwin-Williams ColorSnap® Visualizer, you can explore the Color of the Year, and with the swipe of a finger see it on any wall.
Tag your Poised Taupe Twitter and Instagram posts with #SWCOLORLOVE or upload a photo.
2017 Key color combinations featuring Poised Taupe…
In addition to the "warming up" of neutrals in general, 2017 will see several key colors emerge in combination with taupe.
Cornflower Hues
Faded indigo and lighter cornflower hues pair with modern white and Poised Taupe for a charming palette, reminiscent of the French countryside.

Organic Re-imagined
Vegetal green, citrus green, weathered bronze and mustard yellow pair with Poised Taupe to create a contemporary organic palette — re-imagined for the modern world.

Vintage Pastels
Pastels take on a vintage vibe with dusty ink, amber, Poised Taupe, sage and oxidized yellow.

Wine & Taupe
Deep wine, purple and Poised Taupe bring warmth to the dark tones favored in 2017. Silvery grey and intense teal provide balance and drama to this rich, mysterious palette.

Eroded
Red and coral are vibrant and ore rich when combined with Poised Taupe and dusky rose. There is a natural feel to this palette, reminiscent of silt, clay and red stained bedrock.

Yellow POP
Yellow takes bold direction when paired with black, white, Poised Taupe and deep teal for a super graphic look.

Company: The Sherwin-Williams Company
Source: https://www.sherwin-williams.com/architects-specifiers-designers/color-forecast/2017-color-forecast/2017-color-of-the-year
Tags: Coating | Color | Finishes | Interior Design
---

Now homeowners have the freedom to choose the color they really want for painting their vinyl siding. Thanks to its strength, durability, versatility and ease of maintenance, vinyl siding is the No. 1 choice of exterior covering for homes across the country. According to U.S. Census Bureau statistics, twice as many homeowners side their homes with vinyl than with any other material.
However, vinyl siding colors traditionally range from white to sandstone, with maybe a Wedgewood blue thrown in for variety. In the past, if a homeowner wanted to change the color of his or her vinyl siding by painting, color choice was limited to the same range as or lighter than the existing color. Why? Because darker colors absorb more heat, causing the plastic vinyl to warp, buckle and distort.
But thanks to Sherwin-Williams new VinylSafe® colors, which ensures that darker colors don't absorb heat, this is no longer the case. Innovative VinylSafe® paint colors solve that problem by allowing you the freedom to choose from 100 colors options, including darks such as Ground Hog and Green Mountain, and brights named Frilly and Nikko Blue formulated to resist warping or buckling when applied to sound, stable vinyl siding. Plus, they can get custom matches by using Sherwin-Williams ColorSnap® Precision, our exclusive technology for ensuring exceptional color accuracy and consistency. Each vinyl siding color is available in Sherwin-Williams SuperPaint® Exterior and Duration® Home Exterior product lines. With the new VinylSafe® color palette, you can offer your customers both an economical way to achieve fresh curb appeal and a world of color choices.
Company: The Sherwin-Williams Company
Product: Exterior Paints
Source: https://www.sherwin-williams.com/architects-specifiers-designers/education/paint-and-color-technology/sw-art-pro-vinylsafecolortech
Tags: Coating | Color | Exterior Design | Finishes
---


Water-based Stain, Acid Stain
Concrete stains are a quick, easy and cost effective way to transform a dull slab. While most decorative concrete contractors opt for water-based stains (and for good reason), acid stains still have their place in the market. Water-based stains offer numerous advantages from environmental, aesthetic and functional standpoints.
Environmental Benefits
Simply put, water-based stains are better for environment. Acid stains contain potentially hazardous materials and require additional containment cleanup in regulated areas such as California where there is extra attention paid to storm water runoff. Water-based stains are environmentally safe and do not require special handling during application, nor do they carry disposal concerns.
Aesthetic Outcomes
Water-based stains typically have a larger color palette and offer versatility to the applicator with the ability to blend or dilute colors. Vibrancy can be achieved with water-based stains, while acid stains are typically in the natural, earth tone range. Water-based stains allow the applicator to decide how solid or opaque the color will become based on the amount of water used. With an acid stain, you really are at the mercy of the reaction that occurs. To achieve deeper tones with acid stain, multiple applications may be required, or you may need to bring in other products.
Functionality
Water-based stains possess additional functional benefits that are attractive to both the applicator and end-user. For instance, they do not discolor or fade over time, or radically change color due to UV rays. When applied to properly prepared concrete substrates, water-based stains will not exhibit cracking, crazing, spalling, delamination, softening or other deteriorating effects.
Since acids chemically react with concrete, and because no two concretes are the same, an acid stain reaction yields a different look or color on different batches of concrete. Contractors who are familiar with acid stains are comfortable explaining to their clients that they may not exactly get the intended appearance when using an acid stain. Various shades will be produced based on the concrete matrix, it's age, it's porosity or density, chemicals it has been exposed to, etc. The anticipated variation can be exciting to some. While to others, it can be disastrous. For those looking for something totally unique and custom, acid stain may be the solution. For those conservative folks who prefer a 'what you see is what you get' kind of outcome, water-based stains are the way to go.
Acid stains require the extra steps of cleaning and neutralizing after 24 hours, then additional time for the concrete to dry prior to sealing. Water-based stains don't require neutralizing or cleaning after the stain has been applied, so sealers may be installed the following day.
When Acid Stains Make Sense
Acid stains are predominantly used out of habit these days. The exception would be that water-based stains cannot be used in conjunction with polished concrete. Acid stains can.
Acid stains do become a permanent part of the concrete, and therefore will not fade, peel or crack over time.
Both types of topical stains can be applied to interior and exterior surfaces, as they are ultraviolet light stable. As with all stains, acid and water-based stains are translucent in appearance and therefore the concrete slab's surface textures and variations are visible.
Some installers actually prefer to use a blend of both materials. Often, acid stains are used as a base color and a water-based stain is then used to antique or create additional mottling.
Regardless which type of stain, always remember the importance of sealing these products with a protective sealer that will endure the chemicals, UV and traffic that a decorative stained surface is exposed to.
Of: Tracey Lackovich & Paul Scheidmantel
Source: http://www.super-krete.com/the-benefits-of-water-based-concrete-stains/
Tags: Color | Concrete | Design | Finishes | Floor
---

Color perception changes throughout the day. Here's what you need to know about the sun's changing influence.
Is that wall yellow, beige or tan?
Depending on the time of day, it could be any of the three.
As the angle and intensity of the sun shift, the wavelengths reflected from the objects around us shift along with them. In order for design professionals to accurately account for these subtle but constant changes, it helps to understand what our eyes and brains are doing when they process color.
Human beings are what's called "diurnal," which means our eyes have evolved to see better during the day than night. Over the course of a day, your brain spends a lot of time sorting through light waves, assessing so-called "chromatic bias" to figure out what color you're really observing.
According to Bevil Conway, associate professor of neuroscience at Wellesley College in Massachusetts, "Every natural light source has a chromatic bias, and the brain is surprisingly good at removing this bias to determine color." Much better than a camera, for instance.
Morning and evening have an orange bias, while midday light under a clear sky has a blue bias. As the quality and angle of light changes, the brain automatically adjusts for these shifts by subtracting the prevailing bias — orange or blue in natural light — to maintain accurate color perception.
But the system isn't perfect. Where the brain must work hardest, Conway says, is during transition periods from dawn to early morning, and from twilight and dusk to dark, when the timing of the light changes is the most rapid.
"One of the reasons our brains find sunsets so thrilling is that we can see the color biases changing," Conway says. But if you are assessing colors in a room, these are also the times of day when the brain's perception of color are constantly in flux and, hence, the worst times to make color decisions.
Experience does matter, though. According to Conway, the brain not only uses the immediate color data coming through the eye at any given moment, it also compares that information to a vast database of prior experience to arrive at its best color guess. Though the brain can be fooled, Conway says, its previous experience guides it toward more accurate perceptions of color in the future.
Tips to Improve Your Color Confidence
The only way to be absolutely sure what a color will look like under different lighting conditions is to observe it firsthand. The sun's angle and direction, as well as the amount and quality of artificial light, can have dramatic impact on color perception. Northern-facing rooms tend to skew blue during the day, and western-facing windows are affected most by the orange shift at sunset.
Colors appear truest in the middle of the day under indirect natural sunlight. Too much sunlight can wash them out, however, while too little (morning and evening) tends to darken them. Oranges and reds can intensify later in the day, and as the light dims, darker colors become duller and harder to distinguish.
What we perceive as "colors" are really surfaces reflecting and absorbing various wavelengths of light. Everything in a room can affect color perception — furniture, carpet, drapes, bookshelves — which is why a blank wall in an empty room can look dramatically different when that same room is furnished.
Use window blinds to control the amount of direct light entering a room. While opening and closing them, pay careful attention to subtle shifts in color. This will help you anticipate other color shifts as the light changes throughout the day.
Like natural light, artificial light has its own color biases. Incandescent bulbs have a warm orange shift. Fluorescent bulbs provide a cool blue light. LED light is whiter and more neutral but can also be programmed for different wavelengths and intensities, making it an increasingly popular indoor lighting option.
Most pigments aren't 100 percent light-stable. This means that they actually break down with prolonged light exposure, especially under UV light. So, if you have a richly colored object or painting, keep it out of direct sunlight, or put it under UV-conservation glass.
Company: The Sherwin-Williams Company
Of: Tad Simons
Source: http://www.sherwin-williams.com/architects-specifiers-designers/inspiration/styles-and-techniques/sw-art-stir-color-perception.html
Tags: Coating | Color | Design
---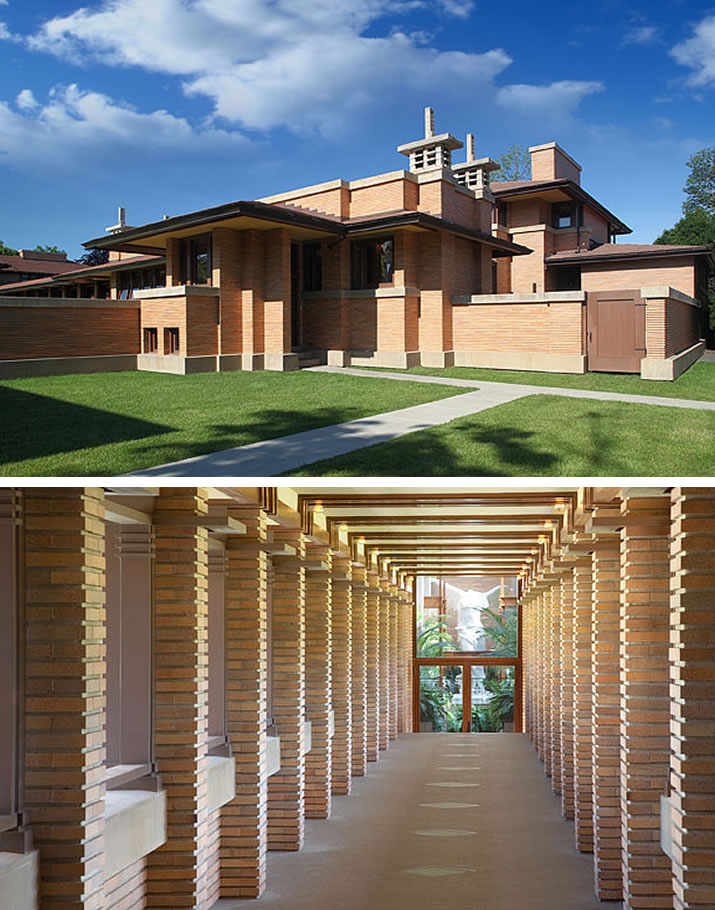 Project: The Martin House
Roman Brick is ideal for creating a distinct and different look to any structure. It characteristically has longer and more linear dimensions than those of standard modern brick. Belden Roman Brick was used on the restoration of the Famous Frank Lloyd Wright "Martin House Complex" in Buffalo, New York. The dimensions of Belden Roman Face Brick are 3-5/8" x 1-5/8" x 11-5/8".
Belden offers Roman face brick in a wide variety of colors and textures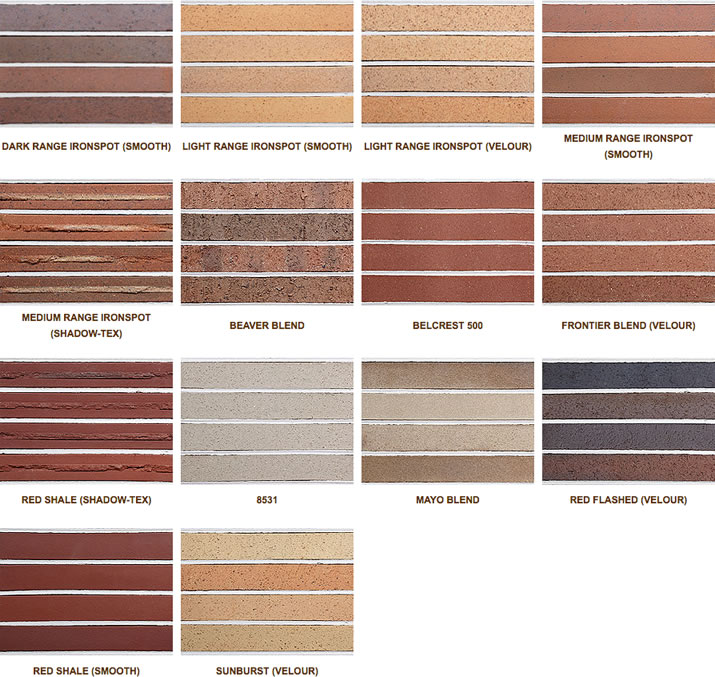 Company: Belden Brick Co.
Product: Roman Brick
Source: http://www.beldenbrick.com/roman-brick.asp
Tags: Building | Color | Design
---
Urban loft spaces in trendy areas like Victorian Village in Columbus or Little Italy in Cleveland can be cool but not if they are dark and have closed in spaces. One challenge of loft apartment housing is how to create a light open space while creating visual separations between rooms. Once excellent way to do this is through the use of distinctive modern glass block wall partitions.
Glass blocks have moved on from its traditional roots to now incorporated fun and vibrant colors and eye-popping textured looks which stand out in your modern home. Check out these 5 cool ideas to move light through the inside of your loft while providing privacy and an interesting look which can be as unique as you are.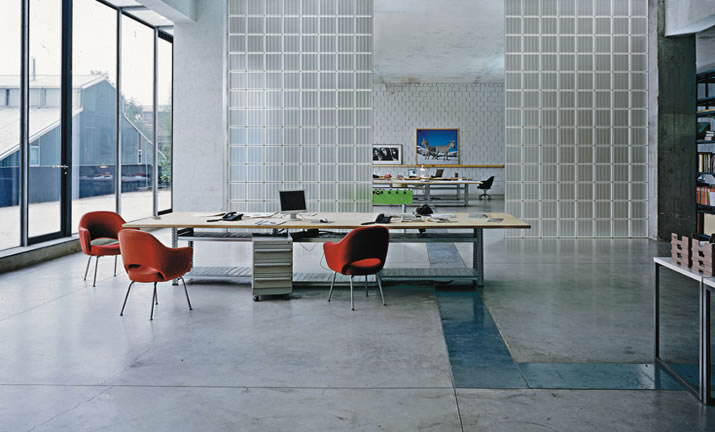 Idea #1 – Adding shape and texture to your glass privacy walls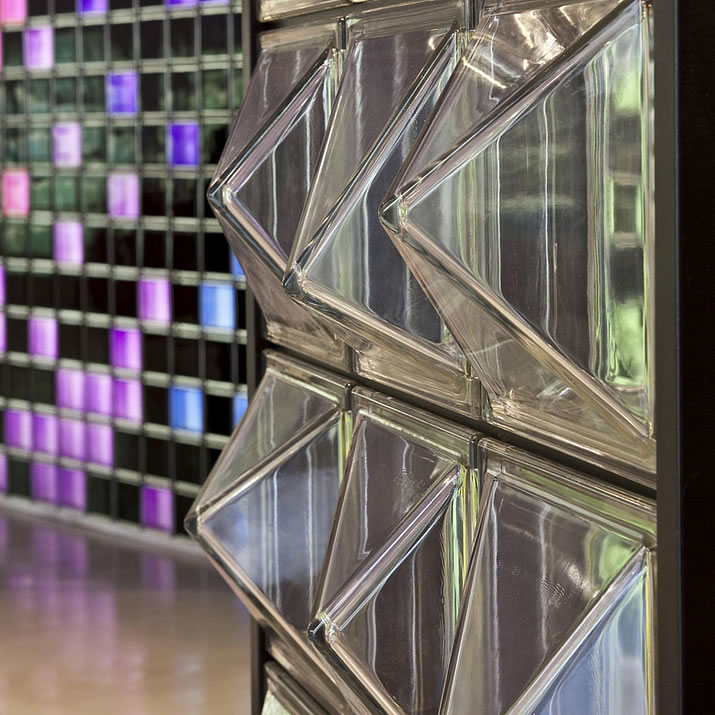 If you go to sleek modern hotels like "The W" you'll see ample use of textured walls. I am now seeing this trend in textured ceramic wall tiles in bathrooms and kitchens. But one application which is just now getting known is the use of textured glass partition walls to separate rooms. These walls are fun because they not only move the light between spaces – but they literally extend into a room to create a sense of texture and excitement. There are patterns with horizontal flutes and even a pyramid type of look which juts out into the space. Very fun!
Idea #2 – The glass brick partition wall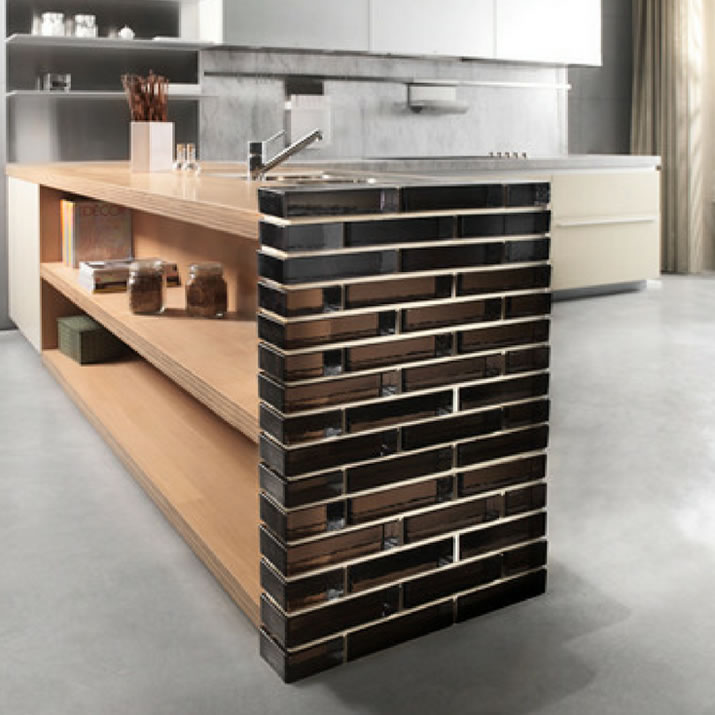 When you think of bricks I bet the image which comes to your mind is the traditional red brick building more associated with life in the suburbs or old industrial buildings. While there is nothing wrong with the suburban red brick look (and some exposed red brick walls can look cool in an urban contemporary space) a ceramic brick cannot move light through walls. This is where the glass brick partition comes in. This hip, upscale material comes in clear, bronze, black or an aqua blue colors and beautifully (and colorfully) moves light while creating a steady and attractive wall partition.
Idea #3 – Illumination in unexpected places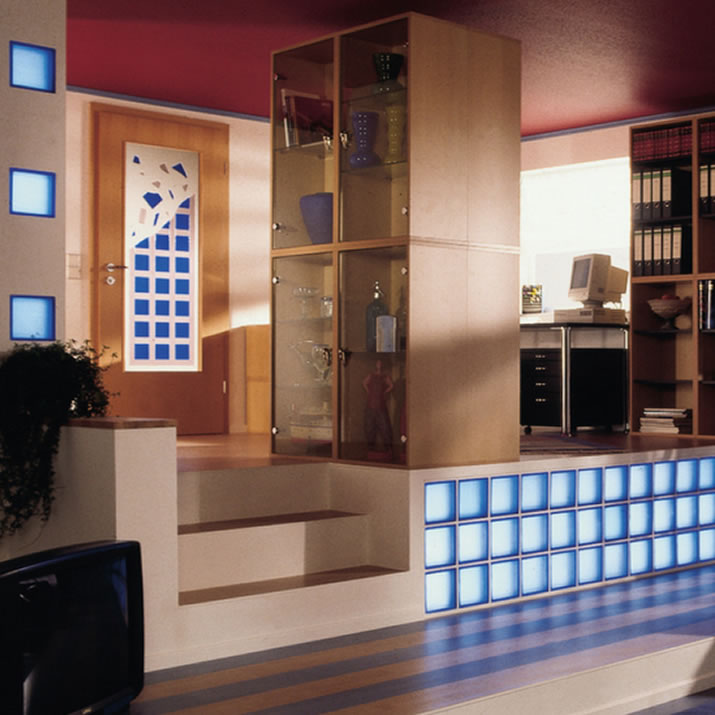 What makes loft apartment housing more difficult is you rarely find windows on more than two sides (note: this is because overall plan layout tends to be vertically oriented with one apartment next to another with interior walls separating spaces). This makes the need to be creative with your illumination strategies critical. While natural lighting is always tops on the list – finding other ways to transmit light also needs to be incorporated into your plan. Check out this lofted apartment space which added lighting under the raised section for an alternative lighting approach. It's creative and unique.
Idea #4 – Fun colors in small spaces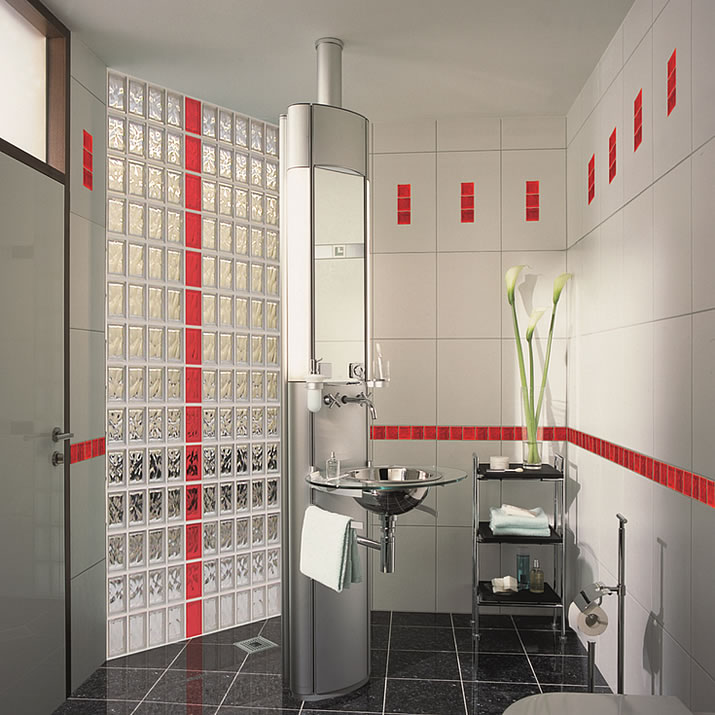 Let's face it, part of the reason you're moving to the city is to have more fun. Being able to jump out of your apartment and take in an Ohio State Buckeyes, Cleveland Browns or Columbus Blue Jackets game on a whim. The urban lifestyle enables you to enjoy the vibrancy of the city without the hassle of cutting a lawn – every again (yes!). That's the nice part about city life. The tougher part is you don't have the sprawling inside space you once enjoyed. Tighter loft spaces require more thoughtful design – both with respect to lighting and the use of color. Smaller urban spaces beg for more personality than what you had in the 'burbs. Whether you're working with an interior designer or using your own creative inspiration think about adding some eye-popping color to your design. Now is the time to dump the boring beige tones you were captive to in the 'burbs!
Idea #5 – Shape can be your friend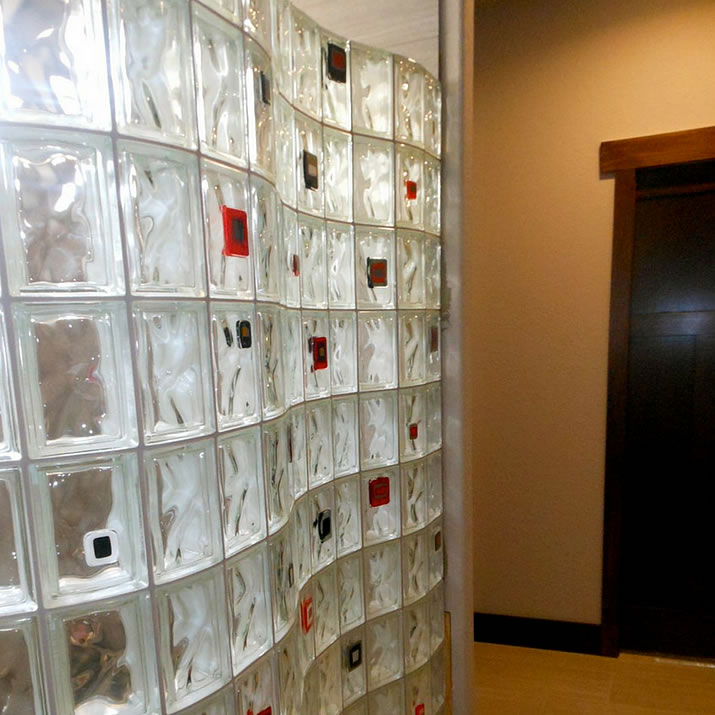 Who ever said all the walls had to be straight and rectangular? They must have been designing those cookie-cutter McMansions in the suburbs in the late 1990's. Whether you're looking at drywall or glass walls why not add some curvature or even a fun serpentine design. The glass block wall below used an S- shaped serpentine designs with one of a kind glass tile block accents. It's certainly not going to be confused for boring!
Conclusion
To my way of thinking I see cool, contemporary glass and the downtown urban loft apartment vibe as natural partners of one another. What do you think about the use of glass (or glass block or bricks) textured or colored walls to add some fun, light and interest to your space? If you have any questions feel free to call the numbers or comment below.
For assistance with modern glass or glass block or brick partition walls (which can be prefabricated to your specifications) call Innovate Building Solutions on a nationwide basis 877-668-5888. For a local installation or supply project Cleveland Glass Block (216-531-6363) or Columbus Glass Block (614-252-5888) can help.
Company: Innovate Building Solutions
Of: Mike Foti
Source: http://blog.innovatebuildingsolutions.com/2016/08/12/5-crazy-modern-glass-wall-partition-ideas-loft-apartment/
Tags: Color | Glass | Interior Design | Lighting | Wall Panels
---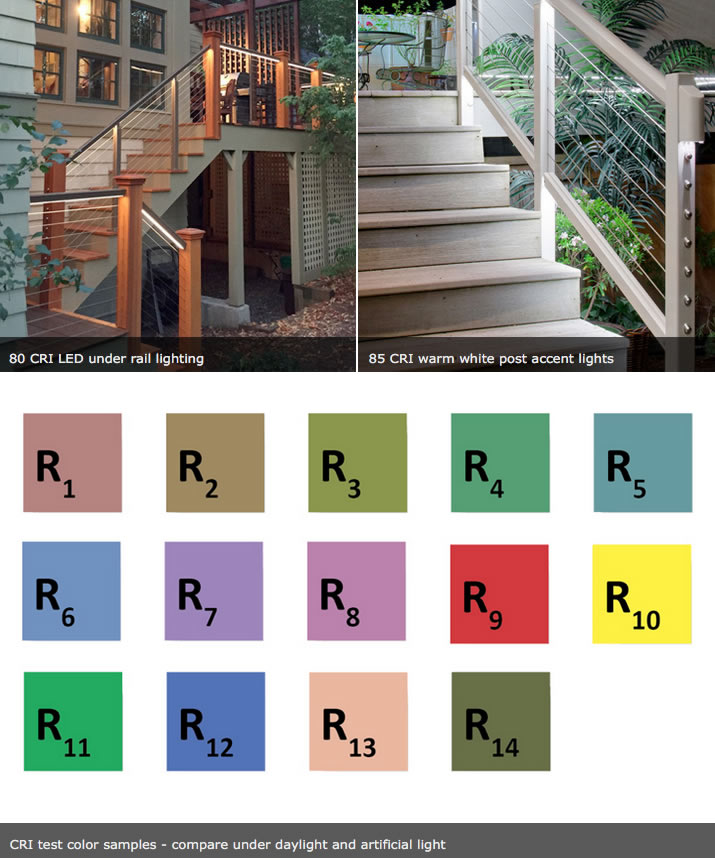 When it comes to design, the Color Rendering Index (CRI) is an important aspect of any lighting consideration. Different light bulbs emit different colors of light – ranging from cool tones to warm. The CRI of a bulb is determined by comparing the appearance of a colored object under an artificial light source to its appearance under natural light. The higher the CRI, the truer the color presentation.
Why is CRI important in outdoor lighting?
When you select lighting options with high CRI, colors will pop, textures will stand out, and finishes have depth and luster. As such, many architects refer to lighting as the fourth element of good design.
Selecting a high CRI is important when designing outdoor spaces, too, because it allows us to create the desired ambiance – whether it be warm and inviting for entertainment or a tranquil niche for relaxing after a long day. With the onset of the vast capabilities of LEDs, outdoor features within a space can be accented by focusing the position of the light, as pictured here with post accent lights – and it all starts with the right bulb that shines a natural (high-CRI) light.
Great outdoor lighting design, however, is more than just varying the warmth of color coming from a bulb. A high CRI allows designers to create layers and textures of light. Outdoor LEDs can be used to create complex layers of light throughout your garden. Some of the more popular lighting techniques include spotlighting, highlighting, silhouetting, shadowing and grazing (with lights mounted at or above the ceiling). Using light to designate what's most important intuitively draws attention to specific spaces. For instance, a home may be lit on the outside, but good lighting design will incorporate layers of light to clearly denote the pathway to the entrance.
The right lighting can turn a potential hazard, such as steps and walkways, into areas that are more easily navigated after dark. This is especially important for businesses that provide services for older individuals who have poor eyesight. In fact, more and more thought is being given to the type of lighting used in parking lots, parking garages and pedestrian walkways. Facilities that install high-CRI lighting feel more secure to pedestrians and drivers, and as more institutions, such as educational, medical and commercial, run operations after dark, this is an important consideration to creating a secure and welcoming environment.
As lighting technology continues to advance, we expect awareness to grow and the importance of the Color Rendering Index to continue to be a key element in outdoor lighting design.
Company: Feeney, Inc
Source: http://media.feeneyinc.com/blog/color-rendering-index-why-its-important-in-outdoor-lighting
Tags: Color | Design | Lighting | Railing System
---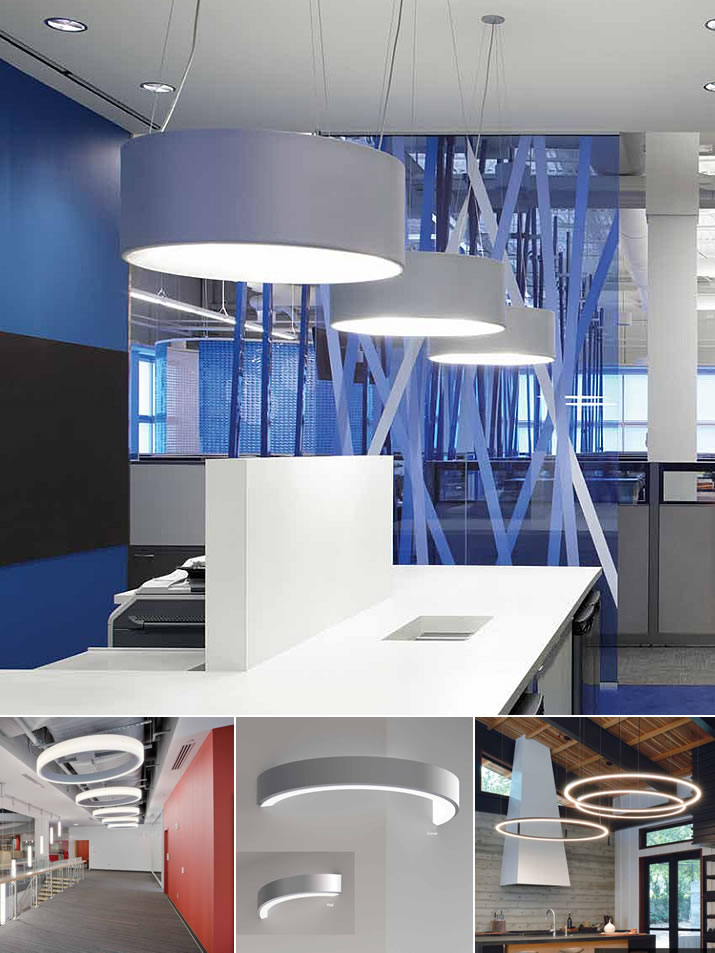 A variety of sizes and mount styles make Delray Circles a versatile, flexible choice for all applications and architetural styles. All feature the latest, best quality LEDs by Nichia, which employs a rigorous quality- controlled binning process to ensure consistent color temperature match across multiple fixtures. Delray's LED boards are built to operate well below the maximum current for which they're designed, increasing product life beyond the even the highest expectations.
Uno
Uno circles feature a minimalist 1-inch extruded aluminum housing profile, with a proprietary acrylic lens that provides broad, even illumination. Available in four sizes, with surface or remote, central or separate, driver mount options. Uno is offered with single-color red or blue LEDs, RGB with DMX512 interface, or with white 90 CRI Nichia LED chips, which are available in 3000º, 3500º, and 4000º Kelvin color temperatures.
Dos
Dos utilizes the same width extrusion as Uno, but with a higher 2-inch profile, to accommodate both downlight and uplight components. Dos circles are offered with white 90 CRI Nichia LED chips, available in 3000º, 3500º, and 4000º Kelvin color temperatures. They may also be ordered with single-color red or blue LEDs or RGB with DMX512 interface for the uplight or downlight. The uplight may be switched and/or dimmed independantly from the downlight. Like Uno, Dos is also available in four sizes, with surface or remote, central or separate, driver mount options.
Cylindro I
With a diameter of 24 inches, Cylindro 650's smooth, round anodized aluminum outer shell provides contrast for the inner opal acrylic diffuser, which produces soft, even up and down light. This Cylindro is available with single-color red or blue LEDs, RGB with DMX512 interface, or with white 90 CRI Nichia LED chips, which are available in 3000º, 3500º, and 4000º Kelvin color temperatures.
Cylindro II
Cylindro II circles feature an extruded aluminum outer housing, with an inner acrylic lens that provides broad, even illumination. Fixtures are available in three sizes, with surface or remote, central or separate, driver mount options. Cylindro II is available with single-color red or blue LEDs, RGB with DMX512 interface, or with white 90 CRI Nichia LED chips, which are available in 3000º, 3500º, and 4000º Kelvin color temperatures.
Cylindro III
Cylindro III circles feature an extruded aluminum inner housing, with an outer acrylic lens that provides broad, even illumination. Fixtures are available in three sizes, with surface or remote, central or separate, driver mount options. Cylindro III is available with single-color red or blue LEDs, RGB with DMX512 interface, or with white 90 CRI Nichia LED chips, which are available in 3000º, 3500º, and 4000º Kelvin color temperatures.
For more inspiration please see the pdf brochure or visit delraylighting.com.
Company: Delray Lighting
Source: http://www.delraylighting.com
Tags: Color | Energy | Interior Design | Lighting
Red, traditional brick color for traditional architecture (September 7, 2016), 4 Reasons you should choose a resurfaced concrete floor (August 10, 2016), Designer John Gidding on Finding Color Inspiration (July 18, 2016), Fleur de Sel (SW 7666) invites comfort and luxury into contemporary Atlanta home (March 18, 2016), High Performance Coatings (March 7, 2016), Masonry stains can make historic restoration easier (February 24, 2016), 2016 Color Forecast (February 22, 2016), Massive retail shopping mall (February 5, 2016), Online Color Selection and Specification Tool (January 11, 2016), NOVA Effects coatings provide rich color and vibrant sparkle (December 14, 2015), Stop unauthorized parking using Reliance Foundry's Fold-Down Bollards (November 16, 2015), Linetec mimics terra cotta's look and feel in new painted finish (October 21, 2015), Color of the Month: Get inspired with Black Magic SW 6991 (October 2, 2015), Style Squared (September 11, 2015), Healthcare Color Palettes (August 12, 2015), Tectum Panel Art Wall Panels (July 20, 2015), Enhance the beauty of ‪stucco (July 17, 2015), The Why of White (June 3, 2015), Find Your Color With ColorSnap Studio™ (May 20, 2015), Coral Reef! Jackie Jordan on the 2015 Color of the Year (February 6, 2015)