architecture - engineering - construction

Color
---
February 7, 2020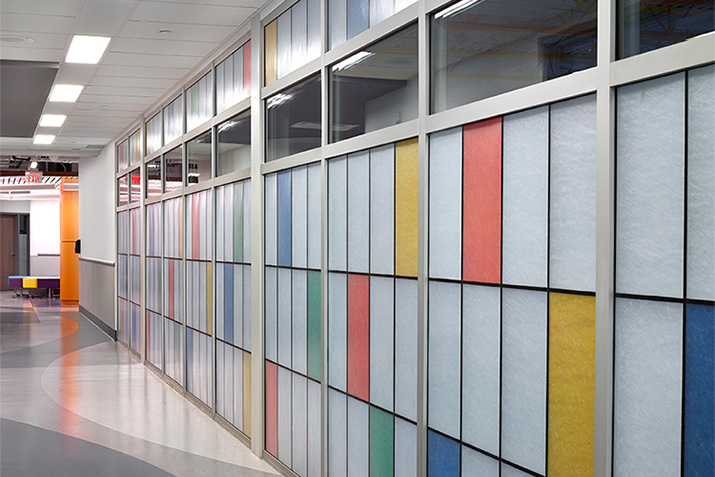 Incorporating colored insulation into your daylighting design can illuminate a space with bright, vibrant hues as the sun shines through! This Spectra-Grid™ application is perfect for creating a stained glass look or showcasing school or company colors. Click HERE for more information on this eye-catching visual effect!
---
February 3, 2020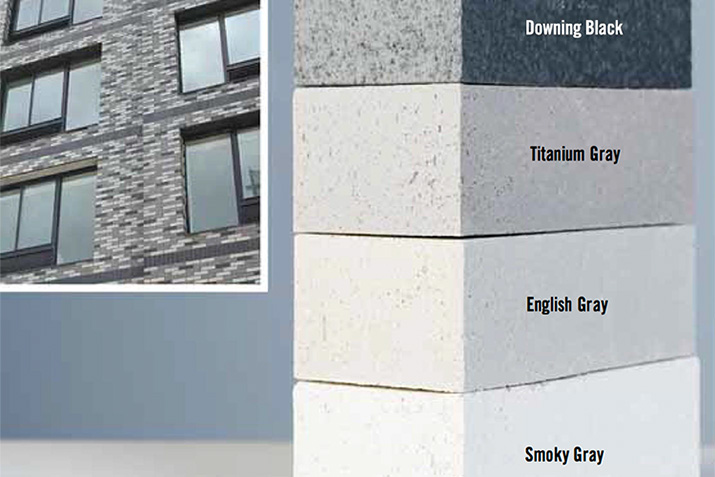 The Belden Brick Company is again expanding its offering of product lines. Belden has increased its production of coated brick products. Along with its recently expanded Glazed Brick line, offering a core of 30 standard colors and a multitude of custom colors, Belden Brick has increased its clay coated offerings in a variety of new grays. These complement our ever-popular Alaska White and Spectrum Series, such as Black Diamond.Current trends in color selection tend to draw towards coated brick. We are happy to provide these new styles and provide options to designers for the desired look with the permanence expected of brick masonry.
---
January 17, 2020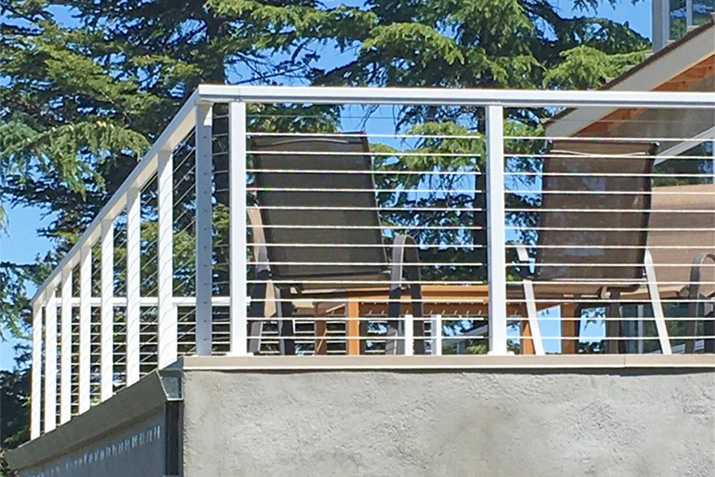 This Bay Area home had recently undergone a yard and deck renovation to update the outdoor space into something more modern and open. The customers wanted a railing solution that fit this contemporary theme while maintaining an open view of their newly landscaped yard.
---
November 11, 2019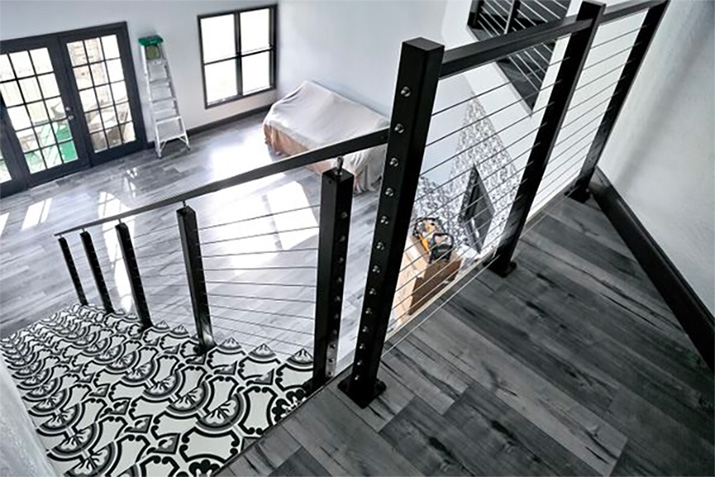 Sporting a stark black-and-white color scheme and eye-catching tile designs, this interior certainly makes a statement. Our black aluminum cable railing is the perfect accent. Black aluminum cable railing looks amazing against the intricate design of these tiles.
---
September 20, 2019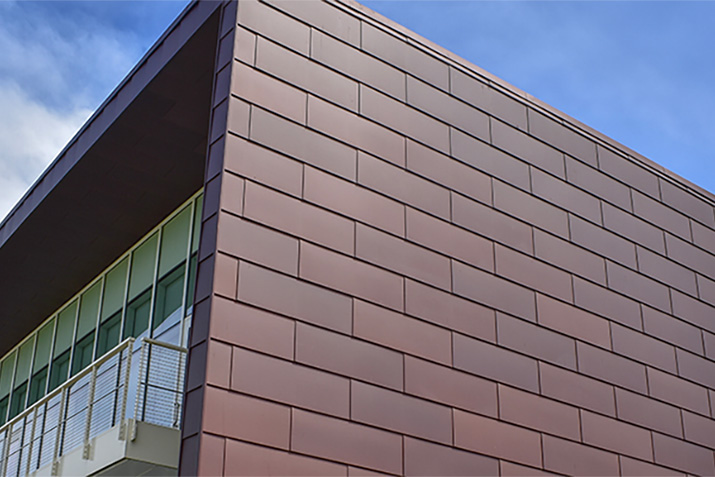 Linetec continues to grow its expansive palette with the introduction of Bordeaux Anodize. This new color is available as another of Linetec's proprietary finishes for architectural aluminum products. As the name describes, the hue leans toward rich burgundy tones and is created using organic tin and copper metals in the anodizing process. "Architects appreciate this unique, bold, earthy finish for a wide range of projects: from eye-catching modern designs to historic restoration projects," said Linetec's marketing manager Tammy Schroeder, LEED® Green Associate.
---
August 30, 2019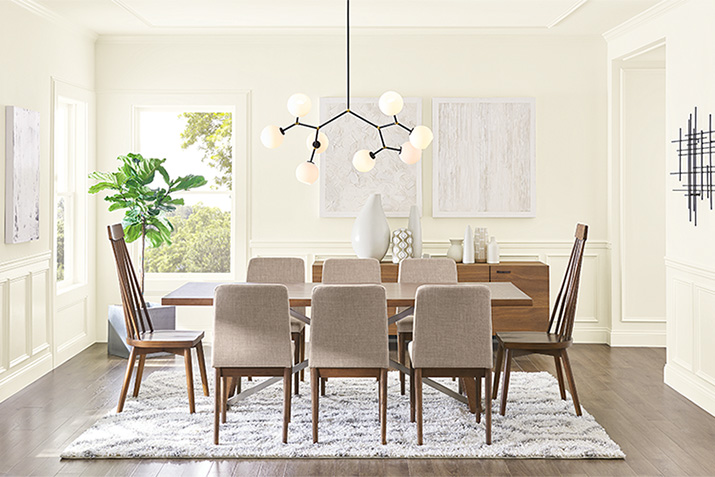 Lay the foundation for refined design by using the right paint for your project. As a design professional, you are particular about every aspect of your project. The space speaks to you, and you develop just the right combination of form, texture and light by choosing the right furniture, linens and light fixtures. Color comes into play as you create a symphony of sorts, directing all of the elements in your design to work together.
---
May 2, 2019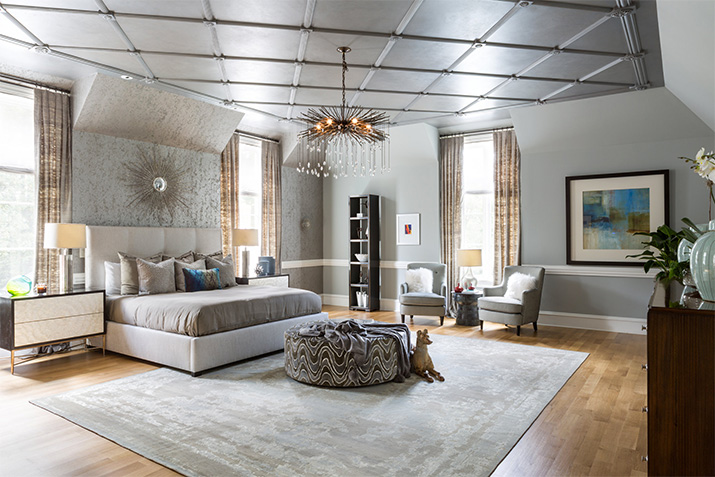 Burnished metallics wrap a cavernous master bedroom into a warm, cozy embrace.
---
April 19, 2019
It's no secret that color provokes emotion. Warm colors, such as those that are bold in appearance like red or yellow, promote positive emotions and are often found in the signage of retail brands. Cool colors, like green and blue are meant to calm and are said to make a space feel larger.
The use of color is viewed quite differently by many in the world of architecture. Some consider it secondary to building form and structure, with architecture critics referring to color decisions as personal in nature, difficult to discuss, and hence inconsequential.
To read the full article by Sto Corp. on Exploring Color in Architecture, please visit: http://blog.stocorp.com/2019/03/exploring-color-in-architecture/.
---
April 1, 2019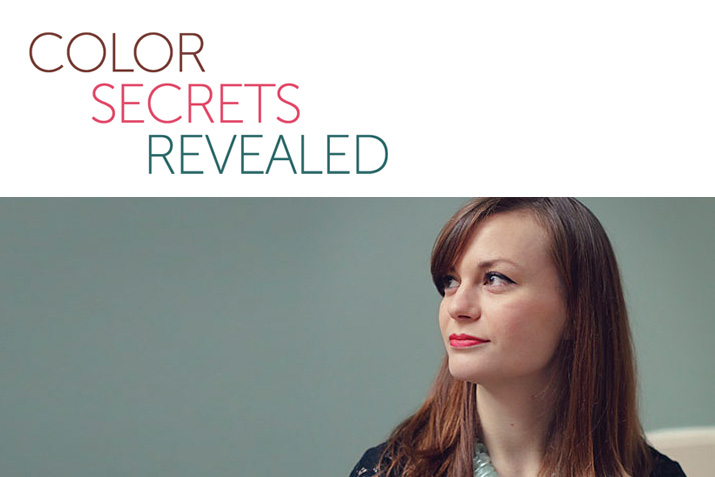 What is it about purple that signifies power and royalty? How did white help our ancestors fight the plague — and how does that dramatic history continue to define the ways we design with it? Kassia St. Clair explores the hidden stories of 75 different colors in her captivating The Secret Lives of Color. We caught up with the author and Elle Decoration color columnist in her London office.
---
February 11, 2019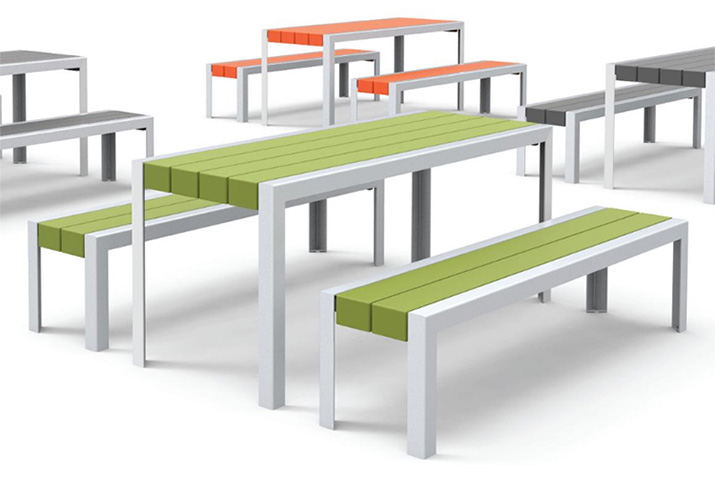 Maglin Site Furniture offers recycled High-Density Polyethylene in two textures: wood grain and orange peel. This creates a durable environmentally friendly alternative to traditional lumber that is perfect for most outdoor applications.
---
January 16, 2019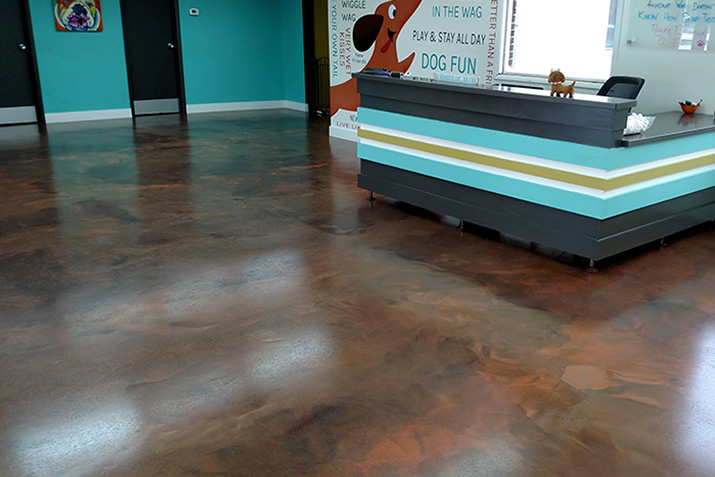 The REFLECTOR™ Enhancer Flooring System is a specialty, high build, self-leveling, fluid-applied floor coating. Engineered for commercial, industrial and residential applications where a durable, long-lasting, aesthetically unique, easy to maintain and completely custom floor is required. Due to the unique and unrepeatable nature of these flooring systems, consult with a technical representative before installing or specifying.
---
January 9, 2019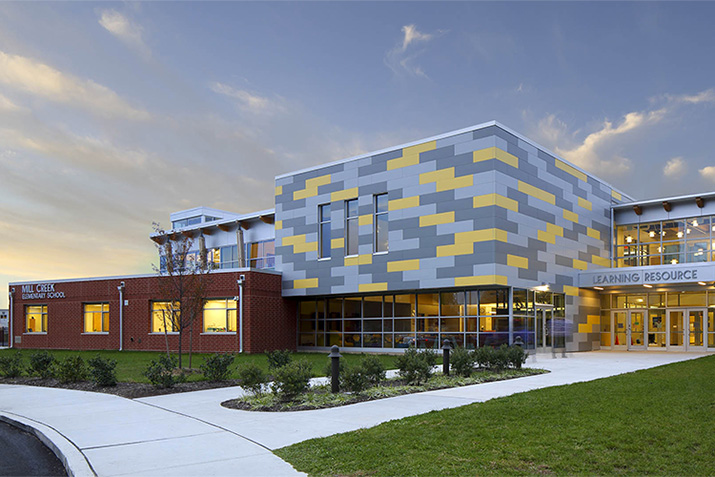 This colorful educational facility was designed from the ground up to provide a fresh start for an entire school district in Pennsylvania.
---
December 19, 2018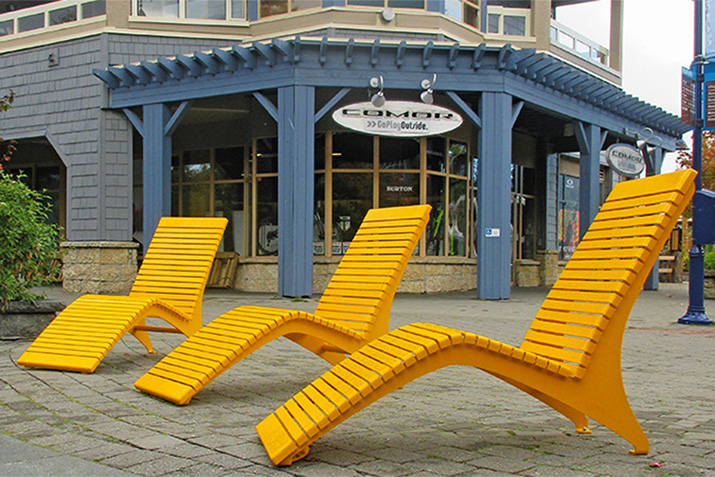 In 2014, as the Resort Municipality of Whistler was planning for the future, they began by looking back at the past. They wanted to highlight another side of their resort town, one that invited people to slow down and appreciate the natural beauty and unexpected history of the breathtaking location...
---
November 14, 2018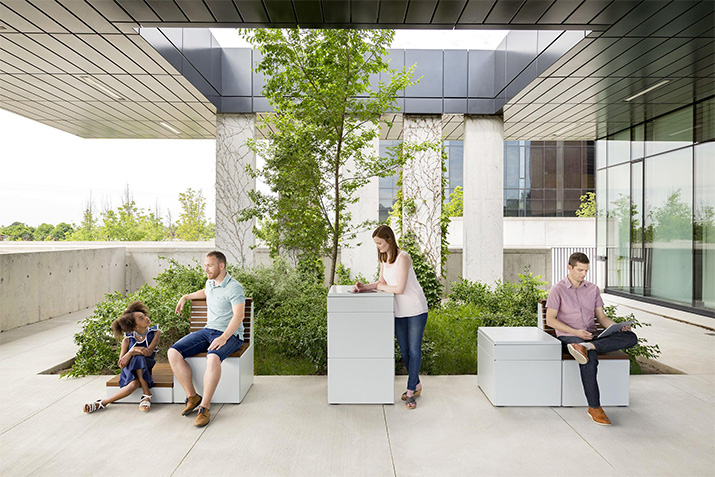 Maglin Site Furniture's new Pixel Collection is the perfect solution with its innovative and highly customizable line of modular site furnishings. Inspired by the concept of a pixel and how its square shape allows for near-limitless possibilities in placement and design, the Pixel Collection comprises an interchangeable series of blocks and tops that can be used to create everything from large-scale platform seating to lounge chairs, garden planters, tables, and more. Wired and wireless charging stations can be integrated into the design to support mobile devices. Whether used as an alternate work area or a place for a quick break, Pixel can offer the feeling of privacy through a strategically-placed planter, opposite oriented seating, or incorporating a standing tower into the configuration.
---
November 12, 2018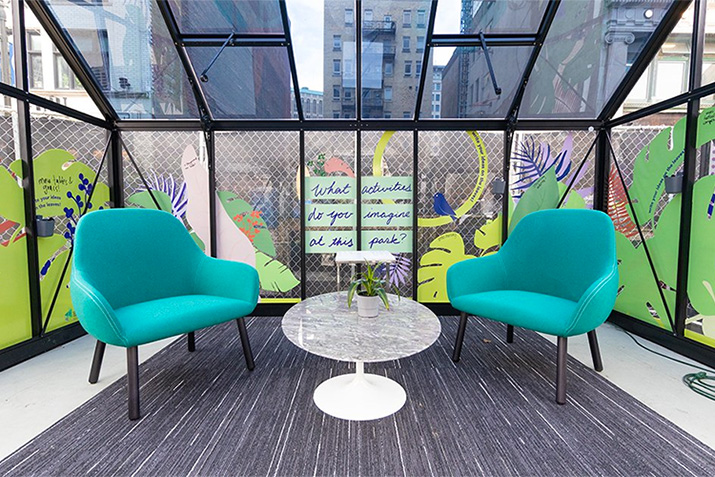 Increasingly popular coworking spaces foster productivity and collaboration for businesses and entrepreneurs. STIR® got the scoop from designers on what makes these spaces special and how to apply color strategies from them to any project.
---
September 7, 2018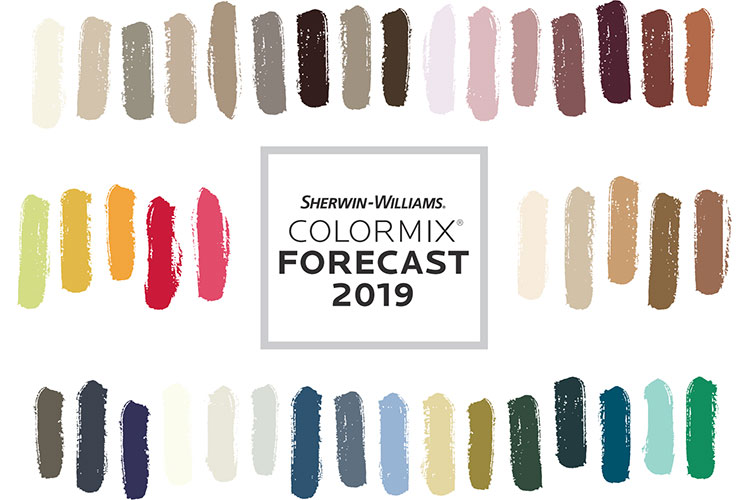 Welcome to the Color Forecast 2019! We've gathered 42 trend colors into a master palette, then arranged them into six unique color personalities, each leading its own voyage.
---
September 3, 2018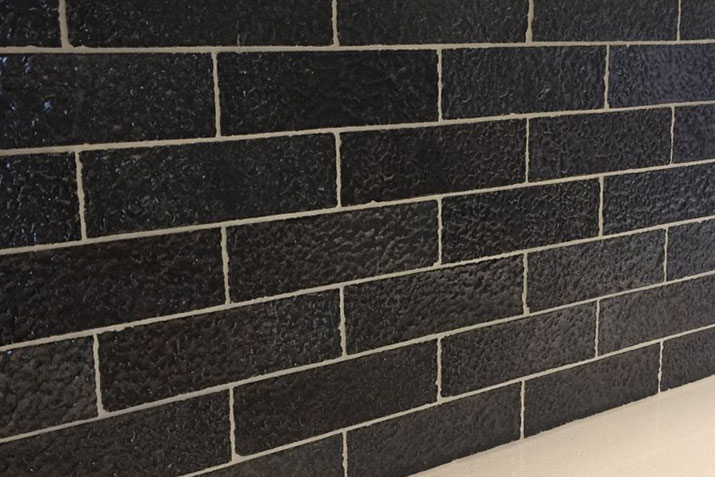 The Belden Brick Company is making news once again with an exciting new addition to their brick family. This gorgeous brick is available in eight different textures.
---
August 13, 2018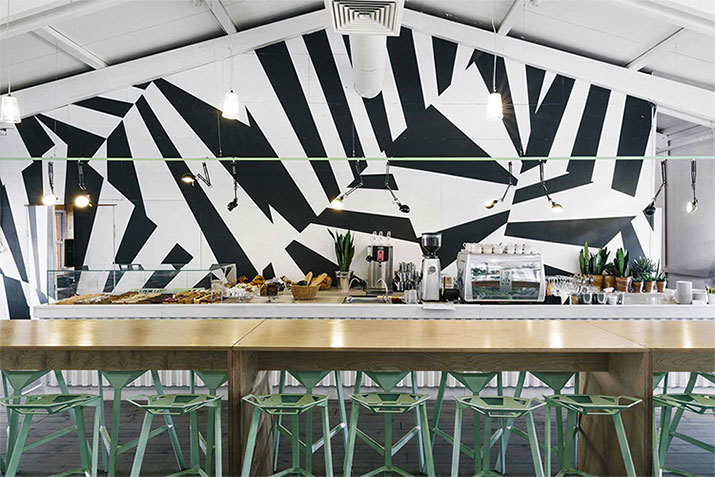 What was once the mainstay of paint design on World War I warships has transformed into an interior design trend that can add a punch of bold, modern elements to your next client project.
---
June 15, 2018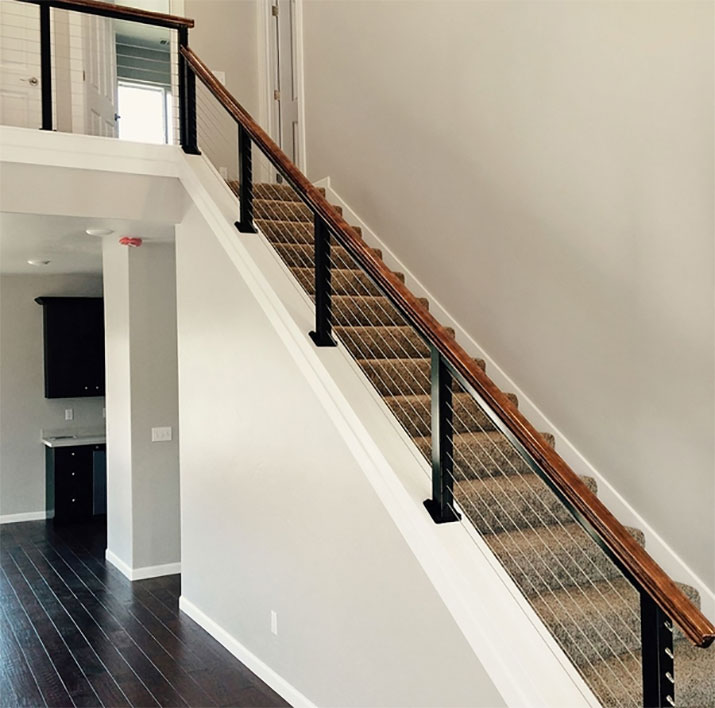 Unlike most other aluminum posts on the market, which are too small and thin-walled to withstand the tension of cable infill, Stainless Cable & Railing™ products are uniquely engineered specifically for cable railing applications.
---
June 9, 2018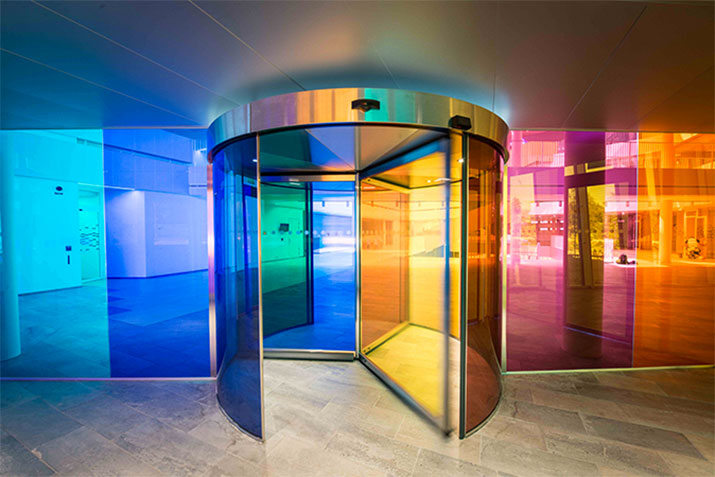 When entering the new Segerstedthuset building at the Uppsala University in Sweden – guests, students and employees alike are cheerfully greeted by a colourful revolving door. This unique door is an art installation by renowned American artist Spencer Finch (http://www.spencerfinch.com/) and is aptly named 'The Colour Wheel'. The artist is best known for installations that visualise his experience of the nature of light, colour, memory.