architecture - engineering - construction

2016 August
---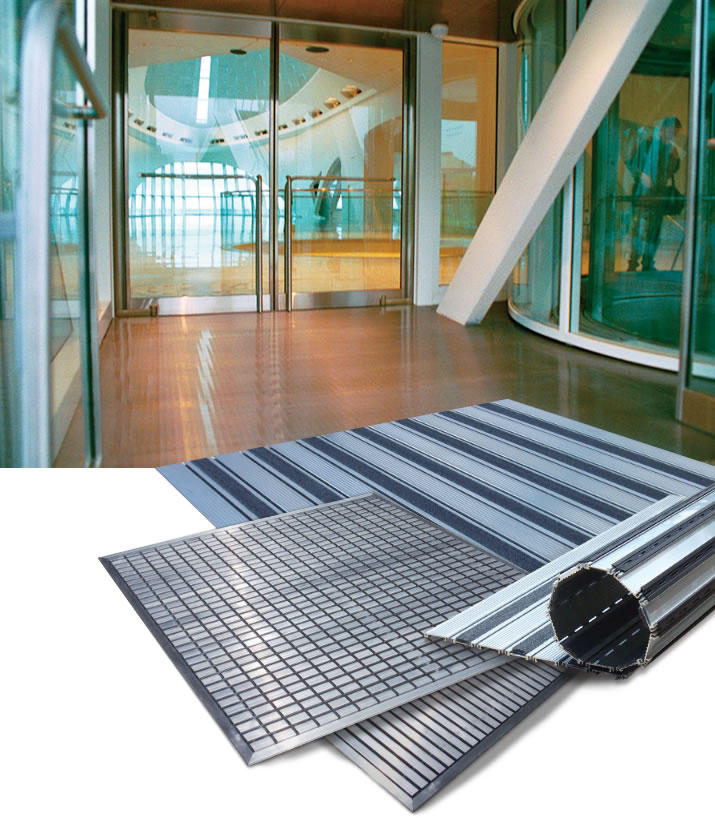 Babcock-Davis manufactures a full line of entrance flooring systems. From elegant stainless steel to rugged brushes we have the treads that meet your needs.
Keep It Clean
Protect your beautiful floors by keeping the dirt at the door. By adding and properly maintaining an entrance flooring system 18 feet in length, 90% of tracked dirt will be kept from polluting a building.
Entrance Flooring Systems
Making the right choice in an entrance flooring system will maintain your design, add years to your floor's life, ensure a safe entrance and significantly reduce maintenance costs. Entrance mats improve Interior Environmental Quality by stopping dirt from entering the building, improving Interior chemical and pollutant source control. Babcock-Davis' complete line of Entrance flooring systems includes architectural metal grates, roll up grates, rigid grates and roll-up mats.
The sleek appearance, strength and versatility of these metal grates are an architectural favorite. Architectural Metal Grates Include:
Stainless Steel proGRIL
Stainless Steel eleGRIL ®
Stainless Steel eleGRIL ® with carpet inserts
Aluminum alumaGRIL
Babcock-Davis' Rigid Grate is ideal for high traffic areas as they are the strongest and most versatile grate with various tread options. Babcock-Davis' Rigid Grates include:
GRATEdesign ®
EnvIRONtreadII ®
Ideal for medium traffic, the Roll-Up Grate is strong, easy to clean and versatile with multiple tread options. Babcock-Davis' Roll-Up Grates include:
Lightweight Roll-Up Mats are easy to clean, ideal for light traffic and versatile with many tread options. Babcock-Davis' Roll-Up Mats include:
QuietFLEX ®
MATdesign ®
MATrac
Browse the selection of frame styles available for each entrance flooring system.
Surface Mount
Surface Mount, Vinyl
Level Bed, Mech. Fastened
Level Bed, Cast-In
Deep Pit, Cast-In
Learn about the finish and tread options offered to customize your entrance flooring mats and grates. Available tread functions include scraping, absorbent and slip-resistant.
Dual Treads
Color Anodized
Premium Carpet
Rugged Scrub ®
EnvIRONtreadII ®
EcoTread
Vinyl
Aluminum Abrasive
Vinyl Abrasive
Brush
Babcock-Davis, a trusted name in the commercial construction industry, specializes in providing commercial building products. Architects, specifiers, general contractors, and distributors rely on the Babcock-Davis product line for a quality product with hassle-free fulfillment. No matter your project requirements, Babcock-Davis is Always right there.
Company:
Babcock-Davis
Source: http://www.babcockdavis.com/entrance-flooring-systems
Tags: Entrances | Floor | Interior Design | Safety
---
AvantiSystemsUSA supplies and installs a family of architectural glass wall and glass door systems. Inspired by European interior design, Avanti glass systems profile a slim line appearance with frame-less panels and sleek metallic hardware.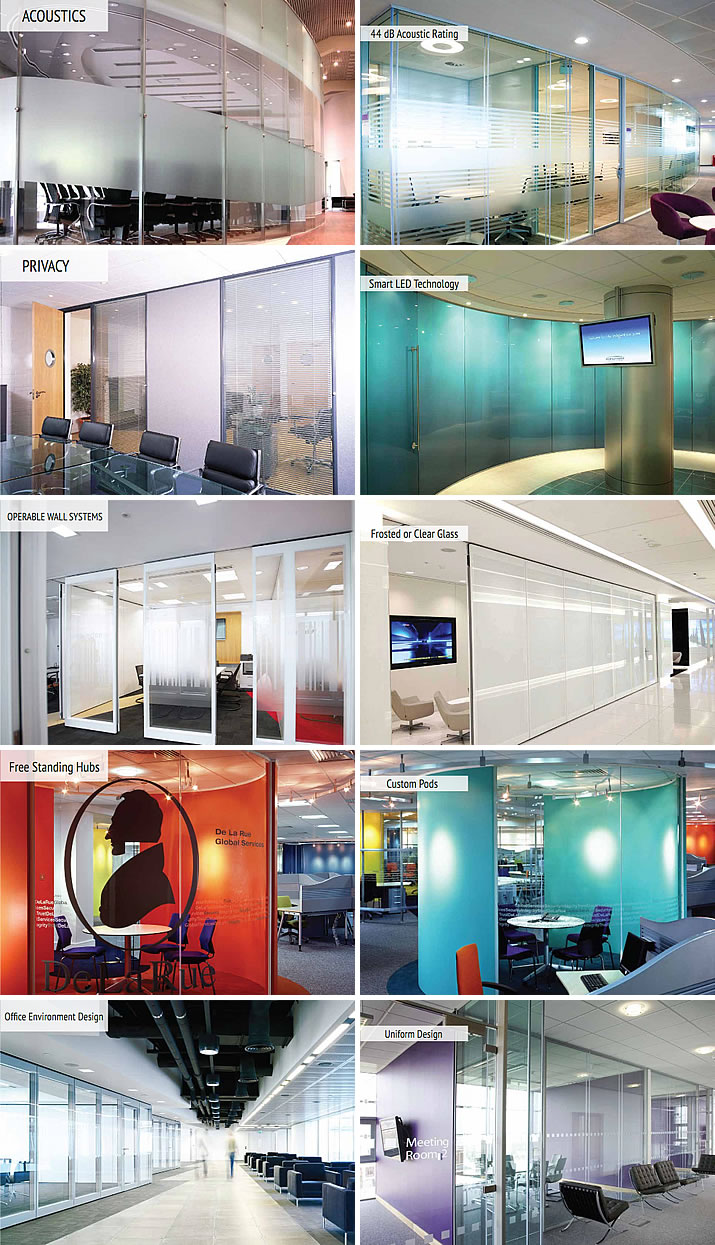 Company:
Avanti Systems USA
Source: http://files.avantisystemsusa.com/architects_inspiration_handbook_avanti.pdf
Tags: Acoustics | Interior Design | Railing System | Wall Panels | Window Shades
---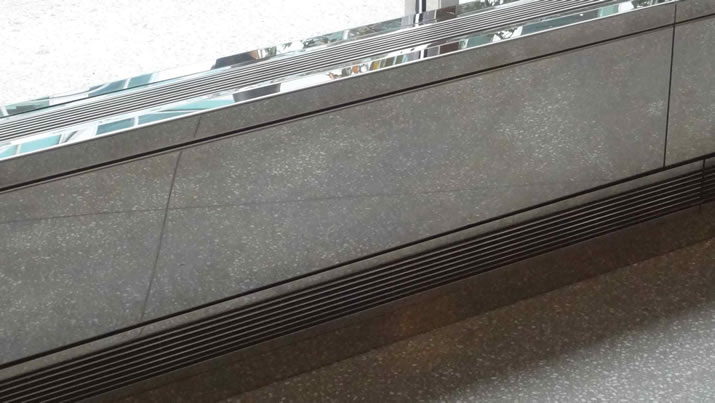 Our customer's objective was to have a stainless steel, linear bar grille manufactured to match the finish and style of a newly installed mirror polished stainless steel radiation enclosure within a renovated hospital lobby. Due to security and safety concerns, the grilles had to not only be structurally strong, but also firmly secured to the unit to prevent unintended removal.
Artistry in Architectural Grilles' engineering and manufacturing team designed a custom "C" style frame allowing for secure fastening as well as professional removal to access the unit's controls. This was accomplished with mechanically fastened frames in concert with mechanically fastened removable cores. All of which were given a #8 mirror polish finish to perfectly match the existing convector enclosure.
Grille Details
At a Glance
Type: Linear Bar Grille
Style: AAG100
Frame: Custom C Frame
Detail: Removable Cores
Material: Stainless Steel
Finish: Mirror Polish
Company:
Artistry in Architectural Grilles by Advanced Arch Grilles
Source: http://www.aagrilles.com/project/nyc-hospital-lobby
Tags: Access Covers | Entrances | Floor | Interior Design | Metal
---

Armortex Waterjet cutting is accomplished by using a sophisticated Flow Mach 4 waterjet system. A waterjet allows for cutting of soft and hard materials (from food to granite, glass, metal or composite materials up to 6" thick) using highly pressurized water and an abrasive if required. Precision cutting tolerances are achievable as well as beveling and 3D cutting without the associated heat that is prevalent in other types of advanced cutting systems.
Company:

Armortex
Source: http://www.armortex.com/products-services/armortex-waterjet-cutting/
Tags: Building | Design | Glass | Metal
---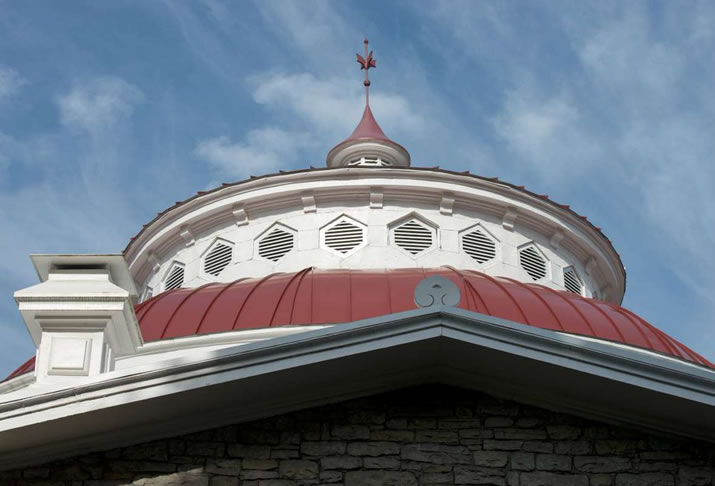 Recently, Architectural Louver's model E2JS louver was used during the renovation of the Reptile House at the Cincinnati Zoo. E2JS is a 2" deep thin line louver with a standard blade. This louver style is ideal for a clean architectural appearance at a low cost. If you are intending the louvers to be used for general ventilation or air exhaust, this is the right choice. Deeper framed models are also available (E4JS). Louvers with a higher performance rating - more free area and lower pressure drop - are also available (E4JP, E6JP).
Features:
Made to order in sizes 8" wide x 8" high up to unlimited size
Made from heavy gauge 0.063" thickness aluminum extrusion
2" frame depth, channel frame
2" blade spacing
Standard blade
Internal Screen (Bird Screen)
Specs:
48.7% free area for a 48" wide x 48" high louver
725 fpm first point of water penetration
30 psf wind load rating
Options:
A variety of metal finishes including paint and anodizing
Insect Screen (replaces bird screen)
Mounting: flange frame, glazing channel frame, "J" channel frame
Special shapes for architectural appeal
Higher wind load ratings
Company:

Architectural Louvers
Source: http://www.archlouvers.com/Louver_E2JS.htm
Tags: Access Covers | Exterior Design | Metal | Window Shades
---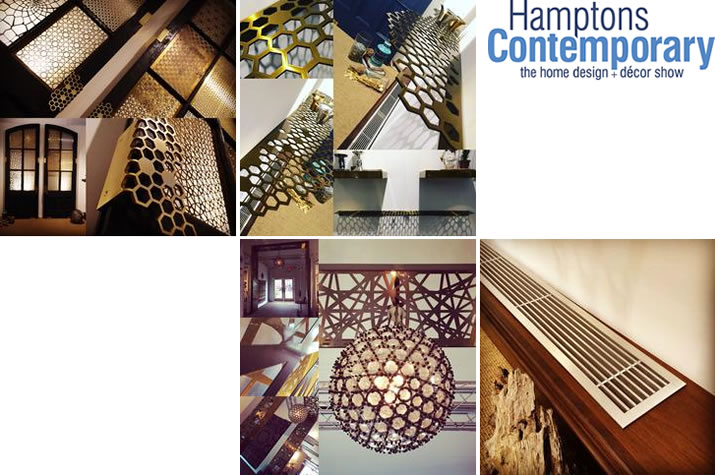 ARCHITECTURAL GRILLE was excited to exhibit our Linear Bar Grilles as well as Custom Metalwork at the inaugural Hamptons Contemporary: The Home Design + Decor Show earlier this summer. The first ever luxury design show staged at the Elks Fairground in Southampton, NY brought together designers, exhibitors and local homeowners interested in products reflecting high end design and architecture.
Collaborating with designer, Kenneth Nilson, we were able to exhibit custom designed pieces such as the below (left to right): Entrance Doors showcasing Custom Design Panels/Screens in Brass and Stainless Steel with a variety of finishes and Honeycomb/Hex Door Pulls Hardware in Solid Brass; Honeycomb/Hex Shelving in Stainless Steel with Brass powdercoat finish; Bugeye Bauble Light Fixture in Brass suspended on Custom Design Truss in Stainless Steel with Brass powdercoat finish by Kenneth Nilson; Linear Bar Grille inset into Walnut Woodwork.
If you're interested in purchasing any of the featured Custom Design Pieces, please contact Stephen Giumenta directly at sjgiumenta@archgrille.com for further information. If you would like to order custom lighting, please contact Kenneth Nilson at ken@kennethnilson.com
Company: Architectural Grille
Source: http://www.archgrille.com/blogs/news/summer-in-the-hamptons
Tags: Access Covers | Design | HVAC | Metal
---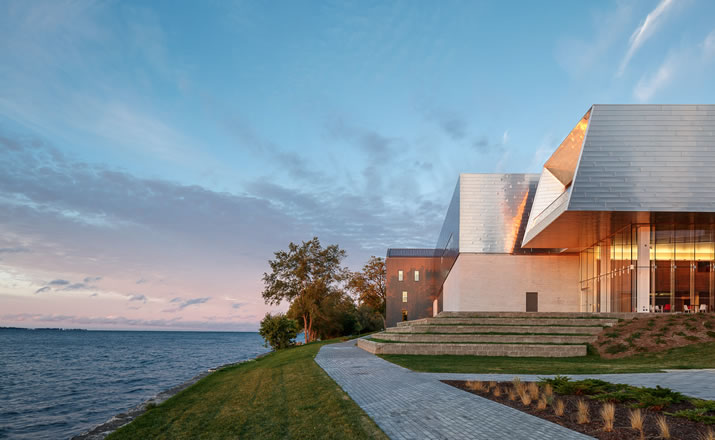 Recently, AMBICO has designed and supplied nearly 100 acoustic (both wood and steel) doors and frames for the new Isabel Bader Centre for the Performing Arts at Queen's University in Kingston, ON, Canada. AMBICO has been involved from the very beginning (the early design stages of the project) right through to the installation.
Due to the nature of the building (a performance hall), the architects had to rely on AMBICO's acoustic material to block the sound from room to room. AMBICO produced STC 40 (steel and wood) doors and STC 51 (steel) doors for the project, plus some unequal pairs of STC 59 (steel). There won't be any sound travel in this building!
Although still undergoing construction, the Centre promises to be impressive. A $63 million project; $22 million was generously donated by Drs. Alfred and Isabel Bader. The Centre is named in honor of Isabel Bader, for her love of music and theater.
Concealed behind this incredible building and its benefactors is a truly romantic love story: Isabel met Alfred aboard a ship, the two courted and more than 400 love letters were exchanged. After their relationship ended prematurely, Alfred went on to marry someone else and have a family. Years later, when Alfred was divorced, he and Isabel rekindled their romance and the two got married and remain happily married today.
Company:
Ambico
Of: Alison Capuano
Source: https://www.ambico.com/isabel-bader-center/
Tags: Acoustics | Doors | Windows
---

The American Institute of Architects (AIA) announce the release of a new feature – developed in collaboration with Autodesk – that will automate the AIA 2030 Commitment data reporting from energy analysis software directly to the Design Data Exchange (DDx). This collaboration has resulted in an open Automated Program Interface (API) to the DDx, available to any energy modeling software vendor, reducing the duplication of effort using the existing process.
The new automated connection will allow the more than 350 AIA 2030 committed firms to report their project and portfolio performance to the DDx directly from Autodesk Insight 360, a technology addition included in Autodesk Revit and Autodesk FormIt 360 Pro subscriptions. This automated process between Insight 360 and DDx will eliminate the need for manual data entry and eliminates duplication of effort encouraging performance analysis and more frequent reporting throughout the design process instead of annually. The DDx interface is open source with the ability to connect with other energy modeling software providers. Additional vendors are welcome to link up with the DDx system.
Eliminating the overhead of manual reporting not only saves time but it also enables more regular updates so firms can get up-to-the-minute progress on their projects and portfolio. In terms of actually meeting the targets themselves one of the key findings of the 2014 progress report was the critical role that energy modeling plays, and how projects that applied energy modeling were generally higher performing.
For example, of the projects submitted in the 2014 reporting period, nearly 50 percent of the projects where an energy model was created met or came close to achieving the AIA 2030 Commitment goals, whereas 80 percent of non-model projects fell below the 40 percent target. This offering helps to lower the barriers to energy modeling, making it possible to conduct energy modeling on virtually every project, especially from the early stages, but in doing so automatic reporting to DDx is essentially free.
About The American Institute of Architects
Founded in 1857, the American Institute of Architects consistently works to create more valuable, healthy, secure, and sustainable buildings, neighborhoods, and communities. Through nearly 300 state and local chapters, the AIA advocates for public policies that promote economic vitality and public wellbeing. Members adhere to a code of ethics and conduct to ensure the highest professional standards. The AIA provides members with tools and resources to assist them in their careers and business as well as engaging civic and government leaders and the public to find solutions to pressing issues facing our communities, institutions, nation and world. Visit www.aia.org.
About Autodesk
Autodesk helps people imagine, design and create a better world. Everyone—from design professionals, engineers and architects to digital artists, students and hobbyists—uses Autodesk software to unlock their creativity and solve important challenges. For more information visit autodesk.com or follow @autodesk.
Company: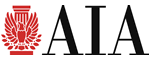 AIA (American Institute of Architects)
Source: http://www.aia.org/press/releases/AIAB108866
Tags: Design | Energy | Software | Sustainability
---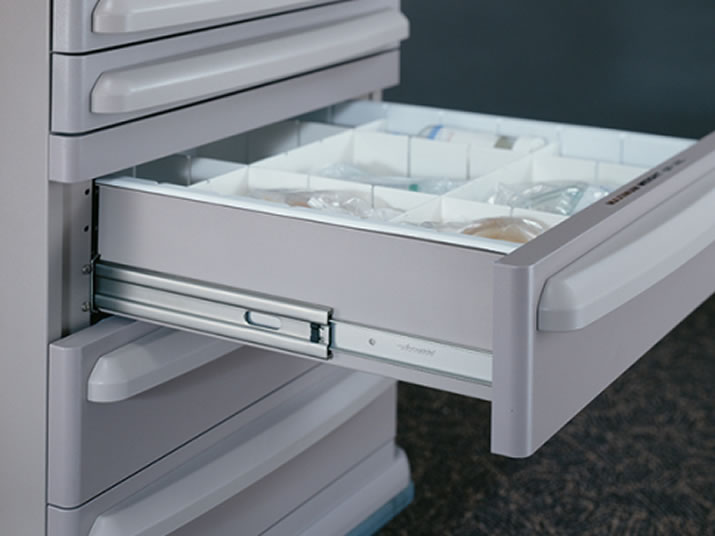 New Enhanced 3800 Slides
The 3800 slide series family is a staple in the Accuride line of world-class slides. The 3800 series has load ratings up to 100 lbs., features a lever disconnect, and is offered in up to 3 different finishes. Accuride recently enhanced and re-engineered some of the 3800 models for better strength and fluid movement.
The following 8 models make up Accuride's 3800 Series:
Hold-in Detent prevents drawers from unwanted roll-outs
Offered in even lengths from 6" to 28"
Production Packaging for lengths 10" to 28"
Recently enhanced
Brings drawers to a quiet, gentle close
Offered in even lengths from 14" to 28"
Recently enhanced
Closes drawers and keeps them closed
Offered in even lengths from 12" to 28"
Pull-out shelves and drawers are opened with touch activation.
Offered in even lengths from 12" to 28"
Special detent out holds drawers or pull out shelves in an open position.
Offered in even lengths from 10" to 28"
Special coating provides 8x more protection than standard zinc plating
Ball retainer, ball bearings and rivets are made of stainless steel
Offered in even lengths from 10" to 28"
Authorized Accuride Distributor
This year, bisco became the newest authorized Accuride distributor stocking hundreds of slides in our 7 distribution centers. bisco's e-commerce site allows you to shop for slides based on slide type, load bearing limits and series numbers. Visit bisco online today to learn more and check price and availability.
Company:

Accuride International
Source: http://htl.li/AtLx3021BJR
Tags: Furniture | Interior Design
---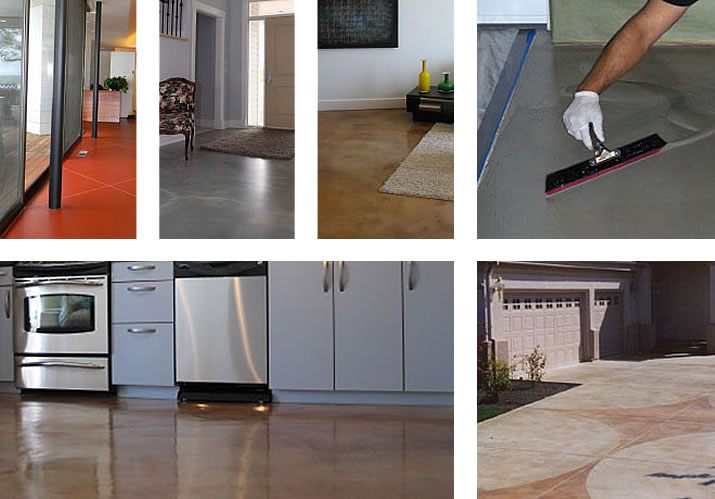 REASON 1: DESIGN OPTIONS
From polished concrete floors to matte, satin and gloss finishes, the sky's the limit for modern design options with concrete resurfacing products from Düraamen.
Our colorfast integral color is available in 34 individual colors. 68 hues can be realized depending on your choice of either a gray or white basecoat. Aesthetically stunning classic, modern, and contemporary designs can be achieved with thoughtful color selection.
REASON 2: A WISE INVESTMENT
A tough, modern resurfaced concrete floor adds dollars to your property.
New flooring using concrete resurfacing is one of the best investments you can make to your home or commercial property. This is particularly true in the case of decorative, resurfaced concrete flooring. Unlike carpeting or hardwood, resurfaced concrete will stay looking new for years to come and its appearance and durability adds value to any home or commercial property.
REASON 3: PROTECTION
Concrete resurfacing provides protection against spills, soil, scrapes & abrasions.
A resurfaced concrete floor is the most impact, scratch and abrasion resistant when compared to other types of residential flooring. Mud, dirt and spills clean up easily on a decorative concrete floor. The only maintenance required is occasional dust and conventional mopping.
REASON 4: EXPENSE
Concrete resurfacing is less expensive than replacing concrete.
Resurfaced concrete flooring is far less expensive than concrete replacement, comparably priced to carpeting and a better value than hardwood flooring. It may be applied over existing concrete, tile or plywood. When you consider it's durability and ease of maintenance it is by far the best value available in residential and commercial flooring options.
Company:
Duraamen Engineered Products Inc.
Source: http://www.concreteresurfacingproducts.com/
Tags: Coating | Color | Concrete | Floor
---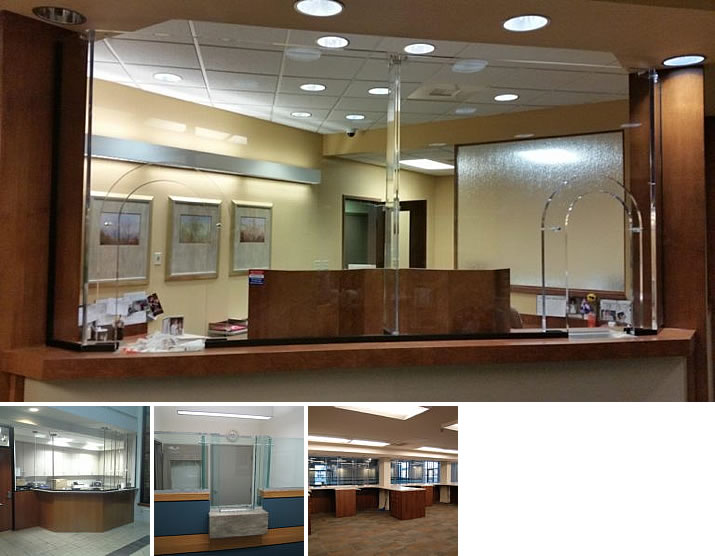 Clark Energy Utility Office
For Clark Energy—a regional utility cooperative serving 19,000 customers and maintaining 3,000 miles of line in 11 counties—it began when a customer attacked a worker at the nearby water utility office. As Holly S. Eades, vice president of finance for Clark Energy, explains, "There was a utility here in Winchester [Kentucky], and I had gone down there because we'd heard that one of their office people, a customer had slapped her in the head. And we were like, 'Oh, boy.' Because we have some customers that come in, and they get kind of irate."
Worker Safety in Utility Offices
Workplace violence is a serious problem, with roughly 2 million American workers assaulted each year. Clerks and customer service reps at utility offices are especially at risk, as their work includes several of the high-risk factors identified by OSHA (the Occupational Safety and Health Administration): handling money, fielding disputes about billing, and denying delinquent customers service. As a rule, when you are forced to cut off someone's electricity, water, cable TV, or other service, they are not happy, and they are not calm.
To Holly and her customer service reps at Clark Energy, it very much felt like just a matter of time: "Sometimes, [in] both [our] offices, there'll be just one office lady there. The men are out in the field, and she's just completely by herself. It wasn't probably two, three weeks later . . . some man comes in and he's cussing and screaming, and another customer actually stayed, saying 'There wasn't a way I'm leaving with this person acting like that.' When a big man is standing at the counter, screaming and cussing at a female customer service rep who's five-foot-four, there's something wrong with him . . . You just don't know what's going to happen."
Inviting, Professional Bullet Proof Barriers
Many utility companies and service providers worry that added security will both bog down business and give the customers the impression that workers are trying to separate themselves from their clientele.
Even Clark Energy had hesitated, despite harrowing first-hand experiences. "A lot of it was the way it needed to look... We'd actually tried to get somebody local [to install a bullet resistant barrier], but we couldn't find anybody in this area that would even come close to the product that Total Security Solutions has. Not as pleasing... I think a lot of times, when you put that up [a security barrier], customers get the feeling that you're trying to shield yourself, and I don't mean from robbers."
Jim Richards, Total Security Solutions CEO, has heard this often. "What we actually do and what everyone's perception is are two totally different things. The people at Clark Energy were more than ecstatic when they saw the other utility offices we've done, because it's not what people typically visualize when they think of bullet proof glass. They think of steel frames, big, thick glass, you can't talk through it. It's not aesthetically pleasing. It gets in the way of getting work done. But when they saw what we did at the other utility, it's like 'Oh, well we want one of those, too, if that's what it's gonna look like.'"
Positive Results with a Well-Designed Bullet Proof System
"We are tickled to death," Holly says, "It looks very nice, and when the customers came in... We had some customers saying, 'You know, y'all should have done that a long time ago.'"
While Holly is gratified to hear these positive responses from customers, she's even more pleased by the improvement to her employees' work day:
"It's really amazing, just the sense of security the girls feel. You know, now you get there and you've got somebody screaming at you, and there's some distance between you and their emotions. When you're turning people's electric off, you just don't know. You have 'em come in pretty upset. This felt 10 times better, at least knowing the girls are behind locked doors and behind bullet resistant glass. Because, I tell you, every day all you hear about is another incident somewhere."
Company:
Total Security Solutions Inc
Source: http://www.tssbulletproof.com/peace-of-mind-rural-utility-offices
Tags: Entrances | Safety | Security | Windows
---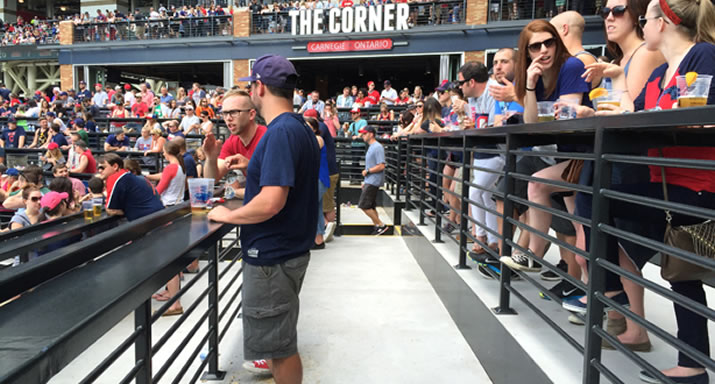 LOCATION: Cleveland, OH
INDUSTRY: Recreational
PROJECT OVERVIEW: High traction aluminum plates at Progressive Field's Right Field District
SOLUTION: Various sized ¼" Grade 2 aluminum plates
The Situation
Opening in 1994, Progressive Field is home to the Cleveland Indians Major League Baseball team. The facility has hosted the All Star Game as well as the World Series and has had a record attendance of 45,274 fans.
Recently, the Right Field District has been renovated with new open standing area to watch the game and different eateries such as Melt, Barrio, Sweet Moses, and The Corner Bar. The standing area has rows of bar style rails which give fans a place to set their snacks and beverages. Changing this sitting area into standing room not only opened up more space for fans but created a unique experience for visitors to the field.
The Solution
In order to give patrons a safe place to stand while enjoying their food and beverages, the designers wanted to incorporate a slip resistant flooring that would hold up well under foot traffic and external weather conditions. SlipNOT® Aluminum Grip Plate® offered the solution they were looking for. Different sizes of ¼" 6061 aluminum plates were fabricated according to drawings and coated with a Grade 2 SlipNOT® slip resistant surface. Each plate had 12 countersunk holes in it so they could be bolted down.
SlipNOT® plates can either be custom fabricated prior to shipment or can be cut in the field. SlipNOT® suggests that all fabrication is done prior to the coating being applied. The flooring can be swept with a hard bristle brush or power washed after a game.
The Impact
Visitors to the field benefit from not only the aesthetic qualities of this new space but also from the safety of the quality flooring installed. Inclement weather and spilled beverages are no match for the abrasive surface that the aluminum plates provide. By choosing SlipNOT®, the engineers working for Progressive Field created a fun and different area to watch the Cleveland Indians as well as kept patrons best interests in mind.
Company: SlipNOT® Metal Safety Flooring Div.
Source: http://www.slipnot.com/case-studies/aluminum-floor-plates-progressive-field/
---
Introducing the Victor Stanley Relay™ Sensor and Service, which continuously monitors fill level. But that's just the beginning. Powered by Street Level Sensing™ technology, Relay also…
Street Level Sensing™
Continuously monitors fill level, weight, location and collection status
Tracks location via GPS, so you always know where receptacles were moved and where they belong
Allows you to log on and view collection data in real-time and historically
Boosts efficiency in planning, scheduling and routing collections
Saves an estimated 20-40% in collection expenses
Is built for reliability and durability, along with everything we manufacture
Victor Stanley Relay™ uses technology, sensors and web services which we designed, built, and own, so you can rely on our product whether you retrofit Relay or make it part of your new receptacle orders. Make a statement about the way your community handles waste. Talk to your Victor Stanley rep today.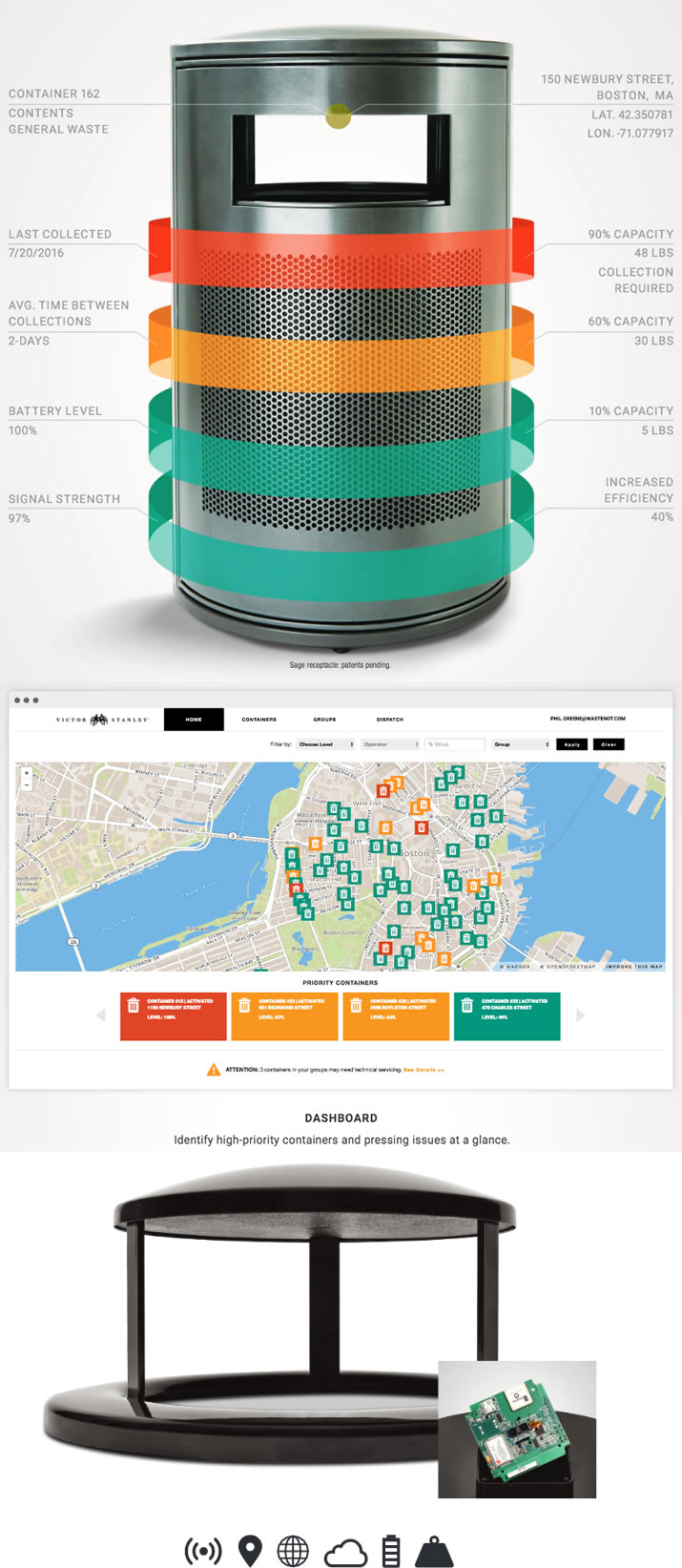 Victor Stanley Street Level Sensing™
An all-in-one solution, Victor Stanley Relay ™ features fully integrated sensors within new and existing Victor Stanley litter receptacles and recycling stations, wireless communications, and dedicated web portal for access to container conditions. Utilizing our 54-years of experience, we designed our proprietary Street Level Sensing ™ technology to meet the challenges site furnishings face in high-use, commercial and urban environments at the street level. This means that fill level, weight, system temperature, container location, and collection status are continuously monitored — and real‐time container conditions are automatically transmitted to the Victor Stanley Relay ™ Service using standard cellular networks. To maintain aesthetics, Victor Stanley Relay ™ Sensors can be hidden within any Victor Stanley side loading litter receptacle or recycling station. But smart design is only part of the story because our sensors are designed and built to remain reliable and accurate even in harsh environmental conditions. And they work with any type of waste (general trash, mixed recyclables, paper, glass, metals, etc.) while remaining out of sight, economical, and ecologically friendly
Company: Victor Stanley
Source: http://www.victorstanley.com/product/relay/
Tags: Landscape Design | Recycling | Safety
---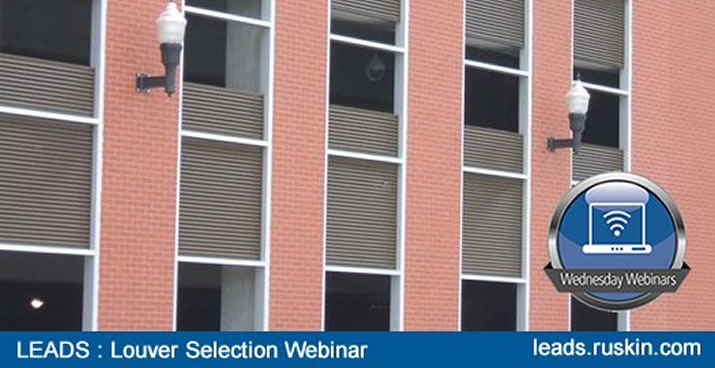 Join Ruskin on the 2nd Wednesday of every month at 2:30 CST for a discussion of relevant HVAC topics. These webinars may qualify for PDH credits. Please contact your local Ruskin representatives for more information.
August 10, 2016
Louver Selection & Application Using Ruskin's LEADS Software
September 14, 2016
Ruskin Industrial Damper Capabilities & Case Studies
October 12, 2016
Ruskin Fire/Smoke Damper Product & Code Update
November 09, 2016
Ruskin Extreme Duty Louvers - Blast Resistant, FEMA, Wind-Driven Rain, Hurricane Zone & More
December 14, 2016
Air Measuring & Control Basics - Application & Installation
Company:

Ruskin
Source: http://www.ruskin.com/webinars
Tags: HVAC | LEED Certification