architecture - engineering - construction

Prefab
---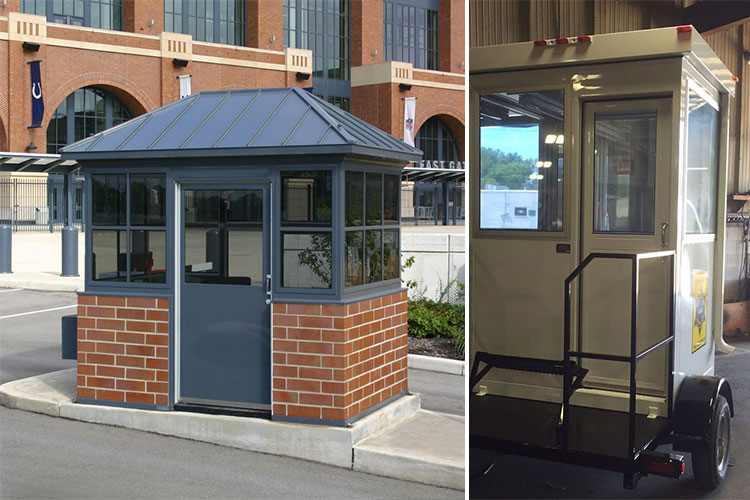 Security booth 0062-PRZ, security booth 15-170
If you need to secure multiple gates or entrances, it is essential to have a security booth, guard house or parking booth you can position and use immediately. Par-Kut portable security booths are perfect for guarding multiple entrances and gates. These security booths are easily moved from one place to another. So you can have these guard booths ready to use as soon as they are deployed or installed.
There are many advantages to having a portable security booth that is easy to transport. Par-Kut portable security booths are easy to order, and do not require assembly, because Par-Kut security booths are all factory-assembled. In addition, since there's no on-site construction, you will save time and money. These security booths can be moved easily with a fork lift or a crane. For even more rapid and frequent relocations, trailer mounted security booths are available. Bullet resistance can also be added.
Par-Kut's climate controlled and well insulated portable security booth can also reduce the officer's stress and fatigue. Further, a Par-Kut portable security booth provides a safe shelter for the security personnel. Moreover, your security booth can be enhanced to reflect architectural elements found on your facility. A variety of paint color schemes, various roof lines and styles, brick or stone wall treatments and even custom building shapes can be incorporated into a unique portable security booth design for your location. Interior options and lighting enhancements contribute to the aesthetics and function of the portable guard booth or guard building.
For more information about Par-Kut portable security booths, one of our skilled sales persons can help. Whatever your requirement for your security booths, contact Par-Kut today to discuss your particular operation.
Company: Par-Kut International, Inc.
Product: PAR-KUT STANDARD
Source: http://www.parkutblog.com/security-booth/portable-security-booths/
Tags: Entrances | Prefab | Safety | Security
---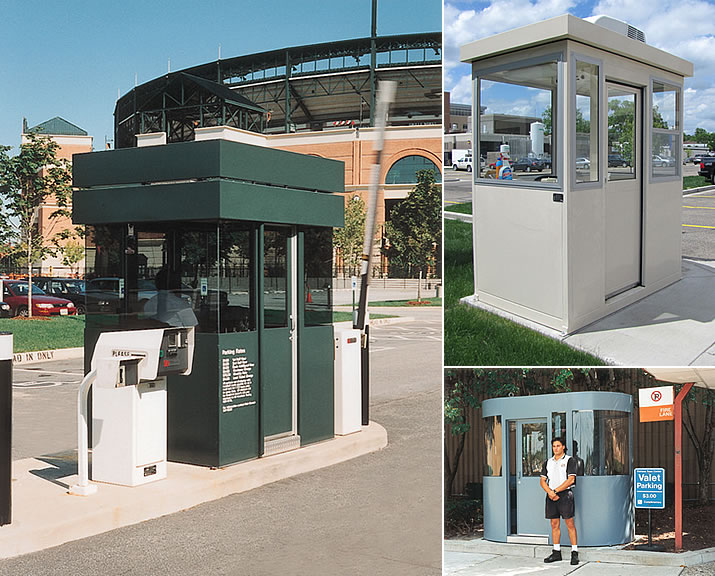 From single unit commercial structures to airport plazas and municipal parking facilities, Par-Kut builds quality parking booths that last regardless the location. Solid welded construction and corrosion resistant materials help Par-Kut parking booths battle physical and environmental abuse while keeping your operation and your attendants safe, secure and comfortable. Par-Kut portable steel buildings withstand adversity and remain looking good for up to 25 years with little or no maintenance.
When contacting your skilled Par-Kut sales person, please have some information ready for us. In order to make sure your parking booth can pass code requirements we'd like to know where the booth will be used. The geographic location, city and state are very important in the design of the parking booth. As we build every booth custom for every client, you can be positive that it'll meet or exceed all applicable code.
Par-Kut offers project specific drafting and design services in
addition to our exceptional manufacturing capabilities. This permits us to style and build you an ideal building that appears in-built, rather than "bolted on." Regardless of what the look is, from the most basic to high finish style, we'll work diligently to accommodate your style and parking booth requirements.
Parking lot booths from Par-Kut are built to your order and can be a simple shelter or valet booth, a parking cashier booth, or a security guard house. Factory assembled and delivered ready for easy hook up and immediate use, a Par-Kut parking booth provide the purchaser a secure parking lot office. Parking booths from Par-Kut can be outfitted with restrooms, bullet resistant construction, and platform mounting. Further, parking booths from Par-Kut can be standard, or architecturally enhanced to better blend with site surroundings.
Go to GALLERIES to view additional parking booths.
Company: Par-Kut International, Inc.
Source: http://www.parkut.com/booths/applications/parking-booths/
Tags: Entrances | Prefab | Safety | Security
---
Increasingly, builders are learning that the best way to construct an efficient building may largely occur on the factory floor and not on the construction site. Prefabricated building panels offer several benefits over onsite, from-scratch construction. As construction picks up, builders should give the prefab approach serious consideration.
The primary advantages of prefab building materials are as follows:
Consistency: Contractors won't have to worry that the panels are built to spec because they are machined in the factor in the exact same way. They will always match the exact blueprints.
Efficiency: Each panel can be optimized to include the best insulation, air and moisture barrier systems and any other exterior wall systems.
Reliability: There need be no unseen delays with prefab. The panels are generally lightweight and can be shipped straight to the construction site whenever necessary.
Versatility: Prefab materials can be fitted to almost any design plan and make up a significant portion of anything from a small home to a skyscraper.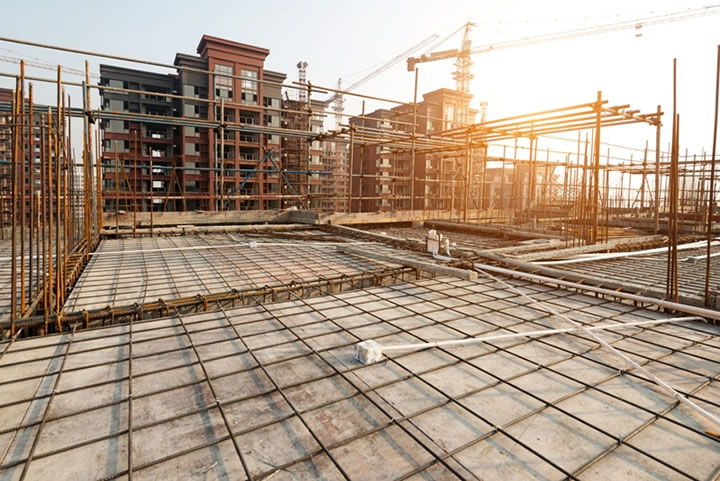 Prefab supplies can benefit building construction.
"Builders should give the prefab approach serious consideration."
As the forthcoming examples demonstrate, prefab materials can be crucial components in high-performing buildings of all types.
Australian architects design first carbon-positive prefab home
In today's economy, energy efficiency is key. Some U.S. states even have long-term goals for all new buildings to meet net-zero requirements. Now, Australian architectural group Archiblox proved that it can construct small homes capable of generating more energy than they use by incorporating prefab materials, Gizmag reported.
Prefabricated buildings are generally quicker and more affordable to construct, meaning the home is inexpensive compared to other high-performance buildings. But those same prefab materials help the home maintain its internal temperature and restrict unwanted air and moisture flow.
Attempt at world's tallest building to feature prefab materials
On the other end of the spectrum is the world's tallest prefab apartment building, standing at 57 stories, in suburban Changsa, China. The same architect, Zhang Yue, is also behind the plans for the world's tallest building – Sky City, which projects to be 200 stories and also feature prefab panels.
Prefabricated materials allowed Yue to erect this 57-floor, 800-apartment skyscraper at the impressive pace of three floors per day. The supplies are produced in a factory 90 minutes away and trucked to the construction site when necessary. That level of control also ensures the panels are the correct size and shape so the construction may carry on uninhibited.
Through the use of prefab technology, builders have more control, fewer overheads and better materials at their disposal – all at a lower cost for the end consumer.
Company: Sto Corp.
Of: Valerie Mayer
Source: http://www.stocorp.com/blog/architects-turn-to-prefab-materials
Tags: Building | Prefab | Sustainability