architecture - engineering - construction

2016 July
---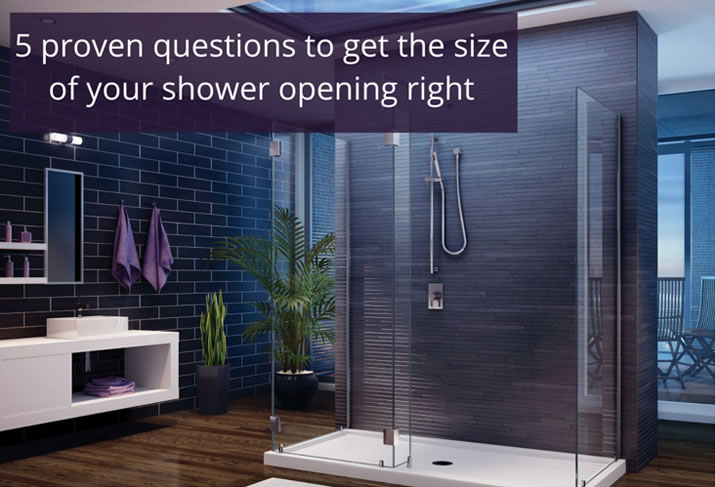 If I've been asked this question once I've been asked it a thousand times, " Mike – how big should I make the opening for my new shower?" OK – I'll give you my standard answer. It depends. Boy doesn't that sound like a cop-out!
In all seriousness designing a shower opening is a bit like being a politician -you're trading off competing interests. On one hand you want to have the biggest opening so it's simple to get into and out of the shower whether you're walking in, shuffling in or rolling in with a wheelchair. On the other hand you want the opening as small as possible so you don't get water pooling on the bathroom floor which could lead to leakage in the floor below. Given these competing benefits of a smaller vs. larger shower opening where does that leave you? How can you find just the right sized shower opening for you and your family? Explore the answers to the following 5 questions and you'll be assured to get the size and design of your shower opening correct.
Question #1 – Who is going to use this shower now and possibly in the future?
Start out by identifying who will use the shower today…and possibly in the future. Is your son whose claim to fame is being a "lean and mean" 350 lb. defensive tackle of the football team going to be the main user or is your daughter who is a pencil-thin gymnast using this space? Obviously if you're designing the shower opening for your son it will need to be significantly wider. What can/should you do if they are both going to share the shower? I would recommend to split the difference in the opening size – which may mean your son will step into the shower sideways vs. your daughter going in straight on.
While considering the here and now usage of this shower is critical – you will not want to lose sight of who may be using it down the road. Is it possible your Mom or Dad may come to live with you if their health starts to fail? If so – the new shower opening may need some design tweaks (possibly a ramped entry, a lower curb or one level base design) which will prevent you from ripping out the brand new shower you're putting in right now (see question 3 to get specific ideas).
Question #2 – What method are you going to use to get into the shower? Do you need to walk straight in or are you OK stepping in sideways?
This may seem like a funny question but it is important and practical. If you're walking straight into the shower you'll need significantly more space than if you're stepping in sideways. When determining the opening for a straight in entry – which is preferred by most- I recommend measuring across the shoulders of the people using this shower. You'll want to use the largest shoulder to shoulder measurement of all the people using the space to drive the size of the opening. On the other hand if you're OK with a sideways entry you can measure the "depth" of the person.
If you have a small shower the sideways entry may be required but in general the most common straight in entry for people walking in is 24" wide.If you're designing the opening for a wheelchair or walker for your home know you do not need to follow ADA (Americans with Disabilities Act) guidelines for public spaces which require a 36" wide opening. With that being said you do want to make the opening comfortable to get into. In this case I would recommend you get a measurement of your family member in their wheelchair and allow side to side clearance room for their hands.
Question #3 – Are you stepping over, ramping up or rolling in (designing for either a curb or curbless shower)?
Not all people using a shower are created equal – I'm sure you're saying tell me something I don't know. Your family (if it's like mine) – is definitely made up of some characters in both their personalities and physical capabilities. A "simple" 4" high shower curb which is a breeze to step over for your football playing son and gymnast daughter, could be a huge mountain to climb for your elderly Mom. So for the kids the 4" high step over curb (which does a great job keeping the water in) is no problem, could be the wrong shower entry design choice for Mom if she is mobility challenged. Here are 4 competing shower curb and entry options for you to consider depending on who(m) will be using the space:
Option 1 – The 4" tall step over curb – generally the preferred method for small showers because it keeps the water in well in small spaces. This is an unacceptable and dangerous choice for anyone with limited mobility.
Option 2 – Low profile curb – This lower curb (usually about 1 ½" tall) provides for a sleeker looking design and is safer than option 1. It has the benefit with a solid surface shower base of having the flexibility to add a curb extension should a family member need a ramped entry down the road.
Option 3 – Barrier free ramped entry – This ramped entry will have a slope up to get in and a slope down towards the shower drain. It creates a "curb free" design where you get in. This design works best with a base which is a bit wider.
Option 4 – One level wet room – This is a cool and underutilized approach in the United States. This design provides a shower floor which is at one level with the bathroom (note – the drain is still a bit lower than the floor level). It is super popular in European and Asian countries where space is limited. It can provide a sleek contemporary design – but better yet – it is safe and completely workable for small showers (my wife's Grandfather had this type of wet room shower in a 4' x 5' bathroom in Italy – now that's tiny!).
Question #4 – Will you use a doorless walk in shower or a framed or frameless glass shower door?
When you design a walk in shower the finished opening is not made smaller by any hinges or framework (basically the opening is the opening!). Walk in showers are growing rapidly today as people want to eliminate the cost of a door and hassle of cleaning them. With this being said walk in showers are not practical for every situation. This is usually true where there is only room for a small shower.
If you are looking at a shower door you'll want to think beyond the "rough opening" (the opening before you install the door) and focus on the "finished opening" (or the space which will be left minus any framework around the door). A frameless door will give you a larger finished opening than a door with a framed system around it. The frameless system looks more luxurious, but comes with a higher price tag.
Question #5 – Will you have more than one opening?
This one sounds like a trick question. How can you have more than one opening in a shower? The answer is – when the glass (or framed enclosure) has either a curved or L shaped design. Many walk in showers are not straight walls but have shape to them so the water will be directed back into the "wet area" (shower head area) of the shower. What this means is you actually have two openings. One is the "entry opening" where you step in and the other is the "interior opening" as you move towards what I like to call "the business side" of the shower.
While the entry opening is critical so is the "interior opening." If you make the interior opening too small you'll get a shower which feels cramped. I usually recommend the "interior opening" be at least 4" wider than the "entry opening" to make the shower feel like one continuous space. If your shower is large it can work out just fine to create a separate entry area vs. the main showering area, but for more compact spaces I recommend one continuous space.
Conclusion – how to size and design a shower opening
OK – how have I done? Do you feel you know the right questions to ask how to figure out the size and design of your shower opening (or openings)? If you're looking for more information or an estimate on remodeling a shower or nationwide material supply for the shower wall panels, shower bases or wet room systems call The Bath Doctor in Cleveland (216-531-6085), Columbus (614-252-7294) or for nationwide supply Innovate Building Solutions (877-668-5888).
Company: Innovate Building Solutions
Source: http://blog.innovatebuildingsolutions.com/2016/06/24/5-proven-questions-to-get-the-size-of-your-shower-opening-right/
Tags: Entrances | Glass | Interior Design
---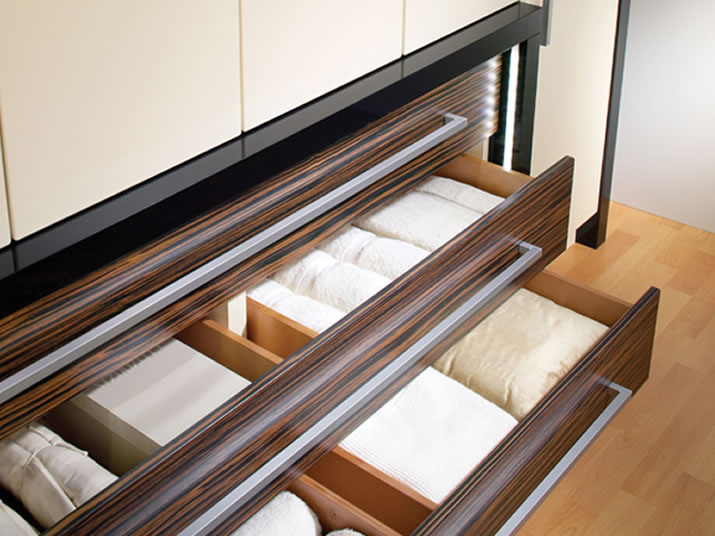 Tough enough for commercial use, model 3135EC Eclipse Undermount Easy-Close slide delivers flawless movement, easy adjustment, and superior soft-close action for jobs up to 30" wide.
Reliable soft-close action
Multiple drawer front adjustment make installation easy
Up to 100 lb. load rating
ADA compliant with 4.8 lbs. of pull force
Quiet and smooth operation
Robust design prevents drawer sagging and dragging for better movement
Even lengths 12"–28", 15" and 21"
This product creates exciting new possibilities for retail, commercial, medical, and high-end residential customers. Learn more using the links below:
Company: Accuride International
Product: Medium Duty Slides » 3135EC Eclipse Easy-Close
Source: https://www.accuride.com/en-us/products/3135ec-eclipse-easy-close
Tags: Interior Design | Railing System
---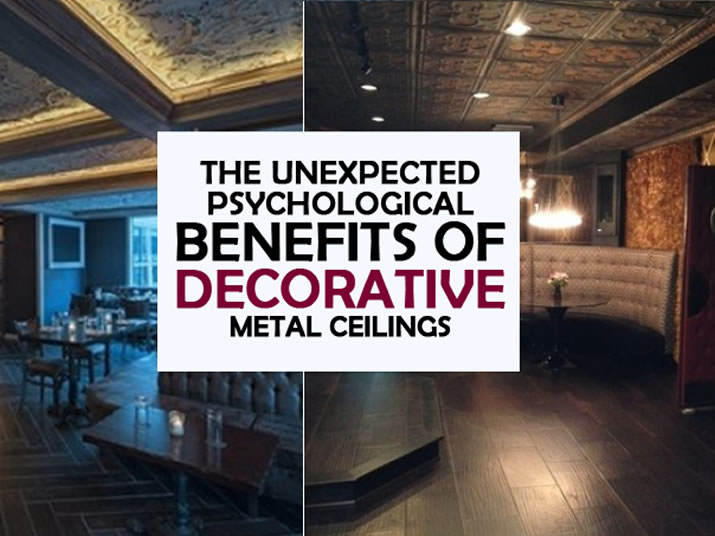 Whenever you walk into a room, your mood can be affected tremendously. Think about that nightclub restaurant you went to in the past. When you walk in there, you develop this mysterious vibe that compliments the area and creates an effective mood for the whole crowd. The same principles can be applied when shopping for ceilings for your home. Color and lighting can really help set a variety of moods for the rooms in your house. A common trend in decorative metal ceilings is the incorporation of metal tiles. Let's us look into some of the benefits associated with decorative metal ceilings.
Calming Nature
With a plethora of design of options, you can instill a feeling throughout any part of your house. Designs range from suns, flowers, abstract shapes, and anything in-between. The choice of metal is also something to consider. For example, choosing a copper ceiling will make your room brighter and almost majestic, as opposed to silver, which may make the room darker and not as vibrant. The choice is up to you, but rest assured, there is bound to be an option that fits your needs.
Temperature Control
Because of metal's great insulating capabilities, a metal ceiling can help make a room more toasty. This also helps you to cut down on your heat bill, since the metal can utilize the heat more effectively.
Ability To Block Sound
Metal's ability to block sound can help you create a nice, quiet, and peaceful room in your house, where the sounds going in other rooms are muffled and don't disturb you. This could be perfect in a library room, where you need to focus on reading your favorite novel!
Set The Mood Right With Metal Ceilings
Metal ceilings are very unique in style and produce a host of benefits that you may not have been aware of. If you're in the market to remodel a room in your house, why not consider installing metal ceilings? You, your family, and your guests will fall in love with your home!
Company: Metal Ceiling Express
Product: Hand Faux Tin & Metal Ceiling Tiles & Panels
Source: http://www.metalceilingexpress.com/blog/benefits-of-decorative-metal-ceilings/
Tags: Ceiling | Interior Design | Metal
---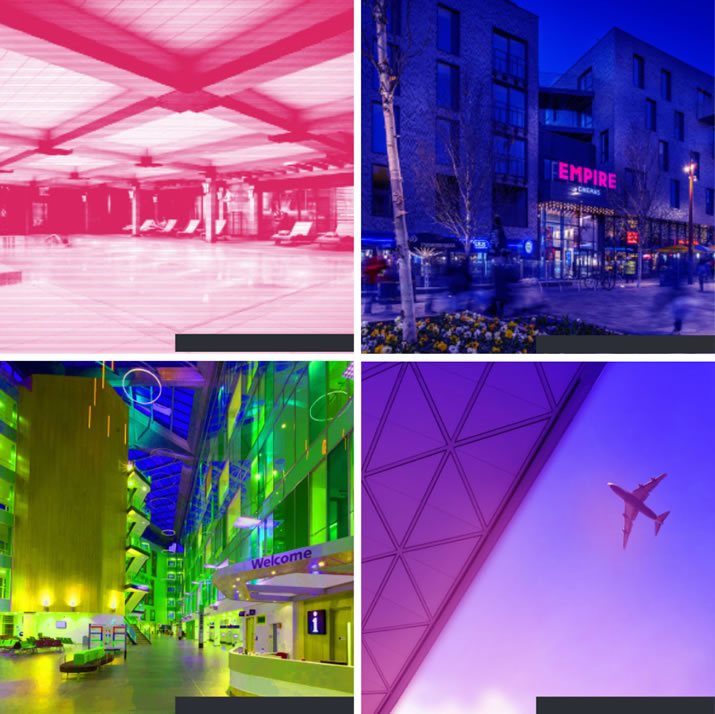 Steel beams, metal fabrication and architectural metalwork produced to your specification
Since acquiring VTS Hertford in April 2014 Howe Green has the expertise and capability to design and make a wide range of structural steel fabrications including: builders' beams, RSJs, frames, platforms, stairways, steel columns, channels and posts.
CE marking – meeting a legal requirement
Howe Green attained CE Marking for Structural Steel in July 2014 in line with the legal requirement under the Construction Products Regulation which came into effect from 1st July 2014.
Highly Skilled Team
The team from VTS Hertford have over 30 years of experience in providing structural steel services to builders and contractors in Hertfordshire, Cambridgeshire, Essex and Middlesex. They have supplied high quality structural steel for new houses, refurbishments, extensions and loft conversions and have gained a reputation for excellence and reliability.
"We've used Howe Green's access covers many times before. They are very good quality and made to order. With a 16-week window to deliver The Tramshed, we needed a supplier that could give us exactly what we needed, when we needed it and so their quick turnaround was a definite bonus."

John Chilvers - Tekne Shopfitting Limited
Structural steel
Made to order
3D Modellling Software
CE Certified Structural Steel
Structural Steel Services
Steel Beams, Metal Fabrication and Architectural Metalwork to your specification.
Product Benefits
CE Certified Structural Steel
Over 30 years of experience in the structural steel sector
Full structural steel service – design, make, install
Leading edge 3D modelling software
Work with mild steel, stainless steel or aluminium
Company: Howe Green US
Source: https://www.howegreen.com/structural-steel/index.php
---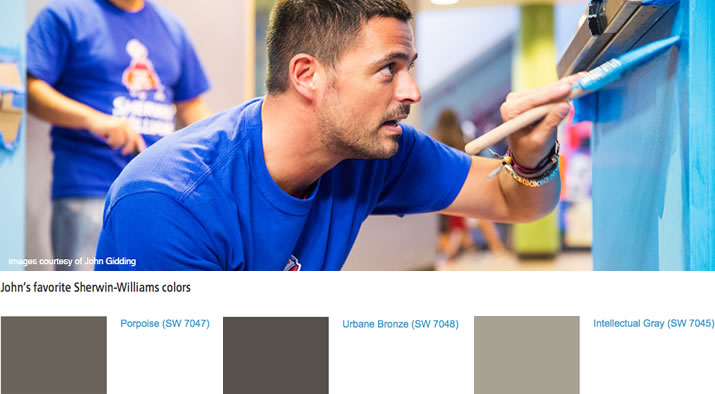 STIR® sits down with Curb Appeal's John Gidding for a look into what drives his designs and color choices.
You may know him as the brain behind stunning front-home makeovers on HGTV's Curb Appeal or as one of the expert judges on Fox's Home Free. However you recognize John Gidding, it's clear he's a design talent with a keen eye for color — and a very busy man. Between his many projects, STIR was able to sit down with John and get a look into his color theory and design inspirations, plus what's coming up next.
STIR: Hi, John! You've been a designer in the public eye for a long time now. Before HGTV and your other prominent design ventures, when did you first realize you were destined to be an architect and a designer?
John Gidding (JG): It happened when I was very young. I was good at art and math and someone told me I should be an architect. It became a self-fulfilling prophecy — whenever anyone asked me what I wanted to be afterward I always said "architect." I got into college and I took an architecture course and sure enough, I enjoyed it.
STIR: Many may view design and architecture as strictly creative fields. Where do you see your strengths in math come into play?
JG: The world of architecture is built on constraints. Understanding those constraints means being able to have a conversation with the professional in the field — that's where math comes in. The capacity to be able to speak to structural engineers about a thoughtful project is important, so over the years [math] has really helped.
STIR: Where do you go to find color inspiration for your designs?
JG: Fashion is always a first resource — [fashion designers] are always at the cutting, bleeding edge of trends and where color trends are going to go.
STIR: You've lived in many different cities — from Istanbul, Turkey, where you were born, to New York City and San Francisco. How have each of these places influenced your personal design aesthetic?
JG: One of the more influential cities for me was Atlanta — I moved there to shoot Curb Appeal. The residents certainly know and love that city and their architecture. Especially when it comes to residential architecture, which is what I was working on at the time. Atlanta is highly livable, there's a lot of money being spent into the infrastructure — suddenly it's becoming more of a pedestrian city.
STIR: Where are you seeing color palettes headed in both the residential and commercial design marketplaces today?
JG: [Design] is an on-off-on-off cycle. So because we've been seeing very saturated colors lately, I'm predicting we'll move to warmer, softer tones in the blues, purples and pinks.
STIR: Which color trend are you loving at the moment?
JG: I often love the milkier grayish and grayed-out shades. I always use them. We have a joke in my firm, we call it "Gidding gray." Any grayed-out version of a color I'll probably be excited about.
STIR: How do you use color differently in your landscape design compared to interior design? Does your use of color in one inform your use of color in the other?
JG: For exterior projects, there are no trends that are of importance. I instead look at the fabric of the community, flora and fauna of the microclimate, and that's what decides colors for me. Certain architecture doesn't go well with certain colors, so I like basing my colors on architectural precedent as well.
Interior design is much more about the homeowners and the lifestyle they want to create. Also, room by room, I tend to choose colors based on the interior room function.
STIR: What's your favorite color rule to break?
JG: Values, when they are close together (same tints and hues), tend to give a calmer appearance. Values that are pure hues and bright saturations with lots of contrast tend to create energy — and this is what I like to break — I try to create a calm environment while still using pops of contrasting color.
STIR: Any tips for designers and architects looking to push their color boundaries in their projects?
JG: The biggest challenge is to saturate without making [the room] look too graphic or too trendy — and bringing in color when possible and appropriate without making the project dated or rubbing people the wrong way. The solution to this problem is contrasting colors with natural materials — that pairing neutralizes the space so people feel at home.
STIR: What is your favorite Sherwin-Williams color?
JG: Porpoise! Can you tell how quickly I answered the question? It's always been my favorite Sherwin-Williams color. I use it in facades, kitchens, interiors and exteriors. It's the perfect taupey gray. You can follow John's latest design adventures on Instagram, Twitter and Facebook and at JanusArch.com. Plus, catch him this summer on his show, The Secret Guide to Fabulous on LogoTV.
Company: The Sherwin-Williams Company
Source: http://www.sherwin-williams.com/architects-specifiers-designers/inspiration/color-conversation/SW-ART-STIR-GIDDING-COLOR.html
Tags: Coating | Color | Interior Design
---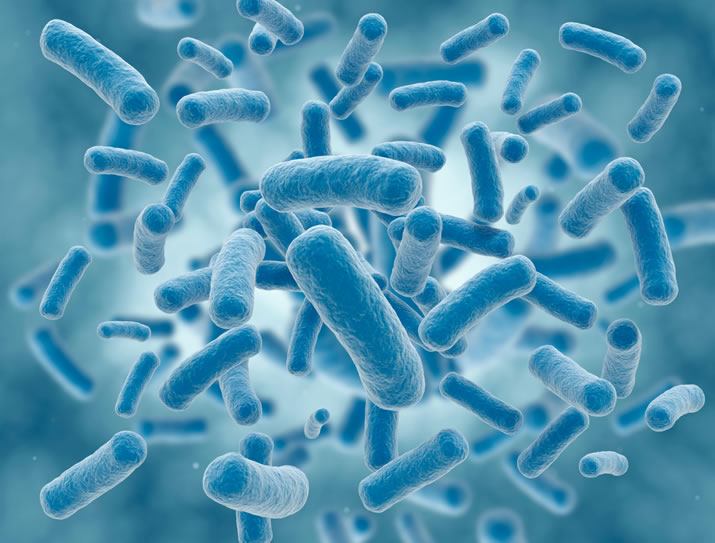 Bacteria cells
Linetec Specialty Coatings include antimicrobial protection for high-touch, architectural metal products' exterior and interior surfaces, such as doors, windows, curtainwall, entrances, panels and column covers.
24/7 Protection
Antimicrobial protection is infused into select Linetec 70% PVDF-based fluoropolymer product finishes helping to inhibit the growth of stain and odor causing bacteria that may affect the surface of the coating. It protects product finishes from microorganisms such as bacteria that may cause odor and deterioration of the physical properties of the coating.
How it Works
When moisture is present, the ion exchange mechanism in the antimicrobial finish is activated and silver cations are released. The released silver acts on odor causing bacterial by disrupting metabolism and reproduction.
What Are the Color Options
The antimicrobial product protection offered by Linetec is available in nearly any color option; standard and custom colors, mica and metallic coatings.
learn more
This white paper describes the uses and advantages of antimicrobial infused coatings, as well as details the related technology, testing and specifications. According to the paper, "The need for microbial control stems from the fact that there are an estimated 4.5 million bacterial and fungi species throughout the planet, many of which travel and migrate via the constant ebb and flow of human foot traffic through an ever-changing population of people visiting public buildings. Under the right conditions, some microbes can double in number every 30 minutes or faster."
Company: Linetec
Source: https://linetec-blog.com/2016/07/11/antimicrobial-protection-for-public-building-applications/
---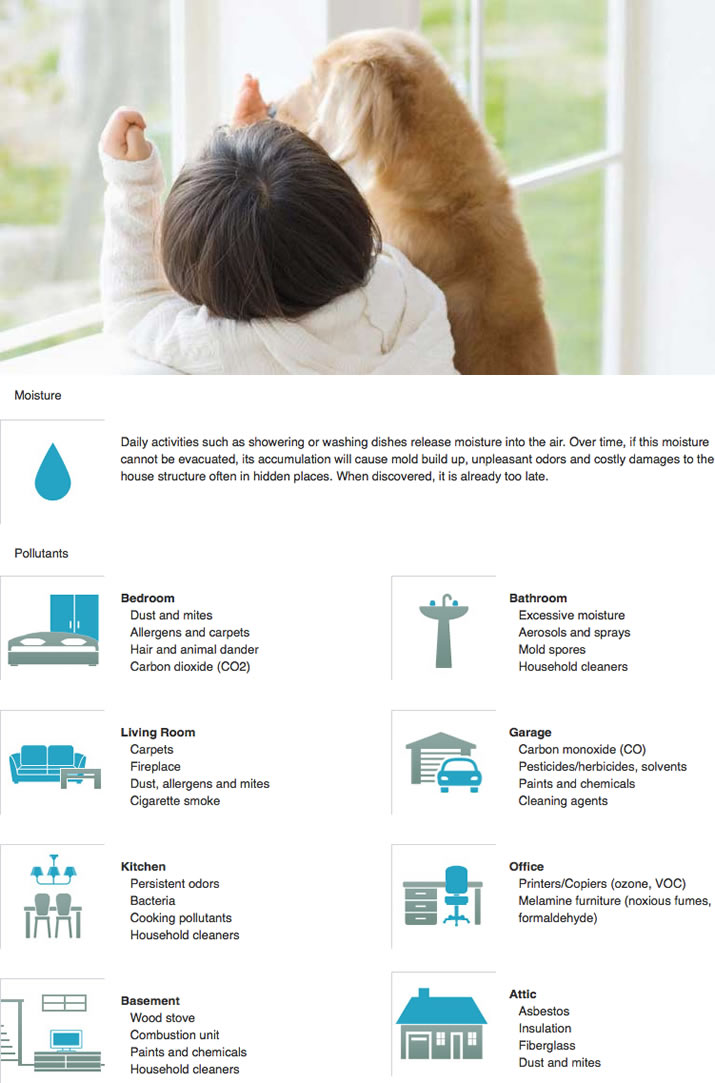 THE FUTURE OF FRESH AIR
It's a fact: Today's homes are so well insulated that they trap humidity and pollutants indoors. Result: Over 50% of homes show visible signs of humidity. However, it is possible to breathe fresh air inside as if you were outside and fully enjoy your home.
According to specialists, central ventilation and filtration effectively eliminate airborne pollutants and excess humidity, thereby protecting your family's health and the structure of your house.
Ventilation is a necessity. But what is the most cost effective way to ventilate while retaining the energy used for heating and cooling? Broan offers a wide range of air exchangers with Heat Recovery (HRV) and Energy Recovery (ERV) technologies. These technologies help to minimize loss of heat or coolness as follows: The HRVs transfer heat from exhaust air expelled from the house to the fresh air entering the house, without mixing the stale air and the fresh air. In addition to this feature, the ERVs limit the amount of moisture entering the house (ideal for humid climates).
PURE SAVINGS - Up to 60% less power consumption
The most energy efficient HRVs and ERVs certified by ENERGY STAR®, the HE Series sets new standards in energy efficiency by consuming up to 60% less power than any other HRVs or ERVs certified by ENERGY STAR*.
WHEN DO YOU WANT FRESH AIR IN YOUR HOME?
We want fresh air always and in every room of our homes, of course. Broan fresh air systems are the centerpiece of today's tightly constructed, energy-efficient homes, providing a continuous supply of fresh air to improve indoor air quality and overall home comfort.
FRESH AIR WHEREVER YOU LIVE
Most essential to providing fresh air to your home is properly managing incoming and outgoing air for your climate conditions, seasons, temperature and humidity levels. If not managed efficiently, indoor air quality, energy bills and overall home comfort can suffer. All Broan Energy Recovery Ventilators (ERVs) and Heat Recovery Ventilators (HRVs) feature exclusive Venmar® Core Technology engineered for all seasons and climate conditions. These fresh air systems exchange stale indoor air and pollutants for fresh, filtered air from outside, and Venmar® Core Technology efficiently manages the air exchange to maintain comfortable temperature and humidity levels. The result—fresh air and improved home comfort wherever you live.
Company: Broan-NuTone LLC
Source: http://www.broan.com/fresh-air-systems
---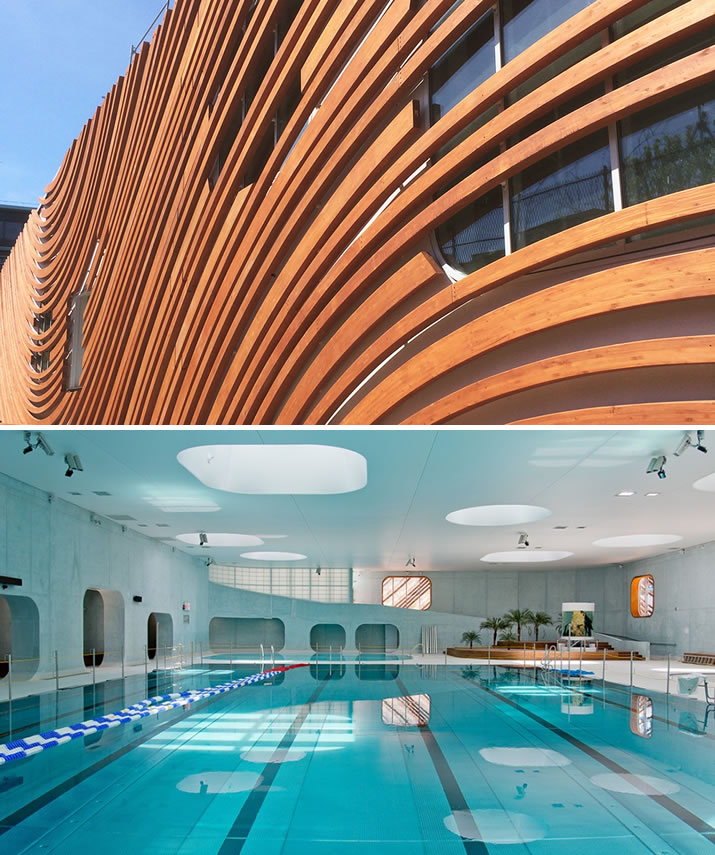 Inspired by Feng Shui – the Chinese art of positioning structures to harmonize with spiritual forces – the architects of the Piscine Du Fort swimming pool in Issy-Les-Moulineaux, France chose a Kalwall® wall system of Kalcurve® panels to be a key piece of the design.
Principals Salwa and Selma Mikou of the architectural firm Mikou Studio said they designed the swimming pool hall "as a brightly-lit, peaceful space suitable for relaxation, in which the filtered light from the (Kalwall) facade accentuates the `light box' effect."
The fluidity and openness of the swimming pool hall is made possible through the use of Kalwall's translucent sandwich panels at the entrance of the pool. Museum-quality daylighting™ that is glare free allows natural light to bathe over the entrance and an adjacent ramp that connects the pool to the rooftop lounge area.
The ramp's curved design makes the building feel more streamlined, and the use of the Kalwall wall panel is central to that effect. The panels can be easily molded while still maintaining their diffuse light properties.
Company: Kalwall Corporation
Source: https://www.kalwall.com/2016/06/15/the-feng-shui-of-kalwall/
Tags: Design | Wall Panels
---

Your deck project is considered one of the best places to spend your home improvement dollars. Investment motives aside, our decks provide hours of enjoyment with friends and family, so it should no longer be at the bottom of your home improvement wish list.
Define the Entrance
While you may do most of your walking on and off your deck from your home's patio door, if your deck has stairs down to the backyard, make that second entryway as inviting as possible. Create a defined walkway with gravel and pavers, and plant bushed and/pr flowers on each side of the stairs for an inviting path onto your deck.
A Built-In Bench
A built-in bench not only provides visual appeal, but some practical advantages as well. It efficiently utilizes your space for extra seating. It can also provide extra storage space underneath the seating. Make sure to include comfortable cushions that can be stored below when the weather is bad.
Fuller Sound
While various conventional music solutions may do the job for your outdoor entertaining needs, you can create a fuller and more sophisticated experience with a weatherproof built-in sound system. Whether they are hung above or blended into the scenery as "speaker rocks," you can have your deck or your entire backyard wired with your favorite music.
Water Feature
Take your relaxation to the next level with the soothing sounds of a water feature. if your deck isn't large enough to feature a fountain to your liking, you can consider a small table top version or install a bigger one nearby where you can still enjoy its visual and audible beauty.
Cover a Portion of Your Deck
Covering an area of your deck, whether it's simply an umbrella on your table or a wooden pergola partially covering your deck, can make it easier to entertain when the weather isn't perfect, or if you just want to provide a little respite from the heat of the sun.
Cable Railing
All decks more than a couple feet off the ground have to come with railing to be up to code. But that doesn't mean you have to settle for the conventional route. If you are a DIY-er, You can cut your cost by ordering a kit and installing it yourself
Grow Herbs
If you love to cook and may be interested in growing some of your own ingredients, growing herbs can be fun, while providing extra visual appeal to your deck. more importantly, it will add a little fragrance backyard.
Stain Your Deck
There are a number of wood staining options for your deck. They vary base on color, opacity, to fit your stylistic needs. Not only will it visually transform your deck, but it will provide protection from the elements and help your deck last for many years.
Company: Stainless Cable & Railing Inc.
Source: http://site.stainlesscablerailing.com/blog/smart-ways-to-upgrade-your-deck/
Tags: Landscape Design | Railing System
---
Perhaps no one is more grateful for the $12.8-billion investment to upgrade Ontario's Darlington Nuclear Generating station than Justin Parrington.
"Without the refurbishment, I wouldn't have a job," said the young marketing sales executive at Burlington's MarShield, during a roundtable discussion about the nuclear project last Friday.
MarShield makes protective gear for people who work in the nuclear industry from medicine to energy production. It is one of several local companies, and among 60 in the province, to reap the economic benefits of the provincial investment to upgrade the aging power plant.
Plenty of the specialty components, supplies, engineering expertise and research needed for the eight to 10-year long project are provided by local firms such as GE Power, Laker Energy Products, Platecon Projects, Stern Laboratories, Clean Harbours Canada and CTSNA Commissioning & Technical Services.
"The number of companies that will prosper from it are tremendous," said Keith Hoey, president and CEO of the Burlington Chamber of Commerce. The chamber, as well as its provincial counterpart, gathered some of those local vendors together last week to speak with local politicians and the people behind the massive project.
Like Parrington at MarShield, Laker Energy is already experiencing an uptick from the upgrade.
The local company has grown from 20 to 60 staff, thanks to Darlington, said company president Chris Hughes.
"These are high-quality engineering jobs, and we will be up to 75 staff in the next 15 years," he predicted.
But, as happy as Mark Zimny, president and CEO of Promation Nuclear, is for young people like Parrington who are finding work thanks to the Darlington investment, he's concerned about the future, especially as Ontario competes with firms in Russia and France, for business in the nuclear sector.
"How will I retain my engineers without new deals to grow the sectors," he asked. "What's the long-term plan?"
Eleanor McMahon, MPP for Burlington says the province's investment in refurbishing Darlington "shows nuclear energy is back in the game."
She assured Zimny that the province is helping generate a skilled workforce for the industry through its educational policies. McMahon said the post-secondary graduation rate in Ontario is now at 85 per cent and the promise of free post-secondary education to families earning less than $50,000 will eliminate financial barriers for students.
As well as boosting the local economy and labour force, Burlington MP Karina Gould said the investment in nuclear power, of which Darlington supplies 20 per cent for the province's energy needs, is a low carbon option that is better and cleaner for the environment.
Indeed Roy Martin, who has spent five years preparing for the refurbishment of Darlington as the project director for Ontario Power Generation, said that 97 per cent of the electricity generated by nuclear power is smog free and greenhouse gas free, and costs half as much to produce as other power generators in the province.
"Rebuilding the reactor will give us 30, to 40, to 50 more years of clean, low-cost power generation," said Martin.
Company: MarShield - a division of The MarsMetal Company
Of: Melanie Cummings Special to Burlington Post
Source: http://marshield.com/marshield-participates-in-burlington-chamber-of-commerce-and-opg-hosted-talk/
---
Draper offers the finest commercial window coverings providing almost unlimited flexibility in solar control. Since 1902 when we made our first school window shade we have continually led the industry in the development of new technology and products. Every window shade is checked and tested before it leaves the factory to make sure it meets the high quality standards for which Draper is known.
Motorized FlexShade®
The motorized FlexShade® by Draper offer the ultimate in high-tech convenience in a functional shading system. The simplicity of shades with the versatility of motorized operation.
Motorized FlexShades Installed at Moriarty Middle School in NM
Draper Motorized Flexshades installed at Moriarty Middle School in New Mexico. These shades have Phifer's SW2920 Oyster Beige with a 5% openness. The openness allows for energy saving solar control while preserving the view.
Source: http://www.draperinc.com/windowshades/productdetail.aspx?detail=3
Tags: Design | Window Shades
---
Revolving doors have been around for well over 100 years since their invention by Theophilus Van Kannel in 1888. As the story goes, Van Kannel, working in a lobby during a cold winter in Philadelphia, complained about the unpleasant effects of the swing door at the main entrance: "Every person passing through [the exterior door] first brings a chilling gust of wind with its snow or rain, and the noise of the street; then comes the unwelcome bang!"
Van Kannel decided to do something about it, he started a business, and the rest is history. The new type of doors stopped air infiltration and were quiet during use. But, how much can you really improve on what is a relatively simple concept? In fact, modern technology and engineering have completely transformed Van Kannel's invention in terms of safety, ease of use, and even security. Let's take a closer look.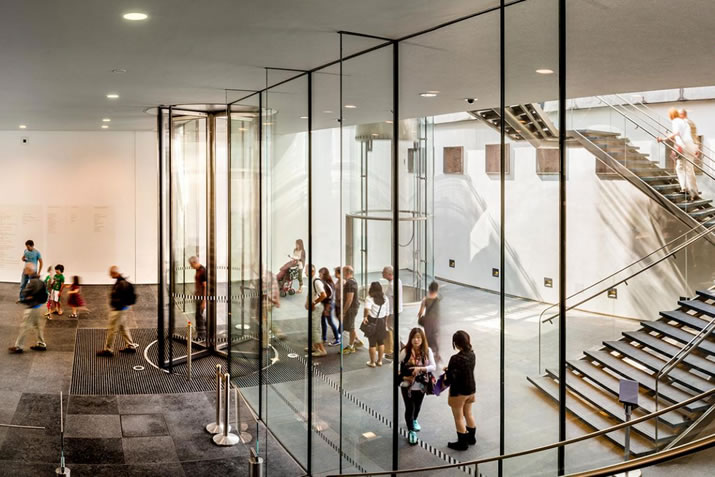 Modern technology and engineering have transformed the revolving door in terms of safety, ease of use, and security
Safety Standards
If you've seen the movie, "Elf", you might remember the main character playfully running around and around in a revolving door at top speed laughing gleefully. While a great comedic effect and a chance to discover your inner child, the possibility of finding a door that would allow you to try this out for yourself is becoming quite rare. The reason, of course, is safety. Today, manual revolving doors typically include a speed control device in their canopy that prevents the door wings from being rotated too quickly. There are standards for manual revolving doors developed by the American National Standards Institute (ANSI), which guides building codes for new construction. The top speed allowed for a manual revolving door is 12 rotations per minute (RPM). If you rush into a modern revolving door and try to run, the door pushes back. Of course, this takes away all the "fun", but it does create a predictable, safer door for the public. In exchange for eliminating the fun factor, however, we can talk about a lot of new and modern features.
Power Assist Feature
A recent technological advancement that has happened in the last few years is exciting because it has become a gateway for even more advancements, which we'll describe later on. That recent advancement is a combination called "power assist" and "positioning" (the latter is also known in the industry as "quarter pointing"). All it takes is a little electricity…
Power assist is a feature that helps a pedestrian push the door. It used to be you had to keep pushing and pushing a door wing to get to the other side. But with power assist, a low energy motor kicks in and starts doing the work for you, relieving you of up to half the effort you had to use before. This is great for everyone, but especially for women, children and the elderly. You just have to get the door wing started and it keeps rotating on its own at a moderate, comfortable speed.
Another benefit of power assist is you can have much bigger doors than before! Physics had always limited the diameter of manual revolving doors because the larger the door gets, the bigger and heavier the door wings become. In fact, for every 6 inch increase in door diameter, a single door wing's weight increases by 25 lbs. Thus, if you compare a 6' door with an 8' door the difference in door wing weight is 100 lbs.! Now, with power assist, it is possible to comfortably push and walk through a door that is up to 10' in diameter and 10' feet tall!
For pedestrians, such a larger door is a much easier and more spacious experience that can accommodate even a rolling bag quite well. No more small, tight compartments. Think big and open, and a lot of light coming through making for a nice first impression in addition to the ease of use.
Door Positioning
Positioning or "quarter pointing" is a feature where, after someone has used the door, the door wings will stop in the "set" position, right up against the end posts of the throat opening. Every time. It's like the door always "strikes a pose" and gives you it's best side when it stops. The next user can just step up to the door and the door wing is in the right spot, ready to be pushed. So, an obvious benefit is that the door is more intuitive to use.
A not-so-obvious benefit of positioning is the fact that when the door is at rest, all of its door wings are in contact with either an end post or the drum. This maximizes the seal effect of the door and prevents air infiltration as much as possible, thus saving a lot of energy when compared to swinging or sliding doors.
Both power assist and positioning are a gateway for several security features. How is that nice little trick accomplished?
Revolving Door Access Control
If you have a manual revolving door that has modern power assist and positioning features, you have electric power coming to the door, and this means you can add more electric features. If you add electronic shaft locking you can stop door rotation at the push of a button. Now, add presence detection sensors in the ceiling and an access control system, and voila! You now have a manual revolving door that can serve the public during the day and be locked at night. After hours, a user can present their credentials to the access control system, which in turn can unlock the shaft locking and allow the user to push and enter the building. Why include the presence sensors inside the door? To ensure no one gets trapped in the door when it positions and relocks.
Before these security features were introduced, someone had to walk over to the door and throw a vertical deadbolt down into the floor or ceiling to lock it. With electronic shaft locking, you can lock the door from a distance by pushing a button, or let the access control system do it automatically.
Also, with shaft locking, you can ask for a door with a "panic lock" capability: if, say, there was a security threat at the door during business hours, you can push a button behind the reception desk to stop the door dead in its tracks and prevent intrusion.
Keep in mind that you now have a very sophisticated manual revolving door that can be used in so many ways in various public locations. However, it is not the same as a security revolving door, which can stop tailgating and piggybacking and usually requires trained traffic, such as employees coming into a place of work vs. the general public.
As you can see, today's manual revolving doors have come a long way since the small, cramped, heavy wooden models invented in the 19th century. Their original benefits of preventing air infiltration and noise certainly remain, and with today's modern updates in ease of use, safety, sustainability and security, they are increasingly likely to become the door of choice in the future.
Company: Boon Edam Inc.
Of: Tracie Thomas
Source: http://us.sourcesecurity.com/news/articles/evolution-revolving-door-security-teaching-doors-co-286-ga.20896.html
Tags: Design | Entrances | Safety | Sustainability
---
Restaurant, bistro, cafe, or snack shop: no matter what you call your commercial dining establishment, decorative ceiling tiles are the perfect way to create the atmosphere you want to portray. We even have great restaurant ceiling tiles for pubs, taverns, and inns. And whether you serve Italian, Greek, Japanese, Moroccan, Ethiopian, or any type of fusion cuisine, we have a restaurant ceiling tile design that will fit in perfectly with your theme. Choose any type of installation for your restaurant ceiling tiles, including drop-in, glue-up, or nail-up methods.
We have restaurant ceiling tiles to match every type of flavor. Tex-Mex? Try our Longhorn custom tin ceiling tile. Wine bar? Choose from Guardian Cherub, Grecian Urn, or Tuscan Glory. Asian Fusion? Select a restaurant ceiling tile from our line of EcoTiles, a brand of environmentally-friendly restaurant tiles made from 100% natural bamboo pulp.
For an upscale impression, choose from our line of plush and rich-looking faux-leather tiles or our glamorous real aged copper restaurant kitchen ceiling tiles. Each ceiling tile fits quite nicely in any restaurant setting.
For a chic bistro, try a faux-tin or real tin restaurant ceiling tile for the look of today. You will get the same beautiful look at a fraction of the cost.
Styles range from clean and sophisticated to classic Art Deco to mysterious and intriguing. Shop online and find the right restaurant ceiling tile that says something about your dining establishment.
We have restaurant kitchen ceiling tiles that are Class A fire-rated, tiles that absorb sound, and tiles that are ecologically friendly. And we have glue-up tiles that will cover an old acoustic ceiling as well as drop-in tiles that will fit into almost all existing grid systems. Our assortment of restaurant kitchen ceiling tiles will give your restaurant, bistro, cafe, or snack shop character. Every restaurant ceiling tile pattern is unique, so you're sure to find something that catches your eye.
No matter what your theme, cuisine, or decor, there's sure to be a beautiful restaurant ceiling tile to match! We also offer decorative ceiling tiles for your home. Give us a call toll-free at 1-866-297-0380 and buy your restaurant ceiling tiles today!
Company: Decorative Ceiling Tiles, Inc.
Source: http://www.decorativeceilingtiles.net/pages/Restaurant-Ceiling-Tiles-and-Restaurant-Ceilings.html
Tags: Ceiling | Interior Design | Wall Panels