architecture - engineering - construction

Metal
---
One Henry Adams- Multi-Family Residence in Design District, South San Francisco featuring Folded Zinc Panels
Location: 1 Henry Adams St, San Francisco, CA 94103
Profiles: Custom 1" reveal panels, Morzip
Substrate: Zinc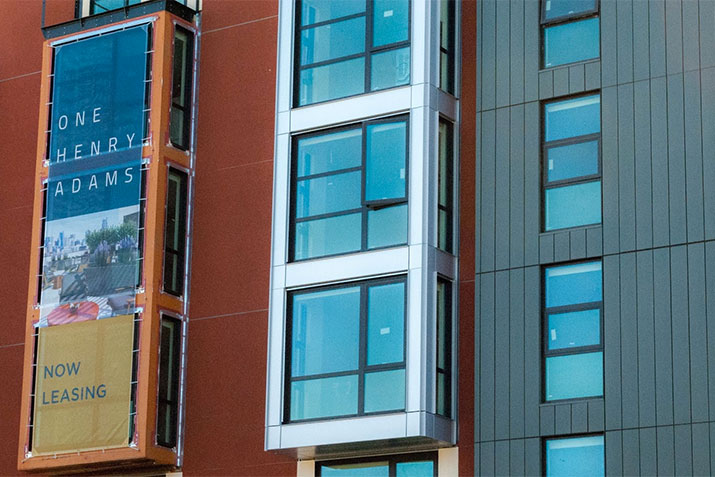 Building a new structure that spans an entire 1.65 acre block in a historical neighborhood like Showplace Square is no easy task. Instead of trying to mimic a 100 year old building, BAR Architects went with a simple design for One Henry Adams, a multi-family residential and retail structure owned by Equity Residential. One Henry Adams features clean lines composed of building materials like zinc, steel, brick, timber, and glass that give the buildings urban character while preserving the historical essence of the surrounding neighborhood. The $164.4M project located in the Design District of South San Francisco opened to residents in November 2016. It consists of two buildings separated by a public walkway with art structures and garden spaces intended to integrate the residents with the neighborhood community.

The architects went with zinc to accent the building and surround the expansive glass windows not only because of its unique texture but also because of its inherent sustainable qualities. Zinc panels are 100% recyclable and has a low environmental impact in production. The panels have a 1.2mm of pre-weathered patina graphite gray coating to make the material durable in the coastal climate of San Francisco while maintaining the natural metal aesthetic. Morin's A-12 panels with a 1" reveal were installed vertically creating sharp lines that seemingly extend into the sky. The zinc panels flow into crisp folded corners on every edge. Manufacturing panels with folded corners is becoming more popular as it has significant design advantages. Folding the panel corners tightens the panel making the structure more rigid minimizing any sort of pillowing or oil canning. The sharp reveals create the illusion that the building is made with long zinc bricks. These "bricks" appear to be floating next to each other as not a single fastener or piece of trim is visible on the zinc facade. In recognizing the advantages to panels with folded edges, Morin has recently acquired a new roll former capable of producing these panels. With this new technique, the possibilities for design has just multiplied.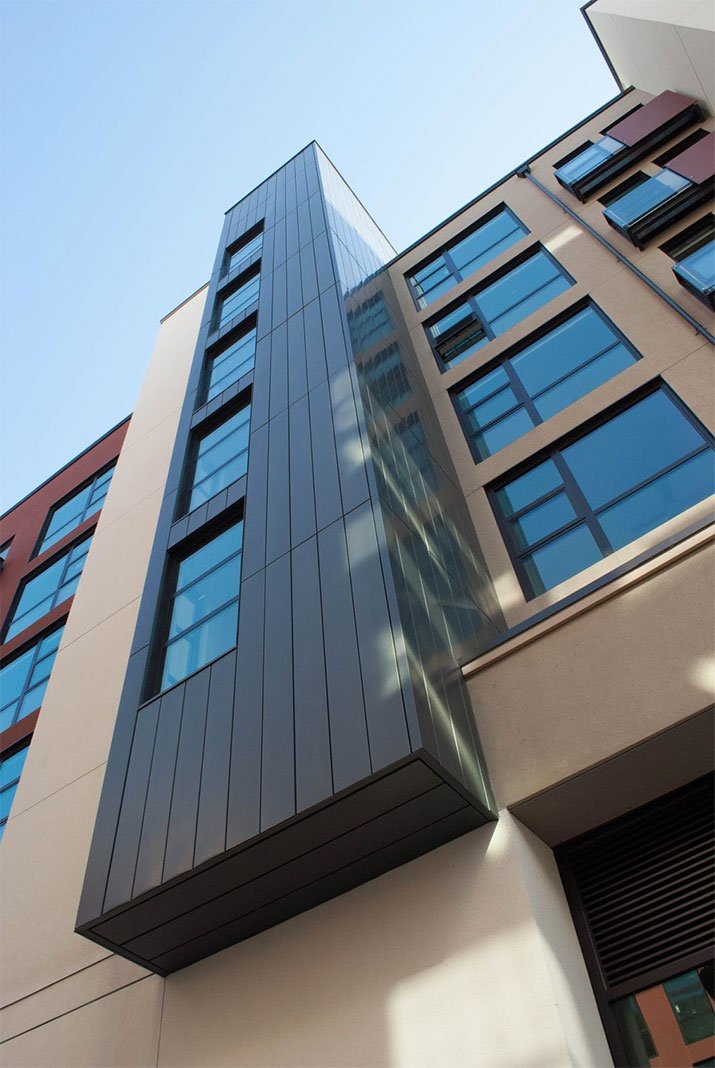 The project was a massive success from the design process to the ahead of schedule construction to the award-winning finished product.
#13 on San Francisco Business Times's "Top San Francisco Residential Construction Projects" list (2016)
#25 on Engineering News-Record California's "Top Starts in California" (2015)
#57 on San Francisco Business Times's "75 Largest Construction Projects" list (2015)
Company: Morin® - A Kingspan Group Company
Product: MorZip® – Wall to Roof and Back Again
Source: http://morintranet.blogspot.nl/2017/11/case-study-one-henry-adams-multi-family.html
Tags: Architecture | Award | Metal | Wall Panels
---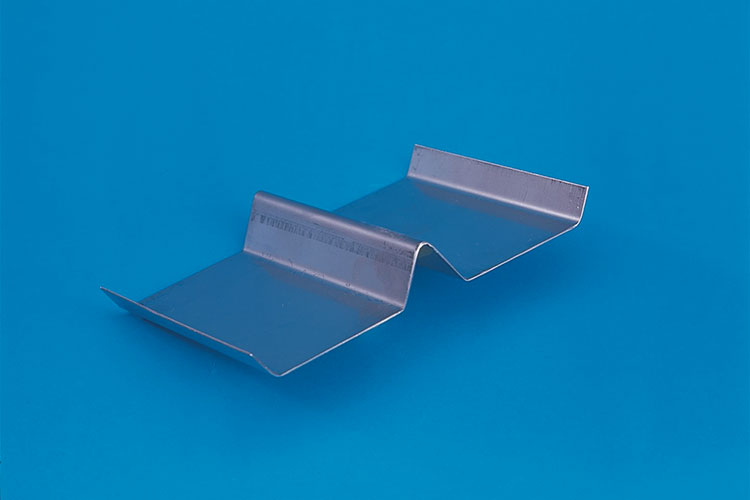 Earth Shield® Stainless Steel Waterstop can stop even the most corrosive fluids in their tracks, even at severely elevated temperatures. A variety of metals, grades, and gauges are available. Earth Shield® utilizes 20 gauge 316 low carbon as our standard alloy, which offers broad spectrum corrosion resistance to most aggressive media, and is virtually untouched by the deleterious effects of ozone, making it an ideal choice for ozone contactor structures used in modern water treatment plants.
Hydrophobic SS Waterstop
Prevents the passage of extremely corrosive fluids (even at elevated temperatures) through concrete joints by creating an internal dam, spanning both sides of and running continuously along the concrete joint.
The most difficult to install waterstop, as split-forming is always necessary (with the exception of retrofit profiles). Also, TIG or MIG welding is required.
Contains no plasticizer to leach out (unlike PVC) from exposure to hydrocarbons, acids, ozone, ultraviolet radiation, or time.
Products are available for above- or below-grade; limited-moving or non-moving applications.
Designed to last the life of the concrete structure.
Able to withstand extreme temperature conditions (high heat, LNG, etc).
Earth Shield® Stainless Steel Waterstop is available in many standard shapes and sizes, including profiles for new construction and retrofit. All change of direction fabrications can be pre-manufactured leaving only straight butt welding for the field.
Company: JP Specialties, Inc.
Product: Earth Shield® Stainless Steel Waterstop
Source: http://waterstopking.blogspot.nl/2017/08/stainless-steel-waterstop-for-high-heat.html
Tags: Building | Metal | Waterproofing
---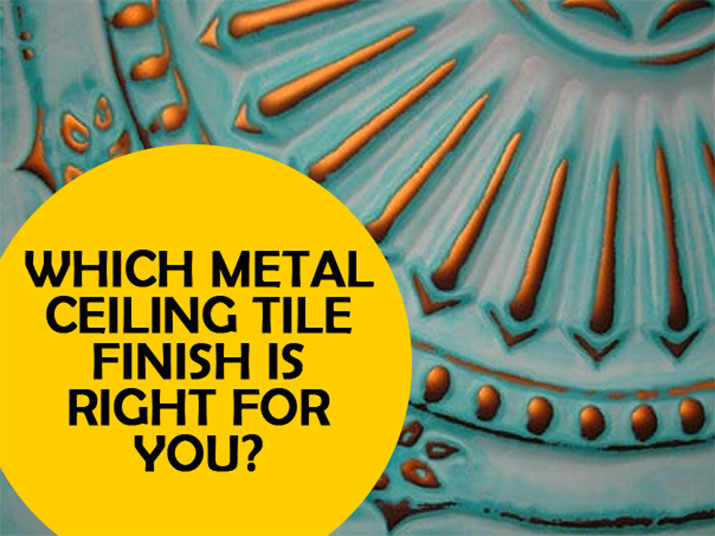 One of the most beautiful parts of metal ceiling tiles is the sheer number of options there are when selecting one. There are numerous sizes, shapes, and colors to choose from. It is practically guaranteed that you will be able to find a metal ceiling tile that fits not only the atmosphere of the room it will be in but your personal taste as well. Nothing demonstrates these options better than the different finishes available for tiles.
Benefits Of Having Different Metal Ceiling Tile Finishes
There are hundreds of different finishes available, each one unique. Finishes can be worn and weathered to shiny and bright. Some may be bold, while others may be dull. This variety is great for a few reasons.
You will be able to match existing ceiling tiles. If you are looking to replace a few ceiling tiles that are a part of an existing ceiling, there will not be a problem finding a tile to match the tiles that are already in place. This will make the replacement process much easier for you.
You will find the perfect ceiling tile for whatever aesthetic appeal you are in search of. Whether you want a vintage appearance or a modern appearance, there is no shortage of metal ceiling tile finishes. Metal ceiling tiles allow you to express your individuality. Your creativity and style can be directly seen by the metal ceiling tiles you wish to display around your home.
How Can Different Finishes Impact A Room?
The room where the metal ceiling tile will be placed can directly impact the style and feel you wish to convey. For example, you may want a bold ceiling tile for your bathroom to liven it up while preferring a more neutral ceiling tile for your bedroom. Metal ceiling tiles can fit into a room in practically any way possible. If you wish for them to be the focal point of a room, there are metal ceiling tile finishes that achieve that. If you wish for your metal ceiling tiles to compliment or blend into a room, there are finishes that will achieve that as well.
Consider using metal ceiling tiles around your home in these different ways. Obviously, the finish you choose will affect how each tile is portrayed in a room.
Ceilings – Their name says it all. Metal tiles can be used to give your current, boring ceiling more character. Ceilings made of tin tiles can make a room feel more warm and welcoming
Walls – Instead of painting, consider hanging metal ceiling tiles on your wall to provide a unique dynamic. It may be best to consider more conservative or flat-based finishes here, as a wall of shiny tin can be distracting and overwhelming. Then again, it's your room and you can decorate it as you see fit!
Wall Art – Simply using individual tiles can spice up a room. A vintage finish can make for a great piece of decorative wall art.
Backsplashes – A tin ceiling tile backsplash makes a great compliment to a laundry room or kitchen. Not only do they look good, but they provide practicality as well. Metal ceiling tiles are easy to wipe down and clean. Removing grease or detergent from paint or wallpapering is difficult, but this is not the case with metal tiles.
Memo Boards – Cork boards are outdated. Metal tiles can be used in an office or kitchen as a perfect complimentary piece.
Bookshelves – Add a vintage look to your room by replacing the backboard of a bookshelf with a metal ceiling tile that has a rustic appearance.
Popular Finishes
There are hundreds of finishes to choose from, but these are some popular choices that can fit any style of room. You can purchase a color sample of each to ensure that the tin tiles will perfectly achieve the look you are striving for.
Alaska Finish – This finish provides a very rustic and antique look. It is a hand-faux finish in transparent copper, with hints of very light blue and teal.
Key West Finish – Consider this finish the opposite of the Alaska Finish. The hints of teal that are seen in the Alaska Finish make up the base of the Key West Finish. Perfect for a sunroom or beach home, this tile comes in an antique brass, white, and green finish.
Oklahoma Finish – This tile is hand finished in Renaissance gold and ivory.
Classic Gold Finish – Much shinier than the previous three options, this tile is powder coated in white wash and transparent yellow gold with shiny gold embellishments.
So what metal ceiling tile finish did you decide on?
Company: Metal Ceiling Express
Product: Decorative Metal Ceiling Tiles
Source: http://www.metalceilingexpress.com/blog/metal-ceiling-tile-finish/
Tags: Ceiling | Interior Design | Metal | Wall Panels
---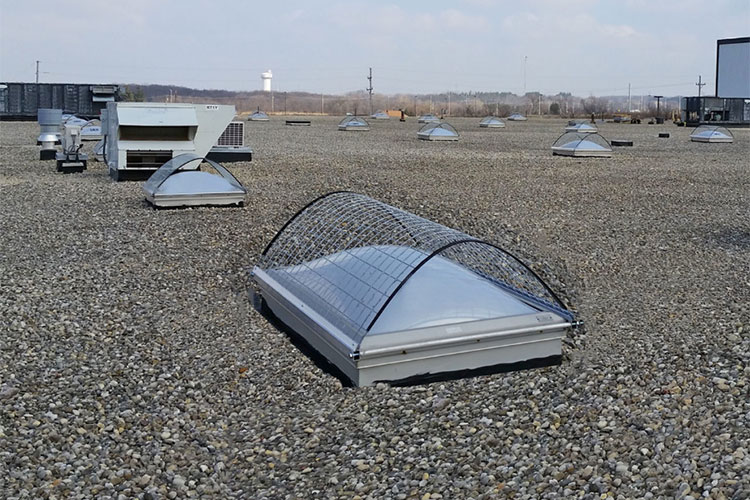 SRC Skylight Screens
Skylight Screens often are the most economical solution for guarding skylights. They fit a variety of dome-shaped skylights and don't take up any space on the roof.
Best of all, they do not require any penetrations to the roof, curb, or skylight. Our unique compression-fit design locks the screen onto the aluminum frame of the skylight. Federal OSHA and CalOSHA compliant.
Features
Economical
Compression-fit — no penetrations
Galvanized finish
Sizes available for skylights up to 61" wide x 120" long (up to 53" wide x 120 " long for CalOSHA)
Perfect for high wind areas
Company: Safety Rail Company
Product: Skylight Guarding
Source: http://www.safetyrailcompany.com/skylight-guarding-with-src-skylight-screens/
Tags: Glass | Metal | Roof | Safety | Windows
---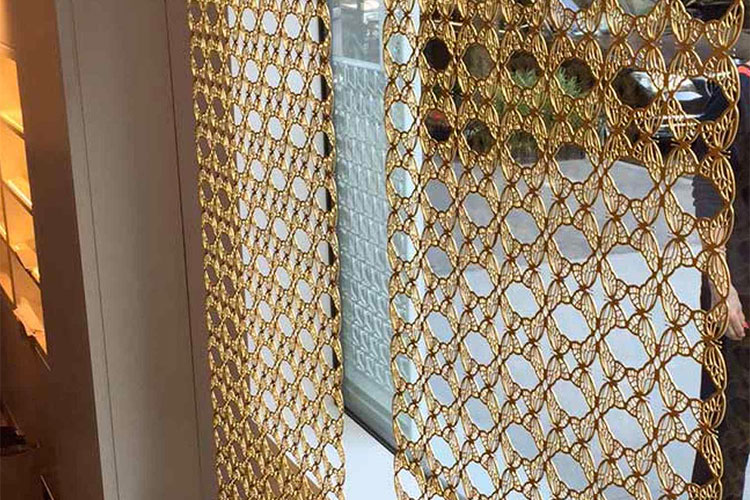 Boutique
A down to the wire request to have two large, intricate, decorative metal screens completed in just 4 days. These laser cut panels also received custom plating.
Complex issues
An intensely intricate and delicate decorative pattern repeated throughout the piece
The maximum thickness of the material was limited to 1/16"
These decorative metal panels have many fine and narrow filigree characteristics that could not be cut quickly on the laser
The metal screen panels were very large; 113" x 36"
The Solution
Artistry in Architectural Grilles' engineering team programed the pattern in several hours and immediately went into production by 4 PM the first day.
The laser ran throughout the night continuing on the panels.
Due to the intricacy of the pattern and light material gauge, the cutting sequence had to be randomly arranged to ensure the material wasn't melted.
The grille pattern required over 60 hours of cutting time.
Success
The contractor and Boutique owner were thrilled we could meet an impossible deadline. Their words:
"They look amazing."
At a glance
TYPE: Custom Laser Cut
STYLE: Custom Pattern
DETAIL: Specialized Cut Sequence
MATERIAL: 1/16″ Steel
Company: Artistry in Architectural Grilles by Advanced Arch Grilles
Product: Perforated Grilles
Source: http://aagrilles.com/custom-laser-cut-decorative-metal-screen/
Tags: Grilles | Interior Design | Metal | Window Shades
---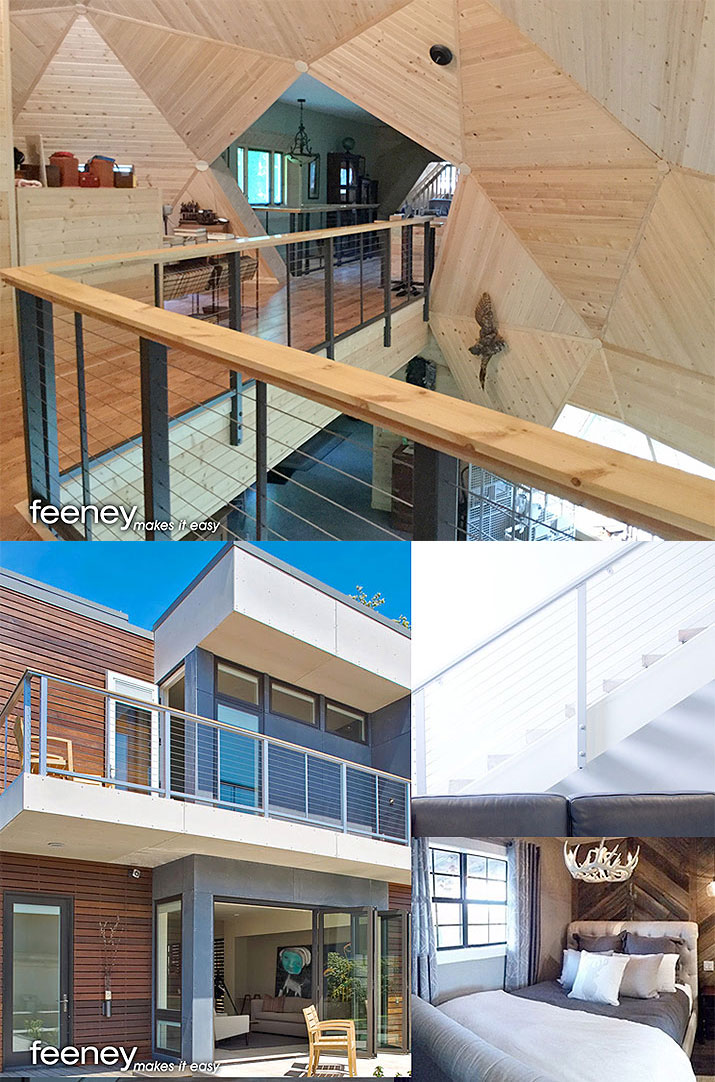 Solar panel arrays. Reclaimed wood. Ultra low-flow toilets. Smart thermostats. Continuous insulation. Volatile organic compound (VOC)-free paint. Recyclable railings. The list of ways American home designers, developers, builders, and owners slash energy expense, promote household comfort and health, and embrace green building practices grows by the day.
The U.S. Green Building Council (USGBC) is carefully monitoring these practices, too. The people behind the widely known LEED (Leadership in Energy and Environmental Design) certification program for commercial and residential structures say more than 121,900 residential units have now earned LEED certification worldwide.
USGBC research also indicates more than of half of consumers rank green and energy-efficiency as top requirements for their next home. Even renters say a LEED-certified property is topped only by a prime central business district location as a desirable feature, according to USGBC studies. Today the USGBC predicts a whopping 84 percent of all 2018 residential construction will have sustainable features.
High on that list of sustainable features are the Feeney's CableRail stainless steel cable infill and DesignRail® aluminum railing systems.
"All of our architectural products are made from stainless steel and/or aluminum which are among the most recycled materials on the planet," says Brad Adsit, Feeney's Product Development/Engineering Manager. "But that's just the beginning of how we support a green building ethic."
Feeney may have one of the most comprehensive, earth-friendly manufacturing programs in the architectural products business. Points of proof:
The grade 316 stainless steel cable used with Feeney CableRail products contains 70 percent pre-consumer recycled content.
The aluminum extrusions used in the DesignRail® railing system contain 40% pre-consumer and 30% post-consumer recycled content.
Low maintenance requirements mean no treatments, stains, solvents, varnishes, or preservative that may contain harmful chemicals.
CableRail fittings and cables use less raw material and allow easier handling, lower shipping costs, and less transit fuel consumption.
Feeney's California manufacturing facility is nearly energy self-sufficient thanks to an immense 5,000 square foot solar panel array.
Feeney's powder coating facility in Nebraska emits no V.O.C.s or heavy metal waste, uses a non-chromium pre-treatment wash, and reclaims 93 percent of the wastewater.
This is only a partial list. As you consider railing system options as part of a green homebuilding project, keep Feeney in mind as a LEED-friendly supplier.
"Feeney contributes points to the various LEED version 4 rating systems in the Materials and Resources credit category, by disclosing product ingredients to demonstrate raw material optimization," according to Adsit.
"We work hard to be thoughtful stewards of our natural resources," notes Adsit. "Improving our ability to deliver greener building solutions is a continuous, relentless priority."
To learn more, read the Feeney Environmental Statement and Feeney LEED info.
Company: Feeney, Inc
Product: CableRail Stainless Steel Standard Assemblies
Source: http://media.feeneyinc.com/blog/the-color-that-became-a-building-philosophy
Tags: Design | LEED Certification | Metal | Railing System | Sustainability
---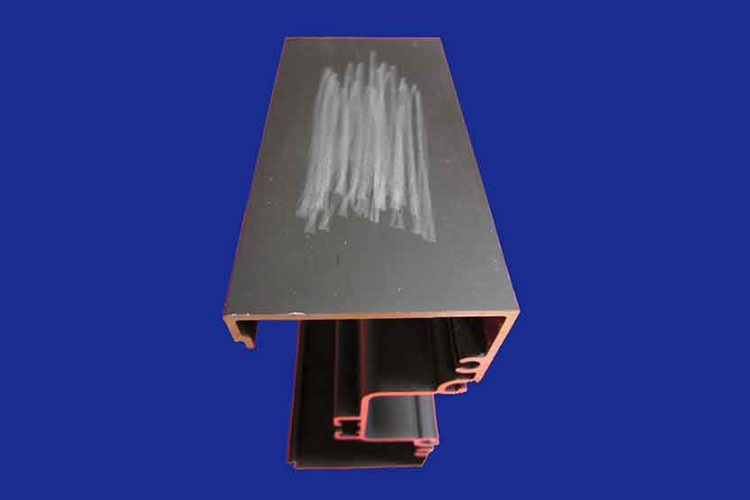 When extreme hardness is required for aluminum building components, such as in high-traffic areas, like entranceways and railings, an AAMA 611-14 anodized aluminum finish should be specified.
The hardness of anodized aluminum rivals that of the diamond.
This "Nickel Test" demonstrates why a Class I high-performance anodize coating is the perfect choice for exterior architectural applications.
LINETEC'S ANODIZE
Architectural Class I Anodize
Class I anodize is used on the exterior of architectural projects. It has a higher mil thickness than Class II anodize; it is more resistant to salt spray and the sea coast; and it is more durable in high traffic areas.
Class I anodize, with a minimum mill thickness of 0.7 (18 microns), can be a suitable choice for coastal climates as it possesses exceptional resistance to corrosion, discoloration and wear; however, its natural beauty can be marred by harsh chemicals, rough conditions or neglect. These conditions may only affect the surface finish and not reduce the service life of the aluminum, but mortar, cement, and other alkaline materials will quickly corrode an anodize finish if allowed to dry on the metal surface.
Class I anodize meets or exceeds all requirement of AAMA 611 "Voluntary Specification for Anodized Architectural Aluminum.
Linetec utilizes a more eco-friendly etching method within the anodizing process. Eco friendly anodize improves the finishes ability to hide small defects in the the aluminum and works exceptionally well with recycled billet. ;
Read more
Copper anodize offers the look of rich, real copper without such shortcomings as salt run-off stains, galvanic corrosion and patina. This unique and consistent process involves using actual copper to color the aluminum while isolating the copper in the coating.
Read more
Company: Linetec
Product: Anodizing
Source: https://linetec-blog.com/2017/08/16/anodize-nickel-test/
Tags: Aluminum | Coating | Exterior Design | Metal
---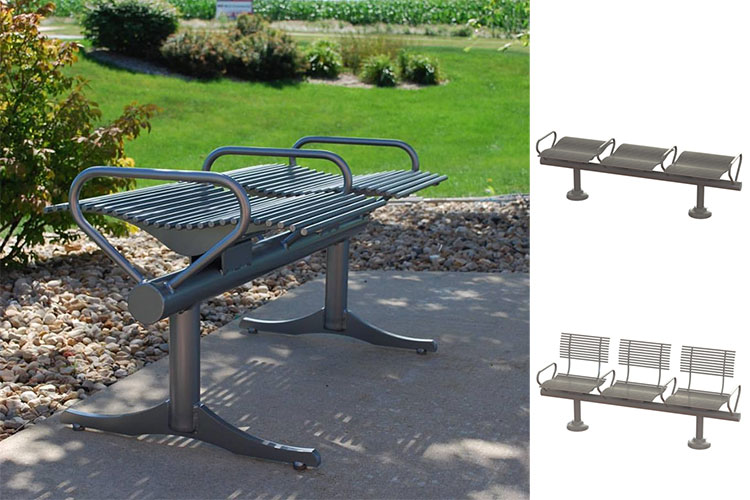 If you're looking for comfortable, durable, and beautiful seating, look to Thomas Steele for a wide selection of handcrafted outdoor benches. Pick the perfect piece for your project from a variety of styles, finishes, and customization options. Browse our current selection of commercial and outdoor park benches, or contact a Thomas Steele site furnishings expert at 608-849-1080 or at sales@thomas-steele.com with your questions and unique design needs.
Volare modular benches in addition with the modular tables will create several unique seating arrangements. The modular benches are available with 1, 2, 3, or 4 seats. Volare is constructed of 5/8" round steel rod. The frame is made with 3" Steel Tube with all welded construction. The bench is available with three installation methods: free standing, in-ground, and surface mount.
Volare flat benches in addition with the modular tables will create several unique seating arrangements. The benches are available with 1, 2, 3, or 4 seats. Volare is constructed of 5/8" round steel rod. The frame is made with 3" Steel Tube with all welded construction. The bench is available with three installation methods: free standing, in-ground, and surface mount.
Company: Thomas Steele
Product: Benches
Source: http://www.thomas-steele.com/ShopSiteFurnishings/Benches/tabid/212/ProductID/77/Default.aspx
Tags: Furniture | Landscape Design | Metal
---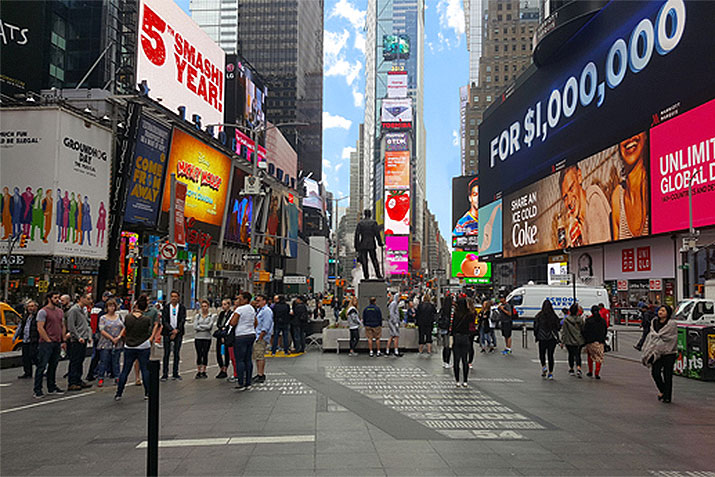 The situation
The presence of Broadway began in 1750, and has since shaped the essential character of New York City. Spotlight on Broadway is a multimedia project of NYC's Mayor's Office of Media & Entertainment located in the heart of Times Square. The project celebrates the unique charm and incredible legacy of Broadway and its forty theaters. It displays an in-ground map, made out of steel and granite, allowing visitors to engage and visualize the density of the world's largest and most recognized theater district.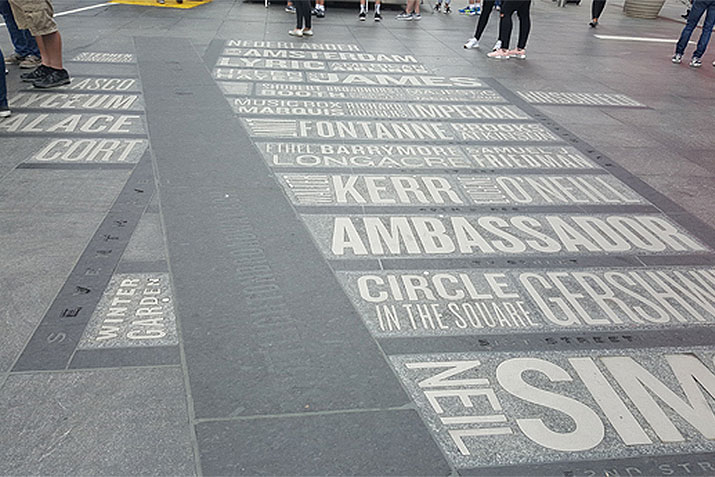 The solution
The designers at Creative Edge Master Shop contacted SlipNOT® for a solution to the bare steel lettering that presented a safety hazard when made slippery due to wet weather or other outdoor elements. The fabricating company sent in custom cut 3/8" thick letters which were blasted for imperfections, then coated with SlipNOT®'s Grade 2 stainless steel. Stainless steel is easy to clean and offers corrosion resistant properties that are exceptionally functional in wet environments both indoors and outdoors. The gripped surface of the coating not only provided higher traction for pedestrians, but also added another dimension to the piece, exhibiting a sleek and modern aesthetic.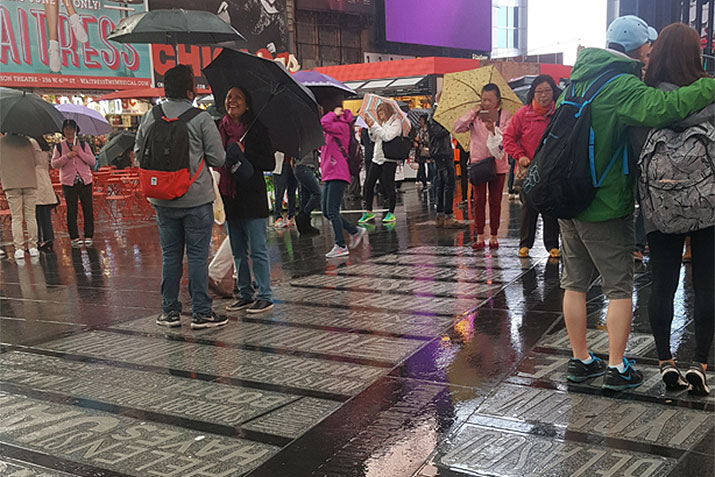 The impact
Creative Edge is a world leader in creative architectural water jet fabrication and has been in business for over 27 years. The Spotlight on Broadway project won a Pinnacle Award, which honors companies for a job that "stands above the rest." The Award Institute declared the project a "Clever design that pays homage to timeless Times Square," which was ultimately awarded merit for "Commercial Exterior".
Due to the slip resistant surface provided by SlipNOT®, tourists from all over the world can enjoy the innovative and engaging map of Broadway and its 40 theaters without having to worry about possible injuries due to slip, trips, and falls.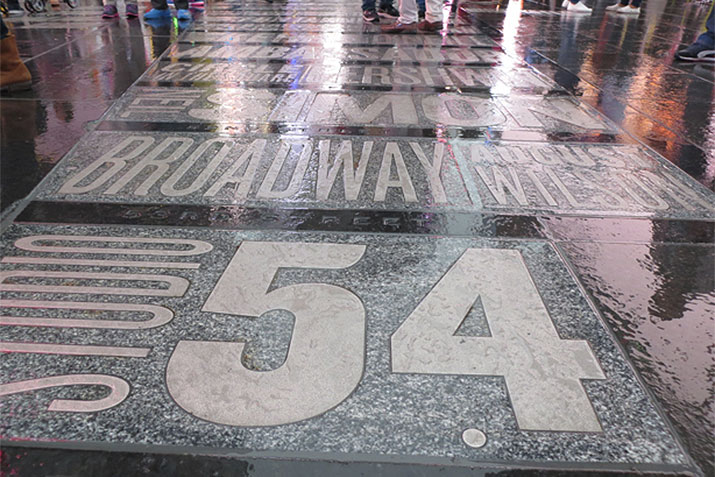 Award Recognition:
http://www.marble-institute.com/default/assets/File/awards/2014_MIA_pinnacle_brochure_FINAL_lo.pdf
Company: SlipNOT® Metal Safety Flooring Div.
Source: http://www.slipnot.com/case-studies/slip-resistant-stainless-steel-letters-for-times-square-spotlight-on-broadway/
Tags: Award | Design | Floor | Metal | Safety
---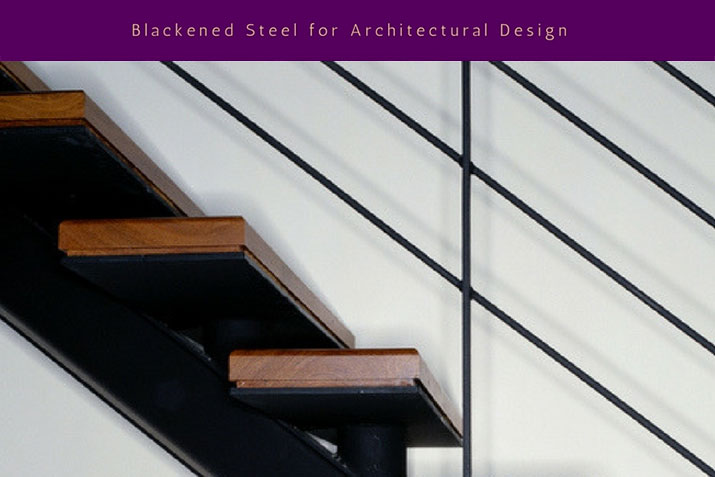 Some say the beauty is in the details. Along with custom metal work for your projects, Coco Architectural Grilles & Metalcraft offers a variety of finish options like antiqued, brushed, mirrored and even blackened finishes to bring the project together for a complete look.
What is a blackened finish
Black oxide or blackening is a conversion coating for various materials like stainless steel, copper and copper based alloys, zinc, powdered metals and silver solder. It is used to add mild corrosion resistance for appearance and to minimize light reflection. The process includes a series of chemical baths or heat until it reaches the desired color.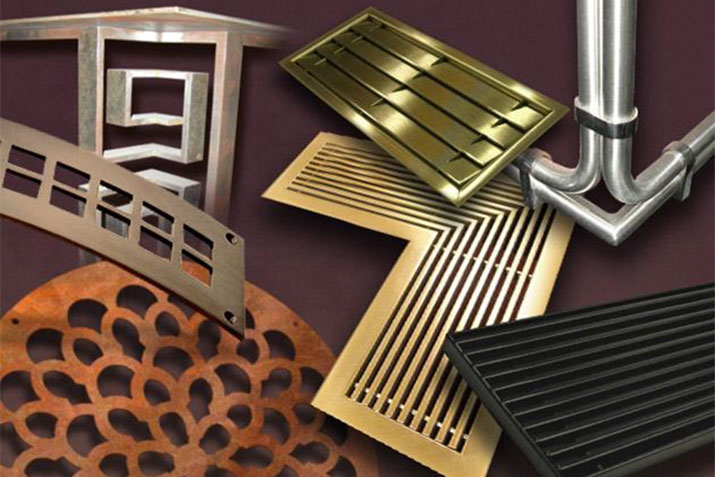 How it works
The process of blackening is done in primarily two different ways. Cold blackening is a process we use here at Coco Architectural. We add a cold finish on mechanically polished metals and then submerged it in a blackening chemical. We also add a clear lacquer to the metal to add an extra layer of protection. Hot blackening is the process of using a machine that spreads a thin layer of black oxide onto a product's surface and is heated to the desired black finish.
Why blackened steel
Blackening not only protects the steel from rusting, but the look is undeniably chic. The blackened finish also gives projects an industrial, edgy look in commercial or high-end residential projects.You may have seen black accents on a fireplace or stairwell or blackened pieces that complement large commercial facilities to create unique architectural elements.
We can create customized fabrication options for unique installations. Our offerings are adaptable to all of your job requirements including new construction, remodeling, and historic renovations.
Like the Linear Bar Grilles and Perforated Grilles, our custom metal products are manufactured with the same standard of excellence and our commitment to total customer satisfaction. If you're thinking about adding blackened steel to your project, download our catalog and request a free quote.
Company: Coco Architectural Grilles & Metalcraft
Source: http://www.cocometalcraft.com/blackened-steel-for-architectural-design
Tags: Access Covers | Grilles | HVAC | Metal | Ventilation
---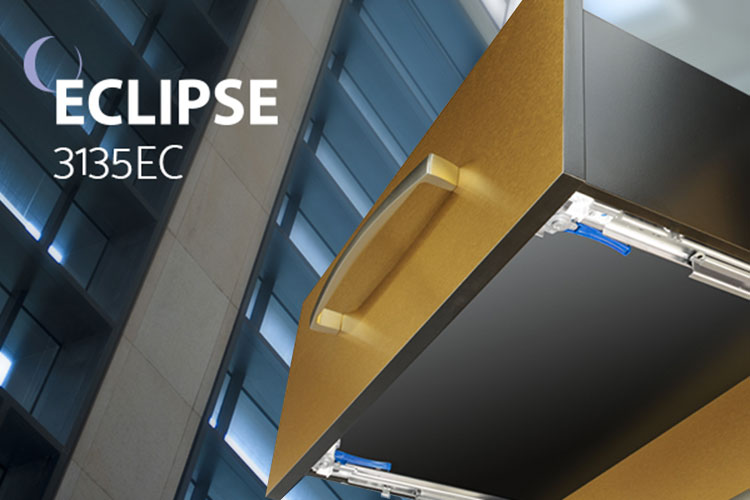 The 3135EC Eclipse is here! We re-engineered this undermount slide with a series of changes to offer premium performance. We've made a series of changes to this slide to make a big difference in the overall performance of this fully-concealed undermount slide.
Equipped with soft–close functionality, these slides won't bounce back even when you slam them. Say you find yourself in a rush to get to work and you slam the drawer. Hard. Harder than you would if you weren't in a rush.
With the 3135EC, you don't have to worry about the contents inside getting thrashed around. The 3135EC's soft-close action brings drawers to a gentle close every time. And we mean every time.
But how have we achieved this soft-close feature?
We've added an internal fluid dampener that catches the drawer in the last two inches and brings it to a gentle close over and over again. This feature also reduces the envelope of the slide. All of this with just 4.8 lbs. of pull force. Talk about easy!
When you open this drawer, you'll notice how effortless it is to open it. That effortlessness is thanks to new lower spacer clips. These clips now carry additional ball bearings that help provide extra lateral support, reducing migration.
The 3135EC slide is great for retail display cabinets because of how easy it is to conceal. This slide will allow you to keep a drawer in an open position and have no visible functional hardware.
Additional features include a front lever disconnect for easy drawer removal and improved full extension. And, like many Accuride products, the 3135EC is manufactured in compliance with the Restriction of Hazardous Substances (RoHS) Directive.
Visit 3135EC Product Information Page
Company: Accuride International
Product: Medium Duty Slides » 3135EC Eclipse Easy-Close
Of: Claudia Tuttle
Source: https://www.accuride.com/blog/news/3135ec-eclipse-undermount-slide/
Tags: Furniture | Interior Design | Metal
---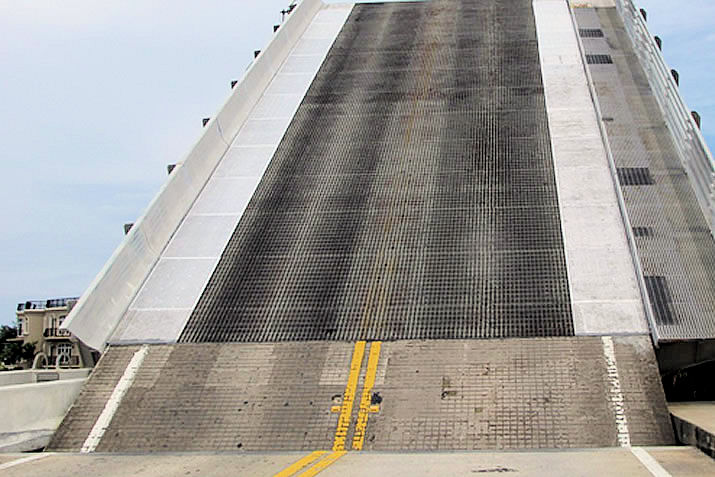 SlipNOT® Metal Safety Flooring, a manufacturer of non-slip metal flooring products, recently released a Florida Department of Transportation (FDOT) case study addressing bicycle lane safety.
T.Y. Lin International, an architectural firm, was hired to study the inventory of metal grate bridges and their link to bicycle safety. The introduction of the report states: "These metal grate bridges…can be difficult and intimidating for a bicyclist to cross. Depending on the type and direction of the grating, grooves can cause a "channeling effect" or "sliding" for bike tires, and narrow tires can be lodged in gaps between the bridge grates. In addition, the metal can become increasingly slippery when wet, making these bridges even more difficult for bicyclists to safely cross in rain or snow."
In order to prevent these hazardous situations, FDOT has proactively sought to improve public safety by specifying SlipNOT® on various applications including expansion joint covers, subway emergency exit doors, pedestrian bridge plates, bicycle safety lanes, and vault covers. Specifically, FDOT specified SlipNOT®'s galvanized steel perforated plates to retrofit over an existing grating deck on a bascule bridge in Fort Lauderdale, FL. The perforated plates were bolted down, providing a durable and secure lane for bicyclists. The perforation allows drainage and since this is an outdoor application, FDOT chose a galvanized finish for corrosion resistance. The high traction SlipNOT® surface provides a safe transit way for cyclists in all weather conditions.
SlipNOT® continues to provide slip resistant solutions for FDOT projects whether it's directly through the agency or various contractors such as Steel Tech, Inc. of Charlotte, NC. Following successful installations, Steel Tech has continued to utilize SlipNOT® for innovative solutions on complex projects. David Schultz, the owner of Steel Tech Inc., said "The problem of bicycles safely traversing open steel grid bridge decks has been an ongoing issue in many areas of the country. Superimposing slip resistant perforated plates over existing open steel grid installations may prove to be a viable solution. Durability and ease of installation is the key."
SlipNOT® perforated plates provide increased safety for bicyclists and other bridge patrons throughout Florida with minimal disruption on bridge operations. The flexibility of SlipNOT® products allow companies such as Steel Tech Inc. the ability to creatively address complex safety and operational issues.
To download a copy of the study with images, please visit http://www.slipnot.com/case-studies/fdot-bicycle-lanes/.
Company: SlipNOT® Metal Safety Flooring Div.
Source: http://www.slipnot.com/all-news/fdot-improving-bicyclist-safety-with-slipnot/
---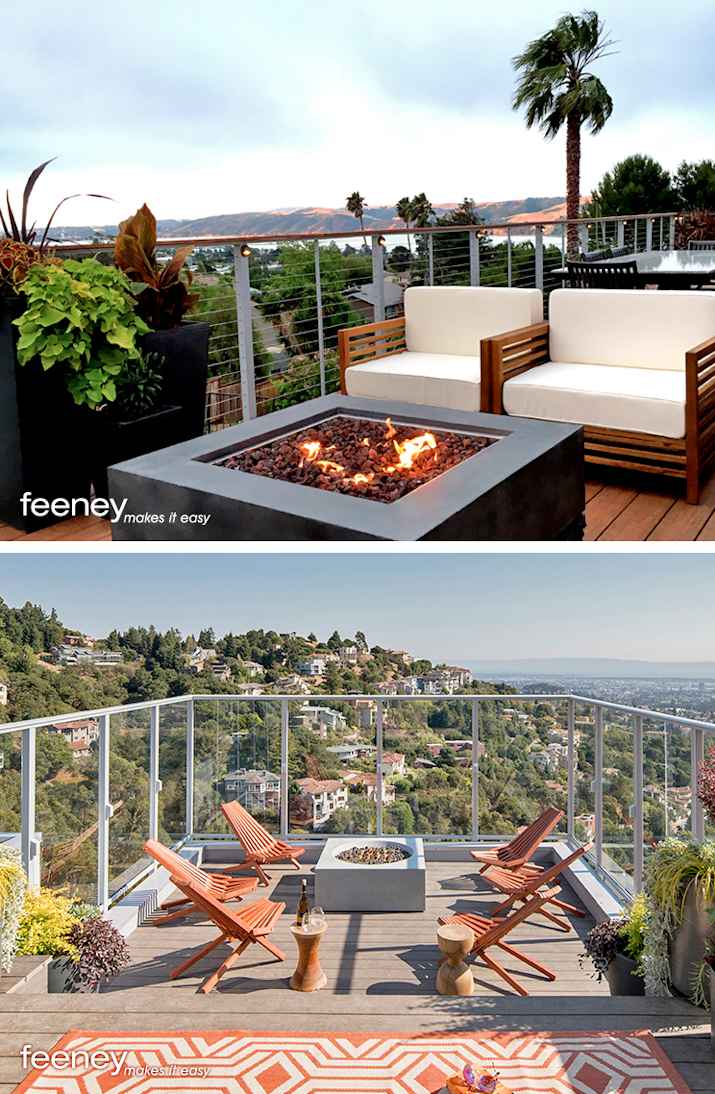 With all the direct work we do with residential and commercial architects, we know meeting your design vision is at the heart of our business. That's why we offer a premium palette of posts, top rails, frame colors, and infill options for your specification needs.
When that interior or exterior aesthetic calls for maximum transparency, as it often does, the usual railing infill defaults are a cable or a tempered glass system. It may come as a mild surprise to some to learn our DesignRail® system offers designers both view-friendly systems. Yes, we're a single-source, infill agnostic when it comes to meeting your project goals and budget.
Both glass and cable railing systems offer style, proven performance, and unfettered sight lines for interior or exterior applications. As you consider the best infill solution for your project, keep this in mind:
Cable Infill
Wind
Allows full air flow across the deck or balcony area.
Installation
CableRail is easy to install with patented automatic locking jaw Quick-Connect® fittings. No crimp tools or wedge-type compression fittings required.
Sustainability
Stainless steel cables contain 70% pre-consumer content and 0% post-consumer content.
Safety
Compliant with the International Building Code and International Residential Code when vertical or horizontal cable spacing is 3 inches or less.
Maintenance
Minimal. Periodic treatment with a stainless steel cleaner and protectant is recommended. Occasional cable tightening is a routine procedure.
Tempered Glass Infill
Wind
Offers a full or partial wind break, which can be a consideration in coastal projects.
Transparency
Can be modulated from clear to custom tinted, helping manage light flow and privacy.
Environmental impact
Clear tempered exterior glass panels can prove to be a hazard to birds.
Durability
Tempered laminated glass can be specified for varying safety and security levels.
Maintenance
Requires periodic cleaning, though higher quality glass can help reduce cleaning time and frequency.
Tempered glass or cable... both infill msystems offer important design advantages. Feeney is at your service with winning solutions for both.
Company: Feeney, Inc
Source: http://media.feeneyinc.com/blog/railing-infill-face-off-cable-vs.-glass
Tags: Exterior Design | Glass | Metal | Railing System | Safety | Sustainability
---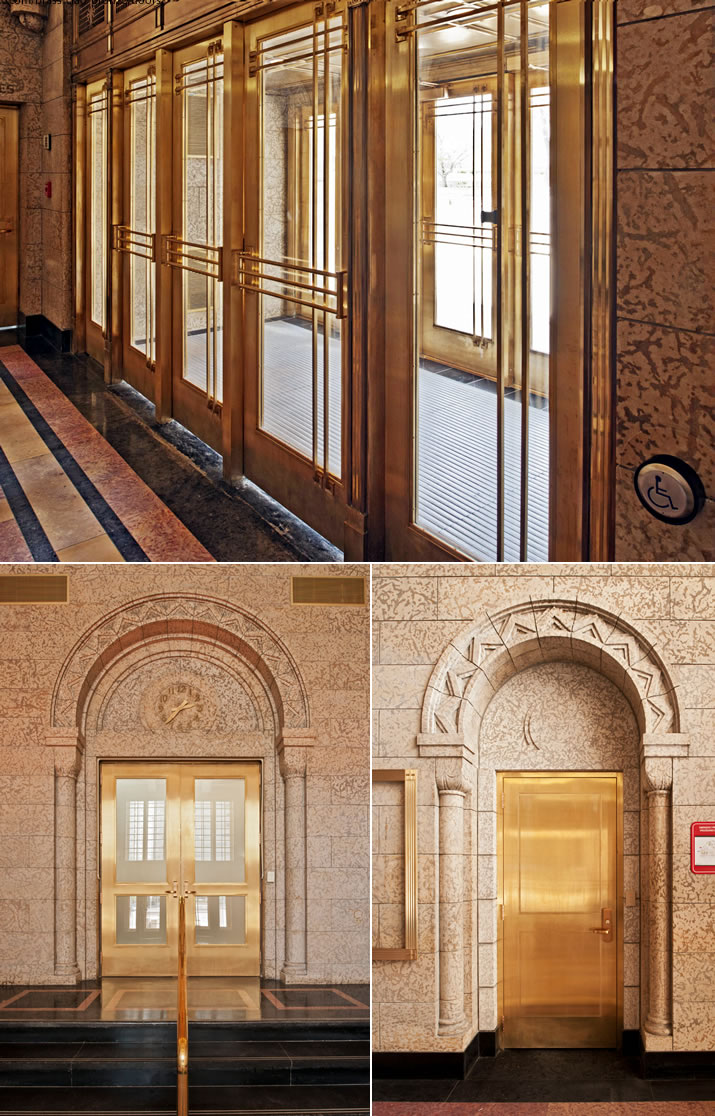 Ambico Limited was involved in retrofitting the Victory Building, a well-known piece of Winnipeg's downtown core that was constructed in the 1930s. Ambico was approached by the owner of the building to manufacture and retrofit doors at the entrance and lobby. Heritage architects of the Public Works Department of the Canadian government worked with AMBICO engineers to replicate doors that would complement the original design intent of the building's design team. This project was featured in DHI Magazine as a Case Study. Read the full case study.
Ambico decorative brass clad and bronze clad doors and frames combine outstanding visual appeal with rugged performance in the field. Products are designed in consultation with our project design team to meet the unique requirements of each job. Brass clad or bronze frame cladding is fastened to a heavy gauge steel sub-frame with a touch of craftsmanship. Decorative door face material is fastened to a rugged steel core with care and old world attention to detail. Door face can be manufactured in a stile and rail configuration or in a one piece seamless construction. Gleaming appearance of polished brass or bronze clad products projects an exclusive image at a surprisingly moderate cost. Antique finish of satin brass or bronze clad products suits the design requirements of historical renovation projects.
Company: Ambico
Product: Decorative Doors and Frames
Source: https://www.ambico.com/brass-clad-bronze-doors/
Tags: Design | Doors | Entrances | Metal
---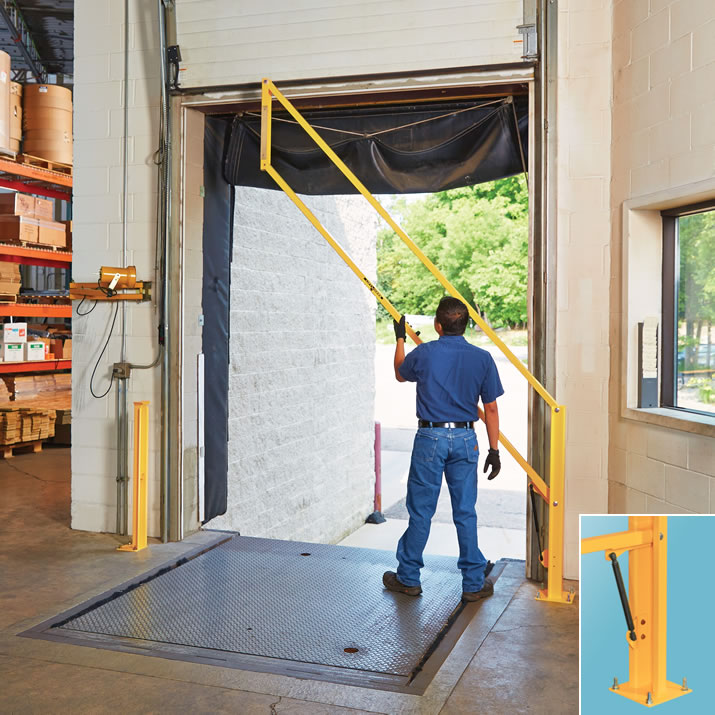 Gas Struts for ease of operation
DG Series - Carbon Steel Dock Gate
The Dock Gate provides protection against falls from loading docks. Custom gas struts make the vertical gate easy to open, and tapered guides on the receiver post make for easy alignment when closing.
The Dock Gate is available in 8' and 10' widths. It takes up minimal space and is easy to install using basic tools. Also available in stainless steel by special order. Meets or exceeds OSHA standards.
Determining the proper gate size for your application only requires the measurement of the inside clear opening.
Carbon Steel with Safety Yellow Powder Coat
Model No. DG14 - 96PC
Fits Clear Opening: 8'
Estimated Weight: 80 lbs.
Model No. DG14-120PC
Fits Clear Opening: 10'
Estimated Weight: 88 lbs.
Source: https://www.safetygate.com/dg-series-carbon-steel.html
Tags: Entrances | Metal | Safety
---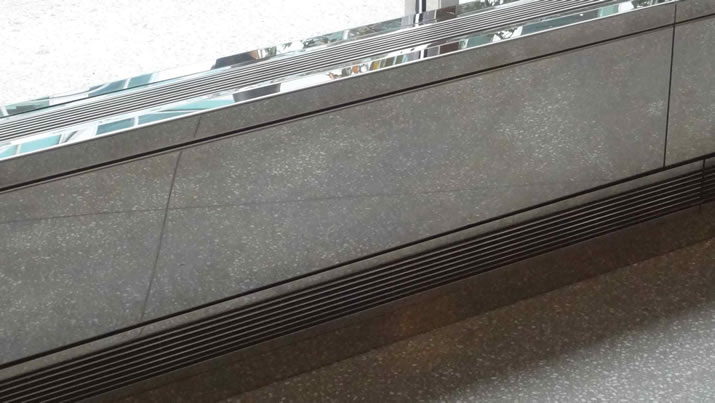 Our customer's objective was to have a stainless steel, linear bar grille manufactured to match the finish and style of a newly installed mirror polished stainless steel radiation enclosure within a renovated hospital lobby. Due to security and safety concerns, the grilles had to not only be structurally strong, but also firmly secured to the unit to prevent unintended removal.
Artistry in Architectural Grilles' engineering and manufacturing team designed a custom "C" style frame allowing for secure fastening as well as professional removal to access the unit's controls. This was accomplished with mechanically fastened frames in concert with mechanically fastened removable cores. All of which were given a #8 mirror polish finish to perfectly match the existing convector enclosure.
Grille Details
At a Glance
Type: Linear Bar Grille
Style: AAG100
Frame: Custom C Frame
Detail: Removable Cores
Material: Stainless Steel
Finish: Mirror Polish
Company: Artistry in Architectural Grilles by Advanced Arch Grilles
Source: http://www.aagrilles.com/project/nyc-hospital-lobby
Tags: Access Covers | Entrances | Floor | Interior Design | Metal
---

Armortex Waterjet cutting is accomplished by using a sophisticated Flow Mach 4 waterjet system. A waterjet allows for cutting of soft and hard materials (from food to granite, glass, metal or composite materials up to 6" thick) using highly pressurized water and an abrasive if required. Precision cutting tolerances are achievable as well as beveling and 3D cutting without the associated heat that is prevalent in other types of advanced cutting systems.
Company: Armortex
Source: http://www.armortex.com/products-services/armortex-waterjet-cutting/
Tags: Building | Design | Glass | Metal
---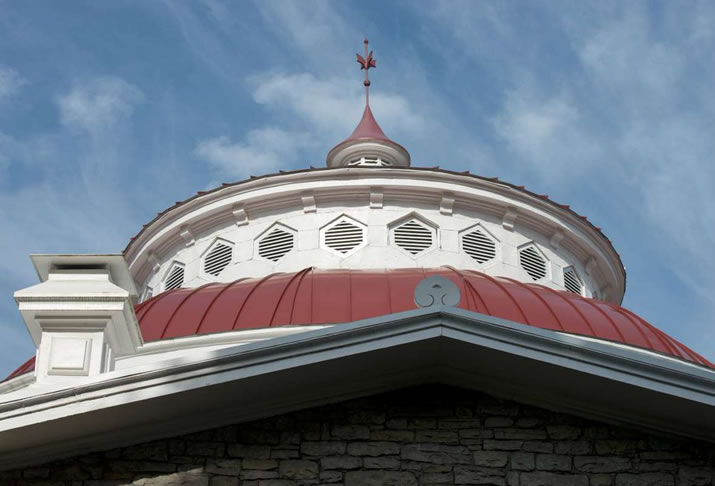 Recently, Architectural Louver's model E2JS louver was used during the renovation of the Reptile House at the Cincinnati Zoo. E2JS is a 2" deep thin line louver with a standard blade. This louver style is ideal for a clean architectural appearance at a low cost. If you are intending the louvers to be used for general ventilation or air exhaust, this is the right choice. Deeper framed models are also available (E4JS). Louvers with a higher performance rating - more free area and lower pressure drop - are also available (E4JP, E6JP).
Features:
Made to order in sizes 8" wide x 8" high up to unlimited size
Made from heavy gauge 0.063" thickness aluminum extrusion
2" frame depth, channel frame
2" blade spacing
Standard blade
Internal Screen (Bird Screen)
Specs:
48.7% free area for a 48" wide x 48" high louver
725 fpm first point of water penetration
30 psf wind load rating
Options:
A variety of metal finishes including paint and anodizing
Insect Screen (replaces bird screen)
Mounting: flange frame, glazing channel frame, "J" channel frame
Special shapes for architectural appeal
Higher wind load ratings
Company: Architectural Louvers
Source: http://www.archlouvers.com/Louver_E2JS.htm
Tags: Access Covers | Exterior Design | Metal | Window Shades
---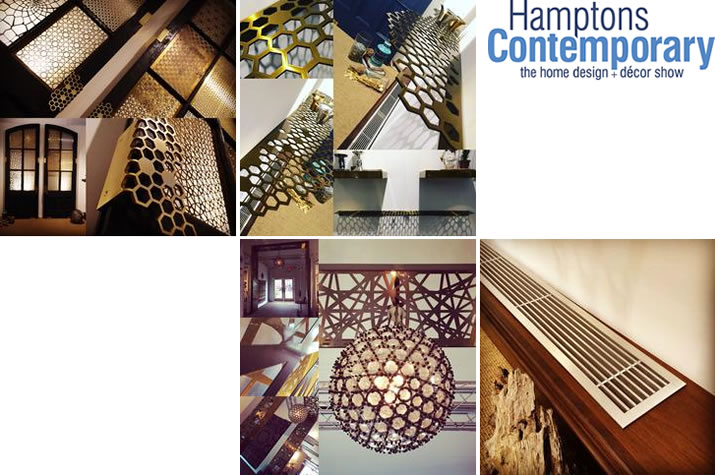 ARCHITECTURAL GRILLE was excited to exhibit our Linear Bar Grilles as well as Custom Metalwork at the inaugural Hamptons Contemporary: The Home Design + Decor Show earlier this summer. The first ever luxury design show staged at the Elks Fairground in Southampton, NY brought together designers, exhibitors and local homeowners interested in products reflecting high end design and architecture.
Collaborating with designer, Kenneth Nilson, we were able to exhibit custom designed pieces such as the below (left to right): Entrance Doors showcasing Custom Design Panels/Screens in Brass and Stainless Steel with a variety of finishes and Honeycomb/Hex Door Pulls Hardware in Solid Brass; Honeycomb/Hex Shelving in Stainless Steel with Brass powdercoat finish; Bugeye Bauble Light Fixture in Brass suspended on Custom Design Truss in Stainless Steel with Brass powdercoat finish by Kenneth Nilson; Linear Bar Grille inset into Walnut Woodwork.
If you're interested in purchasing any of the featured Custom Design Pieces, please contact Stephen Giumenta directly at sjgiumenta@archgrille.com for further information. If you would like to order custom lighting, please contact Kenneth Nilson at ken@kennethnilson.com
Company: Architectural Grille
Source: http://www.archgrille.com/blogs/news/summer-in-the-hamptons
Tags: Access Covers | Design | HVAC | Metal
---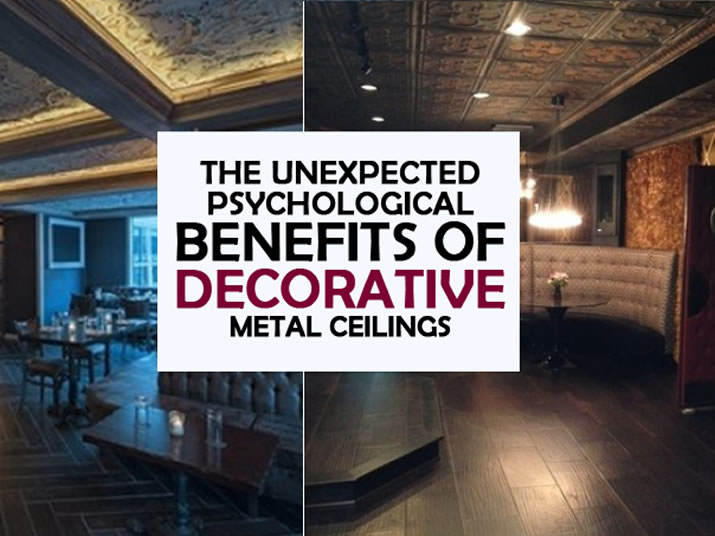 Whenever you walk into a room, your mood can be affected tremendously. Think about that nightclub restaurant you went to in the past. When you walk in there, you develop this mysterious vibe that compliments the area and creates an effective mood for the whole crowd. The same principles can be applied when shopping for ceilings for your home. Color and lighting can really help set a variety of moods for the rooms in your house. A common trend in decorative metal ceilings is the incorporation of metal tiles. Let's us look into some of the benefits associated with decorative metal ceilings.
Calming Nature
With a plethora of design of options, you can instill a feeling throughout any part of your house. Designs range from suns, flowers, abstract shapes, and anything in-between. The choice of metal is also something to consider. For example, choosing a copper ceiling will make your room brighter and almost majestic, as opposed to silver, which may make the room darker and not as vibrant. The choice is up to you, but rest assured, there is bound to be an option that fits your needs.
Temperature Control
Because of metal's great insulating capabilities, a metal ceiling can help make a room more toasty. This also helps you to cut down on your heat bill, since the metal can utilize the heat more effectively.
Ability To Block Sound
Metal's ability to block sound can help you create a nice, quiet, and peaceful room in your house, where the sounds going in other rooms are muffled and don't disturb you. This could be perfect in a library room, where you need to focus on reading your favorite novel!
Set The Mood Right With Metal Ceilings
Metal ceilings are very unique in style and produce a host of benefits that you may not have been aware of. If you're in the market to remodel a room in your house, why not consider installing metal ceilings? You, your family, and your guests will fall in love with your home!
Company: Metal Ceiling Express
Product: Hand Faux Tin & Metal Ceiling Tiles & Panels
Source: http://www.metalceilingexpress.com/blog/benefits-of-decorative-metal-ceilings/
Tags: Ceiling | Interior Design | Metal
Structural steel services for the building and construction sector (July 20, 2016), Slip Resistant Aluminum Flooring in Bubble Capsule (June 22, 2016), Sotheby's 2016 Designer Showhouse + Auction (June 8, 2016), Wood grain finishes for aluminum (May 27, 2016), Slip Resistant Aluminum Grating Utilized on ASLA Green Roof (May 23, 2016), Creative Bike Racks That Make Your Space Stand Out (March 14, 2016), Video of Extech's newest kinetic wall (March 1, 2016), Advanced Arch Grilles brings Artistry to historical projects (October 28, 2015), Please be Seated: New York City expands its CityBench program and grows 'Street Seat' parklets in Brooklyn (October 23, 2015), 304 vs. 316 Stainless Steel: What's the Difference? (September 2, 2015), Watch the Kinetic Facade in Action (June 17, 2015), Metal Makeup - Comparing Metal Compositions and Uses (June 8, 2015)