architecture - engineering - construction

2015 October
---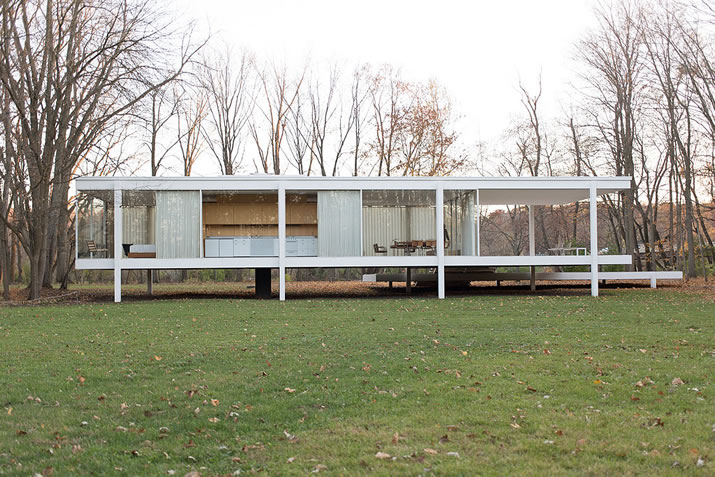 The 1950s marked the beginning of the Mid-Century Modernist movement in architecture with Ludwig Mies Van Der Rohe highlighted as a predominate leader. This time period in architecture is characterized by large windows, open floor plans, and a focus on bringing the outdoors in. Flat roofs and sliding glass doors also became more common in residential design.
Mies Van Der Rohe employed a "less is more" design mentality and widely used glass and steel in the construction of his buildings. Glass and steel construction made its debut in the early 1900s, but Mies Van Der Rohe introduced a clean, simple approach to incorporating large panes of glass into a building's exterior. He has even been credited with designing the original steel and glass skyscrapers we know today. The proposed designs for two unbuilt skyscrapers in Berlin (one in 1919 and one in 1921) feature uninterrupted bands of glass between finished faces of concrete slabs, a technique that is still widely used.
Glass Defines Space Without Obstructing Views
Glass was an invaluable material in Mies Van Der Rohe's design approach as it allowed for a continuous flow of space, from interior to exterior. One example of this is the German Pavilion or as it later became known, the Barcelona Pavilion, originally constructed for the 1929 Barcelona International Exhibition. It features large glass pane walls, both tinted and translucent, to define space and create flow while maintaining sight lines. The pavilion was actually deconstructed in 1930 at the end of the exhibition and later rebuilt in its original location in 1986.
Mies Van Der Rohe's Farnsworth House is another prime example of his strong incorporation of glass with its floor to ceiling glass walls. Completed in 1951 in Plano, Illinois, the Farnsworth House features a simple glass box design supported by a minimalistic steel structure.
While it's a stretch to say a bulletproof barrier can compare to the aesthetic beauty of the Farnsworth House design, the principles of large glass panes, unobstructed sight lines and a minimalistic steel structure are all obtainable. Mies Van Der Rohe took materials already in use and re-evaluated their application. Total Security Solutions prides itself on customization and the ability to work with architectural designers to push the envelope and create truly beautiful, secure ballistic barriers.
As Jim Richards, CEO of Total Security Solutions says, "We know we've done a good job if people are like 'Wow, this isn't what I expected!' People have a visual picture of what they're expecting—something dark and ugly, like a county lockup—and what we provide is drastically different from that. We are always looking for that 'Wow­-factor' when we leave."
Company: Total Security Solutions Inc
Source: http://www.tssbulletproof.com/mid-century-modern-principles-applicable-todays-bulletproof-barrier-design/
---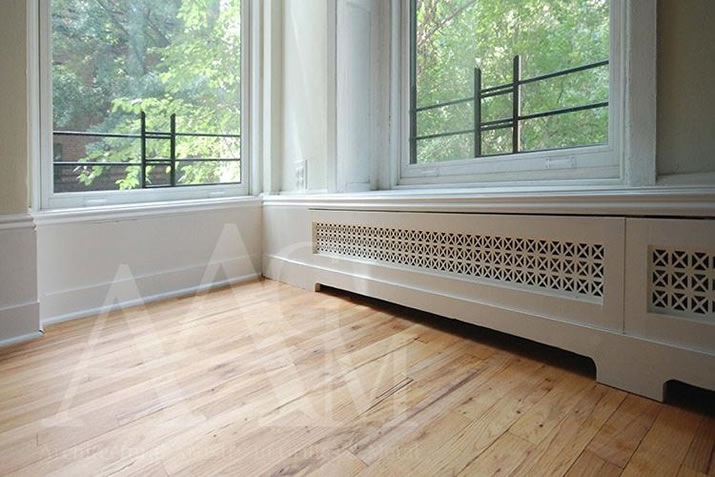 Brooklyn - An Architect's Delight
Fort Greene, known for its many tree-lined streets and elegant low-rise housing, is a New York City designated Historic District. Restoring and renovating any building in this area requires deep rooted knowledge to ensure historical proportions and materials are utilized.
When a circa 1892 historic brownstone was undergoing restoration, our team of craftsmen were brought in. Each room with its high ceilings, wide, tall windows and warm wood floors, required classic perforated metal grilles to accent the finely detailed wood radiator enclosures.
Advanced Arch Grilles brings Artistry to your historical projects.
Company: Artistry in Architectural Grilles by Advanced Arch Grilles
Source: http://www.aagrilles.com/project/brooklyn-architects-delight
Tags: Interior Design | Metal
---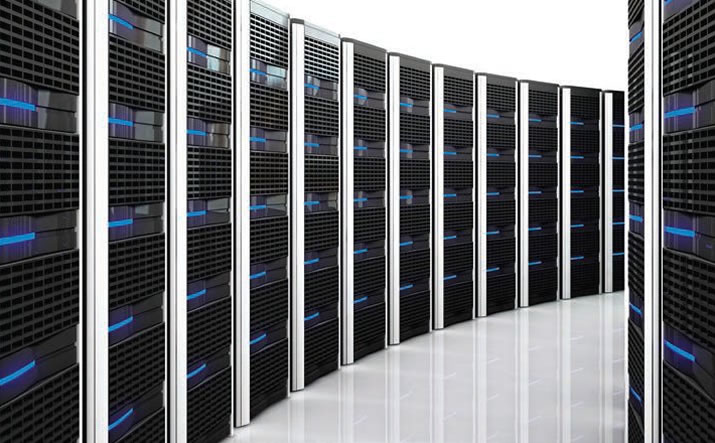 Data centers today not only require protection from the elements, but also need to be designed to save energy as it is estimated they consume about 1.5 percent of all total demand. According to the Natural Resources Defense Council, data centers are one of the largest and fastest growing consumers of electricity in the United States. In the U.S in 2013 three million computer rooms used enough electricity to match the annual output of 34 large coal-fired power plants. Annual consumption is projected to increase by roughly 47 billion kilowatt-hours by 2020. The NRDC recommends that best-practice efficiency behaviours across the data center industry need to be adopted as demand rises to unprecedented levels.
Energy Savings in Data Centers through HVAC Equipment
Traditionally when a building needs cooling, compressors engage and fans start to move air over cooling coils. This cooled air is used to condition the internal environment where the temperature is required to be lowered. This process is extremely effective but requires costly compressor and fan energy, adding avoidable cost considering external building temperature is lower than the temperature inside. When the outdoor enthalpy (a combination of temperature and humidity) is preferred over the indoor enthalpy, conditions are suitable for "free cooling". Depending on the geographic location of the facility, economizer cooling can represents a dramatic reduction in overall energy consumption.
What is an Economizer and how can it reduce energy usage?
An economizer is like a window that automatically opens itself – with the added advantage of going through the rooftop AC's filtration system. An airside economizer simply recognizes the preferred enthalpy of the outside air. When enthalpy conditions are suitable for "free cooling", the economizer controls position outdoor air, return air, and relief dampers to facilitate free cooling through the first and sometimes second stages of cooling.
Economizers can contribute to a reduction in data center power consumption by utilizing the cooler external building temperatures to assist in cooling the facility and equipment when required. In maximizing energy savings and reducing HVAC cooling load, the cooling system's product life can be extended.
A study on building control systems by Battelle Laboratories found that, on average, the normalized heating and cooling Energy Use Intensity (EUI) of buildings with economizers was 13 percent lower than those without economizers. When an airside economizer works properly, the savings are significant. Whether your company is looking to burnish its environmental credentials, to lower the cost of operating its data center, or both, a properly designed system integrating an airside economizer is a cornerstone of achieving both goals.
Economizers and Indoor Air Quality (IAQ)
A confined, un-aerated indoor space within a building allows gaseous fumes, odors, germs, and even fungi to grow in concentration to the point that the indoor air is qualitatively different from the ambient air. IAQ is important because the health and the comfort of people working indoors are an important factor in sustainable productivity. Poor IAQ in a working environment can cause discomfort or health problems sometimes resulting in a loss of productivity, increased errors, and even litigation. With the added benefit of reducing cost in power consumption, introducing outside air into a building via economizers can also contribute to improving indoor air quality. Following the relevant ASHRAE standards that apply to ventilation, air movement and exhausting of contaminants ensures that IAQ requirements will be met. To meet the requirements of ASHRAE 62 the outside air entering a building should be measured and controlled.
The most important part of an airside economizer are the damper blades that allow the control and supply of a fixed amount of outside air into the building. Parallel bladed economizers do a better job of mixing the outside and return air to provide optimal benefit to the system. The sealing ability of the damper is essential to the system as a whole, when contending with extreme temperatures external to the building. AMCA certified dampers can ensure leakage rates meet the appropriate standards.
It has to be recognized that during different seasons and in different climates the benefits from economizers may vary.
Relevant Codes and Standards applicable to Data Center HVAC
Featuring Ruskin's exclusive one-piece galvanized airfoil blade and stainless steel jamb, the Economizers provide low-leakage performance as described in ASHRAE Standard 90.1. Each unit also features Ruskin's "SUREFLOW" sensing tubes and blade position indicator to help determine minimum airflow. This also helps assist in mixed air temperature verses blade position field adjustments.
Data Center Protection
The Natural Resources Defense Council states that Data centers can be regarded as the back bone of a modern economy serving businesses and communications. Defending data means not only protecting it from Mother Nature but also giving back to her with sustainable designs. A question that must be considered during the design of a data center, is 'How likely could the facility be compromised in extreme weather conditions such as tornadoes and hurricanes?'
When evaluating potential HVAC equipment it is advisable to use FEMA rated louvers and grilles. FEMA rated grilles and hurricane-resistant louvers have been tested against high windloads and large missile impacts. Outside air control dampers can seal up the center when necessary to reduce humidity and heat.
Ruskin's XP500S Extreme Weather Grille protects wall penetrations from flying debris caused by tornadoes, hurricanes, and severe storms. This type of protection is critical in the design of Community Shelters (ICC-500) and Safe Rooms (FEMA 361). It offers designers a ventilation solution for their near-absolute life safety requirements. The heavy duty grille can be mounted internally, externally, or in conjunction with other louvers providing protection and certified performance. Rated for an industry leading 266 psf windload, the XP500S Grille meets or exceeds the building envelope protection requirements while complementing the construction of data centers.
Relevant Certification
FEMA P-361, Safe Rooms for Tornadoes and Hurricanes
ICC-500 – ICC/NSSA Standard for the Design and Construction of Storm Shelters
Company: Ruskin
Of: Tom Edwards
Source: https://tedwardsruskin.wordpress.com/2015/10/23/data-center-hvac-design-considerations/
Tags: Design | Energy | Sustainability
---

NYC DOT and other local stakeholders marked the installation of the 1,500th CityBench at Jordan L. Mott Middle School 22 in the Bronx with a ribbon cutting. Six new CityBenches were recently installed as part of a community beautification project at the school. (Courtesy NYC DOT)
If there's one thing New Yorker's won't stand for, it's a lack of benches. After unveiling the 1,500th addition to its CityBench program, the New York City Department of Transportation (NYC DOT) has revealed that a federal award package of $1.5 million will be used to develop the CityBench scheme further. In addition to this The Downtown Brooklyn Partnership has initiated a colorful "Street Seats" program as seating projects gain popularity in the city.
Over three years ago, an initial $3 million funded the CityBench initiative which pledged to place 1,000 new seats in Manhattan, Brooklyn, Queens, the Bronx, and Staten Island. Now, according to NYC.gov, a further 600 benches have been promised by 2017.
The program aims to bring seating to areas where there are few areas of rest aiding the elderly and disabled, with hot spots being around bus stops and areas with high concentrations of senior citizens. Since the scheme started in 2011, citizens have been able to request benches if they choose. Requests can be made via a website form here.
So far over 110 senior citizens have made requests and the program has contributed significantly in aiding the pedestrianization of New York City's streets. As a result, distances that would once upon a time be deemed too far to walk by some residents are now possible with the aid of sufficient public seating.
"DOT is proud to install our 1,500th CityBench and receive additional federal funding to continue serving our communities, particularly our children and seniors," NYCDOT Commissioner Polly Trottenberg said in a statement. "Not only are CityBenches a valuable urban amenity in this dense city but they also add to the changing New York City streetscape. I'd like to thank our partners at the federal level for their continued support of this much needed project."
Behind the design aspect of the scheme is NYC-based Ignacio Ciocchini who is Director of Design for Chelsea Improvement Company. Focusing on durability and withdrawing the need for constant maintenance, backless and backed styles provide comfortable resting spaces. Made from domestic steel and manufactured in the USA, they are designed to meet the rigorous demands of New York City's streets and are coordinated with the look of existing street furniture.
Street Seats
For the people of Brooklyn however, the notion of sidewalk seating is going a step further. The Downtown Brooklyn Partnership, a non-profit local development organization has begun working with designers Studio Fantástica to produce "Street Seats." These more colorful additions to Brooklyn's sidewalks began popping up in 2014 and have been a huge hit. So much so that NYC DOT has started working with the Studio Fantástica to establish a Street Seats design standard to be used throughout the city. The first example was officially unveiled by DOT on September 11 in East New York and further installments are planned in other boroughs.
Company: Landscape Forms Inc.
Of: Jason Sayer
Source: http://blog.archpaper.com/2015/10/nyc-department-transport-receives-1-5-million-expand-citybench-program
Tags: Landscape Design | Metal
---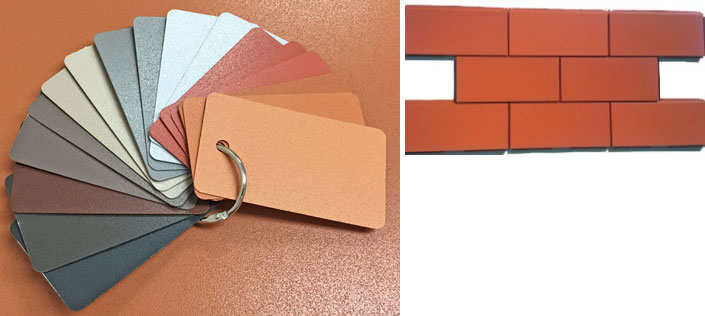 Linetec introduces a new paint finish to mimic the look and feel of natural terra cotta. The finish utilizes a 70% PVDF resin-based coating to achieve the highest levels of performance in an exterior environment and a texture additive to help replicate the natural feel of terra cotta.
"There is no doubt terra cotta wall panels have made a significant splash in the building façade market," says Jon Close, Linetec's vice president of sales and marketing. "Terra cotta offers a unique and attractive element to any building envelope. While this new finish cannot replicate all of the properties and design elements of terra cotta, we can offer a paint finish on wall panels that looks and feels like the real thing. And, we can do it at a cost that may better fit projects where terra cotta is desired, but cannot be afforded."
In addition to affordability, Close also notes that aluminum wall panels painted with the terra cotta finish are lighter, can come in a large variety of shapes and sizes, and can be delivered in a shorter time frame. Furthermore, Linetec's new paint is available in four color choices of terra cotta
As a 70% polyvinylidene fluoride (PVDF) resin-based coating, Linetec's terra cotta painted finish meets the requirements of the American Architectural Manufacturers Association's most stringent, high-performance specification standard, AAMA 2605-13. These architectural finishes are tested to exhibit outstanding resistance to humidity, color change, chalk, gloss loss and chemicals."
As an environmentally responsible finisher, Linetec safely captures and destroys the volatile organic compounds (VOCs) present in liquid paints at the factory before arrival on the building site. These industry-leading practices complement other green building choices, such as using recycled aluminum content, and ensure a long-lasting, durable and sustainable finish.
For samples or more information about Linetec's new terra coating paitned finish, and other services, please call 888-717-1472, email sales@linetec.com or visit www.linetec.com.
Company: Linetec
Product: Terra Cotta Paint Coatings
Source: http://linetec-blog.com/2014/07/02/linetec-mimics-terra-cotta/
Tags: Color | Exterior Design | Sustainability
---
The innovation and performance behind 100 percent water-blown closed cell spray foam insulation, Icynene ProSeal Eco, continues to resonate with professionals in the building industry. Icynene ProSeal Eco was awarded the Gold Innovation Award in the Spray Foam Insulation category by respected industry magazine, Home Builder Executive.

The innovation and performance behind 100 percent water-blown closed cell spray foam insulation, Icynene ProSeal Eco, continues to resonate with professionals in the building industry. Icynene ProSeal Eco was awarded the Gold Innovation Award in the Spray Foam Insulation category by respected industry magazine, Home Builder Executive.
Icynene ProSeal Eco provides an excellent thermal insulating value, superior adhesion performance and can be applied at temperatures as low as 5 degrees Fahrenheit. Icynene ProSeal Eco has been comprehensively tested in a range of ASTM E119 approved wall assemblies with cost effective materials resulting in a wider range of commercial application possibilities. The closed cell spray foam product is also a faster, better and more cost effective alternative to traditional rigid foam board products for continuous insulation applications.
Company: Icynene
Source: http://www.icynene.com/en-us/architects/products/product-portfolio/proseal-eco-md-r-210-overview-architects
Tags: Insulation
---
It's getting darker earlier! Light up your deck with our LED Lighting Kits for DesignRail®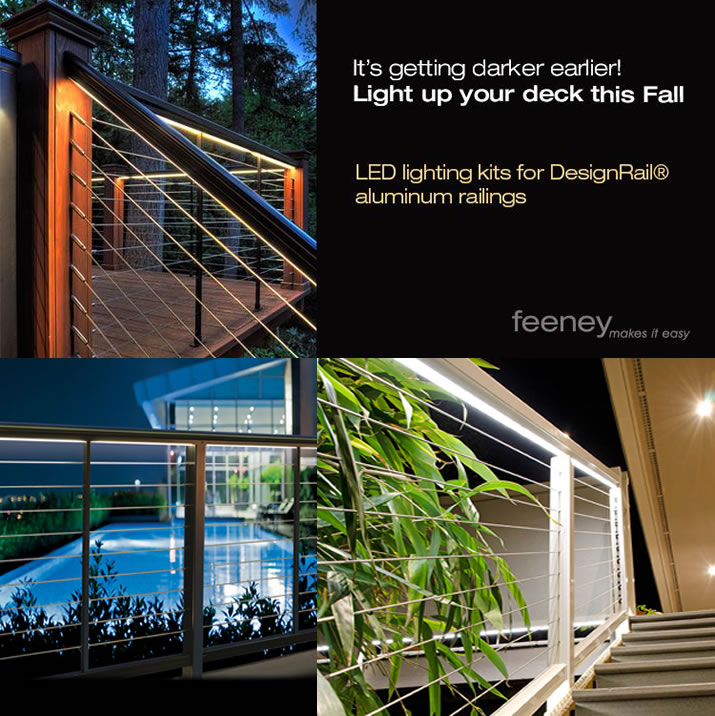 Whether it's entertaining, playing, or just relaxing, our specially designed LED lighting kits and components work with our DesignRail® aluminum railing systems to help you create the perfect ambiance for everything you do.
Beautiful Long Lasting Illumination
Energy efficient LEDs are rated for up to 50,000 hours
High quality weatherproof materials for reliable performance
Integrates into the top or bottom rail for a finished look
The exclusive Feeney lens diffuses light evenly across the railing for a more balanced look
Optional remote controlled dimmers give you the level of light you want
High CRI (80) LEDs for better color rendering
Easy Installation
Plug and play connectors let you quickly link lights and components
Can be used with new DesignRail® railing projects or added to an existing DesignRail® installation
Designed to attach easily to the rail without special tools
Company: Feeney, Inc
Source: http://www.feeneyinc.com/Architectural/DesignRail-Lighting
Tags: Exterior Design | Lighting
---
Glass Countertops for Kitchens, Bathroom Vanities and Bar Tops
Wow – that is what friends, neighbors and family will say when they see your contemporary glass countertop in a kitchen, bathroom vanity, outdoor bar or man cave. This modern material provides color, pattern and lighting options not available in other types of counter materials. Explore the benefits, product options and design possibilities of sleek glass countertops through Innovate Building Solutions.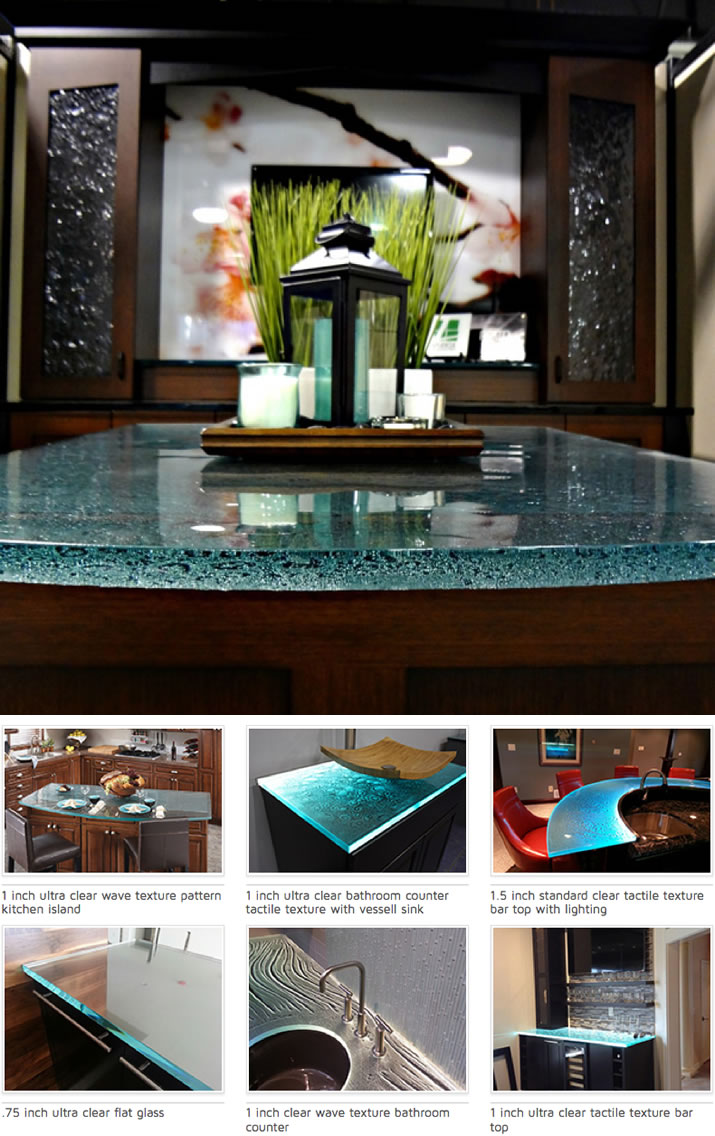 Sleek, modern contemporary and eye-catching would be just some of the adjectives describing glass countertops. Let's look at some of the benefits you can expect from putting this material into your home or business:
Design flexibility – Glass counters can be made in virtually any size, shape and thicknesses. Multiple textures, finishes, digital images and colors can also be included in the glass. Custom applications are almost limitless. You can even use this material for shelves and walls.
Low maintenance and easy to clean – Glass is low maintenance. It is non-porous and will not absorb dirt, dust or other debris. A damp cloth or sponge is sufficient for cleaning. Mild, non-abrasive surface glass cleaners can be used to clean tougher messes.
Sustainable eco-friendly material – Glass is a long-lasting and made from natural materials – perfect for someone who wants a green friendly home.
Sleek contemporary look – The smooth look of glass makes it a favorite in modern, contemporary and even traditionally designed kitchens, bathrooms, bars and outdoor spaces. It is easy to match with any décor.
Resistant to heat and moisture – High levels of durability are a key feature of a glass countertop. We recommend putting a trivet or hot pad below a hot pan or baking dish.
Eliminate mold and bacteria – Glass is non-porous so you don't have to worry about mold or bacteria growing inside your counters.
Light it up – Illumination is a distinctive feature of glass. The ability to move light through the surface make a glass counter much more than just a surface – it's a 24/7 piece of art which can provide lighting and fascination throughout the entire day.
Access to Innovate Building Solutions design and installation specialists – The design team at Innovate Building Solutions is here to help you with your glass needs. Whether you want a cool glass counter, glass floor or even glass stair treads we look forward to assisting you.
Company: Innovate Building Solutions
Source: http://innovatebuildingsolutions.com/products/glass-block/glass-countertops-kitchen-bathroom-vanity-bar
Tags: Glass | Interior Design | Sustainability
---
Seton's Project Packaging Service save you time, effort and money. For no additional cost, we'll organize and package your entire order of new pipe and valve markers by room, floor, building, or any location you request, eliminating the need for, and the hassle of additional sorting time, allowing your project to stay on time, and on budget.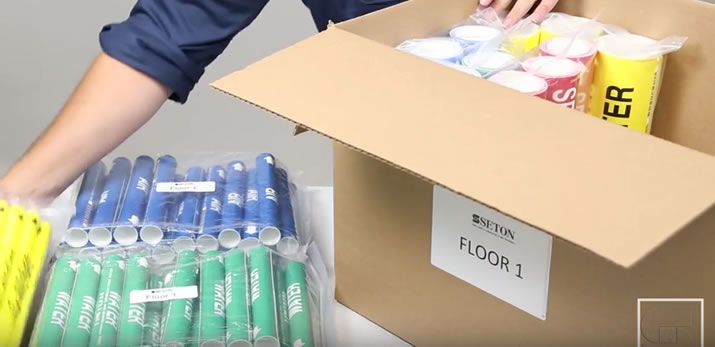 Company: Seton
Source: https://www.youtube.com/watch?v=Fx735es0dZs
---
When Draper Dealer Wayne Wagner was approached to work on a PointCloud Media project for the Sheraton Waikiki in Honolulu, Hawaii, he knew immediately that it was no ordinary job. "PointCloud Media was doing something that nobody had done before," recalls Wagner, the founder and owner of Wagner Media. "They were projection mapping a swimming pool in 4D. That is, the effect had to be visible vertically as well as horizontally."
No Ordinary Job
When Draper Dealer Wayne Wagner was approached to work on a PointCloud Media project for the Sheraton Waikiki in Honolulu, Hawaii, he knew immediately that it was no ordinary job.
"PointCloud Media was doing something that nobody had done before," recalls Wagner, the founder and owner of Wagner Media. "They were projection mapping a swimming pool in 4D. That is, the effect had to be visible vertically as well as horizontally."
"Pools have some distinct advantages as platforms for 3D mapping projections," according to Jack Hattingh from PointCloud Media. "The water reflections from pools and the ambiance around pools add a new element of reality to mapping projections. 3D projections on water are also typically cheaper, since they require fewer projectors than 3D building projections. Pools are also more conducive to projection mapping because of their low ambient lighting, color, and ubiquity."
Hattingh approached Wagner to work on projectors and support structure needs. To get the desired effect, five Barco HDQ 2k40 and two Barco HDX-W20 projectors were to be used. But, where to deploy them, and how? The pool is part of a large outside area, with no overhanging structures on which to mount and hide projectors. He had to figure out where to put the projectors, and likely have custom mounting structures designed and built—all within 45 days.
To get a better idea of the challenge before them, PointCloud Media built a three-dimensional "point cloud" of the entire area—including the surrounding buildings. "It was determined the only way we could do it was to aim the projectors down from the side of the hotel tower—300 feet in the air," according to Wagner. "The only question was how to get the projectors into place, and keep them there, safe and secure."
It was decided to place the projectors inside metal housings to be located on the roof of the hotel, knock holes in the parapet wall surrounding the roof, and project down using projector support structures and mirrors.
Wagner immediately sent the 3D drawing to Draper.
"I wanted to work with Draper because there are clear lines of communication," according to Wagner. "I could tell them exactly what I wanted to accomplish, and I knew that Draper would understand and provide me with a viable solution."
The solution Draper came up with not only needed to handle the weight of the projectors, it also needed to be something that could hold up in 30 mile-per-hour prevailing winds, could be transported up through the building and onto the roof, and keep as low a profile as possible so the holes in the parapet walls could be kept as small as possible.
"We used the Draper RPX stand as a basis to start with," according to Jim Hoodlebrink, IDS Manager for Draper, Inc. "But we had to do a lot of fancy footwork in customizing that design for this project. The mirrors had to be much smaller than normal because the openings in the parapet wall could only be so big."
Draper designed a structure with long steel support arms holding a small glass mirror, and with adjustment platforms that allowed the projectors to be tilted to 22 degrees. The custom structures were shipped in pieces to be assembled on the roof. To address the windy conditions, Draper reinforced the mirror support arms with 14 gauge steel.
"The timeline to address everything was very difficult," Hoodlebrink recalls, "so many things were changed or addressed at time of installation. There was considerable thought put into how to move the product in and setting the proper angle for the projected light beforehand."
To meet a tight deadline imposed by the needs of the Sheraton Waikiki, Wagner and three crew members had seven days to get the structures assembled and installed, while Hattingh and PointCloud got the projection mapping squared away. And then to make matters even worse, something very unusual happened.
"We were in the middle of installation when we had word that there was a Hurricane coming," according Wagner, which is a rare occurrence for that area.
But wait, as the saying goes: there's more.
"Actually there were two hurricanes on the way," Wagner adds. "So we had to tear down the partially-built structures and get everything off the roof to a safe place until the storms blew over."
As soon as the weather cleared Hattingh and his crew were up on the roof working.
"It was an amazingly difficult project made to look very simple"
"One thing that helped the process was being able to pre-mount the projectors onto the adjustment shelves," Wagner says. "We also added wheels to the structures so they could be wheeled nearly into place, then rotated over and mounted."
On a scale of one to 10, Wagner says the job had numerous tasks in the "10" category.
"It was an amazingly difficult project made to look very simple," he says. "But in the end it worked out great. We were able to meet the Sheraton's deadline, keep the installation relatively low profile, and PointCloud's projection map right down to the bottom of the pool was awesome."
To see just how the PointCloud Raylight 4D (patent pending) pool projection worked out here's a link to a cool YouTube Video
MORE INFO - Rear Mirror Systems
Download Case Study (PDF)
Source: http://www.draperinc.com/Education/CustomSupportStructures_cs.aspx
Tags: Audio Visual | Exterior Design | Lighting
---
With cooler weather driving people indoors, Home Improvement Expert Danny Lipford gives advice on seasonal projects and discusses what homeowners can do to clean their indoor air and maintain a healthier home.
Danny Lipford, National Home Improvement Expert and star of Today's Homeowner TV and radio, presented a Satellite Media Event yesterday to 15 million viewers, offering advice on winter-friendly home improvements. During the October 1 event titled "Tips to Avoid the Winter Blues", Danny presented tried-and-true advice to keep consumers active during the approaching cold season by taking on some projects around the house.
Traditionally, when the weather turns cold, homeowners head inside where they'll spend 90% of their time through the season. "A lot of people shy away from wintertime projects, but just because you're stuck indoors doesn't mean you can't do things to improve your home," said Danny. "Painting a room to give it a fresh look, updating light fixtures, and changing out drapes are a few tasks you can take on during cold months. These projects will keep you engaged and active, plus you'll get to enjoy the new look and feel of your home."
In addition to winter-friendly home improvements, Danny also discussed "chores you can't ignore" to maintain a healthy home during cold months when families stay indoors. He pointed out that homes today are built with tighter envelopes than ever before, and while that's great for energy efficiency, allergens and pollutants can be trapped indoors, posing health risks. "Paying attention to the quality of the air you're breathing inside your home is a very important issue," offered Danny. "With 1 in 5 Americans suffering from asthma and allergies, manufacturers are really responding to consumers who are concerned about keeping their homes clean." Danny advised homeowners to consider central vacuum systems and kitchen venting hoods that route exhaust to the outside of the home as this is an effective way to clean the air inside the home and provide an overall healthier environment.
Danny also cautioned that bathrooms should not be overlooked when it comes to Indoor Air Quality. Baths can be a haven for mold and mildew growth which can lead to serious health problems. He explained that homeowners can keep the humidity level in check by installing and regularly using a bath vent fan that exhausts moisture outdoors.
The Satellite Media Event included national sponsor Broan-NuTone. To obtain a video clip from Danny's "Tips to Avoid the Winter Blues" media event to share with your audience, visit Today's Homeowner to download, or contact Stephanie Greenwood at 251.478.3345 x110 / stephanie(at)dannylipford(dot)com.
About Danny Lipford
As a contractor for 36 years, Danny Lipford is one of the most respected and sought-after names in the home improvement industry. He has made more than 160 national television appearances and is an expert source for hundreds of popular magazines and websites each year.
Today's Homeowner is a national, multi-media home improvement brand including Danny's Emmy-nominated television show, Today's Homeowner with Danny Lipford, airing on over 205 stations across the country and reaching 1.75 million viewers each week. His weekly syndicated radio show by the same name and radio features air on more than 160 stations across the U.S. and his website, TodaysHomeowner.com, draws over 1.8 million unique monthly viewers.
Company: Broan-NuTone LLC
Source: http://www.prweb.com/releases/danny_lipford/indoor_air_quality/prweb12997585.htm
Tags: Interior Design | Safety
---
Since 1959 the Bronx campus has stood proudly in New York City but after more than 50 years it was in need of some touching up. Our recent project at Bronx Community College was all about helping to retrofit the building by providing AMBICO's Recessed Panel Doors & Frames. And it's amazing what some new technology can do to revive an older building.
AMBICO, for its part, supplied 12 – 16 gauge, seamless edge, Recessed Panel doors and 6 – 14 gauge double frames. Eight decorative doors were ordered with two panels and four decorative doors were ordered with four panels. In the photo you see here, there is a steel recessed panel transom. However, not all doors for this building were ordered with steel transoms, some were provided with glazing to match the panel design.
Each panel is individually manufactured and then recessed deeply into the door face to create a prominent "shadow" around the perimeter of each rectangular panel. In addition, the panel sizes have been customized in quantity and shape to meet the unique job requirements of this project. The wonderful thing about this decorative style is that it integrates an "old world" recessed panel motif with modern security materials and up-to-date insulating products.
Our Recessed Panel doors offer a unique modern solution to an old problem. AMBICO thrives on helping buildings regain their former glory so that they can continue to stand proud for years to come!
Company: Ambico
Source: http://ambico.com/2015/04/16/bronx-community-college-2/
---
Create depth or add a dramatic flair to a design with Black Magic (SW 6991). It's a great fit for this mysterious season.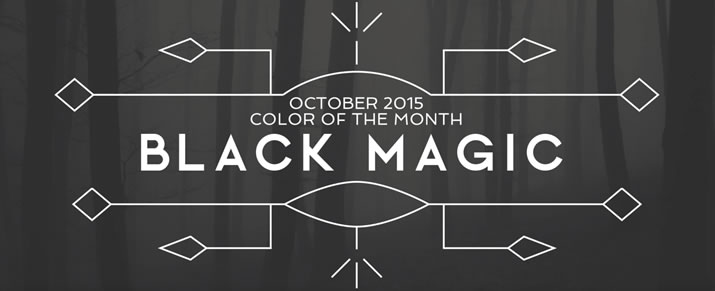 Company: The Sherwin-Williams Company
Source: http://www.sherwin-williams.com/architects-specifiers-designers/color/find-and-explore-colors/paint-colors-by-family/SW6991-black-magic/#/6991/?s=coordinatingColors&p=PS0&WT.ac=%2Farchitects-specifier
Tags: Color | Exterior Design | Interior Design