architecture - engineering - construction

Security
---
Many organizations spend a great deal of time and financial resources in making the entrances to their buildings artistic and beautiful, with designs and materials that inspire awe. They may work with an architect, engineer, or building contractor and ensure compliance to NFPA safety and fire guidelines regarding egress, along with the desire for user convenience and an overall aesthetic design. Often, they select standard swinging doors to make it more convenient for employees, visitors and vendors to enter. For security, they employ security officers to stand guard.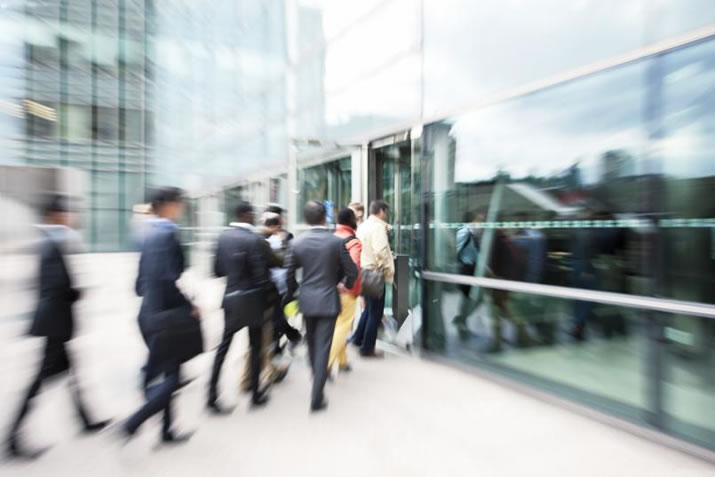 Standard Swinging Doors Introduce Risk
Unfortunately, there are a number of troubling issues surrounding the strategy mentioned above. Security officers are human and subject to distractions, absenteeism, fatigue, being spread too thin or overwhelmed during busy periods. No security officer can reliably "prevent" an intrusion incident at all times and in all locations – in fact, the term "social engineering" was coined to refer to commonly used techniques for getting around security officers. That introduces risk to the enterprise.
And a standard swinging door is often the choice when organizational management is under-informed of the security implications of that selection. The decision makers may also not have any security background. Swinging doors do not, and cannot, prevent unauthorized intrusions, and thus they place an organization squarely in the chain of liability should an intruder cause harm or physical or data loss.
Failure to Meet Physical Security Regulations Results in Fines and Penalties
The lack of clarity around how an entrance is designed and secured not only increases physical and cybersecurity risks, it also places a company at risk of liability that can lead to crippling fines and penalties. Laws and regulations such as HIPAA, HITRUST, PCI Data Security Standard, NERC CIP, FERC, FISMA, ISO, FDA, TAPPA and others have maintained a cyber-heavy emphasis. However, today virtually all regulations mandate some form of physical controls that address unauthorized entry and the control of access into a facility. Non-compliant firms may be subject to significant fines and other actions. Below are a few examples:
NERC Violation
As an example, electric utilities are subject to NERC CIP 14 5-6, which works to ensure the reliability of the North American power system. One utility was recently fined $1.7 million when NERC found a number of violations, including three perimeter doors that had been altered so they didn't lock "so people could enter without the burden of security," among other issues.
HIPAA Violation
Healthcare businesses must comply with HIPAA regulations regarding the protection of patient health information, including limiting physical access to the data. Individuals that knowingly obtain or disclose such information face criminal penalties including jail time. Even if a firm violates HIPAA rules unknowingly, they are still subject to fines up to $50,000 per violation, up to an annual maximum of $1.5 million. Firms that are negligent in protecting their physical points of entry could be found responsible for disclosures perpetrated by intruders.
GLBA Violation
Any firm that involves financial services, from banks to mortgage lenders to car dealers, has to comply with the Gramm-Leach-Bliley Act, or GLBA, which requires firms to take steps to protect the privacy of customers' financial data, including the development of a written security plan and "a thorough risk analysis" to protect the data. Non-compliance carries a fine of $100,000 per violation and includes potential jail time of 5 years. As is the case for HIPAA, firms that are negligent in their physical security could be found non-compliant.
Security Entrances Mitigate Risks and Liabilities
Security entrances are designed to prevent unauthorized intrusion and meet regulatory compliance. They provide for a range of assurance levels, from models designed to support guarded entrances all the way up to unstaffed entrances with very high security levels. High security entrances actually eliminate tailgating while ensuring, through biometric authorization, that the individual entering the facility is the one who is authorized – and not another person carrying their credentials. In every case, security entrances mitigate unauthorized entry while allowing for two-way traffic and emergency exit. When unauthorized entry is addressed, several risks are mitigated at once – including both the physical and cyber security threats. From a liability standpoint, blocking intruders reduces the risks to the personal safety and security of staff, visitors, and anyone else in the facility.
The entrances of your facility must be considered as part of your whole security solution, in the planning phase and then in an ongoing way. This is the best way to address and mitigate risk and avoid any potential liabilities, compliance violations, and expensive fines.
Written by Pierre Bourgeix
Pierre has over 20 years of solutions selling and consulting experience in the security industry, most recently as the owner of his own consulting company, ESICONVERGENT LLC. Pierre has an MBA in Business Administration from UCLA Anderson School of Management and resides in Cleveland, Ohio.
Company: Boon Edam Inc.
Of: Pierre Bourgeix
Source: http://blog.boonedam.us/regulatory-compliance-how-the-lack-of-clarity-around-the-entry-leads-to-fines
Tags: Access Control | Doors | Entrances | Safety | Security
---
Organizations around the globe are looking for ways to reduce the risk of unauthorized entry due to tailgating and piggybacking. If not addressed appropriately, that risk can quickly turn into a liability, costing a company added time and expense, a bruised reputation and even the removal of members of the leadership team.
So how do you safeguard your building from the risk of intrusion? Security entrances are designed to provide a range of assurance levels, from guard assistance all the way up to very high security levels that are effective even when unstaffed. We'll be discussing the latter – the unmanned, high security mantrap portal.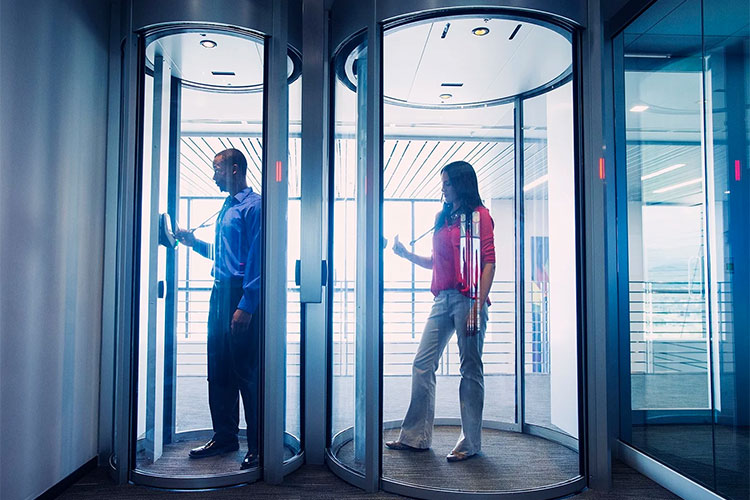 Risk Mitigation by Sheer Design
Offering the highest level of security available in an entrance, the portal was designed to completely prevent the wrong person from gaining access to a building. These doors are so good at what they do, that Fortune 500 technology, financial and insurance companies are using them to secure the confidential information stored at their data centers and corporate headquarters.
Here's how a security mantrap portal works:
Upon presenting a valid credential, the first door opens and the user steps inside.
An overhead system scans the compartment to ensure the user is alone.
Optional secondary verification: a biometric device (such as facial recognition) verifies the user's identity.
The second door opens to allow entry into the secure area.

But, what if someone tries to follow the authorized user into the compartment? What if an angry spouse or irate customer steals a credential and tries to pass through the portal? Let's take a deeper look into the integrated technologies that work alongside the portal to secure the most sensitive of assets.
Only One Person at a Time
It's understood that what makes a swinging door with an access device weak is that an authorized user can hold the door open for a number of others to enter. Security portals take the pressure off employees by completely preventing more than one person from passing through at a time.
Boon Edam mantrap portals enforce single entry using an overhead sensor system called StereoVision 2®. Once a user presents their credentials and the door opens, the StereoVision system begins an initial scan of the compartment, verifying the user is alone. Once the doors close completely behind the user, the system conducts a secondary scan, confirming that someone didn't jump into the portal at the last minute, as the door was closing.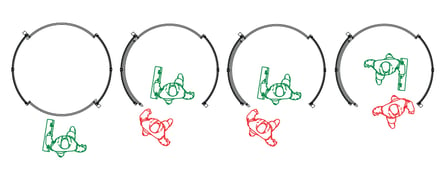 StereoVision during entry (inbound into the secure area) is a standard feature on Boon Edam mantrap portals, but organizations looking to closely monitor who is in the secure area at all times can select StereoVision for both inbound and outbound traffic.
Not Just One Person, But the Right Person
A user has presented a valid credential at the outside of the portal. A sensor system has confirmed they are inside the door alone. The next step involves the installation of an interior biometric device for secondary authentication. Why is this necessary?
Imagine this scenario: An employee's husband decides to drive to your facility. He is determined to confront one of his wife's colleagues. With his wife's access badge in hand, he steps up to the portal, presents her credentials, and enters the door. The portal verifies that he is alone. An interior biometric device is the difference between this unauthorized person getting to his wife's colleague, and not. How does it work?
The biometric device is capable of detecting two things in this scenario: (1) the husband isn't enrolled in the biometric system and (2) even if he was enrolled, his biometrics do not match the on-file biometrics of the badge owner. In short, it is much harder for the husband to steal his wife's eyes, fingerprint, face, etc. to gain access to the building.
To support two-factor authentication, Boon Edam's mantrap security portals can be equipped with a special internal post that can house virtually any biometric device made by any company.
Two-Factor Authentication in Action
A video is worth a thousand words. Watch the clip below to see how a mantrap portal coupled with a biometric device can mitigate security risk at your facility.
Company: Boon Edam Inc.
Product: Security Doors & Portals
Source: http://blog.boonedam.us/how-are-mantrap-portals-designed-to-mitigate-security-risk
Tags: Access Control | Doors | Entrances | Security
---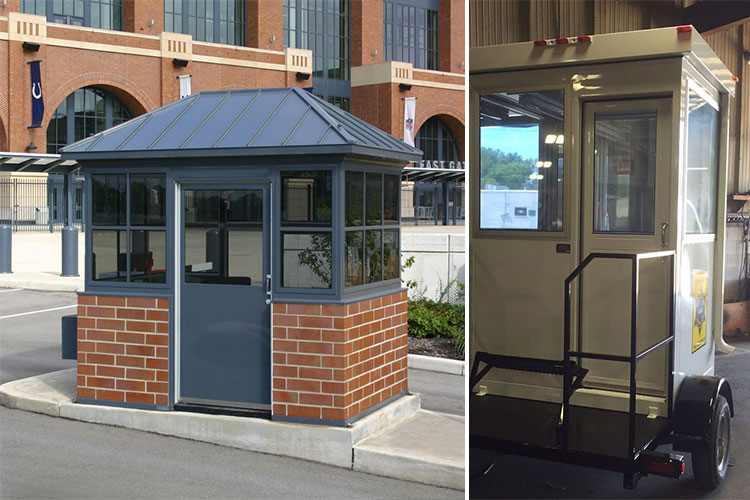 Security booth 0062-PRZ, security booth 15-170
If you need to secure multiple gates or entrances, it is essential to have a security booth, guard house or parking booth you can position and use immediately. Par-Kut portable security booths are perfect for guarding multiple entrances and gates. These security booths are easily moved from one place to another. So you can have these guard booths ready to use as soon as they are deployed or installed.
There are many advantages to having a portable security booth that is easy to transport. Par-Kut portable security booths are easy to order, and do not require assembly, because Par-Kut security booths are all factory-assembled. In addition, since there's no on-site construction, you will save time and money. These security booths can be moved easily with a fork lift or a crane. For even more rapid and frequent relocations, trailer mounted security booths are available. Bullet resistance can also be added.
Par-Kut's climate controlled and well insulated portable security booth can also reduce the officer's stress and fatigue. Further, a Par-Kut portable security booth provides a safe shelter for the security personnel. Moreover, your security booth can be enhanced to reflect architectural elements found on your facility. A variety of paint color schemes, various roof lines and styles, brick or stone wall treatments and even custom building shapes can be incorporated into a unique portable security booth design for your location. Interior options and lighting enhancements contribute to the aesthetics and function of the portable guard booth or guard building.
For more information about Par-Kut portable security booths, one of our skilled sales persons can help. Whatever your requirement for your security booths, contact Par-Kut today to discuss your particular operation.
Company: Par-Kut International, Inc.
Product: PAR-KUT STANDARD
Source: http://www.parkutblog.com/security-booth/portable-security-booths/
Tags: Entrances | Prefab | Safety | Security
---
If you've visited the U.S. Capitol recently, you may have overlooked an understated, yet significant, architectural feature – the 150-acre Capitol Hill campus is ringed by about 7,000 waist-high steel posts, or security bollards. The bollards blend well with their surroundings, but their real purpose is security. Installed shortly after 9/11, they can stop an eight-ton truck from plowing into them at 50 mph.
Bollards have been around for centuries. What started as a way to moor boats evolved into an effective means to control traffic and protect property and pedestrians from vehicle-ramming incidents, whether intentional (vandalism, robbery, terrorism) or accidental.
Following 9/11, many U.S. cities quickly installed security bollards and other physical barriers at major landmarks and capitol buildings. Some barriers, deemed excessive, were later removed. But recent vehicle-related attacks across Europe and in the U.S., notably New York City, have prompted a resurgence.
Traditionally, military, government and other high-security facilities have made widespread use of bollards. More and more, however, you'll find these and other security barriers protecting popular tourist destinations, parks, pedestrian plazas, bike lanes, educational and business campuses, hospitals and more.
Do security barriers make sense for your facilities? As you examine your risk profile, take a look at the different types available, their cost and installation considerations, as well as how to balance safety with aesthetics.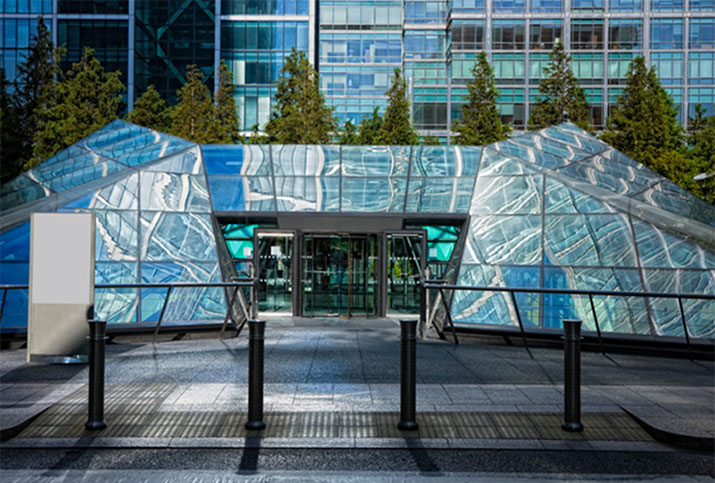 Types of Security Barriers and Tips for Bollard Placement
To find the right fit, consider the areas you're protecting – one building, multiple facilities, pedestrian spaces, parking lots? Then, consider how often they need protection.
Do you host a variety of outdoor special events? Portable, temporary barriers can be towed within minutes to barricade parking lots or streets for sporting events, street fairs and other short-term events. Mobile deployable vehicle crash barriers, which run on their own power systems, can stop 7.5-ton vehicles traveling 40 mph. Lighter units can be towed by a golf cart and set up easily to decelerate and stop a ramming vehicle over a short distance.
Are you looking for a more long-term solution? Fixed bollards, embedded in concrete footings, serve as permanent fixtures. But manual versions offer more flexibility since they can be raised and lowered, or even removed from their footings, to protect pedestrian areas, but allow authorized vehicles to gain access as needed (grounds maintenance, for example). Either way, keep the following in mind as you weigh your options
Costs for security bollards
Costs for bollards can vary widely, depending on the materials and crash ratings. Bollards made of solid plastic used to define spaces and deter vehicle access can cost less than $100 per barrier. Concrete or concrete-filled steel bollards can run hundreds to thousands of dollars a piece, depending on their performance specifications and decorative accents. That doesn't include bollard installation costs.
Bollard Installation & Bollard Placement Standards
Each bollard, whether fixed or manual, requires a footing, so your installers will have to survey the location to avoid interference with utility and other underground lines. The positioning of your bollards will also have to comply with fire department codes for emergency exiting, local building codes, as well as accessibility codes to accommodate disabled visitors. Placement standards follow the Americans with Disabilities Act, which requires bollards placed in areas with pedestrian traffic to be spaced a minimum of three feet apart to allow safe passage for wheelchairs and motorized chairs. Bollards should never be placed more than five feet apart, however, to protect against vehicle traffic.
How Do I Maintain a Secure, Yet Welcoming Environment?
Heavy-duty security barriers work well for high-risk government facilities (think FBI Headquarters), but many businesses, municipalities and other organizations want a more aesthetically pleasing solution.
In fact, many local and city governments across the country have turned to alternative means, using CPTED (crime prevention through environmental design) principles as their guide, according to Dr. Erroll Southers, managing director for counter-terrorism and infrastructure protection at TAL Global. They create more welcoming environments by using large planters, berms and trees as secure barriers.
The good news is bollards aren't a one-style-fits-all product. Manufacturers offer a variety of colors, finishes and shapes – even lighted models – to blend in with and even enhance your surrounding architecture.
Consider how bollards transformed a once intimidating stretch of Pennsylvania Avenue near the White House from a militarized barricade following 9/11 to a now popular public space. "What they indirectly did was create a people street," explained Gabe Klein, former D.C. Transportation Commissioner. "…I find it to be a nice, peaceful place to hang out…"
Company: Total Security Solutions Inc
Source: http://tssbulletproof.com/security-bollards-barriers-protect-property-pedestrians/
Tags: Landscape Design | Security
---
Security systems have long been in the business of risk mitigation. In addition to controlling potentially perilous situations as they occur and dealing with them safely and efficiently, a security system and its operators need to be able to identify problem areas and use the systems at their disposal to prevent issues, when possible, before they even occur.
A major source of risk for any facility—large or small, new or established—are the entrances and exits. Every facility has at least one entrance and an access control system alone cannot effectively mitigate the risk of unauthorized entry. Many buildings will have a number of different areas in their floorplan that require varying levels of security at the entrances to that area, even if it's as simple as locking an office before the weekend.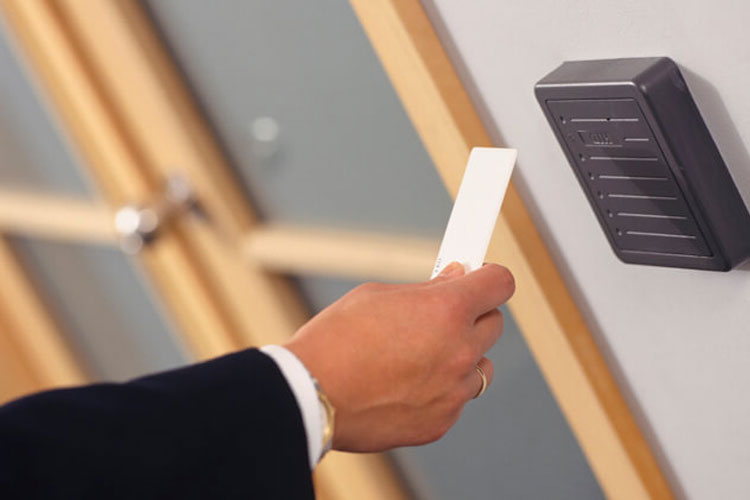 The Risks Present in Today's World
In light of the constant barrage in the news about shootings, data breaches, theft, violence in the workplace, smart mobs, and protests (are we missing anything?), the time of wide open, accessible lobbies and the simple, swinging door paired with an access control reader is coming to an end. The risk of the damage that could occur if the wrong person tailgates (follows an authorized user) into a facility is becoming too great. In fact, a 2014 survey we conducted revealed that 62% of security professionals polled believed one tailgating incident could cost their organization anywhere from $150,000 to "too high to measure." Obvious examples of tailgaters are thieves, shooters, corporate spies, disgruntled former employees, angry domestic partners. However, there's also Joe Q. Public getting into dangerous industrial areas, a journalist into a restricted area (bad PR), a teenager into a local gym or university recreation building (gets hurt and there's liability), a protester into a bank, and the list goes on.
Integrating the right type of security entrance with access control is the best way to prevent tailgating from occurring while reducing the cost of manning entrances. More security managers are realizing that a higher level of access control is a critical need for their security system. While you could deploy a solution using video surveillance integrated with analytics and alarming, without the additional presence of a security guard to respond, this system only can verify that tailgating led to an incident after the fact. It's therefore essential to proactively control who is going in and out of these areas, and ensure that only authorized people can enter.
Security entrances, when paired with access control systems, do exactly that.
Security Entrance Options
There are a number of different types of security entrances available to address differing tailgating mitigation needs. For example, an optical turnstile serves the purpose of verifying credentials while also adding a measure of deterrence against casual attempts to tailgate. However, optical turnstiles don't prevent unauthorized entry; supervision is needed to respond to determined intruders.
For more sensitive areas of a facility, you will want to consider a higher-security solution that actually prevents tailgating. For example, a portal (or mantrap) has two sets of doors; the user's credentials open the first door, but the second door will not open until the first has closed and the system has verified via analytics that only one individual is inside. Security revolving doors also rebuff tailgaters and piggybackers (two people sharing the same compartment) using the same technology, but operate about three times faster.
All security entrances provide a visual deterrent to tailgating and other physical breaches, particularly full height entrances that require significant effort to brute-force entry. The right choice for you depends on the security needs of your organization. Whether you need to deter, detect or prevent tailgating, working with your manufacturer or integrator is the best way to determine which security entrances are the best fit to optimize system costs and effectiveness.
Metrics and an Auditable, Reliable SOP
When integrated with your access control system, security entrances also deliver a variety of business benefits beyond risk mitigation. In addition to preventing tailgating, they can provide a wealth of data, including completed passages, safety rejections, and emergency button usage, to give you more insight into how entrances are being used. They also give your organization an auditable, reliable, and consistent standard operating procedure that can be tailored to support existing or new policies.
Businesses today have more complex facilities, more sensitive and expensive assets, and a greater need to protect themselves from liability. Security entrances that deter access control breaches and prevent tailgating from occurring can help you protect yourself from these threats. Considering security entrances—from turnstiles to biometrically-activated full height revolving doors – as a fundamental part of your security system helps ensure that you not only protect your business today, but mitigate risk in the future.
Company: Boon Edam Inc.
Of: Greg Schreiber
Source: http://blog.boonedam.us/why-access-control-systems-will-never-be-enough-to-protect-your-premises
---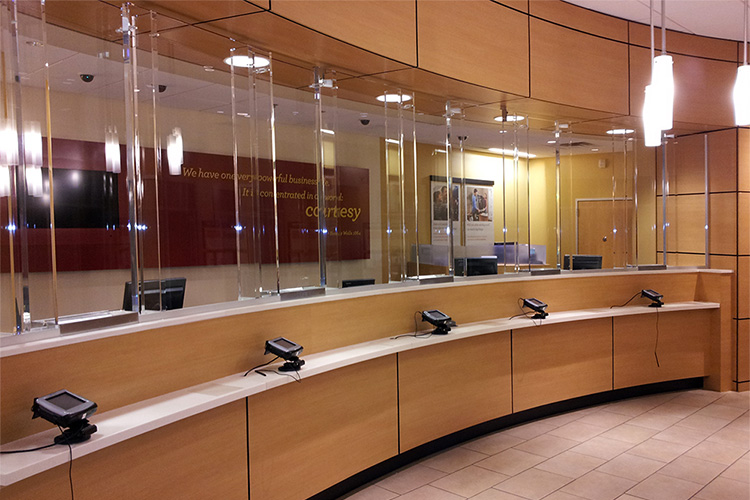 As 2017 draws to a close and we look forward to the promise of a new year, we thought it might be a perfect time to pause and reflect on something very important to us – the do's and don'ts of cleaning your bulletproof glass. While that might not make the top three on most people's list of resolutions for 2018, here's why it should. Bulletproof glass is an investment and at Total Security Solutions, we want to protect that investment. We know that more than bullets, the thing that most often spoils a beautiful, crystal-clear sheet of bullet proof glass is an unlikely culprit: Windex.
When bullet proof polycarbonate or acrylic are cut, drilled, or flame-polish, microscopic fractures form in the plastic. These are not visible to the naked eye, and are structurally inconsequential. "But Windex attacks the edges of those fractures," Jim Richards, CEO of Total Security Solutions explains, "and it will look like there's cracks going into the glass. It's what's called crazing, and it makes the material look terrible," even though it has no impact on the material's bullet resistance.
With proper maintenance, bulletproof glass will look great for years, but crazing creates a haze that penetrates the surface and according to Jim, "when it's done, it's done."
Another important tip, skip the paper towel! One downside of polycarbonates is that they are prone to scratches. This scratch potential is why you'll get a cleaning cloth with eyeglasses or sunglasses you purchase, and why computer and TV screens have special cleaning products as well. Should a scratch occur on your bulletproof glass, it can often be buffed out, but it's best to avoid them all together and stick to a soft cloth for cleaning.
Proper Care and Cleaning of Bullet Proof Glass
Gently dust with a soft lint-free cloth (like an old t-shirt).
Wash with a solution of warm water and mild soap or detergent, using a soft cloth or natural sponge. Keep the sponge sopping wet. Blot dry with clean soft cloth.
Remove grease and oil using hexane, kerosene, or naphtha, not aromatic compounds like benzene.
Surface scratches can be buffed out of acrylic by hand.
Polish acrylic or polycarbonate with quality commercial wax. This fills minor scratches, restoring the original smooth surface.
Never use paper towels on bullet proof glass.
Never use scouring compounds or abrasive cloth.
NEVER USE WINDEX®!
Company: Total Security Solutions Inc
Product: Bullet Resistant Barriers
Source: http://www.tssbulletproof.com/securing-bulletproof-glass-investment-2017/
Tags: Bullet Resistant | Security | Windows
---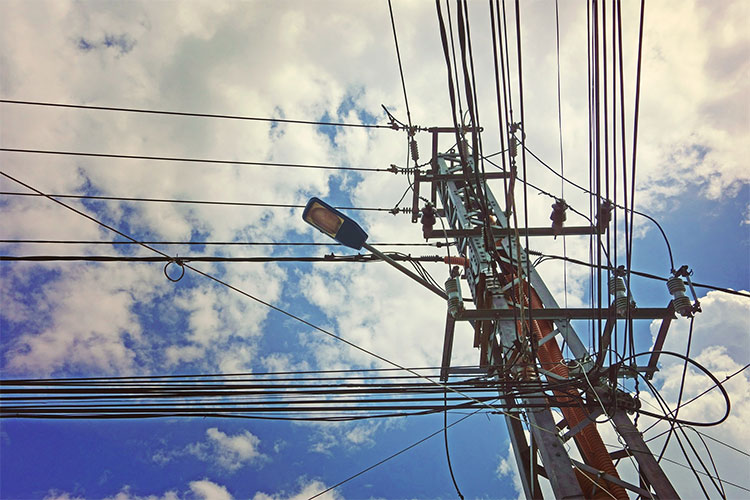 Remote locations, wide service areas, and lots of cash on hand presents unique security challenges for customer service staff.
While electrical cooperatives are a relatively small part of the total electricity market (about 15 percent of the U.S. population is part of a co-op) they're responsible for maintaining close to half of the nation's electric distribution lines. Remote locations, wide service areas, and lots of cash on hand present unique security challenges for their customer service staff. Recently TSS has helped design and install several bulletproof barriers for utility and electric co-op offices.
Over the years Total Security Solutions sales manager Bob George has worked with a large number of electrical cooperatives. He recently noted, "I don't think people really appreciate the challenges co-ops face. They might have only 1/10th or 1/100th as many customers as a big publicly traded power company. But that co-op has just as big a service area. They end up maintaining 8 to 10 times as much equipment per customer. It's a real case of 'Do twice as much with half the resources'. But they consistently rise to and exceed those challenges."
Electrical cooperatives and other small utilities face challenges beyond the economics of narrow margins, high costs, and large territories. They also face security challenges that are unique to their mission.
Unique Threats to Utility and Electric Cooperatives
Unlike the bigger investor-owned companies, co-ops serve small and mid-sized communities. They tend to be very spread out geographically. This means that they often need several small branch offices in addition to their headquarters. These satellite offices are a special concern, as they are often in remote locations with very few staff members on hand throughout the day. It's not unusual to see just a single clerk behind the counter during business hours when the line workers are out on the road. These offices often have a great deal of cash on hand (especially if their clientele are older or live within limited financial means). That lone clerk is now seen as the face of the company to irate customers who have missed a payment or want to dispute their bill.
"With the climate we're in right now," Bob George explains, "with these awful incidents that just keep happening every couple weeks, people are being more proactive. With a lot of cash on hand, and irate customers, there's a tendency to want to make sure your people are protected. And I hate to bring up gender, but it's just a fact that in most of these isolated offices it is women working behind the counter, and the level of abuse that some people will aim at a female worker, it's just hard to believe."
This was certainly a key concern for Clark Energy when they contacted TSS in 2014, following an incident at another local utility co-op office near their Winchester, KY headquarters. As Holly Eades, Clark Energy vice president of finance, explained at that time: "When a big man is standing at the counter, screaming and cussing at a female customer service rep who's five-foot-four, there's something wrong with him…You just don't know what's going to happen."
Electric and Utility Co-op Security Essentials
No two utility co-op offices are alike—even in the same cooperative. That said, there are a few key considerations for bullet resistant barrier systems designed for small utility co-ops. In general, a utility co-op should have a system that:
Protects against common handguns calibers (i.e., a "Level 1 or 3" system). This would include appropriate bullet resistant glass and framing, as well as bullet resistant fiberglass to reinforce the counter front.
Has two to three transaction windows (one of which should be ADA compliant, to accommodate customers with limited mobility)
Includes a bullet resistant door with an electric strike or sturdy pushbutton Simplex lockset
Will be installed with absolutely no business disruption (TSS, for example, installs barrier systems overnight or on the weekend)
Many builders, renovators, and security companies treat custom design work as an extra. TSS has built custom design, fabrication, and installation into their foundations—every job is a custom job to TSS.
"What's key here," notes TSS CEO Jim Richards, "Is that there's no unending up-sell. We don't live on change orders, and we don't treat custom work like it's a hassle or price it like it's luxury. Doing custom work, making that system fit your office as though it was built in from day one, that is where we shine."
Company: Total Security Solutions Inc
Product: Bullet Resistant Barriers
Source: http://www.tssbulletproof.com/bulletproof-barriers-utility-electric-co-op-offices/
Tags: Bullet Resistant | Security | Windows
---
Modern. Clean lines. High Visibility. Upscale. Bulletproof. Which one of these doesn't belong? While there is a strong perception that beauty and security cannot go hand-in-hand, attractive bulletproof barriers are totally possible.
In some situations, a more pronounced bulletproof barrier design is exactly what the space and company requires. If that's what your facility demands, we can achieve it. At Total Security Solutions, however, custom, detail-oriented jobs are where we truly shine.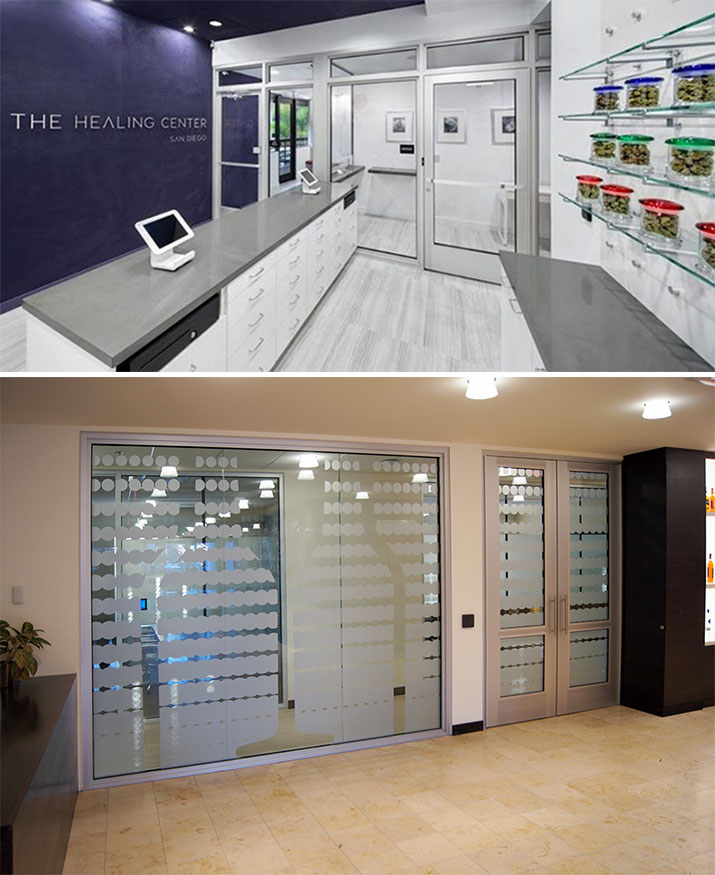 Balancing Design and Bulletproof Security
The Healing Center of San Diego challenged us to maintain a light airy feel in the design while achieving the desired security. A solid partnership with Element Construction ensured no detail was overlooked. The space features multiple access control points linking the showroom, the administrative area, and the lobby. We also supplied ballistic fiberglass for the storefront walls. The final result is a peaceful setting, both in its physical space and the peace-of-mind knowing employees and patients are secure.
The corporate headquarters of Brown-Forman are another shining example of upscale bulletproof barrier design. Oversize bullet-resistant glass panels are butt-glazed, eliminating visual barriers and conveying a more high-end appearance. Applied graphics further elevate the design. Despite the need for a bullet-resistant barrier to secure the lobby area, visitors still feel welcome thanks to the minimalist design.
Visually Enhancing Bulletproof Glass
The small design details on a project can make a major difference in the overall aesthetic. While bulletproof glass has some design limitations, it can be frosted or tinted. By adding a colored polycarbonate cap sheet as the outer layer of the security glass, the color of the glass can be changed. Similarly, a film added in between the layers achieves a frosted appearance. For outdoor use, glass-clad polycarbonate is also available with a mirror finish.
We enjoy working with architects to push the limits of bulletproof glass and achieve their vision. We are experts in bulletproof glass and the details are our specialty. Even if you have worked on a project with a bulletproof barrier before, each project is unique and we recognize that. Let us help you assess, design and install a bulletproof barrier that doesn't just secure a facility, but adds to its beauty.
Learn more about how Total Security Solutions partners with Architects and view our Architect Projects Gallery.
Company: Total Security Solutions Inc
Product: Ballistic Security Glass
Source: http://www.tssbulletproof.com/attractive-bulletproof-barrier-design/
Tags: Bullet Resistant | Entrances | Glass | Security
---
The challenge: heat, humidity and sea breezes infiltrating the building. The solution: revolving doors.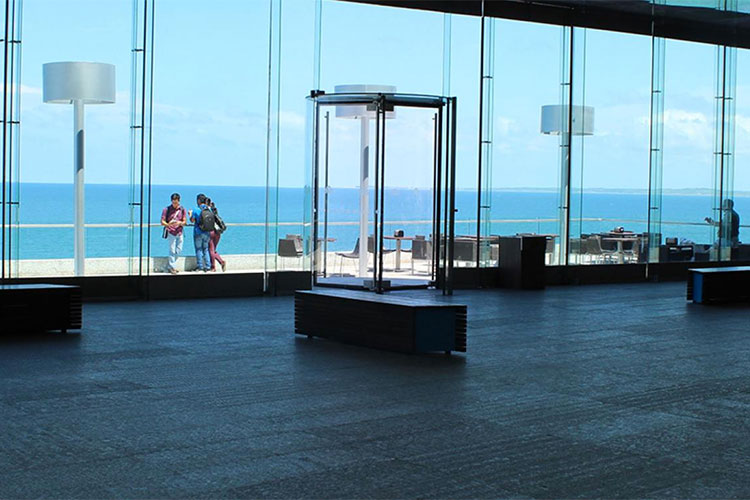 Since opening in October 2014, Andamar Lifestyle Center struggled to contain strong Veracruz winds, which consistently left its swinging doors open and exposed the facility to heat, humidity, and sea breezes. In turn, this allowed the shopping center's air conditioning to escape, resulting in a second challenge: higher electricity expenses.
Andamar Lifestyle Center is home to over 100 different stores spread throughout the nearly 2 million square feet of retail, restaurant, and lesiure space.Taking the mall's estimated 5.3 million annual visitors into account, and the fact that 40% of them are entering through the main entrance, the air infiltration and loss situation became unsustainable. As a result, Rosa María Bueno, director of Andamar, began looking for solutions.
"At first, we tried to find a way to solve the problem without getting rid of the manual doors that were already installed. So, we had about one guard at every door to make sure the doors were closed or to hold them shut against the wind. The reality is that we weren't going to solve the problem that way," Bueno explained.
Two important factors the center needed to consider were the location and use of each door. In addition to its main guest entrances, Andamar has entryways to its terraces and ocean views, which are primarily used by waiters in transit – making easy access a must. "Because we're beside the ocean, many people go outside to enjoy the air, take photos, and eat; as a result, waiters go in and out with their hands full of food, huge trays, etc. We needed to find the right entryway that wouldn't make this process any more difficult," Bueno said.
Andamar also had to consider its original architects' opinions. "The architects who designed the center were very worried that the new doors would change its visual design and obstruct the ocean views, two important points that were taken into account from the beginning. After a detailed search, we found the ideal solution with Boon Edam," the director said.
In total, the shopping center installed eight Boon Edam doors: three Crystal TQ automatic revolving doors, three Crystal TQ manual revolving doors, and two Crystal BoonAssist semi-automatic revolving doors. With the help of AVANCE Inteligente, a local door installation company, each door was installed with the specific entryway's purpose and location in mind.
Bueno affirmed that, in addition to receiving a customized analysis, the shopping center experienced nonstop assistance and dedication from Boon Edam support staff during the project's duration. This led to the right solutions, and gave the client complete confidence in the quality and adaptability of Boon Edam's team.
"We're very happy with the solution from all angles. It meets its functional and aesthetic purposes, it contributes to our positive image, and the doors have allowed for the flow of visitors to achieve a good rhythm," Bueno concluded.
Location:
Veracruz | Mexico
Products:
BoonAssist TQ
Crystal TQ
Segment:
Retail
Download Case Study Flyer:
Company: Boon Edam Inc.
Product: Revolving Doors
Source: https://www.boonedam.us/andamar-shopping-mall
Tags: Entrances | Interior Design | Security | Sustainability
---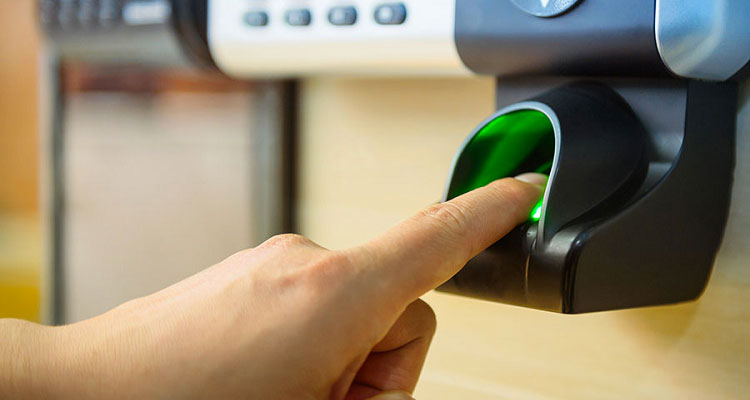 Senseon Solutions Marketing Director, Greg Rewers, discusses four Cross-Departmental Benefits of electronic access control in Security Magazine.
To date, the shift from traditional locks and keys to electronic access control systems for cabinets has focused on mitigating security vulnerabilities and risks.
There's no doubt that best-in-class electronic locking systems surpass mechanical predecessors in safeguarding such items as jewelry, medications, cash and confidential records stored in cabinets. Innovative solutions can deliver up to four times more reliable protection than traditional CAM locks, and locks can be hidden from thieves.
But the value of upgrading to cabinet electronic access control extends beyond stronger security – potentially affecting an entire enterprise. By carefully selecting and directing a transition to a smart, discreet locking system, a CSO can orchestrate positive multi-departmental business results leading to higher efficiencies, sales, and profits.
The move helps an enterprise abandon inefficiencies of traditional locks and keys, and replace them with streamlined processes favoring employees and customers or other users.
Here are four cross-departmental advantages of switching to an innovative electronic cabinet-locking system, powered by radio-frequency identification (RFID) technology:
Facilities management and finance: Greater operational efficiencies, due to labor and maintenance savings
Operations employees forgo time-consuming, costly installation, maintenance and use of outmoded locks and keys. New plug-and-play locks are simple to install, integrate with existing or new cabinets, and don't require callbacks or expensive repairs. Employees no longer have to contend with hard keys being lost, stolen, broken or copied, requiring re-keying.
A RFID-driven system can be installed twice as quickly as its predecessor. Employees typically don't need special knowledge or training to operate an electronic locking system, and technical support and customization are available. Some solutions can be incorporated into cabinet drawer slides or installed inside cabinet doors. They also work with existing alarm and video surveillance systems, reducing total cost of ownership.
System administration is convenient. Access privileges can be added, changed or deleted in seconds. Employees don't need multiple key cards, and an electronic access control token can be affixed to an existing ID badge.
Automatic relocking cuts down on management monitoring, as well as susceptibility to theft.
Sales and customer service: Faster transactions – boosting customer experience and sales
Employees traditionally have wasted time searching for metal keys or calling on supervisors to unlock cabinets containing valuable merchandise, medications, cash, sensitive records, and the like. Employees have had to retreat to back rooms for these items. Almost half (46%) of consumers say the retail process takes too long, 32% dislike waiting for a sales associate to unlock a cabinet, and 17% are uncomfortable when a salesperson uses a key, a UCLA Executive MBA Retail Consumer Study found.
An electronic locking system lets a sales associate, nurse, or bank teller unlock a cabinet immediately to show jewelry, dispense medications or provide cash, respectively.
Stocking and product retrieval time decrease and customer service improves. Loyalty, sales, and profitability stand to benefit.
Interior design and human resources: A more attractive, pleasant environment for customers and employees
Visible locks and keyholes not only invite thieves, but they also undermine the sleek, relaxed look becoming increasingly desirable for stores, healthcare organizations, financial institutions, hotels, schools and other establishments.
Concealed electronic access control enables clean cabinet fronts that contribute to elegant décor.
In addition, a new system with auto-open, touch-release, and soft-close features makes locking and unlocking furnishings quiet and unobtrusive, all of which bolsters employee and customer satisfaction.
Legal and finance: Reduced risks of penalties for noncompliance
Employees commonly forget to relock drawers as they move from one cabinet to another. Accidentally leaving a drawer open exposes an enterprise to two major risks: theft, and, for certain kinds of establishments, such as healthcare providers, government fines. In turn, public knowledge of those penalties can erode trust in an institution.
A system that locks a drawer automatically after a given time period solves the problem.
In summary, upgrading to an advanced, invisible electronic access control system offers an opportunity to break free from expensive constraints and significantly improve enterprise-wide operations. Along with enhancing loss prevention, such a system has the power to help an organization spur productivity, control costs, enhance the customer experience, raise employee satisfaction, and boost sales and profits – ultimately increasing business viability.
With a unique focus on solutions for enterprise security leaders, Security Magazine provides security industry news and trends on video surveillance, cyber security, physical security, security guards, risk management, and access control.
This post was first published on Security Magazine. Read the post
Company: Accuride International
Product: Senseon Secure Access Control
Source: https://www.accuride.com/senseon/blog/4-cross-departmental-benefits-of-electronic-access-control/
Tags: Access Control | Furniture | Management | Security
---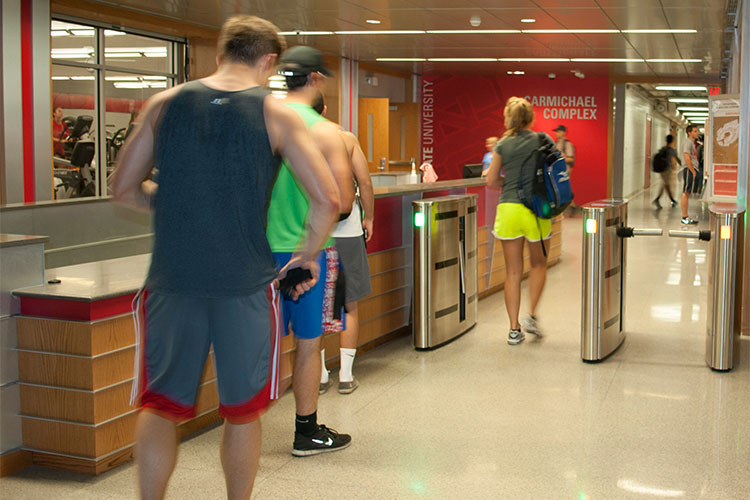 We recently sat down with Boon Edam's CEO, Mark Borto. Mark has more than 30 years in the entrance market, and he spends many weeks during the year on the road, listening to customers and installers, and keeping up to date on trends and where the market is headed. Here are some hot topics we put to Mark for his thoughts.
Safety in places of learning is never far from teachers and administrators' minds given how many incidents we've had to witness. At this time, what are the security challenges for schools and colleges?
There is a growing need for all manner of security at our schools and universities, especially those located in urban settings. These large campuses are open to hundreds, even thousands, of members of the public on a daily basis, and they want to increase security while still maintaining an atmosphere of openness. Often, students are employed to police fellow students in entering dorms and other facilities, so having a layer of technology between one student and another is quite effective in enhancing overall security. Increasingly, universities need to be able to prove to students' parents that they are committed to providing a safe environment, but they need to do so strategically, affordably.
In our business, we supply a lot of security entrances to higher education for dorms, recreation centers, cafeterias, and other locations. An interesting aspect to this component of security is that every year there is a 25% turnover on campus. In addition, many universities have large groups of new visitors, tour groups, groups that use facilities during the summers months, etc. So, the intuitive nature of security entrances like manual and optical turnstiles is crucial - there is a premium on effective technologies that are also easy to use. Another key consideration is thousands of 19 and 20-somethings and their backpacks smashing into entrances thousands of times a day or more. Easy to use, yes, but robust construction is also essential.
Security personnel are always a key component to any security strategy. Have recent developments in security systems made manpower more, or less, important to the equation?
In the security entrance industry segment, manpower is becoming more important when it is paired with the right technology because of increased efficiency and the potential to gain more value from your manpower. Our security entrances are used in a wide variety of settings - corporate and government facilities, industrial, universities - all so that management can do more with less. Security entrances put appropriate technology between security personnel and those seeking to gain entry - they can take the place of direct human intervention as people enter a facility, freeing manpower for other tasks such as analyzing the new data that is available today for potential risks or threats. They can also help people learn and embrace a security culture in a positive way. In general, doing what humans do best.
Without security entrances serving as barriers, manpower must supervise constantly and can easily get overwhelmed during rush periods and lose their effectiveness at preventing a breach. The greater the capability of the security entrance itself in preventing unauthorized entry unattended, the more efficient manpower can be doing other things that provide more value. In some instances, such as with security revolving doors, you don't need any direct supervision - fewer manpower resources are needed, and there is measurable ROI in terms of immediate, perpetual cost savings and/or a more efficient workforce - either way there is a solid return.
Manpower is one variable to overall security program costs. Is it possible to measure return on investment (ROI) in the security market?
In our market segment, it's all about the manpower aspect of the equation. Our ability to reduce or even eliminate manpower needs enables us to show ROI of a year, or an even shorter time frame. Not only do our solutions pay for themselves in this short amount of time, but the end user gets the "force multiplier" effect of not needing personnel at the entrances, so they can deploy them to higher value, higher impact tasks.
ROI brings to mind other metrics that are important to consider. For example, security revolving doors or mantrap portals, equipped with our StereoVision® piggybacking prevention technology, provide new metrics such as the probability of a successful piggybacking breach. This scientifically-derived information enables the end user to calculate quantitative risk assessment. When an entrance is manned, it is difficult to get accurate metrics like these. But knowing how well the entrance is accomplishing the objectives for which it was purchased is crucial information. If a Security Director is having a difficult time justifying a requested investment, ROI and other metrics are critical to making the case.
Company: Boon Edam Inc.
Product: Optical Turnstiles
Of: Tracie Thomas
Source: http://blog.boonedam.us/security-trends-campus-manpower-roi
Tags: Entrances | Management | Security
---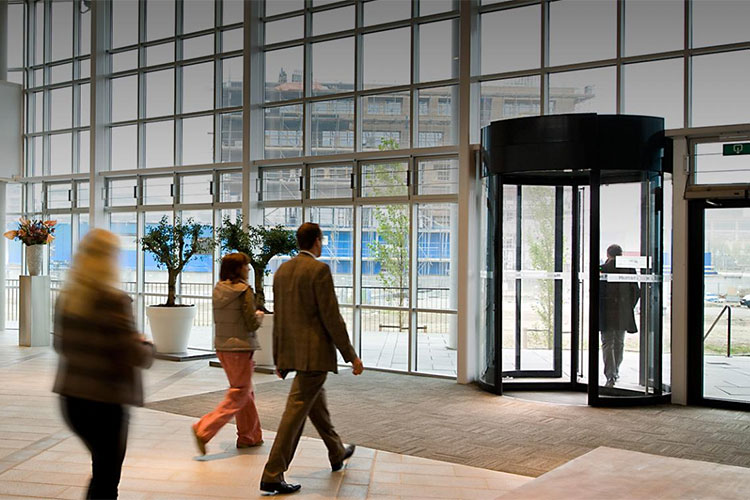 It is no secret that we're living in a time of great unrest. The news is laden with headlines publicizing 'lives matter' and 'occupy Wall Street' movements, political protests, active shooter incidents… the list goes on. As a result, businesses are seeing an urgent need to protect their customers and staff from the impacts of these disruptive, destructive, and even deadly acts.
You may have seen it on the news, a Fortune 500 financial firm fell victim to a smart mob after the firm provided funding to an unpopular project, bringing into question their stance on environmental sustainability, among other topics. Angry protestors walked right through the front door of one of the firm's offices and, with signs in tow, hooked arms in front of an elevator bank to prevent employees from getting to work. It wasn't until 4 hours later that the protestors finally vacated the lobby.
Tangible and Intangible Impacts of Unauthorized Entry
What could be the impacts of such an incident? The tangible, bottom line impacts include bad press, a loss of productivity, and potential property damage if things turn sour. There can also be some intangibles, like physical pain and suffering, and a feeling of anxiety, stress, and insecurity among employees as they wonder what could happen tomorrow. According to a study conducted by SHRM in 2016, over 88% of those surveyed stated that "feeling safe in the work environment" was either important or very important to their overall job satisfaction.
An Unlikely Solution to a Likely Problem
While these types of incidents are happening regularly across the nation, it shouldn't take the prospect of hundreds of picketing protestors outside your door, or looting and fire wielding on your street after sunset, to get you to start thinking about increased building protection. And, that protection starts right at the front doors. Could a plain old, manual revolving door provide that first layer of protection against unwanted building infiltration? The answer is "yes!"
While revolving doors are typically known for providing energy and space efficiency, certain manual revolving doors can be equipped with security features. These doors are being deployed in urban locations to safeguard residents in high-rise apartment buildings located near neighborhoods with more incidents of crime. They are popping up in both urban and rural areas where management wants to keep outside altercations from coming inside. Revolving doors are providing comfort to staff members entering office buildings or public spaces such as museums, afterhours, often alone and at night.
Four Security Features of Manual Revolving Doors
Take a look at what's new for manual revolving doors in these distressing times. These features are more applicable today than ever and some require electrical power to operate:
Exterior night locking doors. Perfect when you want to convey "this establishment is closed!" A set of bi-parting doors slide over the revolving door opening, closing off its compartments. The exterior doors act as a visual deterrent against infiltration afterhours.
Security lockdown. During normal business hours, in the event of an immediate security threat, facility or reception staff can electrically lock the door wings immediately, in any position, at the push of a remotely located button.
Remote locking. Door wings can be locked manually at the push of a remotely located button, or locked automatically at say, 5:00pm by an access control system. This method is different from the security lockdown feature, though. Overhead anti-entrapment sensors scan the compartments for user presence. If someone is inside the door while the lock is engaged, the door will continue to rotate until the compartments are clear rather than stopping on a dime. The door will stop in the "x" position, with its wings pointed at the end posts and then lock in place until unlocked.
Access control integration. Secure afterhours access is possible via an access control device mounted on the outside of the door. Upon valid authorization, usually by means of an access card reader, the door wings will unlock and the user can push to enter the facility. Once the user is clear, the door positions itself and locks.
It's a crazy world out there, but there is something that you can do today to safeguard your business, and it can begin right at the front door. Ask your revolving door provider which models are equipped with these security features (ours is called BoonAssist TQ).
Company: Boon Edam Inc.
Product: Revolving Doors
Of: Amy Coulter
Source: http://blog.boonedam.us/mitigating-protests-smart-mobs-and-crime-with-manual-revolving-doors
Tags: Design | Doors | Entrances | Security | Sustainability
---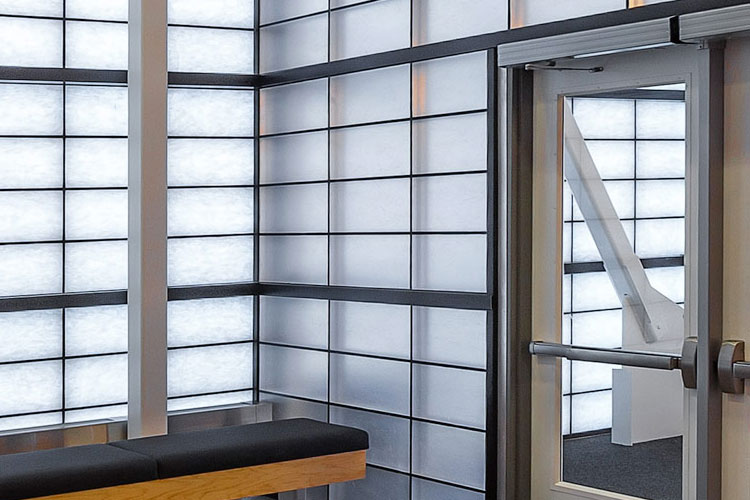 Explosives have become the weapon of choice for terrorists around the world, and the force of these blasts can wreak havoc on standard building materials. As an explosion impacts your building, a flying debris field is created which can cause a variety of injuries to your building's occupants. In fact, studies show that lacerations due to high-speed flying glass fragments are responsible for a significant number of injuries sustained in explosions. Less flying debris equals less chance of injury, and because they're designed to "flex" with the force of an explosive blast while remaining intact and secure in the opening, Guardian 275® Translucent Daylighting Panels can reduce the amount of dangerous fragments created by an explosion.
Guardian 275® translucent daylighting systems also shield occupants from a direct line of sight. Potential terrorists observing from busy streets and other uncontrolled locations are offered few clues to the activity within occupied spaces while interior spaces are enhanced with glare-free, energy-saving daylighting.
Tested, Abused – and Performance Verified
During a series of tests conducted by Baker Engineering and Risk Consultants Inc., a world-renowned engineering and testing firm, a variety of Guardian 275® panels were attached to a large shock tube, a test device that creates specific pressures and applied impulses (an applied impulse, measured in psi-msec, is equal to the net force on the panel times the time period over which this force is applied) to simulate the effects of an actual explosive device.
Guardian 275® panel configurations were put through a range of pressures and impulses in order to thoroughly evaluate their blast resistance and safety. A machine-generated blast pressure range of 5 to 6 psi, with applied impulses between 41 and 69 psi-msec, was chosen to test commonly specified blast loads for anti-terrorism protection of buildings in the United States. To put these numbers into a real-world scenario, a similar blast load of 5 psi could snap a wooden utility pole. A larger applied pressure of 10 psi with an applied impulse of 90 psi-msec was used to generate a medium level blast load that studies show could cause significant structural damage and serious health risks. Testing conducted in the 5 to 6 psi range showed that Guardian 275® panels resisted the applied loads over a range of impulses and retained their structural integrity. The largest applied pressure, used to recreate a devastating medium level blast, was 10 psi with an applied impulse of 90 psi-msec. The Guardian 275® panel once again "flexed" with the pressure and remained intact.
Please view below for high-speed video of a Guardian 275® panel "flexing" with the force of a blast.
Department of Defense (DoD) Minimum Anti-terrorism Standards for Buildings (UFC 4-010-01) for conventional building standoff distances and ISC Security Design Criteria Level C loadingGuardian 275® panels, after going through the most punishing blast tests in the translucent daylighting industry, meet or exceed the following related performance requirements:
US General Services Administration (GSA) Standard Test Method for Glazing and Window Systems Subject to Dynamic Overpressure Loadings – Condition "1", Hazard Level "None"
ASTM F 1642-04 Standard Test Method for Glazing and Glazing Systems Subject to Airblast Loading
AAMA 510-06 Voluntary Specification Guide for Blast Hazard Mitigation for Fenestration Systems
Since specific system configurations are dependent on a variety of factors, including stand-off distances and additional conditions, please contact us at 888-759-2678 or sales@majorskylights.com for more information.
Pressure Release Systems
For test laboratories, research facilities and other high risk areas, Guardian 275® systems can also be fitted with third-party certified fasteners that relieve sudden pressure surges by releasing the panels before structural damage occurs. Stainless steel safety lanyards keep the panels attached to the framing, minimizing the risk to people and property.
Company: Major Industries Inc.
Product: Guardian 275® - Translucent Panel Skylights & Curtainwall
Source: http://majorskylights.com/products/specialty-applications/blast-protection-pressure-relief-systems/
Tags: Glass | Safety | Security | Skylights | Wall Panels | Windows
---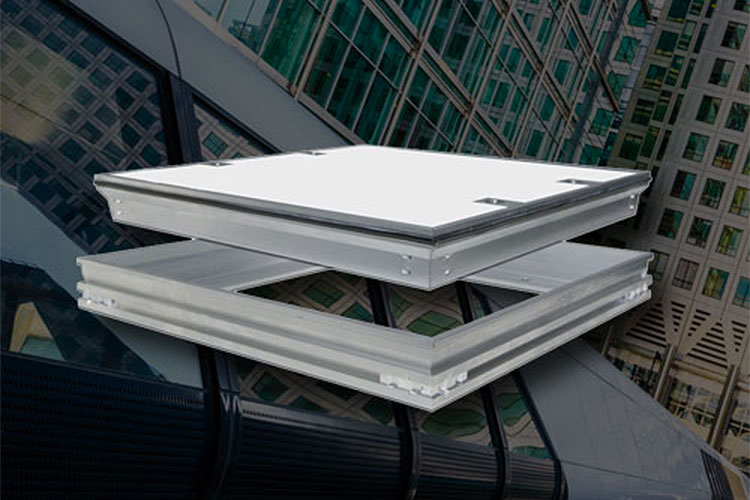 When it comes to solving the problem of accessing concealed services under floors, behind walls or above ceilings there are an abundance of products on the market that could do the job. However, if your requirement is for a quality access cover or panel that will provide quick and easy access to concealed services safely then those 'cheap' foreign imports are unlikely to make the grade!
In the world of construction the old adage, 'You get what you pay for' definitely rings true. Of course the majority of building services professionals involved in the specification process clearly understand that principle. A building component, such as an access cover, is just one of hundreds of constituent parts that make up a building. However insignificant the component to the overall structure it still has to possess certain attributes, satisfy stringent criteria and integrate positively with the other products being used.
As a busy architect or specifier how do you determine the best solution to the access scenario in your particular project?
PERFORMANCE
The level of performance required from an access cover is generally dictated by the type of environment where the concealed services are to be located.
Is it internal or external?
Loading requirement - will it be used by pedestrian traffic only or vehicular traffic?
Is access required frequently or just occasionally?
What size of aperture is needed to access the concealed services?
What type of material will cover the services?
How important is security?
At Howe Green we offer a wide range of floor, wall and ceiling access solutions designed to satisfy all of these performance criteria.
Need a single access panel for emergency access to a stopcock in a ceramic tiled bathroom wall? Or a duct run of floor access covers for regular maintenance of underfloor drainage systems beneath vinyl flooring in a hospital?
Whatever your performance specification Howe Green can provide the solution.
AESTHETICS
Whether you are working on a new build or refurbishment project the impact that an access solution has on the overall look and feel of the building is a consideration for the vast majority of projects.
By using the latest CNC and CAD technology access covers can be precision engineered to your exact specification. A perfectly sized access cover removes any hassle from the installation process and ensures that the cover fits seamlessly into the flooring, reducing the risk of slips and trips.
With options available for all types of hard floor finishes and the Visedge flexible floor access cover, Howe Green can be specified whatever the flooring finish.
STANDARD OR BESPOKE?
Many of the projects that cross your desk may well require a standard size access solution. At Howe Green standard size floor, wall and ceiling covers are available to order from stock, ensuring a speedy delivery to site when required.
Other projects may require a bespoke solution. This is where over 35 years of experience combined with continual investment in equipment, technology and processes ensures that whatever bespoke solution is required it can be supplied. If you need to specify a custom size, loading or finish Howe Green can accommodate your requirements without cost or time penalty.
MAKING THE DECISION
Whether you have most of the knowledge and information you need to prepare your specification or you are looking at our product ranges from scratch, the team at Howe Green are available to help.
The quality and performance of our products, flexibility of our service and the expertise of the team is what sets Howe Green access covers apart from our competition. Architects, specifiers, building engineers, flooring and tiling specialists and contractors have put their trust in Howe Green to deliver a tried and tested access solution since 1983.
If you are looking for an access solution to concealed services look no further than the industry standard and you will soon discover that "Not all Access Covers are created equal".
For more information about any of our products or for assistance with your specification please call 01920 463 230, we are always happy to help.
Company: Howe Green US
Source: https://www.howegreen.com/howe-green/news/not-all-access-covers-created-equal.php
Tags: Access Covers | Design | Safety | Security
---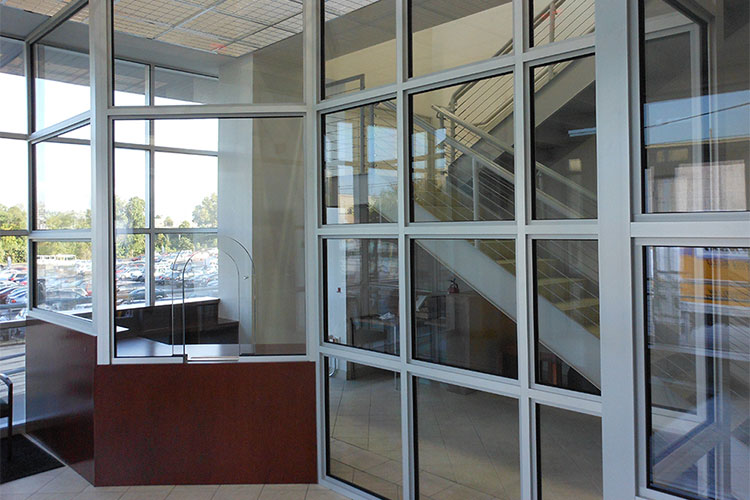 Today Total Security Solutions is a major nationwide bullet resistant barrier component manufacturer—but that wasn't always the case. TSS started out exclusively sub-contracting, supplying contractors and glaziers. Although TSS does a great deal of "tier 1" direct client work now, roughly 60 percent of their business is still in subcontracting. "We really value keeping that balance," TSS CEO Jim Richards says. "We can be as hands-on as the contractor needs, without getting between them and their client."
Designing and Implementing the Right Bullet Resistant Barrier for the Project
In contrast to many bullet resistant component suppliers, even as they've grown TSS has avoided punching out cookie-cutter mix-n-match pieces. They specialize in complete, end-to-end bullet resistant barrier systems, each of which is custom designed, engineered, and fabricated to meet a specific client's needs.
"Every barrier," Jim notes, "Is a specific solution for a specific situation. And because we have a lot of experience handling the full client experience—not just sub-contracting—we're sensitive to all the places something can start to go off the rails: A mismatch in hardware when the client needs discreet security, tolerance stack-ups creating installation issues, miscommunications that can drive up costs or slow down delivery."
Framing is a perfect example. Most bullet proof companies are still using un-rated frames. This helps keep their quote low, but it is a big security trade off. It's troubling to imagine a bullet resistant barrier with a UL-rated window held in place with framing someone ran out and grabbed at Home Depot.
"We can help you with clients who are having trouble coming to grips with the gap between what they want, what they need, and what they can afford."
Helping Contractors Through the Hard Conversations
TSS has a lot of experience helping manage sticker shock. As TSS Sales Manager Bob George explains, "Many clients come in saying 'We want Level 8, we want the highest.' Yes, Level 8 is going to protect your from some pretty heavy-duty stuff, but the windows will be 2.5" thick—double the thickness of Level 3, and almost triple the weight, nearly 30 pounds per square foot. It's a very difficult material to work with. The material itself is more expensive, and much more difficult to fabricate. The added weight means you need to beef up walls and counters, and make special arrangements to bring the material in and position it. Two guys aren't going to put a thousand pound window in place on their own. Going up to Level 8 drives up labor costs significantly. Do you need that extremely high level of protection?"
Jim adds, "They often can't fathom that this material is at least double what normal glass costs. Depending on the scope of work, it can climb from there to three times, even five times more. Talking someone down in this situation, that might not be comfortable for you—after all, we're talking about people's safety here. But these are conversations we have every day. We're ready to drill down and figure out what they really need and how we can get that to them within their budget."
Giving Contractors No-Drama Installations
Jim and his team pride themselves on "silent installations"—an installation that's so hassle-free it's almost like magic. For TSS, the proof is in the testimonials:
"They were here when they said they were going to be, with the estimates and the drawings, they showed up when they were supposed to, and everything was just as neat as a pin. We were really, really tickled with their work."—Holly Eades, Clark Energy vice president of finance
"It was very easy for us, very easy to deal with TSS. We just had no issues at all. … They did all their work at night. I made sure they were set up, they came and talked to me beforehand, told me what they needed, and made sure the alarms were good and gave them time frames, and they were in and out, totally cleaned up when the left—it was seamless. … It looks great. We love it."—Gina Mims, facilities supervisor for the Health Plan of San Joaquin
"Sure, we like the 'wow factor,'" Jim says. "We're really pleased when a client walks in and says, 'Wow! This looks so good, so much better than we'd hoped!' But I've gotta say, that silence—when something went so smoothly they don't even think to remark on it until you ask—that's when we know we really made a contractor look good."
Company: Total Security Solutions Inc
Product: Bullet Resistant Barriers
Source: http://www.tssbulletproof.com/getting-contractors-right-bullet-resistant-barrier/
Tags: Glass | Security | Windows
---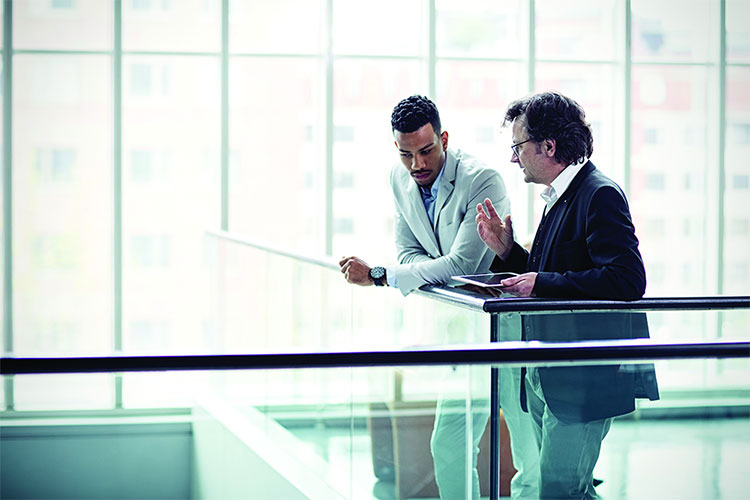 Today's security entrances can last 10 years or more, so your organization can go years without installing a single new entrance. This fact alone intensifies your need for a great experience during the buying process and beyond, so that you are assured the right entrance to meet your needs for years to come. How do you better your chances for such a great experience? Here are 10 factors a manufacturer should offer to create a stellar 360-degree customer experience.
Going global
Can the manufacturer deliver a premium service experience and quality entrance solutions on a global scale? Such a company will have manufacturing facilities around the world in strategic locations as well as subsidiaries and partners. Is there only one factory in China? How long does product delivery take compared to a regional/local manufacturing plant and how much of a premium is there on shipping everything from overseas?
Who you gonna call?
Most manufacturers have regional sales managers and that person is your initial main point of contact. Look for a manufacturer that has a large number of direct employees (not manufacturer's reps) in this role that have small territories so you get the attention you deserve. They can help you determine the right entrance for your specific security needs and even conduct a site walk in person.
Working like machines behind the scenes
The best firms have an inside sales/customer service team to manage your entire order from PO to shipment directly within the manufacturing facility. Ask if you will be assigned a dedicated representative that will communicate with you proactively, check your order for accuracy, liaise on your behalf internally about customizations, and keep you updated on production lead times and shipping timelines.
It's all about location, location, location
A manufacturer with a factory that shares the same continent with you has several advantages. They employ highly trained assembly technicians and source materials locally (lower costs than importing and lower carbon footprint). They also can conduct quality assurance in-house and will have better control over the finished product. Finally, you get faster lead times and lower freight costs.
Expect no surprises
Is there an in-house installation management team that works to ensure no surprises come up during the product installation? The best such teams will walk you through the scope of work so you are aware of exactly what the installation process entails. They also prepare the onsite contractors and installers to receive and properly install the entrance solution.
A second pair of eyes
The best companies will have a team of field service technicians around the country who are available, upon request, to check each entrance after installation for proper operation. The technician can also verify the entrance integrates properly with other components of the building, e.g., fire alarms and access control systems.
Back up and running in no time
How quickly can you get your issue resolved while potentially hundreds of people are being diverted to another entrance? Ask for an organizational chart for the Technical Support department: it should be robust, indicating investment in expertise and customer satisfaction. Ask if they measure their same-day call resolution percentage and parts fulfillment percentage.
Technical training for tuned-in teammates
The last thing you want is the repair call where, upon arrival you hear, "I've never seen this type of turnstile/door before." Where is the nearest service partner located? What kind of technical training resources does the manufacturer provide to educate and certify its service partners? Is there a dedicated full-time role or staff that educates and certifies the installer on the solution you've selected? The goal of the best training programs must be to prepare local partners for flawless installation.
Regular assessment of your investment
Look for some kind of preventive maintenance plan (PPM's). It's an optional service that brings in-house factory expertise to your site to perform annual and bi-annual maintenance checks on your entrance. PPM's ensure the longevity of your asset for maximum ROI.
Same experience, every time
With top, global manufacturers, you can save money, decrease time spent on training, and improve efficiency by planning and executing the same, high quality product line to all your building locations around the world. Being able to standardize on one manufacturer across your entire organization is a huge advantage in cost and time savings.
Company: Boon Edam Inc.
Product: Security Doors & Portals
Source: http://blog.boonedam.us/you-deserve-to-be-delighted-10-essential-elements-to-look-for-in-a-security-entrance-manufacturer
Tags: Entrances | Exterior Design | Interior Design | Security
---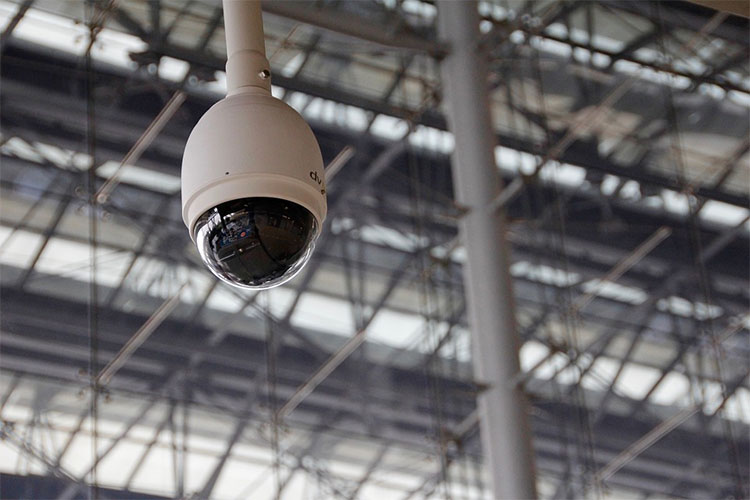 Photo credit: Pixabay
Video surveillance systems have, for years, been excellent tools to protect the safety of your staff and your clients. Updates in technology have served to make them more effective and less expensive at the same time. Newer video systems have capabilities that were only dreamed of in the past. Is it time to update your video surveillance system? Keep these developments in mind:
1. Many sectors need a video surveillance update
The publication Business Systems reports that 80% of hospitals, for instance, need to update their video surveillance systems. These systems can help organizations cut their liability in cases like slip and fall accidents. They can also significantly extend the capabilities of overstretched nursing staff; video cameras can capture events when it is not possible for an individual to be in the room. Other industries with similar liabilities and risks can mitigate them through the use of video surveillance. Newer technology and lower prices mean that you can afford to provide more coverage throughout your buildings to keep a better eye on what is going on.
2. Analog is out; IP is in
Still using analog tapes for your security footage? Experts report that the tipping point has come and that IP cameras are now the more common option, and with good reason. IP cameras that send surveillance video to digital storage offers the ability to store far more footage. These cameras are far easier to place in your facility than older, bulkier models. They offer much higher resolutions, with high definition cameras becoming far more affordable. These can be much more useful if there is a need to identify someone in the face of an act of theft, violence or another security issue.
3. Biometrics and smart cameras will play a bigger part
Instead of an individual buzzing in personnel, what if the camera could recognize an individual and provide access? Face recognition has long been used to identify criminals; now, it can also be used for tasks like access control in your buildings.
New cameras with intelligence embedded will be able to offer analytics that can be used not just for security but for business purposes. For instance, a system can help you analyze foot traffic into a business during specific times of day.
4. There will be a strong focus on cyber security
With the growth of the internet of things and a large number of recent high-profile cyber incursions, security of the data that is collected will be as important as the physical security in the building. To ensure that your clients and staff continue to enjoy privacy and safety, it is vital that the data from your cameras be well-secured. Experts in the field recommend keeping up to date on cyber security issues, such as newly discovered vulnerabilities in operating systems and commonly used software. By attending to these, you can reduce the chances that your video will be improperly accessed.
Video camera technology continues to improve, offering more to concerned facility runners and business owners at a lower cost than ever. Look into the latest upgrades available for your video surveillance system to ensure that you are offering the best possible protection to the people who work for you and the people who come to your location.
Company: Total Security Solutions Inc
Product: Accessories
Source: http://www.tssbulletproof.com/things-know-video-surveillance/
Tags: Audio Visual | Safety | Security
---
According to a study completed by the FBI, in 2014 and 2015 alone, there were 231 casualties as a result of mass shootings. Let's examine 4 enhancements you can make to security revolving doors or mantrap portals to thwart an active shooter's attempt at gaining access to your building, or worse, doing physical harm to people.
1) Anti-Piggybacking Technology
An active shooter with an agenda will be determined to infiltrate your building. He sees an innocent employee approaching the security revolving door or portal. His first thought? Hold them at gunpoint and force them, and himself, through the entrance.
This scenario describes a "piggybacking" event. When it comes to security revolving doors, the term "piggybacking" refers to an attempt to gain access to a secured area by jumping into the same compartment as an authorized user. For portals, piggybacking involves two users attempting to enter the door at the same time.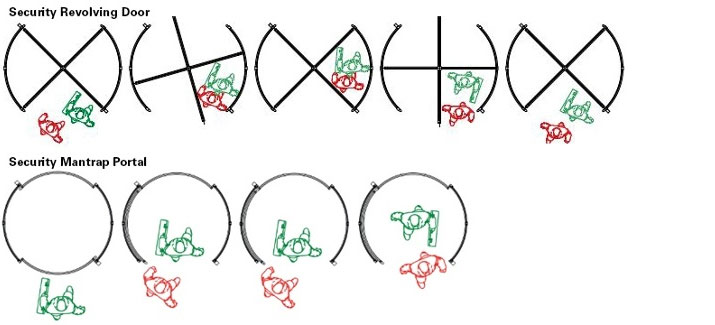 StereoVision 2 is a sophisticated technology from Boon Edam that puts a stop to piggybacking attempts. Using a combination of an optical camera and active, near-infrared sensors, StereoVision 2 technology can recognize shapes, sizes and volume in three dimensions. Simply put, the system is looking into the door's compartment and searching for a set of head and shoulders, as well as body shape. Based on a sampling algorithm, unusual shapes are rejected and the culprit(s) are required to exit the door.
2) Biometric Devices
But what if the active shooter doesn't stop there? If the shooter were to steal an employee's access card and attempt to proceed through the door - alone - he could gain access UNLESS you utilize one or more biometric devices.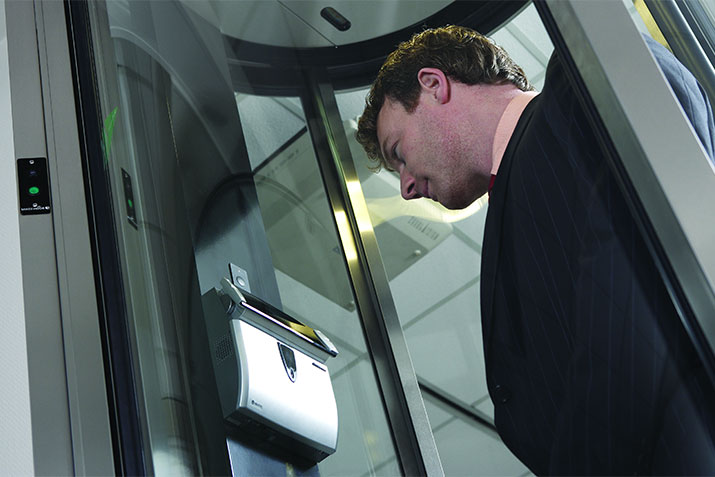 Biometric devices identify unique physiological characteristics, such as fingerprints, hand geometry, facial features, and iris patterns. They also comply with two-factor authentication (2FA) regulations. These devices alone will not stop an active shooter from gaining access to a building, though (think about a swinging door opened by a registered user, and then held open for numerous people to pass through). But, when coupled with an anti-piggybacking technology, biometric devices provide a solid defense against unauthorized entry.
Security revolving doors can be equipped with an external biometric post placed immediately outside of the door, or as one of many leading up to the door. Security mantrap portals are available with an interior post, ideal for mounting the latest biometric technology directly inside the door. Both options provide a layered method of access and meet 2FA compliance. Keep in mind, though, that your throughput will be impacted by the type of biometric device you choose to incorporate.
3) Bullet-Resistant Glass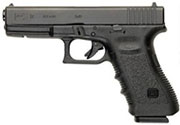 The common denominator between all mass shootings is a weapon. And it comes as no surprise that most active shooters choose the light, inexpensive and easy to conceal 9mm semiautomatic handgun to carry out their schemes, according to data compiled by The Washington Post. Bullet-resistant glass can safeguard the integrity of your door up to a certain point, and possibly save lives.
Bullet-resistant (BR) glass is the layer of armor your security door needs for protection against an active shooter attack. BR glass is made from layers of polycarbonate (tough plastic) sandwiched between pieces of toughened glass. And not all BR glass is created equal; there are different BR-rated protection levels.
Security revolving doors and mantrap portals can be outfitted in BR glass with protection Level 3. As mentioned, the weapon most commonly used by an active shooter is a 9mm handgun. According to Total Security Solutions, BR glass with a Level 3 rating is capable of stopping three .44 magnum bullets, or a bullet that is twice as heavy and moves significantly faster than the bullet of a 9mm handgun.
Level 3 BR glass is 1.04" thick, over 4 times the thickness of standard security door glass. The glass can be used on the outer drum glass and also, the moving door wings or panels. It's important to note that using thicker glass on moving door wings or panels will slow the movement significantly due to the extra weight and impact throughput levels.
4) Bullet-Resistant Curtain Wall or Storefront
Active shooter safety extends beyond your security door to include the adjacent walls or storefront area. To be prepared for a direct attack, and especially if people are constantly present on the inside of the storefront, you should consider replacing your curtain wall or storefront with BR glass.
Because they are flat and stationary, curtain walls and storefronts can accommodate a much higher level of BR glass than a security door (which has curved glass or moving glass in the door wings). BR glass for the curtain wall or storefront is available in up to a Level 8 rating which, according to Total Security Solutions, is capable of stopping 5 shots from a .308 caliber 7.62mm rifle.
Unfortunately, active shooter incidents are occurring at company locations across the nation, and the globe. The impact of such an event can be catastrophic to an organization if lives are lost. If you believe your organization could be at risk, these 4 enhancements for your security revolving door or mantrap portal can thwart an active shooter's attempt at infiltrating your building and wreaking havoc.
Company: Boon Edam Inc.
Product: Security Doors & Portals
Of: Amy Coulter
Source: http://blog.boonedam.us/active-shooter-safety-4-things-your-high-security-entrances-must-have
---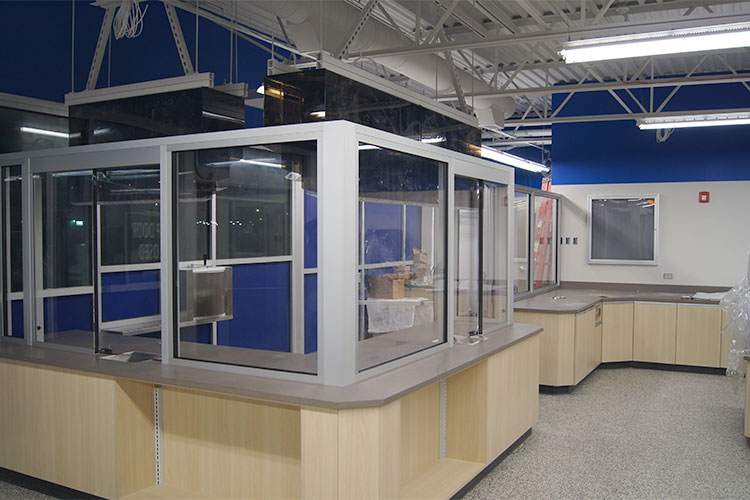 Glaziers are often a little reluctant to pick up that first bullet proof security job. The stakes are high, the materials are expensive, and the challenges are unknown. Total Security Solutions has helped many glaziers work with bulletproof glass. Let's start with three basic concepts that are important to know:
It's Not Glass and It's Not Bullet Proof:
Given enough bullets and enough time, a determined attacker can chew through anything. "Bullet proof glass" is technically "bullet resistant" and either made from monolithic acrylic or laminated layers of polycarbonate and tempered glass.
It's Not a Window—It's a System:
A bullet resistant window that can stop an AR-15 is useless if it's mounted in a wall that can't stop a .22 pistol. Take five minutes to check out our crash course in bullet resistant barrier systems.
Help is Out There:
We are ready to support you through the installation—but these three tips will prevent common problems.
Total Security Solutions Helps Glaziers Work With Bulletproof Glass
Most glaziers are reasonably hesitant to bring in a big, full-service national bullet proofing company. "A client who needs a barrier is good business for a local glazier," Total Security Solutions CEO Jim Richards explains. "Bullet resistant materials are a cut above the norm. Naturally, that glazier is worried that we want to take their customers. I totally understand where they're coming from. But this is where we started: Supplying contractors and glaziers. We're very comfortable pulling way back into the shadows so that glaziers can really shine."
Once you gather all of the information from your client (primarily measurements, but also some insights into how the facility is used, peak business hours, known or suspected threats, etc.) Total Security Solutions will design and engineer a barrier system customized for your client. TSS can help you with approval drawings for permits, managing client expectations, and so on, so you can get this job moving.
Once approved, Total Security Solutions will supply you all the materials, fully fabricated, as assembled as possible. "We design it and fabricate it, you install it, you reinforce that good relationship with your client. We'll supply you exactly what you need, and help you behind the scenes to get that install perfect. If anything comes up, any uncertainty, you give us a call."
How to Score a Big Win with your First Bullet Resistant Barrier
The important thing to remember is that regardless of how much experience you have, it is almost always the first time the client has considered adding a bullet resistant barrier to their business. They're on uncertain ground, and this is a big investment.
"This is a great time to prove to them how valuable your expertise is," Jim adds. He has found that most clients come in asking for much more bullet proof security than they need. They also may make very specific requests for very specific components. Do they really need that style door or window, or is it just what they've seen elsewhere? "Start the conversation with questions," Jim suggests. "Why do they want a BP barrier now? Has there been a local incident? What type of incident are they concerned about?What types of firearms? Why?"
These questions will give you a sense of how extensive the barrier needs to be and what UL level they should consider.
"Then follow up with some questions about their business: What needs to pass through the barrier? Will it be paperwork or cash or packages? How often do staff need to come and go? Finally, ask 'What do you want to accomplish?' Because sometimes I find that folks are limited by what they already know," Jim notes. "For example, they may have a 12-foot long hole in the wall, with the idea they'll install three transaction windows in there and fill between. In that conversation, I'd say 'Well, what about making it a single system?'And they ask 'What's a system?' Because most end users aren't familiar with custom systems, and the fact that a system can be more cost effective than cobbling together a bunch of generic drop-in pieces—not to mention more secure and look a lot nicer."
Company: Total Security Solutions Inc
Product: Ballistic Security Glass
Source: http://www.tssbulletproof.com/glaziers-working-bullet-proof-glass-client/
Tags: Glass | Safety | Security | Windows
---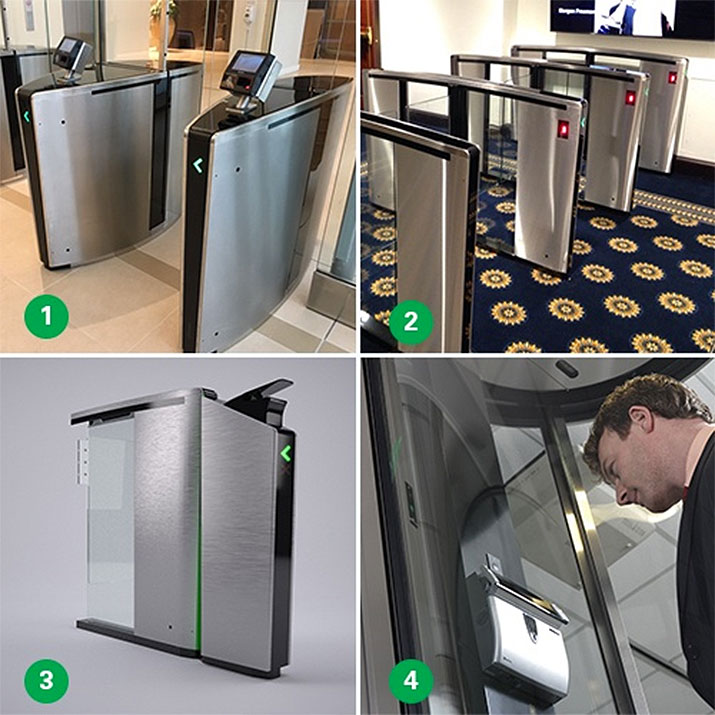 You are likely convinced that a physical security entrance is absolutely necessary in order to get the most out of your access control system and truly keep unwanted people out of your facility. Integration between door access control systems and security entrances can be a fine art; the perfect balance of functionality, space and aesthetics.
There are various types of access control systems available today, everything from bar code and QR code readers, to fingerprint and iris scanners, to traditional card readers and key pads. The size and shape of each individual device varies greatly based on both type and manufacturer. Let's discuss some ways you can integrate your access control system with your security entrances.
Four Integration Techniques
All physical security entrances have a designated place for your access control device – optical turnstiles: under the cabinet top; full height turnstiles, security revolving doors and portals: mounted on the side post. Yet, based primarily on space and what you are trying to achieve, these designated mounting places may not fit your needs. Here are some alternative options:
Top-mounted: For optical turnstiles, mounting an access control device on top of the cabinet is an integration method that is most intuitive for the user because the reader is visible when approaching the lane. Organizations that utilize lift or elevator notification devices (destination dispatch) have also found that top mounting is a viable option. They tend to place the access control device in the designated area (under the top), and the elevator notification device either on the turnstile top, or on a custom pedestal (read on to learn more about this option).

Panel Cut-outs: Another option for optical turnstiles, panel cut-outs are typically used due to space limitations on or under the top. This type of mounting can be used as the sole means of accessing the secure area, or in addition to the traditional, under-the-top mounting option (two-factor authentication). Some companies have even used the panel cut-out to mount a device that is used solely for visitor entry. While this option of mounting is aesthetically pleasing, (no big device on top of your turnstile), it does require user training because the reader is not always easily visible.

Custom Pedestal: For entrances of all types, pedestals are a common way to mount an access control device. We've seen some basic, standard pedestal designs, but some manufacturers are working with the end user to develop a sleek pedestal that imitates the curves and design of the entrance itself – true integration at its finest.

Interior-mounted: Security mantrap portals are a unique, high security entrance designed to protect the most sensitive of areas. This sophisticated portal can be equipped with a biometric post for an interior-mounted access control device. Often used in conjunction with an external, side post-mounted device, the interior biometric device allows organizations to achieve two-factor authentication.
Two-Factor and Multifactor Authentication
Large companies are implementing two-factor and multifactor authentication techniques at their facilities to decrease the possibility of an intruder infiltrating the building. According to LoginTC, two-factor authentication means, "an attacker needs to solve two fundamentally different problems, each in different dimensions, in order to compromise your identity."
Utilization of two-factor or multifactor authentication typically involves the integration of two different access control devices for access through a single security entrance. This level of integration requires proper preparation and planning. There are, however, some all-in-one devices that can accept two or three authentications, e.g., a single Morpho Sigma device can accept any combination of a card reader, unique pin and/or fingerprint.
The fusion of your access control device and your security entrances shouldn't be an afterthought, but an integral part of your building design from the very beginning. Speak to your security entrance manufacturer about the solution that will work the best for your organization.
Company: Boon Edam Inc.
Of: Amy Coulter
Source: http://blog.boonedam.us/door-access-control-security-entrance-integration-techniques
Tags: Design | Entrances | Security
Bulletproof Systems and Accessories for Every Building (April 18, 2017), Guard Houses (April 3, 2017), Security Entrances Protect Your Bottom Line and More (March 31, 2017), How to create theft-proof closets (March 8, 2017), New AIA Certified Course on Resilient Design (March 6, 2017), Global changes in construction: Kalwall's insights from BAU (March 1, 2017), High-Function Custom Bullet Resistant Solutions for Banks (February 17, 2017), Mantrap Portal Solutions Eliminate Piggybacking (January 23, 2017), Iconic TWA Terminal Receives New Life (January 18, 2017), Parking Booth (December 27, 2016), Architectural Glass Takes on a New Shape (December 23, 2016), Loss Prevention: Ramping Up Retail Security for the Holidays (December 21, 2016), 4 'Gotchas' that could derail your front entrance security upgrades (December 16, 2016), Rigorous Testing Standards Ensure Effective Security (November 16, 2016), Register for a FREE Senseon Secure Access webinar: transforming lock and key systems for commercial environments (October 7, 2016), Critical Infrastructure Protection: U.S. Data Centers and Ballistic Barriers (October 3, 2016), Videoconferencing cameras and security: Is someone watching? (September 16, 2016), What if Someone is Determined to Get into Your Building? (September 12, 2016), GuardDog Self-Closing Gate uses two stainless steel torsion springs so the gate can open in any direction (September 9, 2016), Peace-of-Mind for Rural Utility Offices - Bulletproof barrier security tips & news (August 8, 2016), Balancing Bulletproof Security and Design (June 21, 2016), School Security and Access Control for Architects (May 9, 2016), Premium Ballistic Frames Offer Huge Boosts in Sustainability and Multi-Threat Risk Mitigation (April 12, 2016), Cabinets without keys: combine flexibility, simplicity and security without sacrificing style, performance and profit (March 25, 2016), The Plan to Turn NYC's Turnstiles Into Musical Instruments (February 29, 2016), Partnering with Architects to Make BulletProof Beautiful (February 3, 2016), Got Pigeons on Your Building? Why you need to get rid of them... (February 1, 2016), Using Biometric Technologies For Access Control Solutions (January 25, 2016), OSHA Safety and Health Guidelines (December 18, 2015), Teaching Those Who Keep Us Safe: The National Center for Spectator Sports Safety and Security (December 4, 2015), Seton's Project Packaging Service | Seton Video (October 12, 2015), The Industry's 1st Monitored Light Curtain - Now Available (September 25, 2015), A perfect blend between revolving doors and transparent architecture (September 4, 2015), Bank Security: Balancing the Priorities of Security Managers, Architects, and Facilities (August 31, 2015), University Housing 101 (August 21, 2015), Par-Kut parking booth (August 3, 2015), Custom Mill Work, Bullet Resistant Barriers, and Inconspicuous Perfection (July 24, 2015), Benefits of Precast Concrete Bollards (July 10, 2015), Sweet Dreams, Courtesy of AMBICO Products (June 30, 2015), Quick Ship Booths (June 29, 2015), Optically Clear Aluminum Provides Bulletproof Protection (June 5, 2015), Will Your Walls Face Abuse Or Impact? (April 8, 2015), Design Meets Security: Launching New Revolutionary Access Control Barrier Series at ISC West (March 27, 2015), Unique and secure bicycle storage (March 18, 2015), Architecture and Design for Today's Schools: Secure and Inviting (February 10, 2015)