architecture - engineering - construction

Security
---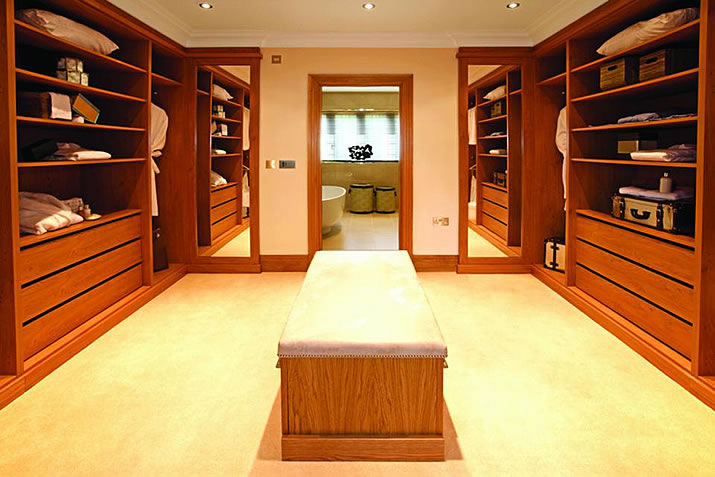 Beautiful cabinetry in high-end closets no longer has to be marred by ugly, burglar-enticing locks. Thanks to an innovative smart-locking system invented for cabinetry in upscale commercial environments, luxury homeowners can attractively protect their valuables in closets and cabinets.
Jerry Wilson, president of Florida-based Bespoke Design & Consulting, was seeking an effective but unobtrusive locking system to integrate into custom furnishings in walk-in closets in an addition to the master wing of a high-end South Florida home.
"The homeowners needed commercial-strength security to protect the husband's watch collection and the wife's jewelry, but wanted to avoid keyholes because they alert thieves to valuable items, are unsightly, and require finding the right key," Wilson says.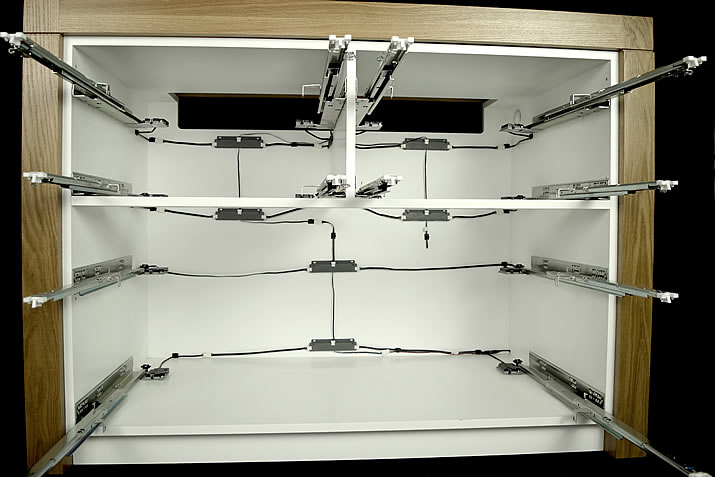 Inside the installation of the Senseon RFID-powered system
The Senseon Secure Access Control System, an RFID-powered system that Wilson had seen demonstrated at a trade show, proved to be the perfect solution. "Senseon enhances the safety of luxury goods and gives homeowners peace of mind," he says. "In addition, the plug-and-play system was easy to install, and Senseon customer support was great in helping me coordinate with the cabinetmaker, electrician and installer."
"Everything is completely invisible," Wilson notes. E-locks were installed on the side of a cabinet in the husband's closet, as well as under the top of a velvet-lined, multi-drawered jewelry case in the wife's closet.
"They love the new system," Wilson adds. "It's state-of-the-art, they know their valuables are safe, and they don't have to fumble around for a key or hide a key. They use a smart card for access."
Wilson, whose firm provides upscale residential interior design and general contracting, said he is incorporating Senseon into all projects requiring locks in closets or cabinets.
Editor's Note: Sean Jordan is a Business Development Specialist for Senseon.
Company: Accuride International
Of: Sean Jordan
Source: http://www.woodworkingnetwork.com/closets/how-create-thief-proof-closets
Tags: Furniture | Interior Design | Security
---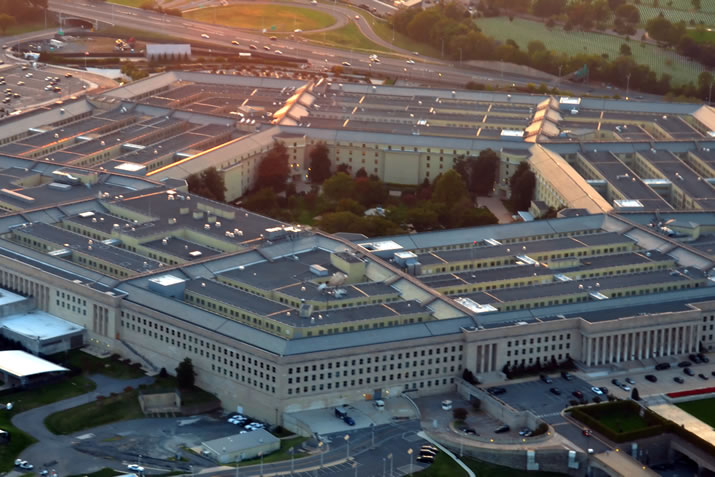 The Role of Commercial Steel Doors in Resilient Design
AMBICO now offers a new AIA certified course currently available for architects online through AEC Daily. The Role of Commercial Steel Doors in Resilient Design is our first course to qualify for 1.5 CEU credits. In addition, it qualifies for LU, HSW, GBCI, and more. You can view the course here.
Why Resilient Design?
Resiliency is a growing necessity. It's important to understand the impacts natural and man-made disasters have on the built environment and to design for those impacts now. This course will provide an overview of the benefits of using steel doors in resilient design strategy. This includes applications requiring resistance to blasts, tornadoes, and ballistics.
Company: Ambico
Source: https://www.ambico.com/blog/
---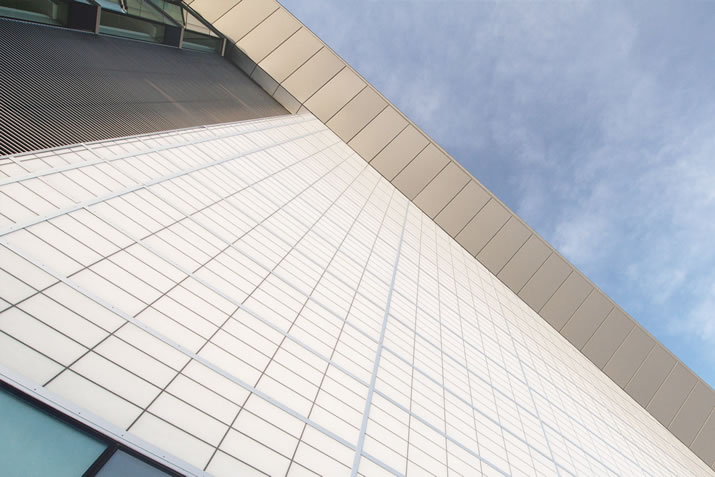 What happens when you bring together 250,000 people from around the world for six days in Munich, Germany?
Ideas are exchanged.
Best practices are shared.
Deeper levels of understanding are reached.
That was, in a nutshell, BAU 2017, the world's leading trade fair for architecture, materials and systems with the 2,210 exhibitors from 45 countries. More than 80,000 people had, like us, travelled overseas.
From our vantage point at the Kalwall® exhibit – our first time exhibiting at BAU (German for `construction') – we could see how much the world beyond the borders of the United States is changing and this was a chance to see how architects, owners, contractors and other business people are responding to those changes.
Here are three key takeaways from BAU 2017 affecting daylighting and fenestration globally.
1. Safety and security is no longer just about airports and government buildings
The safety, security and privacy of guests at hotels, students at schools and employees at banks and high finance institutions are becoming harder to ensure. While airport administrators and government facilities have been working with Kalwall for years to find solutions to similar problems, it was interesting to see the volume of private business owners looking for similar answers.Kalwall's specialty systems meet UFC 4-010-01 blast requirements and can, for example, provide an extra level of safety for guests in a hotel lobby from a car bombing in the street outside. The translucent panels also afford more privacy while providing museum-quality daylighting™ for interior spaces.
2. Canopies need to be rugged and resistant to pollution
Pollution and heat in certain regions of the world take their toll on canopies meant to provide shelter and shade, leaving architects and construction managers searching for alternatives to less durable polycarbonates.The ruggedness and capacity to resist fading in intense heat, along with its ability keep clean where pollution is a concern made Kalwall canopies an appealing option to business people in desert climates as well as industrial cities.
3. Energy is expensive and daylighting solutions are more important than ever
Technology was a dominant part of the conversation at BAU and a major reason why the world is seeking better ways to produce and store energy. I think my grandfather, Kalwall founder Robert R. Keller, would have been smiling. After all, energy efficiency was one of the reasons he developed his translucent sandwich panel in 1955.
Our technology, with its best in industry thermal and solar heat gain performance, was a conversation starter for business people concerned with the high cost of energy and the ways to be efficient. Renovations, in particular, present cladders the challenge of finding energy efficient solutions.
BAU 2017 was an opportunity to expose more people globally to the benefits of Kalwall. They came looking for the latest advancements, but some technology stands the test of time. This was re-affirmation of a technology we developed 62 years ago.
Company: Kalwall Corporation
Of: Amelia Keller
Source: https://www.kalwall.com/2017/02/13/a-kellers-bau-insights/
Tags: Building | Construction | Design | Energy | Lighting | Safety | Security
---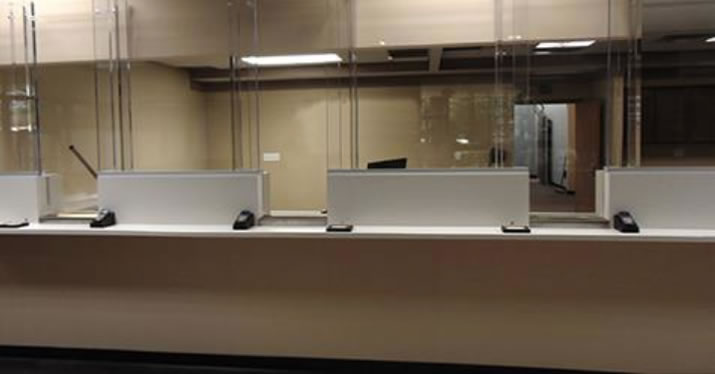 Because most banks have similar needs—a secured teller line with bullet resistant windows, secured ballistic doors, and bulletproof fiberglass to reinforce counters—many security companies try and push a one-size-fits-all solution.
With decades of experience designing, engineering, fabricating, and installing custom bandit barriers in banks and credit unions, Total Security Solutions knows how rarely this turns out well.
Bullet Proof Barriers Attuned to the Banker's Needs
"Banks can be pretty ornate, so were used to having to adjust what we do to match a given location." Total Security Solutions CEO Jim Richards explains, "That's our speciality, that sort of customization. Even when we're doing many locations for the same chain, in different parts of the country each office looks a little bit different. It's like housing, in that it has this regional component. So we don't try to come up with a single one-size solution we can just keep punching out."
Total Security Solutions isn't limited to just shuffling around pre-fabricated pieces. They can customize down to the individual component level: curved ballistic transparency, special communication and ventilation solutions, all-glass and completely custom high-security doors, and so on.
In contrast to many security companies—especially local glazers—Total Security Solutions is sensitive to how important relationships are in banking. Jim puts special emphasis on clear sight lines and communication in such settings. Gina Mims, a facilities manager, recently coordinated with Total Security Solutions to secure several offices for the Health Plan of San Joaquin: "I love the fact that … it doesn't look like the old school [barrier] with that metal plate [and talk hole]. It all looks very nice. Our buildings, both of them, are very modern, so I wanted to make sure that they stayed along those lines."
ATMs: An Evolving Security Challenge
ATMs pose obvious risks to customers, both in terms of their physical safety and fraud exposure. They are also proving to be a significant and unpredictable liability to financial institutions. For example, within the last several years European banks have been increasingly plagued by teams of thieves who attack ATMs in the night, flood the machines with a mixture of oxygen and acetylene (gases usually used to fuel welding torches), and then ignite the volatile mixture, blowing the machines open. These attacks don't just result in significant monetary losses (both in damage to the unit and building, as well as money stolen)—they're also incredibly dangerous, as you can see here (the ATM is at the far right edge of the frame, in a mostly blue enclosure with a red top half):
This could easily result in injuries not just to the thieves, but also to passersby, staff, and even people in adjacent buildings. Although there have been no reported ATM "gas bombings" in the United States as of yet, the US currently leads the world in losses resulting from insecure ATM locations.
According to Jim Richards, "There are a lot of different ways that ATMs are deployed, but we have yet to see one we couldn't secure." In many cases Total Security Solutions favors a design similar to their bulletproof vestibule system used in schools, replacing the outer glass and doors of the ATM vestibule with bullet-resistant transparency and framing, and securing access to the ATM with a ballistic door outfitted with a card swipe-actuated computer-controlled electric strike. "Customers swipe their ATM card to gain access, and then the door latches behind them–just like any other security door. These are really easy retrofits for situations where the ATM is installed in the bank vestibule or outer lobby, but the same idea works with exterior-wall ATMs: You build a bulletproof glass curtain wall around an exterior wall-mounted ATM, with the same sort of card-swipe entry system. What's key is that this solves both the skimmer/fraud/vandalism problem, as well as protecting customers."
Painless Bandit Barrier Installation
Most importantly, owing to their decades of experience, Total Security Solutions has optimized their prep, design, fabrication, and installation processes. "It can be two teller stations or 15; we're able to move on the project as quickly as the operations or facilities manager are ready."
Bullet resistant barrier system installations are designed to absolutely minimize any business interruptions. Most installations can be completed overnight, with even the most challenging retrofits installed in under a weekend.
"I just returned from see[ing] the install and boy what nice work!" Holly Eades, vice-president of finance for Clark Energy wrote after having several payment offices secured by TSS. "They were here when they said they were going to be, … showed up when they were supposed to, and everything was just as neat as a pin. We were really, really tickled with their work."
Company: Total Security Solutions Inc
Product: Bullet Resistant Barriers
Source: http://www.tssbulletproof.com/high-function-custom-bullet-resistant-solutions-banks/
Tags: Glass | Safety | Security | Windows
---
Proven Mantrap Portal Solutions Cost-Effectively Replace "Do-It-Yourself" Vestibules
Today, many companies build their own mantrap vestibules. However, they often overlook how expensive and difficult it can be to achieve consistent, error-free piggybacking prevention. They don't know that an alternative solution already exists - Boon Edam security portals!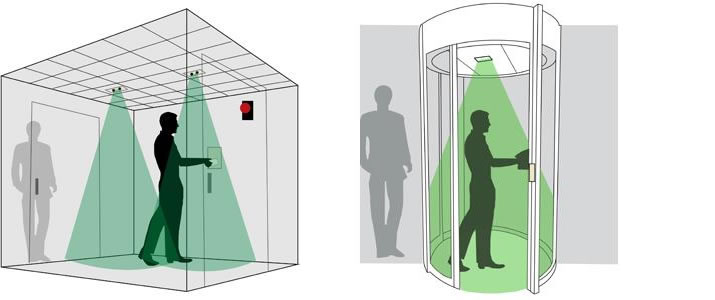 Do-It-Yourself Vestibule

Inability to measure false acceptance risks
Unpredictable false rejection rates
Must be manned and monitored at all times
High operational costs
Large footprint
Constant testing and troubleshooting

Mantrap Portal Solution

Proven solution with measurable false acceptance risks
Predictable and manageable false rejection rates
Completely unmanned solution
One-time investment with minimal operating costs
Space efficient
Quick and simple installation
Company: Boon Edam Inc.
Product: Security Doors & Portals
Source: http://www.boonedam.us/mantrap-portal-solutions-eliminate-piggybacking
Tags: Doors | Entrances | Safety | Security
---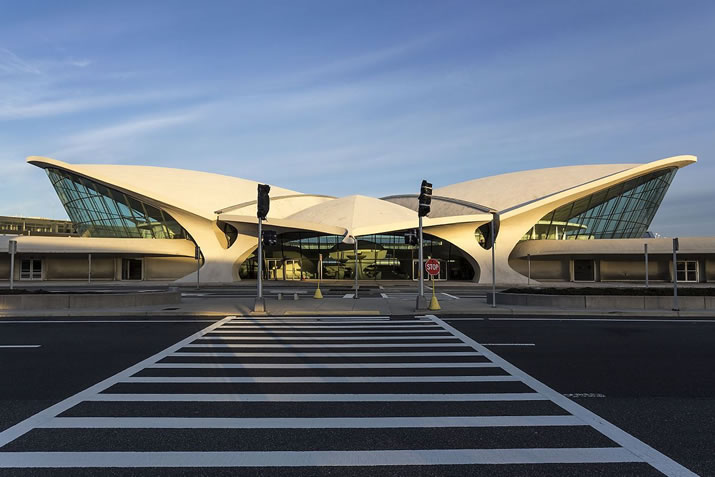 The TWA Flight Center at John F. Kennedy International Airport. Photo: Acroterion
After sitting vacant for 15 years, the Trans World Airlines (TWA) Terminal, located at New York's John F. Kennedy International Airport, will receive new life as a 505-room hotel. It will be the first on-site hotel for the JFK Airport and is set to open in 2018.
The TWA terminal originally opened its doors in 1962 and was designed by architect Eero Saarinen to resemble a bird in flight. Its layout, featuring a central main terminal with clusters of gates that branch out, was one of the first of its kind. The TWA terminal also featured enclosed passenger jetways, baggage carousels and electronic flight schedule boards. The main terminal is constructed of four curved steel-reinforced concrete shells that radiate out from a central point. Two of the curved concrete shells, the "wings of the bird," feature purple-tinted glass windows that angle out as they extend upward toward the roof line and offer views of planes landing and departing. The interior spaces maintain the same fluidity as the curved exterior with floors that swoop into stairwells and walls that curve seamlessly into the floors.
Despite its architectural beauty, the functionality of the TWA Terminal was hindered by its ability to accommodate the development of larger airplanes and an increase in passenger traffic. In 1994, the building was voted as an official landmark by the Landmarks Preservation Commission, but after continued financial trouble, TWA filed bankruptcy and the original terminal was shut down in 2001. While ideas were proposed to repurpose the building, most were rejected or failed and the building was left dormant. It was listed on the National Register of Historic Places in 2005 and efforts later began to restore the building to its original beauty.
The iconic main TWA terminal will remain intact and become a showcase element in the development of the new TWA Hotel. It will be flanked by two crescent-shaped buildings, which will be home to guest rooms, eight restaurants, and conference rooms. A new cocktail bar and nightclub will also be incorporated into the original building. The ambitious project plans to incorporate technology which will enable the building to generate its own power and is expected to be LEED-certified.
Company: Total Security Solutions Inc
Source: http://www.tssbulletproof.com/iconic-twa-terminal-receives-life/
Tags: Building | Design | Security
---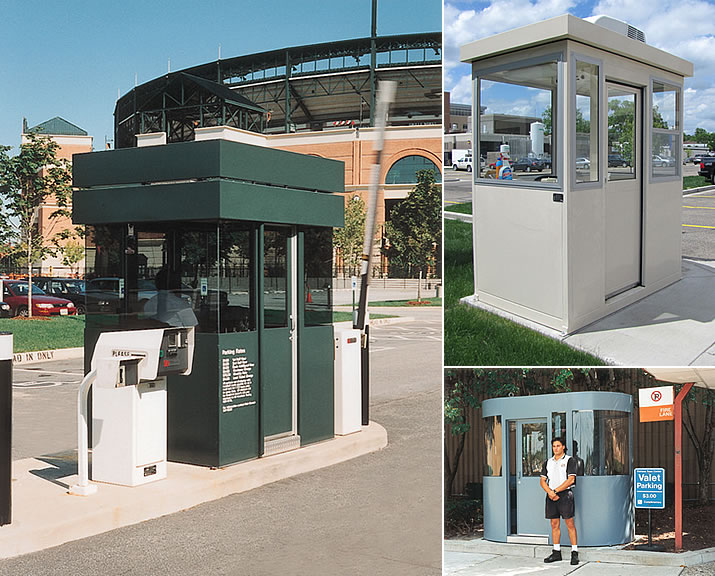 From single unit commercial structures to airport plazas and municipal parking facilities, Par-Kut builds quality parking booths that last regardless the location. Solid welded construction and corrosion resistant materials help Par-Kut parking booths battle physical and environmental abuse while keeping your operation and your attendants safe, secure and comfortable. Par-Kut portable steel buildings withstand adversity and remain looking good for up to 25 years with little or no maintenance.
When contacting your skilled Par-Kut sales person, please have some information ready for us. In order to make sure your parking booth can pass code requirements we'd like to know where the booth will be used. The geographic location, city and state are very important in the design of the parking booth. As we build every booth custom for every client, you can be positive that it'll meet or exceed all applicable code.
Par-Kut offers project specific drafting and design services in
addition to our exceptional manufacturing capabilities. This permits us to style and build you an ideal building that appears in-built, rather than "bolted on." Regardless of what the look is, from the most basic to high finish style, we'll work diligently to accommodate your style and parking booth requirements.
Parking lot booths from Par-Kut are built to your order and can be a simple shelter or valet booth, a parking cashier booth, or a security guard house. Factory assembled and delivered ready for easy hook up and immediate use, a Par-Kut parking booth provide the purchaser a secure parking lot office. Parking booths from Par-Kut can be outfitted with restrooms, bullet resistant construction, and platform mounting. Further, parking booths from Par-Kut can be standard, or architecturally enhanced to better blend with site surroundings.
Go to GALLERIES to view additional parking booths.
Company: Par-Kut International, Inc.
Source: http://www.parkut.com/booths/applications/parking-booths/
Tags: Entrances | Prefab | Safety | Security
---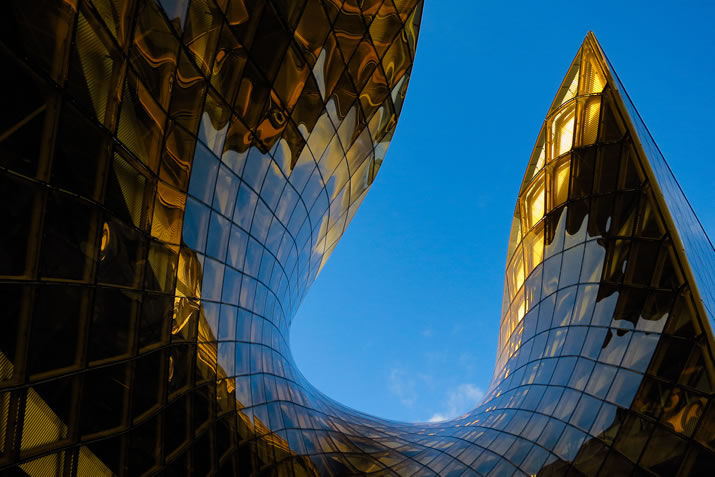 Glass has become such a common material in modern buildings, it's often easy to forget that we are relatively early in understanding the extent of its capabilities. It wasn't even until the early 1950s, with the development of an automated float glass manufacturing process that provided consistent high quality at a moderate cost, that glass was truly made available to the masses. The future of architectural glass, however, is taking on a new shape. The ability to curve and bend glass has helped to evolve this material from a means of allowing natural light within interior spaces to an artistic focal point.
Earlier this year, the design for the new Little Caesars Headquarters in Detroit, Michigan was unveiled, featuring 14-foot tall formed laminated glass shapes that loosely resemble a piece of pizza, the hallmark product of the company's success. What seems so visually simplistic–a pane of glass bent down the middle–is actually an engineering marvel. The double-curved glass walls of the Emporia Shopping Mall, located in Sweden, is an example of the intricacies involved in manufacturing a large scale curved glass structure.
The Art of Bending Glass
There are several methods of curving or bending glass, including bending and tempering, hot bending, cold bending and lamination bending. In the case of lamination bending, the glass is first layered with other interlayer materials and then bent before ultimately being placed inside an autoclave at temperatures near 280°F to complete the lamination process. The extreme temperature causes the interlayer to soften to the consistency of honey and fill the crystalline of the glass, resulting in a laminated safety glass. Due to the autoclave process, however, the glass must actually be bent at a tighter radius than is ultimately desired because the heat will cause it to spring slightly back to its original shape.
The 804 double panes of glass installed at the Emporia Shopping Mall were manufactured by heating the glass, causing it to soften and through its own weight, take the shape of a mold. Almost 600 different molds were used to create the intricate curve pattern. Equally as important as the heating process, the glass had to be properly cooled to ensure there was no residual stress within the panel. The final step was laminating the panes of glass together using an amber or blue plastic film, which provided the desired color and safety characteristics.
Photo Credit: Emporia Shopping Center, by Håkan Dahlström
Company: Total Security Solutions Inc
Source: http://www.tssbulletproof.com/architectural-glass-takes-shape/
Tags: Design | Glass | Safety | Security
---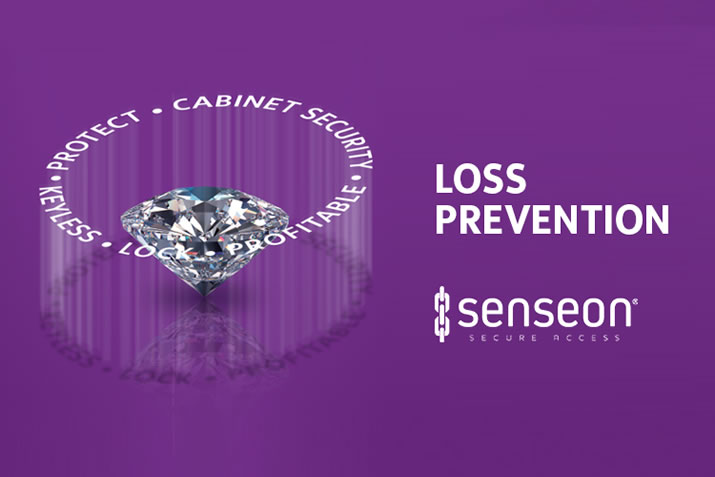 The season of giving is upon us, and with that comes an increase in sales–as well as an increase in shrinkage across the retail industry. Shrinkage is the loss of inventory often attributed to theft. That's especially so in the holiday season, as indicated by loss prevention specialist Ernie Deyle's holiday season forecast. As Deyle explains, the holiday season is a time when "people tend to rationalize immoral behavior like shoplifting. It's much easier to do so when a child's Christmas present is at stake rather than an extra bathing suit for the summer."
According to Deyle's research, shrinkage increases to about 38% during the holiday season from 22% the previous quarter. With that in mind, loss prevention managers and operations managers everywhere are constantly looking for solutions to reduce shrinkage and increase profit. Deyle's report advises retailers employ technology to stabilize inventory loss and ensure shelf availability while enhancing retail display security.
With how fast technology is advancing, it's no surprise that loss prevention technology is evolving at such an exponential rate. Even small convenience stores are capable of running facial recognition technology. According to Tyco Integrated Security's director of business development, Lee Pernice, "RFID is something else that is not new to retail, but it has come a long way in both cost and use cases."
How Senseon Can Help?
Senseon Secure Access is one of the ways RFID technology has evolved over the years. Senseon systems lock and unlock up to 15 doors or cabinet drawers simultaneously with the tap of an RFID card or fob. This inconspicuous, easy-to-install secure access system can be the solution to a wide array of retail shrinkage troubles.
Senseon Secure Access can be programmed to support up to 100 users, including five administrators. Employees thus have ready access to merchandise on the sales floor, rather than having to wait for a manager with a key to retrieve customer's items. In addition, a lost or missing key is no problem: an administrator can program or delete card/fob access instantly.
Loss prevention has the potential to move forward as a cost-saver and a time-saver for retailers across the world. With Senseon Secure Access retailers can be sure that all their inventory will be secure this busy shopping season.
For more information on how Senseon Secure Access System can be tailored to fit your needs, visit http://www.senseonsecure.com/ or call us at 800.688.8242.
Company: Accuride International
Product: Senseon Secure Access Control
Source: https://www.accuride.com/senseon/loss-prevention-retail-security-for-the-holidays/
Tags: Furniture | Interior Design | Security
---
We've installed thousands of campus entry solutions, talked to end users all over the world and have developed a comprehensive process for choosing the right security entrance. That said, no process is perfect, and we've come to observe that certain organizations will consider some of the decision criteria quite well but leave out one or two factors. We call these the "Gotchas," and when forgetting or ignoring any one of the criteria, you can end up with a security entrance that doesn't address the needs of your organization.
We divide the entrance solution decision-making process into two parts: before installation and after. Before Installation, purchase decisions are often weighted towards security, aesthetics and return on investment (ROI). After installation, however, and once there is no going back, throughput, training, service and safety play a more prominent role.
While initially aesthetics or security usually jump out as paramount, all seven decision factors contribute to an effective security solution. For most decisions, the criteria before installation are relatively prominent and well understood. Where the "Gotchas" rear their less-than-pleasant heads is in the pesky factors that often don't occur to the decision-makers until the new security entrance has been installed.
After installation, it is crucial to incorporate each of the following criteria into a comprehensive decision-making process so that you'll select the right solution for your campus.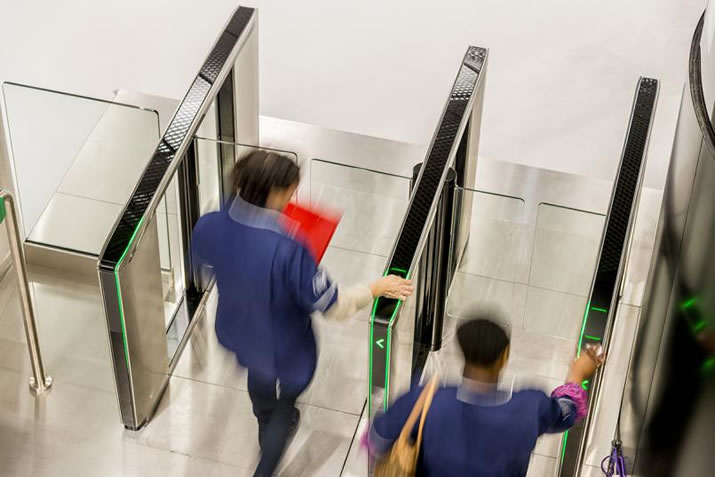 1) User Throughput
Throughput (how quickly authorized individuals can enter your facility) affects users directly on a daily basis and is critical to user acceptance of a new security entrance. Before you commit to a particular kind of entrance solution, carefully and manually calculate the throughput requirements for your entrances, ideally during a 5-minute rush hour period. Note deliveries and wheelchairs. Don't rely solely on access control numbers if you have swinging doors, as multiple tailgaters could enter on a single authorization and reduce the count. Once you have the counts, research security entrances' throughput specs. It's also worthwhile to inquire if a solution allows for card stacking, which is explained in the following example:
Example: A Houston-based company installed an array of optical turnstiles in their regional headquarters lobby. Unfortunately, they did not research throughput numbers, and the turnstiles they installed required each user to badge in, walk through the turnstile, and then for the turnstile barrier to reclose before the next user. During peak times, lines would form. Eventually, the company decided to replace the turnstiles in favor of a model that allowed multiple registrations with access control (card stacking) prior to entering and also kept its barriers open as long as all of the users were authorized. The difference was an increase in throughput from 22 to 60 people per minute per lane—and that made all the difference.
2) Technical & End User Training
Training usually isn't considered a major factor when choosing an entry product, yet it is key to long term success and customer satisfaction. Since most manufacturers do not directly install their products, they should provide a comprehensive technical training program and some form of certification to create successful service providers for end users.
Example: A financial services company purchased an array of high security portals to protect a sensitive area for records and data. A few months after installation, which had been supervised by the manufacturer, one of the portals required service because it was rejecting authorized users. When a technician from the local distributor arrived he took one look at the portal and said, "I've never seen one of these before." He then spent hours on the phone with the manufacturer to receive on-the-fly training. Clearly, there was a training disconnect between the manufacturer and the distributor.
3) Service Considerations
Service considerations typically come last or not at all when making a buying decision. Yet, during and after installation, the level of service directly impacts continued operations and ROI.
Example: A Philadelphia office tower installed two optical turnstiles in their main lobby that matched the building's aesthetics beautifully. After a few years, one of the turnstiles stopped working and a part had to be ordered from Europe — downtime was estimated at four weeks. With only two opticals in their lobby, having one out of service was unacceptable and the owner immediately began looking into replacing the turnstiles. Elsewhere in Pennsylvania, a Pittsburgh hospital had a security door that was out of service. Management was shocked to find out that the nearest authorized service provider was over eight hours away — gotcha!
Consider the negative impact of a delayed installation or service visit, or delayed parts availability on your building entrance procedures — all because service was left out of the decision-making process.
4) Product Safety
Safety, too, is rarely discussed during the bidding process. However, it is the one factor that could quickly and possibly tragically undermine the success of the project. Most security entrances use a barrier of some kind. The more sophisticated barriers use presence sensors to detect objects or users. Before buying, ask how a product prevents entrapment or contact, and how it responds to either event. The answers should then be weighed against your security vs. safety needs, your users and their ability to be trained, the product's response to an incident during peak periods (does it stop and require re-badging?), and whether large objects are typically carried or pulled behind.
Example: A California software company wanted a secure revolving door that only allowed authorized users to enter at night and also provided piggybacking prevention. During the day, however, they wanted the same door to allow the public to enter along with any children for a daycare center inside. The architect was unaware that piggybacking prevention and public use don't mix very well, especially with children involved. A security revolving door requires users to be trained. The door's small quadrants, which are ideal for a single person and piggybacking prevention, lack the trailing door wing sensors that large automatic revolvers must have for public safety. This is because such sensors would stop the door far too often. Due to frequent contact incidents, the company decided the public need was greater than the piggybacking prevention and they had to incur the expense of replacing it with a manual revolving door that had a night-locking feature with an access control system to allow off-hours employee access.
Forget Campus Culture at Your Own Peril
We've discussed seven crucial decision factors here, but there is one more factor to consider: culture. Culture permeates all the other decision factors and is critical to success. Do people care about their personal safety in Boise at the same level as those in Manhattan? Are all management stakeholders involved in the buying decision, from CEO to finance to HR to administration to residence life to the facility manager? Is there high employee turnover or students requiring recurring training? Campus safety decision makers should understand your campus or company culture and be willing to assist in implementing a culture shift through communication and training.
Example: A state university in North Carolina installed optical turnstiles with drop arm barriers at its recreational facility to prevent unauthorized access to gym equipment and reduce liability. A receptionist registers each student with the access control system and then opens the barriers. This ensures that freshman get an orientation to entrance procedures. Eventually, over several years the university will phase in a biometric access control system that will allow bypassing the receptionist. At first, it will be voluntary, rewarding those who register with an expedited entry. Eventually, it will be universal. This staged approach ensures a smooth culture shift.
Example: Another more drastic example of culture affecting the deployment of security solutions happened a few years ago at a West Coast internet company. A new CEO was hired, and he ordered the turnstiles in the front lobby to be removed because "this company isn't about barriers." So, it pays to inform the CEO of new security measures and why such measures were taken! Speaking of the West Coast, some companies allow dogs to come to work, which greatly affects which security entrances can be used safely and effectively.
The success (or failure) of a security entrance project must start and end with a comprehensive, consultative process that considers the full range of factors for the ultimate decision. As we've seen above, a conscientious leader can preside over a process that includes most of the eight essential criteria. However, forget one and even a careful, comprehensive effort can result in a big "gotcha" that brings a new security entrance project to a crashing halt.
Company: Boon Edam Inc.
Source: http://www.boonedam.us/news/4-gotchas-could-derail-your-front-entrance-security-upgrades
Tags: Design | Entrances | Security
---
Total Security Solutions is dedicated to producing high-quality bullet-resistant products that effectively secure your company's most valuables assets, from the employees behind the counter to the cash in the drawer. We manufacture our bulletproof barriers in-house to stringent specifications, the most demanding in the industry, guaranteeing superior quality. In addition, all of our system components pass rigorous testing, often conducted by multiple standards agencies, including UL (Underwriter's Laboratory).
Security Ratings for Bulletproof Systems
Security levels for bullet-resistant systems have been established by UL, the primary testing organization for materials used in these systems. There are eight levels of bullet resistance for bulletproof glass. These ratings are designated by the UL to determine the type of protection each level offers. They conduct extensive tests on bullet-resistant glass, which determines what kinds of firearms each can withstand. The most basic protection comes with levels one and two where you're protecting yourself from small caliber handguns all the way up to level eight glass that protects against assault weapons.
We're confident that our bulletproof barriers will not be compromised by the type of projectiles they are rated to withstand, ensuring the safety of your employees. But when you're the employee standing behind the bullet resistant glass during an armed robbery, it can often be difficult to trust your life to the protection of something you can see through. Watch as we test components of our bullet-resistant barrier systems, including bulletproof glass with UL rating from 1 through 4, as well as UL Level 8.
Custom Bulletproof Systems
We can work with you to design a custom bulletproof security system that meets your unique facility needs, from a high profile ballistic barrier for additional deterrent factor to a more low profile solution that seamlessly integrates with the aesthetics of your facility without compromising protection. If you're a business owner who's already chosen to install a bulletproof barrier in your facility, then you're probably aware of how security products can contribute to maintaining consistent operations and a profitable revenue stream, as well as a greatly reduced risk of armed robbery.
While bullet-resistant barriers are often enough of a deterrent to prevent a robbery, for the sake of your employees, you should feel confident in the performance of your system during a actual event. We can work with you to determine what level of bullet resistance your facility requires as well as provide tips on developing a comprehensive security plan, of which bulletproof barriers are just one component.
Company: Total Security Solutions Inc
Source: http://www.tssbulletproof.com/rigorous-testing-standards-ensure-effective-security/
Tags: Glass | Safety | Security | Windows
---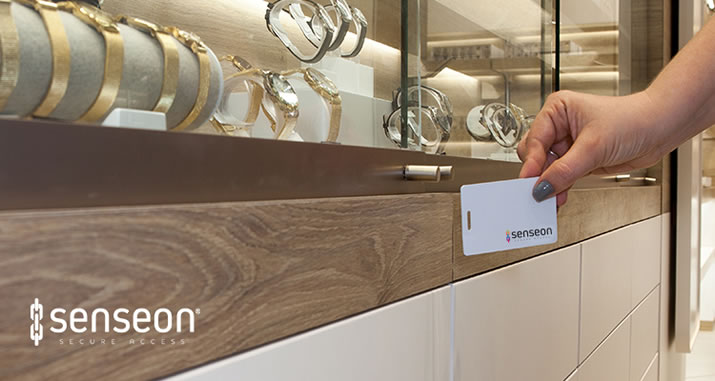 Invisible Access Control. Security without restrictions.
The new Senseon Secure Access Control System is an invisible electronic lock security access system. Utilizing radio-frequency identification (RFID), Senseon can achieve greater levels of security, efficiency, and reliability than traditional lock and key systems. Senseon is a commercial-grade system that is easy to program, install and use. Senseon will adapt to the way you do business. No integration or modification to your business' existing security system is required. Comprised of several modular components, Senseon requires no electrical or wiring knowledge.
The smart successor to the traditional lock and key is here. Find out how Senseon can streamline your business operation, reduce theft, and enhance the customer experience during our FREE webinar! Attendees will learn:
What is Senseon
How Senseon works
How your customers and your business can profit from Senseon
How it uses proven RFID technology
Company: Accuride International
Source: https://www.accuride.com/senseon/webinar/
Tags: Furniture | Interior Design | Security
---

As Total Security Solutions CEO Jim Richards recently noted, "data is where the value is," making data centers an attractive target for a wide variety of bad actors—from teams of criminal hackers to the Kremlin and other foreign agencies. Even seemingly non-critical services—like Twitter—have become vital resources during disasters and emergencies.
As off-site data storage and cloud computing become a daily necessity in every facet of our lives, a single data center may store information and house services for a wide range of public and private entities. Data centers are the place where private business continuity and disaster recovery planning (BCP) and public continuity of operations planning (COOP) tend to come together in assuring the stability of U.S. infrastructure when disaster strikes. And, for that reason, security professionals and physical security specialists—not to mention homeland security planners and public safety professionals—are taking the physical security of data centers increasingly seriously.
But even as many best-practices checklists (like this one for SAS 70 Compliance) are beginning to take bullet resistant security into account, there are still many misconceptions about how to best address the physical security needs of data centers.
Two Traditional Categories of Bullet Resistant Barrier Systems
For the most part, bullet resistant barrier systems fall into two broad categories: Retail and Reception.
The classic Retail System would be a bank: Staff are on one side, customers on the other, and while it is rare for anyone to need to pass through the barrier, they do need to communicate clearly and pass small items easily and securely. These systems are seen in a wide variety of settings: 24/7 convenience stores, high-risk gas stations, pharmacies, municipal utility payment offices, and so on.
Reception Systems were once relatively rare, but are now increasingly common (especially in the urban core). A classic example might be a school's secure vestibule entryway. Here there is a small reception area entirely open to the public and separated from the building by secured bullet resistant doors. A secure receptionist can vet identification before permitting visitors through. Like Retail systems, these Reception systems also have large bullet resistant windows and communication systems, but the windows tend to be smaller and simpler, where-as the bullet proof doors and access control systems are more developed. Other examples of Reception systems include police stations, hospitals, courthouses, some jewelry stores, and corporate offices.
Both types of systems presume a lot of foot traffic (usually because the building itself is located in a densely populated or high-traffic area), a heavy reliance on face-to-face communication between staff and visitors, and the need to only secure a few critical "bottlenecks"—usually entryways, or a small publicly accessible space.
Data Centers Have Different Security Profiles
As Jim Richards has found over the last several years, data centers make for a very different security scenario: "First off, we see these centers going into areas that that are more remote—Iowa, Wyoming, Utah, Arizona. They're favoring places which are the most stable, geologically and in terms of weather. In contrast to a bank or federal building, these centers don't need to be near population centers, and just don't have that many unexpected visitors. So the [ballistic] systems they need are quite different, because the focus isn't about making it easy for people to do business face-to-face while protecting them."
Additionally, there is no bottleneck to secure. Data centers need to isolate many individual spaces and server rooms throughout the building—something more akin to fire protection strategies than traditional bullet resistant security measures. When people think "bullet proof," they almost always think of "bullet proof glass" (even though it's technically "bullet resistant thermoplastic"). But there just isn't much glass in a data center. As Jim notes:
"Most traditional bullet resistant barriers are focused on ballistic windows, transaction areas, deal trays, and passers. In a data center, we don't need that. They want to secure walls and doors, with a good access control system tying it all together. That means lots of fiberglass for the walls, lots of doors, and maybe an entryway."
Data Centers Focus on Access Control
In contrast to many companies—especially smaller local outfits—TSS has a great deal of experience partnering with their client's preferred access control vendors. Every TSS door is custom built, and can be engineered to easily accept any control devices, wire runs, and strikes your access system demands. Since data center installations tend to be extensive but straightforward (installing fiberglass paneling in the walls is not that different from drywalling), many centers opt to use local contractors or in-house facilities staff. TSS offers ample support to vendors and other trades, security professionals, and in-house staff, guiding them through a smooth installation process.
Company: Total Security Solutions Inc
Source: http://www.tssbulletproof.com/critical-infrastructure-protection-u-s-data-centers-ballistic-barriers/
Tags: Safety | Security | Software
---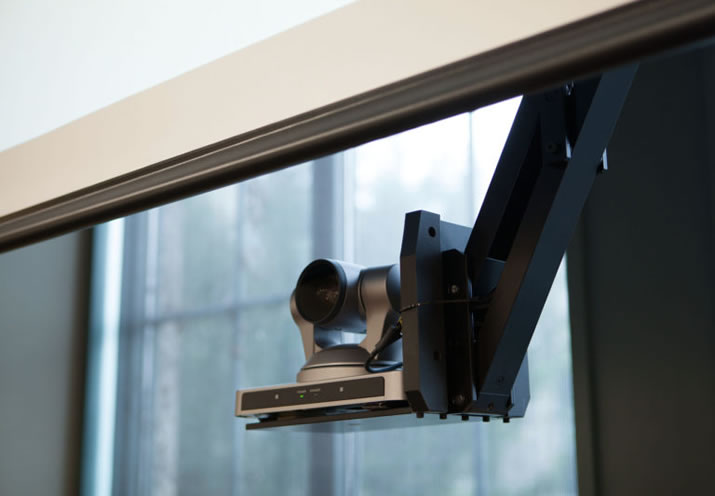 With security and privacy in the news seemingly every day, people are becoming more mindful of safeguarding personal information. A lesser-known privacy issue is the possibility of a hacker gaining control of the videoconferencing camera in your laptop, or even in conference rooms. In addition to gaining access to the computer network in this way, hackers can also eavesdrop and watch through the camera. Draper has developed a new white paper entitled "Is Someone Watching" which details this issue, and offers some solutions to deal with it.
Could someone potentially be watching and listening to you conduct business via the videoconferencing camera in your conference room—even when it isn't supposed to be on? The importance of keeping videoconferencing cameras out of the room when not in use is underscored by at least two incidents in recent years.
The first came in January of 2012 when HD Moore—a security officer for the company Rapid7 which looks for security weaknesses in Internet of Things devices—was able to hack into videoconferencing equipment. He was able to control the cameras, panning and zooming all around the room. According to a New York Times article, Moore found his way into venture capital, oil, law, and pharmaceutical companies. He even got into a courtroom remotely through the camera.
The second warning shot came at the 2013 Black Hat Europe, a security conference. During a presentation at Black Hat, Moritz Jodeit showed how to gain root access to video conferencing devices which could allow, among other things, a remote user to take control of the devices—including cameras and microphones.
Does it Really Matter?
Of course, hijacking a webcam on someone's personal computer and watching in the privacy of a home or office is obviously an intrusion on personal privacy. Even the FBI director and the founder of Facebook are known to put pieces of tape over their laptop webcams for security. But peering into an empty meeting room through a videoconferencing camera isn't that big a deal, you might think.
Or is it? Much damage can result from overheard business conversations. One might also feel the possibility of a hacker gaining control of a video conferencing camera too remote to think about. However, there are many instances where privacy issues mean that any possibility is too much.
To read the complete white paper "Is Someone Watching," and to download a free PDF copy, click here.
Company: Draper, Inc.
Of: Terry Coffey
Source: http://blog.draperinc.com/2016/07/is-someone-watching/
Tags: Audio Visual | Security | Software
---
Does your security system only detect tailgating? What if someone is determined to infiltrate your building? Would you be interested in a truly preventative solution?
As you enter the exhibits hall at ASIS or ISC West, take a moment to pause and scan the exhibits on the floor. I find that about 80% of the floor space and displays seem focused on video surveillance and access control and related products. Every year, there are new technologies and improvements that make surveillance more accurate at identification, and access control more integrated with other building technologies. Biometric technologies are no longer science fiction but instead are maturing and becoming a feasible option for more and more businesses.
Surveillance and access control systems have been essential for decades. Yet despite great strides in these technologies, we have seen time and time again security breaches where these systems are not enough. If someone is truly determined to get into a building, what will it take to prevent them from gaining access?
A great example of a determined individual happened a few years ago: a 16-year-old boy from New Jersey gained unauthorized entry at about 4 am to One World Trade Center, in New York, and roamed the premises for two hours before being caught. The building had a security system estimated to cost $20 million when it was installed. But none of that mattered when the security guard on duty fell asleep and the young man took the elevator up to the top floor to access the roof, take photos, and then brag on social media.
It was a big wake-up call because everyone realized that even after a significant investment, this landmark building was still vulnerable, and it could very easily have been someone other than a teenaged parkour addict looking for a thrill. Building owners and senior executives very often don't realize how vulnerable they are to infiltration—that they have a dangerous gap in prevention.
I use the word "prevent" very purposefully. If you have surveillance and access control systems, even biometrics, are you preventing infiltration? If the building has swinging doors at its access points the answer is, "No." Indeed, this is a deterrent situation, but it is not a preventative one. One of the most common methods of gaining unauthorized entry to a building is known as "piggybacking" or "tailgating." Many of us have badged into our building, and then held the door open for someone who looks like they also work there. You just created a serious security breach and you put yourself, your colleagues, the business and its future at risk. The best access control systems in the world can be defeated by exploiting the fact that people are nice and will often allow others to follow them through a door they've unlocked.
When we surveyed security professionals about tailgating, we asked them to estimate the potential costs of a physical breach from unauthorized entry: 54% believed the cost would range from $150,000 to "too high to measure." It doesn't take much imagination to think about the worst case scenario—sadly, they happen about every week. Without prevention, you are relying on human beings to remain vigilant, never get distracted or tired, remain at their post, follow the rules and never let anyone tailgate behind them. You are also assuming that no one is determined to get into your building. So, when a physical breach occurs, how will you know it happened and how quickly could you respond? One of our survey respondents put it this way, "[You] cannot depend on one technical solution to mitigate the risk...you need barriers, followed by surveillance, and appropriate response plans."
Only a small percentage of the exhibits at ASIS or ISC West offer such "barriers," also known as pedestrian security entrances, or turnstiles and security doors. I strongly encourage you to evaluate your current risk of infiltration and to learn more about the various types of barriers available. Some will need human supervision and will provide an alarm if breached. Others can physically prevent tailgating and operate without manned supervision, creating quicker ROI.
What is your stance on tailgating: do you want to detect it or prevent it?
Company: Boon Edam Inc.
Of: Mark Borto
Source: http://www.boonedam.us/blog/what-if-someone-determined-get-your-building
Tags: Doors | Entrances | Safety | Security
---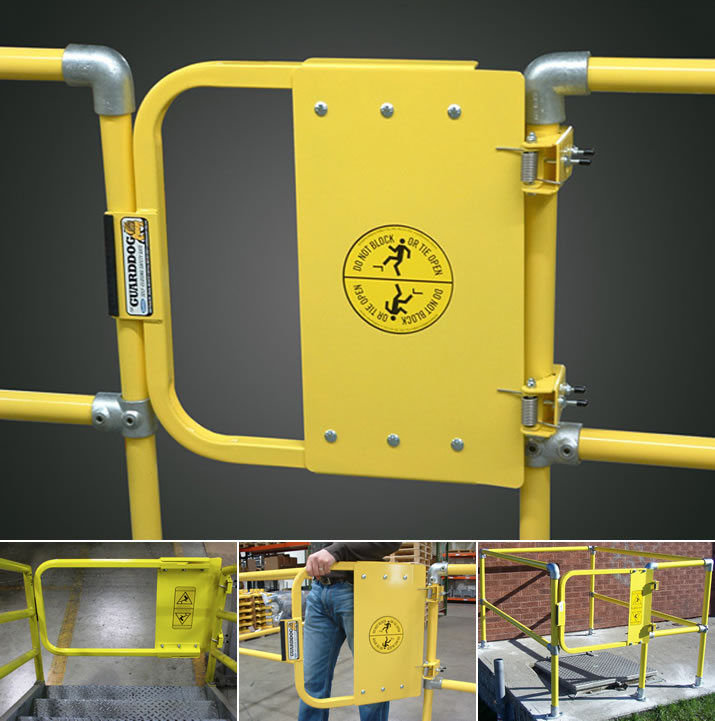 The GuardDog Self-Closing Gate is tough, durable and easy to install. Featuring a unique self-closing design with two stainless steel torsion springs, the GuardDog industrial safety gate can open in any direction. To meet diverse application requirements, the gate is available in 5 nominal sizes and is adjustable laterally to 6" (-3 to +3 of the nominal size).
The GuardDog Self-Closing Gate arm is dimensioned to match top- and mid-rail heights of an OSHA-compliant guardrail. When the gate is installed and the top of the gate is at the OSHA's recommended nominal height of 42", the bottom of the gate is positioned at a height of 21".
Gate comes fully assembled and includes securing hardware for standard installation on pipe
Requires only one 1/2'' wrench and a few minutes to install
Available in powder coat safety yellow, hot-dip galvanized or 316 stainless steel; Special colors available upon request
Our standard Hinge Assembly fits round pipe or square tubing measuring up to 2'' O.D, or it can also mount on angle iron or flat surfaces. For railings which are larger than 2" O.D, contact BlueWater Manufacturing and we will have an adapter kit available to use or provide a solution to mount the gate safely.
Applications range from ladder ways, mezzanines, pedestrian traffic, machine guarding, universal mount is designed to fit any hand post angle and direction. BlueWater's industrial safety gate is available in food grade stainless steel, carbon steel powder coated and galvanized.
Company: BlueWater Mfg
Source: http://bluewater-mfg.com/product/guarddog-self-closing-gate/
Tags: Doors | Entrances | Roof | Safety | Security
---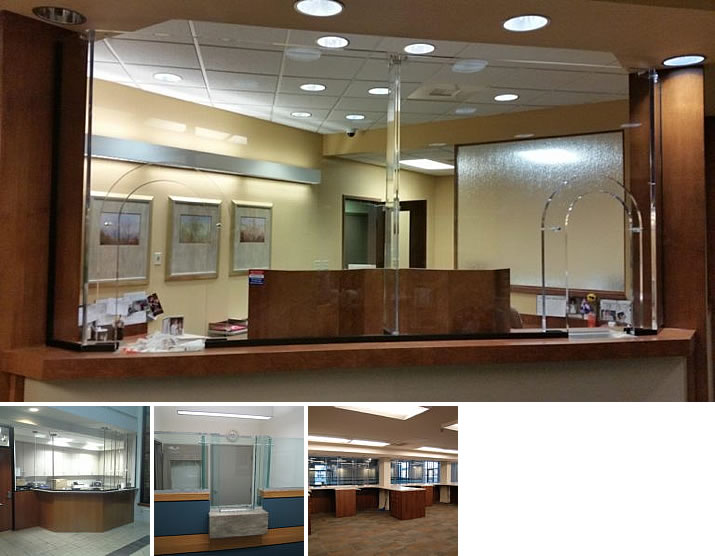 Clark Energy Utility Office
For Clark Energy—a regional utility cooperative serving 19,000 customers and maintaining 3,000 miles of line in 11 counties—it began when a customer attacked a worker at the nearby water utility office. As Holly S. Eades, vice president of finance for Clark Energy, explains, "There was a utility here in Winchester [Kentucky], and I had gone down there because we'd heard that one of their office people, a customer had slapped her in the head. And we were like, 'Oh, boy.' Because we have some customers that come in, and they get kind of irate."
Worker Safety in Utility Offices
Workplace violence is a serious problem, with roughly 2 million American workers assaulted each year. Clerks and customer service reps at utility offices are especially at risk, as their work includes several of the high-risk factors identified by OSHA (the Occupational Safety and Health Administration): handling money, fielding disputes about billing, and denying delinquent customers service. As a rule, when you are forced to cut off someone's electricity, water, cable TV, or other service, they are not happy, and they are not calm.
To Holly and her customer service reps at Clark Energy, it very much felt like just a matter of time: "Sometimes, [in] both [our] offices, there'll be just one office lady there. The men are out in the field, and she's just completely by herself. It wasn't probably two, three weeks later . . . some man comes in and he's cussing and screaming, and another customer actually stayed, saying 'There wasn't a way I'm leaving with this person acting like that.' When a big man is standing at the counter, screaming and cussing at a female customer service rep who's five-foot-four, there's something wrong with him . . . You just don't know what's going to happen."
Inviting, Professional Bullet Proof Barriers
Many utility companies and service providers worry that added security will both bog down business and give the customers the impression that workers are trying to separate themselves from their clientele.
Even Clark Energy had hesitated, despite harrowing first-hand experiences. "A lot of it was the way it needed to look... We'd actually tried to get somebody local [to install a bullet resistant barrier], but we couldn't find anybody in this area that would even come close to the product that Total Security Solutions has. Not as pleasing... I think a lot of times, when you put that up [a security barrier], customers get the feeling that you're trying to shield yourself, and I don't mean from robbers."
Jim Richards, Total Security Solutions CEO, has heard this often. "What we actually do and what everyone's perception is are two totally different things. The people at Clark Energy were more than ecstatic when they saw the other utility offices we've done, because it's not what people typically visualize when they think of bullet proof glass. They think of steel frames, big, thick glass, you can't talk through it. It's not aesthetically pleasing. It gets in the way of getting work done. But when they saw what we did at the other utility, it's like 'Oh, well we want one of those, too, if that's what it's gonna look like.'"
Positive Results with a Well-Designed Bullet Proof System
"We are tickled to death," Holly says, "It looks very nice, and when the customers came in... We had some customers saying, 'You know, y'all should have done that a long time ago.'"
While Holly is gratified to hear these positive responses from customers, she's even more pleased by the improvement to her employees' work day:
"It's really amazing, just the sense of security the girls feel. You know, now you get there and you've got somebody screaming at you, and there's some distance between you and their emotions. When you're turning people's electric off, you just don't know. You have 'em come in pretty upset. This felt 10 times better, at least knowing the girls are behind locked doors and behind bullet resistant glass. Because, I tell you, every day all you hear about is another incident somewhere."
Company: Total Security Solutions Inc
Source: http://www.tssbulletproof.com/peace-of-mind-rural-utility-offices
Tags: Entrances | Safety | Security | Windows
---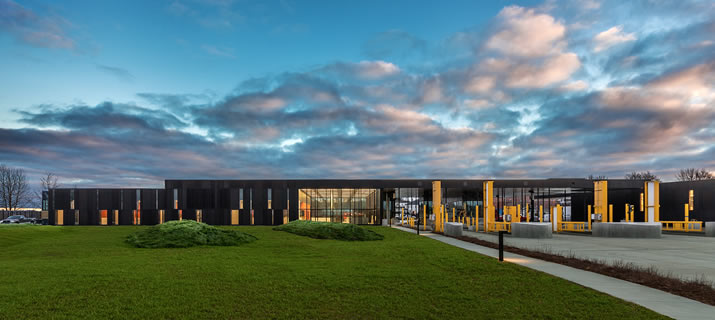 Photo courtesy of www.coenpartners.com
There is a recurring theme in the design and integration of bulletproof barriers into banks, schools and municipal buildings – the art of striking a fine balance between form and function, creating both a warm, inviting environment that is physically secure. In some situations, it does make sense to install an over-the-top ballistic barrier that truly makes itself known. And for clients who want this approach, Total Security Solutions can certainly handle the job. But our specialty is focused more on custom installations, where beauty is as essential as security. We work with architects and designers to help realize their design vision while ensuring the security needs of the end user are met.For most schools and government buildings, an over-the-top bulletproof barrier is not what is required. Individuals with a true need to enter the building should feel welcome to do so and children should not feel intimidated upon entering their school. A clean, minimalist approach to the integration of security features into a building's design, however, does not insinuate a lack of security.
Bulletproof Security at U.S. Ports of Entry
There are more than 300 land, air, and sea ports of entry into the United States. Serving as a lawful means of entry into the US, these locations are used to check passports and search luggage to ensure that contraband is not imported. Passing through these checkpoints can often be stressful for individuals due to the high level of security and while properly securing a port of entry is imperative, the need to establish a warm, welcoming environment is equally as important.
Standing at the border between Maine and New Brunswick, Canada, the U.S. Land Port of Entry in Van Buren, Maine opened its doors in April 2013 and has since received many awards for striking the desired balance between form and function. While its design is not necessarily breakthrough and is even reminiscent of other federal buildings, it has been argued that subtle details make it feel transparent and even welcoming. Its design meets the requirements for the U.S. Green Building Council's LEED® Gold criteria and among other recognitions, it most recently received a 2016 AIA Honor Award.
Designed by Julie Snow Architects, the U.S. Land Port of Entry is described as fusing "an abstraction of the cultural and landscape context with concepts essential to port operations: surveillance and camouflage." Making up a Z-shaped form from above, the buildings feature aluminum panels that alternate with silk-screened bullet-resistant glazing in a pattern meant to emulate the surrounding tree-lined environment. The use of a bold orange color on the interior walls serves to brighten the space, creating a warm, inviting atmosphere. The Van Buren, MN Port of Entry demonstrates how careful thought and seamless integration can ensure a building is both secure and aesthetically pleasing.
Company: Total Security Solutions Inc
Source: http://www.tssbulletproof.com/balancing-bulletproof-security-design/
Tags: Design | Safety | Security
---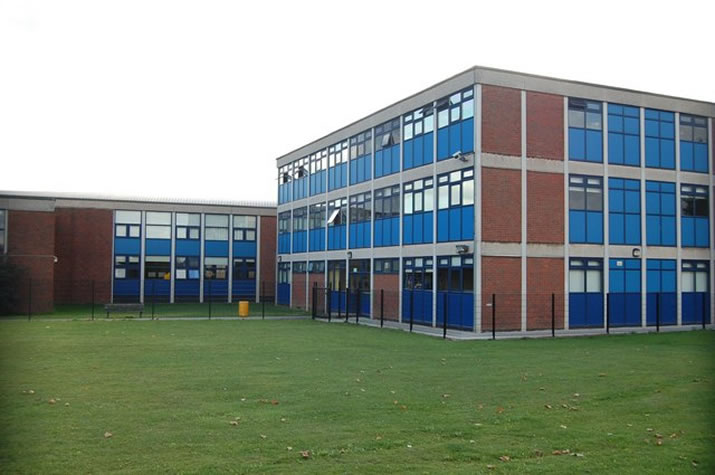 While most school architects are fairly well versed in CPTED (crime prevention through environmental design), many are fairly new to bullet resistant materials and design. With active shooter scenarios increasingly top-of-mind for education clients considering new construction and renovations, now is a good time to spend a few minutes coming up to speed.
A School Architect's Introduction to Bullet Resistant Materials and Barrier Systems
At one time "bullet proof glass" was indeed made from thick panes of layered, laminated glass. Today, almost all "bullet proof glass" is made from solid or layered plastics (usually acrylic for solid windows, and layers of polycarbonate and glass for laminated glazing).
More importantly, the "bullet proof windows" that most clients fixate on are a relatively small part of the barrier, which is an integrated system consisting of:
bullet resistant windows and framing
bullet resistant doors
bullet resistant fiberglass to reinforce surrounding counters and walls
some form of communications system
The communications system can be as simple as the voice portal and backer in a bus-station ticket window, or may include multiple sub-systems: an intercom, a deal tray for passing papers, a bullet resistant drawer or passers for larger items, etc.
For best results–in terms of aesthetics, usability, and security–every bullet resistant barrier should be treated as a custom job. Every piece of the system needs to seamlessly integrate with both the other elements of the barrier system and with the existing structure, mechanicals, building use patterns, and so on.
Bullet proof materials are rated according to a set of standards set by Underwriters Laboratory (i.e., UL-752). Both individual materials and complete components and sub-systems are tested by OSHA-designated nationally recognized testing laboratories (NRTL) in order to confirm they perform according to the appropriate UL standard.
Best Practices in School Bulletproof Barrier Systems
For most schools, the best security solution is a bullet resistant vestibule entryway system with integrated access control. These systems are a fairly straightforward example of CPTED, and can almost always be easily retrofit into existing buildings, or worked into new construction with few alterations.
As Bob George, Total Security Solutions sales manager, explains: "We do our best work when we connect with architects early on in the design process. The best case scenario is when we can get in there early to help with design recommendations, and guide the school officials toward a good solution."
Schools often come in initially asking about very extensive Level 5 to 8 systems (which explicitly address the threat of high-powered ammunition and assault weapons). A level 5 to 8 system would likely include blast-rated and bullet resistant exterior windows capable of stopping very powerful ammunition and blasts, bullet proof doors throughout the facility, and so on.
Such high-level systems are prohibitively expensive, and also entirely unnecessary: Most schools are very well served with a Level 1 hardened entryway with access control. There are two reasons for this. First and foremost, the primary goals of a barrier system in a school are deterrence and delay. Anything that gives an active shooter pause or makes him think twice about his actions is often sufficient to prevent an attack. If that deterrence fails, then simply slowing an attack can buy enough time for first responders to successfully intercede before anyone is injured.
Second, top-tier bullet proof companies like TSS over-engineer their systems and materials as a mater of course. For example, you'll note in the following video that the Level 2 door at 1:35 is rated to stop three shots from a .357 Magnum, yet stops five with no problem. Likewise, the Level 3 window at 2:59 is rated for three shots from .44 Mag, but stops 13, while the Level 3 door shown at 4:17–likewise rated to stop three shots from a .44 Magnum–actually catches 115 shots from a variety of handguns and assault rifles without a single bulge on the protected side.
Access Control and School Security
Access control is an especially important–and often tricky–aspect of a school's bullet resistant barrier. Over the last several years a large portion of schools have adopted security procedures that include locking doors during schools hours. Unfortunately, locked doors slow first responders during an emergency. While active shooter events are top-of-mind, it's much more likely that an in-school emergency will be related to a fire, extreme weather, or something as mundane as a child having a bad allergic reaction or being injured in gym class. All of these require quick access to the building. Modern access control systems–including centrally controlled electric strikes–are a great improvement over older key-and-lock systems. They offer many administrative advantages, in addition to speeding entry for emergency responders.
TSS is sensitive to how a design must balance access control and accessibility, especially in schools, where National Fire Protection Association (NFPA) egress codes, the Americans with Disabilities Act (ADA), and International Fire Code can all come into play.
"We can work with any mix of access control and accessibility requirements," Bob George notes. "We always build to suit, and have lots of experience prepping doors for specialized hardware, as well as installing basic electric strikes, magnetic locks, panic bars–all the standard pieces for access control. More importantly, as Eric [Malzahn] said, TSS works with other security vendors as equals to get the job done right. That includes working with access control specialists to get all the details right for a complex access control system."
Company: Total Security Solutions Inc
Source: http://www.tssbulletproof.com/school-security-access-control-architects/
Tags: Safety | Security | Windows
---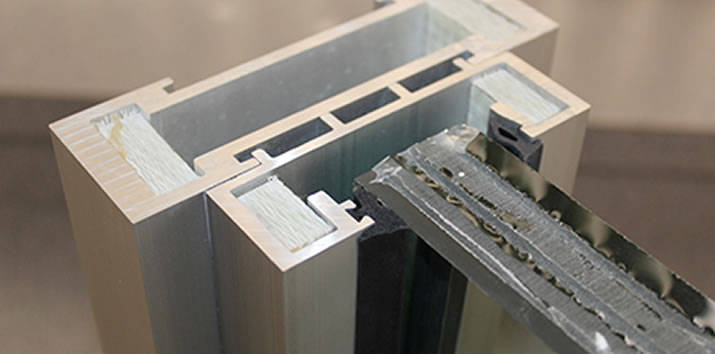 Client performance goals continue to evolve, growing more complex every year. At one time, a client was either very concerned with security, or very concerned with sustainability. It was rare for a client to be equally concerned with both.
But the increasing need for ballistic materials in all sorts of construction has collided with the increased stringency of building codes, specifications, and energy performance standards. Old-line ballistic framing systems—which are still the industry standard—are simplistic. They are fabricated from a grab-bag of materials to a variety of standards. Many aren't even UL-rated to stop bullets. Instead, they are cobbled together from standard aluminum frames packed with chunks of bullet resistant fiberglass glued in place. Enhanced R-values, thermal breaks, gas fills, and insulation are just not an option with traditional bullet resistant window and door frames.
Today, advancements in designs and fabrication techniques have resulted in not only standard, true UL-rated door and window frame systems, but also premium systems offering new levels of thermal and ballistic performance.
Thermally Enhanced High-Security Ballistic Door and Window Frame Systems
A security-conscious end-user might be interested in earning a LEED Platinum certificate, or might be passionate about daylighting, or might just want to keep the energy bills down—in any case, having a solid aluminum frame conducting heat directly through the building envelope doesn't serve any of those goals. The TSS Thermal Frame System does.
"We developed this ballistic frame system specifically because architects were asking for it," Jim Richards, CEO of Total Security Solutions (TSS), explains. "I don't know if you know, but buildings use more than half the energy on earth."
As one architect recently put it "for all practical purposes, all other issues are subservient to sustainability now." That's been beyond challenging with old-style exterior bullet resistant windows, since the windows themselves are solid—no gas fills—and the frames are rarely built with any sort of thermal break. For example, here's a cross-section of a traditional window frame:
The old-style frames are solid steel or aluminum members all the way around the window or door, penetrating the exterior wall. As Jim Richards is quick t point out, "Think about what that means in certain regions of the United States: In the summer it could be in the 90s, and in the winter it could be 30 below, but the inside of that building is always 72 degrees with 40 percent humidity. Your HVAC is fighting heat leaking in all summer, heat leaking out all winter. You're not just going to have cold spots and drafts. You're going to get condensation, even frost."
TSS's thermally improved, Kevlar-reinforced bullet resistant exterior aluminum door and window frame system is calculated to optimize R value, given the needs of a bullet resistant materials. It offers bullet resistance up through UL Level 8, and can accommodate a wide variety of acrylic, polycarbonate, and laminated bullet resistant glazings. "It's an enormous performance boost, in terms of energy, and ballistic—a true 'best of both worlds' scenario."
All-in-One Multi-Threat Ballistic Window Frames
"This isn't your everyday, run-of-the-mill frame," Jim says of the TSS AIO (All-In-One) Frame. The AIO is a modular, multi-threat glazing frame optimized for higher-threat situations, especially government applications. It can accept any glazing between .75 and 2.5 inches thick—that's everything from UL Level 1 acrylic (i.e., which stops three shots from a .9mm pistol) to Level 8 glass-clad polycarbonate (for blocking full-auto bursts from assault rifles). The frame itself is rated through Level 8, and also has forced entry and blast-resistance characteristics. The AIO Frame has a broad security and safety profile that encompasses all sorts of threats to life and property, from break-ins and riots to lone gunmen, terror attacks, and even extreme weather.
Rather than using a lighter aluminum backed with strips of Kevlar-based fiberglass paneling, Jim and his team opted for all-aluminum construction and a design that takes full advantage of the edge-on resilience of the glazing itself. The front-wall of this frame is hearty enough to deflect most calibers, and designed to capture and hold any high-power rounds that do penetrate the frame itself.
Of course, not every job calls for premium ballistic door and window frames. TSS continues to offer their full line of standard UL-rated and non-rated frames to meet your client's performance goals.
Company: Total Security Solutions Inc
Source: http://www.tssbulletproof.com/premium-ballistic-frames-offer-huge-boosts-sustainability-multi-threat-risk-mitigation/?utm_content=32383407&utm_medium=social&utm_source=twitter
Tags: Glass | Safety | Security | Windows
Cabinets without keys: combine flexibility, simplicity and security without sacrificing style, performance and profit (March 25, 2016), The Plan to Turn NYC's Turnstiles Into Musical Instruments (February 29, 2016), Partnering with Architects to Make BulletProof Beautiful (February 3, 2016), Got Pigeons on Your Building? Why you need to get rid of them... (February 1, 2016), Using Biometric Technologies For Access Control Solutions (January 25, 2016), OSHA Safety and Health Guidelines (December 18, 2015), Teaching Those Who Keep Us Safe: The National Center for Spectator Sports Safety and Security (December 4, 2015), Seton's Project Packaging Service | Seton Video (October 12, 2015), The Industry's 1st Monitored Light Curtain - Now Available (September 25, 2015), A perfect blend between revolving doors and transparent architecture (September 4, 2015), Bank Security: Balancing the Priorities of Security Managers, Architects, and Facilities (August 31, 2015), University Housing 101 (August 21, 2015), Par-Kut parking booth (August 3, 2015), Custom Mill Work, Bullet Resistant Barriers, and Inconspicuous Perfection (July 24, 2015), Benefits of Precast Concrete Bollards (July 10, 2015), Sweet Dreams, Courtesy of AMBICO Products (June 30, 2015), Quick Ship Booths (June 29, 2015), Optically Clear Aluminum Provides Bulletproof Protection (June 5, 2015), Will Your Walls Face Abuse Or Impact? (April 8, 2015), Design Meets Security: Launching New Revolutionary Access Control Barrier Series at ISC West (March 27, 2015), Unique and secure bicycle storage (March 18, 2015), Architecture and Design for Today's Schools: Secure and Inviting (February 10, 2015)