architecture - engineering - construction

Floor
---
Glass flooring provides an exciting combination of style and function, making a dramatic impression in both residential and commercial spaces. Structural glass floors, bridges, landings and stair treads can add light to lower level spaces and provide a unique design element to any interior. Every glass floor system we sell ships as a kit and will include everything you need for proper installation.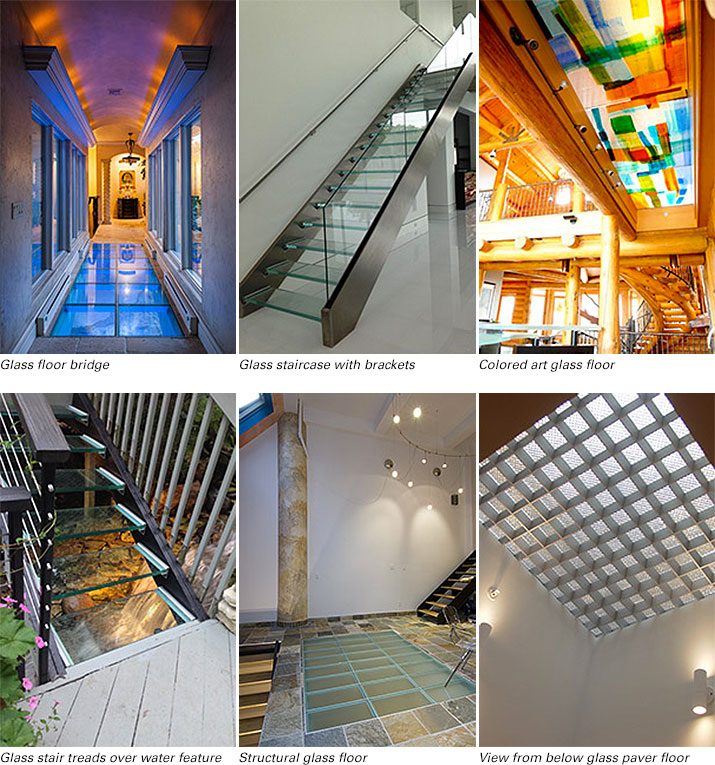 Structural glass flooring and glass block flooring systems will provide a functional and structurally sound surface for foot traffic while providing your commercial, retail, or residential building with a multitude of additional benefits including:
Light transmission from upper to lower levels
Glass walkways, bridges, and staircases allow light to pass from upper to lower levels.
Saving on your energy bill
The use of glass floor planks or pavers enhances day lighting, which in turn can cut energy costs.
A wide range of privacy levels
Our glass units come with a range of different transperancy options. From obscure(acid etched), which will provide complete privacy to those on upper floors, to clear glass which offers direct line of sight, you can set your filter.
The floors just don't look amazing; our complete glass floor systems are engineered to safely support high levels of weight. Additionally, our glass floors and pavers are set inside a lightweight, structural aluminum grid system. This makes them both easy to install and replace if damage were to occur. Let Innovate Building Solutions assist you in designing a structurally sound system that will stand the test of time in any commercial, retail, or residential structure.
In addition to looking amazing, our glass floor systems can be incorporated in wood, tile, stone, or concrete floors to create a one of kind design. Contact us today for a consultation to determine which materials and design will best compliment your space.
Company: Innovate Building Solutions
Product: Glass floors and walkways
Source: http://innovatebuildingsolutions.com/products/glass-block/glass-block-floors-bridge-walkway
Tags: Design | Floor | Glass | Glass Walls
---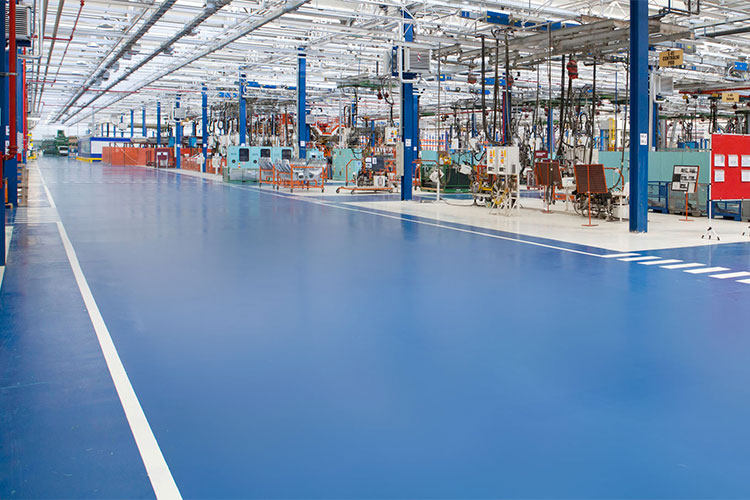 Unless you are a resinous flooring professional or a chemist, it can be hard to differentiate between Polyaspartic, Epoxy or Polyurethane coatings. In many resinous flooring projects they are combined in a flooring system. Each one of these resins serves a purpose.
Nowadays, machine manufacturers, owners of commercial and industrial premises, car refinishing shops and other relevant decision-makers want coatings that can speed up the painting operation while at the same time deliver the high performance known from polyurethane coatings.
Is a Polyaspartic floor better than an Epoxy or Polyurethane floor?
Consider these comparisons:
Typically Epoxy or Polyurethane floors can take 4 or 5 days to install.
Polyaspartics can cure in three to four hours.
Because Polyaspartics cure so fast, they can save you a bundle on labor costs.
Epoxy resins have a tendency to yellow over time and may not be color-fast.
Polyaspartics are UV stable and do not yellow.
For proper curing without any curing defects, epoxy coatings must be installed at temperatures around 55 degrees F.
Polyaspartics can be applied around freezing temperatures, making them perfect for walk-in freezers and the like.
Epoxy resins less flexible and less abrasion resistant.
Polyurethane coatings perform very similar to Polyaspartics but they take longer time to cure (at least 24 hours) and need to be applied very thin (4 to 6 mils per coat)
Polyurethane coatings are used mostly top coats over Epoxy coatings. They cannot be used as a complete system in itself.
Polyaspartic coatings can be used as top coats over Epoxy coatings (to save costs) or they can be used a complete flooring system.
The two main benefits of Polyaspartic based flooring systems are increased productivity and long-term cost efficiency. The gain in productivity over conventional coating technologies can be achieved thanks to two properties of polyaspartic coatings:
Significantly faster drying times at ambient temperature than conventional Epoxy or Polyurethane technologies, which allows a faster return to service.
For high film build applications, a much greater film thickness in a single cooperation is possible, which in practice means one layer can be saved.
Duraamen Industrial and Polished Concrete Flooring Products are designed to provide labor saving and long lasting flooring solutions. Talk to an expert about your flooring challenges...Please Call + 1 973 230 1301 / eMail Us
Company: Duraamen Engineered Products Inc.
Product: Resinous Flooring: Endüra Resin Chip System
Source: https://www.duraamen.com/blog/is-polyaspartic-coating-better-than-epoxy-or-polyurethane-coating
Tags: Coating | Finishes | Floor
---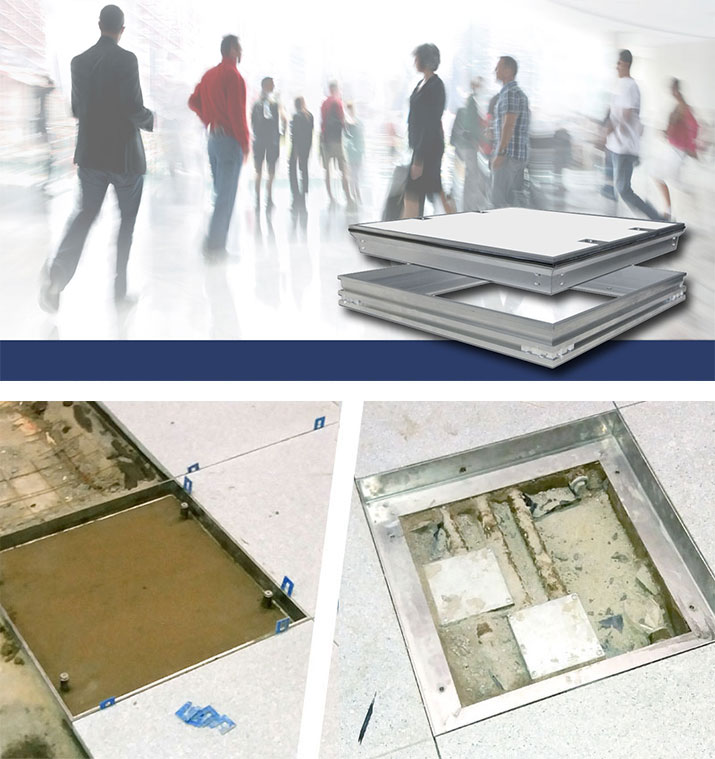 Howe Green has supplied over 400 access covers to Tier 1 contractors working on Europe's largest construction project – Crossrail. The new Elizabeth line will comprise 118 kilometres of track running through London and the South East and is set to reduce average journey times significantly. The Elizabeth line will open in December 2018 when services commence through central London. Tier 1 contractor Laing O' Rourke has specified Howe Green access covers for Canary Wharf, Custom House and Tottenham Court Road stations.
2017 has been a busy year for Howe Green Ltd, the UK's leading manufacturer of fabricated metal floor, wall and ceiling access covers.
Howe Green's access covers have been specified and installed in a diverse range of projects over the last 12 months, from Scottish castles to Swedish museums. The strongest demand has, however, been generated from the infrastructure sector.
Over 60 of Howe Green's 7500 Series Multipart Stainless Steel Floor Access Covers were supplied for Tottenham Court Road station. When completed this will be one of London's busiest stations with over 200,000 passengers a day. All components of the building envelope in such a highly trafficked and challenging environment need to be robust and easy to maintain.
The large 4 part units were precision made to order to ensure that they would be a perfect fit. Installed by specialist stone contractor Vetter UK, the covers have been infilled with granite to match the surrounding area. Supplied with barrel lifting points, with just the securing bolt and barrel edge visible, the covers fit flush with the flooring to reduce the risk of slip and trip hazards.
The 7500 Series can be supplied as a single cover, in duct runs or as a multipart. Standard sizes are available from stock or can be custom made to order if a specific size or loading is necessary. There is the option to have up to a 3 hour fire rating BS 476: Part 20 1987 on stainless steel single covers or 2 hours on duct and multipart covers if required. The covers can also be supplied double-sealed to meet the highest standards of hygiene and security.
The 7500 Series can withstand up to a 5 tonne pneumatic wheel loading and is resistant to rust and corrosion.
If you have a requirement for a safe solution for accessing concealed services in a demanding environment please call 01920 463230
Find out more - 7500 Series Medium Duty Floor Access Covers >
Company: Howe Green US
Product: Medium Duty Floor Access Covers
Source: https://www.howegreen.com/access-covers/projects/crossrail-elizabeth-line.php
Tags: Access Control | Access Covers | Floor | Interior Design
---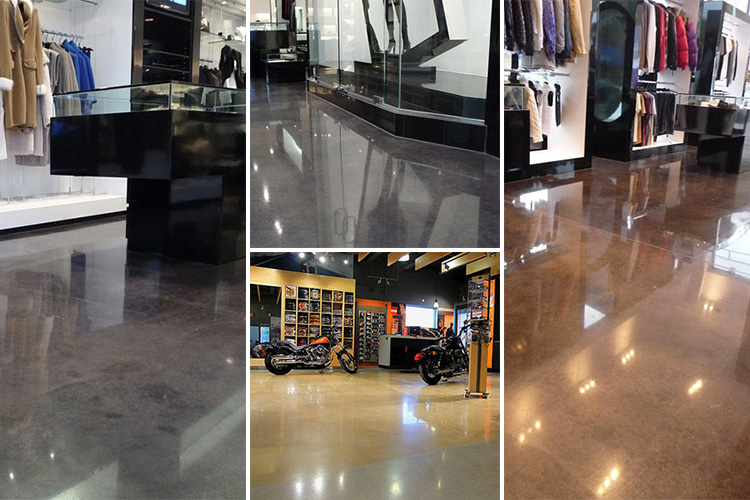 Polished concrete flooring is one of the hottest trends for homeowners and business owners alike. Thanks to recent advancements in equipment and technology, the process of polishing concrete is more efficient and economical than ever. Concrete surfaces, both old and new, can be polished to a high-luster finish. When compared to other types of flooring: marble, tile, linoleum, wood and coated concrete, polished concrete is more durable and better performing. Polished concrete never needs waxing and is therefore low maintenance as well.
Aesthetically pleasing, polished concrete flooring has a striking high-luster appearance. The exposure of aggregate in the substrate reveals beautiful textures and natural looking patterns. It can also be stained or colorized in some other way to achieve a one-of-a-kind look that resembles natural stone.
One of the keys to achieving a beautiful high-luster polished concrete floor is to obtain a less porous concrete substrate. This is the job of a product known as a concrete densifier or colloidal silica densifier. Concrete densifiers have been around for nearly 100 years and are specifically designed for this task.
Modern concrete densifiers contain microscopic colloidal silica particles suspended in a low-tension liquid. When the densifier is applied to concrete, it is immediately absorbed into the concrete's pores. The colloidal silica reacts with the soft calcium in the concrete. This reaction creates a new hard material that is not water-soluble and expands to fills the pores in the concrete. The newly hardened concrete will take a better polish and is more durable providing better abrasion resistance.
Hermetix Densifier is Duraamen's high performance concrete densifier product. It penetrates more deeply and reacts faster than other brands. Once applied, it starts working in 1-2 minutes. After the application there is nothing to broom off and nothing to dispose of. Hermetix is non-hazardous as well.
To obtain an ultra-high luster, it is recommended that a colloidal silica finishing conditioner is also applied to the finished floor. Hermetix Shield is Duraamen's protective finishing conditioner that further hardens the polished concrete by adding additional colloidal silica while helping to protect the finished floor with specifically engineered polymers.
Company: Duraamen Engineered Products Inc.
Product: Concrete Flooring: Concrete Densifier
Source: https://www.duraamen.com/p/polished-concrete/
Tags: Color | Concrete | Design | Finishes | Floor
---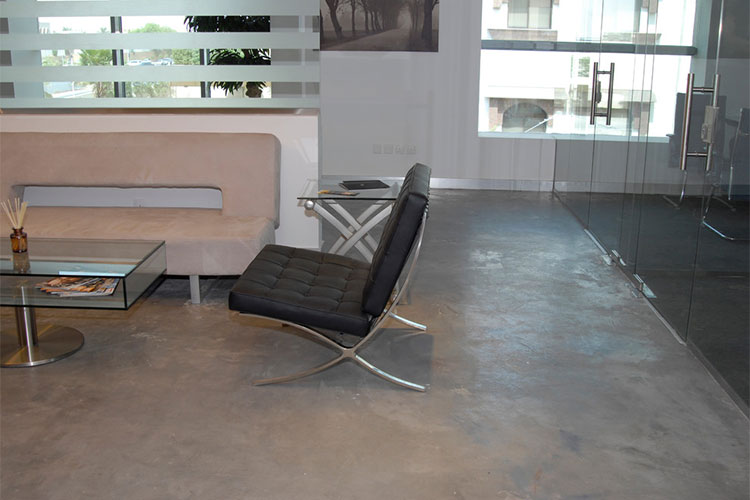 Elite Crete Systems has solutions to concrete floor problems and the design and decor experience to provide a truly unique one of a kind floor system.
REFLECTOR Enhancer Flooring Systems for a residential garage floor.
REFLECTOR Enhancer Flooring Systems in a dining room. Seamless, durable and beautiful.
Although this floor looks like traditional wood floor, it is not actually wood at all. It was created with THIN-FINISH™ Pre-Mixed Overlay and is a polymer modified cementitous topping. Because it is cement based, it is seamless and will not scratch like conventional wood floors.
Custom seamless floor created with REFLECTOR™ Enhancer Flooring System.
This beautiful and custom floor was created with THIN-FINISH™ and MICRO-FINISH™ polymer modified cementitious overlay.
This floor is not tile. It is fluid applied but made to look like stone tile. It was created with TEXTURE-PAVE™ pre-mixed overlay and colored with ULTRA-STONE™ Antiquing Stain.
Elite Crete Systems is a leading manufacturer of exterior decorative concrete finishes and custom seamless interior flooring. With a national network of trained installers and local technical support offices Elite Crete Systems is able to service individual residential clientele along with large corporate installations and construction projects.
Company: Elite Crete Systems, Inc. (Headquarters)
Source: http://www.elitecrete.com/
Tags: Coating | Concrete | Finishes | Floor | Interior Design
---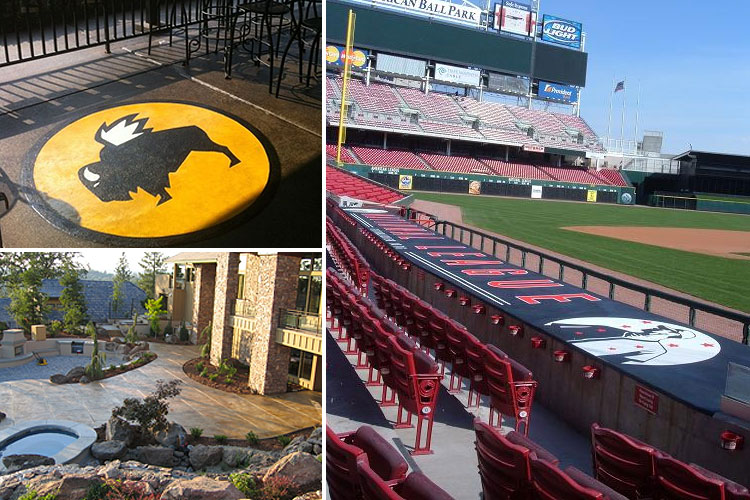 Known for its incredible beauty, strength and affordability, thousands of retailers, restaurants and showrooms nationwide are choosing decorative concrete. With decorative concrete coatings and finishes, your business can transform a dull slab of grey concrete into a work of art and extend the life of your flooring. While decorative concrete coatings offer many great benefits, here are some of the key advantages:
1. Design flexibility
Decorative concrete can be applied to new or existing concrete surfaces, and the design options are virtually limitless. Due to advances in concrete mixing and setting, contractors can create any color and texture you can think of. Decorative concrete coatings can be applied through a variety of methods, including acid staining, thin stamp overlays, splatter texture, and slate trowel down finishes, which can be used to create decorative textural patterns or custom designs. Decorative concrete can even be made to resemble natural stone.
2. Strength and longevity
Along with its aesthetic appeal, decorative concrete coatings will increase the strength, durability and longevity of concrete surfaces. It's stronger than many comparable materials and will deteriorate at a much slower rate. Decorative concrete will make your floor resistant to heavy loads, weather, and mold and dust.
3. Low maintenance
Decorative concrete is easy to clean and requires very little maintenance. There's no regular polishing or coating, and spills can easily be cleaned up with soap and water. You just need to apply a sealer about every 4 years. The low maintenance and durable properties of decorative concrete will save you valuable time and money on maintenance and repairs.
4. Affordability
Despite all its amazing benefits, decorative concrete coatings are very low cost and affordable. Decorative concrete is inexpensive to install, and with its extreme durability, resistance to most damages and low maintenance requirements, it's the most economical flooring solution.
Protect and beautify your concrete surfaces with decorative concrete. If you are interested in installing decorative concrete at your business, contact Elite Crete Systems today: 1-888-323-4445.
Company: Elite Crete Systems, Inc. (Headquarters)
Product: Decorative Concrete Finishes
Source: http://www.elitecrete.com/4-major-advantages-decorative-concrete-commercial-settings/
Tags: Concrete | Design | Floor
---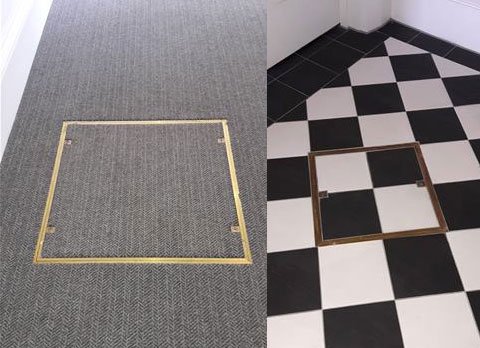 Floor access covers at Lews Castle - the Isle of Lewis
Lews Castle, on the Isle of Lewis in the Outer Hebrides has an interesting past. It was built between 1844 and 1851 for Sir James Matheson, who made his fortune from the Chinese opium trade. Designed by Glasgow architect Charles Wilson the Mock Tudor Castle was intended as a country house for Sir Matheson.
In 1918 industrialist William Lever bought the castle and gave it to the people of Stornoway parish in 1923. During the Second World War the castle was used as hospital and then as a college and a school before being declared unsafe and closed down for twenty five years.
The Castle reopened in July 2016 following a £19 million refurbishment. The Category-A listed building is now a museum and cultural centre owned by the local council - Comhairle nan Eilean Siar, and a wedding venue and five star accommodation operated through Natural Retreats.
The council awarded the major refurbishment contract to the Scotland Division of GRAHAM Construction. Their remit included the repair and restoration of the interior of the ground and upper floors of the Castle, the construction of a new museum and cultural centre and centre café.
The Light Duty 5000 Series Aluminium Floor Access Covers from Howe Green were specified to provide access to the underfloor services, located in the corridors on the first floor of the Castle. Sixteen covers were supplied, in various standard sizes. The covers were specified with the option of a brass show edge. They were installed by GRAHAM Construction and then infilled with carpet or ceramic tiles, depending on their location.
The Howe Green 5000 Series offers a pedestrian loading and is suitable for pedestrian footfall, wheeled trolleys and sack trucks.
The brass show edge with matching lifting points, which are anchored to the inner frame, give an even higher level of aesthetic appeal than the standard aluminium show edge. The brass finish fits perfectly with the historic surroundings of the Castle. The show edge is continuously secured which means there are no fasteners to rust or break. The seamless fit with the floor finish reduces the risk of slips and trips.
The Light Duty 5000 Series Aluminium Floor Access Cover can be supplied with a double seal and a top edge seal to help prevent dirt and water ingress. There is also an option to have a 1 hour fire rating to BS 476: Part 20: 1987 if required.
When there is a chill in the air the team at Lews Castle know they have the best chance of keeping the Castle cosy as the floor access covers provide easy access to the central heating. Should any maintenance be required the covers can be removed safely, quickly and easily with the use of lifting keys, keeping disruption to the running of this premier tourist attraction to a minimum.
Company: Howe Green US
Product: Light Duty Floor Access Covers
Tags: Access Covers | Floor
---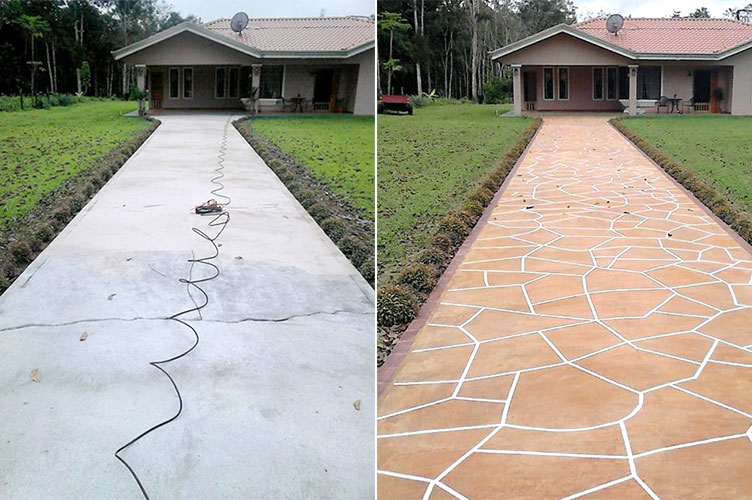 Before & After: Concrete surface restoration using THIN-FINISH™ Pre-Mixed Overlay
When unsightly, old and damaged concrete is no longer acceptable the option for concrete resurfacing should be your top choice. Concrete floors over time will often develop cracks, show surface spalling, stain, and begin to deteriorate.
Typically the structural concrete slab will be fine but its surface is in need of repair and concrete resurfacing. Elite Crete Systems has been leading the concrete resurfacing industry for decades and has a wide variety of products and systems to choose from.
Once it has been determined that something needs to be done about the old concrete, the fun begins! Concrete resurfacing systems open the door to wide range of design and decor options. There are purely functional concrete resurfacing products that will look and feel similar to standard grey concrete floor, but for those who want to take their concrete flooring to whole new level, decorative concrete systems should be considered.
Here are some common concrete resurfacing systems with overviews of what the look and design can be expected from each:
Broom Finish Concrete - Skim, Bond or Broom Coat
This system is designed to resurface concrete with a very thin layer of polymer modified cement. This thin layer can be squeegeed and smoothed out at 1/8th inch thick or less to provide a vibrant new surface to damaged concrete. Because of its thin nature, the concrete should be patched and leveled prior to the application so that any imperfections are corrected. This product can be colored and applied with a variety of textures to create a cost effective and limitless design to beautify concrete slabs and floors.
Splatter Texture - Splatter, Knock down, Sprayed texture concrete
Often found around pool decks and large outdoor patios and walkways. This functional concrete resurfacing system provides a textured, slip resistant finish that can be efficiently applied with a hopper spray gun. The final look is that similar to a splattered wall finish standard in many homes. The texture helps the surface stay cool for bare feet in the hot sun and creates a functional anti-slip surface for wet areas. This texture is most often installed on top of a skim or bond coat and can then be coated in any color similar to a painted surface top while providing a sealed, consistent floor finish.
Thin Stamped Overlay - Stamped topping, Stamped concrete overlay, Texture Pave
When a natural custom look is what you are after, a thin stamped overlay will provide a new surface to your concrete that resembles stone, rock, slate or wood. When resurfacing concrete with a thin stamped overlay, you can expect to cover the concrete with 3/16" to 5/8" of material and then imprint or stamp a pattern into the freshly placed material. When using thin stamped materials you are limited to thin, or shallow stamp mats that require only minimal material displacement. These systems are ideal for interior and exterior spaces where a textured finish is desired that resembles a natural material or paver.
Design Options for Concrete Resurfacing:
Color Choices:
Integral Color, Stains, Dyes, Solid Coatings
Sealers:
Matte, Satin, High Gloss
Surface Textures:
Stone, Brick, Rock, Wood, Pavers.
Also includes a range of anti-slip additives that can be incorporated in to the sealer system.
For more information about concrete resurfacing, please feel free to contact Elite Crete Systems with any questions.
Company: Elite Crete Systems, Inc. (Headquarters)
Product: Concrete Surface Restoration
Source: https://www.elitecrete.com/concrete-resurfacing/
Tags: Concrete | Finishes | Floor | Landscape Design
---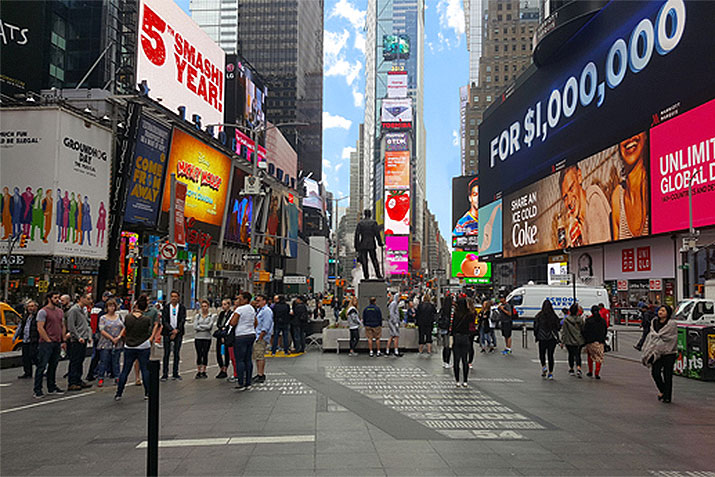 The situation
The presence of Broadway began in 1750, and has since shaped the essential character of New York City. Spotlight on Broadway is a multimedia project of NYC's Mayor's Office of Media & Entertainment located in the heart of Times Square. The project celebrates the unique charm and incredible legacy of Broadway and its forty theaters. It displays an in-ground map, made out of steel and granite, allowing visitors to engage and visualize the density of the world's largest and most recognized theater district.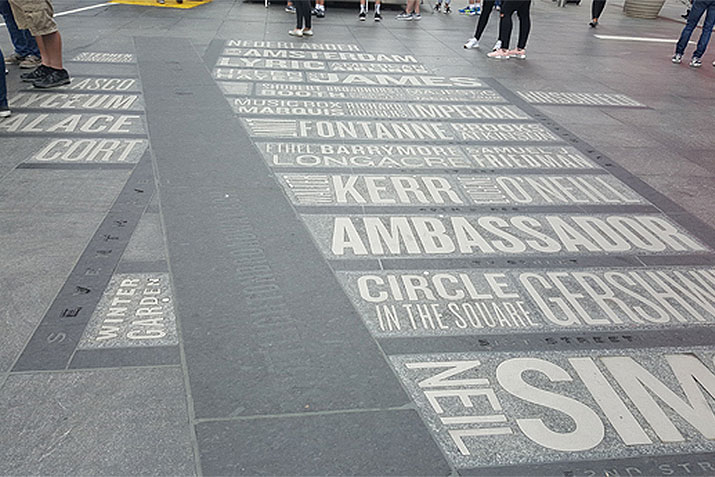 The solution
The designers at Creative Edge Master Shop contacted SlipNOT® for a solution to the bare steel lettering that presented a safety hazard when made slippery due to wet weather or other outdoor elements. The fabricating company sent in custom cut 3/8" thick letters which were blasted for imperfections, then coated with SlipNOT®'s Grade 2 stainless steel. Stainless steel is easy to clean and offers corrosion resistant properties that are exceptionally functional in wet environments both indoors and outdoors. The gripped surface of the coating not only provided higher traction for pedestrians, but also added another dimension to the piece, exhibiting a sleek and modern aesthetic.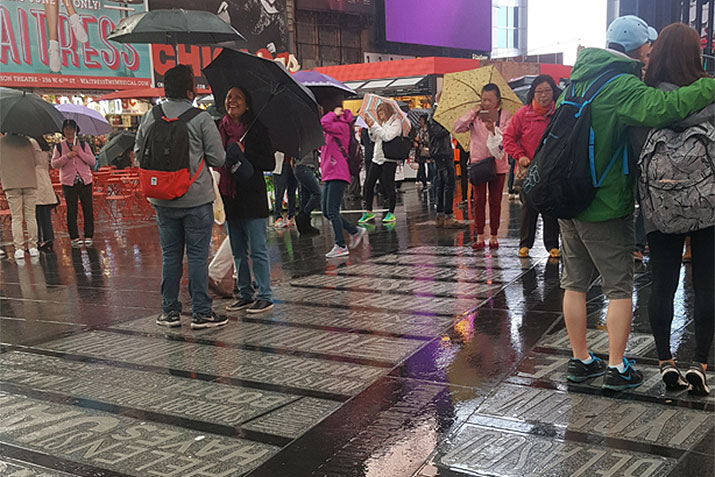 The impact
Creative Edge is a world leader in creative architectural water jet fabrication and has been in business for over 27 years. The Spotlight on Broadway project won a Pinnacle Award, which honors companies for a job that "stands above the rest." The Award Institute declared the project a "Clever design that pays homage to timeless Times Square," which was ultimately awarded merit for "Commercial Exterior".
Due to the slip resistant surface provided by SlipNOT®, tourists from all over the world can enjoy the innovative and engaging map of Broadway and its 40 theaters without having to worry about possible injuries due to slip, trips, and falls.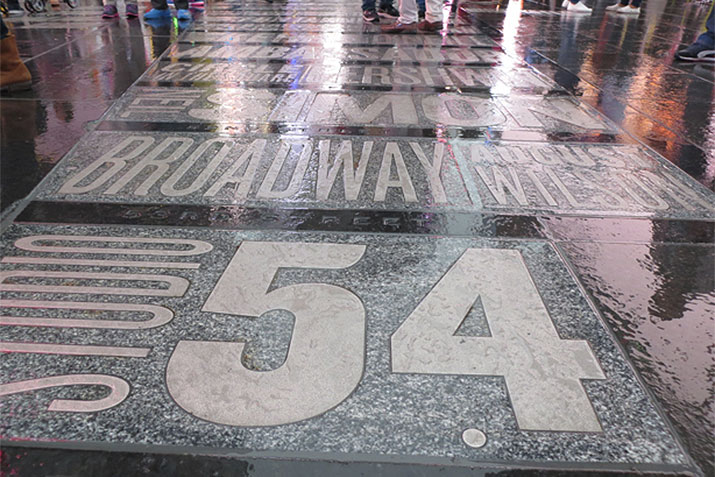 Award Recognition:
http://www.marble-institute.com/default/assets/File/awards/2014_MIA_pinnacle_brochure_FINAL_lo.pdf
Company: SlipNOT® Metal Safety Flooring Div.
Source: http://www.slipnot.com/case-studies/slip-resistant-stainless-steel-letters-for-times-square-spotlight-on-broadway/
Tags: Award | Design | Floor | Metal | Safety
---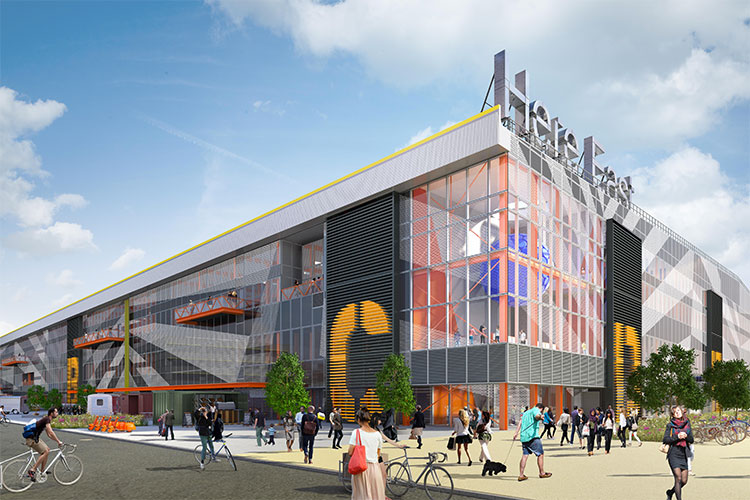 During the 2012 London Olympics and Paralympic Games the International Press and Broadcast Centre played host to the world's media. 20,000 journalists were at the heart of the action, reporting the latest triumphs and Olympian feats to a global audience estimated to be over 4 billion people.
Fast forward to 2017 and these key buildings continue to form a central element of the Queen Elizabeth Olympic Park. The Centre is undergoing a commercial redevelopment to become Here East – the exciting digital quarter for East London.
The transformation of the International Press and Broadcast Centre has created 1.2 million square feet for business, media, tech, education and data and over 7500 jobs on the site and in the local area. Dozens of businesses have already taken up residence in this digital heartland, including BT Sport, Infinity, Loughborough University and UCL.
Howe Green floor access covers were specified by architect Hawkins\Brown for one of the office spaces within BT Sport. Howe Green supplied twelve Medium Duty 7500 Series Stainless Steel Access Covers for the project.
The 7500 Series is Howe Green's flagship access cover and has evolved from the original 750 Series supplied to supermarkets when the company first started trading in 1983.
The covers specified for Here East were to be installed into a raised floor system. They were ordered with stainless steel Z profiles to provide support to the access cover within the raised floor.
The covers were installed in corridors throughout the building to provide safe and easy access to access junctions in the drainage systems. The 7500 Series was specified to match the existing raised floor system appearance. The access covers were initially covered with plywood and were then infilled with a vinyl flooring finish.
Whilst fitting access covers into a raised floor may at first appear counter intuitive it is no longer an unusual scenario. Historically a raised floor system provided access to a wide variety of mechanical and electrical services, data and connectivity cabling and underfloor air distribution concealed within the void created between the raised floor and the floor slab. Making it ideal for use in renovating existing buildings or retrofitting spaces for different uses.
In a traditional raised floor environment, such as a data centre, where functionality featured ahead of aesthetics, heavy duty removable floor panels could be removed with a tile lifter to allow access to underfloor services.
Over the years the use of raised floor systems has extended to commercial offices, educational institutions and hospitals. Aesthetics, security and flexibility are more important in these environments. The demand for different floor finishes, improved security and the ability to easily reconfigure space has led to an increase in demand for Howe Green access covers installed in raised flooring.
The 7500 Medium Duty Stainless Steel Access Covers provide safe and easy access to the drainage services located below the flooring. Supplied with a double seal they address the need for a secure solution in an office setting with relatively high pedestrian footfall. The vinyl infill offers a seamless floor finish which will reduce the slip or trip hazard.
The 7500 Series can be supplied as a single cover, a configuration of duct covers or multipart covers in standard sizes and loadings from stock, or can be precision made to order.
If you are looking to "raise the bar" with your raised flooring system installation, get in touch to see how Howe Green can help.
Find out more: 7500 Series Medium Duty Floor Access covers >
Company: Howe Green US
Product: Medium Duty Floor Access Covers
Source: https://www.howegreen.com/access-covers/projects/international-press-broadcast-centre-london.php
Tags: Access Covers | Entrances | Floor
---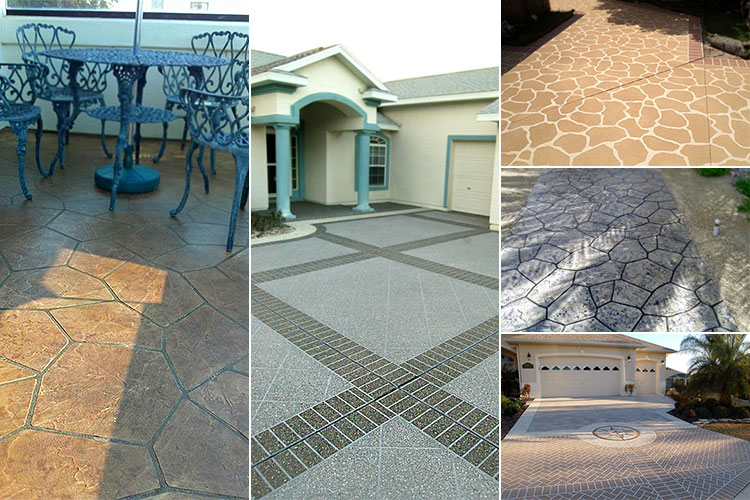 Stenciled concrete is a great option for pool decks, patios and driveways
How can concrete become brick? Or be turned into fan-shaped cobblestone? Or have your company logo "painted" on? The answer to all of those questions is stencils. Stenciled concrete is popular for exterior surfaces like driveways, patios and pool decks because there are a lot of varied patterns available, and they are pretty DIY friendly.
Plain concrete is no longer interesting to homeowners who have seen the creative design options on Pinterest and the home and garden TV shows. Concrete that has a pattern, in different colors and shapes, enhances property value of the property. Concrete that is already in good shape can be stenciled in any design and sealed to make the surface long-lasting. Stencils are easy to install—a dedicated DIY-er can do it themselves and be successful, and contractors can make very good profit.
Many companies sell stenciled concrete patterns. These are available in classic patterns like herringbone brick or the fan-shaped cobblestone patterns of European streets. Design companies also sell stencils that can be cut using high-tech CNC machinery that can be made in any specification—your monograms, a company logo, a horse for the driveway of a stable, or wine grapes for the floor of a winery tasting room. The options are endless!
Next time you see a patio, pool deck or driveway with a beautiful and intricate pattern on top of concrete, take a closer look! It's likely a stencil. Many patterns can be cut into concrete with concrete saws. For large-scale concrete, such as courtyards and plazas, colors can be mixed into concrete as it is poured. But for details such as brick edging, a pattern that looks like Ashlar slate, herringbone brick, or even octagonal tiles, it's often stenciled concrete.
Use a product like Duraamen's Uberdeck polymer-modified, concrete overlay or Skraffino Portland cement skim coat to the top of concrete you already have. First, apply the stencil pattern. Then apply the concrete coating in the colors you want. It can be that simple to have a durable concrete surface that looks brand new!
Please click here to learn the detailed installation process.
Company: Duraamen Engineered Products Inc.
Source: https://www.duraamen.com/blog/stenciled-concrete-for-your-pool-decks-patios-and-driveways
Tags: Coating | Concrete | Exterior Design | Floor
---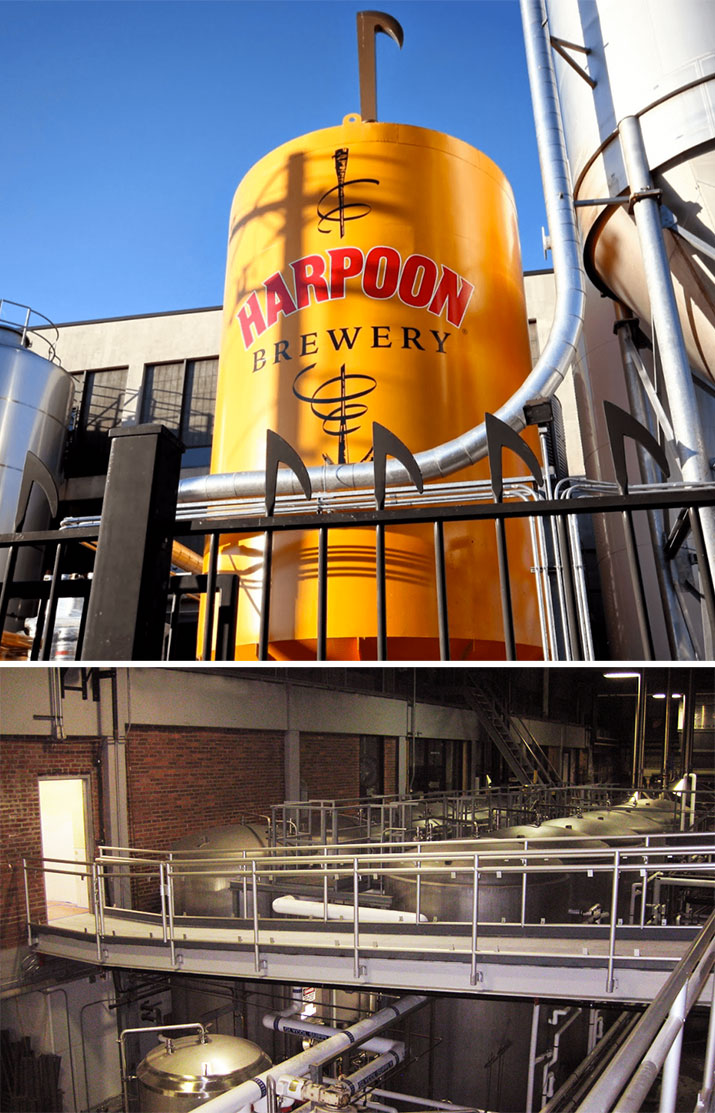 THE SITUATION
Harpoon Brewery began in 1986 when owners Rich and Dan, beer lovers, sought more quality beer choices. They received the fist permit in 25 years issued by the Commonwealth of Massachusetts to brew and package beer commercially. Without knowledge of what craft brewing would become they set out to introduce a local brew to Boston drinkers operating on the docks of South Boston where they still brew to this day. They maintain a spirit of fun and hope the joy of beer drinking resonates through their beer and breweries.
The Visitor Center now features Brewery tours and a Beer Hall and Store selling merchandise, beer, and growlers. For this project, they contacted their fabricator for ADA compliant walkways; SlipNOT® aluminum plate was recommended to provide slip resistant compliance for maximum safety.
THE SOLUTION
Capone Iron Corporation took all of Harpoon Brewery's needs into consideration to design the most appropriate solution for this application by recommending SlipNOT® aluminum plate. Brewing safety is not just for the protection of the brewers but goes hand-in-hand with the quality of your finished liquid beverage. SlipNOT® products are 100% grit-free and will not flake off causing damage to machinery and end products, an ideal solution for food and beverage facility safety.
For this instance, SlipNOT® provided (10) 3/8" x 4' x 8' aluminum plates, (7) 3/8" x 4' x 12' aluminum plates, and (11) 3/8" x 5' x 12' aluminum plates in a Grade 2 mill finish. Capone Iron was committed to not only install aesthetically pleasing walkways for their customer, but also provide a permanent safety solution.
THE IMPACT
A Project Manager from Capone Iron reported that the plates were ordered to be installed in the tour route platforms and metal catwalk areas. Harpoon Brewery now has custom platform designed to meet their needs and provide safe tours to the public through their facility. SlipNOT®'s coefficient of friction which is 0.85 or greater surpasses the of ADA recommendation of 0.6 for flat surfaces and 0.8 for ramps this project had both flat and inclined surfaces and all safety requirements were exceeded.
Company: SlipNOT® Metal Safety Flooring Div.
Source: http://www.slipnot.com/case-studies/aluminum-catwalk-harpoon-brewery-tours/
Tags: Aluminum | Floor | Safety
---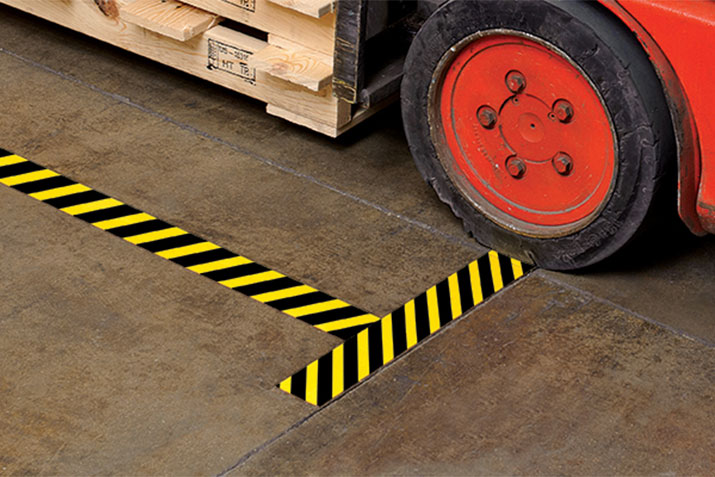 Floor marking, if it's used to its best advantage, can help you create a very organized, efficient and safe workplace. Using the different colors and patterns of floor marking tape that are available, helps keep your employees in the right areas or passageways, marks equipment and storage, and guides them in an emergency. Here is a suggested plan with which to color-code your facility.
Yellow
Mark aisle ways, traffic lanes, and work cells. Distinguish clearly the various sections of a plant.
White
Point out equipment work areas and borders.
Orange
Mark inspection spaces for materials or products.
Red
Create separate sections for finished products with defects, scrap material, rework products or red tag areas.
Blue, Green & Black
Use tapes to define material storage areas, storage fixtures, and storage shelves or racks for various materials such as raw material, works-in-progress and finished goods.
Red & White Striped
Identify safety and compliance areas to keep them clear. Help workers to discern between firefighting and other kinds of safety equipment. Increase visibility and find items from afar.
Black & White Striped
Color-code operation areas in the case of dangerous equipment or forklift traffic. Use the tape to keep open areas free of miscellaneous items.
Black & Yellow Striped
Mark electrical panel areas and keep the areas around them clear. Apply a border to equipment and special hazard areas; this denotes that caution should be used in the space.
Photoluminescent
Identify exit pathways with luminous marking tape to show the way out of your building. Apply to steps and floors in the path. This way the path will show in an emergency situation when the light is dim.
Shop tapes at Seton.com.
Company: Seton
Of: Danielle Hicks
Source: http://www.seton.com/resource-center/warehouse/floor-marking-color-3057/
---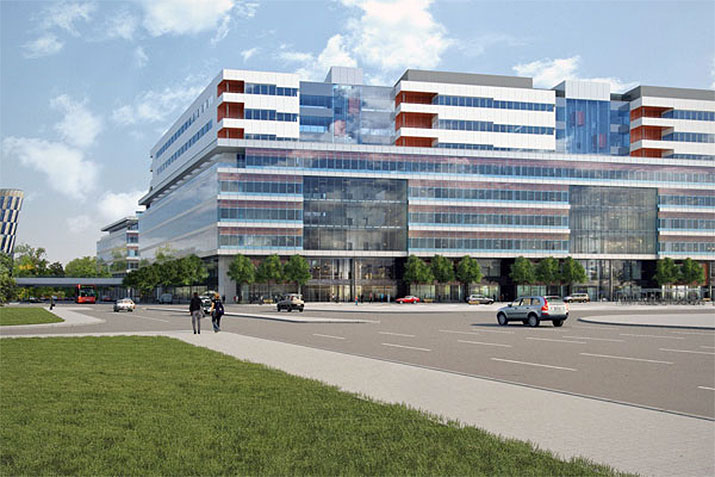 The New Karolinska Solna University Hospital (NKS) in Stockholm has been hitting the headlines for over a decade. The original Karolinska University Hospital was founded in 1930. Since the 1930's the hospital campus has expanded to cover a vast area with an estate of over 40 separate buildings.
In 2005 Stockholm County Council, who are responsible for delivering healthcare in the city, ran a design competition inviting "visionary thinking, modern design and unconventional ideas to form the basis of the creation of the new hospital". The competition was won by White Architects from Sweden with their 'Forum Karolinska'.
In 2008 Stockholm County Council took the decision to go ahead with the new hospital. They were the first Swedish healthcare project to adopt the Public Private Partnership (PPP) framework to finance, build and manage a hospital. In 2010 the PPP agreement was made between the County Council and the project company - Swedish Hospital Partner AB, a consortium of Skanska and their investment partner UK based Innisfree.
Skanska employed White Architects and Tengbom Architects to execute the design and coordinate the construction of the £1.5 billion facility.
A significant aim of the project was to create a purpose built environment with a strong focus on energy efficiency and sustainability. Phase One of the building has attained LEED Gold and the Swedish system "Miljöbyggnad" Gold certification
The ethos is to put the patient first and the list of facilities is impressive. It has 730 in-patient beds, 100 rooms for day care, 36 operating theatres, 168 out-patient clinic rooms and 8 radiation treatment rooms.
Howe Green Ltd supplied a number of HSE75 Hinged Aluminium Floor Access Covers for the hospital through their Swedish distributor, Elkington AB. From their base in Stockholm, Elkington have been distributing Howe Green access covers for projects across Sweden since 1999.
The gas assisted hinged HSE75 hatches provide easy and safe access to the underground power stations and escape routes located underneath the hospital. They have been installed in the various areas of the hospital and infilled with both concrete and tiled flooring to provide a seamless, flush floor finish.
The hinged access hatches are ideal for environments where regular access to concealed services is required for maintenance purposes and in public places where health and safety is crucial.
The HSE75 can be infilled with ceramic tiles, marble, terrazzo, concrete, resin, wood or parquet floors and is suitable for pedestrian and vehicle traffic up to a 5 tonne pneumatic tyre wheel load. Supplied as a single cover or a configuration of duct covers in standard sizes from stock or precision made to order.
Options include a top and underside release latch, for added security and safety, a double seal and fire rating up to 3 hours BS 476: Part 20: 1987.
The Howe Green range of access covers are tried and tested in a healthcare setting. They have been specified in hospitals around the world including Southmead Hospital in Bristol, Queen's Hospital in Romford, Great Ormond Street Hospital and the Lennox Addington Hospital in Ontario, Canada.
Company: Howe Green US
Product: Hinged Access Cover
Source: https://www.howegreen.com/access-covers/projects/nks-hospital-stockholm.php
Tags: Access Covers | Building | Design | Floor | Sustainability
---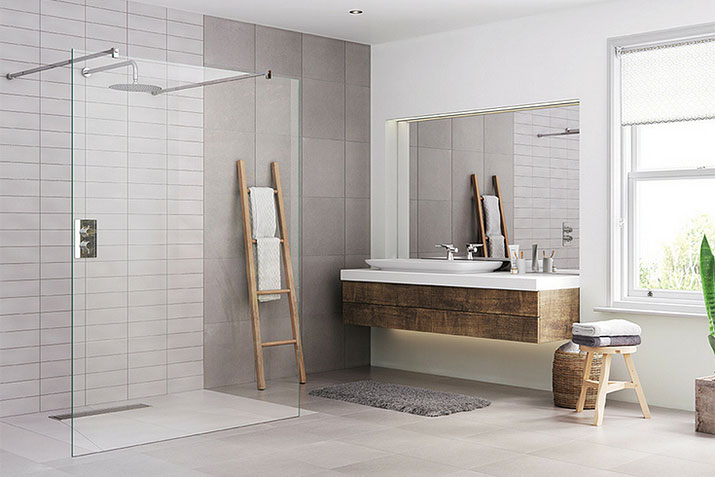 Do you have the June Cleaver throwback bathroom from the 1950's, or maybe a "modern" 1970's bathroom straight out of the Brady Bunch which are practically begging you for an update? You know you NEED a bathroom makeover so bad. It doesn't take a rocket scientist to see the partially rusted tub, pealed wood on the window sills, tired old particle board vanity with a dated laminate top and nasty looking grout in the shower. The challenge is what are you going to do about it? How can you update for a fresh, clean look? How can you create an updated design which takes advantage of the latest trends and keeps maintenance to a minimum? The question is – where do you start?
One excellent place to begin is to take a sneak peek at the products which are hot today and include these elements in your remodeled "bathroom of tomorrow." In this article, we'll look at what's hot now. At the end, I'd love to hear your "Siskel and Ebert" – two thumbs up or thumbs down on these products.
Hot bathroom trend #1 – A stylish one level "life-cycle" bathroom
Are you staring down the challenge of having to put Mom or Dad into an assisted living facility because their step-filled single family home has become too dangerous? The reality is most homes are not designed to work for family members as they age.
One important trend is the use of one level bathrooms which eliminate the curb to get into the shower. Not only are shower systems which eliminate the curb hot, they are also sleek and minimalist (more on this trend later) and will save you money, big-time.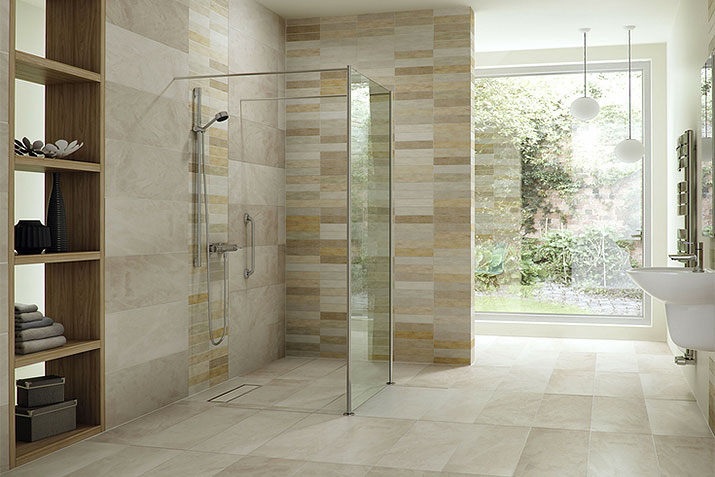 If you've priced assisted living facilities for Mom you know they can cost easily $3,000 to $4,000 per month. Using an "aging in place" (I hate this term – but many people use it anyway) solution like a one level shower can be sleek, stylish and eliminate the high cost of assisted living facilities.
Hot bathroom trend #2 – Geometry is in …at least for tile showers and bathrooms!
Although I'm sick guy and actually love math – I still didn't "get" geometry. I don't know, maybe it's because I'm more of a linear guy than a rhombus dude? Putting mathematics aside, one hot bathroom look for 2017 are geometric tiles. These tile designs not only add a feeling of shape and style – they also add drama to the bathroom. Fun and functional – that's cool.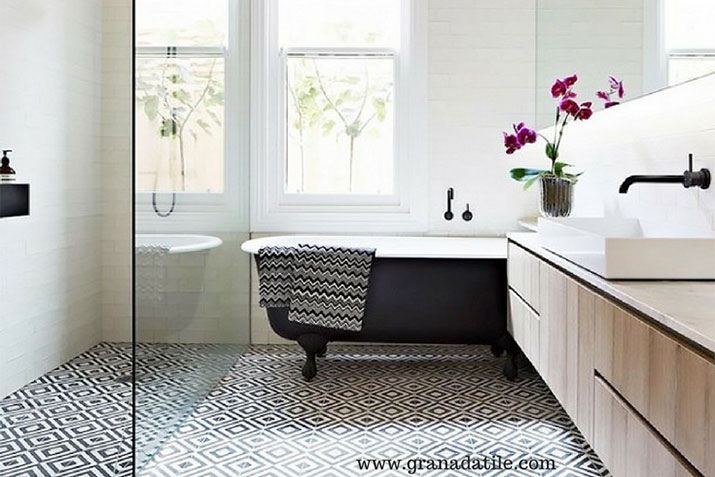 Hot bathroom trend #3 – Drop in tubs are way out – larger showers are in
Nothing says, "big hair and 1980's shoulder-pad-like" look in a bathroom quite like a gigantic soaking or jacuzzi tub in the corner flanked by two massive windows. I know this look was hot – but today you need to stay away from it like the plague. Our schedules are too crazy for bathing. Today's it's all about expansive showers. We are seeing people blow up their big tub and small 3' x 3' stand up shower next to them and convert to large open walk in showers. Sleek frameless glass walk in showers are all the rage – and why not – they get rid of the cost of the door and take less time to clean (a double benefit to you).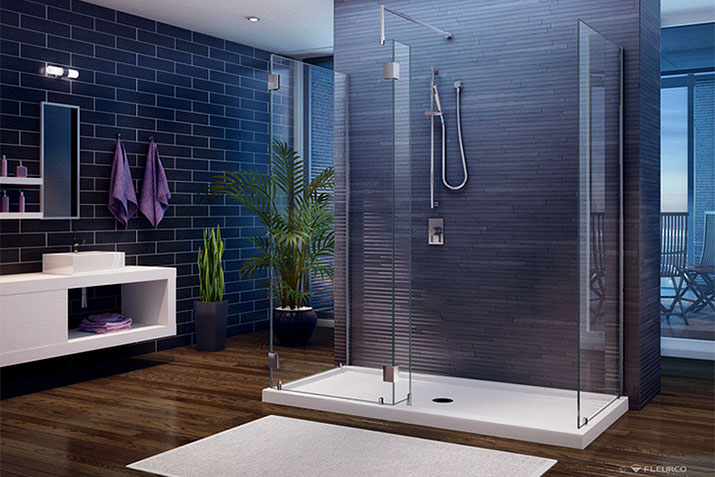 Hot bathroom trend #4 – Let's heat things up a bit
If you live in the Midwest (I live in Cleveland, but also spend a lot of time in Columbus) you know stepping on a cold bathroom floor in January can make a man out of you – even if you're a woman! It used to be in-floor heating systems where difficult to install and un-godly expensive. Not so today.
Electric and hydronic (liquid) in floor heating systems are no longer super pricey. You can even extend the heating systems inside the shower space – but I'll warn you may never want to get out if you do this! Another fun idea is to add a towel warming rack to pamper yourself when you get out. This bathroom will be so relaxing it may make you late for work!
Hot bathroom trend #5 – Sleek and minimalist is the thing
In the late 90's and early 2000's it seemed the fancier the woodwork in your bathroom the more style points you got. Today – bathroom trends are the opposite of our lives. The goal is to create a sense of calm, serenity, a place which flows with minimalist lines and flair. Think about using wall mounted cabinetry and the one level floors mentioned in trend #1 above. Take complexity out of your bathroom. You already have enough complexity in your life to go around. This will make your space stylish and simple to clean.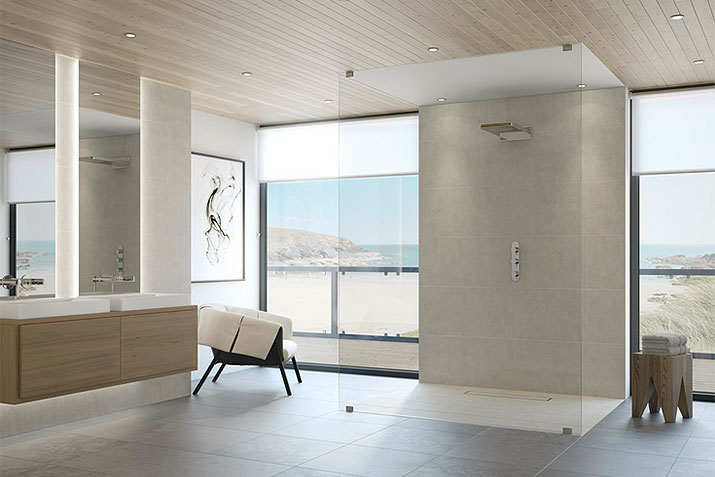 Hot bathroom trend #6 – Think like "Mrs. Thomas and her English muffins" and use your nooks and crannies
Home sizes historically kept getting bigger until the bottom fell out of the housing market in the late 2000's. Now people are stepping back and evaluating how big a house they really need. Groundbreaking books like The Not So Big House by Susan Susanka and formerly weird concepts like tiny homes, container homes and houseboats are becoming a larger part of the housing market. So, what does this have to do with Mrs. Thomas her filling the nooks and crannies of her English Muffins?
As homes have begun to scale down we now need to be more thoughtful per square foot and every room including the bathroom. This trend has certainly "washed over" (bad pun intended here) into the bathroom remodeling projects. In 2017, you'll continue to see inventive soap and shampoo niches (like this one illuminated with LED lighting below) which use the "inside of walls" to create space in a bathroom.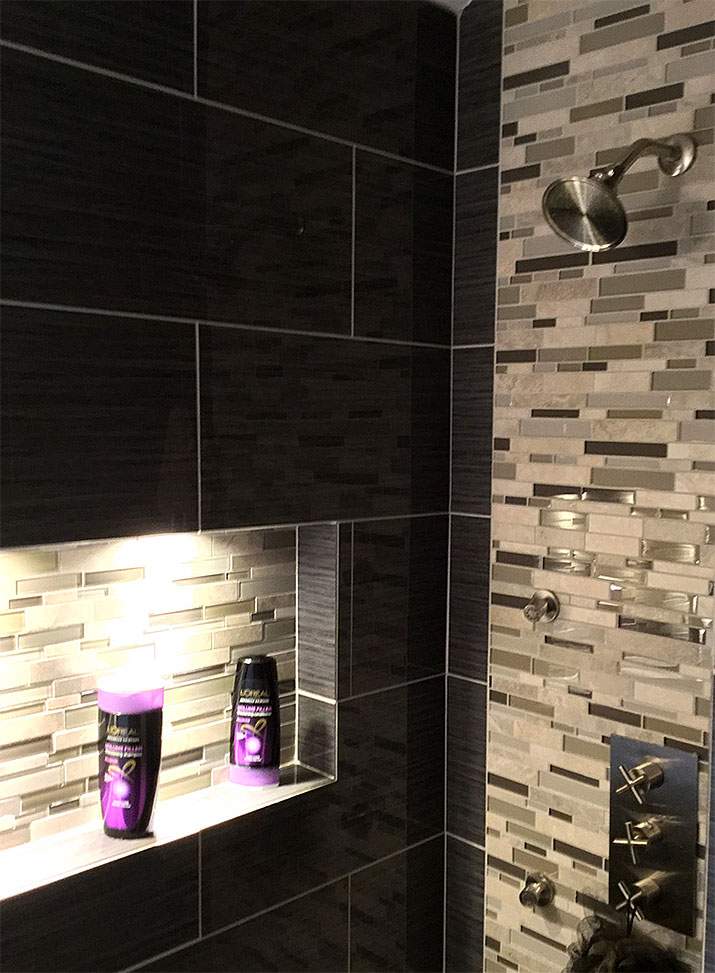 The movement to level floor showers (see trend #1) has helped because our bathrooms are now – more than ever – thought of as one continuous space. Fun ideas including vanity mirrors built into the wall are another example of superior space planning which in the years of the McMansion would have had no place – but are hot today.
Hot bathroom trend #7 – Maintenance is way out – luxury grout free shower wall panels are in
Tile looks great the day it's installed. The problem is those doggone grout joints end up sucking up your time cleaning them or needing to schedule a "Grout Dr." to come out to maintain your shower. What's hot in 2017 are cool lines of grout free shower wall products to blow up the grout cleaning challenge once and for all.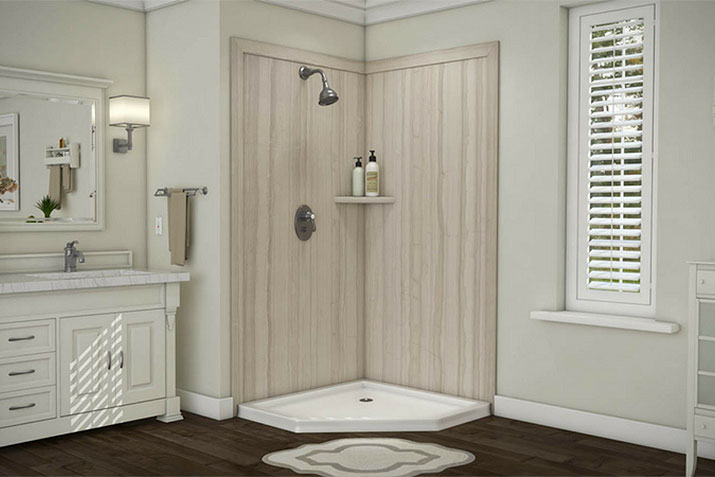 Stylish lines like these high gloss contemporary wall panel system provide the sleek, Euro contemporary (low maintenance) look. 3D wall panels are also getting hot because they add a sense of drama and texture.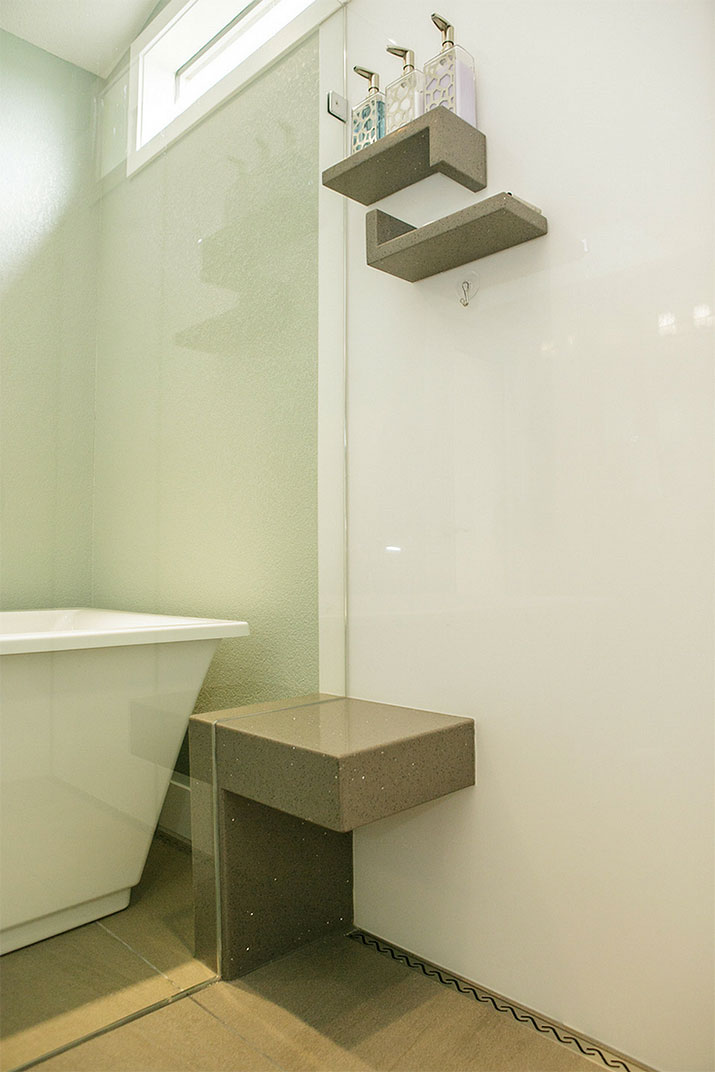 Conclusion
If you're living with your Brady Bunch or June Cleaver bathrooms of yesteryear isn't it time to blow them up for a fresh, clean, low-maintenance contemporary bathroom of today? What do you think about these 2017 hot bathroom design trends? Which do you like? Do you find any to be butt-ugly? Are there other trends you'd like to add? I'd love to see your comments, ideas and thoughts below.
How can I (or a member of my team) help you with these bathroom trends?
I know it can be challenge to put a fun and functional bathroom design together by yourself. That's why I (and the members of my team) would be delighted to assist you through your bathroom remodeling project. Whether you need nationwide factory-direct materials to save some money on doing the project yourself or professional design our Innovate Building Solutions (877-668-5888), Cleveland Design and Remodeling (216-658-1270) and Bath Doctor division in Columbus (614-252-3242) would love to help. Give us a call or click here for a Free Design Consultation.
Follow the Author on Twitter @Mike_Foti or his company @InnovateBuild.
Company: Innovate Building Solutions
Product: High Gloss Acrylic Wall Panels
Of: Mike Foti
Source: http://blog.innovatebuildingsolutions.com/2017/05/20/7-hot-2017-bathroom-design-trends-cleveland-ohio/
Tags: Floor | Glass | Interior Design | Wall Panels
---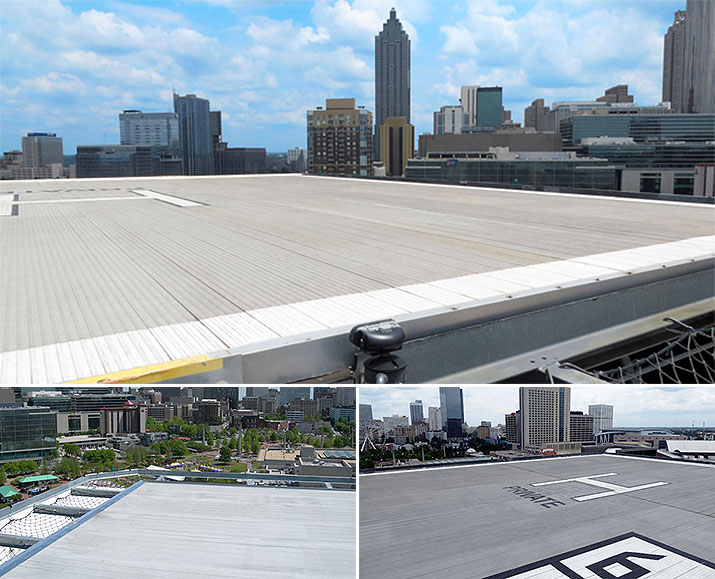 THE SITUATION:
The Luckie Marietta District in downtown Atlanta, Georgia is a premier city center that creates a chain of 25 local restaurants, 18 attractions and retail stores and 7 hotels. One of the many hotels on this strip includes the Hilton Garden Inn Atlanta. The Hilton houses the first functioning helipad that operates from the rooftop of this exclusive hotel. Providing a convenient mode of transportation and a unique experience, the helipad provides shuttle services to area airports and VIP flights. The hotel has 28 floors and over 9,500 square feet, causing safety on this rooftop to be a top concern. A slip resistant flooring was required.
THE SOLUTION:
A grating manufacturer was hired to provide 2-1/2" snap lock aluminum plank for this project with an aluminum SlipNOT® surface. Heavy duty aluminum planking includes snap lock interlocking end banded to form standard panel widths. Aluminum plank is structurally sound and aesthetically pleasing while also providing corrosion resistance.
THE IMPACT:
Safety is critical for this helicopter pad and SlipNOT® provides traction that will not fail. SlipNOT® aluminum plankwas manufactured to specific dimensions and installed flawlessly. The customer was pleased with the results and low maintenance the aluminum planking provides.
Company: SlipNOT® Metal Safety Flooring Div.
Source: http://www.slipnot.com/case-studies/aluminum-plank-hilton-rooftop/
---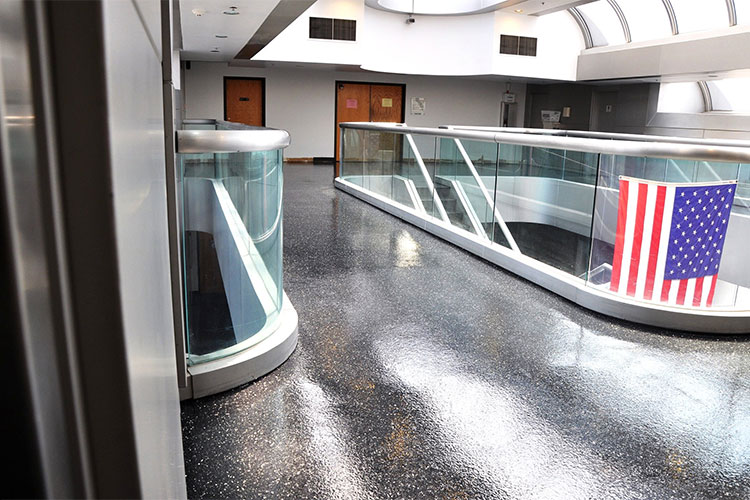 Architect specified a HERMETIC™ Flake Floor instead of terrazzo in this airport terminal. The cost savings was substantial.
HERMETIC™ Industrial Floor Coatings offer a variety of high performance flooring options for facility managers, property owners and specifiers looking for a ultra durable, easy to maintain, seamless flooring system. In fact, the choices are often so many that it becomes difficult to choose. In many cases, the right choice will be dependent upon the unique situation of the facility and what performance characteristics are required in a floor.
Industrial floor coatings are often chosen for aesthetic or financial reasons. They are a great value for medium to high impact areas where heavy traffic is expected. HERMETIC™ (epoxy resin based) Industrial Floor Coatings are available in almost any color and can be applied in thicknesses between 1/16″ to 1/2″ or more. They can easily improve the aesthetics and harden the surface of existing concrete substrate. Epoxies create a seamless, waterproof barrier, which provides a well-protected surface but demands a low-moisture substrate on which to be applied. Because an expertly installed epoxy floor provides this wall-to-wall seamless surface, it is very popular in the pharmaceutical and chemical processing industries. When chemicals cannot contaminate the concrete substrate, you are assured uncontaminated products down the line and easy clean-ups in the meantime.
HERMETIC™ (urethane based) Industrial Floor Coatings are similar to epoxies in terms of installation and function; they are installed over a concrete substrate, filling in the cracks and achieving a smooth, seamless surface. Urethane, however, is a better choice for areas that are likely to receive thermal shock, high-impact, increased abrasion or chemical exposure. Urethane is an extremely durable product that is likely to meet or exceed the physical needs of any facility. Urethanes also have aesthetic appeal similar to epoxies. The material can reflect light to a degree that influences your utility costs and improves worker productivity. For all of these reasons, urethane is a popular choice for commercial kitchens and food processing facilities.
Company: Elite Crete Systems, Inc. (Headquarters)
Product: HERMETIC™ Industrial Flooring
Source: http://elitecrete.com
Tags: Coating | Concrete | Finishes | Floor | Interior Design
---
Figuring out the right shower pan to use can be a pain. Do you get a traditional shower base with a 4 to 5" step over curb? Would a low-profile curb (which is 1 ½" tall) be the ticket or would it allow water to spill out onto the bathroom floor? Could you ditch the shower curb entirely and choose a ramped entry or one level wet room?
I've talked to thousands of homeowners over the last 20 years (wow – has it been that long?) about shower pan options, and I'll tell you the case for blowing up the shower curb (having no threshold at all) has never been stronger! In this article I'm determined to lay out 5 compelling reasons you should seriously consider going with a curbless shower for your next bathroom remodeling project. Let me know at the end of the article whether you agree with these reasons or whether I'm all wet (OK – that's a bad attempt at bathroom humor).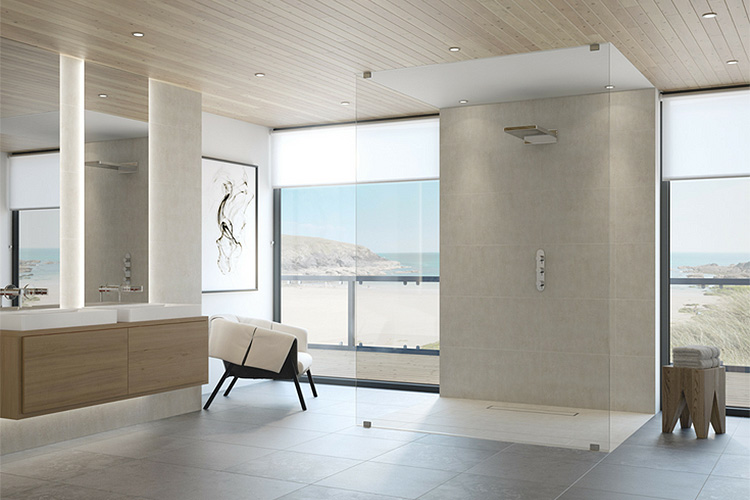 Zero clearance shower pans look nice and are safer
Compelling reason #1 to ditch the shower curb.
You're getting older.
Duh, you're probably saying…. aren't we all getting older? Yes, that is true. I would add the good news is we are living longer, but the bad news is (somedays) we're living longer. The aches and pains in the morning do stack up as those gray hairs (if you're lucky enough to get them without becoming "bulbed" as my daughter used to call bald people when she was young) start to mount. While growing older is a blessing, on some days it can also feel like a curse. I know I've asked myself why my body has "wear" parts? Why can't I look as lean as my 18 and 22-year-old sons who don't have to watch what they eat (but I digress).
When we age, the unfortunate fact is our mobility goes the wrong direction. Stepping over a shower curb can be a dangerous thing. It is the cause of many expensive and challenging hospital stays. When you have a one level shower entry there is no curb to trip over. These zero clearance shower base designs are growing rapidly in the remodeling market -even though few new home builders (even construction companies who build in 55+ lifestyle communities) incorporate them in new home designs. If you want to stay safe the one level designs are increasingly important as you age.
Compelling reason #2 to ditch the shower curb.
You'll save space.
For most people this tips doesn't seem logical but if you've ever visited Europe or Asia and stayed in a hotel room (or a friend or relatives house) you'll see lots of examples of one level bathrooms with open showers in small spaces. The reason curbless showers save space is they break down the barriers of the traditional "shower enclosure" where the space is defined by the shower pan and glass enclosure. With a waterproof curbless shower the shower and the bathroom are one continuous space. If you've got a small bathroom (possibly in an apartment, loft, tiny home, or micro-home) this can be a space-efficient way to get 'er done (as Larry the Cable guy) would say.
Compelling reason #3 to ditch the shower curb.
You'll show your cool, sleek and minimalist good taste.
Design trends have changed a ton from the super-sized mega-mansions of the 1990's with expansive soaking tubs and ornate tile designs. What's hot today is a contemporary, clean, sleek and minimalist bathroom. These spaces use large format tiles (or sleek grout free shower panels) and often have wall mounted cabinetry and open and airy designs. Curbless showers are a perfect contemporary fit with this design trend.
Compelling reason #4 to ditch the shower curb.
It's never been easier to create a one level bathroom.
In the old days making a one level bathroom was a pain in the butt. Most contractors would scratch their heads trying to figure out what to do. In most cases, they would "drop the floor" of the bathroom. What this meant was cutting your subfloor, then cutting your joists and reframing the area so they could pour concrete into the new "hole" which they would level by hand (imagine how much you're going to like have concrete poured inside your bathroom – it's not like you're doing a driveway and the concrete truck is going to have the material come down the chute!). This process is not only laborious and time-consuming to build– it's not a great system because it can compromise the structural integrity of your home.
Thank goodness there are new simple options. Today you can get a wet room kit. With these kits, you (or your contractor) cut the subfloor and install a product called a "shower base former" directly on your existing joists (no cutting of the joists and messing up the integrity of your framing anymore – see the in process image below).
Once the base former is in and plumbing hooked up, cement board will be brought to the height of the base former. Finally, the bathroom floor will be waterproofed and tile installed on the finished surface. When the entire shower is done, it will look like the image above– cool, sleek, waterproof and safe!
Compelling reason #5 to ditch the shower curb.
You'll have more flexibility.
I wish I could tell you getting rid of your shower with a threshold would give you more flexibility to climb stairs or jump as high as your cat (isn't it amazing how high they can jump?). You'll just have to enroll with your spouse in a few yoga classes (OK maybe more than a few) to make this happen. Where I do think one level wet room can help your flexibility is you will no longer have to have your space be "defined" by the shower pan and glass enclosure. So, if you decide you want to change out the glass enclosure to make the shower bigger, smaller or change its shape you can do it. How cool is that?
Conclusion
The reality is the times are 'a changing.' Construction methods are 'a changing' and your thoughts about bathroom remodeling (and what type of shower base to use) should be 'a changing' with them. If you're dealing with an old (or young) stuck-in-the-mud contractor using outdated installation methods, don't put up with it anymore (I'm guessing you're not using the same computer, you used 20 years ago. Your contractor shouldn't be using the same approach to creating one level showers they did 20 years ago.
If you're having a tough time making this project a reality call us at the number below or add your questions or comments to this post. We are looking forward to helping you! One level bathrooms aren't as difficult as some contractors make them out to be.
What questions or comments do you have about trims and borders for DIY shower and tub wall panels? Comment or call the numbers below for more information.
If you're looking for more information or an estimate on remodeling a shower or nationwide material supply for the various wall panels and shower bases mentioned above call The Bath Doctor in Cleveland (216-531-6085), Columbus (614-252-7294) or for nationwide supply Innovate Building Solutions (877-668-5888).
Connect with the author on Twitter @Mike_Foti his company @InnovateBuild
Company: Innovate Building Solutions
Of: Mike Foti
Source: http://blog.innovatebuildingsolutions.com/2017/04/01/5-reasons-wet-room-shower-system-shower-pan-threshold/
Tags: Floor | Interior Design
---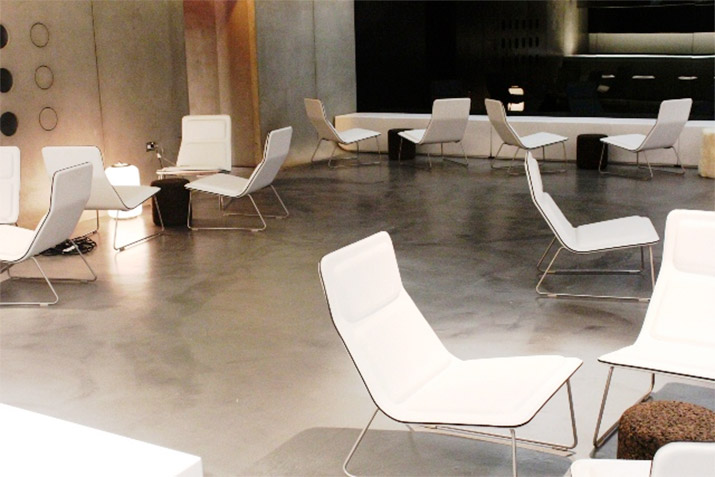 The interior and exterior aspects of the decorative concrete and resinous flooring industry has never been busier or in higher demand. Property owners, builders and architects are looking for something new. Something with more durability and better appeal than conventional tile, hardwood, carpet and terrazzo and Elite Crete Systems is leading the way with our award winning products and systems.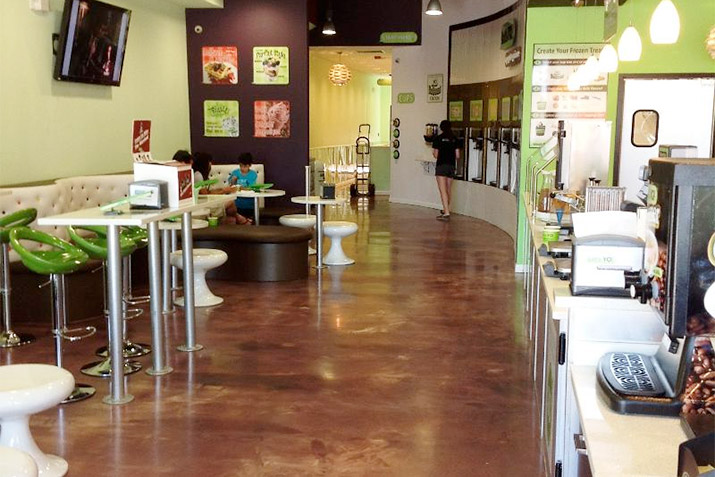 Custom, seamless, unique and durable... Those are the words used by this business owner when describing the type of floor they wanted for their for yogurt shop. By using THIN-FINISH, MICR-FINISH, HYDRA-STONE Dye Stain and E100-PT1 Clear Epoxy, that is exactly what they got.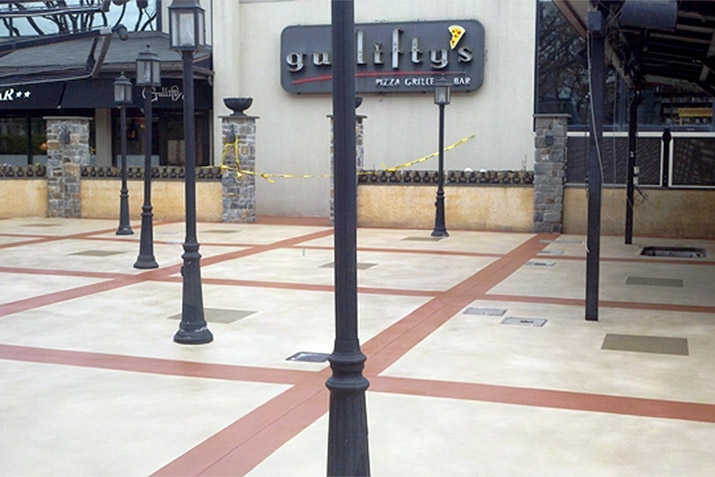 The courtyard at this pizza restaurant was in poor shape. The concrete was pitted, stained and otherwise needed taken out and replaced. With THIN-FINISH however a durable, permanent and decorative finish was made possible in just a few days and at a fraction of the cost of replacement.
REFLECTOR Enhancer Flooring Systems used in conjunction with a custom made stencil to create an ultra durable, easy to clean floor that resembles that of a high end carpet.
If you are a designer, architect or specifier and need assistance with an up coming project, we have over 90 technical support and specification assistance offices world wide
Company: Elite Crete Systems, Inc. (Headquarters)
Source: http://elitecrete.com/
Tags: Coating | Concrete | Floor | Waterproofing
---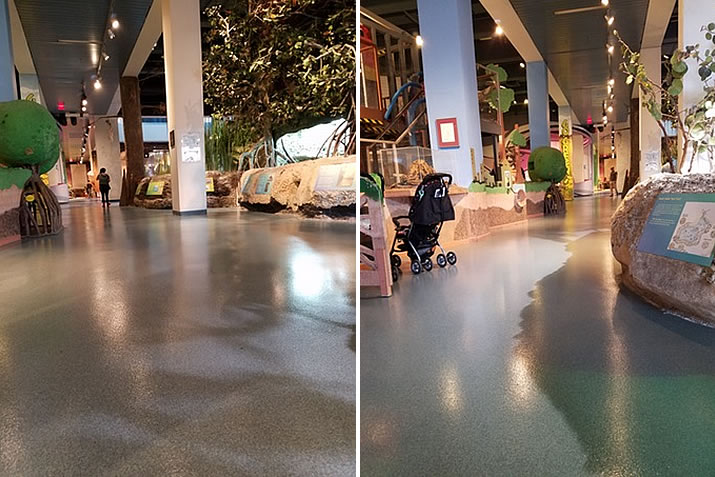 Seamless decorative quartz floors can be used anywhere that durable, attractive flooring is required. Research labs, manufacturing plants, bathrooms, locker rooms, kitchens, restaurants, healthcare facilities, showrooms, garages, warehouses and schools are just a few uses for decorative quartz flooring.
The installation of a decorative quartz floor involves the application of a resin body coat over a surface (usually a primed concrete substrate) and broadcasting (or troweling) colored quartz granules to achieve a seamless high performance floor. The body coat may be applied in one layer (single broadcast) or applied in two layers (double broadcast) to provide a thicker, stronger floor.
In the interest of versatility, manufacturers provide a few different options of resin body coats to choose from. The three most commonly used resin body coats are Epoxy, Urethane Concrete (also called Cementitious Urethane) and Methyl Methacrylate (MMA).
Contractors, do-it-yourselfers or anyone else who wants to install a decorative quartz floor may have questions about which type of resin-based quartz flooring to purchase. If this is you, keep reading. Below we explain the advantages of each of the three most popular resin body coat choices for seamless quart flooring.
1. Epoxy Based Quartz Flooring
The biggest advantage of using an Epoxy resin based quartz flooring system is cost. Epoxy resin is less expensive than its urethane and Methyl Methacrylate (MMA) resin counterparts. Epoxy resin flooring provides a super-strong and durable surface that is impact, moisture and abrasion resistant. It can be made chemically resistant with the use of a polyaspartic topcoat. Watch this video to see the installation of an epoxy based double broadcast quartz system.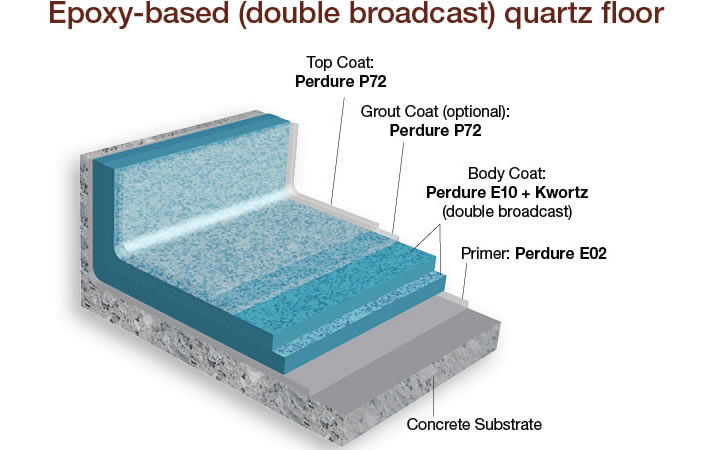 If your deadline is tight or you have moisture issues with the substrate, one of the other options below may better suit your needs.
2. Urethane Concrete Based Quartz Flooring
If you suspect your project's concrete substrate has a moisture vapor emission problem, or may develop one, then choose a Urethane concrete based quartz flooring system. In addition to the strength and durability of epoxy flooring, Urethane concrete will not bubble or crack on high-moisture substrates. Old, new, on grade, or suspended slab—just about any concrete substrate can be beautified with a Urethane based floor. When applied at a thickness of 1/4" or greater, it is generally accepted that Urethane Concrete systems are unaffected by substrate moisture. It is important to follow the installation instructions exactly to ensure a trouble-free floor for years to come.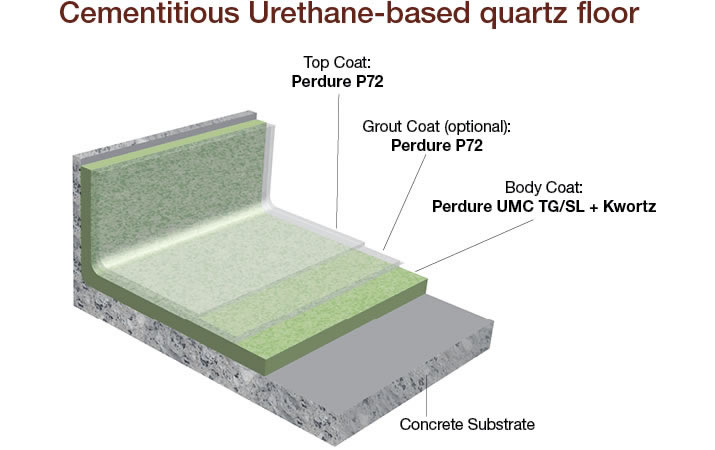 3. MMA Based Quartz Flooring
When a speedy installation and quick return to service are your primary project requirements, look no further than Methyl Methacrylate (MMA) resin based decorative quartz systems. Since MMA resins cure at extremely low temperatures, they are excellent for use in freezers and cold storage areas. MMA resin based decorative quartz floors are also suitable for exterior surfaces like pool decks, driveways and walkways. One limitation of MMA is that it cannot be installed in occupied buildings due to its strong odor.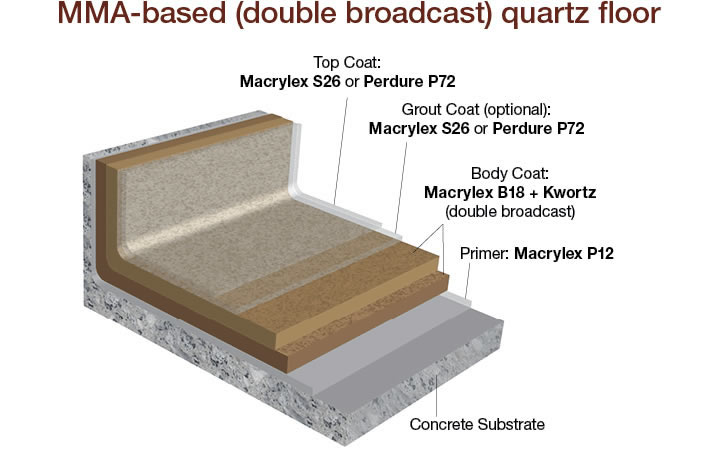 Duraamen Industrial and Polished Concrete Flooring Products are designed to provide labor saving and long lasting flooring solutions. Talk to an expert about your flooring challenges call +1 973-230-1301 or email us.
Company: Duraamen Engineered Products Inc.
Source: https://www.duraamen.com/blog/quartz-flooring-resin-epoxy-urethane-mma#.WO8sbY4lEUE
Tags: Coating | Floor | Interior Design
FDOT Improving Bicyclist Safety with SlipNOT® (April 4, 2017), Project profile: flooring installation for busy bank in El Paso exceeds tight turnaround expectations while delivering a functional masterpiece (March 27, 2017), Howe Green Access Cover provides the perfect antidote to access issue at hospital (March 14, 2017), Navigating the wide selection of polymer overlays over concrete substrates (February 2, 2017), The Benefits of Water-Based Concrete Stains (January 2, 2017), What are the Flooring Options for a Food Facility Washdown Area (December 28, 2016), An Introduction to Access Covers (December 12, 2016), Safety standards for slips, trips, and falls (November 30, 2016), Navigating the Wide Selection of Polymer Overlays Over Concrete Substrates (October 31, 2016), Reflector Designer Metallic Epoxy Flooring (October 14, 2016), First Appearances Matter: remove the dirt | absorb the moisture | preserve your floors (August 31, 2016), Mirror polished stainless steel enclosure top and return grilles at New York City Hospital Lobby (August 26, 2016), 4 Reasons you should choose a resurfaced concrete floor (August 10, 2016), SlipNOT is keeping the Indians fans at Progressive Field on their feet (August 5, 2016), Slip Resistant Aluminum Flooring in Bubble Capsule (June 22, 2016), Benefits of Slip Resistant Aluminum Plates (April 27, 2016), Consider Glass Flooring Systems for Dramatic Design (April 1, 2016), Non Slip Aluminum Plank (March 16, 2016), Better than real wood planks (March 9, 2016), High Performance Coatings (March 7, 2016), Massive retail shopping mall (February 5, 2016), Decorative Spray-Texture Concrete Overlays (January 29, 2016), Colored/Stained Conventional & Polished Concrete (November 20, 2015), 3 Common Misconceptions About Epoxy Floor Coatings (November 2, 2015), Concrete Resurfacing (August 19, 2015), REFLECTOR™ Enhancer Floors (June 19, 2015), Composite, Synthetic Decking and Deck Railing Materials (June 1, 2015), Reasons You'll Love Your Residential Pool Deck Coating (May 25, 2015), Concrete repair, resurfacing and epoxy flooring by Super-Krete Products (May 4, 2015), Would you step out on this glassfloor? (April 10, 2015), Beautiful, High Performance Finished Floor Solutions (April 1, 2015)