architecture - engineering - construction

Floor
---
A Howe Green 7500 Series Medium Duty Aluminum Floor Access Cover was recently installed at the Lennox Addington County General Hospital in Napanee, Ontario.
The hospital, which first opened in 1966, provides General Medicine and General Surgery, a 24 hour emergency service and an increasing number of outpatient clinics to the population of Lennox and Addington and the surrounding towns.
Over 270 people are employed at the busy hospital and they provide high quality health care for around 24,000 patients a year. The safety and comfort of patients is paramount.
Howe Green is one of the world's leading manufacturers of fabricated metal floor, wall and ceiling access covers, panels and hatches. Established in 1983 the company has a long pedigree when it comes to supplying access solutions for the healthcare sector.
Notable healthcare projects include the supply of over 100 Visedge Series Flexible Floor Access Covers for the state of the art Southmead Hospital in Bristol and 200 Visedge floor covers for the Queen's Hospital in Romford.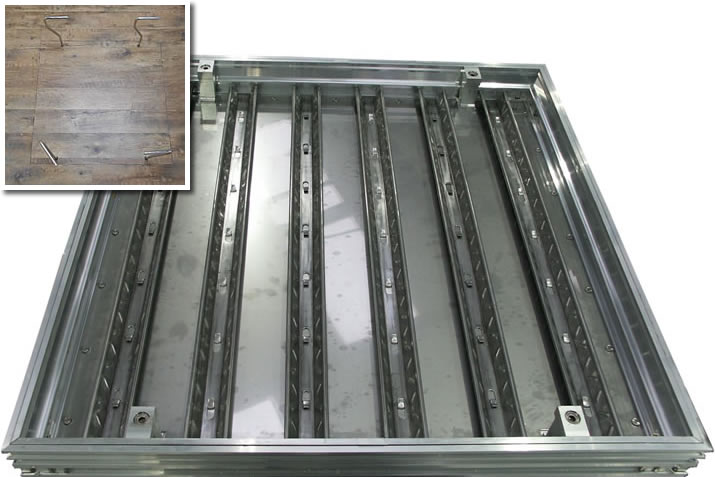 The access challenge:
Ensuring the smooth operation of mechanical and electrical services 24/7 is a challenge in any environment. Within a hospital the demands on providing an ambient temperature for patients, reducing the risk of infections and ensuring that systems are energy efficient adds greater complexity to daily maintenance schedules.
The Building Trades Coordinator Lennox and Addington County General Hospital required easy access to a shaft that concealed mechanical and electrical services running through the underfloor void of the building. With heavy footfall of patients, visitors and staff it was imperative that the access solution was secure but could be easily and quickly removed when required.
After direct discussions with Howe Green's Canadian distributor - FF Systems in Ontario - it was agreed that the 7500 Series was the perfect solution for the challenge in hand.
Why the 7500 Series Medium Duty Access Cover was ideal for this project:
Suitable for heavily trafficked pedestrian areas, cars and light delivery vehicles as it will accept up to a 5 ton pneumatic wheel load
Can be used with all types of hard flooring including terrazzo, ceramic tiles, marble, resin, concrete, wood and parquet floors. In this case the access cover was filled with concrete ready for a wood floor to be laid over the top.
Available in a range of standard size access covers from stock. Where a non-standard size is required this can be manufactured to order to meet the exact specification
The cover provides easy access to the mechanical and electrical services located underneath the floor. It can be safely removed, with the minimum of disruption, using a set of lifting keys
Option for a double seal to provide a tamper proof solution with enhanced levels of security
The cover fits flush into the surrounding wooden floor removing the risk of slips and trips.
Over to the customer for the last word…
"I chose to work with FF Systems because they were able to supply a product that met our specific requirements. The Access Panels are of superior quality and easy to install. I look forward to working with FF Systems in the future." - Bill Harrison, Building Trades Coordinator, Lennox and Addington County General Hospital, Napanee, Ontario
Find out more:
Visit the Howe Green US website or call Howe Green's distributor - FF Systems Inc in the US on 239 689 5334 or for Canada 519 896 0888.
Company: Howe Green US
Product: Medium Duty Floor Access Covers
Source: http://howegreen.us/
Tags: Access Covers | Aluminum | Floor
---


Water-based Stain, Acid Stain
Concrete stains are a quick, easy and cost effective way to transform a dull slab. While most decorative concrete contractors opt for water-based stains (and for good reason), acid stains still have their place in the market. Water-based stains offer numerous advantages from environmental, aesthetic and functional standpoints.
Environmental Benefits
Simply put, water-based stains are better for environment. Acid stains contain potentially hazardous materials and require additional containment cleanup in regulated areas such as California where there is extra attention paid to storm water runoff. Water-based stains are environmentally safe and do not require special handling during application, nor do they carry disposal concerns.
Aesthetic Outcomes
Water-based stains typically have a larger color palette and offer versatility to the applicator with the ability to blend or dilute colors. Vibrancy can be achieved with water-based stains, while acid stains are typically in the natural, earth tone range. Water-based stains allow the applicator to decide how solid or opaque the color will become based on the amount of water used. With an acid stain, you really are at the mercy of the reaction that occurs. To achieve deeper tones with acid stain, multiple applications may be required, or you may need to bring in other products.
Functionality
Water-based stains possess additional functional benefits that are attractive to both the applicator and end-user. For instance, they do not discolor or fade over time, or radically change color due to UV rays. When applied to properly prepared concrete substrates, water-based stains will not exhibit cracking, crazing, spalling, delamination, softening or other deteriorating effects.
Since acids chemically react with concrete, and because no two concretes are the same, an acid stain reaction yields a different look or color on different batches of concrete. Contractors who are familiar with acid stains are comfortable explaining to their clients that they may not exactly get the intended appearance when using an acid stain. Various shades will be produced based on the concrete matrix, it's age, it's porosity or density, chemicals it has been exposed to, etc. The anticipated variation can be exciting to some. While to others, it can be disastrous. For those looking for something totally unique and custom, acid stain may be the solution. For those conservative folks who prefer a 'what you see is what you get' kind of outcome, water-based stains are the way to go.
Acid stains require the extra steps of cleaning and neutralizing after 24 hours, then additional time for the concrete to dry prior to sealing. Water-based stains don't require neutralizing or cleaning after the stain has been applied, so sealers may be installed the following day.
When Acid Stains Make Sense
Acid stains are predominantly used out of habit these days. The exception would be that water-based stains cannot be used in conjunction with polished concrete. Acid stains can.
Acid stains do become a permanent part of the concrete, and therefore will not fade, peel or crack over time.
Both types of topical stains can be applied to interior and exterior surfaces, as they are ultraviolet light stable. As with all stains, acid and water-based stains are translucent in appearance and therefore the concrete slab's surface textures and variations are visible.
Some installers actually prefer to use a blend of both materials. Often, acid stains are used as a base color and a water-based stain is then used to antique or create additional mottling.
Regardless which type of stain, always remember the importance of sealing these products with a protective sealer that will endure the chemicals, UV and traffic that a decorative stained surface is exposed to.
Company: Super-Krete Products
Product: Waterbased Stain & Seal System
Of: Tracey Lackovich & Paul Scheidmantel
Source: http://www.super-krete.com/the-benefits-of-water-based-concrete-stains/
Tags: Color | Concrete | Design | Finishes | Floor
---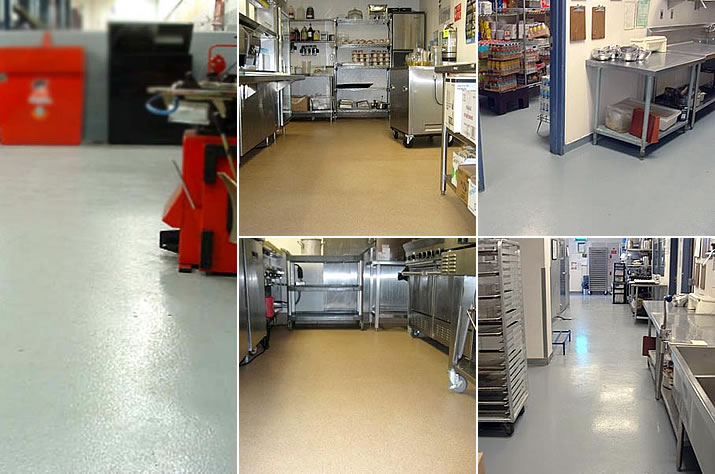 Take a look at the California Retail Food Code Section 114268, where it talks about the requirements of flooring for a food facility: "...the floor surfaces in all areas in which food is prepared, prepackaged, or stored, where any utensil is washed, ... shall be smooth and of durable construction, and nonabsorbent material that is easily cleanable. Floor surfaces shall be coved at the juncture of the floor and wall with a 3/8 inch minimum radius coving and shall extend up the wall at least 4 inches..."
There aren't many flooring options for a food facility that meets those very exacting requirements. Seamless resinous flooring systems best meets these needs. Let's look at why that is.
First of all, flooring for a food facility washdown area must be able to meet the ordinary requirements of workplace safety and floor longevity. The flooring must be able to withstand frequent cleaning and sanitization that might happen multiple times each day. Cleaning standards require some sort of chemical cleaner, so the floor must not be damaged by these chemicals which may be harsh and abrasive to flooring surfaces.
In addition, the washdown area will have high-pressure sprayers that are scouring equipment and the floor at close range, with very hot water. The floors are repeatedly flooded from cleaning. This means the floors must be anti-slip even through a potential near-constant layer of hot water and soap or chemicals on the floor.
Resinous floor coatings like decorative quartz systems or urethane concrete systems meet and exceed these needs. Duraamen has a variety of resinous flooring materials with exceptionally high abrasion resistance and chemical resistance. If these floors can withstand chemical cleaners, they can definitely withstand water from a power washer or sprayer. In fact, there's very little than can affect these floors, which makes them perfect flooring options for a food facility washdown area. Urethane Concrete Screeds also provide thermal shock resistance to the floors. The floors are cleaned with hot water or steam followed by cold water. Most of the flooring systems dis-bond from the substrate. Urethane Concrete Screeds have the ability to withstand this hot-cold water washing.
A seamless resinous system like urethane concrete can be applied over existing flooring concrete substrate. Urethane concrete systems are a fast application and a fast cure that can be ready for traffic in 24 to 36 hours. These flooring systems can have additives which can be non-slip and anti-microbial. Because the additives are mixed in with the entire flooring system, if for some reason your floor is gouged, you would still be protected. Urethane Concrete flooring systems do not easily deteriorate, so they can withstand the abuse of any commercial environment. They are applied in one homogeneous layer, so there's nowhere for bacteria to hide. Get in touch with Duraamen to find out more about Duraamen's floor coatings for a food facility washdown area.
Company: Duraamen Engineered Products Inc.
Product: Resinous Flooring: Self Leveling Polyurethane
Source: https://www.duraamen.com/blog/what-are-the-flooring-options-for-a-food-facility-washdown-area
Tags: Concrete | Finishes | Floor
---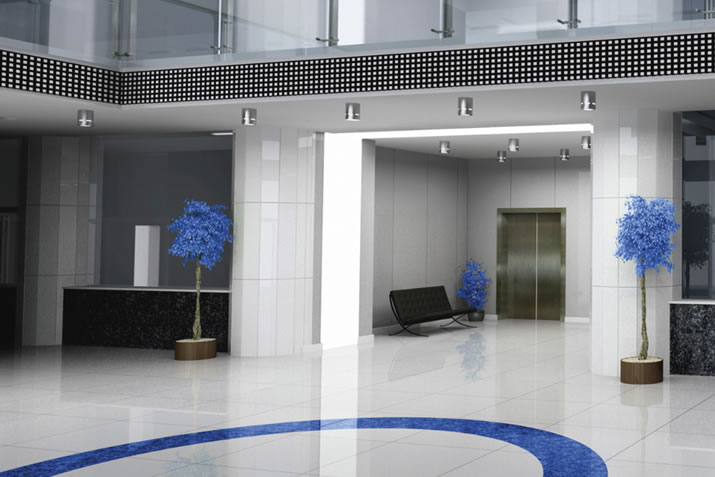 Contemporary architecture strives to be seamless, high performance and flexible. As a result this requires intelligent and creative solutions to servicing these spaces. Integrated strategies for the provision of power, communication, data and HVAC are essential. Howe Green products enable this integration to happen.
Served vs Servant - a concept first coined by AIA and RIBA gold medalist Louis Khan, a great 20th century architect.
Our raison d'être
Here at Howe Green we take inspiration from Khan and have a range of products which enable the architectural greats of today to realize their vision. Contemporary architecture strives to be seamless, high performance and flexible. As a result this requires intelligent and creative solutions to servicing these spaces. Integrated strategies for the provision of power, communication, data and HVAC are essential. Howe Green products enable this integration to happen. The introduction of innovative solutions to building services such as voids, suspended ceilings, raised floors, false walls, service chases and service cores are a direct result of the commercial incentive of maximizing the usable space within a building. However these strategies require access, which is where Howe Green's products are used.
Types of access cover
The access covers generally fall under three types, those mounted on walls, those fitted in a ceiling system and floor based products. These systems can be used internally and externally. Howe Green products are used across the globe in challenging environments, the products have been put to use in commercial offices, transport hubs, public spaces, retail and residential architecture. It is a versatile family of products that address the requirement for high quality, accessible service space.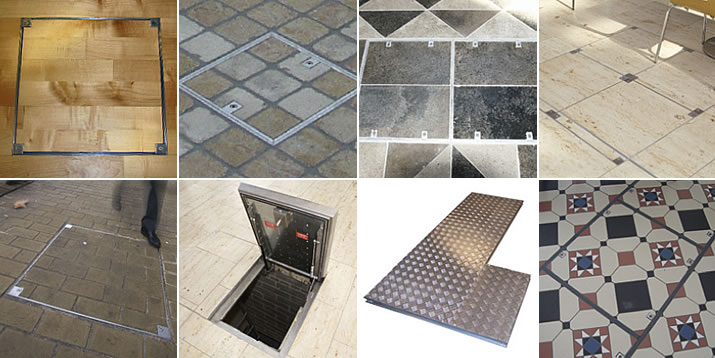 What can we do for you?
"Design for the present with an awareness of the past, for a future which is essentially unknown" Norman Foster. Howe Green's systems aim to add value to the architecture in which it is installed; they allow for flexibility in future demands by allowing ease of access for service updates and ease of maintenance for existing service infrastructure.
Ease of use
Howe Green Access Covers are supplied with clear and legible installation guides ideal for contractors unfamiliar with our products. The "Buildability Factor" is considered at every stage. Crucial in installation, where the access covers have a low level of complexity, are generally built to standardized construction dimensions and reduce the level of risk for the contractors fitting the product - a responsibility that must be upheld by the principle designer, client and suppliers under HSE and CDM 2015 regulations.
Responsiveness
Howe Green is a responsive company that understands the design, construction and operational process and just how fast changes occur. As an established company we have the resources invested in cutting edge C.N.C. equipment to respond to these changes rapidly; Howe Green stock products are dispatched the same day, whilst bespoke items have a 7-10 day lead time.
Precision
The fabrication and manufacture of our products is heavily influenced by sustainability; the process minimizes waste material and guarantees a precise tolerance finish for a high performance product. This ensures a quality product is delivered to the correct level of specification every time.
Integration
Howe Green's products are integrated into the BIM workflow for architects, specifiers, clients, contractors and even facilities management. This allows for the products to be introduced at concept design stage through to retrospective fittings in operation and management, which has happened recently for one of our client's – the Eagle Church Campus situated in Indiana, USA.
This high level of integration allows for costing, schedules, performance analysis all to be undertaken and documented through the whole lifespan of the design, procurement, facilities management and operation and maintenance of Howe Green's products.
Company: Howe Green US
Source: http://www.howegreen.us/howegreen/news/introduction-to-access-covers.php
Tags: Access Covers | Ceiling | Floor | Wall Panels
---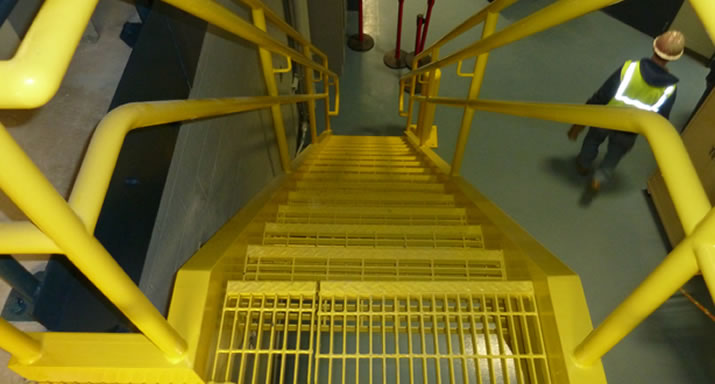 According to the National Safety Council, compensation and medical costs associated with employee slip and fall accidents are approximately $70 billion annually. There are many factors that contribute to slip and fall accidents such as footwear type, walkway type, surface levelness, surface texture, surface contaminants, weather conditions, indoor/outdoor light, inadequate signs and warnings and walkway load. Fifty-five percent of slip and falls come from walking surface and twenty-four percent come from footwear.
There are International and National safety standards that should be researched before installation of slip resistant flooring:
International
American National Standards Institute (ANSI) / National Floor Safety Institute (NFSI): In December 2009, the NSI/NFSI B101.1-2009 "Test Method for Measuring Wet SCOF of Common Hard Surface Floor Materials," was published, establishing the first wet test method. The standard does not simply categorize walkways as safe or unsafe due to its COF value, but it identifies its traction range into three categories.
High Traction: surfaces whose wet SCOF is 0.6 or greater
Moderate Traction: walkways whose wet SCOF is below a 0.6 but greater than a value of 0.4
Low Traction: walkways which possess a wet SCOF of less than 0.4
National
1.) American Society for Testing and Materials (ASTM): The technical committee "Safety and Traction for Footwear" includes safety and traction for walkway surfaces as well as practices related to the prevention of slips and falls. ASTM has numerous testing methods that test static and dynamic coefficient of friction such as the English XL Variable Incidence Tribometer, British Pendulum Tester, The James Machine and The Brungraber Mark. All of these test methods measure dry, wet or contaminated conditions and the COF values must be 0.4 or greater.
2.) American Disabilities Act (ADA): In the standards for accessible design, 4.5.1 Ground and Floor Surfaces states that ground and floor surfaces along accessible routes and in accessible rooms and spaces including floors, walks, ramps, stairs, and curb ramps shall be stable, firm and slip resistant. In 4.8.6 Cross Slopes and Surfaces it states that the cross slope of ramp surfaces shall be no greater than 1:50. The recommendations for flat surfaces are 0.60 COF and 0.80 COF for incline surfaces.
OSHA's office of Regulatory Analysis states "companies that implement effective safety and health programs can expect reduction of 20% or greater in their injury and illness rates and a return of $4 to $6 for ever $1 invested. The American Society of Safety Engineers also calls investment in improving workplace safety "a sound business strategy" with a "positive impact on the financial bottom line".
Company: SlipNOT® Metal Safety Flooring Div.
Source: http://www.slipnot.com/all-news/safety-standards-slips-trips-falls-1/
---
While cement-based overlays have been around for decades, many of the systems widely available today blend polymer resins with cement, sand and other additives to create a highly durable, attractive and easily maintained flooring overlay systems to be used over concrete.
With so many choices available on the market today, many questions arise as to the differences among polymer overlays, specifically in application and material, to achieve the functionality and appearance wanted by a client.
Among the most popular choices: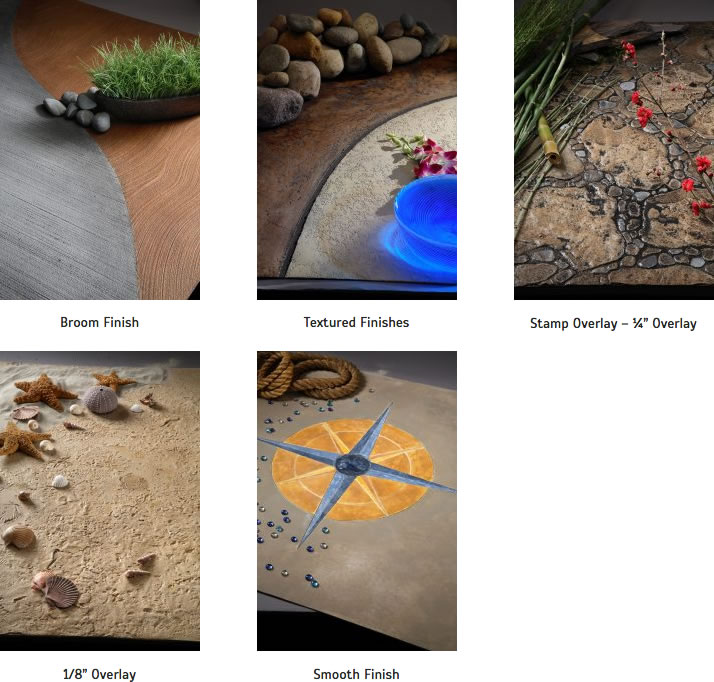 Broom Finishes with Sealer and Optional Coloring
This type of overlay system finish is achieved by applying a base coat of thin-set resurfacing material over the surface by either squeegee or cement trowel. A second application is applied, and the surface is broom finished as new concrete is poured. The surface is then sealed with a sealer appropriate for the type of traffic that is anticipated.
Textured Finishes
This system is achieved by using two different types of application systems. Commonly known as a "knock-down" finish, it's applied using a standard compressor and drywall hopper gun. More specifically, thin-set resurfacing material is sprayed over the surface and flattened using a standard cement swivel trowel, leaving various high/low spots. This allows surface water to pool in the lower un-troweled areas, which is better known as "cool deck," since water sitting in the un-troweled areas allows water to stand and cools the deck. It's also frequently used on pool decks and areas where skid resistance is required.
The second method of texturing is probably the most common type of decorating finish used by contractors nationwide. With this particular coating, a base coat of thin-set material is applied to the surface by hand trowel or spray to creating different designs that simulate the appearance of either stone or limestone. It is then stained and sealed with the appropriate type of sealer specific to traffic area.
Decorative Overlays (⅛" and ¼")
These type of overlays are applied by trowel or screed rake. The ⅛" overlay is normally a seamless type of texture, giving the appearance of large simulated stone textures without grout joints, with hundreds of stamping mats area available in different designs and textures. Grout joints are cut into the surface after curing has taken place, and then the surface is stained and sealed with the appropriate sealer. The ¼" stamped overlay is very similar to the ⅛" overlay, except the pattern creates the simulation or design of individual stones with grout joints. The surface is then colored and sealed with the appropriate type of sealer depending upon the traffic.
Stain & Sealer Finishes
Staining and sealing of concrete surfaces is very popular in a wide range of environments. The system consists of staining the surface using water-based color-stains, dyes or acid stains, and then it's typically saw-cut in patterns, shapes or designs, color applied and sealed to meet the traffic needs of the area.
Company: Super-Krete Products
Of: John Holwitz
Source: http://www.super-krete.com/navigating-the-wide-selection-of-polymer-overlays-over-concrete-substrates/
Tags: Concrete | Finishes | Floor
---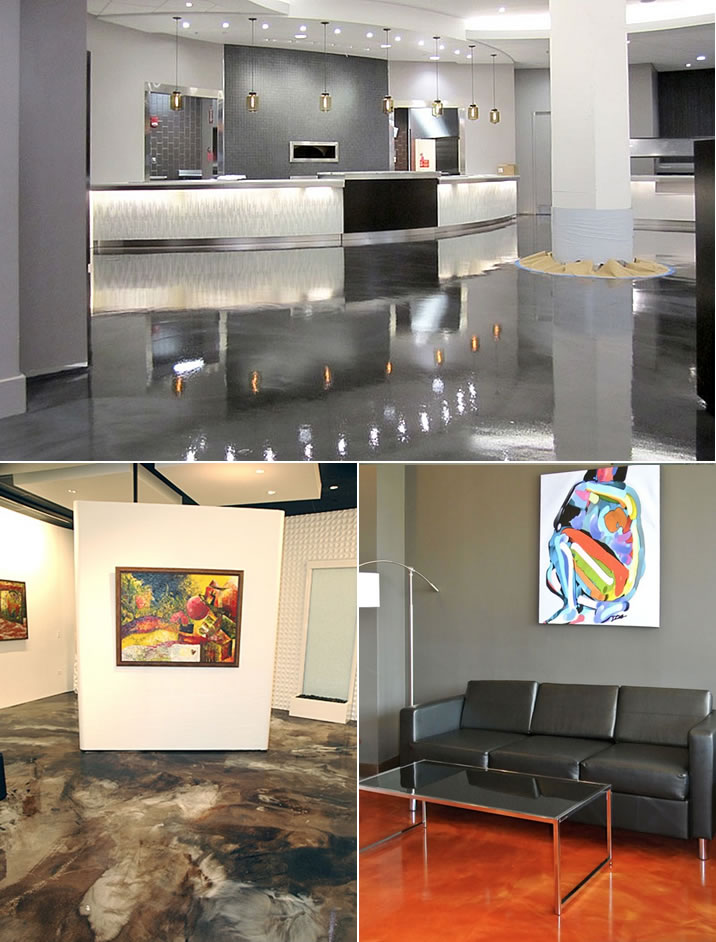 Lumiere - Reflector Designer Epoxy Coatings with miniscule metallic pigment particles suspended in translucent epoxies are giving contractors the uncanny ability to produce mirror-like surfaces without having to grind the first diamond to achieve that shine.

Offered in a dazzling array of colors, reflector designer epoxy coatings are being used to create gorgeous and highly durable designer floors largely in metropolitan areas throughout the world where superior surfaces are needed and a contemporary look is desired. These places run the gamut, from nightclubs, restaurants, car showrooms and offices to health care facilities, spas, salons, gyms and high-end retail stores.
Some of these epoxy coatings don't contain any metal and are largely mica or synthetic mica particles coated with colors. Others have different aluminum pigments, various metals and liquid colorants. Some are a combination of all of the above. But the traits making these premium coatings so popular are their consistent three-dimensional depth, color and shine that rival the luster achieved with more labor-intensive polishing. The shine comes from the metallic pigments in the coatings that reflect light instead of absorb it.
Today's easy-to-use reflector metallic epoxy coatings are attractive for many other reasons as well. Overall, epoxy formulas have been greatly improved to flow more efficiently and not to produce nearly as many bubbles as in years past. The coatings, which are clearer and less likely to amber, dry fast without compromising their integrity. They also have an extended pot life.
Installers report a quicker turnaround time with the newer metallic products with less labor involved. For floors in bad shape, reflector designer epoxy coatings can be a less expensive and viable alternative to overlays, polishing and stains.
The decorative thin-film systems generally require a primer before applying the metallic coating and then a topcoat of a clear polyurethane or high-build polyaspartic sealer. Although the products are self-leveling, they can be spread with a notched trowel, roller or squeegee in a random back and forth motion.
Lumiere, Reflector Designer epoxy coatings can produce seamless floors that are chemical resistant, easy to clean and highly durable. In restaurants, these coatings meet the USDA criteria for flooring. They are also environmentally friendly products, with very little to no VOCs.
Company: Duraamen Engineered Products Inc.
Source: https://www.duraamen.com/p/metallic-epoxy-flooring/
Tags: Coating | Floor | Interior Design
---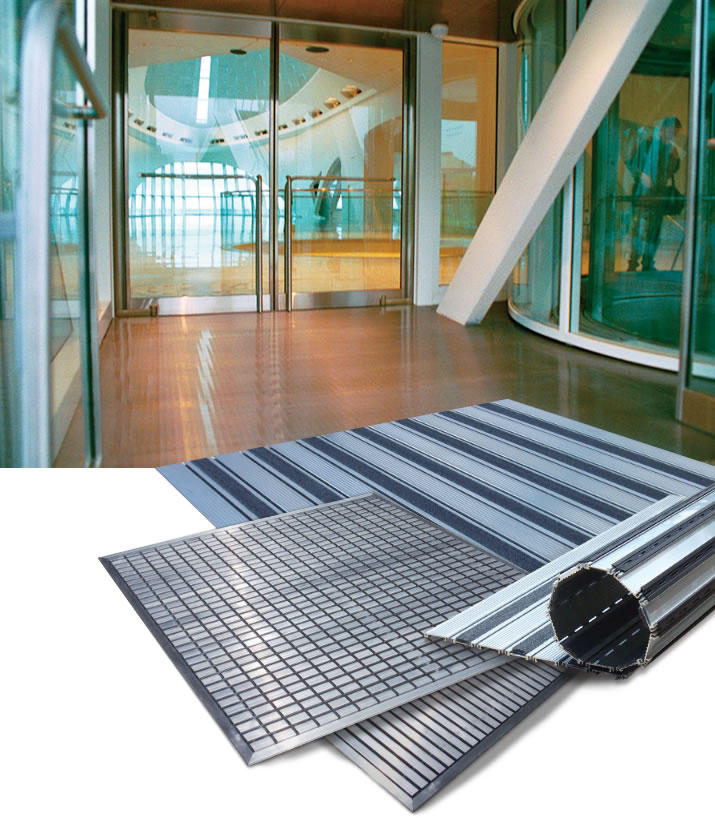 Babcock-Davis manufactures a full line of entrance flooring systems. From elegant stainless steel to rugged brushes we have the treads that meet your needs.
Keep It Clean
Protect your beautiful floors by keeping the dirt at the door. By adding and properly maintaining an entrance flooring system 18 feet in length, 90% of tracked dirt will be kept from polluting a building.
Entrance Flooring Systems
Making the right choice in an entrance flooring system will maintain your design, add years to your floor's life, ensure a safe entrance and significantly reduce maintenance costs. Entrance mats improve Interior Environmental Quality by stopping dirt from entering the building, improving Interior chemical and pollutant source control. Babcock-Davis' complete line of Entrance flooring systems includes architectural metal grates, roll up grates, rigid grates and roll-up mats.
The sleek appearance, strength and versatility of these metal grates are an architectural favorite. Architectural Metal Grates Include:
Stainless Steel proGRIL
Stainless Steel eleGRIL ®
Stainless Steel eleGRIL ® with carpet inserts
Aluminum alumaGRIL
Babcock-Davis' Rigid Grate is ideal for high traffic areas as they are the strongest and most versatile grate with various tread options. Babcock-Davis' Rigid Grates include:
GRATEdesign ®
EnvIRONtreadII ®
Ideal for medium traffic, the Roll-Up Grate is strong, easy to clean and versatile with multiple tread options. Babcock-Davis' Roll-Up Grates include:
Lightweight Roll-Up Mats are easy to clean, ideal for light traffic and versatile with many tread options. Babcock-Davis' Roll-Up Mats include:
QuietFLEX ®
MATdesign ®
MATrac
Browse the selection of frame styles available for each entrance flooring system.
Surface Mount
Surface Mount, Vinyl
Level Bed, Mech. Fastened
Level Bed, Cast-In
Deep Pit, Cast-In
Learn about the finish and tread options offered to customize your entrance flooring mats and grates. Available tread functions include scraping, absorbent and slip-resistant.
Dual Treads
Color Anodized
Premium Carpet
Rugged Scrub ®
EnvIRONtreadII ®
EcoTread
Vinyl
Aluminum Abrasive
Vinyl Abrasive
Brush
Babcock-Davis, a trusted name in the commercial construction industry, specializes in providing commercial building products. Architects, specifiers, general contractors, and distributors rely on the Babcock-Davis product line for a quality product with hassle-free fulfillment. No matter your project requirements, Babcock-Davis is Always right there.
Company: Babcock-Davis
Source: http://www.babcockdavis.com/entrance-flooring-systems
Tags: Entrances | Floor | Interior Design | Safety
---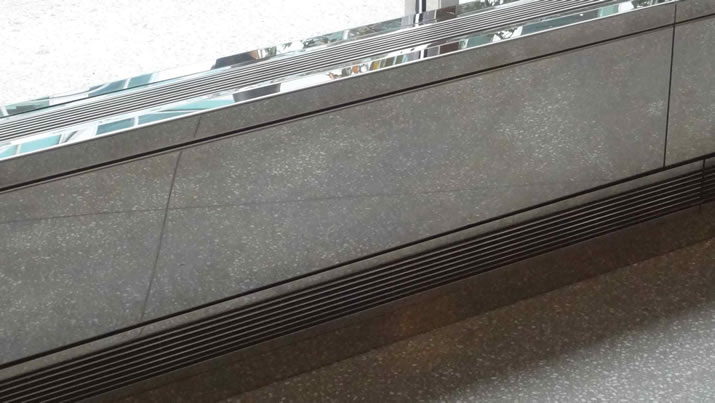 Our customer's objective was to have a stainless steel, linear bar grille manufactured to match the finish and style of a newly installed mirror polished stainless steel radiation enclosure within a renovated hospital lobby. Due to security and safety concerns, the grilles had to not only be structurally strong, but also firmly secured to the unit to prevent unintended removal.
Artistry in Architectural Grilles' engineering and manufacturing team designed a custom "C" style frame allowing for secure fastening as well as professional removal to access the unit's controls. This was accomplished with mechanically fastened frames in concert with mechanically fastened removable cores. All of which were given a #8 mirror polish finish to perfectly match the existing convector enclosure.
Grille Details
At a Glance
Type: Linear Bar Grille
Style: AAG100
Frame: Custom C Frame
Detail: Removable Cores
Material: Stainless Steel
Finish: Mirror Polish
Company: Artistry in Architectural Grilles by Advanced Arch Grilles
Source: http://www.aagrilles.com/project/nyc-hospital-lobby
Tags: Access Covers | Entrances | Floor | Interior Design | Metal
---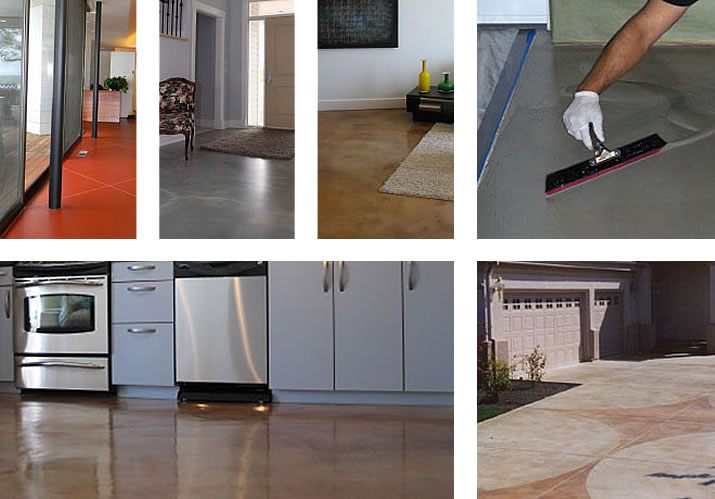 REASON 1: DESIGN OPTIONS
From polished concrete floors to matte, satin and gloss finishes, the sky's the limit for modern design options with concrete resurfacing products from Düraamen.
Our colorfast integral color is available in 34 individual colors. 68 hues can be realized depending on your choice of either a gray or white basecoat. Aesthetically stunning classic, modern, and contemporary designs can be achieved with thoughtful color selection.
REASON 2: A WISE INVESTMENT
A tough, modern resurfaced concrete floor adds dollars to your property.
New flooring using concrete resurfacing is one of the best investments you can make to your home or commercial property. This is particularly true in the case of decorative, resurfaced concrete flooring. Unlike carpeting or hardwood, resurfaced concrete will stay looking new for years to come and its appearance and durability adds value to any home or commercial property.
REASON 3: PROTECTION
Concrete resurfacing provides protection against spills, soil, scrapes & abrasions.
A resurfaced concrete floor is the most impact, scratch and abrasion resistant when compared to other types of residential flooring. Mud, dirt and spills clean up easily on a decorative concrete floor. The only maintenance required is occasional dust and conventional mopping.
REASON 4: EXPENSE
Concrete resurfacing is less expensive than replacing concrete.
Resurfaced concrete flooring is far less expensive than concrete replacement, comparably priced to carpeting and a better value than hardwood flooring. It may be applied over existing concrete, tile or plywood. When you consider it's durability and ease of maintenance it is by far the best value available in residential and commercial flooring options.
Company: Duraamen Engineered Products Inc.
Source: http://www.concreteresurfacingproducts.com/
Tags: Coating | Color | Concrete | Floor
---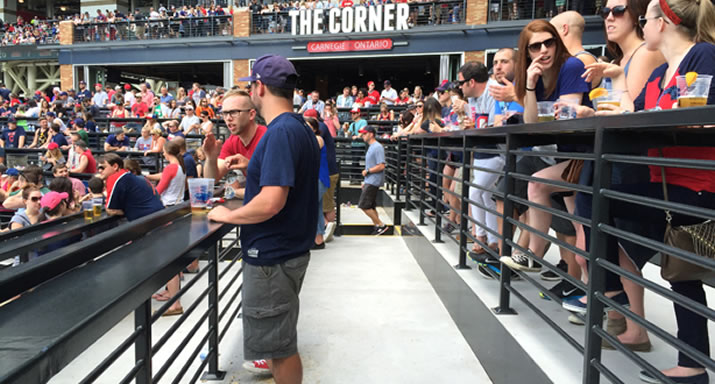 LOCATION: Cleveland, OH
INDUSTRY: Recreational
PROJECT OVERVIEW: High traction aluminum plates at Progressive Field's Right Field District
SOLUTION: Various sized ¼" Grade 2 aluminum plates
The Situation
Opening in 1994, Progressive Field is home to the Cleveland Indians Major League Baseball team. The facility has hosted the All Star Game as well as the World Series and has had a record attendance of 45,274 fans.
Recently, the Right Field District has been renovated with new open standing area to watch the game and different eateries such as Melt, Barrio, Sweet Moses, and The Corner Bar. The standing area has rows of bar style rails which give fans a place to set their snacks and beverages. Changing this sitting area into standing room not only opened up more space for fans but created a unique experience for visitors to the field.
The Solution
In order to give patrons a safe place to stand while enjoying their food and beverages, the designers wanted to incorporate a slip resistant flooring that would hold up well under foot traffic and external weather conditions. SlipNOT® Aluminum Grip Plate® offered the solution they were looking for. Different sizes of ¼" 6061 aluminum plates were fabricated according to drawings and coated with a Grade 2 SlipNOT® slip resistant surface. Each plate had 12 countersunk holes in it so they could be bolted down.
SlipNOT® plates can either be custom fabricated prior to shipment or can be cut in the field. SlipNOT® suggests that all fabrication is done prior to the coating being applied. The flooring can be swept with a hard bristle brush or power washed after a game.
The Impact
Visitors to the field benefit from not only the aesthetic qualities of this new space but also from the safety of the quality flooring installed. Inclement weather and spilled beverages are no match for the abrasive surface that the aluminum plates provide. By choosing SlipNOT®, the engineers working for Progressive Field created a fun and different area to watch the Cleveland Indians as well as kept patrons best interests in mind.
Company: SlipNOT® Metal Safety Flooring Div.
Product: Grating and Plank
Source: http://www.slipnot.com/case-studies/aluminum-floor-plates-progressive-field/
---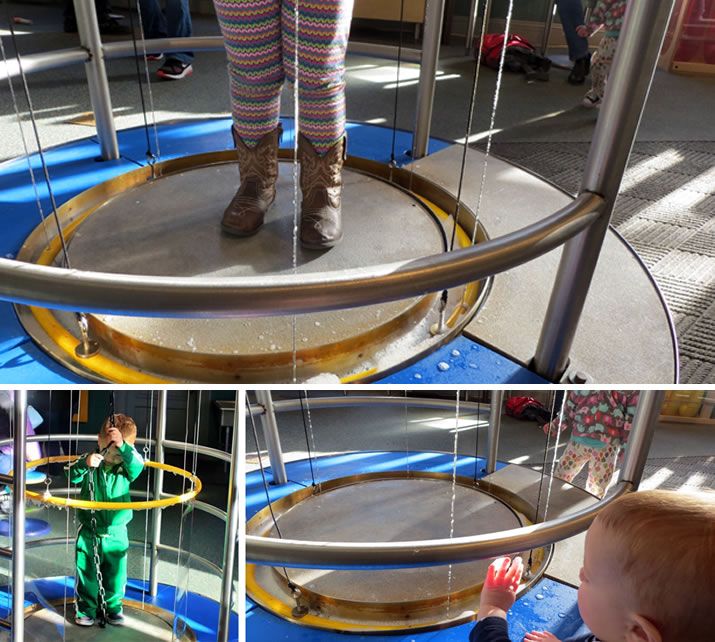 The Situation
For over 30 years, the Ann Arbor Hands-On Museum has been on a mission to encourage people of all ages to ignite their imaginations through scientific, technological, art, math, and engineering activities. To keep doors open to over 250,000 people a year, Hands-On relies on the generosity from their donors, which include individuals, corporations, government agencies, and foundations. The museum with over 250 interactive exhibits, opened their doors in 1982 after being renovated from the city's historic brick firehouse.
One of the more popular attractions within the facility is the bubble capsule. The capsule is a circular platform in which you can lift a thin bubble, enclosing you inside of it, trying not to let it pop on the way up. Due to the popularity of the apparatus, Hands-On wanted to seek out options to keep their patrons on their feet when using the slippery and soapy footpad.
The Solution
SlipNOT® Metal Safety Flooring was contacted by an exhibit technician for this specific application. With the Ann Arbor museum being environmentally conscious, SlipNOT® products have a minimum recycled content of 40% and a maximum of 83% which seemed like a striking option for them. The museum shipped SlipNOT® their ¼" x 26-¾" diameter aluminum base and ¼" x 15-⅝" x 38-11/16" tread to be coated with Grade 2 6061 aluminum. Once SlipNOT® received the material, it was coated and shipped out the next day.
The Impact
SlipNOT®'s aluminum floor plates are designed for lightweight applications where complete slip resistant coverage, durability, and safety are vital. Though the nature of the bubble capsule is entertaining to all ages, younger children seem to be the main foot traffic coming through. Installing a slip resistant base to the capsule keeps the kids happy and on their feet. Resulting in a day full of fun without ever realizing they're actually gaining knowledge at the same time.
LOCATION Ann Arbor, MI
INDUSTRY Recreational
PROJECT OVERVIEW High traction flooring on base of popular museum attraction
SOLUTION ¼" x 26 ¾" aluminum base & ¼" x 15 ⅝" x 38 11/16" tread to be coated
WEBSITE www.aahom.org
Company: SlipNOT® Metal Safety Flooring Div.
Source: http://www.slipnot.com/case-studies/slip-resistant-aluminum-flooring-in-bubble-capsule/
---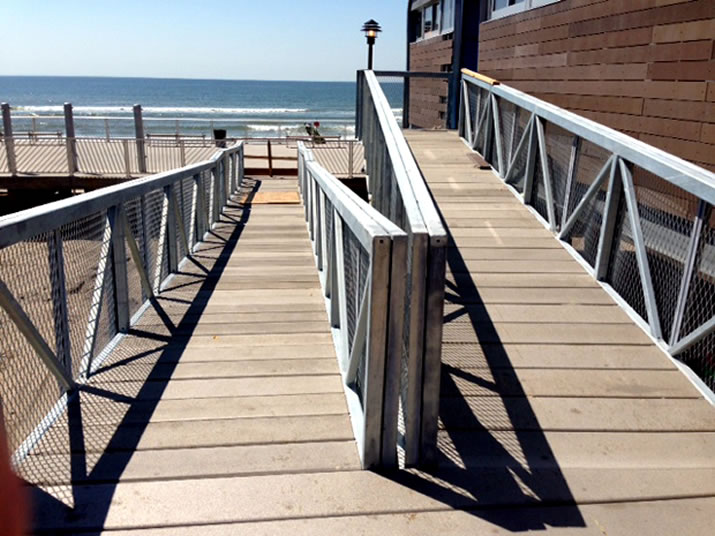 Non-slip stainless steel plate walkway and stairs at comfort station
For decades, diamond plate has been a default safety plate for many designers. Today's applications have shown this material to be inadequate in creating productive work environments. Once the raised pattern becomes wet, it could become hazardous.
Customers are able to ship previously purchased diamond plate to SlipNOT® for coating, although SlipNOT® prefers to apply its coating to smooth floor plate due to superior performance and longevity. SlipNOT® does not supply or recommend using diamond plate, but offers this option for customers when replacement is not an option.
An excellent alternative to diamond plate is SlipNOT® slip resistant aluminum plates which are ideal for lightweight applications where corrosion resistance and durability are required. SlipNOT®'s high traction aluminum surface is three times harder than the substrate, making it economical based on its long lasting characteristics. SlipNOT® aluminum plates can be coated with a non-slip steel, stainless steel, or aluminum surface, giving it greater versatility. The plates can meet specific specifications by being cut-to-size or fabricated into products such as stair treads or nosings.
SlipNOT® aluminum plate applications consist of the following:
Vault covers
Trench covers
Stair treads and nosings
Marine docks
Door thresholds
Bridge decking
Platforms
Advantages of SlipNOT® aluminum plates:
Easily installed on project sites
Solid surface provides maximum traction area
Can retrofit over existing structures
Flexibility of design and many fabrication options
Continually meets coefficient of friction (COF) minimum requirements throughout life of product
Low maintenance and easy to clean
Naturally aesthetically pleasing
Does not absorb bacteria sustaining particles
Can be recycled, making it an environmentally friendly material
Make an investment today by choosing SlipNOT® aluminum plates which surpass ADA and OSHA recommendations for slip resistance. SlipNOT® safety flooring products remain slip resistant long after inferior products have worn or flaked off. Learn more about SlipNOT® aluminum plates.
Company: SlipNOT® Metal Safety Flooring Div.
Source: http://www.slipnot.com/blog/aluminum-walkways/
---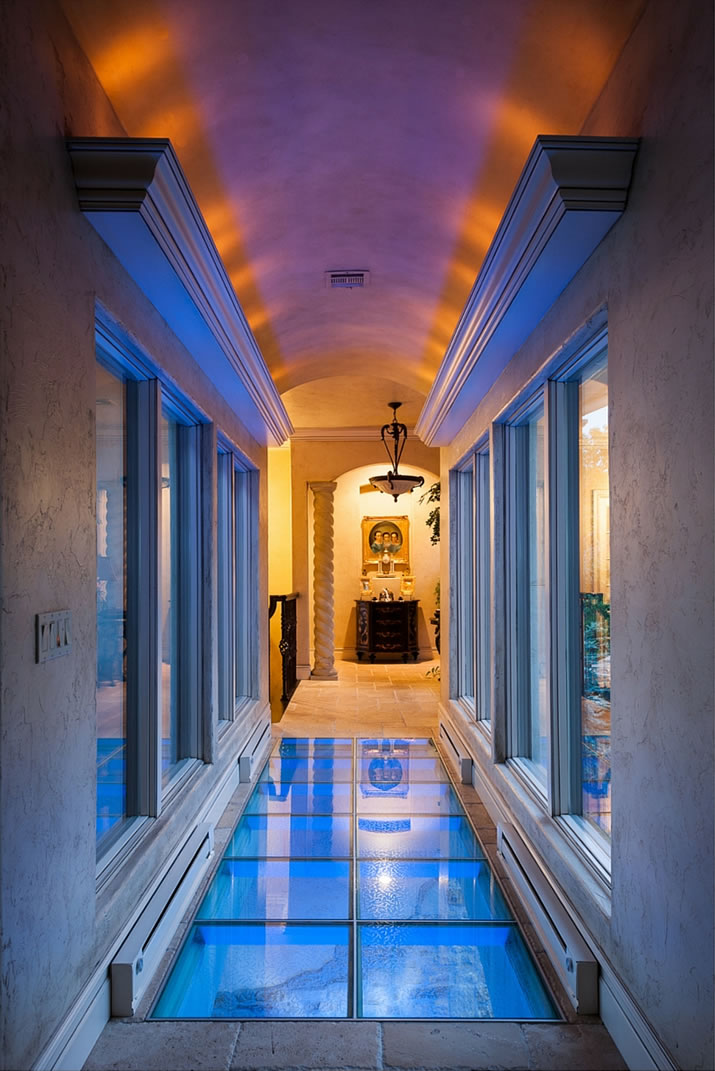 Glass flooring has made its way to Paris, putting a new spin on the classic tourist experience at the Eiffel Tower. The new glass floor installation highlights a stunning birds-eye view of the city from approximately 187 feet in the air—something that visitors are unlikely to forget. Although it is one of the latest attractions to capitalize on the glass flooring trend, the Eiffel Tower is not alone in its endeavor to give visitors a cool new view. Designers, architects, home builders and homeowners are seeking solutions for incorporating glass floor and stair systems in their spaces with the help of Innovate Building Solutions.
Innovate's modular glass floor systems are engineered to safely stand the test of time, supporting large amounts of weight with a durable aluminum grid and structural supports. These prefabricated systems can be installed within different flooring materials, including wood, tile, stone or concrete floors. They are durable and easy to install, with transparent or acid-etched design options that can be customized to meet the needs of each individual client.
Some of the most famous glass floors in the United States can be found at Willis Tower's Skydeck in Chicago, the Grand Canyon's Skywalk and at Ghostbar in Las Vegas. The design feature also adds a dramatic element with ocean views in many bungalow suites in the Caribbean and on the island of Bora Bora. Residential homeowners frequently use glass for stairways, walkways, wine cellar niches and to highlight elaborate outdoor water features.
To learn more about the functional and stylish glass floor systems available from Innovate Building Solutions, call 877-668-5888 or visit www.innovatebuildingsolutions.com. For regional installation assistance in Cleveland or Columbus, Ohio, call 216-531-6363 or 614-252-5888 respectively.
Company: Innovate Building Solutions
Tags: Floor | Glass | Interior Design
---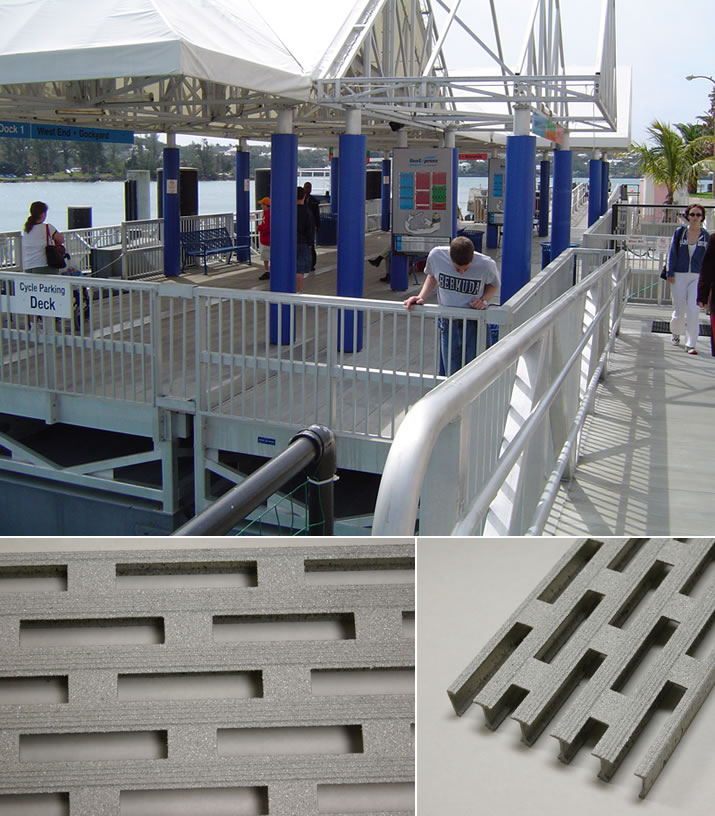 Slip resistant plank provides an ideal surface for docks and decks.
Slip resistant aluminum plank is a durable flooring solution that is installed on applications such as docks, stair treads, scaffolding, bridges, mezzanines, and platforms. Aluminum plank is made from extruded aluminum and is known for its lightweight properties, corrosion resistance, minimal maintenance, and excellent strength-to-weight ratio. The flush surface and ability to pass light and air make aluminum plank an excellent choice. Plank is available in rectangular punched plank, solid plank, or ADA diagonal punched plank for your convenience.
SlipNOT® aluminum plank has a bond strength of at least 2,000 PSI; but when coated with steel or stainless steel, plank has a bond strength of at least 4,000 PSI. The high traction surface in all directions keeps pedestrians and workers on their feet.
Plank can be custom cut or sold in stock sizes below:
Thickness: 1" minimum, 2-1/2" maximum
Width: 6" minimum, 36" maximum
Length: 20' maximum
Aluminum plank coated with SlipNOT® far exceeds slip resistant recommendations set by OSHA, ADA, ASTM, and UL. Its coefficient of friction remains 0.85 or higher even when wet or covered with debris.
SlipNOT® has provided anti-skid aluminum plank to various companies such as Walt Disney, The Hilton, Denver International Airport, General Motors, Shell Canada, among others. You may browse our entire selection of slip resistant aluminum plank and see related case studies.
Company: SlipNOT® Metal Safety Flooring Div.
Source: http://www.slipnot.com/blog/aluminum-planking/#more-21049
Tags: Exterior Design | Floor
---
Better than real wood planks, this surface is a polymer modified cementitious overlay applied to existing concrete and made to look like wood.
Stronger + Stain Resistant + Weather Resistant = Better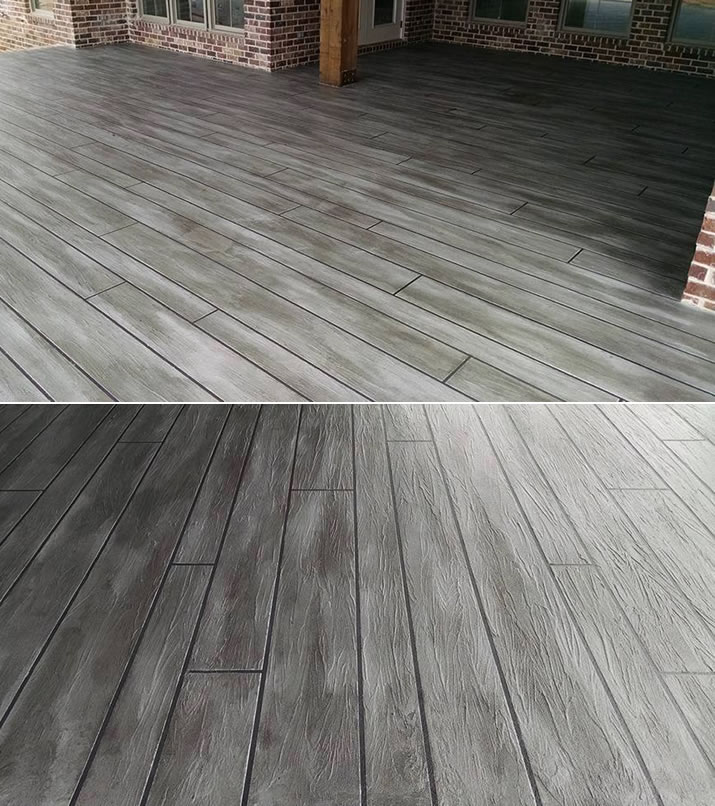 When unsightly, old and damaged concrete is no longer acceptable the option for concrete resurfacing should be your top choice. Concrete floors over time will often develop cracks, show surface spalling, stain, and begin to deteriorate. Typically the structural concrete slab will be fine but its surface is in need of repair and concrete resurfacing. Elite Crete Systems has been leading the concrete resurfacing industry for decades and has a wide variety of products and systems to choose from.
Company: Elite Crete Systems, Inc. (Headquarters)
Source: http://elitecrete.com/concrete-resurfacing/
Tags: Concrete | Design | Floor
---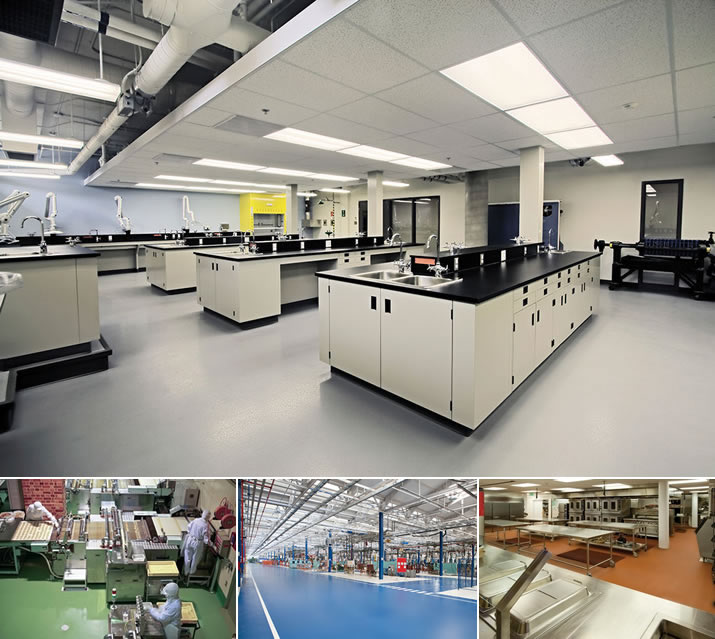 High performance floor coatings have evolved tremendously since the material was first developed more than 75 years ago. From early discoveries of urethanes and aromatic isocyanates that helped to launch coating technologies, to the two-component waterborne polyurethane coatings of today that are long-lasting and stain resistant, optimized high performance floor coatings have much to offer the flooring industry.
The proven performance, resilience, flexibility, and ease of use of polyurethane-based coatings have transformed the flooring industry. Once widely considered a durable topcoat, today's high performance floor coatings are now the top choice for use on industrial and concrete floors. And as more companies employ sustainable building practices, polyurethane-based coatings are particularly beneficial when companies decide to use existing concrete flooring as a decorative feature of the structure.
So rather than repair or replace an industrial or concrete floor, resourceful contractors like Düraamen will choose high performance floor coatings to breathe new life and a new look into a facility or space. These coatings are good options for concrete floors in storage garages, heavy-duty kitchens, chemical and production plants, retail stores, hospitals, restaurants, business complexes, hotels, and more.
Additionally, high performance floor coatings are super durable—stain, water, and abrasion resistant, and can be decorative in appearance. Stamped concrete, diamond polishing, and decorative stains and stencils are among the aesthetic ways one can use high performance coatings to transform the look of a new or renovated concrete floor. Installers can apply these coatings at higher wet firm thickness—rather than multiple coats—which can reduce the overall cost of a project.
The long-term success of any high performance coating will largely depend on the application process. Be sure to consult a Düraamen representative, who not only can advise about the best coating to use but also has the expertise to do a quality job.
Company: Duraamen Engineered Products Inc.
Source: http://www.duraamen.com/blog/high-performance-coatings
Tags: Color | Floor | Interior Design
---
With the economy still recovering, architects and property owners are looking for ways to save money. Terrazzo, marble and tile for a 200,000 sq. ft. project was over their budget so a MICRO-FINISH™ and REFLECTOR™ Enhancer Flooring System was the affordable and more durable answer for this retail shopping mall.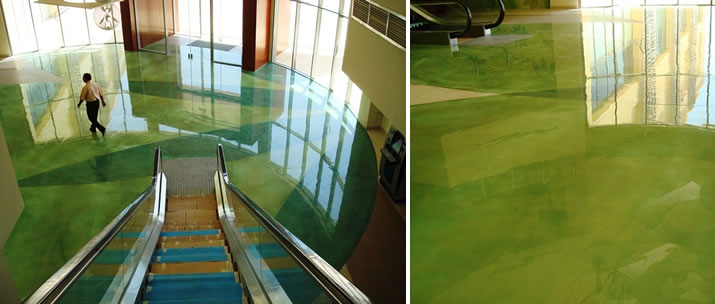 Thin Stamped Overlay: Stunning Stone & Wood Patio
When you have a beautiful home perched in the mountains surrounded by trees and granite boulders, what better way to accent your property than with a stunning stone and wood patio created with decorative concrete products?What you are looking at is a classic "Thin Stamped Overlay" created with TEXTURE-PAVE™ Pre-Mixed Overlay and embossed/textured with roman slate texture skins and wood plank stamps. The color of the large roman slate inserts was achieved with ULTRA-STONE™ Antiquing Stain and the wood planks were colored with CHEM-STONE™ Reactive Stain. Then the entire surface was sealed with CSS EMULSION™
FYI: That is not real wood. It is made of TEXTURE-PAVE™ too.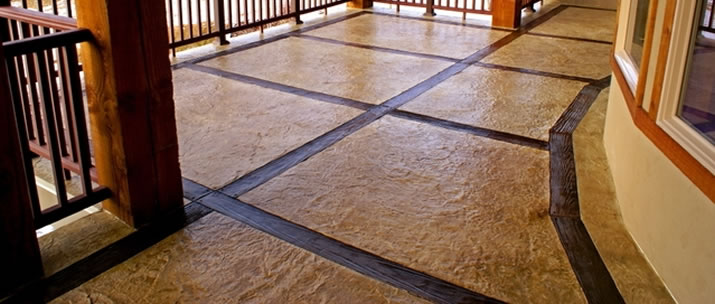 Really Cool Garage Floor: REFLECTOR™ Enhancer Checker Board
We've all seen check board type garage floors at one time or another but this one might take home the prize of best looking. Achieved with REFLECTOR™ Enhancer and E100-UV1™ 100% Solids Epoxy, this floor isn't just gorgeous to look at but it is tougher than nails.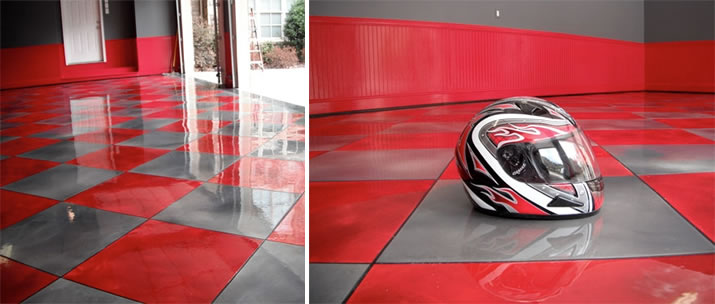 Elegant Residential Flooring: It's Even Flood Proof
Even the smallest flood can cause major damage to conventional residential flooring. So why not install a flooring system that can withstand minor flooding and water damage? A floor that at the same time will be elegant and beautiful. It is available with Elite Crete Systems. The floor below was applied directly to the existing concrete surface. Total thickness is less than 1/8″ thick but don't fear wear and tear. These floors are tough. Tough enough to drive a forklift on them. The floor below is a "Slate Trowel Down" without seams and was created with THIN-FINISH™ Pre-Mixed Overlay, colored with CHEM-STONE™ Reactive Stain and sealed and protected with E100-PT1™ 100% Solids Clear Epoxy.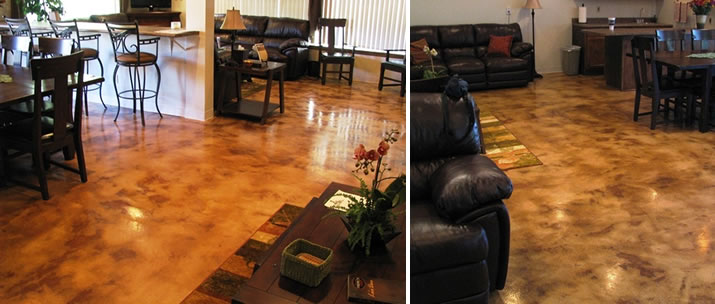 Exterior Decorative Concrete: NBA Professional Sports Arena
Few properties see more foot traffic than a professional NBA arena. Now consider that the arena is located in the freeze/thaw winters of Detroit and you have a surface that needs a tough and durable finish. Welcome to the Palace of Auburn Hills where a "Thin Stamped Overlay" shines.
Created with TEXTURE-PAVE™ Pre-Mixed Overlay, this Thin Stamped Overlay was applied directly to the existing salt damaged concrete. The pattern that the architect chose is roman slate. The color was achieved with ULTRA-STONE™ Antiquing Stain and the entire surface was sealed and protected with CSS EMULSION™.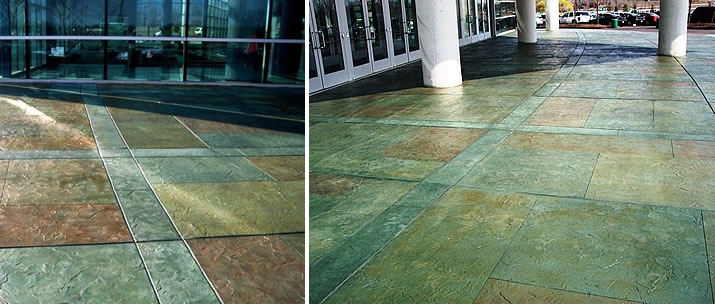 White & Modern: Residential Condo Floor
We've noticed a trend lately. Designers, architects and property owners want white, modern residential flooring more and more. Although overall options because a tad bit limited, achieving white floors is indeed possible, beautiful and tough. The floor below was simple… Two coats of white E100-PT4™ 100% Solids Pigmented Epoxy and two coats of AUS-V™ Clear Polyurethane for added protection.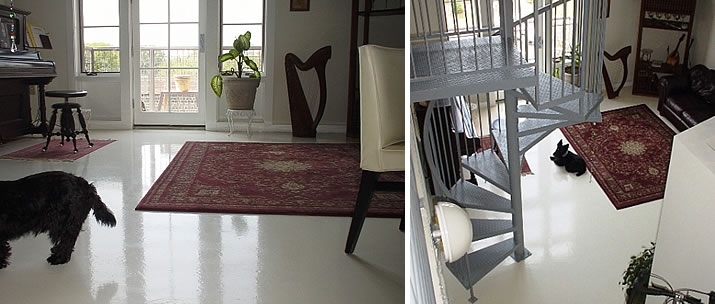 Company: Elite Crete Systems, Inc. (Headquarters)
Source: http://elitecrete.com/project-overview/projects/
Tags: Color | Floor | Interior Design
---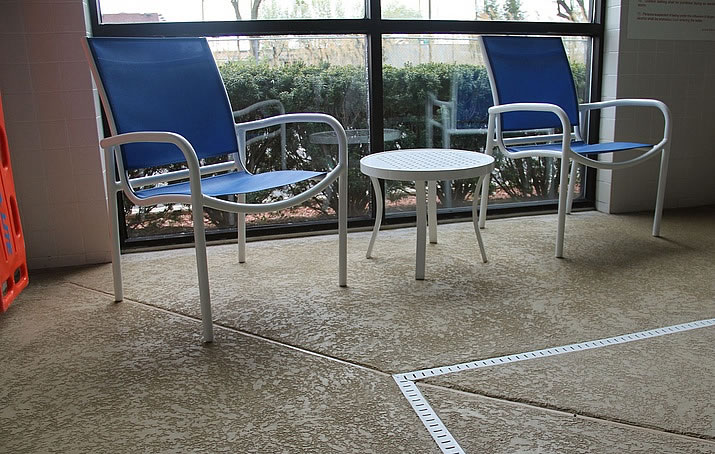 For a Great Looking Pool deck or Patio at an Equally Attractive Price
With any new design or renovation project, the most important considerations are how will your new floor look and perform, and how much it will cost. On all three counts, decorative spray-texture concrete overlays are hard to beat.
No rip and replace. Just a great space
What makes a decorative spray-texture concrete overlay such a popular flooring solution is that it enables you to leverage your existing concrete substrate. The process simply entails overlaying color on top of the concrete you already have. Not having to rip and replace it keeps your costs down considerably.
It's called 'Decorative' for a reason
Decorative spray-texture concrete is also a popular color overlay solution because it offers tremendous design versatility. In addition to achieving a range of color, or the ability to refresh or touch up your existing color, a stencil can be used to create a pattern, design, your favorite symbol, or company logo.
Create almost anything
We can expertly create intricate details such as borders, inlaid motifs, or tiles with a pattern or embossing. A variety of looks can also be achieved, such as brick, tile or stone, and slip resistance finishes can easily be added. Decorated tile can often be more affordable than purchasing more costly, high-end imported tile.
The versatility of decorative spray-texture concrete overlays make is perfect for:
Indoor and outdoor spaces
High-traffic interior floors
Pool decks and patios
Corporate driveways or entranceways
Concrete masonry
Drywall
Plaster
Other advantages ofdecorative spray-textureconcrete overlays:
Excellent durability — It has a high bond strength, and can be given a high slip-resistant finish, and a resistance to abrasion and water — perfect for pool decks or public areas where you are liable in case of a fall.
Easy to maintain— Keeping your floor looking high-quality for as long as possible will only required minor cleaning or occasional power washing — not much else.
Easy to repair — If damage occurs, your color or texture can easily be re-created and repaired without having to re-do the entire area. It's also easy to re-seal.
Quick to install — We will work hard to complete your concrete overlay design project in two or three days. Timing factors include the size of the surface and complexity of your design, onsite conditions, the weather, and if the space is public and requires access during the installation period.
Company: Duraamen Engineered Products Inc.
Source: http://www.duraamen.com/blog/decorative-spray-texture-concrete-overlays
Tags: Exterior Design | Floor | Interior Design
---
Add style and sophistication to any concrete structure, floor, countertop or wall by turning it into the perfect artist's canvas – with the Super-Krete Smooth Finish System.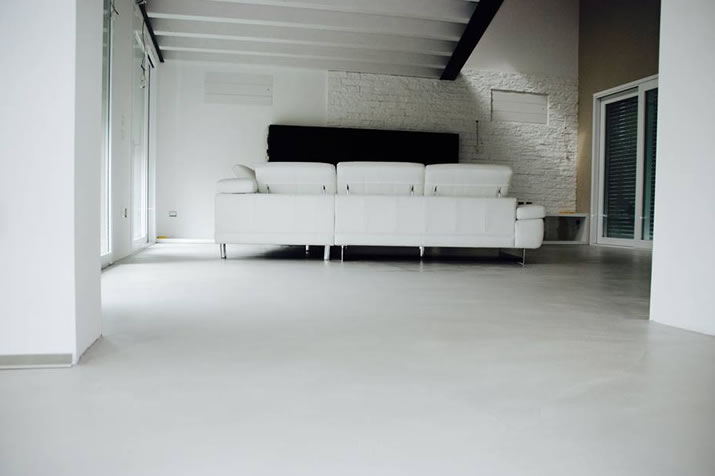 S-9000 Smooth Surfaces & Art Deco Finishes
Add style and sophistication to any concrete structure, floor, countertop or wall by turning it into the perfect artist's canvas – with the Super-Krete Smooth Finish System. Excellent for interiors that require frequent and thorough cleaning including restaurants, salons and home interiors, Super-Krete Micro-Bond creates a remarkable surface that can be buffed smooth yet remain porous enough to accept stains and protective sealers, unlike polished concrete.
Super-Krete Color Stains provide a natural look over new and old surfaces, both interior and exterior. You can easily achieve the look of an acid stain on pigmented and unpigmented concrete and masonry surfaces without the often uncontrollable and undesirable color results that acid staining entails. Another benefit: none of the hazards, environmental concerns or special handling associated with acid stains.
Create your next masterpiece!
Company: Super-Krete Products
Source: https://www.facebook.com/superkrete/
Tags: Exterior Design | Floor | Interior Design
3 Common Misconceptions About Epoxy Floor Coatings (November 2, 2015), Concrete Resurfacing (August 19, 2015), REFLECTOR™ Enhancer Floors (June 19, 2015), Composite, Synthetic Decking and Deck Railing Materials (June 1, 2015), Reasons You'll Love Your Residential Pool Deck Coating (May 25, 2015), Concrete repair, resurfacing and epoxy flooring by Super-Krete Products (May 4, 2015), Would you step out on this glassfloor? (April 10, 2015), Beautiful, High Performance Finished Floor Solutions (April 1, 2015)