architecture - engineering - construction

2016 February
---

Former LCD Soundsystem frontman James Murphy, in front of a demo installation for his Subway Symphony project. Courtesy of Heineken.
There's a lot of noise pollution down in the New York City subway—subway cars screeching to a halt, bad EDM leaking from people's headphones, busking musicians trying to catch a break or make a buck. But the most criminal of these sounds, according to former LCD Soundsystem frontman James Murphy, are the turnstiles. When riders swipe their yellow cards through the machine, the turnstile emits a flat, crabby beep. Murphy has a plan to change that.
The Subway Symphony would replace that irksome sound with something more like wind chimes than the drone of a droid. You might have heard about Murphy's idea early last year when The Wall Street Journal visited his studio. Now, with Heineken's Open Your City initiative onboard as a production and financial partner, Murphy's campaign has legs. The underpinning philosophy is pretty straightforward: If the turnstiles must make noise—and they do, partly to aid subways riders with disabilities—why shouldn't it be a pleasant sound?
The sound profile is taking shape largely within a Brooklyn studio, where something of a skunkworks team of sound designers and engineers from Arup and Hypersonic are working with Murphy on turnstile prototypes. Much of this comes down to rethinking the sonic wayfinding signals used underground; right now, subway turnstiles play a flat beep to let you through, and a double flat beep if you have insufficient fare. Problem is, that extra beep tends to go unnoticed by harried commuters, so even seasoned subway riders discover their card doesn't work by whacking the turnstile.
Subway Symphony will need to present a chord progression of seven or eight tones. This involves more than just harmonizing.
These noises must be easily distinguished so visually impaired riders have a sense of what's going on. To cover all the necessary cues, Subway Symphony will need to present a chord progression of seven or eight tones. This involves more than just harmonizing—Bill Washabaugh, founder of Hypersonic design studio, says much of the design comes from selecting tones that can stand out against other subterranean sounds. "When you're down in the subway, and the rumble of the train is approaching, and people are talking—all of those have different frequency ranges, and the goal of the tone is to cut through it so you definitely hear it," he says. To do that, he's been spending quite a bit of time in the subway with a sound meter.
For a public demo held in New York, Murphy and the Hypersonic team gleaned data on the frequency of turnstile use from the MTA's website and used it to create a symphony of the newer, more pleasant sounds—as if the turnstiles were "in player piano mode," Washabaugh says. The demo helped him and his team realize that the system should use one note per turnstile, rather than an algorithm-powered medley of notes. Timing is key, so a rider gets the sonic cue exactly when expected.
Making Subway Symphony a reality is far more convoluted. The MTA has made it clear it isn't interested in pursuing the idea, citing tonal requirements set in place by the Americans with Disabilities Act. The agency concedes Subway Symphony is cool, but it can't interrupt a service used by 6 million people daily for "an art project."
This has not deterred Murphy or his partners at Heineken, who aren't interested in adding any burden to the MTA's operations. Instead, they hope to piggyback Subway Symphony onto the MTA's plans to upgrade to a digital Tap-and-Ride turnstile system in 2019. When the new hardware is installed, they say, programming it with Murphy's music shouldn't be tough. All the Subway Symphony team has to do is hand over the code that determines the new sonic frequencies and their correct volumes. Heineken will even cover the cost, says Quinn Kilbury, senior brand director at Heineken. "We're completely aware [the MTA] have bigger fish to fry," he says, but "since it'll be new, you just program the code in to make the nice noises. It would cost the same to put in a bad noise as a good noise. Right now we're trying to package this up so there's no work to be done."
Besides campaigning on- and offline, Murphy and his team are studying the ADA requirements, which will help them better lobby the MTA. As they see it, they must ensure any obstacle the MTA cites as a reason to dismiss the project is removed. "We want to make sure they can feel comfortable that we've done the homework," Kilbury says.
Company: Boon Edam Inc.
Of: Margaret Rhodes
Source: http://www.wired.com/2015/07/plan-turn-nycs-turnstiles-musical-instruments/
Tags: Design | Entrances | Security
---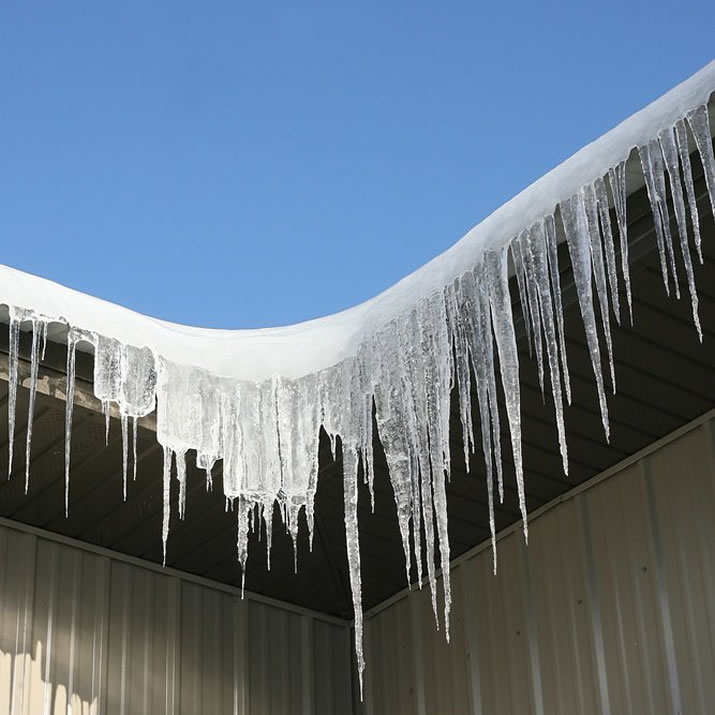 With winter in full effect now, your children may be admiring the curtains of icicles hanging from neighbors' roofs, but you know better. Those icicles can mean one very damaging possibility: ice dams. But is your home at risk?
Ice dams develop when the snow on the roof of your home melts, due to the heat your house is giving off, that is, the air that escapes from your ceiling. The snow melt runs down and then freezes as it hits the colder gutters, resulting in a buildup of ice, which prevents any further snow melt from draining. Eventually, this back up of water can result in damage to your roof, shingles and ceilings, as water has nowhere else to go.
How do you know if your home is risking this type of damage, each winter? By examining how effective your attic and ceiling insulation is. Any gaps in your insulation can result in heat escaping up through your ceiling and heating your roof, which can contribute to the development of ice dams.
Icynene spray foam insulation, when used to seal air leaks in your home and insulate your attic, can help reduce the possibility of ice dams developing. That's because Icynene spray foam air seals the areas where it is applied, which helps stop heat from escaping your home.
Find a licensed Icynene spray foam insulation contractor in your area, to discover more reasons to choose Icynene.
Company: Icynene
Source: http://www.icynene.com/en-ca/news/your-home-risk-ice-dams
Tags: Insulation
---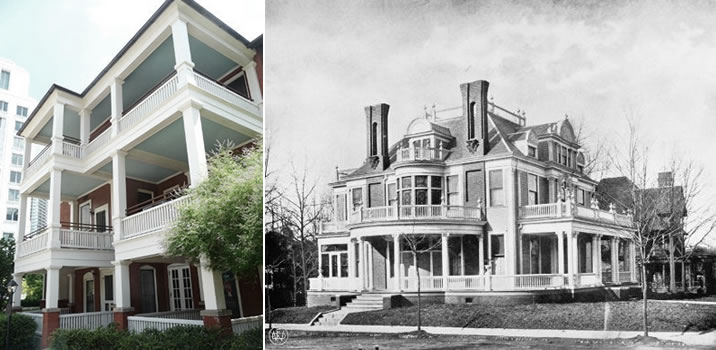 The house in 2010 and 1899: Courtesy Margaret Mitchell House
Being a lover of old houses, a history buff and a die-hard reader, I had to take a look at the Margaret Mitchell House in Atlanta. The author of Gone with the Wind lived in the grand place when it was a boarding house, and that's where she wrote the majority of her famous novel. She affectionately referred to her small apartment as "the Dump," a quaint name that is no longer fitting after the extensive renovation the house has seen.
One of the most interesting things about the renovation project was the brick facade. The owners of the home wanted the house to look just as it had when Margaret Mitchell lived there. However, after years of deterioration and two fires, much of the brick had to be replaced. This left the project in a quandry, because as any old house enthusiast knows, the look of new brick is definitely not even close to the look of old brick.
Masonry staining was the answer. Masonry staining makes a lot of sense for renovation, both in terms of materials and the bottom line. Since many structures simply need a section rebuilt, that gives owners a difficult decision. If they simply add new brick to the area that needs it, the new brick and old brick will be mismatched. In order to match it precisely, replacing the old with new is a way to ensure that — but that means demolishing even more of the historical character of the structure.
In addition, Nawkaw Corporation — the company that handled the masonry work on the Margaret Mitchell House — points out that staining new masonry to match the old can cost only about 15% of the price of decladding and rebricking. That's a big chunk of change, especially when the project is on a tight budget and the money is needed to preserve other historical features.
The stain is not a temporary fix. Most companies today offer a 25-year warranty on the work. Colors can be blended to match the original, or a historical look can be reproduced for an entirely new building. A complete change of brick color is also available through staining, though this is not often the goal of historic preservationists. Staining also works well to remove graffiti, which could allow owners to avoid the use of harsh chemicals that can sometimes eat away at the old, delicate masonry.
Today, the Margaret Mitchell House has a perfect facade that looks like brick from the early 1900s. But that hides the true history of the house, which includes serious disrepair and two devastating fires. Even with the difficulties the house has faced, many architectural details still remain, like the leaded glass window that Margaret Mitchell often gazed out of as she was writing her book. Besides the historical value, the 1899 beauty is an excellent example of Tudor Revival architecture. But it's the new that is worth seeing: the renovation on this place is just astounding.
Company: Nawkaw Corporation
Of: Shannon Lee
Source: http://www.oldhouseweb.com/blog/masonry-stains-can-make-historic-restoration-easier/
---
Passionate pursuit. Fresh mindfulness. Vintage workmanship. Social engagement. And technology and materials that seem to come from out of this world. We're taking the best of everything life has to offer and indulging in the moment. Prepare to come together as we go in passionate pursuit of a shared color consciousness.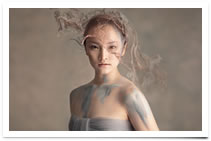 The elements that remind us to live well, be well, and stay well are vital to creating spaces to unplug.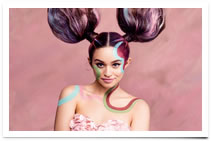 Meaningful change begins locally. Driven by social engagements as much as social media, we're coming together to rediscover the pleasures of intimate gatherings.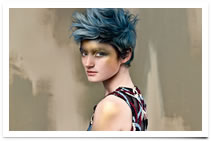 Our new industrial evolution may be small batch and grassroots, but it's built to last.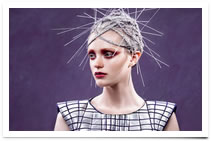 Technology's pace has us living in a constant state of wonder. The boundaries between art, science, and commerce continue to blur.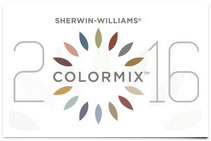 We're taking the best of everything life has to offer and indulging in the moment. Prepare to come together as we go in passionate pursuit of a shared color consciousness.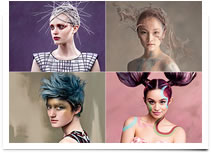 View the extensive list of the products and people who inspired each palette.
Company: The Sherwin-Williams Company
Source: http://www.sherwin-williams.com/architects-specifiers-designers/inspiration/color-forecast/2016-color-forecast/
Tags: Coating | Color | Design
---
Vision Control® is ideal for residential design that seeks to maximize views with generous exterior glazing, while still ensuring privacy and thermal efficiencies.
To be optimally efficient and private, homes need to consider glazing solutions for vision, sound, light and heat control.
Vision
The comfort of privacy is especially important in homes, particularly in urban environments. Vision Control® provides adjustable and complete privacy with the flip of a switch or other control mechanism. Depending on the time of day and preferred privacy setting, louvers can be angled to permit entry of daylight while still blocking a view to the home's interior.
Sound
In noisier urban settings, ensuring a more tranquil home environment is essential to family living. Vision Control® has sound blocking capabilities on par with concrete blocks. This means that your home can feature ample glazing, but still ensure a quiet, more peaceful interior living space.
Light
Vision Control® ensures 100% light blockage, protects your furniture against fading from damaging ultraviolet rays, eliminates unwanted glare, and serves as light shelf to reflect light deeper into interior space, reducing the need for artificial lighting.
Heat
Vision Control® provides variable shading coefficients, ensures solar heat barriers for optimal thermal performance, delivers higher energy-saving performance throughout the year, and blocks excessive solar heat to reduce air conditioning costs.
For homes that value progressive design and optimal efficiencies, Vision Control® can be customized to virtually any shape for interior and exterior glazing applications. Vision Control® is ideal for residential design that seeks to maximize views with generous exterior glazing, while still ensuring privacy and efficiencies.
Company: UNICEL Architectural Corp.
Product: Specialty Glazing
Source: http://www.unicelarchitectural.com/en/expertise/residential/overview.html
Tags: Design | Window Shades
---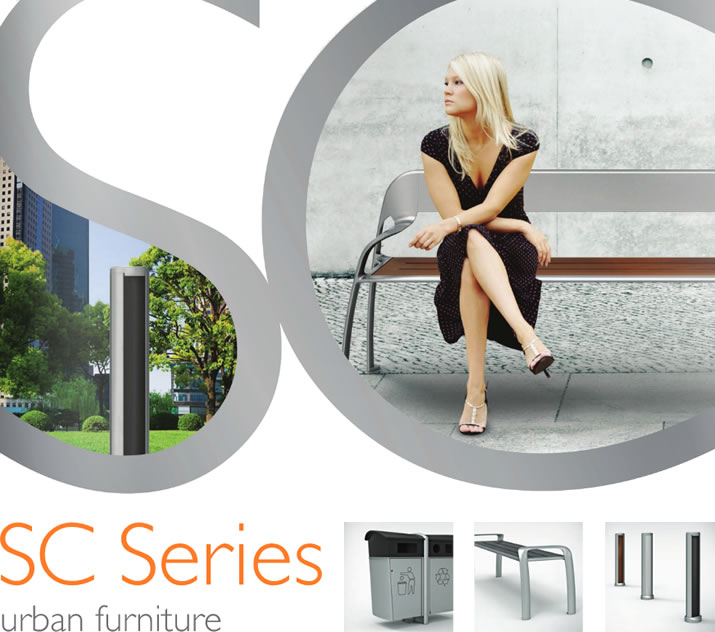 Maglin has collaborated with Philips Lumec to offer a design-integrated line of sustainable site furniture. The new of site furnishings blends seamlessly with SoleCity high performance LED outdoor lighting to create a unique look for any urban space.
Benches
SC Series Benches from Maglin are built with recycled aluminum castings and extrusions. Customize your installation with seating options built with High Density Paper Composite (HDPC) or Ipe hardwood.
Bike Racks
SC Series Bike Racks are constructed with recycled aluminum castings. Maglin aluminum casting components contain 95% recycled content (57% post consumer, 38% post industrial). Two different base types offer adaptable installation options.
Bollards
Crafted with recycled aluminum castings and extrusions, SC Series Bollards are available with four base types for adaptable installation. Decorative insert options include, powder coated aluminum, Ipe hardwood or stainless steel.
Waste/Recycle Units
The SC Series Waste/Recycle Unit support is made from recycled cast aluminum and the durable metal frame is topped with a molded plastic lid. Multiple configurations accommodate many recycling programs.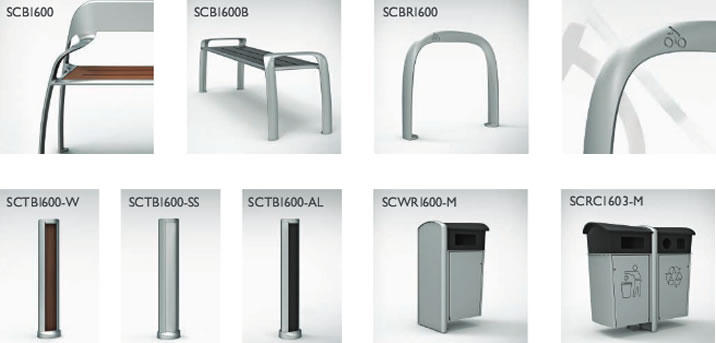 Company: Maglin Site Furniture
Source: http://www.maglin.com/scseries.html
Tags: Landscape Design | Lighting | Sustainability
---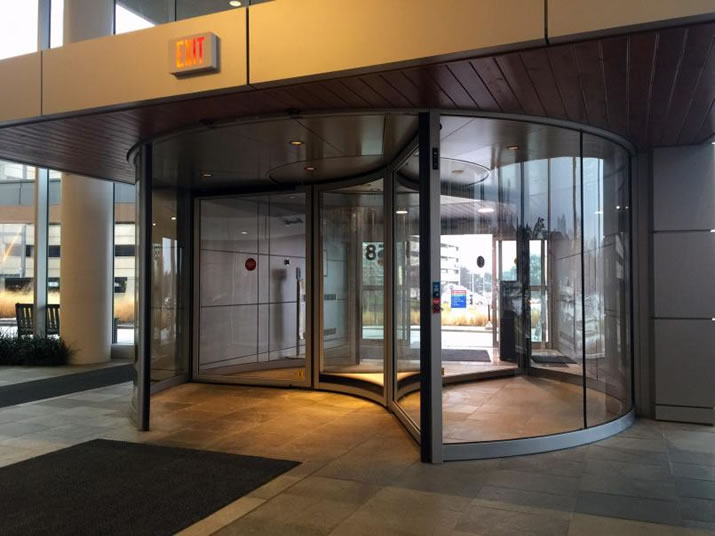 Boon Edam Inc., a global leader in security entrances and architectural revolving doors, today announced that Froedtert & the Medical College of Wisconsin health network, a regional health care organization with locations throughout Wisconsin, is employing an entrance configuration that combines an exterior automatic sliding door with an interior two or three-wing revolving door. The entrance solution from Boon Edam serves as a vestibule for several entrances at two of the health network's medical facilities. Automatic Entrances of Wisconsin (AEW Inc.) counts the Froedtert installations among the more than 100 Boon Edam large diameter revolving door installations that AEW Inc. has installed for medical facilities throughout the state.
Introducing the Revolving Door Concept
"Between 15-20 years ago, the concept of a large diameter automatic revolving door was foreign to most medical facilities. A major objection being they anticipated their clientele simply couldn't get used to it," explained Jay Walt, VP for AEW Inc. Walt embarked on a years-long campaign to convince hospitals and other medical facilities to adopt a large-size revolving door in addition to the sliding doors that many facilities were using.
Walt continued, "It made so much sense to replace typical sliding door vestibules with a system that keeps out the weather, dirt and dust and helps keep hospital entrance areas clean and attractive."
Revolving Door Objections
Breaking into the hospital market wasn't an overnight success for AEW. "We had to get buy-in from the owner, from management, and from many of the key departments." One of the initial objections to a revolving door was that it was perceived as not user-friendly. People approaching from the walkways on either side of the entrance would need to turn left or right and plan an "angle of attack" to enter the revolving door and that could often be inconvenient, especially for those already facing physical challenges. However, by putting the sliding door out front, all those entering the facility were now funneled into a new vestibule area and were ergonomically aligned with the revolving door—problem solved! And the advantages from this new, two-door entrance proved to be numerous.
"The change in the climate in the lobby was dramatic," said Walt.
"The new entrance at Froedtert Hospital has less air seepage, keeping the hospital lobby warmer in the winter and cooler in the summer," said Neil Jensen, Project Manager, Facility Planning and Development for Froedtert. "Our employees and visitors are much, much happier."
"The average person doesn't think about this," said Walt, "but by creating a new vestibule, we've also created an area where we can restrict not only the heat and the cold, but also the rain, snow, dirt, and anything blowing in the wind. The vestibule's flooring makes for a cleaner lobby, it serves as a waiting area out of the elements, and it has a positive impact on the maintenance demands for the revolving doors. In addition, the slide ensures enhanced security and lockdown features that the revolver alone cannot provide."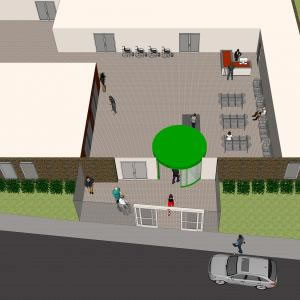 The Advantages Have Been Numerous
"Working with Froedtert has been a true collaboration between partners, starting with the conceptual design phase, and the communication throughout to completion," said Walt. Froedtert has six of the double-door design entrances installed at two of its busy facilities. Richard Boor, Director Plant Operations, estimates that the main Froedtert academic medical campus alone accommodates 750,000-800,000 visitors during the year.
"We're very pleased with our Boon Edam entrances, and we're very pleased with our relationship with Jay and AEW," said Jensen. "We've achieved a more comfortable climate in both hot and cold seasons, our lobbies are cleaner and more inviting, and we're saving on energy costs. The doors also give us special security features such as automatic lock-down. AEW has worked with us on training programs, as well as a scheduled program of maintenance that keeps our entrances in excellent working order with minimal downtime. We've come a long way, and for such a relatively simple design concept change, the advantages have been numerous."
Company: Boon Edam Inc.
Source: http://www.boonedam.us/news/wisconsin-hospitals-use-boon-edam-revolving-doors-special-double-entrance-solution
Tags: Entrances | Interior Design
---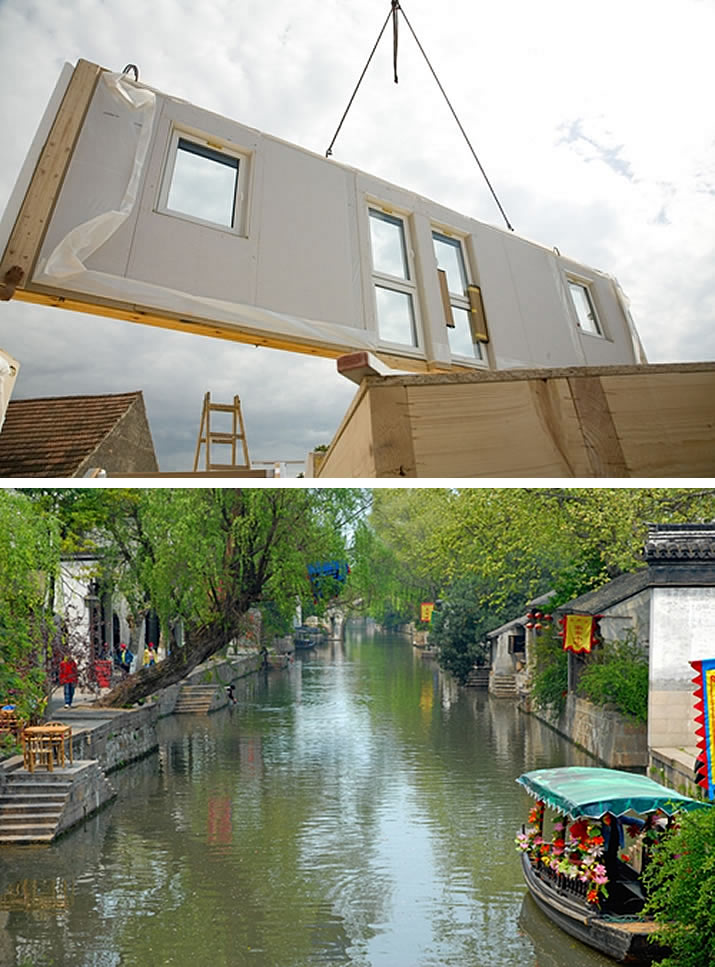 Prefab techniques can help you whether you're developing a mansion in the Midwest or a riverside home in Thailand.
The building community often use prefabricated techniques due to cost effectiveness, but modular methods are also opening up new doors. Prefab is growing not only in size and scope, but it is also expanding options for buyers and leaving an impact on different cultures across the world. Here are some ways that modular architecture is changing the construction industry:
Prefab appeals to private contractors
FMI Corporation, a management consulting organization, conducted a survey in 2013 where it interviewed contractors across the construction industry about prefab techniques. According to the survey, 3 out of 5 contractors expect the use of prefab methods to grow across the industry. Both mechanical and electrical contractors are incorporating more modular methods when they collaborate on development projects – the average consensus in the survey was that contractors would like to spend one-third of their company's labor hours on prefab construction. There is an obvious connection between contractors and this type of construction. By design, modular builds are done offsite, so outsourcing duties to private contractors is an efficient way for building companies to make progress on their own project and won't have the same need to bring outsiders up to speed onsite.
Prefab is expanding across the world
We can see it happening already: prefab builds are popping up globally with new types of residential and commercial projects. Seychelles New Agency, a newspaper that covers the African country of the same name, reported the expansion of prefab builds in small communities across Seychelles. Many different neighborhoods in Seychelles benefit from modular projects because they are more affordable and help to establish a green market, the source reported.
Prefab builds are also seeing use in industries across Asia. According to design and technology blog Inhabit floating prefab homes have become popular for river resorts in Thailand. Mobile designs are very appealing to developers along the River Kwai because modular builds create a more complete structure before the unit needs to be towed to the riverbed, the source reported.
Gizmodo recently featured prefab builds from Muji, a prominent Japanese retail company. Muji is becoming renowned for its new prefabricated houses and its techniques aren't just limited to retrofitting new homes or designing minimalist houses, either wealthier consumers have been gravitating toward Muji's tall, slender builds referred to as "vertical homes." The appeal is that prefab homes are more customizable than traditional units, so accommodating unique property specifications is cheaper, the source stated. This means that the appeal of prefab structures aren't just limited to those seeking to live on a tighter budget – though, according to Wired, buyers also enjoy Muji's minimalist builds.
In short, prefab building is a both a useful technique and is only going to grow in its usage and popularity. To see how Sto can help incorporate prefab into your next build, check out our website.
Company: Sto Corp.
Source: http://buildingwithconscience.com/2015/12/prefab-is-expanding-and-growing-in-popularity/
Tags: Building
---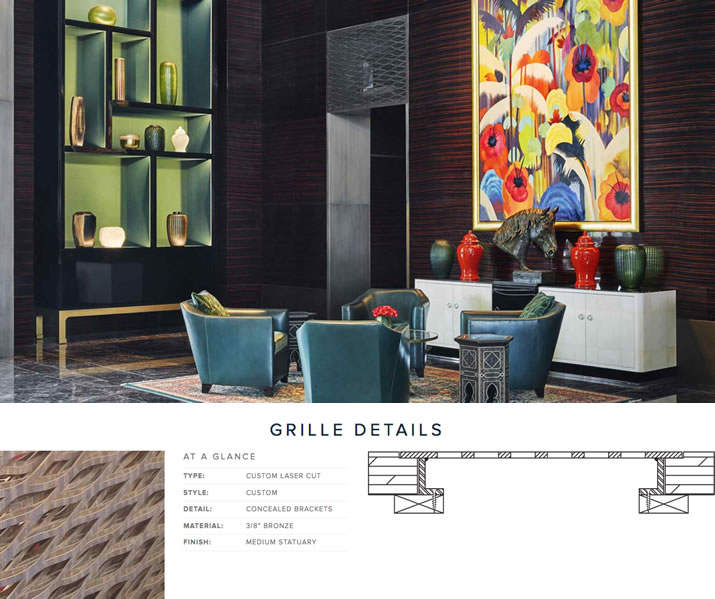 The Challenge
A large global construction company was under extremely tight scheduling constraints to complete a Five Star hotel. The project required several complicated designs that included custom developed patterns, mirror polished grilles, a large complete radius floor grille and geometrically shaped lobby center piece grilles.
Complex Issues
The sizes, shapes and materials of the grilles varied widely
The custom laser cut pattern
A specific bronze statuary finish required an exact match
The weight the material created a size limitation while the aesthetics of the assembled unit needed to be maintained.
There were radiuses, straights, miters and inlay sections that needed coordination
The Solution
Within one week, Artistry in Architectural Grilles provided finish samples and mock-ups of the grilles required and shipped them by air
Upon approval of finishes and submittal drawings, production was immediately started
Full scale templates were created and followed to ensure exact fits
All of the grilles were joined and assembled in-house, tagged and coordinated with drawings and assembly instructions to be used on the site
Success
All of the grilles were shipped on-time and arrived in excellent condition. The customer was elated with the quality of service, responsiveness and the way our product helped their project achieve success.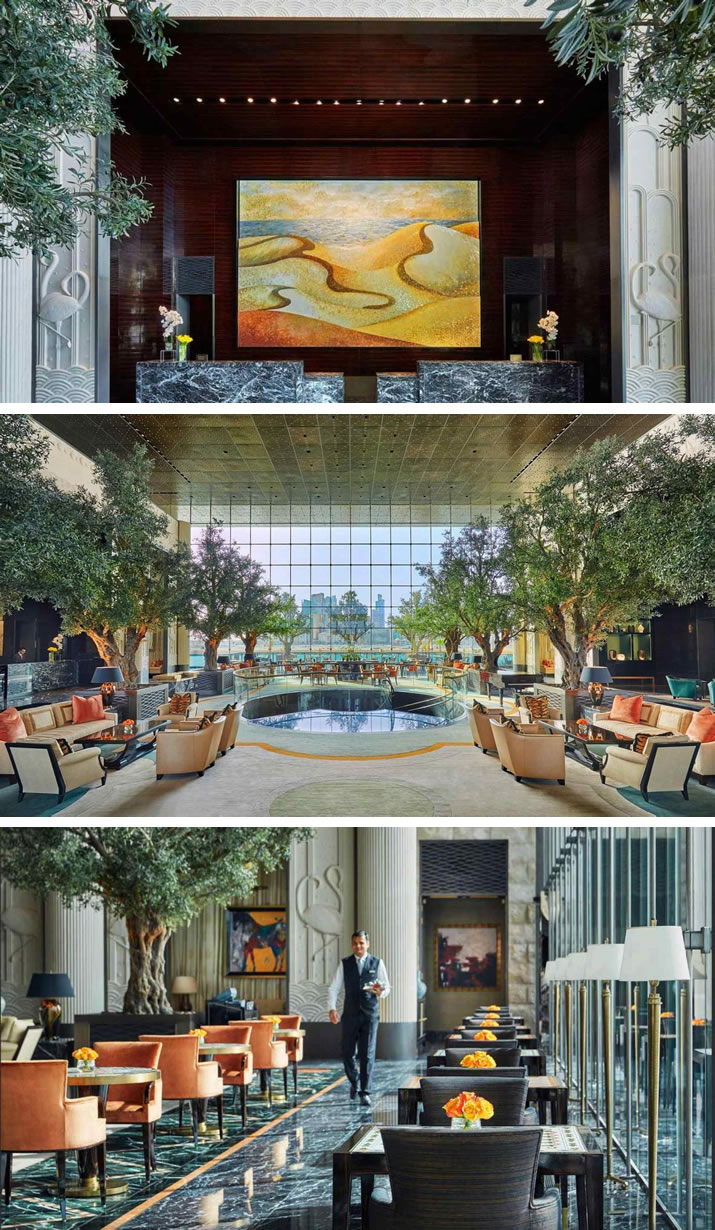 Company: Artistry in Architectural Grilles by Advanced Arch Grilles
Source: http://www.aagrilles.com/project/international-hotel-checks
Tags: Interior Design | Wall Panels
---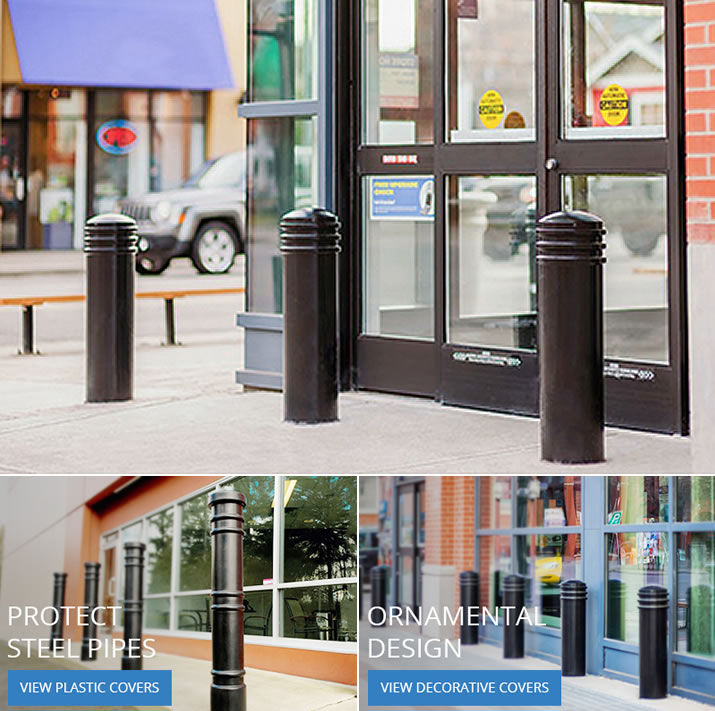 A vehicle can be many things—a means to get from one place to another, a status symbol, a collector item. A deadly weapon, however, isn't the first thing that comes to mind. But, when you look at how much mass a vehicle has, and its ability to accelerate and travel at high speeds, the consequences of even the smallest driver error can be disastrous. In this post, we'll look at how things like better parking lot design and safety bollard installations can prevent the ongoing damage and injury taking place across North America.
Storefront crashes in Canada and the United States
This is a safety issue not unlike fire sprinklers were a hundred years ago
According to Rob Reiter, Storefront Safety Expert and co-founder of the Storefront Safety Council, vehicles crash into commercial buildings as many as 20,000 times per year, or about 60 times per day, causing approximately 4,000 serious injuries and 500 deaths per year. For convenience stores alone, there are 20 crashes per day. "7-Eleven, as a chain, with their 7,000 or so stores, gets hit 1.3 times per day, nationally," says Reiter.
Reiter's findings come from years of compiling crash data, but as he looks solely at commercial buildings, they cover only a portion of the bigger picture. "When I say there are more than 20,000 accidents per year in the US and Canada for what we call 'storefront crashes,' there are way more than double that in terms of crashing into apartments and houses." This has to do with the fact that there are far more residential buildings than commercial. Almost all vehicle trips start and stop at someone's home—and not all trips involve going to the store. "People get drunk and drive home way more often than they do to stores," says Reiter.
"The term 'storefront crash' has the advantage of being descriptive and the disadvantage of not taking into account lots of other kinds of crashes—such as those involving bus stops and office buildings," says Reiter. "As a label, it has its good points and its bad points. It conveys to people the notion that there are areas where people live, work, eat and play that are incredibly vulnerable."
Pedal error
Reiter has an extensive background in high-security applications involving vehicle intrusions. His work spans a range of projects that include embassies, military facilities, high-value civilian buildings, power plants, government buildings and streetscapes. While much of his work has involved protecting buildings from intentional threats, he found that unintentional threats are far more common.
Why do vehicles unintentionally collide with buildings? Reiter attributes these accidents in part to pedal error and/or distracted driving.
What is pedal error? Typically, this can involve one of two things. 1) A driver, when easing into a parking spot hits the accelerator instead of the brake, causing the vehicle to rush through the parking stall. 2) A driver, when preparing to leave the stall, puts the vehicle in the wrong gear (forward instead of reverse, or vice versa depending on the vehicle's orientation). If the vehicle's tires are against a curb, the vehicle won't move when the driver hits the gas, causing the driver to push the pedal further until the vehicle jumps the curb and slams into whatever lies beyond.
Parking lot design can also have a huge impact on site safety. For pedal error incidents, nose-in parking along buildings or storefronts can be problematic. In the event of driver error, a vehicle will plow into whatever the stall is pointed at—whether it be an exposed patio, glassed dining room, retail area or office space.
"Most of the big-box stores, your Costcos and Walmarts, have designed away nose-in parking for quite some time. It's generally smaller stores, convenience stores and strip malls, that still embrace this design," says Reiter.
Drive aisles can be another big issue when they point directly at store entrances, many of which feature wheelchair ramps. "There is a danger that drivers proceeding down drive aisles while looking for a parking place might lose control of their vehicle for whatever reason, and they just keep going right up the ramp," says Reiter. "It seems like it shouldn't happen as much, but it happens a lot."
Safety bollards and storefront protection
"To me, whether the accident happens because the driver hit the gas instead of the brake, put it in drive instead of reverse, was drunk, spilled hot coffee in their lap, or was busy watching TV in their car, accidents where vehicles crash into stores are in fact foreseeable," says Reiter.
Even the most careful drivers can be susceptible to error. The most rigorous driving regulations won't prevent this. What is more key is to recognize potential hazards before they occur, and finding design solutions to reduce or mitigate the risk that they create.
Safety bollards are key to preventing damage and injury. Safety bollards are made from extremely strong steel embedded deep in ground and reinforced with concrete. They are designed to withstand high-impacts from vehicles, essentially creating a safety buffer between vehicle areas and the area beyond. When you consider that the "area beyond" can contain anything from expensive merchandise or machinery to a family of innocent bystanders, the protection is well worth the cost.
"As someone once explained to me, if you're going to spend a million and a half dollars building a building and another million and a half putting in all the inventory, $10,000 worth of bollards is not even a rounding error."
Why the lack of protection?
Vehicles crash into commercial buildings as many as 20,000 times per year, or about 60 times per day, causing approximately 4,000 serious injuries and 500 deaths per year
Reiter is currently working to release vehicle-into-building data for 2015, which he'll compare with the last few years to identify trends. From what Reiter has seen in previous years, though, the incidents and the resulting damage to people and buildings have been increasing. Despite the constant risk and the many expensive legal settlements, there are still many properties that don't implement effective safety measures.
"There are people and businesses that have put bollards in front of their stores for generations. And there are people who will only do it when there's a local code that requires them to. And that's not going to really change until the local codes catch up," says Reiter.
"This is a safety issue not unlike fire sprinklers were a hundred years ago. Or like ADA 30 years ago. Everybody is still trying to find their way."
When you consider all of the design elements engineered to protect people in cars, it makes sense to ensure similar protections for people outside them as well. "Cars are way safer," says Reiter "You're in a steel box. You have crumple zones, you have air bags, you have seatbelts, you have shoulder belts, you have energy-absorbing steering columns, you have so many things in a car that's been built in and designed to protect the driver. But a person sitting at a table in Burger King, when a car comes in, they have nothing to protect them."
Reiter has seen success working with local codes, but general education and awareness make up a large part of his work with the Storefront Safety Council. In 2016, the Council will begin the Storefront Safety Initiative, aimed specifically at teaching property owners, local governments and insurance companies about safety bollards and other barriers—how to plan, specify and order them. "It's an attempt to help people understand that the solution is there," says Reiter. "Hopefully local governments and state governments will use the information provided as they undertake their own local safety ordinances."
Reliance Foundry Co. Ltd. delivers the highest-quality stock and custom-designed products for architectural site furnishings, traffic management and industrial applications. Since 1925, Reliance Foundry has built upon a long tradition of metal casting expertise to become an award-winning supplier for high-profile and everyday needs across North America.
Company: Reliance Foundry Co. Ltd.
Of: Bryce Tarling
Source: http://www.reliance-foundry.com/blog/safety-bollards
Tags: Exterior Design | Landscape Design | Safety
---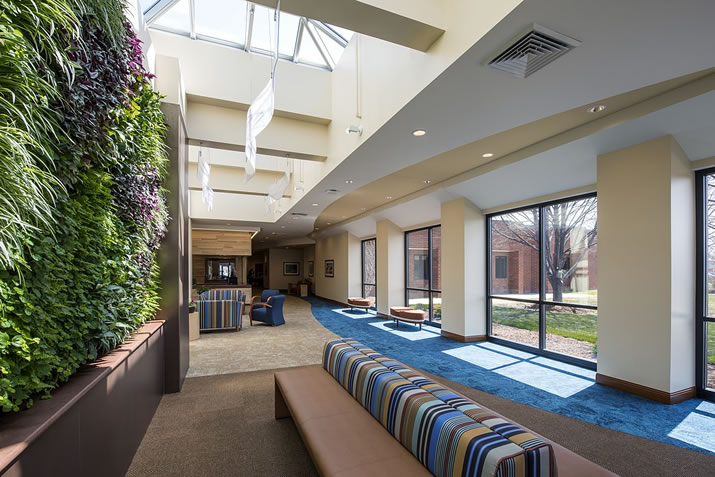 Photos courtesy of TWP Architecture
The basics: Rogers Memorial Hospital–Brown Deer, Wisconsin, celebrated its completed renovation in April 2015. Brown Deer is the first Rogers facility to incorporate biophilia into its design. Biophilia design recognizes the way humans have an emotional connection to nature and to natural forms, aiding a patient's healing process. The new design uses seventy high-impact windows that provide a safe interior as well as natural light and views. The 50,000-square-foot, 56-bed facility now offers inpatient care for children and adults diagnosed with anxiety, depression, addiction and other behavioral care needs.
The players: Architect, TWP Architecture; general contractor, VJS Construction Services; contract glazier, Simmons Building Products; glass manufacturer, PPG Industries, Trulite; glazing systems, window manufacturer: Wausau Window and Wall Systems; glazing systems, finishing, Linetec; metal systems supplier, Manko Window Systems.
The glass and systems: As part of the total renovation, Wausau Window and Wall Systems updated the facility's old windows with its SEAL behavioral care windows, which provide a safe interior as well as the natural light and views that connect patients with their surroundings. Working on a limited budget, the architect also opened the entry with natural light, using storefront Series 2450 from Manko and Trulite's 1-inch laminated insulating glass unit, made up of ¼-inch clear tempered PPG Solarban 60, a 7/16-inch clear anodized silicone spacer, and a 5/16-inch unit comprised of 1/8-inch clear annealed glass, 0.60 mm clear PVB and 1/8-inch clear tempered glass.
Glazing contractor Simmons Building Products installed 70 of Wausau's SEAL 2187-DT interior accessory windows with Solarban glass by PPG. SEAL is an acronym for sound, energy, air and light. According to Wausau, the windows are drop-tested for high impact, supporting safety without requiring screens or bars. They also use an overlap sash design, rather than a flush sash, to make them more resistant to patient tampering and prying. Integral between-glass blinds minimize maintenance, reduce solar heat gain, and offer privacy, without the potential dangers of exposed cords and slats, according to Wausau. Linetec finished the windows' frames with a Dark Bronze anodize finish.
Company: Linetec
Of: glassmagazine.com
Source: http://glassmagazine.com/article/commercial/great-glazing-rogers-memorial-hospital-brown-deer-1614735
Tags: Design | Glass | Windows
---
With the economy still recovering, architects and property owners are looking for ways to save money. Terrazzo, marble and tile for a 200,000 sq. ft. project was over their budget so a MICRO-FINISH™ and REFLECTOR™ Enhancer Flooring System was the affordable and more durable answer for this retail shopping mall.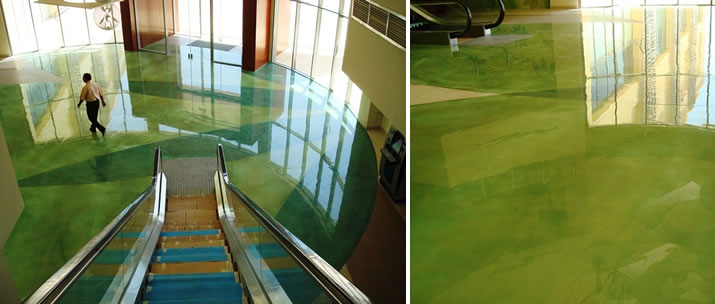 Thin Stamped Overlay: Stunning Stone & Wood Patio
When you have a beautiful home perched in the mountains surrounded by trees and granite boulders, what better way to accent your property than with a stunning stone and wood patio created with decorative concrete products?What you are looking at is a classic "Thin Stamped Overlay" created with TEXTURE-PAVE™ Pre-Mixed Overlay and embossed/textured with roman slate texture skins and wood plank stamps. The color of the large roman slate inserts was achieved with ULTRA-STONE™ Antiquing Stain and the wood planks were colored with CHEM-STONE™ Reactive Stain. Then the entire surface was sealed with CSS EMULSION™
FYI: That is not real wood. It is made of TEXTURE-PAVE™ too.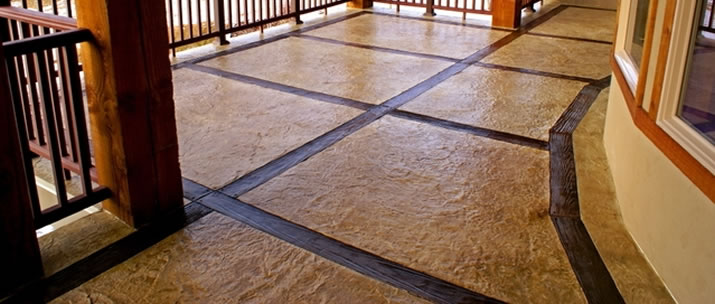 Really Cool Garage Floor: REFLECTOR™ Enhancer Checker Board
We've all seen check board type garage floors at one time or another but this one might take home the prize of best looking. Achieved with REFLECTOR™ Enhancer and E100-UV1™ 100% Solids Epoxy, this floor isn't just gorgeous to look at but it is tougher than nails.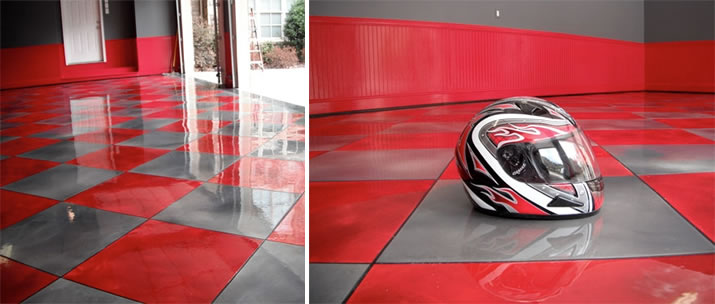 Elegant Residential Flooring: It's Even Flood Proof
Even the smallest flood can cause major damage to conventional residential flooring. So why not install a flooring system that can withstand minor flooding and water damage? A floor that at the same time will be elegant and beautiful. It is available with Elite Crete Systems. The floor below was applied directly to the existing concrete surface. Total thickness is less than 1/8″ thick but don't fear wear and tear. These floors are tough. Tough enough to drive a forklift on them. The floor below is a "Slate Trowel Down" without seams and was created with THIN-FINISH™ Pre-Mixed Overlay, colored with CHEM-STONE™ Reactive Stain and sealed and protected with E100-PT1™ 100% Solids Clear Epoxy.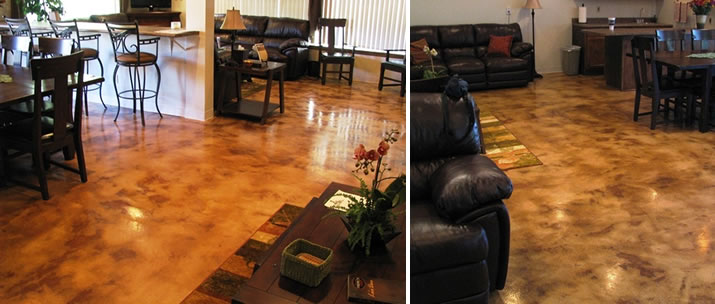 Exterior Decorative Concrete: NBA Professional Sports Arena
Few properties see more foot traffic than a professional NBA arena. Now consider that the arena is located in the freeze/thaw winters of Detroit and you have a surface that needs a tough and durable finish. Welcome to the Palace of Auburn Hills where a "Thin Stamped Overlay" shines.
Created with TEXTURE-PAVE™ Pre-Mixed Overlay, this Thin Stamped Overlay was applied directly to the existing salt damaged concrete. The pattern that the architect chose is roman slate. The color was achieved with ULTRA-STONE™ Antiquing Stain and the entire surface was sealed and protected with CSS EMULSION™.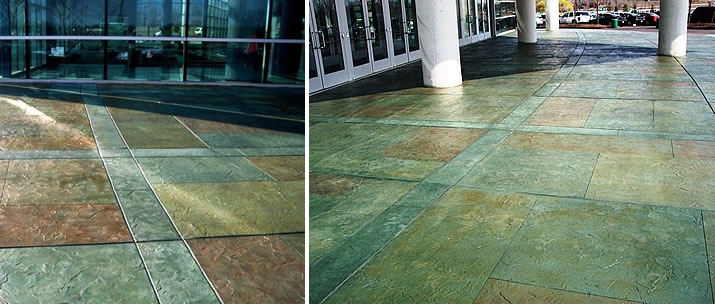 White & Modern: Residential Condo Floor
We've noticed a trend lately. Designers, architects and property owners want white, modern residential flooring more and more. Although overall options because a tad bit limited, achieving white floors is indeed possible, beautiful and tough. The floor below was simple… Two coats of white E100-PT4™ 100% Solids Pigmented Epoxy and two coats of AUS-V™ Clear Polyurethane for added protection.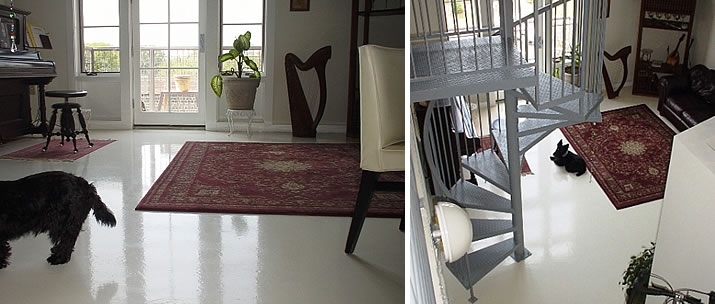 Company: Elite Crete Systems, Inc. (Headquarters)
Source: http://elitecrete.com/project-overview/projects/
Tags: Color | Floor | Interior Design
---
What a joy for architects to land a project they can sink their teeth into, finding that sweet spot between functionality and beauty. Unconventional materials, like bulletproof glass, can also be an exciting challenge to work with. But it's frustrating to watch a project slip, your design distorted under the weight of missed schedules, unfulfilled commitments, and change orders.
TSS Offers More than Bulletproof Glass
There is nothing that will drive a project off its tracks like uncoordinated trades. One team is late in finishing, the next decides to try and cram in a rush job while they wait and then they're inevitably not ready when it is their turn—it's a vicious and costly cycle. Specialty trades are often among the worst offenders.
"I've seen at first hand how frustrating that is," Total Security Solutions CEO Jim Richards explains, "Which is why we make a point to keep every part of our process strictly on schedule, and to work closely with architects to come up with designs that can be installed quickly and smoothly—even overnight."
TSS knows where the trouble spots are likely to hit with coordinating trades. We can help establish a realistic schedule for coordinating trades on your building project, and give valuable advice about the order of trades (which can be a bit more complicated when you start working in barrier systems).
"We're working on getting architects to contact us sooner, rather than later, in the project," Jim adds. "It just saves them so much trouble if they talk through both the design and the build process in advance."
Among other assistance, TSS is happy to help with drawings, submittals, and any specifications you need to share with a client or prepare plans.
TSS Does Beautiful, Functional Work
TSS engineers are happy to walk you through every design consideration, and give you a realistic assessment of how expensive and difficult a concept will be to execute, given manufacturing realities, material weight, and our advanced fabrication capabilities. We have more than a few tricks for managing HVAC design around a bullet resistant system, containing costs, building flexibility into a system, or finding design alternatives that lower costs, save time, or better integrate every system in the building. TSS is also sensitive to sustainability and LEED issues, and happy to make recommendations on how bullet resistant materials can support sustainable design. Ultimately, architects like working with TSS because we design, fabricate, and install beautiful custom systems with a tight fit and finish that wow clients. We do that by making the architect's life easier:
The Specialty Price Tag of Bulletproof Glass
Jim knows that there is some sticker shock for clients new to bulletproof materials and systems. "Clients often can't fathom that this material is at least double what normal glass costs. Depending on the scope of work, it can climb from there to three times, even five times more." Financial constraints will always exist, but they don't have to hurt as much if you go into a project knowing what to expect, and how to prepare clients for that.
TSS believes in treating every project as custom, because each client and each site has different needs. From a gas station buying off-the-shelf transaction windows to a high-end bank with a slick, unique interior build out, TSS takes the time to make sure every system we sell will work and is installed correctly (especially if it's installed by third-party contractors, instead of our team). Working in this fashion, we are assured of a no-surprises, low-drama project.
Company: Total Security Solutions Inc
Source: http://www.tssbulletproof.com/partnering-architects-bullet-proof-beautiful/
Tags: Design | Safety | Security | Sustainability | Windows
---
If you're a building owner or facilities manager, pigeons can be one of your worst enemies. That's because these "rats with wings" can cause all sorts of problems. Bird droppings on entryways, walkways, display windows, benches, canopies, umbrellas and nearby lampposts can turn away business and customers. Cleanups and maintenance brought on by excessive pigeon presence can run into the thousands of dollars. Here's just a sampling of what makes pigeons such a pest:
Why Pigeons are such Pests: 4 reasons to get rid of pigeons from your building
Equipment Damage. Nesting debris, feathers and droppings can damage AC units, skylights, solar panels, security cameras, lighting systems, signage, ventilators and drainage areas.
Roof Damage. Pigeon droppings can eat into the sub-roofing materials and eventually cause leaks. Pigeon nesting debris can stop up rainspouts and gutters, causing water to seep under roofing tiles. In the case of a flat roof, clogged rain gutters can result in hundreds or even thousands of gallons of water pooling up on the roof.
Pigeons Create Fire Hazards. Pigeon nesting debris and feathers make excellent kindling for fires. When this debris gathers in electric signs or other electrical machinery, a heated bulb or tiny spark can easily ignite a fire that can destroy an entire building.
Pigeons Pose a Health Hazards. One pigeon can produce up to 25 pounds of droppings annually. This waste can carry any of 60 known diseases, including histoplasmosis and West Nile Encephalitis.
Got Pigeons?
Pigeons can be one of the most destructive birds when it comes to urban areas. They are naturally acclimated to our cities, with their tall buildings, lack of predators and abundance of food. To truly understand how to combat a pigeon infestation, you need to know more about the birds. Download the Pigeon Facts guide today to learn more about pigeons and how to keep them off your property.
Pigeons are complex and one of the most intelligent birds in nature. They are one of only a small number of species to pass the "mirror test", they can recognize themselves in a mirror, each letter of the human alphabet and differentiate between different people with in a photo
Bird B Gone has over 90 years of combined experience in how to get rid of pigeons. We can help you with product selection, installation and cleanup. Just call us at (800) 392-6915 for a catalog, pricing, or product samples or email us at nobirds@birdbgone.com. We also work with a network of authorized installers, call today for a trained bird control professional in your area.
Company: Bird-B-Gone, Inc.
Source: http://www2.birdbgone.com/pigeon-facts
Tags: Exterior Design | Security