architecture - engineering - construction

2016 November
---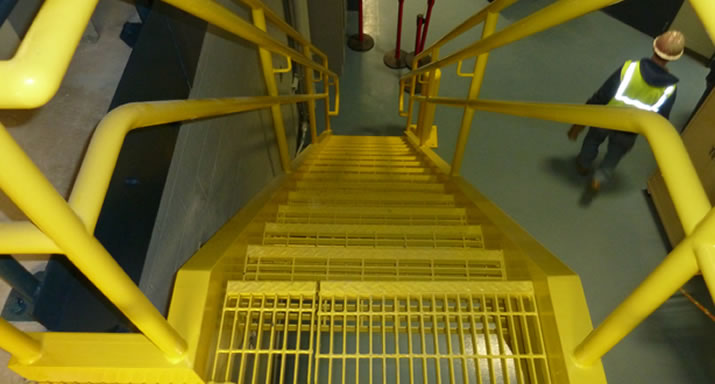 According to the National Safety Council, compensation and medical costs associated with employee slip and fall accidents are approximately $70 billion annually. There are many factors that contribute to slip and fall accidents such as footwear type, walkway type, surface levelness, surface texture, surface contaminants, weather conditions, indoor/outdoor light, inadequate signs and warnings and walkway load. Fifty-five percent of slip and falls come from walking surface and twenty-four percent come from footwear.
There are International and National safety standards that should be researched before installation of slip resistant flooring:
International
American National Standards Institute (ANSI) / National Floor Safety Institute (NFSI): In December 2009, the NSI/NFSI B101.1-2009 "Test Method for Measuring Wet SCOF of Common Hard Surface Floor Materials," was published, establishing the first wet test method. The standard does not simply categorize walkways as safe or unsafe due to its COF value, but it identifies its traction range into three categories.
High Traction: surfaces whose wet SCOF is 0.6 or greater
Moderate Traction: walkways whose wet SCOF is below a 0.6 but greater than a value of 0.4
Low Traction: walkways which possess a wet SCOF of less than 0.4
National
1.) American Society for Testing and Materials (ASTM): The technical committee "Safety and Traction for Footwear" includes safety and traction for walkway surfaces as well as practices related to the prevention of slips and falls. ASTM has numerous testing methods that test static and dynamic coefficient of friction such as the English XL Variable Incidence Tribometer, British Pendulum Tester, The James Machine and The Brungraber Mark. All of these test methods measure dry, wet or contaminated conditions and the COF values must be 0.4 or greater.
2.) American Disabilities Act (ADA): In the standards for accessible design, 4.5.1 Ground and Floor Surfaces states that ground and floor surfaces along accessible routes and in accessible rooms and spaces including floors, walks, ramps, stairs, and curb ramps shall be stable, firm and slip resistant. In 4.8.6 Cross Slopes and Surfaces it states that the cross slope of ramp surfaces shall be no greater than 1:50. The recommendations for flat surfaces are 0.60 COF and 0.80 COF for incline surfaces.
OSHA's office of Regulatory Analysis states "companies that implement effective safety and health programs can expect reduction of 20% or greater in their injury and illness rates and a return of $4 to $6 for ever $1 invested. The American Society of Safety Engineers also calls investment in improving workplace safety "a sound business strategy" with a "positive impact on the financial bottom line".
Company: SlipNOT® Metal Safety Flooring Div.
Source: http://www.slipnot.com/all-news/safety-standards-slips-trips-falls-1/
---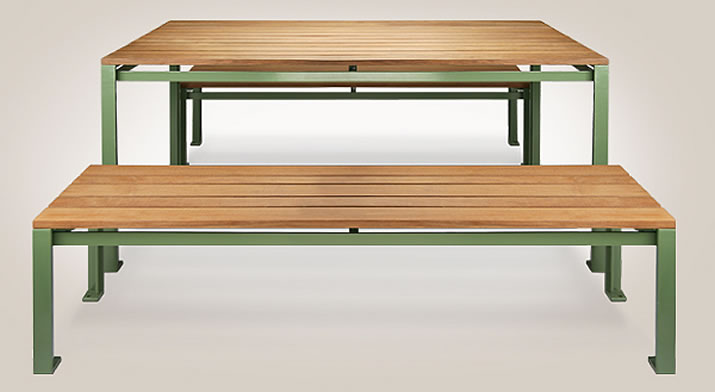 In the true spirit of the Reverie collection, Camille provides functionality with a minimalistic design aesthetic. Its slim profile, solid steel frame with exceptionally high recycled content, and use of genuine IPE wood slats, makes for sleek design, with longevity in mind.
The 31 in (787 mm) tall tables are available with either a 3 x 3 ft (.91 x .91 m), 4 x 3 ft (1.2 x .91 m), 6 x 3 ft (1.8 x .91 m) or 8 x 3 ft (2.4 x .91 m) rectangle table top. 8 ft (2.4 m) length includes center leg.
Backless bench is available in 2, 4, 6 or 8 ft (.61, 1.2, 1.8 or 2.4 m) length. 8 ft (2.4 m) length includes center leg.
Company: Victor Stanley
Source: http://www.victorstanley.com/product/camt/
Tags: Furniture | Landscape Design
---

Lauded for its use of space and light that includes an eye-catching string of skylights featuring Kalwall translucent sandwich panels, the $44 million student life center at SUNY Cortland is one of the two main winners of the American School and University Magazine's Educational Interiors Showcase awards.
The SUNY Cortland project, led by Hastings + Chivetta Architects of St. Louis, Mo., was awarded AS&U's prestigious College Citation by a panel of three judges.
"Great use of space, light, and color," the judges said. "Aesthetically pleasing and notable. Architecturally outstanding."
The student life center includes a common area, café, and sports and workout areas. The skylights that feature the Kalwall panels flood the athletics portion of the building in diffuse natural light that spills into the common area. The Kalwall panels also fit into the facility's design to consume less energy and earn a LEED Gold certification.
"Sustainability and energy efficiency have been at the core of Kalwall for 60 years," says Amy Keller, one of the principals of Kalwall. "We're honored educational institutions and other environmentally-conscious organizations continue to utilize Kalwall for their daylighting projects."
Company: Kalwall Corporation
Source: https://www.kalwall.com/2016/11/21/kalwall-featured-in-major-award-winning-college-project/
Tags: Ceiling | Glass | Sustainability | Windows
---
Major Industries, in conjunction with Greenbuild 2016, announced the release of a new line of Auburn® single slope skylights. These new high-performance glass skylights feature thermal strut technology for enhanced thermal performance, including better condensation resistance. These new Auburn® skylights are available in a variety of custom sizes and configurations, with custom finish options and more, and will also soon be available to purchase online at shopmajorskylights.com in select standard sizes.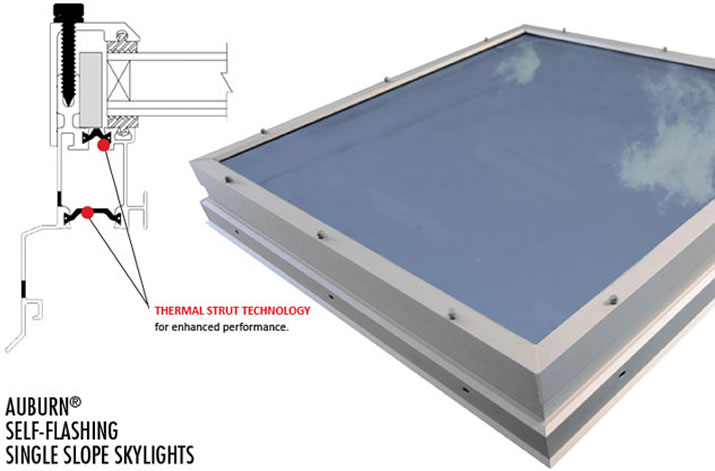 Easy to install high performance glass skylights
Auburn® glass single slope skylights have always been a dependable, low-maintenance daylighting solution, but Major Industries has enhanced these versatile skylights with thermal strut technology for enhanced thermal performance and improved condensation resistance. Now you can get the best of both worlds - energy-saving daylighting and a glass skylight with performance designed to handle any environment.
Auburn® self-flashing single slope skylights are available with a variety of glass configurations and numerous finish color options from anodized to Kynar®.
Features & benefits
THERMAL STRUT TECHNOLOGY provides improved thermal performance and condensation resistance
DESIGNED for smaller openings up to 25 square feet
TESTED to ASTM E283/330/331 standards
.27 - .29 center of glass u-factor with SHGC of .22-.39 (varies with glazing selection - check with Major for additional options)
PRE-ASSEMBLED options available for quicker lead times and simple installation
Company: Major Industries Inc.
Product: Auburn® Quick Ship™ Single Slope Glass Skylights
Source: http://majorskylights.com/2016/10/major-announces-new-auburn-skylight-option/
Tags: Design | Energy | Windows
---
Around the world, waterfront construction sites with a high water table call for PENETRON technology. The basement structure of Rio de Janeiro's newest hotel, the Hilton Barra Rio de Janeiro Hotel, is built on PENETRON's crystalline technology.
The Hilton Hotel company slogan, "Take me to the Hilton," now has new meaning for visitors to Rio de Janeiro. Situated just minutes away from Rio's Olympic Park, the Hilton Barra Rio de Janeiro Hotel opened just in time for Rio 2016 Summer Olympics Games. This upscale 298-room hotel, also in the midst of the city's Barra da Tijuca business district, features a restaurant, meeting rooms, a business center, a rooftop pool (with a view), and an underground parking garage.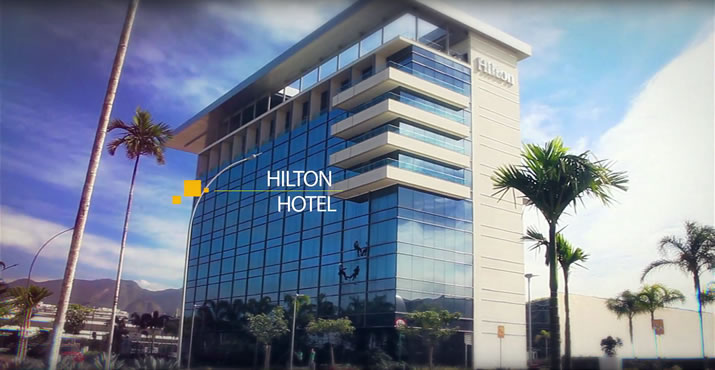 Take me to the Hilton: Despite the site's high water table, the basement of the new Hilton Barra Hotel in Rio de Janeiro is waterproof thanks to PENETRON ADMIX.
Given this situation, the PENETRON Brazil team worked with the developer and general contractor to come up with an effective solution for the Hilton Barra project. Ultimately, PENETRON ADMIX was specified to treat the concrete used in the below-grade slab to ensure low permeability and a durable concrete structure.
Company: Penetron International
Product: Penetron Admix
Source: http://www.penetron.com/press/view/Brazil-Takes-PENETRON-to-the-Hilton/
---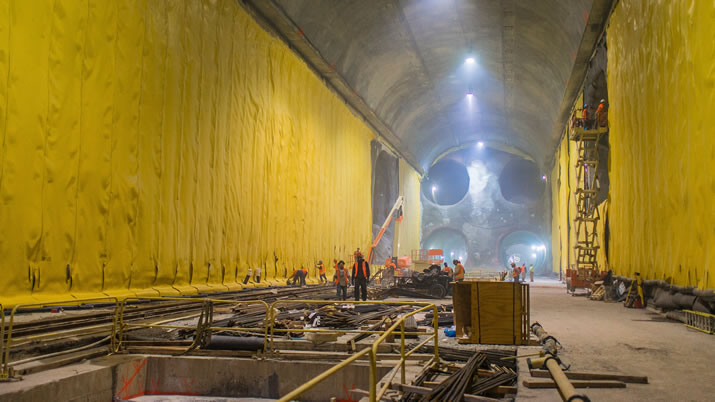 Photo © Metropolitan Transportation Authority / Patrick Cashin
AMBICO's state-of-the-art pressure resistant door and frame assemblies will keep New York City commuters safe on the city's brand new commuter rail system
Fourteen stories below the bustling streets of New York City, a massive infrastructure construction project is in full swing. Tunnel-boring machines carve through acres of rock, shaping tunnels and platforms that are slated to carry an estimated 160,000 commuters a day between Queens and Manhattan.
The $10 billion project is known as East Side Access and includes a six-mile-long tunnel, underground subway stations and an impressive rail hub directly beneath the iconic Grand Central Station. Construction on the massive transportation venture began in 2007 and is slated to be completed in 2022.
It's a marathon project, and AMBICO Limited has been involved since near the beginning of the historic undertaking, working closely with the project architects at the Metropolitan Transportation Authority (MTA) in New York City to design and fabricate some 275 pressure-resistant door and frame assemblies calculated to keep commuters safe in the event of an emergency situation such as a fire or bomb blast. The doors protect the openings to "areas of refuge," specially designed rooms set up between the tunnels to offer safety if a major emergency leaves commuters stranded.
An area of refuge has become a common requirement; transportation authorities need to be able to get people to safe areas if something happens, and the doors that protect the rooms are situated deep in the subway tunnels. The door assembly product that AMBICO developed is, therefore, highly specialized.
Background
AMBICO was the logical choice to develop the pressure-resistant door and frame assemblies for East Side Access project. The company's expertise is already known in New York City, where its expert team has been involved for 20 years with various transportation-tunnel projects. With the Holland Tunnel retrofit in the late 1990s, for example, AMBICO's team of engineers and machine operators worked hand in hand with the New York and New Jersey Port Authority transportation professionals to design and fabricate doors designed to protect mechanical areas, as well as areas of refuge.
The East Side Access project enabled AMBICO to extend that expertise to a significantly more demanding project. Tim Berry, Senior Engineer at AMBICO, likens it to building a skyscraper in reverse—instead of overseeing a massive build above the ground, the MTA is undertaking an epic construction project deep beneath the cityscape.
The challenging environment means these particular pressure-resistant door and frame assemblies have unique performance requirements. Subway tunnels are narrow, so the door assemblies must be designed to withstand the unique, cyclical, pressure load resulting from each passing subway car that runs 24/7 with fast-moving trains, while the water that seeps through the walls is saline, so they must resist corrosion as well. And it's essential that these doors meet rigorous NFPA fire performance standards. The challenges are immense as these doors are one vital item in an ongoing transformation that has thousands of moving parts to it. AMBICO must be ready to fabricate the required doors on demand as the tunnels, platforms, and stations slowly take shape. That means that the AMBICO team has had to be ever-ready since 2007, planning the required pressure-resistant door and frame assemblies to exacting specifications and being prepared to supply them as construction targets come into focus.
What AMBICO Supplied
AMBICO has a reputation as an innovator in the specialized door market, a skill-set very much in demand for this particular project. However, working hand-in-glove with Deutscher and Daughter, a New York City-based distri bution firm over 100 years in business was an absolutely essential component of the project's success. Not only was a local distributor's presence essential to connect AMBICO to the broader project team, but according to company President Becky Deutscher, the small firm's installation and preventive maintenance services maintained over the lengthy warranty period were a key portion of the value-add that AMBICO and Deutscher proposed to the project owner.
Steve Peterman, AMBICO's Director of Marketing, outlined some of the significant achievements incorporated into the design:
The doors were modeled by AMBICO's licensed engineers using structural stainless-steel sub-cores and fully welded door faces. The doors were then finished to the owner's exacting standards.
Fire labels are very common in the industry, however there is not a lot of design flexibility when you plan for fire-rated products. For this project, AMBICO had to prototype door assemblies that would withstand significant air pressure and provide them with a fire-resistant certification. The combination makes for very challenging engineering requirements.
AMBICO ran comprehensive field tests of the product prototypes before the doors were released to the job site. Working closely with specialized multi-point lock manufacturers was a key part of AMBICO's value-add.
The entire assembly of the hardware, doors, and frames was certified by an independent fire laboratory.
The assembly was supplied as a complete unit, including the door, frame, glazing, lock, and hinges. It's guaranteed with a five-year warranty.
The end result is an extremely robust design that enables flexibility of the product in the field.
AMBICO'S International Expertise
Because AMBICO has built its reputation over 60 years, the company is trusted by an international list of clients that includes both governments and private companies. That breadth of experience has led to contracts with many American concerns and a firm knowledge of American regulations and expectations. This particular contract for the East Side Access project stipulated that AMBICO comply with Buy America regulations.
AMBICO's experienced professionals were well-versed in these provisions so they could quickly coordinate with the top suppliers in the United States for both the procurement of materials, the manufacturing of these unique products and the quality control necessary to assure 100 percent compliance with AMBICO's design and manufacturing process makes working with an experienced supplier a simple process.
The Value of Time
A transit project is a long-term proposition and few have been in progress longer than East Side Access, an idea that was first presented in 1968. Shovels hit the ground in 2007 for the current incarnation of that long-ago plan, with completion planned for late 2022.
That's a very, very long timeline. An established and focused company like AMBICO has decades of experience in the business and can look decades to the future, providing a seamless and hands-on approach to massive infrastructure projects with changeable timelines.
Judah Silverman, Vice-President at AMBICO, says the company excels at projects that involve a high level of coordination and service. The AMBICO team builds in travel and inspection visits, anticipating that high-level projects entail a very high level of care. Their commitment to East Side Access is nine years and counting, with AMBICO's creative engineering team continually fine-tuning manufacturing and delivery requirements to match the client's changing needs. It's an approach that has already caught the eye of transit planners around the country who have contacted the company to discuss similar ideas as they study updates to their own transportation and security systems.
Meanwhile, deep, deep below the teeming streets of New York, the work continues apace. When the doors finally open in six years, revealing glamorous shopping con - courses, sparkling platforms, miles of elevators and escalators, and a commuting shortcut between Manhattan and Queens, AMBICO's pressure-resistant door and frame assemblies will all be in place, keeping commuters safe in the event of an emergency.
"Our 'tunnel vision,'" says Silverman, "is one that is both advanced and forward-looking, a model for future transportation projects around the globe."
Company: Ambico
Product: Engineered Doors and Frames
Of: Jack Shinder
Source: https://www.ambico.com/east-side-access-case-study/
---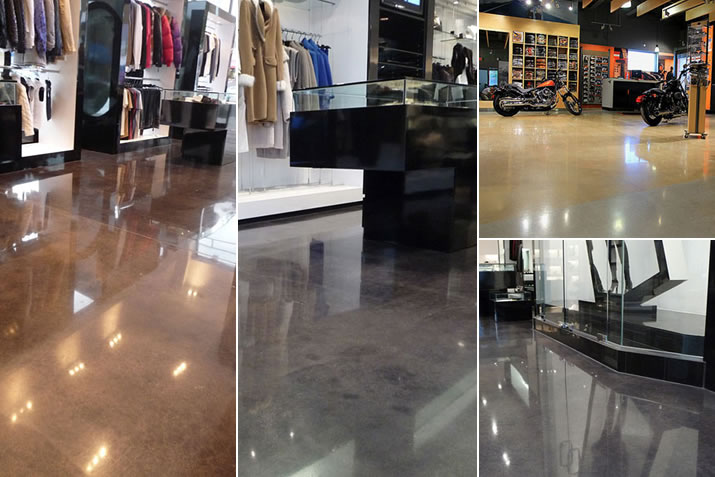 So your client has decided they want a concrete floor? How do you specify the concrete floor to be polished? You can't just say, "Pour concrete and then polish it." As more architects specify polished concrete for both residential and commercial uses, it's important to have everyone speaking the same language.
Many polished concrete specifications are vague, because many of the people doing the specifications are not familiar with the full process. The way the concrete is handled, from the pour to the last trowel, influences the outcome of the polish job. No other flooring option has as much versatility and ease of maintenance as a polished concrete floor, but it must be specified correctly.
Inform the team
Concrete suitable for putting tiles or carpet on top of it is usually unsuitable for polishing. Concrete for polishing must be specified differently. When you're working with a team, including designers and architects, make sure that everyone knows early on that the concrete slab in the prints is specified to be polished. Before installation, ensure that the architect, concrete contractor, ready-mix producer, polishing contractor, testing agency, construction manager, engineer, slab consultant, and project owner know that the project has concrete specified to be polished.
The reason that everyone on the team should be experienced in concrete is because of the details that can affect the outcome of the job. For instance, the use of a vapor retarder on the slab requires that the slab also be reinforced with steel or welded wire. Vapor retarders cause the concrete to slip, which can affect how concrete piles up around the joints.
Choose experience
A concrete slab that is to be polished should be poured by someone with experience in finishing concrete to be polished. If there are columns or stairs that will need to be hand-finished, this will result in concrete with a different surface profile than concrete to be finished with a machine.
For instance, hand finishing near the slab edges or around penetrations or columns results in a different concrete surface density than that produced by a power trowel machine. This difference will be noticeable during the polishing phase. Generally, less hand-finishing when polished concrete is concerned, the better. This is because machine-troweling results in a harder surface density than hand-troweling, which will be obvious in the polished surface.
Request mockups
Make mockups using the same materials and methods, as well as the same person doing the work, as will be performed on the job. Determining the mock-up takes some skill as well, so that the size of the mockup is not too small. If a machine will do the polishing, the machine will go over a small sample area more times than it would on the larger floor, due to turning radius. If hand-finishing will be a part of the finished slab, it must also be part of the mockup.
Surface finishing
The surface of the concrete slab must have sufficient paste in order to allow for polishing. Hand-screeding will not provide enough surface paste. Too much vibration can push larger aggregate deeper down into the concrete, which can result in surface variations once polishing is complete.
Avoid specifying the number of trowel passes for the finished concrete. There is simply too much variability in the mix design, humidity and temperature, and the types of trowels, to make a specification like this.
Specifications must follow after the desired finish has been determined. If the concrete is new, the specs must include specifications for mix design, finishing, curing, control joint placement, sealant and possibly other parts of the process.
Test for flatness
A polished floor requires a highly flat floor, to account for reflectivity. In a polished floor, even minute differences in floor flatness (FF) will be very noticeable. Floor Flatness above 40 will minimize a wavy appearance in a floor. Measure the FF in accordance with ASTM E 1155, Standard Test Method for Determining Floor Flatness and Floor Levelness numbers within 72 hours and at the start of polishing work. This specification helps put everyone on the same page regarding flatness. The retesting right before the polishing work is done accounts for any changes in flatness that may affect the work.
Regardless of whether the concrete is already in place or if it is new, remind all of the other trades doing work in the space that the concrete will be used as the finished floor. Any chemicals, stains, scratches or other surface damage will affect the finish. The concrete in this case is the floor and should be treated accordingly.
Choosing a team that has experience in specifying and processing concrete for a polished concrete floor is the most important detail. Everyone who is working on a concrete floor specified for polished concrete should know what is going on at each step of the way. There are many factors that can affect the outcome. But, ultimately, once the polished concrete floor is finished, the client will end up with a beautiful floor that is easy to maintain.
If you are working on a project and are considering specifying polished concrete floors, please contact us for additional specifications.
Company: Duraamen Engineered Products Inc.
Source: https://www.duraamen.com/blog/how-to-specify-concrete-floor-to-be-polished
---
Total Security Solutions is dedicated to producing high-quality bullet-resistant products that effectively secure your company's most valuables assets, from the employees behind the counter to the cash in the drawer. We manufacture our bulletproof barriers in-house to stringent specifications, the most demanding in the industry, guaranteeing superior quality. In addition, all of our system components pass rigorous testing, often conducted by multiple standards agencies, including UL (Underwriter's Laboratory).
Security Ratings for Bulletproof Systems
Security levels for bullet-resistant systems have been established by UL, the primary testing organization for materials used in these systems. There are eight levels of bullet resistance for bulletproof glass. These ratings are designated by the UL to determine the type of protection each level offers. They conduct extensive tests on bullet-resistant glass, which determines what kinds of firearms each can withstand. The most basic protection comes with levels one and two where you're protecting yourself from small caliber handguns all the way up to level eight glass that protects against assault weapons.
We're confident that our bulletproof barriers will not be compromised by the type of projectiles they are rated to withstand, ensuring the safety of your employees. But when you're the employee standing behind the bullet resistant glass during an armed robbery, it can often be difficult to trust your life to the protection of something you can see through. Watch as we test components of our bullet-resistant barrier systems, including bulletproof glass with UL rating from 1 through 4, as well as UL Level 8.
Custom Bulletproof Systems
We can work with you to design a custom bulletproof security system that meets your unique facility needs, from a high profile ballistic barrier for additional deterrent factor to a more low profile solution that seamlessly integrates with the aesthetics of your facility without compromising protection. If you're a business owner who's already chosen to install a bulletproof barrier in your facility, then you're probably aware of how security products can contribute to maintaining consistent operations and a profitable revenue stream, as well as a greatly reduced risk of armed robbery.
While bullet-resistant barriers are often enough of a deterrent to prevent a robbery, for the sake of your employees, you should feel confident in the performance of your system during a actual event. We can work with you to determine what level of bullet resistance your facility requires as well as provide tips on developing a comprehensive security plan, of which bulletproof barriers are just one component.
Company: Total Security Solutions Inc
Source: http://www.tssbulletproof.com/rigorous-testing-standards-ensure-effective-security/
Tags: Glass | Safety | Security | Windows
---

Draper's 3% openness solution provides both echo and solar control
In a recent CEPro article entitled "6 Steps to Isolate Rooms for Sound," Home Theatre Designer Scott Bourquin discusses how to make a room quieter. Bourquin points out that "the quieter you make a room, the greater impression it gives of quality workmanship." So making rooms quieter can have benefits beyond the technical aspects. You can read the full article here.
While in his piece Bourquin offers ways to make a room "super quiet," it did get us thinking about how our EchoControl Acoustical Shading can contribute to an overall plan to reduce noise.
The first and most obvious way to use EchoControl is on the windows—including skylights. Acoustical shading addresses the reverberation of sound off of the glass, and also helps with sound from the outside. EchoControl has a Noise Reduction Coefficient of 0.60. The Noise Reduction Coefficient (ASTM C423-90a) rates the ability of a material to absorb sound. Zero is completely reflective, and one is completely absorptive. The NRC is calculated by averaging the frequencies of 250, 500, 1000, 2000, and 4000 Hz (rounded to the nearest multiple of 0.05).
By the way, don't forget—in addition to its sound absorption properties, Draper EchoControl brings with it the advantages inherent in light filtering window shades. It diffuses light, reduces glare, controls solar heat gain, and reduces fading of interior furnishings.
Another way EchoControl can help is in reducing echo off of the headbox or fascia behind which the motor and roller mechanism is hidden. That's because one of our hardware finish options is to wrap the headbox/fascia with the EchoControl fabric.
Of course, there's nothing that says a shade fabric is useful only on a window. Draper EchoControl with custom printed graphics can also be used in other areas in the space—especially in a commercial space where they can be used as signage or to add to the décor. When used in this way, the fabric panels can help provide added reverb dampening.
In Bourquin's article, he discusses placing a felt curtain over a door. Instead of the felt curtains, why not an EchoControl roller shade. It can easily be retracted to allow easy ingress and egress through the door, then lowered to provide echo reduction assistance.
For more information on Draper's EchoControl Acoustical Shading, click here. Or, if you have a project where you think EchoControl might be able to help, contact your Draper sales rep to discuss the details of making rooms quieter.
Of: Terry Coffey
Source: http://blog.draperinc.com/2016/11/making-rooms-quieter/
Tags: Acoustics | Interior Design | Window Shades
---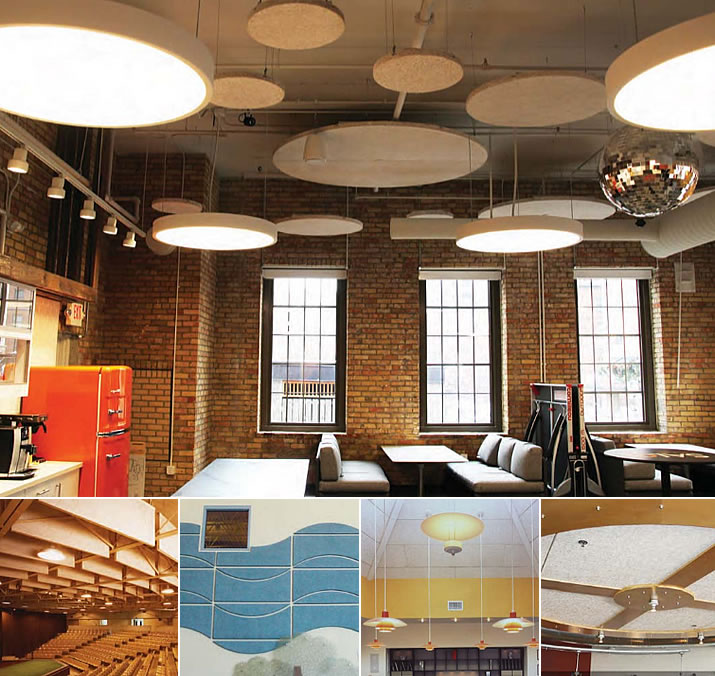 Tectum ™ Acoustical Wall and Ceiling Panels Easy to work with and install, Tectum Interior Panels are commonly used in new construction, retrofits and anywhere acoustic absorption, style and toughness are needed. They absorb sound and are tough enough to stand up to daily abuse in high-traffic, heavy-use areas. Natural, painted, printed with your gr aphics or covered in fabric, they provide an attractive, durable finish in any interior application. Manufactured at the Tectum Inc. plant in Newark, Ohio, for over 65 years, Tectum Products stand the test of time.
Tectum Acoustical Panels are composed of aspen wood fibers, bonded with an exclusive inorganic hydraulic cement binder and formed in a continuous process under heat and pressure. As a result, physical characteristics usually obtained only with a combination of several separate building materials are found in Tectum Products: excellent sound absorption, abuse resistance, a decorative textured interior finish — all in a single, structurally strong yet lightweight product. All Tectum Products are Class A/Class I, with a flame spread of 0 , in accordance with ASTM E- 84 .
Hard, reflective surfaces, multiple noise sources and the need to hear and be understood are the primary reasons that good acoustics are a critical part of any good design. All Tectum Products can be factory or field painted without impacting acoustical performance.
New Products in the Tectum Interior Line
Panel Art
A variety of pre-fabricated shapes encourage custom artistic expression. Create a unique statement wall that absorbs noise and is tough enough for schools.
Line Design
Combine all of the acoustic performance and toughness you expect from Tectum Products with the added interest of textural design options created by straight line v-cut grooves.
Tectum Acoustical Roof Deck
For an economical, environmentally responsible structural acoustical roof deck, Tectum Inc. offers a full line of Roof Deck options. To explore the design options for the building envelope, see our Roof Deck Catalog online.
Company: Armstrong Building Solutions
Source: http://www.tectum.com
Tags: Acoustics | Ceiling | Wall Panels
---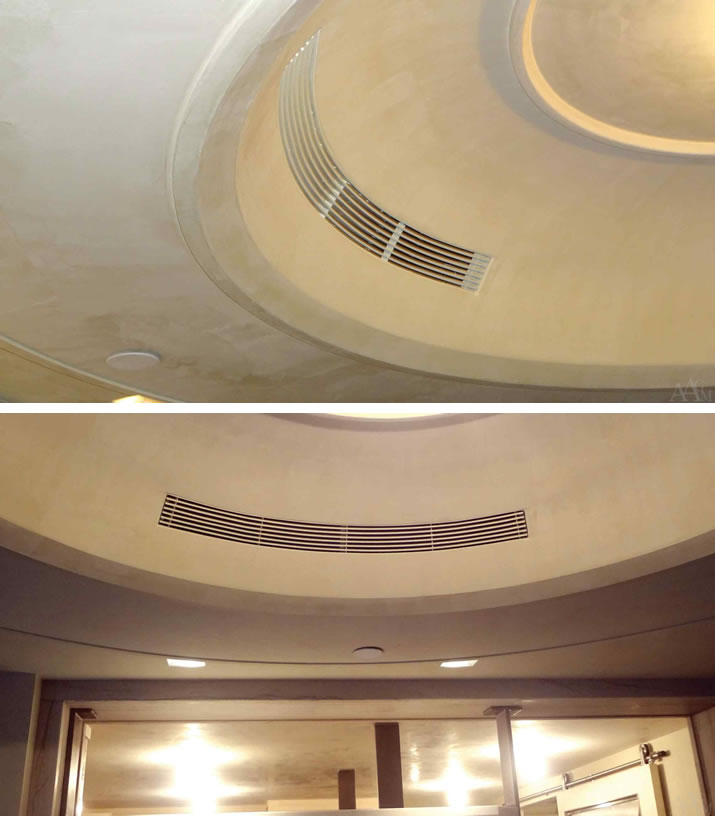 Vertical radius and horizontal curves
The Story
Recently we were approached by one of our Architect partners to assist with a very unique challenge. They designed a custom ceiling recess with a light fixture access point. To bring HVAC to that area of the room required a grille to match both the curve and the contour of the ceiling. This would mean a linear bar grille incorporating both a top-to-bottom radius and a side-to-side twist.
Our team suggested the AAG Advanced Architectural Grilleworks Plaster J-BeadTM aluminum linear bar grille frame to create a seamless installation. The Plaster J-BeadTM design is quickly fastened to the wall via the outer flange, by either screwing or nailing through the pre-drilled holes. After fastening, the flange is covered with a skim coat of plaster providing a clean, flush appearance.
Both the architect and the homeowner were very pleased with the results and how well the grille fit the contour and character of the ceiling.
At a glance
TYPE: Linear Bar Grille
STYLE: AAG10
FRAME: Plaster J-BeadTM Frame*
DETAIL: Fixed Core
MATERIAL: Aluminum
FINISH: Paint
* patent pending
Company: Artistry in Architectural Grilles by Advanced Arch Grilles
Source: http://www.aagrilles.com/aag100-plaster-j-bead-curved-linear-grille/
Tags: Ceiling | HVAC | Interior Design
---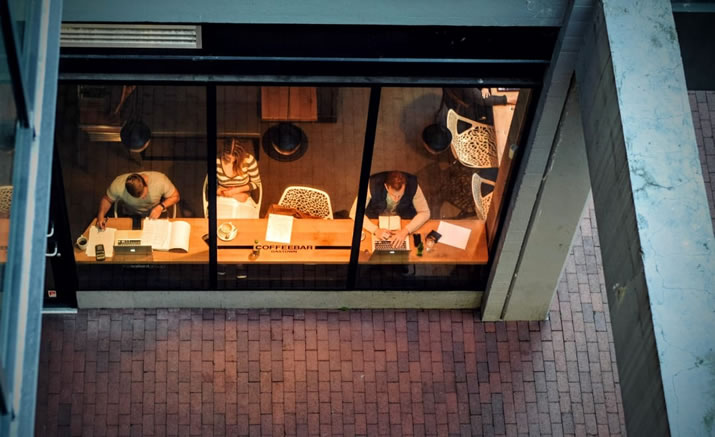 Start cramming for ARE 5.0 or try to squeeze in ARE 4.0 before its June 2018 end date? These are the questions emerging professionals must ask themselves.
With the launch of ARE 5.0, future architects have to choose which exam path suits them best
For the next 18 months, future architects will have more exam options than ever before at their fingertips. On November 1, the National Council of Architectural Registration Boards (NCARB) launched ARE 5.0, the next version of their architecture licensure exams.
The first new version in eight years, ARE 5.0 is NCARB's reassurance that its exams will stay relevant with current practice. Its divisions—six instead of ARE 4.0's seven—include Practice Management, Project Management, and Project Planning & Design, an attempt to better test emerging architects on elements of daily architecture work. It will also include case studies and adopt a more modern, graphical feel throughout, as opposed to the dated and pixelated graphic vignettes that will be retired with ARE 4.0.
With this new version comes uncertainty: which exam path is best? For a limited time, an unprecedented three options will be available: ARE 4.0, ARE 5.0, and a mix of the two. Each option has its drawbacks and its benefits, and each emerging professional should evaluate all three to find the right path based on their individual needs.
"Playing to win"
"To me, it's about playing to win," says Drew Bell, Assoc. AIA, of Robert M. Cain, Architect. Bell is going with the "3+2" approach, which allows licensure candidates to take three specific exams in ARE 4.0 followed by just two more in ARE 5.0. It's the most efficient option, one with both time and financial benefits. It also appeals to those who don't fear a mix of known and unknown.
"Logistically and financially, less exams is a great thing." - Hannah-Hunt Moeller, Assoc. AIA
"The people who want to take it all in 4.0 seem to be doing so because they have all the study guides and they know what they're getting into; it seems like playing not to lose," he says. "I understand the risks, and I don't know exactly what 5.0 will be like. But theoretically, the exams are there for people to prove that they're good enough. I plan on being good enough, one way or the other. It shouldn't really matter how the tests are structured."
Sticking with a classic
The traditional approach isn't dead and buried, however. As Bell noted, a smorgasbord of study guides and test prep materials await licensure candidates who aren't interested in the new and unfamiliar. That's the approach Jason Takeuchi, Assoc. AIA, of Hawaii-based Ferraro Choi is taking.
"There are so many resources to support anyone taking 4.0," he says. "You can ask licensed colleagues, look at forums online, read through all the study materials. If I were to move to 5.0, there would be a huge learning curve."
He also looks at his exams as an educational process, not something to rush through as quickly as possible: "The more tests you study for and pass, the more you'll learn. And the better you'll be at your job." And while he sees the financial benefit in taking fewer tests, ultimately he feels the exams are "an investment in my future, not a financial roadblock."
Something new
Then there is ARE 5.0: still freshly released and underexplored, but the wave of the future and a boon to those who haven't yet begun the process. Hannah-Hunt Moeller, Assoc. AIA, may be leaning 5.0 for logistical reasons but still sees the value in NCARB's latest offering.
Moeller received a Master of Science in Architecture from the University of Michigan, which led to complications when she decided to practice rather than pursue research. She is currently based in Colorado, at Denver-based RNL Design, which means she can eventually be licensed but needs more experience hours. This will take roughly 18 months, pushing right up against the June 30, 2018 date when ARE 4.0 will be removed from test centers and making ARE 5.0 her most realistic path.
"In my position, I can't currently be working and testing at the same time," she says, "so I'll have a lot more experience when I get there. That, plus the fact that 5.0 is supposedly going to be more context-based within the profession, is compelling."
"Also, logistically and financially, less exams is a great thing," she adds. "Even just to have one fewer is a huge benefit."
Uncertainty abounds
Though the paths to licensure are ampler than ever, not everyone has made up their mind on which to take. Julia Mollner, Assoc. AIA, is a designer at Carleton Hart Architecture in Portland, Oregon, who is still deciding between ARE 5.0 and the "3+2" approach. An initial foray into ARE 4.0 is what's keeping her on the fence.
"On my first exam," she says, "I did fine on the multiple choice but failed the vignette. And because there's no specific feedback on what you did wrong in that section, it's really a shot in the dark to figure out what happened. I've spent a lot of time thinking about it, which also makes me wonder which approach to take going forward."
"To me, it's about playing to win." - Drew Bell, Assoc. AIA
In her spare time, Mollner also teaches as an adjunct professor at Portland State University, which makes a five-exam slate more enticing than six. Yet she's also only a year into her professional career, raising the question of whether she has the experience or the time left to try ARE 4.0 again.
The whole process also raises a larger question: should she get licensed at all?
"For a very long time, I set my goal to being a licensed architect," she says. "But recently, I've realized that it's not right for everyone. There are people in architecture who find parallel avenues that suit them just as well."
That said, Mollner remains committed to exploring her ARE options and ultimately pursuing licensure. She wants a bigger role in the social advocacy of architecture, which would be difficult to achieve without a license. It's also distinctly important, she notes, for women in the profession: "It is a really great credential for a woman to have, with the lack of diversity and the pay gap and other issues that aren't always voiced."
Ultimately, most emerging professionals view the ARE with this mix of necessity and reverence. While it's a lengthy process that compounds the stress of being an oft-overworked, full-time employee, passing the exams is a badge of honor that demonstrates your worth to all the architects who came before. And while many future architects are now debating which path suits them best, it's likely that NCARB will fulfill at least one of its ARE 5.0 goals: increase the flow of traffic.
"I feel like more people are going to get licensed," Takeuchi says, "and that's a good thing."
For additional exam resources, visit AIA's ARE Prep page. Assoc. AIA members can also receive a 15 percent discount when purchasing AIA ARE Prep: Powered by Black Spectacles; find out more (members only).
Steve Cimino is the digital content manager at AIA.
Image credits: Tim Gouw
Company: AIA (American Institute of Architects)
Of: Steve Cimino
Source: http://new.aia.org/articles/21212-are-50-means-big-decisions-for-emerging-prof
---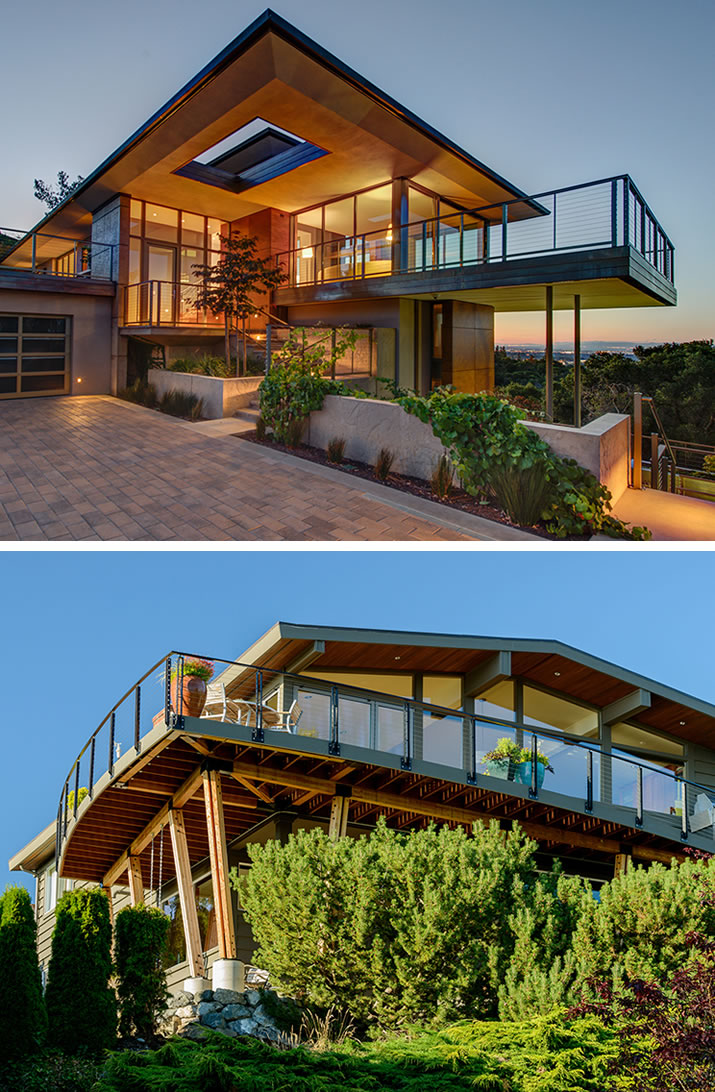 Project/photo credits: First Place Award: DesignRail® in Portola Valley residence, cantilevered deck (2M Architecture, Mattarozzi-Pelsinger Builders, Treve Johnson Photography). Second Place Award: Seattle area deck, custom deck railing and structural hardware (Dave Pelletier Architect, Jeff Ruud of Peak Builders, Gary Perreault, fabricator, Will Austin Photography)
Feeney Wins NADRA 2016 Deck Competition - Manufacturer Project Category
Each year the North American Deck and Railing Association (NADRA) holds its National Deck Competition. Prizes are awarded in a number of different categories, such as Wood Decks under $25,000, Porches, Illumination, and Manufacturer Projects, to name a few.
Projects were judged on the following criteria:
Use of Space / Functionality

Creativity / Innovation

Evidence of Craftsmanship / Degree of Difficulty

Overall Visual Appeal
All entries were judged anonymously - no identifying information could be included in the project photos. The contest was open to current NADRA members for decks completed during 2015 or 2016.
Every year the winners are announced at the Remodeling | Deck Expo | JLC Live show, and that ceremony is one of the show highlights! This year's ceremony took place at the Hard Rock Cafe in Baltimore on the first night of the event.
Feeney was proud to take home first and second place in the Manufacturer Projects category.
This year NADRA also included a People's Choice Award, using Facebook to collect votes on the best decks. Votes are still being tallied as we speak, but we are all crossing our fingers for a win with the people as well.
Learn more about: DesignRail® CableRail
Company: Feeney, Inc
Product: DesignRail® Aluminum Railings
Source: http://media.feeneyinc.com/blog/feeney-wins-nadra-2016-deck-competition-manufacturer-project-category
Tags: Exterior Design | Railing System | Safety
---

Color perception changes throughout the day. Here's what you need to know about the sun's changing influence.
Is that wall yellow, beige or tan?
Depending on the time of day, it could be any of the three.
As the angle and intensity of the sun shift, the wavelengths reflected from the objects around us shift along with them. In order for design professionals to accurately account for these subtle but constant changes, it helps to understand what our eyes and brains are doing when they process color.
Human beings are what's called "diurnal," which means our eyes have evolved to see better during the day than night. Over the course of a day, your brain spends a lot of time sorting through light waves, assessing so-called "chromatic bias" to figure out what color you're really observing.
According to Bevil Conway, associate professor of neuroscience at Wellesley College in Massachusetts, "Every natural light source has a chromatic bias, and the brain is surprisingly good at removing this bias to determine color." Much better than a camera, for instance.
Morning and evening have an orange bias, while midday light under a clear sky has a blue bias. As the quality and angle of light changes, the brain automatically adjusts for these shifts by subtracting the prevailing bias — orange or blue in natural light — to maintain accurate color perception.
But the system isn't perfect. Where the brain must work hardest, Conway says, is during transition periods from dawn to early morning, and from twilight and dusk to dark, when the timing of the light changes is the most rapid.
"One of the reasons our brains find sunsets so thrilling is that we can see the color biases changing," Conway says. But if you are assessing colors in a room, these are also the times of day when the brain's perception of color are constantly in flux and, hence, the worst times to make color decisions.
Experience does matter, though. According to Conway, the brain not only uses the immediate color data coming through the eye at any given moment, it also compares that information to a vast database of prior experience to arrive at its best color guess. Though the brain can be fooled, Conway says, its previous experience guides it toward more accurate perceptions of color in the future.
Tips to Improve Your Color Confidence
The only way to be absolutely sure what a color will look like under different lighting conditions is to observe it firsthand. The sun's angle and direction, as well as the amount and quality of artificial light, can have dramatic impact on color perception. Northern-facing rooms tend to skew blue during the day, and western-facing windows are affected most by the orange shift at sunset.
Colors appear truest in the middle of the day under indirect natural sunlight. Too much sunlight can wash them out, however, while too little (morning and evening) tends to darken them. Oranges and reds can intensify later in the day, and as the light dims, darker colors become duller and harder to distinguish.
What we perceive as "colors" are really surfaces reflecting and absorbing various wavelengths of light. Everything in a room can affect color perception — furniture, carpet, drapes, bookshelves — which is why a blank wall in an empty room can look dramatically different when that same room is furnished.
Use window blinds to control the amount of direct light entering a room. While opening and closing them, pay careful attention to subtle shifts in color. This will help you anticipate other color shifts as the light changes throughout the day.
Like natural light, artificial light has its own color biases. Incandescent bulbs have a warm orange shift. Fluorescent bulbs provide a cool blue light. LED light is whiter and more neutral but can also be programmed for different wavelengths and intensities, making it an increasingly popular indoor lighting option.
Most pigments aren't 100 percent light-stable. This means that they actually break down with prolonged light exposure, especially under UV light. So, if you have a richly colored object or painting, keep it out of direct sunlight, or put it under UV-conservation glass.
Company: The Sherwin-Williams Company
Of: Tad Simons
Source: http://www.sherwin-williams.com/architects-specifiers-designers/inspiration/styles-and-techniques/sw-art-stir-color-perception.html
Tags: Coating | Color | Design