architecture - engineering - construction

Concrete
---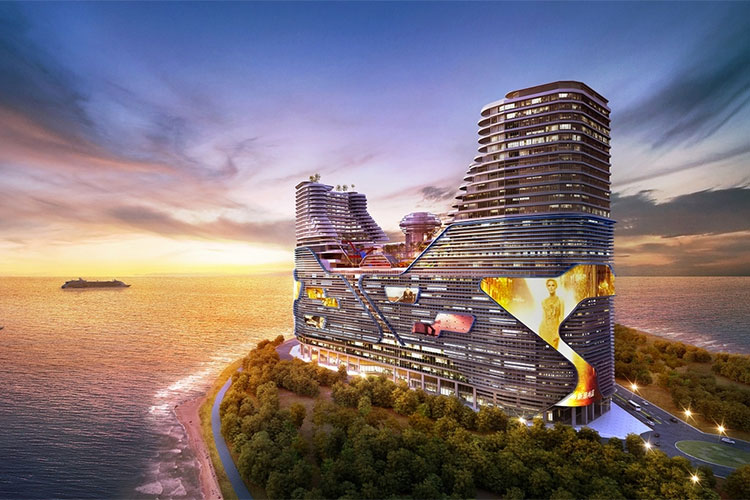 Located on Pulau Malacca, a tropical man-made island at the gates of Malacca, Malaysia, Harbour City brings together a Theme Park, shopping mall and hotel, making it a unique holiday destination for the entire family. Developed by Hatten Group, this RM 800 million (USD 206 million) is expected to open its doors to guests and visitors in 2019.
Built on a total area of 2.2 million square feet (204,000m²), Harbour City will be home to an extensive shopping mall spanning over six floors and more than 800 retail stores. A cruise-themed hotel, with 780 rooms and 14 suites, will be located adjacent to a giant 500,000 sq ft. (46,000m²), world-class indoor and outdoor water theme park that features a man-made sky beach. The two towers (18-30 floors each) will be occupied by a Hatten Chain Hotel and an international 5-star hotel brand.
In order to protect the substructure from the ingress of seawater, CHY Architects specified PENETRON ADMIX to treat approx. 4,500m² of concrete for the basement slab, water tanks and swimming pools.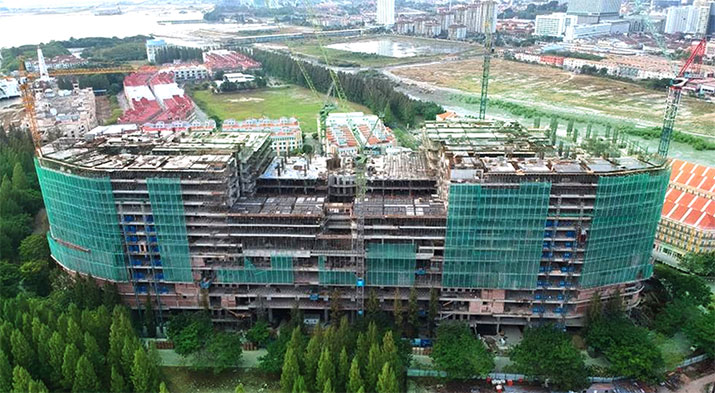 Developer: Hatten Group
Consultant: SNA Consultant Sdn Bhd
Architect: CHY Architects Sdn Bhd
Contractor: China Construction Third Engineering (M) Sdn Bhd
Concrete supplier: Buildcon Concrete Sdn Bhd
Company:

Penetron International
Product: Penetron Admix
Source: https://www.penetron.com/projects/view/Melaka-Harbour-City
Tags: Concrete | Waterproofing
---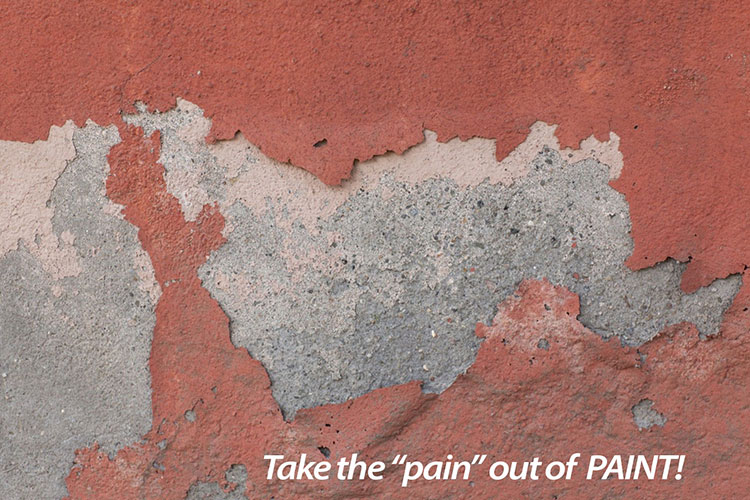 Stains penetrate and bond to surfaces, while remaining aspiratory - allowing moisture vapors to escape. Paints, however, rest on top of the surface, trapping moisture between the paint and the surface. In cooler climates, freeze/thaw cycles cause moisture to expand and contract, making paint blister and delaminate - ultimately leading to paint failure or what we call 'paintenance.'
Choosing the right provider for your project is as important as choosing the right materials. Nawkaw's expert color technicians are the most experienced and knowledgeable in the industry. We look forward to helping you achieve the perfect color for your projects.
Benefits of Stain
Penetrates and infuses color
Mold and mildew resistant
Vapor permeable
Will not chip, fade or peel
Precise color control for natural look
Color Solutions for Repairs and Remodeling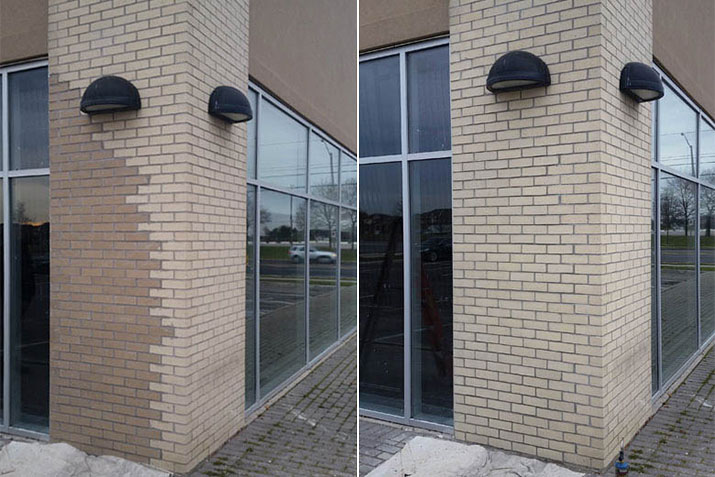 Remodeling and repairs are great ways to breathe new life into existing structures—but few things standout more than mismatched color! NawTone® stains allow our color technicians to expertly match the color of existing bricks, while allowing subtle textures to remain, yielding a natural look.
Unlimited range of colors
Ideal for blending new additions
Zero-maintenance color solution
Natural looking color
25-Year Warranty on product and labor
Color Solutions for Precast Concrete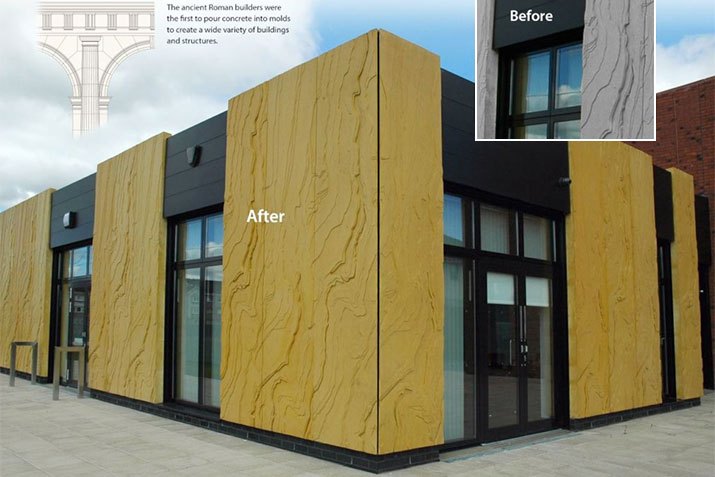 Precast concrete has been around since the Roman Empire. It continues to be a preferred construction method due to its strength, versatility, and efficiency. Nawkaw provides color solutions that are efficient and long-lasting too! NawTone® concrete stains penetrate and infuse concrete with permanent, zero-maintenance color, that won't fade, chip, or peel.
Color can be added on-site or at the precast facility
Low-VOC and Zero-VOC stains can help your project qualify for LEED credits
From opaque to semi-transparent, stains offer a tremendous range of colors and effects
25-Year Warranty on product and labor
Color Solutions for Adaptive Reuse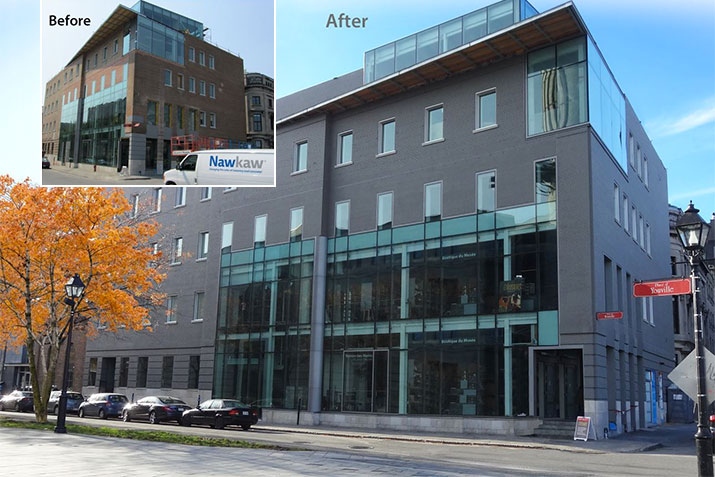 Communities are more enthusiastic than ever about repurposing existing spaces and adapting them for a variety of enterprises. It helps connect them to their history while providing functional spaces for work, play and life. NawTone stains are designed for use on brick, block, mortar, stucco, and natural stone. Whether a complete color change is specified, or a precise match is needed in a range of colors, our expert color technicians bring knowledge and artistry to the jobsite.
Revitalizing buildings, bridges, and other structures with color is a great way to ensure that urban areas—and communities—will thrive!
Company:

Nawkaw Corporation
Source: https://www.nawkaw.com/paint-vs-stain/
Tags: Brick | Color | Concrete | Exterior Design | Finishes | Masonry
---
Earth Shield® has solved a long-standing problem for engineered concrete structures with circular protrusions, such as columns, pipes, piers, and pilasters. The problem: how to permanently seal the concrete joint when cast-in-place concrete is formed against an existing circular member.
The Earth Shield® system functions as an internal dam, centrally located within the cast concrete, to stop aggressive chemicals, solvents and hot petroleum oils from penetrating the joint. By preventing the passage of hazardous liquids the Earth Shield® provides facility owners, engineers, and contractors with the necessary EPA-mandated containment compliance (EPA Title 40 CFR 265.193). Of course, the system prevents the passage of water as well. The mechanical properties of the polymer, plus the tear-web design of the JP320L and JP621L profiles, enable the waterstop to function equally well in isolation and construction joints.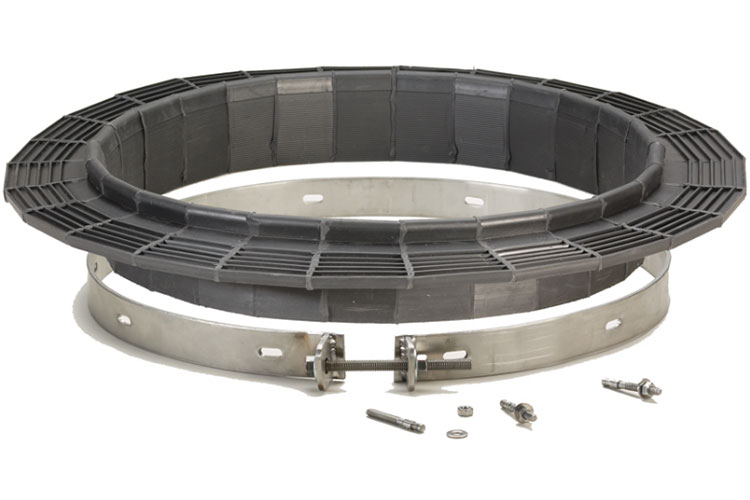 Earth Shield® Part No. JP329LC1
Company: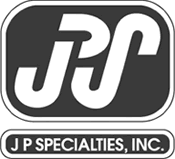 JP Specialties, Inc.
Source: https://www.clearslide.com/view/new/mail?iID=gns2KKbH7drC4P25PKww
Tags: Building | Concrete | Construction | Engineering | Waterproofing
---
Designed to prevent the passage of fluids through concrete joints, waterstop is the leading specified construction material for waterproofing environmental engineered concrete structures.
The first waterstops used in construction were comprised of strips of lead or copper. In the early 1900s the preferred waterstop material shifted to vulcanized rubbers such as neoprene or styrene butadiene rubber (SBR). While rubber waterstops had excellent mechanical properties (high tensile strength and great elongation) they had one major weakness: they were extremely difficult to field fabricate as the rubber was vulcanized, meaning it had already taken a "set" (thermoset) and could not be heat welded together like the metals used previously.
In 1926, a new plastic compound was invented by Waldo Semon of the B. F. Goodrich Company: plasticized PVC. Semon was attempting to dehydrohalogenate (non-plasticized) PVC in a solution of boiling solvent in order to to create an unsaturated polymer that would be useful for bonding rubber to metal. The results of Semon's experiment was the creation of a thermoplastic with properties very similar to rubber.
It took many years for plasticized PVC to find suitable commercial applications, and was first used as a waterstop material in the early 1950s. Back then, the material was properly labeled as fPVC or flexible PVC. The first wide-scale test of any waterstop was performed in 1954 by the Hydro-Electric Power Commission of Ontario, Canada. The results of this test are still used by many manufacturers as a benchmark, and other than some new polymers, waterstop has not really changed that much since then.
View the complete presentation HERE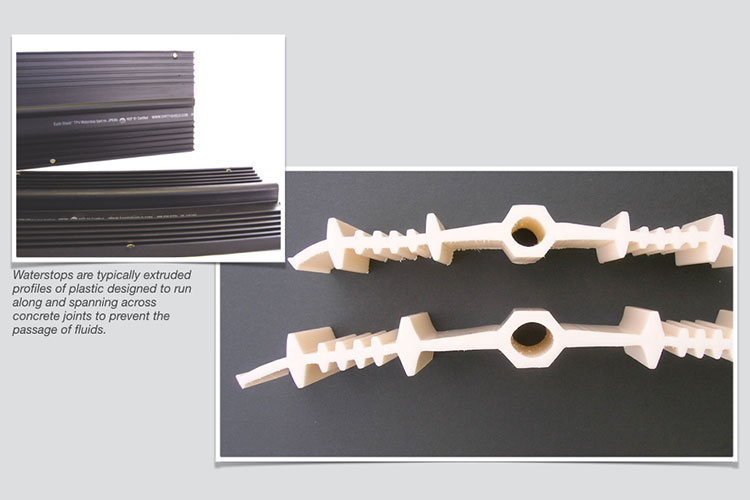 J P Specialties, Inc. is the leading manufacturer of chemical resistant waterstop and related concrete accessories. Our NSF 61 certified Earth Shield® line of chemical resistant waterstop is used throughout the world by major engineering firms and project owners for primary and secondary containment applications, as well as industrial wastewater treatment and ozone contactor structures. We invented and hold the patent on the technology used to mechanically weld thermoplastic waterstops. Services offered include free blueprint take-off and shop drawings, on-site welding certification, and individual corrosion resistance certification for the project owner.
We assist the Design Engineer and Project Owner with individual project and waterstop product specification and certification
Full takeoff service including shop drawings at no cost to customer
Waterstop Shop Drawings including 2-D CAD details and 3-D isometric
FAST job site delivery anywhere in the world
Company: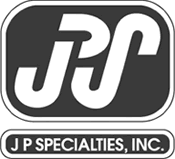 JP Specialties, Inc.
Product: Earth Shield® TPV (thermoplastic vulcanizate) Waterstop
Of: David Poole
Source: https://www.clearslide.com/view/new/mail?iID=gNjmKCspTVHjhMCZgvfN
Tags: Concrete | Engineering | Environment | Waterproofing
---
How colorful stains, dyes, marbling and effects can help you do more with exposed concrete flooring.
Today's commercial interiors are increasingly being defined by organic shapes, playful palettes and inviting contrasts of opposing materials, such as wood accents and exposed concrete flooring. For both commercial and residential design pros, there's an opportunity to expand the way you think about using color underfoot — specifically in the form of concrete stains and finishes.
"Whether you're reclaiming a beautiful old warehouse space for a loft or office, or designing a retail space from scratch, you can do so much more now with concrete flooring than just traditional polished gray," says Sue Wadden, Director of Color Marketing at Sherwin-Williams.
From retail to office environments, interiors today need to be human, engaging, adaptive, durable and high-performing — and that includes flooring. With concrete, new technology is leading the way, as enhanced stains, reactive dyes and protective concrete coatings offer vivid, customizable colors and organic effects.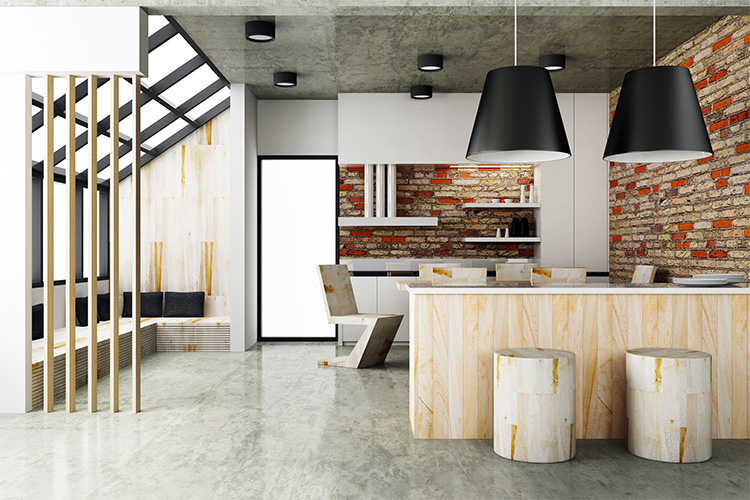 Here's a look at three ways you can expand your design possibilities using exposed concrete flooring:
Solid-color stains
When it comes to adding color to a properly treated and conditioned smooth concrete floor surface, your palette is virtually unlimited. Water-based solutions like H&C®ACRYLA-DECK® Water-Based Solid Color 100% Acrylic Deck Coating or H&C COLORTOP™ Water-Based Solid Color Concrete Stain can be tinted to match any color. ACRYLA-DECK provides resistance to chalking. COLORTOP provides additional durability and color-retention features, including resistance to salts, acids, alkalis, water, UV rays and oil.

Both products offer a natural sheen, but you can also specify a clear coat on top, to add a glossy finish that looks fantastic in spaces where natural light is a key design element.

Marbling and organic effects
For projects where you want to go beyond a solid-color result and provide your client with a more signature design feature, such as swirls, layers of color depth or patterning, you can explore specifying a metallic coating or reactive dyes.

H&C Pro Series Metallic Flooring System allows you and your contractor to build up a bold and beautiful result in layers. The system starts with a durable basecoat, to which you can add a metallic coat, and a vibrant color and finish coat to achieve your final desired look. There are 30 colors to choose from, which you can mix and match, and your final finish can come in either satin or gloss.

For spaces where you want the concrete floor to retain an earthier, organic look that highlights and celebrates its natural imperfections — such as in spaces where the floor needs to complement exposed wood beams — a reactive stain is the best solution.

H&C Infusion® Reactive Concrete Stains creates a translucent, variegated appearance, so small cracks and other imperfections in the concrete take on rich, lustrous character. This solution comes in 12 standard colors that can be intermixed to achieve a custom look.

Texture + color
Finally, in projects where you have a heavy traffic area that requires a texture for slip resistance, you can specify a combination concrete resurfacing solution with a color application.

H&C Dura-Top™ Heavy Traffic Concrete Resurfacer is a low-maintenance, abrasion-resistant polymer that can be stamped or troweled to achieve your desired design or texture. A rich palette of color possibilities comes into play with the addition of a Dura-TopConcrete Resurfacer Color Pack, which can be added to the mixture as a pigment. The Color Packs come in 30 colors, in a spectrum that ranges from Cotton Ball to Pepper Black.
"Concrete has so much design potential," Wadden says, "which is great since it's everywhere now, from commercial spaces to multifamily lofts. A more organic-looking concrete finish can function as a neutral base that allows the rest of the interior's materials and finishes to be the hero. Or you can get really colorful with it and make the floor the star. It's really up to you."
Company:
The Sherwin-Williams Company
Product: Interior Stains
Source: https://www.sherwin-williams.com/architects-specifiers-designers/inspiration/styles-and-techniques/sw-art-concrete-floor-designs
Tags: Coating | Color | Concrete | Finishes | Interior Design
---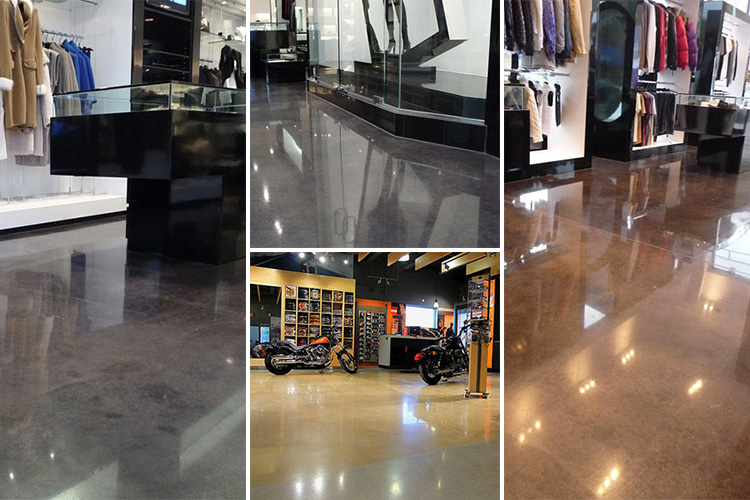 Polished concrete flooring is one of the hottest trends for homeowners and business owners alike. Thanks to recent advancements in equipment and technology, the process of polishing concrete is more efficient and economical than ever. Concrete surfaces, both old and new, can be polished to a high-luster finish. When compared to other types of flooring: marble, tile, linoleum, wood and coated concrete, polished concrete is more durable and better performing. Polished concrete never needs waxing and is therefore low maintenance as well.
Aesthetically pleasing, polished concrete flooring has a striking high-luster appearance. The exposure of aggregate in the substrate reveals beautiful textures and natural looking patterns. It can also be stained or colorized in some other way to achieve a one-of-a-kind look that resembles natural stone.
One of the keys to achieving a beautiful high-luster polished concrete floor is to obtain a less porous concrete substrate. This is the job of a product known as a concrete densifier or colloidal silica densifier. Concrete densifiers have been around for nearly 100 years and are specifically designed for this task.
Modern concrete densifiers contain microscopic colloidal silica particles suspended in a low-tension liquid. When the densifier is applied to concrete, it is immediately absorbed into the concrete's pores. The colloidal silica reacts with the soft calcium in the concrete. This reaction creates a new hard material that is not water-soluble and expands to fills the pores in the concrete. The newly hardened concrete will take a better polish and is more durable providing better abrasion resistance.
Hermetix Densifier is Duraamen's high performance concrete densifier product. It penetrates more deeply and reacts faster than other brands. Once applied, it starts working in 1-2 minutes. After the application there is nothing to broom off and nothing to dispose of. Hermetix is non-hazardous as well.
To obtain an ultra-high luster, it is recommended that a colloidal silica finishing conditioner is also applied to the finished floor. Hermetix Shield is Duraamen's protective finishing conditioner that further hardens the polished concrete by adding additional colloidal silica while helping to protect the finished floor with specifically engineered polymers.
Company:
Duraamen Engineered Products Inc.
Product: Concrete Flooring: Concrete Densifier
Source: https://www.duraamen.com/p/polished-concrete/
Tags: Color | Concrete | Design | Finishes | Floor
---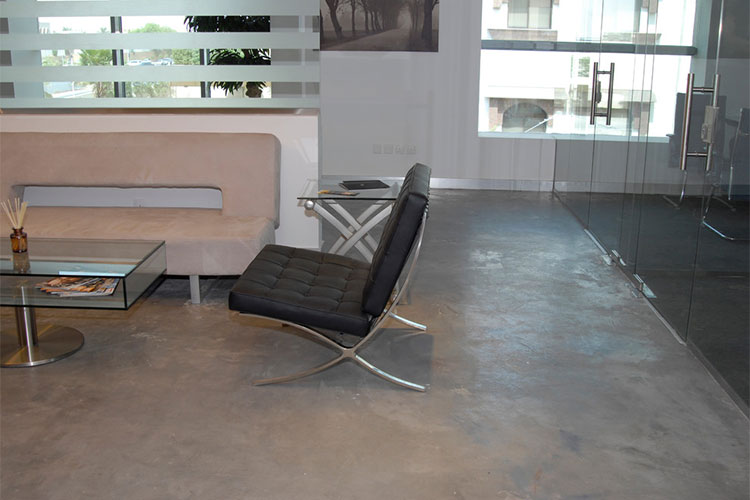 Elite Crete Systems has solutions to concrete floor problems and the design and decor experience to provide a truly unique one of a kind floor system.
REFLECTOR Enhancer Flooring Systems for a residential garage floor.
REFLECTOR Enhancer Flooring Systems in a dining room. Seamless, durable and beautiful.
Although this floor looks like traditional wood floor, it is not actually wood at all. It was created with THIN-FINISH™ Pre-Mixed Overlay and is a polymer modified cementitous topping. Because it is cement based, it is seamless and will not scratch like conventional wood floors.
Custom seamless floor created with REFLECTOR™ Enhancer Flooring System.
This beautiful and custom floor was created with THIN-FINISH™ and MICRO-FINISH™ polymer modified cementitious overlay.
This floor is not tile. It is fluid applied but made to look like stone tile. It was created with TEXTURE-PAVE™ pre-mixed overlay and colored with ULTRA-STONE™ Antiquing Stain.
Elite Crete Systems is a leading manufacturer of exterior decorative concrete finishes and custom seamless interior flooring. With a national network of trained installers and local technical support offices Elite Crete Systems is able to service individual residential clientele along with large corporate installations and construction projects.
Company:

Elite Crete Systems, Inc. (Headquarters)
Source: http://www.elitecrete.com/
Tags: Coating | Concrete | Finishes | Floor | Interior Design
---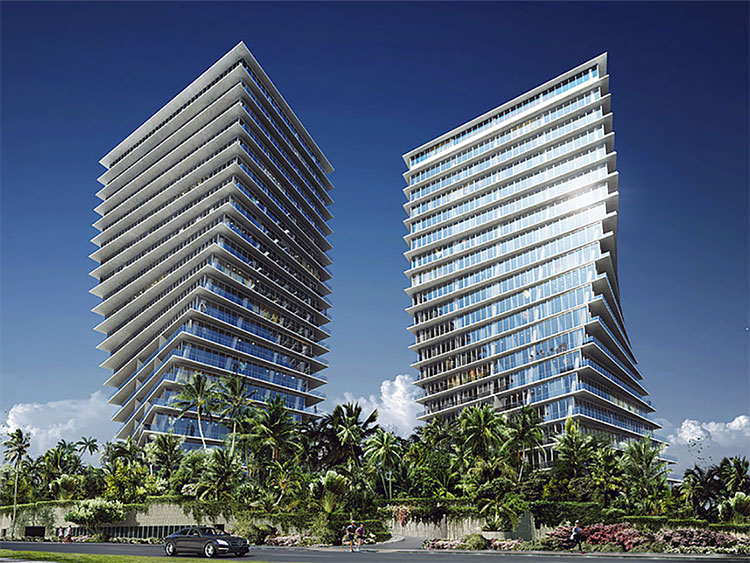 Hyper-modernist: The Grove at Grand Bay towers, designed by the Bjarke Ingels Group (BIG) architects, rest on a foundation treated with PENETRON crystalline technology
The Grove at Grand Bay luxury residential towers in the Coconut Grove neighborhood of Miami, Florida, are built on a PENETRON ADMIX-treated concrete foundation. Inaugurated in May, both of the visually distinctive towers are almost sold out.
The amazing architectural design of the towers is a notable milestone in the quickly evolving skyline of the Miami area. In a city famous for its Art Deco and Mediterranean-style architecture, the hyper-modernist design of the new Grove at Grand Bay towers was designed by the renowned Bjarke Ingels Group (BIG) architects. Both towers are 20 floors high; the 96 luxury condos (59 units in the North Tower, 37 units in the South Tower) all have breathtaking views of Biscayne Bay.

Located only 18 feet (5.2 m) above sea level and featuring a rooftop pool on both the North & South Towers, PENETRON was tapped for a durable waterproofing solution.

The originally specified conventional waterproofing system and dewatering of the job site became problematic early in the project. CEMEX offered a PENETRON ADMIX-treated concrete mix as a solution, which was used for the building foundation elements. The results were seamless.
Company:

Penetron International
Product: Penetron Admix
Source: http://www.penetron.com/press/view/Distinctive-Dual-Towers-Built-on-PENETRON/
Tags: Architecture | Building | Concrete | Waterproofing
---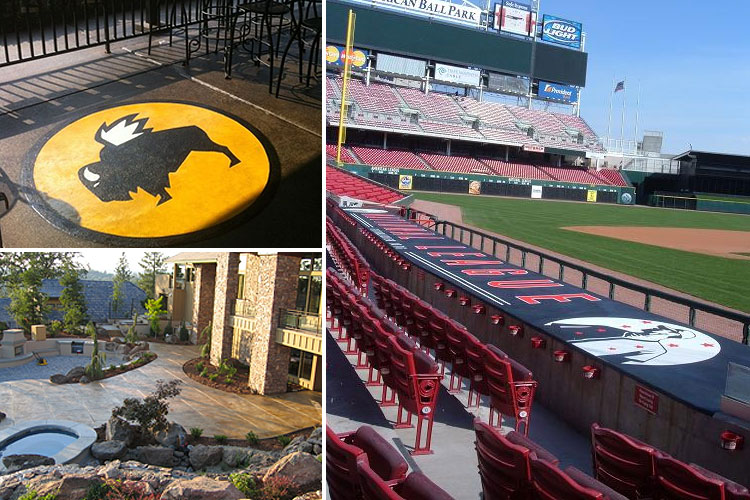 Known for its incredible beauty, strength and affordability, thousands of retailers, restaurants and showrooms nationwide are choosing decorative concrete. With decorative concrete coatings and finishes, your business can transform a dull slab of grey concrete into a work of art and extend the life of your flooring. While decorative concrete coatings offer many great benefits, here are some of the key advantages:
1. Design flexibility
Decorative concrete can be applied to new or existing concrete surfaces, and the design options are virtually limitless. Due to advances in concrete mixing and setting, contractors can create any color and texture you can think of. Decorative concrete coatings can be applied through a variety of methods, including acid staining, thin stamp overlays, splatter texture, and slate trowel down finishes, which can be used to create decorative textural patterns or custom designs. Decorative concrete can even be made to resemble natural stone.
2. Strength and longevity
Along with its aesthetic appeal, decorative concrete coatings will increase the strength, durability and longevity of concrete surfaces. It's stronger than many comparable materials and will deteriorate at a much slower rate. Decorative concrete will make your floor resistant to heavy loads, weather, and mold and dust.
3. Low maintenance
Decorative concrete is easy to clean and requires very little maintenance. There's no regular polishing or coating, and spills can easily be cleaned up with soap and water. You just need to apply a sealer about every 4 years. The low maintenance and durable properties of decorative concrete will save you valuable time and money on maintenance and repairs.
4. Affordability
Despite all its amazing benefits, decorative concrete coatings are very low cost and affordable. Decorative concrete is inexpensive to install, and with its extreme durability, resistance to most damages and low maintenance requirements, it's the most economical flooring solution.
Protect and beautify your concrete surfaces with decorative concrete. If you are interested in installing decorative concrete at your business, contact Elite Crete Systems today: 1-888-323-4445.
Company:

Elite Crete Systems, Inc. (Headquarters)
Product: Decorative Concrete Finishes
Source: http://www.elitecrete.com/4-major-advantages-decorative-concrete-commercial-settings/
Tags: Concrete | Design | Floor
---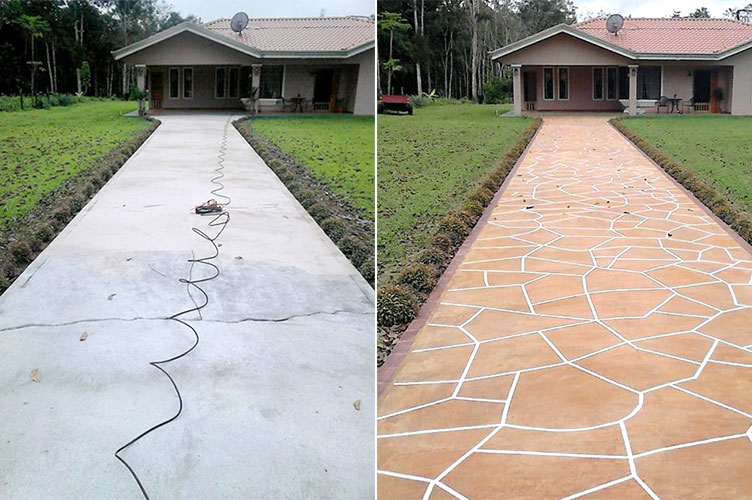 Before & After: Concrete surface restoration using THIN-FINISH™ Pre-Mixed Overlay
When unsightly, old and damaged concrete is no longer acceptable the option for concrete resurfacing should be your top choice. Concrete floors over time will often develop cracks, show surface spalling, stain, and begin to deteriorate.
Typically the structural concrete slab will be fine but its surface is in need of repair and concrete resurfacing. Elite Crete Systems has been leading the concrete resurfacing industry for decades and has a wide variety of products and systems to choose from.
Once it has been determined that something needs to be done about the old concrete, the fun begins! Concrete resurfacing systems open the door to wide range of design and decor options. There are purely functional concrete resurfacing products that will look and feel similar to standard grey concrete floor, but for those who want to take their concrete flooring to whole new level, decorative concrete systems should be considered.
Here are some common concrete resurfacing systems with overviews of what the look and design can be expected from each:
Broom Finish Concrete - Skim, Bond or Broom Coat
This system is designed to resurface concrete with a very thin layer of polymer modified cement. This thin layer can be squeegeed and smoothed out at 1/8th inch thick or less to provide a vibrant new surface to damaged concrete. Because of its thin nature, the concrete should be patched and leveled prior to the application so that any imperfections are corrected. This product can be colored and applied with a variety of textures to create a cost effective and limitless design to beautify concrete slabs and floors.
Splatter Texture - Splatter, Knock down, Sprayed texture concrete
Often found around pool decks and large outdoor patios and walkways. This functional concrete resurfacing system provides a textured, slip resistant finish that can be efficiently applied with a hopper spray gun. The final look is that similar to a splattered wall finish standard in many homes. The texture helps the surface stay cool for bare feet in the hot sun and creates a functional anti-slip surface for wet areas. This texture is most often installed on top of a skim or bond coat and can then be coated in any color similar to a painted surface top while providing a sealed, consistent floor finish.
Thin Stamped Overlay - Stamped topping, Stamped concrete overlay, Texture Pave
When a natural custom look is what you are after, a thin stamped overlay will provide a new surface to your concrete that resembles stone, rock, slate or wood. When resurfacing concrete with a thin stamped overlay, you can expect to cover the concrete with 3/16" to 5/8" of material and then imprint or stamp a pattern into the freshly placed material. When using thin stamped materials you are limited to thin, or shallow stamp mats that require only minimal material displacement. These systems are ideal for interior and exterior spaces where a textured finish is desired that resembles a natural material or paver.
Design Options for Concrete Resurfacing:
Color Choices:
Integral Color, Stains, Dyes, Solid Coatings
Sealers:
Matte, Satin, High Gloss
Surface Textures:
Stone, Brick, Rock, Wood, Pavers.
Also includes a range of anti-slip additives that can be incorporated in to the sealer system.
For more information about concrete resurfacing, please feel free to contact Elite Crete Systems with any questions.
Company:

Elite Crete Systems, Inc. (Headquarters)
Product: Concrete Surface Restoration
Source: https://www.elitecrete.com/concrete-resurfacing/
Tags: Concrete | Finishes | Floor | Landscape Design
---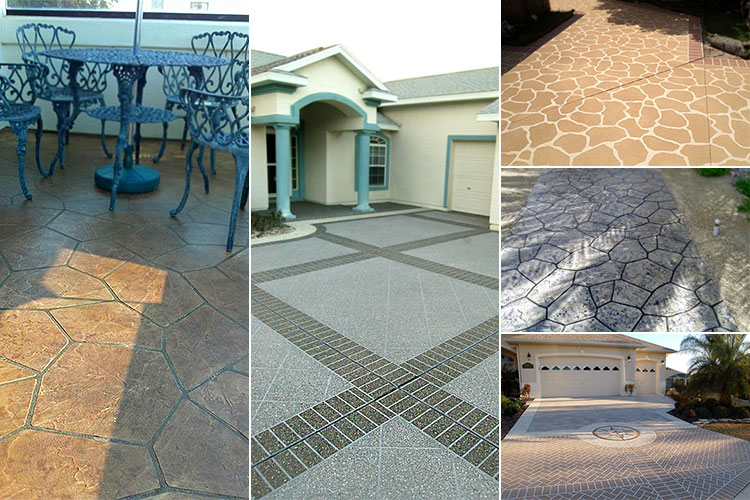 Stenciled concrete is a great option for pool decks, patios and driveways
How can concrete become brick? Or be turned into fan-shaped cobblestone? Or have your company logo "painted" on? The answer to all of those questions is stencils. Stenciled concrete is popular for exterior surfaces like driveways, patios and pool decks because there are a lot of varied patterns available, and they are pretty DIY friendly.
Plain concrete is no longer interesting to homeowners who have seen the creative design options on Pinterest and the home and garden TV shows. Concrete that has a pattern, in different colors and shapes, enhances property value of the property. Concrete that is already in good shape can be stenciled in any design and sealed to make the surface long-lasting. Stencils are easy to install—a dedicated DIY-er can do it themselves and be successful, and contractors can make very good profit.
Many companies sell stenciled concrete patterns. These are available in classic patterns like herringbone brick or the fan-shaped cobblestone patterns of European streets. Design companies also sell stencils that can be cut using high-tech CNC machinery that can be made in any specification—your monograms, a company logo, a horse for the driveway of a stable, or wine grapes for the floor of a winery tasting room. The options are endless!
Next time you see a patio, pool deck or driveway with a beautiful and intricate pattern on top of concrete, take a closer look! It's likely a stencil. Many patterns can be cut into concrete with concrete saws. For large-scale concrete, such as courtyards and plazas, colors can be mixed into concrete as it is poured. But for details such as brick edging, a pattern that looks like Ashlar slate, herringbone brick, or even octagonal tiles, it's often stenciled concrete.
Use a product like Duraamen's Uberdeck polymer-modified, concrete overlay or Skraffino Portland cement skim coat to the top of concrete you already have. First, apply the stencil pattern. Then apply the concrete coating in the colors you want. It can be that simple to have a durable concrete surface that looks brand new!
Please click here to learn the detailed installation process.
Company:
Duraamen Engineered Products Inc.
Source: https://www.duraamen.com/blog/stenciled-concrete-for-your-pool-decks-patios-and-driveways
Tags: Coating | Concrete | Exterior Design | Floor
---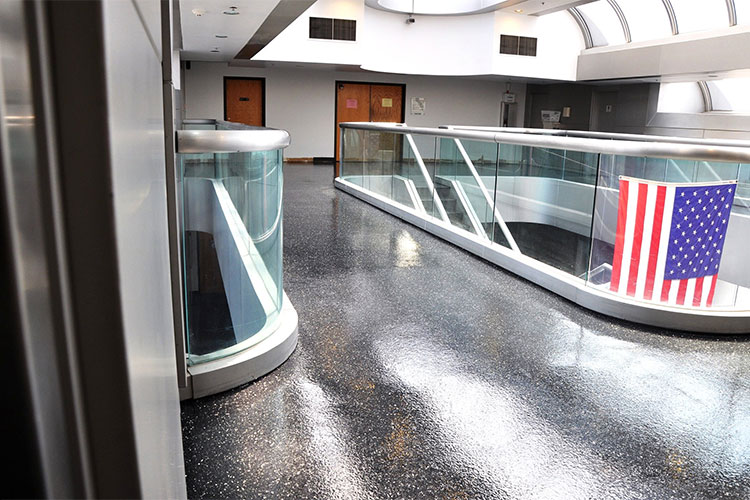 Architect specified a HERMETIC™ Flake Floor instead of terrazzo in this airport terminal. The cost savings was substantial.
HERMETIC™ Industrial Floor Coatings offer a variety of high performance flooring options for facility managers, property owners and specifiers looking for a ultra durable, easy to maintain, seamless flooring system. In fact, the choices are often so many that it becomes difficult to choose. In many cases, the right choice will be dependent upon the unique situation of the facility and what performance characteristics are required in a floor.
Industrial floor coatings are often chosen for aesthetic or financial reasons. They are a great value for medium to high impact areas where heavy traffic is expected. HERMETIC™ (epoxy resin based) Industrial Floor Coatings are available in almost any color and can be applied in thicknesses between 1/16″ to 1/2″ or more. They can easily improve the aesthetics and harden the surface of existing concrete substrate. Epoxies create a seamless, waterproof barrier, which provides a well-protected surface but demands a low-moisture substrate on which to be applied. Because an expertly installed epoxy floor provides this wall-to-wall seamless surface, it is very popular in the pharmaceutical and chemical processing industries. When chemicals cannot contaminate the concrete substrate, you are assured uncontaminated products down the line and easy clean-ups in the meantime.
HERMETIC™ (urethane based) Industrial Floor Coatings are similar to epoxies in terms of installation and function; they are installed over a concrete substrate, filling in the cracks and achieving a smooth, seamless surface. Urethane, however, is a better choice for areas that are likely to receive thermal shock, high-impact, increased abrasion or chemical exposure. Urethane is an extremely durable product that is likely to meet or exceed the physical needs of any facility. Urethanes also have aesthetic appeal similar to epoxies. The material can reflect light to a degree that influences your utility costs and improves worker productivity. For all of these reasons, urethane is a popular choice for commercial kitchens and food processing facilities.
Company:

Elite Crete Systems, Inc. (Headquarters)
Product: HERMETIC™ Industrial Flooring
Source: http://elitecrete.com
Tags: Coating | Concrete | Finishes | Floor | Interior Design
---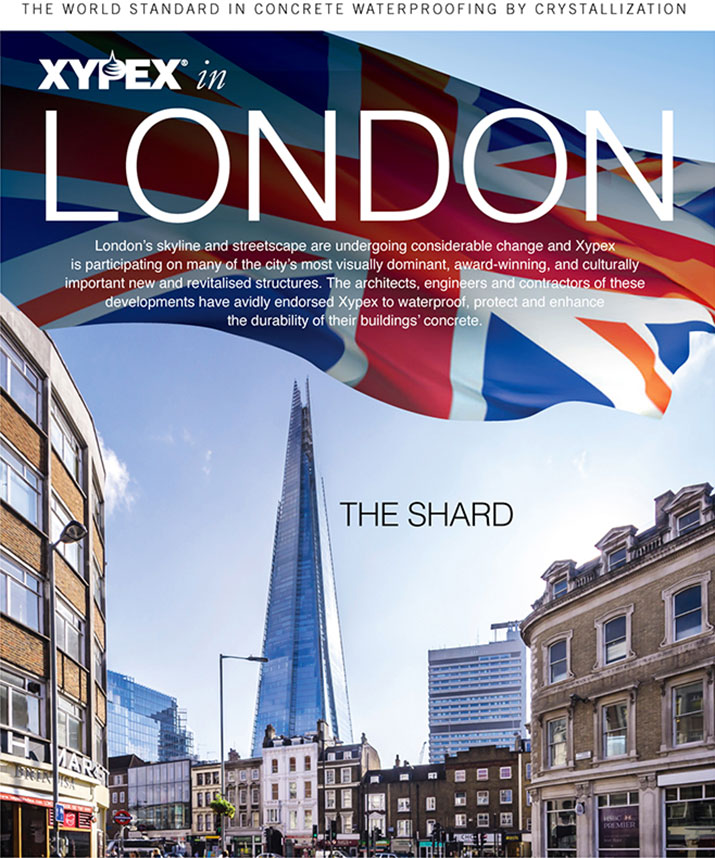 The Shard with its church steeple and cladded shards of glass, is the inspiration and design of Renzo Piano, the project's architect. At 95-storeys and standing 309.6 metres (1,016 ft) high, The Shard ('Shard of Glass') is the tallest building in the UK – a top-down construction project that required the largest continuous concrete pour in UK history; three concrete pumps placed 700 truckloads over 36 hours; a total of 5,500 m. While the extremely thick basement slab did not require waterproofing, Xypex Admix was used to waterproof and protect other areas of the basement as well as the capping beams and lift pits on various floors. Xypex was also used to waterproof the Shangri-La Hotel swimming pool and spa area on the 52nd floor. In all, approximately 7,500 kg of Xypex material was used to treat 1,500 m of concrete.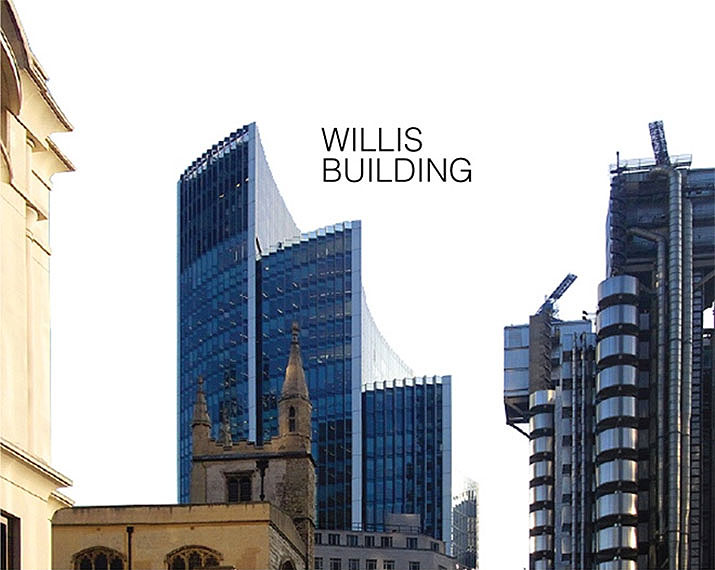 The Willis Building, at 28-storeys, is the seventh tallest building in London. Located opposite Lloyd's in the heart of London's financial district, it was designed by architects, Foster + Partners and won the 2007 New City Architecture Award. The building, with over 15,000 m of concrete used in its construction, was the first large structure that Xypex worked on in Central London. Xypex was selected (instead of the specified membrane) to waterproof and protect the 38-metre deep foundation. Xypex Admix C-1000 NF (6,000 kg) was used for the below-grade slab and lift (elevator) pits and Xypex Concentrate Dry-Pac was installed in all floor-wall joints followed by a slurry coat application of Xypex Concentrate.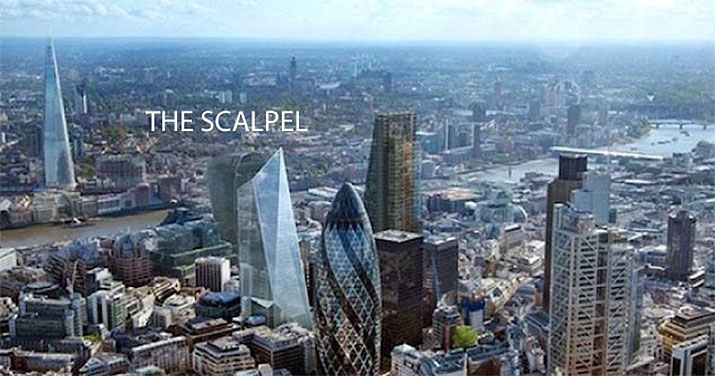 The Scalpel is a 39-storey commercial skyscraper surrounded by a patchwork of character-full (medieval) streets at the hub of London's financial centre, and is being built primarily for insurance company and developer, W.R. Berkley. Originally a nickname but subsequently designated as its official name, the Scalpel was coined by the Financial Times because of the building's distinctive angular design by architects Kohn Pedersen Fox. The original specification for waterproofing the basement was eventually changed in favour of Xypex. While the Xypex application to the monolithically poured split-slab constructions was fairly standard, the precast elements that were cast with Xypex (off-site and transported to the site) had to be carefully installed and jointed with Xypex-treated concrete. A total of 6,000 kg of Xypex Admix C-Series and Concentrate was required.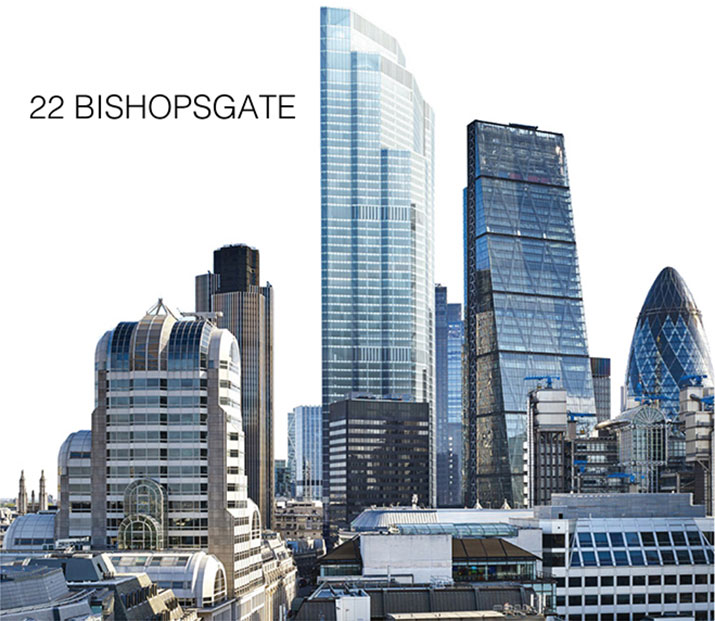 22 Bishopgate is a commercial skyscraper (under construction) in central London. Located in the prominent site of Bishopsgate (a Ward named after one of the original eight gates in the 'Roman' London Wall), the current project replaces an earlier plan (2010). The re-design by PLP Architecture (2015) utilises large sections of the previously cast basement while also adding an equally large area that had to be cut out to enable the installation of the new pilings needed to handle the changed loads. The initial Xypex challenge was to waterproof all basement concrete of the original structure. Xypex was selected to replace the membrane specification for the original structure, thereby preventing the likelihood of membrane damage from existing cut and broken concrete. When the design change occurred (from the Pinnacle to 22 Bishopsgate), the fact that Xypex had been previously used instead of a sheet material made the adaptation to the new structure much simpler. An additional benefit was that only one warranty was required to cover the two separate and different basements. Overall, using Xypex Admix and Concentrate eased the construction process considerably.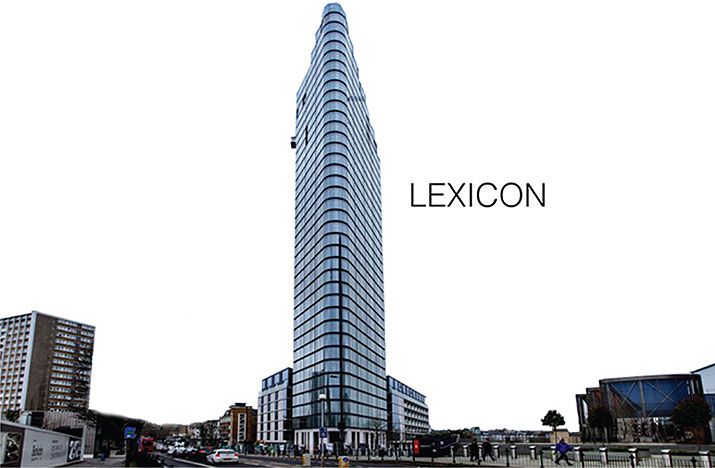 The Lexicon is a 36-storey tower, and adds to the cluster of new skyscrapers dotting London's new and dynamic skyline. Designed by Skidmore Owings & Merrill (engineers of the world's tallest building in Dubai), it is situated in a prime canal-side location within London's booming east and central neighbourhoods that sport an alluring tapestry of culture and flavours. Because the canal-side location posed a greater risk of significantly higher hydrostatic pressure, Xypex with its proven ability to resist hydrostatic pressure in the extreme, was selected to waterproof and protect the walls, capping beams and podium slabs. Xypex Admix C-Series and Concentrate were both used on the project.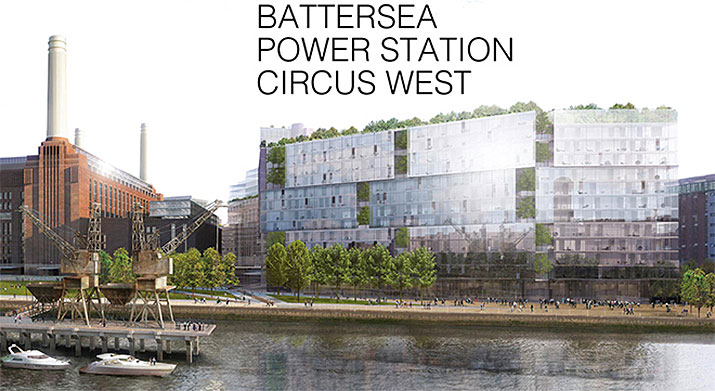 Battersea Power Station Circus West is a mixed-use development intended to create a self-sustaining urban village and vibrant community in its own right. The project takes its name from a coal-fired power station in Nine Elms, Battersea that was fully decommissioned in 1983 and given Grade II building status. Located opposite Chelsea, about one mile from the Houses of Parliament, construction includes 866 apartments, townhouses, offices, shops and leisure areas. The one basement under this large area is the closest the site gets to the River Thames, making the decision to use Xypex Admix to waterproof and protect the slab, walls and capping beam against potentially greater hydrostatic pressure, more critical.
Company:

Xypex Chemical Corporation
Product: Additive > Xypex Admix C-Series
Source: http://www.xypex.com
Tags: Architecture | Concrete | Waterproofing
---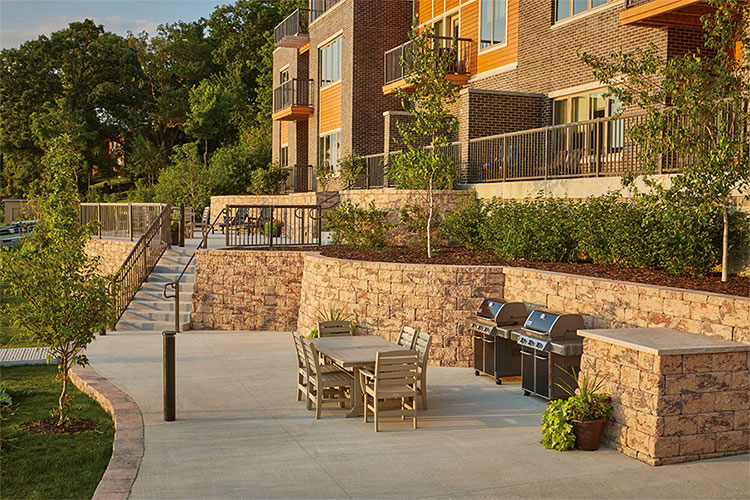 The innovation and beauty of County Materials' hardscape products were recognized at the 2017 Wisconsin Masonry Alliance Excellence in Hardscape Awards. Five projects with concrete pavers, slabs and retaining walls manufactured by County Materials received awards at the 2017 gala, hosted at Lambeau Field in Green Bay, WI.
A panel of industry judges selected winners from an entry pool of many exceptional landscape projects located in Wisconsin and Michigan's Upper Peninsula. Landscape projects were judged on their overall excellence in design, creativity, functionality, selection and quality of hardscape materials, installation techniques, craftsmanship and finished appearance.
Three projects featuring County Materials' pavers, slabs and retaining walls took top honors with Gold Awards in different categories.
Church Mutual
In the category for Best Concrete Paver Commercial Application Over 2,500 sq ft, Gold went to the patio at the Church Mutual office in Mosinee, Wis. completed by CW Terramaster.
Lake Edge Apartments
Also earning the top Gold Award was the Madison, Wis. Lake Edge Apartments in the Best Structural Retaining Wall Commercial Application Over 2,500 sq ft completed by TMS Landscape Inc.
Menasha Corporation
Finally, the Neenah, Wis. Menasha Corp earned the Best Permeable Paver Commercial Application category, completed by Miron Construction.
Smoke Tree Pass Residence
In the Best Driveway Application category, Wolfrath's Nursery & Landscaping of Hortonville, Wis. earned the Silver Award for their Smoke Tree Pass residential driveway project in Appleton, Wis.
Shawano Lawn and Stone
The Bronze Award was given for Best Permeable Paver Residential Application to Shawano Lawn and Stone for their work on the lakeside Emile Court residence in Gillett, Wis.
County Materials is a leading supporter of the Wisconsin Masonry Alliance and the Excellence in Hardscape Award competition, and partner with professional landscape installers and designers. We congratulate each of the winners for their excellence in the industry.
Company:

County Materials Corporation
Product: Landscaping
Source: https://www.countymaterials.com/en/news/item/2017-eih
Tags: Concrete | Landscape Design
---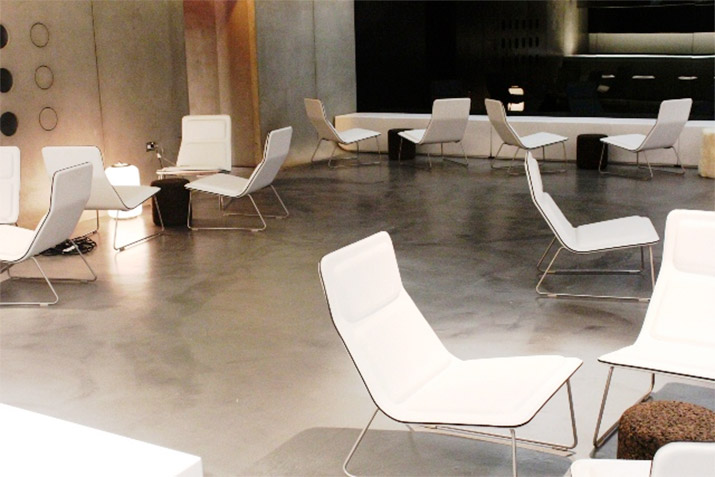 The interior and exterior aspects of the decorative concrete and resinous flooring industry has never been busier or in higher demand. Property owners, builders and architects are looking for something new. Something with more durability and better appeal than conventional tile, hardwood, carpet and terrazzo and Elite Crete Systems is leading the way with our award winning products and systems.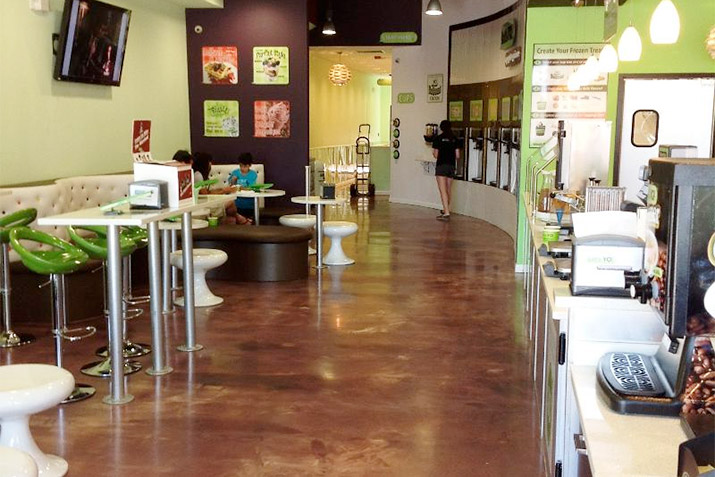 Custom, seamless, unique and durable... Those are the words used by this business owner when describing the type of floor they wanted for their for yogurt shop. By using THIN-FINISH, MICR-FINISH, HYDRA-STONE Dye Stain and E100-PT1 Clear Epoxy, that is exactly what they got.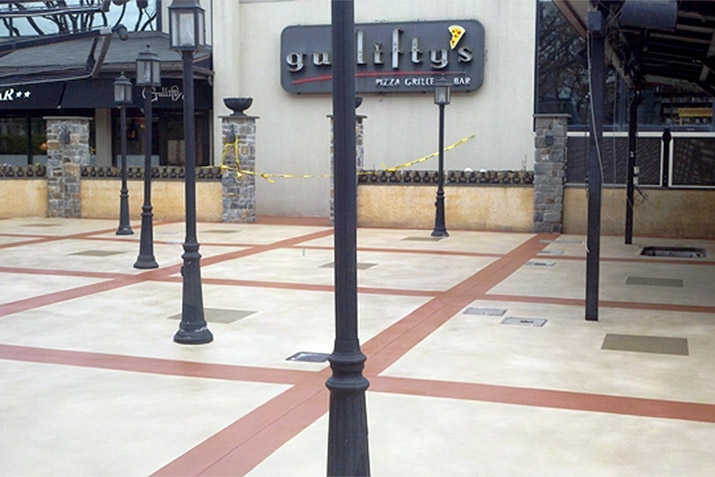 The courtyard at this pizza restaurant was in poor shape. The concrete was pitted, stained and otherwise needed taken out and replaced. With THIN-FINISH however a durable, permanent and decorative finish was made possible in just a few days and at a fraction of the cost of replacement.
REFLECTOR Enhancer Flooring Systems used in conjunction with a custom made stencil to create an ultra durable, easy to clean floor that resembles that of a high end carpet.
If you are a designer, architect or specifier and need assistance with an up coming project, we have over 90 technical support and specification assistance offices world wide
Company:

Elite Crete Systems, Inc. (Headquarters)
Source: http://elitecrete.com/
Tags: Coating | Concrete | Floor | Waterproofing
---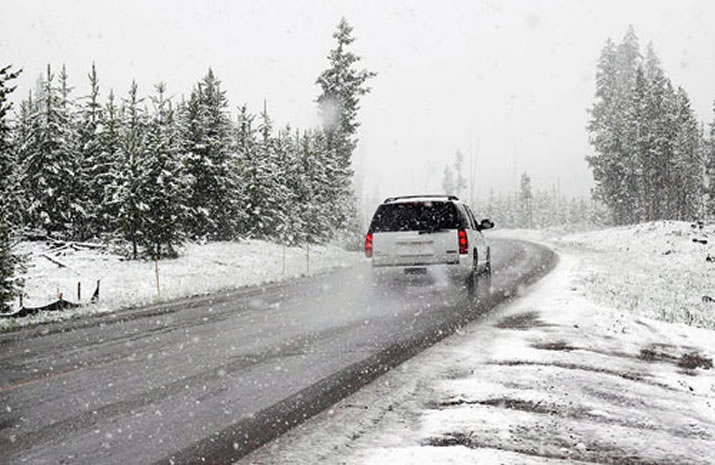 Concrete damage caused by freeze-thaw cycles is one of the main reasons for concrete deterioration. Water trapped in the capillaries and micro-cracks of concrete expands when it freezes. Without any free space to compensate for this expansion, internal pressure builds, slowly widening existing capillaries and creating new cracks in concrete. When temperatures rise, the frozen water in the concrete thaws and travels deeper into the capillary matrix, where the process is repeated during the next freeze cycle.

Freezing water in the capillaries and micro-cracks of concrete exerts an internal, expansive pressure; this leads to cracking of the concrete.
Freeze-thaw damage negatively affects durability and the service life of concrete since it increases permeability over the course of repeated freeze-thaw cycles.
Some symptoms of freeze-thaw damage include spalling and scaling of the concrete surface, exposure of the aggregates, parts of the concrete coming off as well as D-cracking. Such damage accelerates the penetration of additional water and harmful chemicals into the concrete matrix, increasing the deterioration of the concrete.
The problem is significant and costly. The United States alone spends tens of millions of dollars every year to repair and maintain concrete structures affected by freeze-thaw damage.
In order to enhance concrete's resistance against freeze-thaw damage, air entrainment additives are commonly applied. While these additives create additional voids in concrete to compensate for the expansion of freezing water, they also increase the concrete's permeability and subsequently, reduce its compressive strength and durability.
A more effective way to combat freeze-thaw damage is the inclusion of PENETRON ADMIX into the concrete mix. Not only does PENETRON ADMIX seal existing capillaries, voids and cracks, it also enables self-healing of future cracks once they occur. This prevents water from entering the concrete in the first place.
Recent durability studies have shown that PENETRON ADMIX-treated concrete samples (without air entrainment admixtures) significantly reduce the risk of freeze-thaw damage and stay well below the limits for concrete exposed to severe environments (see diagram below), which completely eliminates the need for air entrainment additives. Click here to read more.
Company:

Penetron International
Product: Penetron Admix
Source: http://www.penetron.com/newsletter/feb17/images/Freeze-Thaw.pdf
Tags: Concrete | Construction | Waterproofing
---
Background: Since 1932, GECU has been one of the largest and strongest locally-owned financial institutions in the City of El Paso. With more than 340,000 members, the credit union experiences a significant amount of foot traffic within its branch, and the flooring was starting to show it. The GECU branch knew it needed to polish up its look as it prepared to deliver the same exceptional service for decades to come.
Contractors:
CON-TEX Construction, LLC is a General Contractor specializing in commercial concrete projects in El Paso, TX.
Vincent Villegas, Owner of Creative Colors Dye, YouTube instructional video guru, consultant, and creative concrete design expert.
Challenge: Half of the floor inside the bank was delaminating. It needed a full removal and replacement. Because of the nature of the credit union's business, it had only a 72-hour window of time to upgrade its look as not disturb business banking hours.
The Solution: With the help of Vincent Villegas, CON-TEX Construction completely removed the delaminating underlayment and surface layer of the floor and installed the following Super-Krete Smooth Finish & Art Deco Resurfacing System while exceeding the client's demand for time and aesthetics.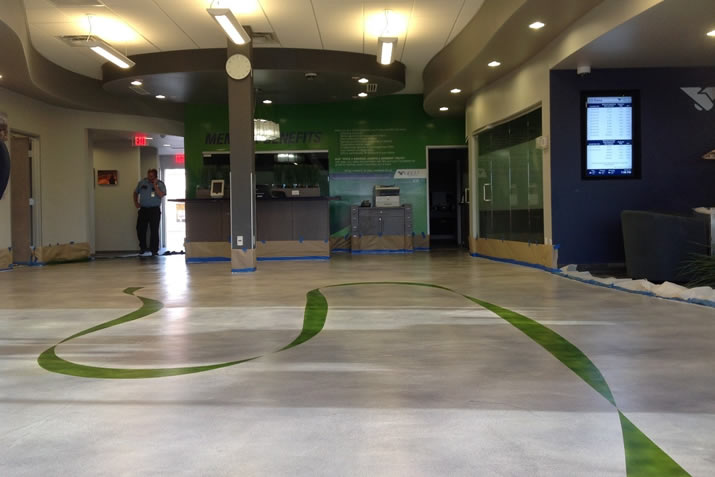 The Solution
With the help of Vincent Villegas, CON-TEX Construction completely removed the delaminating underlayment and surface layer of the floor and installed the following Super-Krete Smooth Finish & Art Deco Resurfacing System while exceeding the client's demand for time and aesthetics.
The existing surface area floor was completely stripped using grinders, sweeping and vacuuming. Because the original material failed, S-100 S.B.A. Superior Bonding Agent™ was applied as a precaution for additional bond strength. Once the primer dried, S-9300 Bond-Kote® was mixed and applied, followed by two coats of S-9304 Micro-Bond™ for an ultra-smooth finish. After the finish had dried, tape was artistically placed to create the designs sought and acetone dye was applied, with custom colors created by Vincent Villegas. As an added bit of functionality, an intricate design was cut into the floor to guide banking patrons through the line. The rest of the floor was dyed to match the bank's color scheme, after which the floor was then sealed with two coats of S-8600 Clear Seal™ Plus and waxed with multiple coats of Industrial Floor Finish Wax.
"Super-Krete to the rescue! Among the many great attributes of the Super-Krete products, the time it takes for the products to completely set is incredibly fast and simply put, worked amazingly! In an incredibly short period of time, we had gone from a delaminating floor, to a torn-up floor, to now a floor that quite literally looks like a work of art. A bright, shiny green ribbon dashed along the floor indicating where patrons of the credit union should stand in line, while the rest of the floor was covered in an elegant marbleized blue-grey, both colors exactly matching the color schemes throughout the bank! We had done it and with not a minute to spare! Thanks to the high-quality materials available through Super-Krete, the knowledge and expertise of colors and overlays of Vince Villegas, and the sheer determination to succeed of CON-TEX Construction, the job was not only fixed, but completed above expectations!"
Juan Martinez
Chief Managing Officer
CON-TEX Construction, LLC.
Source: http://super-krete.com/case-study-1016-gecu-case-study
Tags: Color | Concrete | Floor | Interior Design
---
Moorgate Exchange is one of the first buildings in the UK to achieve both BREEAM Excellent and LEED Platinum ratings, and is an excellent example of how Xypex Admix can be used to simplify the production process of waterproofing and concreting.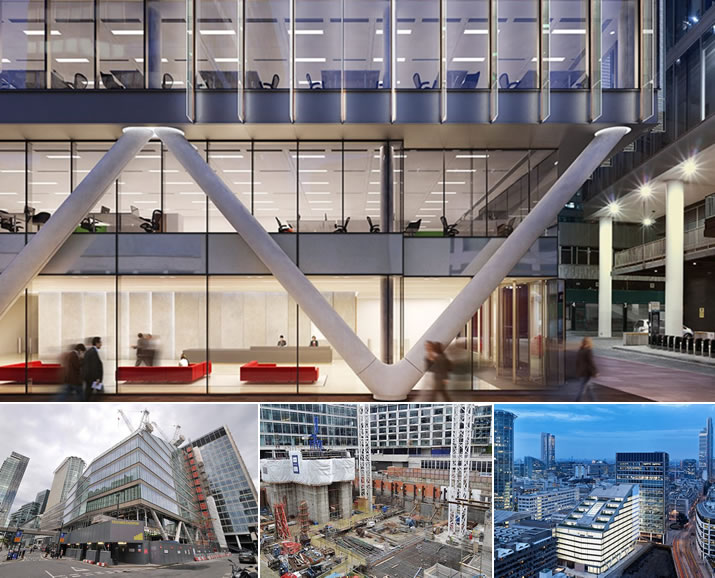 Moorgate Exchange is a striking 344,000 sq ft building in the City of London. This commercial development has a green roof, strategic views of St. Paul's and a two-story basement. Designed for large City occupiers, the building creates open plan floor plates and six green-terraced stepped back roof garden tiers. Floating on V columns, it is designed to cantilever the floors over the Crossrail tunnel beneath. Materials with sustainable properties, such as recycled aggregates in the concrete, were used in the construction process. Recycled rainwater and grey water storage systems have been installed to reduce the amount of potable water used in the toilets and the irrigation system for the 'living' walls on the terraces. The building is one of the first in the UK to achieve both BREEAM Excellent and LEED Platinum ratings.
This Skanska project is an excellent example of how Xypex Admix can be used to simplify the production process of waterproofing and concreting—both to be achieved simultaneously. One of the key influences for the decision making process of adopting the Xypex system as the waterproofing strategy was the total cost saving that was achieved through the whole package. Site attendance and quality assurance procedures were implemented to ensure a trouble-free installation of the waterproofing. The entire basement is cast utilising Xypex Admix and Xypex Concentrate for sealing the joints.
Company:

Xypex Chemical Corporation
Source: http://xypex.com/projects/project-search/Detail?projectid=6303
Tags: Building | Concrete | Sustainability | Waterproofing
---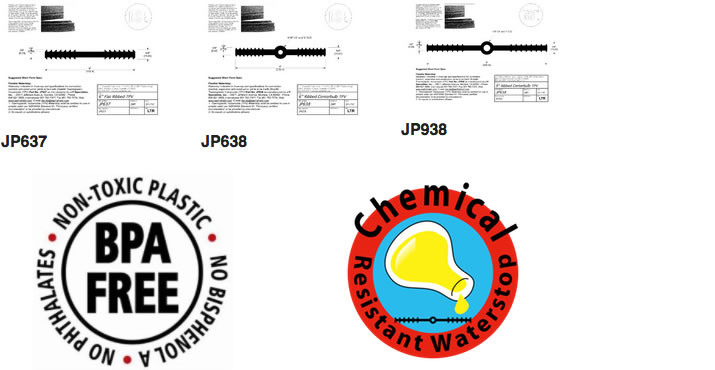 Earth Shield Waterstop is proud to announce three new waterstop profiles designed especially for environmental engineered concrete structures, such as waste and water treatment plants. All three profiles are ⅜" thick and have many interlocking ribs to grab into freshly poured concrete. Highlights of the new profiles include:
The new profiles can be downloaded in our CAD Library located here.
Company: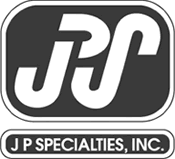 JP Specialties, Inc.
Product: Earth Shield® TPV (thermoplastic vulcanizate) Waterstop
Source: http://us1.campaign-archive1.com/?u=d5aa96521259bc7506dadcfb4&id=0274b47a69
---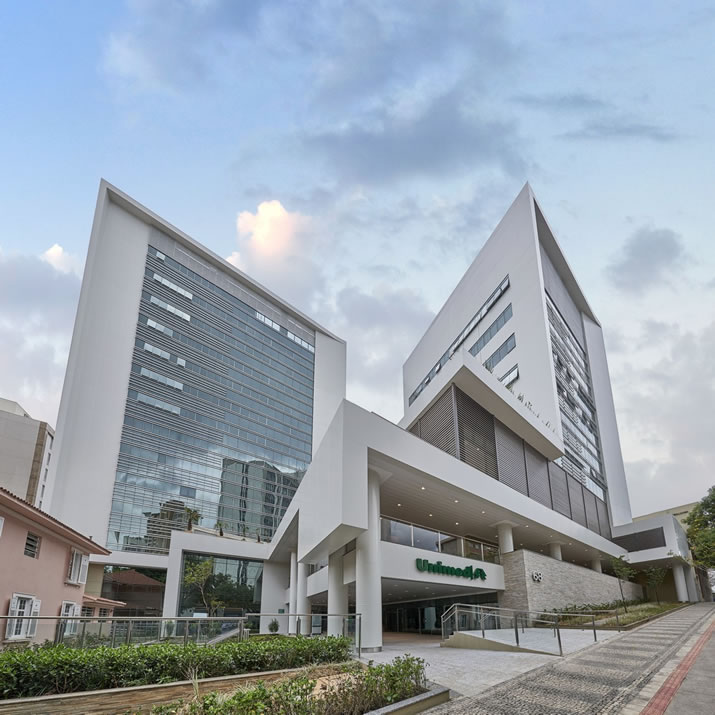 Staying healthy in Minas Gerais: UniMed expanded its Belo Horizonte operations with a new hospital and research facility; the below-ground structures were secured with PENETRON ADMIX-treated concrete.
Confronted with the relatively high water table of the UniMed construction site and the humid climate of Belo Horizonte, the project engineers quickly realized that the PENETRON crystalline products were the perfect solution. Construction of the three new buildings was done by Racional Engenharia (Rational Engineering), an engineering and construction services company.

During the first phase, the concrete for all three foundation slabs was poured. Next, the concrete retaining walls of the below-ground structures went up; all concrete was treated with PENETRON ADMIX during the batching phase. PENECRETE MORTAR, a topical repair compound, was also applied to fill and seal any cracks in the concrete that occurred in the final phase.

In total, about 10,000 m3 of concrete were treated with PENETRON ADMIX to ensure resistance to the hydrostatic pressure of the groundwater present at the construction site. The resulting construction joints were sealed with about 300 meters of PENEBAR SW-55 swellable-type waterstop.

For the above-ground concrete structures exposed to the elements, such as the parking garage ramps, PENESEAL PRO was sprayed directly on the surfaces to protect the concrete against any environmental effects.

PENESEAL PRO is a spray-on liquid sealer that is ideal for waterproofing and protecting exposed concrete surfaces, forming a gel that compensates for the movement of cracks due to thermal expansion and contraction. PENESEAL PRO reacts with the concrete to form a sub-surface barrier that protects against water penetration and seal hairline cracks, pores and capillaries. It remains active inside the concrete and continues to seal any new cracks due to settlement, thermal stress or external action.

UniMed, a Brazilian medical service cooperative and health insurance operator is the largest of its kind in the world, with 367 local member cooperatives. To expand its Belo Horizonte operations, UniMed invested R$250 million/US$125 million in the construction of three new large outpatient units, including a hospital to accommodate 300 doctors and a medical research facility.
Company:

Penetron International
Product: Penetron Admix
Source: http://www.penetron.com/news-media/media-releases/view/Healthcare-Center-Gets-the-PENETRON-Treatment
From Art Deco to Modernist with PENETRON (January 13, 2017), The Benefits of Water-Based Concrete Stains (January 2, 2017), Waterstop for concrete joints (December 31, 2016), What are the Flooring Options for a Food Facility Washdown Area (December 28, 2016), Brazil Takes PENETRON to the Hilton (November 23, 2016), Navigating the Wide Selection of Polymer Overlays Over Concrete Substrates (October 31, 2016), Images in Concrete: Reckli Artico® (October 7, 2016), 4 Reasons you should choose a resurfaced concrete floor (August 10, 2016), "At Penetron, we're always talking about the weather" (March 23, 2016), Better than real wood planks (March 9, 2016)