architecture - engineering - construction

Glass
---
March 31, 2021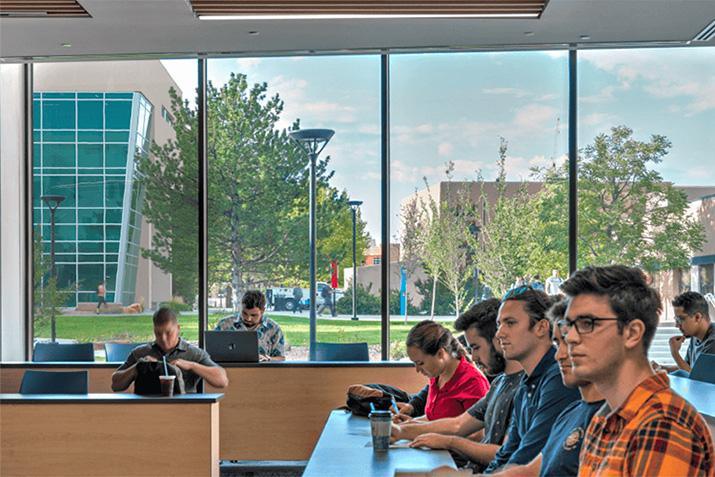 Our new ballistic insulated glass product is ideal for schools, offices, municipal buildings or any facility that requires superior safety + aesthetics. It's an excellent choice for building exteriors and upper floors because it retrofits into existing window frames. It has been tested to UL 752 bulletproof standards and UL 972 forced-entry standards, and it provides superior light transmission and easy care.
---
March 12, 2021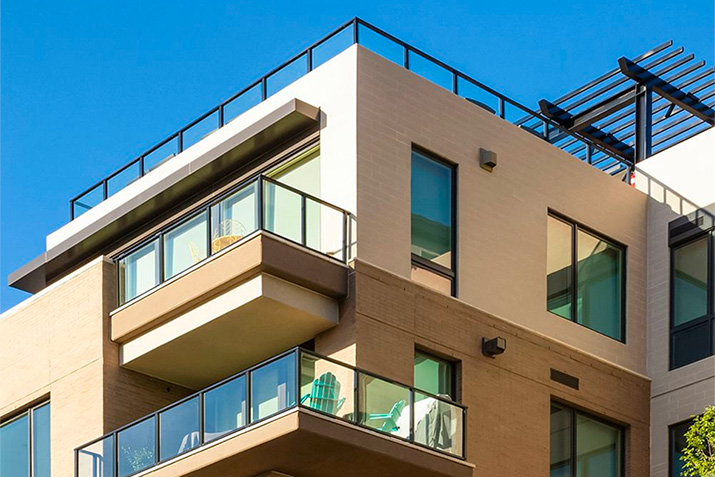 Black Solid glass railing is used to line the various decks and balconies of this shopping and multi-family housing building in Denver, CO.
---
February 15, 2021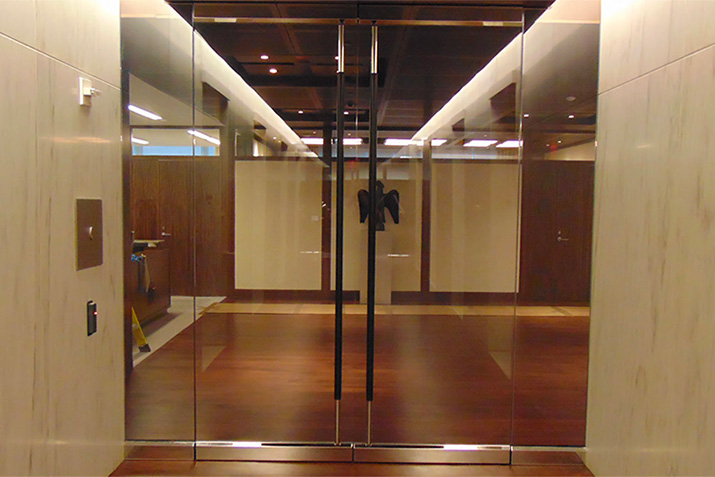 'Frameless' all-glass doors are broad and inviting—practically the standard for modern offices. It's important to know, however, that startlingly few glass door security options both fit and meet aesthetic demands while still providing significant safety.
---
January 25, 2021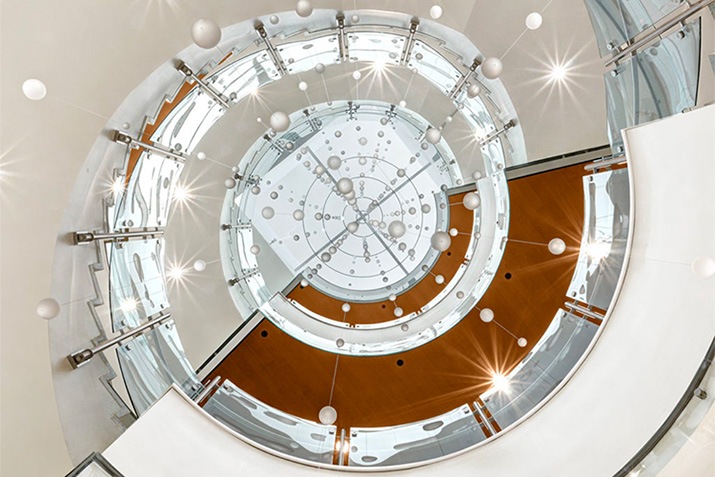 Today's commercial designs are all about organic, open concepts, which means glass elements are in high demand. In addition to enhancing views and creating a sense of openness, glass also promotes daylighting, which delivers health benefits and contributes to energy savings. The growing popularity of glass is great news for glaziers, but it can also be daunting – especially when it comes to specifying railings. While glaziers know glass, a high-performance glass railing system requires specialized engineering that may fall outside of their comfort zone or realm of expertise.
---
January 18, 2021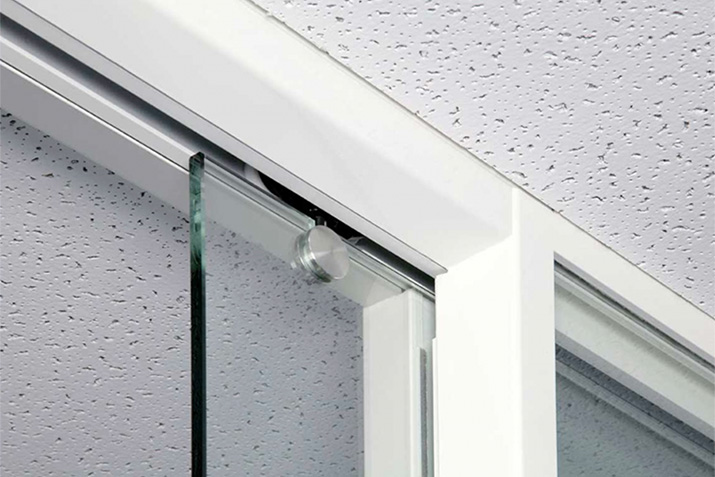 A modern office deserves modern conveniences. One modern convenience is the integration of tempered glass sliding doors. Offering safety and ease of installation and use, sliding glass doors are the perfect choice for your office.
---
December 21, 2020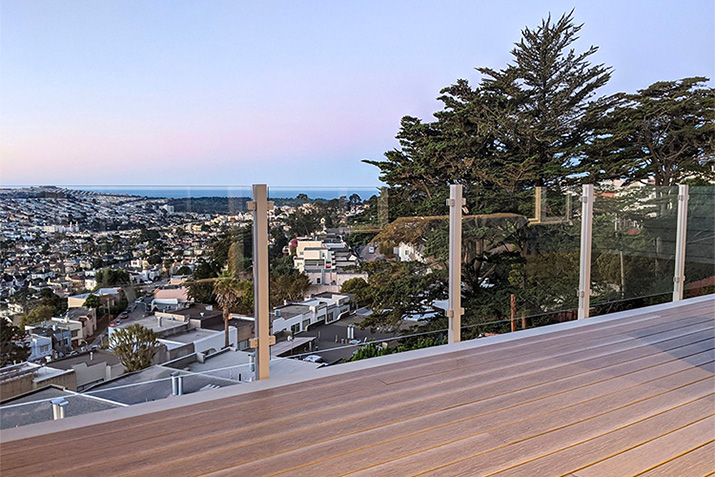 This silver aluminum glass railing shines bright on this deck in San Francisco, CA. The eGlass Vision™ system inspires an impression of invisibility. Offering the least obstructed view, this frameless glass railing option replaces traditional horizontal rails with small clamps attached to aluminum posts. Designed to keep your focus on an uninterrupted view, eGlass Vision™ removes the top and bottom rails from your sightline, creating a view that is like having no railing at all.
---
October 9, 2020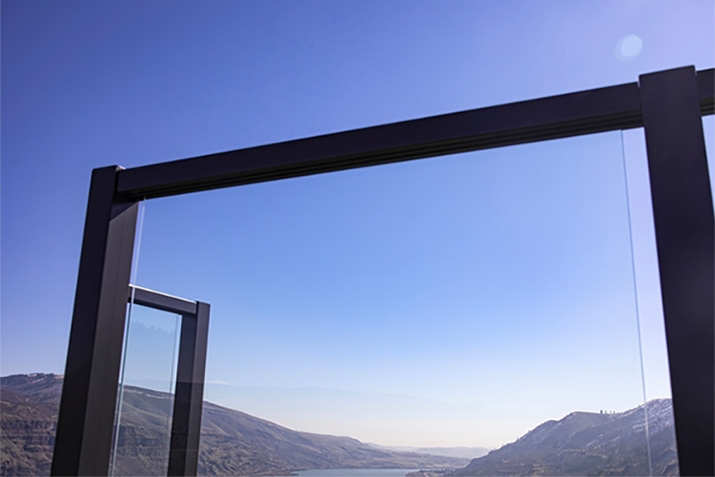 Offering the thinnest top rail and combined with full glass panels, this glass railing option focuses on a beautiful view while providing the safety and durability you expect from a railing system. Designed for minimal view obstruction, eGlass Element™ exposes the splendor of your surroundings, whether indoors or outdoors.
---
July 6, 2020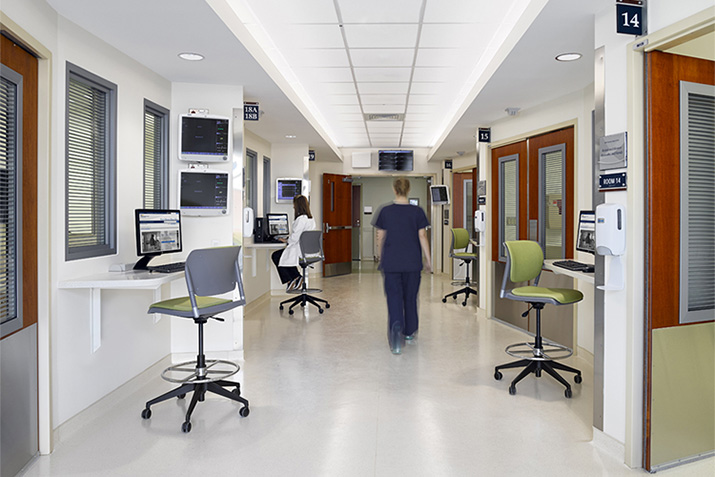 Unicel Architectural, a manufacturer and installer of louvered glazing, skylights, and aluminum and timber curtain walls, already let you know about Vision Control®'s new high-density polyethylene thumbwheels containing Gaia 704 antibacterial compound, which controls or retards the growth of bacteria, fungus and algae.
---
June 19, 2020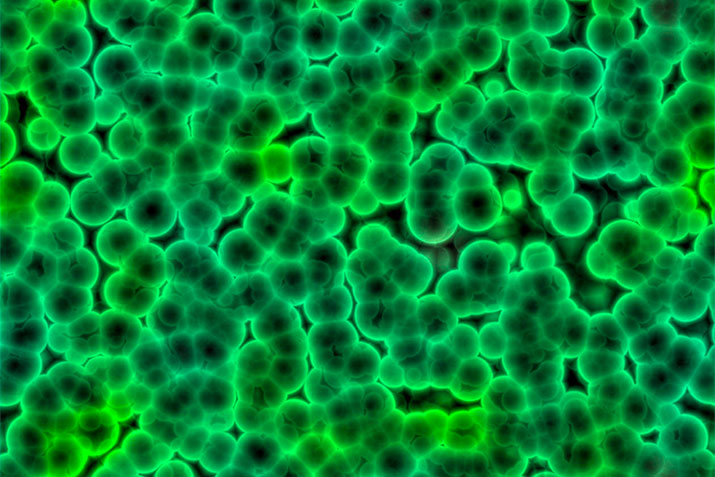 As a result of the recent global corona virus outbreak we are increasingly being asked by customers about whether Ray-Bar's various anti-microbial technologies are effective, specifically against the Novel Corona Virus also known as COVID-19. Ray-Bar is proud to introduce the following anti-bacterial/anti-microbial options to all of our X-Ray Protection/Radiation Shielding product lines listed here: Easy-Clean X-Ray Glass, Telescopic X-Ray Window Frames, X-Ray Control Barriers, Shielded Hollow Metal Doors and Pre-Finished Modular Retrofit Shielding Panels.
---
June 10, 2020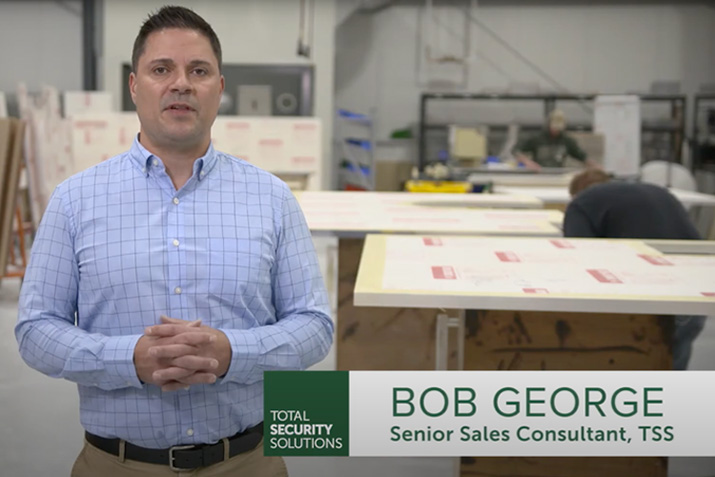 As Total Security Solutions CEO Jim Richards explains, "There are many different ballistic glass products out there, all of them are fit for different applications—and most people call all of them 'bulletproof glass,' no matter what they are." Specifically, there are five types of bulletproof glass commonly sold today. You …
---
April 17, 2020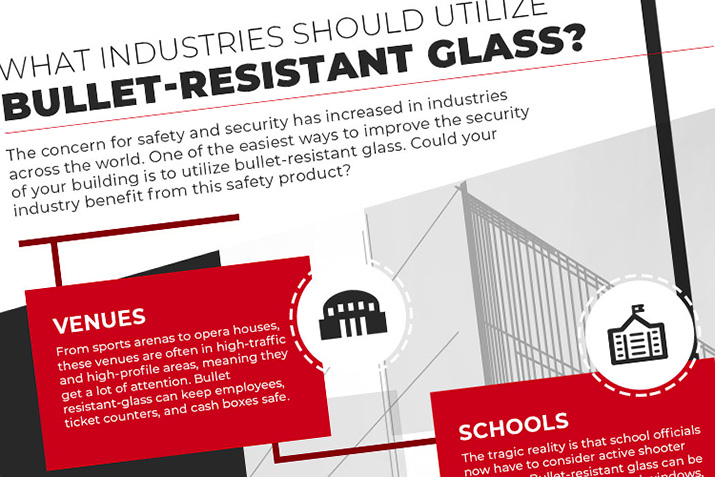 Security has always been a concern for architectural designers and project managers, but the nature of the threats that we face in both private and public spaces is changing rapidly. This has mandated a wide-scale reconsideration of how we protect ourselves at home, at work, or in any of the places where we may be vulnerable to firearms-related offenses. Ensuring that buildings are equipped to deal with real and perceived security threats falls under a key part of the architect's role: To ensure both functionality and safety of a premise's design and structural elements. This increasingly means considering bulletproof products such as reinforced windows and forced-entry resistant doors when looking for contractors.
---
March 16, 2020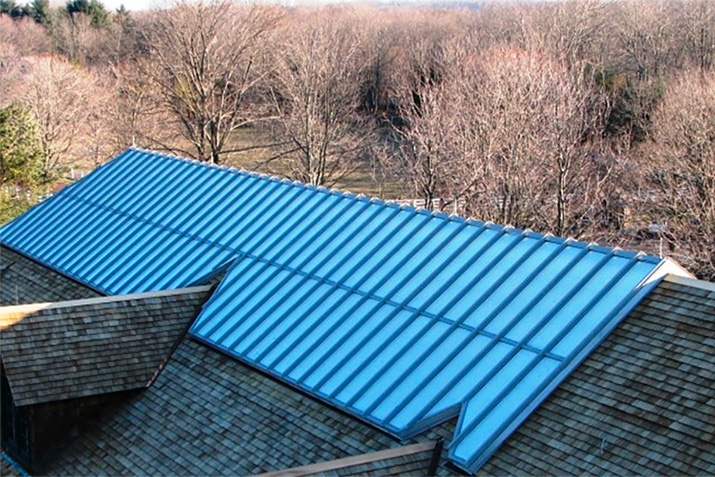 Glass skylights can provide many benefits when installed in commercial buildings. There are various criteria to consider when planning a glass skylight installation; however, we've highlighted the five points that we believe are the most commonly overlooked. While a successful glass skylight installation involves the culmination of efforts by an experienced team, considering the following items in the early stages of project development can help get your skylight installation in the right direction.
---
January 29, 2020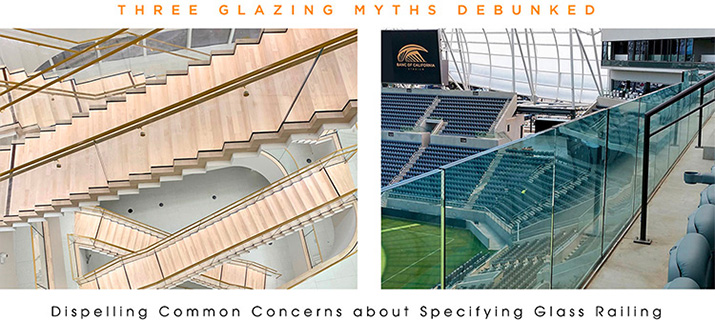 No matter how you look at it – or through it – glass is a clear choice among today's commercial architects and designers. From sports arenas and shopping malls to hotels and healthcare facilities, savvy specifiers are increasingly looking to incorporate glass into their project designs, presenting a huge growth opportunity for contract glaziers. However, taking on projects involving glass railing can be challenging due to lack of familiarity with the products or concerns related to engineering.
---
September 16, 2019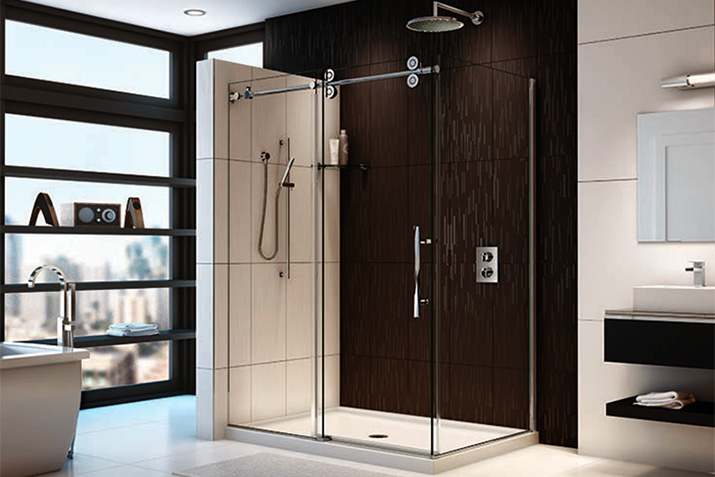 This article gives you practical shower remodeling tips to reduce mistakes to save you time, money and aggravation. So, let's look at 11 shower remodeling mistakes you don't need to make.
---
September 6, 2019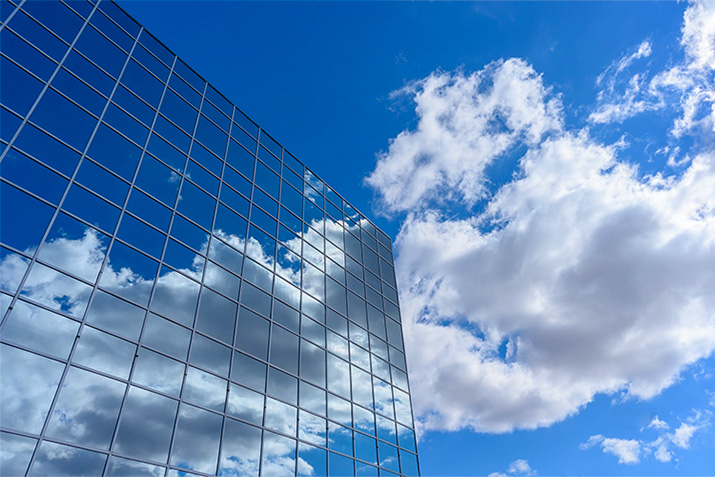 Glass has been used as the portal to the outdoors for centuries. But times are changing.
In a world where we are becoming more aware of the environmental effects of structures and people's changing needs, architects and other industry professionals are concerned that glass no longer adequately addresses these key building factors:
Daylighting
Energy Efficiency
Aesthetics
Safety & Privacy
---
August 5, 2019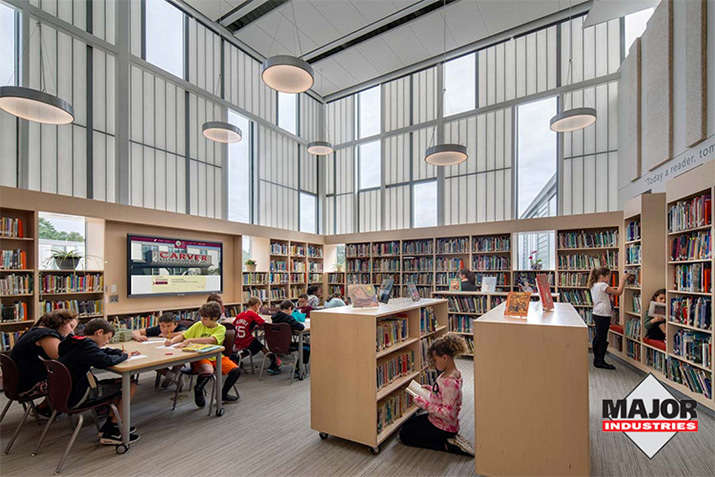 When Carver Public Schools in Massachusetts looked to replace two older school buildings with one new facility to house students pre-K through 5th grade, they sought the help of HMFH Architects to assist them in designing an energy-efficient and vibrant learning space. What resulted is the new Carver Elementary School, a more than 110,000 square foot learning space that was 1 of 5 schools nationwide to receive a "Citation of Excellence" from Learning by Design Magazine.
---
July 5, 2019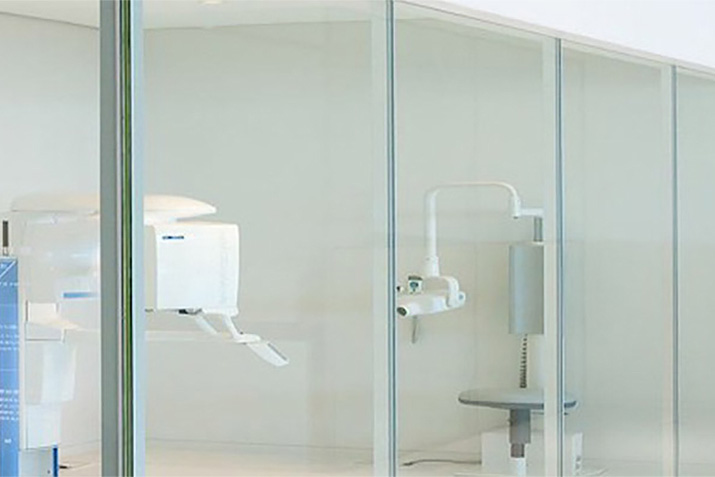 In the last article I wrote on radiation shielding materials, I explored the factors considered by a shielding materials expert when designing radiation shielding. Lead, tungsten and concrete are all very effective forms of shielding that have their advantages and disadvantages, but one downside is these materials are not transparent. Two common and reliable solutions to provide safe shielding; lead X-Ray glass or clear lead acrylic. Both materials are used in variety of application, from windows in NDT Rooms, to small windows on tungsten vial shields. While lead glass is typically more economical than acrylic, both are materials that a shielding materials expert would consider when presented with the challenge of creating transparent radiation shielding.
---
July 1, 2019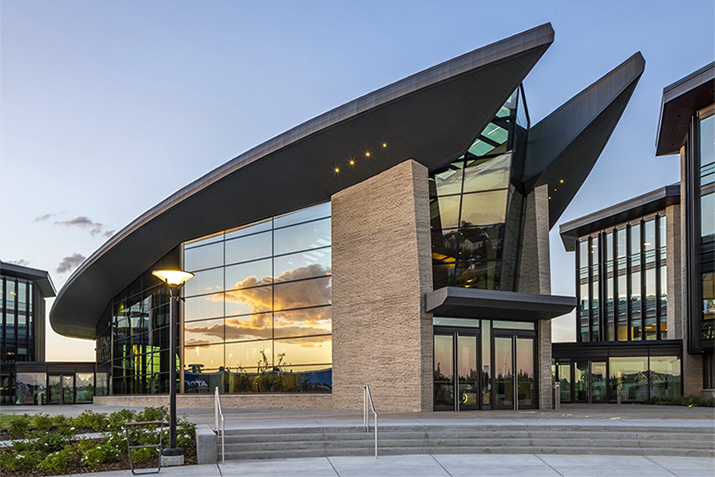 If you are looking to design a building with uninterrupted all-glass façades AND high thermal performance, Clearwall™ Curtain Wall is the solution. This 4-sided Toggle Glazed (TG) system* delivers this desired aesthetic for low-rise applications.
---
June 7, 2019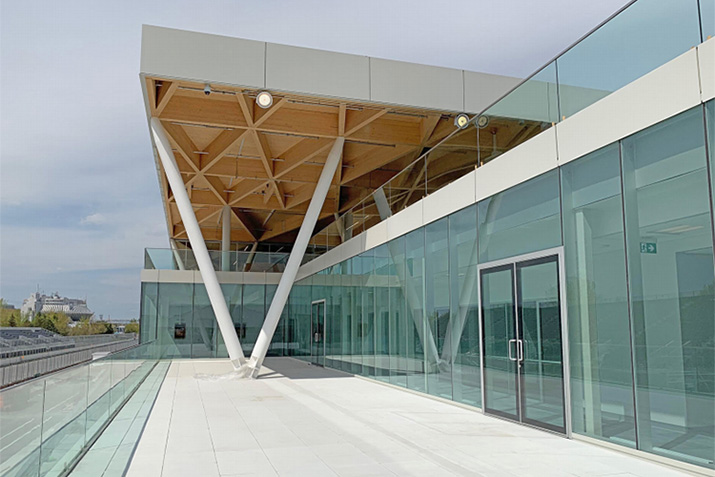 Learn how Unicel Architectural Corp. supplied 32,500 sq. ft. of curtain wall, skylights and 1 km of glass railing during a tight 10-month construction timeline over a tough winter season.
---
May 15, 2019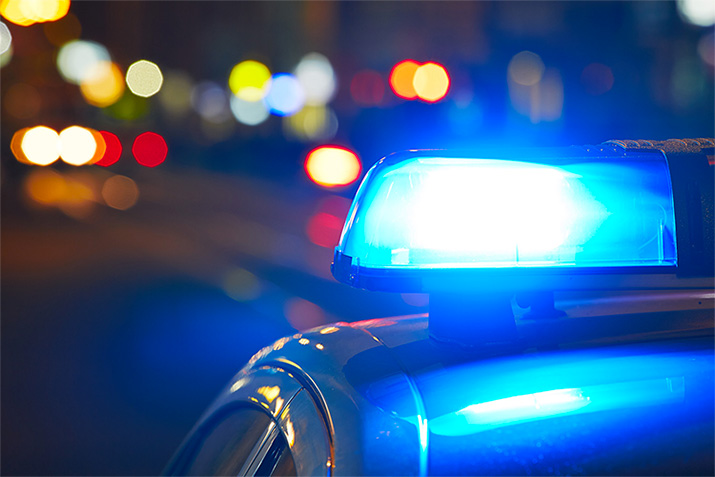 Shooter response training has changed as law enforcement and emergency first responders have learned from more experience. In this article and video you will learn about the changes that have been made to Active Shooter Response.