architecture - engineering - construction

Glass
---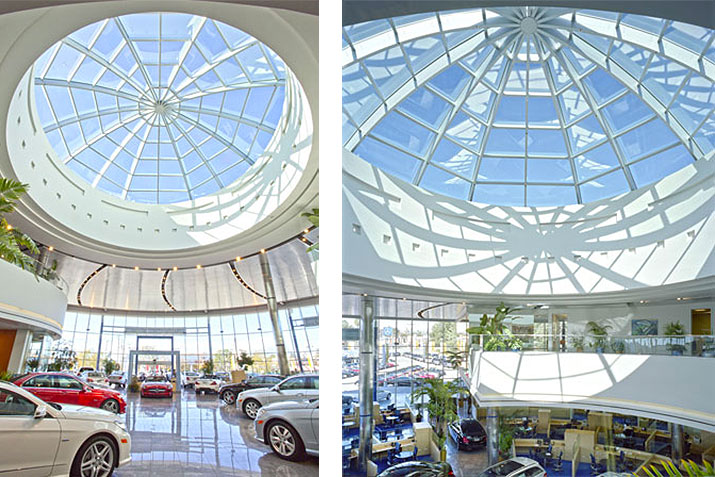 Photos by: William Lemke, courtesy of Super Sky Products Enterprises, LLC
Commercial Architecture magazine's June Portfolio section spotlights California's Keyes Automotive's European Mercedes-Benz Dealership featuring a 41-foot-diameter, custom, multi-slope dome skylight from Super Sky Products. The skylight's durable finishes were applied by Linetec to the aluminum framing members. The finish's resilient attributes combine with daylight, views and high thermal performance glass to support the dealership's LEED® Silver certification.
Designed by Dennis J. Flynn Architects, the skylight's fluid, circular design respects the European Bauhaus style of design highlighted within the dealership's 235,000-square-foot facility. "As a highly visible property on a major auto row that is back-dropped with residences, the owners' sensitivity to the community and commitment to state-of-the-art design solution is displayed in this space," described Flynn. "Crisp finishes complement a work environment that's equal parts private office and open plan, reflecting the Mercedes-Benz brand in all aspects."
Contributing to the project's sustainable, high-end design, Linetec applied a 70 percent PVDF resin-based, two-coat, liquid, mica coating to the skylight's aluminum framing members. The resulting appearance emphasizes a metallic aesthetic befitting the luxury vehicles sold and serviced at Keyes European.
These painted coatings applied by Linetec meet the American Architectural Manufacturers Association's (AAMA) 2605 industry standards, as well as minimize buildings' maintenance costs and maximize long lifecycles. These high-performance architectural coatings exhibit outstanding resistance to humidity, color change, chalk, gloss loss and chemicals. They will ensure a long-lasting, durable finish. No other coating system can withstand the rigors of nature and time like these."
As a recognized, innovative and environmentally responsible finisher, Linetec captures the liquid paints' volatile organic compounds (VOCs) content using a 100 percent air capture system and safely destroys the VOCs with a regenerative thermal oxidizer.
Enhancing thermal performance for Keyes European, the skylight's 1,650 square feet glass area is composed of insulated glass units with Solarban® 80 low-e coating. The low-e coating mitigates unwanted solar heat gain that could make potential car buyers uncomfortably warm and minimizes fading caused by damaging ultraviolet radiation.
Click here to learn more about Linetec's durable painted finishing.
Company: Linetec
Source: https://linetec-blog.com/2017/07/03/in-the-news-keyes-dealership/
Tags: Aluminum | Finishes | Glass | Roof | Windows
---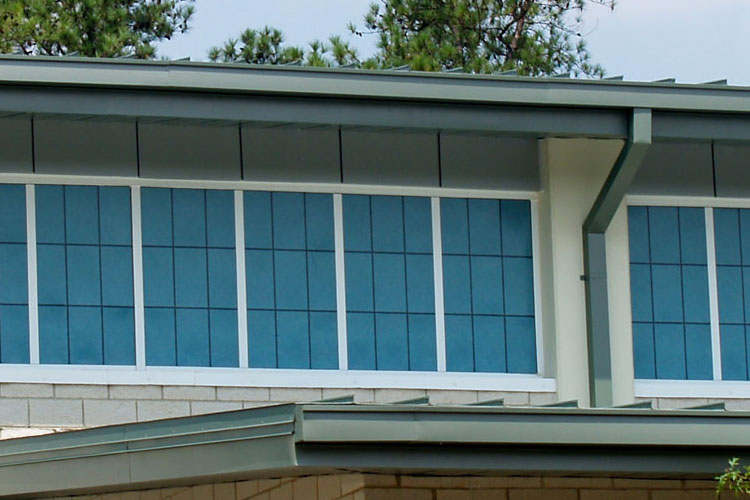 Clima-Tite™ is a unique – the only translucent panel system that features pultruded fiberglass framing for better thermal performance, including enhanced u-factors and better condensation resistance than similar aluminum-framed systems. Pultruded fiberglass also has other advantages over aluminum, including dimensional stability and increased corrosion resistance, making it a great choice for harsh environments like water treatment plants or aquatic facilities.
Utilizing fiberglass is also an environmentally sound choice, as the manufacturing processes require less energy compared to aluminum (about 80% less embodied energy). The main ingredient in fiberglass is silica sand, an abundant natural material. Once properly converted, the inherent thermal properties of fiberglass allow for reduced HVAC loads, which can reduce greenhouse emissions. The long lifespan and durability of pultruded fiberglass also delivers reduced costs over the lifetime of the system.
Company: Major Industries Inc.
Product: Clima-Tite™
Source: http://majorskylights.com/products/wall-systems/clima-tite/
Tags: Design | Energy | Glass | Lighting | Windows
---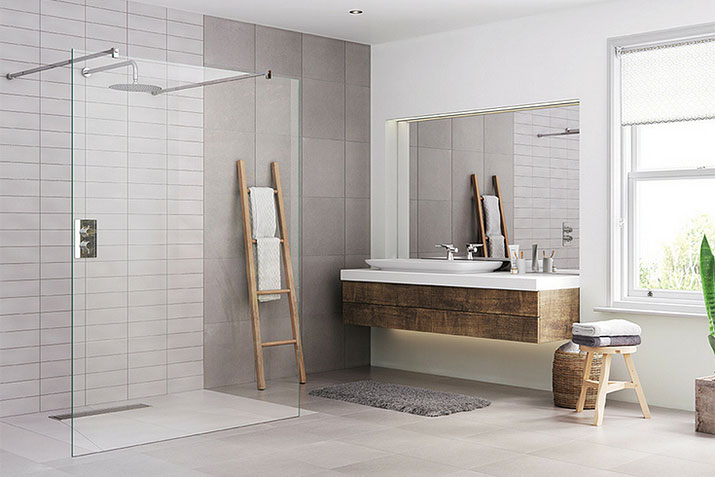 Do you have the June Cleaver throwback bathroom from the 1950's, or maybe a "modern" 1970's bathroom straight out of the Brady Bunch which are practically begging you for an update? You know you NEED a bathroom makeover so bad. It doesn't take a rocket scientist to see the partially rusted tub, pealed wood on the window sills, tired old particle board vanity with a dated laminate top and nasty looking grout in the shower. The challenge is what are you going to do about it? How can you update for a fresh, clean look? How can you create an updated design which takes advantage of the latest trends and keeps maintenance to a minimum? The question is – where do you start?
One excellent place to begin is to take a sneak peek at the products which are hot today and include these elements in your remodeled "bathroom of tomorrow." In this article, we'll look at what's hot now. At the end, I'd love to hear your "Siskel and Ebert" – two thumbs up or thumbs down on these products.
Hot bathroom trend #1 – A stylish one level "life-cycle" bathroom
Are you staring down the challenge of having to put Mom or Dad into an assisted living facility because their step-filled single family home has become too dangerous? The reality is most homes are not designed to work for family members as they age.
One important trend is the use of one level bathrooms which eliminate the curb to get into the shower. Not only are shower systems which eliminate the curb hot, they are also sleek and minimalist (more on this trend later) and will save you money, big-time.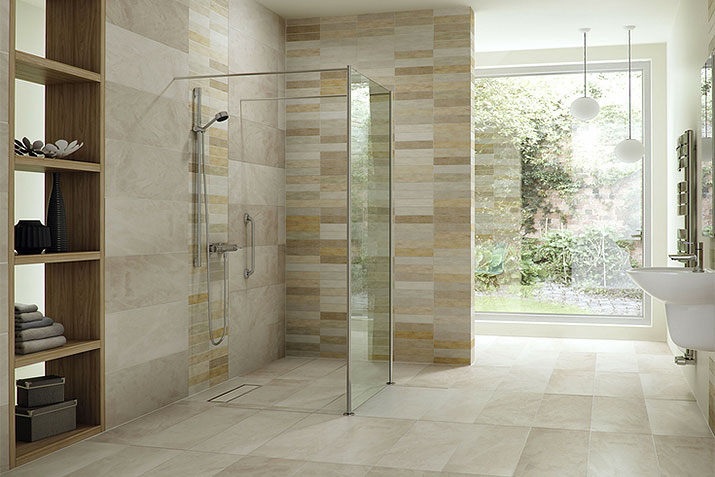 If you've priced assisted living facilities for Mom you know they can cost easily $3,000 to $4,000 per month. Using an "aging in place" (I hate this term – but many people use it anyway) solution like a one level shower can be sleek, stylish and eliminate the high cost of assisted living facilities.
Hot bathroom trend #2 – Geometry is in …at least for tile showers and bathrooms!
Although I'm sick guy and actually love math – I still didn't "get" geometry. I don't know, maybe it's because I'm more of a linear guy than a rhombus dude? Putting mathematics aside, one hot bathroom look for 2017 are geometric tiles. These tile designs not only add a feeling of shape and style – they also add drama to the bathroom. Fun and functional – that's cool.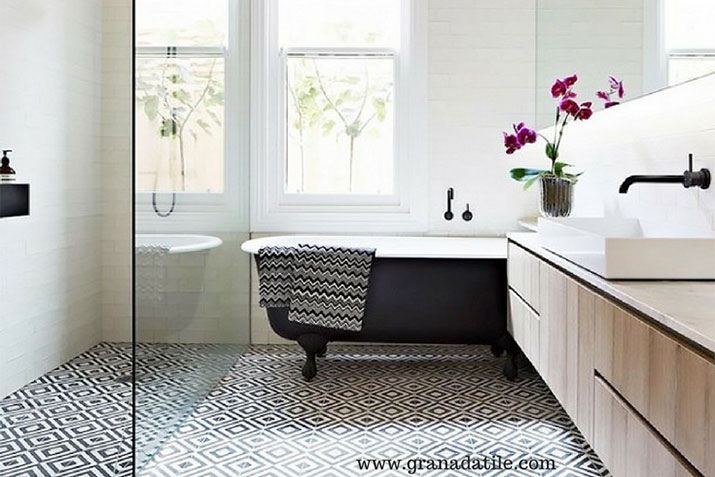 Hot bathroom trend #3 – Drop in tubs are way out – larger showers are in
Nothing says, "big hair and 1980's shoulder-pad-like" look in a bathroom quite like a gigantic soaking or jacuzzi tub in the corner flanked by two massive windows. I know this look was hot – but today you need to stay away from it like the plague. Our schedules are too crazy for bathing. Today's it's all about expansive showers. We are seeing people blow up their big tub and small 3' x 3' stand up shower next to them and convert to large open walk in showers. Sleek frameless glass walk in showers are all the rage – and why not – they get rid of the cost of the door and take less time to clean (a double benefit to you).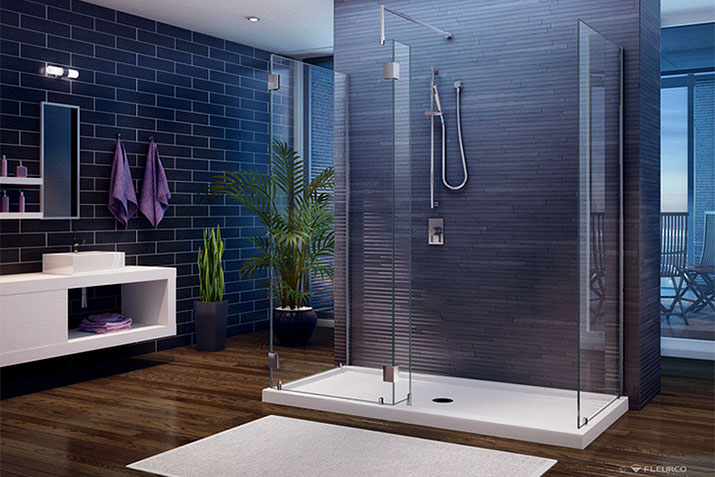 Hot bathroom trend #4 – Let's heat things up a bit
If you live in the Midwest (I live in Cleveland, but also spend a lot of time in Columbus) you know stepping on a cold bathroom floor in January can make a man out of you – even if you're a woman! It used to be in-floor heating systems where difficult to install and un-godly expensive. Not so today.
Electric and hydronic (liquid) in floor heating systems are no longer super pricey. You can even extend the heating systems inside the shower space – but I'll warn you may never want to get out if you do this! Another fun idea is to add a towel warming rack to pamper yourself when you get out. This bathroom will be so relaxing it may make you late for work!
Hot bathroom trend #5 – Sleek and minimalist is the thing
In the late 90's and early 2000's it seemed the fancier the woodwork in your bathroom the more style points you got. Today – bathroom trends are the opposite of our lives. The goal is to create a sense of calm, serenity, a place which flows with minimalist lines and flair. Think about using wall mounted cabinetry and the one level floors mentioned in trend #1 above. Take complexity out of your bathroom. You already have enough complexity in your life to go around. This will make your space stylish and simple to clean.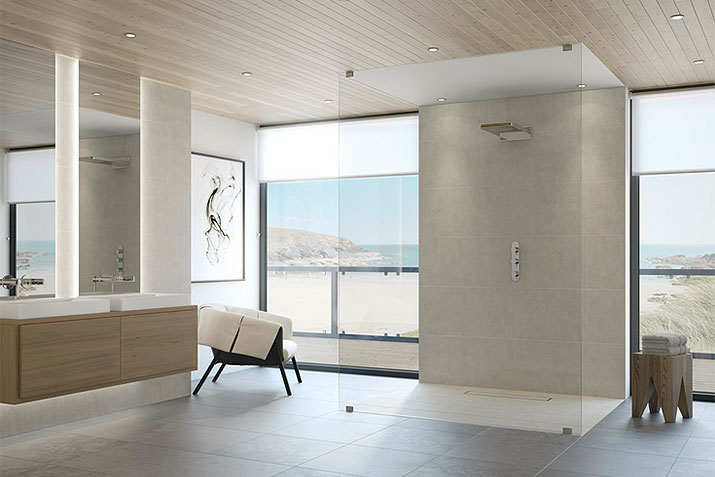 Hot bathroom trend #6 – Think like "Mrs. Thomas and her English muffins" and use your nooks and crannies
Home sizes historically kept getting bigger until the bottom fell out of the housing market in the late 2000's. Now people are stepping back and evaluating how big a house they really need. Groundbreaking books like The Not So Big House by Susan Susanka and formerly weird concepts like tiny homes, container homes and houseboats are becoming a larger part of the housing market. So, what does this have to do with Mrs. Thomas her filling the nooks and crannies of her English Muffins?
As homes have begun to scale down we now need to be more thoughtful per square foot and every room including the bathroom. This trend has certainly "washed over" (bad pun intended here) into the bathroom remodeling projects. In 2017, you'll continue to see inventive soap and shampoo niches (like this one illuminated with LED lighting below) which use the "inside of walls" to create space in a bathroom.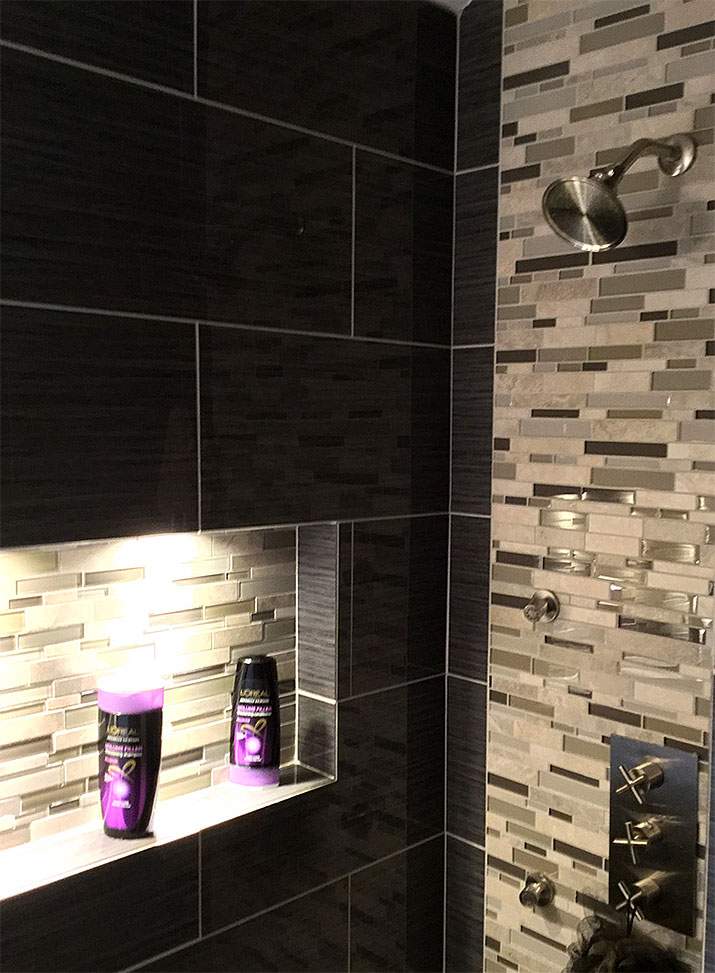 The movement to level floor showers (see trend #1) has helped because our bathrooms are now – more than ever – thought of as one continuous space. Fun ideas including vanity mirrors built into the wall are another example of superior space planning which in the years of the McMansion would have had no place – but are hot today.
Hot bathroom trend #7 – Maintenance is way out – luxury grout free shower wall panels are in
Tile looks great the day it's installed. The problem is those doggone grout joints end up sucking up your time cleaning them or needing to schedule a "Grout Dr." to come out to maintain your shower. What's hot in 2017 are cool lines of grout free shower wall products to blow up the grout cleaning challenge once and for all.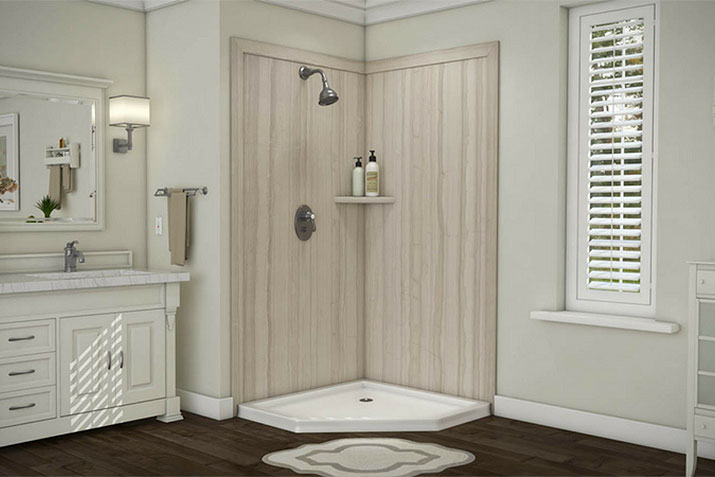 Stylish lines like these high gloss contemporary wall panel system provide the sleek, Euro contemporary (low maintenance) look. 3D wall panels are also getting hot because they add a sense of drama and texture.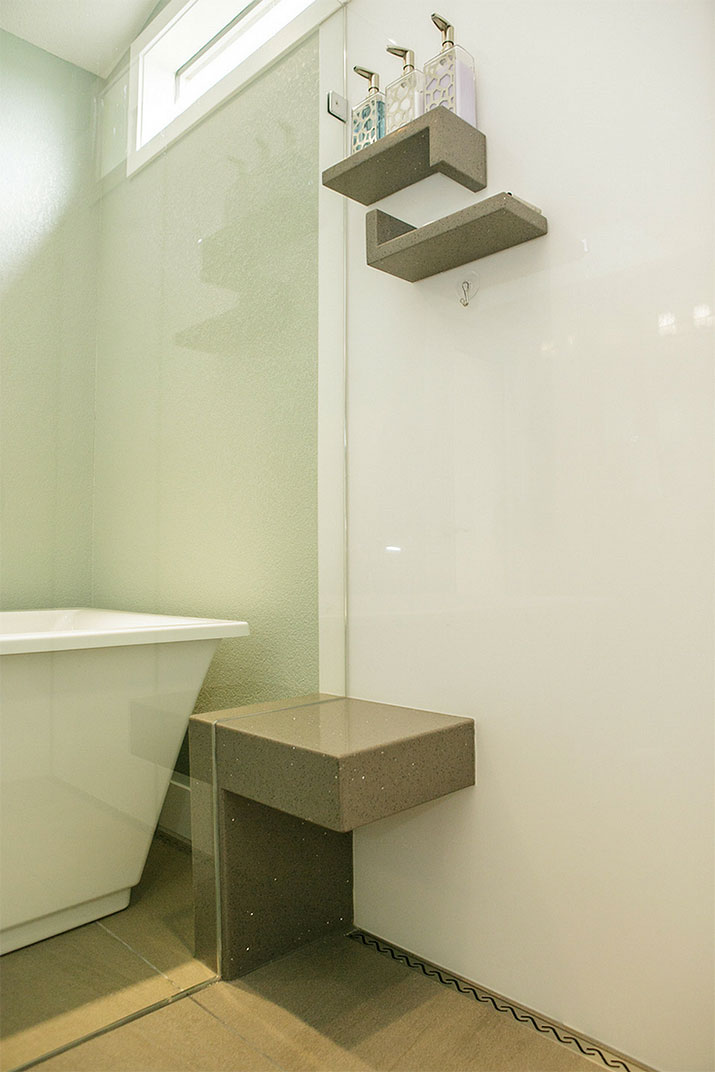 Conclusion
If you're living with your Brady Bunch or June Cleaver bathrooms of yesteryear isn't it time to blow them up for a fresh, clean, low-maintenance contemporary bathroom of today? What do you think about these 2017 hot bathroom design trends? Which do you like? Do you find any to be butt-ugly? Are there other trends you'd like to add? I'd love to see your comments, ideas and thoughts below.
How can I (or a member of my team) help you with these bathroom trends?
I know it can be challenge to put a fun and functional bathroom design together by yourself. That's why I (and the members of my team) would be delighted to assist you through your bathroom remodeling project. Whether you need nationwide factory-direct materials to save some money on doing the project yourself or professional design our Innovate Building Solutions (877-668-5888), Cleveland Design and Remodeling (216-658-1270) and Bath Doctor division in Columbus (614-252-3242) would love to help. Give us a call or click here for a Free Design Consultation.
Follow the Author on Twitter @Mike_Foti or his company @InnovateBuild.
Company: Innovate Building Solutions
Product: High Gloss Acrylic Wall Panels
Of: Mike Foti
Source: http://blog.innovatebuildingsolutions.com/2017/05/20/7-hot-2017-bathroom-design-trends-cleveland-ohio/
Tags: Floor | Glass | Interior Design | Wall Panels
---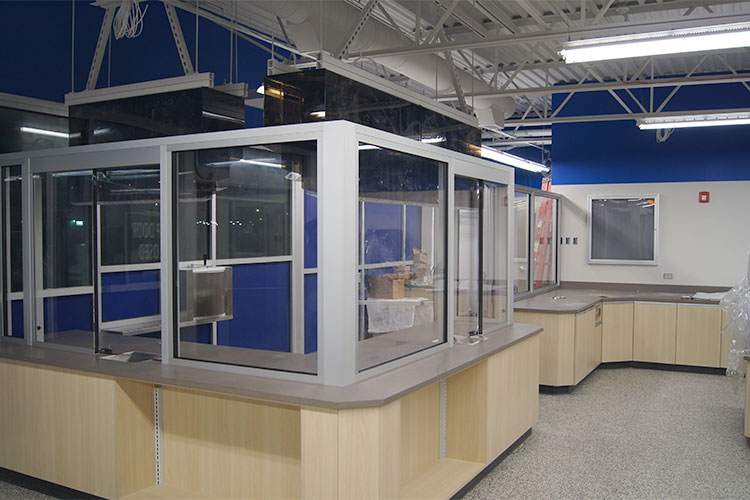 Glaziers are often a little reluctant to pick up that first bullet proof security job. The stakes are high, the materials are expensive, and the challenges are unknown. Total Security Solutions has helped many glaziers work with bulletproof glass. Let's start with three basic concepts that are important to know:
It's Not Glass and It's Not Bullet Proof:
Given enough bullets and enough time, a determined attacker can chew through anything. "Bullet proof glass" is technically "bullet resistant" and either made from monolithic acrylic or laminated layers of polycarbonate and tempered glass.
It's Not a Window—It's a System:
A bullet resistant window that can stop an AR-15 is useless if it's mounted in a wall that can't stop a .22 pistol. Take five minutes to check out our crash course in bullet resistant barrier systems.
Help is Out There:
We are ready to support you through the installation—but these three tips will prevent common problems.
Total Security Solutions Helps Glaziers Work With Bulletproof Glass
Most glaziers are reasonably hesitant to bring in a big, full-service national bullet proofing company. "A client who needs a barrier is good business for a local glazier," Total Security Solutions CEO Jim Richards explains. "Bullet resistant materials are a cut above the norm. Naturally, that glazier is worried that we want to take their customers. I totally understand where they're coming from. But this is where we started: Supplying contractors and glaziers. We're very comfortable pulling way back into the shadows so that glaziers can really shine."
Once you gather all of the information from your client (primarily measurements, but also some insights into how the facility is used, peak business hours, known or suspected threats, etc.) Total Security Solutions will design and engineer a barrier system customized for your client. TSS can help you with approval drawings for permits, managing client expectations, and so on, so you can get this job moving.
Once approved, Total Security Solutions will supply you all the materials, fully fabricated, as assembled as possible. "We design it and fabricate it, you install it, you reinforce that good relationship with your client. We'll supply you exactly what you need, and help you behind the scenes to get that install perfect. If anything comes up, any uncertainty, you give us a call."
How to Score a Big Win with your First Bullet Resistant Barrier
The important thing to remember is that regardless of how much experience you have, it is almost always the first time the client has considered adding a bullet resistant barrier to their business. They're on uncertain ground, and this is a big investment.
"This is a great time to prove to them how valuable your expertise is," Jim adds. He has found that most clients come in asking for much more bullet proof security than they need. They also may make very specific requests for very specific components. Do they really need that style door or window, or is it just what they've seen elsewhere? "Start the conversation with questions," Jim suggests. "Why do they want a BP barrier now? Has there been a local incident? What type of incident are they concerned about?What types of firearms? Why?"
These questions will give you a sense of how extensive the barrier needs to be and what UL level they should consider.
"Then follow up with some questions about their business: What needs to pass through the barrier? Will it be paperwork or cash or packages? How often do staff need to come and go? Finally, ask 'What do you want to accomplish?' Because sometimes I find that folks are limited by what they already know," Jim notes. "For example, they may have a 12-foot long hole in the wall, with the idea they'll install three transaction windows in there and fill between. In that conversation, I'd say 'Well, what about making it a single system?'And they ask 'What's a system?' Because most end users aren't familiar with custom systems, and the fact that a system can be more cost effective than cobbling together a bunch of generic drop-in pieces—not to mention more secure and look a lot nicer."
Company: Total Security Solutions Inc
Product: Ballistic Security Glass
Source: http://www.tssbulletproof.com/glaziers-working-bullet-proof-glass-client/
Tags: Glass | Safety | Security | Windows
---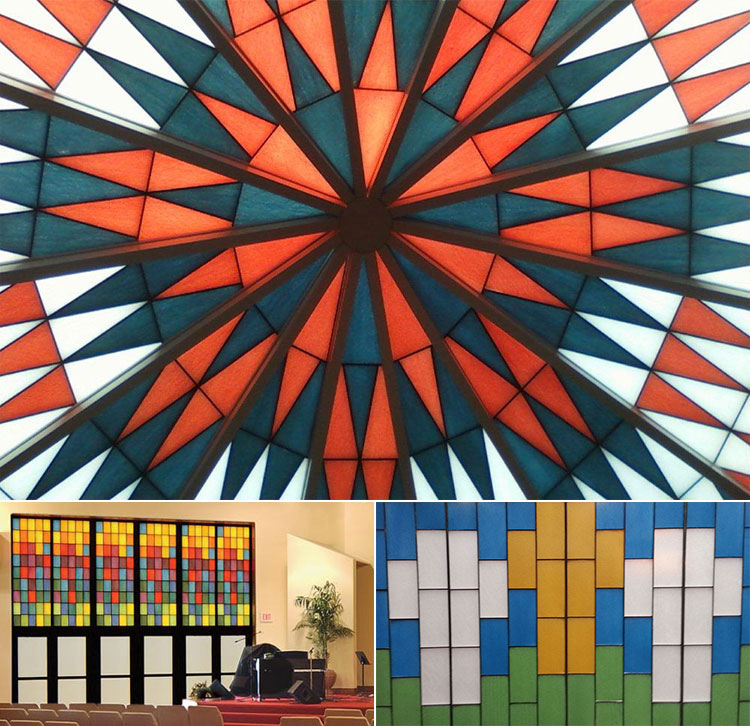 Looking for a unique way to incorporate school colors into an education facility, or perhaps you're in need of high thermal performance but want the look of stained glass? Energize your next daylighting design with Spectra-Grid™.
Spectra-Grid™ is an eye-catching color option for our translucent panel systems. Colored insulation allows for bright, vibrant hues to illuminate when light shines through. You can even light the panel from behind during nighttime hours to announce a building's entryway, or mix in company logo colors in a lobby skylight – the options are nearly endless. If you are looking to create a certain mood or colorful visual effect for your building, Spectra-Grid™, with its limitless color options, offers a cost-effective solution.
No matter what the function – from retail space to athletic facilities – let Spectra-Grid™ bring the power of color to your next design. Call 888-759-2678 or email sales@majorskylights.com for more details.
Company: Major Industries Inc.
---
The University of Iowa (UI) School of Music in Iowa City celebrated its 110th anniversary with a new home – Voxman Music Building. Designed for durability, sustainability and the highest acoustic performance, the 190,000-square-foot project features energy-efficient window and curtainwall systems, finished and thermally improved by Linetec.
The $152 million project is targeting LEED® for New Construction Gold certification. Wausau Window and Wall Systems worked closely with glazing contractor Architectural Wall Systems (AWS) to achieve the design intent set by LMN Architects and Neumann Monson Architects. Mortenson Construction served as the construction manager agent for UI.
"We conceived the project as a means of extending the public space inside the building, and we do that with glass," says LMN partner and project designer, Stephen Van Dyck, AIA, LEED AP. "The window systems play a huge part in creating the visual transparency between the public and the performers, and the connection from within and without of this educational and cultural building."

A Highly Anticipated New Home for the UI Music Department
Linetec Products Support Project Sustainability Goals
Linetec's thermal improvement services and anodize finishing are key contributors to the window systems' energy-efficiency, visual appeal and durability. The anodizing process produces a uniform, hard and protective finish. Linetec's anodize finishes meet the requirements of the American Architectural Manufacturers Association's stringent Class I specification standard, AAMA 611-14. The anodized aluminum resists the ravages of time, temperature, corrosion, humidity and warping, for a long product life cycle. Anodized aluminum may be specified with recycled content and is 100 percent recyclable.
In addition to durable finishes and recyclable materials, Linetec helped support the project's sustainable and LEED goals for thermal comfort and energy performance by providing thermal barriers for Wausau's window and curtainwall systems. Both Linetec and Wausau also are considered local suppliers, as they are located within a 500-mile radius of the UI campus.
Unique Window Systems Supply Natural Light and Visual Appeal
Wausau's systems also contribute to recognized benefits of daylight and views, and are a main visual feature of the building. The glass exterior begins beneath the concert hall, wraps around and up to the main entrance and continues over the recital hall, reaching heights of 50 feet.
One of the building's most unique features is the shingled curtainwall – called the "warped wall" – overlaying the recital hall, in which construction of glass and metal units are layered to create an undulating slope that appears to gently pour from the building's roof to its base. On the interior, a central atrium funnels natural light into the building.
Large-scale window systems are rare in musical spaces due to the acoustic challenges they can present. By choosing a low-iron glass with a low roller wave and horizontal orientation, acoustic and visual distortion was minimized. Large panes of glass diffuse sound at different rates on the shingled wall, and tall and narrow windows minimize vibration throughout.
Prioritizing Acoustic Isolation and Performance
"The acoustic requirements for this project are of utmost relevance," emphasizes Chucho Loria, AIA, with Neumann Monson Architects. "Wausau's team looked at the various conditions in the project. They developed details, during the shop drawing review process, to ensure that their system would meet the design intent of the project. It was apparent in those details that Wausau was taking efforts to make their system interact with the rest of the building."
"We prefer an integrated, whole building approach – especially with complicated engineered projects," says Doug Laffin, Wausau's architectural sales representative serving Iowa. "Our systems may be just one part of that whole, but everything must work together to successfully deliver the architectural vision and critical functionality."
"Almost all of the job was acoustically sensitive," says Lee Ebel, AWS project manager. "Wausau produced and had tested units that verified the system would meet the necessary STC ratings at the corresponding frequency."
Sound Transmission Class (STC) is a single-number rating system for acoustical performance, where a higher number indicates better performance. The Voxman Music Building's design specified an STC 55, which is suitable for blocking loud noises including musical instruments.
"Almost every room is acoustically isolated," explains Van Dyck. "This means that instead of the usual one wall, one floor between each room, there are two or three walls and two floors to separate most of the rooms and keep sound from transferring between them. We're also trying to keep the sound from passing from the outside into the building's interior. The windows are a big part of that equation."
Adding glazing mass, increasing air space and improving damping by the addition of a laminated interlayer achieve improvement in acoustical performance. Of course, maintaining an airtight assembly to reduce "flanking" noise is critical, especially at high frequency. All three approaches were used to meet the acoustic requirements of the Voxman Music Building.
"The goal was to have virtually no outside noise in the recital hall," says Randy Arneson, Wausau's senior estimator on the project. "There's 5-inch airspace between the inside and outside glass lites of our curtainwall to decrease sound transmittance. For the majority, we used Viracon's 1-5/16-inch OptiWhite laminated, insulating, specialty glass."
In the concert hall, the glass was glazed into the window system's interior-facing plane with a 3-inch airspace. On the exterior-facing plane, electrochromic SageGlass was installed. Electrochromic (EC) glass darkens or clears when a low-voltage DC current is applied. Wausau incorporated the necessary wiring paths to connect the windows' EC glass with a user-controlled switch. This enhanced functionality allows the faculty and students to reversibly control the sunlight entering their space and to maintain their outside view without shades or blinds.
"Wausau provided these elegant, tall, thin windows with EC glass. They're really cool. When the windows are turned 'on' and tinted, they produce this really nice, diffused light," says Van Dyck.
"They're very narrow – some are only 1 foot wide, but 40 feet tall. The smaller span actually helps with the acoustics. The stiffer it is, the less it wants to vibrate."
Ensuring Quality, Durability and Sustainability
Beyond acoustic performance, Ebel says, "The curtainwall system went through a rigorous performance mock-up test at a certified laboratory in Miami, Florida. The testing included air, water, dynamic, structural, seismic racking and thermal cycling."
Ebel adds, "The typical LEED requirements applied to this project." The window systems' high performance features contribute to quiet, comfortable spaces that promote concentration and creativity, as well as a whole building approach to energy-efficiency, daylighting and outside views.
AWS installed Wausau's SuperWall™ curtainwall, custom-engineered fixed and operable windows, and nearly 23,000 square feet of INvision™ 1050i-UW Series unitized curtainwall. Glazing and sealing in a factory-controlled environmental ensures that conditions are maintained to achieve the intended performance required for the project. Shipped one lite wide by one floor tall, the interlocking, pre-assembled units make the system easy to install on the job site. This saves labor, time and associated costs.
The curtainwall and window systems' installation was finished on time and on budget. "It took a lot of coordination between all parties, and modeling of the curtainwall and structure to ensure that everything would fit correctly in the field once installation started," Ebel says.
"Aesthetically, the project looks great," concluded Van Dyck. "But, let's face it, for this project, it wouldn't matter how great it looks if doesn't sound great, too. The window systems are a critical part of that success."
UI's new music facility replaces its former location, which was damaged by the 2008 flood. Programming and schematic design began in 2011. In 2014, the new building's essential structure was completed and the building envelope could begin taking shape.
The Voxman Music Building was substantially completed in July 2016 and welcomed its 450 music students and 60 full-time faculty on Aug. 22, 2016. The grand opening and ribbon-cutting event was held on Oct. 21, 2016. The 324-room space includes classrooms, teaching studios, a library, offices, recital spaces, a rooftop terrace, a 700-seat concert hall and a 200-seat recital hall.
David Gier is the first to serve as the UI School of Music's director in the Voxman Music Building. The facility's name honors one of his predecessors, the late clarinetist Himie Voxman who served as the school's director from 1954-1980. Gier and the School of Music have eagerly awaited their new home.
Company: Linetec
Source: https://linetec-blog.com/2017/05/16/designed-for-resiliency-and-acoustic-performance-university-of-iowa-voxman-music-building-features-linetecs-anodize-finishing-and-thermal-improvement-services/
Tags: Acoustics | Aluminum | Energy | Glass | Wall Panels | Windows
---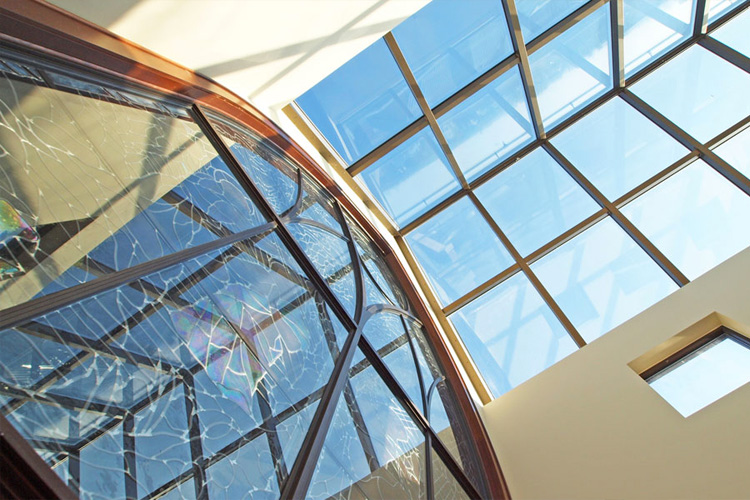 Auburn® skylights are designed and engineered for long-term performance, and make a great daylighting choice if you're looking for the durability and longevity of glass, or simply enjoy dramatic views of the sky. They're available in custom and pre-engineered configurations, and also offer mixed glazing options as they can also incorporate polycarbonate multi-wall and acrylic glazing as well as Guardian 275® translucent panels.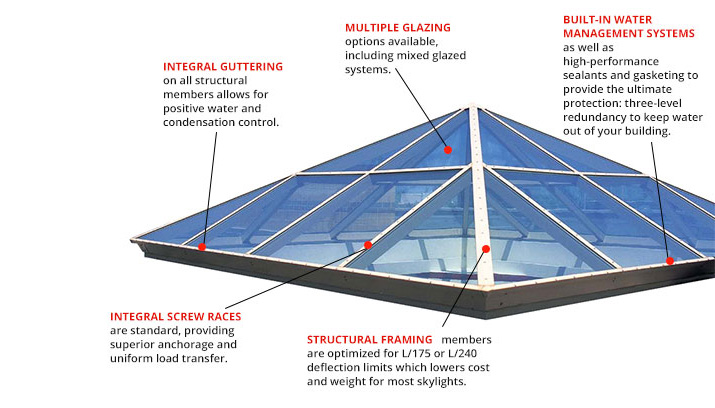 Auburn® systems aren't designed to span the largest openings; they're optimized for small and medium projects and are engineered to save time, money, and weight in your next daylighting project. Auburn® engineered skylights feature high-performance sealants, built-in water management, and time-proven EPDM gasketing to provide the ultimate protection: three-level redundancy to keep water out of your building. In addition, they are available in a wide variety of configurations, along with numerous glass and finish options.
New single slope skylights with thermal strut technology!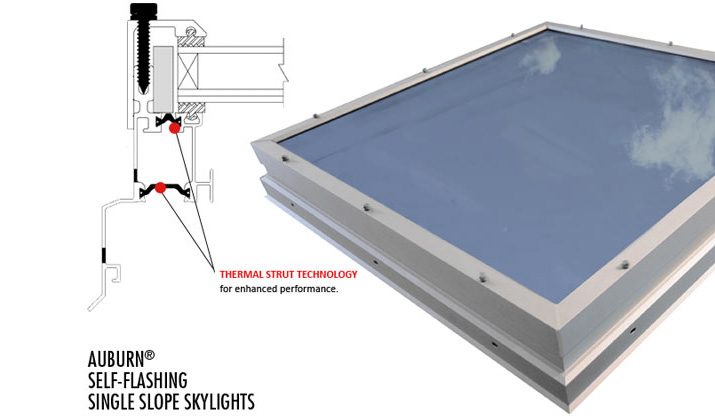 For smaller openings and standard sizes, consider our newly updated Auburn® Self-flashing Single Slope skylights, available in sizes up to 25 square feet, with pre-assembled options available for ease of installation and quick lead times. These new single slope skylights feature thermal strut technology in the framing, allowing for a versatile combination of strength and high thermal performance, including improved condensation resistance and U-factors over traditional aluminum framed systems.
No matter which option is right for you – custom or pre-engineered – Auburn® skylights are a smart choice to solve your daylighting challenges. Other benefits include:
Low initial cost and long-term energy savings.
Possible LEED® credit opportunities for both new construction and existing buildings.
High-performance gaskets and sealants provide peace of mind and long-term performance.
Auburn® Engineered custom systems feature universal "slope adapters" fit all standard rafters, creating precise slope control.
Auburn® Engineered custom systems come standard with tubular rafters that frequently eliminate the need for support tubes.
Guaranteed against defective materials and construction for one year from date of purchase (exclusions apply – see final warranty for details).
Company: Major Industries Inc.
Product: Auburn® Engineered Glass, Polycarbonate Multi-wall and Acrylic Skylights
Source: http://majorskylights.com/products/skylights/auburn/
Tags: Design | Glass | LEED Certification | Windows
---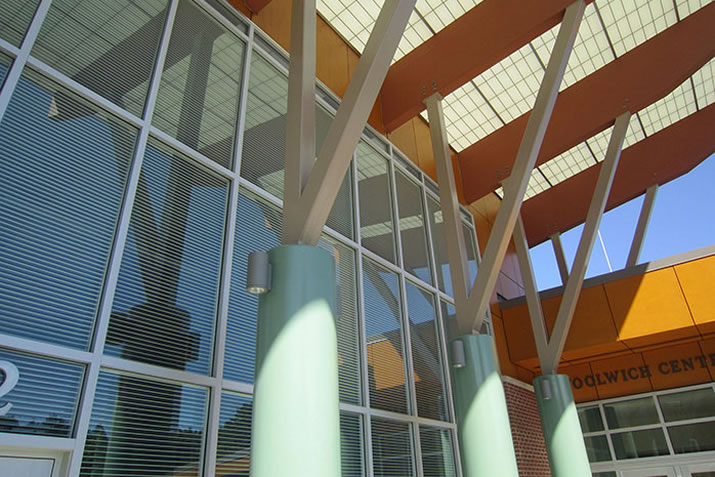 Unicel Architectural, the leading manufacturer of vision and daylight control solutions, today outlined how its Vision Control® integrated louvers can help attain multiple credits for high-performance green building certification through optimized energy performance, thermal comfort, acoustic performance, daylighting and more. Leadership in Energy and Environmental Design (LEED) is the foremost program for the design, construction and operation of green buildings.
"The operation of a building has a huge impact on the environment," said Samuel Doyon-Bissonnette, Engineer and LEED Accredited Professional at Unicel Architectural. "Our Vision Control® integrated louvers can contribute significantly toward obtaining LEED certification and/or improving a building's LEED score. In addition to environmental benefits, this also means long-term cost savings which are especially important for commercial and institutional spaces that need to optimize efficiencies and operations."
LEED is a third-party verification system for green buildings developed by the U.S. Green Building Council (USGBC). The operation of buildings and the construction of new buildings have had a negative impact on the environment for years. As a result, builders and building owners alike are now turning to LEED to assist them in retrofitting and designing more environmentally conscious buildings and communities.
Use of Vision Control® integrated louvers can contribute to LEED certification credits as follows:
Energy & Atmosphere (EA) a. Optimize energy performance (up to 18 points)
Indoor Environmental Quality (IEQ)
a. Thermal comfort (up to 1 point)
b. Interior lighting (up to 2 points)
c. Daylight (up to 3 points)
d. Quality Views (up to 1 point)
e. Acoustic performance (up to 1 point)
Innovation (IN)
a. Intelligent control of louver tilt angle is used for controlling solar heat gain and enhancing daylighting (up to 5 points)
For more information, visit: http://www.unicelarchitectural.com/en/specialty-glazing.html
Company: UNICEL Architectural Corp.
Product: Specialty Glazing
Source: http://www.unicelarchitectural.com/en/specialty-glazing.html
Tags: Glass | LEED Certification | Window Shades
---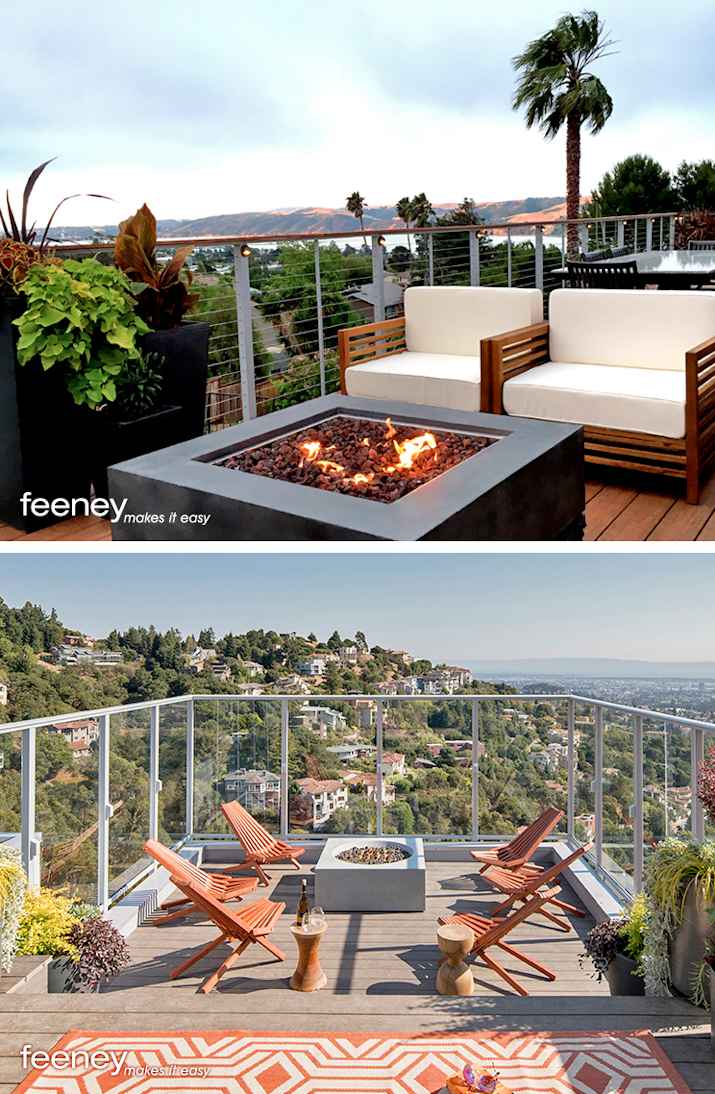 With all the direct work we do with residential and commercial architects, we know meeting your design vision is at the heart of our business. That's why we offer a premium palette of posts, top rails, frame colors, and infill options for your specification needs.
When that interior or exterior aesthetic calls for maximum transparency, as it often does, the usual railing infill defaults are a cable or a tempered glass system. It may come as a mild surprise to some to learn our DesignRail® system offers designers both view-friendly systems. Yes, we're a single-source, infill agnostic when it comes to meeting your project goals and budget.
Both glass and cable railing systems offer style, proven performance, and unfettered sight lines for interior or exterior applications. As you consider the best infill solution for your project, keep this in mind:
Cable Infill
Wind
Allows full air flow across the deck or balcony area.
Installation
CableRail is easy to install with patented automatic locking jaw Quick-Connect® fittings. No crimp tools or wedge-type compression fittings required.
Sustainability
Stainless steel cables contain 70% pre-consumer content and 0% post-consumer content.
Safety
Compliant with the International Building Code and International Residential Code when vertical or horizontal cable spacing is 3 inches or less.
Maintenance
Minimal. Periodic treatment with a stainless steel cleaner and protectant is recommended. Occasional cable tightening is a routine procedure.
Tempered Glass Infill
Wind
Offers a full or partial wind break, which can be a consideration in coastal projects.
Transparency
Can be modulated from clear to custom tinted, helping manage light flow and privacy.
Environmental impact
Clear tempered exterior glass panels can prove to be a hazard to birds.
Durability
Tempered laminated glass can be specified for varying safety and security levels.
Maintenance
Requires periodic cleaning, though higher quality glass can help reduce cleaning time and frequency.
Tempered glass or cable... both infill msystems offer important design advantages. Feeney is at your service with winning solutions for both.
Company: Feeney, Inc
Source: http://media.feeneyinc.com/blog/railing-infill-face-off-cable-vs.-glass
Tags: Exterior Design | Glass | Metal | Railing System | Safety
---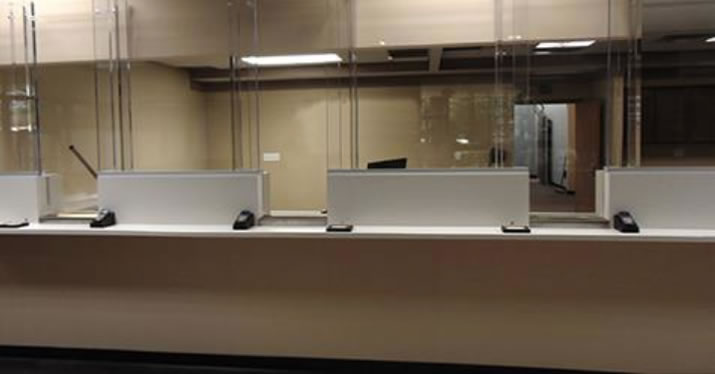 Because most banks have similar needs—a secured teller line with bullet resistant windows, secured ballistic doors, and bulletproof fiberglass to reinforce counters—many security companies try and push a one-size-fits-all solution.
With decades of experience designing, engineering, fabricating, and installing custom bandit barriers in banks and credit unions, Total Security Solutions knows how rarely this turns out well.
Bullet Proof Barriers Attuned to the Banker's Needs
"Banks can be pretty ornate, so were used to having to adjust what we do to match a given location." Total Security Solutions CEO Jim Richards explains, "That's our speciality, that sort of customization. Even when we're doing many locations for the same chain, in different parts of the country each office looks a little bit different. It's like housing, in that it has this regional component. So we don't try to come up with a single one-size solution we can just keep punching out."
Total Security Solutions isn't limited to just shuffling around pre-fabricated pieces. They can customize down to the individual component level: curved ballistic transparency, special communication and ventilation solutions, all-glass and completely custom high-security doors, and so on.
In contrast to many security companies—especially local glazers—Total Security Solutions is sensitive to how important relationships are in banking. Jim puts special emphasis on clear sight lines and communication in such settings. Gina Mims, a facilities manager, recently coordinated with Total Security Solutions to secure several offices for the Health Plan of San Joaquin: "I love the fact that … it doesn't look like the old school [barrier] with that metal plate [and talk hole]. It all looks very nice. Our buildings, both of them, are very modern, so I wanted to make sure that they stayed along those lines."
ATMs: An Evolving Security Challenge
ATMs pose obvious risks to customers, both in terms of their physical safety and fraud exposure. They are also proving to be a significant and unpredictable liability to financial institutions. For example, within the last several years European banks have been increasingly plagued by teams of thieves who attack ATMs in the night, flood the machines with a mixture of oxygen and acetylene (gases usually used to fuel welding torches), and then ignite the volatile mixture, blowing the machines open. These attacks don't just result in significant monetary losses (both in damage to the unit and building, as well as money stolen)—they're also incredibly dangerous, as you can see here (the ATM is at the far right edge of the frame, in a mostly blue enclosure with a red top half):
This could easily result in injuries not just to the thieves, but also to passersby, staff, and even people in adjacent buildings. Although there have been no reported ATM "gas bombings" in the United States as of yet, the US currently leads the world in losses resulting from insecure ATM locations.
According to Jim Richards, "There are a lot of different ways that ATMs are deployed, but we have yet to see one we couldn't secure." In many cases Total Security Solutions favors a design similar to their bulletproof vestibule system used in schools, replacing the outer glass and doors of the ATM vestibule with bullet-resistant transparency and framing, and securing access to the ATM with a ballistic door outfitted with a card swipe-actuated computer-controlled electric strike. "Customers swipe their ATM card to gain access, and then the door latches behind them–just like any other security door. These are really easy retrofits for situations where the ATM is installed in the bank vestibule or outer lobby, but the same idea works with exterior-wall ATMs: You build a bulletproof glass curtain wall around an exterior wall-mounted ATM, with the same sort of card-swipe entry system. What's key is that this solves both the skimmer/fraud/vandalism problem, as well as protecting customers."
Painless Bandit Barrier Installation
Most importantly, owing to their decades of experience, Total Security Solutions has optimized their prep, design, fabrication, and installation processes. "It can be two teller stations or 15; we're able to move on the project as quickly as the operations or facilities manager are ready."
Bullet resistant barrier system installations are designed to absolutely minimize any business interruptions. Most installations can be completed overnight, with even the most challenging retrofits installed in under a weekend.
"I just returned from see[ing] the install and boy what nice work!" Holly Eades, vice-president of finance for Clark Energy wrote after having several payment offices secured by TSS. "They were here when they said they were going to be, … showed up when they were supposed to, and everything was just as neat as a pin. We were really, really tickled with their work."
Company: Total Security Solutions Inc
Product: Bullet Resistant Barriers
Source: http://www.tssbulletproof.com/high-function-custom-bullet-resistant-solutions-banks/
Tags: Glass | Safety | Security | Windows
---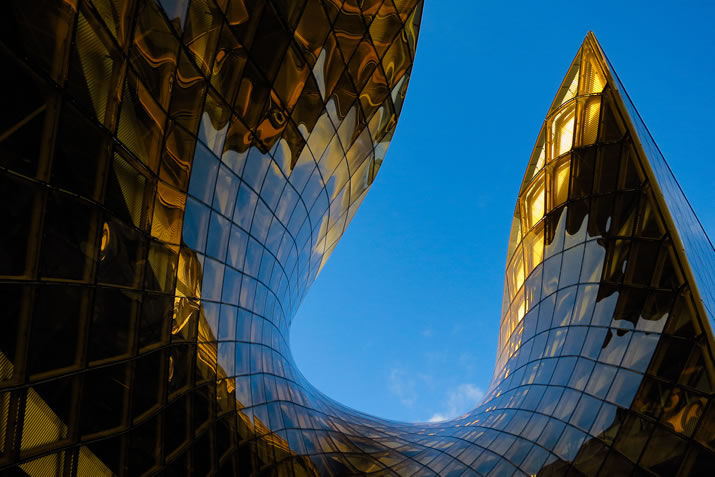 Glass has become such a common material in modern buildings, it's often easy to forget that we are relatively early in understanding the extent of its capabilities. It wasn't even until the early 1950s, with the development of an automated float glass manufacturing process that provided consistent high quality at a moderate cost, that glass was truly made available to the masses. The future of architectural glass, however, is taking on a new shape. The ability to curve and bend glass has helped to evolve this material from a means of allowing natural light within interior spaces to an artistic focal point.
Earlier this year, the design for the new Little Caesars Headquarters in Detroit, Michigan was unveiled, featuring 14-foot tall formed laminated glass shapes that loosely resemble a piece of pizza, the hallmark product of the company's success. What seems so visually simplistic–a pane of glass bent down the middle–is actually an engineering marvel. The double-curved glass walls of the Emporia Shopping Mall, located in Sweden, is an example of the intricacies involved in manufacturing a large scale curved glass structure.
The Art of Bending Glass
There are several methods of curving or bending glass, including bending and tempering, hot bending, cold bending and lamination bending. In the case of lamination bending, the glass is first layered with other interlayer materials and then bent before ultimately being placed inside an autoclave at temperatures near 280°F to complete the lamination process. The extreme temperature causes the interlayer to soften to the consistency of honey and fill the crystalline of the glass, resulting in a laminated safety glass. Due to the autoclave process, however, the glass must actually be bent at a tighter radius than is ultimately desired because the heat will cause it to spring slightly back to its original shape.
The 804 double panes of glass installed at the Emporia Shopping Mall were manufactured by heating the glass, causing it to soften and through its own weight, take the shape of a mold. Almost 600 different molds were used to create the intricate curve pattern. Equally as important as the heating process, the glass had to be properly cooled to ensure there was no residual stress within the panel. The final step was laminating the panes of glass together using an amber or blue plastic film, which provided the desired color and safety characteristics.
Photo Credit: Emporia Shopping Center, by Håkan Dahlström
Company: Total Security Solutions Inc
Source: http://www.tssbulletproof.com/architectural-glass-takes-shape/
Tags: Design | Glass | Safety | Security
---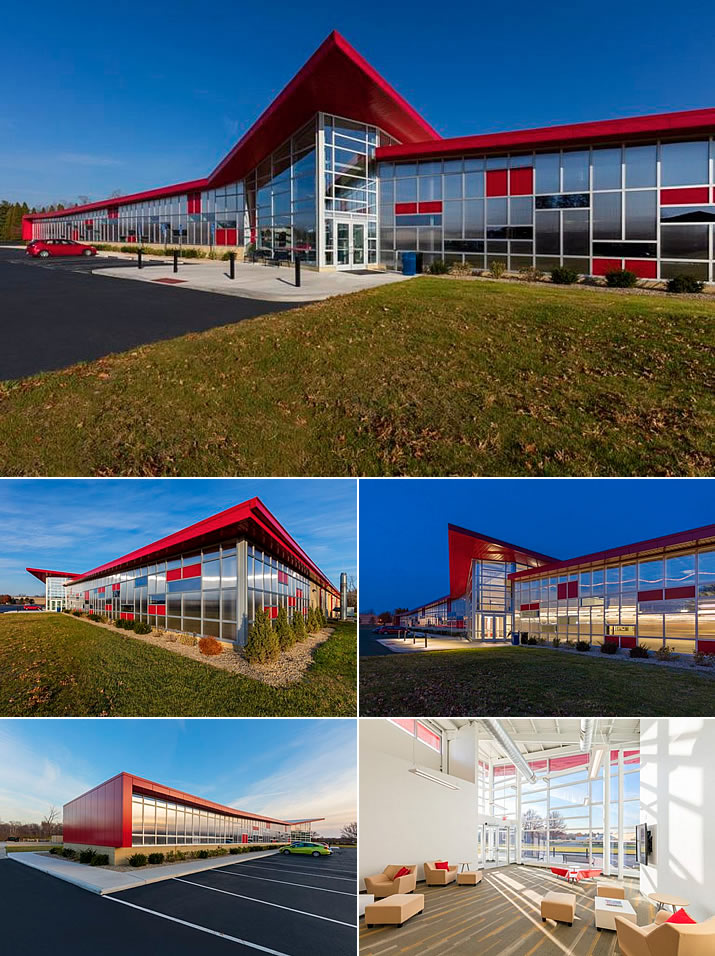 Images by Andy Spessard Photography
A State-of-the-Art Renovation in Central Ohio
Project: Otterbein University's STEAM Innovation Center
Location: Westerville, OH
Architect: Moody Nolan
General Contractor: Corna Kokosing
System: LIGHTWALL 3000
In a world where factory jobs are being replaced with smart technology and globalization has made the manufacturing industry increasingly competitive, Otterbein University saw an opportunity. The plan was to partner with leading organizations from the private and public sectors in central Ohio to build a hands-on curriculum focused on teaching – and innovating – cutting-edge skills in engineering, technology, science, and math. To achieve this, a laboratory that fostered experimentation and possessed state-of-the-art tools was necessary. To further complement the innovative facility, a state-of-the-art architectural design was developed.
The decision was made to renovate an older campus building in time for the 2016 fall semester, and with groundbreaking delayed into early 2016, the project timeline would be tight. Moody Nolan architects had a unique design in mind – a multi-paneled, geometric façade that would deliver daylighting with minimized solar heat gain and glare. Their plan was to use a curtain wall that could incorporate metal, polycarbonate, and glass that delivered diffused daylight with visual clarity in key locations.
EXTECH's LIGHTWALL 3000 series curtain wall system was selected for the project because it is one of the few that properly accommodates both polycarbonate and glass glazing within the same system. This is accomplished by using deep glazing pockets and low friction gaskets that allow for the thermal movement of polycarbonate, while still providing superior water and air infiltration performance.
To create Moody Nolan's distinctive geometric design, EXTECH fabricated a new horizontal mullion that allowed for the inclusion of non-continuous vertical framing members. The new mullion "flushed out" the interior surface of the system and allowed it to span up to 8 feet between vertical mullions – typical span lengths are only 4-5 feet. It also allowed for the application of point loads from vertical framing members without additional structural reinforcing - horizontals typically deliver their loads to verticals.
The STEAM Innovation Center's "wire-cutting" (a technology pun on "ribbon-cutting") was just in time for Otterbein's fall semester. All told, the center is a 61,000 square foot building that provides classes and training in areas such as 3D printing, advanced electronics, metal and machinery, and also provides office space for lease. If you would like to learn more about this project or EXTECH's LIGHTWALL 3000, please contact us.
Company: EXTECH/Exterior Technologies, Inc.
Product: Translucent Walls
Source: https://extechinc.com/case-study-photos-otterbein-universitys-steam-innovation-center/
Tags: Design | Glass | Wall Panels | Windows
---

Lauded for its use of space and light that includes an eye-catching string of skylights featuring Kalwall translucent sandwich panels, the $44 million student life center at SUNY Cortland is one of the two main winners of the American School and University Magazine's Educational Interiors Showcase awards.
The SUNY Cortland project, led by Hastings + Chivetta Architects of St. Louis, Mo., was awarded AS&U's prestigious College Citation by a panel of three judges.
"Great use of space, light, and color," the judges said. "Aesthetically pleasing and notable. Architecturally outstanding."
The student life center includes a common area, café, and sports and workout areas. The skylights that feature the Kalwall panels flood the athletics portion of the building in diffuse natural light that spills into the common area. The Kalwall panels also fit into the facility's design to consume less energy and earn a LEED Gold certification.
"Sustainability and energy efficiency have been at the core of Kalwall for 60 years," says Amy Keller, one of the principals of Kalwall. "We're honored educational institutions and other environmentally-conscious organizations continue to utilize Kalwall for their daylighting projects."
Company: Kalwall Corporation
Source: https://www.kalwall.com/2016/11/21/kalwall-featured-in-major-award-winning-college-project/
Tags: Ceiling | Glass | Windows
---
Total Security Solutions is dedicated to producing high-quality bullet-resistant products that effectively secure your company's most valuables assets, from the employees behind the counter to the cash in the drawer. We manufacture our bulletproof barriers in-house to stringent specifications, the most demanding in the industry, guaranteeing superior quality. In addition, all of our system components pass rigorous testing, often conducted by multiple standards agencies, including UL (Underwriter's Laboratory).
Security Ratings for Bulletproof Systems
Security levels for bullet-resistant systems have been established by UL, the primary testing organization for materials used in these systems. There are eight levels of bullet resistance for bulletproof glass. These ratings are designated by the UL to determine the type of protection each level offers. They conduct extensive tests on bullet-resistant glass, which determines what kinds of firearms each can withstand. The most basic protection comes with levels one and two where you're protecting yourself from small caliber handguns all the way up to level eight glass that protects against assault weapons.
We're confident that our bulletproof barriers will not be compromised by the type of projectiles they are rated to withstand, ensuring the safety of your employees. But when you're the employee standing behind the bullet resistant glass during an armed robbery, it can often be difficult to trust your life to the protection of something you can see through. Watch as we test components of our bullet-resistant barrier systems, including bulletproof glass with UL rating from 1 through 4, as well as UL Level 8.
Custom Bulletproof Systems
We can work with you to design a custom bulletproof security system that meets your unique facility needs, from a high profile ballistic barrier for additional deterrent factor to a more low profile solution that seamlessly integrates with the aesthetics of your facility without compromising protection. If you're a business owner who's already chosen to install a bulletproof barrier in your facility, then you're probably aware of how security products can contribute to maintaining consistent operations and a profitable revenue stream, as well as a greatly reduced risk of armed robbery.
While bullet-resistant barriers are often enough of a deterrent to prevent a robbery, for the sake of your employees, you should feel confident in the performance of your system during a actual event. We can work with you to determine what level of bullet resistance your facility requires as well as provide tips on developing a comprehensive security plan, of which bulletproof barriers are just one component.
Company: Total Security Solutions Inc
Source: http://www.tssbulletproof.com/rigorous-testing-standards-ensure-effective-security/
Tags: Glass | Safety | Security | Windows
---
Urban loft spaces in trendy areas like Victorian Village in Columbus or Little Italy in Cleveland can be cool but not if they are dark and have closed in spaces. One challenge of loft apartment housing is how to create a light open space while creating visual separations between rooms. Once excellent way to do this is through the use of distinctive modern glass block wall partitions.
Glass blocks have moved on from its traditional roots to now incorporated fun and vibrant colors and eye-popping textured looks which stand out in your modern home. Check out these 5 cool ideas to move light through the inside of your loft while providing privacy and an interesting look which can be as unique as you are.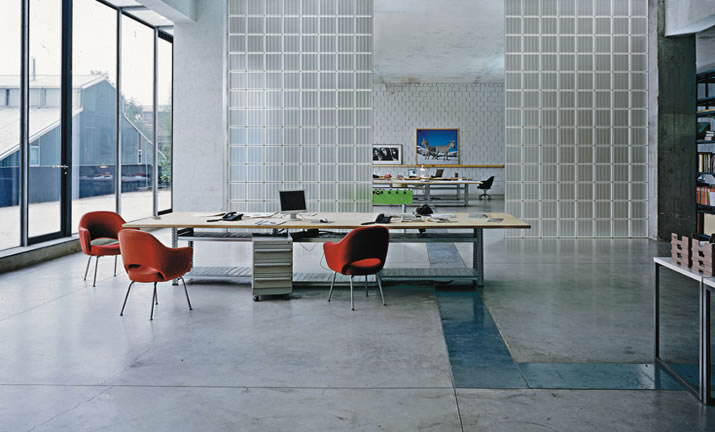 Idea #1 – Adding shape and texture to your glass privacy walls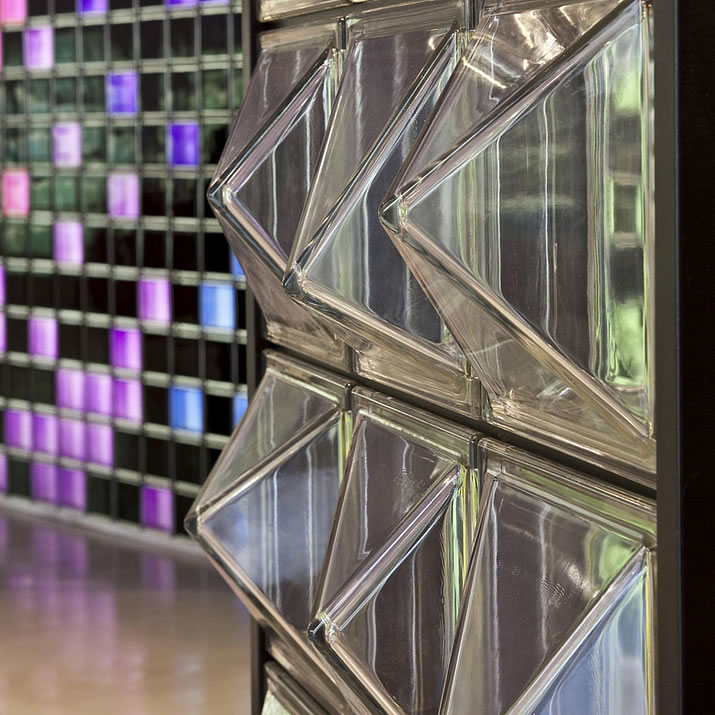 If you go to sleek modern hotels like "The W" you'll see ample use of textured walls. I am now seeing this trend in textured ceramic wall tiles in bathrooms and kitchens. But one application which is just now getting known is the use of textured glass partition walls to separate rooms. These walls are fun because they not only move the light between spaces – but they literally extend into a room to create a sense of texture and excitement. There are patterns with horizontal flutes and even a pyramid type of look which juts out into the space. Very fun!
Idea #2 – The glass brick partition wall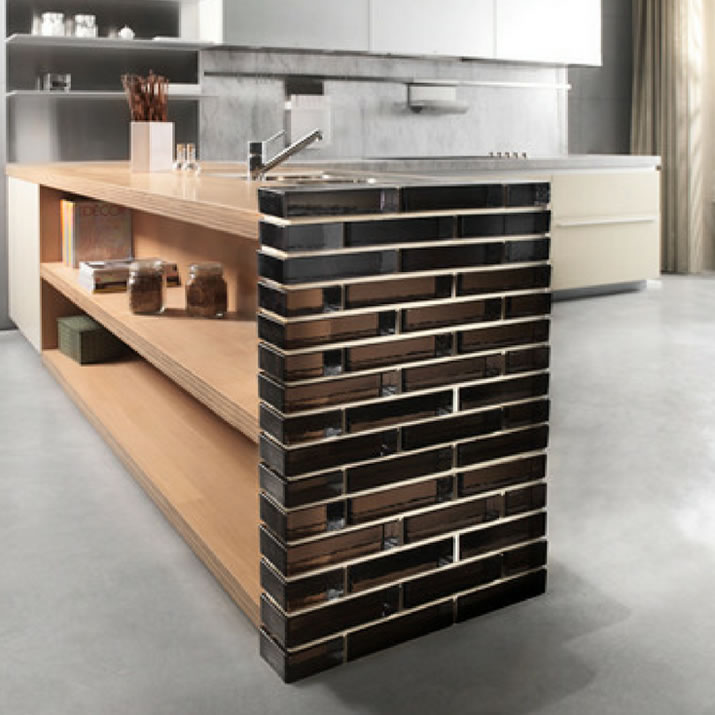 When you think of bricks I bet the image which comes to your mind is the traditional red brick building more associated with life in the suburbs or old industrial buildings. While there is nothing wrong with the suburban red brick look (and some exposed red brick walls can look cool in an urban contemporary space) a ceramic brick cannot move light through walls. This is where the glass brick partition comes in. This hip, upscale material comes in clear, bronze, black or an aqua blue colors and beautifully (and colorfully) moves light while creating a steady and attractive wall partition.
Idea #3 – Illumination in unexpected places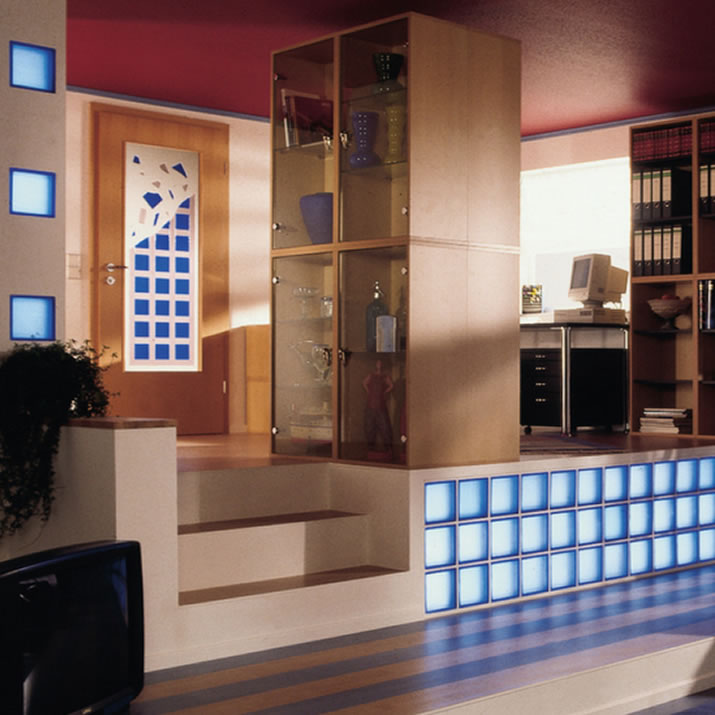 What makes loft apartment housing more difficult is you rarely find windows on more than two sides (note: this is because overall plan layout tends to be vertically oriented with one apartment next to another with interior walls separating spaces). This makes the need to be creative with your illumination strategies critical. While natural lighting is always tops on the list – finding other ways to transmit light also needs to be incorporated into your plan. Check out this lofted apartment space which added lighting under the raised section for an alternative lighting approach. It's creative and unique.
Idea #4 – Fun colors in small spaces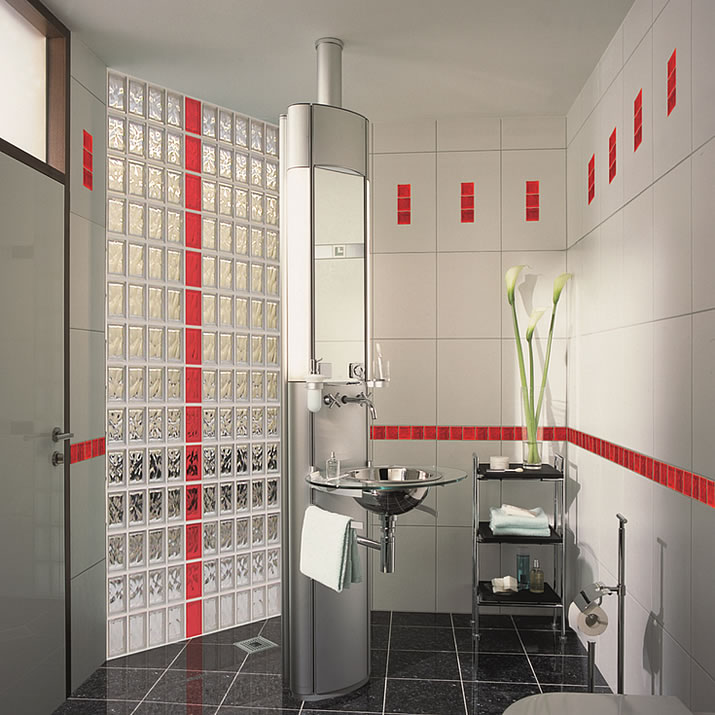 Let's face it, part of the reason you're moving to the city is to have more fun. Being able to jump out of your apartment and take in an Ohio State Buckeyes, Cleveland Browns or Columbus Blue Jackets game on a whim. The urban lifestyle enables you to enjoy the vibrancy of the city without the hassle of cutting a lawn – every again (yes!). That's the nice part about city life. The tougher part is you don't have the sprawling inside space you once enjoyed. Tighter loft spaces require more thoughtful design – both with respect to lighting and the use of color. Smaller urban spaces beg for more personality than what you had in the 'burbs. Whether you're working with an interior designer or using your own creative inspiration think about adding some eye-popping color to your design. Now is the time to dump the boring beige tones you were captive to in the 'burbs!
Idea #5 – Shape can be your friend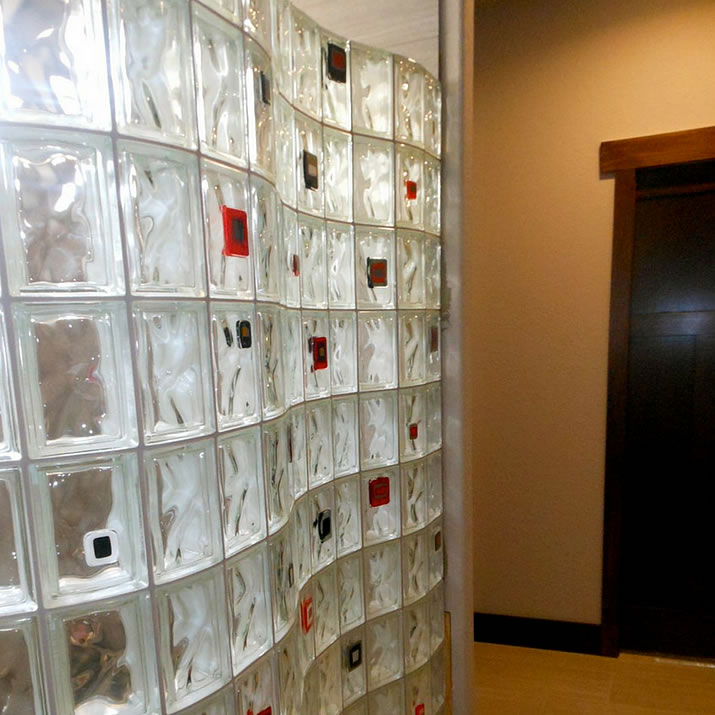 Who ever said all the walls had to be straight and rectangular? They must have been designing those cookie-cutter McMansions in the suburbs in the late 1990's. Whether you're looking at drywall or glass walls why not add some curvature or even a fun serpentine design. The glass block wall below used an S- shaped serpentine designs with one of a kind glass tile block accents. It's certainly not going to be confused for boring!
Conclusion
To my way of thinking I see cool, contemporary glass and the downtown urban loft apartment vibe as natural partners of one another. What do you think about the use of glass (or glass block or bricks) textured or colored walls to add some fun, light and interest to your space? If you have any questions feel free to call the numbers or comment below.
For assistance with modern glass or glass block or brick partition walls (which can be prefabricated to your specifications) call Innovate Building Solutions on a nationwide basis 877-668-5888. For a local installation or supply project Cleveland Glass Block (216-531-6363) or Columbus Glass Block (614-252-5888) can help.
Company: Innovate Building Solutions
Of: Mike Foti
Source: http://blog.innovatebuildingsolutions.com/2016/08/12/5-crazy-modern-glass-wall-partition-ideas-loft-apartment/
Tags: Color | Glass | Interior Design | Lighting | Wall Panels
---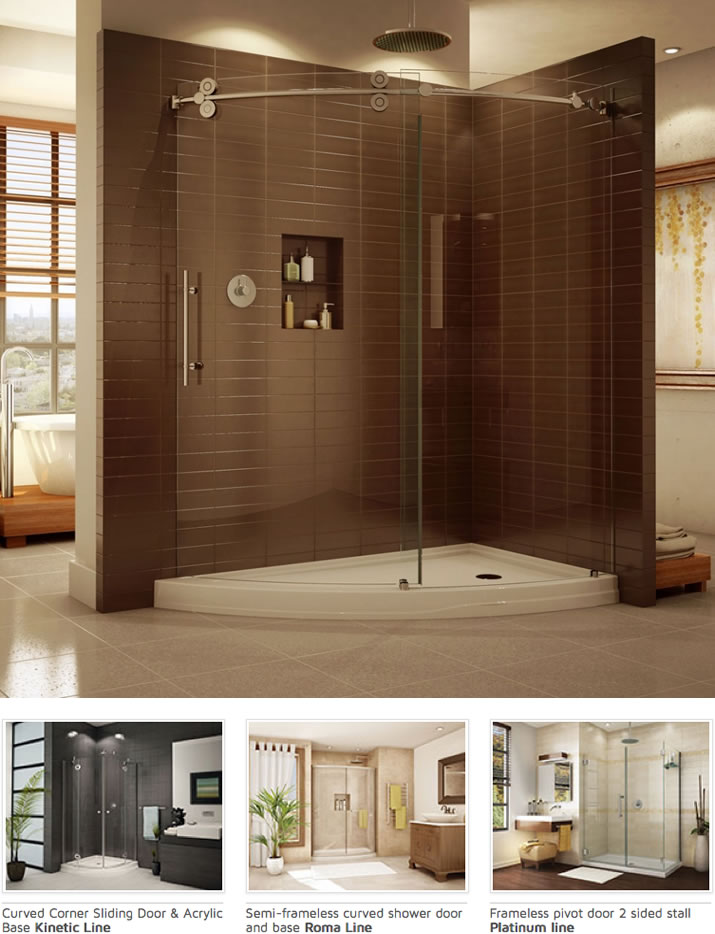 If you're looking for a unique glass shower or tub enclosure for any style of home the Fleurco line is a must see. Product lines vary from a high end frameless intelligent hinged system, a mid priced semi-frameless sliding or pivot door to a low priced value line. There is an option to fit any budget or bathroom design style.
Benefits
In the Fleurco line there are many choices of shower stall and bases to choose from. Here's some of the benefits that make this line through The Bath Doctor unique:
Innovative systems for any budget. Many people want a unique design but at an affordable price. Fleurco product lines vary from a high end frameless intelligent hinged system, a mid priced semi-frameless sliding or pivot door to a low priced value line.
Curved, round, square, rectangular and neo angle acrylic bases to fit any space. Whether you've got a small bathroom which requires a corner or alcove shower stall or a larger space, there is a pan to fit your bathroom décor.
Superior hardware design for better long term performance & reduced maintenance costs. Quality hardware and European inspired rolling and hinge systems create unique looks combined with smooth performance.
Flexibility to use standard sized pans with multiple wall systems. The broad Fleurco line combines 9 standard shaped bases (available in many sizes) with different priced swinging and sliding doors – mix and match to create a cool, contemporary, sleek or traditional bath decor.
Multiple uses - From tub & shower enclosures to screens to walk in shower stalls to offices & partitions. This line has a wall and base system for most any design.
Nationwide supply and regional installation services available from a company you can trust. We are accredited by the Better Business Bureau and have won service awards through Angie's List and Consumer Choice through our parent corporation.
Free selection and installation assistance. Take the guess-work out– we can help select the right product and install your system (regionally) or supply your system (nationally).
Nationwide Shipping. No hidden shipping fees or costs. We ship anywhere in the United States – from Washington to Texas to New York to Florida.
Company: Bath Doctor
Source: http://innovatebuildingsolutions.com/products/bathrooms/fleurco-glass-shower-enclosures
Tags: Glass | Interior Design | Wall Panels
---

Armortex Waterjet cutting is accomplished by using a sophisticated Flow Mach 4 waterjet system. A waterjet allows for cutting of soft and hard materials (from food to granite, glass, metal or composite materials up to 6" thick) using highly pressurized water and an abrasive if required. Precision cutting tolerances are achievable as well as beveling and 3D cutting without the associated heat that is prevalent in other types of advanced cutting systems.
Company: Armortex
Source: http://www.armortex.com/products-services/armortex-waterjet-cutting/
Tags: Building | Design | Glass | Metal
---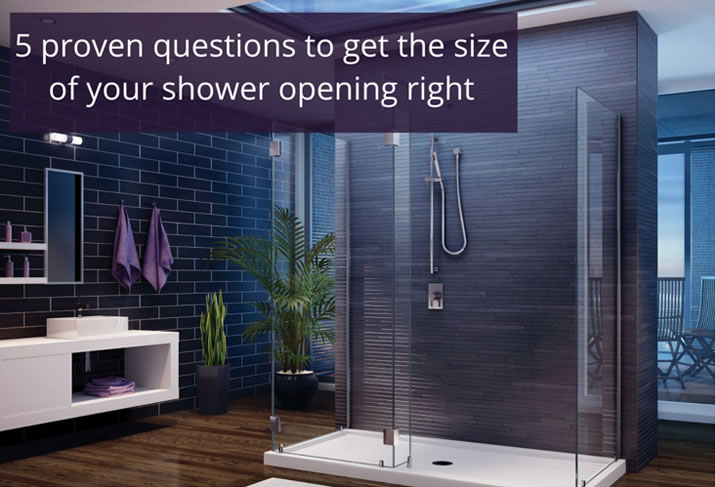 If I've been asked this question once I've been asked it a thousand times, " Mike – how big should I make the opening for my new shower?" OK – I'll give you my standard answer. It depends. Boy doesn't that sound like a cop-out!
In all seriousness designing a shower opening is a bit like being a politician -you're trading off competing interests. On one hand you want to have the biggest opening so it's simple to get into and out of the shower whether you're walking in, shuffling in or rolling in with a wheelchair. On the other hand you want the opening as small as possible so you don't get water pooling on the bathroom floor which could lead to leakage in the floor below. Given these competing benefits of a smaller vs. larger shower opening where does that leave you? How can you find just the right sized shower opening for you and your family? Explore the answers to the following 5 questions and you'll be assured to get the size and design of your shower opening correct.
Question #1 – Who is going to use this shower now and possibly in the future?
Start out by identifying who will use the shower today…and possibly in the future. Is your son whose claim to fame is being a "lean and mean" 350 lb. defensive tackle of the football team going to be the main user or is your daughter who is a pencil-thin gymnast using this space? Obviously if you're designing the shower opening for your son it will need to be significantly wider. What can/should you do if they are both going to share the shower? I would recommend to split the difference in the opening size – which may mean your son will step into the shower sideways vs. your daughter going in straight on.
While considering the here and now usage of this shower is critical – you will not want to lose sight of who may be using it down the road. Is it possible your Mom or Dad may come to live with you if their health starts to fail? If so – the new shower opening may need some design tweaks (possibly a ramped entry, a lower curb or one level base design) which will prevent you from ripping out the brand new shower you're putting in right now (see question 3 to get specific ideas).
Question #2 – What method are you going to use to get into the shower? Do you need to walk straight in or are you OK stepping in sideways?
This may seem like a funny question but it is important and practical. If you're walking straight into the shower you'll need significantly more space than if you're stepping in sideways. When determining the opening for a straight in entry – which is preferred by most- I recommend measuring across the shoulders of the people using this shower. You'll want to use the largest shoulder to shoulder measurement of all the people using the space to drive the size of the opening. On the other hand if you're OK with a sideways entry you can measure the "depth" of the person.
If you have a small shower the sideways entry may be required but in general the most common straight in entry for people walking in is 24" wide.If you're designing the opening for a wheelchair or walker for your home know you do not need to follow ADA (Americans with Disabilities Act) guidelines for public spaces which require a 36" wide opening. With that being said you do want to make the opening comfortable to get into. In this case I would recommend you get a measurement of your family member in their wheelchair and allow side to side clearance room for their hands.
Question #3 – Are you stepping over, ramping up or rolling in (designing for either a curb or curbless shower)?
Not all people using a shower are created equal – I'm sure you're saying tell me something I don't know. Your family (if it's like mine) – is definitely made up of some characters in both their personalities and physical capabilities. A "simple" 4" high shower curb which is a breeze to step over for your football playing son and gymnast daughter, could be a huge mountain to climb for your elderly Mom. So for the kids the 4" high step over curb (which does a great job keeping the water in) is no problem, could be the wrong shower entry design choice for Mom if she is mobility challenged. Here are 4 competing shower curb and entry options for you to consider depending on who(m) will be using the space:
Option 1 – The 4" tall step over curb – generally the preferred method for small showers because it keeps the water in well in small spaces. This is an unacceptable and dangerous choice for anyone with limited mobility.
Option 2 – Low profile curb – This lower curb (usually about 1 ½" tall) provides for a sleeker looking design and is safer than option 1. It has the benefit with a solid surface shower base of having the flexibility to add a curb extension should a family member need a ramped entry down the road.
Option 3 – Barrier free ramped entry – This ramped entry will have a slope up to get in and a slope down towards the shower drain. It creates a "curb free" design where you get in. This design works best with a base which is a bit wider.
Option 4 – One level wet room – This is a cool and underutilized approach in the United States. This design provides a shower floor which is at one level with the bathroom (note – the drain is still a bit lower than the floor level). It is super popular in European and Asian countries where space is limited. It can provide a sleek contemporary design – but better yet – it is safe and completely workable for small showers (my wife's Grandfather had this type of wet room shower in a 4' x 5' bathroom in Italy – now that's tiny!).
Question #4 – Will you use a doorless walk in shower or a framed or frameless glass shower door?
When you design a walk in shower the finished opening is not made smaller by any hinges or framework (basically the opening is the opening!). Walk in showers are growing rapidly today as people want to eliminate the cost of a door and hassle of cleaning them. With this being said walk in showers are not practical for every situation. This is usually true where there is only room for a small shower.
If you are looking at a shower door you'll want to think beyond the "rough opening" (the opening before you install the door) and focus on the "finished opening" (or the space which will be left minus any framework around the door). A frameless door will give you a larger finished opening than a door with a framed system around it. The frameless system looks more luxurious, but comes with a higher price tag.
Question #5 – Will you have more than one opening?
This one sounds like a trick question. How can you have more than one opening in a shower? The answer is – when the glass (or framed enclosure) has either a curved or L shaped design. Many walk in showers are not straight walls but have shape to them so the water will be directed back into the "wet area" (shower head area) of the shower. What this means is you actually have two openings. One is the "entry opening" where you step in and the other is the "interior opening" as you move towards what I like to call "the business side" of the shower.
While the entry opening is critical so is the "interior opening." If you make the interior opening too small you'll get a shower which feels cramped. I usually recommend the "interior opening" be at least 4" wider than the "entry opening" to make the shower feel like one continuous space. If your shower is large it can work out just fine to create a separate entry area vs. the main showering area, but for more compact spaces I recommend one continuous space.
Conclusion – how to size and design a shower opening
OK – how have I done? Do you feel you know the right questions to ask how to figure out the size and design of your shower opening (or openings)? If you're looking for more information or an estimate on remodeling a shower or nationwide material supply for the shower wall panels, shower bases or wet room systems call The Bath Doctor in Cleveland (216-531-6085), Columbus (614-252-7294) or for nationwide supply Innovate Building Solutions (877-668-5888).
Company: Innovate Building Solutions
Source: http://blog.innovatebuildingsolutions.com/2016/06/24/5-proven-questions-to-get-the-size-of-your-shower-opening-right/
Tags: Entrances | Glass | Interior Design
---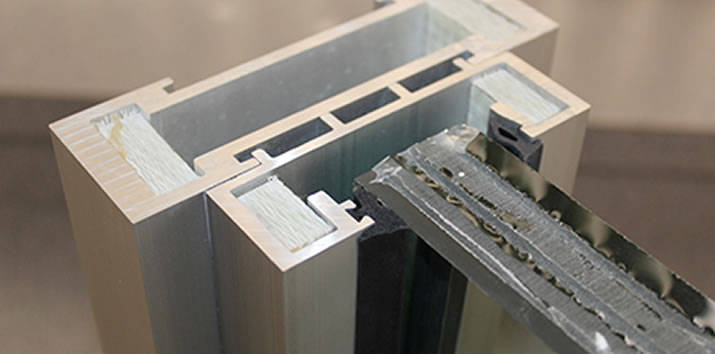 Client performance goals continue to evolve, growing more complex every year. At one time, a client was either very concerned with security, or very concerned with sustainability. It was rare for a client to be equally concerned with both.
But the increasing need for ballistic materials in all sorts of construction has collided with the increased stringency of building codes, specifications, and energy performance standards. Old-line ballistic framing systems—which are still the industry standard—are simplistic. They are fabricated from a grab-bag of materials to a variety of standards. Many aren't even UL-rated to stop bullets. Instead, they are cobbled together from standard aluminum frames packed with chunks of bullet resistant fiberglass glued in place. Enhanced R-values, thermal breaks, gas fills, and insulation are just not an option with traditional bullet resistant window and door frames.
Today, advancements in designs and fabrication techniques have resulted in not only standard, true UL-rated door and window frame systems, but also premium systems offering new levels of thermal and ballistic performance.
Thermally Enhanced High-Security Ballistic Door and Window Frame Systems
A security-conscious end-user might be interested in earning a LEED Platinum certificate, or might be passionate about daylighting, or might just want to keep the energy bills down—in any case, having a solid aluminum frame conducting heat directly through the building envelope doesn't serve any of those goals. The TSS Thermal Frame System does.
"We developed this ballistic frame system specifically because architects were asking for it," Jim Richards, CEO of Total Security Solutions (TSS), explains. "I don't know if you know, but buildings use more than half the energy on earth."
As one architect recently put it "for all practical purposes, all other issues are subservient to sustainability now." That's been beyond challenging with old-style exterior bullet resistant windows, since the windows themselves are solid—no gas fills—and the frames are rarely built with any sort of thermal break. For example, here's a cross-section of a traditional window frame:
The old-style frames are solid steel or aluminum members all the way around the window or door, penetrating the exterior wall. As Jim Richards is quick t point out, "Think about what that means in certain regions of the United States: In the summer it could be in the 90s, and in the winter it could be 30 below, but the inside of that building is always 72 degrees with 40 percent humidity. Your HVAC is fighting heat leaking in all summer, heat leaking out all winter. You're not just going to have cold spots and drafts. You're going to get condensation, even frost."
TSS's thermally improved, Kevlar-reinforced bullet resistant exterior aluminum door and window frame system is calculated to optimize R value, given the needs of a bullet resistant materials. It offers bullet resistance up through UL Level 8, and can accommodate a wide variety of acrylic, polycarbonate, and laminated bullet resistant glazings. "It's an enormous performance boost, in terms of energy, and ballistic—a true 'best of both worlds' scenario."
All-in-One Multi-Threat Ballistic Window Frames
"This isn't your everyday, run-of-the-mill frame," Jim says of the TSS AIO (All-In-One) Frame. The AIO is a modular, multi-threat glazing frame optimized for higher-threat situations, especially government applications. It can accept any glazing between .75 and 2.5 inches thick—that's everything from UL Level 1 acrylic (i.e., which stops three shots from a .9mm pistol) to Level 8 glass-clad polycarbonate (for blocking full-auto bursts from assault rifles). The frame itself is rated through Level 8, and also has forced entry and blast-resistance characteristics. The AIO Frame has a broad security and safety profile that encompasses all sorts of threats to life and property, from break-ins and riots to lone gunmen, terror attacks, and even extreme weather.
Rather than using a lighter aluminum backed with strips of Kevlar-based fiberglass paneling, Jim and his team opted for all-aluminum construction and a design that takes full advantage of the edge-on resilience of the glazing itself. The front-wall of this frame is hearty enough to deflect most calibers, and designed to capture and hold any high-power rounds that do penetrate the frame itself.
Of course, not every job calls for premium ballistic door and window frames. TSS continues to offer their full line of standard UL-rated and non-rated frames to meet your client's performance goals.
Company: Total Security Solutions Inc
Source: http://www.tssbulletproof.com/premium-ballistic-frames-offer-huge-boosts-sustainability-multi-threat-risk-mitigation/?utm_content=32383407&utm_medium=social&utm_source=twitter
Tags: Glass | Safety | Security | Windows
---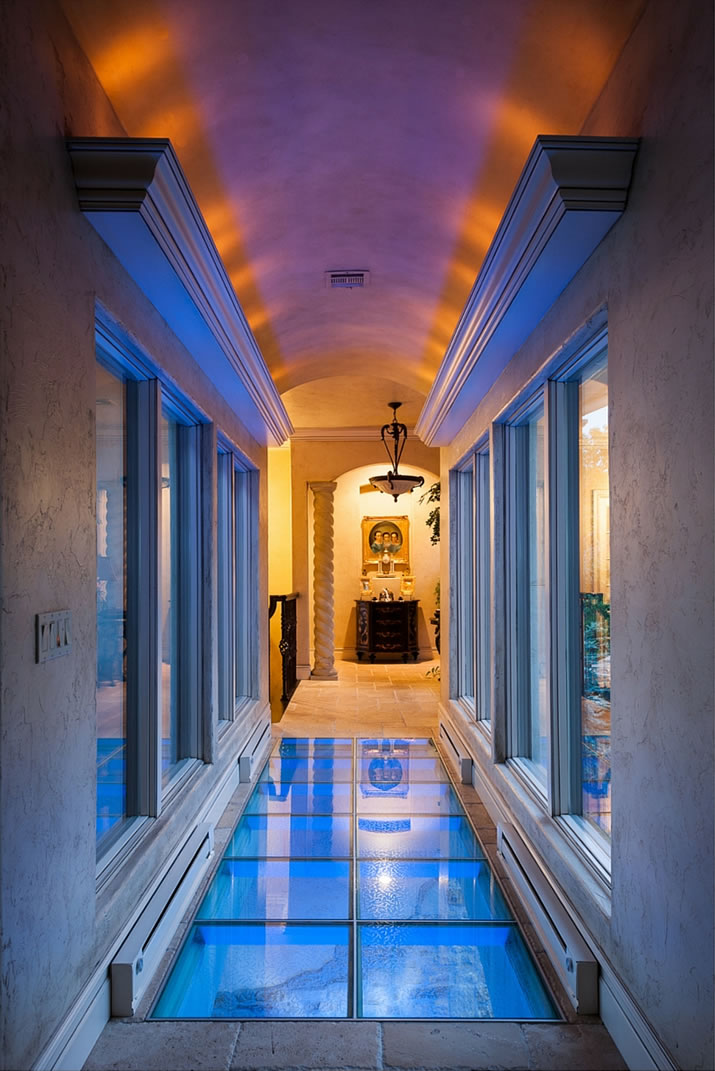 Glass flooring has made its way to Paris, putting a new spin on the classic tourist experience at the Eiffel Tower. The new glass floor installation highlights a stunning birds-eye view of the city from approximately 187 feet in the air—something that visitors are unlikely to forget. Although it is one of the latest attractions to capitalize on the glass flooring trend, the Eiffel Tower is not alone in its endeavor to give visitors a cool new view. Designers, architects, home builders and homeowners are seeking solutions for incorporating glass floor and stair systems in their spaces with the help of Innovate Building Solutions.
Innovate's modular glass floor systems are engineered to safely stand the test of time, supporting large amounts of weight with a durable aluminum grid and structural supports. These prefabricated systems can be installed within different flooring materials, including wood, tile, stone or concrete floors. They are durable and easy to install, with transparent or acid-etched design options that can be customized to meet the needs of each individual client.
Some of the most famous glass floors in the United States can be found at Willis Tower's Skydeck in Chicago, the Grand Canyon's Skywalk and at Ghostbar in Las Vegas. The design feature also adds a dramatic element with ocean views in many bungalow suites in the Caribbean and on the island of Bora Bora. Residential homeowners frequently use glass for stairways, walkways, wine cellar niches and to highlight elaborate outdoor water features.
To learn more about the functional and stylish glass floor systems available from Innovate Building Solutions, call 877-668-5888 or visit www.innovatebuildingsolutions.com. For regional installation assistance in Cleveland or Columbus, Ohio, call 216-531-6363 or 614-252-5888 respectively.
Company: Innovate Building Solutions
Tags: Floor | Glass | Interior Design
Great Glazing: Rogers Memorial Hospital Brown Deer (February 8, 2016), 7 Myths about One Level (Curbless) Showers (January 6, 2016), Mid-Century Modern Principles Applicable in Today's Bulletproof Barrier Design (October 30, 2015), They're here! Glass countertops from Innovate Building Solutions (October 14, 2015), Log home meets contemporary (September 16, 2015), Glass 'sky pool' coming to London (August 27, 2015), 7 Cool Uses of Glass for Contemporary Luxury Homes (June 12, 2015)