architecture - engineering - construction

Bird Control
---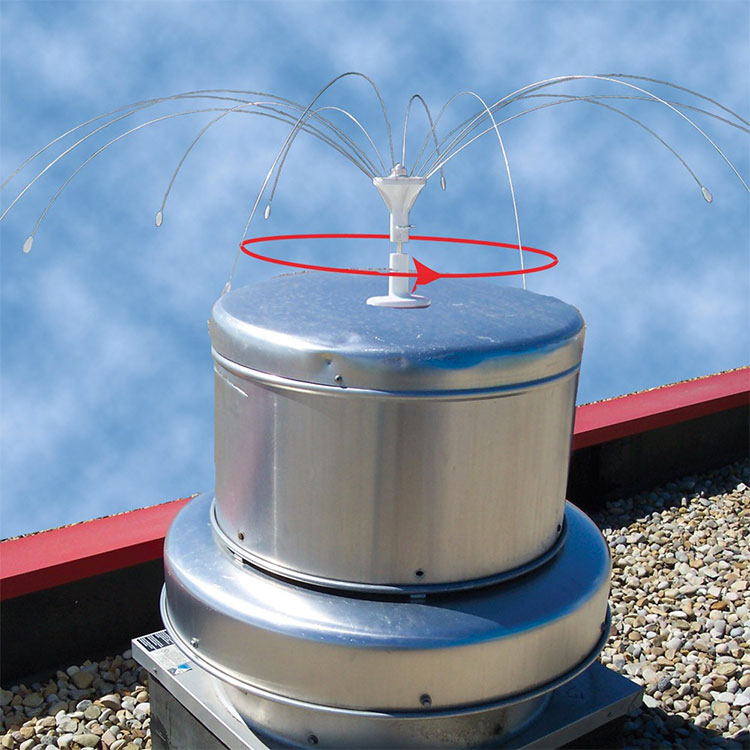 Birds like pigeons and gulls love to land on your roof, A.C. units, boat and other areas and make them their home. A great way to keep bird away from your property is to install bird spiders. The Bird Spider 360 manufactured by Bird-B-Gone, Inc. in the USA is a physical bird deterrent that keeps birds from landing and roosting. It is ideal to use to keep birds away from roofs, A.C. units, patio furniture, patio covers and other areas birds are a nuisance.
The Bird Spider 360 is made of stainless steel arms to a UV protected polycarbonate base. Each arm of the bird spider is fitted with polycarbonate tip to assist in movement and prevent scuffing. A locking mechanism keeps Bird Spider 360 attached to the base while spinning in the breeze.
How the Bird Spider 360 Works
The Bird Spider 360s come in four sizes, 2-foot, 4-foot, 6-foot and 8-foot diameters. They have 8 legs that wiggle and bounce in the breeze alerting the birds to danger in the area. The birds will not land near the area covered by the bird spiders and will move on to a more suitable area. The bird spiders are ideal to use on wide-open areas like boat canvases and A.C. units. They will cover up to an 8-foot radius, making the bird spider one of the most economical bird deterrent devices by area.
When the bird spiders are no longer needed, like when using your boat, patio furniture or during winter months, the spiders can be folded up and stored away. Next season or during docking times for your boat, just take the spiders out of storage and set them up again.
In this movie from Bird B Gone, Julie highlights the Bird Spider 360° and offers a quick fix to optimize its effectiveness. Tune in now to learn the simple push or pull technique to have your Bird Spider spinning today!
Company: Bird-B-Gone, Inc.
Product: Bird Deterrents
Source: https://www.birdbgone.com/blog/how-to-keep-birds-away-with-the-bird-spider-360/
Tags: Bird Control
---
The Swallows Are Coming. Are You Prepared?
The swallows are on their way, looking for places to roost and nest for Spring. Will they choose your building? They will if you're not prepared to deter them with effective bird control measures.
Swallows like to build their nests in colonies, swallows will leave an unattractive patchwork of mud nests on your building. With that comes all the natural bird debris-- feathers, droppings eggshells--the detritus that attracts insects and other pests. Keep in mind that swallow droppings (or most any bird droppings for that matter) carry diseases that can infect humans. When swallow nests eventually drop to the ground, the bugs, fleas, ticks and mites harboring inside can create an awful mess that you'll be forced to clean up.
So, what can you do?
Here are a few humane suggestions for preparing your building for the Spring swallows arrival: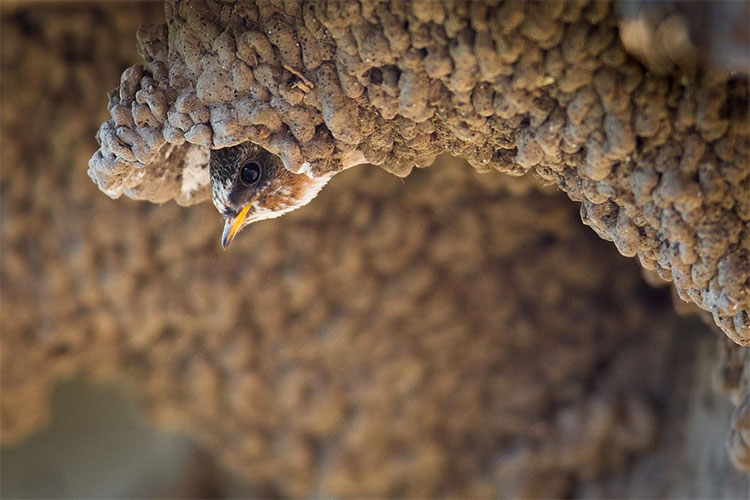 This exclusionary method of bird control can be quite effective because it creates a barrier that birds simply can't penetrate. Bird netting comes in a variety of mesh sizes, but you should get the smaller, 3/4-inch mesh size to keep swallows out. In most cases, you'll be installing the netting outside, which means, you should get durable netting that lasts. Choose U.V. stabilized, flame resistant and rot- and water-proof netting. One brand of bird proof netting currently available can tolerate severe temperature extremes--from 250-degree Fahrenheit to "sub-zero" temperatures. Non-conductive netting is available for installations where electrical conductivity or radio frequency interference could cause problems. The best bird proof netting meets ISO 1806 protocols. Remember to hang bird netting from the outer edge of the eave of your building down to the side of the wall creating a 45-degree angle.
Swallows just can't get a grip on these angled, slippery PVC panels. And if they can't get a solid footing, they'll leave in search of better surfaces to build their mud nests. Bird slopes are easily installed on ledges, eaves, beams and other areas. U.V. protected and sun and weather resistant, the panels provide anti-perching, anti-roosting protection against swallows. Mounted upside down with special mounting clips, bird slope typically comes 4-foot long panels and you usually get 48 feet per box. Some panels have a "snap-on" extender, allowing them to adapt more readily to wider ledges and coverage areas. End caps are also available to keep swallows from getting behind the sloped panel. Bird slope panels typically come in two colors--stone and grey--to better blend in with your structure's color scheme.
Sound deterrents are a great choice for deterring swallows from choosing your structure, and are more effective the sooner you install them. If a bird establishes a nesting spot, and has time to settle in, the more persistant they will be about defending the territory. Sound deterrents that use recorded bird distress calls in conjunction with predator calls can very effectively relate to birds that there is danger in the area and its unsafe to nest. Devices such as the Bird Chase Sonic are weather proof and can cover large open areas between 1-5 acres.
Bird control methods and products are most successful when installed as soon as a problem with birds is noticed, or installed in anticipation of birds returning. If your building has been chosen as a nesting site in the past, there is a very good chance the swallows will return in spring. The sooner the problem is addressed the less time and money it will take to successfully keep them away. If you are unsure what products to choose, or do not have the staff for installation, there are pest control companies across the U.S. who specialize in "Bird Control" and can help.
Company: Bird-B-Gone, Inc.
Product: Bird Netting
Of: Terri Anne Meyer
Source: https://www.birdbgone.com/blog/swallows-coming-prepared/
Tags: Bird Control
---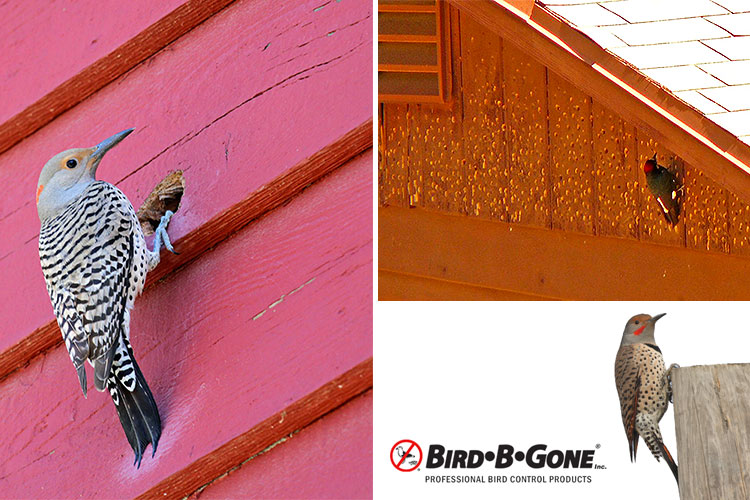 Woodpecker Deterrents
Are woodpeckers causing damage to your property? When woodpeckers target a house or property, they will drill relentlessly either in search of food or as a mating call to attract a mate. Woodpecker house damage is unsightly and is an unnecessary expense that can be avoided altogether.
Woodpecker deterrents are easy to install and are very effective at keeping woodpeckers from ruining your home.We typically think of woodpeckers as beautiful, vibrant birds that have an amazing ability of tapping their long beaks a million miles a minute; however, the truth is that woodpeckers are a nuisance to many home owners. Typically they are found in forests and wooded areas, but they are no stranger to residential areas, where they will peck on homes, telephone poles or anything wooden where they might find food.
There are several humane ways to get rid of woodpeckers. One of the easiest and most inexpensive ways to deter woodpeckers is with the Woodpecker Deterrent Kit, which is the ultimate woodpecker control solution that comes with a balloon, flash tape and installation brackets for hanging both. Installation is extremely easy and because this is a visual deterrent, there are no chemicals or anything harmful to birds. It simply scares the woodpeckers away because they see the balloon as a predator and the flash tape is a bright moving object that causes confusion and keeps the birds away.
If you prefer something a little less obvious, bird netting is an excellent woodpecker repellent. Bird netting takes a little more finesse to install than the visual deterrents but it is well worth the effort, causing a physical barrier between woodpeckers and your property. Once you get rid of the woodpeckers, the netting can always be removed and reinstalled next year if and when needed.
Get rid of woodpeckers! Dont be left with damage to your house!
How to humanely get rid of woodpeckers with Bird B Gone products.
Company: Bird-B-Gone, Inc.
Product: Visual Bird Deterrents
Source: https://www.birdbgone.com/blog/the-best-woodpecker-control-solutions-to-avoid-house-damage/
Tags: Bird Control
---
Pigeons can create a major problem for property owners and their managers. Regrettably, the larger the building, the bigger the problem and, in turn, more reason to exclude pigeons. For strip malls, warehouses, loading docks, hangars and other large structures, pigeons can quickly become a very costly nuisance. The birds often nest under awnings, overhangs, open roofs and covered beams in breezeways.
Pigeon Droppings: Damaging and Unsanitary
Pigeon droppings can be highly destructive. The acidic content of these droppings can eat into paint, plastic, metal, wood and even degrade stonework. Pigeon droppings can also deface and damage expensive signage—whether the signs are fabricated of metal, wood or plastic. For commercial and retail properties, pigeon droppings can create an image problem. Droppings on entryways, walkways, display windows, benches, umbrellas and nearby lampposts can be a turn off (calling for costly frequent cleanups). In addition, contact with pigeon droppings may pose a health risk, for they have been known to cause such diseases as histoplasmosis, cryptococcosis and psittacosis. This can pose a particular problem for any property that stores, prepares or serves food. In such venues, health inspectors have been known to shut down a property where evidence of bird droppings are present.
The Solution: Pigeon Netting
One of the most effective and humane ways to keep pigeons from your property is to seal them out with specially designed pigeon netting. The bird control pros at Bird B Gone offer just the right netting to keep pigeons out of areas where they don't belong. It's called Bird Net 2000, the #1 specified bird netting by architects and government agencies.
Specially fabricated of a tough UV-stabilized polyethylene mesh, this industrial strength bird netting is rot-proof, waterproof, and flame resistant. The netting is made up of six monofilaments, each 0.0012 thick and twisted together to produce a strong twine with 160-200 twists per meter. The durable netting is designed to withstand a wide range of temperatures—from -250F to +270F. It meets the requirement of ISO 1806 & 9001 Protocol Mesh Test for quality and mesh break strength. Each net is thoroughly inspected, tagged, and signed before leaving Bird B Gone's warehouse. The netting is non-conductive, so it can be used around electrical systems and RF transmission systems without worrying about shorts or interference.
Easy to Install
Bird Net 2000 is available in stock sizes and custom cuts to fit a variety of needs and applications. Same-day shipping is available even for custom cuts. And Bird B Gone adds a FREE extra foot around the net perimeter. This bird netting is also available in three different mesh sizes, including a 1-1/8-inch mesh for pigeons. The netting even comes in three colors—black, stone and white—to blend in with the area of installation. To ensure fast efficient installs, Bird B Gone offers all the necessary hardware as well as an installation video to ensure the netting is properly installed. Once installed, the netting is virtually invisible. A wise investment in effective bird deterrence, Bird B Gone Bird Net 2000 is backed by an industry leading 10-Year Guarantee (for black netting).
Pre-Installation Measures
Before pigeon netting is installed on a property, there may be a need to clean up pigeon nests and droppings. It's important to keep in mind that during any such cleanup effort, precautions should be taken to protect the public as well as work crews. The use of disposable gloves, eye protection and facemasks are recommended. If cleanup crews are working in enclosed areas, such as attics, respirators should be used.
Ask the Experts
If you're unsure about which product would work best for your specific situation, Bird B Gone has over 100 years of combined experience in the field of bird control. We can help you with product selection, installation and cleanup. Just call us at 888-723-5930 for a catalog, pricing, or product samples or email us at nobirds@birdbgone.com. We also work with a network of authorized installers, call today for a trained bird control professional in your area.
Company: Bird-B-Gone, Inc.
Product: Bird Netting
Of: Alex Kecskes
Source: https://www.birdbgone.com/blog/exclude-pest-pigeons-property-pigeon-netting/
Tags: Bird Control