architecture - engineering - construction

2017 May
---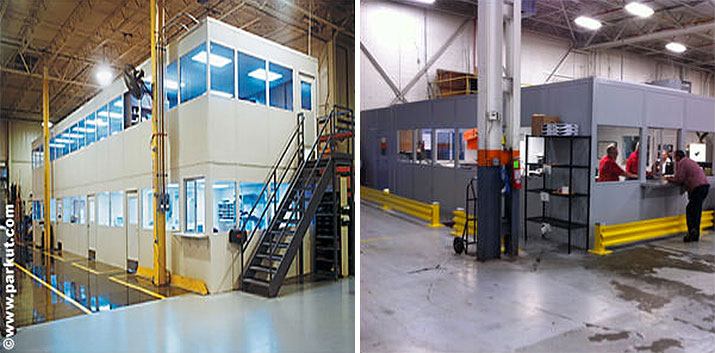 In Plant Office MODO-001, In Plant Office X11-166/ STR3020
Par-Kut supplies cost-effective in plant offices such as modular inplant offices with pre-engineered modular office systems that provide solutions for efficient space utilization. From a simple wall dividing system to a single office, multiple office or even a two-story multiple office system, no job is too small or too large.
We always seek better, faster and more economical ways to design, engineer and manufacturemodular in plant offices.
Assembly of units can be completed by the customer or Par-Kut can coordinate the assembly of the structure of the modular inplant office by an experienced crew. The panelized, site erected offices can include modular electrical systems, too.
There is also a tax advantage with an investment in in plant offices. Par-Kut's modular in plant offices can be fully dismantled, relocated, and reassembled. This mobility, under the Modified Accelerated Cost Recovery System (MACRS), allows the modular inplant office to be classified as "tangible property" with a shorter 7-year depreciable life.
The in plant office sold by Par-Kut are also available in noncombustible panel construction. The DL type panels have been tested in accordance to ASTM-E-84 (copies of the laboratory tests are available upon request). The other components of our Pre-Engineered office, i.e. suspended ceiling, dust cover, steel door and windows, are noncombustible, as well. Incorporating the DL type panels into the modular in plant office design will create a system in which all the components are noncombustible.
Go to GALLERIES to view additional Modular In Plant Offices.
Company: Par-Kut International, Inc.
Product: Custom Solutions
Source: http://www.parkut.com/products/offices/modular-in-plant-offices/
Tags: Interior Design | Office
---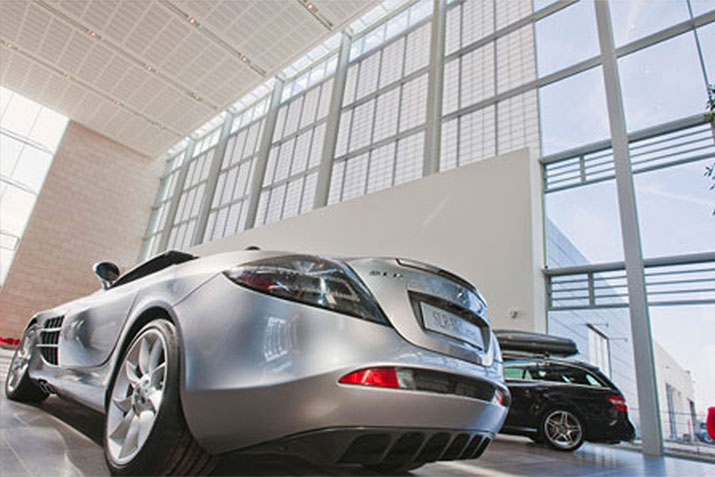 Big and bold. Curvaceous and intelligent.
If you are looking for the latest industry insights and trends in building design for 2017, getting together with architects and builders throughout the world is a sure way to fill up your notebook and keep you current.
During the conferences we have recently attended – BAU, the world's leading trade fair for architectural materials and systems in Munich, Germany; Facades+ in New York City and the AIA Conference on Architecture in Orlando, Fla. – common themes have emerged.
For instance, there are new trends in glazing technologies, including larger formats and smaller sight lines. Elegance will always be in, but people really want big units for aesthetics and performance.
Here are four takeaways from the 2017 conference circuit:
Architects are looking for a more monolithic feel and they are finding it by incorporating glazing and products such as Kalwall® that can push the envelope by delivering large panel formats (up to 5' x 20' | 1.5m x 6m) set within more attenuated framing.
It used to be about curb appeal. Now it's about curve appeal. We found significant interest in our Kalcurve® System as curved glazing, even double curve glazing, is becoming more and more popular.
Smart technology continues to be in demand, but the ways technologies are making buildings more intelligent is expanding. We can imagine sensors someday being incorporated into our panels to help regulate light levels and communicate information to the HVAC systems to regulate heating and cooling.
Energy efficiency is still a first order priority for architects, contractors and owners alike. Exhibiting at BAU for the first time was a great way to see how Kalwall's superior thermal properties drew global interest and admiration.
Getting the opportunity to attend multiple conferences, listening to the different points of view on how to make buildings more beautiful, safer and efficient, helps bring a truly global perspective to what we do.
Sam Keller is the Creative Director for Kalwall. You can reach him at skeller@kalwall.com.
Company: Kalwall Corporation
Of: Sam Keller
Source: https://www.kalwall.com/2017/05/09/glazing-over-global-trends-larger-formats-and-smaller-sight-lines/
---
Draper has announced EchoControl, an innovative acoustical treatment that improves the acoustics within rooms by utilizing sound-absorptive materials. Draper's EchoControl will "officially" debut at InfoComm 2017, June 14 – 16 in Orlando.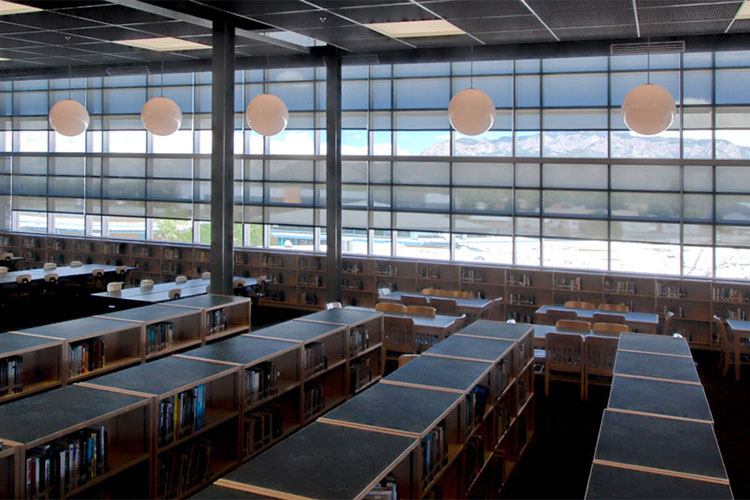 Draper is proud to introduce a new line of acoustical shading products
Draper's new line of acoustical shading, EchoControl, is designed to address one of the most pervasive pollutants we battle today – noise.
According to the Noise Pollution Clearinghouse, a national non-profit organization with extensive online noise-related resources, (www.nonoise.org), "Noise is among the most pervasive pollutants today…Noise negatively affects human health and well-being. Problems related to noise include hearing loss, stress, high blood pressure, sleep loss, distraction and lost productivity, and a general reduction in the quality of life and opportunities for tranquility."
As commercial design trends continue to lean toward the contemporary – open spaces and sleek surfaces with the use of more glass and exposed ceilings – and with LEED objectives in mind, architects have been met with new acoustical challenges. Draper's EchoControl addresses acoustical needs within the commercial and office environment. It has been shown to display increased absorption among human speech frequencies, making it even more effective at controlling sound in environments, such as office settings, in which privacy and noise reduction are key.
Why should we use sound absorbents?
To reduce reverberation inside a room (echo)
To reduce the overall level of sound
Acoustic treatments are used to improve the acoustics within a room by using sound-absorptive materials, like our EchoControl, to reduce echoing caused by sound reflecting off hard surfaces (like windows).
Walls, especially those with windows, offer good surfaces to install acoustic absorbers. This fabric offers a unique combination of acoustic and lighting control and comfort! Available on both motorized and manual shades.
Echocontrol fabric features:
Light-filtering – diffuses light, reduces glare
Controls solar heat gain
Reduces fading of interior furnishings
Certified to GREENGUARD GOLD standards
Infused with Micorban® antimicrobial product protection
NRC*: 0.60
*The noise reduction coefficient astm c423-90a (NRC) rates the effectiveness of a material to absorb sound. The NRC scale ranges between 0 and 1 (0 being completely reflective and 1 being completely absorptive). This is calculated by averaging the frequencies of 250, 500, 1000, 2000, and 4000 hz (rounded to the nearest multiple of 0.05).
Company: Draper, Inc.
Source: http://residentialtechnology.draperinc.com/acoustical-shading/
Tags: Acoustics | Interior Design | Window Shades
---
Contemporary architectural styles are on the rise, but for those that don't want to lose that traditional feel, consider a rustic design complemented by modern touches. In the design world, this style is called transitional. The experts at Fresh Home define transitional design as the blending of modern and traditional elements; the result is a cohesive design.
Transitional design can be applied in many different ways in most every room in the house as well as outdoors. Case and point below.
This kitchen embodies all the charm of a rustic space with its large, weathered beams grounded by wide wooden plank flooring. However, the sleek stainless steel appliances, industrial lighting, and brightly colored bar stools and give this room a more modern touch. The addition of the CableRail stair and loft railing opens up the space, making the interior more dramatic.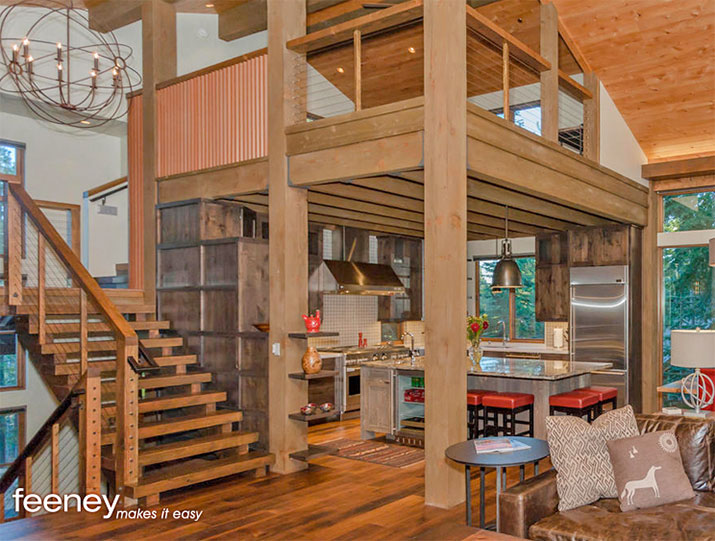 Here's another great example of a transitional design that incorporates a more natural, rustic feel but is balanced with contemporary components. This home was featured on the FOX television show HOME FREE. Feeney's CableRail was utilized as an alternative to traditional wood railing to create a sleek look complemented by the nature-inspired color palette. In addition, the patterned plywood accent wall with cylindrical concrete sconces adds depth to the space, resulting in a bucolic, simple design.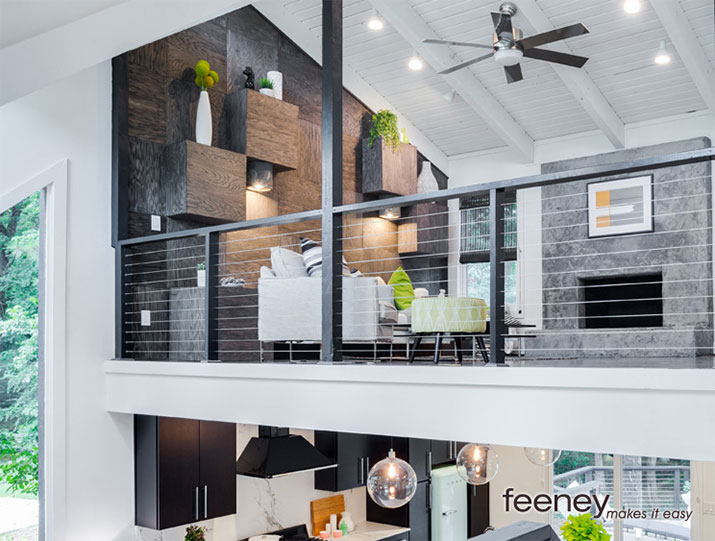 When it comes to exterior spaces, Feeney's CableRail and DesignRail® systems are just one of the many ways to transform a rustic-style design into a more contemporary one. A cable rail infill paired with a wooden railing offers a warm yet sleek look. The railing allows the homeowners enjoy what is certainly a lush wooded view from their Adirondack chairs. The outdoor area also incorporates a beautiful natural stone accent wall giving it a cabin-like appearance, and the additional exterior walls have a dark tone to them providing a more modern feel. While each of the design elements has a distinct style, the "mix and match" approach and blends cohesively and beautifully with the environment.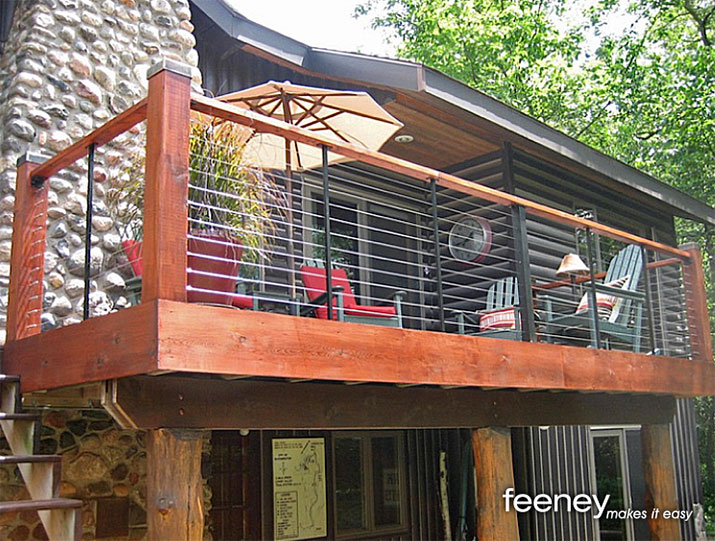 Company: Feeney, Inc
Source: http://media.feeneyinc.com/blog/rustic-meets-modern-transitional-design-style
Tags: Exterior Design | Interior Design | Railing System
---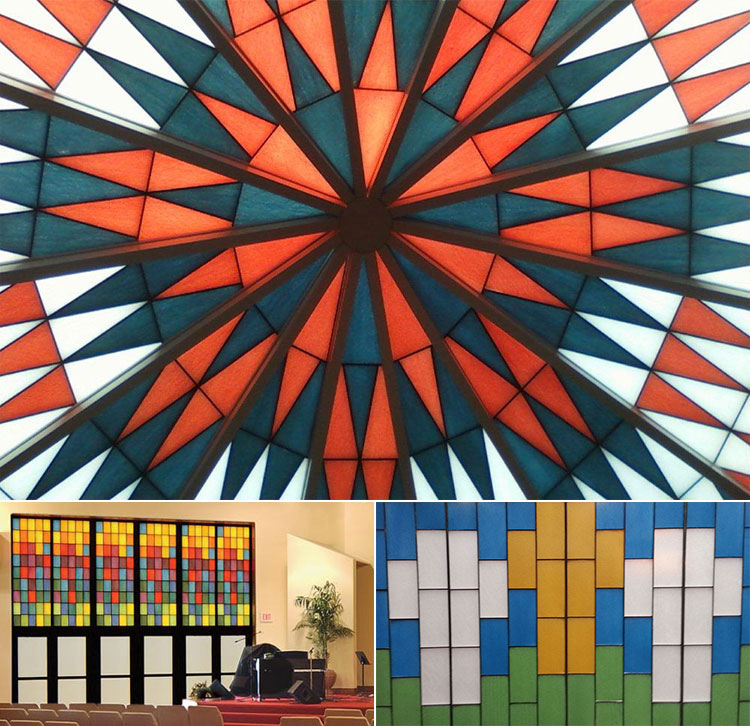 Looking for a unique way to incorporate school colors into an education facility, or perhaps you're in need of high thermal performance but want the look of stained glass? Energize your next daylighting design with Spectra-Grid™.
Spectra-Grid™ is an eye-catching color option for our translucent panel systems. Colored insulation allows for bright, vibrant hues to illuminate when light shines through. You can even light the panel from behind during nighttime hours to announce a building's entryway, or mix in company logo colors in a lobby skylight – the options are nearly endless. If you are looking to create a certain mood or colorful visual effect for your building, Spectra-Grid™, with its limitless color options, offers a cost-effective solution.
No matter what the function – from retail space to athletic facilities – let Spectra-Grid™ bring the power of color to your next design. Call 888-759-2678 or email sales@majorskylights.com for more details.
Company: Major Industries Inc.
---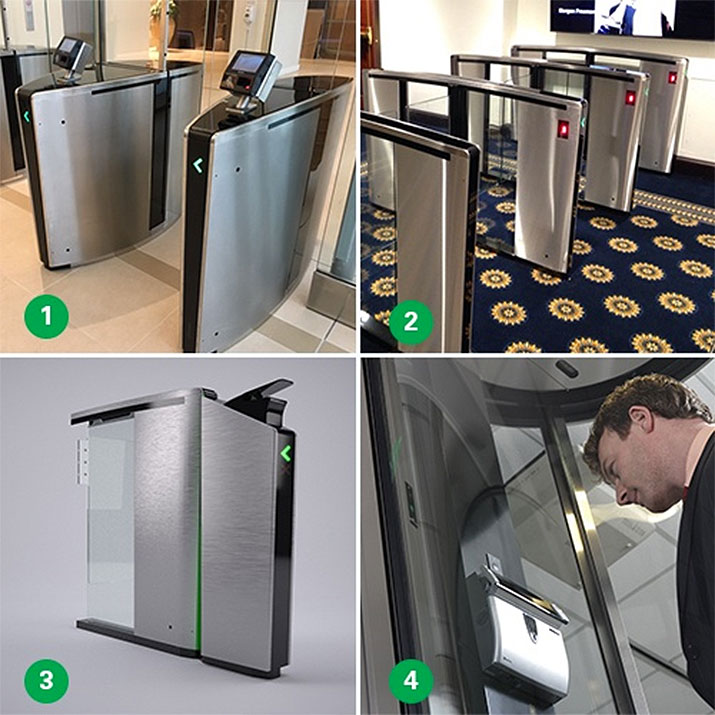 You are likely convinced that a physical security entrance is absolutely necessary in order to get the most out of your access control system and truly keep unwanted people out of your facility. Integration between door access control systems and security entrances can be a fine art; the perfect balance of functionality, space and aesthetics.
There are various types of access control systems available today, everything from bar code and QR code readers, to fingerprint and iris scanners, to traditional card readers and key pads. The size and shape of each individual device varies greatly based on both type and manufacturer. Let's discuss some ways you can integrate your access control system with your security entrances.
Four Integration Techniques
All physical security entrances have a designated place for your access control device – optical turnstiles: under the cabinet top; full height turnstiles, security revolving doors and portals: mounted on the side post. Yet, based primarily on space and what you are trying to achieve, these designated mounting places may not fit your needs. Here are some alternative options:
Top-mounted: For optical turnstiles, mounting an access control device on top of the cabinet is an integration method that is most intuitive for the user because the reader is visible when approaching the lane. Organizations that utilize lift or elevator notification devices (destination dispatch) have also found that top mounting is a viable option. They tend to place the access control device in the designated area (under the top), and the elevator notification device either on the turnstile top, or on a custom pedestal (read on to learn more about this option).

Panel Cut-outs: Another option for optical turnstiles, panel cut-outs are typically used due to space limitations on or under the top. This type of mounting can be used as the sole means of accessing the secure area, or in addition to the traditional, under-the-top mounting option (two-factor authentication). Some companies have even used the panel cut-out to mount a device that is used solely for visitor entry. While this option of mounting is aesthetically pleasing, (no big device on top of your turnstile), it does require user training because the reader is not always easily visible.

Custom Pedestal: For entrances of all types, pedestals are a common way to mount an access control device. We've seen some basic, standard pedestal designs, but some manufacturers are working with the end user to develop a sleek pedestal that imitates the curves and design of the entrance itself – true integration at its finest.

Interior-mounted: Security mantrap portals are a unique, high security entrance designed to protect the most sensitive of areas. This sophisticated portal can be equipped with a biometric post for an interior-mounted access control device. Often used in conjunction with an external, side post-mounted device, the interior biometric device allows organizations to achieve two-factor authentication.
Two-Factor and Multifactor Authentication
Large companies are implementing two-factor and multifactor authentication techniques at their facilities to decrease the possibility of an intruder infiltrating the building. According to LoginTC, two-factor authentication means, "an attacker needs to solve two fundamentally different problems, each in different dimensions, in order to compromise your identity."
Utilization of two-factor or multifactor authentication typically involves the integration of two different access control devices for access through a single security entrance. This level of integration requires proper preparation and planning. There are, however, some all-in-one devices that can accept two or three authentications, e.g., a single Morpho Sigma device can accept any combination of a card reader, unique pin and/or fingerprint.
The fusion of your access control device and your security entrances shouldn't be an afterthought, but an integral part of your building design from the very beginning. Speak to your security entrance manufacturer about the solution that will work the best for your organization.
Company: Boon Edam Inc.
Of: Amy Coulter
Source: http://blog.boonedam.us/door-access-control-security-entrance-integration-techniques
Tags: Design | Entrances | Security
---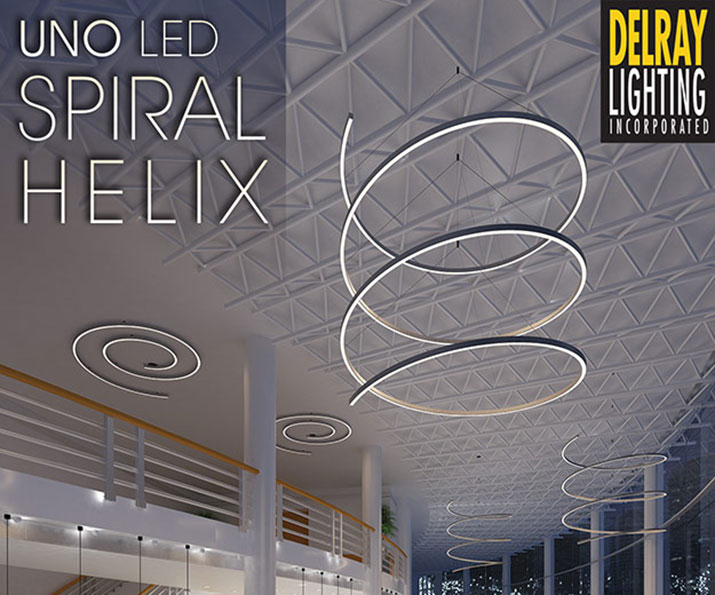 New from Delray Lighting: UNO Helix / Spiral large scale LED fixtures
HELIX is a 3, 4, and 5-foot vertical corkscrew of light suspended in cylindrical space. SPIRAL is a flat, wall/ceiling surface mount, gradually widening 5-foot diameter coil of light. Both feature efficient Nichia 90 CRI, 3000, 3500, and 4000K white LED chips, and are designed for spacious interiors with high ceilings.
Company: Delray Lighting
Source: http://www.delraylighting.com/uno_dos_linear_circular_led_delray.html
---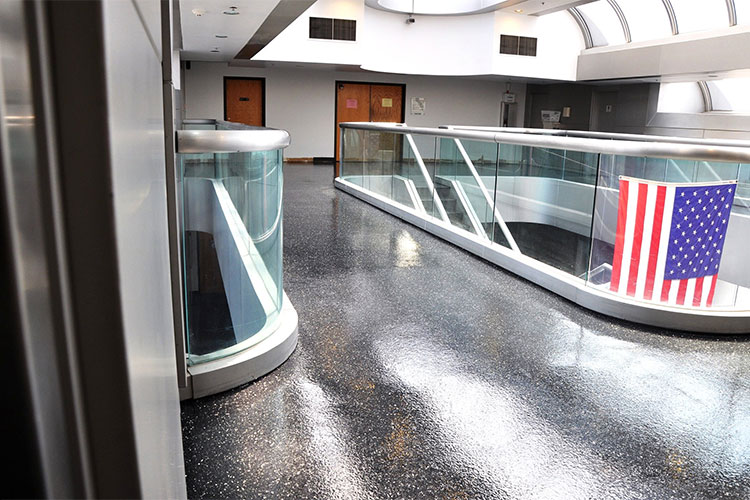 Architect specified a HERMETIC™ Flake Floor instead of terrazzo in this airport terminal. The cost savings was substantial.
HERMETIC™ Industrial Floor Coatings offer a variety of high performance flooring options for facility managers, property owners and specifiers looking for a ultra durable, easy to maintain, seamless flooring system. In fact, the choices are often so many that it becomes difficult to choose. In many cases, the right choice will be dependent upon the unique situation of the facility and what performance characteristics are required in a floor.
Industrial floor coatings are often chosen for aesthetic or financial reasons. They are a great value for medium to high impact areas where heavy traffic is expected. HERMETIC™ (epoxy resin based) Industrial Floor Coatings are available in almost any color and can be applied in thicknesses between 1/16″ to 1/2″ or more. They can easily improve the aesthetics and harden the surface of existing concrete substrate. Epoxies create a seamless, waterproof barrier, which provides a well-protected surface but demands a low-moisture substrate on which to be applied. Because an expertly installed epoxy floor provides this wall-to-wall seamless surface, it is very popular in the pharmaceutical and chemical processing industries. When chemicals cannot contaminate the concrete substrate, you are assured uncontaminated products down the line and easy clean-ups in the meantime.
HERMETIC™ (urethane based) Industrial Floor Coatings are similar to epoxies in terms of installation and function; they are installed over a concrete substrate, filling in the cracks and achieving a smooth, seamless surface. Urethane, however, is a better choice for areas that are likely to receive thermal shock, high-impact, increased abrasion or chemical exposure. Urethane is an extremely durable product that is likely to meet or exceed the physical needs of any facility. Urethanes also have aesthetic appeal similar to epoxies. The material can reflect light to a degree that influences your utility costs and improves worker productivity. For all of these reasons, urethane is a popular choice for commercial kitchens and food processing facilities.
Company: Elite Crete Systems, Inc. (Headquarters)
Product: HERMETIC™ Industrial Flooring
Source: http://elitecrete.com
Tags: Coating | Concrete | Finishes | Floor | Interior Design
---

Your building is complete and ready for occupancy. The walls are clean and free of dents. To ensure the interior remains an attractive environment for customers and clients make sure your walls and corners are protected.
Corner Guards are designed to protect corners of walls from the impact of people, carts and equipment. Architectural grade corner guards generally consist of a retainer, aluminum or vinyl, which is attached to the wall. They may be divided into two main categories as follows:
Surface Mounted. These are added to the surface of the corner, usually after the drywall is completely finished and painted.Stainless steel corner guards offer a high level of protection to your corners and provide a sleek appearance. They are commonly available in either Type 304 or Type 430 with a satin brush finish or an embossed texture finish. These are applied directly to the wall using either construction adhesive or mechanically fastened. Stainless steel corner guards are configured to the designer's requirements and are a durable solution for directly adhering to the wall.

Vinyl surface mount corner guards use a vinyl cover snapped over a retainer. Installation caps are applied to lock the profile in place and provide a finished look while keeping dust and debris from getting between the cover and retainer. The most frequently specified vinyl surface mount corner guards are the 2- and 3-inch with a square 90° radius. Coordinating 3-inch, 135° radius options are generally available as well.

A lower cost extruded vinyl corner guard is also an option. This corner guard is attached directly to the wall surface without the use of a retainer. It is an economical yet durable solution suitable for lower abuse areas.

Recess Mounted. The retainers for flush mounted corner guards penetrate the wall and are installed when the drywall is installed. This limits their application to new construction or major renovations.Recess mounted corner guards share the same standard 2- and 3-inch wing dimensions as the vinyl surface mount corner guard. They include an aluminum base for cove base mounting and are typically available in either a square 90° radius or with a 135° radius. Since recess mounted corner guards penetrate the wall, if the wall is required to be fire-rated, a fire-rated corner guard is also required.
Matching or adding color to your interior is achieved with a broad range of available colors. Often times manufacturers can color match for very specific design requirements.
Nystrom understands the importance of maintaining an attractive interior. We have designed a complete line of metal and vinyl wall protection systems including corner guards, handrails, crash rails, and bumper guards to help keep that new, fresh interior. Contact Nystrom for assistance in creating and maintaining your interior investment. For more information, please visit www.nystrom.com.
Company: Nystrom
Product: Wall + Door Protection
Source: https://news.nystrom.com/2017/03/27/interior-corner-protection/
Tags: Interior Design | Safety
---
The University of Iowa (UI) School of Music in Iowa City celebrated its 110th anniversary with a new home – Voxman Music Building. Designed for durability, sustainability and the highest acoustic performance, the 190,000-square-foot project features energy-efficient window and curtainwall systems, finished and thermally improved by Linetec.
The $152 million project is targeting LEED® for New Construction Gold certification. Wausau Window and Wall Systems worked closely with glazing contractor Architectural Wall Systems (AWS) to achieve the design intent set by LMN Architects and Neumann Monson Architects. Mortenson Construction served as the construction manager agent for UI.
"We conceived the project as a means of extending the public space inside the building, and we do that with glass," says LMN partner and project designer, Stephen Van Dyck, AIA, LEED AP. "The window systems play a huge part in creating the visual transparency between the public and the performers, and the connection from within and without of this educational and cultural building."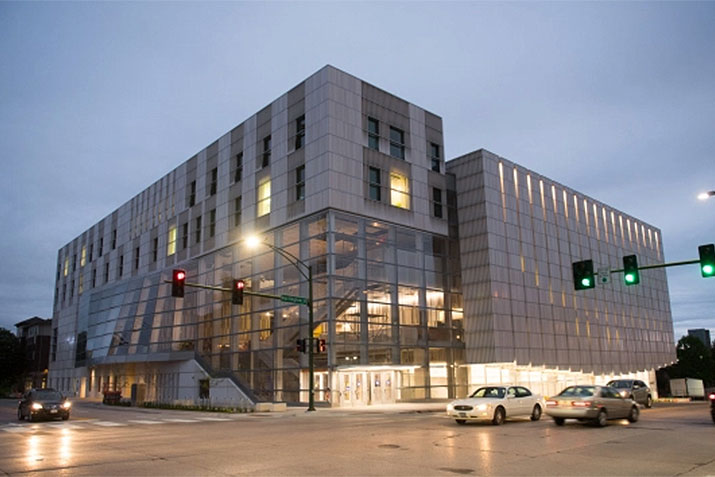 A Highly Anticipated New Home for the UI Music Department
Linetec Products Support Project Sustainability Goals
Linetec's thermal improvement services and anodize finishing are key contributors to the window systems' energy-efficiency, visual appeal and durability. The anodizing process produces a uniform, hard and protective finish. Linetec's anodize finishes meet the requirements of the American Architectural Manufacturers Association's stringent Class I specification standard, AAMA 611-14. The anodized aluminum resists the ravages of time, temperature, corrosion, humidity and warping, for a long product life cycle. Anodized aluminum may be specified with recycled content and is 100 percent recyclable.
In addition to durable finishes and recyclable materials, Linetec helped support the project's sustainable and LEED goals for thermal comfort and energy performance by providing thermal barriers for Wausau's window and curtainwall systems. Both Linetec and Wausau also are considered local suppliers, as they are located within a 500-mile radius of the UI campus.
Unique Window Systems Supply Natural Light and Visual Appeal
Wausau's systems also contribute to recognized benefits of daylight and views, and are a main visual feature of the building. The glass exterior begins beneath the concert hall, wraps around and up to the main entrance and continues over the recital hall, reaching heights of 50 feet.
One of the building's most unique features is the shingled curtainwall – called the "warped wall" – overlaying the recital hall, in which construction of glass and metal units are layered to create an undulating slope that appears to gently pour from the building's roof to its base. On the interior, a central atrium funnels natural light into the building.
Large-scale window systems are rare in musical spaces due to the acoustic challenges they can present. By choosing a low-iron glass with a low roller wave and horizontal orientation, acoustic and visual distortion was minimized. Large panes of glass diffuse sound at different rates on the shingled wall, and tall and narrow windows minimize vibration throughout.
Prioritizing Acoustic Isolation and Performance
"The acoustic requirements for this project are of utmost relevance," emphasizes Chucho Loria, AIA, with Neumann Monson Architects. "Wausau's team looked at the various conditions in the project. They developed details, during the shop drawing review process, to ensure that their system would meet the design intent of the project. It was apparent in those details that Wausau was taking efforts to make their system interact with the rest of the building."
"We prefer an integrated, whole building approach – especially with complicated engineered projects," says Doug Laffin, Wausau's architectural sales representative serving Iowa. "Our systems may be just one part of that whole, but everything must work together to successfully deliver the architectural vision and critical functionality."
"Almost all of the job was acoustically sensitive," says Lee Ebel, AWS project manager. "Wausau produced and had tested units that verified the system would meet the necessary STC ratings at the corresponding frequency."
Sound Transmission Class (STC) is a single-number rating system for acoustical performance, where a higher number indicates better performance. The Voxman Music Building's design specified an STC 55, which is suitable for blocking loud noises including musical instruments.
"Almost every room is acoustically isolated," explains Van Dyck. "This means that instead of the usual one wall, one floor between each room, there are two or three walls and two floors to separate most of the rooms and keep sound from transferring between them. We're also trying to keep the sound from passing from the outside into the building's interior. The windows are a big part of that equation."
Adding glazing mass, increasing air space and improving damping by the addition of a laminated interlayer achieve improvement in acoustical performance. Of course, maintaining an airtight assembly to reduce "flanking" noise is critical, especially at high frequency. All three approaches were used to meet the acoustic requirements of the Voxman Music Building.
"The goal was to have virtually no outside noise in the recital hall," says Randy Arneson, Wausau's senior estimator on the project. "There's 5-inch airspace between the inside and outside glass lites of our curtainwall to decrease sound transmittance. For the majority, we used Viracon's 1-5/16-inch OptiWhite laminated, insulating, specialty glass."
In the concert hall, the glass was glazed into the window system's interior-facing plane with a 3-inch airspace. On the exterior-facing plane, electrochromic SageGlass was installed. Electrochromic (EC) glass darkens or clears when a low-voltage DC current is applied. Wausau incorporated the necessary wiring paths to connect the windows' EC glass with a user-controlled switch. This enhanced functionality allows the faculty and students to reversibly control the sunlight entering their space and to maintain their outside view without shades or blinds.
"Wausau provided these elegant, tall, thin windows with EC glass. They're really cool. When the windows are turned 'on' and tinted, they produce this really nice, diffused light," says Van Dyck.
"They're very narrow – some are only 1 foot wide, but 40 feet tall. The smaller span actually helps with the acoustics. The stiffer it is, the less it wants to vibrate."
Ensuring Quality, Durability and Sustainability
Beyond acoustic performance, Ebel says, "The curtainwall system went through a rigorous performance mock-up test at a certified laboratory in Miami, Florida. The testing included air, water, dynamic, structural, seismic racking and thermal cycling."
Ebel adds, "The typical LEED requirements applied to this project." The window systems' high performance features contribute to quiet, comfortable spaces that promote concentration and creativity, as well as a whole building approach to energy-efficiency, daylighting and outside views.
AWS installed Wausau's SuperWall™ curtainwall, custom-engineered fixed and operable windows, and nearly 23,000 square feet of INvision™ 1050i-UW Series unitized curtainwall. Glazing and sealing in a factory-controlled environmental ensures that conditions are maintained to achieve the intended performance required for the project. Shipped one lite wide by one floor tall, the interlocking, pre-assembled units make the system easy to install on the job site. This saves labor, time and associated costs.
The curtainwall and window systems' installation was finished on time and on budget. "It took a lot of coordination between all parties, and modeling of the curtainwall and structure to ensure that everything would fit correctly in the field once installation started," Ebel says.
"Aesthetically, the project looks great," concluded Van Dyck. "But, let's face it, for this project, it wouldn't matter how great it looks if doesn't sound great, too. The window systems are a critical part of that success."
UI's new music facility replaces its former location, which was damaged by the 2008 flood. Programming and schematic design began in 2011. In 2014, the new building's essential structure was completed and the building envelope could begin taking shape.
The Voxman Music Building was substantially completed in July 2016 and welcomed its 450 music students and 60 full-time faculty on Aug. 22, 2016. The grand opening and ribbon-cutting event was held on Oct. 21, 2016. The 324-room space includes classrooms, teaching studios, a library, offices, recital spaces, a rooftop terrace, a 700-seat concert hall and a 200-seat recital hall.
David Gier is the first to serve as the UI School of Music's director in the Voxman Music Building. The facility's name honors one of his predecessors, the late clarinetist Himie Voxman who served as the school's director from 1954-1980. Gier and the School of Music have eagerly awaited their new home.
Company: Linetec
Source: https://linetec-blog.com/2017/05/16/designed-for-resiliency-and-acoustic-performance-university-of-iowa-voxman-music-building-features-linetecs-anodize-finishing-and-thermal-improvement-services/
Tags: Acoustics | Aluminum | Energy | Glass | Sustainability | Wall Panels | Windows
---
Figuring out the right shower pan to use can be a pain. Do you get a traditional shower base with a 4 to 5" step over curb? Would a low-profile curb (which is 1 ½" tall) be the ticket or would it allow water to spill out onto the bathroom floor? Could you ditch the shower curb entirely and choose a ramped entry or one level wet room?
I've talked to thousands of homeowners over the last 20 years (wow – has it been that long?) about shower pan options, and I'll tell you the case for blowing up the shower curb (having no threshold at all) has never been stronger! In this article I'm determined to lay out 5 compelling reasons you should seriously consider going with a curbless shower for your next bathroom remodeling project. Let me know at the end of the article whether you agree with these reasons or whether I'm all wet (OK – that's a bad attempt at bathroom humor).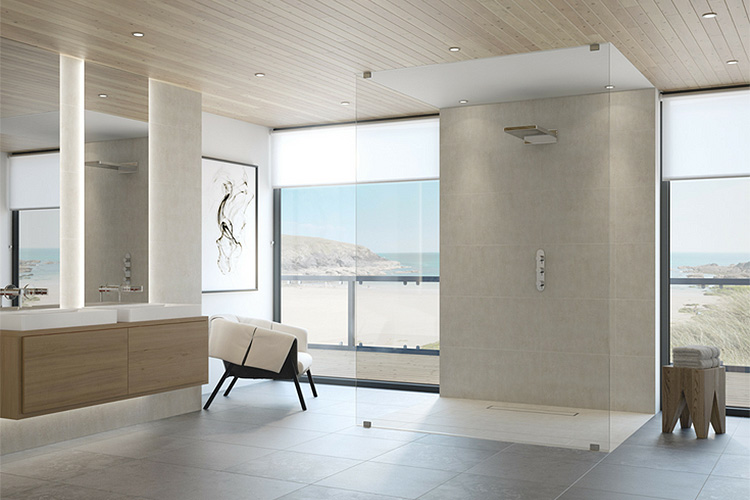 Zero clearance shower pans look nice and are safer
Compelling reason #1 to ditch the shower curb.
You're getting older.
Duh, you're probably saying…. aren't we all getting older? Yes, that is true. I would add the good news is we are living longer, but the bad news is (somedays) we're living longer. The aches and pains in the morning do stack up as those gray hairs (if you're lucky enough to get them without becoming "bulbed" as my daughter used to call bald people when she was young) start to mount. While growing older is a blessing, on some days it can also feel like a curse. I know I've asked myself why my body has "wear" parts? Why can't I look as lean as my 18 and 22-year-old sons who don't have to watch what they eat (but I digress).
When we age, the unfortunate fact is our mobility goes the wrong direction. Stepping over a shower curb can be a dangerous thing. It is the cause of many expensive and challenging hospital stays. When you have a one level shower entry there is no curb to trip over. These zero clearance shower base designs are growing rapidly in the remodeling market -even though few new home builders (even construction companies who build in 55+ lifestyle communities) incorporate them in new home designs. If you want to stay safe the one level designs are increasingly important as you age.
Compelling reason #2 to ditch the shower curb.
You'll save space.
For most people this tips doesn't seem logical but if you've ever visited Europe or Asia and stayed in a hotel room (or a friend or relatives house) you'll see lots of examples of one level bathrooms with open showers in small spaces. The reason curbless showers save space is they break down the barriers of the traditional "shower enclosure" where the space is defined by the shower pan and glass enclosure. With a waterproof curbless shower the shower and the bathroom are one continuous space. If you've got a small bathroom (possibly in an apartment, loft, tiny home, or micro-home) this can be a space-efficient way to get 'er done (as Larry the Cable guy) would say.
Compelling reason #3 to ditch the shower curb.
You'll show your cool, sleek and minimalist good taste.
Design trends have changed a ton from the super-sized mega-mansions of the 1990's with expansive soaking tubs and ornate tile designs. What's hot today is a contemporary, clean, sleek and minimalist bathroom. These spaces use large format tiles (or sleek grout free shower panels) and often have wall mounted cabinetry and open and airy designs. Curbless showers are a perfect contemporary fit with this design trend.
Compelling reason #4 to ditch the shower curb.
It's never been easier to create a one level bathroom.
In the old days making a one level bathroom was a pain in the butt. Most contractors would scratch their heads trying to figure out what to do. In most cases, they would "drop the floor" of the bathroom. What this meant was cutting your subfloor, then cutting your joists and reframing the area so they could pour concrete into the new "hole" which they would level by hand (imagine how much you're going to like have concrete poured inside your bathroom – it's not like you're doing a driveway and the concrete truck is going to have the material come down the chute!). This process is not only laborious and time-consuming to build– it's not a great system because it can compromise the structural integrity of your home.
Thank goodness there are new simple options. Today you can get a wet room kit. With these kits, you (or your contractor) cut the subfloor and install a product called a "shower base former" directly on your existing joists (no cutting of the joists and messing up the integrity of your framing anymore – see the in process image below).
Once the base former is in and plumbing hooked up, cement board will be brought to the height of the base former. Finally, the bathroom floor will be waterproofed and tile installed on the finished surface. When the entire shower is done, it will look like the image above– cool, sleek, waterproof and safe!
Compelling reason #5 to ditch the shower curb.
You'll have more flexibility.
I wish I could tell you getting rid of your shower with a threshold would give you more flexibility to climb stairs or jump as high as your cat (isn't it amazing how high they can jump?). You'll just have to enroll with your spouse in a few yoga classes (OK maybe more than a few) to make this happen. Where I do think one level wet room can help your flexibility is you will no longer have to have your space be "defined" by the shower pan and glass enclosure. So, if you decide you want to change out the glass enclosure to make the shower bigger, smaller or change its shape you can do it. How cool is that?
Conclusion
The reality is the times are 'a changing.' Construction methods are 'a changing' and your thoughts about bathroom remodeling (and what type of shower base to use) should be 'a changing' with them. If you're dealing with an old (or young) stuck-in-the-mud contractor using outdated installation methods, don't put up with it anymore (I'm guessing you're not using the same computer, you used 20 years ago. Your contractor shouldn't be using the same approach to creating one level showers they did 20 years ago.
If you're having a tough time making this project a reality call us at the number below or add your questions or comments to this post. We are looking forward to helping you! One level bathrooms aren't as difficult as some contractors make them out to be.
What questions or comments do you have about trims and borders for DIY shower and tub wall panels? Comment or call the numbers below for more information.
If you're looking for more information or an estimate on remodeling a shower or nationwide material supply for the various wall panels and shower bases mentioned above call The Bath Doctor in Cleveland (216-531-6085), Columbus (614-252-7294) or for nationwide supply Innovate Building Solutions (877-668-5888).
Connect with the author on Twitter @Mike_Foti his company @InnovateBuild
Company: Innovate Building Solutions
Of: Mike Foti
Source: http://blog.innovatebuildingsolutions.com/2017/04/01/5-reasons-wet-room-shower-system-shower-pan-threshold/
Tags: Floor | Interior Design
---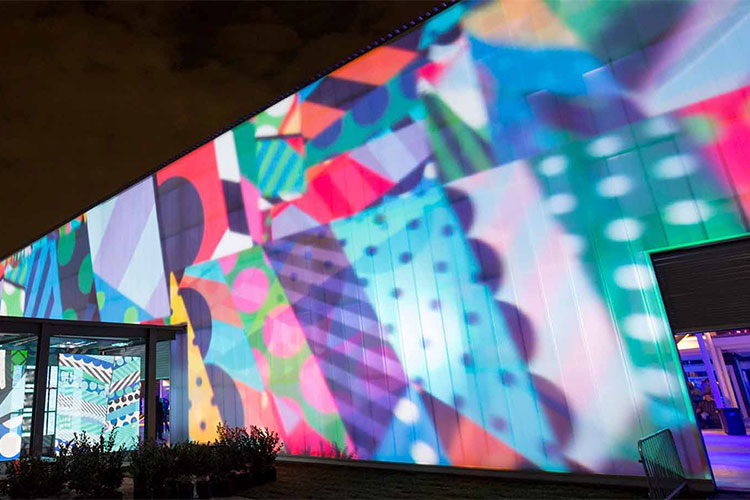 EXTECH provided anti-reflective (AR) polycarbonate glazing and its LIGHTWALL 3440 system for this entertainment venue. AR polycarbonate enabled lighting effects to be projected onto the translucent facade
Three new polycarbonate glazing options are available for the LIGHTWALL 3440® interlocking translucent wall panel system from Exterior Technologies, Inc. (EXTECH): Anti-Reflective, Infrared-Blocking and Anti-Graffiti.
Anti-Reflective – When high-efficient light transmission is paramount for a building's design, EXTECH offers anti-reflective polycarbonate glazing. Systems using this UV matte option facilitate a better distribution of light throughout a building's interior, while reducing reflections and glare. This option is also ideal for entertainment venues that want to project high-resolution images and lighting effects onto a translucent backdrop.
Infrared (IR) blocking – When high light levels and solar control are equally important, EXTECH provides polycarbonate glazing with an external surface that filters out unwanted IR and UV waves. EXTECH systems use this material to reduce solar heat gain, ensure comfortable interior temperatures, protect interior finishes from accelerated fading, reduce demand on the HVAC system and save on electric lighting costs.
Anti-Graffiti – When a project is in a high-traffic area and is at risk of damage or vandalism, EXTECH can enhance daylighting systems with anti-graffiti glazing that resists vandalism and scratching. Anti-graffiti glazing is also more resistant to natural weathering and typical chemicals, and is easier to clean.
In addition to these functional glazing choices, EXTECH's LIGHTWALL systems contribute to commercial buildings' aesthetic, performance, and sustainability goals. Lightweight and easy to install, the LIGHTWALL system helps construction teams facing condensed schedules, and facility managers seeking low-maintenance longevity.
"As our most popular product, the LIGHTWALL 3440 offers beauty, durability and economy with vertical panels that can extend up to 54 feet long and eliminate leak-prone horizontal joints," says EXTECH Director of Product Application and Development Kevin Smith, R.A. "Our LIGHTWALL system does not require framing members within the field of the glazing, which allows for a clean, modern architectural aesthetic."
In addition to enhancing a building's appearance, the LIGHTWALL 3440 meets demanding performance specifications, including high wind loads, impact resistance, fire rating, air infiltration, water penetration, thermal (0.25 U-Factor) and structural performance – the LIGHTWALL 3440 possesses some of the highest performance numbers in the industry due to its advanced framing. These attributes support energy efficiency and sustainability goals, such as the U.S. Green Building Council's LEED® rating systems.
Smith adds, "The diffusing characteristics of the cellular polycarbonate reduces dependence on electric lighting and reduces solar heat gain into the building envelope, as well as reduces light pollution emanating from the building. Because it is a dry-glazed system, VOC emissions also are reduced."
LIGHTWALL 3440 also uses highly insulating, 100 percent recyclable, 40 mm structural cellular polycarbonate and 38.95 percent recycled aluminum framing manufactured in Pittsburgh.
To order a sample and learn about EXTECH's LIGHTWALL 3440, please visit the product web page. For more information on EXTECH's products and services, please call 800-500-8012 or email info@extechinc.com.
Exterior Technologies, Inc. (EXTECH) is an award-winning manufacturer and designer of wall, window, skylight, canopy and custom façade systems. The company delivers solutions for a variety of industries and applications, and is committed to collaboration, innovation, and exceptional engineering.
Company: EXTECH/Exterior Technologies, Inc.
Product: Translucent Walls
Source: https://extechinc.com/lightwall-3440-polycarbonate-wall-panels/
Tags: Building | Design | Lighting | Sustainability | Wall Panels
---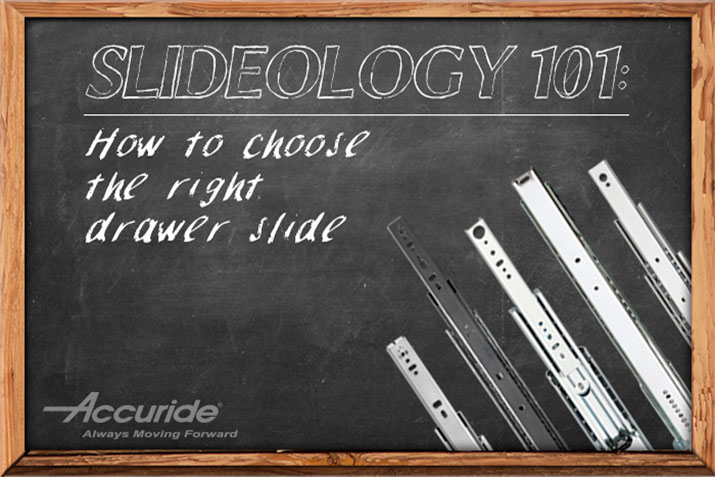 A good drawer slide means the difference of years of headaches versus years of convenience. Unless you have a lifetime's supply of aspirin, you want the latter. But what goes into a good drawer slide and how do you figure the right one for your need?
Here's a brief guide to help you understand the basics of a drawer slide and how to choose the right one for your application.
The Basics
Accuride manufactures ball bearing slides. These slides feature lubricated bearings that move drawers and the like in a linear direction, allowing smooth opening and closing action. The bearings, secured within metal ball retainers, fit between the members.
A simple drawer slide has two members: a drawer (inner) member that attaches to the side of a drawer box, and a cabinet (outer) member that attaches to the cabinet's inner wall surface, within the drawer opening. Only one of the slide members (drawer) moves when opening a drawer.
A more complex slide structure will include three members, with an intermediate member located between the cabinet and drawer members. Only the drawer and intermediate members move; while the cabinet member remains fixed to its location within the cabinet structure.
Additionally, slides can come in two arrangements: side mount and undermount. Most Accuride drawer slides are side mount, meaning they're mounted on the side of the drawer and within the cabinet structure. A undermount slide, such as the 3135EC Eclipse, mounts in a position that allows a specially designed drawer to sit on top of the suspension, unlike a side mount slide. An undermount slide is often used where it's desirable to conceal the drawer slide components from view.
Ball bearing drawer slides are also known as rails, runners, and sliders, but they are not the same as glides. A glide uses thin rails on both mounting surfaces, and include plastic wheels on the drawer side allowing movement. Glides are often found on discount furniture; while inexpensive, their movement is much less smooth and the rails are prone to misalignment.
Lengths and Extensions
Accuride slides come in many lengths, from as little as 6 in. to as long as 60 in. Length refers to the total length of the slide assembly, when collapsed in the closed position.
How far a slide extends or moves, is called extension or travel. A simple slide that uses just two members, an inner and an outer, generally provides ¾ (or partial) travel. That means the moving drawer member travels at ¾, or 75%, of the slide's length. The Accuride 2132 is an example of a ¾-travel slide, where an 18-in. slide has approximately 13 in. of travel. These types of slides are common in residential uses, such as in kitchen cabinetry, or in office furniture, where direct full access to the drawer's contents is not desired.
Three-member slides have two moving components, the drawer and intermediate members. In combination, these members tend to extend either the full (100%) length of the drawer slide assembly or even beyond that. Those that exceed the length are called "over-travel" slides because they travel over 100% of the length of the drawer slide assembly. Full-extension slides, such as the Accuride 3832E Classic, are useful if you need easy access to contents, as with kitchen utensil drawers, and point of sale trays. Over-travel slides, such as the Accuride 3834E, which has 1 in. of over-travel, are ideal when additional drawer access is needed, requiring the drawer to be opened beyond the front face of the cabinet.
There are also two-way travel slides, such as the Accuride 0363, which can extend the full-length, of the slide, in either direction. These are useful for kitchen islands or entertainment bars, where direct access is needed on either side of the unit.
With that said, let's look at some factors that can help you choose the right slide for your application.
Load Capacities
Determine how much weight your application is likely to see when in use. Accuride slides' load capacities fall into three ranges: light-, medium-, and heavy-duty. A light-duty slide, such as the Accuride 2132, handles loads up to 75 lbs. Light-duty applications often include kitchen and office drawers. A medium-duty slide, such as the Accuride 3832E Classic, handles loads up to 100 lbs., while an Accuride 4032 is a rated up to 150 lbs. Medium-duty applications include larger kitchen drawers and office furniture. Load capacities for some of Accuride's heavy-duty drawer slides can reach up to 1,300 lbs. The Accuride 9301E is an example of a heavy-duty slide, which has a load rating of up to 600 lbs. Heavy-duty applications include pull-out trays on emergency or recreational vehicles, ATM machines, and utility/service trucks.
Disconnect versus Non-Disconnect*
Decide if you want your drawer to be removable from the cabinet structure. If so, choose a slide with a disconnect feature that lets you separate the drawer member from the cabinet, or intermediate member, allowing the removal of the drawer (to clean for example). There are slides with rail disconnect features (such as the Accuride 4032), which allow rails that are attached to the sides of drawers, to be released and lifted off the corresponding drawer members.
A disconnect feature is useful for furniture manufacturers with multiple assembly lines. One line may assemble hardware to drawers, while another may assemble hardware to cabinets. With a disconnect slide, manufacturers can simply mount the separate members in the assembly phases and then join them together in the final stage. Connecting a drawer member with a cabinet member can be as simple as align, engage and push closed.
Usually, you want to avoid a disconnect option with heavy-duty applications, such as those utilizing an Accuride 9301E. With most heavy-duty applications, it's impractical (and a safety concern) to remove a fully loaded drawer. Regardless of whether you use a disconnect feature with light- or medium-duty slide, consider whether you can safely handle the drawer and its contents before disconnecting the members.
* Read more about Accuride disconnect features from our first installment of Slideology:101 – The Art of Disconnect
Locks & Detents
Do you want your drawer to be secured in position? In that case, you may want your slide to include a detent or a locking feature. There are two types of drawer slide detents: detent-in and detent-out.
A detent-in slide has an engagement feature formed on the drawer member and a rubber-like molding secured at the rear of the cabinet member. These two features cooperate to frictionally hold a closed drawer in that position, preventing the drawer from drifting open. You can overcome the detent with a pull on the drawer when opening.
A detent-out slide includes cooperating components that holds the slide in the fully extended position, until you are ready to retract the drawer or a working platform, such as a keyboard tray. Deactivating a detent-out slide requires a simple "bump" of the extended unit to release the engagement features before pushing it back inside the cabinet.
There are two types of drawer slide locking features: lock-in or lock-out. Both features include a latching mechanism that secures a drawer open or closed. You can disengage, or unlock, the drawer by pressing a latch or lever (depends on the model). Some slides are just lock-out equipped, while a slide such as the Accuride 9308E has both features, ideal for mobile applications such as emergency vehicles.
Special Features
Additionally, slides can come with features that make opening or closing a drawer more convenient. These include:
Easy-Close
Self-Close
Touch Release
An Easy-Close slide includes a closing device, equipped with a damping cylinder, and cooperating springs that engages with the drawer member and assists the final inches of the drawer closing action. Easy-Close (sometimes-called Soft-Close) slides provide assurance that the drawer will close quietly and smoothly every time.
A Self-Close slide, also includes a closing device, with springs, but does not include a damping cylinder. The engagement of the drawer member is similar, and once engaged with the device, the drawer quickly closes at the last inches of closing distance. Self-close slides are noisier than Easy-Close slides, and sometimes are used as "stay-closed" devices for mobile cart applications.
A Touch Release slide allows opening of the drawer, without the need for a drawer pull. Activation of a Touch Release slide like the Accuride 3832ETR, is accomplished by simply pressing against the drawer front, which releases a spring activated device to "spring" the drawer out of the cabinet approximately 2 in. Closing is just a matter of pushing the drawer closed completely, which resets the device for the next opening activity.
Choice of Finish
Accuride slides come in three coated finishes placed over carbon steel slide members: zinc, black electroplate, or white electro-coat. Some slides utilize stainless steel or aluminum material as needed for specific applications. Zinc is most common plating finish for Accuride; it features an environmentally friendly base layer of zinc, with either a clear or a black chromate coating over the top. A clear zinc coating (the most common coating used by Accuride) resists moderate levels of corrosion, typically for slides used in non-corrosive environments, like office furniture. Electro-white (a paint) or black chromate-coated slides offer greater corrosion resistance that is eight-times that of clear zinc. Stainless steel and aluminum material slides offer even greater corrosion-resistant but are available only on select models.
Conclusion
This brief guide should shed some more light on what makes an Accuride slide and how it can best serve your needs. You can browse our vast selection of movement solutions at www.accuride.com.
Company: Accuride International
Source: https://www.accuride.com/blog/news/choosing-right-drawer-slide-slideology/
Tags: Furniture | Interior Design
---
Calling all color enthusiasts! Starting today, Sherwin-Williams is issuing a challenge to easily and temporarily remove color from social media photos, web browsers and personal websites.
It is all part of an effort to showcase the impact color has in our lives and to get DIYers ready for National Painting Week later this month. But wait, there's more: Sherwin-Williams will turn all digital color "donations" into fresh coats of paint for deserving community organizations during National Painting Week, May 19-29 and throughout the year.
"Sometimes, we don't appreciate something until it's gone, and that applies to color as well," said Ellen Moreau, senior vice president, marketing communications at Sherwin-Williams. "For several years now, Sherwin-Williams has been celebrating the benefit of a fresh coat of paint with National Painting Week. This year, we're inviting our fans to get involved in a new way, and for a good cause, as we illustrate the role color plays in our communities, homes and everyday lives."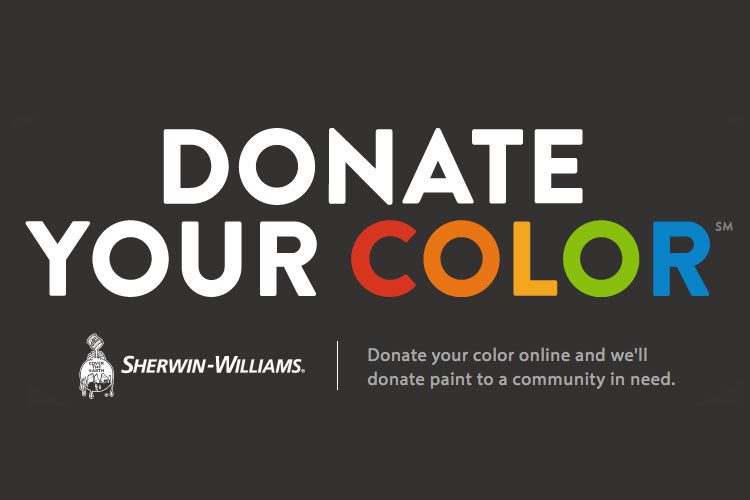 How it works
Visitors to DonateYourColor.com will have three options for donating: giving the color from a photo that can be easily shared on their social media channels; searching the internet in black and white with a Chrome browser extension; or, turning a personal website into black and white with an easy-to-use application. Depending on the option a user chooses, Sherwin-Williams will donate between 500 and 5,000 square feet of paint.
Participants who donate will be in good company, joining DIY influencers Vintage Revivals, Curbly, City Farmhouse and Thistlewood Farms, plus Apartment Therapy, Brit+Co and many others who are donating their color from website home pages, social media sites and more.
In addition, as part of National Painting Week, an annual celebration of protecting and beautifying the things and places we love, Sherwin-Williams employees will volunteer their time and expertise to revitalize spaces throughout the U.S. and Canada. Sherwin-Williams will also be sharing findings from proprietary research on color preferences, expert advice from Sherwin-Williams director of color marketing Sue Wadden, and key insights from color psychologist, Dr. Sally Augustin.
To get involved or for more information on how to donate your color, visit DonateYourColor.com. For more information on Sherwin-Williams products and services, or National Painting Week, visit: NationalPaintingWeek.com.
Company: The Sherwin-Williams Company
Source: https://www.donateyourcolor.com/
---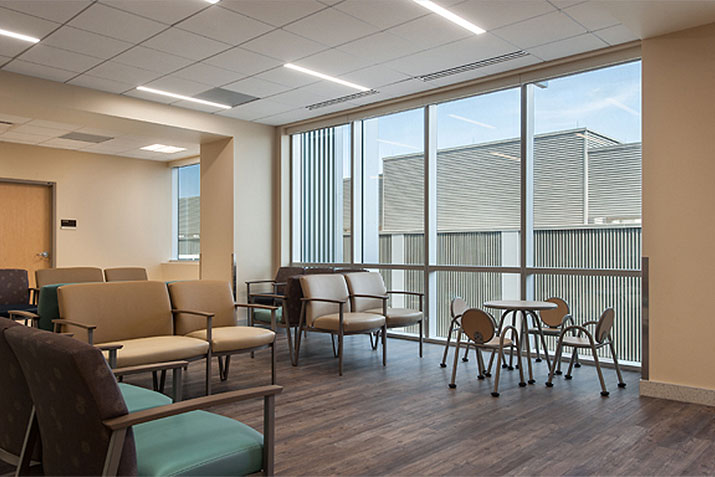 There are four basic benefits most often used to promote solar control: reducing glare, solar heat and light pollution, while increasing privacy. While these are great reasons to employ solar control, they only scratch the surface. Here are four new compelling arguments to consider.
Productivity
According to the National Institute of Building Sciences' Whole Building Design Guide, "Buildings can be more effective, exciting places to work, learn, and live by encouraging adaptability, improving comfort, supporting sense of community, and by providing connections to the natural environment, natural light, and view."
But, bringing more natural light and views of the outside creates additional problems. Glare, solar heat gain, and direct sun on workers' eyes or workspaces make it harder to perform basic work functions and lower productivity. So, the Whole Building Design Guide states, "Solar control solutions, including both exterior and interior shading systems, are … an important part of designing a productive building." For a more detailed look at how solar control can have a positive impact on productivity—and on the bottom line—click here.
Security
When the Glen Ellyn Elementary School District in Illinois decided it was time to build four new schools, the architects specified that classroom windows in the new schools had to be furnished with motorized shades. The main reason for this is rather sobering.
"One of the concerns is that should there ever be a need to lock down a school, they wanted to be able to quickly throw a switch to lower the shades so your movements can't be seen," said Al Marx of Shadeology, who installed the Draper shades. "You don't have time to be running to the windows to pull chains, while you're trying to take care of a classroom of elementary children."
There's also more and more need to shade not just the exterior windows but also the inside windows, according to Marx, again citing the safety concerns about masking movement inside the classroom. For a case study illustrating how shades can contribute to a school safety plan, click here.
Home Health
More people are deciding to design and build homes where they can stay in their own home and age on their own terms. The design strategy for aging in pace includes more natural light, especially with dementia patients. Having access to natural daylight and being able to see outside views has been shown to reduce patient stays in healthcare facilities, reduce needed pain medication, and improve mood and productivity. Unshaded windows, however, can also introduce problems such as discomfort, glare, and heat gain.
Draper offers many solutions for handling these issues. For instance, our Bottom-Up FlexShade lets you enjoy natural light through the top of the window opening, while providing protection from glare—or even privacy, depending on the fabric—on the lower portion of the window. For more information on the role of shades in aging in place, click here.
Noise Reduction
The non-profit group Noise Pollution Clearinghouse calls noise one of the most pervasive pollutants in today's built environment. "Noise negatively affects human health and well-being," according to their website. "Problems related to noise include hearing loss, stress, high blood pressure, sleep loss, distraction and lost productivity, and a general reduction in the quality of life and opportunities for tranquility."
To mitigate these problems, we offer EchoControl, a line of acoustical shading solutions. EchoControl reduces reverberation—echo—inside a room, as well as the overall level of sound in a space. Acoustic treatments are already used to improve the acoustics within a room by using sound-absorptive materials. With EchoControl, echoing caused by sound reflecting off windows can also now be addressed, even as glare and solar heat gain are reduced. To learn more about EchoControl, click here. To find out how window shades and solar control can help your project, contact your Draper representative. Click here to go to our online contact page.
Company: Draper, Inc.
Product: Solar Control Solutions
Of: Terry Coffey
Source: http://blog.draperinc.com/2017/04/new-ways-solar-control/
Tags: Window Shades
---
Howe Green Ltd supplied specially manufactured floor access covers for Sweden's premier art and design museum. The Nationalmuseum of Art in Stockholm is currently closed whilst undergoing an extensive restoration programme.
Despite being adapted and repurposed over the years the museum, which opened in 1866, had fallen behind with meeting operational and regulatory standards. The aim of the renovation is to create a more modern environment that will enhance the overall visitor experience whilst retaining the museum's architectural heritage.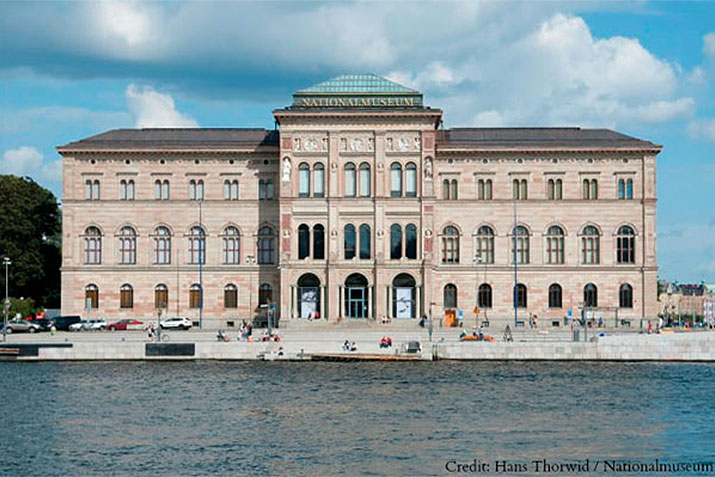 The renovations began in 2015 and the new museum is expected to open in 2018. In the meantime the exhibits have been temporarily relocated to local museums throughout Sweden.
The transformation will include the installation of a state-of-the-art climate control system to regulate the internal environment; the reinstating of bricked up windows to flood the space with natural light; new security technology and the expansion of the public spaces to house exhibits and visitor amenities.
The National Property Board of Sweden, a Swedish state agency who are responsible for the preservation of state-owned cultural heritage sites, are the developers. They are working with Swedish architects Wingårdh Arkitektkontor AB and Wikerstål Arkitekter AB.
Howe Green's Swedish distributor, Elkington AB, was contracted to supply floor access covers for the project. Elkington have worked with Howe Green since 1999. As well as extensive knowledge of the range of standard access covers that can be supplied the team has a full understanding of the bespoke access solutions that Howe Green can design and manufacture.
Otto von Platen, Managing Director for Elkington comments,
"We are always happy to recommend Howe Green access covers, especially in situations where the client requires a finish that is visually appealing and of superior quality. Buildings with a high level of pedestrian traffic, such as museums, hospitals and airports, require an access solution that can deliver on aesthetics, security and quality. After 18 years of working together we are confident that Howe Green covers fulfil those requirements."
Howe Green's 7500 Series Medium Duty Floor Aluminium Access Covers were fitted as duct runs in the museum. The majority of the covers were infilled with limestone floor tiles to provide a virtually invisible finish. The remaining units have a visible concrete finish. All the covers were supplied double sealed to ensure the highest performance and quality.
Health and safety is paramount within any public area. The seamless fit of the floor access covers will help to reduce the risks of slip and trip hazards.
In addition to the way they blend into the flooring the covers are highly functional, providing easy and safe access to the cabling and services concealed underneath the ducts. Once the renovation work is complete and the museum is open the covers will ensure that services can be accessed with the minimum of disruption to the daily operation of the museum.
Suitable for internal and external use the 7500 Series Medium Duty Floor Access Cover has been used in many museums including the V&A and the British Museum in London and the National Waterfront Museum in Swansea.
Find out more:
7500 Series Medium Duty Floor Access covers >
Company: Howe Green US
Product: Medium Duty Floor Access Covers
Source: https://www.howegreen.com/access-covers/projects/nationalmuseum-of-art-stockholm.php
Tags: Access Covers
---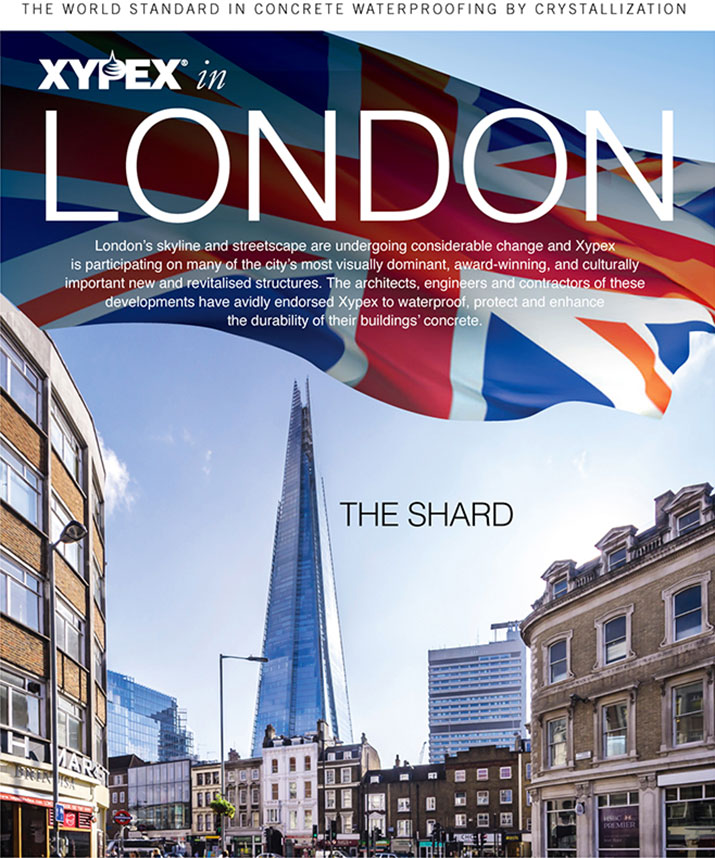 The Shard with its church steeple and cladded shards of glass, is the inspiration and design of Renzo Piano, the project's architect. At 95-storeys and standing 309.6 metres (1,016 ft) high, The Shard ('Shard of Glass') is the tallest building in the UK – a top-down construction project that required the largest continuous concrete pour in UK history; three concrete pumps placed 700 truckloads over 36 hours; a total of 5,500 m. While the extremely thick basement slab did not require waterproofing, Xypex Admix was used to waterproof and protect other areas of the basement as well as the capping beams and lift pits on various floors. Xypex was also used to waterproof the Shangri-La Hotel swimming pool and spa area on the 52nd floor. In all, approximately 7,500 kg of Xypex material was used to treat 1,500 m of concrete.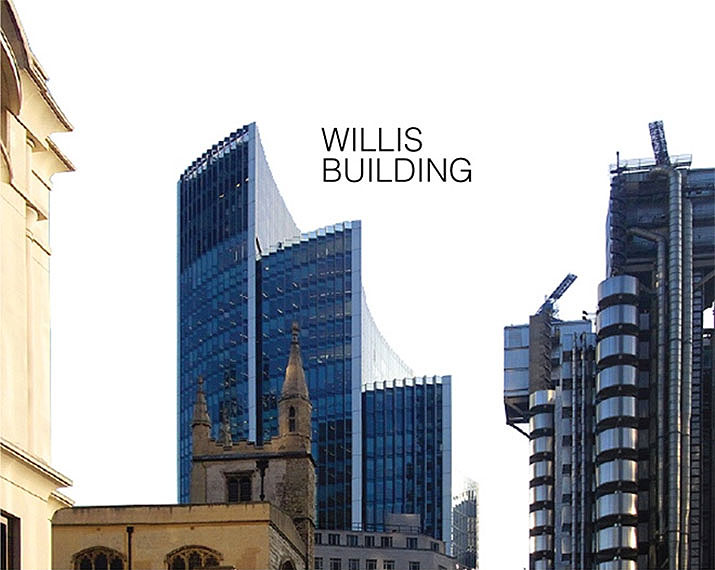 The Willis Building, at 28-storeys, is the seventh tallest building in London. Located opposite Lloyd's in the heart of London's financial district, it was designed by architects, Foster + Partners and won the 2007 New City Architecture Award. The building, with over 15,000 m of concrete used in its construction, was the first large structure that Xypex worked on in Central London. Xypex was selected (instead of the specified membrane) to waterproof and protect the 38-metre deep foundation. Xypex Admix C-1000 NF (6,000 kg) was used for the below-grade slab and lift (elevator) pits and Xypex Concentrate Dry-Pac was installed in all floor-wall joints followed by a slurry coat application of Xypex Concentrate.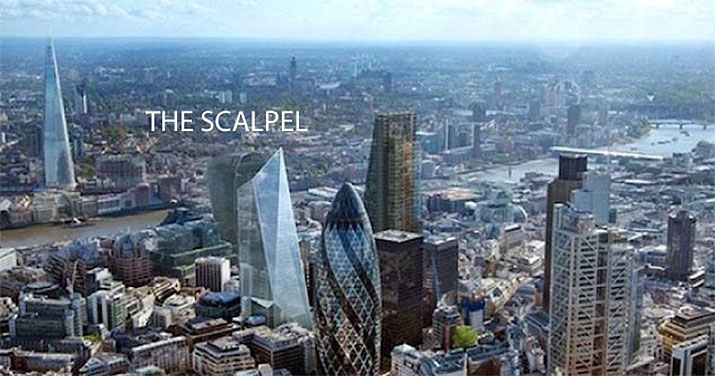 The Scalpel is a 39-storey commercial skyscraper surrounded by a patchwork of character-full (medieval) streets at the hub of London's financial centre, and is being built primarily for insurance company and developer, W.R. Berkley. Originally a nickname but subsequently designated as its official name, the Scalpel was coined by the Financial Times because of the building's distinctive angular design by architects Kohn Pedersen Fox. The original specification for waterproofing the basement was eventually changed in favour of Xypex. While the Xypex application to the monolithically poured split-slab constructions was fairly standard, the precast elements that were cast with Xypex (off-site and transported to the site) had to be carefully installed and jointed with Xypex-treated concrete. A total of 6,000 kg of Xypex Admix C-Series and Concentrate was required.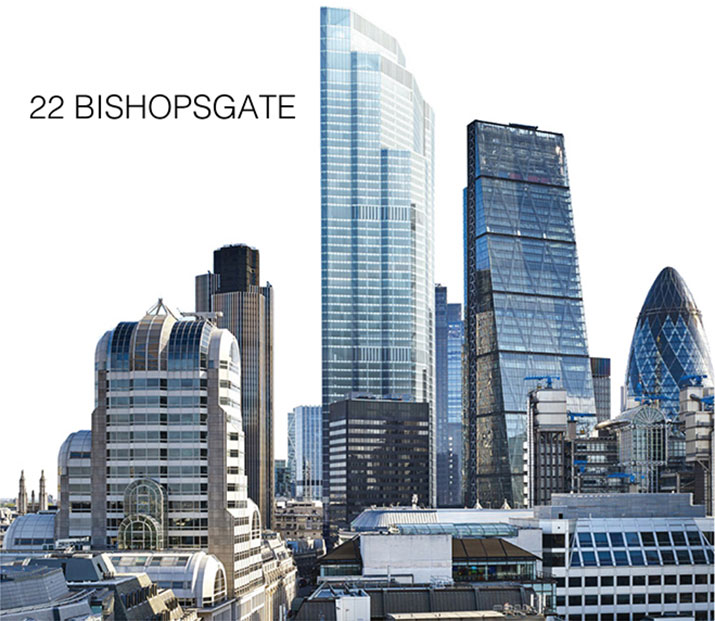 22 Bishopgate is a commercial skyscraper (under construction) in central London. Located in the prominent site of Bishopsgate (a Ward named after one of the original eight gates in the 'Roman' London Wall), the current project replaces an earlier plan (2010). The re-design by PLP Architecture (2015) utilises large sections of the previously cast basement while also adding an equally large area that had to be cut out to enable the installation of the new pilings needed to handle the changed loads. The initial Xypex challenge was to waterproof all basement concrete of the original structure. Xypex was selected to replace the membrane specification for the original structure, thereby preventing the likelihood of membrane damage from existing cut and broken concrete. When the design change occurred (from the Pinnacle to 22 Bishopsgate), the fact that Xypex had been previously used instead of a sheet material made the adaptation to the new structure much simpler. An additional benefit was that only one warranty was required to cover the two separate and different basements. Overall, using Xypex Admix and Concentrate eased the construction process considerably.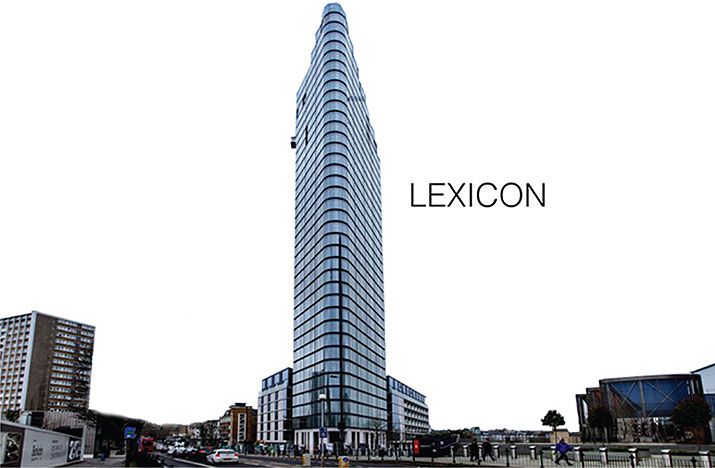 The Lexicon is a 36-storey tower, and adds to the cluster of new skyscrapers dotting London's new and dynamic skyline. Designed by Skidmore Owings & Merrill (engineers of the world's tallest building in Dubai), it is situated in a prime canal-side location within London's booming east and central neighbourhoods that sport an alluring tapestry of culture and flavours. Because the canal-side location posed a greater risk of significantly higher hydrostatic pressure, Xypex with its proven ability to resist hydrostatic pressure in the extreme, was selected to waterproof and protect the walls, capping beams and podium slabs. Xypex Admix C-Series and Concentrate were both used on the project.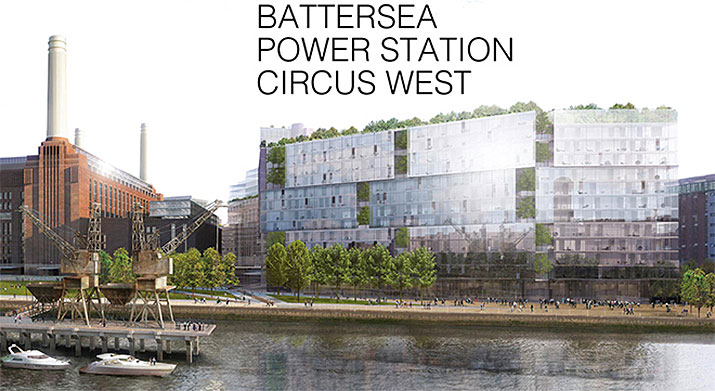 Battersea Power Station Circus West is a mixed-use development intended to create a self-sustaining urban village and vibrant community in its own right. The project takes its name from a coal-fired power station in Nine Elms, Battersea that was fully decommissioned in 1983 and given Grade II building status. Located opposite Chelsea, about one mile from the Houses of Parliament, construction includes 866 apartments, townhouses, offices, shops and leisure areas. The one basement under this large area is the closest the site gets to the River Thames, making the decision to use Xypex Admix to waterproof and protect the slab, walls and capping beam against potentially greater hydrostatic pressure, more critical.
Company: Xypex Chemical Corporation
Product: Additive > Xypex Admix C-Series
Source: http://www.xypex.com
Tags: Architecture | Concrete | Waterproofing
---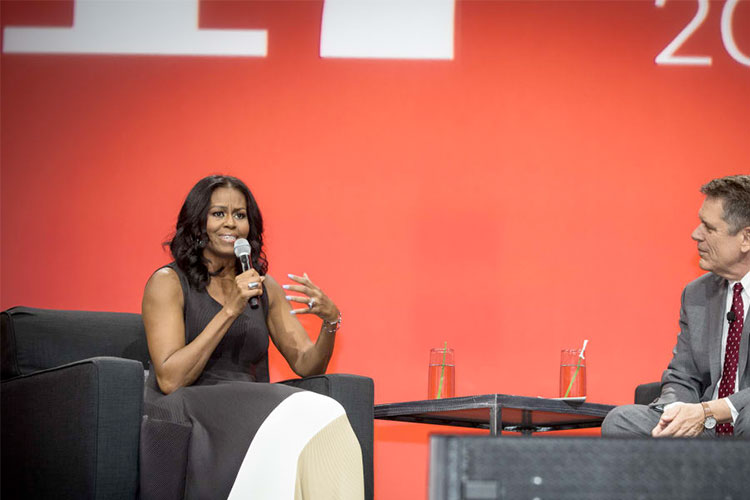 Michelle Obama and Thomas Vonier, FAIA, engage in a conversation on diversity, equity, and working with architects.
In a special conversation with 2017 AIA President Thomas Vonier, FAIA, the former First Lady underscores the urgency of diversity, gender, and equity issues in architecture and beyond
Former First Lady Michelle Obama made one thing clear to AIA Conference on Architecture 2017 attendees: She chose A'17 to be her first post-White House speaking engagement for a reason. During a lengthy conversation with 2017 AIA President Thomas Vonier, FAIA, Obama reinforced the need for all professions to embrace fresh, diverse voices from all walks of life, especially a profession as important as architecture.
In an interview that touched on Obama's past, present, and future, she made it clear that, though her time in the political world may have ended, she sees more of an opportunity than ever to focus on inequality and improve the lives of those in need.
"One issue that I'm excited to keep working on is to help young girls around the world get an education," Obama said. "Education, to my mind, is key to giving women the voice, the structure, the strategy, the tools to improve their conditions. Because if you change the life of a woman, you change the life of a community, a family, a nation."
Closing the gender gap
Along those same lines, Vonier asked Obama what the quest for better work-life balance from the female perspective has meant to her.
"It's not easy," she said, "and it's never going to be. The one thing I can say to working mothers out there: Don't beat up on yourselves. What you are doing is hard, and we still don't live in a society that supports it."
She noted that workplace policies like maternity and paternity leave still haven't been implemented on a wide scale, forcing progressive employers to pick up the slack and employees with influence to fight for what they deserve. She shared a story about potentially returning to her job at the University of Chicago Medical Center after having children and asking for what she felt she deserved, including a larger salary and a flexible schedule. When her employer agreed to her terms in full, she quickly realized that she would have to go back to work; progress for her as a working mother would, in part, be progress for women as a whole. "If you have leverage, you have to push for the women who don't," she said. "We have to start asking for what we need, and then we need employers to be more open to what work-life balance can actually look like."
Building a diverse profession
Turning to the larger question of diversity within architecture, Vonier admitted, "Our ranks do not resemble the American population," and asked Obama about her perspective on balancing imbalances and empowering underrepresented groups.
"That's not just the field of architecture," Obama replied. "Look at law, look at science, look at so many professions. The struggle is still real. You can't start recruiting from a pool that doesn't exist. You have to build that pool, and you have to start at a young age."
"So many kids don't even know what an architect is," she added. "They don't think about how buildings are built; they don't know anything about developing or planning. I know I didn't, and I was an educated kid. You have kids growing up in communities where people don't even work, period, let alone as doctors or lawyers or architects."
"But that's where all of you come in," Obama insisted, asking the architects in the room to make an impact wherever they could. "You need to go to schools, neighborhoods, communities, any place where underrepresented minorities exist, and start talking. Start small. Make a friend."
The Obamas and architects
When asked by Vonier, "What's it like working with an architect?" Obama praised the efforts of Tod Williams Billie Tsien Architects on the design of the Obama Presidential Library. "I don't get to work with them often but our architects are so much fun," she said. "The creative process—space, time—they think about things that we wouldn't ever think of. We're also closely considering the exterior, how it will relate to the community. The architects we're working with are phenomenal; they're listening, they're doing their homework, they're researching and starting to understand the South Side of Chicago."
The crowd, some 5,500-strong, erupted into cheers after Vonier reminded everyone that Michelle's husband, former President Barack Obama, once wanted to be an architect.
"Barack is an artist," she shared, "though he tries to downplay it. He's the kind of guy who says, 'I don't care what the living room looks like,' and then has a thousand questions and opinions about everything. He's someone with ideas, he's someone who thinks big. That's what architects do too, right?"
Steve Cimino is the digital content manager at AIA.
Image credits: Todd Winters
Company: AIA (American Institute of Architects)
Of: Steve Cimino
Source: https://www.aia.org/articles/82746-michelle-obama-speaks-to-a17-on-the-impact-o
Tags: Architecture
---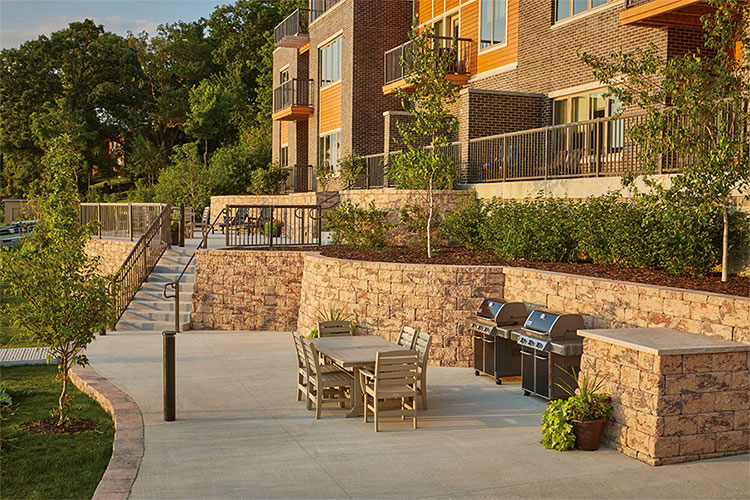 The innovation and beauty of County Materials' hardscape products were recognized at the 2017 Wisconsin Masonry Alliance Excellence in Hardscape Awards. Five projects with concrete pavers, slabs and retaining walls manufactured by County Materials received awards at the 2017 gala, hosted at Lambeau Field in Green Bay, WI.
A panel of industry judges selected winners from an entry pool of many exceptional landscape projects located in Wisconsin and Michigan's Upper Peninsula. Landscape projects were judged on their overall excellence in design, creativity, functionality, selection and quality of hardscape materials, installation techniques, craftsmanship and finished appearance.
Three projects featuring County Materials' pavers, slabs and retaining walls took top honors with Gold Awards in different categories.
Church Mutual
In the category for Best Concrete Paver Commercial Application Over 2,500 sq ft, Gold went to the patio at the Church Mutual office in Mosinee, Wis. completed by CW Terramaster.
Lake Edge Apartments
Also earning the top Gold Award was the Madison, Wis. Lake Edge Apartments in the Best Structural Retaining Wall Commercial Application Over 2,500 sq ft completed by TMS Landscape Inc.
Menasha Corporation
Finally, the Neenah, Wis. Menasha Corp earned the Best Permeable Paver Commercial Application category, completed by Miron Construction.
Smoke Tree Pass Residence
In the Best Driveway Application category, Wolfrath's Nursery & Landscaping of Hortonville, Wis. earned the Silver Award for their Smoke Tree Pass residential driveway project in Appleton, Wis.
Shawano Lawn and Stone
The Bronze Award was given for Best Permeable Paver Residential Application to Shawano Lawn and Stone for their work on the lakeside Emile Court residence in Gillett, Wis.
County Materials is a leading supporter of the Wisconsin Masonry Alliance and the Excellence in Hardscape Award competition, and partner with professional landscape installers and designers. We congratulate each of the winners for their excellence in the industry.
Company: County Materials Corporation
Product: Landscaping
Source: https://www.countymaterials.com/en/news/item/2017-eih
Tags: Concrete | Landscape Design
---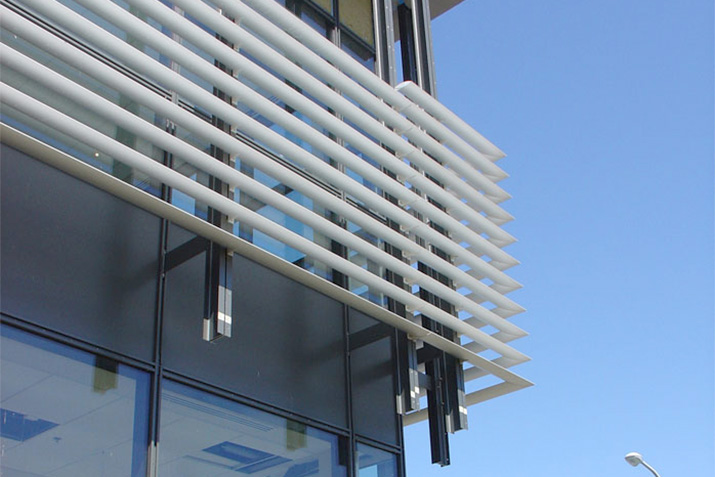 North American weather ranges from extreme cold to extreme heat, with many variations in-between. Today's design approaches need to consider weather patterns and how to best maximize energy efficiencies to address these. Unicel's solar shading systems provide optimal weather protection for the harshest climates and temperature extremes, while ensuring interior comfort and desired levels of vision.
Key Solar Shading Benefits:
Daylight control - Glare reduction and greater comfort
Heat control - Optimal solar heat gain and energy efficiency
Sound control - Acoustic insulation and enhanced tranquility
Visual appeal - State of the art aesthetic features that enhance overall design
Low maintenance - Durable and easy to maintain
Flexibility - Adaptable to many building and architectural designs
Solar Shading Features:
6063-T5 aluminum alloy extrusions
Hardware fits aluminum blade solutions
Custom colors in painted or anodized finishes
Fixed or mobile blades
Available in vertical , horizontal and cantilevered configurations
Remote controlled system
The fixed or motorized louvers can be installed as an independent structure or connected to the main facade system. Additionally, they can be painted in any color to enhance their visual impact.
When designing an architectural envelope, interior and exterior design requirements need to work together as a dynamic system to respond to variations in temperature, daylight and vision requirements. Unicel's solar shading solutions complement almost any design and are highly adaptable to the most rigorous heat and vision control requirements.
Company: UNICEL Architectural Corp.
Product: Louvers
Source: http://www.unicelarchitectural.com/en/louvers.html
Tags: Design | Energy | Louvers | Window Shades
---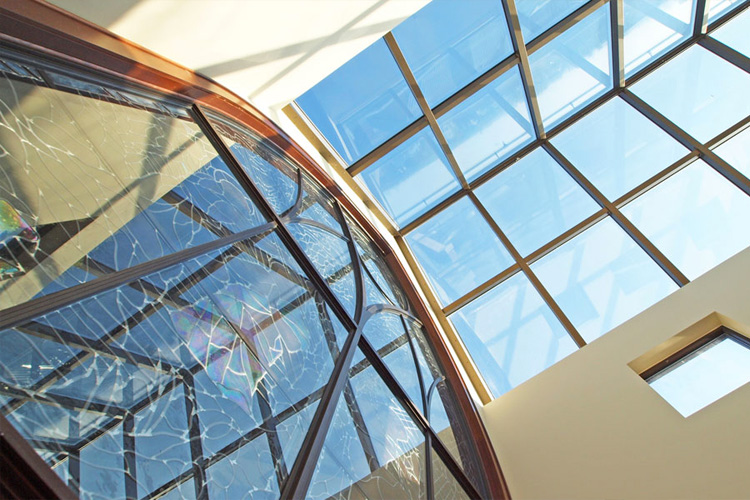 Auburn® skylights are designed and engineered for long-term performance, and make a great daylighting choice if you're looking for the durability and longevity of glass, or simply enjoy dramatic views of the sky. They're available in custom and pre-engineered configurations, and also offer mixed glazing options as they can also incorporate polycarbonate multi-wall and acrylic glazing as well as Guardian 275® translucent panels.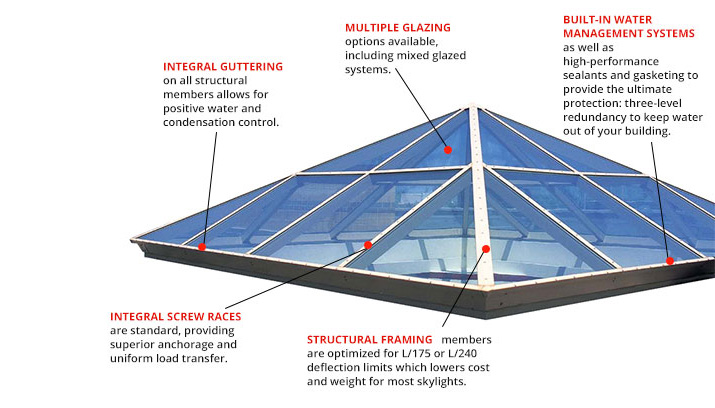 Auburn® systems aren't designed to span the largest openings; they're optimized for small and medium projects and are engineered to save time, money, and weight in your next daylighting project. Auburn® engineered skylights feature high-performance sealants, built-in water management, and time-proven EPDM gasketing to provide the ultimate protection: three-level redundancy to keep water out of your building. In addition, they are available in a wide variety of configurations, along with numerous glass and finish options.
New single slope skylights with thermal strut technology!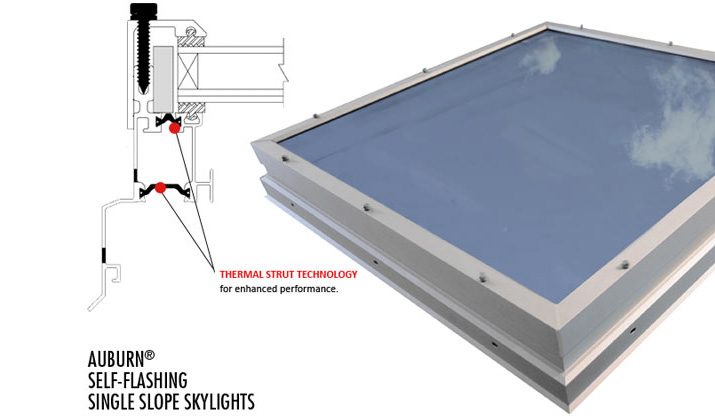 For smaller openings and standard sizes, consider our newly updated Auburn® Self-flashing Single Slope skylights, available in sizes up to 25 square feet, with pre-assembled options available for ease of installation and quick lead times. These new single slope skylights feature thermal strut technology in the framing, allowing for a versatile combination of strength and high thermal performance, including improved condensation resistance and U-factors over traditional aluminum framed systems.
No matter which option is right for you – custom or pre-engineered – Auburn® skylights are a smart choice to solve your daylighting challenges. Other benefits include:
Low initial cost and long-term energy savings.
Possible LEED® credit opportunities for both new construction and existing buildings.
High-performance gaskets and sealants provide peace of mind and long-term performance.
Auburn® Engineered custom systems feature universal "slope adapters" fit all standard rafters, creating precise slope control.
Auburn® Engineered custom systems come standard with tubular rafters that frequently eliminate the need for support tubes.
Guaranteed against defective materials and construction for one year from date of purchase (exclusions apply – see final warranty for details).
Company: Major Industries Inc.
Product: Auburn® Engineered Glass, Polycarbonate Multi-wall and Acrylic Skylights
Source: http://majorskylights.com/products/skylights/auburn/
Tags: Design | Glass | LEED Certification | Windows