architecture - engineering - construction

Wall Panels
---
Tectum Panel Art has become wildly popular in the past year. Interested in seeing a sample? We'd be happy to send you one.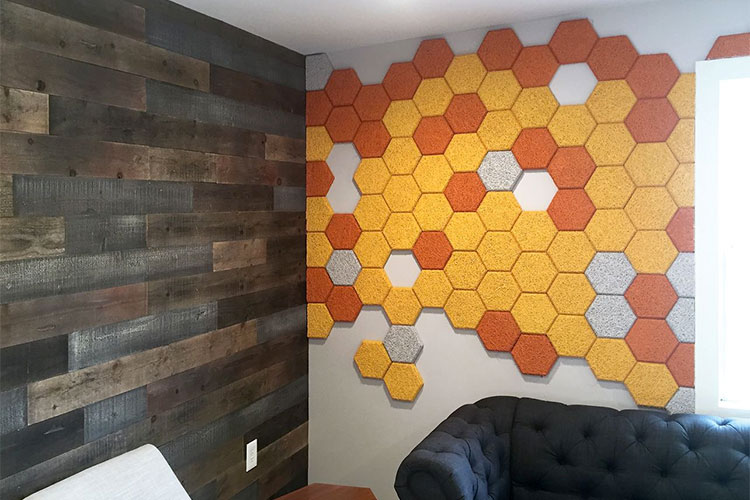 Tectum wall & ceiling panels: a perfect fit of durability, acoustics, and unique visuals
From a natural factory finish or white, to integration with Colorations colors (that's 13 standard colors) or made-to-order Sherwin-Williams® colors, TECTUM panels can coordinate or complement your color palette with the sizes, shapes, and forms that make your designs happen.
Toughness and acoustics are at the heart of TECTUM interior products, ideally suited to open spaces and high traffic, high impact areas. Panels can be attached directly to walls and ceilings in forms of panels, clouds, and square or curved. TECTUM linear hanging baffles give you even more design options.
Create a signature element in a space to complement your interior design. The possibilities are endless, the look is one-of-a-kind, and the acoustic properties of TECTUM panels can help quiet the space.
Key features
Durable for heavy-use interiors
Sound absorption (NRC) values up to 1.0
Great acoustical retrofit solution
Color options include standard, Colorations colors, and custom Sherwin-Williams colors
Contributes to LEED credit areas including FSC certified wood
Attach to a variety of ceiling substrates
Easy to install
Special applications
Gymnasiums
Auditoriums
Multi-purpose Spaces
Acoustical Retrofits
Exposed Structures
Education Spaces
Company: Tectum Inc.
Product: Interior Wall Panels
Source: https://www.armstrongceilings.com/commercial/en-us/articles/tectum-part-of-armstrong-portfolio.html
Tags: Acoustics | Color | Interior Design | Wall Panels
---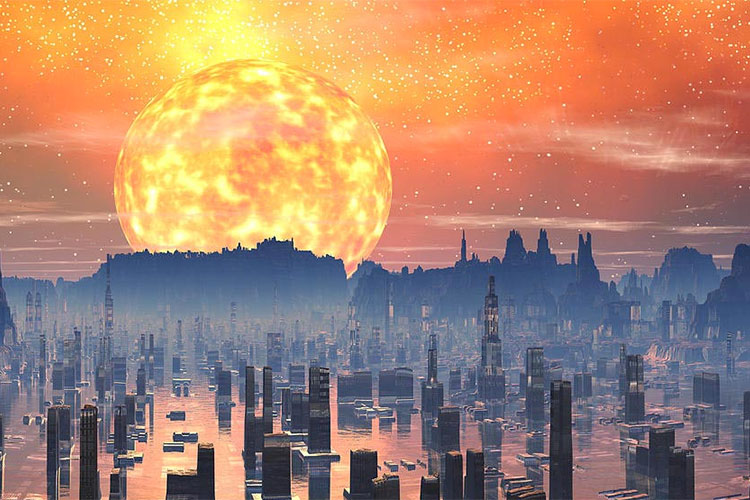 With the effects of global warming upon us, architects and building owners need to mitigate its impact in the built environment. This is not a new idea, but the necessity for design that protects against volatile weather, rising temperatures, and insect-borne diseases is now more pressing than ever. Last year, the U.S. Army Corps of Engineers created the Building Resilience website, a tool that connects community planners, home builders, architects, and engineers with building science, climate data, and community resilience resources. This is crucial information designers and building owners need if they want to confront the effects of climate change.
As daylighting manufacturers, we have some thoughts on how daylighting can be used to reduce the impact of global warming on the built environment.
Daylighting that can withstand Severe Weather
Because of global warming, weather events like hurricanes, flooding, and tornadoes have become more powerful (Superstorm Sandy in 2012 and Supertyphoon Haiyan in 2013 have both been partly attributed to global warming).
But just because nature has become more dangerous doesn't mean we should barricade behind steel walls. Instead, robust daylighting systems should be utilized. By incorporating daylighting into architecture, occupants remain connected to the outdoors, and the structure reduces its carbon footprint.
It's important to use daylighting systems and materials that possess excellent water weepage and can withstand high wind loads. These attributes will be determined by the system's glazing and framing.
Polycarbonate is one of the best forms of glazing when it comes to strength and durability, and it by far outperforms glass (polycarbonate is 250 times more resistant to impact than safety glass), as well as fiberglass reinforced panels, or FRP (polycarbonate is 4 times more resistant to impact than FRP).
Additionally, the system framing must have elements that facilitate excellent water control and leak resistance, like properly placed weep holes and water stops. An example of a highly resilient daylighting system is EXTECH's LIGHTWALL 3100LSpolycarbonate wall system, which meets ASTM E-1886 and E-1996 tests for hurricane impact / windborne debris at clear spans of 8 feet. It is an excellent daylighting product in the face of torrential weather.
Protection Against Intense Heat
With global warming comes rising temperatures. Data has uncovered a long-term warming trend, and at this rate, temperatures could rise as much as 8 degrees by the end of this century (though that does not sound like much, a global increase in this scale would have dire outcomes). Even if carbon emissions worldwide are drastically cut, escalating temperatures are a factor humans must face.
With warmer temperatures comes the threat of increased solar heat gain (the temperature inside a structure that results from solar radiation). If precautions are not taken when choosing the daylighting glazing, people will either bake in a convection oven, or the cooling system will have to run at non-stop full capacity – neither choice is ideal. To protect against these scenarios, glazing that blocks infrared rays is recommended for daylighting structures. Polycarbonate is one of the few materials that can effectively and economically block infrared radiation.
Though humans can take many actions to reduce global warming, its effects will never be completely vanquished; mitigation is the only way forward. By accepting this, architects and building owners can be a leading force in climate change preparation – if they have the foresight now to build structures that deal with global warming's impact, humankind will be safer, happier, and quite possibly, live to one day stop climate change for good.
Company: EXTECH/Exterior Technologies, Inc.
Product: Translucent Walls
Source: https://extechinc.com/global-warming-how-architects-building-owners-can-prepare-the-world/
Tags: Energy | Exterior Design | Lighting | Louvers | Wall Panels
---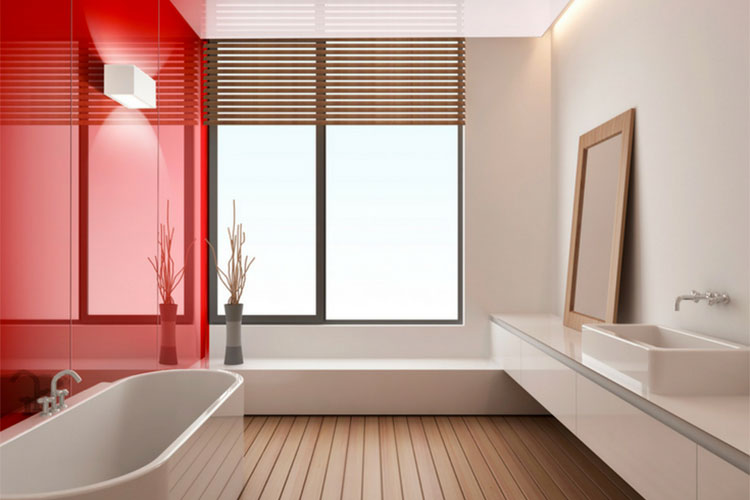 It's fun to look at the glass-like appearance of high gloss acrylic wall panels in a shower, kitchen backsplash or feature wall in an office and say, "Wow – that material is cool." Yes –gloss wall panels are striking in appearance – but just like you and I – there is a lot more to know about them than is evident on the surface. While these panels fly off the shelves in countries like Australia and Japan – they are still new to homeowners and business owners in the United States (and a bit of a mystery).
In this article, I'd like to dig "under the hood" to give you some little-known facts (at least in the United States) about these fun and functional high gloss wall panels. At the end of the article let me know if you have any questions which weren't covered in these 5 facts.
Little known high gloss acrylic wall panel fact #1 – They can be used in a steam room or behind a stove
When people think of acrylic and hot spaces most assume they can't be used in steam showers and behind stoves in the kitchen, however this is not the case with optical grade (hard coat) acrylic wall panels. If the temperature is lower than 130 degrees you can use these decorative colored wall panels in a steam room or behind an electric stove top. Standard acrylic wall panels (not high gloss) are not be recommended in these places.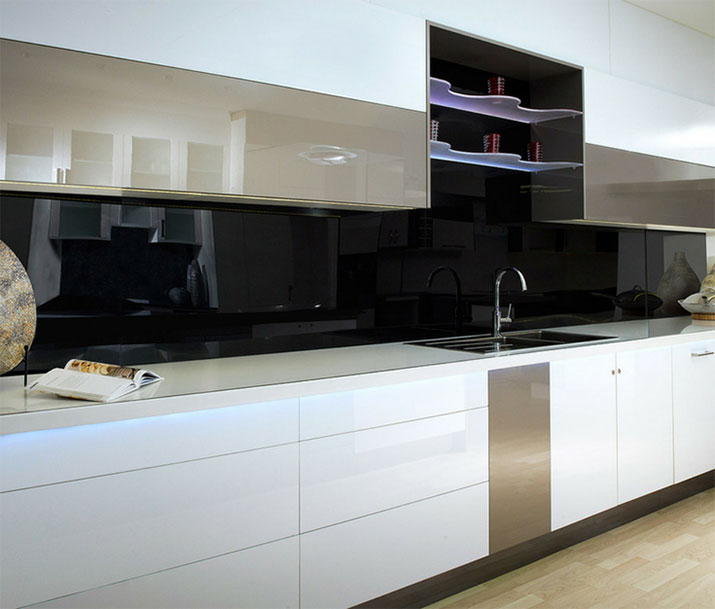 This high gloss kitchen is sleek. It is using a carbon black kitchen backsplash and mocha colored gloss cabinet fronts.
Little known high gloss acrylic wall panel fact #2 – They can be pre-cut if you want (or need) to do it yourself
If you're like a lot of parents and tell your kids to stay away from the skilled trades (carpentry, plumbing, electrical, masonry etc.) and go into fields like computer technology you are contributing to the problem of finding a decent contractor in your town to install a product they have not worked with before. So, when you ask a recommended contractor to install a product (like high gloss wall panels) don't be surprised if they tell you they are too busy – or they only work with tile showers or ceramic kitchen backsplashes. When there is a lot of demand for their services your contractor not be willing to try to install a hot new product like high gloss wall panels. The good news is there is something you can do about this problem (even if you're not the second reincarnation of Tim the Tool Man Taylor).
Simply get the high gloss panels precut and predrilled with holes you need for your shower heads and valves (in the case of a shower) or with the outlets cut out (in the case of a kitchen backsplash).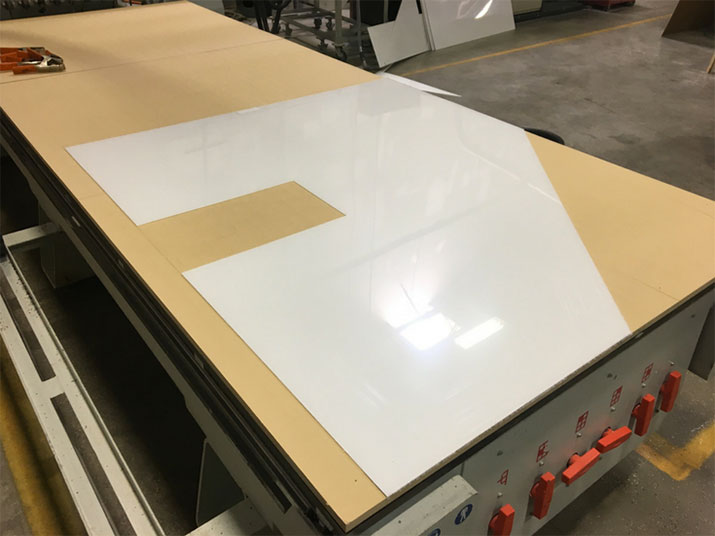 CNC equipment can pre-cut wall panels to make a shower kitchen or commercial installation of high gloss wall panels easier
In this way, all you need to do to self-install them is apply the silicone and double-sided tape on the back and slap them up.
Little known high gloss acrylic wall panel fact #3 – Not all acrylic wall panels are created equal
High gloss acrylic wall panels are not the same as the 1/8" thick acrylic walls used by nationwide "One Day Bathroom" franchises who focus in on lower end showers. High gloss wall panels have a hard coat applied to the front which allows them to create a mirror like look and pop out from the wall. The high gloss surface has 20 times the impact strength of back painted glass – but is only ½ the weight. In addition, the hard surface has superior scratch resistance to standard acrylic wall panels. They are sleek, contemporary, colorful and create a Euro-inspired look.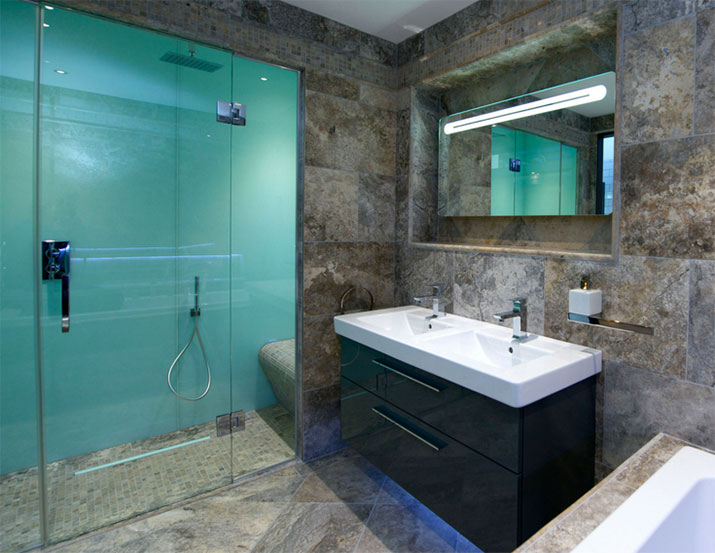 Where standard acrylic panels work well is they are low-priced alternative to a tile shower (which can be a good option in rental homes and investment properties).
Little known high gloss acrylic wall panel fact #4 – The "party's" in the back – and that's functional and stylish for you
Back in the 1970's and the 1980's the "mullet" style hairdo was popularized by the likes of Rod Stewart and David Bowie. It came to be known as the hairdo with the "party in the back." While that style has (fortunately) gone the way of the powder blue leisure suit I have to admit I wore (hey – I'll blame my Mom for buying me that!) in the 1970's, there are still some products where it is good if the "party" is in the back.
High gloss acrylic wall panels are one of those products. Putting the color (or the party) in the back of the panel makes sense because it is not subject to harmful UV rays and discoloration. The color in the back is the same approach as is used in more expensive back coated glass.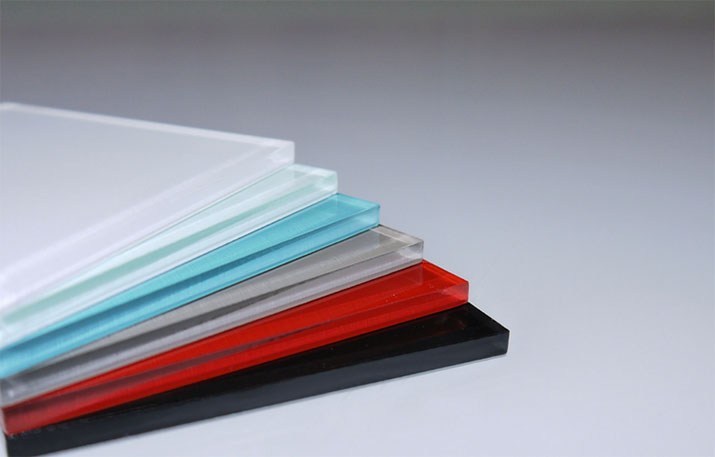 The color is on the back edge of these sample chips
Little known high gloss wall panel fact #5 – These panels go onto a wall, but they aren't the wall itself
High gloss wall panels have their place reflecting light off a wall and creating a mirrored light-filled contemporary look in a room They also help to block the view behind the wall surface (like tile you can't see through these panels or get any water through the surface either) to the wall backer material they are applied onto. That's the good news about high glass wall panels.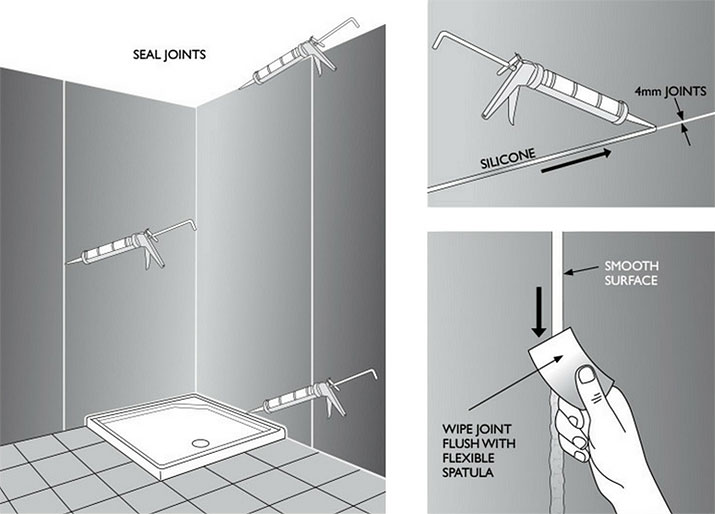 The bad news may be that they aren't a transparent or translucent glass material where light can transmit through the panels. If you're looking to move light through a glass wall you'll want to use real glass or a plexiglass.
Conclusion
Even though not a lot is known about high gloss acrylic wall panels in this country what can be agreed on is they are a fun, striking material which makes a visual impact on any room you choose to use them (a bathroom, kitchen, classroom or a front desk office area in commercial buildings are most common). I believe as you dig a little deeper into this material you'll also find they are easy to work with (especially if you have the panels pre-cut) and certainly not the same as the cheap acrylic you'll see advertised by "One Day Bathroom" companies. It is a stylish, contemporary and a luxury component to make your next bath, kitchen or office project distinctive.
How can I (or a member of my team help you)
If you're still uncertain how to use, cut or purchase this material I (or a member of my team) would love to help. For nationwide supply or material questions call Innovate Building Solutions at 877-668-5888. To use this product on a local bathroom or kitchen remodeling project in Cleveland call Cleveland Design and Remodeling at 216-658-1270 or in Columbus the Bath Doctor at 614-252-7294.
Company: Innovate Building Solutions
Product: High Gloss Acrylic Wall Panels
Of: Mike Foti
Source: http://blog.innovatebuildingsolutions.com/2017/07/15/5-facts-high-gloss-acrylic-bath-kitchen-wall-panels
Tags: Color | Design | Kitchen | Office | Shower | Wall Panels
---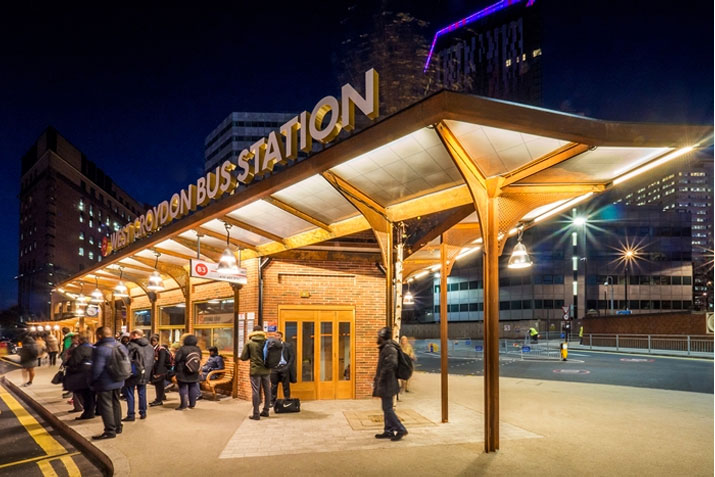 The architects of London's remodeled West Croydon Bus Station were looking for a way to give the busy transport station a brighter and more aesthetically appealing look when it began its remodeling project two years ago. The introduction of Kalwall translucent sandwich panels for the station's canopy helped achieve that goal. And, in the process, earned the project one of England's highest honors in architectural design.
Transport for London (TfL)'s in-house design team was recently presented a 2017 RIBA Regional Award by the Royal Institute of British Architects and TfL architect Martin Eriksson won a 2017 RIBA London Project Architect of the Year Award.
RIBA Awards aim to "celebrate the best architecture in the UK and around the world." London has over 12,000 RIBA members and 1,000 chartered practices. Regional winners are eligible for the RIBA National Award for architectural excellence.
In jury comments, the station is described as a "charming and creative building." Kalwall panels not only provided an aesthetic beauty, but their lightweight properties factored into the design of the building. The ability to eliminate shadows, hotspots and glare made Kalwall preferable to traditional glazing. Additionally, the translucent panels create an ethereal glow at night, making it a beacon for travelers.
The ability to reduce maintenance expenditures also made Kalwall a great choice. Soil and detritus are less obvious on Kalwall panels than on glass, and cleaning is much simpler because access scaffolding is not required and maintenance staff can safely walk across its surface.
Company: Kalwall Corporation
Product: Wall Systems
Source: https://www.kalwall.com/2017/05/30/winning-2017-riba-london-award-project/
Tags: Award | Landscape Design | Wall Panels
---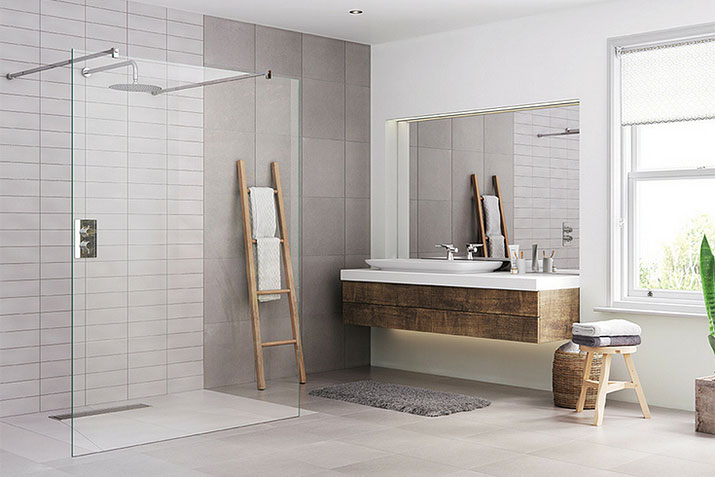 Do you have the June Cleaver throwback bathroom from the 1950's, or maybe a "modern" 1970's bathroom straight out of the Brady Bunch which are practically begging you for an update? You know you NEED a bathroom makeover so bad. It doesn't take a rocket scientist to see the partially rusted tub, pealed wood on the window sills, tired old particle board vanity with a dated laminate top and nasty looking grout in the shower. The challenge is what are you going to do about it? How can you update for a fresh, clean look? How can you create an updated design which takes advantage of the latest trends and keeps maintenance to a minimum? The question is – where do you start?
One excellent place to begin is to take a sneak peek at the products which are hot today and include these elements in your remodeled "bathroom of tomorrow." In this article, we'll look at what's hot now. At the end, I'd love to hear your "Siskel and Ebert" – two thumbs up or thumbs down on these products.
Hot bathroom trend #1 – A stylish one level "life-cycle" bathroom
Are you staring down the challenge of having to put Mom or Dad into an assisted living facility because their step-filled single family home has become too dangerous? The reality is most homes are not designed to work for family members as they age.
One important trend is the use of one level bathrooms which eliminate the curb to get into the shower. Not only are shower systems which eliminate the curb hot, they are also sleek and minimalist (more on this trend later) and will save you money, big-time.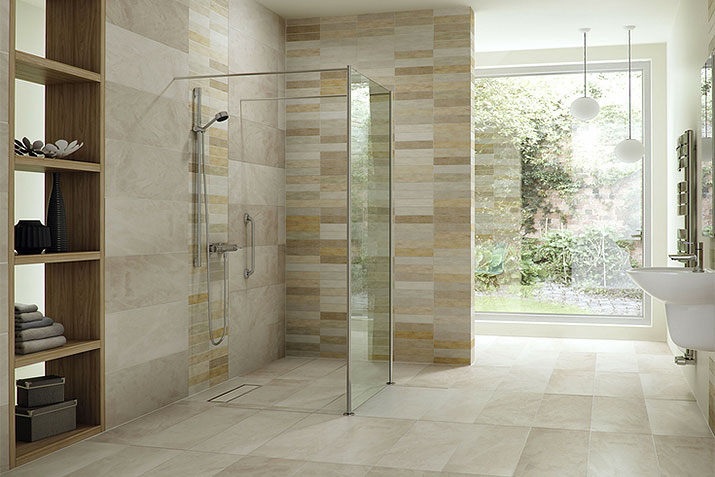 If you've priced assisted living facilities for Mom you know they can cost easily $3,000 to $4,000 per month. Using an "aging in place" (I hate this term – but many people use it anyway) solution like a one level shower can be sleek, stylish and eliminate the high cost of assisted living facilities.
Hot bathroom trend #2 – Geometry is in …at least for tile showers and bathrooms!
Although I'm sick guy and actually love math – I still didn't "get" geometry. I don't know, maybe it's because I'm more of a linear guy than a rhombus dude? Putting mathematics aside, one hot bathroom look for 2017 are geometric tiles. These tile designs not only add a feeling of shape and style – they also add drama to the bathroom. Fun and functional – that's cool.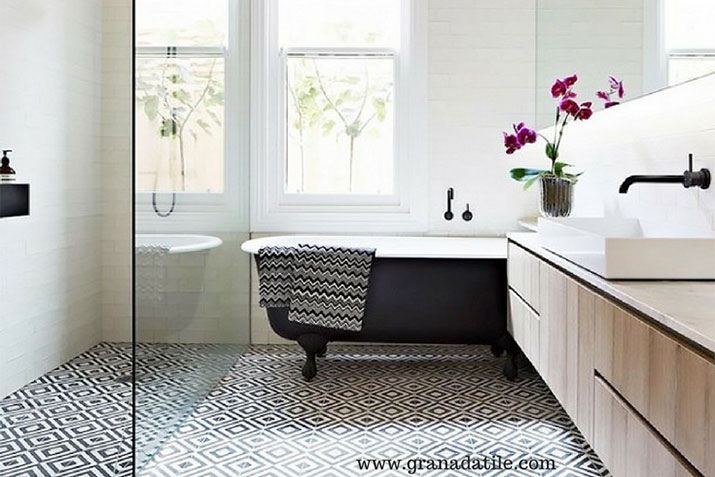 Hot bathroom trend #3 – Drop in tubs are way out – larger showers are in
Nothing says, "big hair and 1980's shoulder-pad-like" look in a bathroom quite like a gigantic soaking or jacuzzi tub in the corner flanked by two massive windows. I know this look was hot – but today you need to stay away from it like the plague. Our schedules are too crazy for bathing. Today's it's all about expansive showers. We are seeing people blow up their big tub and small 3' x 3' stand up shower next to them and convert to large open walk in showers. Sleek frameless glass walk in showers are all the rage – and why not – they get rid of the cost of the door and take less time to clean (a double benefit to you).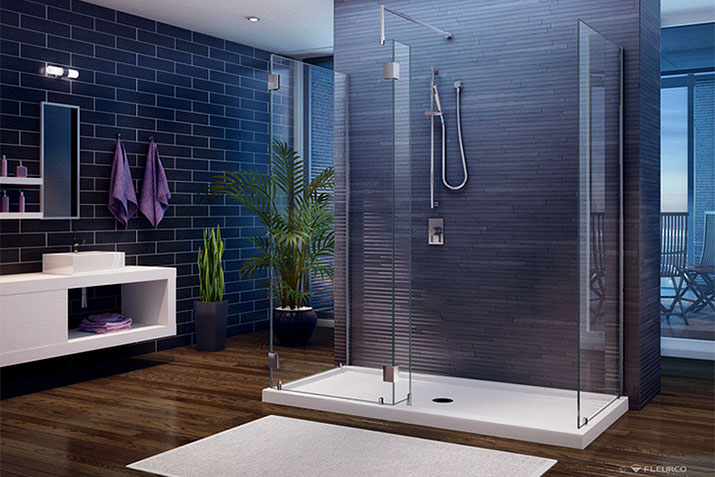 Hot bathroom trend #4 – Let's heat things up a bit
If you live in the Midwest (I live in Cleveland, but also spend a lot of time in Columbus) you know stepping on a cold bathroom floor in January can make a man out of you – even if you're a woman! It used to be in-floor heating systems where difficult to install and un-godly expensive. Not so today.
Electric and hydronic (liquid) in floor heating systems are no longer super pricey. You can even extend the heating systems inside the shower space – but I'll warn you may never want to get out if you do this! Another fun idea is to add a towel warming rack to pamper yourself when you get out. This bathroom will be so relaxing it may make you late for work!
Hot bathroom trend #5 – Sleek and minimalist is the thing
In the late 90's and early 2000's it seemed the fancier the woodwork in your bathroom the more style points you got. Today – bathroom trends are the opposite of our lives. The goal is to create a sense of calm, serenity, a place which flows with minimalist lines and flair. Think about using wall mounted cabinetry and the one level floors mentioned in trend #1 above. Take complexity out of your bathroom. You already have enough complexity in your life to go around. This will make your space stylish and simple to clean.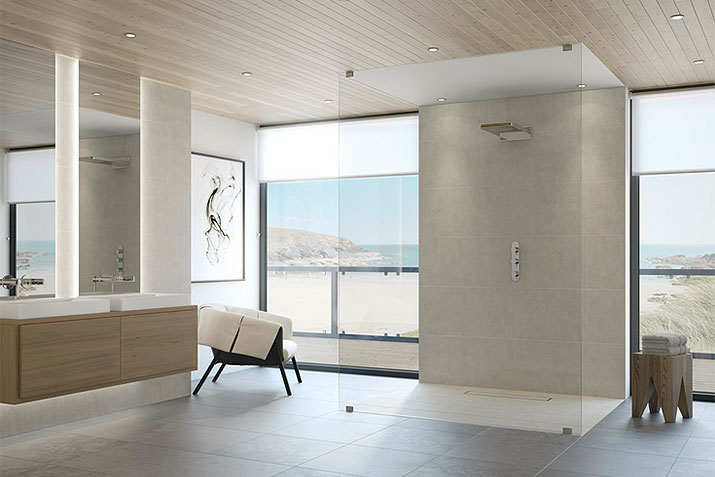 Hot bathroom trend #6 – Think like "Mrs. Thomas and her English muffins" and use your nooks and crannies
Home sizes historically kept getting bigger until the bottom fell out of the housing market in the late 2000's. Now people are stepping back and evaluating how big a house they really need. Groundbreaking books like The Not So Big House by Susan Susanka and formerly weird concepts like tiny homes, container homes and houseboats are becoming a larger part of the housing market. So, what does this have to do with Mrs. Thomas her filling the nooks and crannies of her English Muffins?
As homes have begun to scale down we now need to be more thoughtful per square foot and every room including the bathroom. This trend has certainly "washed over" (bad pun intended here) into the bathroom remodeling projects. In 2017, you'll continue to see inventive soap and shampoo niches (like this one illuminated with LED lighting below) which use the "inside of walls" to create space in a bathroom.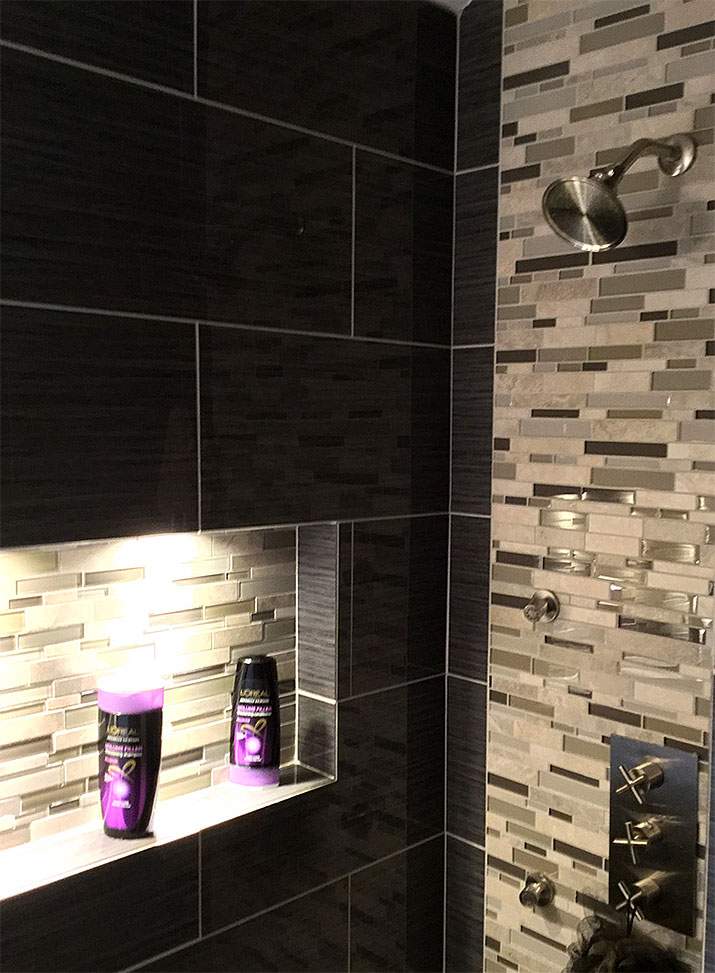 The movement to level floor showers (see trend #1) has helped because our bathrooms are now – more than ever – thought of as one continuous space. Fun ideas including vanity mirrors built into the wall are another example of superior space planning which in the years of the McMansion would have had no place – but are hot today.
Hot bathroom trend #7 – Maintenance is way out – luxury grout free shower wall panels are in
Tile looks great the day it's installed. The problem is those doggone grout joints end up sucking up your time cleaning them or needing to schedule a "Grout Dr." to come out to maintain your shower. What's hot in 2017 are cool lines of grout free shower wall products to blow up the grout cleaning challenge once and for all.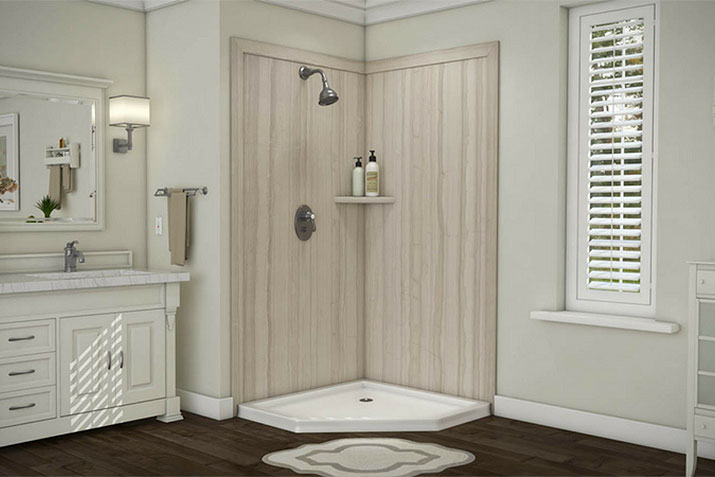 Stylish lines like these high gloss contemporary wall panel system provide the sleek, Euro contemporary (low maintenance) look. 3D wall panels are also getting hot because they add a sense of drama and texture.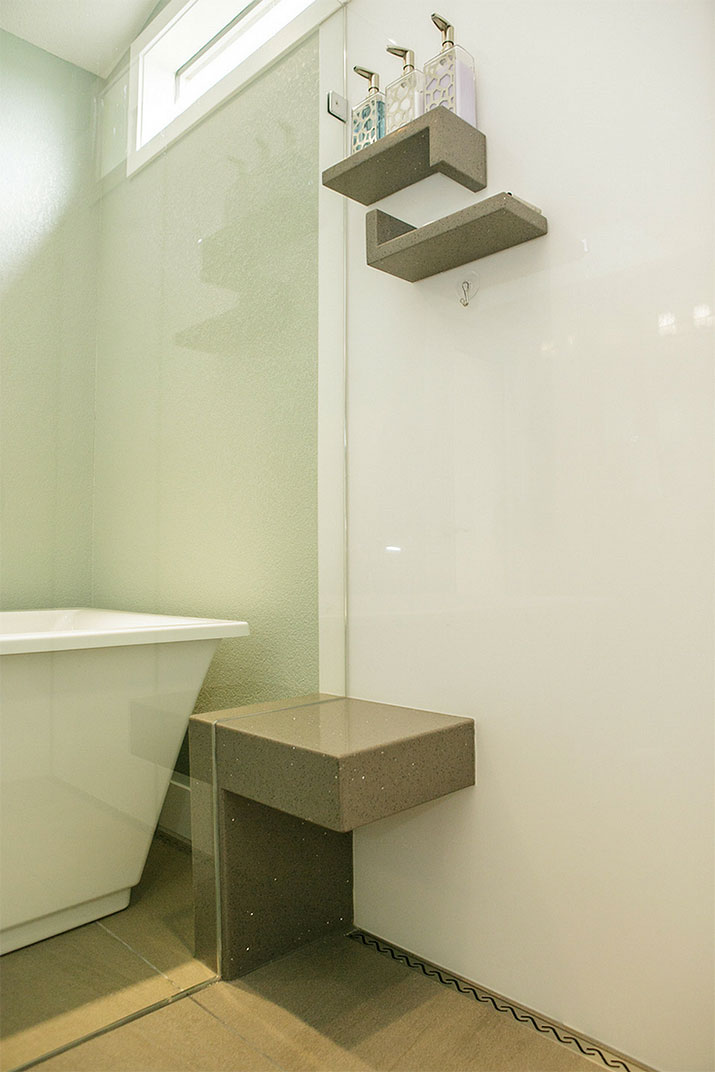 Conclusion
If you're living with your Brady Bunch or June Cleaver bathrooms of yesteryear isn't it time to blow them up for a fresh, clean, low-maintenance contemporary bathroom of today? What do you think about these 2017 hot bathroom design trends? Which do you like? Do you find any to be butt-ugly? Are there other trends you'd like to add? I'd love to see your comments, ideas and thoughts below.
How can I (or a member of my team) help you with these bathroom trends?
I know it can be challenge to put a fun and functional bathroom design together by yourself. That's why I (and the members of my team) would be delighted to assist you through your bathroom remodeling project. Whether you need nationwide factory-direct materials to save some money on doing the project yourself or professional design our Innovate Building Solutions (877-668-5888), Cleveland Design and Remodeling (216-658-1270) and Bath Doctor division in Columbus (614-252-3242) would love to help. Give us a call or click here for a Free Design Consultation.
Follow the Author on Twitter @Mike_Foti or his company @InnovateBuild.
Company: Innovate Building Solutions
Product: High Gloss Acrylic Wall Panels
Of: Mike Foti
Source: http://blog.innovatebuildingsolutions.com/2017/05/20/7-hot-2017-bathroom-design-trends-cleveland-ohio/
Tags: Floor | Glass | Interior Design | Wall Panels
---
The University of Iowa (UI) School of Music in Iowa City celebrated its 110th anniversary with a new home – Voxman Music Building. Designed for durability, sustainability and the highest acoustic performance, the 190,000-square-foot project features energy-efficient window and curtainwall systems, finished and thermally improved by Linetec.
The $152 million project is targeting LEED® for New Construction Gold certification. Wausau Window and Wall Systems worked closely with glazing contractor Architectural Wall Systems (AWS) to achieve the design intent set by LMN Architects and Neumann Monson Architects. Mortenson Construction served as the construction manager agent for UI.
"We conceived the project as a means of extending the public space inside the building, and we do that with glass," says LMN partner and project designer, Stephen Van Dyck, AIA, LEED AP. "The window systems play a huge part in creating the visual transparency between the public and the performers, and the connection from within and without of this educational and cultural building."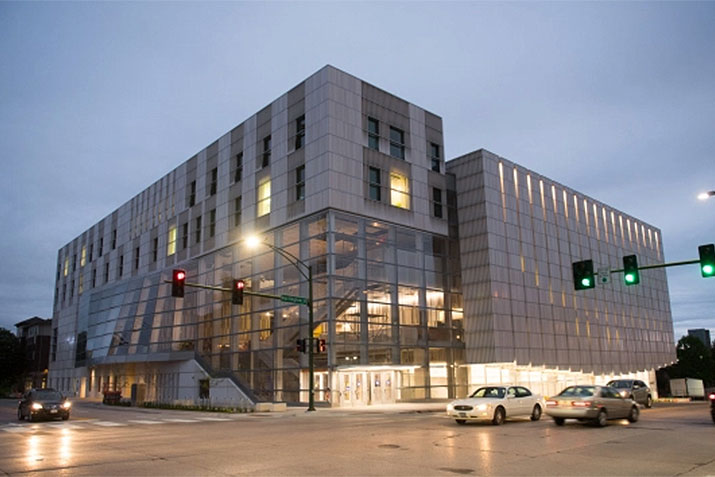 A Highly Anticipated New Home for the UI Music Department
Linetec Products Support Project Sustainability Goals
Linetec's thermal improvement services and anodize finishing are key contributors to the window systems' energy-efficiency, visual appeal and durability. The anodizing process produces a uniform, hard and protective finish. Linetec's anodize finishes meet the requirements of the American Architectural Manufacturers Association's stringent Class I specification standard, AAMA 611-14. The anodized aluminum resists the ravages of time, temperature, corrosion, humidity and warping, for a long product life cycle. Anodized aluminum may be specified with recycled content and is 100 percent recyclable.
In addition to durable finishes and recyclable materials, Linetec helped support the project's sustainable and LEED goals for thermal comfort and energy performance by providing thermal barriers for Wausau's window and curtainwall systems. Both Linetec and Wausau also are considered local suppliers, as they are located within a 500-mile radius of the UI campus.
Unique Window Systems Supply Natural Light and Visual Appeal
Wausau's systems also contribute to recognized benefits of daylight and views, and are a main visual feature of the building. The glass exterior begins beneath the concert hall, wraps around and up to the main entrance and continues over the recital hall, reaching heights of 50 feet.
One of the building's most unique features is the shingled curtainwall – called the "warped wall" – overlaying the recital hall, in which construction of glass and metal units are layered to create an undulating slope that appears to gently pour from the building's roof to its base. On the interior, a central atrium funnels natural light into the building.
Large-scale window systems are rare in musical spaces due to the acoustic challenges they can present. By choosing a low-iron glass with a low roller wave and horizontal orientation, acoustic and visual distortion was minimized. Large panes of glass diffuse sound at different rates on the shingled wall, and tall and narrow windows minimize vibration throughout.
Prioritizing Acoustic Isolation and Performance
"The acoustic requirements for this project are of utmost relevance," emphasizes Chucho Loria, AIA, with Neumann Monson Architects. "Wausau's team looked at the various conditions in the project. They developed details, during the shop drawing review process, to ensure that their system would meet the design intent of the project. It was apparent in those details that Wausau was taking efforts to make their system interact with the rest of the building."
"We prefer an integrated, whole building approach – especially with complicated engineered projects," says Doug Laffin, Wausau's architectural sales representative serving Iowa. "Our systems may be just one part of that whole, but everything must work together to successfully deliver the architectural vision and critical functionality."
"Almost all of the job was acoustically sensitive," says Lee Ebel, AWS project manager. "Wausau produced and had tested units that verified the system would meet the necessary STC ratings at the corresponding frequency."
Sound Transmission Class (STC) is a single-number rating system for acoustical performance, where a higher number indicates better performance. The Voxman Music Building's design specified an STC 55, which is suitable for blocking loud noises including musical instruments.
"Almost every room is acoustically isolated," explains Van Dyck. "This means that instead of the usual one wall, one floor between each room, there are two or three walls and two floors to separate most of the rooms and keep sound from transferring between them. We're also trying to keep the sound from passing from the outside into the building's interior. The windows are a big part of that equation."
Adding glazing mass, increasing air space and improving damping by the addition of a laminated interlayer achieve improvement in acoustical performance. Of course, maintaining an airtight assembly to reduce "flanking" noise is critical, especially at high frequency. All three approaches were used to meet the acoustic requirements of the Voxman Music Building.
"The goal was to have virtually no outside noise in the recital hall," says Randy Arneson, Wausau's senior estimator on the project. "There's 5-inch airspace between the inside and outside glass lites of our curtainwall to decrease sound transmittance. For the majority, we used Viracon's 1-5/16-inch OptiWhite laminated, insulating, specialty glass."
In the concert hall, the glass was glazed into the window system's interior-facing plane with a 3-inch airspace. On the exterior-facing plane, electrochromic SageGlass was installed. Electrochromic (EC) glass darkens or clears when a low-voltage DC current is applied. Wausau incorporated the necessary wiring paths to connect the windows' EC glass with a user-controlled switch. This enhanced functionality allows the faculty and students to reversibly control the sunlight entering their space and to maintain their outside view without shades or blinds.
"Wausau provided these elegant, tall, thin windows with EC glass. They're really cool. When the windows are turned 'on' and tinted, they produce this really nice, diffused light," says Van Dyck.
"They're very narrow – some are only 1 foot wide, but 40 feet tall. The smaller span actually helps with the acoustics. The stiffer it is, the less it wants to vibrate."
Ensuring Quality, Durability and Sustainability
Beyond acoustic performance, Ebel says, "The curtainwall system went through a rigorous performance mock-up test at a certified laboratory in Miami, Florida. The testing included air, water, dynamic, structural, seismic racking and thermal cycling."
Ebel adds, "The typical LEED requirements applied to this project." The window systems' high performance features contribute to quiet, comfortable spaces that promote concentration and creativity, as well as a whole building approach to energy-efficiency, daylighting and outside views.
AWS installed Wausau's SuperWall™ curtainwall, custom-engineered fixed and operable windows, and nearly 23,000 square feet of INvision™ 1050i-UW Series unitized curtainwall. Glazing and sealing in a factory-controlled environmental ensures that conditions are maintained to achieve the intended performance required for the project. Shipped one lite wide by one floor tall, the interlocking, pre-assembled units make the system easy to install on the job site. This saves labor, time and associated costs.
The curtainwall and window systems' installation was finished on time and on budget. "It took a lot of coordination between all parties, and modeling of the curtainwall and structure to ensure that everything would fit correctly in the field once installation started," Ebel says.
"Aesthetically, the project looks great," concluded Van Dyck. "But, let's face it, for this project, it wouldn't matter how great it looks if doesn't sound great, too. The window systems are a critical part of that success."
UI's new music facility replaces its former location, which was damaged by the 2008 flood. Programming and schematic design began in 2011. In 2014, the new building's essential structure was completed and the building envelope could begin taking shape.
The Voxman Music Building was substantially completed in July 2016 and welcomed its 450 music students and 60 full-time faculty on Aug. 22, 2016. The grand opening and ribbon-cutting event was held on Oct. 21, 2016. The 324-room space includes classrooms, teaching studios, a library, offices, recital spaces, a rooftop terrace, a 700-seat concert hall and a 200-seat recital hall.
David Gier is the first to serve as the UI School of Music's director in the Voxman Music Building. The facility's name honors one of his predecessors, the late clarinetist Himie Voxman who served as the school's director from 1954-1980. Gier and the School of Music have eagerly awaited their new home.
Company: Linetec
Source: https://linetec-blog.com/2017/05/16/designed-for-resiliency-and-acoustic-performance-university-of-iowa-voxman-music-building-features-linetecs-anodize-finishing-and-thermal-improvement-services/
Tags: Acoustics | Aluminum | Energy | Glass | Wall Panels | Windows
---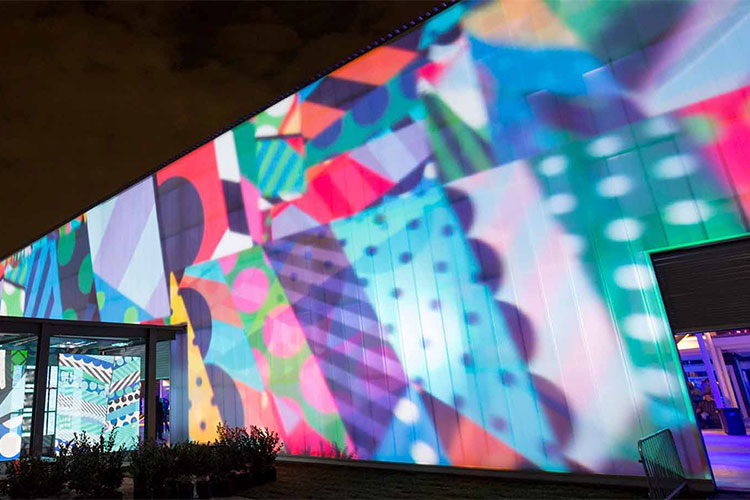 EXTECH provided anti-reflective (AR) polycarbonate glazing and its LIGHTWALL 3440 system for this entertainment venue. AR polycarbonate enabled lighting effects to be projected onto the translucent facade
Three new polycarbonate glazing options are available for the LIGHTWALL 3440® interlocking translucent wall panel system from Exterior Technologies, Inc. (EXTECH): Anti-Reflective, Infrared-Blocking and Anti-Graffiti.
Anti-Reflective – When high-efficient light transmission is paramount for a building's design, EXTECH offers anti-reflective polycarbonate glazing. Systems using this UV matte option facilitate a better distribution of light throughout a building's interior, while reducing reflections and glare. This option is also ideal for entertainment venues that want to project high-resolution images and lighting effects onto a translucent backdrop.
Infrared (IR) blocking – When high light levels and solar control are equally important, EXTECH provides polycarbonate glazing with an external surface that filters out unwanted IR and UV waves. EXTECH systems use this material to reduce solar heat gain, ensure comfortable interior temperatures, protect interior finishes from accelerated fading, reduce demand on the HVAC system and save on electric lighting costs.
Anti-Graffiti – When a project is in a high-traffic area and is at risk of damage or vandalism, EXTECH can enhance daylighting systems with anti-graffiti glazing that resists vandalism and scratching. Anti-graffiti glazing is also more resistant to natural weathering and typical chemicals, and is easier to clean.
In addition to these functional glazing choices, EXTECH's LIGHTWALL systems contribute to commercial buildings' aesthetic, performance, and sustainability goals. Lightweight and easy to install, the LIGHTWALL system helps construction teams facing condensed schedules, and facility managers seeking low-maintenance longevity.
"As our most popular product, the LIGHTWALL 3440 offers beauty, durability and economy with vertical panels that can extend up to 54 feet long and eliminate leak-prone horizontal joints," says EXTECH Director of Product Application and Development Kevin Smith, R.A. "Our LIGHTWALL system does not require framing members within the field of the glazing, which allows for a clean, modern architectural aesthetic."
In addition to enhancing a building's appearance, the LIGHTWALL 3440 meets demanding performance specifications, including high wind loads, impact resistance, fire rating, air infiltration, water penetration, thermal (0.25 U-Factor) and structural performance – the LIGHTWALL 3440 possesses some of the highest performance numbers in the industry due to its advanced framing. These attributes support energy efficiency and sustainability goals, such as the U.S. Green Building Council's LEED® rating systems.
Smith adds, "The diffusing characteristics of the cellular polycarbonate reduces dependence on electric lighting and reduces solar heat gain into the building envelope, as well as reduces light pollution emanating from the building. Because it is a dry-glazed system, VOC emissions also are reduced."
LIGHTWALL 3440 also uses highly insulating, 100 percent recyclable, 40 mm structural cellular polycarbonate and 38.95 percent recycled aluminum framing manufactured in Pittsburgh.
To order a sample and learn about EXTECH's LIGHTWALL 3440, please visit the product web page. For more information on EXTECH's products and services, please call 800-500-8012 or email info@extechinc.com.
Exterior Technologies, Inc. (EXTECH) is an award-winning manufacturer and designer of wall, window, skylight, canopy and custom façade systems. The company delivers solutions for a variety of industries and applications, and is committed to collaboration, innovation, and exceptional engineering.
Company: EXTECH/Exterior Technologies, Inc.
Product: Translucent Walls
Source: https://extechinc.com/lightwall-3440-polycarbonate-wall-panels/
Tags: Building | Design | Lighting | Wall Panels
---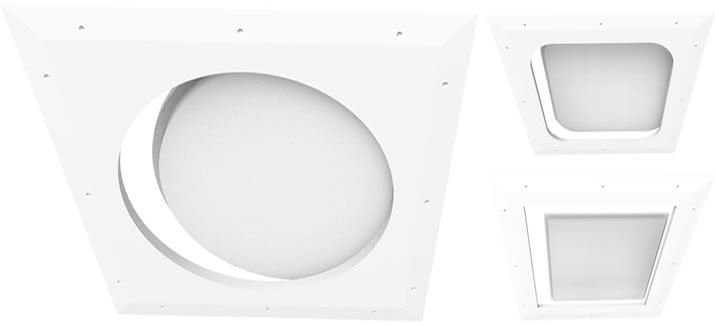 Concealed Drop In Access Door - Circular/Radius/Square Corner
Nystrom Inc announces the release of the Concealed Access Doors, a high-end architectural panel. The addition of the glass fiber reinforced (GFR) access panels adds another option for architectural applications, such as hotel lobbies, casinos, multi-tenant housing and government buildings.
The Concealed Access Doors are available in either a drop-in or hinged design with a square or radius corner or a circle for drop-in applications. The hinged design can be installed in ceiling and wall applications and is available with a cam latch or keyed lock.
Features:
Blends seamless into surrounding drywall
Eco Friendly
Reduced labor costs
Optional concealed hinge and lock options
Tapered edge for joint tape
Paint and texture ready
No shrinking, cracking, sagging or rusting
Mold and moisture resistant
For specialty applications, more information or to request a quote, please visit https://www.nystrom.com/products/access-doors.
Company: Nystrom
Product: Access Doors
Source: https://news.nystrom.com/2017/03/20/new-upscale-gfr-access-doors/
Tags: Access Covers | Interior Design | Wall Panels
---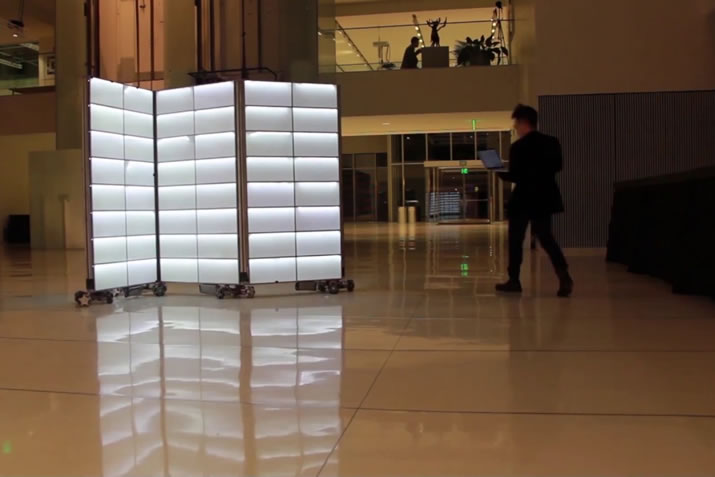 The Tomorrow's Workplace 2016 design competition challenged teams of designers to define "how will offices enable workers to be the best they can be?" For one team from the Massachusetts Institute of Technology (MIT), Kalwall® translucent sandwich panels offered the solution.
The competition was presented by Metropolis Magazine and Staples Business Advantage, a division of Staples Inc. Design
teams were tasked with creating an original piece of architecture that accommodated the needs of workers in terms of privacy, light, noise reduction and health.
Kalwall panels were an essential component of the design from MIT's Changing Places group, giving it structural integrity and aesthetic appeal. The design received an honorable mention.
The transformable wall employs robotics technology to create a hyper-efficient, dynamically reconfigurable structure. The innovative robotics and unmatched quality of Kalwall panels combine to create a flexible piece of architecture that accommodates a wide range of activities in a small space.
Kalwall has become the go-to option for translucent building systems, providing museum-quality daylighting™
with superior thermal packages.
Company: Kalwall Corporation
Product: Wall Systems
Source: https://www.kalwall.com/2017/03/03/kalwall-panels-featured-in-amoeba-wall-mit-design-teams-award-winning-project/
Tags: Interior Design | Lighting | Wall Panels
---

EXTECH's LIGHTWALL polycarbonate facade for a residential home
A house in Spain recently caught our eye. Newly updated by Buyesc Arquitectes, the Spanish home's south-facing wall is now clad with polycarbonate. The designer's intent was to transform the home into a low-energy building - polycarbonate panels improve thermal efficiency by capturing solar energy and gradually transferring it indoors. Polycarbonate also provides excellent insulating value in the range of R-4 when compared to glass.
EXTECH has been touting the benefits of polycarbonate in commercial and industrial construction for years - its versatility, durability, and sustainable properties make it a superior glazing material for so many applications. Given its benefits for commercial building envelope systems, it makes sense that it is becoming a prominent façade material for single-family and multi-family housing. It also makes sense that polycarbonate will be an important building envelope choice for commercial construction in the upcoming decades.
Is polycarbonate the future of architecture? There is some interesting evidence that points to this trend:
A recent report by Grand View Research asserts that U.S. demand for polycarbonate was USD 15.24 billion in 2015, with the construction industry making up roughly a quarter of that demand. The report goes on to predict that the U.S. polycarbonate market will grow to more than USD 30 billion by 2024, with the demand from construction increasing as well. These numbers reflect other analyses that predict the polycarbonate industry will double on a global scale over the next decade.
The movement toward green construction extends beyond federal regulation – it is a moral obligation felt by many millennials. Dozens of start-ups have emerged in the U.S. and E.U. in recent years that focus on green technology for sustainable building construction. The grassroots coalition Architects Advocate wrote an open letter to President Trump asking for his support of the design industry's commitment to addressing climate change. The movement toward environmentally-friendly design is expected to grow, and given polycarbonate's sustainability properties (it is recyclable and lends itself to daylighting, which lowers energy usage) coupled with its durability, it is an ideal material in this vein.
In addition to Buyesc Arquitectes' design mentioned above, there has been quite a bit of innovative construction in the past few years that utilizes polycarbonate. Just this month, DeZeen's Lizzie Crook compiled a nice list of worldwide projects that use translucent polycarbonate panels; the project applications are wide-ranging and include sports halls, residential buildings, and art spaces. The intentions for incorporating polycarbonate differ – some designers were interested in polycarbonate's unique aesthetic qualities ("sometimes the building blends with the sky, sometimes [it] is confused with the trees; at times the building seems to have its own light") while others liked the natural, diffused illumination polycarbonate daylighting offers. The reasons are myriad, but their designs are prominent and catching the attention of people around the globe.
Although polycarbonate has been used in building construction for 40+ years, there is still a great deal of potential for its use as a leading building envelope material. If the number of students that request system samples of our LIGHTWALL translucent walls and download our CAD and Specification files is any indication, then the future is going to include a lot of polycarbonate - we look forward to what tomorrow's architects have to offer in the way of polycarbonate design.
Company: EXTECH/Exterior Technologies, Inc.
Source: https://extechinc.com/polycarbonate-future-architecture/
Tags: Interior Design | Lighting | Wall Panels
---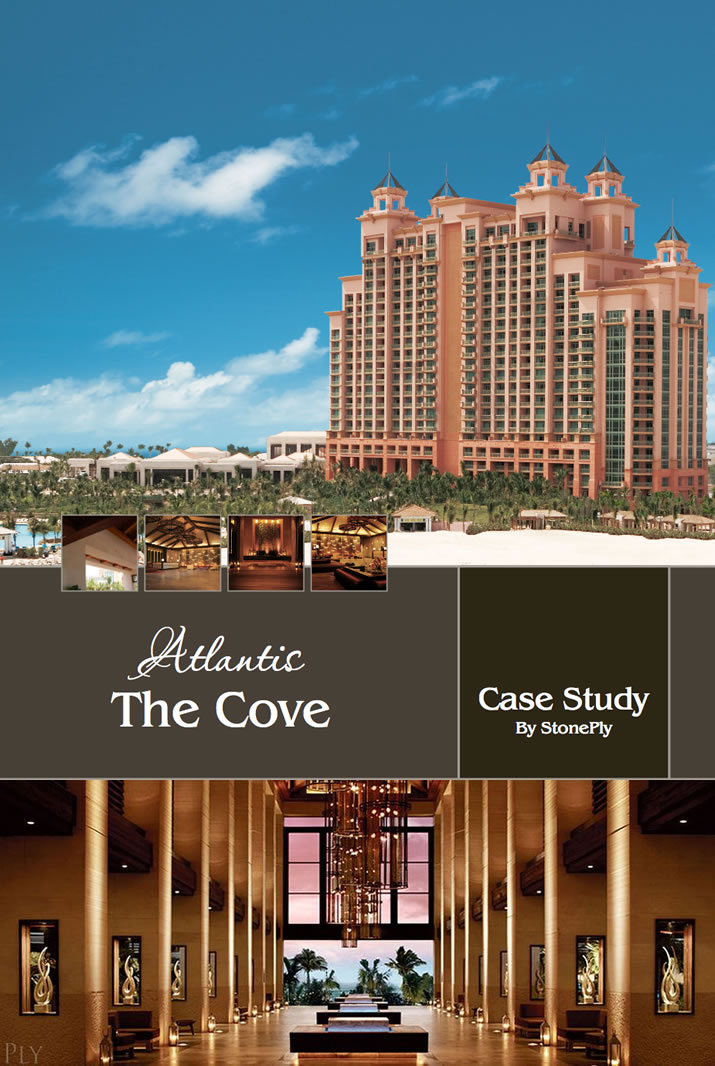 The largest stone clad building in the Caribbean meets the challenges of fast track schedule and hurricane proof construction
Sol Kerzner, resort entrepreneur, created a beautiful themed resort that features the lost city of Atlantis. StonePly was able to fabricate, deliver, and install over 144,000 square feet of custom exterior natural stone panels in The Cove Atlantis and The Reef Atlantis. These panels feature custom sawn and bush hammered textures to give the cladding depth and beauty.
Part of the reason for selecting StonePly for The Cove Atlantis was the success of the earlier cladding we supplied for Atlantis which survived numerous hurricanes, including one of which was a category 5, and has survived with minimal to no damage.
Customer's Needs
The customer needed a cladding that could both be used on the exterior and interior of the building, that matched the beauty of the resort, and added a high class feel to the resort. They were looking for a cladding that was easy to install, blended with the tropical feel of the resort, and minimized the disruption of the existing resort. The biggest challenge was to find a cladding that was impact resistant due to the weather that is inherent to the country.
StonePly Solution
StonePly was able to provide an impact resistant cladding that met the Miami requirements of hurricane resistance. The travertine was bonded to an aluminum honeycomb panel and attached using both Z-Clip extrusions and concealed screw attachments. All the attachments were attached in the field using #10 stainless steel TEK screws. Installation was completed on time and on budget by our qualified installation team.
StonePly was able to supply and install limestone panels that provided:
A luxurious stone cladding
Quick and easy installation
60X the impact strength of slab stone
Low maintenance
Impact resistant
Project Details
Client: Kerzner International
Date: December 2007
Download Case Study
Company: StonePly Co.
Product: StonePly Curtain Walls
Source: https://www.stoneply.com/en/projects/atlantis/
Tags: Design | Entrances | Safety | Wall Panels
---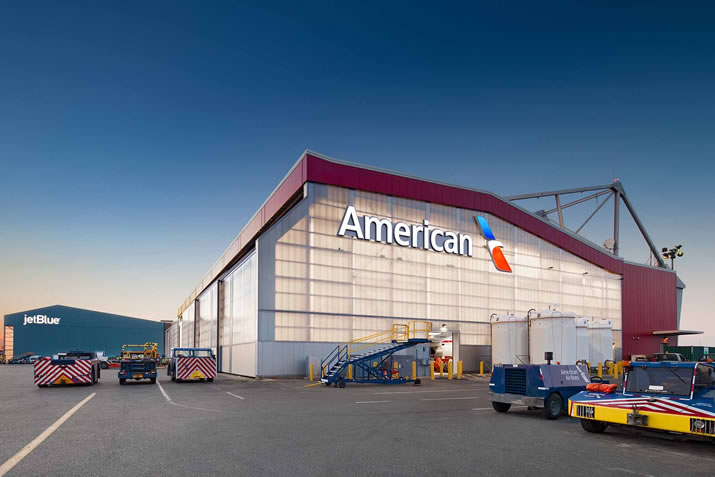 Sign-up for a Toolkit to take EXTECH's registered CES course. Earn 1 LU and 1 HSW by completing. The Toolkit also lets you track and save downloads, easily order samples, and delivers a collection of tools from around the web in your sidebar.
Innovative Daylighting Solutions
Harness the power of natural light
EXTECH/Exterior Technologies, Inc. is an award-winning manufacturer and designer of wall, window, skylight, canopy, and custom façade systems. We deliver solutions for a variety of industries and applications, and are committed to collaboration, innovation, and exceptional engineering.
Company: EXTECH/Exterior Technologies, Inc.
Source: https://extechinc.com/register/
Tags: Energy | Lighting | Wall Panels
---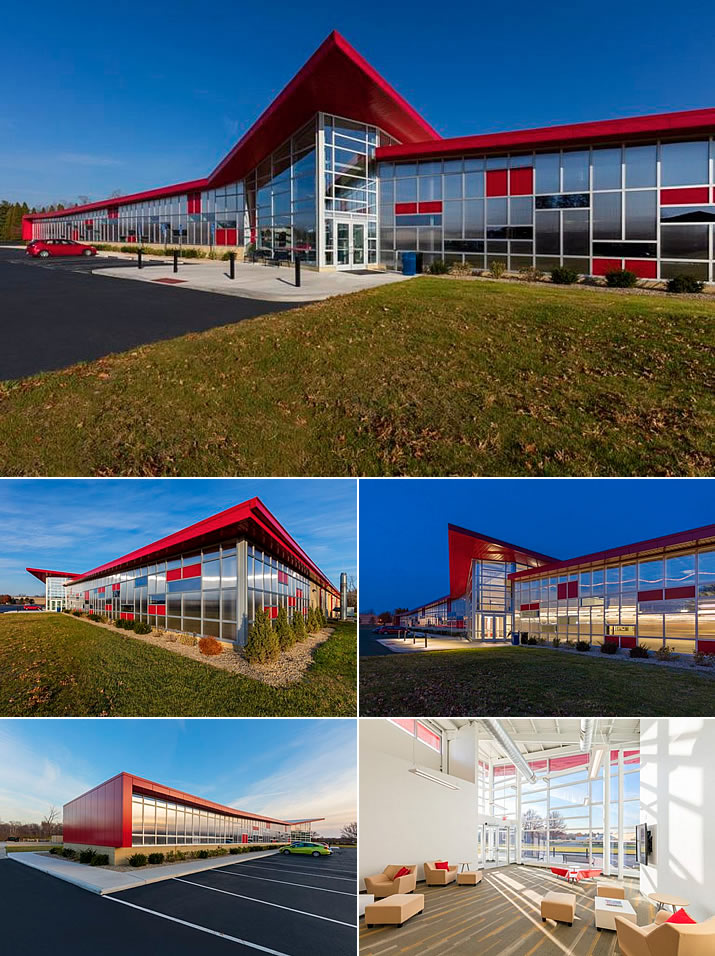 Images by Andy Spessard Photography
A State-of-the-Art Renovation in Central Ohio
Project: Otterbein University's STEAM Innovation Center
Location: Westerville, OH
Architect: Moody Nolan
General Contractor: Corna Kokosing
System: LIGHTWALL 3000
In a world where factory jobs are being replaced with smart technology and globalization has made the manufacturing industry increasingly competitive, Otterbein University saw an opportunity. The plan was to partner with leading organizations from the private and public sectors in central Ohio to build a hands-on curriculum focused on teaching – and innovating – cutting-edge skills in engineering, technology, science, and math. To achieve this, a laboratory that fostered experimentation and possessed state-of-the-art tools was necessary. To further complement the innovative facility, a state-of-the-art architectural design was developed.
The decision was made to renovate an older campus building in time for the 2016 fall semester, and with groundbreaking delayed into early 2016, the project timeline would be tight. Moody Nolan architects had a unique design in mind – a multi-paneled, geometric façade that would deliver daylighting with minimized solar heat gain and glare. Their plan was to use a curtain wall that could incorporate metal, polycarbonate, and glass that delivered diffused daylight with visual clarity in key locations.
EXTECH's LIGHTWALL 3000 series curtain wall system was selected for the project because it is one of the few that properly accommodates both polycarbonate and glass glazing within the same system. This is accomplished by using deep glazing pockets and low friction gaskets that allow for the thermal movement of polycarbonate, while still providing superior water and air infiltration performance.
To create Moody Nolan's distinctive geometric design, EXTECH fabricated a new horizontal mullion that allowed for the inclusion of non-continuous vertical framing members. The new mullion "flushed out" the interior surface of the system and allowed it to span up to 8 feet between vertical mullions – typical span lengths are only 4-5 feet. It also allowed for the application of point loads from vertical framing members without additional structural reinforcing - horizontals typically deliver their loads to verticals.
The STEAM Innovation Center's "wire-cutting" (a technology pun on "ribbon-cutting") was just in time for Otterbein's fall semester. All told, the center is a 61,000 square foot building that provides classes and training in areas such as 3D printing, advanced electronics, metal and machinery, and also provides office space for lease. If you would like to learn more about this project or EXTECH's LIGHTWALL 3000, please contact us.
Company: EXTECH/Exterior Technologies, Inc.
Product: Translucent Walls
Source: https://extechinc.com/case-study-photos-otterbein-universitys-steam-innovation-center/
Tags: Design | Glass | Wall Panels | Windows
---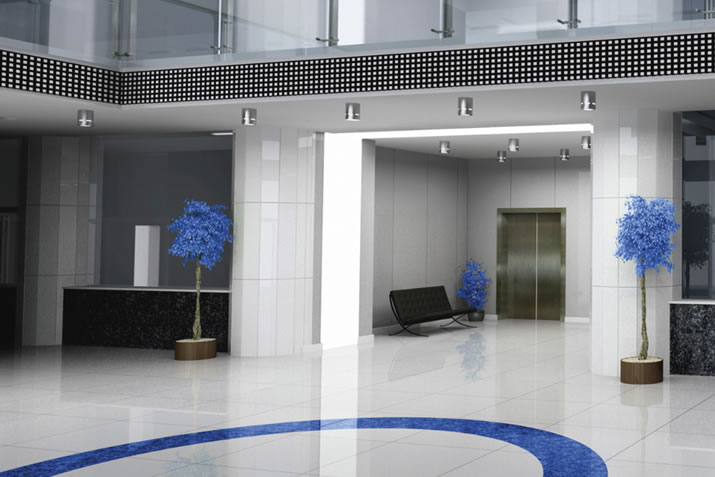 Contemporary architecture strives to be seamless, high performance and flexible. As a result this requires intelligent and creative solutions to servicing these spaces. Integrated strategies for the provision of power, communication, data and HVAC are essential. Howe Green products enable this integration to happen.
Served vs Servant - a concept first coined by AIA and RIBA gold medalist Louis Khan, a great 20th century architect.
Our raison d'être
Here at Howe Green we take inspiration from Khan and have a range of products which enable the architectural greats of today to realize their vision. Contemporary architecture strives to be seamless, high performance and flexible. As a result this requires intelligent and creative solutions to servicing these spaces. Integrated strategies for the provision of power, communication, data and HVAC are essential. Howe Green products enable this integration to happen. The introduction of innovative solutions to building services such as voids, suspended ceilings, raised floors, false walls, service chases and service cores are a direct result of the commercial incentive of maximizing the usable space within a building. However these strategies require access, which is where Howe Green's products are used.
Types of access cover
The access covers generally fall under three types, those mounted on walls, those fitted in a ceiling system and floor based products. These systems can be used internally and externally. Howe Green products are used across the globe in challenging environments, the products have been put to use in commercial offices, transport hubs, public spaces, retail and residential architecture. It is a versatile family of products that address the requirement for high quality, accessible service space.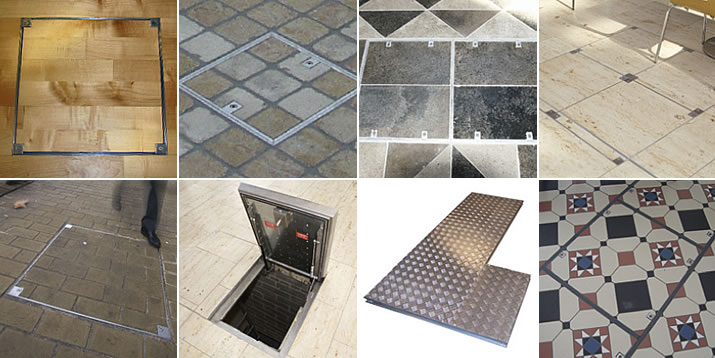 What can we do for you?
"Design for the present with an awareness of the past, for a future which is essentially unknown" Norman Foster. Howe Green's systems aim to add value to the architecture in which it is installed; they allow for flexibility in future demands by allowing ease of access for service updates and ease of maintenance for existing service infrastructure.
Ease of use
Howe Green Access Covers are supplied with clear and legible installation guides ideal for contractors unfamiliar with our products. The "Buildability Factor" is considered at every stage. Crucial in installation, where the access covers have a low level of complexity, are generally built to standardized construction dimensions and reduce the level of risk for the contractors fitting the product - a responsibility that must be upheld by the principle designer, client and suppliers under HSE and CDM 2015 regulations.
Responsiveness
Howe Green is a responsive company that understands the design, construction and operational process and just how fast changes occur. As an established company we have the resources invested in cutting edge C.N.C. equipment to respond to these changes rapidly; Howe Green stock products are dispatched the same day, whilst bespoke items have a 7-10 day lead time.
Precision
The fabrication and manufacture of our products is heavily influenced by sustainability; the process minimizes waste material and guarantees a precise tolerance finish for a high performance product. This ensures a quality product is delivered to the correct level of specification every time.
Integration
Howe Green's products are integrated into the BIM workflow for architects, specifiers, clients, contractors and even facilities management. This allows for the products to be introduced at concept design stage through to retrospective fittings in operation and management, which has happened recently for one of our client's – the Eagle Church Campus situated in Indiana, USA.
This high level of integration allows for costing, schedules, performance analysis all to be undertaken and documented through the whole lifespan of the design, procurement, facilities management and operation and maintenance of Howe Green's products.
Company: Howe Green US
Source: https://www.howegreen.us/howegreen/news/introduction-to-access-covers.php
Tags: Access Covers | Ceiling | Floor | Wall Panels
---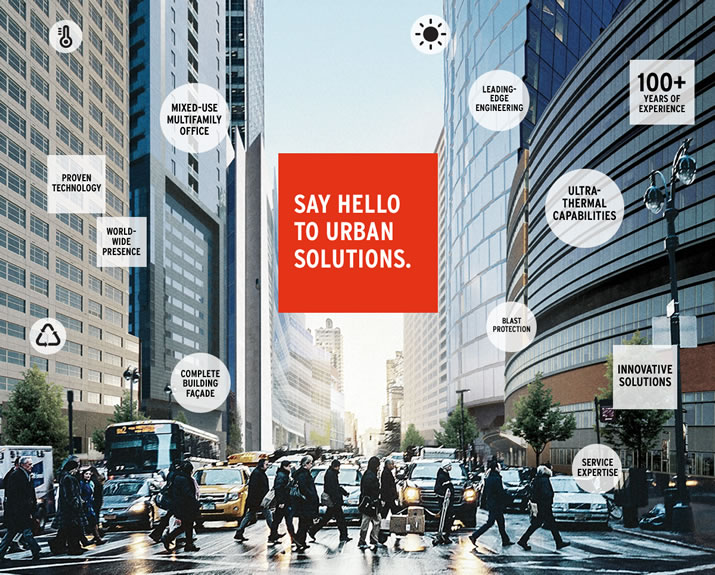 Say hello to urban solutions
Wherever you look, you will find us. Out of an office window. Walking into a shop. Looking up at an apartment building. Our range of solutions – from curtain walls and windows, to entrances, framing systems and architectural panels – are everywhere you need them to be, offering infinite possibilities in design, development and performance. We are here.
Explore our dynamic array of innovative solutions for new construction and renovation, like the all new MetroView™ window wall. Learn more about Kawneer and Traco windows featuring the high-performing OptiQ™ windows, GLASSvent™ UT windows and the Traco NX-4000 series. Wrap your imagination around the stylish and functional exterior/interior cladding design solutions of Reynobond/Reynolux panels.
ARCHITECTURAL ALUMINUM SYSTEMS | ENTRANCES + FRAMING | CURTAIN WALLS | WINDOWS | ARCHITECTURAL PANELS | INNOVATIVE FINISHES
Company: Kawneer Co., Inc.
Source: http://www.kawneer.com/bcs/aap_kawneer/en/urbanbrands.asp
Tags: Design | Entrances | Wall Panels | Windows
---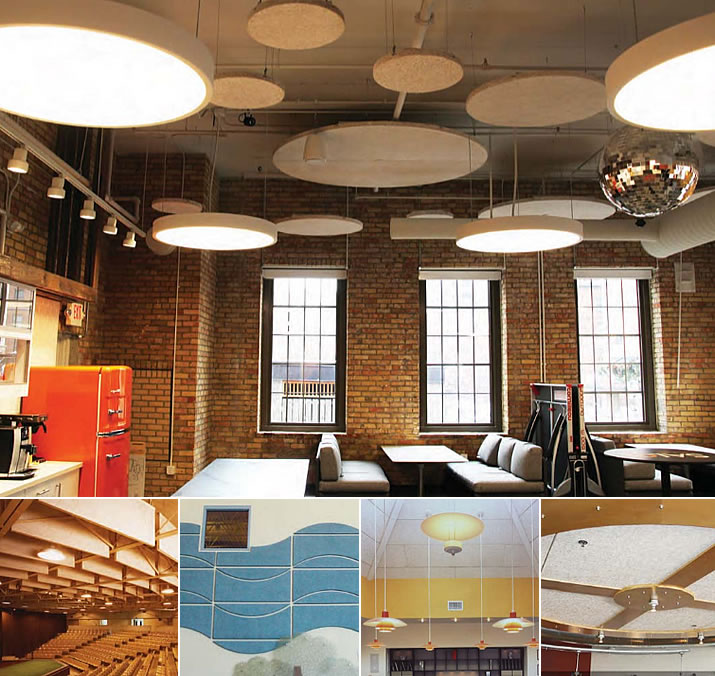 Tectum ™ Acoustical Wall and Ceiling Panels Easy to work with and install, Tectum Interior Panels are commonly used in new construction, retrofits and anywhere acoustic absorption, style and toughness are needed. They absorb sound and are tough enough to stand up to daily abuse in high-traffic, heavy-use areas. Natural, painted, printed with your gr aphics or covered in fabric, they provide an attractive, durable finish in any interior application. Manufactured at the Tectum Inc. plant in Newark, Ohio, for over 65 years, Tectum Products stand the test of time.
Tectum Acoustical Panels are composed of aspen wood fibers, bonded with an exclusive inorganic hydraulic cement binder and formed in a continuous process under heat and pressure. As a result, physical characteristics usually obtained only with a combination of several separate building materials are found in Tectum Products: excellent sound absorption, abuse resistance, a decorative textured interior finish — all in a single, structurally strong yet lightweight product. All Tectum Products are Class A/Class I, with a flame spread of 0 , in accordance with ASTM E- 84 .
Hard, reflective surfaces, multiple noise sources and the need to hear and be understood are the primary reasons that good acoustics are a critical part of any good design. All Tectum Products can be factory or field painted without impacting acoustical performance.
New Products in the Tectum Interior Line
Panel Art
A variety of pre-fabricated shapes encourage custom artistic expression. Create a unique statement wall that absorbs noise and is tough enough for schools.
Line Design
Combine all of the acoustic performance and toughness you expect from Tectum Products with the added interest of textural design options created by straight line v-cut grooves.
Tectum Acoustical Roof Deck
For an economical, environmentally responsible structural acoustical roof deck, Tectum Inc. offers a full line of Roof Deck options. To explore the design options for the building envelope, see our Roof Deck Catalog online.
Company: Tectum Inc.
Source: http://www.tectum.com
Tags: Acoustics | Ceiling | Wall Panels
---
Urban loft spaces in trendy areas like Victorian Village in Columbus or Little Italy in Cleveland can be cool but not if they are dark and have closed in spaces. One challenge of loft apartment housing is how to create a light open space while creating visual separations between rooms. Once excellent way to do this is through the use of distinctive modern glass block wall partitions.
Glass blocks have moved on from its traditional roots to now incorporated fun and vibrant colors and eye-popping textured looks which stand out in your modern home. Check out these 5 cool ideas to move light through the inside of your loft while providing privacy and an interesting look which can be as unique as you are.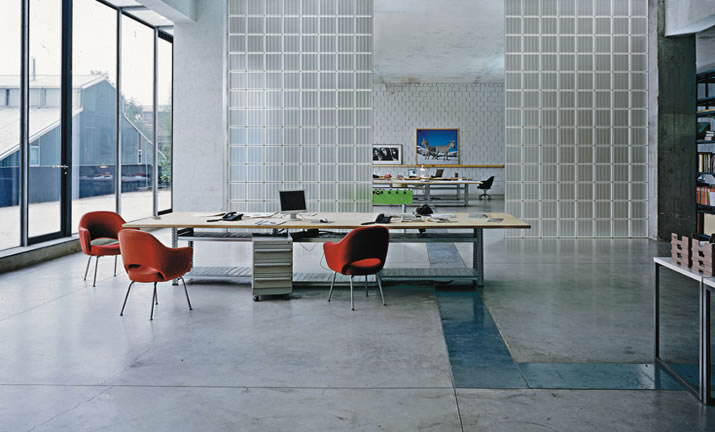 Idea #1 – Adding shape and texture to your glass privacy walls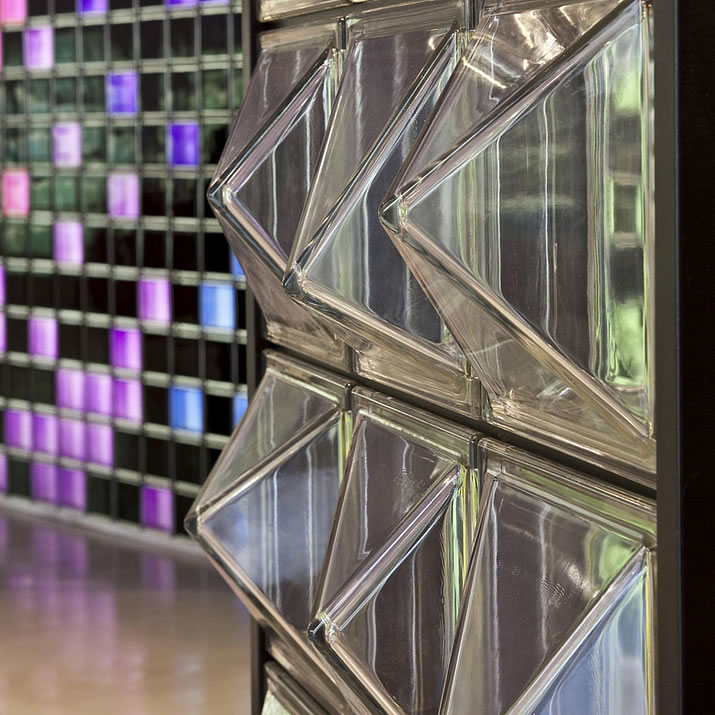 If you go to sleek modern hotels like "The W" you'll see ample use of textured walls. I am now seeing this trend in textured ceramic wall tiles in bathrooms and kitchens. But one application which is just now getting known is the use of textured glass partition walls to separate rooms. These walls are fun because they not only move the light between spaces – but they literally extend into a room to create a sense of texture and excitement. There are patterns with horizontal flutes and even a pyramid type of look which juts out into the space. Very fun!
Idea #2 – The glass brick partition wall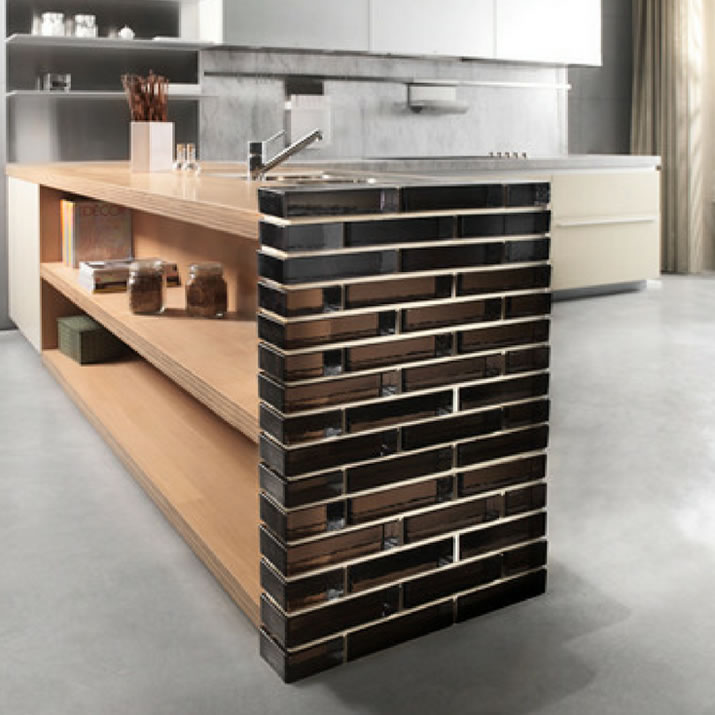 When you think of bricks I bet the image which comes to your mind is the traditional red brick building more associated with life in the suburbs or old industrial buildings. While there is nothing wrong with the suburban red brick look (and some exposed red brick walls can look cool in an urban contemporary space) a ceramic brick cannot move light through walls. This is where the glass brick partition comes in. This hip, upscale material comes in clear, bronze, black or an aqua blue colors and beautifully (and colorfully) moves light while creating a steady and attractive wall partition.
Idea #3 – Illumination in unexpected places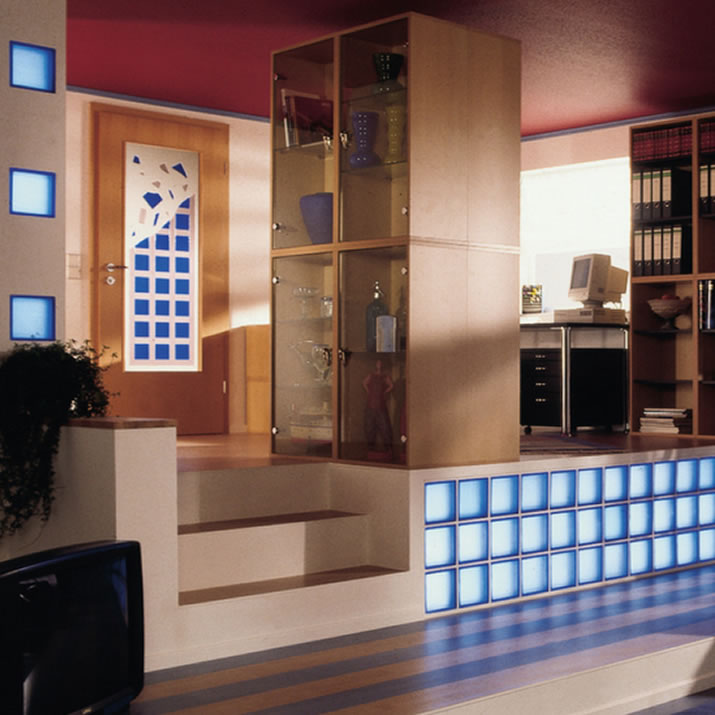 What makes loft apartment housing more difficult is you rarely find windows on more than two sides (note: this is because overall plan layout tends to be vertically oriented with one apartment next to another with interior walls separating spaces). This makes the need to be creative with your illumination strategies critical. While natural lighting is always tops on the list – finding other ways to transmit light also needs to be incorporated into your plan. Check out this lofted apartment space which added lighting under the raised section for an alternative lighting approach. It's creative and unique.
Idea #4 – Fun colors in small spaces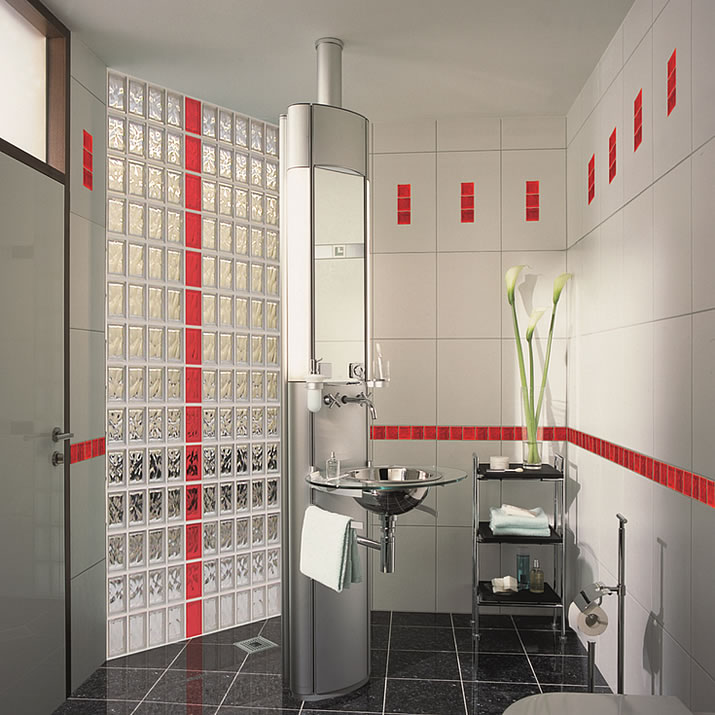 Let's face it, part of the reason you're moving to the city is to have more fun. Being able to jump out of your apartment and take in an Ohio State Buckeyes, Cleveland Browns or Columbus Blue Jackets game on a whim. The urban lifestyle enables you to enjoy the vibrancy of the city without the hassle of cutting a lawn – every again (yes!). That's the nice part about city life. The tougher part is you don't have the sprawling inside space you once enjoyed. Tighter loft spaces require more thoughtful design – both with respect to lighting and the use of color. Smaller urban spaces beg for more personality than what you had in the 'burbs. Whether you're working with an interior designer or using your own creative inspiration think about adding some eye-popping color to your design. Now is the time to dump the boring beige tones you were captive to in the 'burbs!
Idea #5 – Shape can be your friend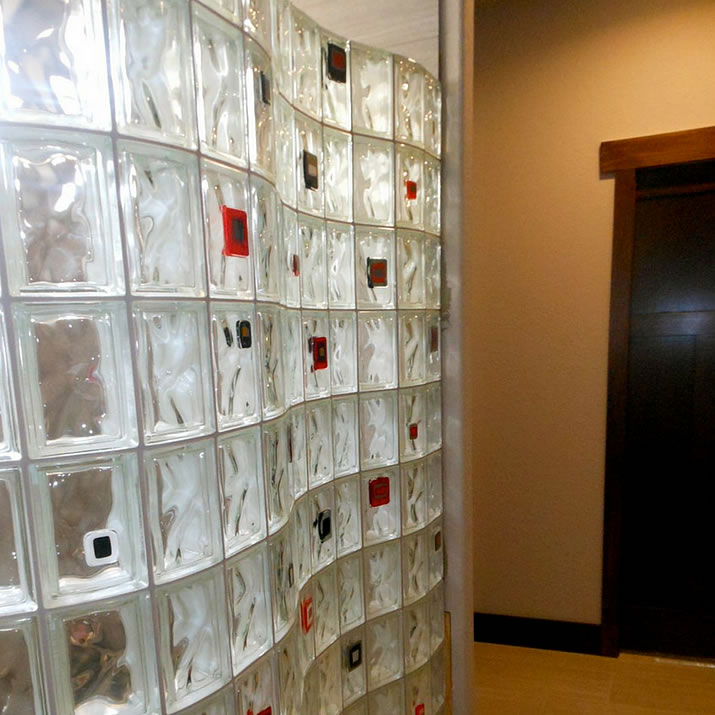 Who ever said all the walls had to be straight and rectangular? They must have been designing those cookie-cutter McMansions in the suburbs in the late 1990's. Whether you're looking at drywall or glass walls why not add some curvature or even a fun serpentine design. The glass block wall below used an S- shaped serpentine designs with one of a kind glass tile block accents. It's certainly not going to be confused for boring!
Conclusion
To my way of thinking I see cool, contemporary glass and the downtown urban loft apartment vibe as natural partners of one another. What do you think about the use of glass (or glass block or bricks) textured or colored walls to add some fun, light and interest to your space? If you have any questions feel free to call the numbers or comment below.
For assistance with modern glass or glass block or brick partition walls (which can be prefabricated to your specifications) call Innovate Building Solutions on a nationwide basis 877-668-5888. For a local installation or supply project Cleveland Glass Block (216-531-6363) or Columbus Glass Block (614-252-5888) can help.
Company: Innovate Building Solutions
Of: Mike Foti
Source: http://blog.innovatebuildingsolutions.com/2016/08/12/5-crazy-modern-glass-wall-partition-ideas-loft-apartment/
Tags: Color | Glass | Interior Design | Lighting | Wall Panels
---
Tectum Finalé Interior Panels add extra noise absorption and contribute positively to the LEED certification program. With abuse resistance and the highest possible sound absorption, Tectum Finalé is the ideal design solution.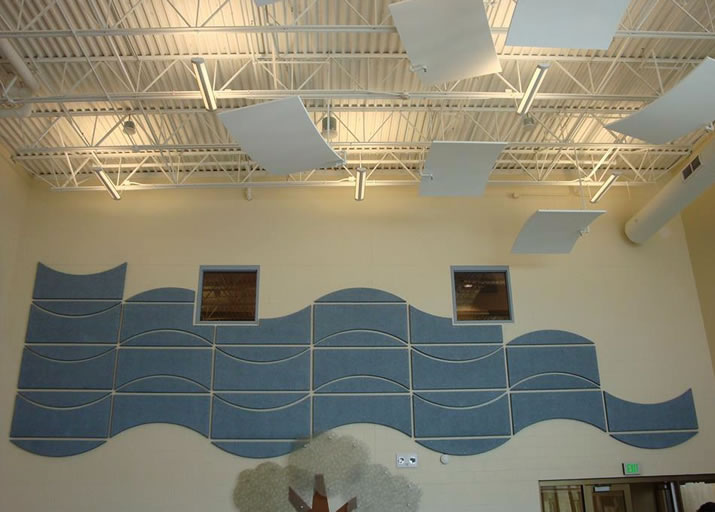 Tectum Finalé panels are a high NRC (Noise Reduction Coefficient) solution for spaces that require acoustic dampening. A composite of Tectum Panels, Tectum spacer strips and MinWool-1200®, Finalé panels have an NRC of .85 to 1.00 and a Class A interior finish.
Whenever a space calls for the highest possible sound absorption, and anywhere activities demand abuse-resistant panels, Tectum Finalé panels are an unmatchable design solution.

MinWool-1200®
MinWool is high-density, noncombustible insulation made of organic Basalt (Volcanic Rock) fibers. MinWool absorbs noise while resisting moisture, mold, mildew and fungi growth.
MinWool-1200® is a registered trademark of Johns Manville.
Company: Tectum Inc.
Source: http://www.tectum.com/iw-acoustical-panels-finale-photos.html
Tags: Acoustics | Interior Design | Wall Panels
---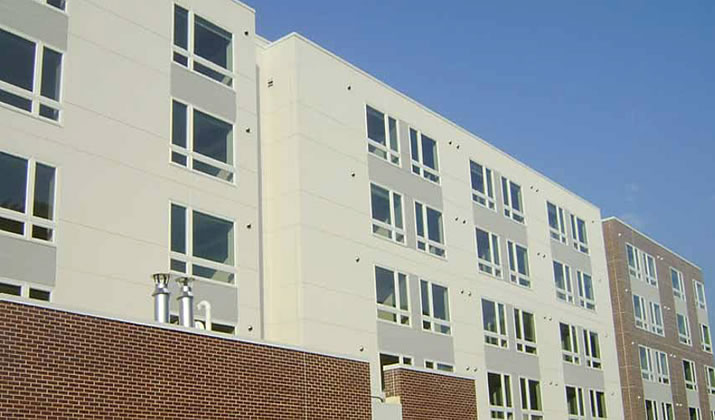 Sto Panels are the next generation of exterior wall panels, delivering superior energy ef ciency and performance along with beauty and ease of installation.
Sto, the leader in wall cladding systems, now offers the most advanced technology in prefabricated insulated wall panel solutions. Our systemized approach to panelized construction offers many benefitts over traditional precast panels, including speed, value and superior performance. Sto Panels are lightweight, energy efficient and durable, and are available in a wide variety of aesthetic options. The technical design expertise of experienced panelizers and the service you expect from Sto make Sto Panels the preferred choice for new construction as well as renovation projects.
Speed
Pre-determined and carefully controlled installation time.
Increased productivity as a result of experienced fabricators.
Construction schedule compression: panels can be manufactured while your site is being excavated and are ready for installation as soon as the site is ready.
Reduced onsite clutter and interference (i.e., scaffolding and debris).
Value
Lower structural requirements than precast due to lightweight prefabrciated panels.
Reduced jobsite manpower needed for exterior wall installation.
Jobsite scaffolding unnecessary for exterior wall installation.
Quality
Precisely engineered prefabricated panels and connections.
Quality controlled fabrication: skilled craftsmen fabricate panels in a climate-controlled environment and materials adhere to strict manufacturers' recommendations (including temperature and humidity requirements) under a stringent QA/QC program.
Extensive shipping protection prevents damage to the panels' factory-precise finish.
Code compliant systems.
Single source warranty.
Experienced panel installers.
Sto Panel Technology - Panel Assembly Animation
Design Freedom and Versatility
Sto Panel Technology helps transform architectural vision into reality in a sustainable, integrated solution
Sto Panel systems are available in a range of beautiful, durable finish options. Choose from Sto's proven line of architectural coatings and textured finishes, metal panels, thin brick veneer or precast concrete. With factory application of materials you can count on a consistent, high quality finish that will last.
Sto Architectural Coatings and Finishes
Sto has you covered in a wide range of beautiful, durable finishes for a strong, flexible layer of protection. Our finishes are manufactured in ISO-certified facilities to meet extremely strict quality control standards, contain pure white marble aggregate and 100% acrylic polymers, and come in virtually unlimited colors.
Specialty Finishes
Sto's line of artistic, protective nishes provide the look you want including brick, granite, stone, limestone and metal panels.
Lotus-Effect®
Featuring the Lotus-Effect, a patented breakthrough technology modeled on the unique self-cleaning lotus leaf, Sto Lotusan nishes and coatings are incomparable to any exterior product on the market. Like the lotus leaf, the nish is rinsed clean with rainfall, thereby reducing maintenance costs.
Company: Sto Corp.
Source: http://www.stopanels.com
Tags: Building | Design | Wall Panels
---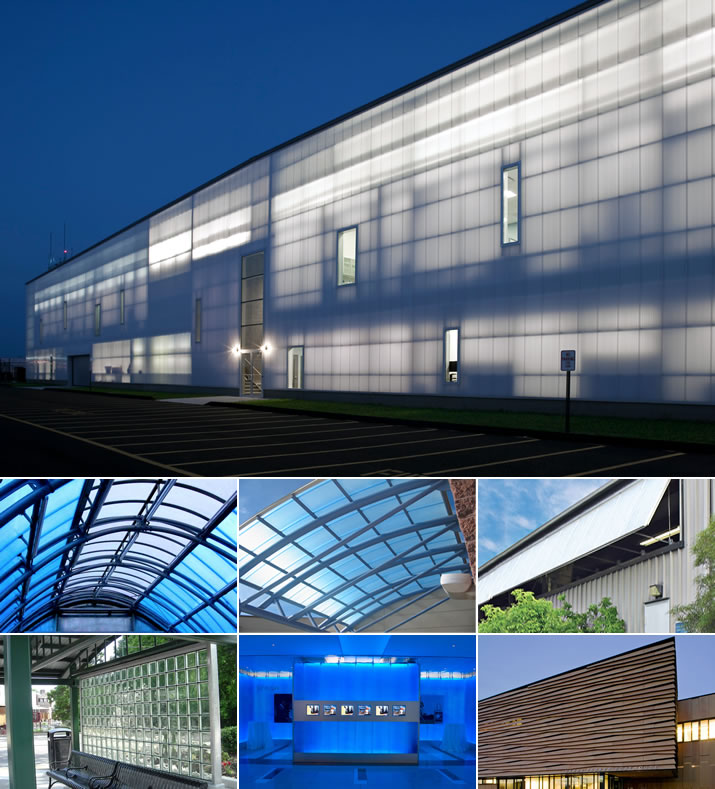 Translucent Walls, Skylights, Canopies, Windows, Mortarless glass block, Interiors, Custom Facades, Porcelain Systems
Cellular Polycarbonate Specialists
EXTECH specializes in the use of cellular polycarbonate for its host of benefits including daylighting, energy savings, superior impact resistance and insulation properties.
We provide a variety of translucent wall and interior panels, windows, skylights, and canopies for industrial and commercial clients. We also provide mortarless glass block systems and porcelain walls for use in outdoor rain/windscreens or interior applications, both of these products are extremely resistant to vandalism.
All of our products are designed for ease of installation and maintenance, including 10 year manufacturer warranties. Our group of dedicated staff who "like to build things" are also happy to provide custom facade work based on over 35 years of award-winning engineering excellence.
Our Product Lines
Polycarbonate walls
Polycarbonate windows and skylights for industrial or architectural use. Our skylights are capable of incomparable spans, without leaks.
Mortarless glass block and porcelain walls, perfect for windscreens, transit stations/shelters
Custom facades and building envelope
We make you AND your buildings look good
with our uniquely designed polycarbonate products for building exteriors
The Many Uses and Benefits of Cellular Polycarbonate
Diffused daylighting saves on energy costs, prevents glare and provides optimum visibility
High Levels of Impact Resistance
Lightweight material demands less structural support and requires less energy to operate when used as doors
Highly insulating with values up to U-.25 (R-4) for 40 mm thick panels
100% Recyclable panels and aluminum framing is LEED Credit friendly
Panels can be cold formed to a radius, unlike glass
Easy maintenance and cleaning
10 Year Manufacturer Warranties
The most advanced aluminum perimeter framing systems in the industry in a wide range of finishes
Air/water/structural testing
Company: EXTECH/Exterior Technologies, Inc.
Source: http://www.extechinc.com/polycarbonate-products.html
Tags: Building | Design | Energy | Insulation | Lighting | Wall Panels
Glass Shower & Tub Enclosures by Fleurco (September 2, 2016), Architects Inspiration Handbook for Glass applications in commercial interiors (August 29, 2016), The Feng Shui of Kalwall (July 11, 2016), Restaurant Ceiling Tiles (July 1, 2016), Continuous Insulation (ci) Systems (June 27, 2016), Hurricane Roof Equipment Screens (June 10, 2016), Where Champions Train: Kalwall® Lights Up Broncos' Indoor Facility (May 16, 2016), Another Award-Winner: Verti-kal™ and the John Fry Sports Park Pavilion (April 22, 2016), Guardian 275® translucent skylights provide a wide range of color, thermal performance and specialty application options (April 6, 2016), Decorative Panels & Screens (April 4, 2016), Howe Green Provides Easy Access in Quality Hill Homes (March 21, 2016), The Noise Control Solution - When Acoustics, Style & Toughness Are Required (March 11, 2016), Video of Extech's newest kinetic wall (March 1, 2016), Artistry in Architectural Grilles (February 10, 2016), The Test of Time: 10,000 N. Central Expressway, 30 Years Later (January 20, 2016), Amager Resource Center (January 13, 2016), Kalwall Featured: Guide Dogs for the Blind New Student Residence (December 30, 2015), Making History: The National Constitution Center (December 11, 2015), Commercial and Residential Ceiling Tiles (December 7, 2015), Hanging baffles substantially quiet this LAPD firing range - this benefits everyone who works there (September 30, 2015), 5 Things Nobody Tells You about Shower & Tub Wall Panels (August 26, 2015), Tectum Panel Art Wall Panels (July 20, 2015), Will Your Walls Face Abuse Or Impact? (April 8, 2015), Create an accent wall with faux-leather wall panels (February 17, 2015), Nothing says cool quite like high gloss WallPanels (January 16, 2015)