architecture - engineering - construction

Wall Panels
---
LuxCore FRP Panels are the newest part of the Fusion line and it offers many unique features. The translucent panels pass sanitary codes and are easy to clean. Therefore it is suitable for wet environments such as commercial kitchens and baths. LuxCore resists scratching and is highly durable, making it perfect Wall protection in high traffic areas. The panels can be used as wainscot or to cover an accent wall. When left as a translucent panel it makes beautiful room dividers and modesty panels and can be back-lit. If a backing is added the colors become even more vibrant and LuxCore makes an excellent wainscoting or wall covering.
DCT's Fusion program allows you to create any custom design by submitting your own art work or choosing from our stock line. Design options for these translucent laminates are only limited by your imagination.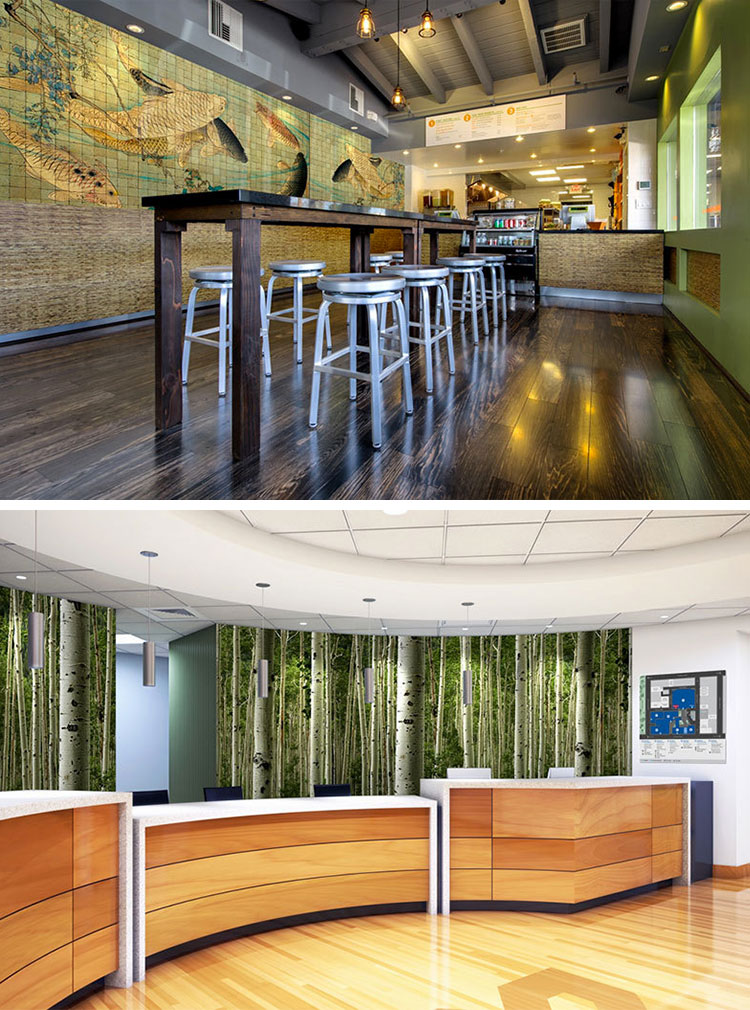 LuxCore are translucent panels that pass sanitary codes and are easy to clean. Therefore, it is suitable for wet environments such as commercial kitchens and baths. LuxCore resists scratching and is highly durable, making it perfect Wall protection in high traffic areas.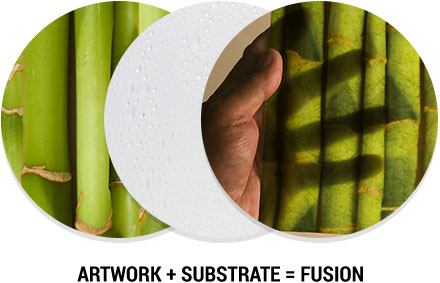 Why Choose Fusion?
Easy-to-Install Directly Over Most Surfaces
No Counterbalancing Required for Unbacked Metals
High Impact, Abrasion, & Chemical Resistant Properties
Over a Dozen Substrate Options Available
Hundreds of Stock Images Available
Custom Capabilities
Low Minimum Order Quantities
Short Lead Times
What is your formula for success?
Fusion offers solutions for the commercial interior design industry and provides architectural elements for use in healthcare, institutional, hospitality, educational, and retail installations. With over a dozen substrate options, we can help create a custom decorative surfacing solution for your application that can be used as wall art, decorative wall protection, large-scale murals, wall dividers, custom millwork, or point of purchase displays. Fusion works for all projects big or small with our low minimum order quantities and short lead times. With Fusion, your imagination is the limit.
Fulfilling your vision
To make sure you are satisfied, DCT's in-house services will seamlessly assist you through design development to fabrication to installation. One of the most unique advantages of Fusion is the ability to use your own artwork. Simply upload your art for technical review and our Fusion Specialists will guide you through the process. Large format digital printing is also available.
Company: Decorative Ceiling Tiles, Inc.
Source: https://www.decorativeceilingtiles.net/translucent-frp-120-thickness-48x120-luxcoreplus-fusion/
Tags: Design | Interior Design | Lighting | Wall Panels | Walls
---
The Roger A. and Helen B. Krone Engineered Biosystems Building (EBB Krone) opened in 2015. It was built with the intention of creating a space where Georgia Tech engineers and scientists can work together on new medical technologies and curing diseases. Much like bees - or Yellow Jackets - the mascot of Georgia Tech, work together in a hive.
It is possible that design architect, Lake Flato, and local architect Cooper Carry considered this when creating the building design. The EBB is a brick building with glass windows shaded by a perforated metal sunscreen surrounded by trees, walking paths, and a garden. The sunscreen, with perforated zinc panels, has a honeycomb effect close up. From a distance, the 5- story building appears to be a giant beehive of Georgia Tech Yellow Jackets busily working together to make sweet scientific discoveries.
The building is LEED Certified and has won multiple awards. (Shown below). The customer was Peachtree Protective Covers and the project manager was John DuConge from Mccarthy Building Companies Inc. Morin Corporation provided the metal panels for the sunscreen.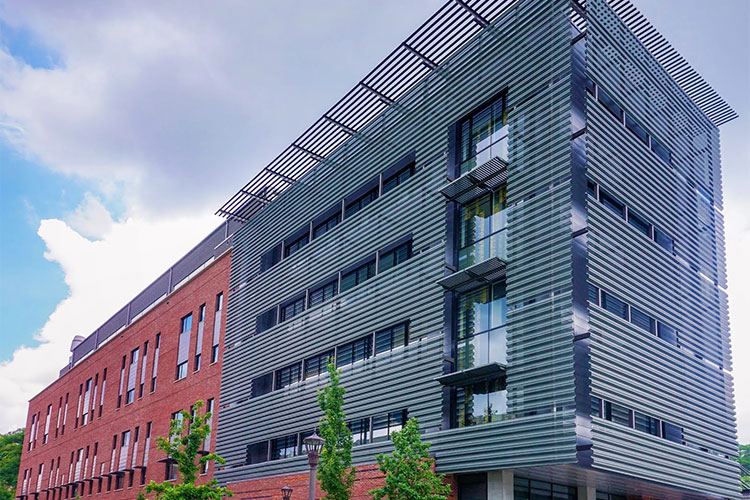 The EBB 'hive'
The sunscreen is a passive sun shading system made of perforated zinc panels. Zinc is a natural metal, it is recyclable, and has a lifespan longer than most metals at 80+ years. The zinc panels are 1.2 mm and coated with a Graphite Gray color coat. They are roll formed in Morin's O-12 panel profile.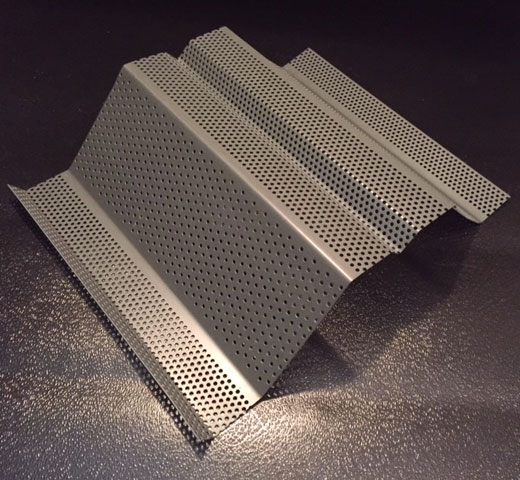 A sample of the O-12 panels with two different perforation patterns visibleUp close, the panels have a unique feature, indiscernible from a distance. Each panel has two different perforation patterns. The O-12 panels were installed horizontally. The nature of this panel shape makes it have an edge that is parallel to the building walls and windows (the face), and a sloped edge that faces either to the sky or the ground. On the panel face, the perforation pattern is ⅛" holes with 7/32" spacing, leaving a 30% open area. The other edge has ⅛" holes with ⅜" spacing, leaving only a 10% open area. This design was achieved by strip perforating each panel. By doing it this way, the bends of the panel remain solid so that there is no distortion. Sample panels were made to make sure that the perforation holes would line up on the lapping panels. Originally, there was going to be three different perforation patterns, but two was enough to satisfy the function of having varying perforation patterns per panel. Said function of this design is to effectively shade the building from Atlanta's harsh summer sun while allowing visibility from inside the building and eliminating glare off the glass windows. The façade has some spaces between the panels, breaking up the screenwall and creating some interesting horizontal lines.
In addition to the screenwall, the project also had four other Morin panel profiles on various parts of the building including solid panels on the top floor covering the penthouse, soffit areas, and wall areas. The other profiles used were VB-34, F-16, F-24, and O-24.
See the Whole GALLERY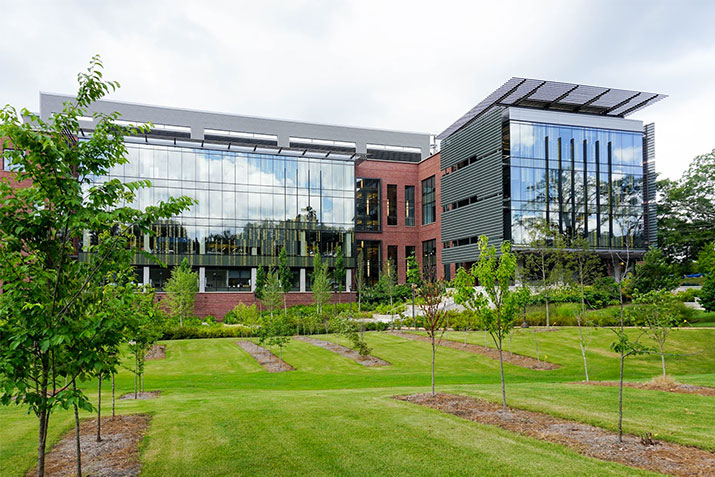 Awards
CMAA South Atlantic Chapter, Project of the Year, 2016
CMAA South Atlantic Chapter, Project Achievement Award >$100M Construction, 2016
AIA Georgia, Design Merit Award, 2016
ENR Southeast Award of Merit for Best Sustainable Building Practices, 2016
Company: Morin® - A Kingspan Group Company
Product: Screen Wall Panels
Source: http://morintranet.blogspot.nl/2018/04/varying-perforation-pattern-technique.html
Tags: Architecture | Award | LEED Certification | Wall Panels
---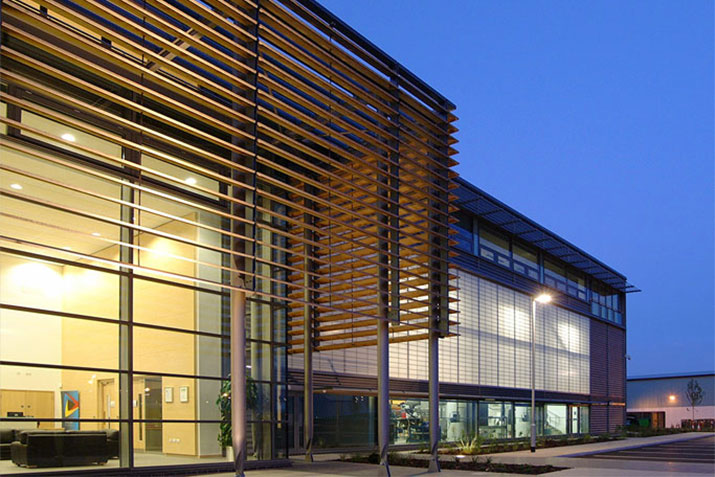 Daylighting is essential to any modern manufacturing facility as a proven way to increase productivity. Incorporating diffused natural daylight challenges architects to find creative ways to design aesthetically pleasing, yet functional and, in many cases, secure and protected spaces. Kalwall allows that creativity while meeting the most demanding manufacturing requirements for areas that need high visual acuity and visual privacy, in addition to reducing maintenance and energy costs.
Middle West Spirits
Columbus, OH, U.S.A
In addition to being a distinctive feature, Kalwall translucent sandwich panels provide the owners with a bright space for superior visual accuracy critical to monitoring and performing quality inspections within the distillery. Kalwall's daylight modelling service allowed the architects to design the building so that different elevations transmit different amounts of light to provide completely balanced, museum-quality daylighting™.

Design Prototyping and Testing Center
University of Sheffield, UK
Kalwall's highly-insulated translucent wall system is the centerpiece of the DPTC, which earned a BREEAM Excellent rating for sustainable building design, construction and operation. The building's mezzanine level is encased by Kalwall panels, engulfing the facility in naturally diffuse daylight. Rapid prototyping facilities and collaborative research parks are growing markets that benefit from our unique panel technology.

Woodward Aircraft Turbine Systems
Loves Park, IL, U.S.A
International manufacturer Woodward unveiled a 450,000-square-foot (137,000m) campus in Loves Park, IL that will employ over 2,000 people. Kalwall panels serve as a key architectural feature, providing a memorable backdrop to the main entrance, while bathing the massive workspace inside with diffuse natural daylight.

Advanced Manufacturing Research Centre with Boeing
Rotherham, UK
Creating an atmosphere of creativity and cooperation is at the heart of this 6,400-square-foot (1,950m) open-plan workshop. A Kalwall wall system dominates the sides of the building, creating a highly-productive atmosphere by bathing the workshop in diffuse natural daylight. More and more, Kalwall is being specified for high-tech manufacturing projects that include mixed-programs like office spaces, research labs, and manufacturing and warehouse areas.

Pfizer Hydrogenation Building | Janssen Pharmaceuticals
Cork, Ireland | Geel, Belgium
With vast amounts of natural daylight sought in many industrial buildings, Kalwall is a preferred choice because of the diffuse natural daylighting it allows in and the protection it provides. As with major pharmaceutical companies Pfizer and Janssen, installing explosion venting panels can save a building from implosion by immediately relieving pressure and limiting damage in the case of an explosion. Our FM rated panels are cable attached and are frequently a required safety feature in many manufacturing projects.

Company: Kalwall Corporation
Product: Wall Systems
Tags: Architecture | Design | Lighting | Skylights | Wall Panels | Windows
---
One Henry Adams- Multi-Family Residence in Design District, South San Francisco featuring Folded Zinc Panels
Location: 1 Henry Adams St, San Francisco, CA 94103
Profiles: Custom 1" reveal panels, Morzip
Substrate: Zinc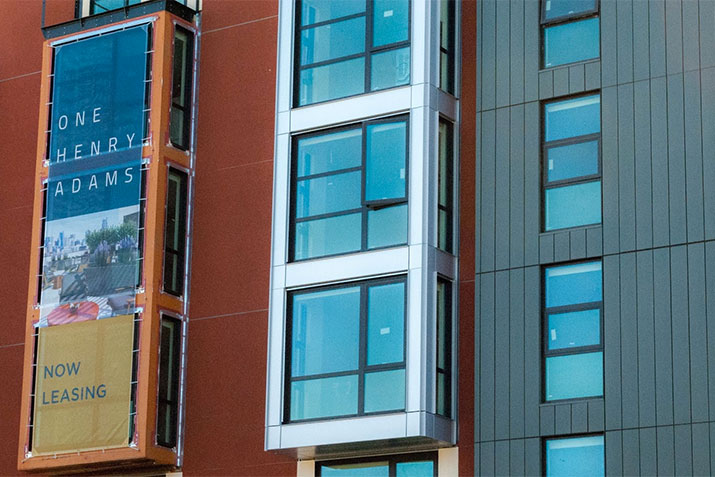 Building a new structure that spans an entire 1.65 acre block in a historical neighborhood like Showplace Square is no easy task. Instead of trying to mimic a 100 year old building, BAR Architects went with a simple design for One Henry Adams, a multi-family residential and retail structure owned by Equity Residential. One Henry Adams features clean lines composed of building materials like zinc, steel, brick, timber, and glass that give the buildings urban character while preserving the historical essence of the surrounding neighborhood. The $164.4M project located in the Design District of South San Francisco opened to residents in November 2016. It consists of two buildings separated by a public walkway with art structures and garden spaces intended to integrate the residents with the neighborhood community.

The architects went with zinc to accent the building and surround the expansive glass windows not only because of its unique texture but also because of its inherent sustainable qualities. Zinc panels are 100% recyclable and has a low environmental impact in production. The panels have a 1.2mm of pre-weathered patina graphite gray coating to make the material durable in the coastal climate of San Francisco while maintaining the natural metal aesthetic. Morin's A-12 panels with a 1" reveal were installed vertically creating sharp lines that seemingly extend into the sky. The zinc panels flow into crisp folded corners on every edge. Manufacturing panels with folded corners is becoming more popular as it has significant design advantages. Folding the panel corners tightens the panel making the structure more rigid minimizing any sort of pillowing or oil canning. The sharp reveals create the illusion that the building is made with long zinc bricks. These "bricks" appear to be floating next to each other as not a single fastener or piece of trim is visible on the zinc facade. In recognizing the advantages to panels with folded edges, Morin has recently acquired a new roll former capable of producing these panels. With this new technique, the possibilities for design has just multiplied.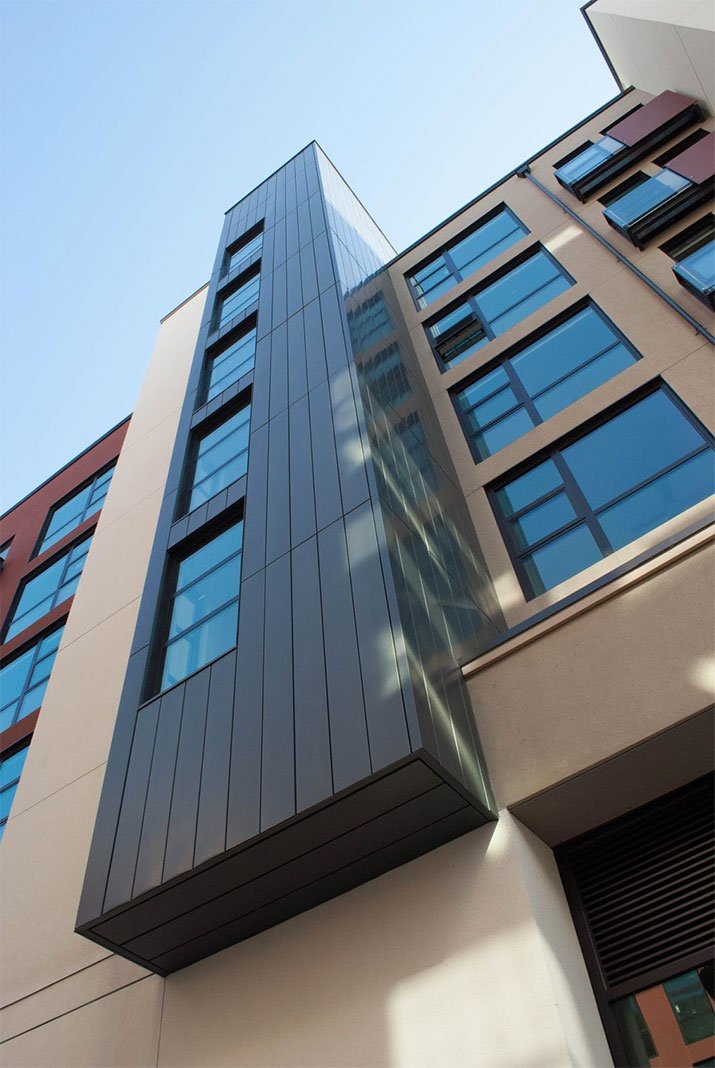 The project was a massive success from the design process to the ahead of schedule construction to the award-winning finished product.
#13 on San Francisco Business Times's "Top San Francisco Residential Construction Projects" list (2016)
#25 on Engineering News-Record California's "Top Starts in California" (2015)
#57 on San Francisco Business Times's "75 Largest Construction Projects" list (2015)
Company: Morin® - A Kingspan Group Company
Product: MorZip® – Wall to Roof and Back Again
Source: http://morintranet.blogspot.nl/2017/11/case-study-one-henry-adams-multi-family.html
Tags: Architecture | Award | Metal | Wall Panels
---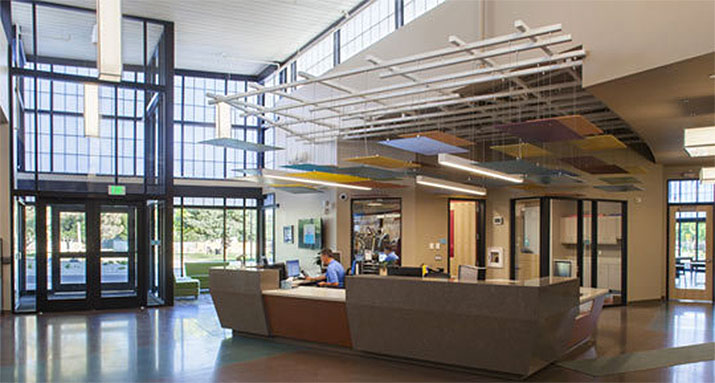 First impressions are important, and the same holds true for building entrances. Whether you're welcoming potential customers, trying to calm worried patients, or hosting teachers and students, their initial interaction with the space can set the overall mood and tenor of their experience.
As numerous studies have shown, natural light can improve moods, increase sales in retail settings, and, more generally, make people feel more relaxed and comfortable. Creating a welcoming entrance by adding side lighting and/or skylights is a great way to establish a positive initial experience. In some situations, however, you run the risk of adding too much uncontrolled light to a space, making it uncomfortable for front desk workers as well as those in waiting room areas located near the entryway. Bright glare from direct sunlight, along with increased solar heat gain, can negate many of the positive effects of daylighting quite quickly.
One way to make the best use of natural light is through the utilization of mixed glazed systems - as seen in the image above. In this example, the translucent panels at the top of the system diffuse the sun's direct rays and help illuminate the space, while the glass glazing below allows for unfettered views. This way, building staff can see guests as they come into the space, and those guests can easily see out to the parking lot as they await pick-up or try to anticipate weather conditions or other potential issues - all while reaping the benefits of soft, diffuse natural light.
No matter what the building's use, daylighting can be a great asset to entrances and entryways. Not sure where to start? We'd love to help you solve your design challenges! Call us at 888-759-2678, email sales@majorskylights.com, or check out our Architectural Consulting page and let us know how we can work with you to add beneficial daylight to your next project.
Company: Major Industries Inc.
Source: https://majorskylights.com/architectural-consulting/
Tags: Canopy | Design | Entrances | Glass Walls | Skylights | Wall Panels
---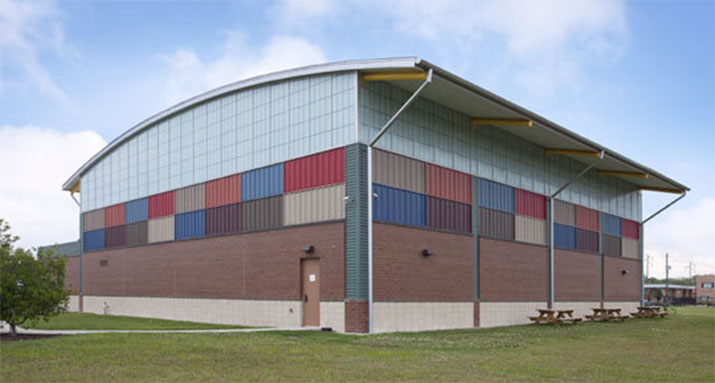 Designing natural daylighting in a building can be difficult if the building is an existing structure or if the property has a difficult orientation. There are a few things to consider when working with difficult building layouts.
Windows facing north offer the best building orientation for reducing heat gain and glare. This orientation should be the key location for using clear vision glazing. True north glazing, at or above the Tropic of Cancer (23.4 degrees north of the Equator), will receive no direct sun. Therefore, northern light into a building is considered indirect. While you still need to consider building adjacencies and reflections, northern windows can be clear glass with minimal overhang, and blinds or shades may not be needed.
Southern glazing can often be an equally good orientation for proper daylighting, though in many cases it should be protected by building overhangs (computerized daylighting analysis can evaluate how low the sun's angle will be in the winter months). That said, direct sunlight into a building from south facing glazing isn't necessarily a bad element. Sunlight is often psychologically lifting to the spirit, and with southern exposure, sunlight angles will travel across an interior space, creating drama and adding intrigue to design elements. There are, however, particular spots like circulation areas, stairwells, and intersections where direct sunlight can create glare and hot spots and can make life uncomfortable for people maneuvering within the building. In these spaces, diffuse daylighting materials are recommended.
Sometimes a building's orientation cannot avoid or reduce eastern and western exposures. East and west facing spaces will receive the most direct sun glare of any direction, and even building overhangs and horizontal sunshades cannot reduce glare into windows. Evergreen trees are often the easiest natural solution to reduce direct sun glare. Rooms facing east and west should be daylit using diffuse daylighting materials, instead of clear glass, as much as possible. Diffuse daylighting materials will not only reduce light, but most importantly bend the light, spreading out the quantity of light to a larger space. This can certainly be a benefit when designed properly! Breakfast rooms with diffuse daylighting are best oriented to the eastern side of a building, while evening sitting rooms work well with diffuse daylighting on the western side of a building.
Company: Major Industries Inc.
Of: Courtesy of Amy Stalbosky, National Corporate Architect, Major Industries, Inc.
Source: https://majorskylights.com/
Tags: Canopy | Glass Walls | Skylights | Wall Panels | Windows
---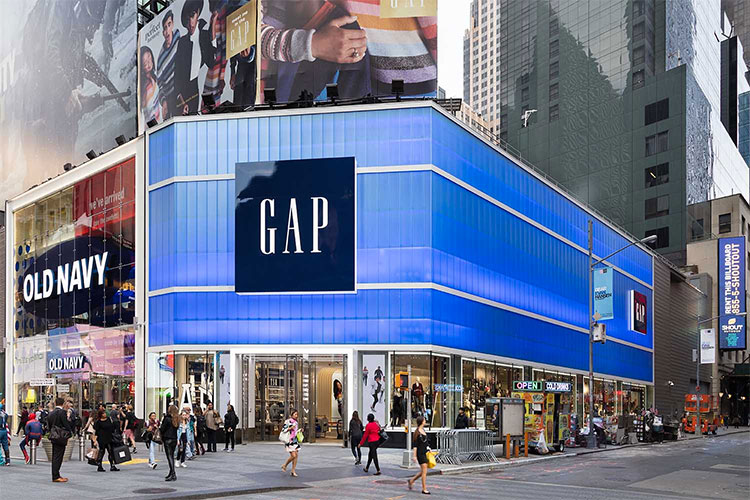 The Gap store in Times Square, NYC. The blue facade is EXTECH's LIGHTWALL 3440 translucent wall system coupled with custom-colored polycarbonate. Image by Vanni Archive Architectural Photography
The new Gap store in Times Square, NYC is clad in EXTECH's LIGHTWALL 3440. Nearly 5,000 square feet, the blue polycarbonate panels are a custom hue that matches Gap's color palette and was chosen based on polycarbonate samples provided by EXTECH. To ensure even light transmission, the facade utilizes specialized mounting clips that EXTECH developed and the panels are treated with an anti-glare coating that promotes balanced light filtration.
The LIGHTWALL 3440 polycarbonate wall panel system offers beauty, durability, and economy with vertical panels that can extend up to 54 feet long and eliminate leak-prone horizontal joints.
Translucent polycarbonate wall panels offer a host of benefits including energy savings via daylighting, outstanding insulating value, and elimination of leak-prone horizontal joints. LEED credits are also available for 100% recyclable polycarbonate and aluminum framing. The LIGHTWALL 3440 has provided façade solutions for a wide range of structures in a wide range of industries, and has been subjected to a complete battery of air, water, and structural testing to ensure it offers superior insulation, durability, and weather-tight performance.
Company: EXTECH/Exterior Technologies, Inc.
Product: Translucent Walls
Source: https://extechinc.com/lightwall-3440-gap-times-square-nyc/
Tags: Architecture | Color | Lighting | Wall Panels
---
When we talk about daylighting, the first thing that comes to mind is often the image of natural light pouring into a space... but what happens when you need to bring light to a area that also demands privacy?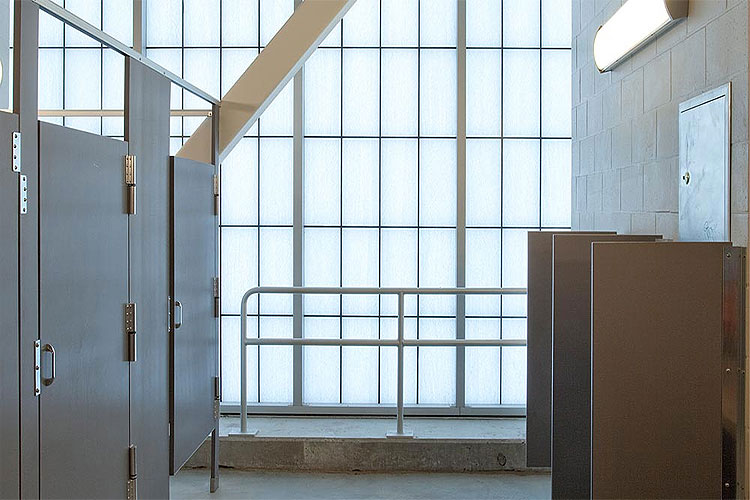 HDR/TD Ameritrade Park, Omaha, NE - Guardian 275® Wall System - Mix Natural Light and Privacy!
Translucent panel systems, like the Guardian 275® wall system above, allow for building occupants to enjoy controlled, glare-free light while eliminating direct lines of sight from the exterior and maintaining a feeling of safety and security. This can be a great asset to traditionally dark and window-less areas like public restrooms, hallways, in waiting areas in medical centers and hospitals (for patient confidentiality), or in secure facilities where it's of up-most importance to maintain a certain level of secrecy.
Translucent systems can also benefit schools as they allow students the advantages of natural light while affording them privacy from outside eyes. And while there are other options in the market such as fritted or channel glass, these systems are often on the higher end of the cost scale. Electrochromic glass options are also available, but can cost even more and may require additional maintenance and upkeep.
Their versatility, light weight and design flexibility make translucent panel systems a great choice for letting light in and keeping prying eyes out. From simple wall panels to curved systems to our Verti-Lite™ option that has an appearance similar to channel glass, we have a system that will fit your needs.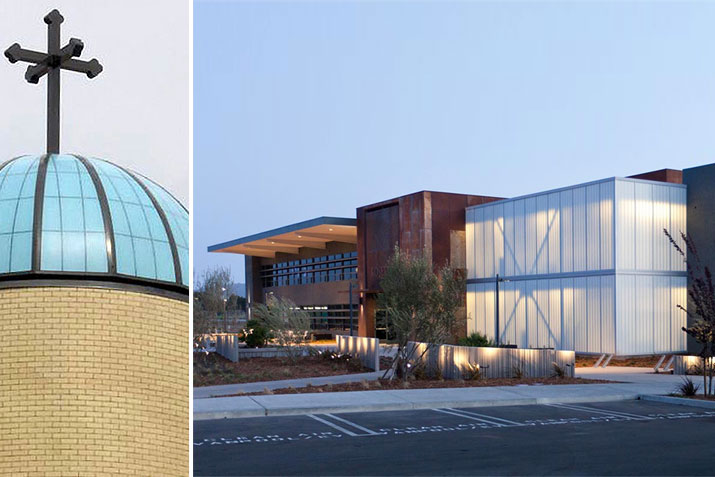 Bruns General Contracting/St. Mina and St. Abanoub Church/Miamisburg, OH - Guardian 275® TransCURVE® Dome; Garcia Architecture and Design/Rosetta/San Luis Obispo, CA - Guardian 275® with Verti-Lite™ Grid Pattern
For additional information on our full line of daylighting systems, as well as thermal performance and testing information, visit our website.
Company: Major Industries Inc.
Product: Guardian 275® - Translucent Panel Skylights & Curtainwall
Source: https://majorskylights.com/products/wall-systems/guardian-275/
Tags: Architecture | Design | Lighting | Wall Panels | Window Shades | Windows
---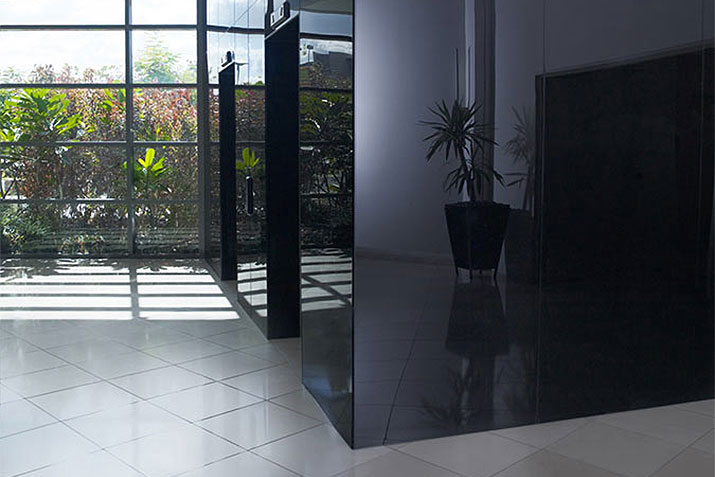 High gloss acrylic walls provide a sleek, contemporary look for bath/shower walls, kitchen backsplashes, reception desks and office areas while being light and easy to work with. Learn the many benefits of this product.
Creates a clean, contemporary look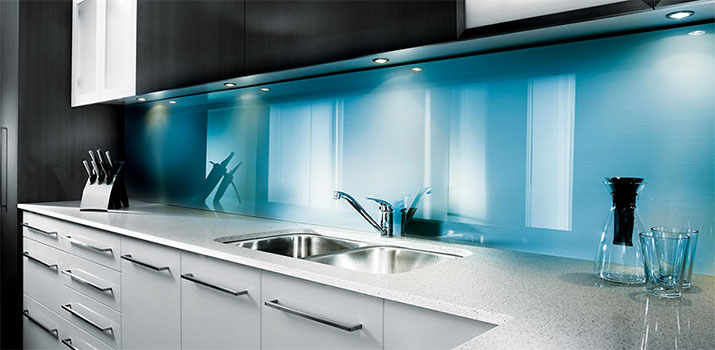 The high gloss acrylic wall panels created a fresh clean European look with a luxurious and elegant finish.
Unique colors adds a stylish touch for a backsplash or tub or shower wall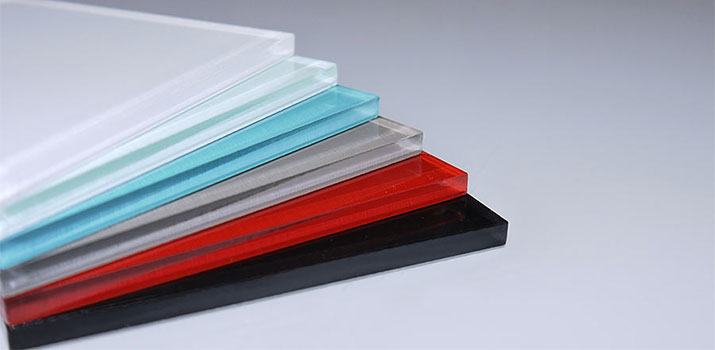 Choose from a wide range of fun colors like arctic white, blue atoll, glacier, mocha, carbon black, red rouge, and titan gray to dress up any indoor residential or commercial space.
Flexible material can be used in a wide range of remodeling and new construction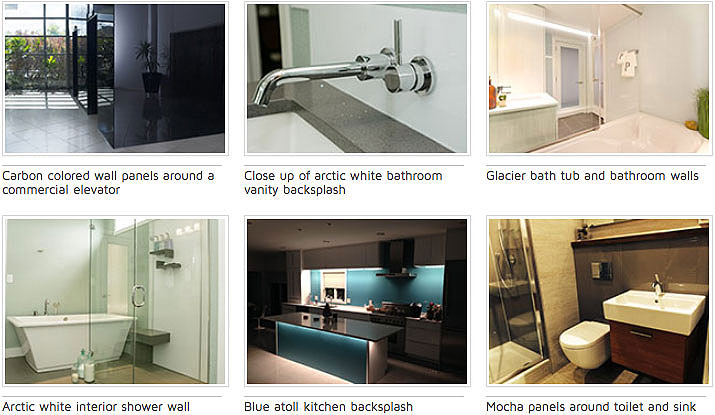 High gloss panels from Innovate Building Solutions can be used in bathrooms, bedrooms, media rooms, hallways, reception desks and commercial lobbies to name just a few rooms. Cool, eclectic and exciting are just some of the words used to describe these panels.
Easy to clean with no grout to maintain
While tile is the most commonly used material in shower and tub wall panels and kitchen backsplashes most people hate the cost and hassle of cleaning and resealing grout! With these innovative wall panels you'll get a sleek euro look and eliminate the effort and cost of maintaining grout. These smooth/non-stick walls are easily cleaned with warm water and a soft cloth.
Glass type look with the benefits of acrylic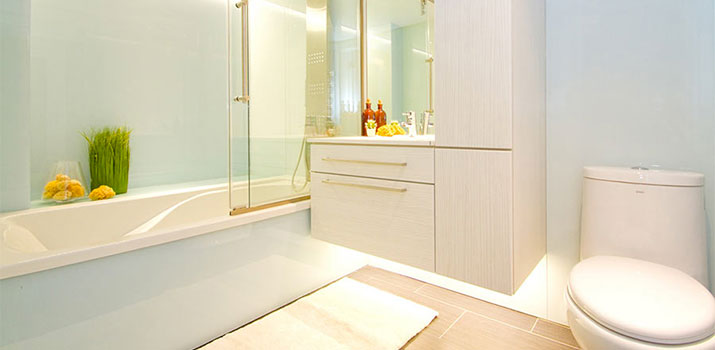 High gloss acrylic panels are 25 times tougher than glass with 1/2 the weight.
More cost effective than back painted glass
Back painted glass is also very stylish - but in most cases will be 2 times as expensive as high gloss acrylic wall panels.
Durable long lasting material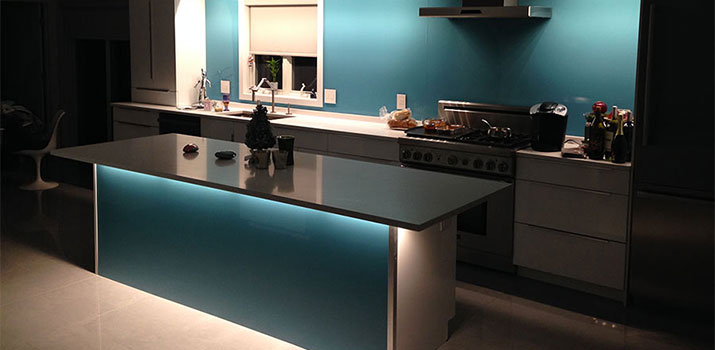 High resistance to UV light, cracking and chipping makes this is popular materials vs. glass, ceramic tiles, aluminum or wood.
Simple installation process
These high gloss acrylic panels can be cut drilled and shaped with common woodworking materials and the panels can be set with double sided foam tape and neutral cure silicone. Installation will take 1/3 of the time of a tile job.
100% waterproof
In wet applications likes showers, tubs and backsplashes it's nice to know with high gloss acrylic walls you don't have to worry about moisture growing behind the wall.
Multiple panels sizes for design flexibility
Choose either our 2 standard panel sizes (39"x96" and 60"x96") or get your panels custom made to your size through our custom cut program.
Company: Innovate Building Solutions
Product: High Gloss Acrylic Wall Panels
Source: http://innovatebuildingsolutions.com/products/bathrooms/high-gloss-acrylic-wall-panels
Tags: Color | Interior Design | Wall Panels
---
TECTUM WALL & CEILING PANELS: A PERFECT FIT OF DURABILITY, ACOUSTICS, AND UNIQUE VISUALS
From a natural factory finish or white, to integration with COLORATIONS colors (that's 13 standard colors) or made-to-order Sherwin-Williams® colors, TECTUM panels can coordinate or complement your color palette with the sizes, shapes, and forms that make your designs happen.
Toughness and acoustics are at the heart of TECTUM interior products, ideally suited to open spaces and high traffic, high impact areas. Panels can be attached directly to walls and ceilings in forms of panels, clouds, and square or curved. TECTUM linear hanging baffles give you even more design options.
Create a signature element in a space to complement your interior design. The possibilities are endless, the look is one-of-a-kind, and the acoustic properties of TECTUM panels can help quiet the space.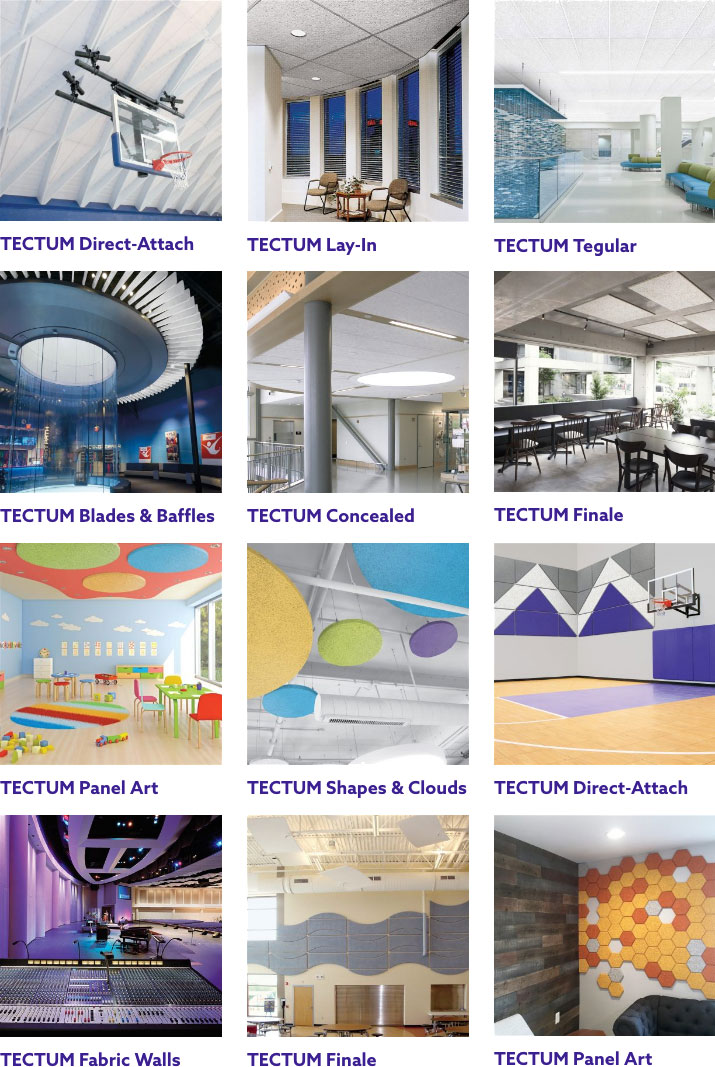 KEY FEATURES

Durable for heavy-use interiors
Sound absorption (NRC) values up to 1.0
Great acoustical retrofit solution
Color options include standard, Colorations colors, and custom Sherwin-Williams colors
Contributes to LEED credit areas including FSC certified wood
Attach to a variety of ceiling substrates
Easy to install

SPECIAL APPLICATIONS

Gymnasiums
Auditoriums
Multi-purpose Spaces
Acoustical Retrofits
Exposed Structures
Education Spaces
Company: Armstrong Building Solutions
Product: TECTUM Ceiling & Wall Panels
Source: https://www.armstrongceilings.com/commercial/en-us/articles/tectum-part-of-armstrong-portfolio.html
Tags: Acoustics | Ceiling | Color | Interior Design | LEED Certification | Wall Panels
---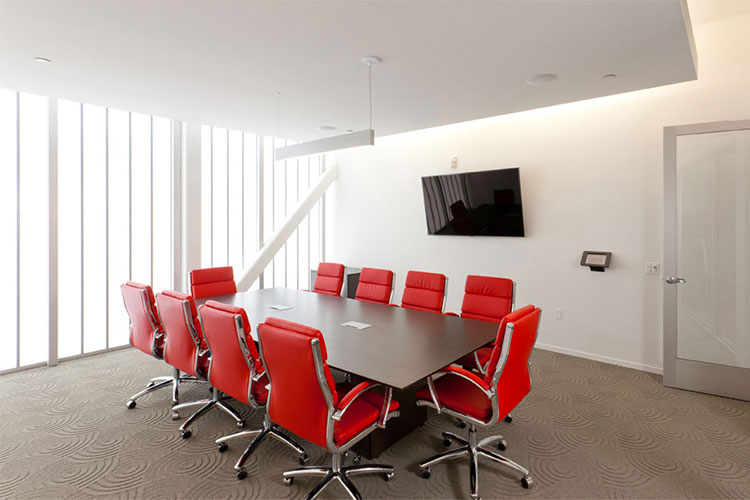 Major offers a wide range of glazing options, but even within translucent panel systems there are numerous ways to add customization to meet your project's needs.
In the shop recently was a project that utilized a 7″ x 7″ grid pattern (left side of image left), giving the panels a distinct geometric look. If you'd prefer to see less grid in the panel, choosing a white face sheet and opting for a larger grid pattern or our Verti-Lite™ option is the way to go. Verti-Lite™ (image) features vertical grids only, providing a channel glass look but with numerous insulation options as well as a lower cost.
Don't forget that we can also custom color insulation for a unique way to incorporate school colors into a building (or to mimic stained glass), and we can match finish colors as well if you're looking to tie the daylighting system into another part of the building. Contact our sales team today at 888-759-2678 to find out how we can customize your daylighting experience.
Company: Major Industries Inc.
Product: Guardian 275® - Translucent Panel Skylights & Curtainwall
Source: http://majorskylights.com/2017/09/lines-grids-aesthetics/
Tags: Design | Glass | Wall Panels | Window Shades
---
FROM BROWNFIELD TO SHINING STAR: "LEED"-ING THE WAY IN LITTLE ROCK
A non-profit organization dedicated to relieving global hunger and poverty, Heifer International provides livestock and plants, as well as education in sustainable agriculture, to financially disadvantaged families around the world. Based in Little Rock, Arkansas, the organization was faced with the need for larger headquarters, but wanted the project to remain true to the earth's resources. Heifer identified a long abandoned railroad yard in the city's old warehouse district, an environmentally dirty site known as a brownfield, and made the decision to transform it – the "green" way. One of the first of its kind in the area, the project was designed with careful consideration for the U.S. Green Building Council's Leadership in Energy and Environmental Design (LEED®*) certification standards.
Polk Stanley Rowland Curzon Porter Architects, Ltd., developed the building's design, capturing every opportunity to achieve LEED points and reflect the overall mission. Glazing contractor ACE Glass Company, Inc. and product manufacturer/design engineering team from Kawneer North America were called in to collaborate on the project. Completed in March 2006, the project is expected to receive its LEED certification in 2007.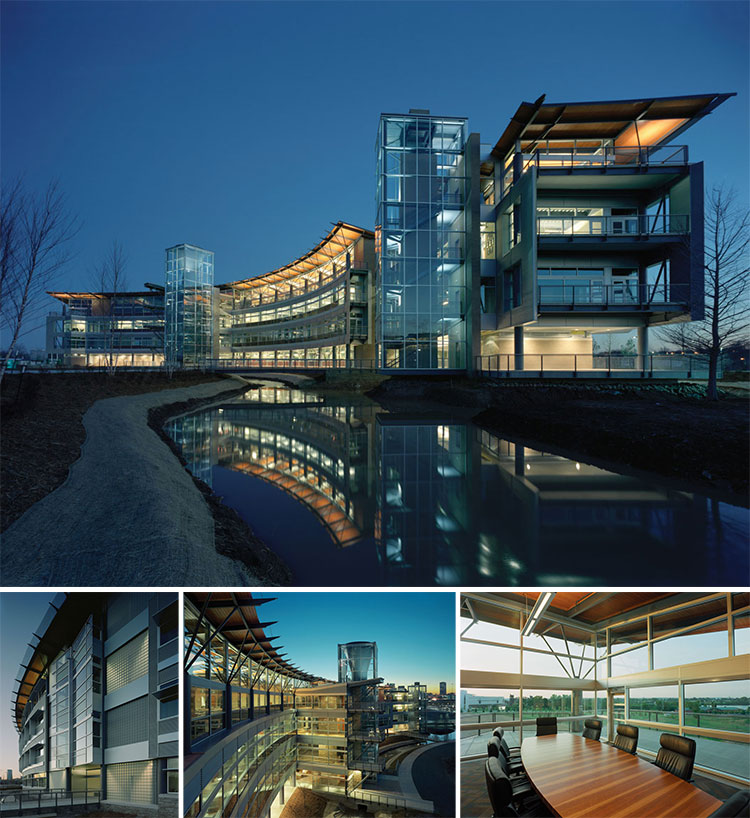 Photography: ©Timothy Hursley
Design Highlights
The curved shape of the building served to take advantage of the solar orientation by stretching in an east/west direction and maximizing sun exposure. To block excessive sunlight, the team integrated sunshades into the exterior, while Kawneer's InLighten™ Light Shelves were installed on the interior of the wall to "bounce" natural light up to the ceiling and reflect it into the building.
Deeper, custom sun shades were created to be hung vertically between the punchouts, a unique design feature that served to be both aesthetically pleasing and functional, as they protect the interior from both east and west sun exposure.
The combination of the building's narrow floor plate and the curtain wall allows natural light to penetrate to the center of every floor, while strategic interior glazing continues the indoor/outdoor aesthetic and keeps individual offices bright and open. Fixed and storefront framing systems, in conjunction with swing and sliding entrances, were used throughout the interior offices and conference rooms. In addition, clean glass, white frost and green glass added a light and modern aesthetic.
Challenges
The complex design required the customization of several existing Kawneer products, and the curved building footprint complicated fabrication.
The increased focus on recycled materials (per the Materials & Resources category under LEED required the coordination of a sizeable order of secondary aluminum billet necessary for the project. In fact, 97 percent of the building materials used for the project contain recycled content.
Featured products
Architect
Polk Stanley Rowland Curzon Porter Architects,
Ltd., Little Rock, Arkansas, USA
Glazing contractor
ACE Glass Co., Inc.
Little Rock, Arkansas, USA
Company: Kawneer Co., Inc.
Product: Curtain Wall
Source: https://www.kawneer.com/kawneer/north_america/en/products/project_detail.asp?project=heifer_kna&bus=north_america&pc=Commercial_Office_Space
Tags: Doors | Entrances | Glass | LEED Certification | Sustainability | Wall Panels
---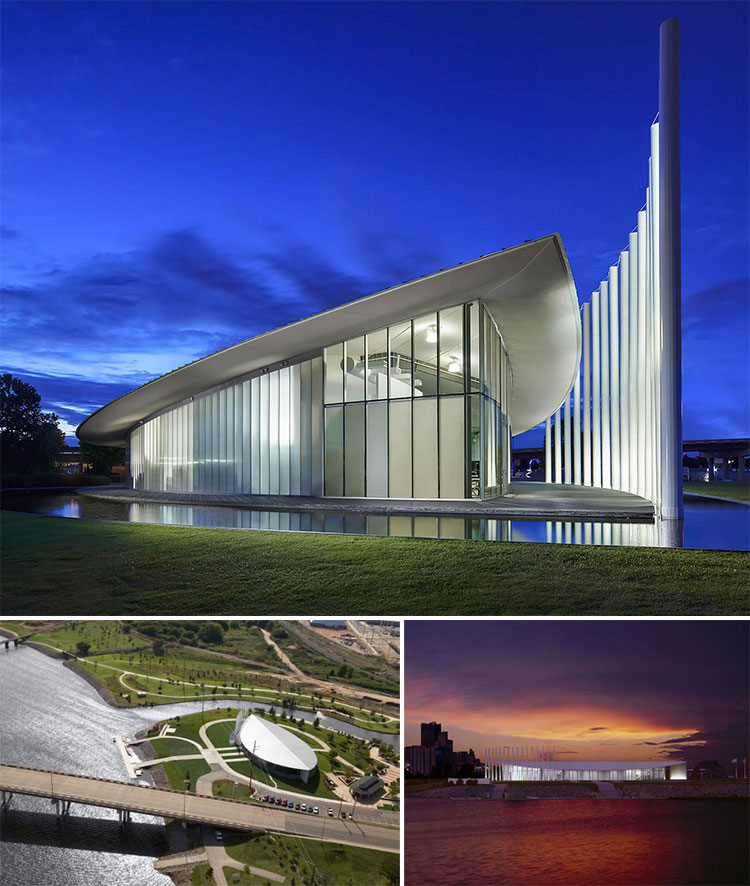 Location: Oklahoma City, OK
Architect: Elliot + Associates Architects
System: LIGHTWALL
The Chesapeake Boathouse shows the design capabilities of combining translucent cellular polycarbonate with glass vision panels. Framing systems that can accommodate both polycarbonate and glass effectively are a rare commodity, but EXTECH's systems possess this capability.
To create this sparkling facade, EXTECH's LIGHTWALL standing seam panels were connected directly to steel studs, nominally 2 feet on center. To create the smooth exterior, the standing seams were turned inward.
Due to the lightness of the polycarbonate panels, the installation time for the application was minimized. The end result not only delivered natural daylighting for the daytime hours, but it also provides a charming aesthetic by glowing like a constellation at night.
Company: EXTECH/Exterior Technologies, Inc.
Product: Translucent Walls
Source: https://extechinc.com/project-gallery/translucent-walls/translucent-panels-chesapeake-boathouse-oklahoma-city-ok/
Tags: Architecture | Building | Design | Lighting | Wall Panels
---
LumiSplash is a patent pending, multilayered, ultra-thin 1/4″ (6mm) decorative laminate that emits light evenly across its surface and has impressive impact, scratch, chemical, and abrasion resistant properties. LumiSplash is:
The first ultra-thin, lighted laminate system with no air gap required for LEDs. This system uses a Light Bar and Light Guide Panel to produce luminance across a translucent surface.
A one-of-a-kind product that combines art with lighting in a durable laminate, creating a unique focal point for any home or business.
A low-voltage system that comes with the necessary electrical components to simply plug into a 110-volt receptor. LumiSplash can also be hardwired for permanent installations by a local electrician.
Suitable for most vertical and horizontal applications where other decorative laminates could be used.
Easily fabricated with standard woodworking tools such as routers, saws, and drills.
Easily used to backlight your own stone, acrylic, or other translucent materials with it's Light Guide Panel.
Lumisplash Idea Library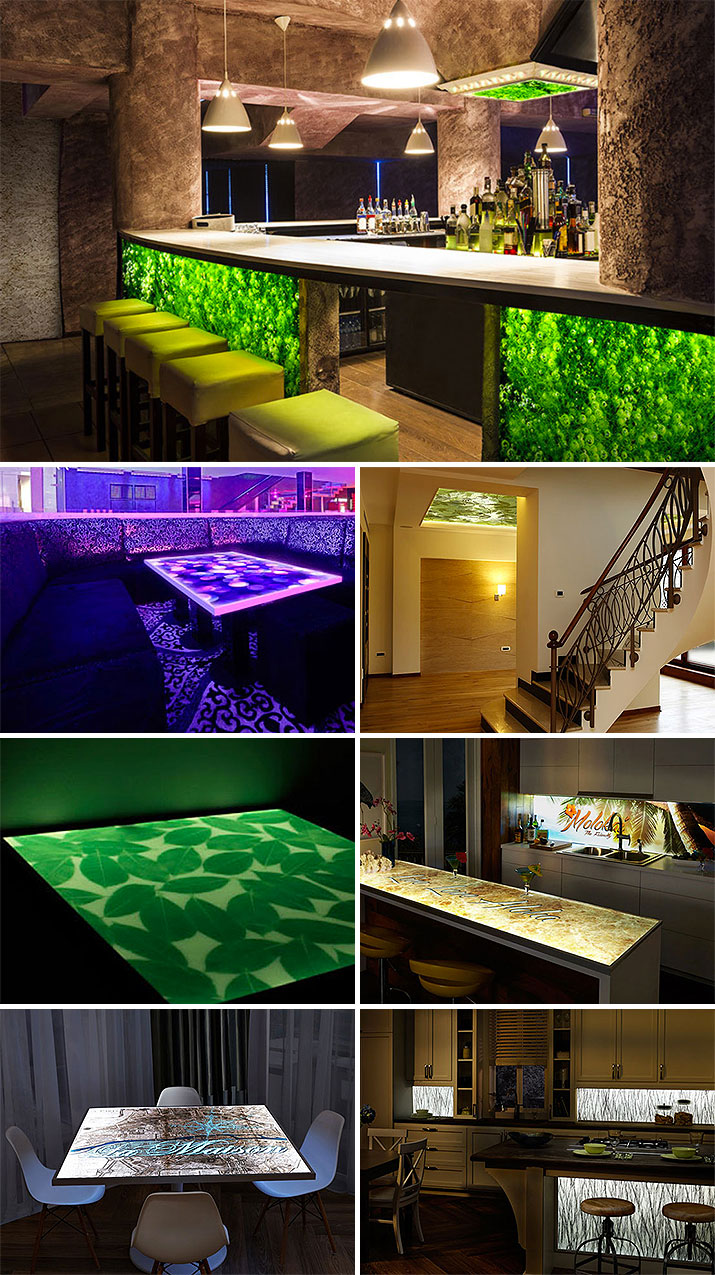 The "Lumisplash Top" includes printed artwork and a protective surface. It has the option of extra graphics. The "Lumisplash Kit" includes ATI light guide panel, LED lights, and a decorative graphic panel. It also has the option of different molding configurations and extra graphics.
Company: Decorative Ceiling Tiles, Inc.
Source: https://www.decorativeceilingtiles.net/idea-library/by-material-lumisplash-idea-library/#prettyPhoto
Tags: Color | Furniture | Interior Design | Lighting | Wall Panels
---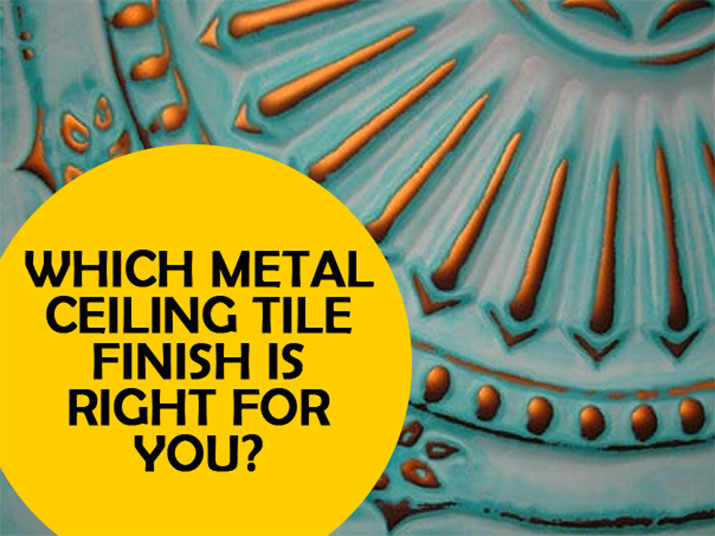 One of the most beautiful parts of metal ceiling tiles is the sheer number of options there are when selecting one. There are numerous sizes, shapes, and colors to choose from. It is practically guaranteed that you will be able to find a metal ceiling tile that fits not only the atmosphere of the room it will be in but your personal taste as well. Nothing demonstrates these options better than the different finishes available for tiles.
Benefits Of Having Different Metal Ceiling Tile Finishes
There are hundreds of different finishes available, each one unique. Finishes can be worn and weathered to shiny and bright. Some may be bold, while others may be dull. This variety is great for a few reasons.
You will be able to match existing ceiling tiles. If you are looking to replace a few ceiling tiles that are a part of an existing ceiling, there will not be a problem finding a tile to match the tiles that are already in place. This will make the replacement process much easier for you.
You will find the perfect ceiling tile for whatever aesthetic appeal you are in search of. Whether you want a vintage appearance or a modern appearance, there is no shortage of metal ceiling tile finishes. Metal ceiling tiles allow you to express your individuality. Your creativity and style can be directly seen by the metal ceiling tiles you wish to display around your home.
How Can Different Finishes Impact A Room?
The room where the metal ceiling tile will be placed can directly impact the style and feel you wish to convey. For example, you may want a bold ceiling tile for your bathroom to liven it up while preferring a more neutral ceiling tile for your bedroom. Metal ceiling tiles can fit into a room in practically any way possible. If you wish for them to be the focal point of a room, there are metal ceiling tile finishes that achieve that. If you wish for your metal ceiling tiles to compliment or blend into a room, there are finishes that will achieve that as well.
Consider using metal ceiling tiles around your home in these different ways. Obviously, the finish you choose will affect how each tile is portrayed in a room.
Ceilings – Their name says it all. Metal tiles can be used to give your current, boring ceiling more character. Ceilings made of tin tiles can make a room feel more warm and welcoming
Walls – Instead of painting, consider hanging metal ceiling tiles on your wall to provide a unique dynamic. It may be best to consider more conservative or flat-based finishes here, as a wall of shiny tin can be distracting and overwhelming. Then again, it's your room and you can decorate it as you see fit!
Wall Art – Simply using individual tiles can spice up a room. A vintage finish can make for a great piece of decorative wall art.
Backsplashes – A tin ceiling tile backsplash makes a great compliment to a laundry room or kitchen. Not only do they look good, but they provide practicality as well. Metal ceiling tiles are easy to wipe down and clean. Removing grease or detergent from paint or wallpapering is difficult, but this is not the case with metal tiles.
Memo Boards – Cork boards are outdated. Metal tiles can be used in an office or kitchen as a perfect complimentary piece.
Bookshelves – Add a vintage look to your room by replacing the backboard of a bookshelf with a metal ceiling tile that has a rustic appearance.
Popular Finishes
There are hundreds of finishes to choose from, but these are some popular choices that can fit any style of room. You can purchase a color sample of each to ensure that the tin tiles will perfectly achieve the look you are striving for.
Alaska Finish – This finish provides a very rustic and antique look. It is a hand-faux finish in transparent copper, with hints of very light blue and teal.
Key West Finish – Consider this finish the opposite of the Alaska Finish. The hints of teal that are seen in the Alaska Finish make up the base of the Key West Finish. Perfect for a sunroom or beach home, this tile comes in an antique brass, white, and green finish.
Oklahoma Finish – This tile is hand finished in Renaissance gold and ivory.
Classic Gold Finish – Much shinier than the previous three options, this tile is powder coated in white wash and transparent yellow gold with shiny gold embellishments.
So what metal ceiling tile finish did you decide on?
Company: Metal Ceiling Express
Product: Decorative Metal Ceiling Tiles
Source: http://www.metalceilingexpress.com/blog/metal-ceiling-tile-finish/
Tags: Ceiling | Interior Design | Metal | Wall Panels
---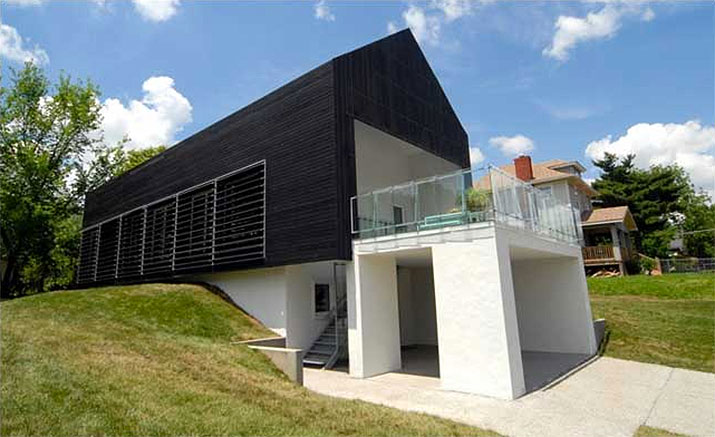 Project: Prescott Passivhaus
Architect: Studio 804
Engineer: Norton & Schmidt
LEED: Platinum
Designed to use minimal energy through affordable, passive means, this 1,700-square-foot house in the Prescott, Kansas neighborhood, is just minutes from downtown Kansas City. To achieve its goal of a 90-percent reduction in heating and cooling costs, strategies including louvers, thermal mass, high-performance windows, super insulation, southern orientation and an airtight building envelope were employed. National Gypsum's Gold Bond® BRAND eXP® Interior Extreme® Gypsum Panels are components of this project.
Company: National Gypsum
Product: Gold Bond® XP® Fire-Rated 5/16" Radius Wall
Source: http://designcenter.nationalgypsum.com/design-center/category/project-profiles/detail/prescott-passivhaus-prescott-ks
Tags: Construction | Energy | LEED Certification | Wall Panels
---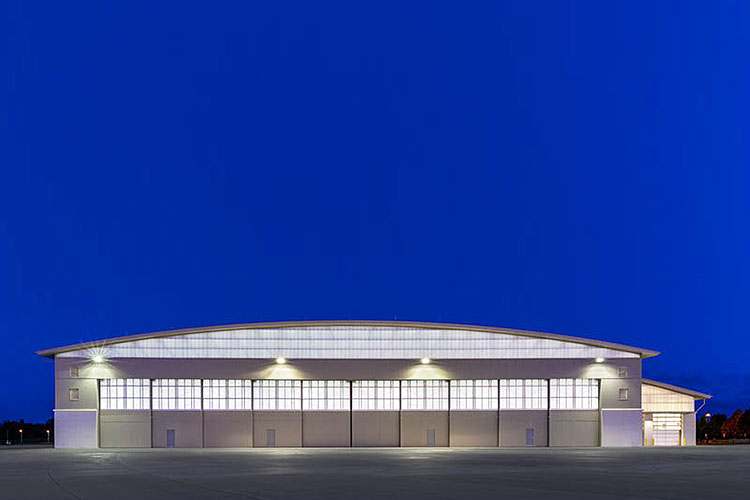 Images ©balloggphoto.com
Chicagoland's DuPage Airport Authority is home to the largest concentration of corporate aircraft in Illinois. It supports more than 400 based aircraft and is the only general aviation airport in Illinois with four active runaways, two instrument landing system approaches and a 24-hour FAA Air Control Tower, U.S. Customs and 24-hour onsite rescue and firefighting capabilities.
In addition to the aircraft on site, the airport receives daily transient aircraft. To better accommodate their aviation needs, the DuPage Airport Authority opened a new hangar in August 2017, reflecting its goal to build and maintain a world-class facility in the heart of the United States.
The new 31,000-square-foot hangar spans 244 feet wide by 134 feet deep with 29-foot-high doors. It features EXTECH's LIGHTWALL 3440 and SKYGARD 3300 polycarbonate systems. Mark Doles, the Director of Aviation Facilities and Properties and DuPage Flight Center, says of the new facility and EXTECH's systems: "We chose EXTECH's systems to give us the architecturally attractive look we wanted and the translucent polycarbonate lets us take advantage of the borrowed light. With the natural light, we usually will not have to utilize any electric lighting at all during the day. When we do illuminate the hangar, it's stunning to see at night."
Company: EXTECH/Exterior Technologies, Inc.
Product: Custom Facades
Source: https://extechinc.com/see-photos-dupage-airport-chicago/
Tags: Design | Skylights | Wall Panels | Window Shades
---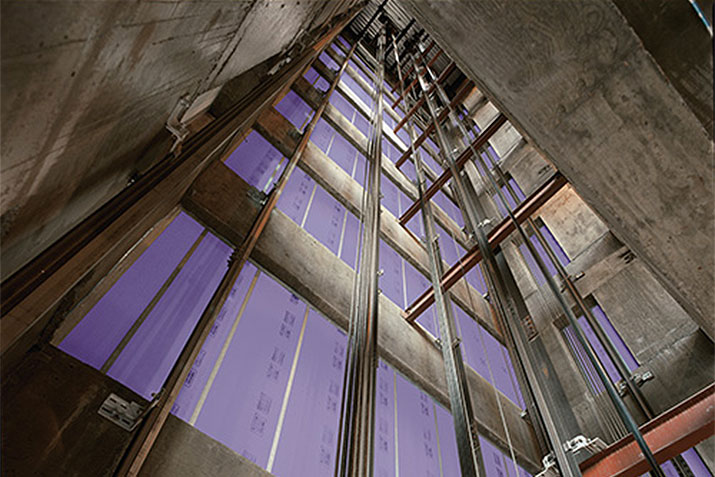 With the continued popularity of high-rise corporate headquarters, institutional buildings and high-density housing, the gypsum shaftwall system, known as the Cavity Shaftwall System, provides economic benefits – and also peace of mind due to its fire-resistant qualities. Originally designed for the 110-story World Trade Center in 1973, the Cavity Shaftwall System replaced heavier, more expensive masonry walls. This shaftwall system utilizes gypsum board framed with metal studs and tracks to enclose elevator shafts, stairwells and service shafts. These shaftwalls withstand the positive and negative air pressure forces exerted by high-speed elevators. Cavity Shaftwall Systems are also ideal for fire-rated, interior partitions where access is restricted to one side and as fire-rated, horizontal membranes.
Advantages Of The Cavity Shaftwall System
Cavity Shaftwall Systems provide many benefits. They are lightweight, easy to install, weather-, sound- and fire-resistant and more economical than masonry shaft construction. Four to five times lighter than traditional masonry enclosures, gypsum shaftwalls weigh approximately 10 pounds per square foot of wall compared to 40 or 50 pounds per square foot for a masonry wall. Buildings utilizing this shaftwall system require less structural steel and extensive underground support pilings. In addition, the core of the gypsum panels in the Cavity Shaftwall System contains about 21 percent water by weight, creating a fire barrier with 1- to 4-hour fire-ratings from either side. When gypsum board is exposed to fire, the water turns to steam and slows the passage of heat through the assembly, keeping the building safe for a longer period of time.
Installations
Typical installations use 1-inch thick gypsum shaftliner panels inside a minimum 2-1/2-inch metal framing system with an integral space to hold the panels in place on the shaft side. Metal J-tracks are placed horizontally at the top and bottom and vertically at partition ends. They also frame openings. Depending on the fire-rating you are trying to achieve, install one to five layers of 5/8-inch fire-rated gypsum board to the outside of the stud, creating a corridor side of the enclosure.
To construct lightweight fire barriers for cavity shaftwalls (1-4 hr.), we recommend Gold Bond® BRAND eXP® Shaftliner. It is an approved component in specific UL fire-rated designs, including G586 (horizontal, 2-hr.) and W419 (vertical, 1-4-hr.).
Questions About The IBC 2009 Code Updates For Buildings?
If you are designing a building of occupancy category III or IV with occupied floors over 75 feet tall and all buildings over 420 feet tall IBC Section 403.2.3 require increased impact resistance for exit stairways and elevator hoistway enclosures. If you have questions, contact your construction design manager for clarification and for assistance with the best and most affordable options for your project.
Company: National Gypsum
Of: Scott Hughes and Thad Goodman
Source: http://designcenter.nationalgypsum.com/on-board-newsletter/display/08-2017
Tags: Fire Resistant | Safety | Wall Panels
---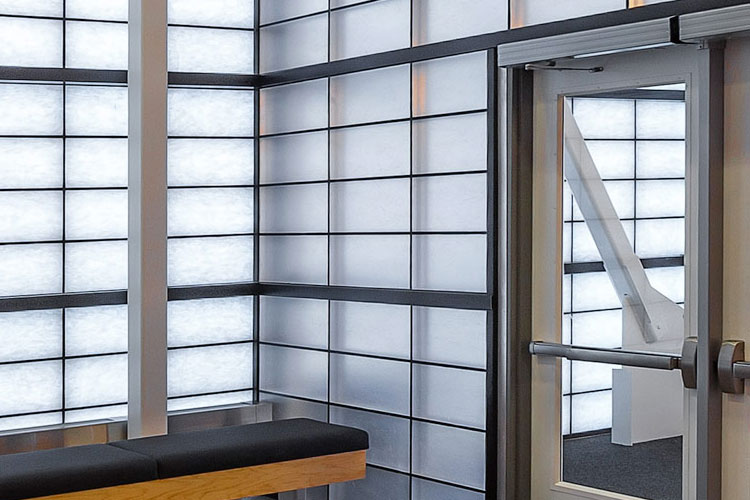 Explosives have become the weapon of choice for terrorists around the world, and the force of these blasts can wreak havoc on standard building materials. As an explosion impacts your building, a flying debris field is created which can cause a variety of injuries to your building's occupants. In fact, studies show that lacerations due to high-speed flying glass fragments are responsible for a significant number of injuries sustained in explosions. Less flying debris equals less chance of injury, and because they're designed to "flex" with the force of an explosive blast while remaining intact and secure in the opening, Guardian 275® Translucent Daylighting Panels can reduce the amount of dangerous fragments created by an explosion.
Guardian 275® translucent daylighting systems also shield occupants from a direct line of sight. Potential terrorists observing from busy streets and other uncontrolled locations are offered few clues to the activity within occupied spaces while interior spaces are enhanced with glare-free, energy-saving daylighting.
Tested, Abused – and Performance Verified
During a series of tests conducted by Baker Engineering and Risk Consultants Inc., a world-renowned engineering and testing firm, a variety of Guardian 275® panels were attached to a large shock tube, a test device that creates specific pressures and applied impulses (an applied impulse, measured in psi-msec, is equal to the net force on the panel times the time period over which this force is applied) to simulate the effects of an actual explosive device.
Guardian 275® panel configurations were put through a range of pressures and impulses in order to thoroughly evaluate their blast resistance and safety. A machine-generated blast pressure range of 5 to 6 psi, with applied impulses between 41 and 69 psi-msec, was chosen to test commonly specified blast loads for anti-terrorism protection of buildings in the United States. To put these numbers into a real-world scenario, a similar blast load of 5 psi could snap a wooden utility pole. A larger applied pressure of 10 psi with an applied impulse of 90 psi-msec was used to generate a medium level blast load that studies show could cause significant structural damage and serious health risks. Testing conducted in the 5 to 6 psi range showed that Guardian 275® panels resisted the applied loads over a range of impulses and retained their structural integrity. The largest applied pressure, used to recreate a devastating medium level blast, was 10 psi with an applied impulse of 90 psi-msec. The Guardian 275® panel once again "flexed" with the pressure and remained intact.
Please view below for high-speed video of a Guardian 275® panel "flexing" with the force of a blast.
Department of Defense (DoD) Minimum Anti-terrorism Standards for Buildings (UFC 4-010-01) for conventional building standoff distances and ISC Security Design Criteria Level C loadingGuardian 275® panels, after going through the most punishing blast tests in the translucent daylighting industry, meet or exceed the following related performance requirements:
US General Services Administration (GSA) Standard Test Method for Glazing and Window Systems Subject to Dynamic Overpressure Loadings – Condition "1", Hazard Level "None"
ASTM F 1642-04 Standard Test Method for Glazing and Glazing Systems Subject to Airblast Loading
AAMA 510-06 Voluntary Specification Guide for Blast Hazard Mitigation for Fenestration Systems
Since specific system configurations are dependent on a variety of factors, including stand-off distances and additional conditions, please contact us at 888-759-2678 or sales@majorskylights.com for more information.
Pressure Release Systems
For test laboratories, research facilities and other high risk areas, Guardian 275® systems can also be fitted with third-party certified fasteners that relieve sudden pressure surges by releasing the panels before structural damage occurs. Stainless steel safety lanyards keep the panels attached to the framing, minimizing the risk to people and property.
Company: Major Industries Inc.
Product: Guardian 275® - Translucent Panel Skylights & Curtainwall
Source: http://majorskylights.com/products/specialty-applications/blast-protection-pressure-relief-systems/
Tags: Glass | Safety | Security | Skylights | Wall Panels | Windows
---
Tectum Panel Art has become wildly popular in the past year. Interested in seeing a sample? We'd be happy to send you one.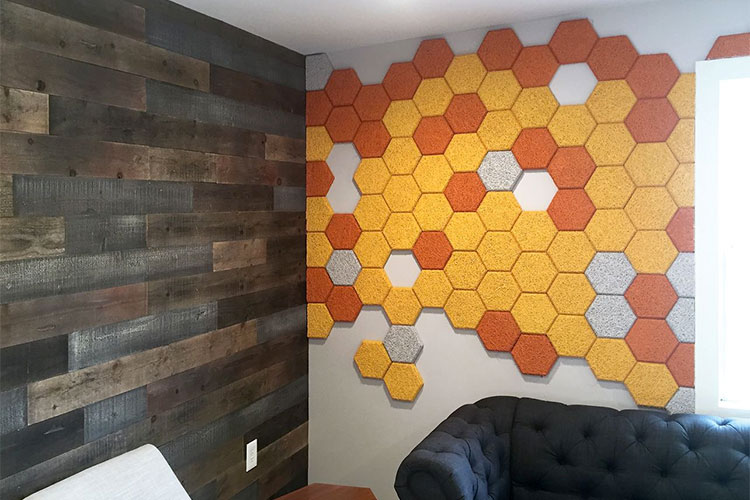 Tectum wall & ceiling panels: a perfect fit of durability, acoustics, and unique visuals
From a natural factory finish or white, to integration with Colorations colors (that's 13 standard colors) or made-to-order Sherwin-Williams® colors, TECTUM panels can coordinate or complement your color palette with the sizes, shapes, and forms that make your designs happen.
Toughness and acoustics are at the heart of TECTUM interior products, ideally suited to open spaces and high traffic, high impact areas. Panels can be attached directly to walls and ceilings in forms of panels, clouds, and square or curved. TECTUM linear hanging baffles give you even more design options.
Create a signature element in a space to complement your interior design. The possibilities are endless, the look is one-of-a-kind, and the acoustic properties of TECTUM panels can help quiet the space.
Key features
Durable for heavy-use interiors
Sound absorption (NRC) values up to 1.0
Great acoustical retrofit solution
Color options include standard, Colorations colors, and custom Sherwin-Williams colors
Contributes to LEED credit areas including FSC certified wood
Attach to a variety of ceiling substrates
Easy to install
Special applications
Gymnasiums
Auditoriums
Multi-purpose Spaces
Acoustical Retrofits
Exposed Structures
Education Spaces
Company: Armstrong Building Solutions
Product: TECTUM Ceiling & Wall Panels
Source: https://www.armstrongceilings.com/commercial/en-us/articles/tectum-part-of-armstrong-portfolio.html
Tags: Acoustics | Color | Interior Design | Wall Panels
Global warming: how architects & building owners can prepare the world (July 27, 2017), 5 Little Known Facts about High Gloss Acrylic Wall Panels (July 24, 2017), Kalwall Featured In Winning 2017 RIBA London Award Project (June 20, 2017), 7 Hot 2017 Bathroom Design Trends You Need to Add Style to Your Space (June 13, 2017), Designed for resiliency and acoustic performance (May 17, 2017), EXTECH offers LIGHTWALL 3440 translucent wall system with three new glazing options (May 15, 2017), Concealed Access Doors, a high-end architectural panel (March 24, 2017), Kalwall Panels featured in "Amoeba Wall," MIT design team's award-winning project (March 20, 2017), Is polycarbonate the future of architecture? (February 2, 2017), StonePly Success Story: Atlantis - The Cove (January 11, 2017), Easily Earn AIA Learning Units | EXTECH, Inc. (January 6, 2017), Case study: Otterbein University's STEAM Innovation Center featuring Extech's Lightwall 3000 series curtain wall system (December 15, 2016), An Introduction to Access Covers (December 12, 2016), Solutions for the entire building façade (December 9, 2016), Acoustical Walls, Ceilings and Special Applications (November 11, 2016), 5 Crazy Modern Glass Wall Partition Ideas for a Loft Apartment (October 17, 2016), Interior Acoustical Finalé Wall Panels (October 10, 2016), The future of insulated wall panels has arrived (September 28, 2016), Make your buildings look good with uniquely designed polycarbonate products for building exteriors (September 19, 2016), Glass Shower & Tub Enclosures by Fleurco (September 2, 2016), Architects Inspiration Handbook for Glass applications in commercial interiors (August 29, 2016), The Feng Shui of Kalwall (July 11, 2016), Restaurant Ceiling Tiles (July 1, 2016), Continuous Insulation (ci) Systems (June 27, 2016), Hurricane Roof Equipment Screens (June 10, 2016), Where Champions Train: Kalwall® Lights Up Broncos' Indoor Facility (May 16, 2016), Another Award-Winner: Verti-kal™ and the John Fry Sports Park Pavilion (April 22, 2016), Guardian 275® translucent skylights provide a wide range of color, thermal performance and specialty application options (April 6, 2016), Decorative Panels & Screens (April 4, 2016), Howe Green Provides Easy Access in Quality Hill Homes (March 21, 2016), The Noise Control Solution - When Acoustics, Style & Toughness Are Required (March 11, 2016), Video of Extech's newest kinetic wall (March 1, 2016), Artistry in Architectural Grilles (February 10, 2016), The Test of Time: 10,000 N. Central Expressway, 30 Years Later (January 20, 2016), Amager Resource Center (January 13, 2016), Kalwall Featured: Guide Dogs for the Blind New Student Residence (December 30, 2015), Making History: The National Constitution Center (December 11, 2015), Commercial and Residential Ceiling Tiles (December 7, 2015), Hanging baffles substantially quiet this LAPD firing range - this benefits everyone who works there (September 30, 2015), 5 Things Nobody Tells You about Shower & Tub Wall Panels (August 26, 2015), Tectum Panel Art Wall Panels (July 20, 2015), Will Your Walls Face Abuse Or Impact? (April 8, 2015), Create an accent wall with faux-leather wall panels (February 17, 2015), Nothing says cool quite like high gloss WallPanels (January 16, 2015)