architecture - engineering - construction

Energy
---

Photography: Joshua Jay Elliott, courtesy: Works Progress Architecture, LLP
The 10-story, LEED® Gold certified, mixed-use, transit-oriented development known as Slate is helping revitalize the Burnside Bridgehead area in Portland, Oregon. Formerly a vacant lot called Block 75, the new building features window, entrance, unitized curtainwall and panel systems finished by Linetec. Contributing to the building's high energy-efficiency and sustainability goals, Linetec also provided the thermal improvement services for the glazing systems' aluminum framing.
Opened last year, the project spans 147,000 square feet and offers 75 market-rate apartment units on the upper six floors; 35,000 square feet of creative co-working office workspace on floors 2-4; and 7,800 square feet of retail space at street level.
Articulated Aesthetics
Designed by Works Progress Architecture for co-developers Urban Development Partners and Beam Development, the property conveys a "push and pull" theme exemplifying the location's vibrancy. The glass, metal and concrete façade consists of articulated, modulated, rectangular shapes, including some that are setback and some that project over the sidewalks below.
"The building adheres to a carefully considered, cohesive, unified design concept that promotes the building as a bold, permanent fixture of the Burnside Bridgehead, the larger Central Eastside Subdistrict, and the larger Central City Plan District," noted Portland's Design Commission.
"It creates the illusion of a shifting stack," describes Works Progress Architecture's Ian Roll. "On the North and South sides, the curtainwall has a flat, clean, crisp look that transitions to a sculpted, figural texture on the East and West elevations. The curtainwall is crucial in registering the intentional lines and visual elements."
Enhancing the aesthetics and durability of these elements, Linetec used six colors and two finishing methods. The aluminum framing members' for the curtainwall, window and entrance systems were fabricated by Wausau Window and Wall Systems, and finished in Slate Gray Fluropon® and Dark Bronze FluroponAAMA-2605 fluoropolymer paint coatings, plus AAMA-611 Class I blackanodize. In addition, Linetec painted the aluminum panel system from Firestone in AAMA-2605 fluoropolymer coatings of Stone White Duranar®, Gun Barrel Fluropon Classic II and Block 45 Silver Fluropon Classic II.
Leaders in Energy and Environmental Design
Supporting Slate, and other projects seeking the U.S. Green Building Council's LEED certification, Linetec's finishing and thermal improvement services can contribute to the building envelope's energy-efficiency, visual appeal and durability.
Supporting environmentally sound practices, Linetec's high-performance painted coatings are applied in a controlled facility that safely captures and destroys the VOCs present in liquid solvent-based paints before the finished products' arrival on the building site. Anodize finishes do not contain VOCs and process byproducts are recyclable.
The finished architectural aluminum components may be specified with recycled content and are 100 percent recyclable after its useful life on the building. The high-performance fluoropolymer painted coatings and anodize finish help protect against the intense sunlight, heavy rains, high humidity and salt spray, for a long product life cycle.
To match Portland's climate and the project's goals for energy efficiency and comfort, Wausau's anodized aluminum-framed products have beenthermally improved by Linetec using a polyamide barrier. Combining the thermal barrier with solar-control, low-e, insulating glass achieves the specified performance for low solar heat gain coefficient, low U-Factor, highcondensation resistance factor and high visible light transmittance.
There are numerous LEED credits that recognize the advantages and benefits of high-performance windows and curtainwall. Seasonal opportunities for natural ventilation also help reduce the demand on HVAC systems and associated energy use. Weather permitting, the operable windows on Slate allow tenants to enjoy fresh air, natural light and views.
Within sight are downtown Portland, the Willamette River, landmark bridges, the West Hills and Mount Hood. According to the City of Portland's Design Commission, Slate's design features floor-to-ceiling curtainwall "placed at the most important – in other words, the most visually prominent and functionally significant parts" and "aids in the success of the space by fostering a visually seamless relationship between the building's interior and the exterior environment."
Further improving the overall comfort for those living, working and shopping at Slate: Retail spaces with natural light have reported higher sales. Workplaces have documented lower absenteeism, higher productivity and greater job satisfaction . Access to light has shown to be important for biological circadian rhythm and lead to a more restful night 's sleep and daytime alertness. Having a view outside also helps people feel better connected to with their environment and their community.
Balancing Appearance and Performance
Works Progress' Roll credits the project's success, in part, to working closely with Wausau Window and Wall Systems from the project's earliest stages. He highlights Wausau's architectural sales representative Brad Glauser as his primary contact in working through the project's complexities.
"Brad assisted us with selecting the system, and fine-tuning it to achieve the building envelope's glassine openness and meet the energy code," says Roll. "With digital modeling, we were able to get inside the units before anything was built to balance where the glass and metal panels should be placed for the right performance and look."
Bringing the architectural vision to reality, Yorke & Curtis, Inc. served as the general contractor. They broke ground in Jan. 2015 and coordinated the phased construction schedule with Oregon-based glazing contractor Dallas Glass.
Dallas Glass began installing Wausau's products in April 2015 and was substantially completed by Jan. 2016. Wausau provided more than 40,000 square feet of INvision™ 7250i-HRX SSG Series unitized curtainwall and 7250 Series SuperWall™; 240 project-out awning 4250Z zero sightline windows; and 4250i-TD Series terrace doors and D5100 Series sliding patio doors. Smooth, Fast, Accurate Installation
The aluminum panels and frames, and bronze-toned and clear glass, were factory-fabricated as a unitized curtainwall helping ensure the intended appearance and performance, and to simplify and accelerate their installation.
"The curtainwall's interlocking frame design accommodates seismic, live load and thermal building movements. Low U-Factors allow broad expanses of vision glass to meet Model Energy Codes. Transmission of unwanted noise is reduced by heavy architectural glass and low air infiltration," adds Glauser.
Slate was the glazing contractor's first experience with a unitized curtainwallsystem. "We loved it," says Darand Davies, president of Dallas Glass. "I think it went really well for being our first time working with a unitized system. It was rather amazing that, on average, we have just five guys in field who were capable of completing a full floor every two weeks."
Now that Slate is open and leasing, Glauser concludes, "Along with the great location and comfortable interiors, tenants also are drawn to the building's attractive appearance. And building owners and property managers will appreciate the ease in maintaining the window systems' appearance and functionality."
Slate, 321 N.E. Couch St., Portland, OR 97232; http://www.udplp.com/slate
Company: Linetec
Product: Thermal Improvement – Pour & Debridge and Thermal Strut
Source: http://www.linetec.com/Press_Release/LEED-Gold,-Slate,-features-Linetec-anodize-finish.html
Tags: Architecture | Coating | Energy | Finishes | Sustainability
---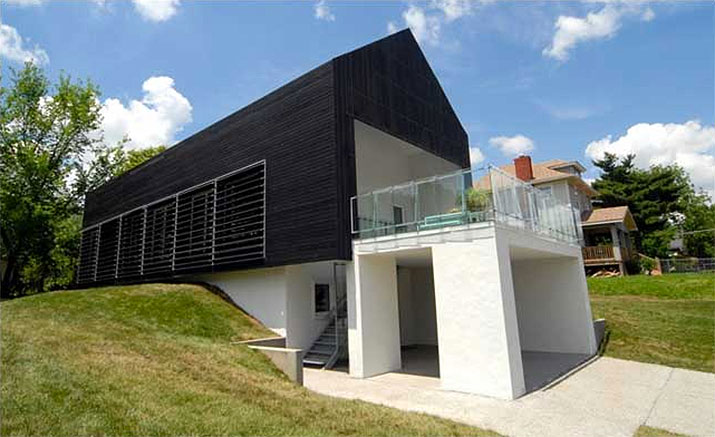 Project: Prescott Passivhaus
Architect: Studio 804
Engineer: Norton & Schmidt
LEED: Platinum
Designed to use minimal energy through affordable, passive means, this 1,700-square-foot house in the Prescott, Kansas neighborhood, is just minutes from downtown Kansas City. To achieve its goal of a 90-percent reduction in heating and cooling costs, strategies including louvers, thermal mass, high-performance windows, super insulation, southern orientation and an airtight building envelope were employed. National Gypsum's Gold Bond® BRAND eXP® Interior Extreme® Gypsum Panels are components of this project.
Company: National Gypsum
Product: Gold Bond® XP® Fire-Rated 5/16" Radius Wall
Source: http://designcenter.nationalgypsum.com/design-center/category/project-profiles/detail/prescott-passivhaus-prescott-ks
Tags: Construction | Energy | LEED Certification | Wall Panels
---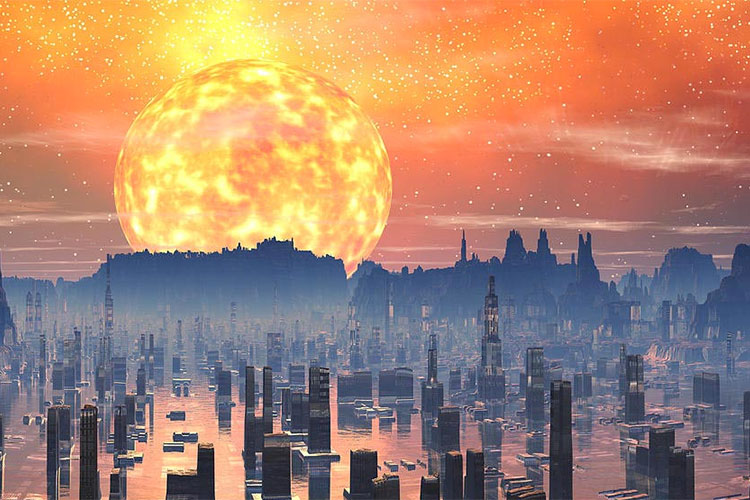 With the effects of global warming upon us, architects and building owners need to mitigate its impact in the built environment. This is not a new idea, but the necessity for design that protects against volatile weather, rising temperatures, and insect-borne diseases is now more pressing than ever. Last year, the U.S. Army Corps of Engineers created the Building Resilience website, a tool that connects community planners, home builders, architects, and engineers with building science, climate data, and community resilience resources. This is crucial information designers and building owners need if they want to confront the effects of climate change.
As daylighting manufacturers, we have some thoughts on how daylighting can be used to reduce the impact of global warming on the built environment.
Daylighting that can withstand Severe Weather
Because of global warming, weather events like hurricanes, flooding, and tornadoes have become more powerful (Superstorm Sandy in 2012 and Supertyphoon Haiyan in 2013 have both been partly attributed to global warming).
But just because nature has become more dangerous doesn't mean we should barricade behind steel walls. Instead, robust daylighting systems should be utilized. By incorporating daylighting into architecture, occupants remain connected to the outdoors, and the structure reduces its carbon footprint.
It's important to use daylighting systems and materials that possess excellent water weepage and can withstand high wind loads. These attributes will be determined by the system's glazing and framing.
Polycarbonate is one of the best forms of glazing when it comes to strength and durability, and it by far outperforms glass (polycarbonate is 250 times more resistant to impact than safety glass), as well as fiberglass reinforced panels, or FRP (polycarbonate is 4 times more resistant to impact than FRP).
Additionally, the system framing must have elements that facilitate excellent water control and leak resistance, like properly placed weep holes and water stops. An example of a highly resilient daylighting system is EXTECH's LIGHTWALL 3100LSpolycarbonate wall system, which meets ASTM E-1886 and E-1996 tests for hurricane impact / windborne debris at clear spans of 8 feet. It is an excellent daylighting product in the face of torrential weather.
Protection Against Intense Heat
With global warming comes rising temperatures. Data has uncovered a long-term warming trend, and at this rate, temperatures could rise as much as 8 degrees by the end of this century (though that does not sound like much, a global increase in this scale would have dire outcomes). Even if carbon emissions worldwide are drastically cut, escalating temperatures are a factor humans must face.
With warmer temperatures comes the threat of increased solar heat gain (the temperature inside a structure that results from solar radiation). If precautions are not taken when choosing the daylighting glazing, people will either bake in a convection oven, or the cooling system will have to run at non-stop full capacity – neither choice is ideal. To protect against these scenarios, glazing that blocks infrared rays is recommended for daylighting structures. Polycarbonate is one of the few materials that can effectively and economically block infrared radiation.
Though humans can take many actions to reduce global warming, its effects will never be completely vanquished; mitigation is the only way forward. By accepting this, architects and building owners can be a leading force in climate change preparation – if they have the foresight now to build structures that deal with global warming's impact, humankind will be safer, happier, and quite possibly, live to one day stop climate change for good.
Company: EXTECH/Exterior Technologies, Inc.
Product: Translucent Walls
Source: https://extechinc.com/global-warming-how-architects-building-owners-can-prepare-the-world/
Tags: Energy | Exterior Design | Lighting | Louvers | Sustainability | Wall Panels
---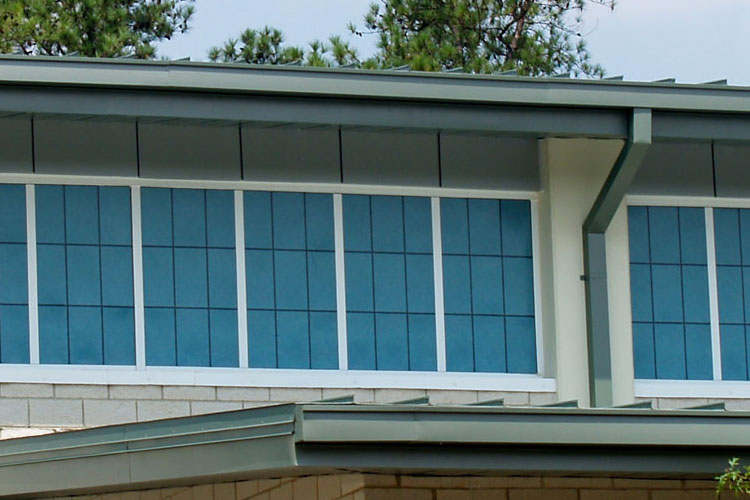 Clima-Tite™ is a unique – the only translucent panel system that features pultruded fiberglass framing for better thermal performance, including enhanced u-factors and better condensation resistance than similar aluminum-framed systems. Pultruded fiberglass also has other advantages over aluminum, including dimensional stability and increased corrosion resistance, making it a great choice for harsh environments like water treatment plants or aquatic facilities.
Utilizing fiberglass is also an environmentally sound choice, as the manufacturing processes require less energy compared to aluminum (about 80% less embodied energy). The main ingredient in fiberglass is silica sand, an abundant natural material. Once properly converted, the inherent thermal properties of fiberglass allow for reduced HVAC loads, which can reduce greenhouse emissions. The long lifespan and durability of pultruded fiberglass also delivers reduced costs over the lifetime of the system.
Company: Major Industries Inc.
Product: Clima-Tite™
Source: http://majorskylights.com/products/wall-systems/clima-tite/
Tags: Design | Energy | Glass | Lighting | Windows
---
The University of Iowa (UI) School of Music in Iowa City celebrated its 110th anniversary with a new home – Voxman Music Building. Designed for durability, sustainability and the highest acoustic performance, the 190,000-square-foot project features energy-efficient window and curtainwall systems, finished and thermally improved by Linetec.
The $152 million project is targeting LEED® for New Construction Gold certification. Wausau Window and Wall Systems worked closely with glazing contractor Architectural Wall Systems (AWS) to achieve the design intent set by LMN Architects and Neumann Monson Architects. Mortenson Construction served as the construction manager agent for UI.
"We conceived the project as a means of extending the public space inside the building, and we do that with glass," says LMN partner and project designer, Stephen Van Dyck, AIA, LEED AP. "The window systems play a huge part in creating the visual transparency between the public and the performers, and the connection from within and without of this educational and cultural building."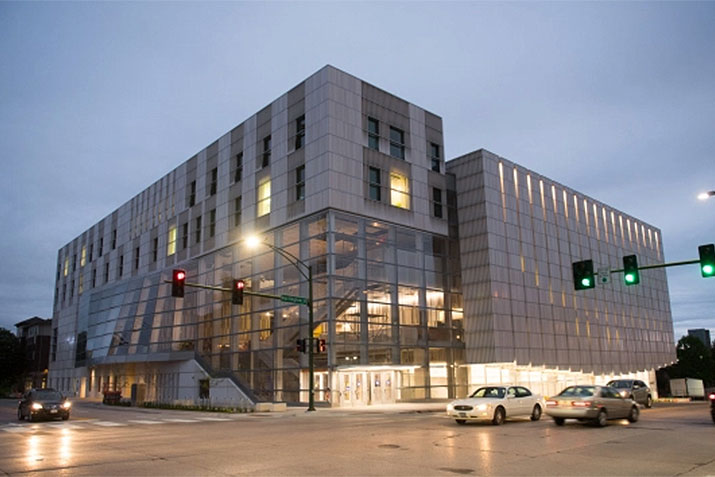 A Highly Anticipated New Home for the UI Music Department
Linetec Products Support Project Sustainability Goals
Linetec's thermal improvement services and anodize finishing are key contributors to the window systems' energy-efficiency, visual appeal and durability. The anodizing process produces a uniform, hard and protective finish. Linetec's anodize finishes meet the requirements of the American Architectural Manufacturers Association's stringent Class I specification standard, AAMA 611-14. The anodized aluminum resists the ravages of time, temperature, corrosion, humidity and warping, for a long product life cycle. Anodized aluminum may be specified with recycled content and is 100 percent recyclable.
In addition to durable finishes and recyclable materials, Linetec helped support the project's sustainable and LEED goals for thermal comfort and energy performance by providing thermal barriers for Wausau's window and curtainwall systems. Both Linetec and Wausau also are considered local suppliers, as they are located within a 500-mile radius of the UI campus.
Unique Window Systems Supply Natural Light and Visual Appeal
Wausau's systems also contribute to recognized benefits of daylight and views, and are a main visual feature of the building. The glass exterior begins beneath the concert hall, wraps around and up to the main entrance and continues over the recital hall, reaching heights of 50 feet.
One of the building's most unique features is the shingled curtainwall – called the "warped wall" – overlaying the recital hall, in which construction of glass and metal units are layered to create an undulating slope that appears to gently pour from the building's roof to its base. On the interior, a central atrium funnels natural light into the building.
Large-scale window systems are rare in musical spaces due to the acoustic challenges they can present. By choosing a low-iron glass with a low roller wave and horizontal orientation, acoustic and visual distortion was minimized. Large panes of glass diffuse sound at different rates on the shingled wall, and tall and narrow windows minimize vibration throughout.
Prioritizing Acoustic Isolation and Performance
"The acoustic requirements for this project are of utmost relevance," emphasizes Chucho Loria, AIA, with Neumann Monson Architects. "Wausau's team looked at the various conditions in the project. They developed details, during the shop drawing review process, to ensure that their system would meet the design intent of the project. It was apparent in those details that Wausau was taking efforts to make their system interact with the rest of the building."
"We prefer an integrated, whole building approach – especially with complicated engineered projects," says Doug Laffin, Wausau's architectural sales representative serving Iowa. "Our systems may be just one part of that whole, but everything must work together to successfully deliver the architectural vision and critical functionality."
"Almost all of the job was acoustically sensitive," says Lee Ebel, AWS project manager. "Wausau produced and had tested units that verified the system would meet the necessary STC ratings at the corresponding frequency."
Sound Transmission Class (STC) is a single-number rating system for acoustical performance, where a higher number indicates better performance. The Voxman Music Building's design specified an STC 55, which is suitable for blocking loud noises including musical instruments.
"Almost every room is acoustically isolated," explains Van Dyck. "This means that instead of the usual one wall, one floor between each room, there are two or three walls and two floors to separate most of the rooms and keep sound from transferring between them. We're also trying to keep the sound from passing from the outside into the building's interior. The windows are a big part of that equation."
Adding glazing mass, increasing air space and improving damping by the addition of a laminated interlayer achieve improvement in acoustical performance. Of course, maintaining an airtight assembly to reduce "flanking" noise is critical, especially at high frequency. All three approaches were used to meet the acoustic requirements of the Voxman Music Building.
"The goal was to have virtually no outside noise in the recital hall," says Randy Arneson, Wausau's senior estimator on the project. "There's 5-inch airspace between the inside and outside glass lites of our curtainwall to decrease sound transmittance. For the majority, we used Viracon's 1-5/16-inch OptiWhite laminated, insulating, specialty glass."
In the concert hall, the glass was glazed into the window system's interior-facing plane with a 3-inch airspace. On the exterior-facing plane, electrochromic SageGlass was installed. Electrochromic (EC) glass darkens or clears when a low-voltage DC current is applied. Wausau incorporated the necessary wiring paths to connect the windows' EC glass with a user-controlled switch. This enhanced functionality allows the faculty and students to reversibly control the sunlight entering their space and to maintain their outside view without shades or blinds.
"Wausau provided these elegant, tall, thin windows with EC glass. They're really cool. When the windows are turned 'on' and tinted, they produce this really nice, diffused light," says Van Dyck.
"They're very narrow – some are only 1 foot wide, but 40 feet tall. The smaller span actually helps with the acoustics. The stiffer it is, the less it wants to vibrate."
Ensuring Quality, Durability and Sustainability
Beyond acoustic performance, Ebel says, "The curtainwall system went through a rigorous performance mock-up test at a certified laboratory in Miami, Florida. The testing included air, water, dynamic, structural, seismic racking and thermal cycling."
Ebel adds, "The typical LEED requirements applied to this project." The window systems' high performance features contribute to quiet, comfortable spaces that promote concentration and creativity, as well as a whole building approach to energy-efficiency, daylighting and outside views.
AWS installed Wausau's SuperWall™ curtainwall, custom-engineered fixed and operable windows, and nearly 23,000 square feet of INvision™ 1050i-UW Series unitized curtainwall. Glazing and sealing in a factory-controlled environmental ensures that conditions are maintained to achieve the intended performance required for the project. Shipped one lite wide by one floor tall, the interlocking, pre-assembled units make the system easy to install on the job site. This saves labor, time and associated costs.
The curtainwall and window systems' installation was finished on time and on budget. "It took a lot of coordination between all parties, and modeling of the curtainwall and structure to ensure that everything would fit correctly in the field once installation started," Ebel says.
"Aesthetically, the project looks great," concluded Van Dyck. "But, let's face it, for this project, it wouldn't matter how great it looks if doesn't sound great, too. The window systems are a critical part of that success."
UI's new music facility replaces its former location, which was damaged by the 2008 flood. Programming and schematic design began in 2011. In 2014, the new building's essential structure was completed and the building envelope could begin taking shape.
The Voxman Music Building was substantially completed in July 2016 and welcomed its 450 music students and 60 full-time faculty on Aug. 22, 2016. The grand opening and ribbon-cutting event was held on Oct. 21, 2016. The 324-room space includes classrooms, teaching studios, a library, offices, recital spaces, a rooftop terrace, a 700-seat concert hall and a 200-seat recital hall.
David Gier is the first to serve as the UI School of Music's director in the Voxman Music Building. The facility's name honors one of his predecessors, the late clarinetist Himie Voxman who served as the school's director from 1954-1980. Gier and the School of Music have eagerly awaited their new home.
Company: Linetec
Source: https://linetec-blog.com/2017/05/16/designed-for-resiliency-and-acoustic-performance-university-of-iowa-voxman-music-building-features-linetecs-anodize-finishing-and-thermal-improvement-services/
Tags: Acoustics | Aluminum | Energy | Glass | Sustainability | Wall Panels | Windows
---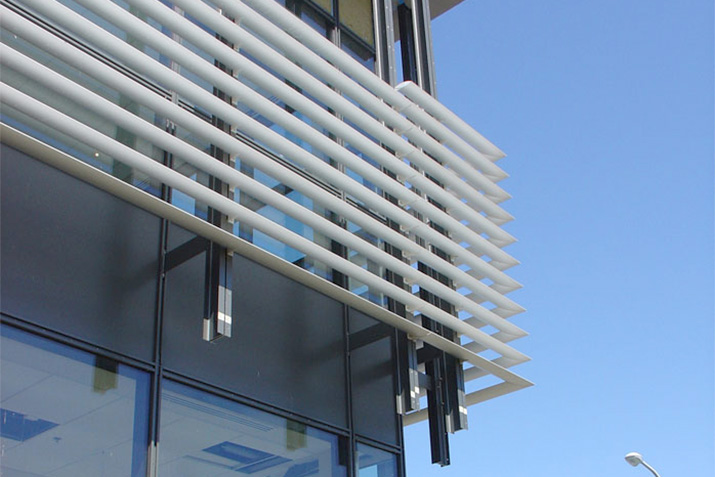 North American weather ranges from extreme cold to extreme heat, with many variations in-between. Today's design approaches need to consider weather patterns and how to best maximize energy efficiencies to address these. Unicel's solar shading systems provide optimal weather protection for the harshest climates and temperature extremes, while ensuring interior comfort and desired levels of vision.
Key Solar Shading Benefits:
Daylight control - Glare reduction and greater comfort
Heat control - Optimal solar heat gain and energy efficiency
Sound control - Acoustic insulation and enhanced tranquility
Visual appeal - State of the art aesthetic features that enhance overall design
Low maintenance - Durable and easy to maintain
Flexibility - Adaptable to many building and architectural designs
Solar Shading Features:
6063-T5 aluminum alloy extrusions
Hardware fits aluminum blade solutions
Custom colors in painted or anodized finishes
Fixed or mobile blades
Available in vertical , horizontal and cantilevered configurations
Remote controlled system
The fixed or motorized louvers can be installed as an independent structure or connected to the main facade system. Additionally, they can be painted in any color to enhance their visual impact.
When designing an architectural envelope, interior and exterior design requirements need to work together as a dynamic system to respond to variations in temperature, daylight and vision requirements. Unicel's solar shading solutions complement almost any design and are highly adaptable to the most rigorous heat and vision control requirements.
Company: UNICEL Architectural Corp.
Product: Louvers
Source: http://www.unicelarchitectural.com/en/louvers.html
Tags: Design | Energy | Louvers | Window Shades
---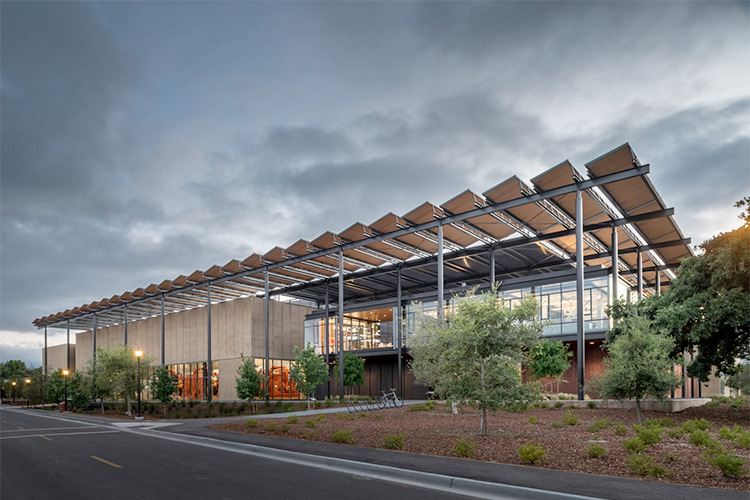 The Stanford University Central Energy Facility replaces a 100 percent fossil-fuel-based cogeneration plant with primarily electrical power—65 percent of which comes from renewable sources. Image credits: Matthew Anderson
AIA and the Committee on the Environment (COTE) announce this year's recipients of the COTE Top Ten Awards, the industry's premier program celebrating sustainable design excellence. Now in their 21st year, the Top Ten Awards highlight projects that exemplify the integration of great design and great performance. Submissions are required to demonstrate how the project aligns with COTE's rigorous criteria for social, economic, and ecological value.
Since 2014, past Top Ten recipients have been invited to submit post-occupancy data and narratives to be recognized with a single COTE Top Ten Plus award each year. In 2017, these separate tracks are merged: The 'Plus' designation now denotes projects with exemplary performance data and post occupancy lessons.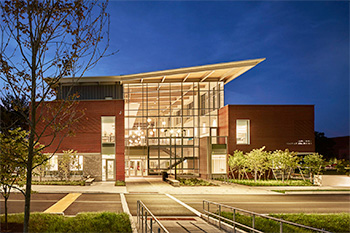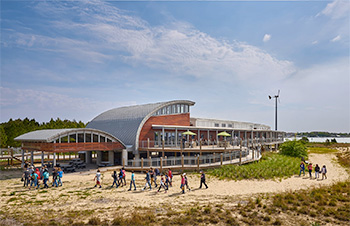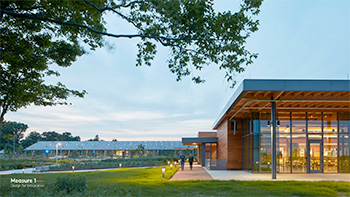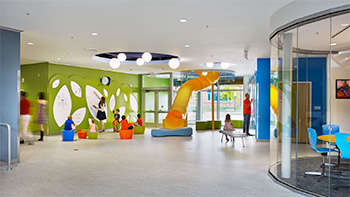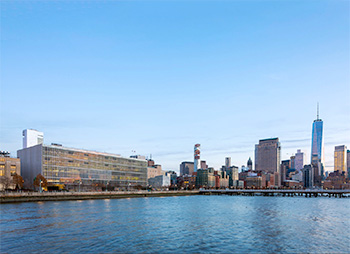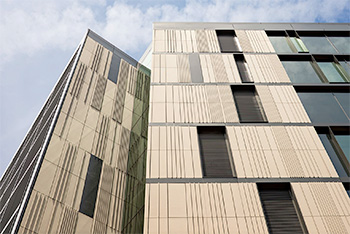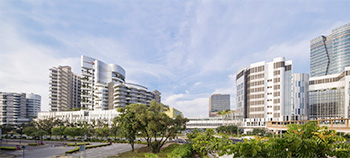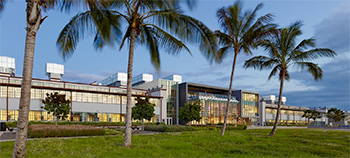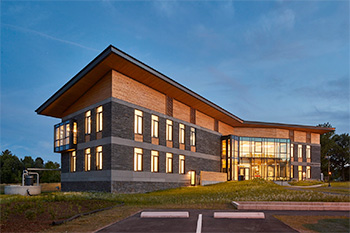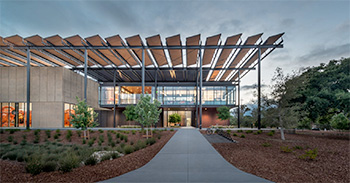 Company: AIA (American Institute of Architects)
Source: https://www.aia.org/resources/73026-2017-cote-top-ten
Tags: Design | Energy | Sustainability
---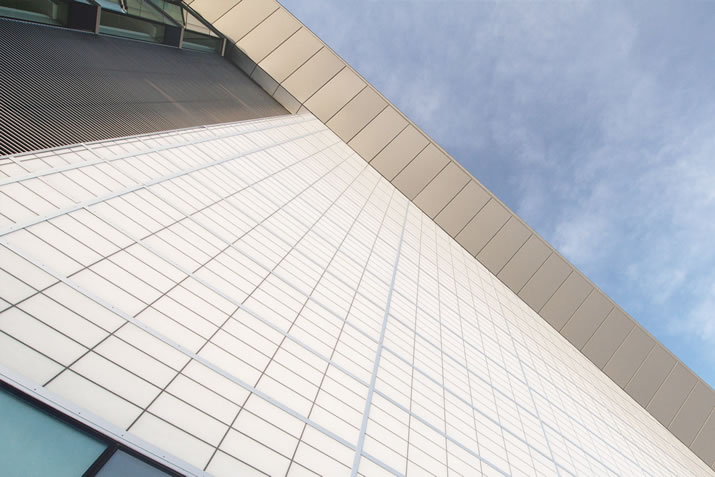 What happens when you bring together 250,000 people from around the world for six days in Munich, Germany?
Ideas are exchanged.
Best practices are shared.
Deeper levels of understanding are reached.
That was, in a nutshell, BAU 2017, the world's leading trade fair for architecture, materials and systems with the 2,210 exhibitors from 45 countries. More than 80,000 people had, like us, travelled overseas.
From our vantage point at the Kalwall® exhibit – our first time exhibiting at BAU (German for `construction') – we could see how much the world beyond the borders of the United States is changing and this was a chance to see how architects, owners, contractors and other business people are responding to those changes.
Here are three key takeaways from BAU 2017 affecting daylighting and fenestration globally.
1. Safety and security is no longer just about airports and government buildings
The safety, security and privacy of guests at hotels, students at schools and employees at banks and high finance institutions are becoming harder to ensure. While airport administrators and government facilities have been working with Kalwall for years to find solutions to similar problems, it was interesting to see the volume of private business owners looking for similar answers.Kalwall's specialty systems meet UFC 4-010-01 blast requirements and can, for example, provide an extra level of safety for guests in a hotel lobby from a car bombing in the street outside. The translucent panels also afford more privacy while providing museum-quality daylighting™ for interior spaces.
2. Canopies need to be rugged and resistant to pollution
Pollution and heat in certain regions of the world take their toll on canopies meant to provide shelter and shade, leaving architects and construction managers searching for alternatives to less durable polycarbonates.The ruggedness and capacity to resist fading in intense heat, along with its ability keep clean where pollution is a concern made Kalwall canopies an appealing option to business people in desert climates as well as industrial cities.
3. Energy is expensive and daylighting solutions are more important than ever
Technology was a dominant part of the conversation at BAU and a major reason why the world is seeking better ways to produce and store energy. I think my grandfather, Kalwall founder Robert R. Keller, would have been smiling. After all, energy efficiency was one of the reasons he developed his translucent sandwich panel in 1955.
Our technology, with its best in industry thermal and solar heat gain performance, was a conversation starter for business people concerned with the high cost of energy and the ways to be efficient. Renovations, in particular, present cladders the challenge of finding energy efficient solutions.
BAU 2017 was an opportunity to expose more people globally to the benefits of Kalwall. They came looking for the latest advancements, but some technology stands the test of time. This was re-affirmation of a technology we developed 62 years ago.
Company: Kalwall Corporation
Of: Amelia Keller
Source: https://www.kalwall.com/2017/02/13/a-kellers-bau-insights/
Tags: Building | Construction | Design | Energy | Lighting | Safety | Security
---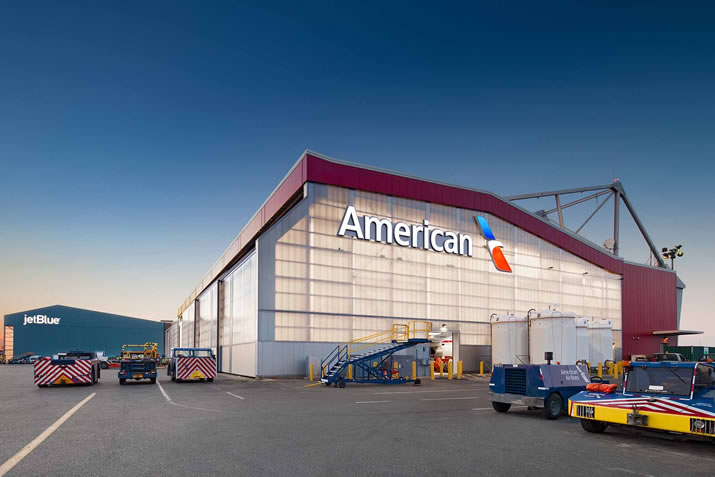 Sign-up for a Toolkit to take EXTECH's registered CES course. Earn 1 LU and 1 HSW by completing. The Toolkit also lets you track and save downloads, easily order samples, and delivers a collection of tools from around the web in your sidebar.
Innovative Daylighting Solutions
Harness the power of natural light
EXTECH/Exterior Technologies, Inc. is an award-winning manufacturer and designer of wall, window, skylight, canopy, and custom façade systems. We deliver solutions for a variety of industries and applications, and are committed to collaboration, innovation, and exceptional engineering.
Company: EXTECH/Exterior Technologies, Inc.
Source: https://extechinc.com/register/
Tags: Energy | Lighting | Wall Panels
---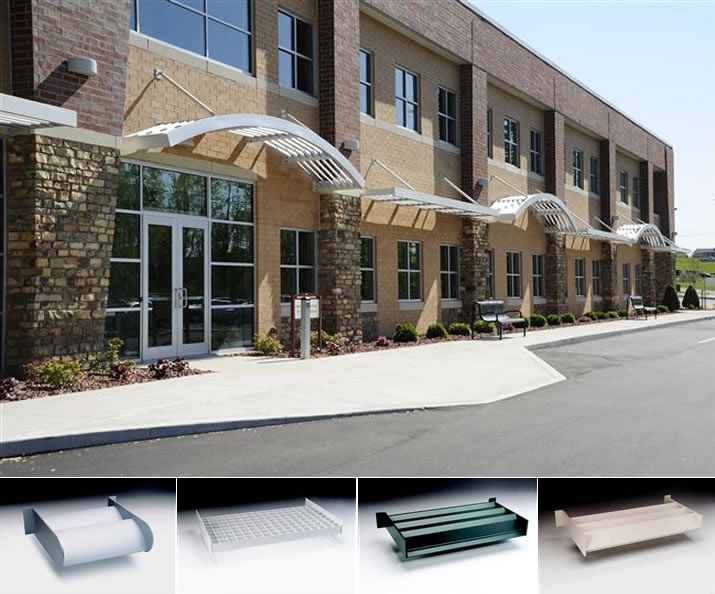 Aluminum Airfoil Blade Sunshade, Eggcrate Blade Sunshade, Louver Blade Sunshade, Rectangular Tube Blade Sunshade
Ruskin Sunshades offer energy savings by reducing solar heat gained through glazing. With a wide variety of available blade styles and configurations, they also provide aesthetic appeal to the building exterior.
Ruskin Sunshade models include airfoil, louver, tube and eggcrate blade styles. Custom Sunshade designs are also available. Ruskin Sunshades are constructed of extruded and/or formed aluminum components for reduced weight and excellent corrosion resistance. All models are available with a variety of Kynar or Anodize finishes.
Company: Ruskin
Product: Louvers
Source: http://www.ruskin.com/catalog/category/481~Sun-Control-Sunshades
Tags: Energy | Entrances | Exterior Design | LEED Certification | Windows
---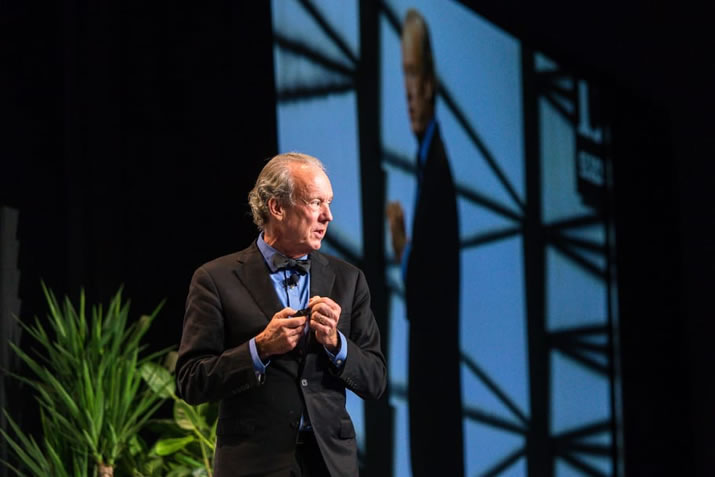 William McDonough, FAIA, gave a keynote at the 2016 SXSW Eco conference that emphasized the need for urban revolution. Image credits: Steve Rogers.
Carbon-positive cities, biophilia, and data-centric decisions define the next American city that architects can help create
In discussing solar orchards, biophilic cities, and illustrative mapping of everything from water surges to public protests, architects at the 2016 SXSW Eco conference brought the audience a dynamic voice for change. In its fourth year, the sister conference to the larger South by Southwest festival has grown into a three-day convergence of all things driving global change under the umbrella of design, technology, and business. Its basic premise is a forum for ideation and connection across industries. Participants arrive from around the globe, united by aspirations to establish new ways of dealing with health, food, water, climate change, clean air, energy, and development.
"Architects provide a fundamental voice in this conference," notes SXSW executive producer Morgan Catalina. "We are talking about environmental and social change. It is a realm that architects can shape, change, and influence through design." In fact, design thinking and problem-solving were a priority in much of the conference discussions. Topics ranged from idea-driven calls to action to explanations of developing software tools. Creative solutions involving cross- and multi-disciplinary teams were billed as the most effective ways to address many of the world's pressing problems.
Time for a (sustainability) revolution
In his keynote, William McDonough, FAIA, of William McDonough + Partners, called for a revolution as he emphasized the need for carbon-positive cities and work toward climate change reversal. A visionary for more than 40 years, McDonough has been a pioneer in sustainability. He co-created the Cradle to Cradle philosophy, and all his work promotes a complete understanding of material health in the design process coupled with built-in renewable energy and social fairness.
He is currently working on concepts for a Chinese city that can feed and power itself. In Mongolia, McDonough's "solar orchards" allow industry and agriculture to live in the same place. Solar collectors are elevated six feet, allowing for grazing animals to occupy the same land. "This is beautiful … grasses come back by themselves," stressed McDonough. His is a call for a new language to deal with carbon that promotes constant improvement and a reevaluation of the current framework from which architects and designers evaluate their impacts on the environment and the future of human health.
Connections to nature
Likewise, Amanda Sturgeon, FAIA, chief executive officer of the International Living Future Institute, noted that architects should change the way they are designing, and recognize that "people are a part of nature, not separate from it." As part of the workshop on biophilic cities, she presented her research related to biophilic design emphasizing the reconnection of humans and the natural world. Biophilic cities prioritize the integration of green and blue ways throughout urban zones, urban farming initiatives to support food deserts, and integration of wildlife preservation in planning efforts, among others.
"We are talking about environmental and social change. It is a realm that architects can shape, change, and influence through design." - SXSW executive producer Morgan Catalina
Sturgeon summarized her argument for new design thinking: "Most of architecture is being created with no connection to place, climate, geography, or regional context. With increasing urbanization, and the fact that we spend 90 percent of our time inside, our fundamental connection with nature is disappearing. At the same time, the Paris climate agreement requires that buildings radically reduce their energy use, past the incremental efficiencies that we have been achieving. If we don't design our buildings to adapt to our climate, we will not get there. I believe this is an urgent issue for the creation of our buildings. Architects must change the way that they design, and we must train our young architects to have the skills and abilities to design in this way."
Tools to further the profession
Going beyond just understanding a building's site was part of the inspiration for Perkins+Will associate principal Leigh Christy to develop Hazel, a software tool for optimizing planning for stormwater infiltration, collection, and reuse. Christy sees part of her role as an architect is to engage in larger questions about the future of the environment. "Hazel is a tool for architects and planners," she said. "The data help analyze cost, identify policy needs, streamline water detention practices, reduce carbon emissions, improve pedestrian thermal comfort, and create new habitats for wildlife."
Ultimately, the platform provides data fundamental for project site selection. After being awarded a grant from the AIA College of Fellows Latrobe Prize, Hazel was developed collaboratively by the Arid Lands Institute of Woodbury University, Perkins+Will, the Nature Conservancy, and the City of Los Angeles. The design team is still refining Hazel. Christy notes that after presenting Hazel to architects and city planners, the response from the multidisciplinary audience was refreshing. "It was the first time I had someone come up to me and ask if I needed help coding," she said.
Another software tool called SPEA (Spatial Practice as Evidence and Advocacy) was developed by a landscape architect–led team. "[We] are of course influenced by the architectural designers that we work with," said McKenna Cole, research associate at SITU Studio. SPEA visualizes complex spatial narratives like the Euromaidan protests in Ukraine, often using three-dimensional renderings.
"Developing accurate 3-D models allows us to understand events spatially, enabling us to establish known protester and police locations that draws from citizen-captured videos," explained Cole. The usual outlets for dissemination of the data collected and compiled with SPEA are in the courtroom, through specific publication, or in advocacy reports. SPEA received an honorary mention in the Equity + Inclusion category of the Place by Design competition at the conference.
If this most recent SXSW Eco was an illustration of the prominent role architects can play both as visionaries and as team players working to effect change, the conference also clearly demonstrated that opportunities abound and that people value design thinking. As William McDonough noted, "I'm an architect, and an architect's job … is to change the way we see, then we rearrange the furniture, and then we build."
Company: AIA (American Institute of Architects)
Of: Catherine Gavin
Source: http://new.aia.org/articles/22151-architects-empowered-to-drive-positive-chang
Tags: Building | Design | Energy | Sustainability
---
Major Industries, in conjunction with Greenbuild 2016, announced the release of a new line of Auburn® single slope skylights. These new high-performance glass skylights feature thermal strut technology for enhanced thermal performance, including better condensation resistance. These new Auburn® skylights are available in a variety of custom sizes and configurations, with custom finish options and more, and will also soon be available to purchase online at shopmajorskylights.com in select standard sizes.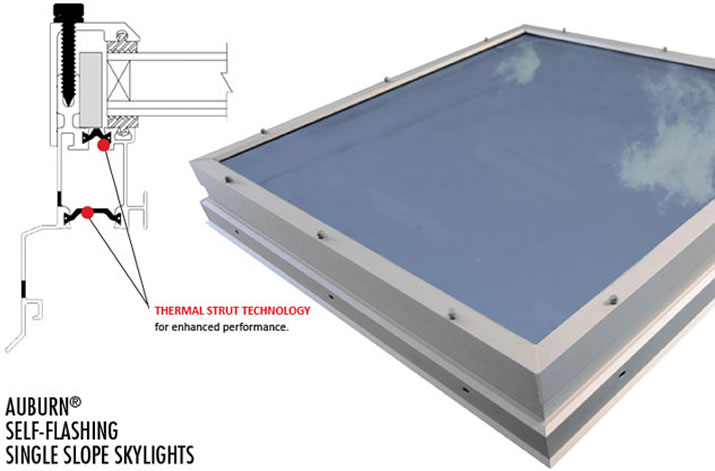 Easy to install high performance glass skylights
Auburn® glass single slope skylights have always been a dependable, low-maintenance daylighting solution, but Major Industries has enhanced these versatile skylights with thermal strut technology for enhanced thermal performance and improved condensation resistance. Now you can get the best of both worlds - energy-saving daylighting and a glass skylight with performance designed to handle any environment.
Auburn® self-flashing single slope skylights are available with a variety of glass configurations and numerous finish color options from anodized to Kynar®.
Features & benefits
THERMAL STRUT TECHNOLOGY provides improved thermal performance and condensation resistance
DESIGNED for smaller openings up to 25 square feet
TESTED to ASTM E283/330/331 standards
.27 - .29 center of glass u-factor with SHGC of .22-.39 (varies with glazing selection - check with Major for additional options)
PRE-ASSEMBLED options available for quicker lead times and simple installation
Company: Major Industries Inc.
Product: Auburn® Quick Ship™ Single Slope Glass Skylights
Source: http://majorskylights.com/2016/10/major-announces-new-auburn-skylight-option/
Tags: Design | Energy | Windows
---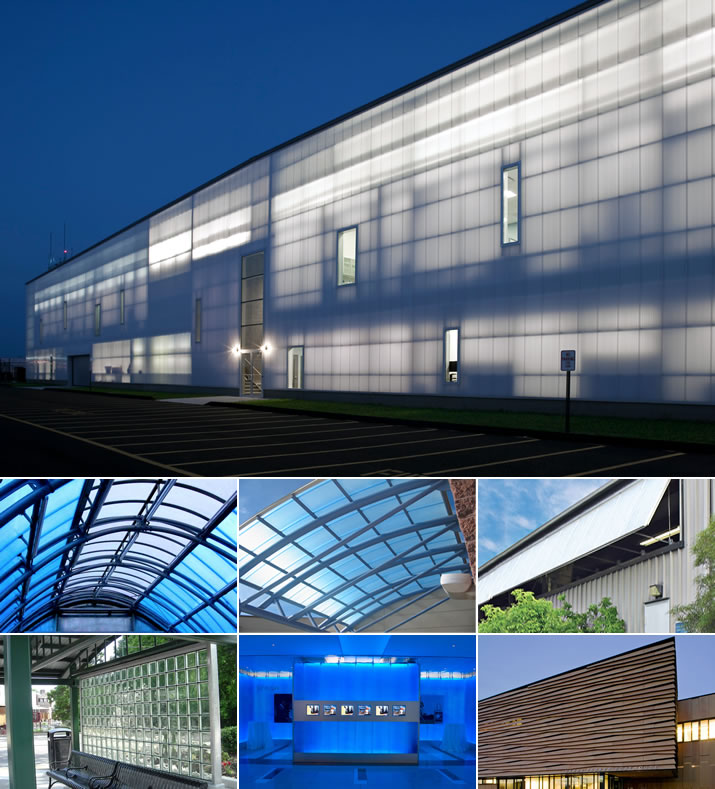 Translucent Walls, Skylights, Canopies, Windows, Mortarless glass block, Interiors, Custom Facades, Porcelain Systems
Cellular Polycarbonate Specialists
EXTECH specializes in the use of cellular polycarbonate for its host of benefits including daylighting, energy savings, superior impact resistance and insulation properties.
We provide a variety of translucent wall and interior panels, windows, skylights, and canopies for industrial and commercial clients. We also provide mortarless glass block systems and porcelain walls for use in outdoor rain/windscreens or interior applications, both of these products are extremely resistant to vandalism.
All of our products are designed for ease of installation and maintenance, including 10 year manufacturer warranties. Our group of dedicated staff who "like to build things" are also happy to provide custom facade work based on over 35 years of award-winning engineering excellence.
Our Product Lines
Polycarbonate walls
Polycarbonate windows and skylights for industrial or architectural use. Our skylights are capable of incomparable spans, without leaks.
Mortarless glass block and porcelain walls, perfect for windscreens, transit stations/shelters
Custom facades and building envelope
We make you AND your buildings look good
with our uniquely designed polycarbonate products for building exteriors
The Many Uses and Benefits of Cellular Polycarbonate
Diffused daylighting saves on energy costs, prevents glare and provides optimum visibility
High Levels of Impact Resistance
Lightweight material demands less structural support and requires less energy to operate when used as doors
Highly insulating with values up to U-.25 (R-4) for 40 mm thick panels
100% Recyclable panels and aluminum framing is LEED Credit friendly
Panels can be cold formed to a radius, unlike glass
Easy maintenance and cleaning
10 Year Manufacturer Warranties
The most advanced aluminum perimeter framing systems in the industry in a wide range of finishes
Air/water/structural testing
Company: EXTECH/Exterior Technologies, Inc.
Source: http://www.extechinc.com/polycarbonate-products.html
Tags: Building | Design | Energy | Insulation | Lighting | Wall Panels
---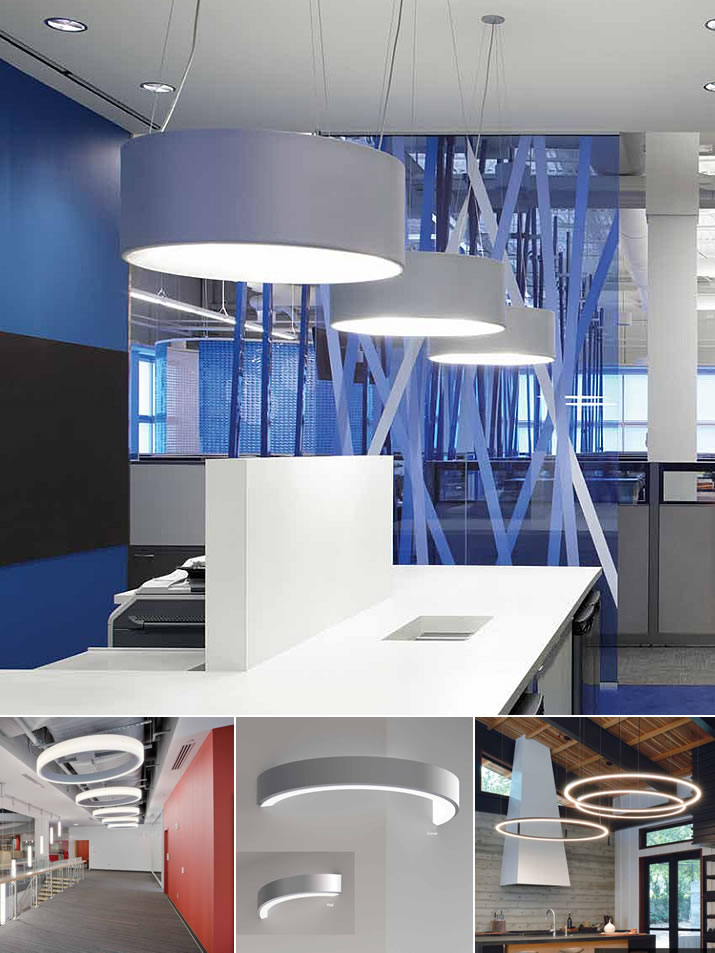 A variety of sizes and mount styles make Delray Circles a versatile, flexible choice for all applications and architetural styles. All feature the latest, best quality LEDs by Nichia, which employs a rigorous quality- controlled binning process to ensure consistent color temperature match across multiple fixtures. Delray's LED boards are built to operate well below the maximum current for which they're designed, increasing product life beyond the even the highest expectations.
Uno
Uno circles feature a minimalist 1-inch extruded aluminum housing profile, with a proprietary acrylic lens that provides broad, even illumination. Available in four sizes, with surface or remote, central or separate, driver mount options. Uno is offered with single-color red or blue LEDs, RGB with DMX512 interface, or with white 90 CRI Nichia LED chips, which are available in 3000º, 3500º, and 4000º Kelvin color temperatures.
Dos
Dos utilizes the same width extrusion as Uno, but with a higher 2-inch profile, to accommodate both downlight and uplight components. Dos circles are offered with white 90 CRI Nichia LED chips, available in 3000º, 3500º, and 4000º Kelvin color temperatures. They may also be ordered with single-color red or blue LEDs or RGB with DMX512 interface for the uplight or downlight. The uplight may be switched and/or dimmed independantly from the downlight. Like Uno, Dos is also available in four sizes, with surface or remote, central or separate, driver mount options.
Cylindro I
With a diameter of 24 inches, Cylindro 650's smooth, round anodized aluminum outer shell provides contrast for the inner opal acrylic diffuser, which produces soft, even up and down light. This Cylindro is available with single-color red or blue LEDs, RGB with DMX512 interface, or with white 90 CRI Nichia LED chips, which are available in 3000º, 3500º, and 4000º Kelvin color temperatures.
Cylindro II
Cylindro II circles feature an extruded aluminum outer housing, with an inner acrylic lens that provides broad, even illumination. Fixtures are available in three sizes, with surface or remote, central or separate, driver mount options. Cylindro II is available with single-color red or blue LEDs, RGB with DMX512 interface, or with white 90 CRI Nichia LED chips, which are available in 3000º, 3500º, and 4000º Kelvin color temperatures.
Cylindro III
Cylindro III circles feature an extruded aluminum inner housing, with an outer acrylic lens that provides broad, even illumination. Fixtures are available in three sizes, with surface or remote, central or separate, driver mount options. Cylindro III is available with single-color red or blue LEDs, RGB with DMX512 interface, or with white 90 CRI Nichia LED chips, which are available in 3000º, 3500º, and 4000º Kelvin color temperatures.
For more inspiration please see the pdf brochure or visit delraylighting.com.
Company: Delray Lighting
Source: http://www.delraylighting.com
Tags: Color | Energy | Interior Design | Lighting
---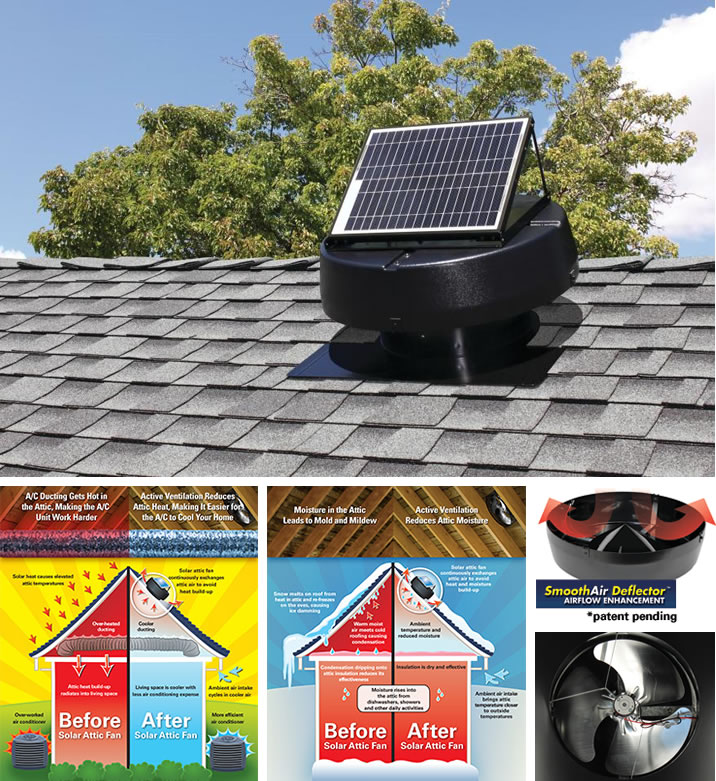 Available in 4 styles - 3 Roof Mount Designs and 1 All Purpose Interior Mount. Professional grade solar powered attic fans use no electricity. Attic Fans are designed to reduce heat build-up in your attic in the summer and remove harmful moisture in the winter.
Year-'Round Benefits!
Cools in the Summer: During the summer, the Solar Powered Attic Fan vents the hot air out of your attic and keeps it closer to the temperature outside. Your air conditioner won't have to run so long to cool the inside of your home.


Prevents mold and mildew in the winter: In the winter, warm moist air rises from the inside of your home and collides with the cold underside of the roof. The Solar Powered Attic Fan provides the air circulation that prevents the moist air from condensing on the surface. Keeping your attic drier.


Fans include a Thermal Switch. The thermal switch allows the fan to run when the temperature reaches 80 degrees and shuts the fan off when the temperature dips below 65 degrees. You can bypass the switch if you prefer the motor to run continuously during the day.
Solar Powered Roof Mount Attic Fans
Good - Ventilates up to 1100 square feet.
Solar power attic fan uses no electricity. 14 inch fan blade. Heavy duty construction. Stands up to high winds, hail, rain, and snow. 10 Watt solar panel. Quite simply the best product you can buy to reduce heat build-up in your attic in the summer and remove harmful moisture in the winter. The solar panel and fan motor have up to 25% more power than other fans, providing much better circulation and improved airflow. The advanced design provides more efficient attic ventilation while using no electricity. One fan alone can ventilate up to 1150 square feet of attic space reducing the energy needed to keep your home cooler in the summer. By running year-round, it can also remove harmful moisture in the winter months keeping your attic space drier, reducing condensation, and the potential for ice daming, mildew and mold. Download Product Brochure
Better - Ventilates up to 1350 square feet.
Professional grade solar power attic fan uses no electricity. 14 inch fan blade. Heavy duty construction. Stands up to high winds, hail, rain, and snow. Commercial grade 10 Watt solar panel. Our Better Solar Attic Fan is designed to reduce heat build-up in your attic in the summer and remove harmful moisture in the winter. It's commercial grade, heavy duty construction provides up to 25% more power than other fans, providing better circulation and improved airflow in your attic space. One fan can ventilate up to 1350 square feet and can lower the attic temperature so your air conditioning won't have to run as long and as hard to cool your home. By running year-round, it can keep your attic space drier by removing moisture in the winter, reducing condensation and preventing the growth of harmful mold and mildew. Download Product Brochure
Best - Ventilates up to 1900 square feet.
New patent pending enhanced design will ventilate up to 1900 square feet of attic space with a single fan. The new, patent pending, Smooth-air Deflector in the shroud of the fan produces a smoother air flow and increases exhaust performance by up to 30% from previous models. This next generation solar powered attic fan is our most powerful and efficient model yet. Commercial grade 15 Watt solar panel. Download Product Brochure
Solar Powered All Purpose Interior Mount Fan
Ventilates up to 1250 square feet. Installs indoors behind an existing static vent and converts vent to a powered vent. All Purpose - install into existing gable end vents, roof static or turbine vents, crawlspace vents, etc. Anywhere you want a powered vent!

Professional grade solar power attic fan uses no electricity. 14 inch fan blade. Heavy duty construction. Commercial grade 10 Watt solar panel mounts on roof, wall, soffit, etc. Stands up to high winds, hail, rain, and snow. Requires no cutting of your roof or tiles. Turbocharge any static or turbine vent. Easy do-it-yourself installation. Vent your attic through a gable or static vent.
Company: Battic Door Energy Conservation Products
Source: http://www.batticdoor.com/SolarAtticFans.htm
---

The American Institute of Architects (AIA) announce the release of a new feature – developed in collaboration with Autodesk – that will automate the AIA 2030 Commitment data reporting from energy analysis software directly to the Design Data Exchange (DDx). This collaboration has resulted in an open Automated Program Interface (API) to the DDx, available to any energy modeling software vendor, reducing the duplication of effort using the existing process.
The new automated connection will allow the more than 350 AIA 2030 committed firms to report their project and portfolio performance to the DDx directly from Autodesk Insight 360, a technology addition included in Autodesk Revit and Autodesk FormIt 360 Pro subscriptions. This automated process between Insight 360 and DDx will eliminate the need for manual data entry and eliminates duplication of effort encouraging performance analysis and more frequent reporting throughout the design process instead of annually. The DDx interface is open source with the ability to connect with other energy modeling software providers. Additional vendors are welcome to link up with the DDx system.
Eliminating the overhead of manual reporting not only saves time but it also enables more regular updates so firms can get up-to-the-minute progress on their projects and portfolio. In terms of actually meeting the targets themselves one of the key findings of the 2014 progress report was the critical role that energy modeling plays, and how projects that applied energy modeling were generally higher performing.
For example, of the projects submitted in the 2014 reporting period, nearly 50 percent of the projects where an energy model was created met or came close to achieving the AIA 2030 Commitment goals, whereas 80 percent of non-model projects fell below the 40 percent target. This offering helps to lower the barriers to energy modeling, making it possible to conduct energy modeling on virtually every project, especially from the early stages, but in doing so automatic reporting to DDx is essentially free.
About The American Institute of Architects
Founded in 1857, the American Institute of Architects consistently works to create more valuable, healthy, secure, and sustainable buildings, neighborhoods, and communities. Through nearly 300 state and local chapters, the AIA advocates for public policies that promote economic vitality and public wellbeing. Members adhere to a code of ethics and conduct to ensure the highest professional standards. The AIA provides members with tools and resources to assist them in their careers and business as well as engaging civic and government leaders and the public to find solutions to pressing issues facing our communities, institutions, nation and world. Visit www.aia.org.
About Autodesk
Autodesk helps people imagine, design and create a better world. Everyone—from design professionals, engineers and architects to digital artists, students and hobbyists—uses Autodesk software to unlock their creativity and solve important challenges. For more information visit autodesk.com or follow @autodesk.
Company: AIA (American Institute of Architects)
Source: http://www.aia.org/press/releases/AIAB108866
Tags: Design | Energy | Software | Sustainability
---
Perhaps no one is more grateful for the $12.8-billion investment to upgrade Ontario's Darlington Nuclear Generating station than Justin Parrington.
"Without the refurbishment, I wouldn't have a job," said the young marketing sales executive at Burlington's MarShield, during a roundtable discussion about the nuclear project last Friday.
MarShield makes protective gear for people who work in the nuclear industry from medicine to energy production. It is one of several local companies, and among 60 in the province, to reap the economic benefits of the provincial investment to upgrade the aging power plant.
Plenty of the specialty components, supplies, engineering expertise and research needed for the eight to 10-year long project are provided by local firms such as GE Power, Laker Energy Products, Platecon Projects, Stern Laboratories, Clean Harbours Canada and CTSNA Commissioning & Technical Services.
"The number of companies that will prosper from it are tremendous," said Keith Hoey, president and CEO of the Burlington Chamber of Commerce. The chamber, as well as its provincial counterpart, gathered some of those local vendors together last week to speak with local politicians and the people behind the massive project.
Like Parrington at MarShield, Laker Energy is already experiencing an uptick from the upgrade.
The local company has grown from 20 to 60 staff, thanks to Darlington, said company president Chris Hughes.
"These are high-quality engineering jobs, and we will be up to 75 staff in the next 15 years," he predicted.
But, as happy as Mark Zimny, president and CEO of Promation Nuclear, is for young people like Parrington who are finding work thanks to the Darlington investment, he's concerned about the future, especially as Ontario competes with firms in Russia and France, for business in the nuclear sector.
"How will I retain my engineers without new deals to grow the sectors," he asked. "What's the long-term plan?"
Eleanor McMahon, MPP for Burlington says the province's investment in refurbishing Darlington "shows nuclear energy is back in the game."
She assured Zimny that the province is helping generate a skilled workforce for the industry through its educational policies. McMahon said the post-secondary graduation rate in Ontario is now at 85 per cent and the promise of free post-secondary education to families earning less than $50,000 will eliminate financial barriers for students.
As well as boosting the local economy and labour force, Burlington MP Karina Gould said the investment in nuclear power, of which Darlington supplies 20 per cent for the province's energy needs, is a low carbon option that is better and cleaner for the environment.
Indeed Roy Martin, who has spent five years preparing for the refurbishment of Darlington as the project director for Ontario Power Generation, said that 97 per cent of the electricity generated by nuclear power is smog free and greenhouse gas free, and costs half as much to produce as other power generators in the province.
"Rebuilding the reactor will give us 30, to 40, to 50 more years of clean, low-cost power generation," said Martin.
Company: MarShield - a division of The MarsMetal Company
Of: Melanie Cummings Special to Burlington Post
Source: http://marshield.com/marshield-participates-in-burlington-chamber-of-commerce-and-opg-hosted-talk/
---
The world-class building-science experts at Sto continue to lead the way in advancing energy efficiency, durability and aesthetic appeal. Today's energy codes and regulations reflect many of the design principles embodied in our Continuous Insulation (ci) Systems, and the proven performance of Sto's next-generation EIFS appeals to designers, contractors and owners alike.
StoTherm® ci Wall Systems (EIFS)
Integrated Wall Systems that deliver the best in performance, sustainability and design flexibility
Sto's next-generation StoTherm® ci systems integrate the following key elements: continuous insulation (ci), an air/moisture barrier, drainage and a variety of textured finish options to create a superior, sustainable wall cladding. This high-performing, eye-catching system saves energy and stays attractive for years. StoTherm® ci improves indoor comfort and air quality while maintaining maximum curb appeal and lowering overall life-cycle costs.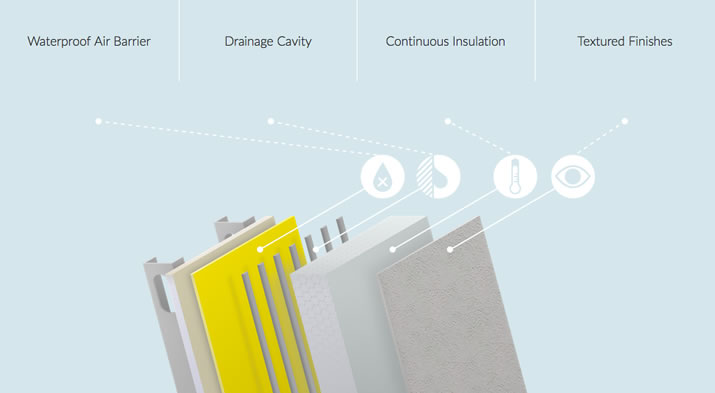 Key Components of the Sto Continuous Insulation (ci) System
System Features
High R-Value
Continuous insulation with high R-values provides significant energy cost savings by eliminating thermal bridging.
Code Approved
Complies with both ICC and IECC code requirements for continuous insulation.
Outbound Dew Point
Prevents condensation and freeze damage by placing the dew point outside the stud wall cavity.
Reduced Structural Loads
StoTherm® claddings are very lightweight, resulting in reduced structural cost requirements.
No Mechanical Fasteners
No penetrating nails or screws to attach the insulation means no thermal bridging.
Low Maintenance Cost
Coatings and finishes with advanced acrylic and Lotus-Effect technologies resist dirt pickup, peeling and cracking.
Lowest Life-Cycle Cost
StoTherm® ci claddings have the lowest life cycle costs compared to non-insulated brick and stucco claddings.
Premium Finishes & Coatings
Sto high performance finishes and coatings provide superior weatherability and resistance to UV fading, mold and mildew.
Explore the Continuous Insulation Configuration Tool to help guide you to what products are right for your project.
Company: Sto Corp.
Source: http://www.stocorp.com/continuous-insulation-systems/
Tags: Energy | Insulation | Sustainability | Wall Panels
---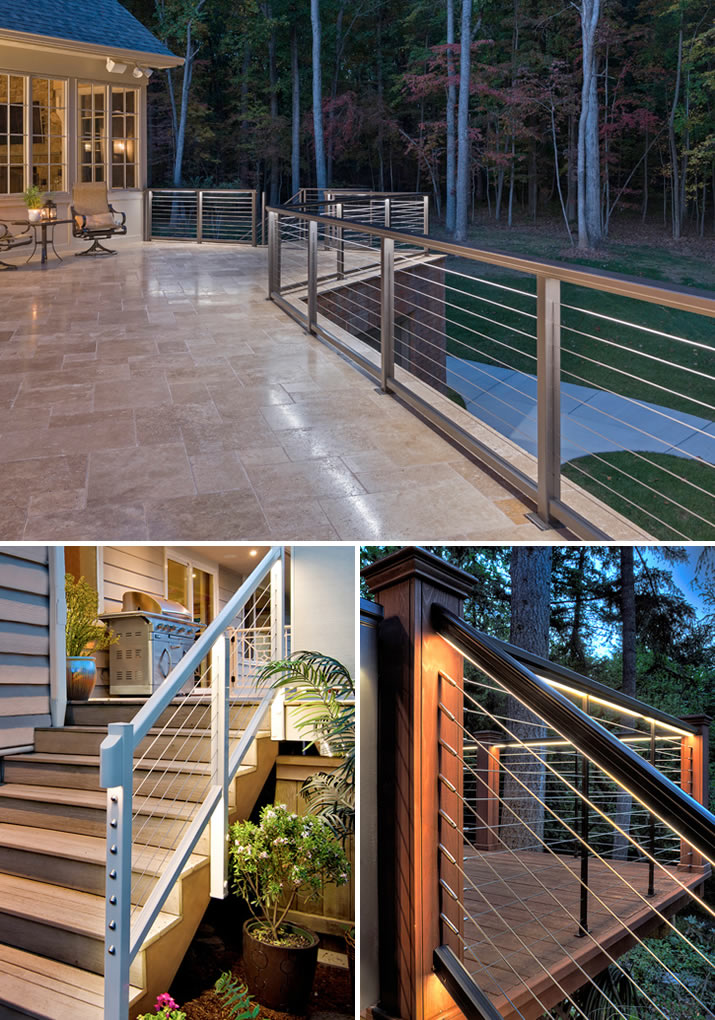 As we reported in our earlier blog post, The Rise of Outdoor Lighting, homeowners continue to place a high priority on renovating outdoor living spaces. Taking center stage in these renovations is outdoor lighting. The report says, "Outdoor lighting is the most common [system] upgrade, whether it is LED (28%), solar (23%) or other (17%)."
The emergence of LED lighting has been a game-changer in outdoor design. Unlike their conventional counterparts, LEDs do not have a filament that will burn out or break, and they have a significantly longer lifespan (50,000 hours or more, compared to 15,000 to 35,000 hours for conventional HID lighting ) – which make them extremely energy efficient.
Because LEDs are so durable and energy efficient, they've become the leader in outdoor lighting. They can be used anywhere on your property, from lighting walkways and steps to illuminating patios and outdoor living spaces. Here are a few ways high efficiency LEDs are playing a significant role in outdoor lighting design.
Lighting the Way – In outdoor landscaping design, lighting can be a visual cue for defining the entrance to a home. It can be as simple as additional walkway lighting to as multifaceted as using many options to create a dramatic illuminated pathway to the front door.
Marking the Perimeter – If you have a deck, LED rail lighting can offer a modest amount of light that can set the ambiance for an evening gathering while still marking the deck's perimeter. Also, LED rope lighting is often used to outline raised flower beds and water features.
Adding a Layer of Safety – Once the sun sets, outdoor areas can be a bit more dangerous to navigate; however, LED lighting as a design element will add a layer of safety to steps. Lighting is often added to hardscape stairs, or as seen below with the LED Post Accent Light . In this scenario, the accent light attaches to the post face to create a warm, white light.
Putting Functionality into Outdoor Kitchens – To add more functionality to outdoor kitchens, LED flexible strips are being integrated into outdoor bar and cooking areas. These strips position nicely under cabinets or along the underside of countertops and provide the perfect accent lighting, as well as make the outdoor kitchen much more functional after dark.
Accenting Landscaping Elements – One of the key benefits of using LEDs in landscape design is that they can be positioned to emit light in specific directions. Up-lighting under trees, for instance, creates interesting shadows, sometimes referred to the "Frankenstein Effect." Alternately, strategic positioning of up-lights allows them to illuminate an architectural detail of the home, or even a piece of outdoor artwork or sculpture.
As LEDs continue to extend their foothold into landscape design, so will technological advances – bringing with it creativity and inspiring ideas for all to enjoy.
Company: Feeney, Inc
Source: http://media.feeneyinc.com/blog/the-role-of-leds-in-outdoor-lighting-design
Tags: Energy | Exterior Design | Lighting | Safety
---
Offering Solar Control Solutions for Every Application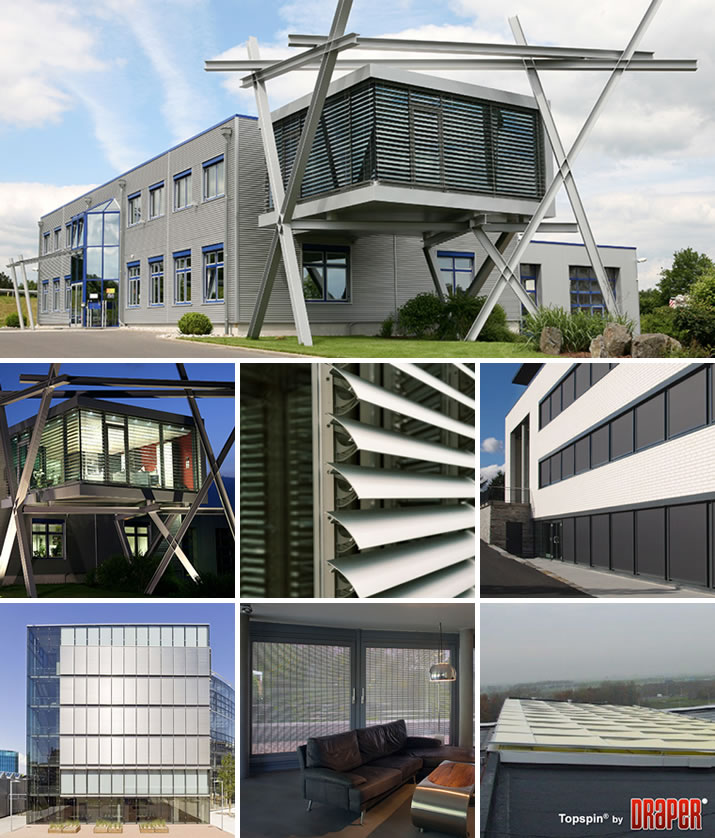 Solar Control Solutions provide precision control over the natural daylight entering the building, excellent energy savings and interesting façade design options. A wide range of custom products complements our traditional window coverings to meet all your needs for interior and exterior shading.
Exterior shading is the most efficient way to keep solar heat gain outside the building envelope. Draper can help develop a system that utilizes both interior and exterior shading to maximize efficiency and occupant comfort, and reduce energy consumption. Each custom solution we provide has specific benefits and features to enhance your overall building design and daylighting needs.
Draper's Solar Control Solutions allow you to control daylight and manage solar heat gain. Using an exterior shading system such as the Omega venetian blind can significantly reduce the heat gain entering the building, allowing the use of smaller more cost effective HVAC systems. Additionally, artificial lighting can account for more than 40% of a building's electrical load. Balancing daylight and artificial light through the use of the right shading system can lead to significant savings in energy consumption.
Source: http://www.draperinc.com/solarcontrolsolutions/
Tags: Design | Energy | Window Shades
May is Electrical Safety Month: Know How to Protect Workers from Electrical Hazards (May 20, 2016), Icynene Spray Foam: Water absorption comparison to other insulations (May 4, 2016), Understanding Home Energy Audits (January 27, 2016), Green architecture key to nationwide energy savings (January 18, 2016), BP Bright Lights (November 25, 2015), The Ins and Outs of Revolving Doors (November 9, 2015), Data Center HVAC Design Considerations (October 26, 2015)