architecture - engineering - construction

Fire Resistant
---
A fire in any building can be cause for alarm. Smoke and flames pose dangers to the people inside, while at the same time causing thousands of dollars to damage to the building itself in just minutes.
High rise buildings in particular have very special needs when it comes to smoke and fire control. Because smoke can travel through a building very quickly, it makes it more difficult for occupants of the upper floors to reach clean air safely.
That's why smoke control in high rise buildings is so important, and why simply having fire extinguishing equipment on site is not enough.
The Path of Smoke
During a fire, it's often the smoke that poses the most harm and does the most damage because of how quickly smoke travels and the path that it takes through a building.
Vents, stairways, and elevator shafts all channel smoke, allowing it to move throughout the building in just minutes.
In a high-rise building, occupants on upper floors can quickly become trapped by smoke and flames, particularly if the elevators and stairwells are filled with smoke. Often, occupants may attempt to find a path to the outdoors, only to be turned back as they descend lower into the building where the smoke is thicker.
Smoke control should be employed as well as fire extinguishing equipment to prevent smoke from moving through common escape routes like stairways. Simply controlling flames and keeping them to one area of the building is not enough to prevent loss of life or injury for occupants on upper floors.
Smoke Curtains for Communicating Stairs and Elevators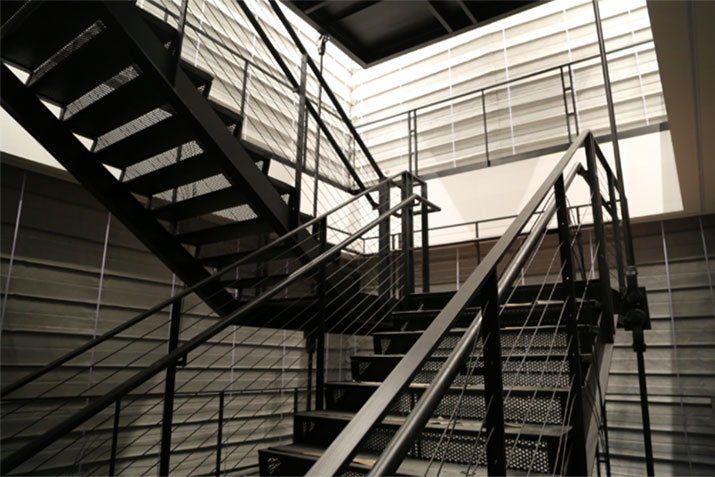 Communicating stairs and elevator shafts in high rise buildings can quickly become chimneys in the event of a fire, channeling and pulling the smoke from lower floors to the upper stories.
One way to combat this issue, and to keep stairways clear of smoke to allow occupants to descend safely is to employ the use of smoke and fire curtains in these areas.
Smoke curtains are discreetly installed at the head of an elevator or stairwell doorway. They deploy automatically in the event of a fire, or can be manually deployed in the event of an outage.
The curtain deploys to cover the opening, preventing smoke and flames from entering the area. This helps to contain the smoke and fire at its source and prevents the smoke from infiltrating the rest of the building.
When paired with fire extinguishing equipment, smoke curtains can help minimize damage to the building while helping to ensure that the exits from the building remain safe and accessible for occupants.
Smoke Control for Other Areas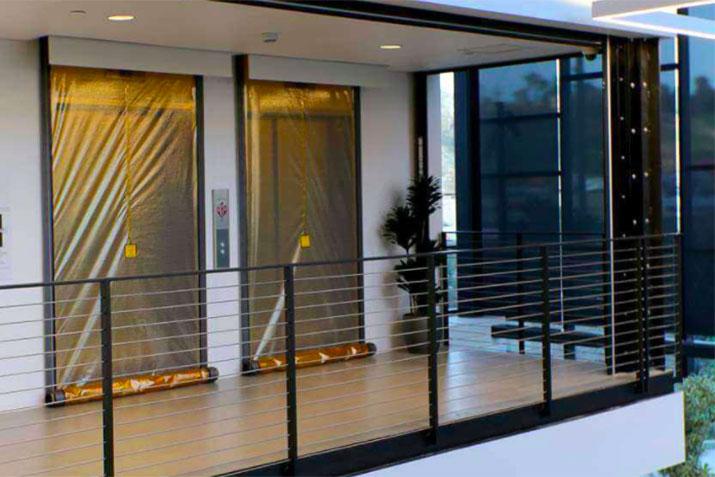 Not every high-rise building is going to have the same layout, format, or needs when it comes to fire and smoke control. While protecting the elevator shafts and stairwells should be one priority, your high-rise building may have additional needs to consider as well.
Many newer buildings often have atriums or open lobbies that extend upwards several stories before reaching a ceiling. A fire breaking out in the atrium or lobby could allow smoke to reach these upper stories and the rooms or offices that surround the open area very quickly.
A horizontal smoke curtain, designed to deploy across the open section of the lobby, could help prevent this from happening. The smoke curtain can also give fire extinguishing equipment time to work which minimizes damage and costs associated with rising smoke.
Smoke curtains can also be used to help divide open floor plans to contain smoke in newer office and apartment layouts that rely on a lack of physical barriers for style. By installing discreet smoke curtains at specific junctions throughout the space, you can help ensure that damage and loss of life is minimized no matter what use your particular building is put to.
Include Smoke Protection
Smoke is often responsible for more damage to a building than the flames themselves. And, smoke can linger and travel throughout a building even after the flames have been extinguished.
By utilizing smoke control methods such as smoke curtains in your high-rise building, you help to minimize costs associated with this damage, as well as the amount of time that the building may be out of use after a fire.
When making plans for flame and fire containment and extinguishment in your high-rise building, make sure that you also take steps to add smoke control as well.
Don't let the elevators and stairwells that are part of every high rise become chimneys that pull smoke to every floor of your building, and don't allow modern office and apartment layouts to make smoke and fire control difficult.
Instead, look to discreet and cost-effective smoke and fire curtains to help ensure the safety of your building and all of its occupants at all times.
Company: Smoke Guard, Inc.
Product: Model 600 Smoke Curtain
Source: http://smokeguard.com/blog/2017/december/01/smoke-control-in-high-rise-buildings
Tags: Architecture | Engineering | Fire Resistant | Safety
---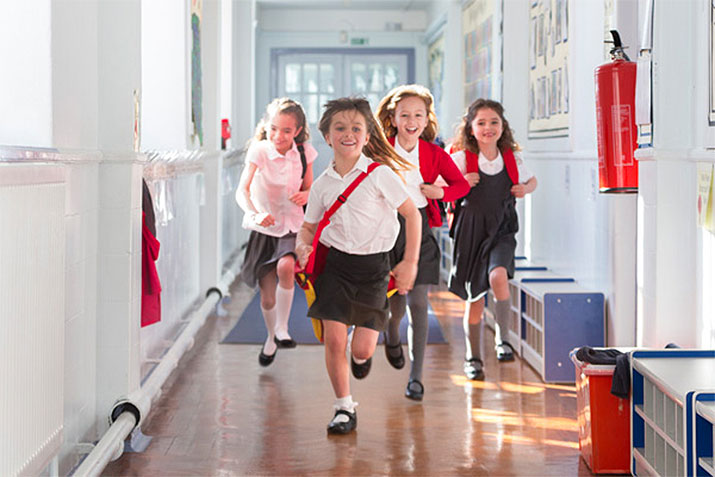 Fire retardant curtains, sometimes referred to as fire or smoke curtains, are curtains specially designed to keep building occupants safe from both heat and smoke during a fire. Fire retardant curtains are becoming increasingly popular as a passive means of fire safety. While many commercial buildings already utilize fire curtains, a growing number of schools now have these curtains installed for student and staff protection.
Choosing Fire Retardant Curtains
These curtains are made from a special type of fiberglass material and can withstand intense heat and block smoke from entering a protected room, elevator, or portion of the building. They are quite flexible, despite being very thick, which makes the curtains ideal for a number of different applications.
You can easily choose from a variety of different grades of curtains, depending on how much protection is needed or whether smoke or fire (or both) protection are required.
Being able to integrate fire retardant curtains into a school's fire or smoke alarm system is a huge advantage. Curtains deploy as soon as smoke sensors are triggered, enabling immediate protection of students and staff, without the chance of human error for releasing the curtains in a time manually.
In the event of an emergency situation where power is lost, curtains will still fall thanks to backup battery power.
Aside from giving schools additional protection in the event of an emergency, these fire or smoke curtains are some of the most effective means of compartmentalizing an open space.
Schools are often designed with large, open areas like cafeterias and gymnasiums, which makes creating a protected space difficult. The use of fire curtains means schools can easily create a safe boundary within a large, open room such as a cafeteria that will guide occupants safely out of the building without exposure to fire, smoke, or heat.
Though fire curtains can be placed in a number of different ways, there are a few areas within a school that are perfect candidates for durable fire retardant curtains.
Atrium Separation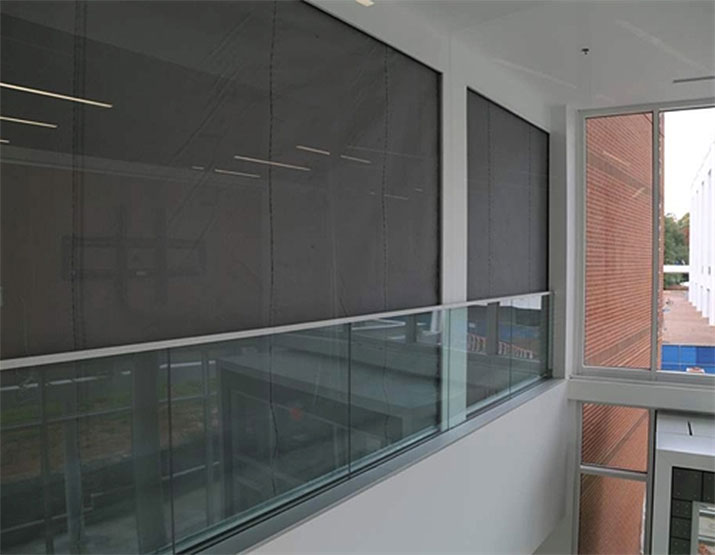 A school's atrium often serves as an open lobby of sorts, a place where visitors, students, and staff enter and exit throughout the day. Some school's atriums also serve as a hangout spot for students during breaks and lunch.
The overall openness of an atrium, especially if it is a multi-story building, makes it an ideal spot for a fire retardant curtain system. The atrium may be completely blocked from the rest of the building or a separate curtained room may be designed, depending on the structure of the atrium.
Elevator Protection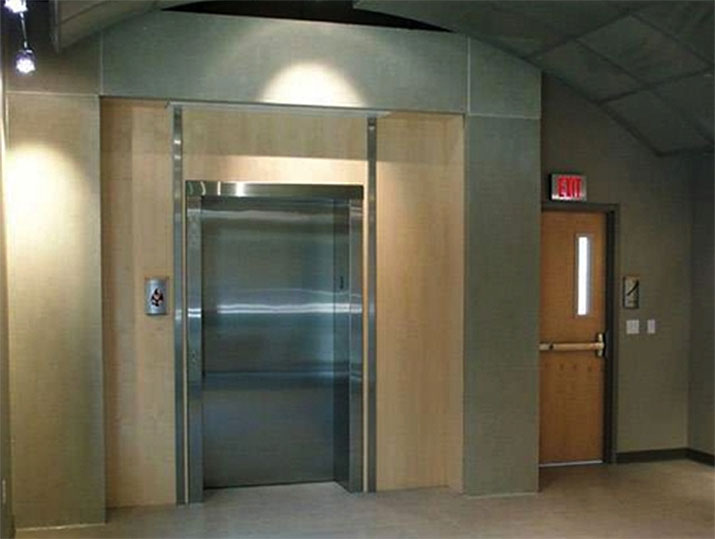 Elevators are an element of danger in an emergency situation, especially where fire and smoke are involved. An elevator shaft essentially acts as a chimney in the event of a fire, quickly moving smoke upwards throughout the building. The traditional means of elevator fire protection is the addition of a self-contained fire-rated box that surrounds the elevator, in its own enclosed elevator lobby.
International Building Code (IBC) requires architects to isolate each floor from the elevator shaft, but the typical method isn't ideal.
Smoke-rated curtains with a magnetic gasket can be used instead, to stop smoke from seeping through elevator doors, while still being compliant with IBC. This kind of curtain eliminates the need to alter the building design and saves building owners an incredible amount of space for their floor plan.
The curtains do a better job of containing smoke too. Rather than containing the smoke within a couple hundred square feet, the rolling magnetic gasketing system contains the smoke right in front of the elevator door opening.
Stair Enclosures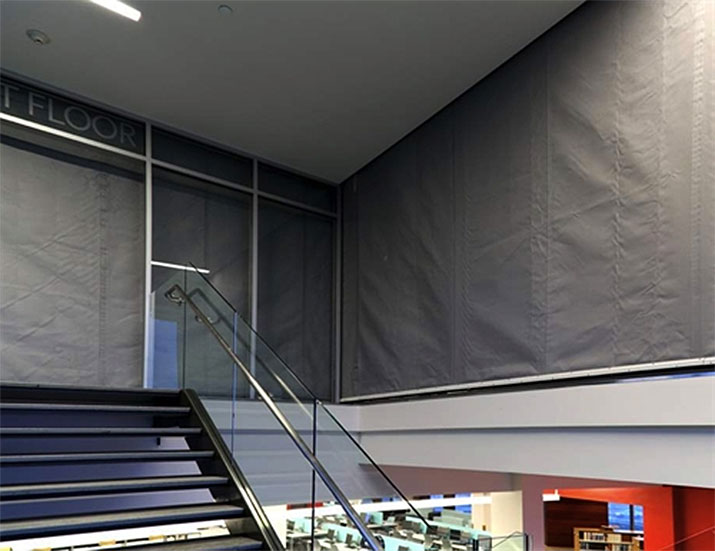 Similar to the chimney effect of elevator shafts, stair enclosures can also funnel smoke up and throughout the school.
Being able to block off stairs helps control smoke and limits exposure to those within the building on every level. These curtains can easily be hidden when not in use, which helps to maintain the aesthetic value of the building design.
Although fire protection throughout a school is mandatory, these three areas are particularly excellent choices for fire retardant curtains as they are high-risk zones, due to either high foot traffic or because of the previously mentioned chimney effect with smoke.
Fire retardant curtains are highly versatile and far easier to work with than constructing fire-rated boxes or other invasive and unattractive means of fire and smoke containment. They are an invaluable option for schools due to their easy installation. The school will have less downtime while curtains are being placed and expensive remodels aren't a concern.
Compared to the costs of a serious remodel for fire-rated boxes, fire curtains are far more affordable. Even if a school already has taken steps to contain fire and smoke, these curtains will work perfectly with whatever other system may be in place, only adding further protection from heat and smoke.
Considering cost, practicality, and overall effectiveness in both school occupant protection as well as fire and smoke control, fire retardant curtains can be an ideal solution for any school's fire safety program.
Company: Smoke Guard, Inc.
Product: Model 4000 Smoke Curtain
Source: http://smokeguard.com/blog/2017/july/31/the-benefits-of-fire-retardant-curtains-in-schools
Tags: Fire Resistant | Safety
---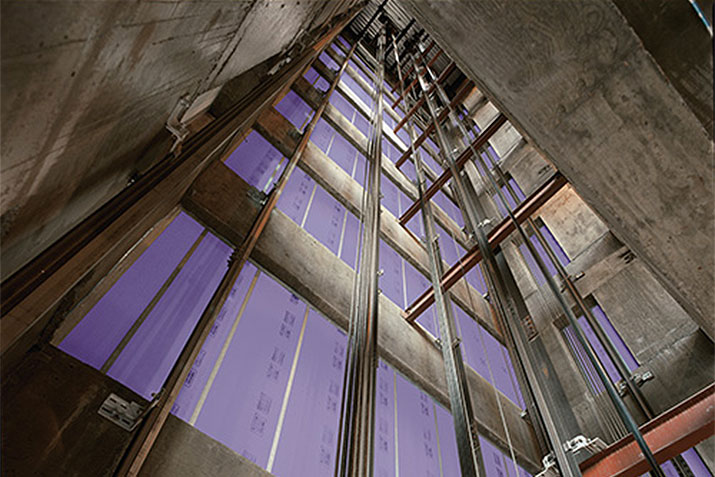 With the continued popularity of high-rise corporate headquarters, institutional buildings and high-density housing, the gypsum shaftwall system, known as the Cavity Shaftwall System, provides economic benefits – and also peace of mind due to its fire-resistant qualities. Originally designed for the 110-story World Trade Center in 1973, the Cavity Shaftwall System replaced heavier, more expensive masonry walls. This shaftwall system utilizes gypsum board framed with metal studs and tracks to enclose elevator shafts, stairwells and service shafts. These shaftwalls withstand the positive and negative air pressure forces exerted by high-speed elevators. Cavity Shaftwall Systems are also ideal for fire-rated, interior partitions where access is restricted to one side and as fire-rated, horizontal membranes.
Advantages Of The Cavity Shaftwall System
Cavity Shaftwall Systems provide many benefits. They are lightweight, easy to install, weather-, sound- and fire-resistant and more economical than masonry shaft construction. Four to five times lighter than traditional masonry enclosures, gypsum shaftwalls weigh approximately 10 pounds per square foot of wall compared to 40 or 50 pounds per square foot for a masonry wall. Buildings utilizing this shaftwall system require less structural steel and extensive underground support pilings. In addition, the core of the gypsum panels in the Cavity Shaftwall System contains about 21 percent water by weight, creating a fire barrier with 1- to 4-hour fire-ratings from either side. When gypsum board is exposed to fire, the water turns to steam and slows the passage of heat through the assembly, keeping the building safe for a longer period of time.
Installations
Typical installations use 1-inch thick gypsum shaftliner panels inside a minimum 2-1/2-inch metal framing system with an integral space to hold the panels in place on the shaft side. Metal J-tracks are placed horizontally at the top and bottom and vertically at partition ends. They also frame openings. Depending on the fire-rating you are trying to achieve, install one to five layers of 5/8-inch fire-rated gypsum board to the outside of the stud, creating a corridor side of the enclosure.
To construct lightweight fire barriers for cavity shaftwalls (1-4 hr.), we recommend Gold Bond® BRAND eXP® Shaftliner. It is an approved component in specific UL fire-rated designs, including G586 (horizontal, 2-hr.) and W419 (vertical, 1-4-hr.).
Questions About The IBC 2009 Code Updates For Buildings?
If you are designing a building of occupancy category III or IV with occupied floors over 75 feet tall and all buildings over 420 feet tall IBC Section 403.2.3 require increased impact resistance for exit stairways and elevator hoistway enclosures. If you have questions, contact your construction design manager for clarification and for assistance with the best and most affordable options for your project.
Company: National Gypsum
Of: Scott Hughes and Thad Goodman
Source: http://designcenter.nationalgypsum.com/on-board-newsletter/display/08-2017
Tags: Fire Resistant | Safety | Wall Panels