architecture - engineering - construction

2017 February
---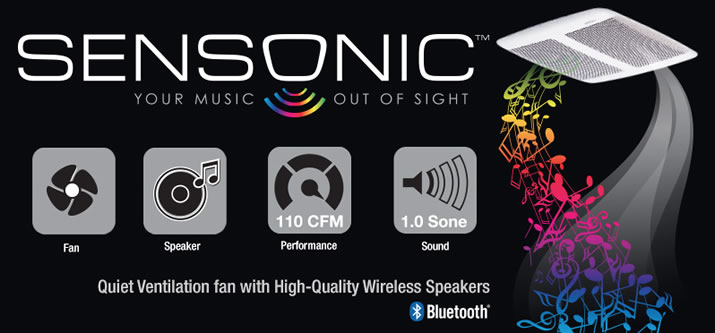 It's your music-out of sight. Unlike wireless speakers that require counter space, Sensonic™ speakers with Bluetooth® wireless technology fill your room with rich sound from above. From hard rock to news talk, play any audio through the dual high-fidelity speakers and enjoy entertainment and privacy at the touch of a button.
Enjoy entertainment and privacy at the touch of a button
Dual High-Fidelity Sensonic™ Speakers
Bluetooth® wireless technology
Brilliant audio performance concealed behind your fan grille
Play any audio through most Bluetooth®-enabled devices
Quiet, powerful QT ventilation fan
Effective, extremely quiet ventilation clears humidity and odors quickly
ENERGY STAR® qualified
Motor engineered for continuous operation
UL Listed for use over bathtub or shower when installed with a GFCI protected branch circuit
Type IC for use in direct contact with thermal insulation
Fits 2"x 8" ceiling construction
Includes unique spacer for easy I-joist mounting
Mounts between joists with optional QTHB1 Hanger Bar Kit (sold separately)
Features + Benefits | Videos | Models + Specs
Company: Broan-NuTone LLC
Source: http://www.broan.com/sensonic
Tags: Audio Visual | Design | HVAC
---
Seaside and coastal areas are beautiful locations for commercial and residential buildings, but also pose the greatest challenges in protecting exterior-facing architectural aluminum products from corrosion. Without proper precautions and finishes, corrosion to these aluminum components can damage the building envelope's structural integrity, leading to systemic failure.
One of the most aggressive outdoor environments for aluminum is the seacoast. Of the seacoasts, Florida's coastal regions represent the most corrosive in the continental United States, with Cape Canaveral cited as the most corrosive atmospheric environment.
Corrosion rates vary from place to place and during different times at the same location. Such wide variability makes definitive conclusions difficult.
The primary variables affecting corrosion rates near the coast are the salt content in the air, the time of wetness of the metal surface, the temperature and the level of other atmospheric pollutants. Several environmental factors control these variables, including distance to the ocean, elevation, wind direction, wave action, rainfall, humidity, the degree of shelter and the level of industrial air pollution.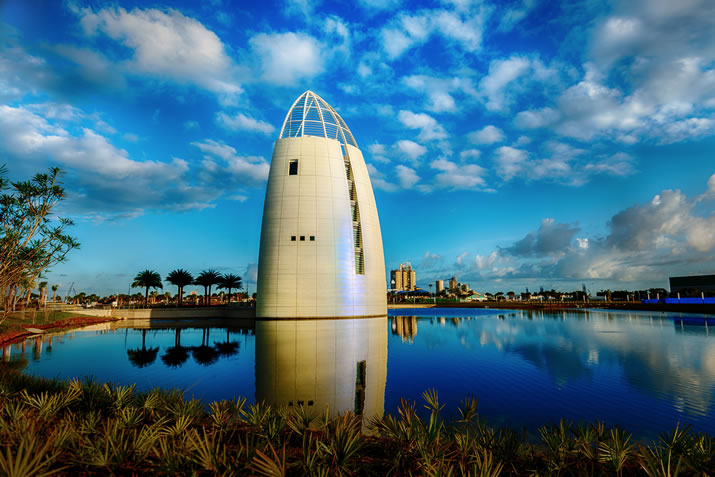 Exploration Tower at Port Canaveral (courtesy of Valspar. Photo by Rip Noel, Noel Studios Inc.)
Durable Finishes
Painted coatings and anodized finishes are among the most durable finishes for exterior-facing architectural aluminum products.
As a prominent part of the building's exterior, the coated aluminum adds color and design to the project. This coating also protects the building from unsympathetic surroundings. When selecting a coating to withstand harsh corrosive environments, one should specify either:
the highest-performing organic paint coating that meets AAMA 2605-13, Voluntary Specification, Performance Requirements and Test Procedures for Superior Performing Organic Coatings on Aluminum Extrusions and Panels; or
a Class I anodize coating that meets AAMA 611-14, Voluntary Specification for Anodized Architectural Aluminum.
These two options continue to set the highest standard for architectural coatings, especially in a coastal or highly corrosive environment.
Paint
High-performance 70 percent PVDF coatings offer the capability to select nearly any conceivable color or combination of colors, while shielding the building against weathering, pollution and aging.
The carbon-fluorine bond used in 70 percent PVDF coating is one of the strongest kn own. These paint coatings can withstand enduring and intense UV radiation, which supports their long-term color- and gloss-retention, and chalk-resistance.
The first, and one of the most important, defenses against a paint failure is proper pretreatment of the aluminum. Without proper pretreatment, premature failure of the finish is almost guaranteed. Paint systems are designed to be applied over clean metal that has been properly pretreated.
Pretreatment of the aluminum building components to be used in severely corrosive or coastal environments is crucial.
The most time-tested, proven pretreatment system for architectural aluminum products is a chrome phosphate conversion coating. This process conforms to Type B, Method 5 of ASTM D1730-09 (Reapproved 2014), Standard Practices for Preparation of Aluminum and Aluminum-Alloy Surfaces for Painting, as required by AAMA 2605-13.
Offering the longest lifecycle and true sustainability, chrome phosphate conversion coatings continue to be recognized by the world-class coating manufacturers, Akzo-Nobel, PPG, and Valspar, as the most effective, robust pretreatments for aluminum. As a result, products installed along the seacoast and in other harsh industrial environments may not be warranted-or the warranty length and coverage could be compromised-when a chrome pretreatment system is not employed.
These highest-performing 70 percent PVDF are required to perform to rigorous testing performance standards, including more than 4,000 hours of salt spray, and heat- and humidity-resistance to meet the AAMA 2605-13 specification.
Special Considerations
The shape and machining of the architectural aluminum products also may facilitate or deter corrosion. As examples:
Machined holes and cut ends of factory-finished aluminum components are protected by thin, naturally forming aluminum oxide. This oxide, while tenacious in its bond to the underlying aluminum substrate, may be susceptible to attack from strong cleaners or heavy salt deposits.
Hems and seams on aluminum components may be formed in a way that will collect sand. With movement, over time, this sand can erode away the painted coating or anodized finish.
Components may be shaped with areas that are left holding pooling or ponding water. This often can become a major issue for corrosion.
Specific to curtainwall and window systems' aluminum framing, ensure the weeps are large enough to avoid becoming plugged by salt deposits.
Anodize
When extreme hardness is required for the aluminum building components, such as in high-traffic areas like entranceways and railings, an anodized aluminum finish should be specified to meet AAMA 611-14. The hardness of anodized aluminum rivals that of the diamond. (On the Moh scale of hardness, a diamond is 10 and anodized aluminum is 9.)
Architectural anodize is specified for its natural beauty, but also for its long life and low maintenance. It provides excellent wear and abrasion resistance with minimal maintenance in most environments. It resists the ravages of time, temperature, corrosion, humidity and warping.
Anodized aluminum should meet the strict guidelines of Class I specifications of AAMA 611-14, including a minimum oxide coating thickness of 0.018 mm (0.7 mil); minimum of 10 years color retention on the South Florida on-fence testing site; and 3,000 hours corrosion resistance.
Cleaning and Maintenance
Studies have shown increasing levels of atmospheric pollution can have a negative effect on finish longevity in the absence of periodic maintenance. Runoff from adjacent site materials must be considered in a corrosion prevention plan. For example, mortar, cement and even gypsum dust can accumulate as alkaline deposits on aluminum surfaces and must be promptly rinsed. This is especially true of mill finish or anodized surfaces. While somewhat more resistant to alkaline attack than anodized surfaces, high-performance paint finishes can be managed by rough attempts to remove such buildup.
AAMA 609 and 610-15, Cleaning and Maintenance Guide for Architecturally Finished Aluminum, and AAMA CW 10-15, Care and Handling of Architectural Aluminum from Shop to Site, are general guides for these precautions and cleaning activities.
Corrosion of architectural aluminum materials is a fact that must be recognized; proper steps must be taken to minimize the potential for its occurrence. With these building considerations and preventive measures in place, finished architectural aluminum retains its intended look and long life, while providing the desired performance in the harshest environments, including the highly-corrosive seacoast. These qualities reduce the need to replace materials and components, conserve resources, optimize labor and save money.
Company: Linetec
Product: Anodizing
Source: http://www.linetec.com/Finishing_Facts/The-right-finish-for-coastal-projects.pdf
Tags: Aluminum | Building | Coating | Color | Design | Sustainability
---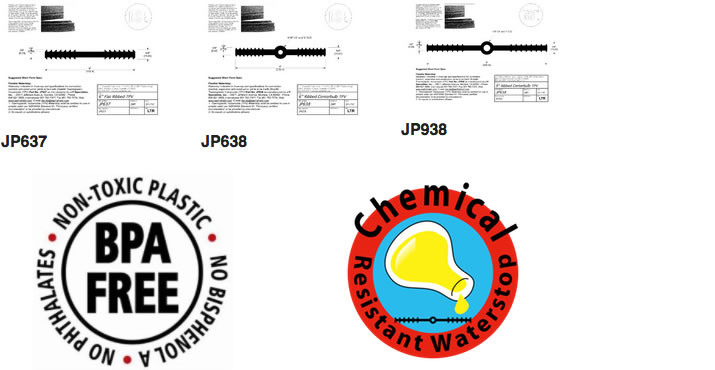 Earth Shield Waterstop is proud to announce three new waterstop profiles designed especially for environmental engineered concrete structures, such as waste and water treatment plants. All three profiles are ⅜" thick and have many interlocking ribs to grab into freshly poured concrete. Highlights of the new profiles include:
The new profiles can be downloaded in our CAD Library located here.
Company: JP Specialties, Inc.
Product: Earth Shield® TPV (thermoplastic vulcanizate) Waterstop
Source: http://us1.campaign-archive1.com/?u=d5aa96521259bc7506dadcfb4&id=0274b47a69
---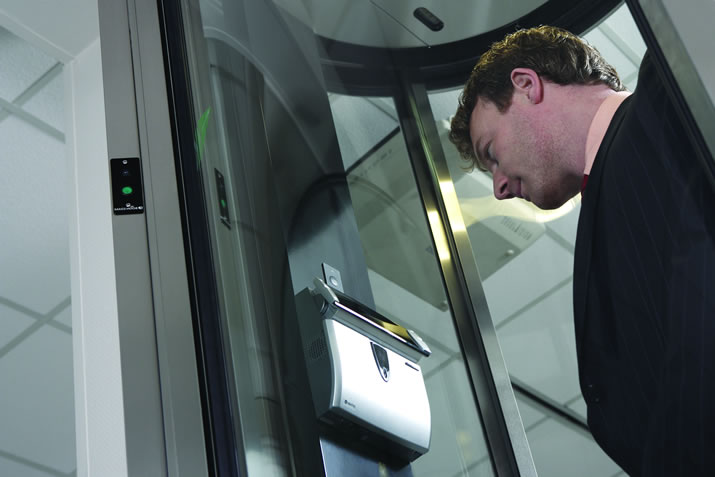 According to a study completed by the FBI, in 2014 and 2015 alone, there were 231 casualties as a result of mass shootings. Let's examine 4 enhancements you can make to security revolving doors or mantrap portals to thwart an active shooter's attempt at gaining access to your building, or worse, doing physical harm to people.
1) Anti-Piggybacking Technology
An active shooter with an agenda will be determined to infiltrate your building. He sees an innocent employee approaching the security revolving door or portal. His first thought? Hold them at gunpoint and force them, and himself, through the entrance.
This scenario describes a "piggybacking" event. When it comes to security revolving doors, the term "piggybacking" refers to an attempt to gain access to a secured area by jumping into the same compartment as an authorized user. For portals, piggybacking involves two users attempting to enter the door at the same time.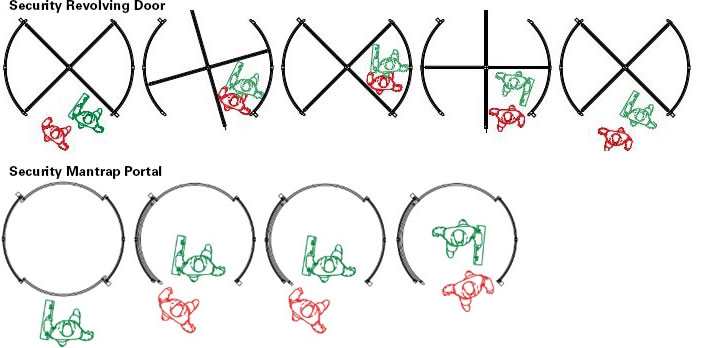 StereoVision 2 is a sophisticated technology from Boon Edam that puts a stop to piggybacking attempts. Using a combination of an optical camera and active, near-infrared sensors, StereoVision 2 technology can recognize shapes, sizes and volume in three dimensions. Simply put, the system is looking into the door's compartment and searching for a set of head and shoulders, as well as body shape. Based on a sampling algorithm, unusual shapes are rejected and the culprit(s) are required to exit the door.
2) Biometric Devices
But what if the active shooter doesn't stop there? If the shooter were to steal an employee's access card and attempt to proceed through the door - alone - he could gain access UNLESS you utilize one or more biometric devices.
Biometric devices identify unique physiological characteristics, such as fingerprints, hand geometry, facial features, and iris patterns. They also comply with two-factor authentication (2FA) regulations. These devices alone will not stop an active shooter from gaining access to a building, though (think about a swinging door opened by a registered user, and then held open for numerous people to pass through). But, when coupled with an anti-piggybacking technology, biometric devices provide a solid defense against unauthorized entry.
Security revolving doors can be equipped with an external biometric post placed immediately outside of the door, or as one of many leading up to the door. Security mantrap portals are available with an interior post, ideal for mounting the latest biometric technology directly inside the door. Both options provide a layered method of access and meet 2FA compliance. Keep in mind, though, that your throughput will be impacted by the type of biometric device you choose to incorporate.
3) Bullet-Resistant Glass
The common denominator between all mass shootings is a weapon. And it comes as no surprise that most active shooters choose the light, inexpensive and easy to conceal 9mm semiautomatic handgun to carry out their schemes, according to data compiled by The Washington Post. Bullet-resistant glass can safeguard the integrity of your door up to a certain point, and possibly save lives.
Bullet-resistant (BR) glass is the layer of armor your security door needs for protection against an active shooter attack. BR glass is made from layers of polycarbonate (tough plastic) sandwiched between pieces of toughened glass. And not all BR glass is created equal; there are different BR-rated protection levels.
Security revolving doors and mantrap portals can be outfitted in BR glass with protection Level 3. As mentioned, the weapon most commonly used by an active shooter is a 9mm handgun. According to Total Security Solutions, BR glass with a Level 3 rating is capable of stopping three .44 magnum bullets, or a bullet that is twice as heavy and moves significantly faster than the bullet of a 9mm handgun.
Level 3 BR glass is 1.04" thick, over 4 times the thickness of standard security door glass. The glass can be used on the outer drum glass and also, the moving door wings or panels. It's important to note that using thicker glass on moving door wings or panels will slow the movement significantly due to the extra weight and impact throughput levels.
4) Bullet-Resistant Curtain Wall or Storefront
Active shooter safety extends beyond your security door to include the adjacent walls or storefront area. To be prepared for a direct attack, and especially if people are constantly present on the inside of the storefront, you should consider replacing your curtain wall or storefront with BR glass.
Because they are flat and stationary, curtain walls and storefronts can accommodate a much higher level of BR glass than a security door (which has curved glass or moving glass in the door wings). BR glass for the curtain wall or storefront is available in up to a Level 8 rating which, according to Total Security Solutions, is capable of stopping 5 shots from a .308 caliber 7.62mm rifle.
Unfortunately, active shooter incidents are occurring at company locations across the nation, and the globe. The impact of such an event can be catastrophic to an organization if lives are lost. If you believe your organization could be at risk, these 4 enhancements for your security revolving door or mantrap portal can thwart an active shooter's attempt at infiltrating your building and wreaking havoc.
Company: Boon Edam Inc.
Product: Security Doors & Portals
Of: Amy Coulter
Source: http://blog.boonedam.us/active-shooter-safety-4-things-your-high-security-entrances-must-have
---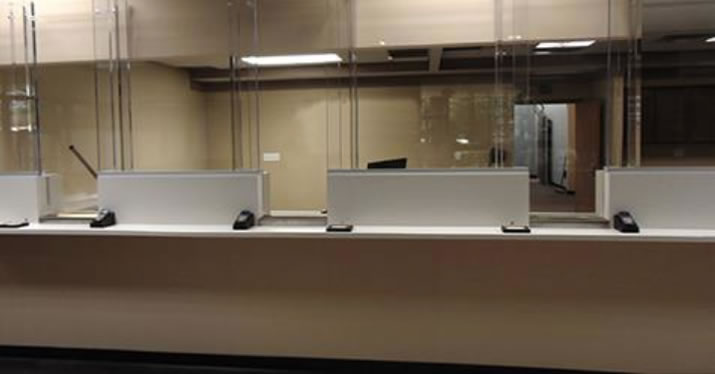 Because most banks have similar needs—a secured teller line with bullet resistant windows, secured ballistic doors, and bulletproof fiberglass to reinforce counters—many security companies try and push a one-size-fits-all solution.
With decades of experience designing, engineering, fabricating, and installing custom bandit barriers in banks and credit unions, Total Security Solutions knows how rarely this turns out well.
Bullet Proof Barriers Attuned to the Banker's Needs
"Banks can be pretty ornate, so were used to having to adjust what we do to match a given location." Total Security Solutions CEO Jim Richards explains, "That's our speciality, that sort of customization. Even when we're doing many locations for the same chain, in different parts of the country each office looks a little bit different. It's like housing, in that it has this regional component. So we don't try to come up with a single one-size solution we can just keep punching out."
Total Security Solutions isn't limited to just shuffling around pre-fabricated pieces. They can customize down to the individual component level: curved ballistic transparency, special communication and ventilation solutions, all-glass and completely custom high-security doors, and so on.
In contrast to many security companies—especially local glazers—Total Security Solutions is sensitive to how important relationships are in banking. Jim puts special emphasis on clear sight lines and communication in such settings. Gina Mims, a facilities manager, recently coordinated with Total Security Solutions to secure several offices for the Health Plan of San Joaquin: "I love the fact that … it doesn't look like the old school [barrier] with that metal plate [and talk hole]. It all looks very nice. Our buildings, both of them, are very modern, so I wanted to make sure that they stayed along those lines."
ATMs: An Evolving Security Challenge
ATMs pose obvious risks to customers, both in terms of their physical safety and fraud exposure. They are also proving to be a significant and unpredictable liability to financial institutions. For example, within the last several years European banks have been increasingly plagued by teams of thieves who attack ATMs in the night, flood the machines with a mixture of oxygen and acetylene (gases usually used to fuel welding torches), and then ignite the volatile mixture, blowing the machines open. These attacks don't just result in significant monetary losses (both in damage to the unit and building, as well as money stolen)—they're also incredibly dangerous, as you can see here (the ATM is at the far right edge of the frame, in a mostly blue enclosure with a red top half):
This could easily result in injuries not just to the thieves, but also to passersby, staff, and even people in adjacent buildings. Although there have been no reported ATM "gas bombings" in the United States as of yet, the US currently leads the world in losses resulting from insecure ATM locations.
According to Jim Richards, "There are a lot of different ways that ATMs are deployed, but we have yet to see one we couldn't secure." In many cases Total Security Solutions favors a design similar to their bulletproof vestibule system used in schools, replacing the outer glass and doors of the ATM vestibule with bullet-resistant transparency and framing, and securing access to the ATM with a ballistic door outfitted with a card swipe-actuated computer-controlled electric strike. "Customers swipe their ATM card to gain access, and then the door latches behind them–just like any other security door. These are really easy retrofits for situations where the ATM is installed in the bank vestibule or outer lobby, but the same idea works with exterior-wall ATMs: You build a bulletproof glass curtain wall around an exterior wall-mounted ATM, with the same sort of card-swipe entry system. What's key is that this solves both the skimmer/fraud/vandalism problem, as well as protecting customers."
Painless Bandit Barrier Installation
Most importantly, owing to their decades of experience, Total Security Solutions has optimized their prep, design, fabrication, and installation processes. "It can be two teller stations or 15; we're able to move on the project as quickly as the operations or facilities manager are ready."
Bullet resistant barrier system installations are designed to absolutely minimize any business interruptions. Most installations can be completed overnight, with even the most challenging retrofits installed in under a weekend.
"I just returned from see[ing] the install and boy what nice work!" Holly Eades, vice-president of finance for Clark Energy wrote after having several payment offices secured by TSS. "They were here when they said they were going to be, … showed up when they were supposed to, and everything was just as neat as a pin. We were really, really tickled with their work."
Company: Total Security Solutions Inc
Product: Bullet Resistant Barriers
Source: http://www.tssbulletproof.com/high-function-custom-bullet-resistant-solutions-banks/
Tags: Glass | Safety | Security | Windows
---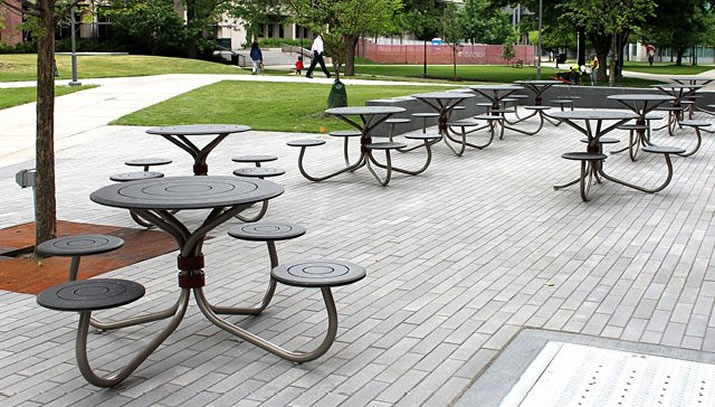 Photo credit: Maglin Site Furniture
From the first formal lectures held in medieval universities, to the online mobile classrooms of today, learning spaces are always growing to meet the needs of society; a study lounge can be a classroom; a cafeteria can become a library. Students can work from almost any location, on or off campus. Educational facilities strive to keep students engaged with their campus, and are embracing the notion of flexible learning environments. Single purpose spaces are becoming obsolete, and many facilities have moved closer to building comfortable and versatile environments that foster collaboration for their students.
An example of a school that has taken student requirements to heart is the University of Chicago. "They recognized the need to redesign their learning environments to meet the needs of today's students by creating learning spaces outside the walls of the lecture hall, library cubicles, and classrooms."i The flexible and customizable products that Maglin Site Furniture provides have played a part in helping the University reach this goal. "We needed specially designed cluster seating for a project, and I just wasn't finding what I wanted in the market, so I called (Maglin Sales Manager) Jill Roberts and we began working on the design," said Richard Bumstead, Associate Director for Campus Environment at the University of Chicago. "The final product ended up being a home run! It's fun, innovative, and works so well in the location."
Maglin provided custom versions of their MLPT1100B-W cluster seating to "jazz up" a prominent location in the heart of the University of Chicago campus. "We did a twist on the standard model and literally twisted the frame and used HDPC (high density paper composite) to create circular table tops and seats," explains Jill Roberts. ADA compliance was also required, so a matching 3-seat cluster unit was created. When asked why he wanted to work with Maglin on this project, Bumstead said, "The Maglin team is great fun to work with — the entire group is engaged in the work they do and more than willing to take a look at all requests for special orders or customization of products."
"The Maglin team is great fun to work with"
With regard to working on school campuses, Roberts stated, "Maglin loves to be involved in education projects! They give us the opportunity to assist in the creation of spaces and overall environments. Campuses have changed over time. Students and learning facilities don't just demand seating and trash collection anymore — they look for innovative spaces that promote collaboration, engagement, and community."
In order to keep up in today's mobile world, learning spaces must be able to adapt quickly and easily. The flexibility of Maglin Site Furniture's products, as well as their readiness to take on special projects, makes Maglin the right partner for your education plans.
Company: Maglin Site Furniture
Product: Tables and Seating
Of: Article originally written for and distributed by Maglin Site Furniture
Source: https://www.linkedin.com/pulse/evolution-educational-landscape-camilla-hansen
Tags: Exterior Design | Furniture | Landscape Design
---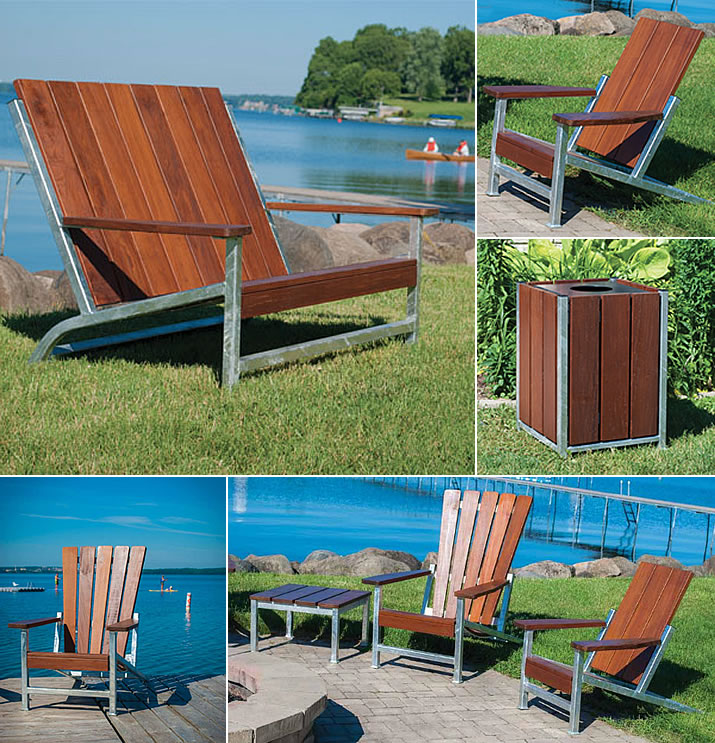 The Monona bench is perfect for any relaxed outdoor space. It features top-notch materials and has a fully welded steel tubular frame. The Monona™ bench seating materials features Accoya, Ipe Wood, and Recycled Plastic profiles. The Steel frame can be finished with powder coat paint or hot dip galvanize.
The new Monona chair is perfect for any relaxed outdoor space. It features top-notch materials and has a fully welded steel tubular frame. The Monona™ chair seating materials features Accoya, Ipe Wood, and Recycled Plastic profiles. The Steel frame can be finished with powder coat paint or hot dip galvanize.
The Monona youth chair is perfect for any relaxed outdoor space. It features top-notch materials and has a fully welded steel tubular frame. The Monona™ youth chair seating materials features Accoya, Ipe Wood, and Recycled Plastic profiles. The Steel frame can be finished with powder coat paint or hot dip galvanize.
The Monona™ litter receptacles are durable with a fresh clean design. Relax and let Monona™ receptacles do your dirty work. Monona receptacles are constructed with the following materials; 1 X 6" wood profiles and a steel plate all welded frame.
Architects/Engineers
Whether your area of expertise is residential, commercial, industrial, or landscape architecture or engineering, Thomas Steele products offer you creative, innovative, site furnishing solutions to meet your clients' needs. Our six different family styles are the perfect complement to any setting. We can help you provide the best possible combinations to suit your and your clients' requirements. Spending a few minutes on our web site can save you hours of research. Cut your specification time while getting site amenities that set the standard for craftsmanship, durability, and aesthetics. Partner with Thomas Steele for site furnishings that reflect your vision.
Company: Thomas Steele
Product: Monona Series
Source: http://www.thomas-steele.com/
Tags: Exterior Design | Furniture | Landscape Design
---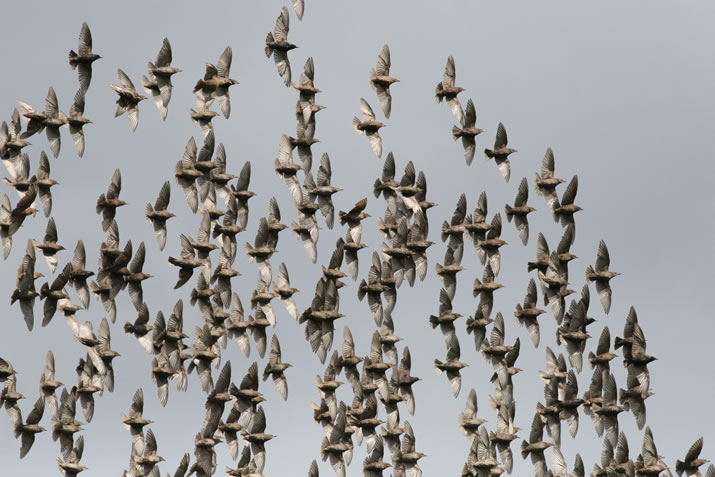 Birds cause millions of dollars in damage to homes across the U.S. each year. Because of the acidity levels in bird droppings, large accumulations of them can actually eat through roofing materials, which could cause leaks if bird populations are not deterred from the property. Bird nests can ruin gutters, cause electrical fires, and block ventilation systems. Gardens aren't safe either. Birds can destroy young seedlings and fresh fruit, and contaminate food plants with their droppings.
There are a variety of effective ways to control the bird populations around a home and garden. At Bird B Gone, we've developed a variety of environmentally friendly bird deterrents that will not harm birds or other wildlife, yet will effectively deter them in most cases.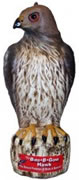 One of the most popular methods of bird deterrents are decoys such as the Bird-B-Gone Hawk Decoy, designed to scare off birds without the use of loud noises, lights, or other such equipment. Decoys such as the Hawk are low-maintenance options for bird control and usually made of a durable plastic that holds up to a variety of environmental factors. Decoys are commonly created in the shape of a hawk or an owl, predators that hunt the birds visiting a property.
By strategically placing these decoys on a roof, over the patio, on a boat, or in a garden, birds are unable to tell that the decoy is not a live bird—at least for a while. In sunlight, the decoy produces a silhouette or shadow that is equally menacing, but the success of decoy birds relies on human interaction. Moving the decoy to different places on the property is suggested to create a more realistic visual deterrent.
Which Decoy is Most Effective, The Hawk or The Owl?
Owls: The Night Hunters
Birds know that owls are night hunters, so seeing an owl while the sun is shining may not be an effective way to discourage birds from visiting your property. An owl guarding a garden or perched on a wall day by day will eventually lose its effectiveness, and, while birds may have been deterred in the beginning, they will soon learn this owl is not a real threat. With that being said the Red Tailed Hawk may be the more effective visual deterrent.
The Red Tailed Hawk: The Day Predators
The Bird B Gone Red Tailed Hawk decoy is chosen by consumers as the more realistic option for a decoy to use as a visual bird deterrent. Not only do the red-tailed hawks hunt in the daylight hours in a natural habitat, they are readily identified by birds as a predator. The mock predator eye and shiny reflective surface work together appealing to birds' visual sense. The red-tailed hawk decoy presents a visual warning to the birds, day or night, that danger is near.
While decoys can be effective for small areas or minimal bird concentrations, they are not recommended for larger infestations. The type of bird population, the amount of space affected, and the location of the infestation should also be considered. A combination of bird control methods may be required, including bird netting, repellents, electric tracks or laser deterrents.
For additional information, contact the professionals at Bird B Gone, who can recommend the right type of product to address your bird control problem.
Company: Bird-B-Gone, Inc.
Source: https://www.birdbgone.com/blog/bird-decoys-hawk-vs-owl/
---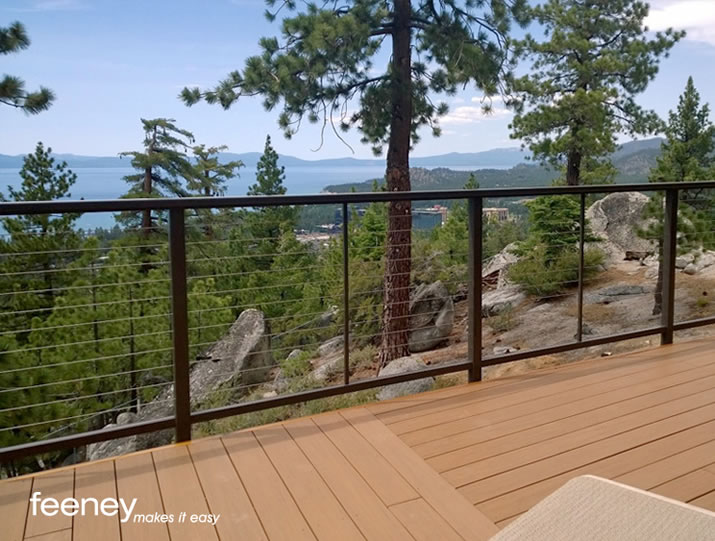 Composite decks are on the rise, with more options for consumers than ever before. Photo: DesignRail® aluminum railing on composite deck
What happened to the great backyard star, the deck? Today more and more decking contractors, remodelers, and dealers have quietly morphed into outdoor lifestyle specialists. While the deck still plays a leading role, it's now supported by a large backyard cast.
So reports Charlie Wardell, a contributing editor at Hanley Wood, the folks behind widely-read trade publications like PROFESSIONAL DECK BUILDER, BUILDER, and REMODELER. Recently Wardell shared his 2017 decking and railing outlook, gained from observations and exclusive interviews at the Deck Expo. The big takeaway: "A lot of companies are switching their marketing focus from decking and railing to outdoor living," Wardell told us in a private chat. "They're selling lifestyle rather than product."
The idea isn't new, of course, but the speed of transition may be. Mike Beaudry, executive director of NADRA (North American Deck and Railing Association), told Wardell their annual deck design award candidates used to be "deck after deck." Beaudry says "… it's now patios with connected decks and pools, screened-in porches, arbors, and outdoor kitchens." It's not your grandfather's backyard anymore. The new normal features LED lighting, pergolas, weather-proof storage cabinets, and other indoor amenities.
What else to look for this year:
Composite Decking
This year watch for composite boards that mimic distressed wood flooring, complete with variegated streaking. The rough-hewn rustic look appears in patterns won't repeat for up to 12 feet. Homeowners have never had so many composite choices for color, texture, installation ease, and price points.
User-Friendly
One composite flooring manufacturer says their boards have conquered a new frontier: They're bare-foot friendly … or at least, friendlier. They say the new composites don't give you the hot foot like standard composites. A special capstock technology reduces heat absorption by up to 35 percent. Even a cool new feature like this isn't always obvious to pros, much less consumers. "At first glance, most the composite decking products look very similar," Wardell tells us. "You have to ask questions to understand the differences."
Railings
"Buyers also want classier railings, which is reflected in the explosion of railing products," his states. Notable among them are cable rails, which Wardell says were especially prominent at the Expo. Lighting also features prominently in outdoor spaces, and is a great add-on to any railing.
Wardell likes the direction of industry innovation and rush to serve a mushrooming outdoor lifestyle segment. But, as he quickly adds, repositioning yourself in an evolving marketplace doesn't guarantee success. That still comes down to old-fashioned service, quality, and performance.
Company: Feeney, Inc
Product: DesignRail® Aluminum Railings
Source: http://media.feeneyinc.com/blog/backyard-2.0-2017-deck-and-railings-forecast
Tags: Design | Railing System | Safety
---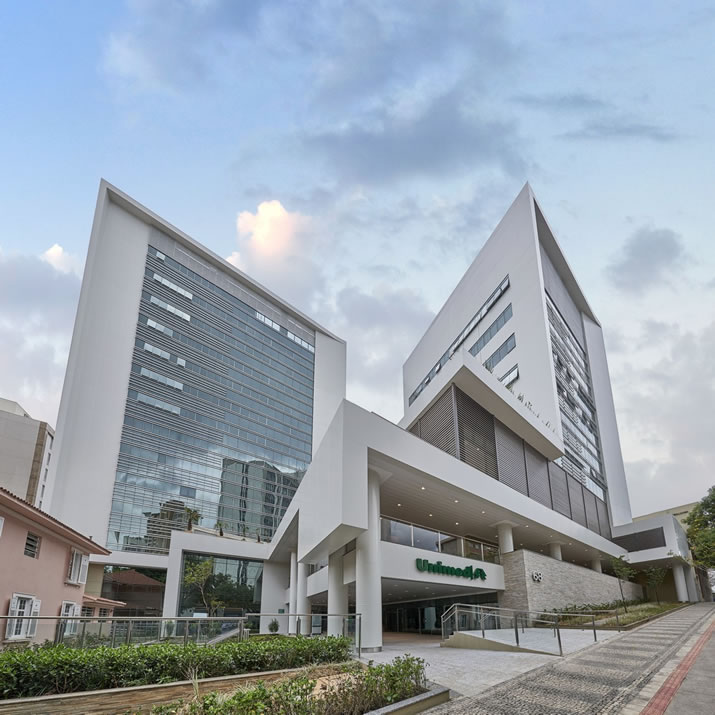 Staying healthy in Minas Gerais: UniMed expanded its Belo Horizonte operations with a new hospital and research facility; the below-ground structures were secured with PENETRON ADMIX-treated concrete.
Confronted with the relatively high water table of the UniMed construction site and the humid climate of Belo Horizonte, the project engineers quickly realized that the PENETRON crystalline products were the perfect solution. Construction of the three new buildings was done by Racional Engenharia (Rational Engineering), an engineering and construction services company.

During the first phase, the concrete for all three foundation slabs was poured. Next, the concrete retaining walls of the below-ground structures went up; all concrete was treated with PENETRON ADMIX during the batching phase. PENECRETE MORTAR, a topical repair compound, was also applied to fill and seal any cracks in the concrete that occurred in the final phase.

In total, about 10,000 m3 of concrete were treated with PENETRON ADMIX to ensure resistance to the hydrostatic pressure of the groundwater present at the construction site. The resulting construction joints were sealed with about 300 meters of PENEBAR SW-55 swellable-type waterstop.

For the above-ground concrete structures exposed to the elements, such as the parking garage ramps, PENESEAL PRO was sprayed directly on the surfaces to protect the concrete against any environmental effects.

PENESEAL PRO is a spray-on liquid sealer that is ideal for waterproofing and protecting exposed concrete surfaces, forming a gel that compensates for the movement of cracks due to thermal expansion and contraction. PENESEAL PRO reacts with the concrete to form a sub-surface barrier that protects against water penetration and seal hairline cracks, pores and capillaries. It remains active inside the concrete and continues to seal any new cracks due to settlement, thermal stress or external action.

UniMed, a Brazilian medical service cooperative and health insurance operator is the largest of its kind in the world, with 367 local member cooperatives. To expand its Belo Horizonte operations, UniMed invested R$250 million/US$125 million in the construction of three new large outpatient units, including a hospital to accommodate 300 doctors and a medical research facility.
Company: Penetron International
Product: Penetron Admix
Source: http://www.penetron.com/news-media/media-releases/view/Healthcare-Center-Gets-the-PENETRON-Treatment
---
With construction spending continuing on an upward trajectory, 2016 can be considered a successful year for the nonresidential building sector. For the coming year, the American Institute of Architects (AIA) semi-annual Consensus Construction Forecast is projecting growth in overall nonresidential building spending of almost 6%, just below the pace of growth for 2016. The commercial construction sectors – retail, office, and hotel – will continue to lead the building recovery, while industrial construction is projected to see almost no increase this year. For 2018, the institutional construction sectors will generate much of the growth, particularly the large education structures market.
"Though most conditions look favorable, virtually every segment of the design and construction market is reporting that recruiting and retaining qualified staff is a growing issue," said AIA Chief Economist, Kermit Baker, PhD, Hon. AIA. "Many workers left the industry during the downturn, and others left the workforce entirely, and rebuilding a competent and productive workforce is a challenge, particularly when the national unemployment rate is below five percent."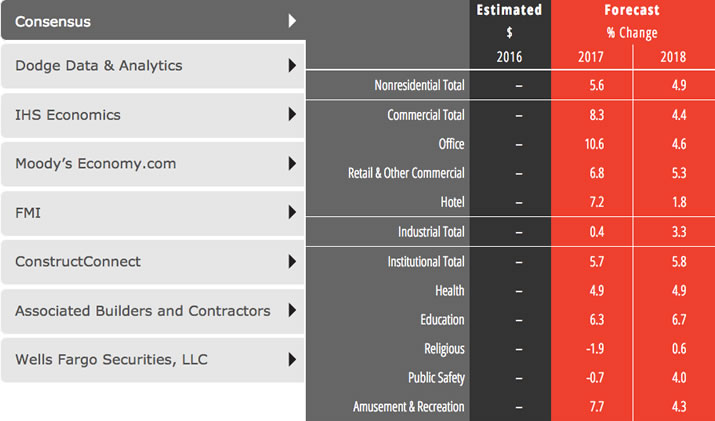 You can learn more about the Consensus Construction Forecast here: https://www.aia.org/articles/26666-even-with-uncertainties-looming-healthy-gain
About the AIA Consensus Construction Forecast Panel
The AIA Consensus Construction Forecast Panel is conducted twice a year with the leading nonresidential construction forecasters in the United States including, Dodge Data & Analytics, Wells Fargo Securities, IHS-Global Insight, Moody's economy.com, CMD Group, Associated Builders & Contractors and FMI. The purpose of the Consensus Construction Forecast Panel is to project business conditions in the construction industry over the coming 12 to 18 months. The Consensus Construction Forecast Panel has been conducted for 18 years.
About The American Institute of Architects
Founded in 1857, the American Institute of Architects consistently works to create more valuable, healthy, secure, and sustainable buildings, neighborhoods, and communities. Through nearly 300 state and local chapters, the AIA advocates for public policies that promote economic vitality and public wellbeing. Members adhere to a code of ethics and conduct to ensure the highest professional standards. The AIA provides members with tools and resources to assist them in their careers and business as well as engaging civic and government leaders and the public to find solutions to pressing issues facing our communities, institutions, nation and world. Visit www.aia.org.
Company: AIA (American Institute of Architects)
Source: https://www.aia.org/press-releases/49306-despite-economic-uncertainties-healthy-outlo
Tags: Construction | Sustainability
---

EXTECH's LIGHTWALL polycarbonate facade for a residential home
A house in Spain recently caught our eye. Newly updated by Buyesc Arquitectes, the Spanish home's south-facing wall is now clad with polycarbonate. The designer's intent was to transform the home into a low-energy building - polycarbonate panels improve thermal efficiency by capturing solar energy and gradually transferring it indoors. Polycarbonate also provides excellent insulating value in the range of R-4 when compared to glass.
EXTECH has been touting the benefits of polycarbonate in commercial and industrial construction for years - its versatility, durability, and sustainable properties make it a superior glazing material for so many applications. Given its benefits for commercial building envelope systems, it makes sense that it is becoming a prominent façade material for single-family and multi-family housing. It also makes sense that polycarbonate will be an important building envelope choice for commercial construction in the upcoming decades.
Is polycarbonate the future of architecture? There is some interesting evidence that points to this trend:
A recent report by Grand View Research asserts that U.S. demand for polycarbonate was USD 15.24 billion in 2015, with the construction industry making up roughly a quarter of that demand. The report goes on to predict that the U.S. polycarbonate market will grow to more than USD 30 billion by 2024, with the demand from construction increasing as well. These numbers reflect other analyses that predict the polycarbonate industry will double on a global scale over the next decade.
The movement toward green construction extends beyond federal regulation – it is a moral obligation felt by many millennials. Dozens of start-ups have emerged in the U.S. and E.U. in recent years that focus on green technology for sustainable building construction. The grassroots coalition Architects Advocate wrote an open letter to President Trump asking for his support of the design industry's commitment to addressing climate change. The movement toward environmentally-friendly design is expected to grow, and given polycarbonate's sustainability properties (it is recyclable and lends itself to daylighting, which lowers energy usage) coupled with its durability, it is an ideal material in this vein.
In addition to Buyesc Arquitectes' design mentioned above, there has been quite a bit of innovative construction in the past few years that utilizes polycarbonate. Just this month, DeZeen's Lizzie Crook compiled a nice list of worldwide projects that use translucent polycarbonate panels; the project applications are wide-ranging and include sports halls, residential buildings, and art spaces. The intentions for incorporating polycarbonate differ – some designers were interested in polycarbonate's unique aesthetic qualities ("sometimes the building blends with the sky, sometimes [it] is confused with the trees; at times the building seems to have its own light") while others liked the natural, diffused illumination polycarbonate daylighting offers. The reasons are myriad, but their designs are prominent and catching the attention of people around the globe.
Although polycarbonate has been used in building construction for 40+ years, there is still a great deal of potential for its use as a leading building envelope material. If the number of students that request system samples of our LIGHTWALL translucent walls and download our CAD and Specification files is any indication, then the future is going to include a lot of polycarbonate - we look forward to what tomorrow's architects have to offer in the way of polycarbonate design.
Company: EXTECH/Exterior Technologies, Inc.
Source: https://extechinc.com/polycarbonate-future-architecture/
Tags: Interior Design | Lighting | Sustainability | Wall Panels
---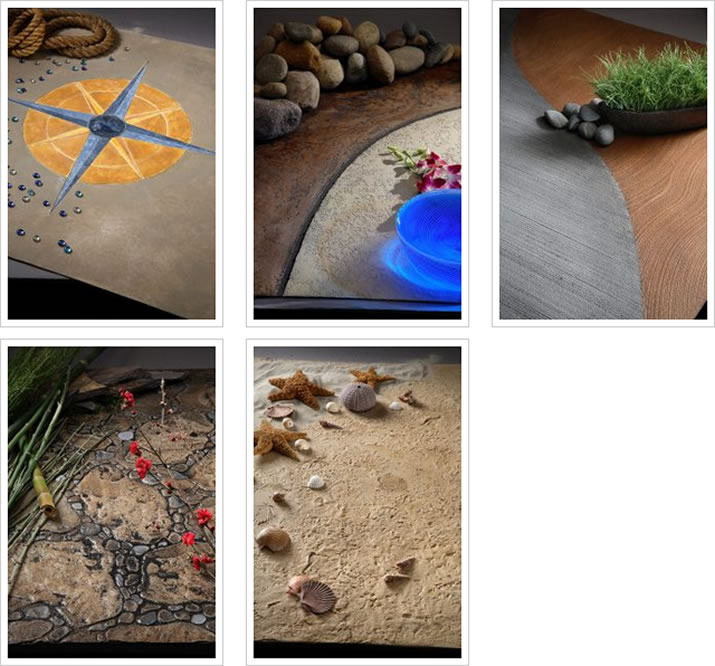 While cement-based overlays have been around for decades, many of the systems widely available today blend polymer resins with cement, sand and other additives to create a highly durable, attractive and easily maintained flooring overlay systems to be used over concrete.
With so many choices available on the market today, many questions arise as to the differences among polymer overlays, specifically in application and material, to achieve the functionality and appearance wanted by a client. Among the most popular choices:
Broom Finishes with Sealer and Optional Coloring
This type of overlay system finish is achieved by applying a base coat of thin-set resurfacing material over the surface by either squeegee or cement trowel. A second application is applied, and the surface is broom finished as new concrete is poured. The surface is then sealed with a sealer appropriate for the type of traffic that is anticipated.
Textured Finishes
This system is achieved by using two different types of application systems. Commonly known as a "knock-down" finish, it's applied using a standard compressor and drywall hopper gun. More specifically, thin-set resurfacing material is sprayed over the surface and flattened using a standard cement swivel trowel, leaving various high/low spots. This allows surface water to pool in the lower un-troweled areas, which is better known as "cool deck," since water sitting in the un-troweled areas allows water to stand and cools the deck. It's also frequently used on pool decks and areas where skid resistance is required.
The second method of texturing is probably the most common type of decorating finish used by contractors nationwide. With this particular coating, a base coat of thin-set material is applied to the surface by hand trowel or spray to creating different designs that simulate the appearance of either stone or limestone. It is then stained and sealed with the appropriate type of sealer specific to traffic area.
Decorative Overlays (?" and ¼")
These type of overlays are applied by trowel or screed rake. The ?" overlay is normally a seamless type of texture, giving the appearance of large simulated stone textures without grout joints, with hundreds of stamping mats area available in different designs and textures. Grout joints are cut into the surface after curing has taken place, and then the surface is stained and sealed with the appropriate sealer. The ¼" stamped overlay is very similar to the ?" overlay, except the pattern creates the simulation or design of individual stones with grout joints. The surface is then colored and sealed with the appropriate type of sealer depending upon the traffic.
Stain & Sealer Finishes
Staining and sealing of concrete surfaces is very popular in a wide range of environments. The system consists of staining the surface using water-based color-stains, dyes or acid stains, and then it's typically saw-cut in patterns, shapes or designs, color applied and sealed to meet the traffic needs of the area.
Of: Leane Owen
Source: http://super-krete.com/blog-navigating-the-wide-selection-of-polymer-overlays-over-concrete-substrates
Tags: Coating | Design | Finishes | Floor