architecture - engineering - construction

2015 November
---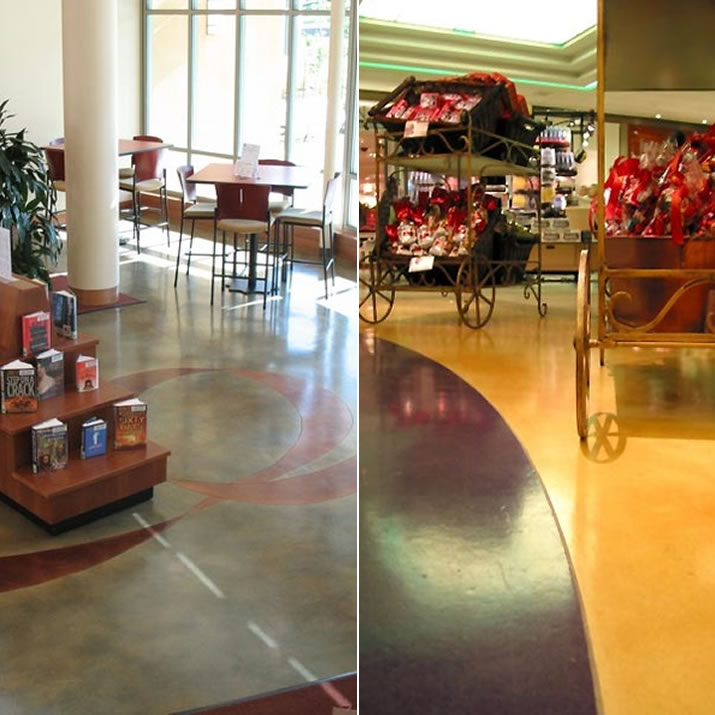 When you hire a contractor to install new flooring in your industrial building, you want to know that it is going to last. New flooring is not cheap by any means, so it is important to make your investment last. If you are having a new concrete or resinous flooring system installed, consider protecting it with a polyaspartic coating.
What Are Polyaspartic Coatings?
Polyaspartic coatings are very similar to the popular polyurethane coating often used to seal concrete floors, but they are a more recent option, having only been developed in the 1990s. This type of coating was originally designed to protect steel from corrosion, but it is now being used in commercial and industrial applications to seal and protect concrete floors. In addition to adding durability and longevity to your concrete flooring, polyaspartic coatings are also low or zero VOC. They are also resistant to wear, abrasions, scratches, chemicals, UV light, and impact. What more could you ask for?
Installing Polyaspartic Coatings
When performed by an experienced contractor, installing polyaspartic coatings is a quick and safe process. It is possible for the contractor to control the rate of cure over a period of time ranging from 5 minutes up to 2 hours, depending on the size of the service area. Polyaspartic coatings are very versatile, ideal for use in industrial applications ranging from medical and educational facilities to museums, shopping malls, and office buildings. The beauty of this type of coating is that it can be customized to suit your project, so call a Düraamen representative to talk about details and schedule your installation.
In the same way that you have many options for concrete flooring, you also have a variety of choices in the type of sealer or protective coating you use. If you want your concrete surfaces to last a lifetime, polyaspartic coatings are definitely the way to go, and Düraamen is the name you need to remember.
Company:
Duraamen Engineered Products Inc.
Source: http://www.duraamen.com/blog/protecting-industrial-flooring-polyaspartic-coatings/#.VlxNssrARFw
Tags: Coating | Interior Design
---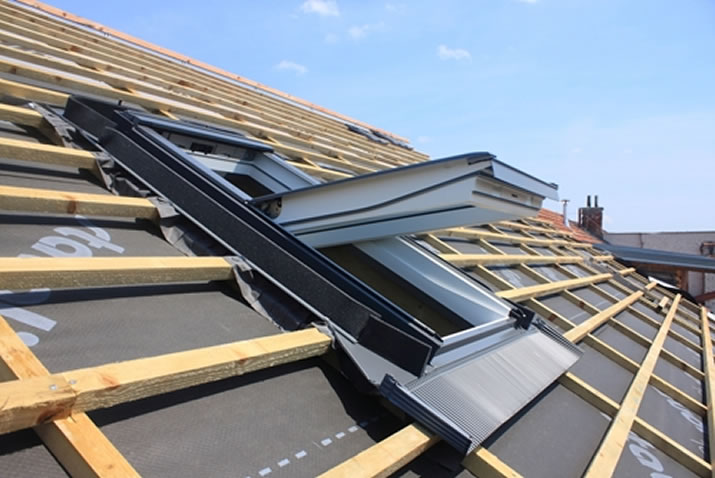 There are several types of specialty systems crafted to meet the specific style of architecture featured on your build. Different types of structures can necessitate a unique approach, and Sto Corp takes this to the next level by treating every enclosure and substrate a little differently. Here are some examples:
Building substrates
Winter is approaching, and if you're expecting cold, you can often anticipate higher energy bills. One way to prepare for this is through better insulation. Giving your walls the best insulation is a great way to retain warmth in your house and to reduce your heating bills. Sto's Insulated Concrete Form Finish Systems use reinforcing mesh in the wall's base coat, ensuring standard-impact resistance and superior protection for your walls.
On the flip side, if what you need is better circulation, look no further than Sto's Aerated Autoclave Concrete Finish System. Whether your home features brick, stucco, vinyl or other types of material, it is important to find the right substrate to complement the material you're working with.The best decorative and resistant cladding is quick, is easy to install and produces a moisture barrier you can count on.
Interior finishes
Sometimes houses need more interior protection. Without proper inserts, the fumes and moisture from your bathroom can cause problems on the surrounding walls. Home Advisor warned that unchecked moisture can mean mold, mildew and warped wood. Don't spend all that money on repairing and remodeling your bathroom when you can use StoQuik® Gold Soffit. This is a direct-applied exterior finish system that features five layers of protection for use on weather-protected walls, ceilings and soffits.
When constructing an indoor pool for a home or a commercial building, the surrounding walls and ceilings need to accommodate the pool chemicals. If they don't, you might have a problem on your hands. Tim O'Neil, operations manager of Downes Swimming Pool Co. in Chicago, told Aqua Magazine that pool builders have to factor in architecture when developing a new installation. If vapor barriers aren't used correctly, the surrounding walls will suffer, he stated. Using Sto's Interior Finish System for Pool Rooms, we design a proper resistant enclosure that matches your aesthetic choices while anticipating humidity, chlorine and other chemicals.
Building enclosure
Anyone who lives near the coastline has to be mindful of tropical storm winds. According to the Insurance Information Institute, a major hurricane can cost homeowners tens of thousands of dollars. If you want to best prepare your home for the impacts of the weather, take advantage of StoTherm® Hurricane Impact Systems. Our exterior cladding meets the most stringent standards and is perfect for protecting homes from debris and water intrusion.
Investing in these specialty systems can improve standing architecture, while being proactive on combating the elements can save you money by preventing damage and exposure. Head to this page to learn more about how Sto's specialty systems are right for you.
Company:
Sto Corp.
Source: http://buildingwithconscience.com/2015/11/specialty-systems-improve-on-standing-architecture/
Tags: Coating | Insulation
---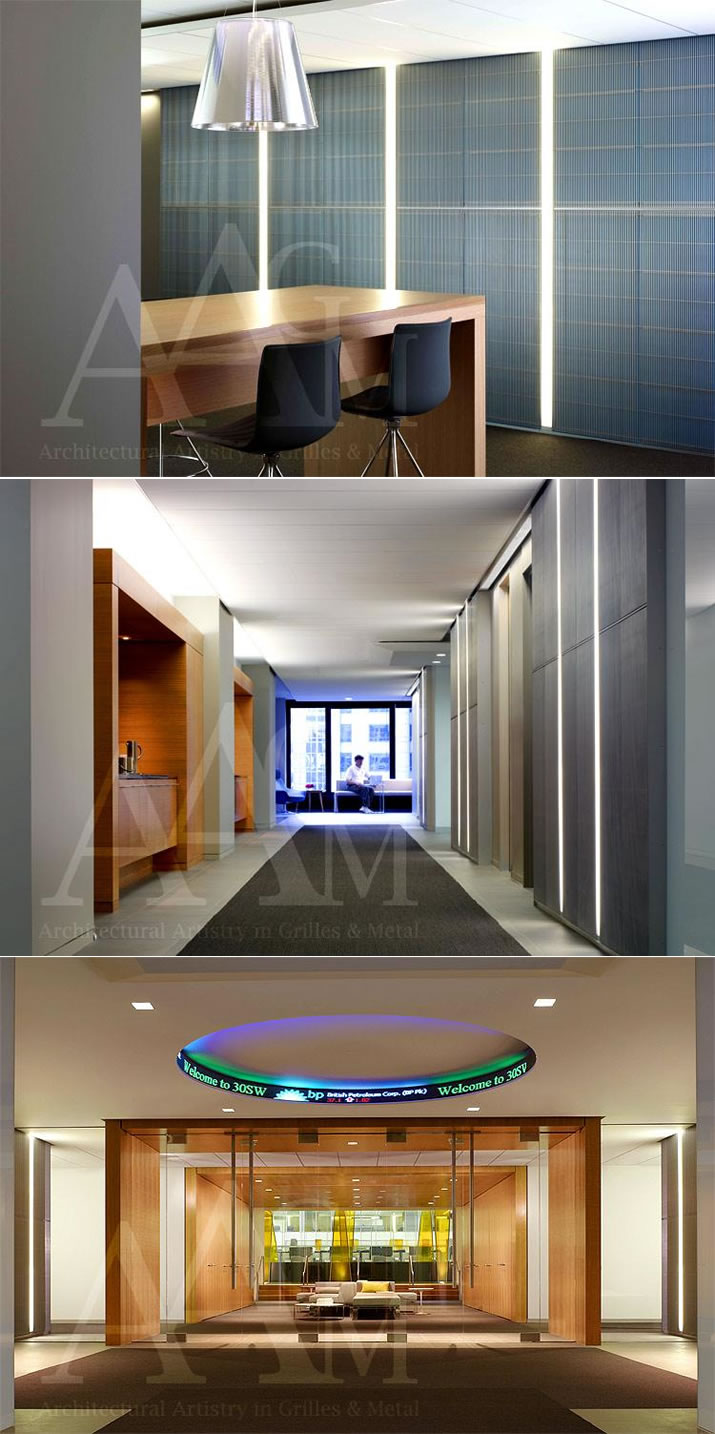 The architects at Gensler approached us with their design challenge: How to incorporate light weight, grille-style wall cladding, built to accommodate light diffusers, in an aesthetically pleasing way that would be appropriate in a high-end corporate environment. The grilles would need to run floor to ceiling, be easily mounted and have soft edges. In addition, budget constraints required all of the above to be incorporated into a cost effective solution.
This project was large and complex, and due to the time constraints faced by project management, Advanced Arch Grilles did not meet with the contractor for this phase of the project until design drawings were already approved. A solid partnership was quickly forged; within two weeks, the contractor had on-site two complete sets of AAG110 aluminum, press locked and welded, linear bar grille core with mounting tabs and reinforcing stiffener bars with a satin, clear anodized finish. Our quick response time enabled the contractor to devise a mounting method and plan for installation many weeks in advance of actual delivery of the grilles.
The prototype cycle also proved valuable to our production team. During fabrication of the prototypes, our team developed solutions to ensure the vertical grille panels would install completely flat, and when positioned top-to-bottom and side-to-side, would be perfectly aligned.
Our engineering team, working alongside our production personnel, designed a method of "back side" support to overcome any material twist or deflection and also created a series of alignment and test jigs that assured the grilles were uniform and unvarying once installed.
The project progressed as expected and we proudly delivered every grille ahead of schedule. We consider ourself privileged to work seamlessly with such a highly regarded company and such a talented group of people, and to contribute to the successful completion of this project.
Company:
Artistry in Architectural Grilles by Advanced Arch Grilles
Source: http://www.aagrilles.com/project/bp-bright-lights
Tags: Energy | Interior Design | Lighting
---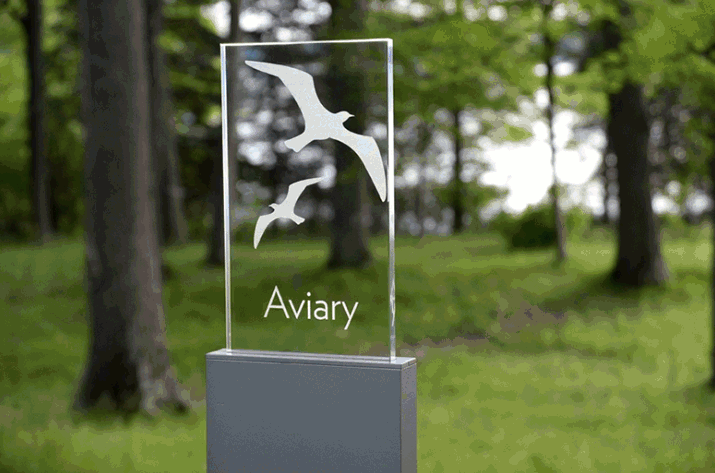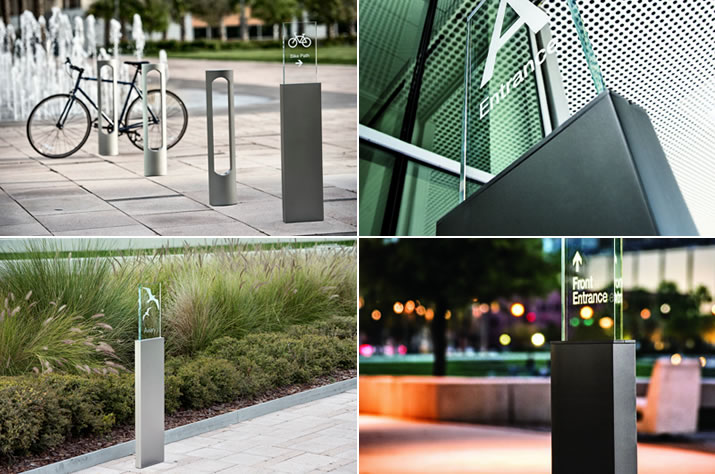 The Reeder Illuminated Sign is angular in shape, slim in profile. It is made up of a cast and extruded aluminum base with integrated LED up lighting, topped by a glass signage panel. The glass panel, which sets neatly into a groove in the base, is wear and impact-resistant tempered low-iron glass. Panels can be custom etched with logos and messaging provided by the user. LED lighting is hardwired. The cast and extruded aluminum base is Pangard II® powdercoat finished with all standard color palette options.
Company: Landscape Forms Inc.
Source: http://www.landscapeforms.com/en-US/site-furniture/Pages/ReederIlluminatedSign.aspx
Tags: Landscape Design | Lighting | Safety
---
Add style and sophistication to any concrete structure, floor, countertop or wall by turning it into the perfect artist's canvas – with the Super-Krete Smooth Finish System.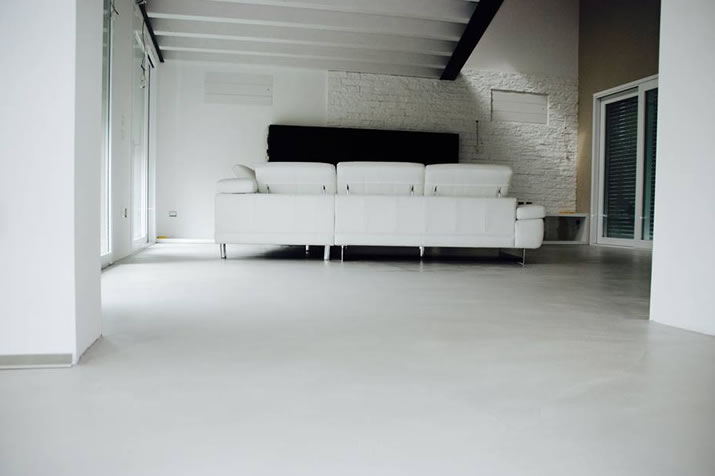 S-9000 Smooth Surfaces & Art Deco Finishes
Add style and sophistication to any concrete structure, floor, countertop or wall by turning it into the perfect artist's canvas – with the Super-Krete Smooth Finish System. Excellent for interiors that require frequent and thorough cleaning including restaurants, salons and home interiors, Super-Krete Micro-Bond creates a remarkable surface that can be buffed smooth yet remain porous enough to accept stains and protective sealers, unlike polished concrete.
Super-Krete Color Stains provide a natural look over new and old surfaces, both interior and exterior. You can easily achieve the look of an acid stain on pigmented and unpigmented concrete and masonry surfaces without the often uncontrollable and undesirable color results that acid staining entails. Another benefit: none of the hazards, environmental concerns or special handling associated with acid stains.
Create your next masterpiece!
Source: https://www.facebook.com/superkrete/
Tags: Exterior Design | Floor | Interior Design
---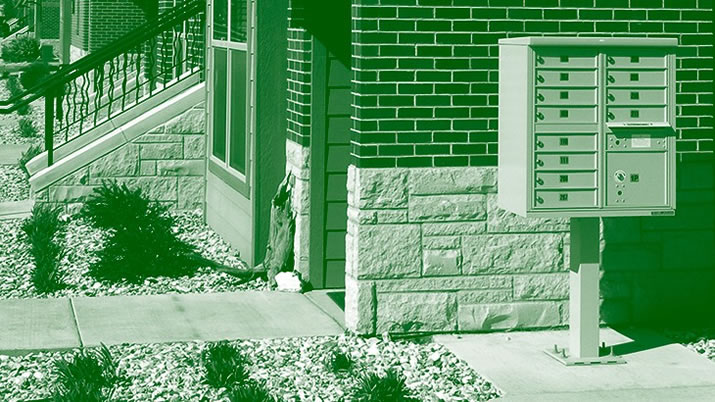 Whether you're looking for credit toward a project's Leadership in Energy and Environmental Design (LEED) certification or simply believe in the principles of green design, sustainability practices at Florence make our mailboxes a smart choice.
Earn LEED Points
By specifying Florence mailboxes, you may be eligible to earn points in the following LEED Green Building Rating System v3.0* categories:
Materials and Resources Credit 2: Florence products and packaging are 100% recyclable. This means that using Florence mailboxes may contribute to the Construction Waste Management credit.
Materials and Resources Credit 4: Florence mailboxes used for new construction are manufactured principally from aluminum, which contains approximately 20% pre-consumer and 30% post-consumer recycled content, according to conservative estimates. This means 40% of the total dollars you spend on Florence mailboxes may contribute to the Recycled Content credit.
Materials and Resources Credit 5: Florence is headquartered in Manhattan, Kansas. If you use Florence mailboxes for a project within 500 miles of Manhattan, you may be eligible for the Regional Materials credit.
Regional Priority Credit 1: Florence products may also contribute to Regional Priority bonus points, which are granted for geographically specific environmental priorities. For more information, check the LEED regional priority credits available in your project's area.
* When v4 takes affect in 2016, available LEED credits and requirements will be subject to change. We will update our documentation at that time.
Use Environmentally Conscious Products
We at Florence are proud of our commitment to preserving and protecting the environment. Through our conscientious manufacturing processes and operational practices, we create quality products with a minimal environmental impact:
Our recycling program includes reuse and/or reprocessing of:
Aluminum
Corrugate
Powder paint
Wood
Steel
Office waste
Our plant has also been presented with a Pollution Prevention Award and is an OSHA certified SHARP facility.
"We've taken extra steps not just to comply with the regulations that the state and local municipality require of us, but we've anticipated potential impacts and gone above and beyond requirements. At the end of the day, that makes us feel better about what we're doing."
- John Altstadt, President, Florence Manufacturing
Learn More
Specifying Florence is a smart choice for green design. We are an industry leader for environmentally friendly practices.
To find out how Florence's mailboxes can benefit your next project, contact Mike Travisano, Architectural Sales Manager, who is dedicated to your needs for all things green.
Company:
Florence Manufacturing Company
Source: http://www.florencemailboxes.com/wordpress/earn-leed-points-with-florence-mailboxes/
Tags: Design | LEED Certification | Sustainability
---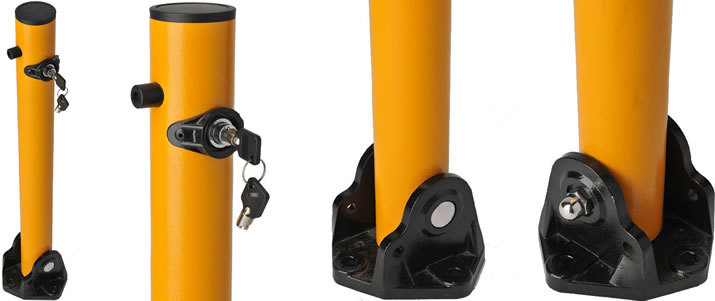 R-8430 Fold Down Bollard
Fold down bollards are great for controlling parking access, but can also be used for changing access applications.
Reliance Foundry's fold-down bollards are ideal for protecting reserved parking spaces, or to communicate access on laneways where entry regulations fluctuate. Folding bollards are suited for both residential and commercial use to reserve parking. Fold-down bollards can be unlocked by key and lowered flat to the ground, allowing cars to safely drive over. Installation is easy and can be completed relatively quickly on almost any concrete surface.
Easy lift and fold-down mechanism
Integral lock – no need for an additional padlock
Locks in both the vertical and horizontal positions
Comes with 2 keys
Simple installation with only 3 bolts
Powder coated yellow for high visibility
Company: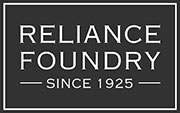 Reliance Foundry Co. Ltd.
Source: http://www.reliance-foundry.com/bollard/fold-down-bollards/R-8430-Bollard
Tags: Color | Landscape Design | Safety
---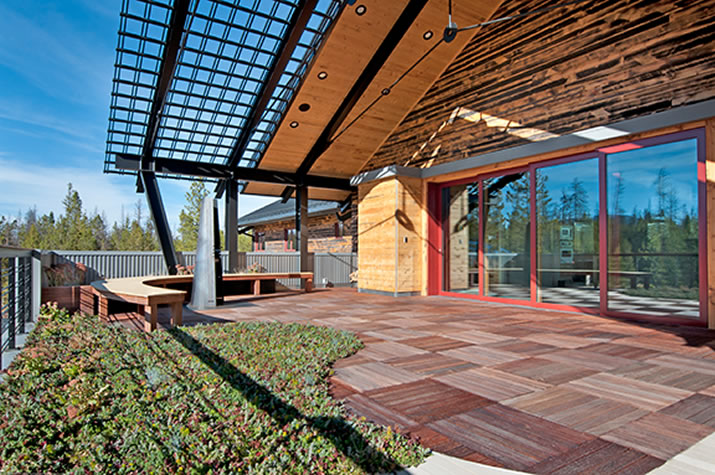 Photographer: Daniel O'Connor Photography
Fraser House, a new Colorado Zero Net Energy Home (ZEH), elevates energy efficiency to new heights. Recently built in the mountains of Fraser, Colorado, the home is situated at 8,000 feet with an average annual temperature of 34ºF. Meeting the project's requirements for attractive aesthetics, high performance and durability, Linetec provided the vibrant finish for Loewen windows and doors.
Designed by Caddis Architecture (previously Bryan Bowen Architecture), the 5,320-square-foot Fraser House was built for an ultra-marathoner who sought an energy-efficient, healthy home that includes a gym, an endless pool, regular living areas, a guest home and a two-car heated garage, plus a woodshop outbuilding.
Maximizing thermal performance, natural light, comfortable interior living space and
stunning mountain views, Loewen provided its awning and fixed/picture window, as well as terrace doors and a three-panel LiftSlide door with Heat-Smart® high-performance glazing. Manufactured by Cardinal Glass Industries, this glazing system includes low-e coatings, argon-filled air spaces and thermal spacer bars. The exterior aluminum cladding is set away from the underlying wood, creating an air space that further improves thermal performance.
Minimizing maintenance throughout the home's lifespan, Linetec finished Loewen's windows and doors in an orange-red Bonfire color, part of Valspar's Fluropon® Premiere, a three-coat 70% polyvinylidene fluoride (PVDF) resin-based, high-performance architectural coating. These durable coatings meet the stringent requirements of AAMA 2605 and exhibit outstanding resistance to humidity, color change, chalk, gloss loss and chemicals.
ZEHs are usually built with low or no volatile organic compounds (VOCs), such as formaldehyde containing finishes or materials, providing a healthy, clean, non-toxic environment for its residents. As an environmentally responsible finisher, Linetec captures the liquid paints' VOC content to eliminate the exhaust of potential pollutants. The primary environmental concern with liquid paints is the solvents, which may have VOC content and must be destroyed safely. Linetec uses a 100% air capture system and destroys the VOCs with a regenerative thermal oxidizer, so there is no adverse environmental impact. Linetec then re-uses its heat energy byproduct to improve process energy efficiency. This process of re-use is completed before the material exits the paint line.
As a ZEH, Fraser House produces as much energy as it consumes, and also produces zero net carbon emissions from the site. Once a ZEH is designed as energy efficient as possible, it uses photovoltaic (PV) collectors, or other renewables, to produce sufficient electricity to meet the minimal remaining energy needs of the home. The high-performing windows and doors optimize efficient energy use by keeping the Colorado cold outside and the heat inside.
The Fraser House also received a Home Energy Rating System (HERS) Index Score of -22, indicating it is exceptionally more energy efficient than a standard new home. Assessed by a
certified Home Energy Rater, the HERS score accounts for whole-house design, beyond the exterior walls, windows and doors.
Company: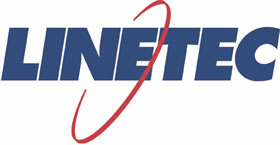 Linetec
Source: http://linetec-blog.com/2015/09/24/fraser-house-colorado-zero-net-energy-home-features-loewen-windows-and-doors-finished-linetec/
Tags: Exterior Design
---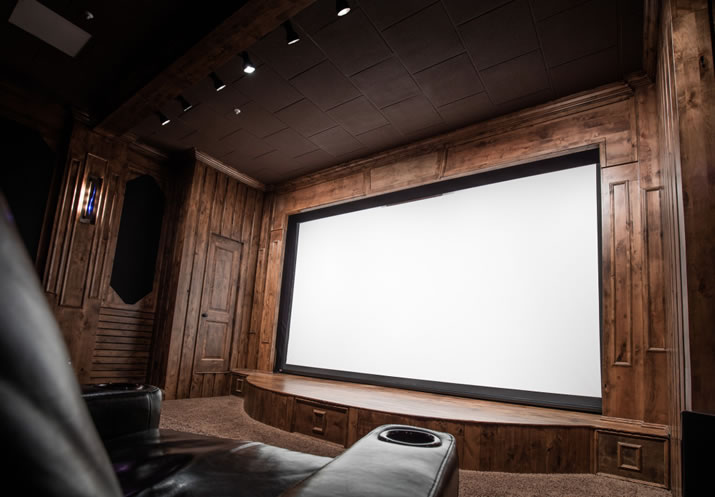 Matthew Irvin knew he had his work cut out for him when he was approached by a very particular client for a special home cinema job in Park City, Utah.
"The customer needed more "wow" in the room, according to Irvin, who is the president of Audioworks in Salt Lake City, Utah. "The screen before was 163" diagonal, but didn't fill the space. He wanted every inch of the opening filled while still having a nice background for stage performances."
That's because the space in question is more than your basic dedicated home theatre. It's also a performance space. In addition to private viewing, Irvin says the customer uses it for their own mini Sundance-style film festival for kids, as well as for huge karaoke parties.
"We were working with the tightest tolerances and HAD to meet the customer's expectations," Irvin says. "First of all, because he wanted every inch of the opening filled, we decided the only way to accommodate was with a motorized screen."
Irvin went with the Draper Premier, a tab-tensioned surface mounted screen which is often also built in to soffits or concealed behind a decorative, finished wall. But what viewing surface to go in the Premier case? Because of the customer's high expectations, and the need for an acoustically transparent material, Irvin recommended 4K-ready TecVision Nano Perf XT1300X White, with an extra wide viewing cone, typical contrast, and on-axis gain of 1.3. To fill the opening as required took a 227.25 inch 16:9 format screen.
To read more, or to download a free pdf copy of the complete case study "TecVision Stuns in Utah Home Cinema," please click here.
Company: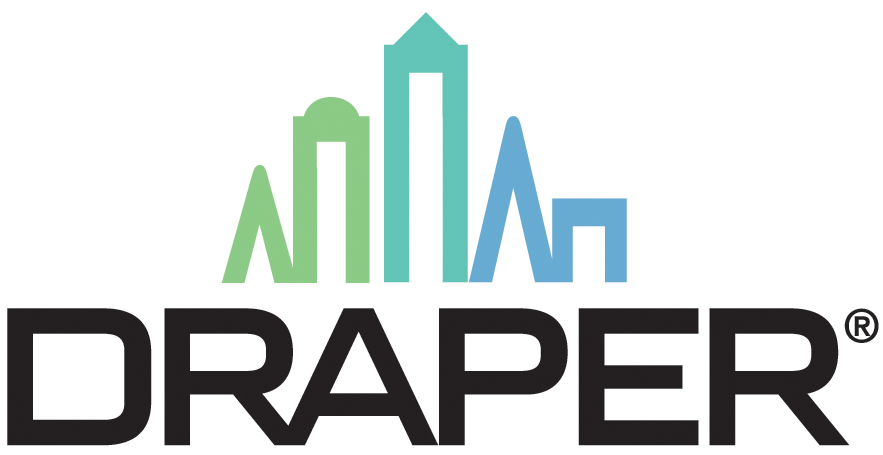 Draper, Inc.
Of: Terry Coffey
Source: http://blog.draperinc.com/2015/11/tecvision-stuns/
Tags: Audio Visual | Interior Design
---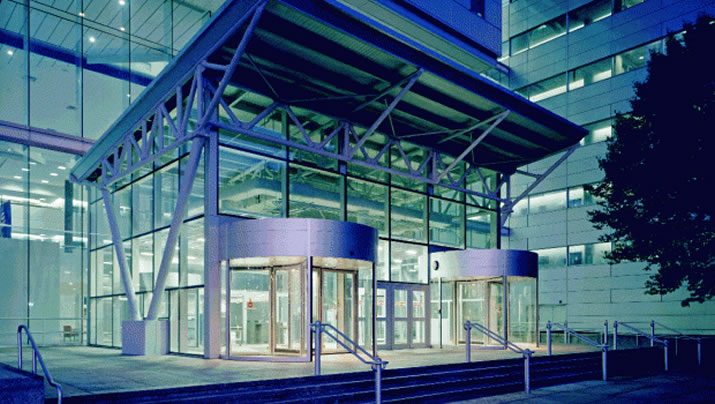 The built environment is an energy-guzzler. The U.S. Green Building Council (USGBC) states in this country alone, buildings account for 41 percent of energy use, 73 percent of electricity consumption and 38 percent of all CO2 emissions, and 13.6 percent potable water consumption. Globally, buildings use 40 percent of raw materials, or about 3 billion tons annually.* Fortunately, the type of doors we select can have a big impact on a building's energy profile.
Revolving doors provide a constant airlock at the entrance, reducing air infiltration by up to 90% compared to swinging or sliding doors. The result is energy savings, and an inviting and more spacious entrance area. If you're ready for revolving doors, the possibilities are endless. Download the "Ins and Outs of Revolving Doors" to learn more about the features and design elements as they relate to user comfort and safety, as well as code requirements and a specification checklist.
*http://www.usgbc.org/articles/green-building-facts
Company:

Boon Edam Inc.
Source: http://www.boonedam.us/news/ins-and-outs-revolving-doors
---
A building originally constructed in 1993 with no real consideration to sustainable building is not the perfect candidate to target for Leed® certification, but that is exactly what Wellner Architects, Inc., of Kansas City, MO set about doing with a field maintenance building at the Kansas City International Airport.
The building at 154 Tokyo Street underwent a considerable renovation with sustainability a high priority. That goal was, in part, achieved with the introduction of Kalwall ® translucent sandwich panels to replace windows and introduce diffuse natural daylight.
The project also include a new geo-thermal heating system and the use of recycled materials, and achieved LEED Silver status, as well as being named one of the top 10 performing building in the United States Green Building Council's Central States region.
Check out this video tour of the building after completion.
Company:

Kalwall Corporation
Source: https://www.kalwall.com/2015/10/30/leed-ing-the-way-in-sustainable-building/
Tags: Building | LEED Certification | Sustainability
---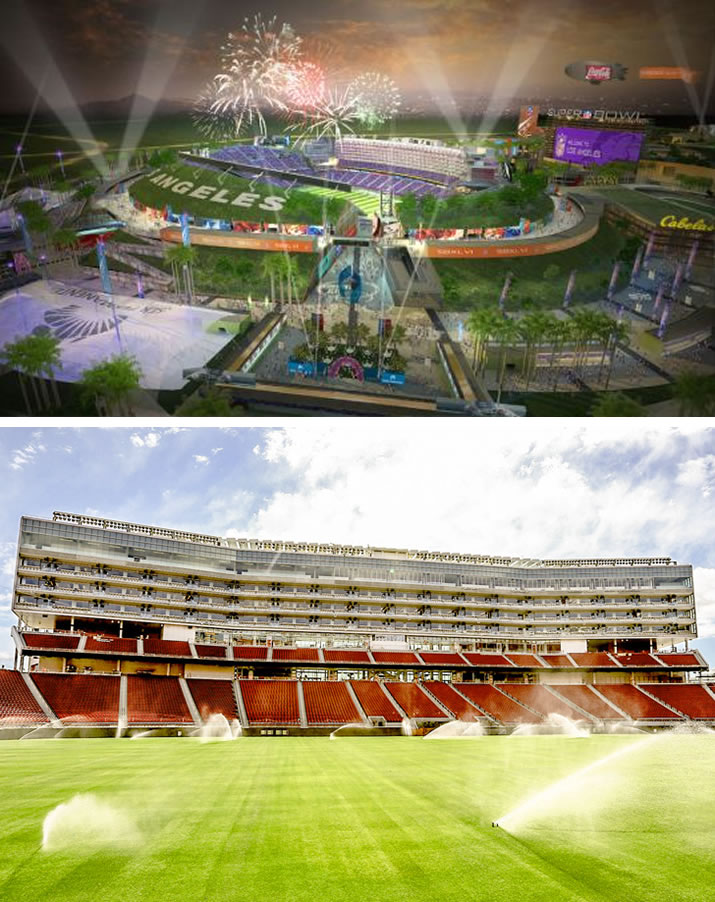 A design for the new Los Angeles NFL stadium is in the works and it is set to be the first NFL stadium ever to become LEED certified.

Levi's Stadium Becomes First Pro Football Field to Earn LEED Gold Certification as New Construction Levi's Stadium Receives LEED Gold Certification – Inhabitat – Sustainable Design Innovation, Eco Architecture, Green Building by Beverley Mitchell, 07/23/14
The phrase "green architecture" refers to the use of environmentally aware, sustainable architectural and construction methods. Today's stadiums and arenas are often designed with a full embrace of this concept. Many professional sports organizations have publicly committed to the use of sustainable practices in the construction and utilization of arenas and other venues that they use.
Green and sustainable stadium and arena design and construction often focuses on a number of definable objectives:
Reduced water consumption
Greater energy efficiency
Sustainable energy production
Waste management
Reduction in the facility's carbon footprint
These objectives are relevant during construction and as the venue is operated over the long-term. For example, even the means of transporting construction materials and heavy equipment to the site may be considered in an effort to reduce the carbon footprint of the project.
Cost/Benefit Analyses
Some may assume that the cost of environmentally-conscious design may be prohibitive. However, advances in green technology often make such an assumption incorrect. In today's world, developers need to be aware of evolving technologies and techniques that are more environmentally friendly, They also need to understand that green design and construction may be appreciated or even expected by both the public and by public servants.
Therefore, project managers should incorporate the latest sustainable concepts into all aspects of the new stadium or arena. Proper research into ever-evolving green construction techniques will allow developers to take fully advantage of new technologies. At times, more conscientious effort is required to effectively incorporate sustainable methods into the project. Initial expenses early-on may lead to long-term savings and an enhanced public image.
Design Objectives
From the outset, the design team should seek to pursue initiatives and concepts that:
Reduce energy consumption of all kinds
Reduce carbon emissions and all other emissions
Encourage local energy generation
Reduce waste of all kinds
Encourage recycling wherever possible
Again, one should not underestimate the potential for direct savings and reduced overhead over the life of the facility. This reality can prove to be very beneficial for the the operator of the venue, whether the operator be public or private.
Desirable Certifications
In the United States, LEED certification is increasingly desirable to project developers and venue operators alike. LEED certification specifies exacting standards that must be met. A successful effort results in a certification that communicates to everyone that the facility has been designed and operated with green concepts and principles at the forefront. In Europe, BREEAM certification is available to projects that are in compliance.
Oftentimes, professional sports organizations and even amateur governing bodies encourage the acquisition of such certifications as a matter of policy. Developers need to be fully aware from the outset of the environmental expectations of these organizations, as well as the expectations of local governments and the public. Then, consultants, designers and architects can work toward a common environmentral goal from the start.
Sustainability: Active and Passive Approaches
There are varied means by which sustainability goals may be achieved. Some are simply integral to good planning and design, while others employ technology to conserve energy and promote the sustainable use of resources.
Passive measures – Many passive means of achieving green goals are readily available to urban planners, project architects and others. These design ideas do not require the deployment of either technological or mechanical methods to be effective.
Examples of passive methods include shading areas from the sun through the use of screens or the special positioning of buildings, the deployment of cooling towers, the construction of thicker walls or the use of grass roofs. Once these things are done, they continue to save energy without the use of any added technology.
Active measures – Sustainability can also be promoted through the use of specific technological or mechanical systems to save energy by cooling and/or heating a structure more efficiently. Historically, energy-efficient systems have come with higher capital costs, but they have generated operational savings through lower energy cost. In turn, such systems have often successfully reduced the carbon footprint of a given facility.
Key Sustainability Concepts
Again, the maximization of sustainability benefits requires attention to solid concepts from the start. A stated emphasis on energy conservation, green architecture and sustainability should be a guiding principle from day one when a new entertainment or sports venue is being designed. Broadly speaking, concepts regarding sustainability in venue design are categorized under the headings of water, energy, materials and waste management.
Company: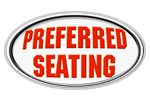 Preferred Seating
Source: http://preferred-seating.com/blog/stadium-design-leed-compliant/
Tags: Exterior Design | LEED Certification | Sustainability
---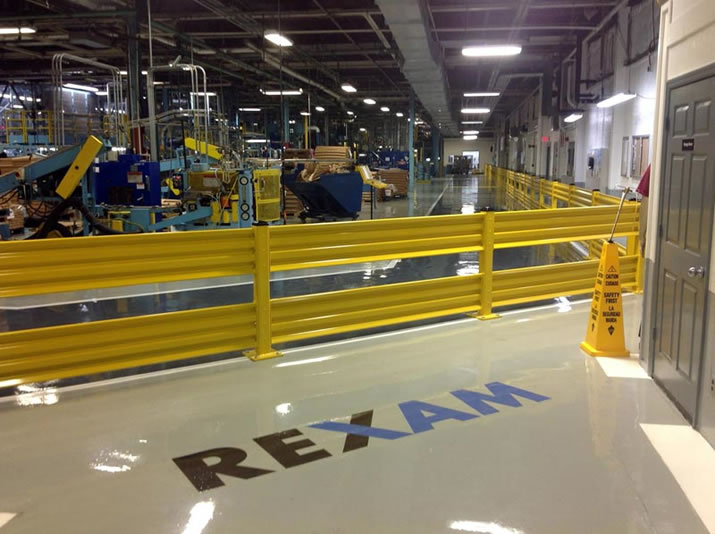 Epoxy floor coatings are an incredibly strong, durable and long-lasting flooring solution used by a wide range of businesses and facilities. The versatility of epoxy floor coatings and their infinite designs make them the top flooring solution for both industrial and commercial spaces. They are commonly used in retail stores, automotive showrooms, industrial warehouses, and restaurants and can be applied to both existing and new concrete floors.
Let's take a look at some of the common misconceptions surrounding epoxy floor coatings:
Misconception #1: Epoxy Floor Coatings Have to be Reapplied Every Few Years
A professionally installed epoxy floor is incredibly durable and will last for many, many years. Epoxy floor coatings from Elite Crete Systems are very strong and can withstand heavy foot and vehicular traffic and resist wear and tear from heavy machinery and equipment.
Misconception #2: Epoxy Floor Coatings Are Expensive
While getting a professional epoxy floor coating may seem expensive, it's a cost-effective and long-lasting option. If you opt for a cheaper concrete coating or choose to install epoxy on your own, you will end up paying more money in repairs and maintenance in the long run. Epoxy floors also save you money because they require very little maintenance. They are resistant to abrasions and chemical spills, and you can simply use a mop to wipe up any that falls on the floor. An epoxy floor is definitely worth it.
Misconception #3: Paint Is Just as Good as an Epoxy Floor Coating
While epoxy can resemble paint before it's applied, they are two very different substances. A coat of paint will not protect your concrete floor from residue or chemical stains, nor will it resist wear and tear. Unlike paint, epoxy bonds with the concrete surface to create a seamless, durable resin coating that will protect your concrete floor from damage.
Company:

Elite Crete Systems, Inc. (Headquarters)
Source: http://elitecrete.com/3-common-misconceptions-epoxy-floor-coatings/
Tags: Floor | Interior Design