architecture - engineering - construction

Ceiling
---
In this video we are talking about Ceiling Tiles. Installation methods, styles, materials, colors, and sizes. Everything you'll need to know in order to select your perfect ceiling tiles.
What is a ceiling tile
Modern decorative ceiling tiles have become very popular. They enhance the look of your room and can get your space to match your desired look and style. Ceiling tiles are easy to install and most likely you can even do it yourself with some basic tools like scissors and adhesive. Saving hundreds or even thousands on installation costs.
Installation methods
There's three main installation methods that include Drop In, Glue Up, and Nail Up. Depending on your current ceiling you can choose an installation method that works best for you. There is a right tile for every ceiling.
Styles
There's a big array of ceiling tiles that come in many different styles, and there's a tile that can match your room's decor to enhance the look.
Materials
When it comes to Ceiling Tiles you have several materials to choose. From Aluminum and Tin to Foam or PVC, with other great material options available. You can choose Ceiling Tiles that are water resistant, fire rated, durable, or lightweight. When choosing your ceiling tiles, you'll want a tile you can handle and install with confidence.
Color
Ceiling Tiles come in an assortment of colors depending on the specific tile you are considering. Most likely you can find a tile that matches your color requirements. If you don't, there's no need to worry. You can also paint some ceiling tiles to match your needs.
Size
Most ceiling tiles come in a few standard sizes varying from 16x16 inches to 24x48 inches. With the 24x24 inches being the most popular size since it falls right into existing drop in ceilings. They are easy to customize in size. Using basic cutting tools like scissors or razor knife you can make your installation process quick and easy to customize for your size.
Finishing
When installing new ceiling tiles is important to take into consideration additional materials you may require in order to complete your project. Utilizing the right adhesive will ensure your tiles stay in place for years to come without damaging the tiles. Once you have installed your ceiling tiles you can use crown molding or grid strips to finalize your new ceiling's look.
There is a right tile for every ceiling. Knowing what to look for will let you buy and install that tile with pride and confidence.
How to buy and from where?
Decorative Ceiling Tiles has been specializing in ceiling tiles for more since 2008. Our knowledgeable and friendly staff can help you select the right ceiling tiles for your project. We offer a great selection of ceiling tiles at competitive prices with nationwide shipping right to your door. Visit GetCeilingTiles.com right now and use our project estimator tool to determine how many tiles your project will require.
Company: Decorative Ceiling Tiles, Inc.
Source: https://www.youtube.com/watch?v=x1sog8-MLHA
Tags: Ceiling | Interior Design
---
TECTUM WALL & CEILING PANELS: A PERFECT FIT OF DURABILITY, ACOUSTICS, AND UNIQUE VISUALS
From a natural factory finish or white, to integration with COLORATIONS colors (that's 13 standard colors) or made-to-order Sherwin-Williams® colors, TECTUM panels can coordinate or complement your color palette with the sizes, shapes, and forms that make your designs happen.
Toughness and acoustics are at the heart of TECTUM interior products, ideally suited to open spaces and high traffic, high impact areas. Panels can be attached directly to walls and ceilings in forms of panels, clouds, and square or curved. TECTUM linear hanging baffles give you even more design options.
Create a signature element in a space to complement your interior design. The possibilities are endless, the look is one-of-a-kind, and the acoustic properties of TECTUM panels can help quiet the space.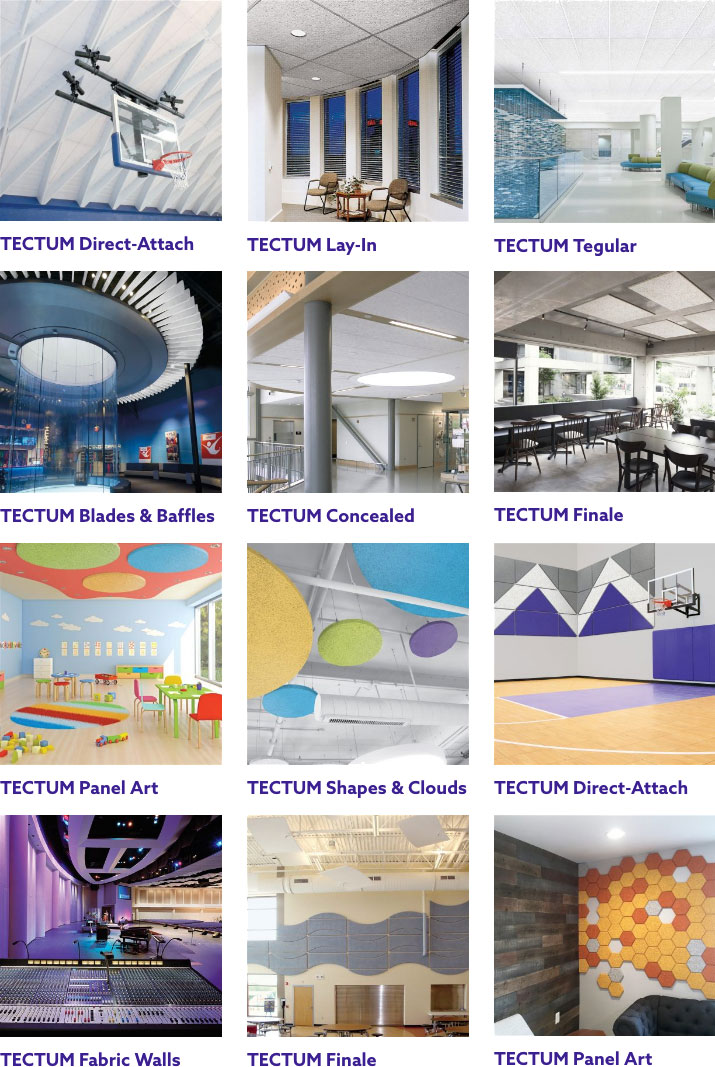 KEY FEATURES

Durable for heavy-use interiors
Sound absorption (NRC) values up to 1.0
Great acoustical retrofit solution
Color options include standard, Colorations colors, and custom Sherwin-Williams colors
Contributes to LEED credit areas including FSC certified wood
Attach to a variety of ceiling substrates
Easy to install

SPECIAL APPLICATIONS

Gymnasiums
Auditoriums
Multi-purpose Spaces
Acoustical Retrofits
Exposed Structures
Education Spaces
Company: Armstrong Building Solutions
Product: TECTUM Ceiling & Wall Panels
Source: https://www.armstrongceilings.com/commercial/en-us/articles/tectum-part-of-armstrong-portfolio.html
Tags: Acoustics | Ceiling | Color | Interior Design | LEED Certification | Wall Panels
---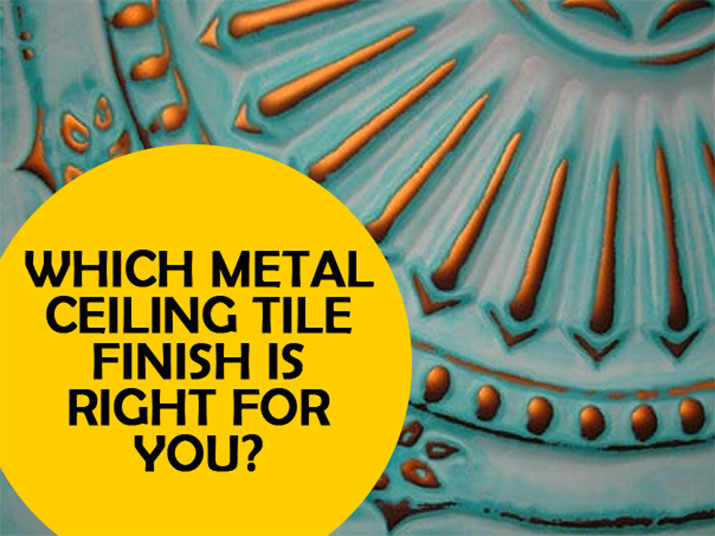 One of the most beautiful parts of metal ceiling tiles is the sheer number of options there are when selecting one. There are numerous sizes, shapes, and colors to choose from. It is practically guaranteed that you will be able to find a metal ceiling tile that fits not only the atmosphere of the room it will be in but your personal taste as well. Nothing demonstrates these options better than the different finishes available for tiles.
Benefits Of Having Different Metal Ceiling Tile Finishes
There are hundreds of different finishes available, each one unique. Finishes can be worn and weathered to shiny and bright. Some may be bold, while others may be dull. This variety is great for a few reasons.
You will be able to match existing ceiling tiles. If you are looking to replace a few ceiling tiles that are a part of an existing ceiling, there will not be a problem finding a tile to match the tiles that are already in place. This will make the replacement process much easier for you.
You will find the perfect ceiling tile for whatever aesthetic appeal you are in search of. Whether you want a vintage appearance or a modern appearance, there is no shortage of metal ceiling tile finishes. Metal ceiling tiles allow you to express your individuality. Your creativity and style can be directly seen by the metal ceiling tiles you wish to display around your home.
How Can Different Finishes Impact A Room?
The room where the metal ceiling tile will be placed can directly impact the style and feel you wish to convey. For example, you may want a bold ceiling tile for your bathroom to liven it up while preferring a more neutral ceiling tile for your bedroom. Metal ceiling tiles can fit into a room in practically any way possible. If you wish for them to be the focal point of a room, there are metal ceiling tile finishes that achieve that. If you wish for your metal ceiling tiles to compliment or blend into a room, there are finishes that will achieve that as well.
Consider using metal ceiling tiles around your home in these different ways. Obviously, the finish you choose will affect how each tile is portrayed in a room.
Ceilings – Their name says it all. Metal tiles can be used to give your current, boring ceiling more character. Ceilings made of tin tiles can make a room feel more warm and welcoming
Walls – Instead of painting, consider hanging metal ceiling tiles on your wall to provide a unique dynamic. It may be best to consider more conservative or flat-based finishes here, as a wall of shiny tin can be distracting and overwhelming. Then again, it's your room and you can decorate it as you see fit!
Wall Art – Simply using individual tiles can spice up a room. A vintage finish can make for a great piece of decorative wall art.
Backsplashes – A tin ceiling tile backsplash makes a great compliment to a laundry room or kitchen. Not only do they look good, but they provide practicality as well. Metal ceiling tiles are easy to wipe down and clean. Removing grease or detergent from paint or wallpapering is difficult, but this is not the case with metal tiles.
Memo Boards – Cork boards are outdated. Metal tiles can be used in an office or kitchen as a perfect complimentary piece.
Bookshelves – Add a vintage look to your room by replacing the backboard of a bookshelf with a metal ceiling tile that has a rustic appearance.
Popular Finishes
There are hundreds of finishes to choose from, but these are some popular choices that can fit any style of room. You can purchase a color sample of each to ensure that the tin tiles will perfectly achieve the look you are striving for.
Alaska Finish – This finish provides a very rustic and antique look. It is a hand-faux finish in transparent copper, with hints of very light blue and teal.
Key West Finish – Consider this finish the opposite of the Alaska Finish. The hints of teal that are seen in the Alaska Finish make up the base of the Key West Finish. Perfect for a sunroom or beach home, this tile comes in an antique brass, white, and green finish.
Oklahoma Finish – This tile is hand finished in Renaissance gold and ivory.
Classic Gold Finish – Much shinier than the previous three options, this tile is powder coated in white wash and transparent yellow gold with shiny gold embellishments.
So what metal ceiling tile finish did you decide on?
Company: Metal Ceiling Express
Product: Decorative Metal Ceiling Tiles
Source: http://www.metalceilingexpress.com/blog/metal-ceiling-tile-finish/
Tags: Ceiling | Interior Design | Metal | Wall Panels
---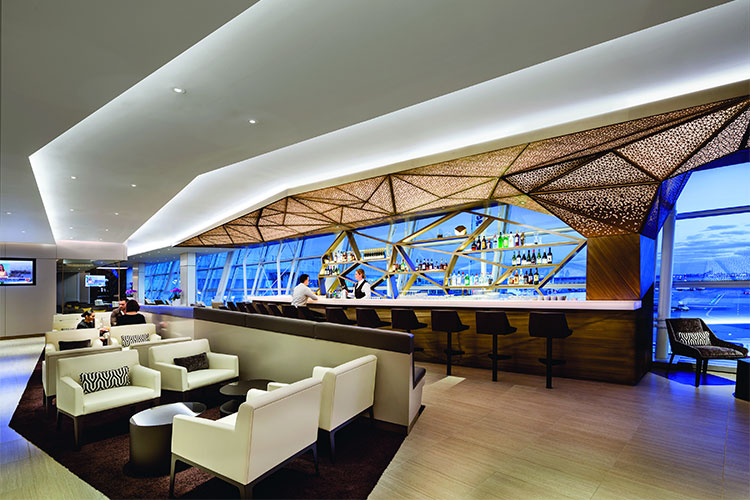 With the broadest portfolio in the industry and over a century of design and installation experience, Armstrong® Ceiling Solutions now offers more ways for architects and designers to make out-of-the-ordinary ceilings a reality.
Whether its modifying standard product shapes and sizes or creating custom sizes, shapes, colors, finishes, images, or perforations, no other ceiling manufacturer offers the broad range of options available from Armstrong Ceilings.
The You Inspire™ Solutions Center, a free service which provides collaborative design and pre-construction assistance, rounds out the full range of capabilities Armstrong taps to bring one-of-a-kind ceilings to life.
"Whatever your idea for a ceiling is — no matter how unique — bring it to us", says Nick Taraborelli, vice-president, commercial marketing, for Armstrong Ceilings. "We will do whatever we can to make it happen and help you to create your next great space."
New Capabilities
Some of the new capabilities Armstrong recently added to its portfolio include:
New cloud, striated, and other custom profiles for SoundScapes® Blades™ panels
Larger 4' x 4' sizes for MetalWorks™ Torsion Spring panels
More options in panels with Total Acoustics™ performance, including more standard Ultima sizes, FastSize™ options, and wood and metal offerings.
Colorations® Colors now for Lyra® Concealed PB (plant-based) ceiling panels.
Drywall linear lighting and intersection down lighting
To be inspired by the broad range of capabilities Armstrong offers, visit https://www.armstrongceilings.com/capabilities. There you can view "Unleash Your Imagination," a colorful, 18-page brochure that illustrates the many unique ceiling designs that have been brought to life utilizing the capabilities of Armstrong Ceilings.
Company: Armstrong Building Solutions
Source: https://www.armstrongceilings.com/capabilities
Tags: Acoustics | Architecture | Ceiling | Design
---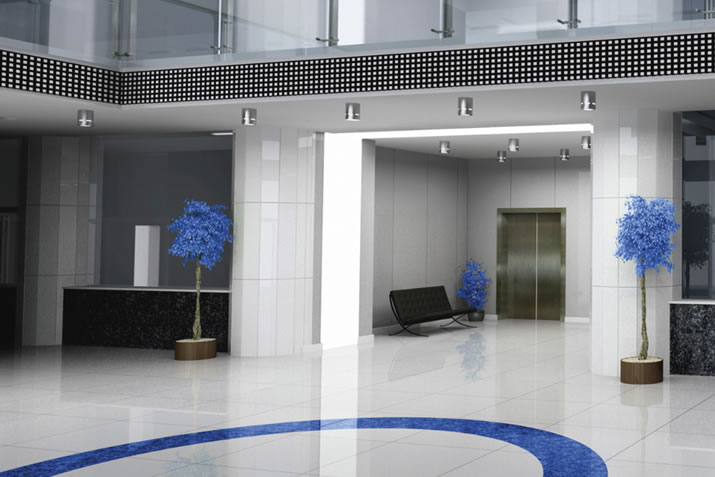 Contemporary architecture strives to be seamless, high performance and flexible. As a result this requires intelligent and creative solutions to servicing these spaces. Integrated strategies for the provision of power, communication, data and HVAC are essential. Howe Green products enable this integration to happen.
Served vs Servant - a concept first coined by AIA and RIBA gold medalist Louis Khan, a great 20th century architect.
Our raison d'être
Here at Howe Green we take inspiration from Khan and have a range of products which enable the architectural greats of today to realize their vision. Contemporary architecture strives to be seamless, high performance and flexible. As a result this requires intelligent and creative solutions to servicing these spaces. Integrated strategies for the provision of power, communication, data and HVAC are essential. Howe Green products enable this integration to happen. The introduction of innovative solutions to building services such as voids, suspended ceilings, raised floors, false walls, service chases and service cores are a direct result of the commercial incentive of maximizing the usable space within a building. However these strategies require access, which is where Howe Green's products are used.
Types of access cover
The access covers generally fall under three types, those mounted on walls, those fitted in a ceiling system and floor based products. These systems can be used internally and externally. Howe Green products are used across the globe in challenging environments, the products have been put to use in commercial offices, transport hubs, public spaces, retail and residential architecture. It is a versatile family of products that address the requirement for high quality, accessible service space.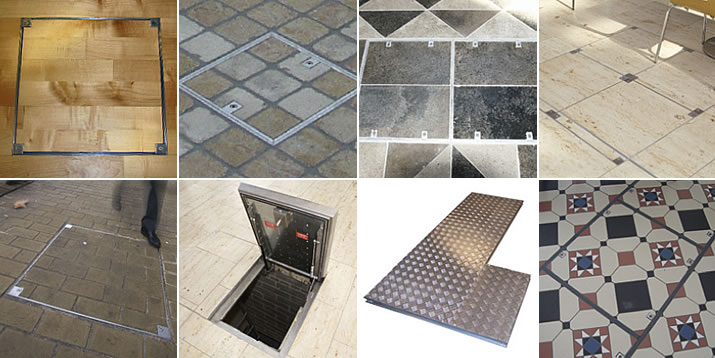 What can we do for you?
"Design for the present with an awareness of the past, for a future which is essentially unknown" Norman Foster. Howe Green's systems aim to add value to the architecture in which it is installed; they allow for flexibility in future demands by allowing ease of access for service updates and ease of maintenance for existing service infrastructure.
Ease of use
Howe Green Access Covers are supplied with clear and legible installation guides ideal for contractors unfamiliar with our products. The "Buildability Factor" is considered at every stage. Crucial in installation, where the access covers have a low level of complexity, are generally built to standardized construction dimensions and reduce the level of risk for the contractors fitting the product - a responsibility that must be upheld by the principle designer, client and suppliers under HSE and CDM 2015 regulations.
Responsiveness
Howe Green is a responsive company that understands the design, construction and operational process and just how fast changes occur. As an established company we have the resources invested in cutting edge C.N.C. equipment to respond to these changes rapidly; Howe Green stock products are dispatched the same day, whilst bespoke items have a 7-10 day lead time.
Precision
The fabrication and manufacture of our products is heavily influenced by sustainability; the process minimizes waste material and guarantees a precise tolerance finish for a high performance product. This ensures a quality product is delivered to the correct level of specification every time.
Integration
Howe Green's products are integrated into the BIM workflow for architects, specifiers, clients, contractors and even facilities management. This allows for the products to be introduced at concept design stage through to retrospective fittings in operation and management, which has happened recently for one of our client's – the Eagle Church Campus situated in Indiana, USA.
This high level of integration allows for costing, schedules, performance analysis all to be undertaken and documented through the whole lifespan of the design, procurement, facilities management and operation and maintenance of Howe Green's products.
Company: Howe Green US
Source: https://www.howegreen.us/howegreen/news/introduction-to-access-covers.php
Tags: Access Covers | Ceiling | Floor | Sustainability | Wall Panels
---

Lauded for its use of space and light that includes an eye-catching string of skylights featuring Kalwall translucent sandwich panels, the $44 million student life center at SUNY Cortland is one of the two main winners of the American School and University Magazine's Educational Interiors Showcase awards.
The SUNY Cortland project, led by Hastings + Chivetta Architects of St. Louis, Mo., was awarded AS&U's prestigious College Citation by a panel of three judges.
"Great use of space, light, and color," the judges said. "Aesthetically pleasing and notable. Architecturally outstanding."
The student life center includes a common area, café, and sports and workout areas. The skylights that feature the Kalwall panels flood the athletics portion of the building in diffuse natural light that spills into the common area. The Kalwall panels also fit into the facility's design to consume less energy and earn a LEED Gold certification.
"Sustainability and energy efficiency have been at the core of Kalwall for 60 years," says Amy Keller, one of the principals of Kalwall. "We're honored educational institutions and other environmentally-conscious organizations continue to utilize Kalwall for their daylighting projects."
Company: Kalwall Corporation
Source: https://www.kalwall.com/2016/11/21/kalwall-featured-in-major-award-winning-college-project/
Tags: Ceiling | Glass | Sustainability | Windows
---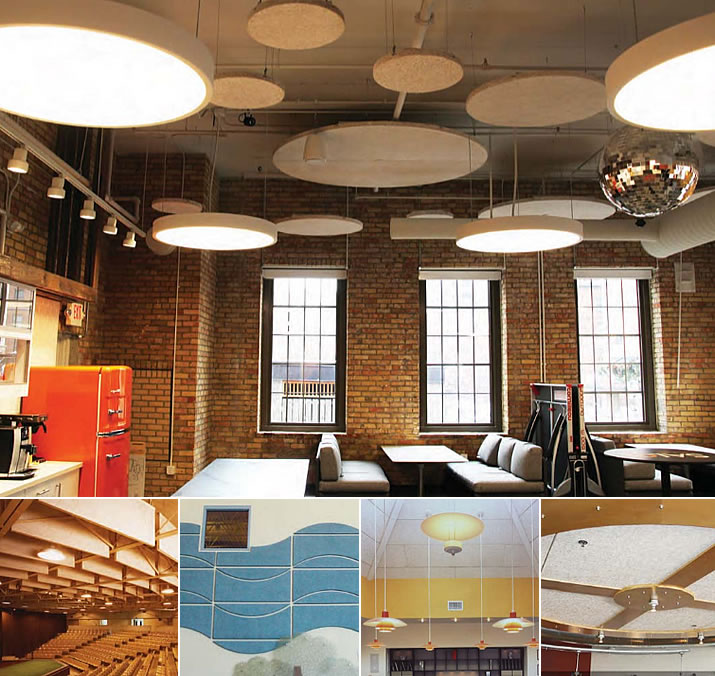 Tectum ™ Acoustical Wall and Ceiling Panels Easy to work with and install, Tectum Interior Panels are commonly used in new construction, retrofits and anywhere acoustic absorption, style and toughness are needed. They absorb sound and are tough enough to stand up to daily abuse in high-traffic, heavy-use areas. Natural, painted, printed with your gr aphics or covered in fabric, they provide an attractive, durable finish in any interior application. Manufactured at the Tectum Inc. plant in Newark, Ohio, for over 65 years, Tectum Products stand the test of time.
Tectum Acoustical Panels are composed of aspen wood fibers, bonded with an exclusive inorganic hydraulic cement binder and formed in a continuous process under heat and pressure. As a result, physical characteristics usually obtained only with a combination of several separate building materials are found in Tectum Products: excellent sound absorption, abuse resistance, a decorative textured interior finish — all in a single, structurally strong yet lightweight product. All Tectum Products are Class A/Class I, with a flame spread of 0 , in accordance with ASTM E- 84 .
Hard, reflective surfaces, multiple noise sources and the need to hear and be understood are the primary reasons that good acoustics are a critical part of any good design. All Tectum Products can be factory or field painted without impacting acoustical performance.
New Products in the Tectum Interior Line
Panel Art
A variety of pre-fabricated shapes encourage custom artistic expression. Create a unique statement wall that absorbs noise and is tough enough for schools.
Line Design
Combine all of the acoustic performance and toughness you expect from Tectum Products with the added interest of textural design options created by straight line v-cut grooves.
Tectum Acoustical Roof Deck
For an economical, environmentally responsible structural acoustical roof deck, Tectum Inc. offers a full line of Roof Deck options. To explore the design options for the building envelope, see our Roof Deck Catalog online.
Company: Armstrong Building Solutions
Source: http://www.tectum.com
Tags: Acoustics | Ceiling | Wall Panels
---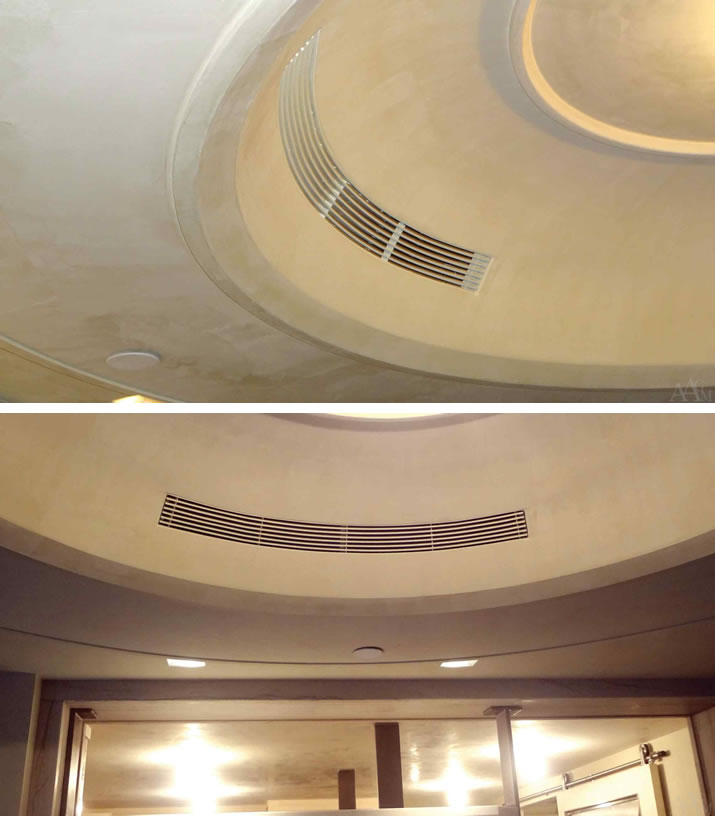 Vertical radius and horizontal curves
The Story
Recently we were approached by one of our Architect partners to assist with a very unique challenge. They designed a custom ceiling recess with a light fixture access point. To bring HVAC to that area of the room required a grille to match both the curve and the contour of the ceiling. This would mean a linear bar grille incorporating both a top-to-bottom radius and a side-to-side twist.
Our team suggested the AAG Advanced Architectural Grilleworks Plaster J-BeadTM aluminum linear bar grille frame to create a seamless installation. The Plaster J-BeadTM design is quickly fastened to the wall via the outer flange, by either screwing or nailing through the pre-drilled holes. After fastening, the flange is covered with a skim coat of plaster providing a clean, flush appearance.
Both the architect and the homeowner were very pleased with the results and how well the grille fit the contour and character of the ceiling.
At a glance
TYPE: Linear Bar Grille
STYLE: AAG10
FRAME: Plaster J-BeadTM Frame*
DETAIL: Fixed Core
MATERIAL: Aluminum
FINISH: Paint
* patent pending
Company: Artistry in Architectural Grilles by Advanced Arch Grilles
Source: http://www.aagrilles.com/aag100-plaster-j-bead-curved-linear-grille/
Tags: Ceiling | HVAC | Interior Design
---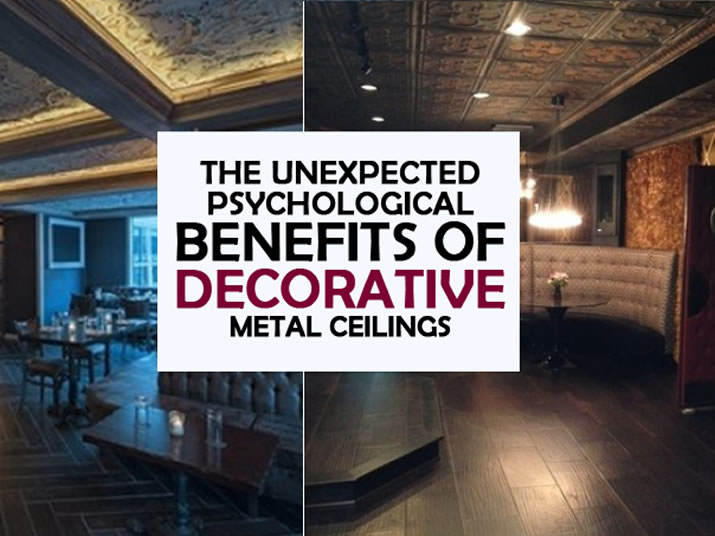 Whenever you walk into a room, your mood can be affected tremendously. Think about that nightclub restaurant you went to in the past. When you walk in there, you develop this mysterious vibe that compliments the area and creates an effective mood for the whole crowd. The same principles can be applied when shopping for ceilings for your home. Color and lighting can really help set a variety of moods for the rooms in your house. A common trend in decorative metal ceilings is the incorporation of metal tiles. Let's us look into some of the benefits associated with decorative metal ceilings.
Calming Nature
With a plethora of design of options, you can instill a feeling throughout any part of your house. Designs range from suns, flowers, abstract shapes, and anything in-between. The choice of metal is also something to consider. For example, choosing a copper ceiling will make your room brighter and almost majestic, as opposed to silver, which may make the room darker and not as vibrant. The choice is up to you, but rest assured, there is bound to be an option that fits your needs.
Temperature Control
Because of metal's great insulating capabilities, a metal ceiling can help make a room more toasty. This also helps you to cut down on your heat bill, since the metal can utilize the heat more effectively.
Ability To Block Sound
Metal's ability to block sound can help you create a nice, quiet, and peaceful room in your house, where the sounds going in other rooms are muffled and don't disturb you. This could be perfect in a library room, where you need to focus on reading your favorite novel!
Set The Mood Right With Metal Ceilings
Metal ceilings are very unique in style and produce a host of benefits that you may not have been aware of. If you're in the market to remodel a room in your house, why not consider installing metal ceilings? You, your family, and your guests will fall in love with your home!
Company: Metal Ceiling Express
Product: Hand Faux Tin & Metal Ceiling Tiles & Panels
Source: http://www.metalceilingexpress.com/blog/benefits-of-decorative-metal-ceilings/
Tags: Ceiling | Interior Design | Metal
---
Restaurant, bistro, cafe, or snack shop: no matter what you call your commercial dining establishment, decorative ceiling tiles are the perfect way to create the atmosphere you want to portray. We even have great restaurant ceiling tiles for pubs, taverns, and inns. And whether you serve Italian, Greek, Japanese, Moroccan, Ethiopian, or any type of fusion cuisine, we have a restaurant ceiling tile design that will fit in perfectly with your theme. Choose any type of installation for your restaurant ceiling tiles, including drop-in, glue-up, or nail-up methods.
We have restaurant ceiling tiles to match every type of flavor. Tex-Mex? Try our Longhorn custom tin ceiling tile. Wine bar? Choose from Guardian Cherub, Grecian Urn, or Tuscan Glory. Asian Fusion? Select a restaurant ceiling tile from our line of EcoTiles, a brand of environmentally-friendly restaurant tiles made from 100% natural bamboo pulp.
For an upscale impression, choose from our line of plush and rich-looking faux-leather tiles or our glamorous real aged copper restaurant kitchen ceiling tiles. Each ceiling tile fits quite nicely in any restaurant setting.
For a chic bistro, try a faux-tin or real tin restaurant ceiling tile for the look of today. You will get the same beautiful look at a fraction of the cost.
Styles range from clean and sophisticated to classic Art Deco to mysterious and intriguing. Shop online and find the right restaurant ceiling tile that says something about your dining establishment.
We have restaurant kitchen ceiling tiles that are Class A fire-rated, tiles that absorb sound, and tiles that are ecologically friendly. And we have glue-up tiles that will cover an old acoustic ceiling as well as drop-in tiles that will fit into almost all existing grid systems. Our assortment of restaurant kitchen ceiling tiles will give your restaurant, bistro, cafe, or snack shop character. Every restaurant ceiling tile pattern is unique, so you're sure to find something that catches your eye.
No matter what your theme, cuisine, or decor, there's sure to be a beautiful restaurant ceiling tile to match! We also offer decorative ceiling tiles for your home. Give us a call toll-free at 1-866-297-0380 and buy your restaurant ceiling tiles today!
Company: Decorative Ceiling Tiles, Inc.
Source: http://www.decorativeceilingtiles.net/pages/Restaurant-Ceiling-Tiles-and-Restaurant-Ceilings.html
Tags: Ceiling | Interior Design | Wall Panels
---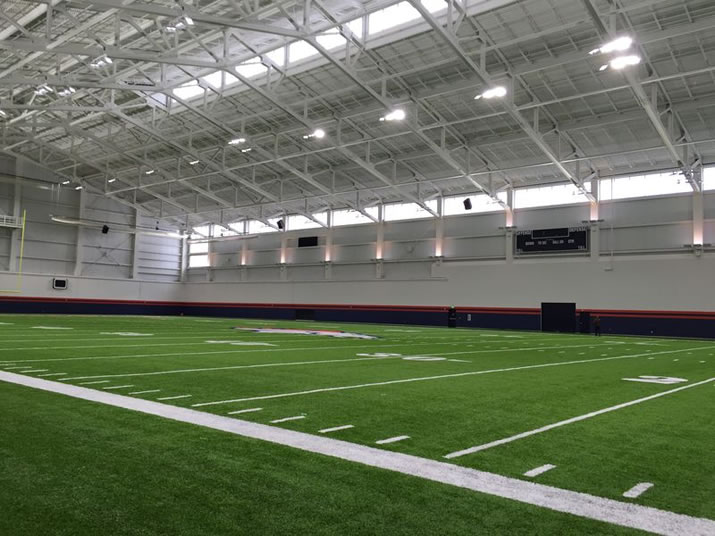 Top-flight training facilities are a must for any professional sports team and that is certainly true for cold-weather teams in the National Football League. And when it comes to training facilities, the Super Bowl 50 champion Denver Broncos have one of the best.
The 115,000 square-foot field house, which features a full-sized football field, was part of a $37 million project that prominently features Kalwall® translucent sandwich panels.
Kalwall is a preferred partner for architects and contractors when it comes to indoor sports facilities because of its natural daylighting qualities, durability and flexibility. Kalwall panels allow diffuse natural daylight to provide optimal training conditions.
The Broncos' field house, for example, has three viewing towers, ranging from 48- to 78-feet high, for cameras to record practice. The glare-free Kalwall panels provide the right kind of light for recording.
Powers Products of Denver, Colo., and Cheyenne, Wyo., is the regional distributor of Kalwall products and was able to perform daylight modeling for the Broncos field house to achieve the ultimate in balanced, glare-free, Museum-quality DaylightingTM.
Company: Kalwall Corporation
Source: https://www.kalwall.com/2016/04/27/where-champions-train-kalwall-lights-up-broncos-indoor-facility/
Tags: Building | Ceiling | Wall Panels
---

Gannett Fleming / LANta Bus Facility / Allentown, PA / Guardian 275® Ridge Skylight
Imagine letting soft, diffuse light fill interior spaces. Think of how happy your building's occupants will be when they're protected from hot-spots that make them feel uncomfortable or glare that limits their use of computers, cell phones and other personal devices. Guardian 275® skylights and canopies provide built-in sun control, eliminating many of the issues common with traditional glass systems. Their aluminum framing and sandwich panel construction also make them strong but lightweight, often reducing the need for additional support structure.
Guardian 275® systems feature advanced Ultimate Series™ face sheet technology for long-term dependability, and can be configured with thermal breaks as well as numerous insulation options for enhanced performance in more demanding climates. Guardian 275® panels are also available with a variety of sheet color options, and panel insulation can also be tinted to create a stained-glass look or to incorporate school or logo colors. As with our Guardian 275® wall systems, skylights and canopies are also available in our TransCURVE™ curved system configuration, providing an eye-catching design element.
Company: Major Industries Inc.
Source: http://majorskylights.com/products/skylights/guardian-275/
Tags: Ceiling | Design | Wall Panels | Windows
---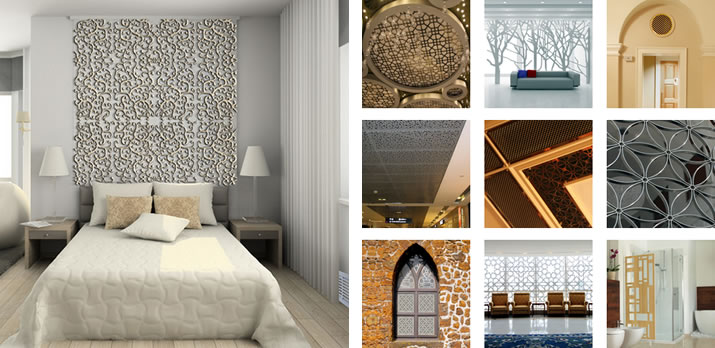 Custom laser-cut metal panels and screens have a wide scope of decorative interior and exterior applications that are only limited by your imagination. Architectural Grille can help turn your inspirational design/pattern into a sleek, contemporary panel that will complement any modern space with the right materials and finishes.
Applications:
Infill Panels: Stairways, Balconies, Railings
Ceiling and Skylight Panels
Room Divider and Partition Screens
Custom HVAC Grille Covers
Door Panel Inserts
Privacy Screens
Window Panels and Shutters
Artwork
Standard Features :
Commercial and Residential use
Interior and Exterior application (depending on material and finish)
| | |
| --- | --- |
| Material | Finish |
| Aluminum* | Satin, Mirror Polish, Primed, Anodized Colors (Clear, Black, Duranodic: Light, Medium, Dark), Powder Coating Colors |
| Brass | Satin, Mirror Polish, Statuary (US10B): Light, Medium, Dark |
| Bronze | Satin, Mirror Polish, Statuary (US10B): Light, Medium, Dark |
| Stainless Steel | Satin, Mirror Polish |
| Steel | Raw, Primed, Powder Coating Colors |
*post-consumer 94% recycled aluminum
Company: Architectural Grille
Source: http://www.archgrille.com/collections/custom/products/decorative-panels-screens
Tags: Ceiling | Interior Design | Wall Panels | Window Shades
---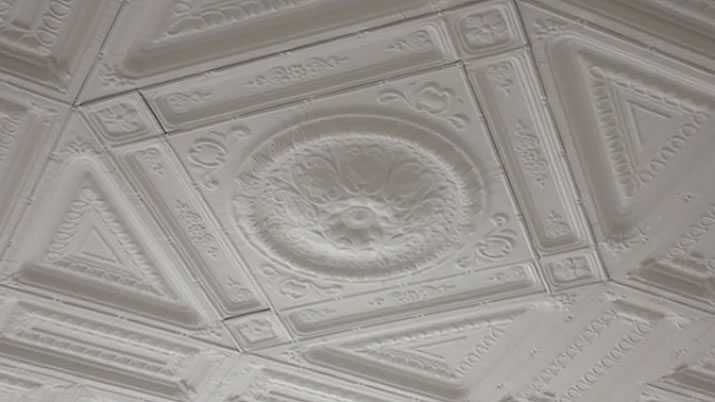 This year's Ceiling Project Award goes to Ricasoli&Santin Contracting for their contribution to the Duffy School-Senior Housing Project in Florence. The idea is pretty interesting: take an existing public school building constructed in the early 1900's and convert it into a modern senior living facility while maintaining its historic character.
During the planning stage, it was discovered the acoustical tile drop ceiling found throughout the building hid classic, formed tin ceilings. The town's historical society saw not only the beauty of these ceilings but also their historical significance and incorporated their repair and replacement into the building plan.
Bob: Ricasoli&Santin was hired to do the tin ceilings in the hallway and the bedroom, and living room areas at the living units. We were required to help come up with the patterning that matched the original historic ceilings in each of the areas.
Over the course of four months, Ricasoli&Santin's crew worked to install large expanses of tin ceiling, running the length of the long hallways on two floors of the building. These incorporated not only ceiling tiles, but complex tin moldings as well. Making matters even more difficult was the fact that many of the components came from different manufacturers, as opposed to being part of an integrated single system.
During this time, the crew also worked installing additional elaborate tin ceilings in former classrooms that would become individual apartments. Six of these had medallion ceilings where the medallion alone was made up of sixteen separate tin pieces that had to fit together exactly. Even alcoves, originally used as coat rooms received tin ceilings and moldings. The variety of ceiling patterns and the building structure make each residence at the Duffy School Senior Housing facility unique. The vertical relief of the tin ceilings is enhanced by the tall windows, typical of school buildings at the time. It's a rather dramatic effect.
Bob: I'm really proud of the work that Ricasoli&Santin did on this project, duplicating the historic value and atmosphere of the original building when it was built in the early-1900's.
Company: Decorative Ceiling Tiles, Inc.
Source: http://library.decorativeceilingtiles.net/2015-nj-disca-excellance-in-construction-awards-tin-ceiling-project/#.Vo5pyvGaQUE
Tags: Ceiling | Interior Design