architecture - engineering - construction

Ceiling
---
September 18, 2019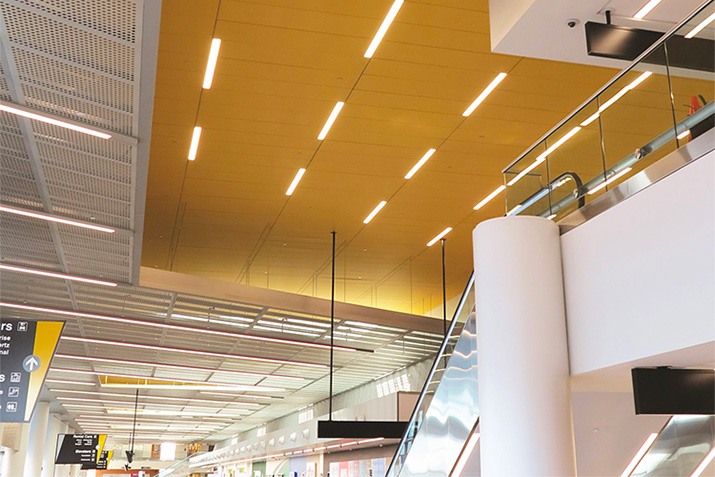 One panel structure with thousands of design possibilities. There's more to Techstyle than typical wall-to-wall grid installations. A full range of trim products enables the same basic panel structure to take on countless creative forms.
---
September 2, 2019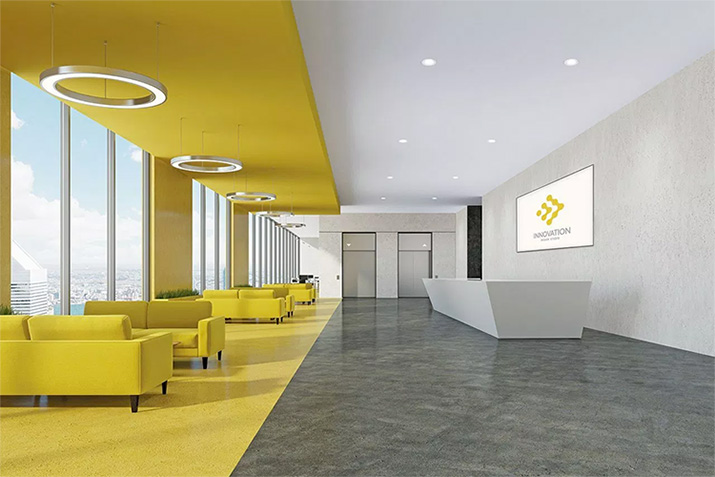 New seamless ceiling provides performance benefits of both Armstrong® Total Acoustics® and Sustain® portfolios.
---
July 22, 2019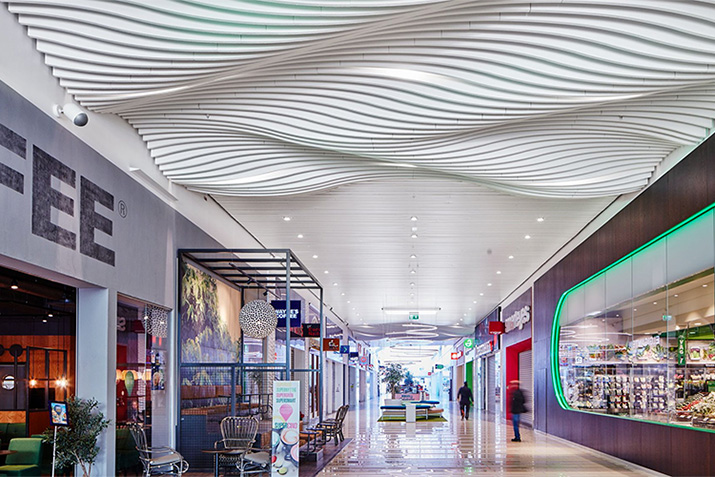 The design opportunities presented by modern open spaces create a unique set of challenges when it comes to acoustics. Influences as diverse as the creative reuse of factories to the benefits of daylighting have contributed to the popularity of open plenums, exposed structures and the use of glass, wood, metal, polished concrete and other acoustically reflective materials.
---
July 3, 2019
When it comes to finishing any home ceiling or room remodeling project, nothing beats crown molding. But many homeowners avoid crown molding because it is expensive and difficult to work with. Decorative Ceiling Tiles has a line of ceiling moldings that will solve the problem of expensive and difficult crown molding. Our decorative foam products look just like the real thing, but they make installation and maintenance very easy.
---
June 21, 2019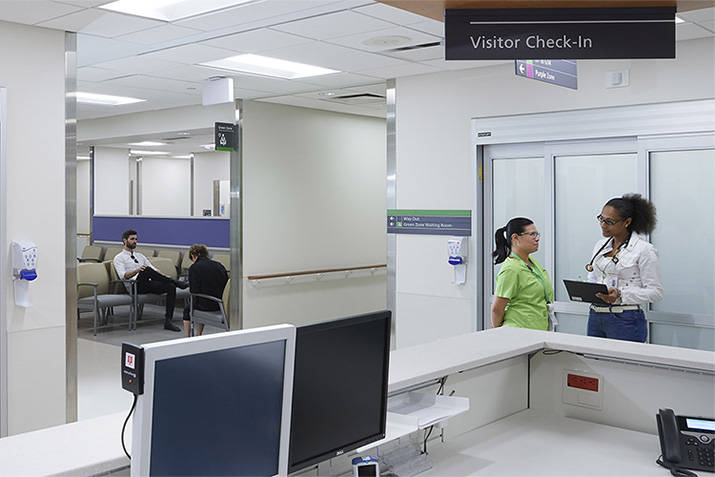 Imagine a bustling emergency room. Nervous patients. Hustling emergency personnel, efficient nurses calmly gathering background information. The environment is tense and active, yet there is still a profound need for privacy and peace. Now, you're in a classroom. The room is quiet, all eyes are on the teacher whose, clear, engaging voice captivates her audience. Finally, you've joined a group brainstorm. You and your colleagues are debating the best course of action. The environment is energetic yet respectful as others continue their work around you. These environments are very different yet, each space is made better by its ability to control and manage the noise within. So, how do we get there? How do we manage the acoustics in environments as diverse as these? The answer is through Targeted Acoustics.
---
May 22, 2019
Certainteed building scientists offer up an acoustical solution that is easy to replicate. Located approximately 30-miles outside of Philadelphia, East Whiteland Township is in the center of Chester County. The township building is typical of local government, a combination of office spaces and meeting facilities in a relatively no-frills municipal building.
---
May 20, 2019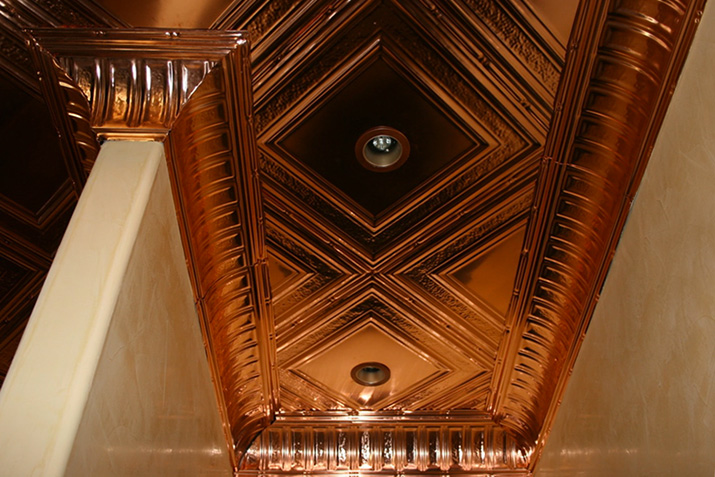 Like tin ceiling tiles, floor tiles and even the ceramic tile, installing copper ceiling tiles doesn't have to be complicated, either. In fact, some of the easiest home renovations are done with copper ceiling tiles. They're easy to clean, beautiful, and durable. Using copper ceiling tiles in your home is a smart move for almost any project.
---
May 17, 2019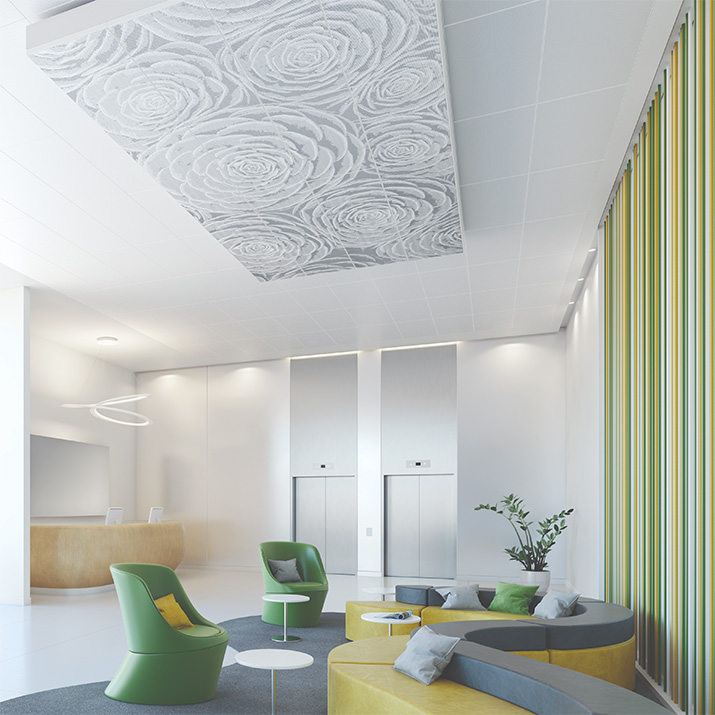 Custom image perforation capability from Armstrong Ceiling & Wall Solutions offers unique visual and acoustical performance.
---
April 8, 2019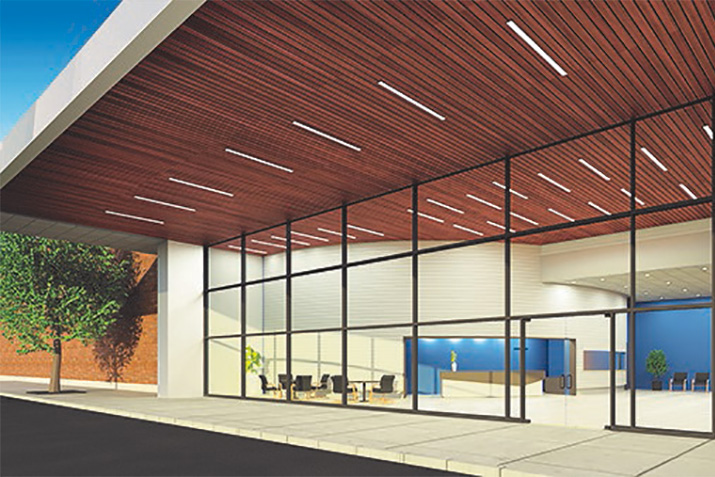 The beauty and warmth of solid wood linear ceiling panels can now be extended from indoors to outdoors with the introduction of WoodWorks® Linear Exterior Solid Wood Panels from Armstrong Ceiling Solutions. Made from Western Hemlock, the panels are specially manufactured to withstand outdoor conditions, making them suitable for use on the underside of soffits, overhangs, and other exterior surfaces that are not directly exposed to the elements.
---
December 31, 2018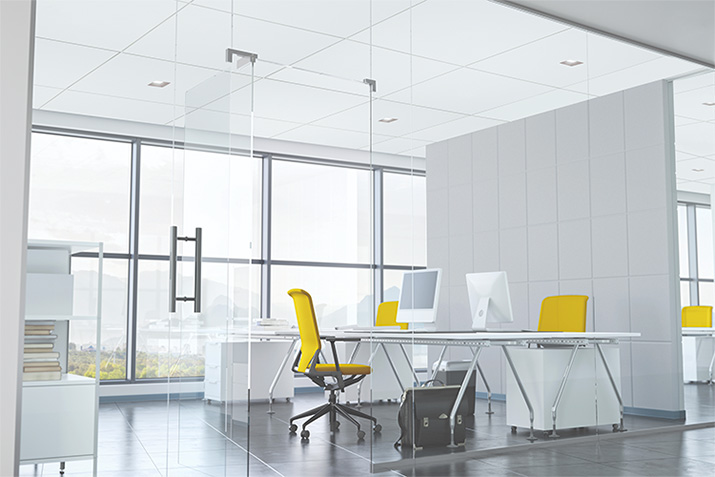 Now, get the look of timeless drywall ceilings in a suspended ceiling system. Pre-cut ceiling panels are designed to seamlessly integrate with trimless downlights.
---
March 23, 2018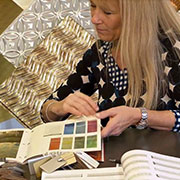 In this video we are talking about Ceiling Tiles. Installation methods, styles, materials, colors, and sizes. Everything you'll need to know in order to select your perfect ceiling tiles.
---
November 9, 2017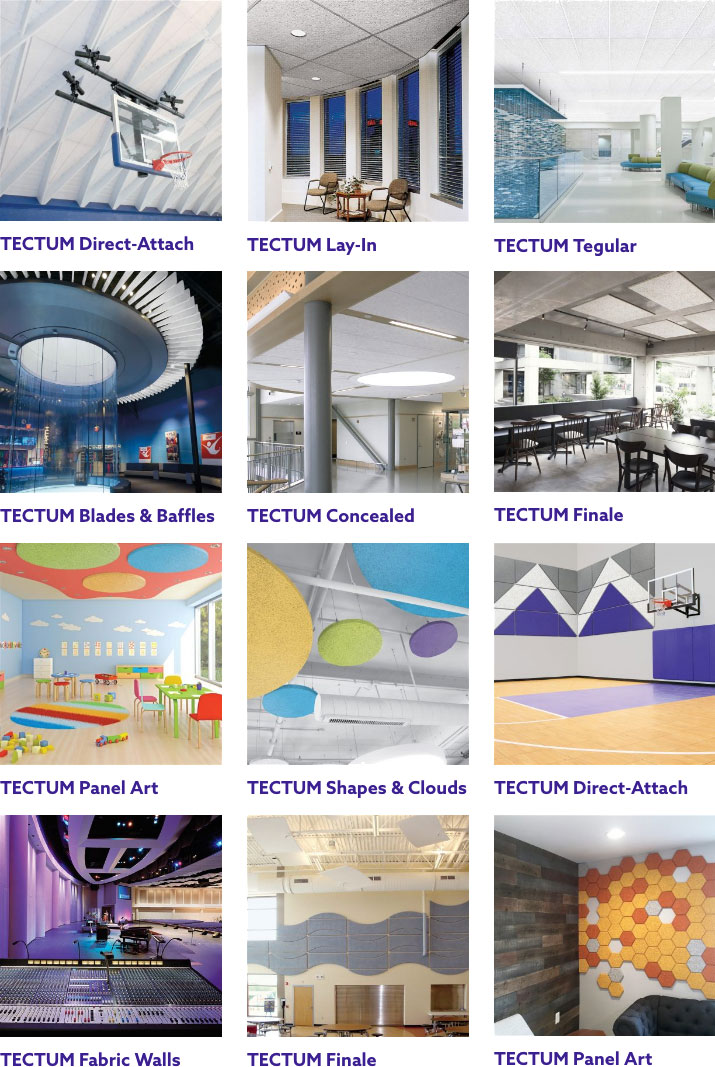 From a natural factory finish or white, to integration with COLORATIONS colors (that's 13 standard colors) or made-to-order Sherwin-Williams® colors, TECTUM panels can coordinate or complement your color palette with the sizes, shapes, and forms that make your designs happen.
---
October 11, 2017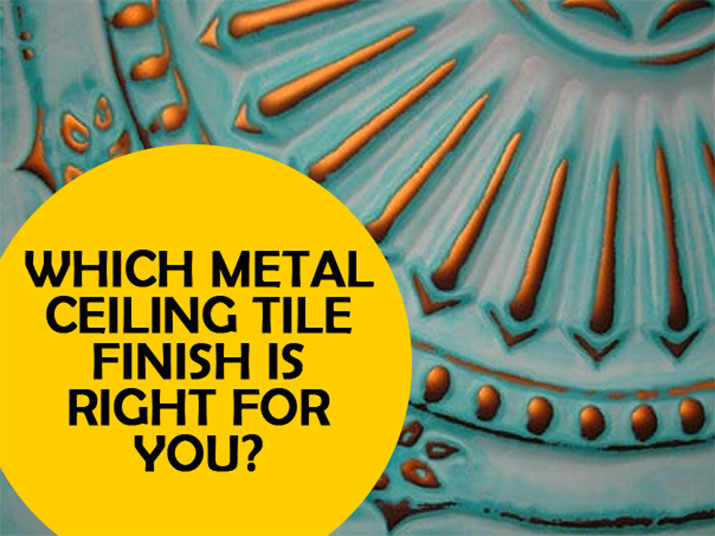 One of the most beautiful parts of metal ceiling tiles is the sheer number of options there are when selecting one. There are numerous sizes, shapes, and colors to choose from. It is practically guaranteed that you will be able to find a metal ceiling tile that fits not only the atmosphere of the room it will be in but your personal taste as well. Nothing demonstrates these options better than the different finishes available for tiles.
---
October 4, 2017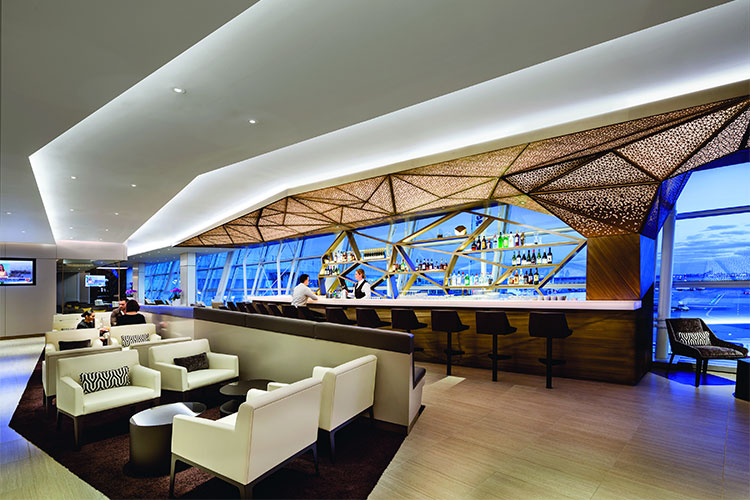 Colorful, online brochure offers inspiration for dozens of unique ceiling designs.
---
December 12, 2016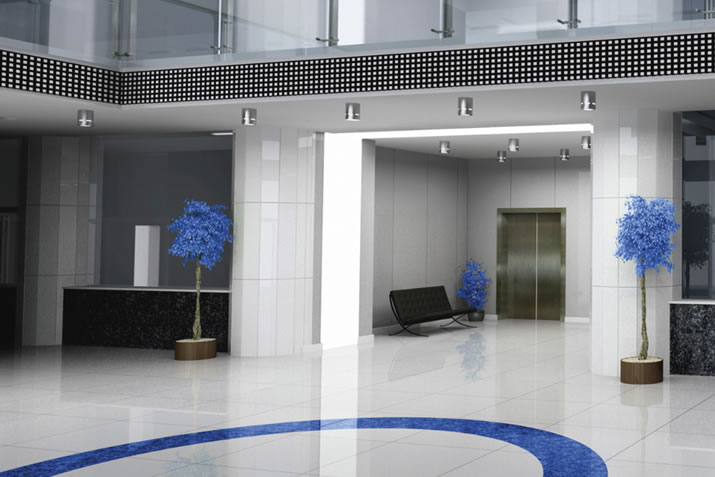 Contemporary architecture strives to be seamless, high performance and flexible. As a result this requires intelligent and creative solutions to servicing these spaces. Integrated strategies for the provision of power, communication, data and HVAC are essential. Howe Green products enable this integration to happen.
---
November 28, 2016

Lauded for its use of space and light that includes an eye-catching string of skylights featuring Kalwall translucent sandwich panels, the $44 million student life center at SUNY Cortland is one of the two main winners of the American School and University Magazine's Educational Interiors Showcase awards.
---
November 11, 2016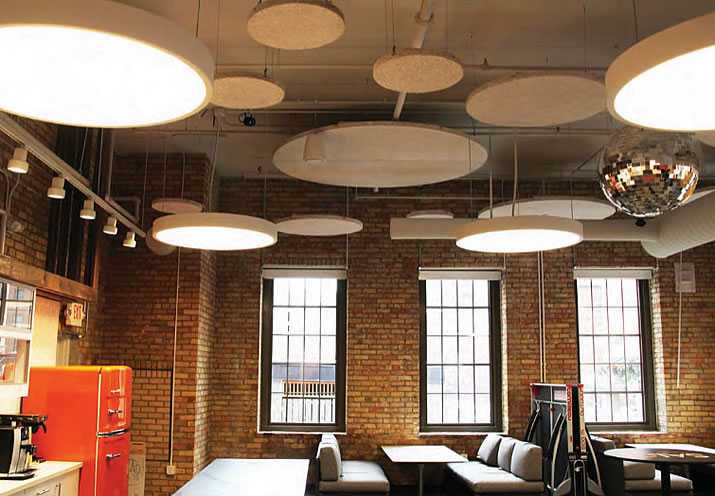 Easy to work with and install, Tectum Interior Panels are commonly used in new construction, retrofits and anywhere acoustic absorption, style and toughness are needed. They absorb sound and are tough enough to stand up to daily abuse in high-traffic, heavy-use areas.
---
November 9, 2016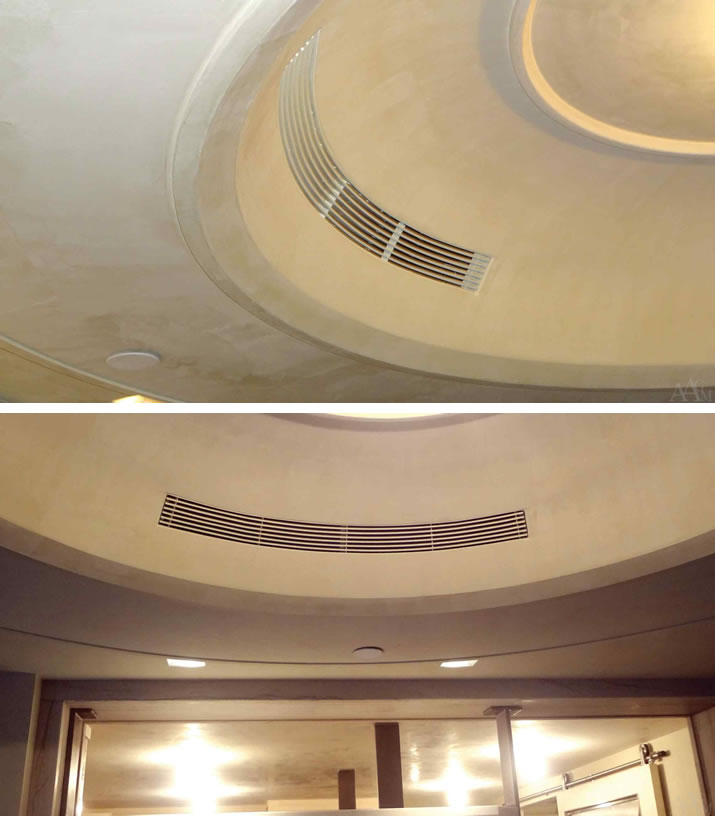 Recently we were approached by one of our Architect partners to assist with a very unique challenge. They designed a custom ceiling recess with a light fixture access point. To bring HVAC to that area of the room required a grille to match both the curve and the contour of the ceiling. This would mean a linear bar grille incorporating both a top-to-bottom radius and a side-to-side twist.
---
July 22, 2016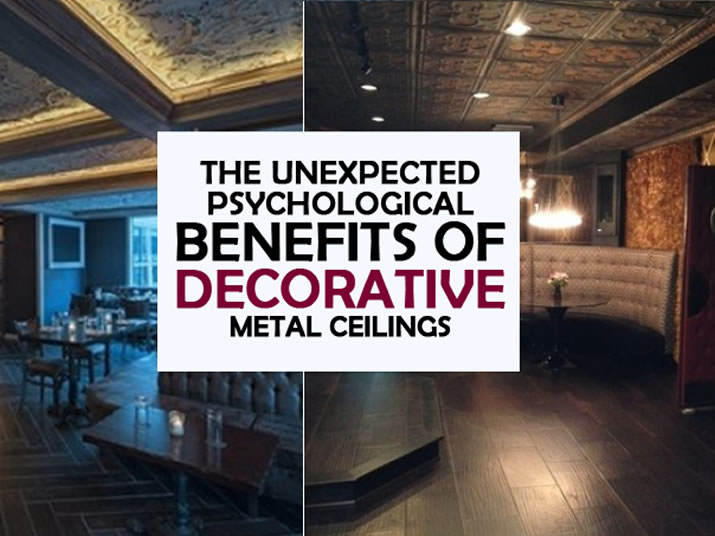 Whenever you walk into a room, your mood can be affected tremendously. Think about that nightclub restaurant you went to in the past. When you walk in there, you develop this mysterious vibe that compliments the area and creates an effective mood for the whole crowd. The same principles can be applied when shopping for ceilings for your home. Color and lighting can really help set a variety of moods for the rooms in your house. A common trend in decorative metal ceilings is the incorporation of metal tiles. Let's us look into some of the benefits associated with decorative metal ceilings.
---
July 1, 2016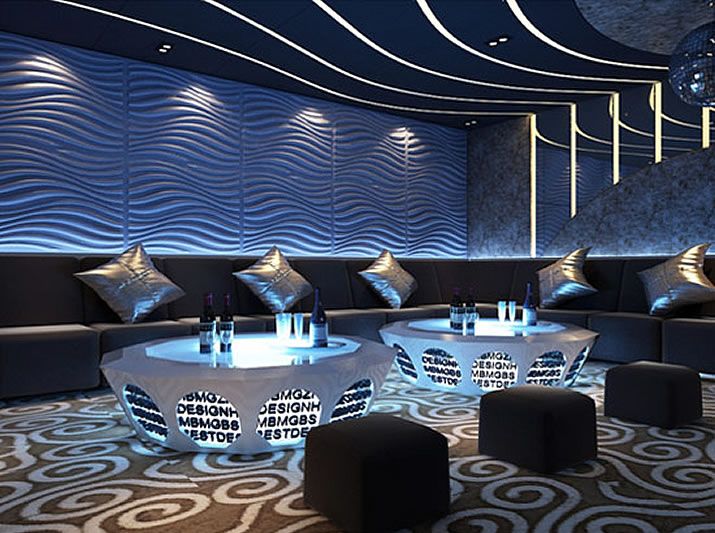 Shop 100's of Drop in Ceiling Tiles (metal or PVC), Nail up Ceiling Tiles (metal) or Glue up Ceiling Tiles (PVC). Restaurant, bistro, cafe, or snack shop: decorative ceiling tiles are the perfect way to create the atmosphere you want to portray. We even have great restaurant ceiling tiles for pubs, taverns, and inns. And whether you serve Italian, Greek, Japanese, Moroccan, Ethiopian, or any type of fusion cuisine, we have a restaurant ceiling tile design that will fit in perfectly with your theme.
Where Champions Train: Kalwall® Lights Up Broncos' Indoor Facility (May 16, 2016), Guardian 275® translucent skylights provide a wide range of color, thermal performance and specialty application options (April 6, 2016), Decorative Panels & Screens (April 4, 2016), 2015 NJ DISCA Excellence in Construction Awards – Tin Ceiling Project (January 8, 2016)